How to Create the Ultimate Snack Station for Teens
As a parent, you know that one of the best things about having teens is that they start to become more independent. One way to help them feel even more independent is to give them their own space in your home – a teen hangout room!
We've talked in other posts about how to create an amazing teen hangout room, so this post will focus on how to create the ultimate teen snack station.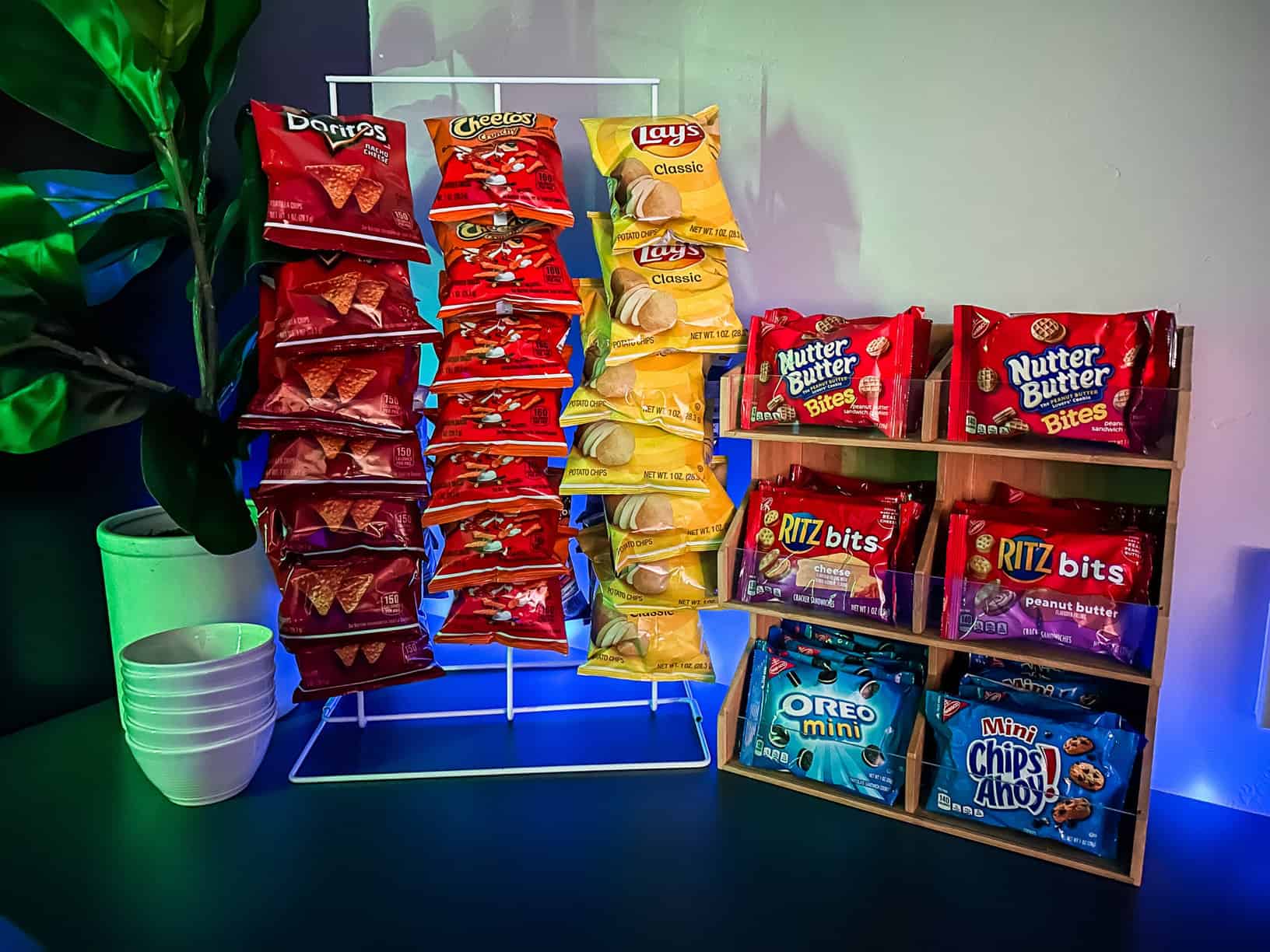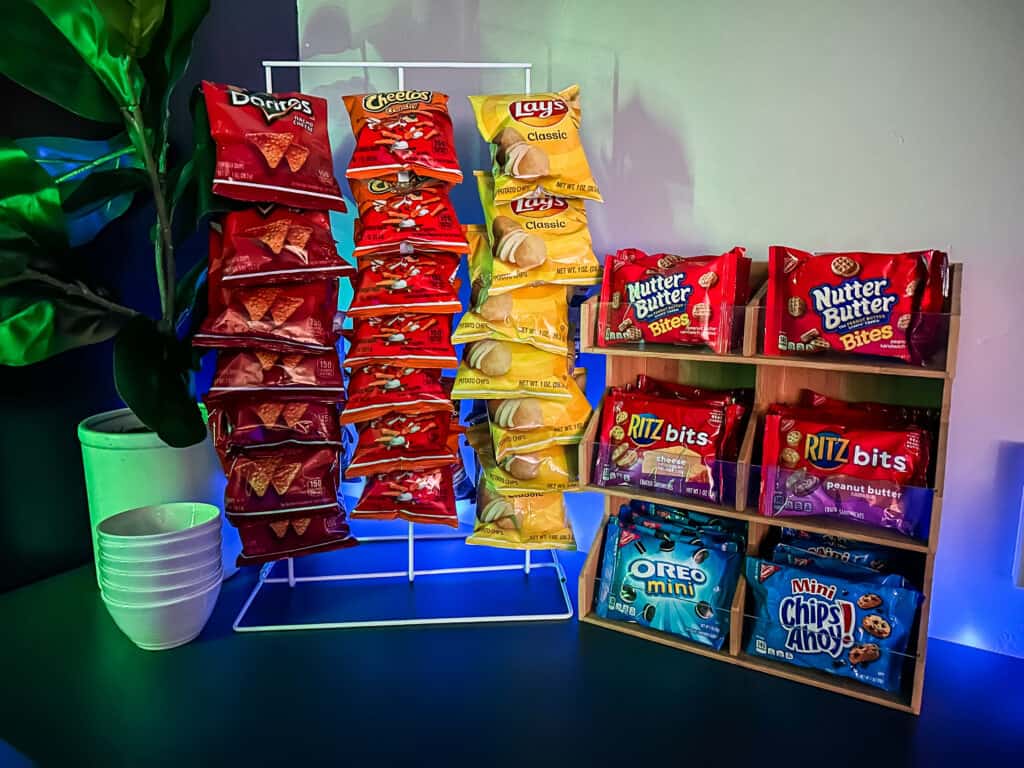 After all, it seems like teens are always hungry! So adding a snack station to their room is a great way to give them access to food without having to come downstairs and disrupt your kitchen.
If you want to create a snack station for your hungry teenagers, keep reading for ideas!
Snack Bar Ideas for Home
While this post is geared mainly toward a teen's snack station, these tips can easily be used for any snack bar in your home or at a party. That's the nice thing about snack bars! There are many occasions where you might want a snack bar the entire family or your friends can enjoy.
So, while this post might mostly mention how to create a snack bar equipped for your kids and teens, you can definitely use it as inspiration for any kind of snack bar!
What's the benefit of a snack bar in your teen's room?
Like I mentioned before, teens are always hungry, right? So adding a snack bar or snack station to your teen's room has tons of benefits. First, it saves time. Teens can easily grab snacks when they're hungry, without having to ask for your help or bother you.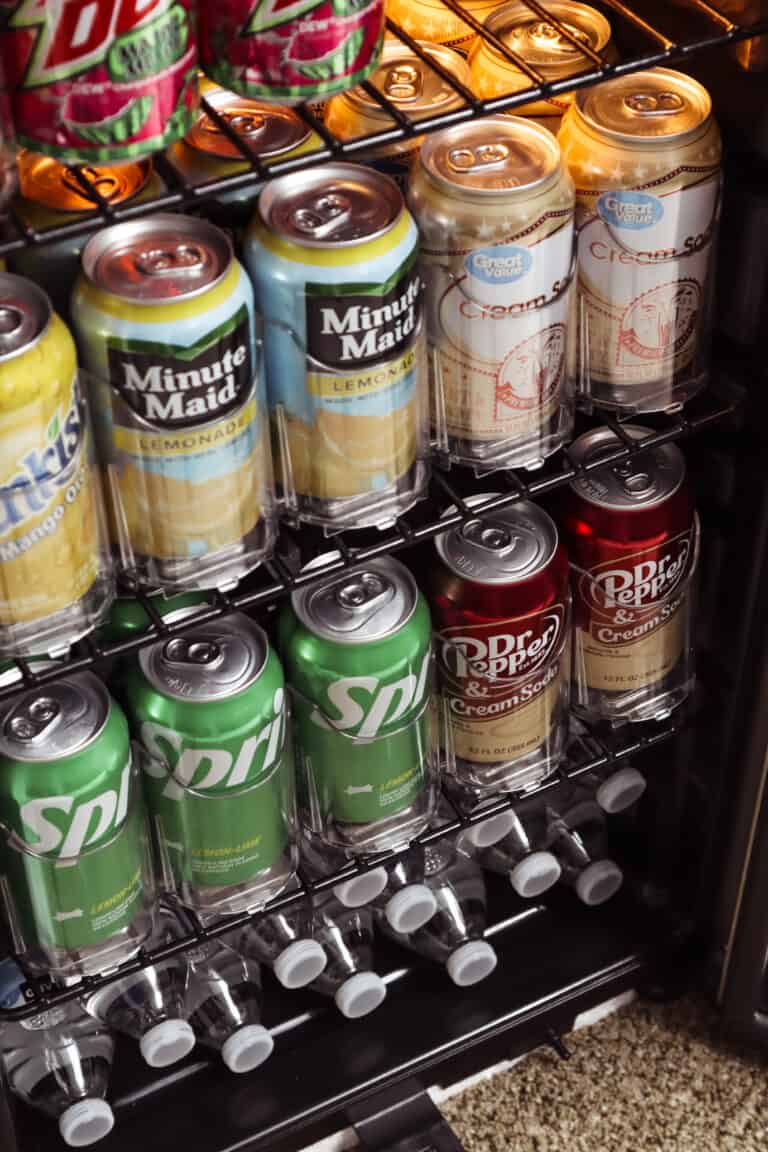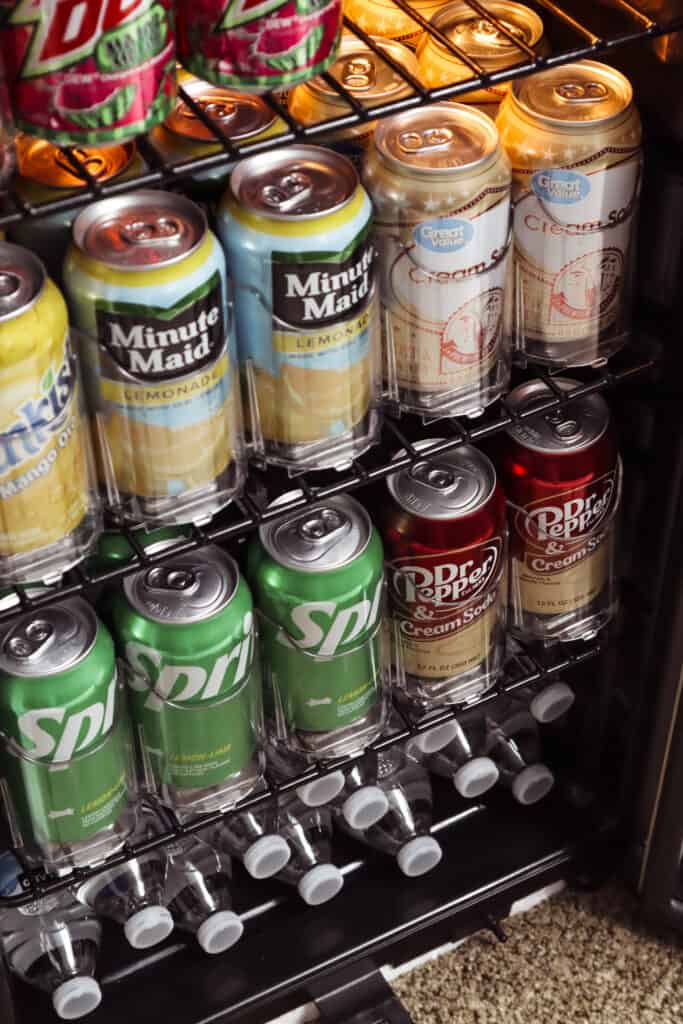 Second, it helps them make better food choices. Having a snack bar with healthier options in the room makes it easier for teens to choose something nutritious when hunger strikes!
Obviously, balance is key. It won't be a great snack bar if there aren't some classic snacks. But creating a snack station for your teens means you get to determine how to balance some healthy snacks with good beverages and fun favorites.
Finally, a snack bar is also great because your teen will have easy access to nutritious snacks (or even just a sugar rush they might need) while studying, reading, playing games, or hanging out with friends.
How to Organize a Snack Station
When it comes to organizing a snack bar, your teen will be sure to love the freedom it gives them, and you'll feel like a superhero for giving them free and total access to snacks. Here are some tips for setting up a snack station.
Use the Space Well
How you implement a snack station in your teen's room will really depend on the space your house has. Do they have a lot of floor space? Add a side table along the wall and add various containers to it.
Or, if they don't have much room on their floor, use the wall! Add shelves to the wall or even some nice white cabinets if your teen's room is really big and you're handy and can make a cabinet.
In a small bedroom, you can also hang organizers over the doors. It might slightly limit the number of snacks you can add, but it will still have plenty of room to display and organize the food and drinks!
So before buying anything, check out the floor and wall space they have so you know how much room you have for the snack bar.
Get Creative
Allow your teen to get creative with how they want to display their snacks. It's their room, so their input and ideas are important. Encourage them to think outside the box and come up with fun, creative solutions that make their snack bar unique.
You can also add some personal flair to the snack bar by adding decorations or funny signs. Get your teen involved by letting them choose the decorations they want to put on the shelves or on the floor by the snack bar.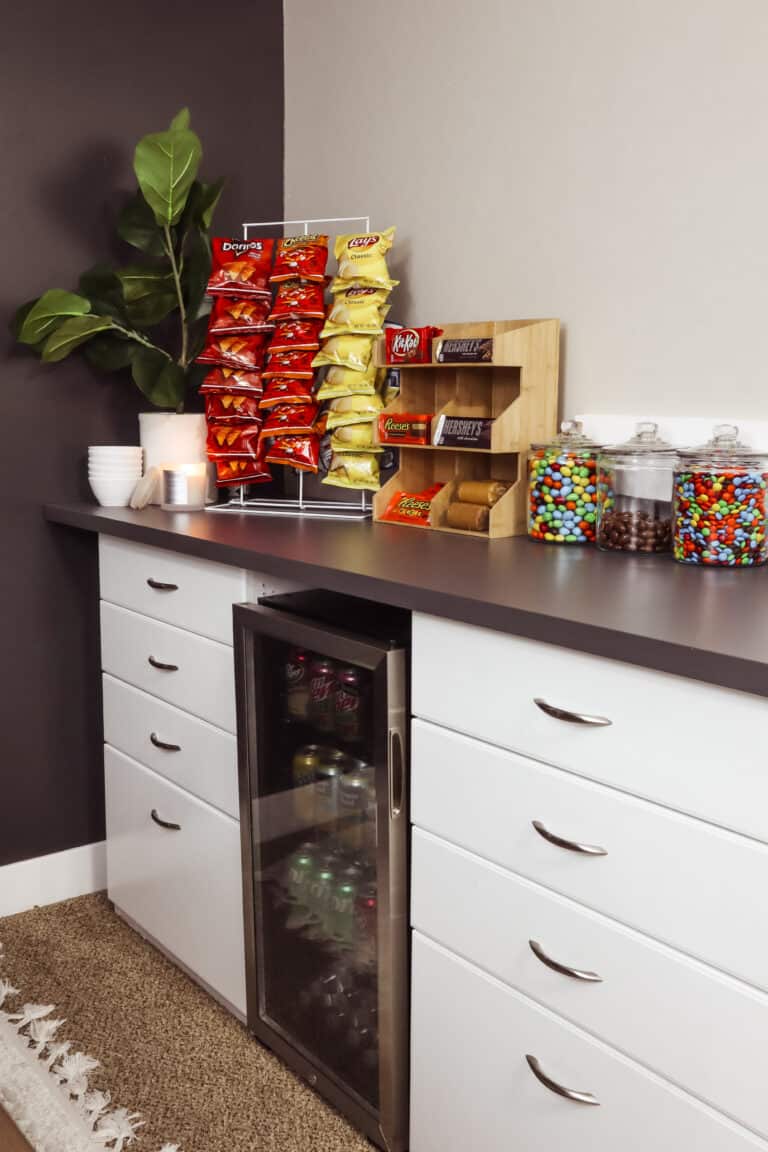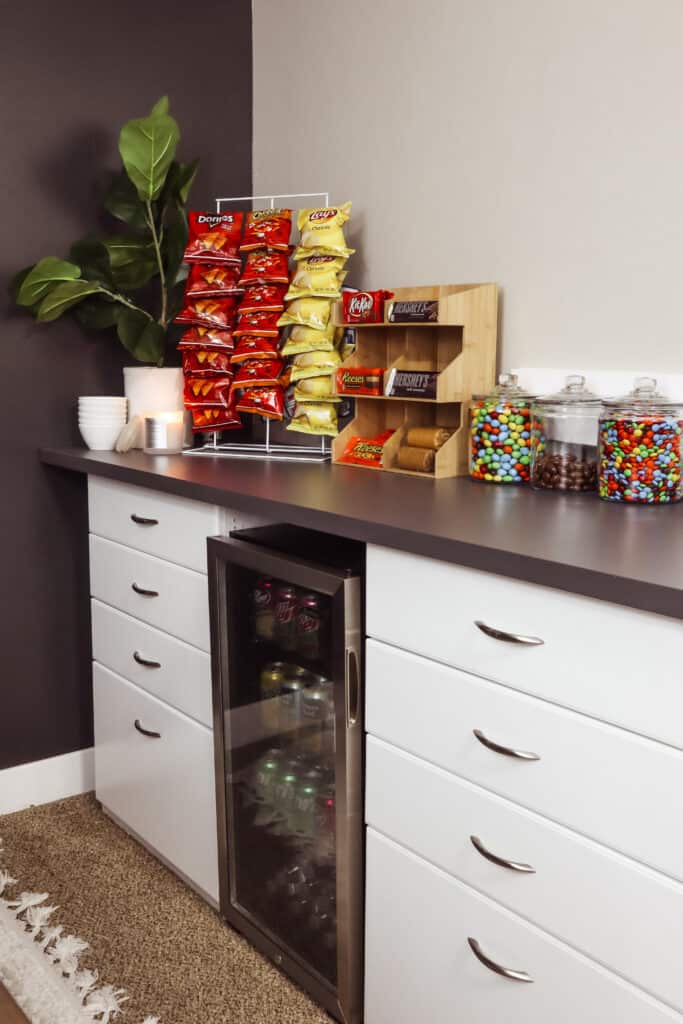 Some of your teen's ideas might be impossible to execute, and that's fine! Be honest about what you can do to their room, and work together to come up with cute ideas.
Decorating the snack bar according to your teen's style will help them feel like the space is truly theirs. For example, if they love pink, try to get a few things in pink for their snack station. Match the features in their room with their personal tastes as much as possible.
Get Snack Organizers
Here are some of my favorite organizers to use for a snack bar.
Remember, even if you aren't adding a snack station or bar to your kids' rooms, this can be put anywhere in the house! You can add a little snack station or bar to your kitchen, pantry, or even your family room! A snack bar is also a wonderful addition to a night with friends or a family member's birthday party. Your guests will love it.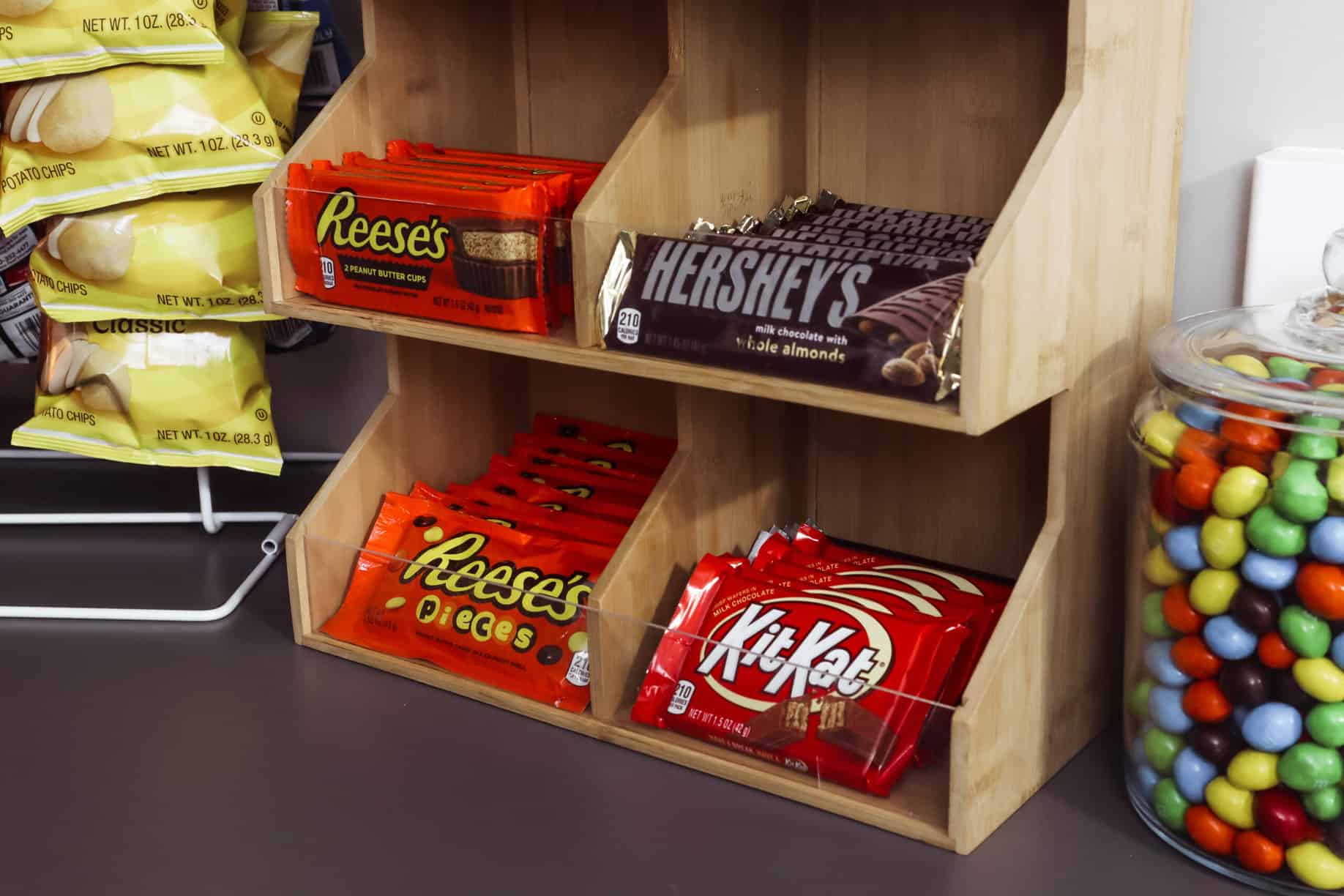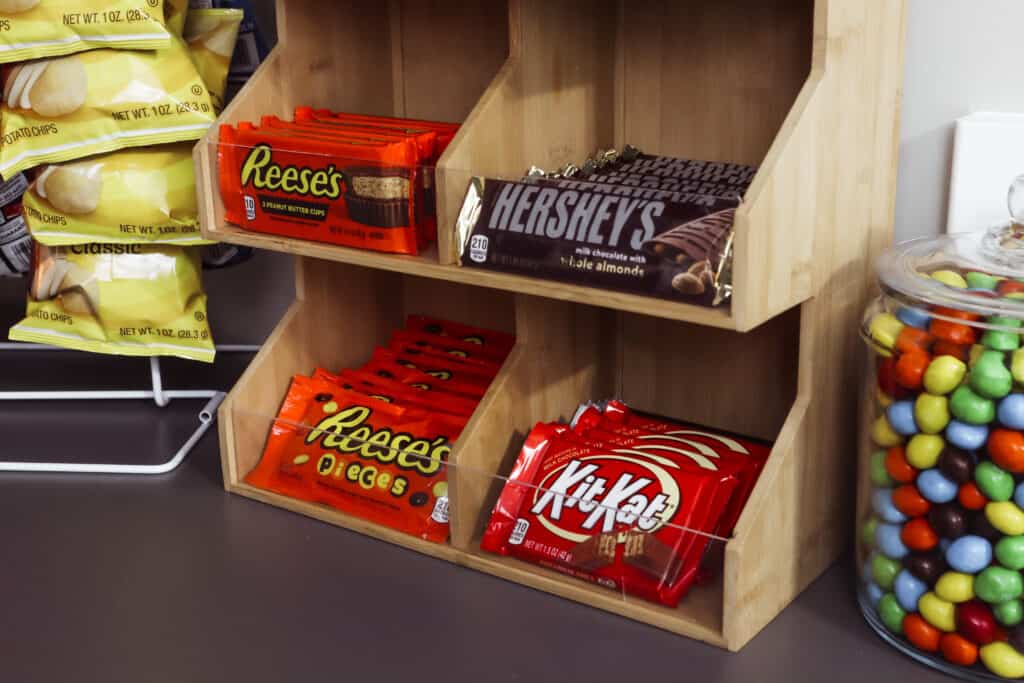 For Beverages
This mini-fridge has a glass door so you can see exactly what drinks are inside. Stocking up your teen's room with water, juice, and soft drinks is a great way to keep them hydrated. The fridge has adjustable shelves so you can change it according to what you're stocking in the fridge.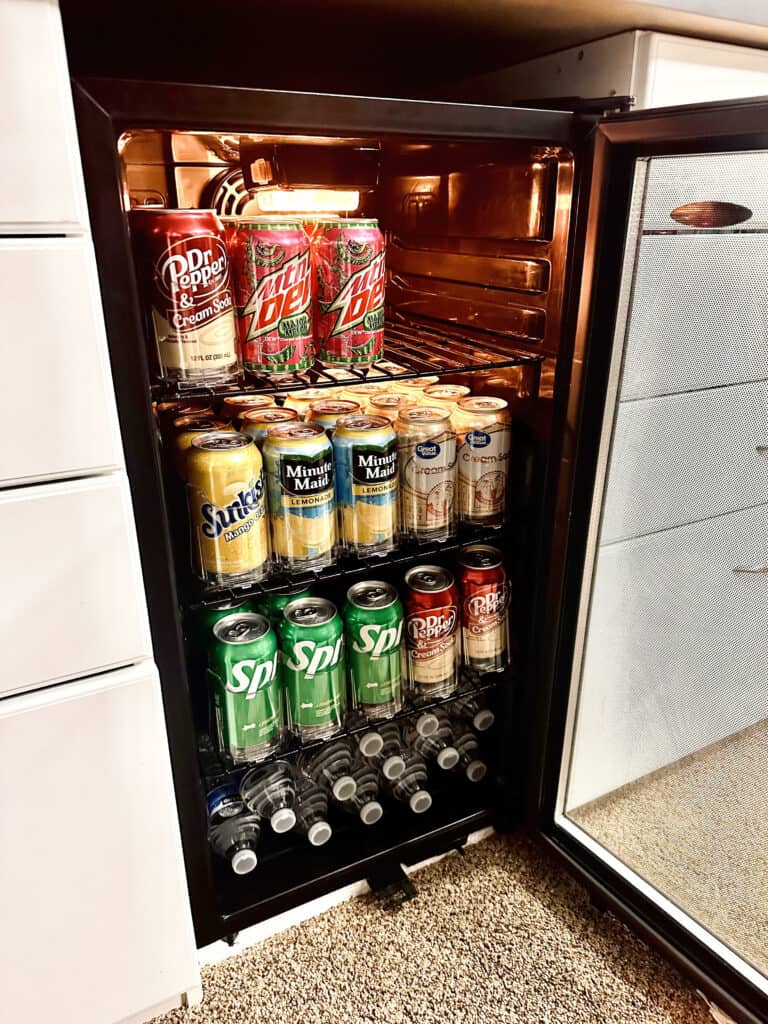 If you have a large enough fridge, you can also get this drink dispenser. It is spring-loaded so when you take one drink out, the next one gets pushed up to the front. So it basically turns your house into a grocery store – talk about a dream home, right?
For Food
I love this dispenser because it can be used for so many different things. There are two dispensers hooked together, and you can add candy, nuts – whatever you want! It's honestly great for the whole family because having one in the kitchen for cold cereal is amazing.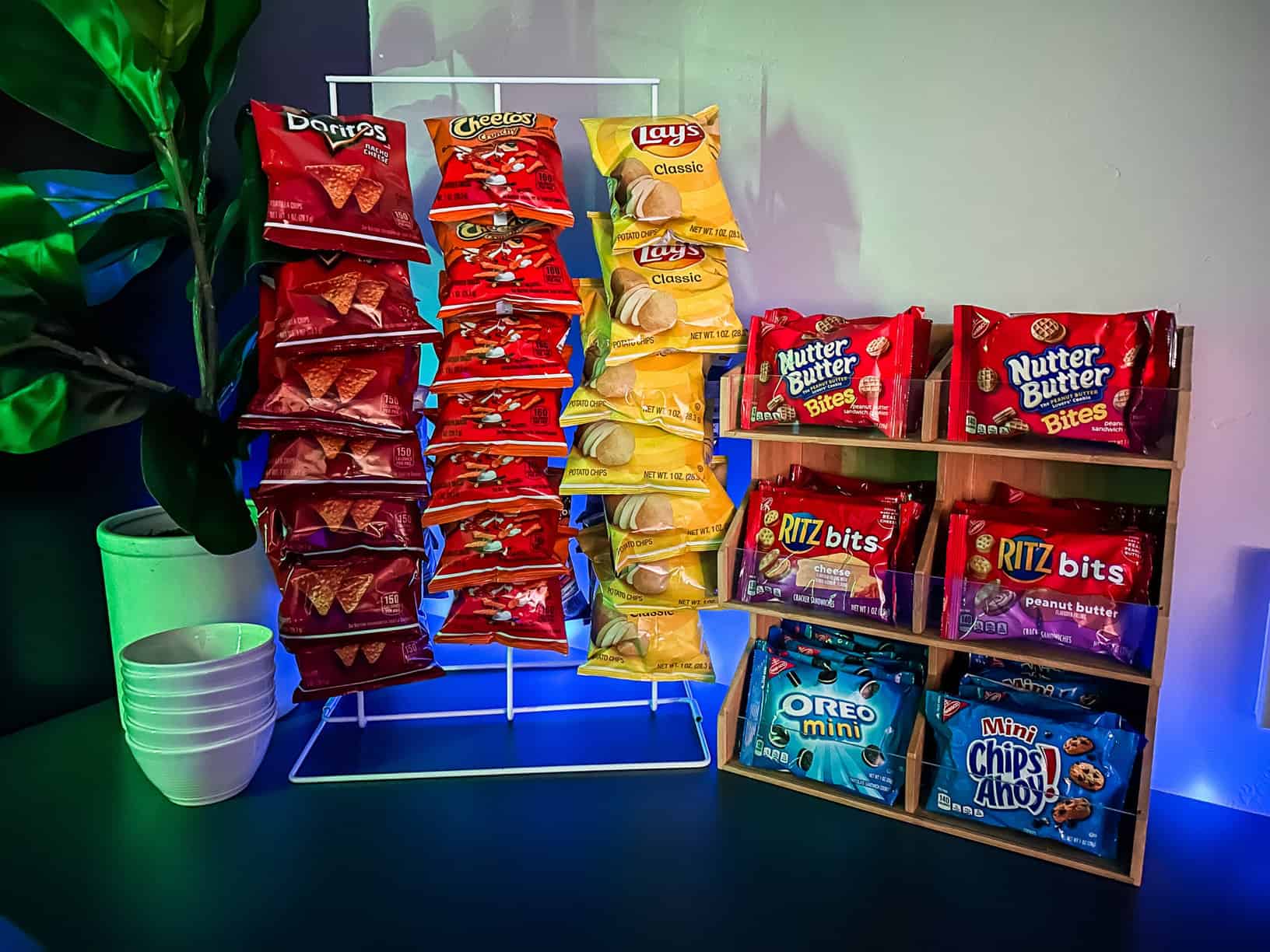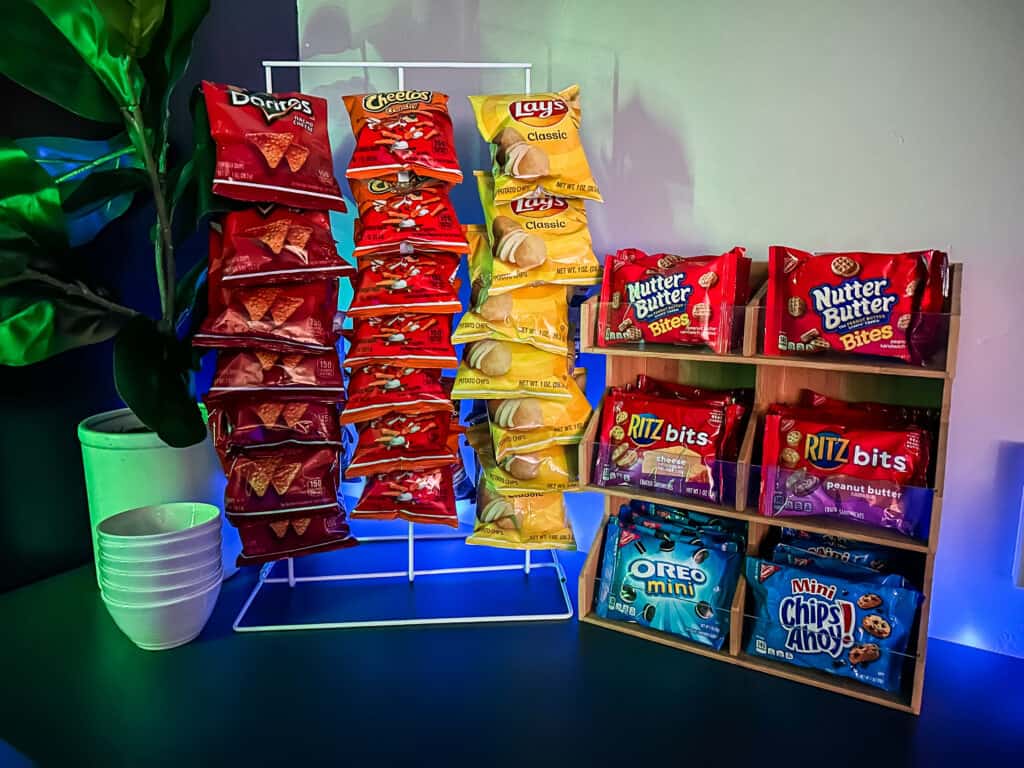 I also like this chip clip rack. This saves tons of space because it's collapsible when not in use, and it helps to not have to search through a box or drawer to find your favorite bag of chips!
If you have a cabinet or table with drawers as part of your snack bar, don't forget to get some drawer organizers like these ones. It's a set of three containers that are designed for utensils but the simple shape and style ensure it can be used for lots of things. They can easily fit candy bars, granola bars, packs of trail mix, and more!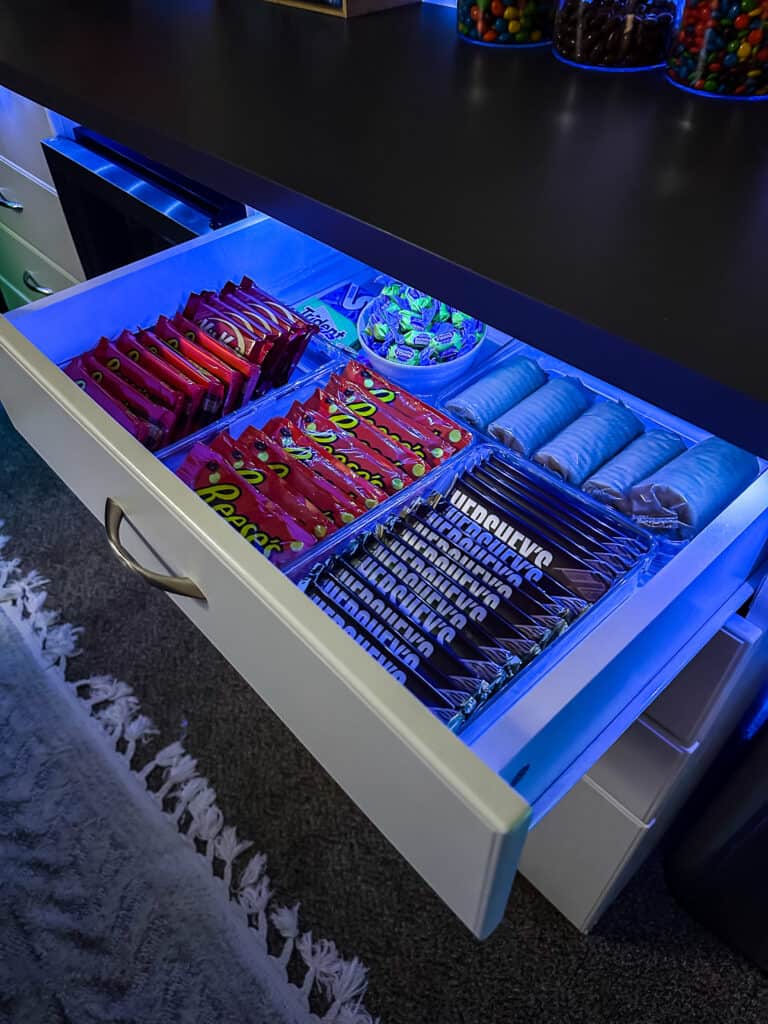 Snacks and Drinks for Your Snack Station
What's a snack bar without snacks? You can have all the amenities in the world, but without snacks or drinks then it's not very functional, is it?
The best way to create a snack space your teens will love is to make sure it's filled with their favorite snacks along with some nutritious foods as well. Ask your teen their preferences and add in some of your own creative ideas.
If you need a bit more inspiration, here are some ideas for foods and beverages you can include in your snack bar:
Fresh fruits and vegetables like carrots, celery sticks, apples, oranges, and bananas (if you have a fridge as part of the station or bar, of course)
Bread, bagels, or muffins with spreads such as peanut butter, jelly, cream cheese, hummus
Protein-rich snacks such as nuts, seeds, yogurt, and cheese
Trail mix with a variety of dried fruits and nuts
Whole grain crackers or pretzels
Sweet treats like cookies and brownies
Candy and chips might not be the healthiest, but they are essentials in a snack bar
Popcorn – either plain or flavored
Fruit juices, soda, water, Gatorade, or tea
It's a good idea to avoid super messy foods. Your teen won't have a sink in their room, and you don't want them wiping sticky or messy hands on anything if they are too lazy to head to a sink.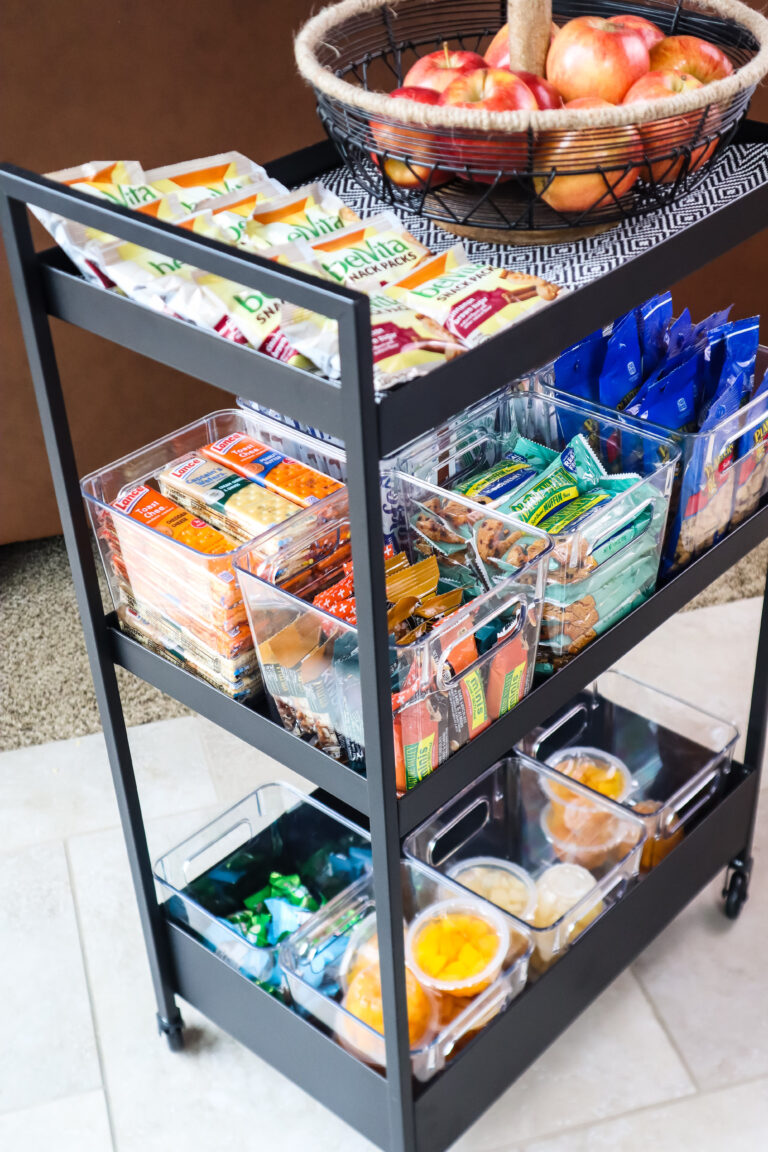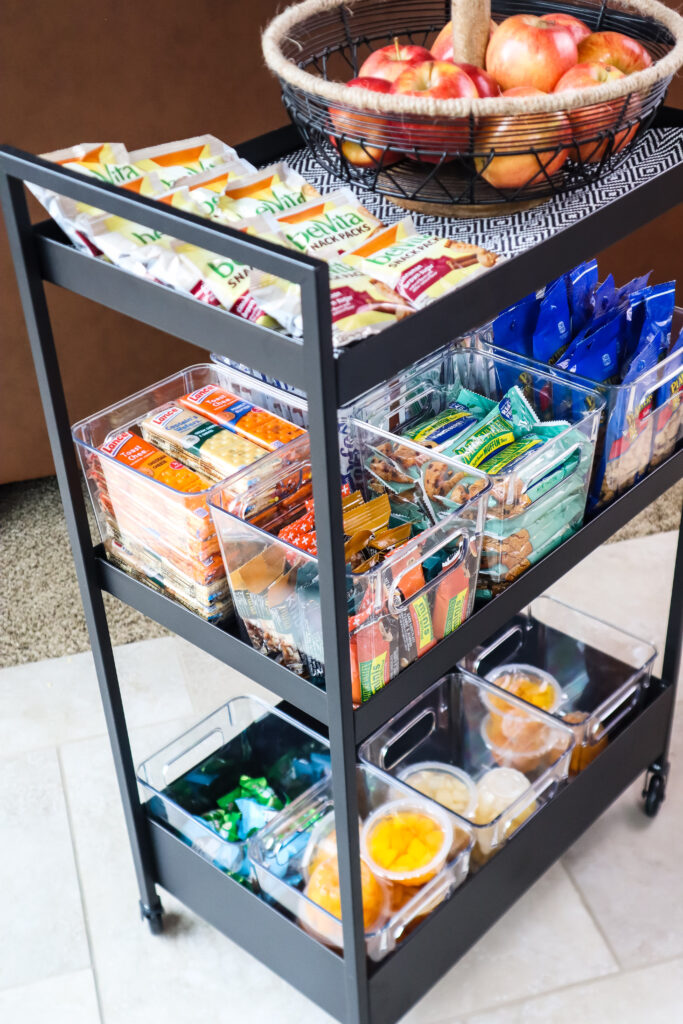 You also don't want them spilling anything that won't be easy to clean up, so keep that in mind as you decide what foods and features to put in their dream room.
Finally, make sure your snack bar has plenty of napkins and utensils available so your teen and their guests can enjoy their snacks in comfort. With these ideas, you can create an unforgettable snack station or bar for your teenager.
The best snack station ever!
How you create your teen's snack bar will depend on their individual style, tastes, and preferences. Ask for their ideas and inspiration as you make it. Or, if you want it to be a surprise, watch what treats they prefer over the course of a few weeks and then buy the relevant ones.
Of course, what you can add to the room will depend on how big it is. Don't think you need to install a cabinet or fridge if there isn't the space or budget for it.
Even just looking around your house for extra baskets or organizers to hang over the doors works perfectly! Have a firm idea of your budget in your head before you move on to the rest of the project.
I hope this can help you make an amazing snack station for your teen! It will really enhance their room and they will really love it. They'll love to have guests visit. This can also be a great project that you and your teen can work on together. Have fun creating the snack station of your teen's dreams!