How to Create an After-School Snack Station: Tips and Tricks
As a busy parent, you know that finding time to make a healthy snack can be tough. Between getting the kids ready for school and taking them to their activities, it can be hard to find time to cook something nutritious such as turkey jerky. That's where an after-school snack station comes in handy!
This is a great way to make sure your kids are getting the nutrients they need without having to spend a lot of time in the kitchen. In this blog post, we will discuss some tips and tricks on how to set up your own after-school snack station. Let's get started!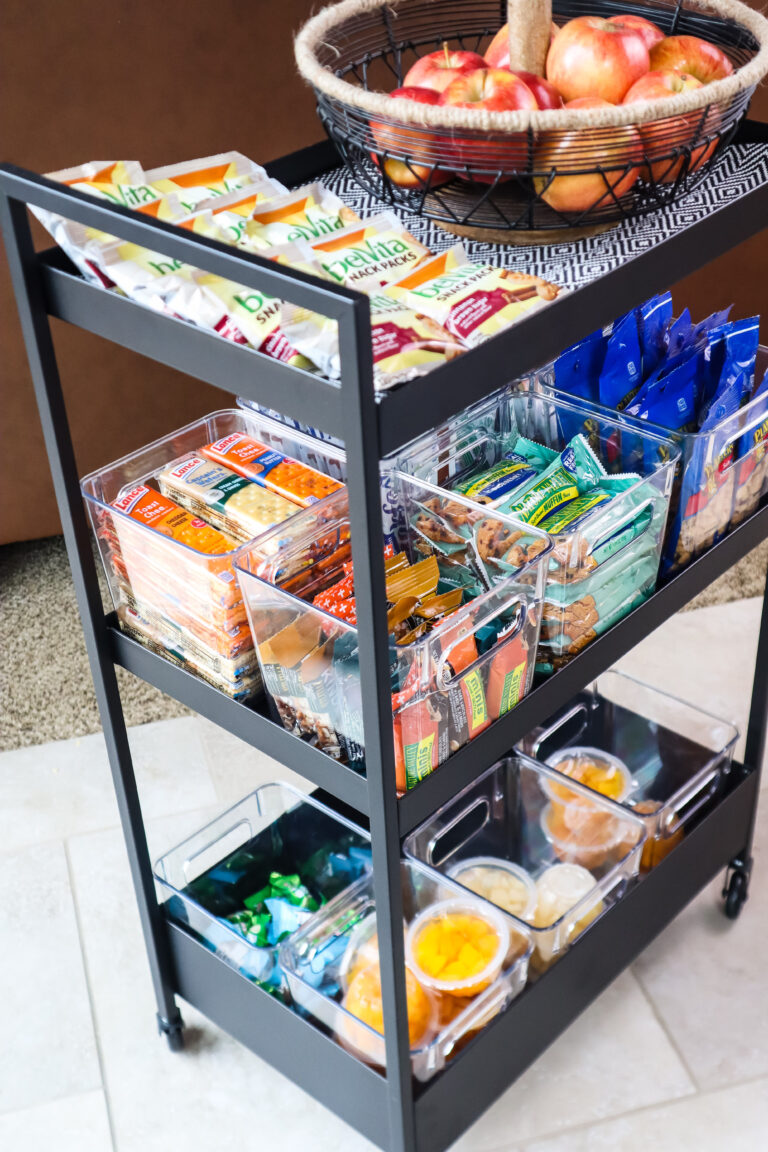 SHOP SNACK STATION SUPPLIES

Why Create a Snack Station?
There are several reasons why you might want to create a snack station for your kids. First, it can help you save time. If you have everything laid out and ready to go, you won't have to spend time looking for snacks or preparing them.
Second, a snack station can help you save money. By having all of the snacks prepared ahead of time (homemade or not) you can avoid those expensive, processed snacks that are often full of sugar and unhealthy ingredients. If you do opt for pre-packaged snacks, then there are lots of options out there that can still be healthy!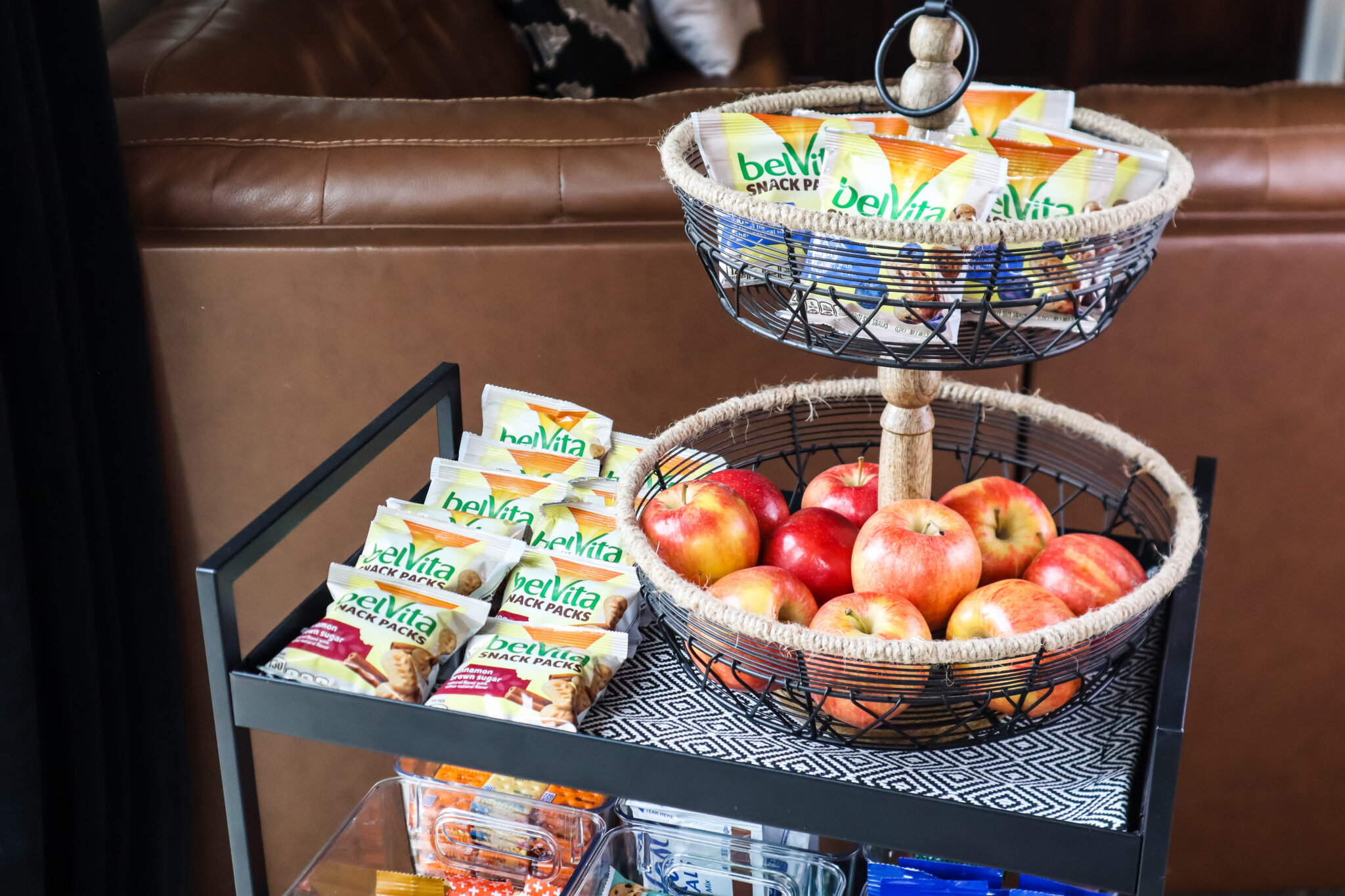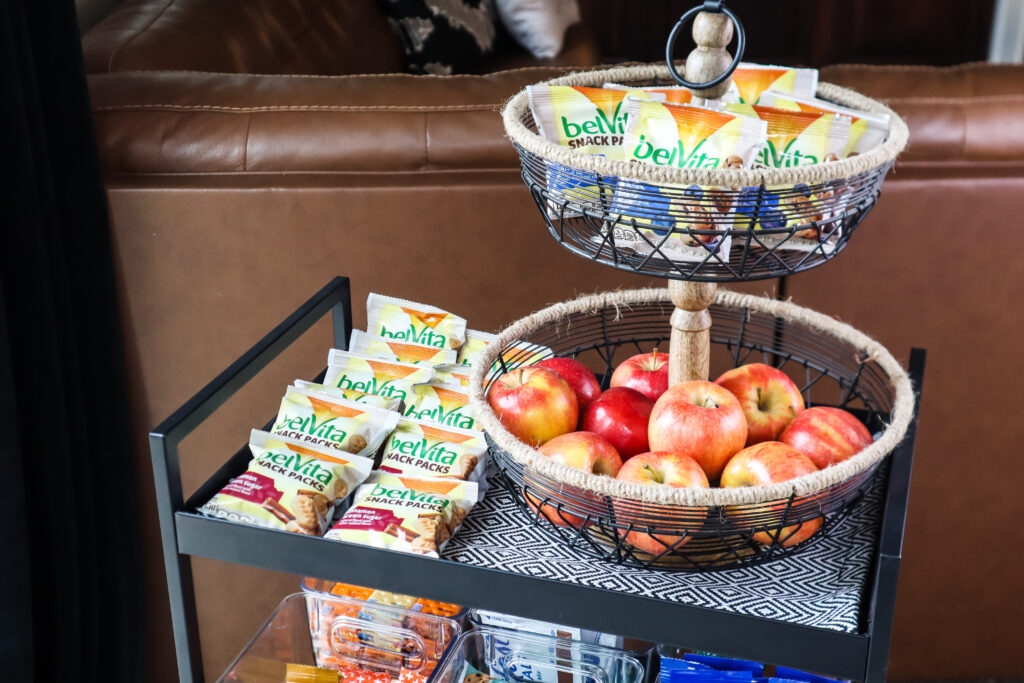 Third, a snack station can help you ensure that your kids are eating healthy snacks. By having a variety of healthy options readily available, you can be sure that they're eating food that will give them long-lasting energy that's low in sugar.
Fourth, this is a great way to help with portion control. When you're pre-packaging snacks ahead of time, you can control how much your kids are eating and avoid those tempting "extra" servings.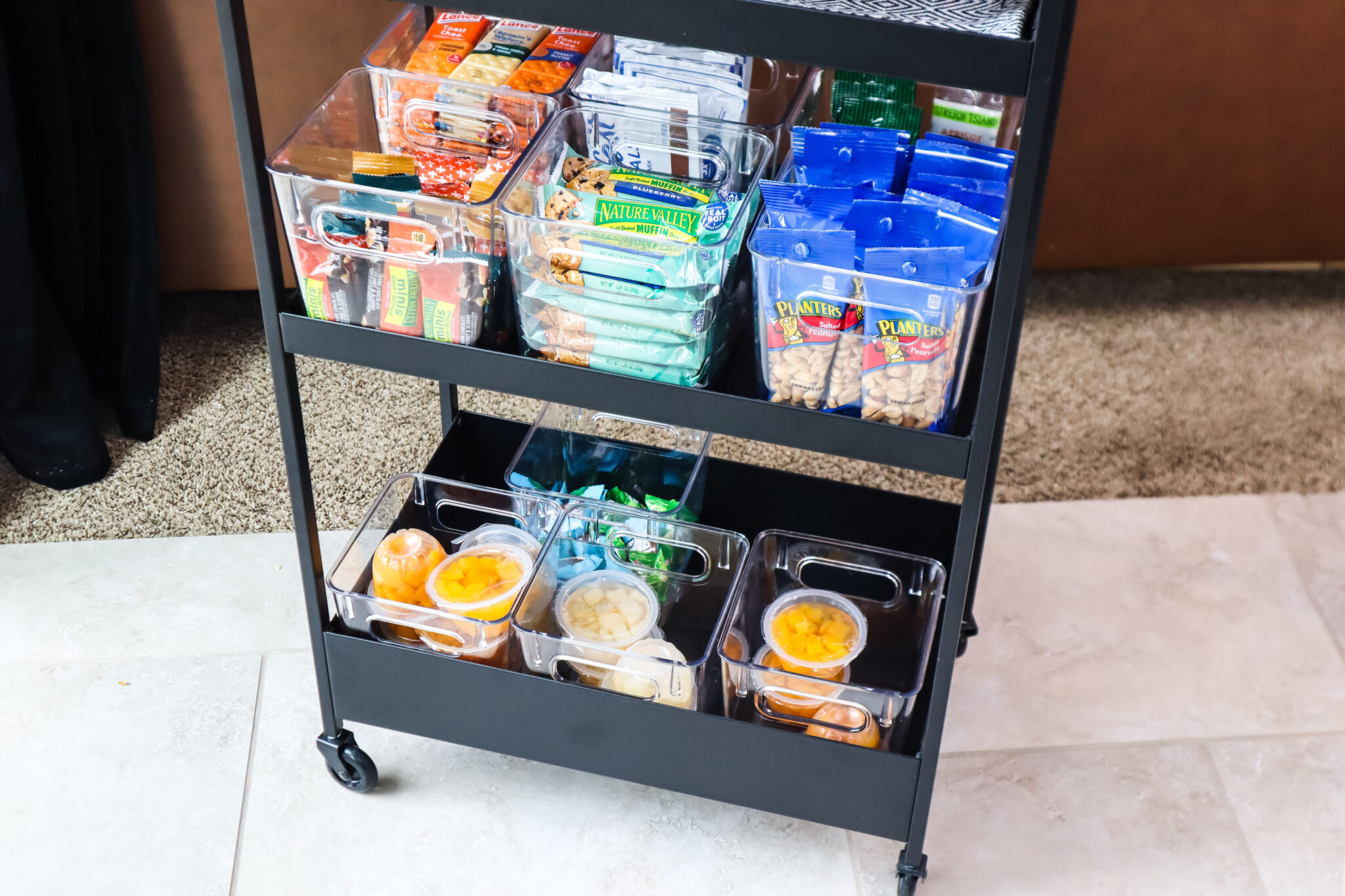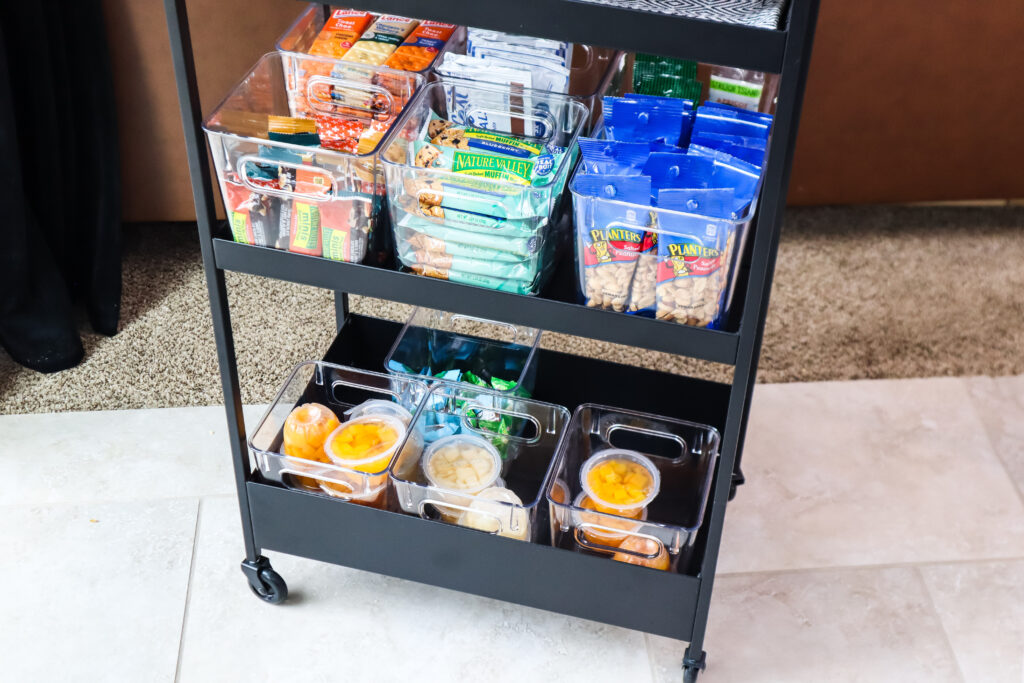 Finally, a snack station is just plain convenient! Having everything in one place will make your after-school routine go much smoother.
One of the best ways to make sure your kids are getting the nutrients they need is to give them lots of grab-and-go snacks that they can choose from that you are still okay with them eating. This gives them more independence but mom doesn't have to worry about them eating junk food.
Grab and Go Snack Station Ideas
Creating a kid's snack station is actually really easy! All you need is a dedicated space and some good storage containers.
The kitchen is the most common place to put your snack station or your snack cart. This will help remind kids that these are the healthy snacks that they are allowed to choose from.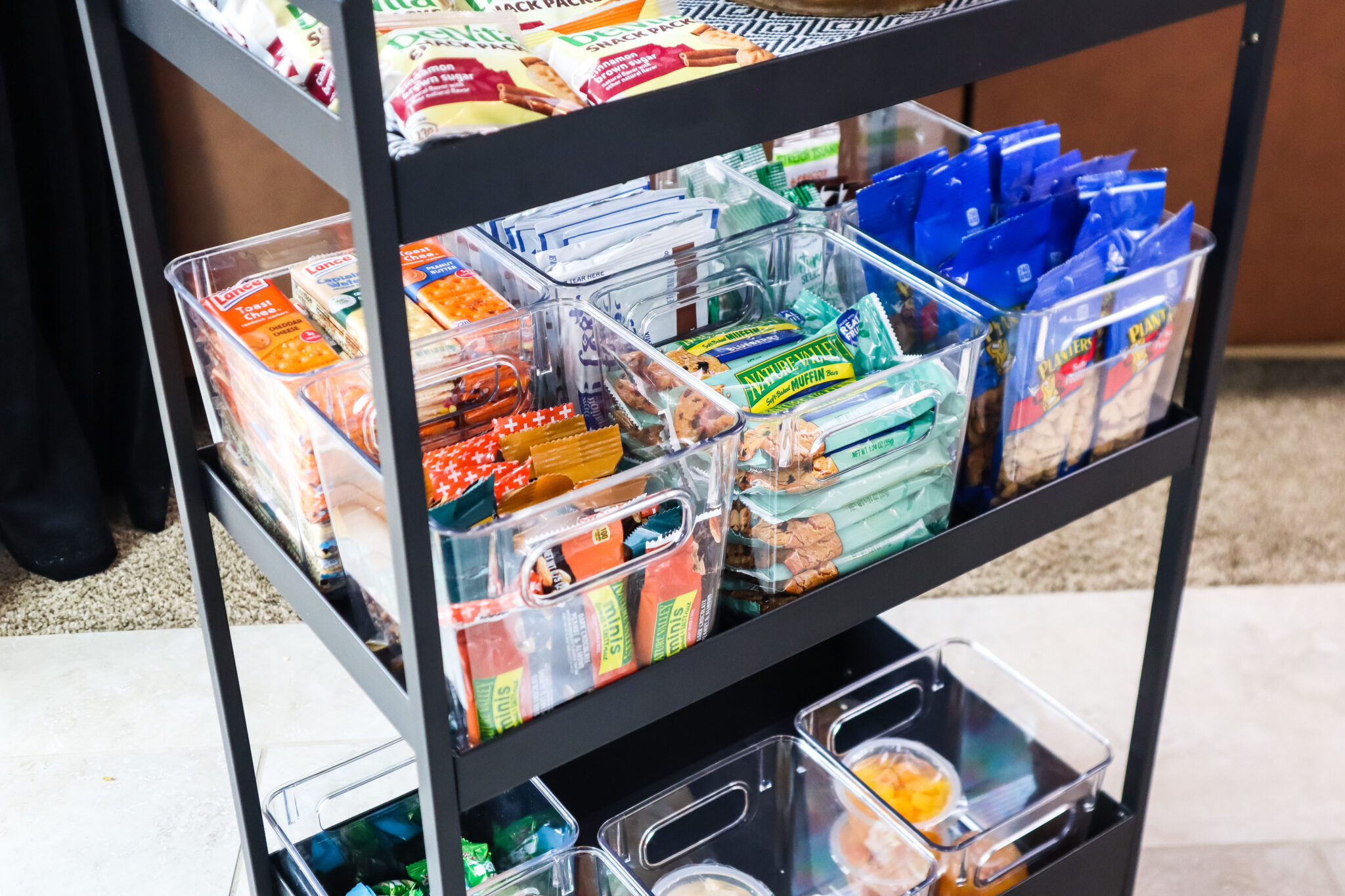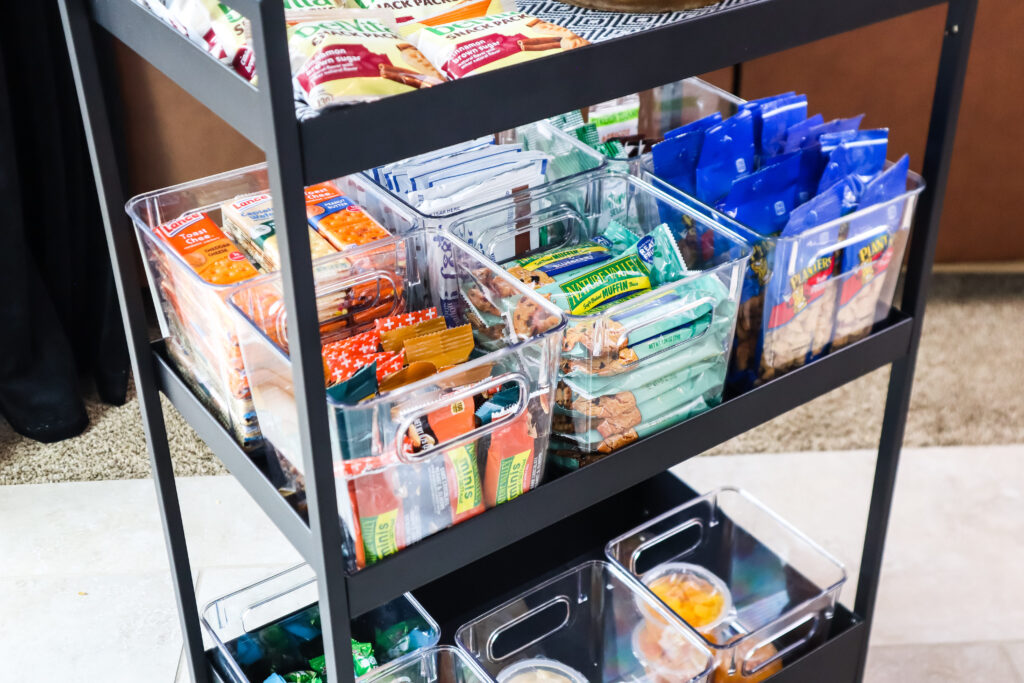 Most kids will be more likely to eat a snack if they can see it and reach for it easily.
Giving them access to grab their own snacks also gives them a sense of independence.
If you are creating a snack station in the fridge, here are some great ideas for what to put in your kids snack station:
Cheese Sticks
Cheese Wheels (such as Babybel Cheese)
Cheese Wedges (such as Laughing Cow Cheese)
Fruits (such as berries, apples,
Veggies (such as carrots, peas, mini cucumbers, etc.)
Yogurt Tubes (delicious with Granola)
Fruit Cups (they're better when cold)
Hummus
Guacamole
Hard Boiled Eggs
Greek Yogurt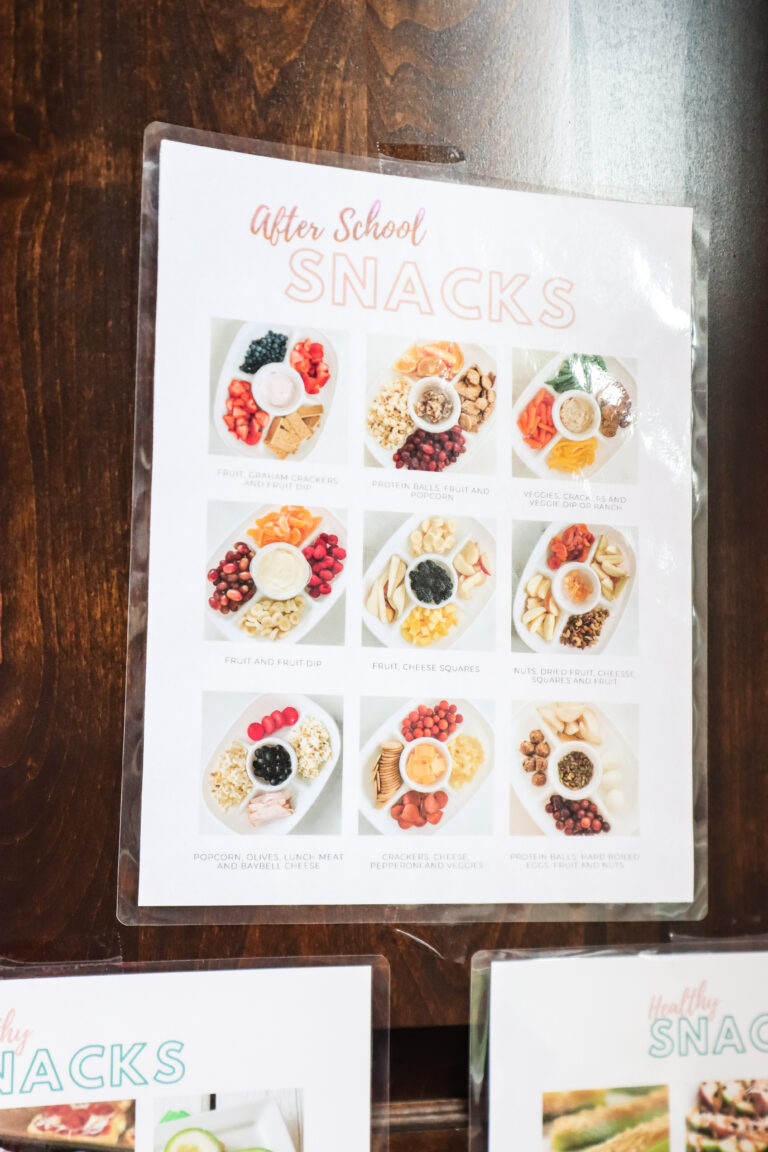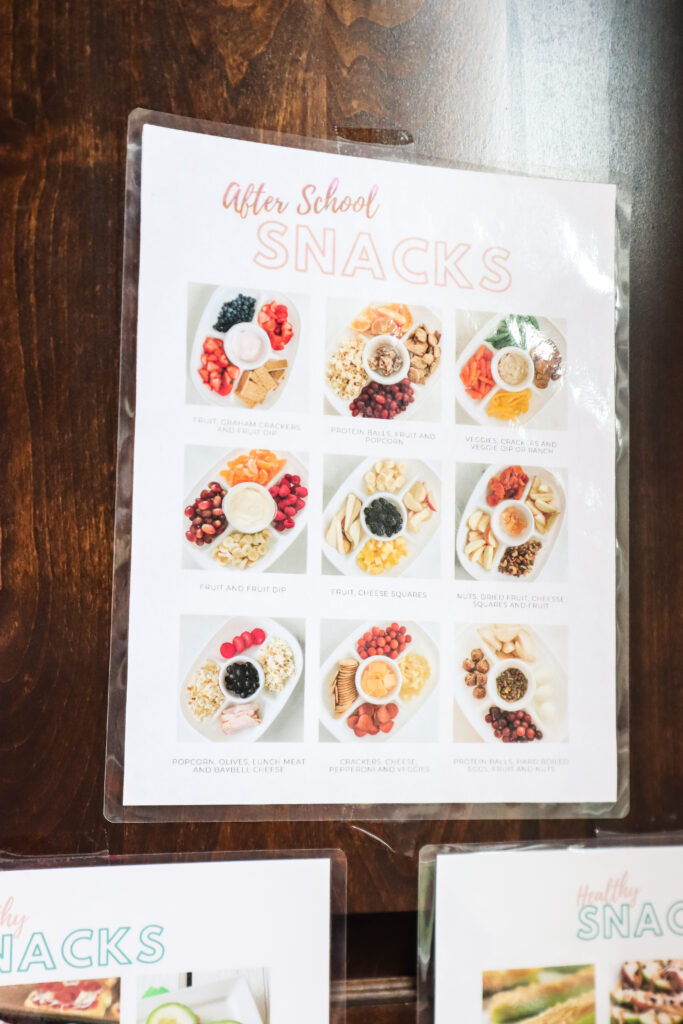 If you are creating a snack station (or a snack cart) here are some easy snacks:
Popcorn
Pretzels
Granola Bars or other healthy bars
Nuts
Crackers
Dried Fruit
Fruit that stores well at room temperature (bananas, apples, organges, etc.)
Peanut Butter (to dip apple slices in)
Fruit Leather
Granola
Applesauce pouches (or other varieties)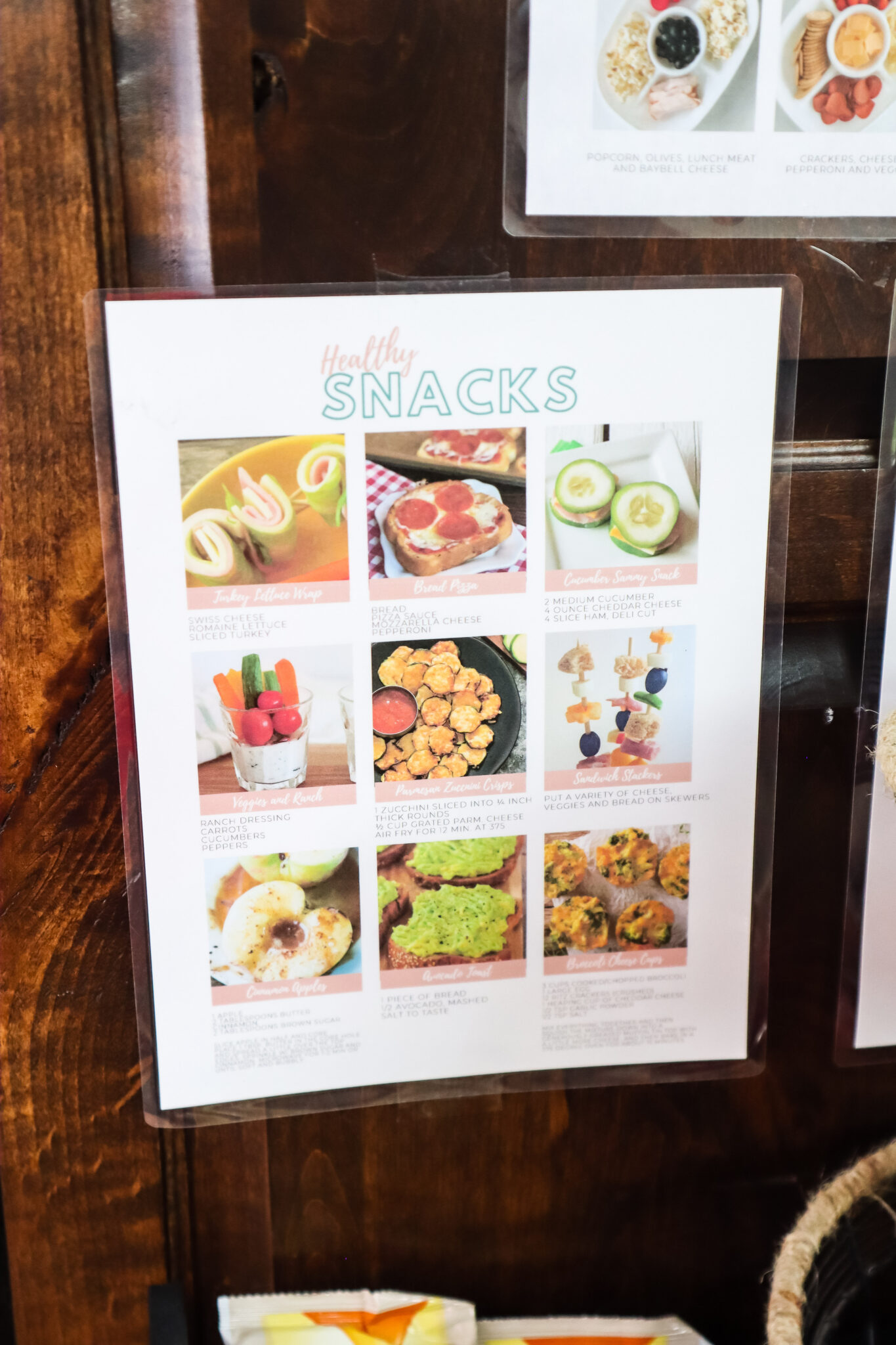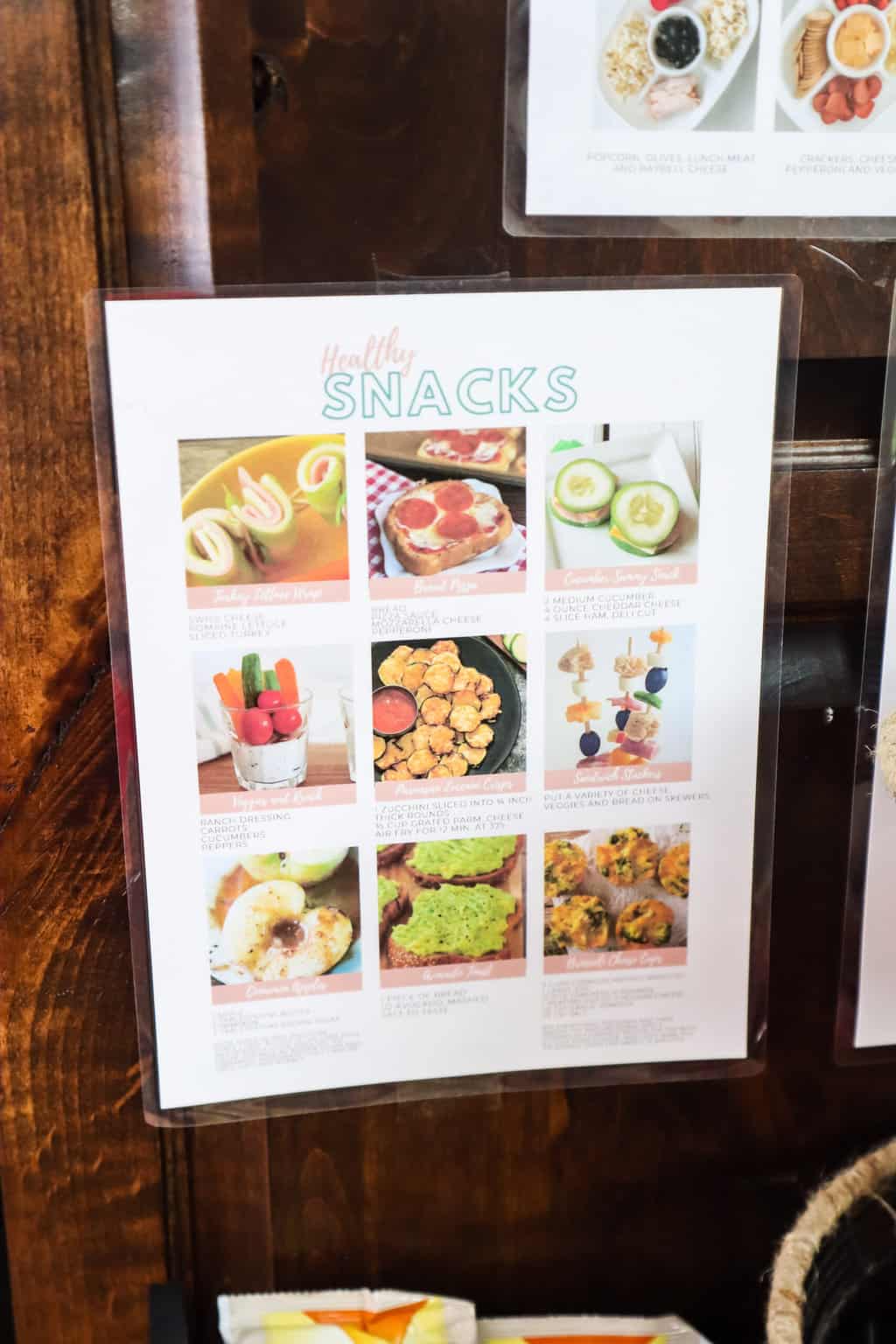 I printed out these sheets with different snack ideas that my kids could prepare themselves (they are extremely simple). It's nice to see them assemble healthy snacks themselves.

Why are Snacks Important for Kids?
Kids need snacks for a few reasons:
To help them concentrate during homework or after-school activities.
To give them the energy to play outside or participate in sports.
To tide them over until dinner.
Healthy snacks are especially important because they provide essential nutrients that kids need to grow and thrive. Creating a Snack Cart is a sure-fire way to make sure they are grabbing snacks that will give them the energy that they need while making sure they aren't hungry.
SHOP SNACK STATION SUPPLIES

Where Should You Create Your Snack Station?
You can put your DIY snack station in a variety of places. Just make sure that it is somewhere convenient for your kids to reach and that it is stocked with healthy snacks. Some good places to put your snack station are:
On the kitchen counter
In the fridge
On a low shelf in the pantry
In a designated spot in the mudroom
On a snack cart (perfect if you are low on space!)
In your car (if you're really on the go!)
Creating an after-school snack station is a great way to make sure your kids are eating healthy snacks. It's also a great way to save time!

What are the Rules for your Snack Station?
While it's a good thing to give your kids snacking options, it can also be helpful to set some ground rules for your snack station. This will help you avoid arguments about what can and cannot be eaten as well.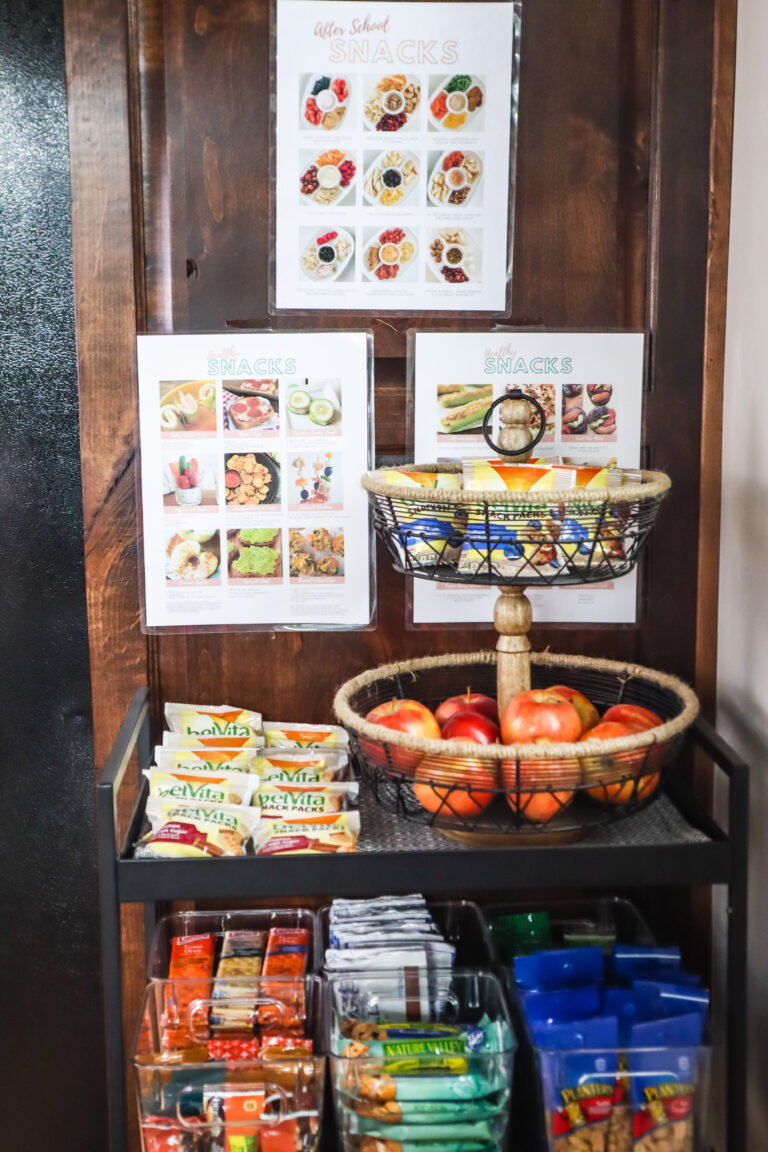 For our house, my kids are allowed to have one snack from the snack cart after school. If they are still hungry after that, they must eat some fruits, veggies or some water. I don't want my kids eating tons of pre-packaged snacks all day long. That can also get really expensive!