9 Simple Car Organization Hacks Anyone Can Do
Keeping a car organized when you have kids is nearly impossible! For years, I struggled to keep my car organized and I have learned a few things through the years that have really helped.
It is by no means even close to as perfect as my pictures look – it only lasts for a few days after I clean it. But my tips work! They make great strides in keeping my car clean and I can absolutely see a difference when I am following my own advice.
Here are some of my very best car organization hacks!
Want more ideas? Check out my post for ideas of How to Personalize Your Car, Mess-Free Road Trip Snack Ideas, and Road Trip Essentials and Mess-Free Road Trip Activities.
I grew up with a Dad who was very particular with his cars. I was trained from a very young age not to touch or lean up against the car (no writing 'Clean Me!' on the paint!), and I definitely have many memories of my Dad washing and waxing the cars.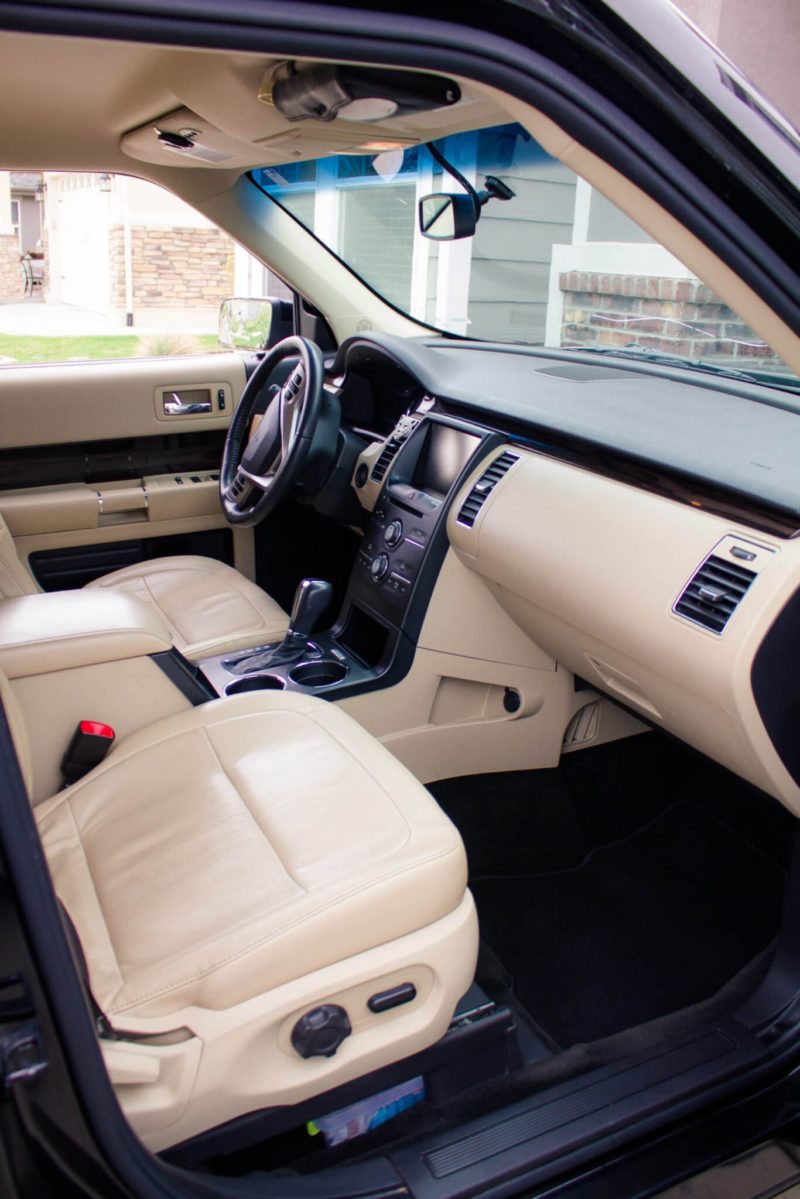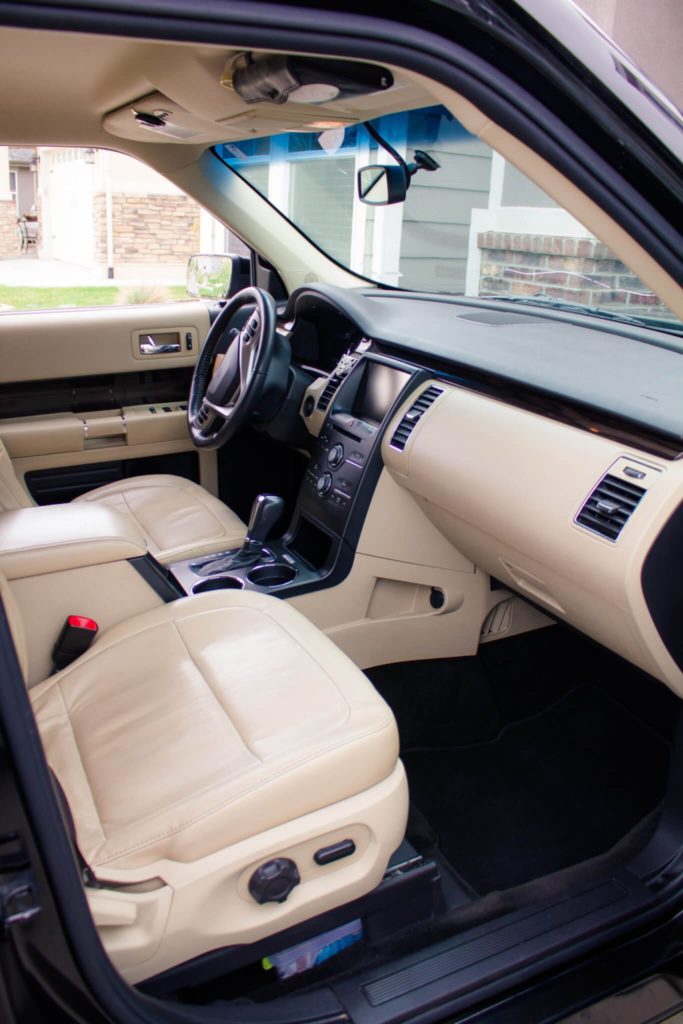 When I was 16, I got my own car. In order to keep it clean, we even went to the extent of buying new black towels to cover the car mats so they didn't get ruined. Which, really is a genius idea if you think about it – you can just throw the towels in the wash when they get dirty! So to say that keeping my car organized is important to me is an understatement.
I have waxed and waned in my intensity but I have always tried to make an effort to take care of my car and keep my car neat.
Products Used in this post:
Products I use:
Sometimes having a few organizing supplies in your car can make an incredible difference. If you have an effective system in place, things stay organized so much longer!

Clean it Weekly
This is the exact same car organization hack that I gave about cleaning the fridge in my earlier post but if you can clean it every week, it will be so much easier to maintain. I know it sounds impossible, but if you make time to do a DEEP clean once, and then it will only take you 10-15 minutes to clean it every week after that (including vacuuming!).
We used to have a membership to our local car wash so I got in the habit of washing and vacuuming out my car every Wednesday when I was out running errands or getting groceries. This made it SO much easier and it just became a part of my routine!
If you can create that habit then it is significantly easier to keep your vehicle clean because you only have 1 week's worth of crumbs, not 12 weeks' worth. This is an especially good tip if you have small kids who sit in a car seat. Those things seem to hide every crumb in the world.
One reason people hate cleaning the car so bad is that it is such a big job, but if you take an open Saturday and do a deep clean and commit to yourself to clean it weekly, you will be amazed at the difference.
My Favorite Car Cleaning Tools:

Organizing the Center Console
Organizing the car's interior is just as big of a hassle. But one thing I have discovered is that less is more. This is more difficult to do when you have teeny kids but my youngest is 4 now and I can already see a huge difference in the amount of stuff that we need to keep in the car.
This is my favorite way that I have found to organize the area between the 2 car seats (usually where the car's cup holders are). I found this clear acrylic organizer at Dollar Tree! It fits all of my things perfectly and it actually stays looking this nice all of the time. Plus, it is so easy to find things.
Another way you could organize your center console is through pouches. It will take a bit more effort to remember what is in each pouch, but this is another great way to help keep things organized.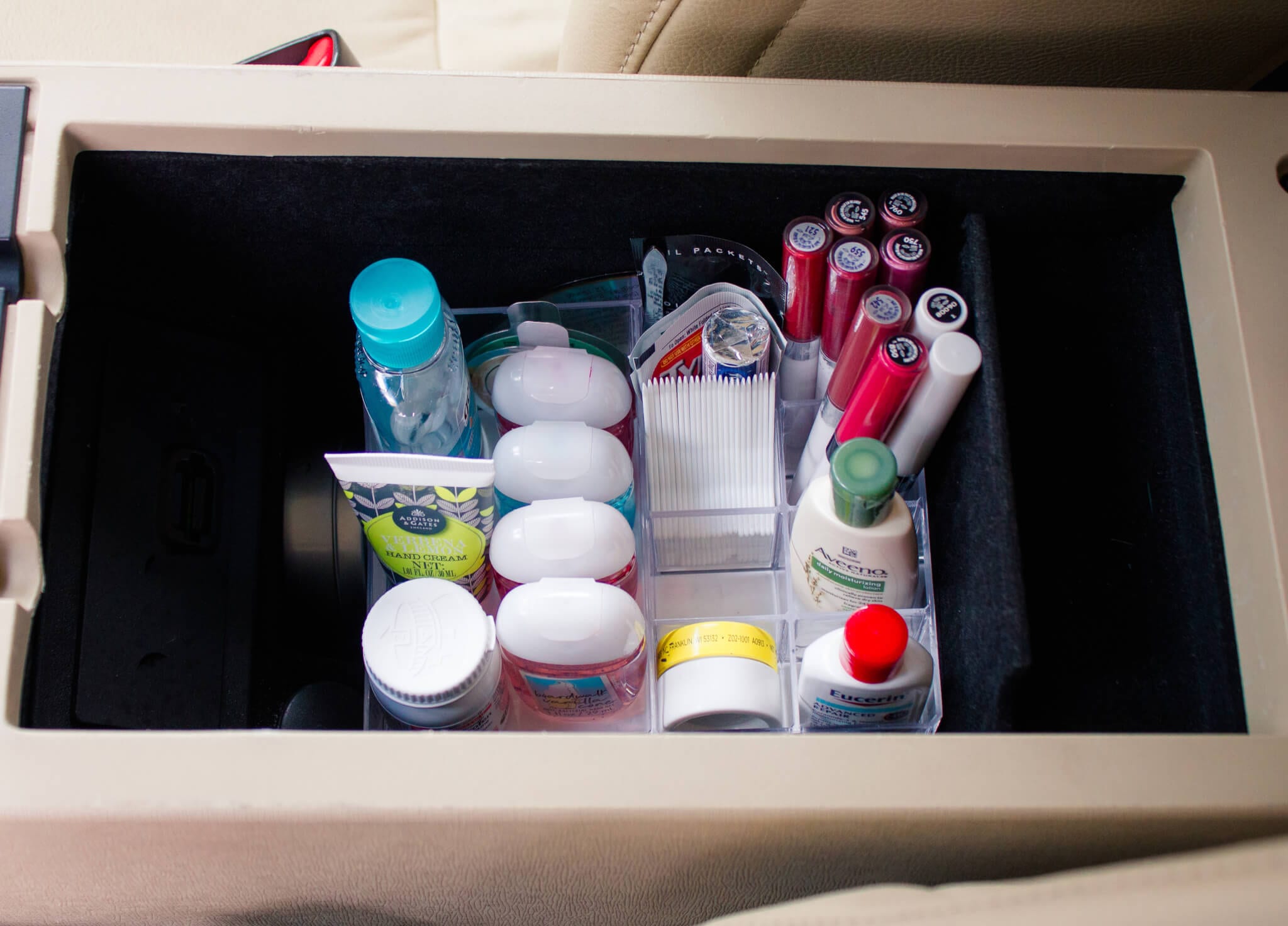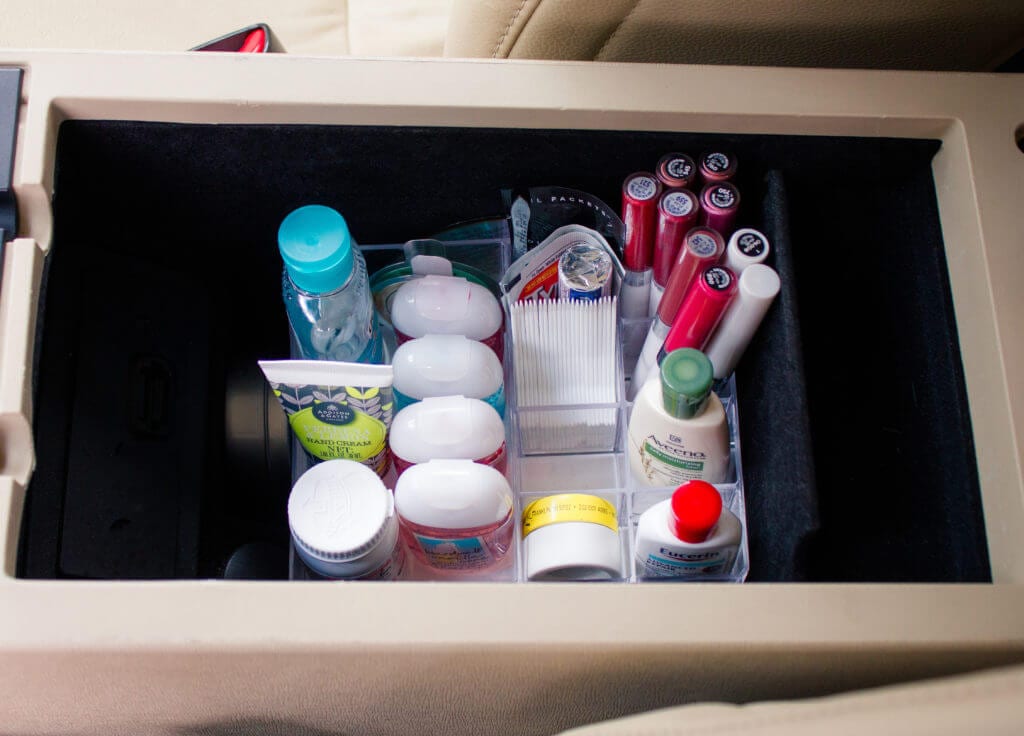 This is an updated photo of how I organize my center console. My previous organizer broke so I purchase a different variety from Dollar Tree and it works pretty well, but the first organizer was my favorite. The small containers (labeled, change, batteries, etc.) are actually q-tip containers from Dollar Tree that I took the q-tips out of and just used the container.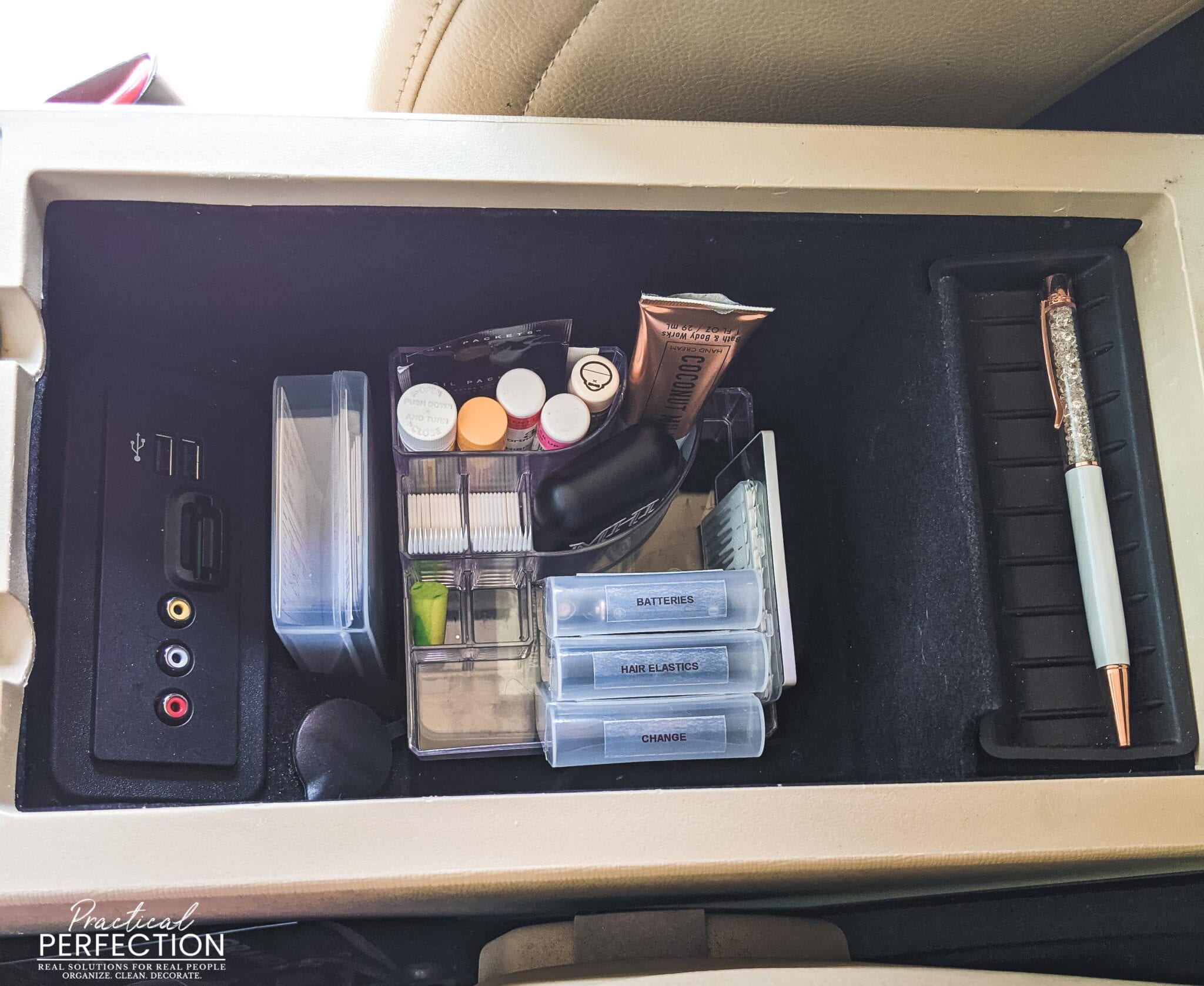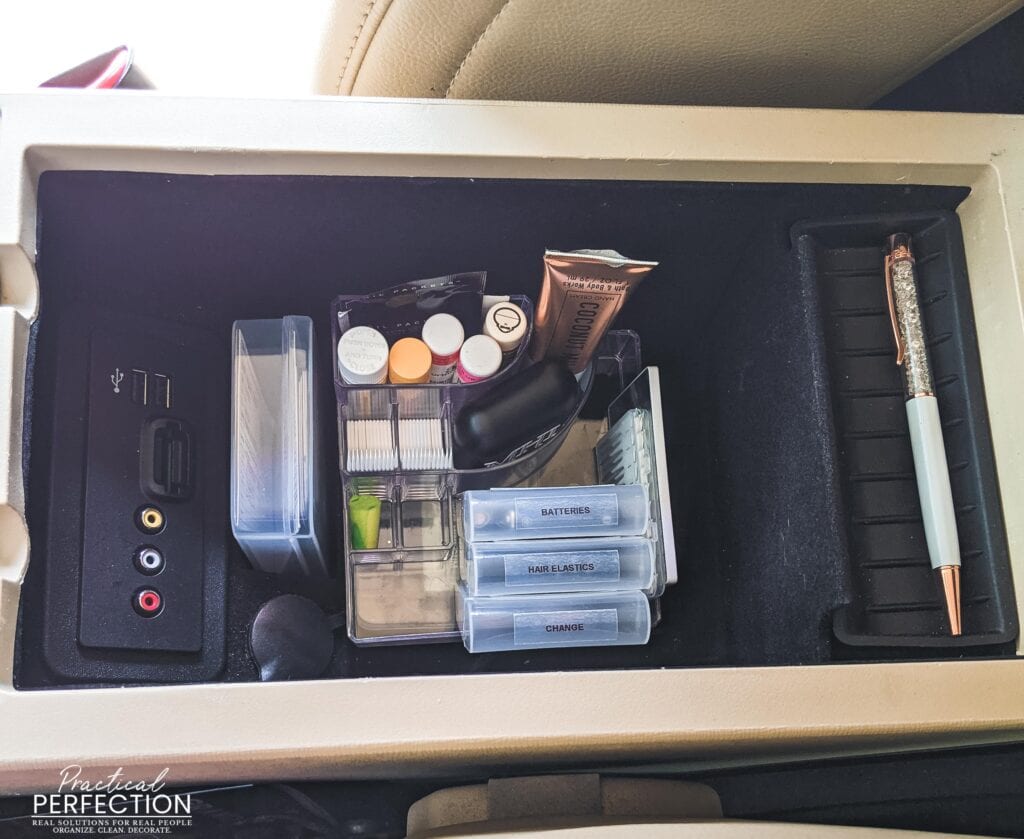 Update: I added even more containers to my console to have it perfectly organized. So you can see how I have organized this center console in my car in 3 different ways and they all worked great! You need to determine how much storage space you have versus how much you store in your center console to see what works best for you.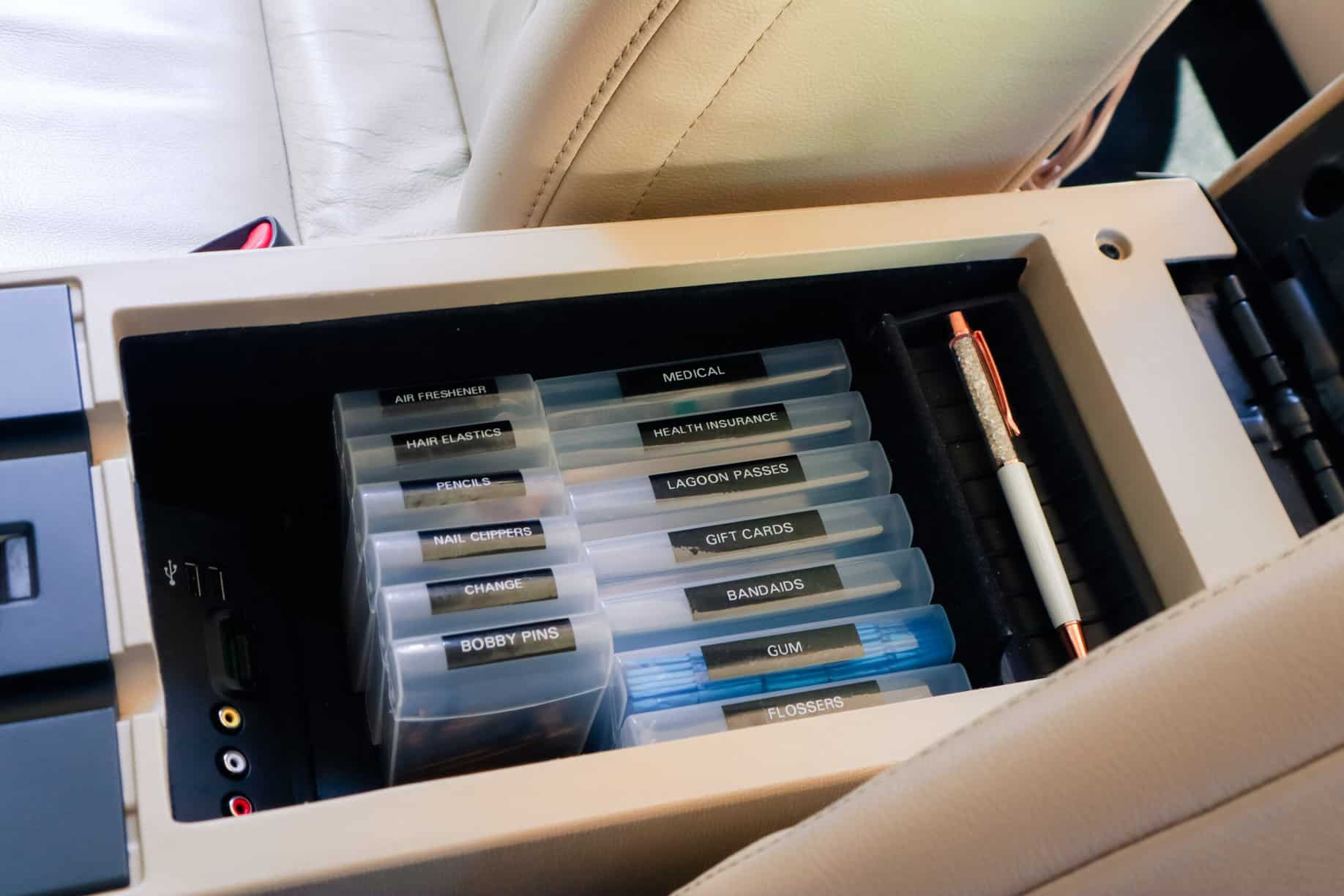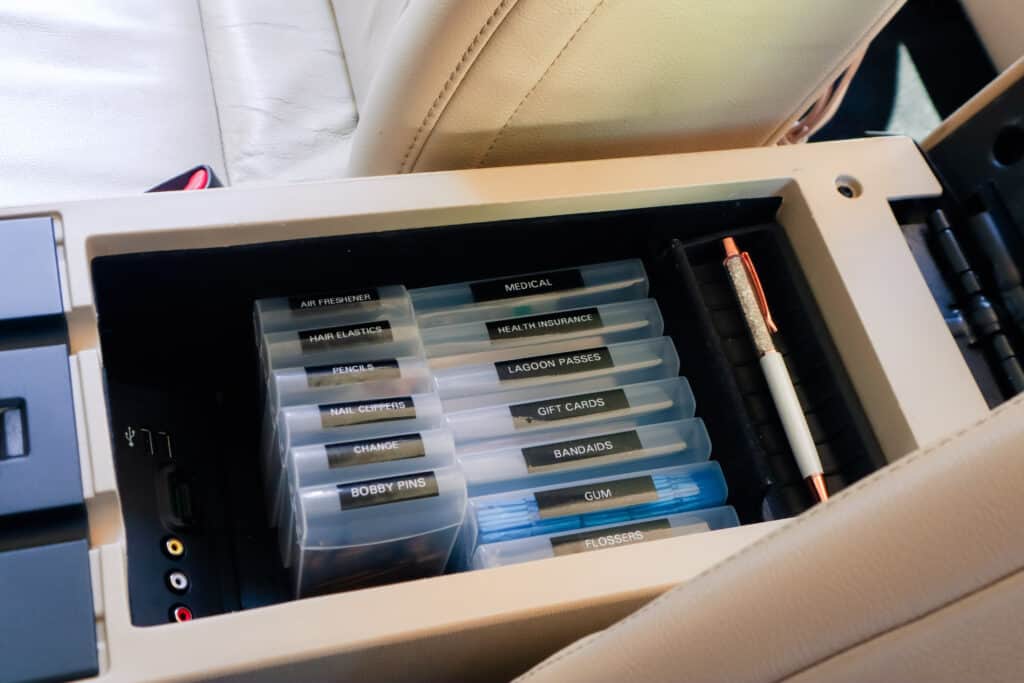 No Food Policy – Most of the Time
I do have a No Food policy in my car but sometimes desperate times call for desperate measures. So I keep a small container of semi-healthy snacks that my kids can grab if they are on the run. I try to keep the snacks as mess-free as possible.
Granola bars are particularly great for snacks to keep in the car. They can be kept in the car for a long time and still stay fresh. I also like how they have fewer crumbs than something like goldfish crackers or similar snacks.
I keep this Sterilite container under the front passenger seat so my kids don't see it and want to eat one every time we get in the car, but it's easily accessible when I need it.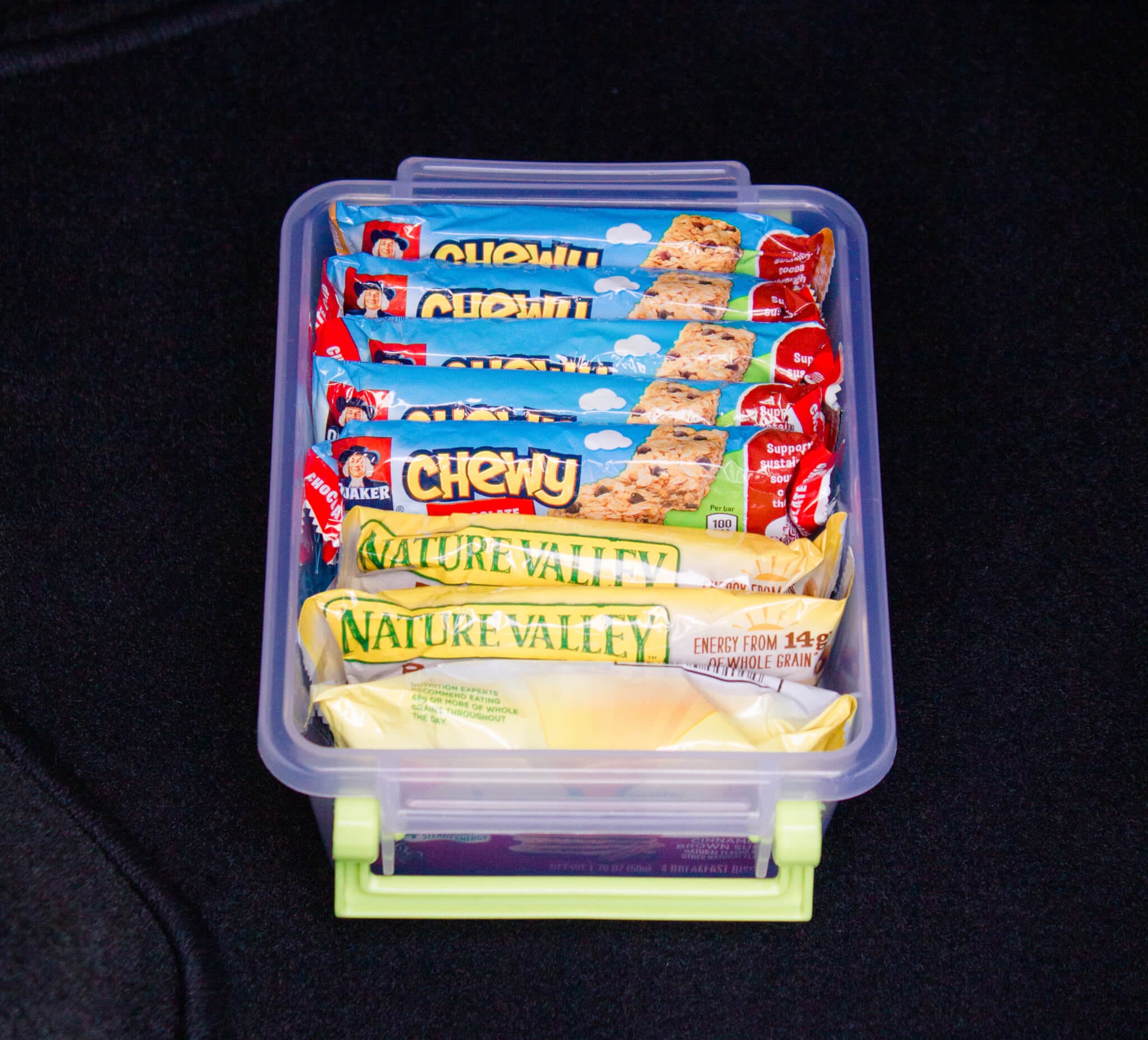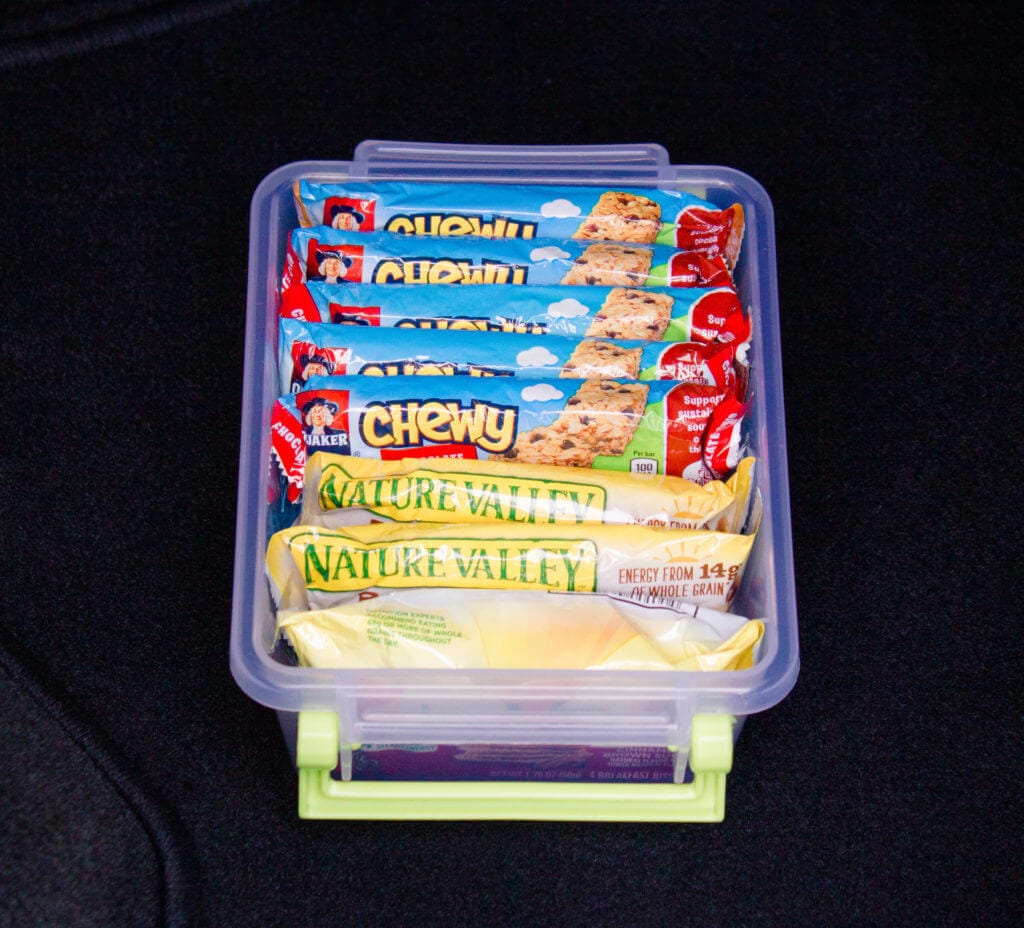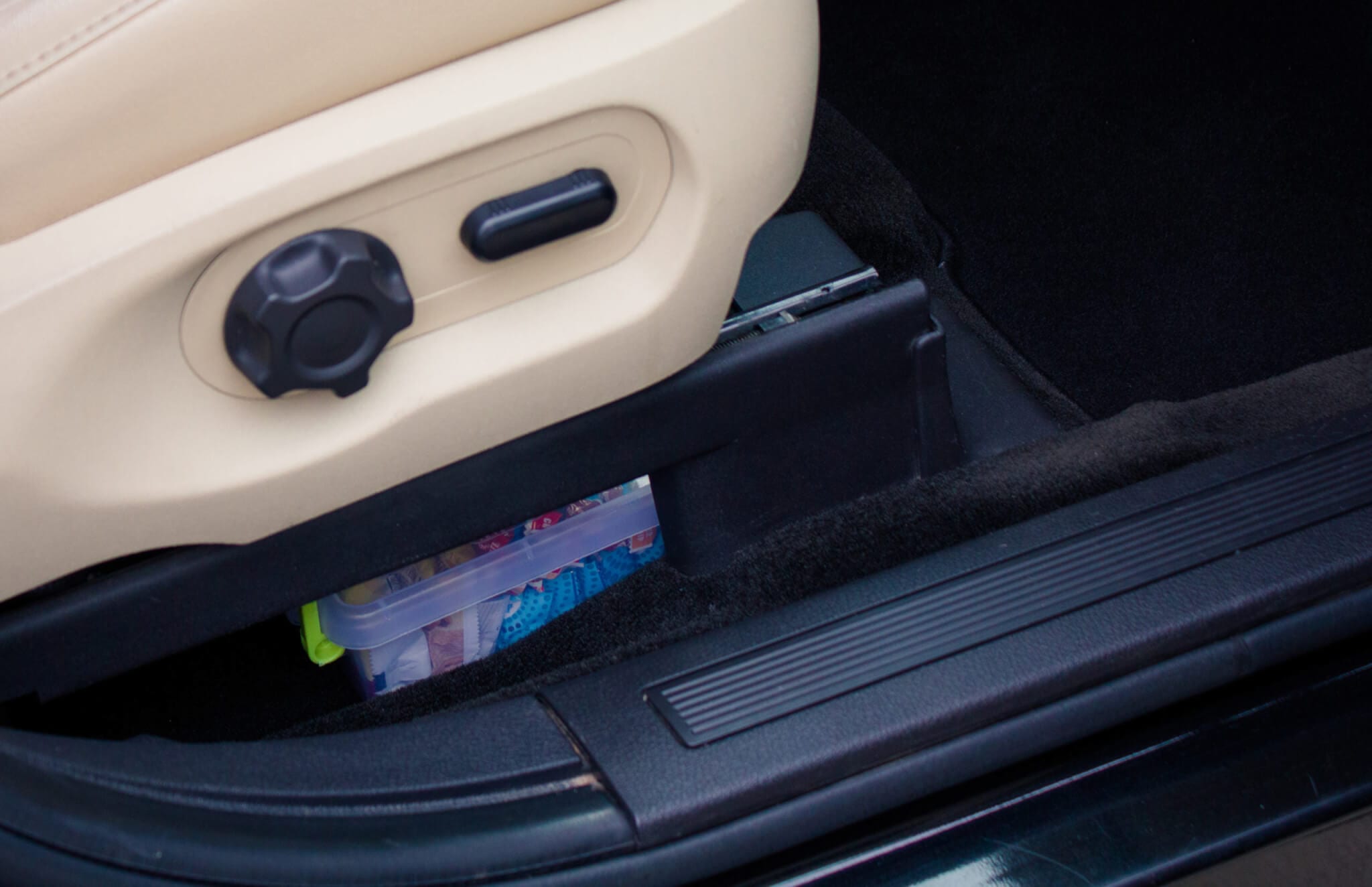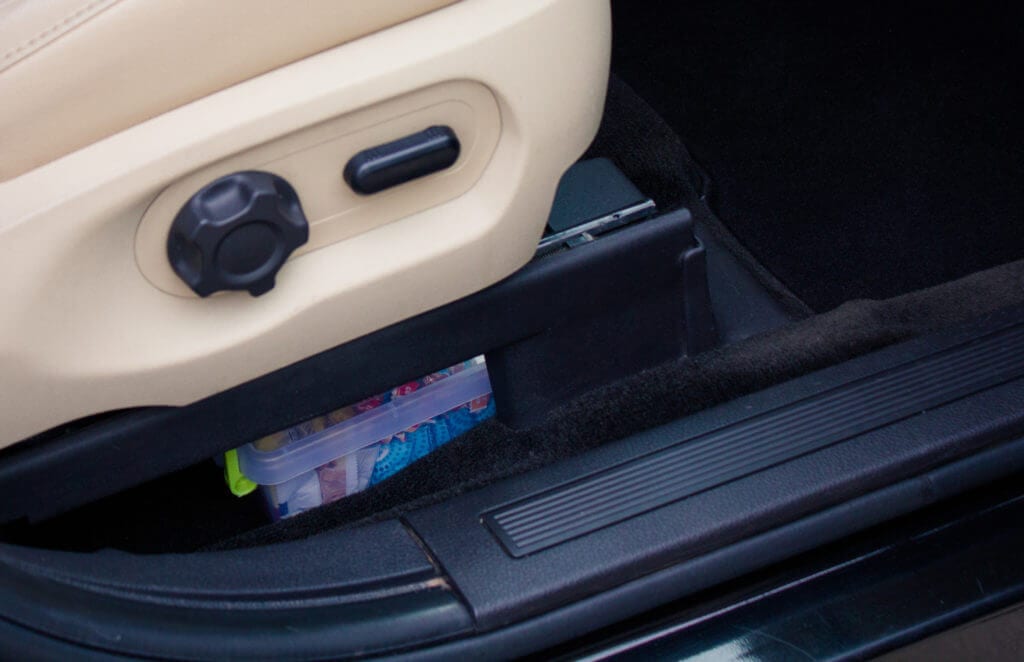 Here is my snack container stored under the passenger seat! I love that it can fit perfectly under the seat so it's out of the way but I still have easy access to it whenever I need a snack for the kids (or for myself).
The Easiest Car Organization Hack: Pack Out what you Pack In
You can see here that I really do make an effort to keep as little as possible in the car as I can. The kids always bring their junk in the car or leave their sports equipment and art supplies in the back seat but I am slowly trying to teach them to pack out what they pack in.
I try to remind them that they need to take everything out of the car that is theirs when we get out of the car. Particularly on a long car ride or after practices. I'm not sure why my kids all feel the need to take off their shoes when they get into the car, but we're working on that.
I'm trying to get everyone (myself included) into the habit of gathering all of their trash, shoes, toys, and sports equipment out of the car when they get out. They typically do really well when I remember to ask them but, in reality, it's up to me to remember to help everyone develop the habit!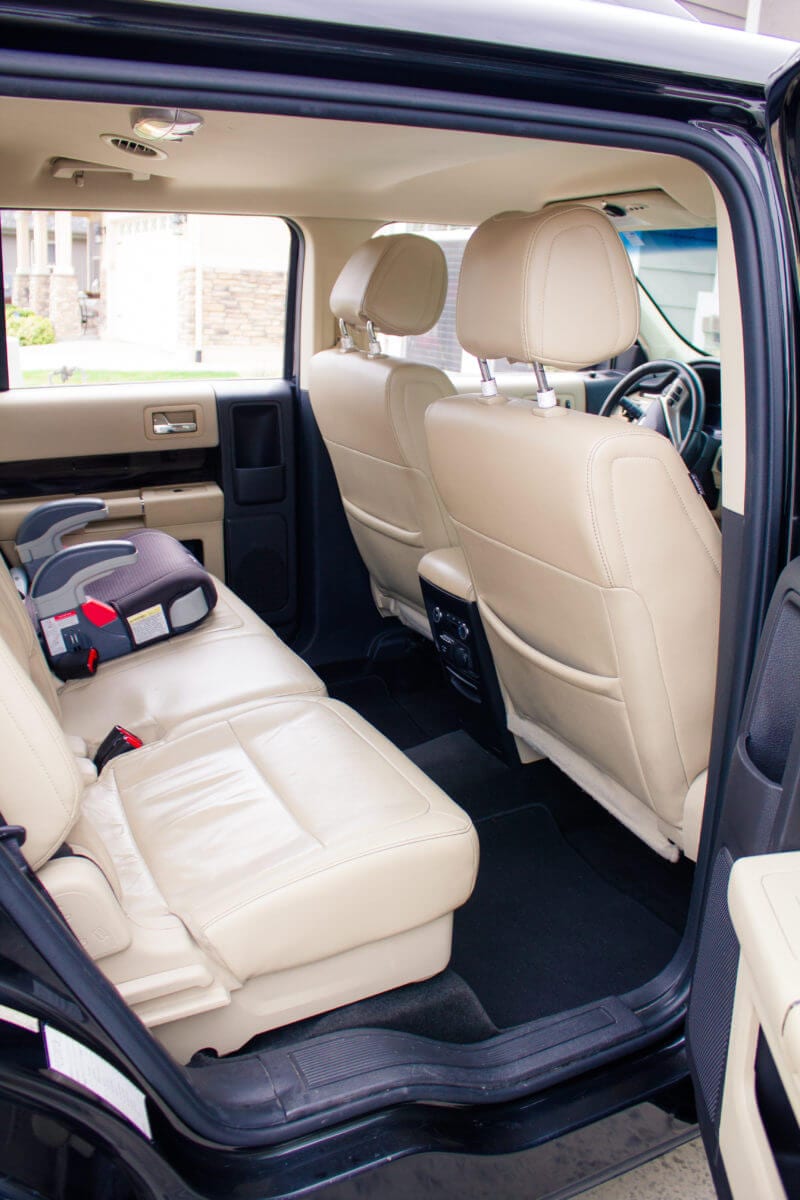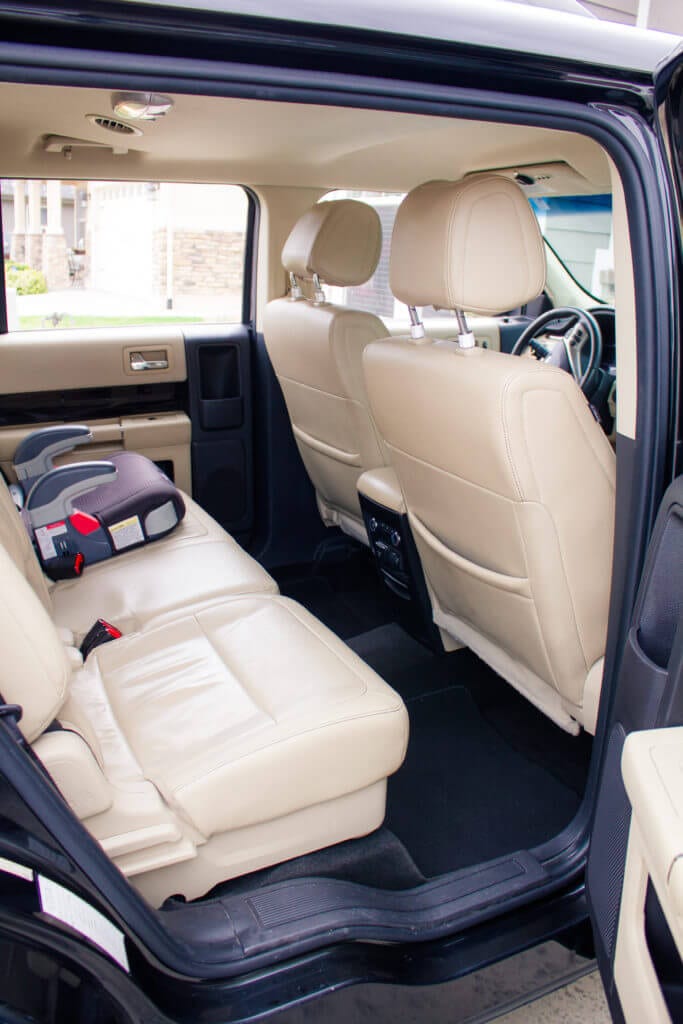 Car Organization Hacks for the Glove Box
Organizing the glove box is really simple. All you need to do is buy a small accordion file and label each of the sections. That way, the next time you get pulled over, you can easily hand over your license and registration… because you know right where it is! 😉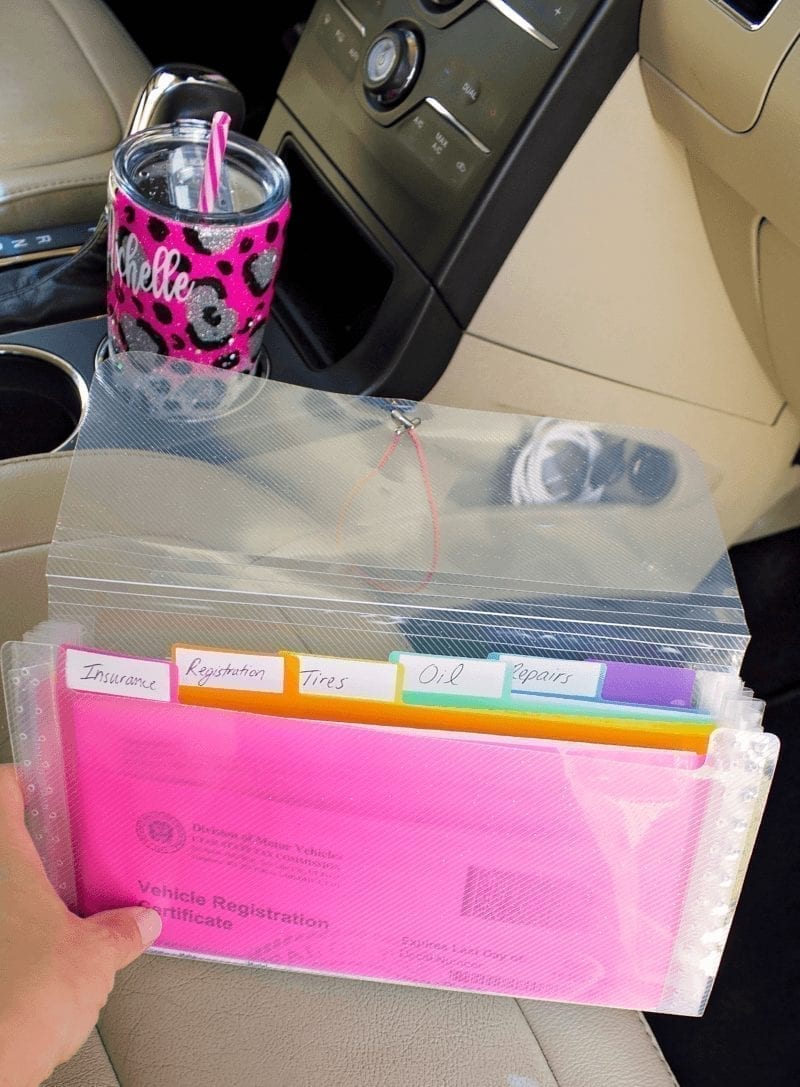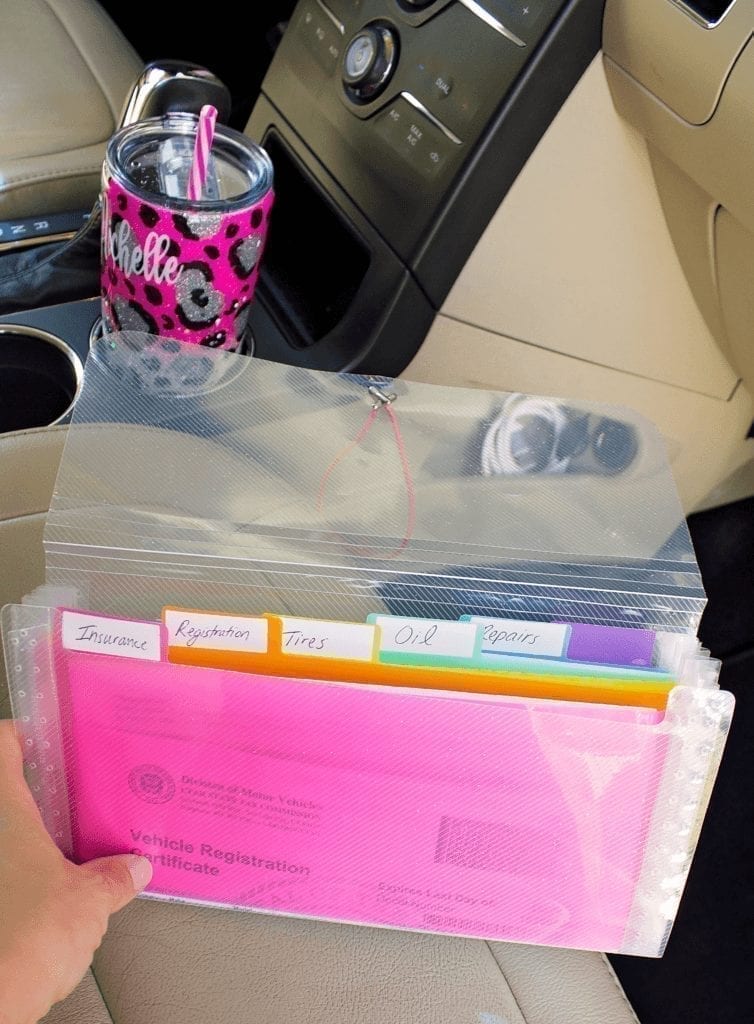 I also purchased these awesome rainbow zipper pouches to keep loose items from making a huge mess. I use these bags for things such as mints and gum, charging cords, tampons, gift cards, and coupons, etc. This looks so beautiful inside the glove box and it really helps to cut down on the clutter.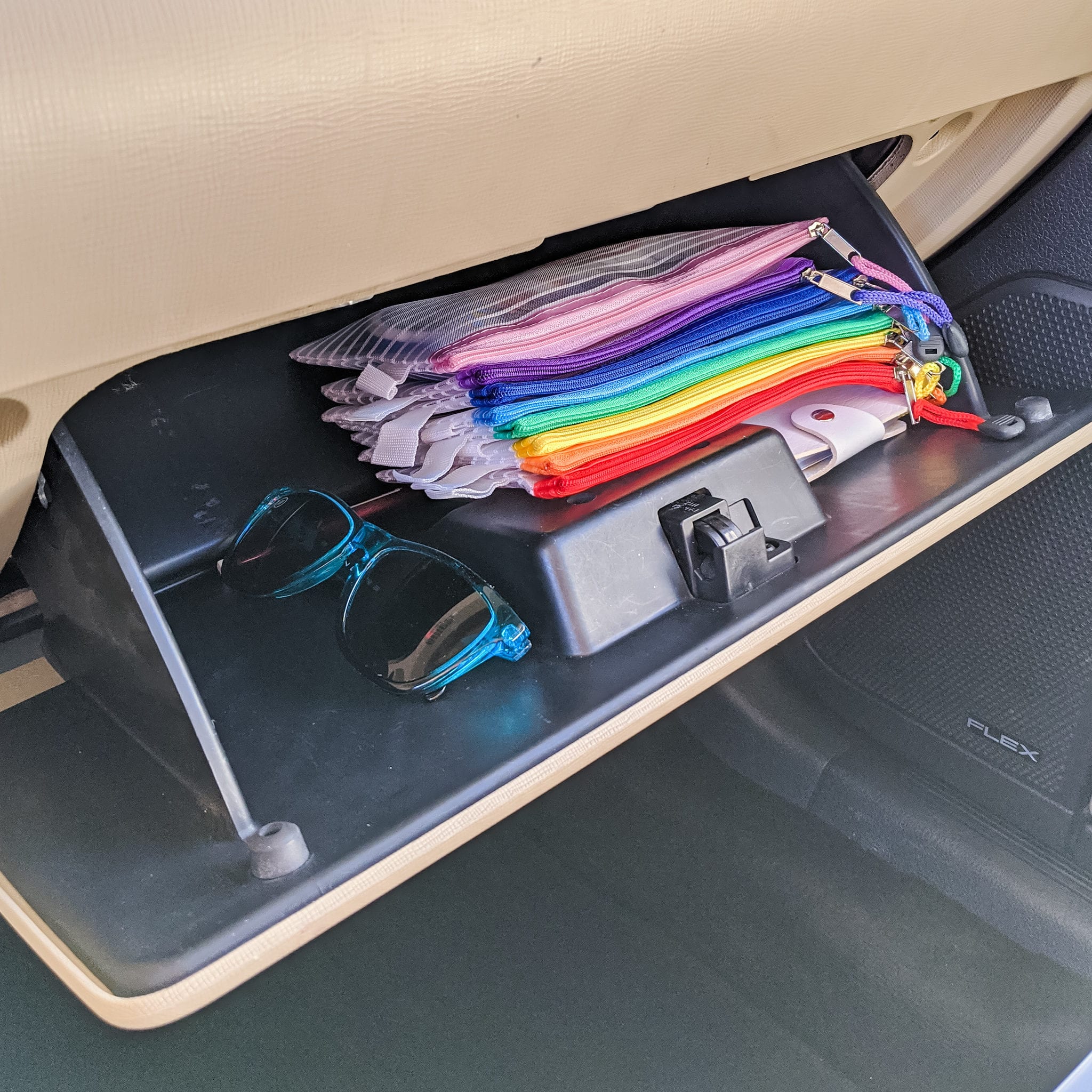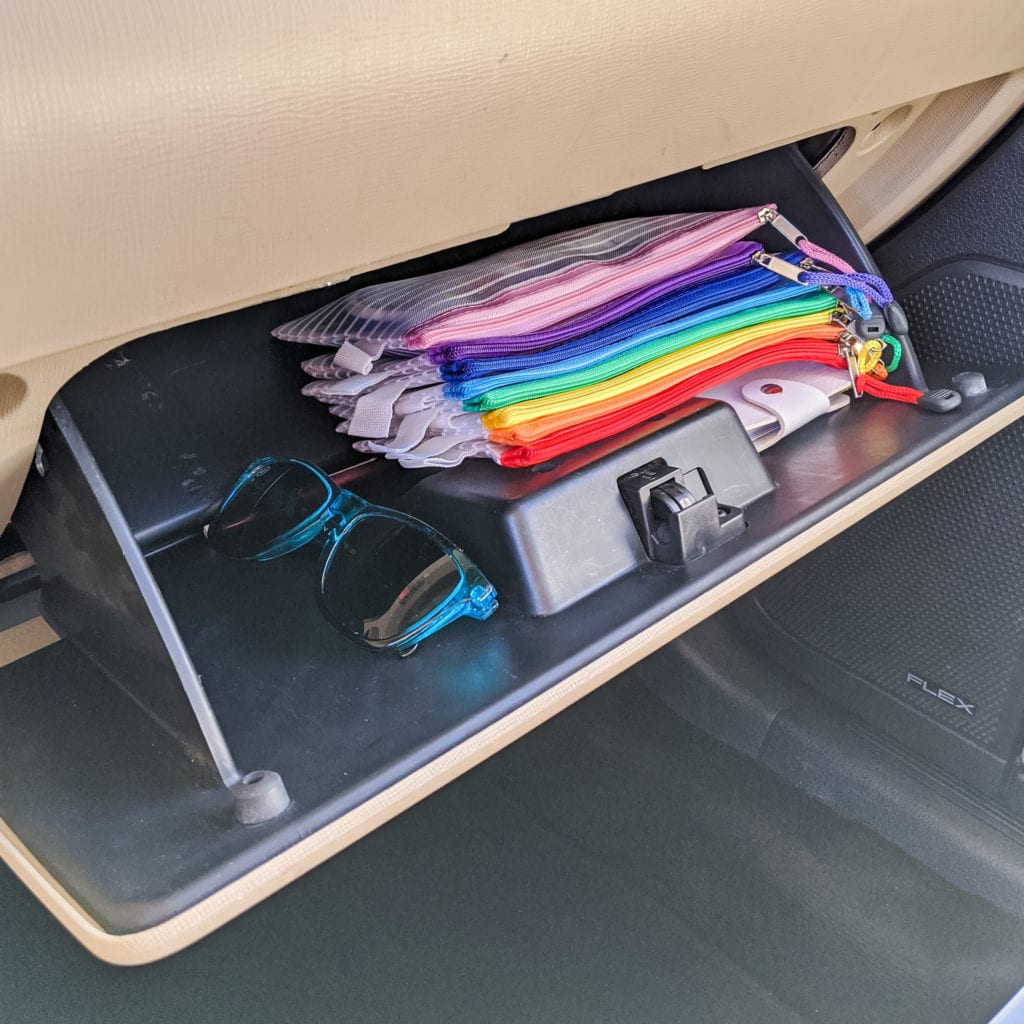 UPDATE: After several years of trying to find the right system that works best for me, I think I've finally found something that I love!
The bags were a great idea and might work perfectly for you, but these simple plastic bead organizers (available in several sizes) are a huge hit in my book. They stay looking nice and it's easy to see what's inside.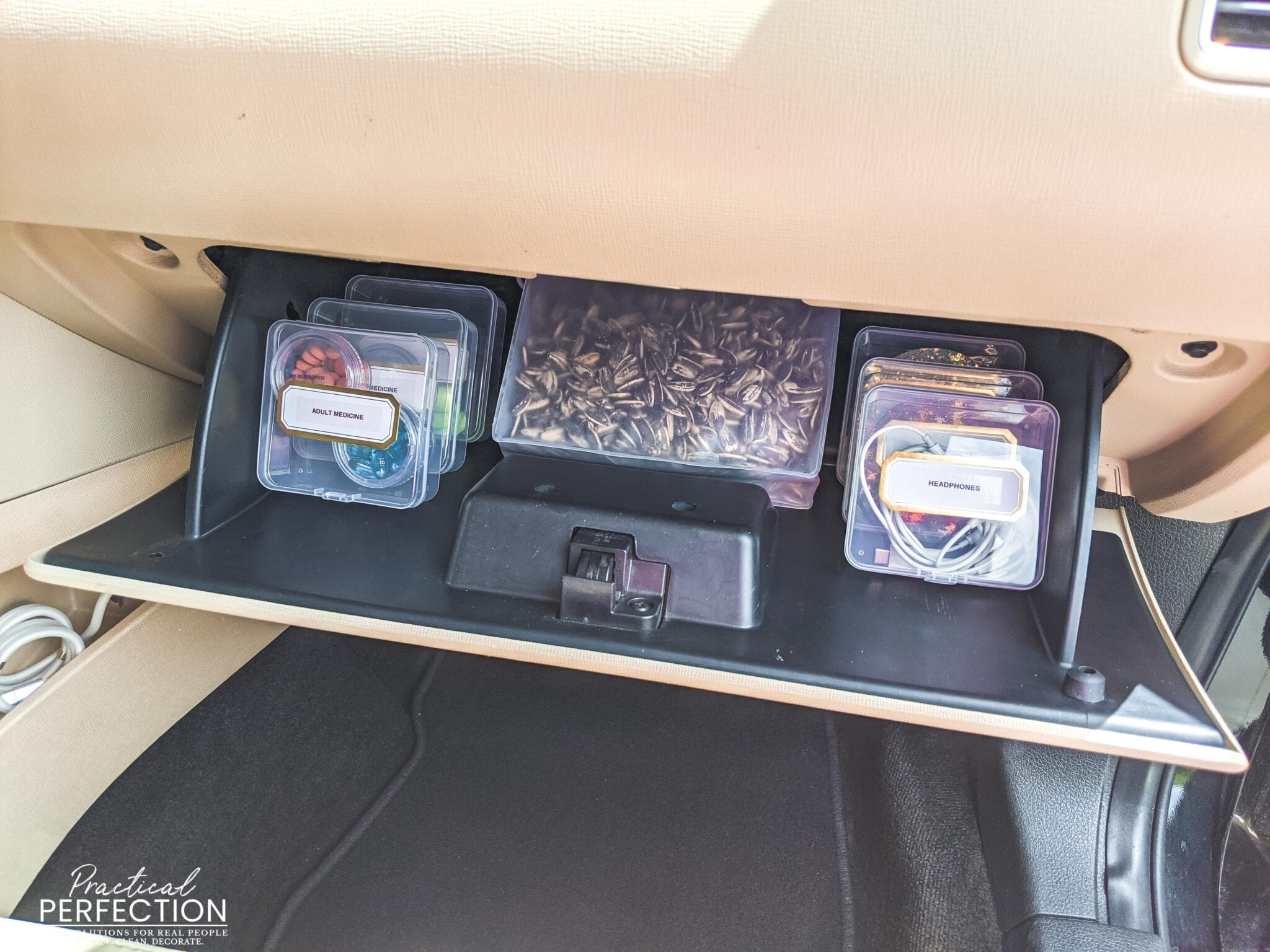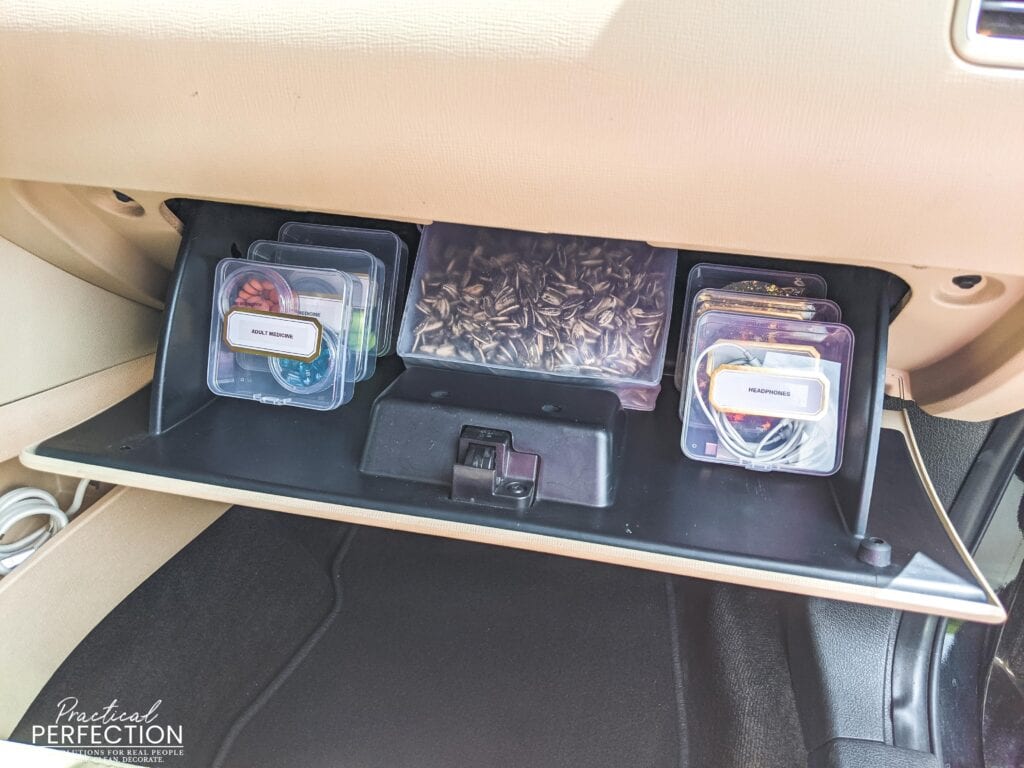 I use them to store things like medicine, headphones, extra car coasters, and more! For the medicine, I used my label maker to type in what type of medicine and how many mg it has so I know how much to take.
The same goes for my kids… I also put on the dosage for their ibuprofen according to their weight with a simple label with my label maker.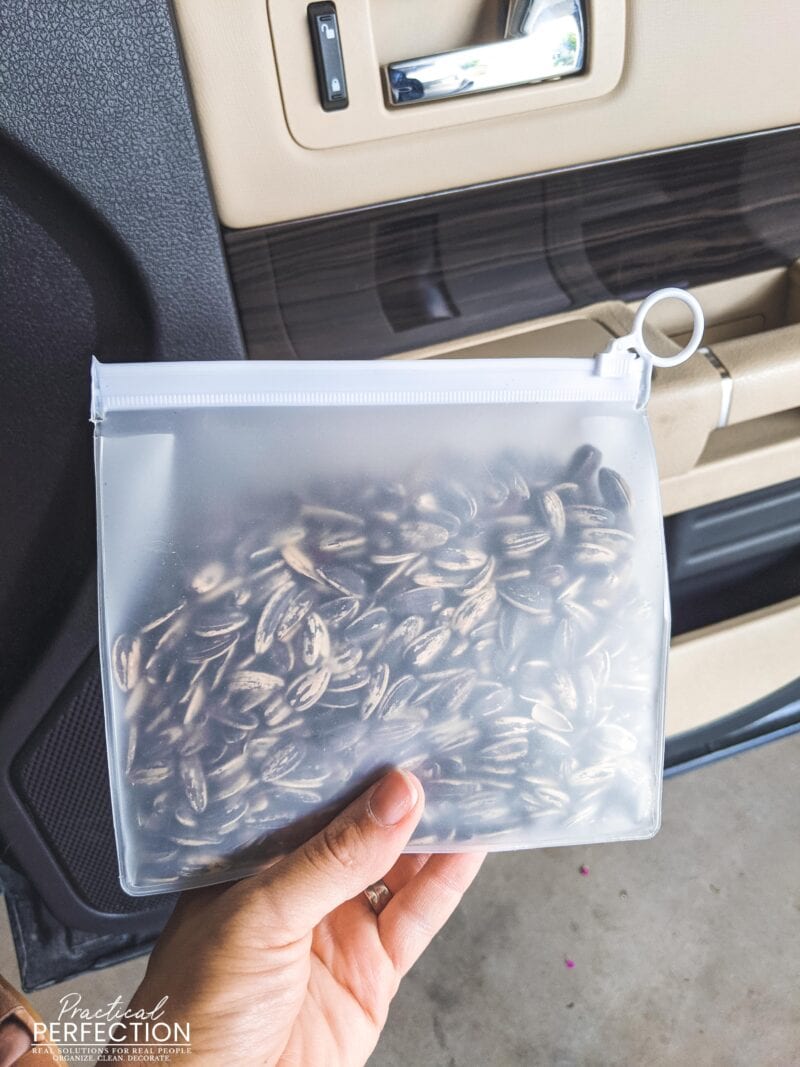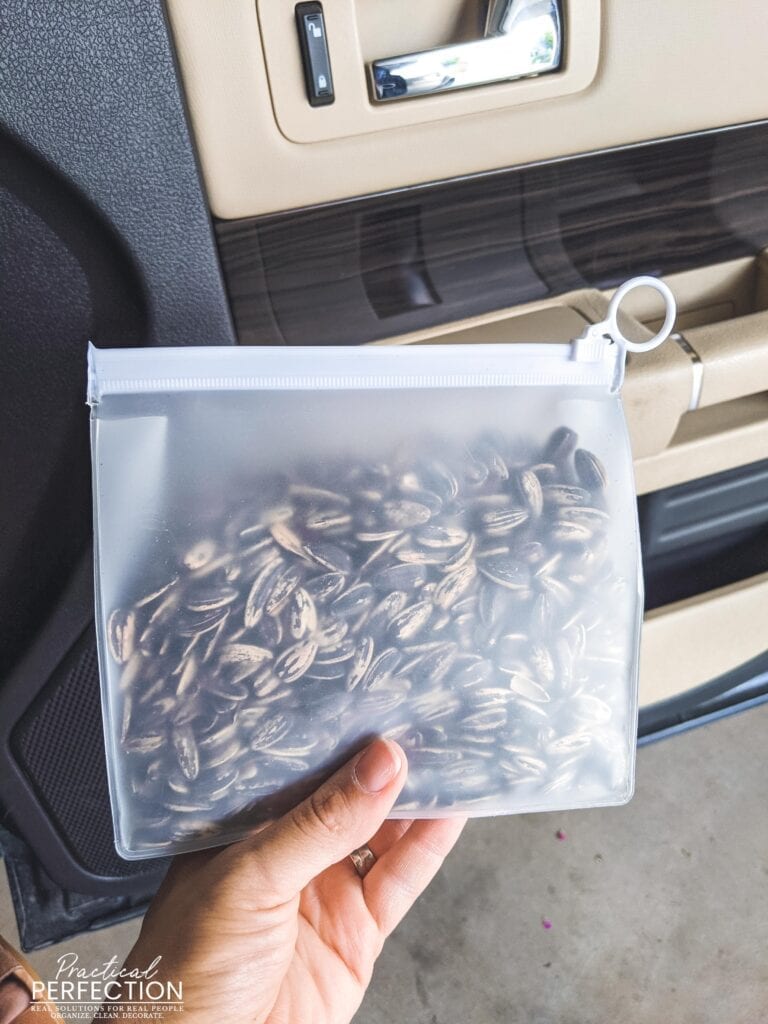 My Favorite Glove Box Organizers:

Keep Your Emergency Supplies in the Trunk
Because my son plays sports during the warm months, I always keep 2 folding chairs in the back of the car so they are handy whenever I need them.
I also have an awesome black crate that I purchase at Costco about a year ago that I keep some emergency supplies in like a first aid kit and a few miscellaneous items.
Tailor the crate in your trunk to what you and your family need most. If you and your family like to go on a quick road trip pretty often, you should also add a few things like bug spray, toys to keep the kids entertained, or anything you will use in everyday life.
Here's what I store in our crate: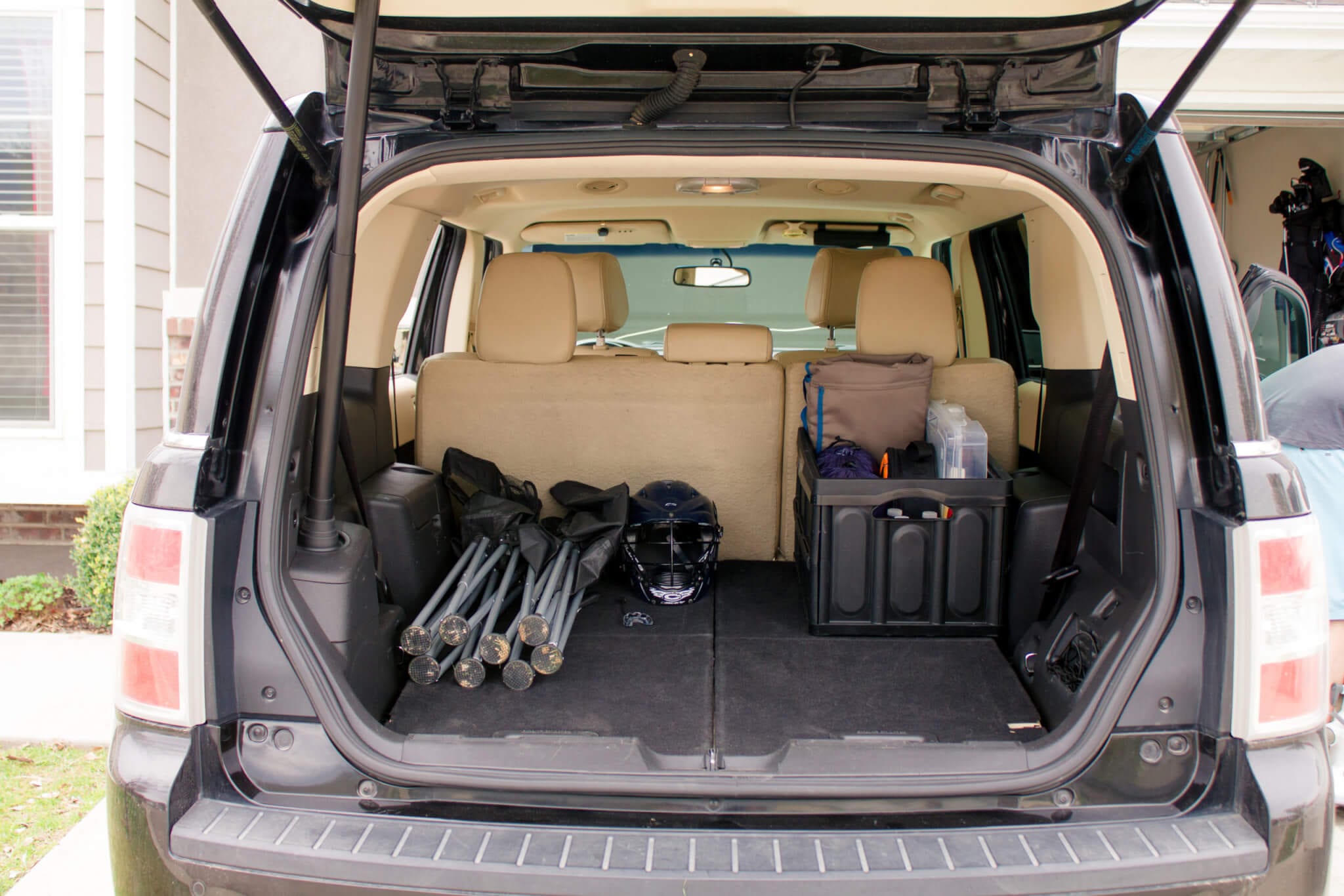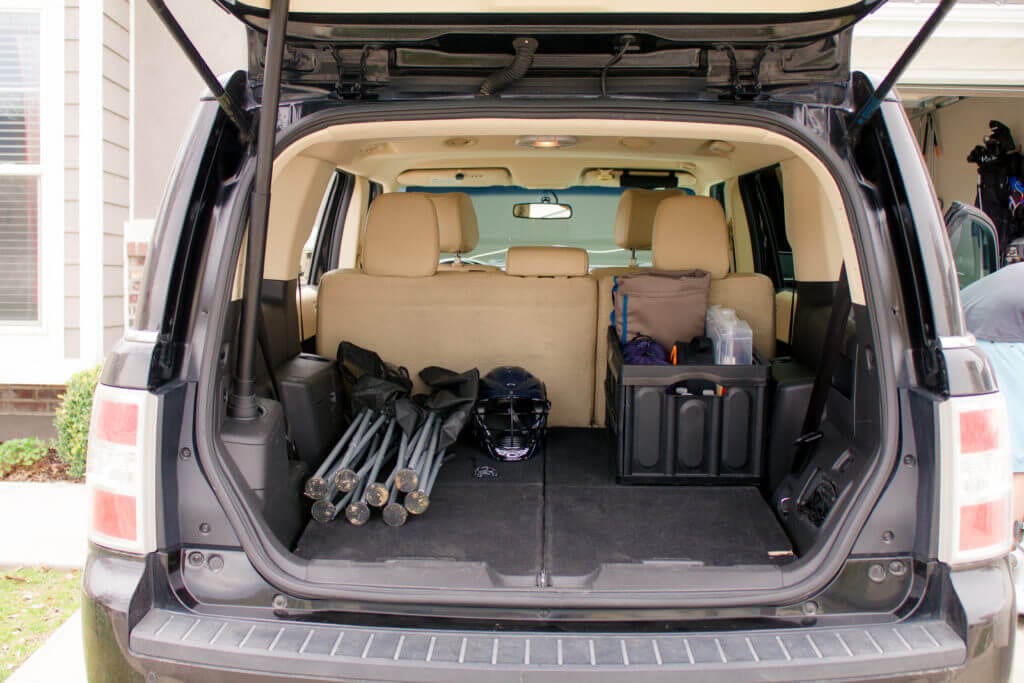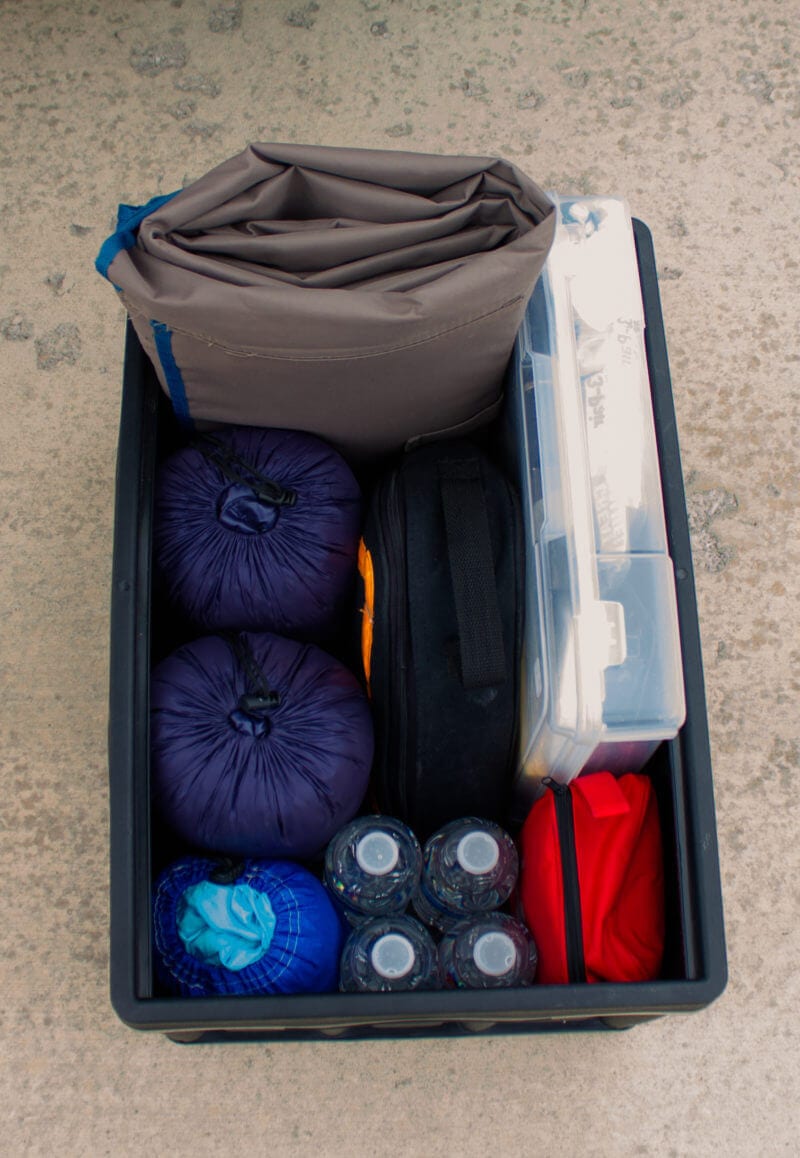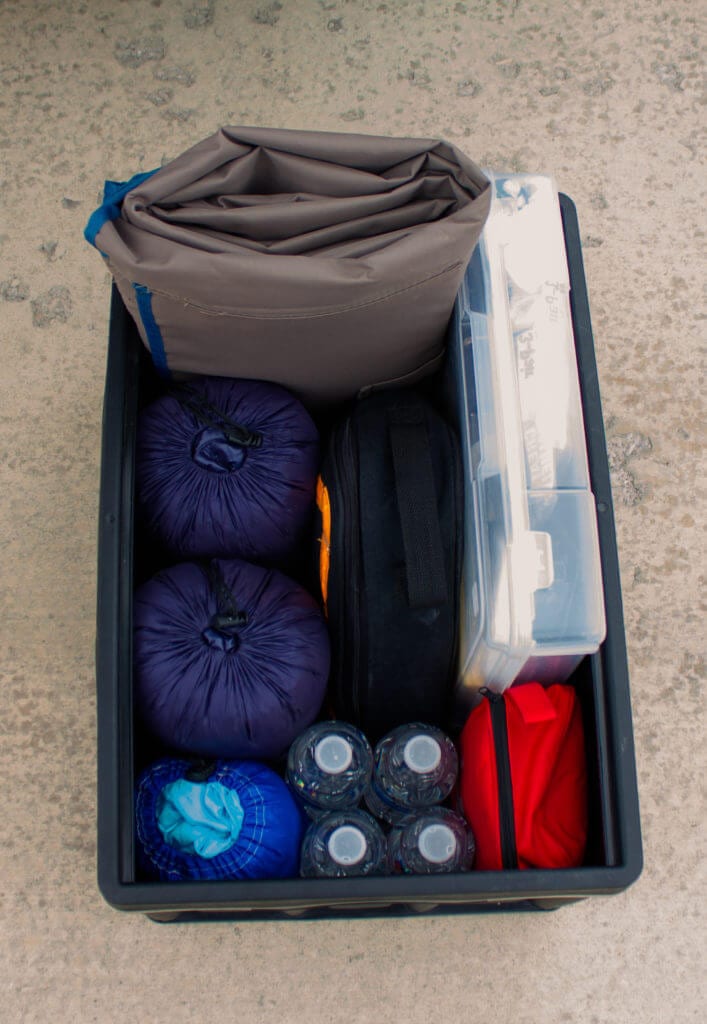 Making your Car Smell Nice is Extremely Important
Your car can be the cleanest car in the world, with no crumbs or kids toys in sight, but if it stinks, nobody will notice how clean your car's interior is.
Smell is so important! That's why I make an extra special effort to make sure that my car smells nice and fresh.
There are so many different kinds of car fresheners on the market today but I feel like I have tried most of them!
My favorite fresheners are the Bath and Body Works fresheners. My next favorite is the Yankee Candle fresheners. Here are a few of my other favorites:

Buy Short Containers to Organize Under the Car Seats
Have small containers that will fit under your car seats to help you contain all of the necessities that you keep in the car. For example, have a container with extra diapers and wipes if you have a baby, etc.
Here are some other ideas of things you could store under the seat in your car:
Diapers
Wipes
Plastic bags
Umbrella
Snacks
Car-sick bags
Important car documents
Tissue boxes
Tire pressure gauge
Car chargers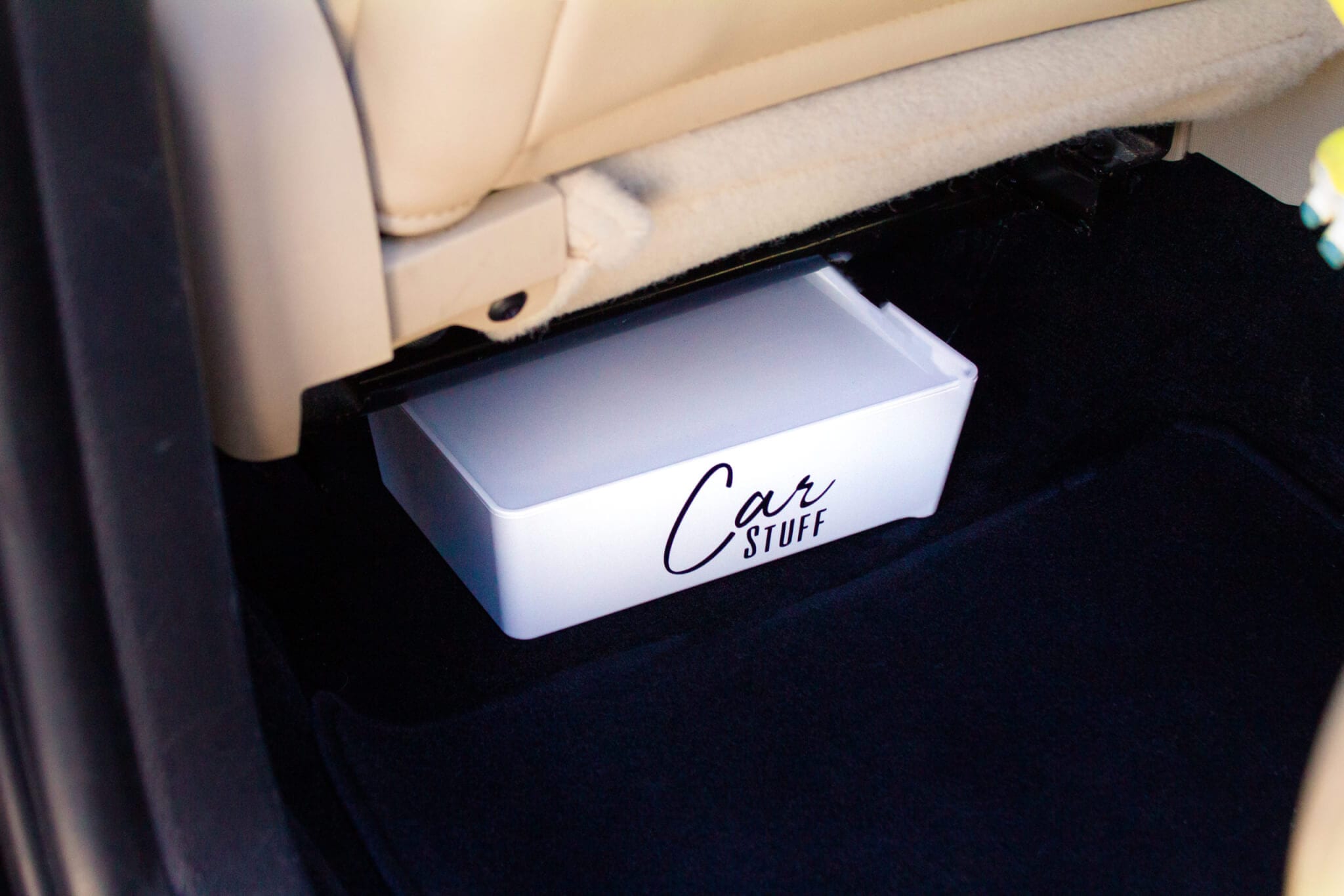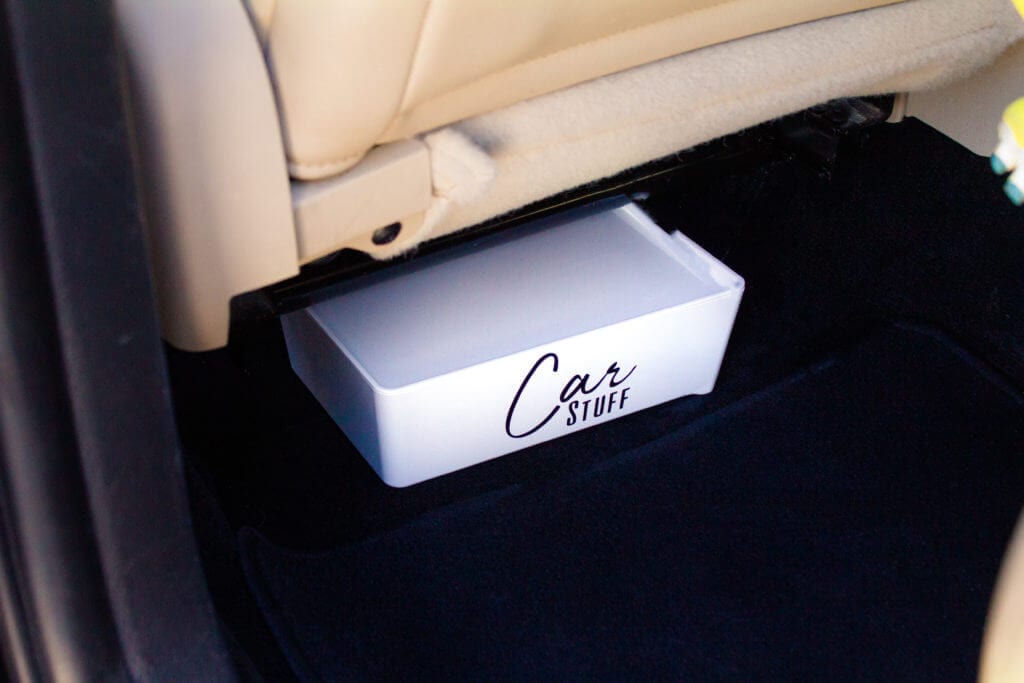 Make It a Family Affair and Get Everyone Involved
My last piece of advice for maintaining a clean and organized car is to get everyone in the family involved. If you have kids, this can be a really great chore for them to do.
Cleaning out the car is one of the chores that at least one of my kids does each week. I typically don't make them vacuum out the car at this age, but I do have them empty out all of the garbage, food wrappers, small toys, shoes, and sports equipment that inevitably gets left in there.
This also helps you keep track of the stuff you store in your car all the time. For example, sometimes when you use the last tissue, you forget to throw the empty tissue box out and it just sits under your seat.
Doing regular cleans of your car will keep your car free of all the things that can clutter up your vehicle.
Make sure you also check your first aid kits and replace anything you've used, so you don't find that you're out of something when you need it!
So here's a recap of my tips and tricks to keep your car clean:
No food allowed in the car (if you have small children, this rule prevents 75% of the mess!)
Clean your car out weekly (vacuum, wipe the dash and windows)
Do a quarterly deep clean
Less is more – try to take everything out of the car that is not a necessity
Have some sort of air freshener so it stays smelling nice
Have containers to keep loose items corralled so they aren't rolling all around the car
Make it a family affair – ask for help from a family member or assign it out as a chore for your kids
Create a system for the center console
Create a system for the glove compartment
Thanks for reading and check out my other related posts: