I am the type of Mom who believes that it is my absolute responsibility to teach my kids how to be independent. I heard a few months ago that a Mom's job is to work her way out of a job, and if you do, that's how you know you've done it right. That's why I made these free printable kids chore chart cards.
*This post may contain affiliate links, which means I may receive a small commission, at no cost to you, if you make a purchase through a link!*
To teach my kids the skills they need to make it on their own is vital. So many kids these days have no idea what it truly means to work hard and sit back and enjoy the satisfaction of a job well done. Teaching my kids all of these small tedious details is super important to me as a Mom.
Do you want to download the free printable kids' chore CHARTS? Check out my Kids Chore Chart Post. Scroll down to download the Free Chore Chart CARDS.

You can also see how we teach our kids about money in this post: 11 Reasons to Get the Greenlight Debit Card for Kids
While we don't live on a farm like my Dad did growing up, I can still make an effort to teach my kids how to work around the house. And you can too! This simple chore system can teach our kids how to be hard workers and to learn important life skills.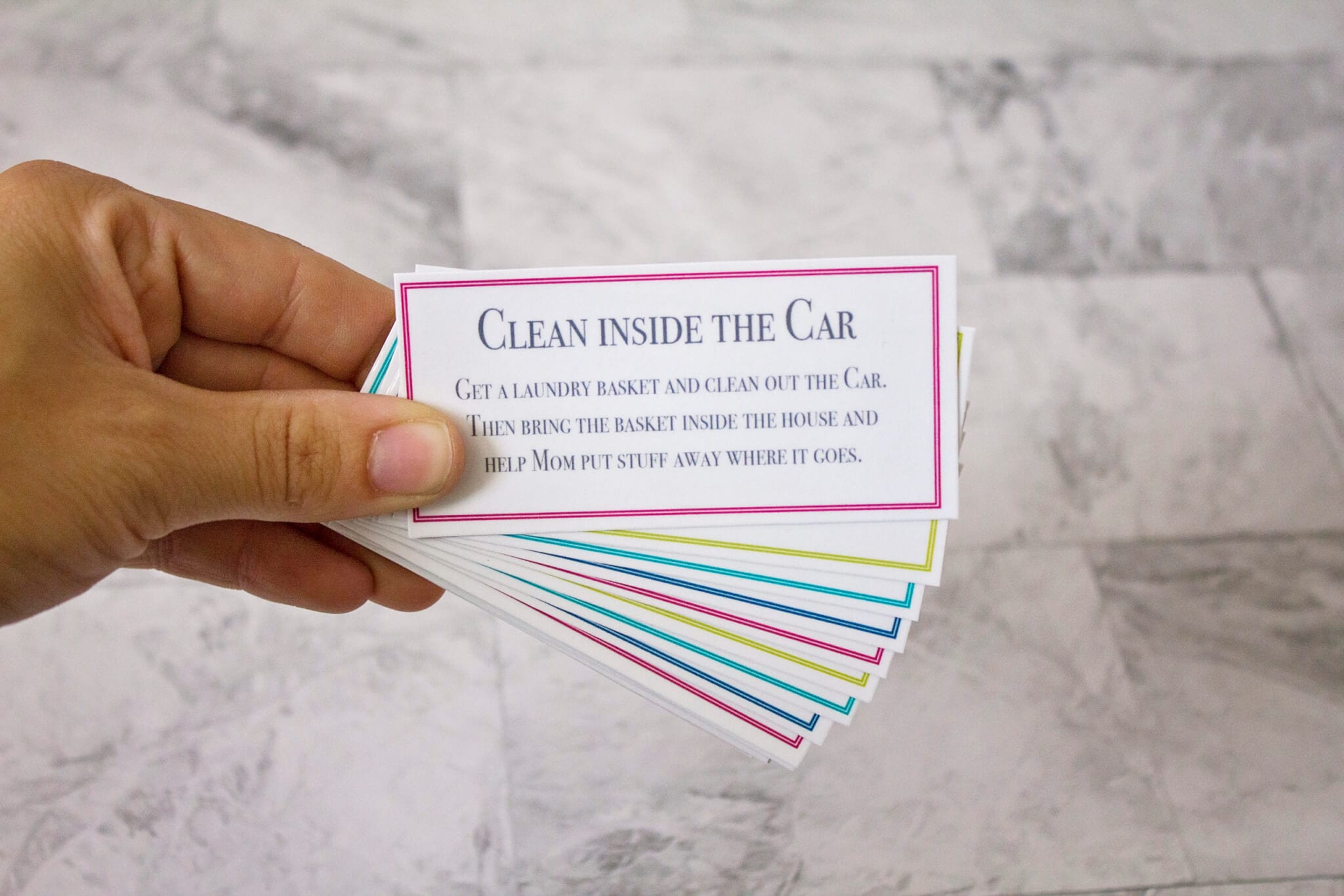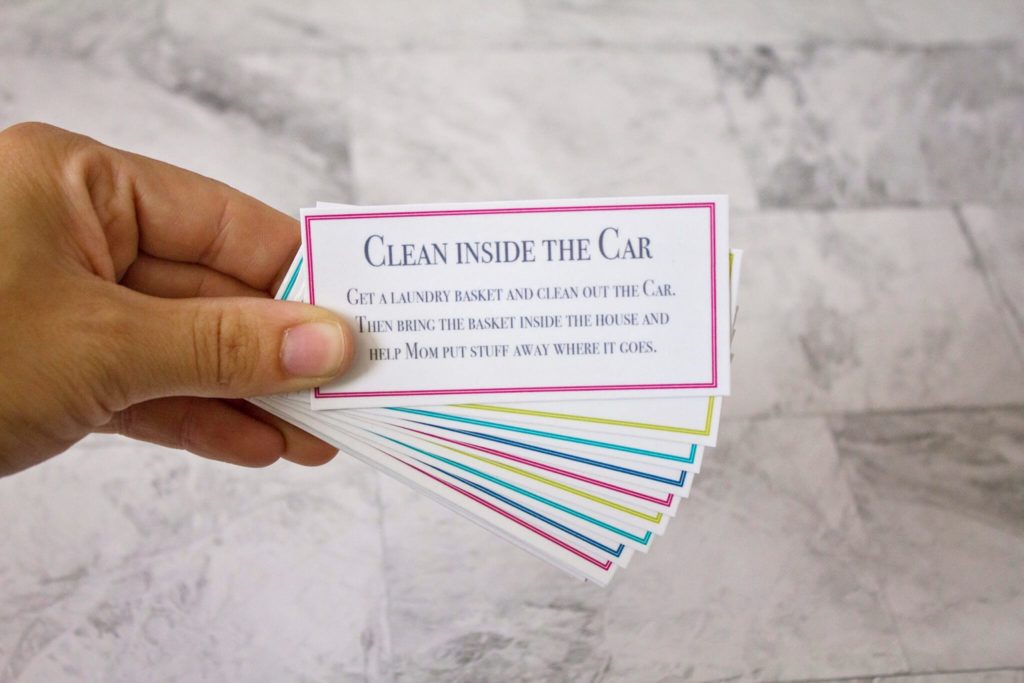 New Chore Board
I mentioned in my previous post with the Free Kids Chore Charts, that I don't give my kids an allowance (gasp!). They have daily and weekly chores that they do just because they are a part of our family. But I do want them to learn how to manage money from a young age. So my husband and I decided that we would create a system that allows my kids to earn extra money in exchange for extra chores! We wanted everything to be in one place and at-a-glance.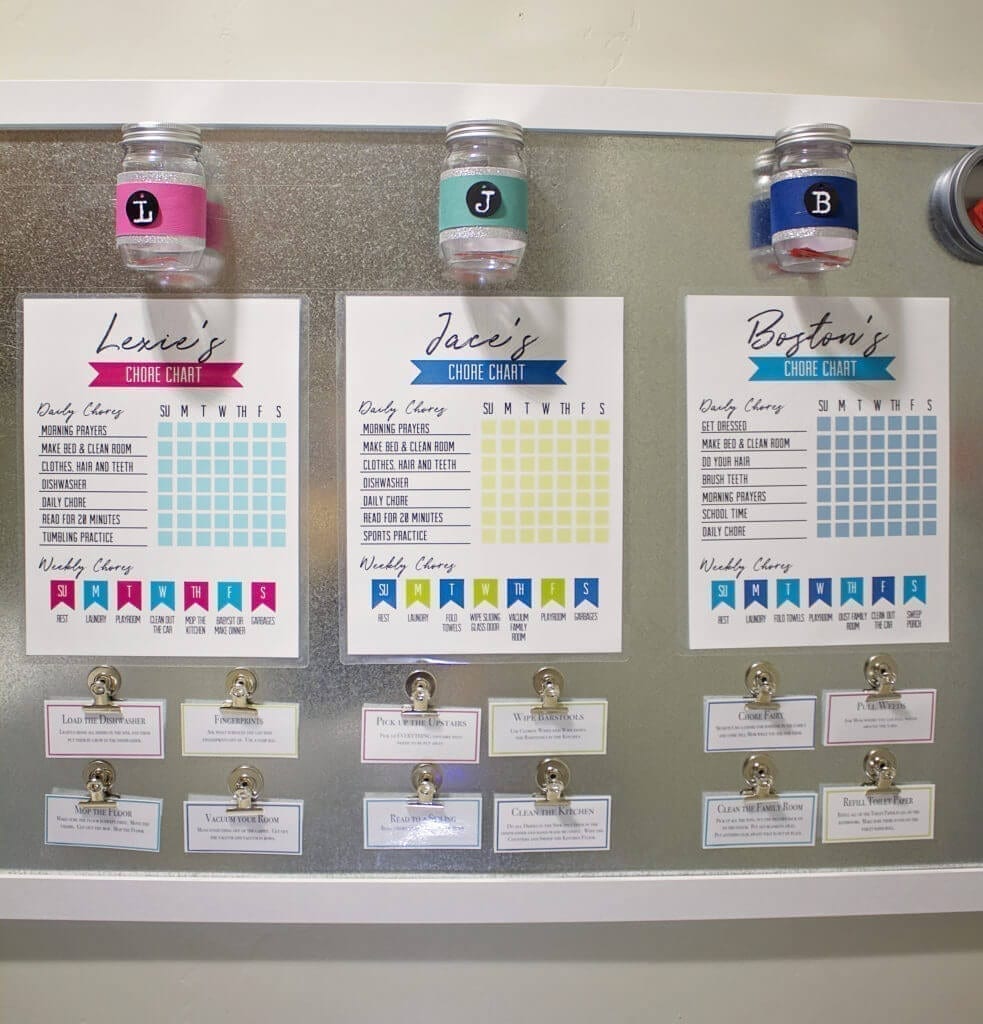 We made an easy magnetic bulletin board where everything could be in one place. I wanted to create a chore 'hub' of sorts so we weren't running all around looking for chore charts and chore cards. This helps to streamline the process and doesn't waste time.
I purchased a 24″ x 36″ galvanized sheet metal piece from Home Depot and put it inside a 24″ x 36″ frame that I purchased at Michaels! It fit perfectly and I have never done an easier DIY project! In fact, I wouldn't really even consider it a DIY it was that easy!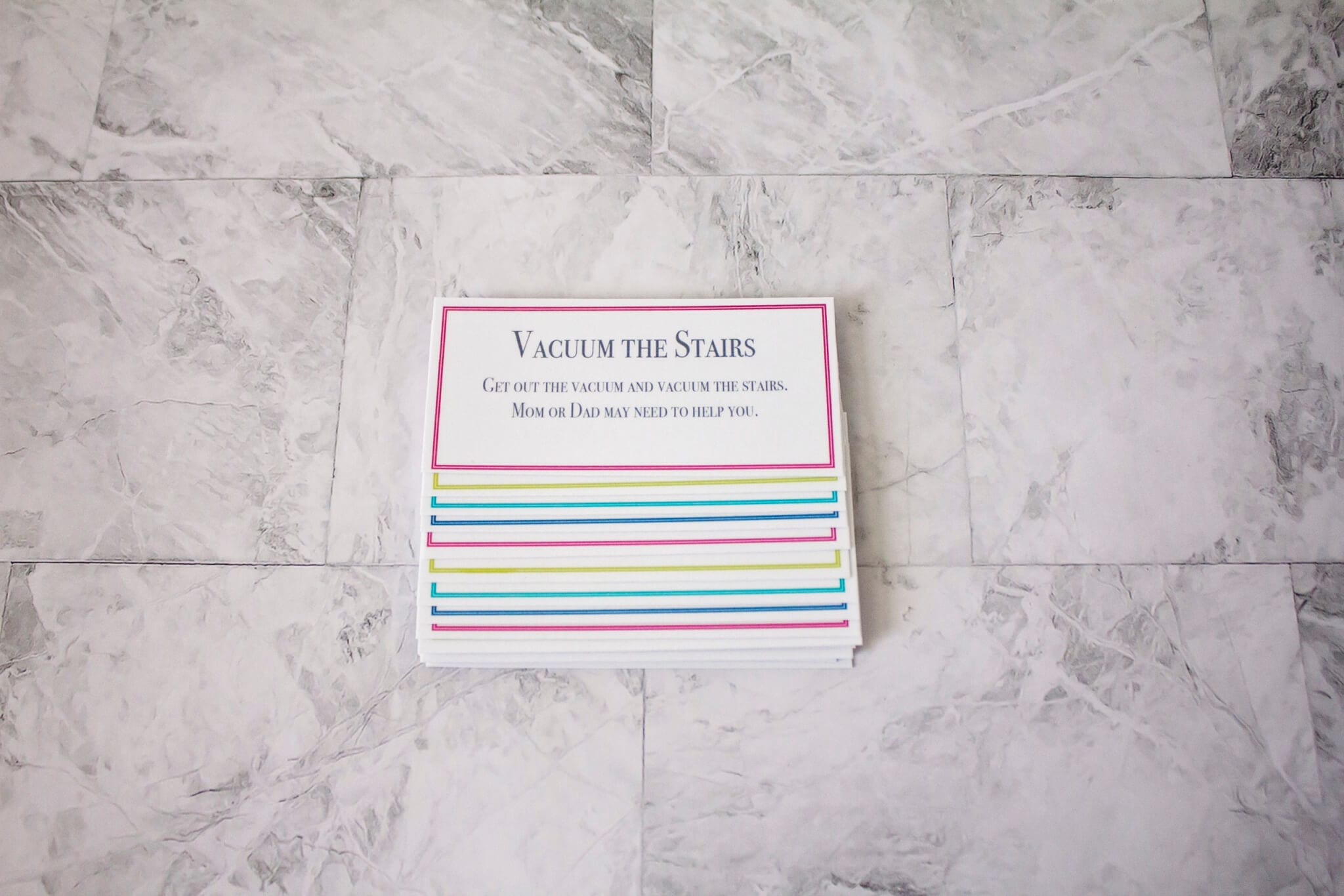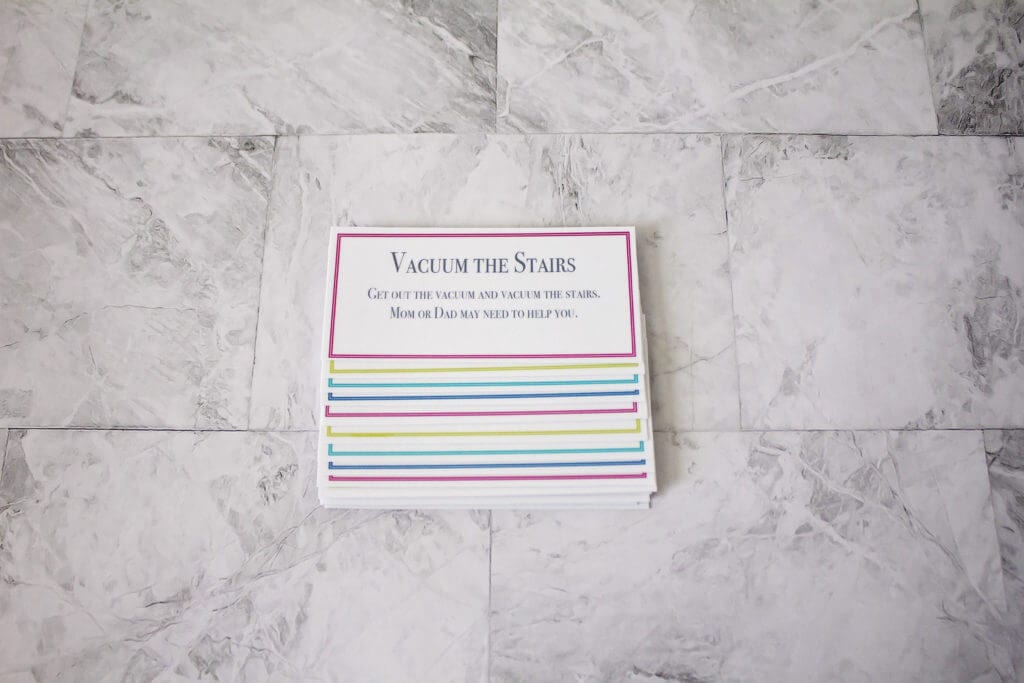 Next, we placed all of the kids' (laminated) chore charts on the board. I would strongly recommend laminating the paper. In fact, I also recommend printing them onto cardstock instead of printer paper if possible. They will last that much longer!
Then, I added their "Chore Cards" to the board. These cards are the extra chores that my kids can do to earn money. I used magnetic clips that I got from Dollar Tree. Luckily I already had most of the supplies on hand but I have linked the products below if you want to make it yourself.
Supply List: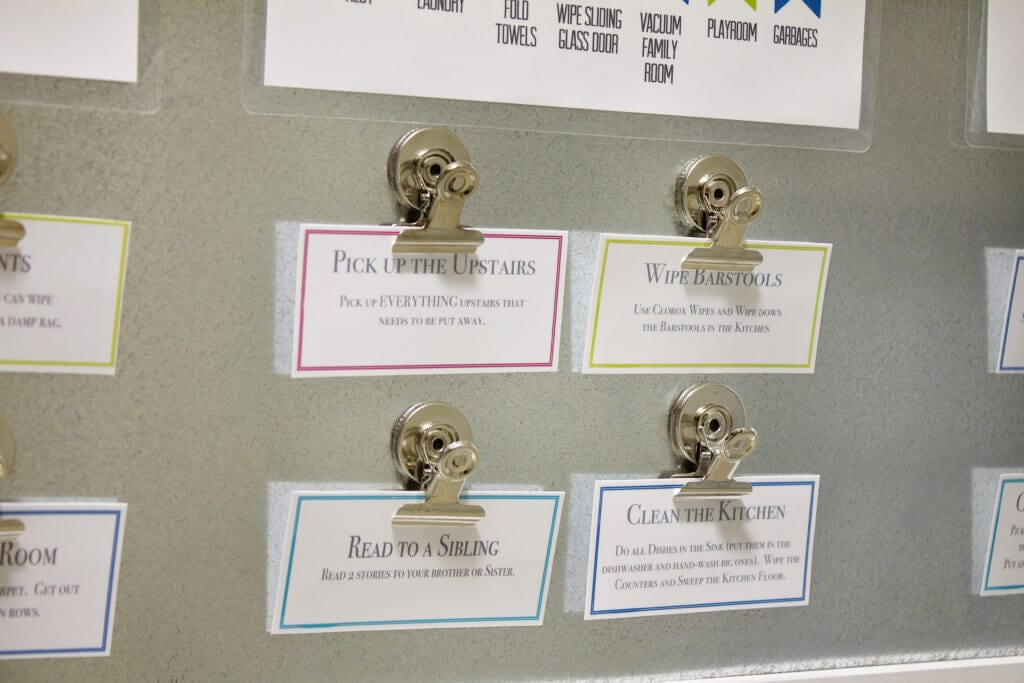 Ticket System
Instead of paying them in money every single time, we decided to use a ticket system. Because our kids are young, we can get away with cheap labor. Lol! So each ticket is worth 10 cents. Depending on the level of difficulty of the chore, it may be worth multiple tickets!
When they have finished the chore (and it has passed my inspection) we give them a ticket with their name on it and they get to put it in their "ticket jar". At the end of the month, they trade in their tickets and we pay them in actual money.
If you have a hard time remembering to pay them their tickets, you could create a specific time of day or a particular day of the week. Put a reminder in your phone if you need to. I have noticed that my kids are less than enthusiastic about doing extra chores because sometimes I forget to pay them.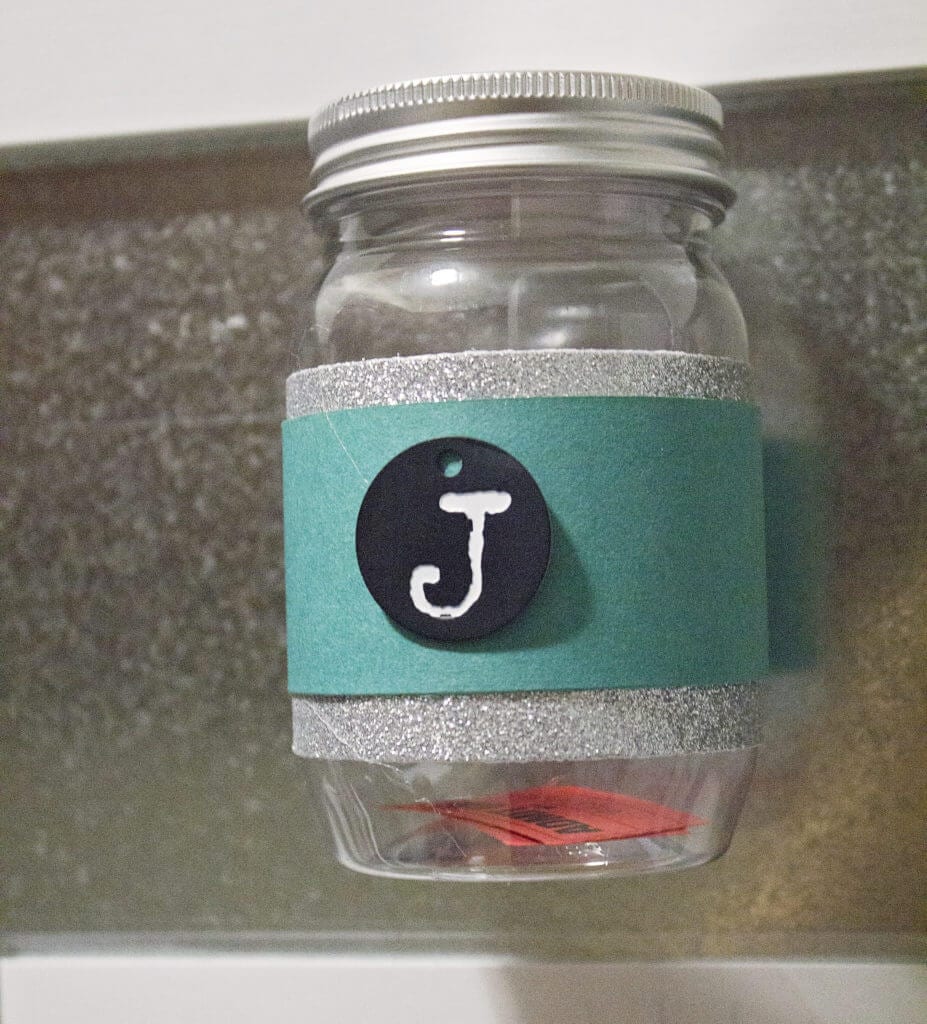 My kids are SUPER excited about the chance to earn money. I am excited to teach them how to actually save up their money for something bigger than something from the Dollar Store! Lol!
We even decided to help them set a goal of something larger that they wanted to purchase to incentivize them to work harder for a larger goal. Get your free Chore card download above! If you have an ad blocker, the form might not show up on your page. If that's the case, just e-mail me and I'll get it to you.
Shop this Post