How to Organize School Lunch Supplies for an Easy, Quick School Lunch
Back-to-school season is in full swing and, for many parents, that means it's time for packing school lunches every day. This can be a daunting task, but with a little organization and a system in place, it can be quick and easy.
In this blog post, we will discuss some tips for how to organize your school lunch supplies. By following these tips, you'll be able to breeze through packing lunches each morning!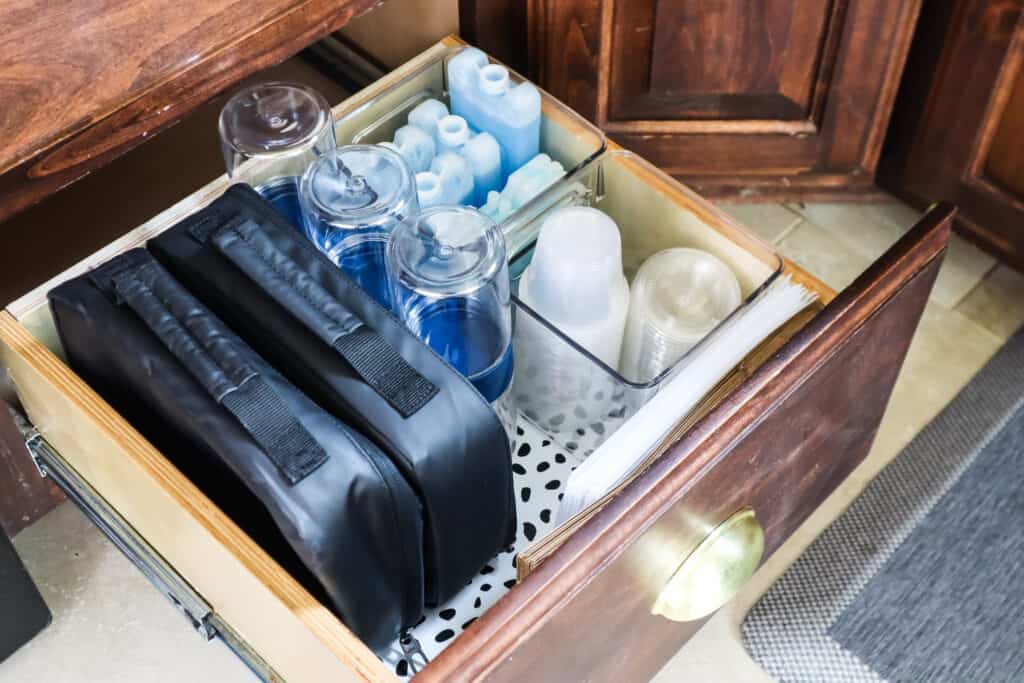 How to Organize School Lunch Supplies
Packing school lunch boxes isn't the most fun thing to do every day for an entire school year, but it's a necessary evil. If you don't have a system in place, it can be super chaotic and time-consuming.
So here are a few of my favorite tips to help you organize your refrigerator and pantry to make packing lunch boxes quick. Implementing these great ideas will definitely make your life easier!

Designate an area in your fridge for school lunch supplies.
The best way to make lunch prep easy for you is to designate a space in your refrigerator for all of the items you'll need. This way, everything is in one spot and you're not scrambling to find things every morning.
You can either use a specific shelf or drawer or even just put all of the items in a storage container. I like to use clear plastic bins so I can easily see what's inside.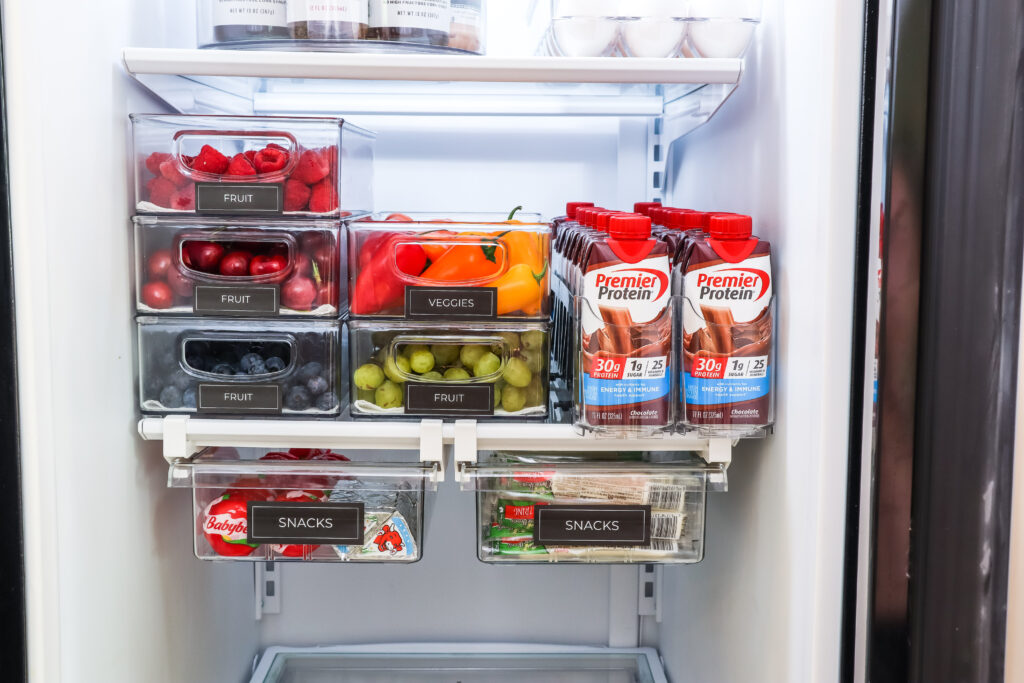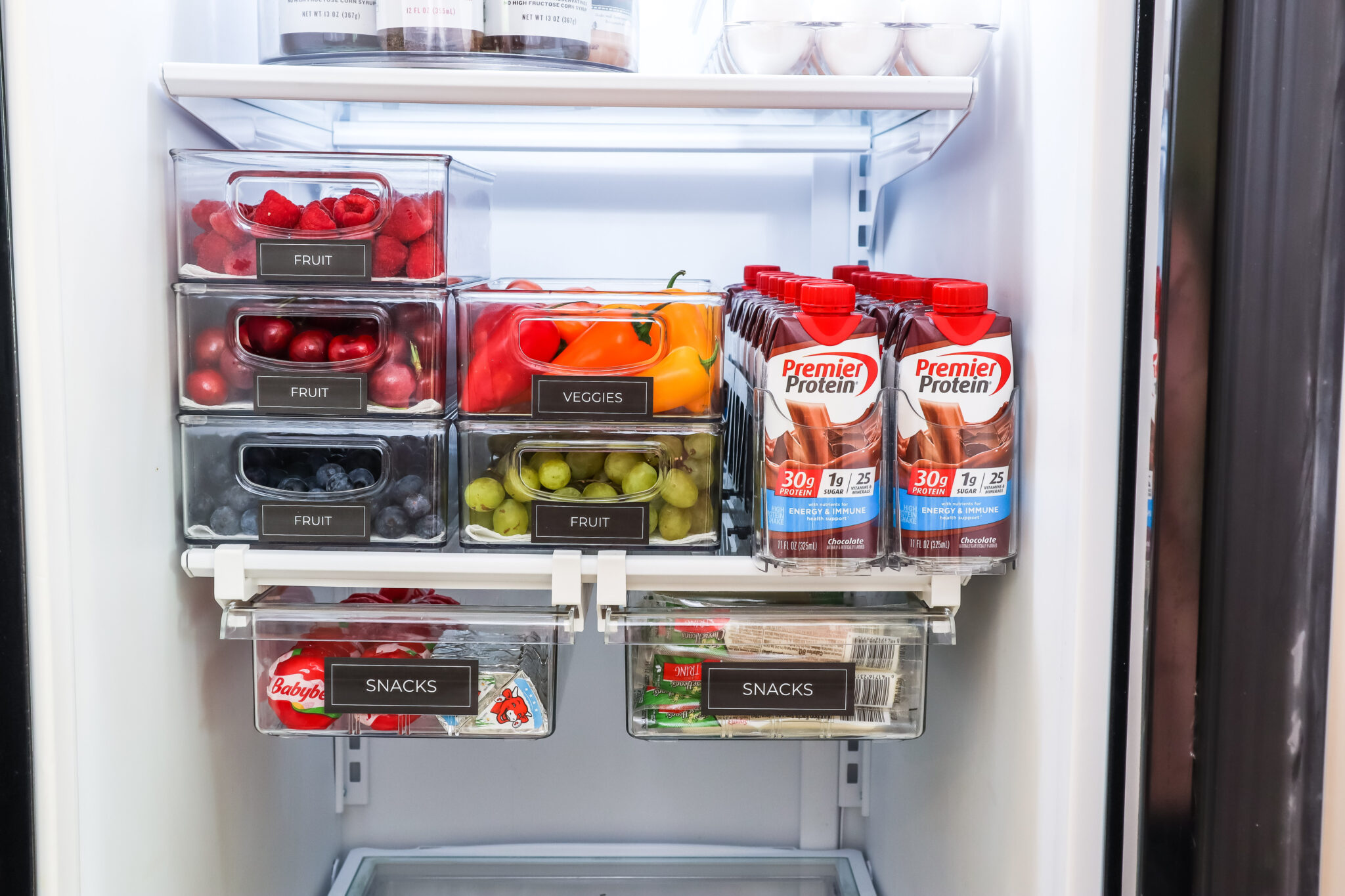 Make sure your child knows where the designated lunch-packing shelf is in your fridge so they know where to look when they pack lunches for school.
Organize some small containers of fruits, veggies, cheese sticks, sandwich fixings, yogurt, and applesauce so your kids know what they can grab when they pack their lunches.

Designate an area in your pantry for school lunch supplies.
In your pantry or in one of your kitchen drawers, set aside another area for school lunches for foods that do not need to be kept in the fridge. This includes items such as granola bars, crackers, fruit snacks, etc.
By doing this, you'll have an easy grab-and-go option for school lunches.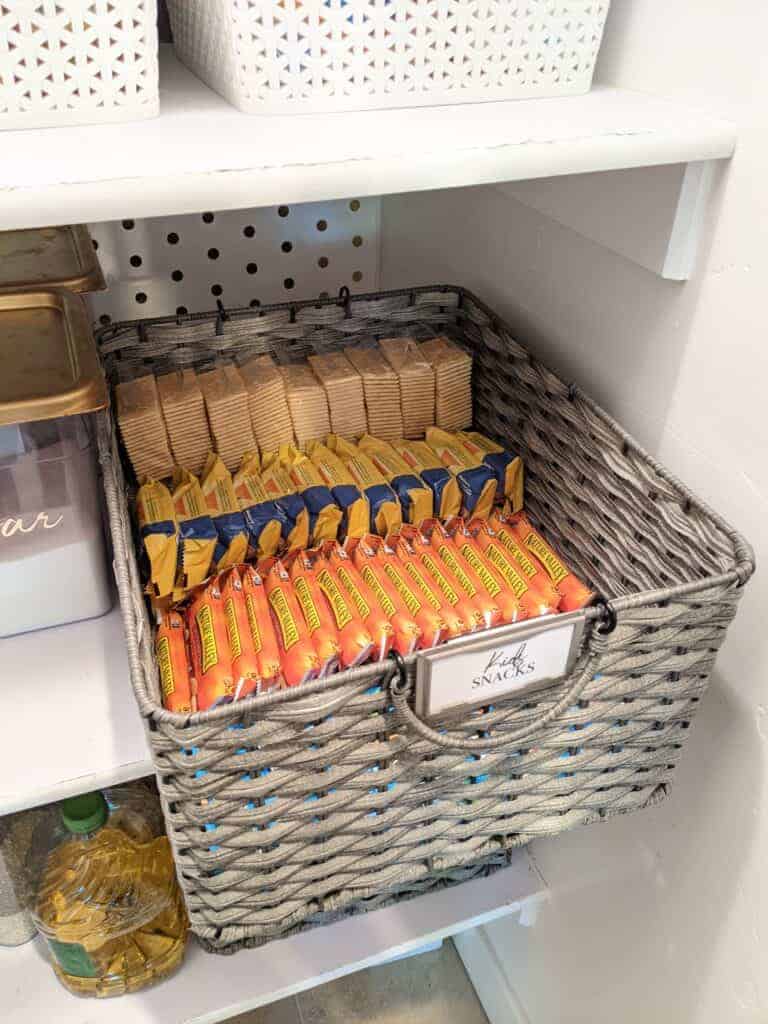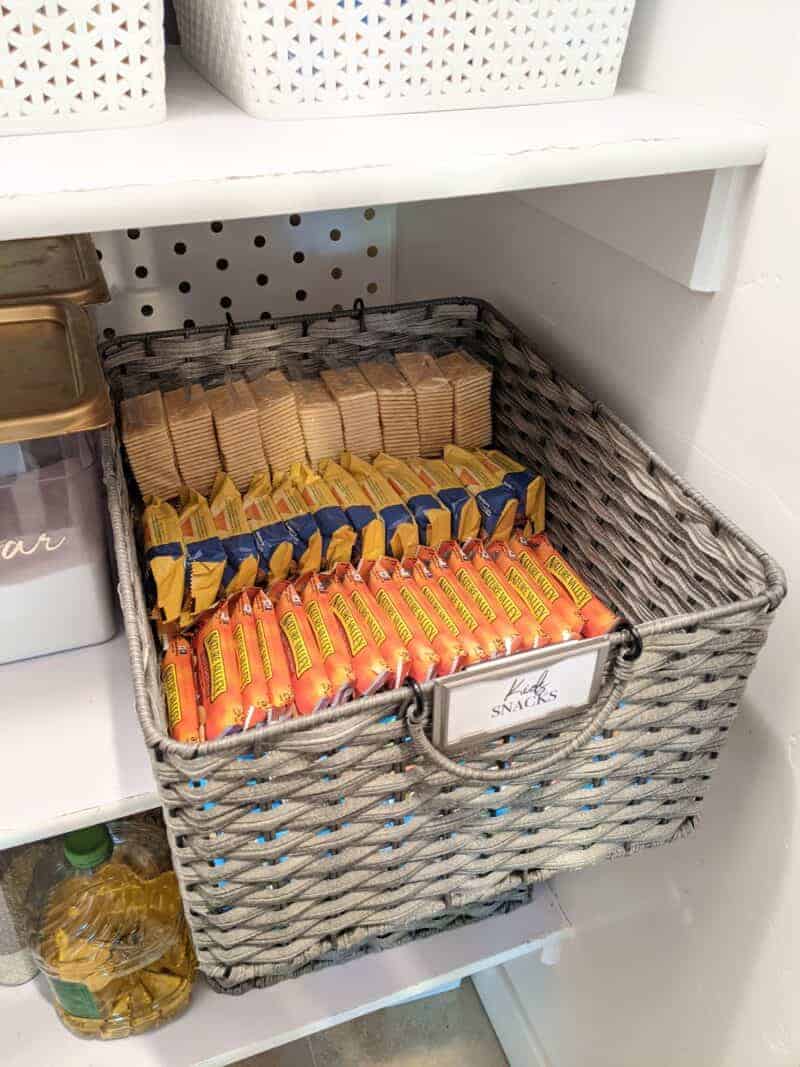 Like with your shelf or drawer in your fridge, add designated school lunch containers like a snack bin with snacks and items your child can bring for lunch.

I like to have a few different containers with different snacks (like one with various types of granola bars, another with fruit snacks and fruit jerky, etc.) and let my kids pick one item from each container to pack in their school lunches the next day!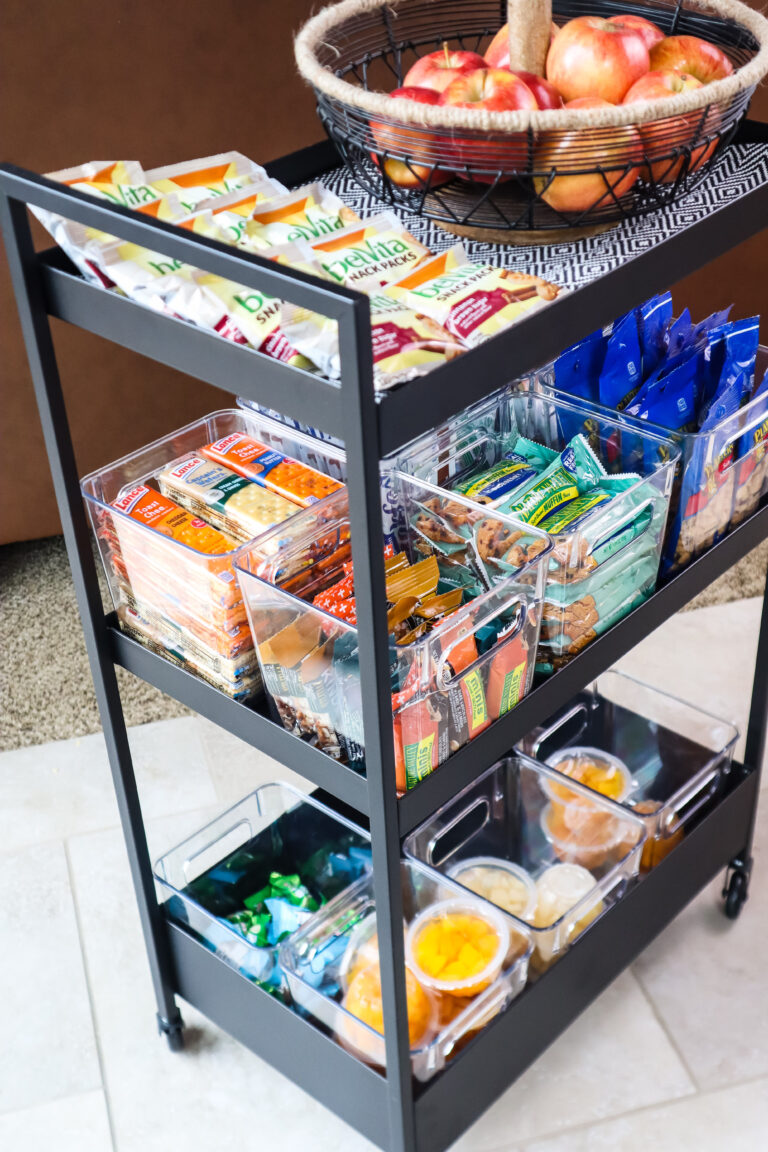 So, just buy a few plastic containers from the dollar store or online and fill them with different snacks that your kids can pack in their lunch. Then you don't have to think of new snack ideas every week, because they can just pick the lunch items they want to bring that day.
Have a list of food groups to include.
If your kid is packing their own lunch (which is a great idea when they get a little older, by the way), then I recommend having a list of what they should include.
That way, they can easily check things off as they're packing their lunch box and you can make sure your kids are eating balanced meals and getting enough energy!
Here are some essential food groups to include:
Fresh fruit or vegetables
Protein (cheese sticks, yogurt, nut butter, etc.)
Grains (sandwich, crackers, granola bars)
Snacks!
Of course, with some meals, like meat and cheese sandwiches, you've got grains and protein (not that extra protein is a bad thing!), but make sure your kids are getting a good mix of fruits, veggies, protein, and grains will help them have enough energy to make it through the day.
Beyond that, I also like to make sure their lunch includes a drink of some sort (like juice boxes, water, lemonade – something they like!) and a fun treat or snack. Adding something sweet (or savory if they prefer) for a little dessert is always fun!

Other tips!
Here are a few other ideas to help you with lunch-packing for the new school year.
Make extra dinner.
If your kids don't want sandwiches every day and you're running low on ideas, then use dinner from the night before!
When you're meal planning for the week, buy and prepare enough food for dinner that you'll have leftovers. Then, after dinner is over, pack the leftover food into containers like bento boxes that your kids can then bring to school the next day!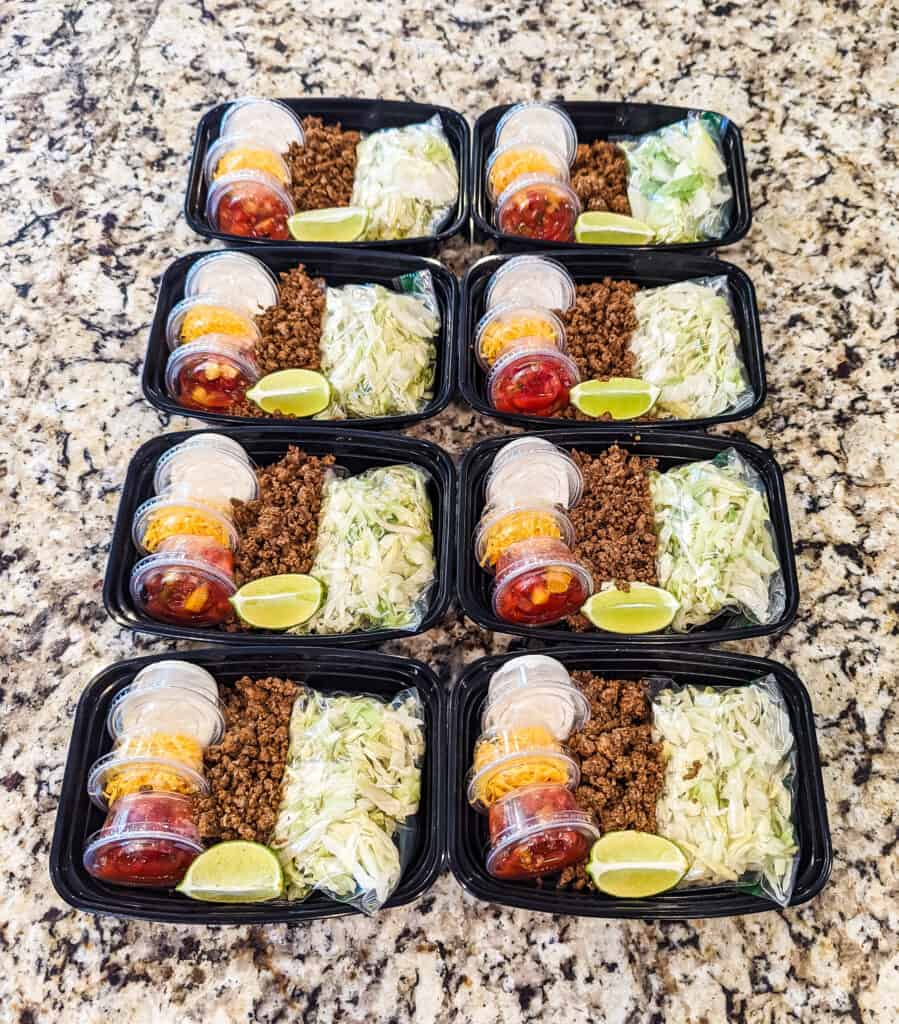 Of course, you'll need to know if your kids have access to a refrigerator or microwave if the food needs to be kept cold or reheated for them to eat the next day. Some classrooms and cafeterias have these available and some don't so make sure you're aware of what's available at your kids' school.
Pack lunch boxes at night!
I highly recommend packing lunch boxes at night because it's one less thing you have to do in the morning.
If you're packing for yourself, it's especially helpful because you can just grab your lunch box and go in the morning. If you're packing for your kids, pack their lunch boxes while they're getting ready for bed and it's one less thing you have to do when helping them get out the door in the morning.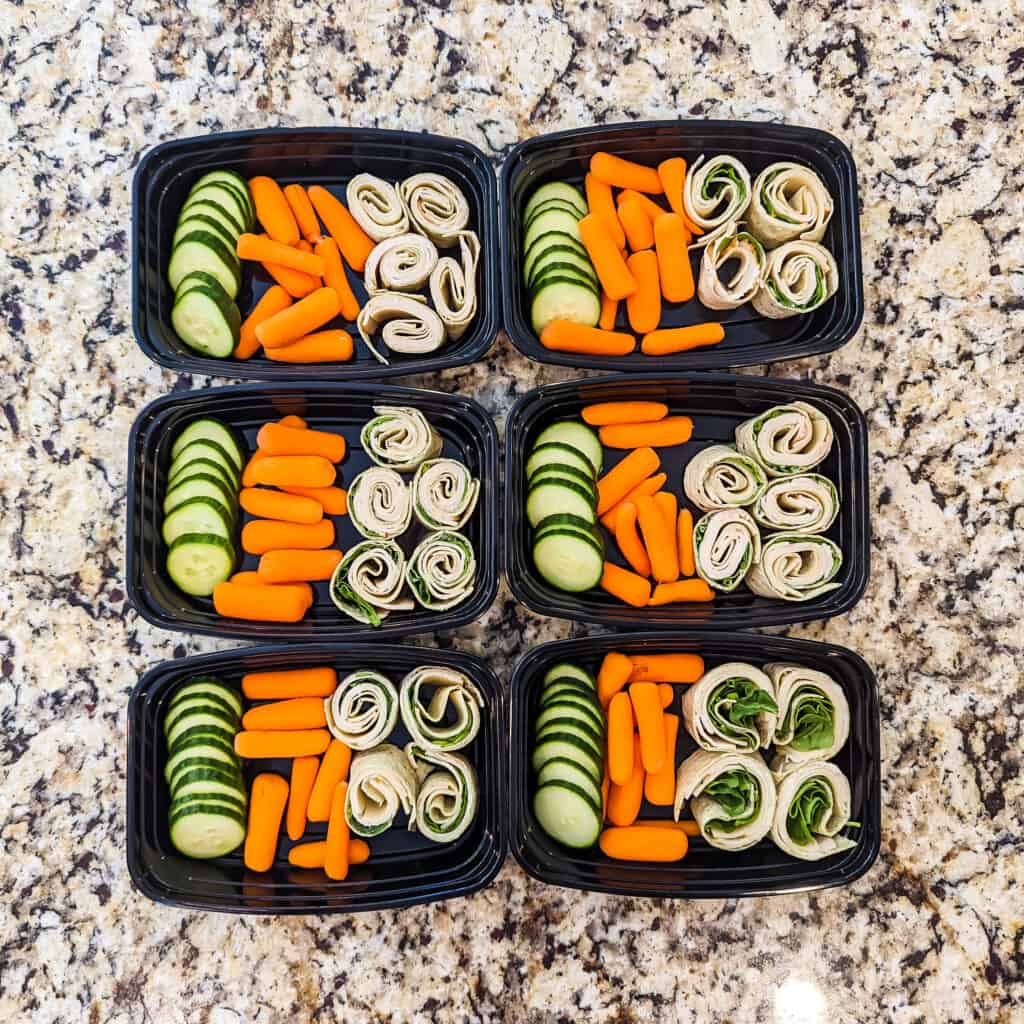 If your kids are packing their own lunch, this will save tons of time because you won't have to worry about them forgetting something while trying to get ready before school.

Have a lunch-packing station.
If you have the space in your house or kitchen, making a lunch-packing station can be a great idea. This is especially helpful if you're packing for more than one person.
Technically, if you've designated areas in your fridge and pantry for your lunch box supplies, then you do have most of your items in one place. So it will still be easy to grab everything you need and pack a lunch quickly.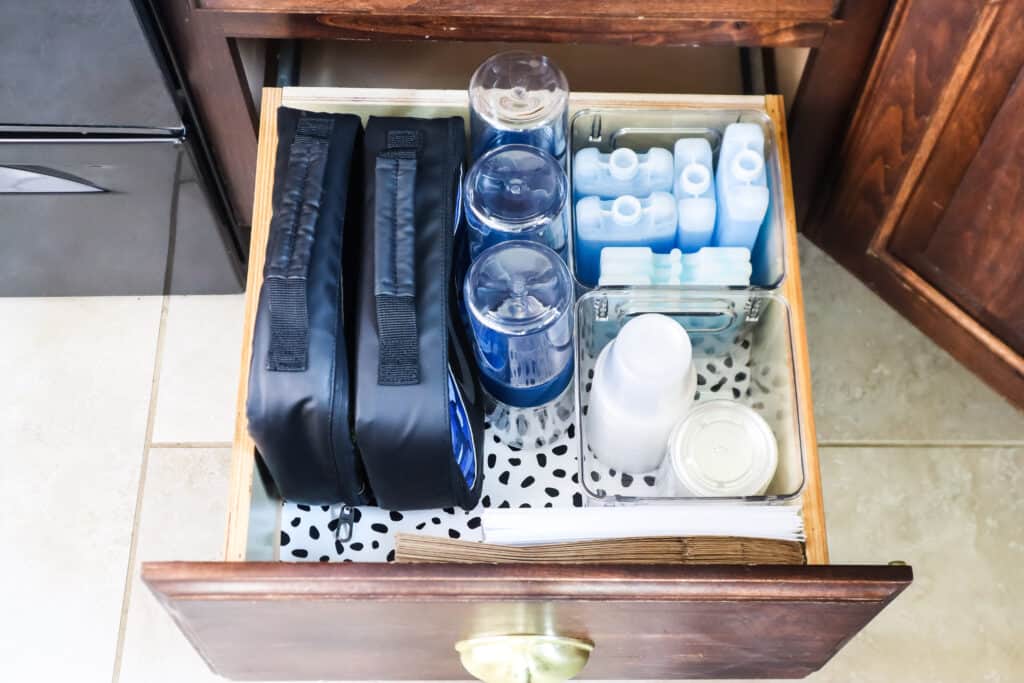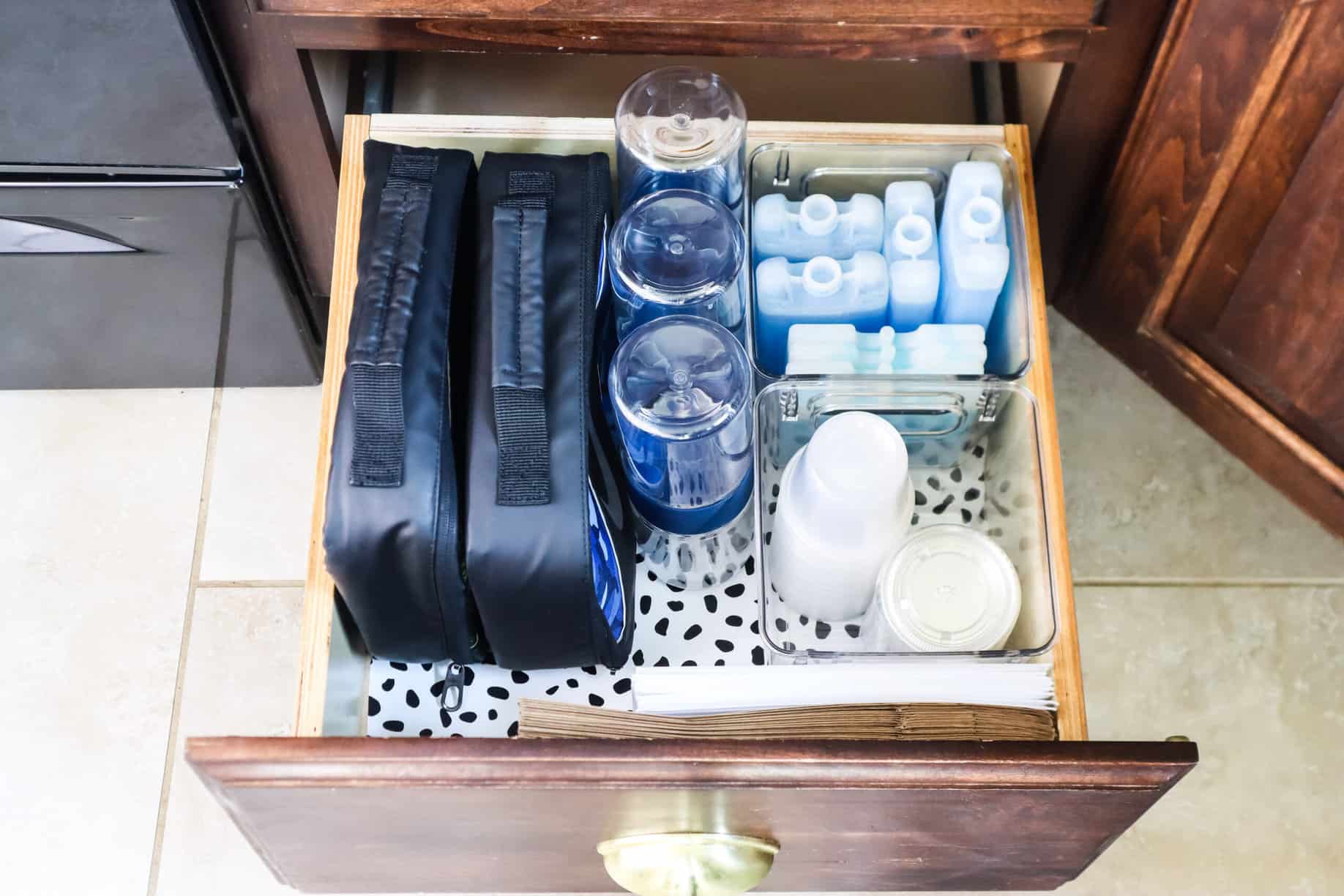 But if you have the space, adding things like plastic baggies, your kid's lunch box or any other necessary containers (like a thermos) to the same area where you keep snacks and foods can save even more time.
If you don't have the space for a designated lunch-packing station, that's okay! Just make sure to keep all of your lunch-packing supplies as close to each other as you can. It's a real time-saver to be able to easily grab anything you need in seconds.
Pack lunches like a pro!
And there you have it! When you have your house organized with a system for packing school lunches, it makes life so much easier. No more scrambling around in the morning trying to find everything you need.
Do you have any other tips for packing school lunches? Share them with us in the comments below! Happy lunch-packing!