18 Must-Have Items for Your Sports Mom Bag
Being a sports mom can be so much fun! And it can be so dang hectic! Have you ever been running late to baseball game only to realize that it's 102° outside and you didn't even bring sunscreen or a drink of water? I have! Many times! I'm here to help you create your very own sports mom bag and give you my favorite sports mom hacks!
Need more ideas? Check out my other posts: 5 Lego Storage Ideas That Will Rock Your World and Dance Bag Essentials for Your Dancer
Have a designated Sports Bag
My first piece of advice is to create a designated sports mom survival bag that you can keep in the car. That way you are fully prepared and ready to go for every sports game, no matter how late you're running!
You'd be surprised how much peace of mind it brings to know that you have most of your stuff already prepped and ready to go in the back of the car. So find a bag that you specifically set aside for the purpose of staying prepped and ready to go for all of your kid's sports games. This is where I purchased my clear tote bag.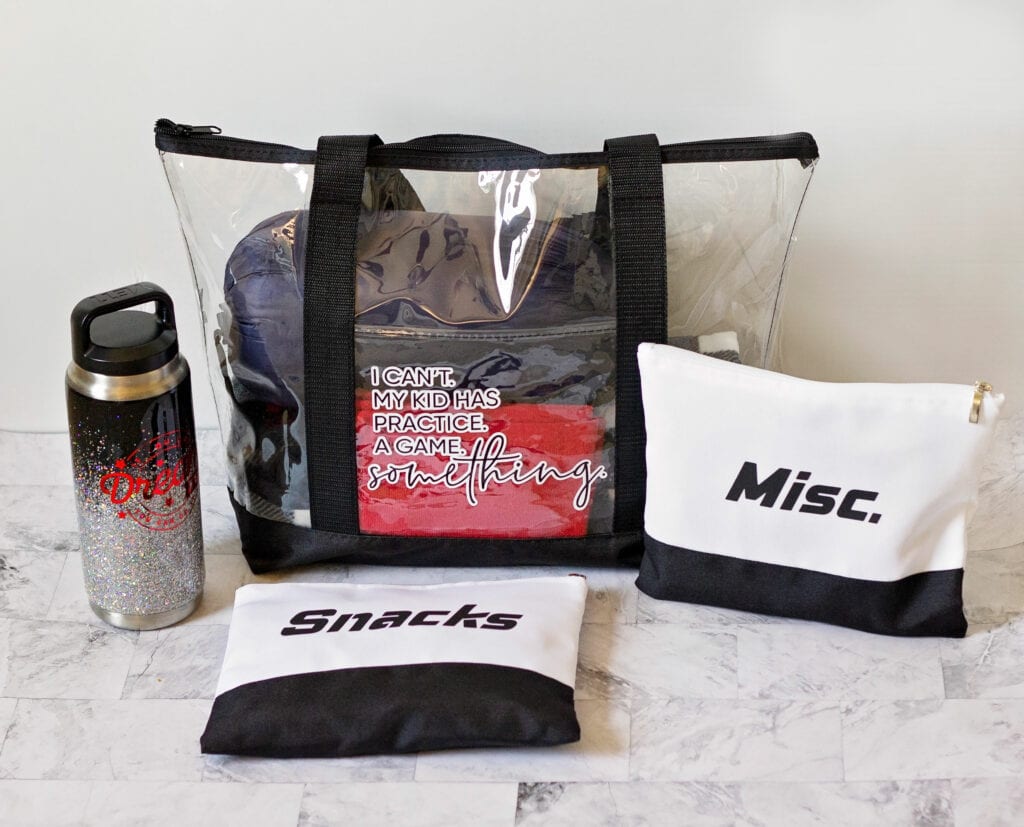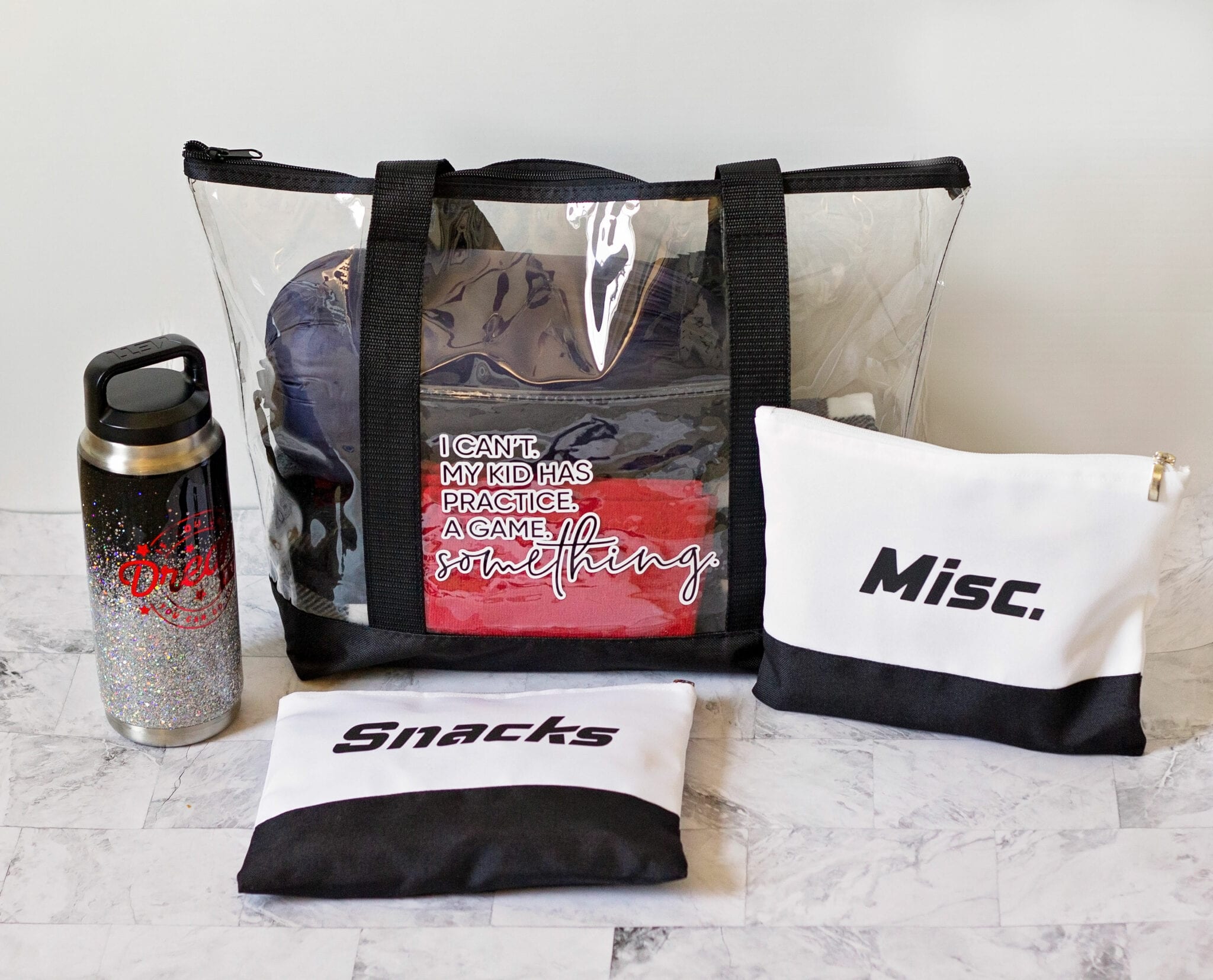 Quick Reference for Sports Mom Hacks and Supplies
Here is a quick reference list of essential things to keep in your bag that you take to all of your kid's sports games. Of course, you'll need to adjust the list according to what season it is and where their games are at. But here are my tried and true favorites that I swear by:
Connected Camp Chairs (so you don't have to carry around so many chairs)
Bleacher Seats
Pop-up Tent
SportBrella
Sunscreen
Hair Ties
Bucket Top Misting Fan
Packable Down Blankets
Waterproof blanket to sit on
Insulated tumbler (to keep drinks warm or cold)
Power Bank
Mini First Aid Kit
Snacks
Water
Bag for trash
Small activities to keep other kids entertained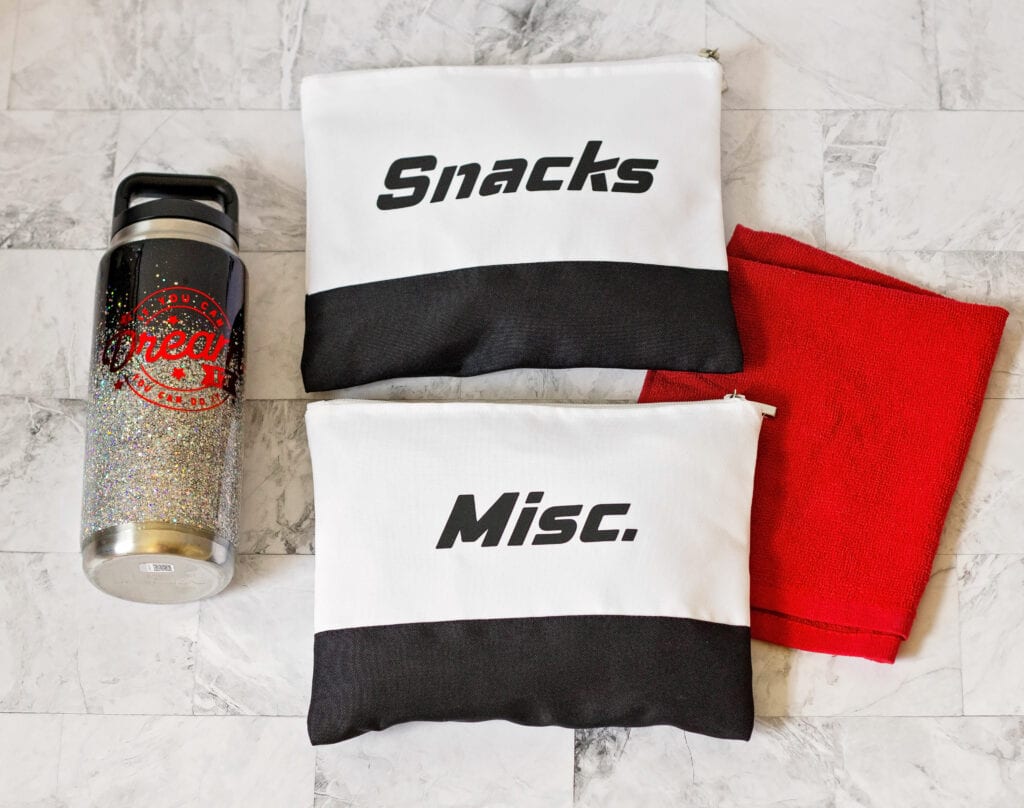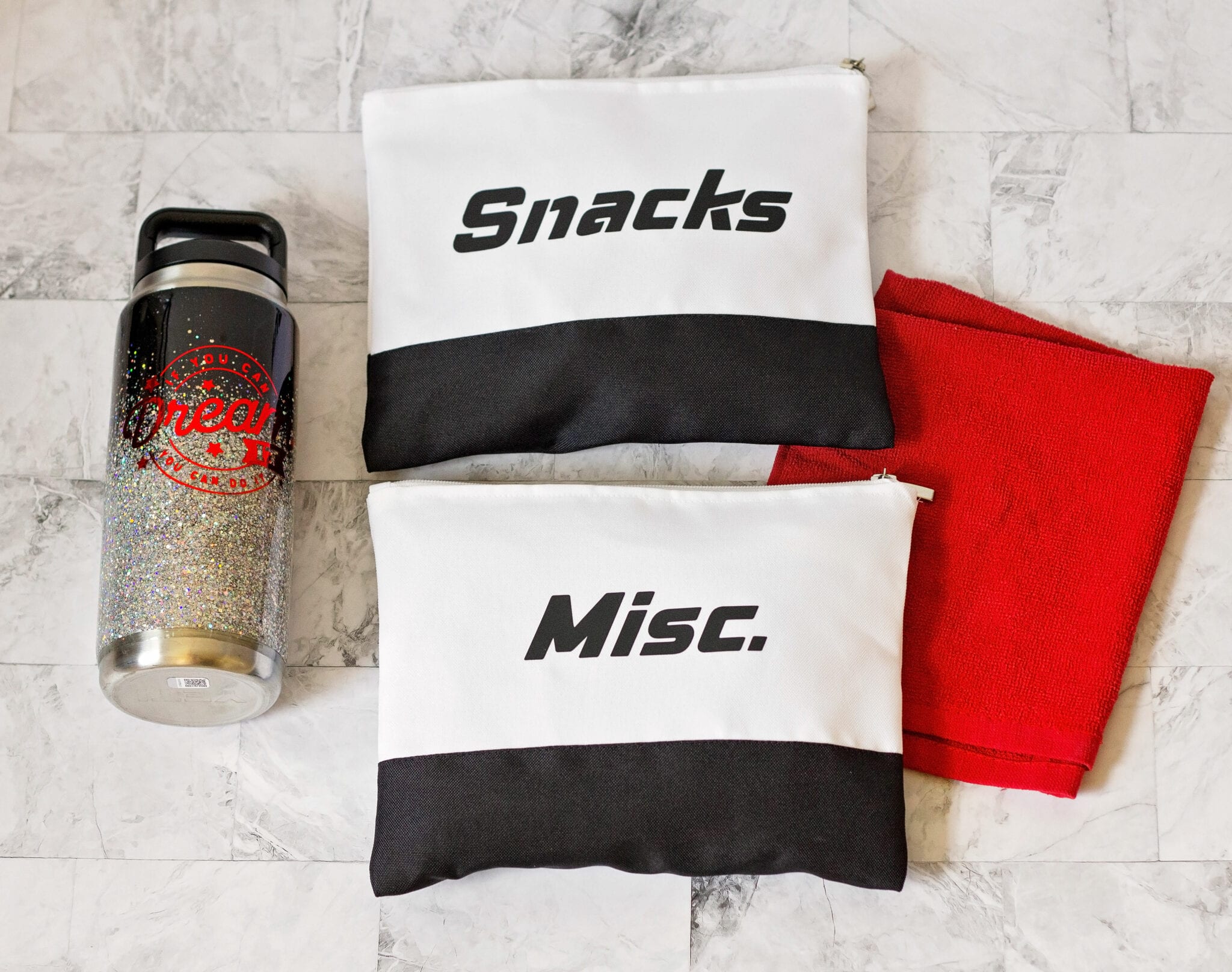 Must-Have Sports Mom Seating
I can't stress how important it is to have great seating! You will be spending hours upon hours watching your kids play in their youth sports. So having great seating is one of the best ways for you to stay comfortable and happy, so you can focus on watching them play! Depending on if your kid is playing out on a field or inside a gym, will determine what type of seating you are going to need. If you have multiple settings that your kids play sports in, then you may need a couple of different types of chairs.
We recently bought these camp chairs from Amazon and I'm so in love with them! They are much different than your typical camp chair other than the fact that they are connected!
My sister-in-law has a giant one that seats their family of six!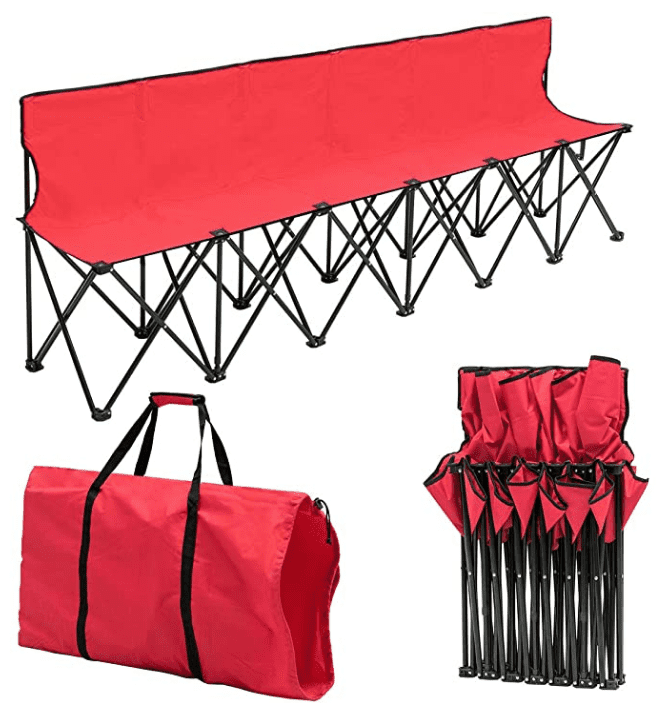 We have five people in our family but we don't always attend every game at the same time. So I decided to buy a camp chair in a set of three, and in a set of two. That way we even have an extra seat for someone else if a grandparent comes to watch a game or something. I love these chairs because you don't have to worry about packing five different chairs for every person in the family!
If you are watching games from bleachers such as with baseball, then bleacher seats are going to become your new best friend! Nothing is worse than sitting on those hard bleachers for hours on the end for a midsummer baseball tournament! And don't skimp by getting just a seat cushion because your back will be killing you by the end of the game without any back support.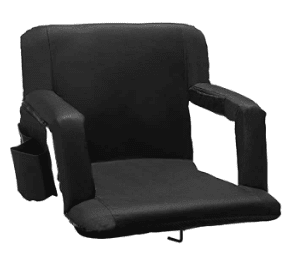 Shop my Favorite Chairs:

Sports Mom Tips to Keep Cool
My next sports mom hack just to make sure that you have plenty of options for sun protection! The type of sun protection that you use will depend on how many people are attending the games. If you have a whole family coming to watch your child play, then it may be beneficial to bring up an entire pop-up tent.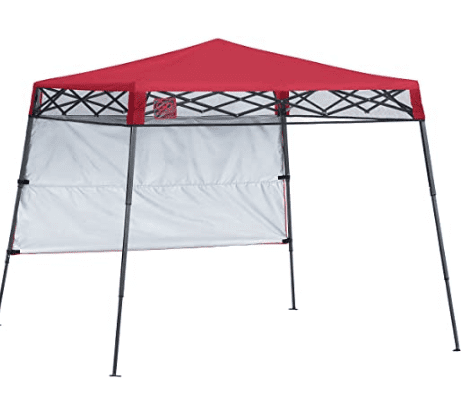 But typically for our family of five (when one person is playing), my favorite thing to bring is our SportBrella! I love how compact it is and how easy it is to set up and takedown. They also have these handy air vents that you can unzip that will let in more breeze for those hot days.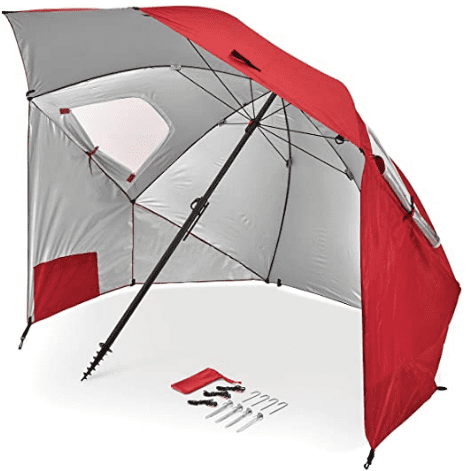 Sunscreen is also super important! I can tell you how many days I've shown up to a summer game wishing that I had brought my sunscreen with me! If you keep sunscreen in your sports mom bag, then you're never going to have to worry about sunburns again!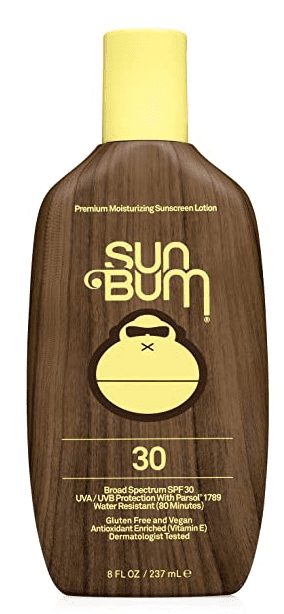 Another great item to have in your sports mom bags is a few hair ties! Nothing's worse than watching a baseball game in the heat of the day with your hair down! Do yourself a favor and pack a few hair ties to help keep your hair off your back!
One last item that I wanted to mention is a bucket top misting fan! This is not something that I personally own but it's definitely something that I wish I did! That's from what I understand, all you do is put ice water in a 5-gallon bucket, put the misting fan on top of the bucket, and turn it on! What an incredible way to keep cool during those hot summer games! If you are really interested in purchasing one of these, buy it from the hardware store, not Amazon. It's about HALF the price! (click on my shoppable link below)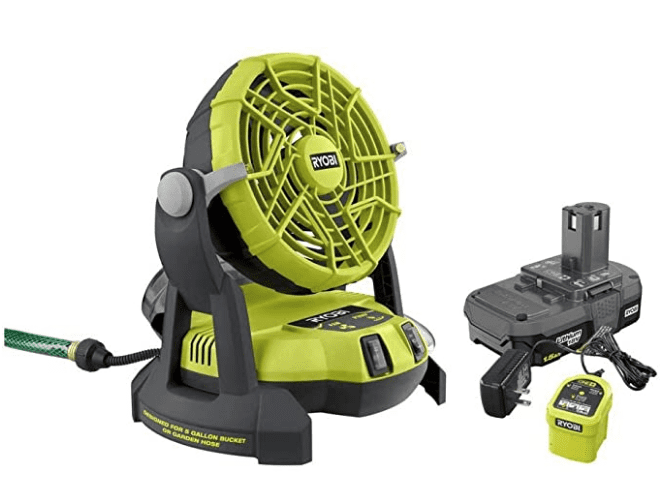 Shop my favorite items to keep you cool:

Sports Moms Tips to Keep Warm
Those spring and fall games definitely bring some relief in the way of getting a break from the heat, but with that also comes chilly temperatures! What's more fun than watching a football game wrapped up in your favorite blanket while drinking some hot chocolate!? I definitely have some favorite products that I use when it comes to staying warm at my kids' sports games.
My very favorite product is a packable down blanket. These are incredible for keeping you warm and they pack so small that they hardly take up any room! I can't stress how much we LOVE these blankets! They have saved us from many bitter-cold games! They have also sold these seasonally at Costco in the past (this is where I got mine). We own a few of these and they are well used!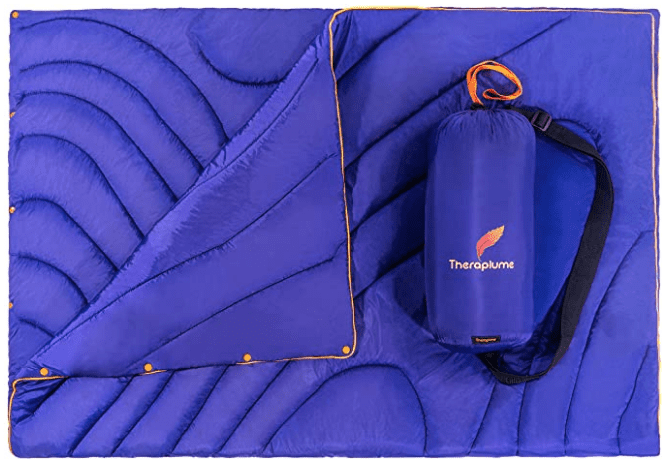 My next favorite is to bring a blanket with a waterproof bottom. This is a great spot for the kids to sit when they are sitting on the sidelines watching their siblings. It gives them space all their own or they don't have to be crawling all over your lap but you don't have to worry about their pants getting wet! This is where I got my buffalo check blanket.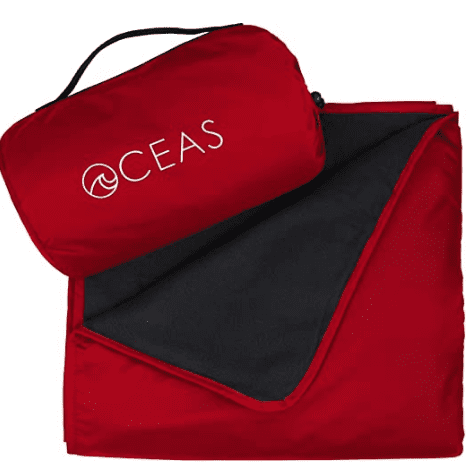 My other favorite thing is an insulated tumbler. This is the perfect option for keeping your hot chocolate warm during the entire game! I know insulated tumblers are super popular right now and for great reason. They are incredible at keeping your drinks cold when you want it kept cold, and hot when you want it hot!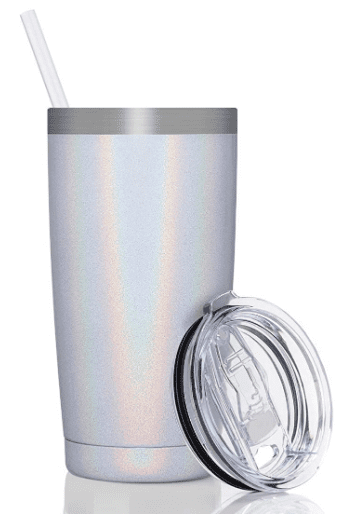 Shop my Faves:

Portable Chargers For Your Sports Mom Bag
I can't even tell you how many times I have gotten to one of my kid's games only to realize that my phone battery is only at 3%! I get in a few pictures but always manage to miss taking video of some other greatest shots! Never be caught unprepared again with a low phone battery.
Having a power bank can come in handy not only during sports games but in emergencies! I recommend having a power bank, no matter the reason!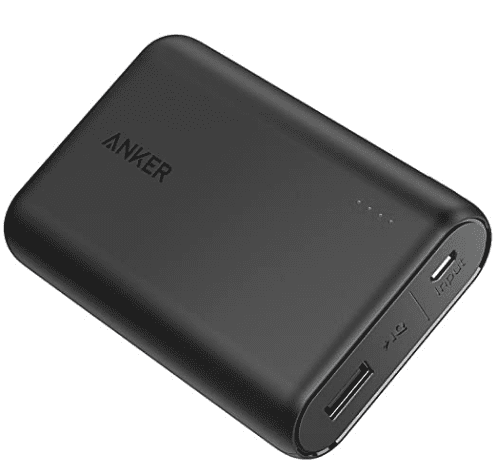 First Aid Supplies for Your Sports Mom Bag
Whether we like it or not, the sports field is definitely a place where injuries happen! Obviously you don't want to be carrying around a giant first aid kit to every single sports game that your kids have. But having a few things on hand will go a surprisingly long way to help you feel prepared. And you'll be very surprised at how often you use it!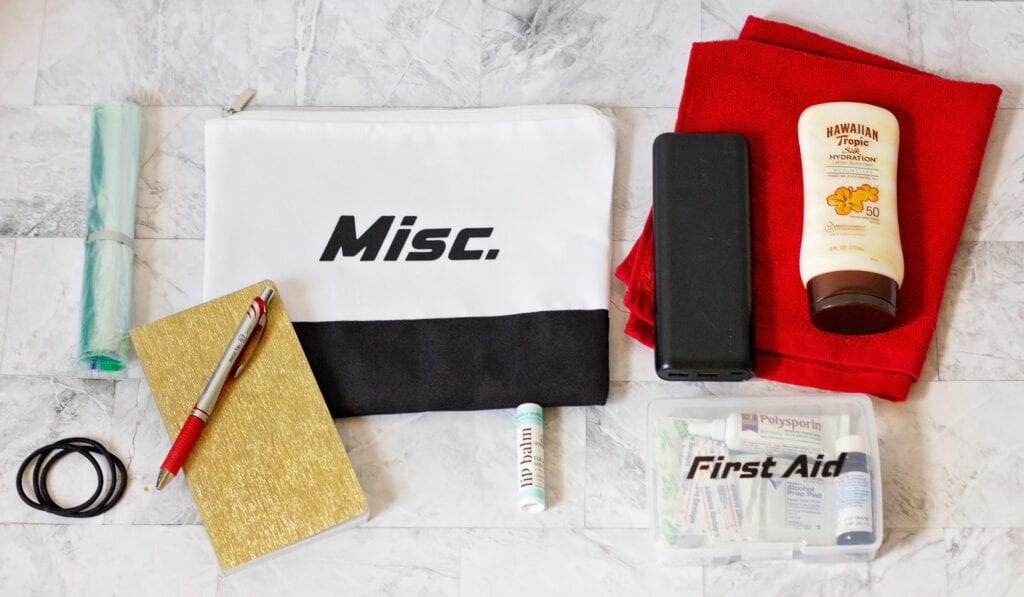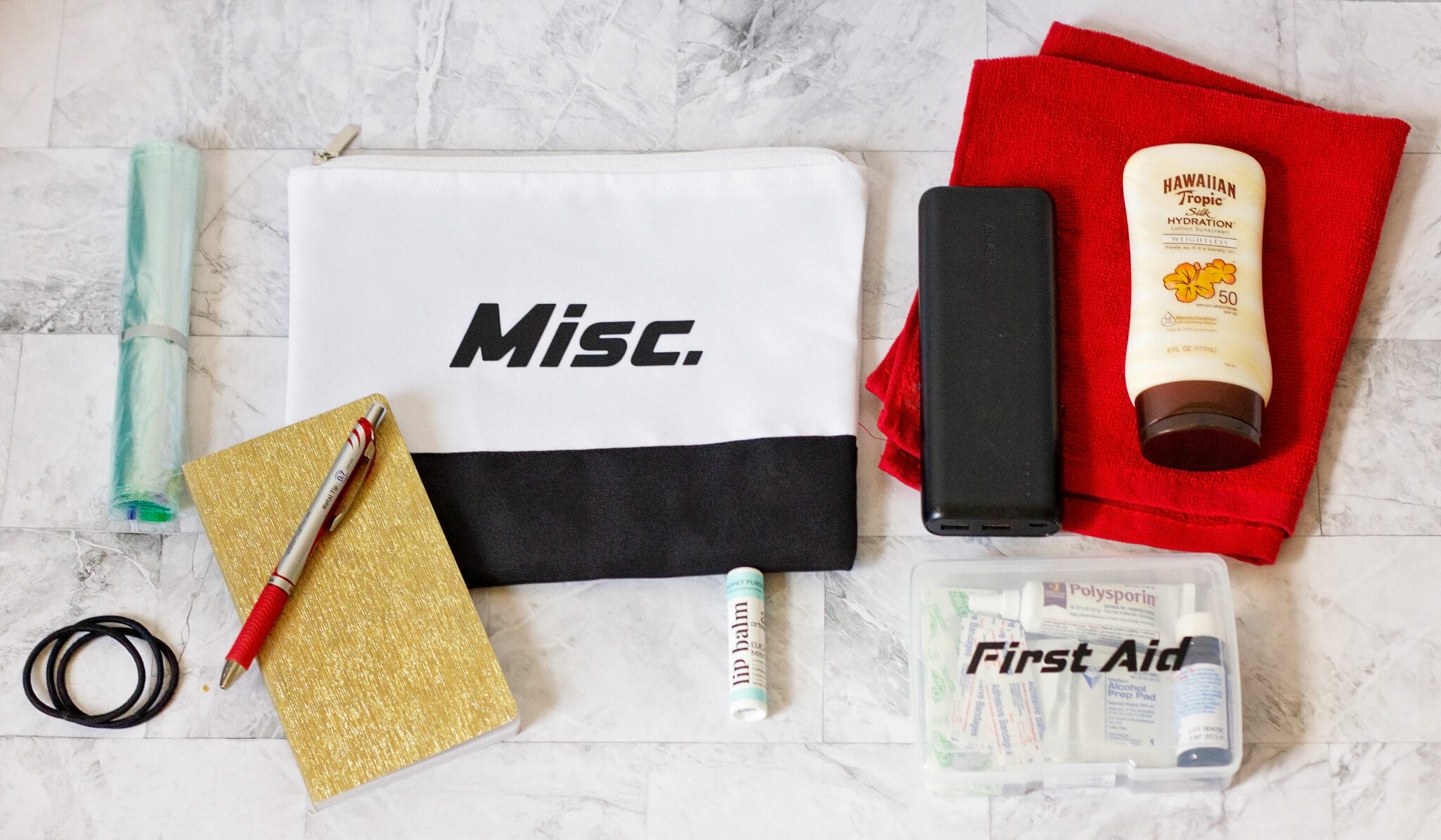 Usually, when someone gets hurt, it tends to be my other kids that are playing with friends at the playground. So I tend to keep a few basic first supplies on hand.
These are the things that I keep in my mini first aid kit:
Regular size Band-Aids
Butterfly Band-Aids
Alcohol prep pads
Kids allergy medicine
Wound Antiseptic (like Neosporin)
Liquid bandaid (optional)
Tissues
Bag for Trash
It is also helpful to keep small trash bags in your sports mom bag. Whether it's rappers from the snacks you brought, or Band-Aid wrappers, or used tissues, you'll never regret having a Ziploc bag on hand.
Food and Water Essentials for Your Sports Mom Bag
For some strange reason, my kids always get ridiculously hungry when we are at a game. Despite the fact that I usually had just fed them before we left! And they always get thirsty from running around and playing with their friends. That's why I always make sure to keep some pre-packaged snacks and water on hand in my sports mom bag!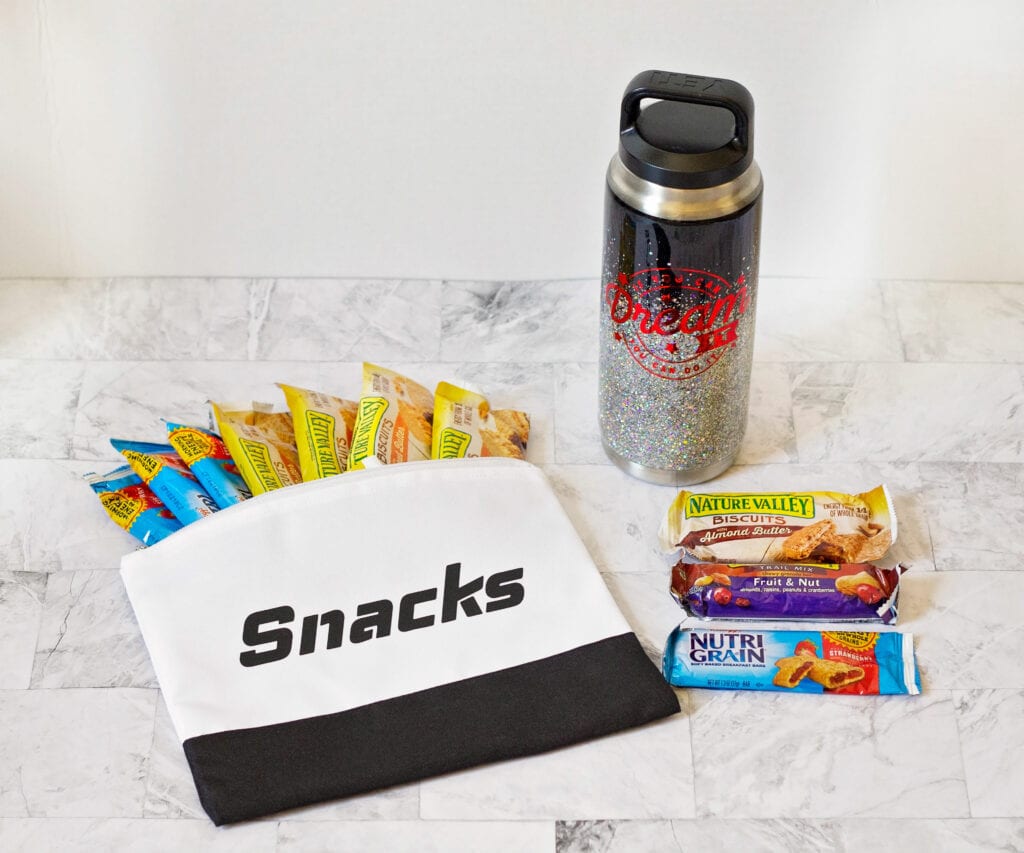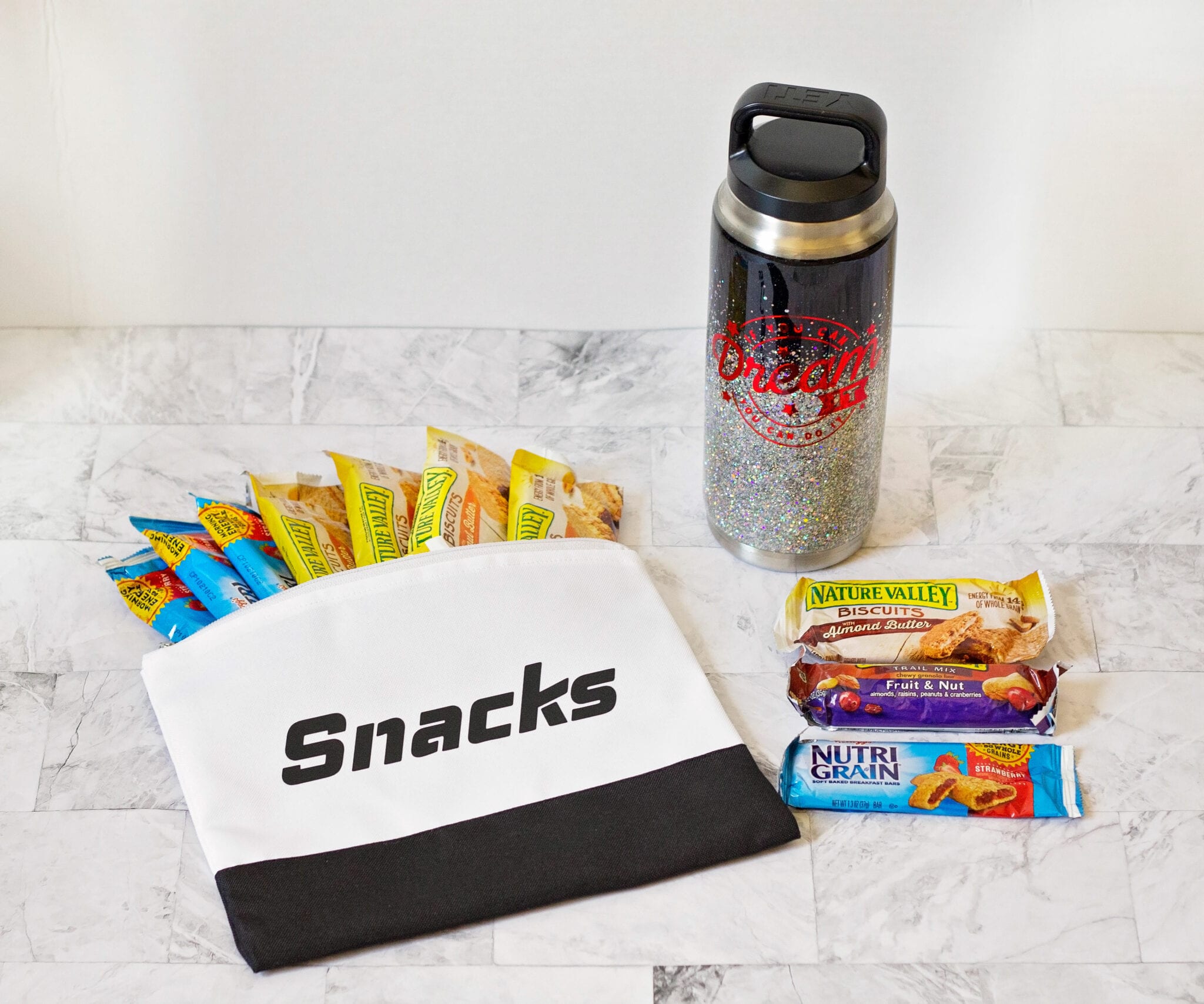 Having the prepackaged snacks will allow you to keep your bag fully stocked without having to remember to refill it every game like you would have to with fresh produce.
Sports Mom Hacks for Keeping Other Kids Entertained
Whenever we go to watch one of my kid's games, my other two kids end up getting bored at some point. If They are lucky enough to have some of their friends there, then my kids don't get bored. But otherwise, it's nice to have something small for them to do while they are at the game.
We usually bring a soccer ball or some sort of ball for them to play with on the sidelines. Another great idea is to have a notepad and paper for them to color, play tic tac toe or other small games that don't require a lot of art supplies.
I hope this list has helped you get some ideas so you can get your own Sports Mom Bag put together so you are prepared for all of the sports games you attend!