23 Awesome Outdoor Movie Night Essentials You Can't Do WIthout
It's summertime and we all need a good outdoor movie night! There is nothing better than the warm summer air, cool drinks, and movies under the stars. However, there are some outdoor movie essentials that you can't do without if you want to have a successful party. In this blog post, we will discuss 15 awesome outdoor movie night party essentials that will make your next get-together an event to remember!
Need more ideas? Check out: Create the Perfect S'mores Caddy and How to Organize a Successful Lemonade Stand
How do you make an outdoor movie night fun?
One of the best ways to make a family movie night fun is by having some themed food. You can use any theme you want, but it's especially fun if you can gear your food towards the movie that you are planning to watch. If you are watching a Star Wars movie, add some Star Wars snacks to the concession stand. If you are watching Willy Wonka and the Chocolate Factory, make sure to add some Wonka candy to the mix! Any theme you choose will be sure to add a fun flair to your family movie night.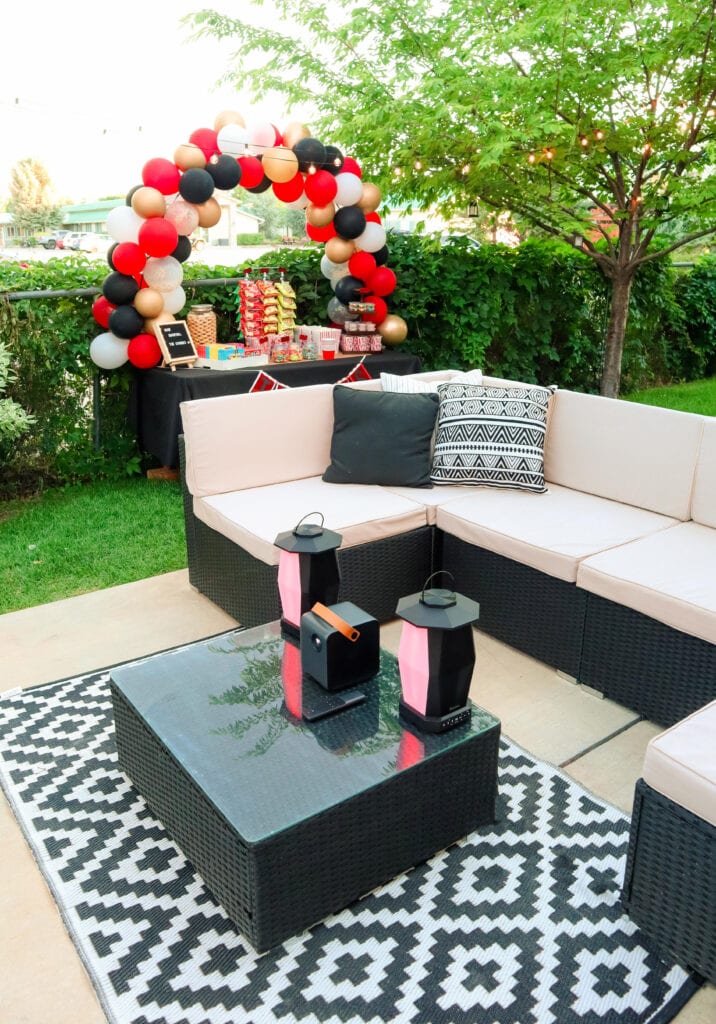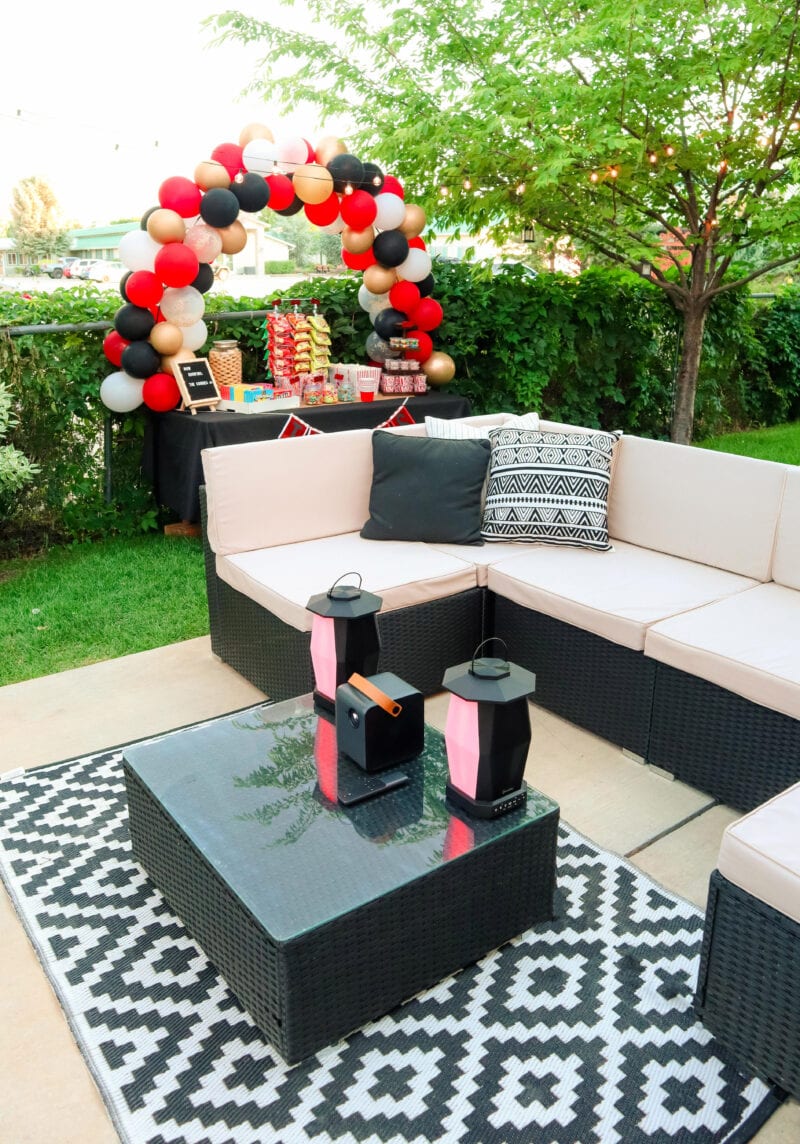 It's also important that someone has put together a playlist of songs from the movie beforehand to liven up the place when things get quiet. We recommend picking up some wireless Bluetooth speakers to have music playing while you are waiting for all of the guests to arrive for your movie night.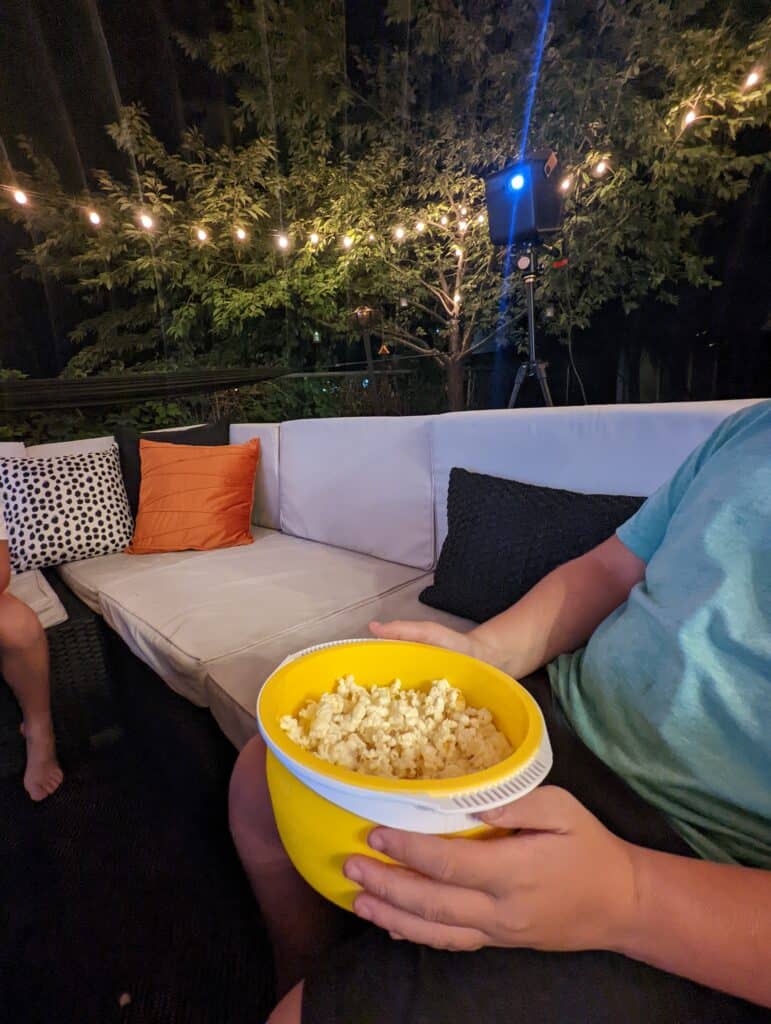 Another way to make your outdoor movie party more fun is to have amazing treats to share with your friends! We are absolutely crazy over the Opopop Popcorn. The flavors are absolutely incredible and I love how everything is pre-portioned out so it's even easy for my kids to make on their own.
Outdoor Movie Night Party Invitations
Party invitations really set the tone for your party. Make sure to include the date, time, and location of your outdoor movie night on these. Remember to tell guests if they need to bring their own seating and blankets, too! Party invitations really get your guests excited for the party and will ensure that they know what to wear or bring.
Party invitations also give your guests an idea of exactly what type of party it will be and can even help them decide on outfits. If you're planning an outdoor movie night party with a specific theme, such as "Pirates", then invite everyone in costume – this is sure to get people excited about coming dressed up too! 
If your guests don't want to wear a full pirate costume then you can encourage them to wear a pirate hat instead. A pirate hat is a classic and essential part of any pirate costume, and it's an easy way to get everyone into the spirit of the theme. Not only will it be a great way to create a cohesive look for the party, but it will also make for some fantastic photo opportunities.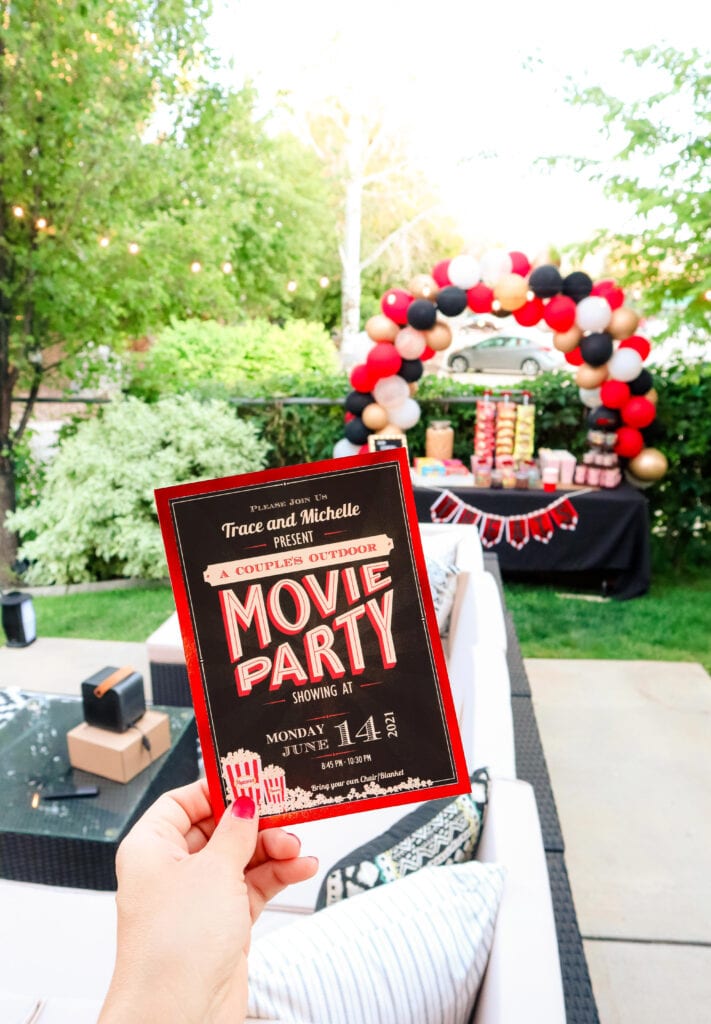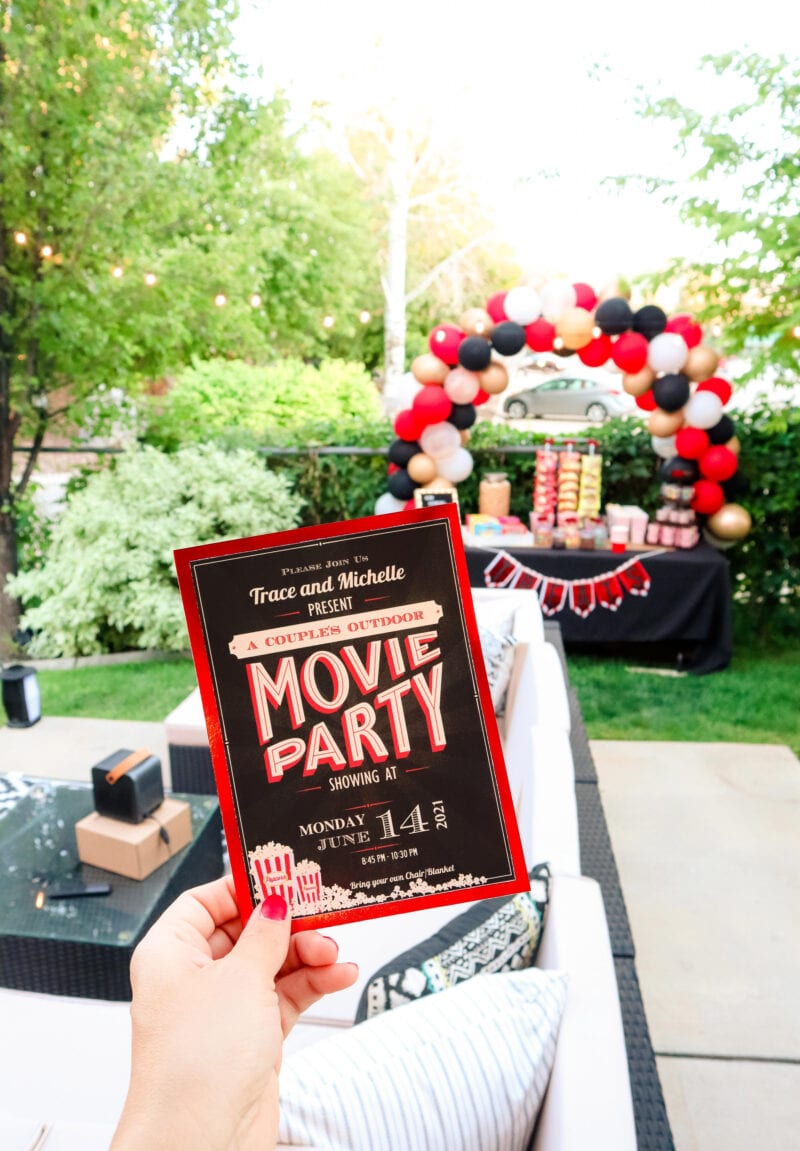 If you don't want to invest in printed invites but still want some sort of invitation, you can still order a custom invite on Etsy and send out the file to your guests via text.
I ordered my party invite from an awesome Etsy seller named Louise. It fits my theme perfectly and it's exciting for guests to receive it as well. I also love supporting small businesses to I'm a huge fan of Etsy. Check out my movie night invite here.
Outdoor Movie Night Lighting
Movie Night Start Time
When trying to decide the starting time of your outdoor movie night, make sure to take note (or even look it up) of the time that the sun sets in your area. It's much more difficult to see movies when it's still light outside, so it's important to start your movie night at the right time. Give your guests a little bit of time to arrive, get situated with their spot, and get their snacks if you're having a concession stand. I recommend about 30 minutes.
So plan the starting time of your outdoor movie night about 30 minutes before you want to start the movie. If you want to serve dinner items such as hot dogs or hamburgers then you might need to allow for more time before you start the show.
Create Ambient Lighting for your Movie Night
Lighting can be a really important factor when considering all of the outdoor movie night party essentials. You want the lighting to be light enough that your guests can get around to where they need to go if they need to get up and get more snacks or go to the bathroom. But you also want it to be dim enough that they will be able to easily see the movie.
The ages of your guests at your movie night will determine the type of lighting that you should use. If you are hosting an adults-only outdoor movie night, then it would be fun to add ambient lighting such as candles. I wouldn't recommend this if there are going to be children around. If the candles tip over it'll surely be a movie night to remember!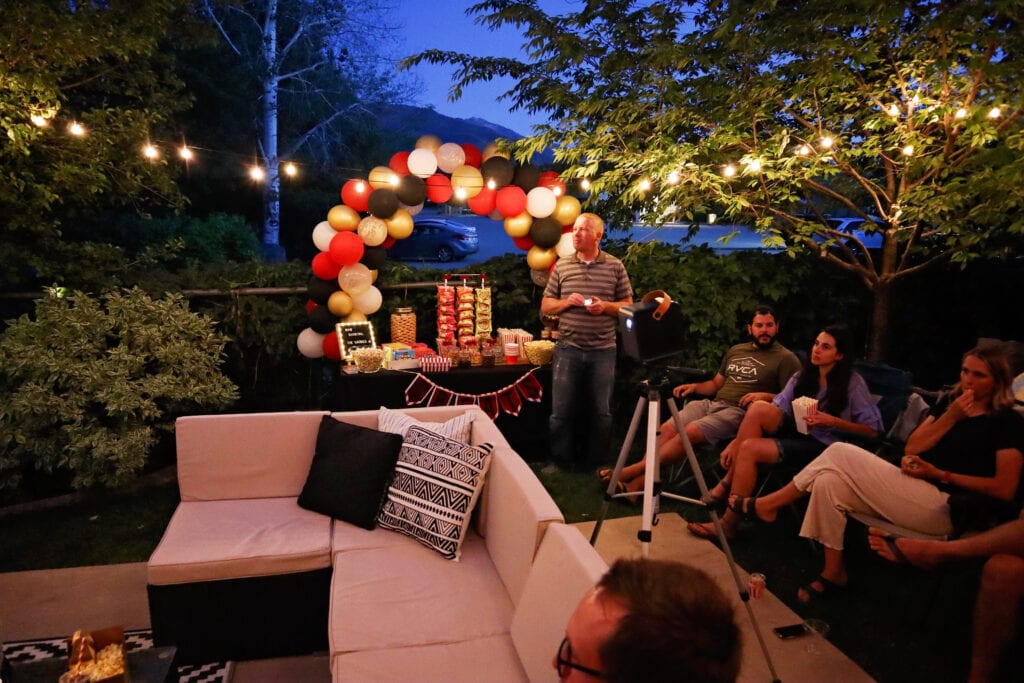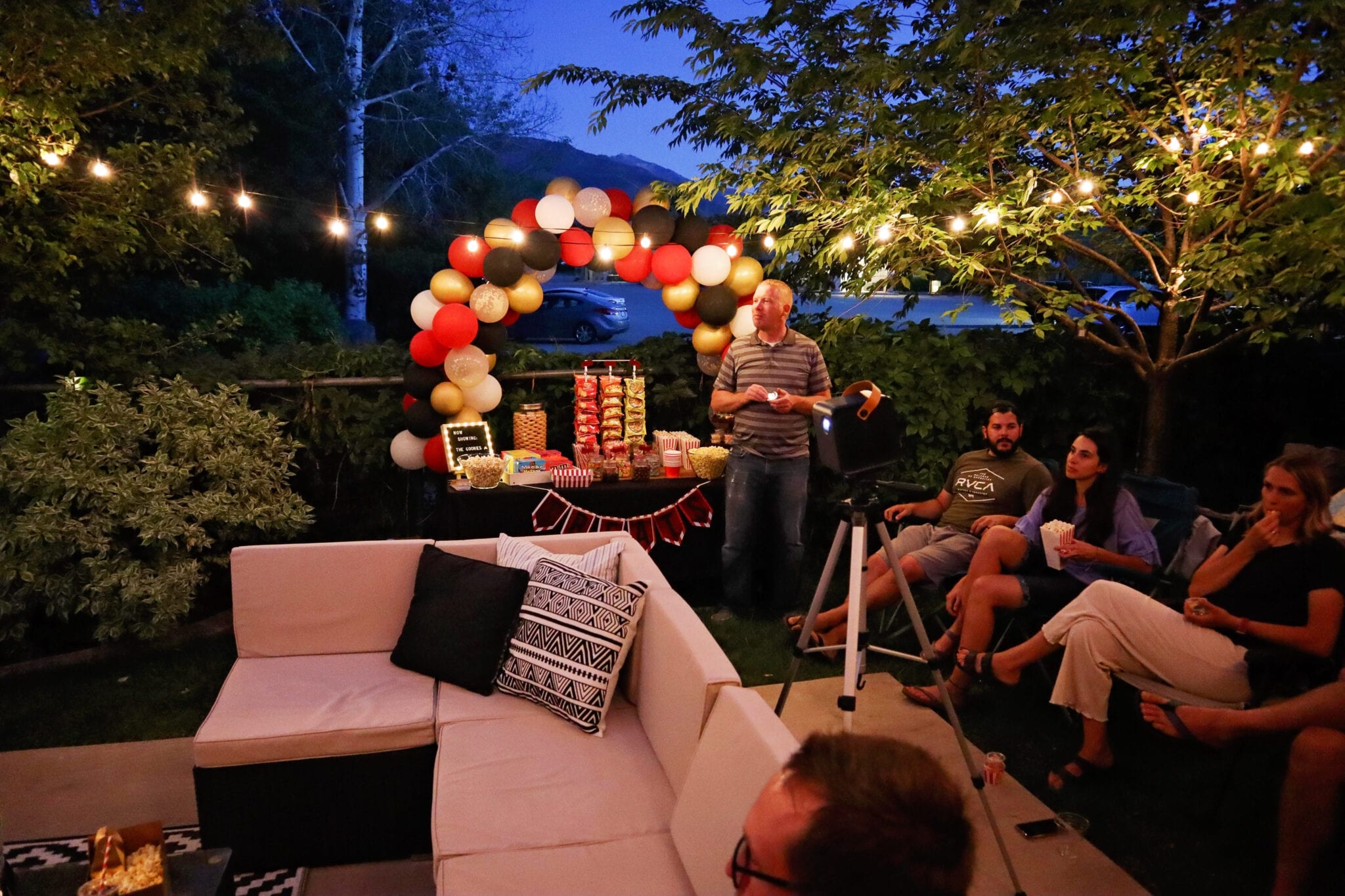 One of my very favorite ways to add lighting to my backyard atmosphere is to use globe lights. There is something magical about globe lights and how they really light up a space and make everything seems so much more fun. You could also have some sort of lantern on the concession stand table. You could also use outdoor solar pathway lights to help guests make their way to the restroom if they need to.
If you're in the market for globe lights there are a few features that I think you should look out for that you may not have thought of. First, I highly recommend globe lights that are shatterproof. I have purchased several different varieties of globe lights before and I can't even count how many times I've broken a bulb…even when being extremely careful with them. The next thing I recommend is buying dimmable lights. This will come in particularly handy during an outdoor movie night. You can dim the lights to an appropriate amount so your guests can see if they need to get up, and still watch the movie. I highly recommend the globe lights that I have.
You can also purchase speakers that have lights in them!
A Dimmer Switch is a Must-Have Item For Your Movie Night
If you are worried about having ample amounts of lighting for your party but getting it dark enough to be able to see the movie, you can buy a dimmer switch! The dimmer switch allows you to adjust the exact amount of light that you want emitting from the globe lights. It's nice to be able to turn up the lights all the way at the beginning and the end of the show and dim the lights super low when the movie is going.

Outdoor Movie Party Movie Screen
There's a lot to consider when trying to decide what type of outdoor movie screen you're going to need for your outdoor movie night. If you're trying to throw an outdoor movie night on a budget then you can easily shine your projector on a white garage door. The picture won't be super clear and it will obviously have indentations where the garage isn't flat, but it's free! If you're interested in purchasing an outdoor movie screen then here are a few things to consider.
Consider Where You'll Have Your Movie Night
First, you need to consider where you'll be having your outdoor movie party. If you're going to be having it in a smaller space then you need to make sure that your projector will fit the space that you are going to have the movie in. If you are going to have it in a large outdoor grassy area then that frees you up to be able to use a larger screen.
Make sure to leave ample space for your guests to place their chairs, blankets and to move around when necessary. If you're working in a tight space, then just do your best. Your guests will love your outdoor movie party either way!
Place Screen in the Shade
I would also recommend placing your screen in a shaded area. Despite attempting to time your movie had a good time of night, sometimes lighting from street lights or even the sunset can affect the brightness and quality of the movie. If you place your projector in the shade somewhere then that prevents all of those light sources from being an issue.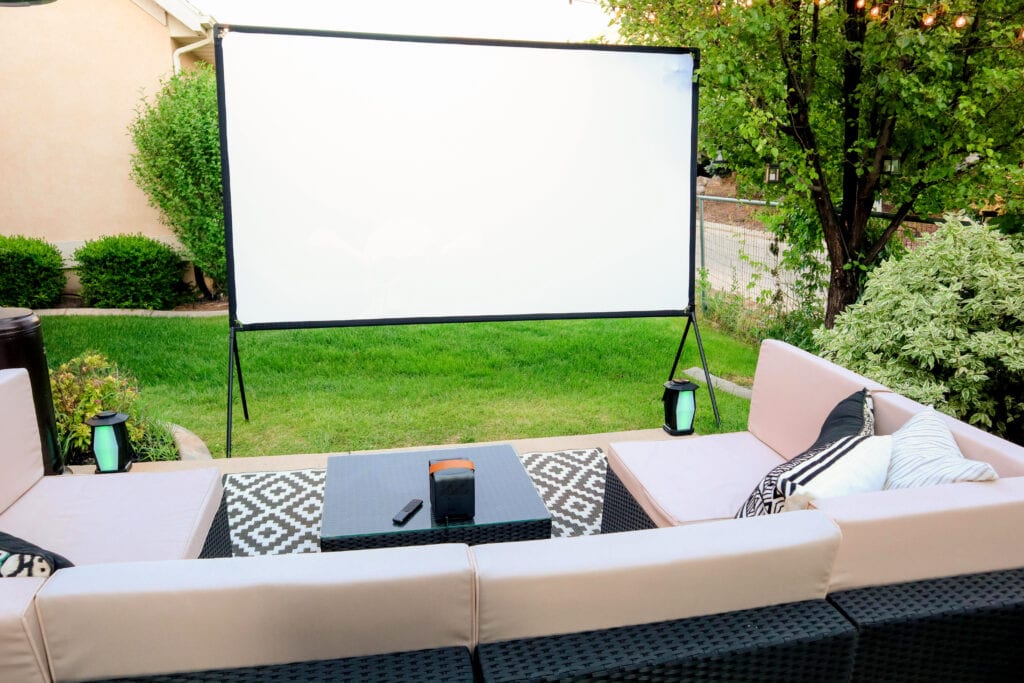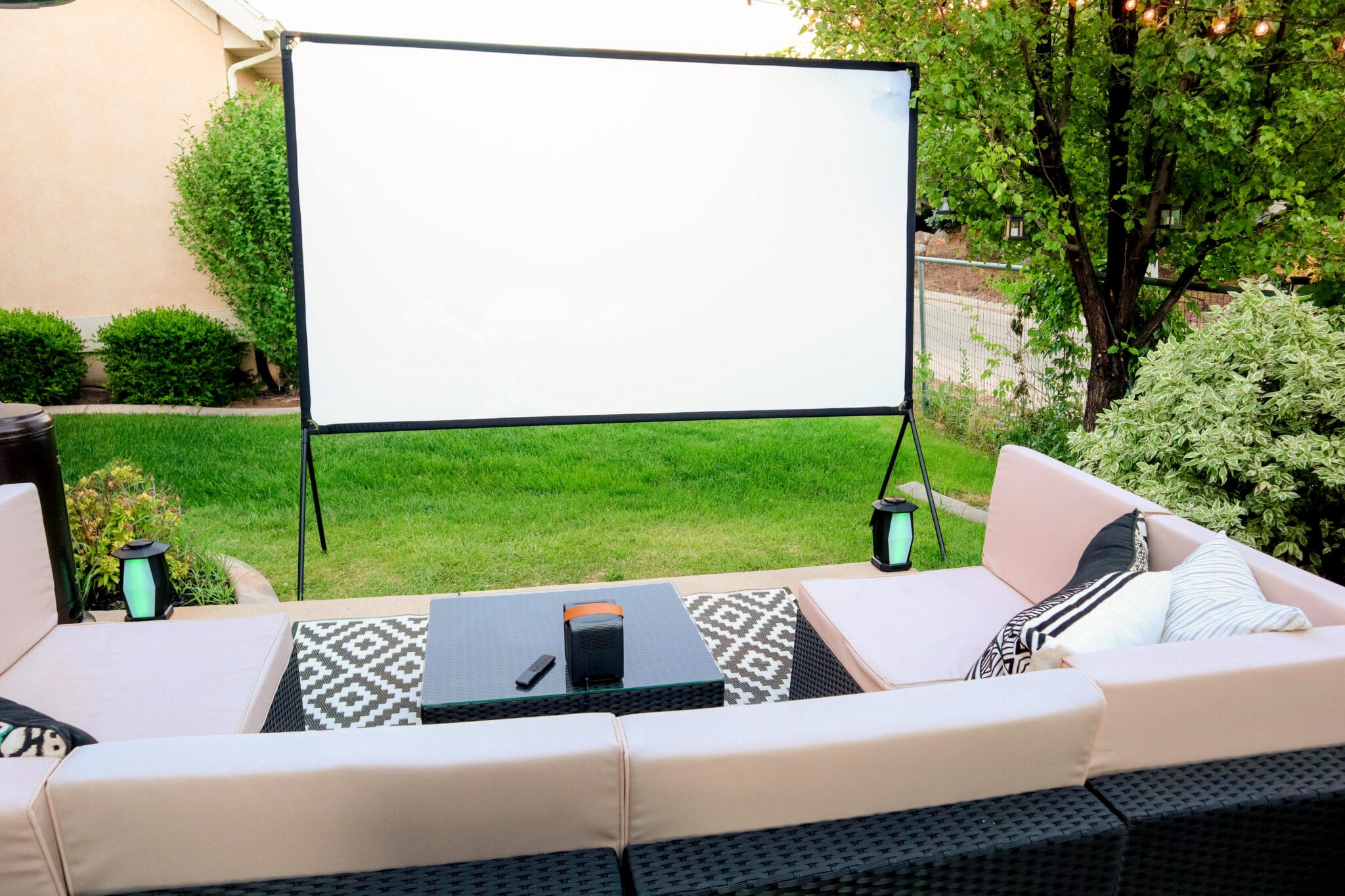 Get the Screen as Flat and Wrinkle-Free as Possible
You would be surprised at how distracting it is to try and watch a movie on an uneven surface. If you are projecting your movie onto a garage door then this is inevitable. If you are projecting your movie onto a white screen that you purchased, do your very best to get the screen as wrinkle-free as possible. You can have the nicest projector in the whole world but if you have a wrinkled screen it will all be a waste! You won't be able to see the crispness and the clarity of the image. So having a good screen is super important and it really affects the quality of your video.
Make Your Movie Party Screen Tight
Some screens go to great measures to make sure that they are very tight. If you can pull your screen or stretch it in any way to make it tighter, this will help to decrease the wrinkles that are sometimes inevitable in storage. It can also help to set your screen up a couple of days before your outdoor movie party so the wrinkles can relax.
Secure your Movie Screen So It Doesn't Blow Away
Make sure to secure your movie screen in some way. Movie screens are basically an exaggerated glorified kite! So anytime the wind comes up or even if there's a slight breeze there is a good chance that your screen may get knocked over and interrupt your movie night. So make sure to secure down your movie screen by placing weighted rocks or something similar onto the base of the screen. If you have a blow-up screen then make sure to stake down the screen into the grass or something similar. Otherwise, you're outdoor movie party will be memorable for all the wrong reasons!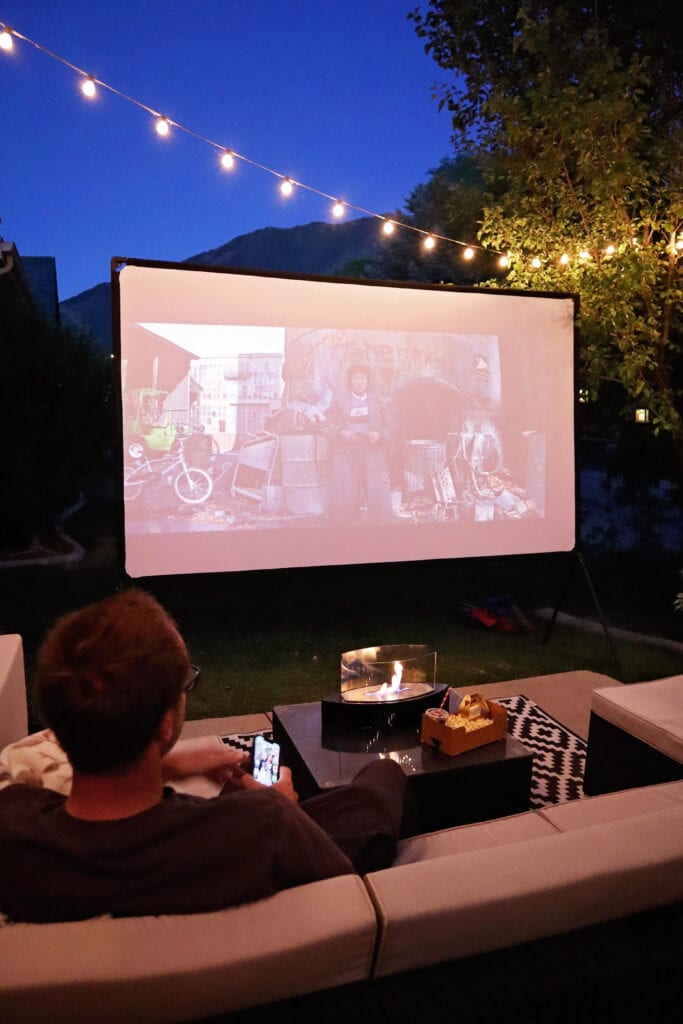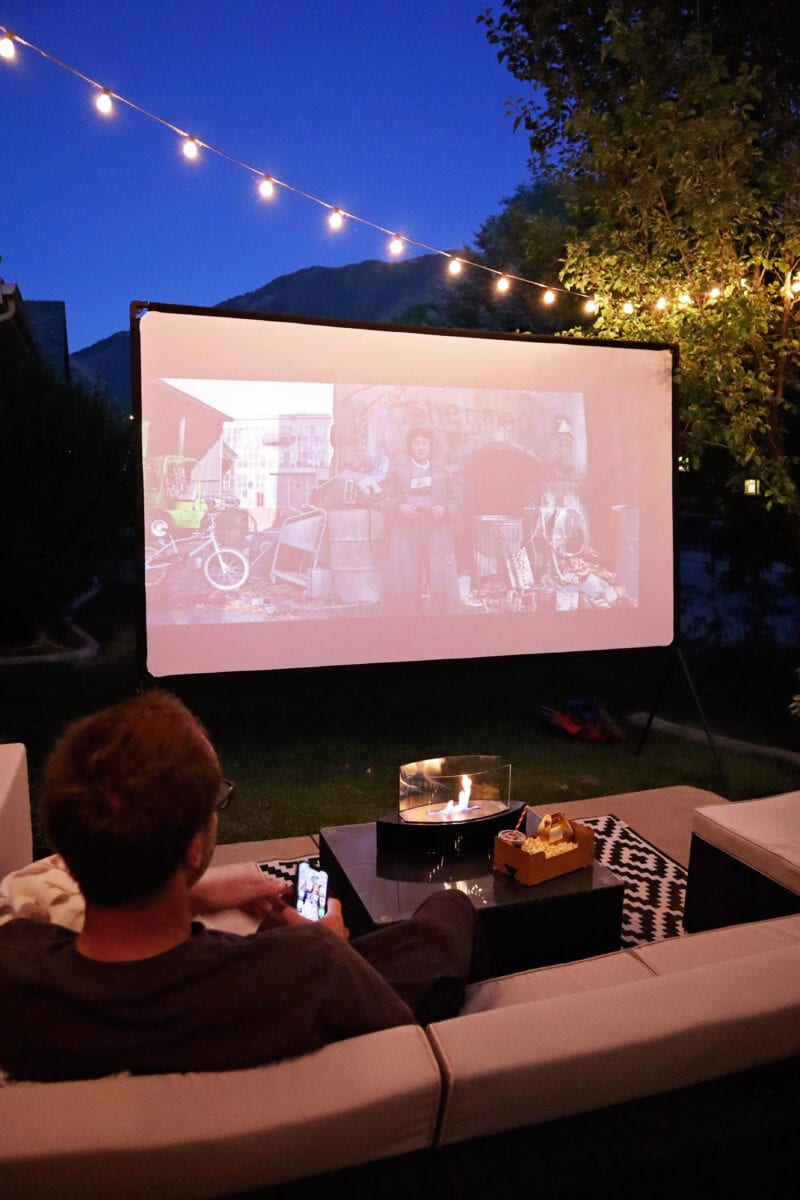 The Screen I Use
When choosing a screen for my family movie night I was careful to follow my own advice. I was looking for a screen with a frame that would pull the screen tightly, had its own stand, was easy to put up, and was easy to store. I also wanted a screen that wasn't see-through so the colors could be as vivid as possible. I'm super happy with the screen we chose and I'm happy to report that it does all of the things listed above. They also have a concise video on how to easily set up the screen that was really helpful!
Borrow Outdoor Movie Gear from Friends
If you're dying to throw an outdoor movie night but you are worried about the costs, maybe you can work together with neighbors or friends and collaborate with products that each of you have. For example if you know your neighbor has an outdoor movie screen and you have a projector, then you can combine your efforts and make it a budget-friendly and cost-effective outdoor movie party!
Shop Quality Outdoor Movie Night Essentials:

Good Quality Projector
Make Sure to Have a Portable Projector
Projectors can be an expensive investment. Many people install projectors professionally if they have home theaters. But I recommend that if you were going to install a projector, don't install it in a permanent place. Purchase a projector that is portable that you can use in many different scenarios and places in your life. Projectors are fun after dark in the pool, while sitting in the hot tub, or even while camping!
Have a Wireless Projector If Possible
If at all possible, I highly recommend using a wireless projector when considering outdoor movie night essentials. I've been to many different outdoor movie parties where the host has struggled to get the wiring and everything hooked up. I've also heard many swear words from the setup process as well!
So if there is any chance of you purchasing a new projector, purchase one that has rechargeable batteries that don't require any wiring to or from the house.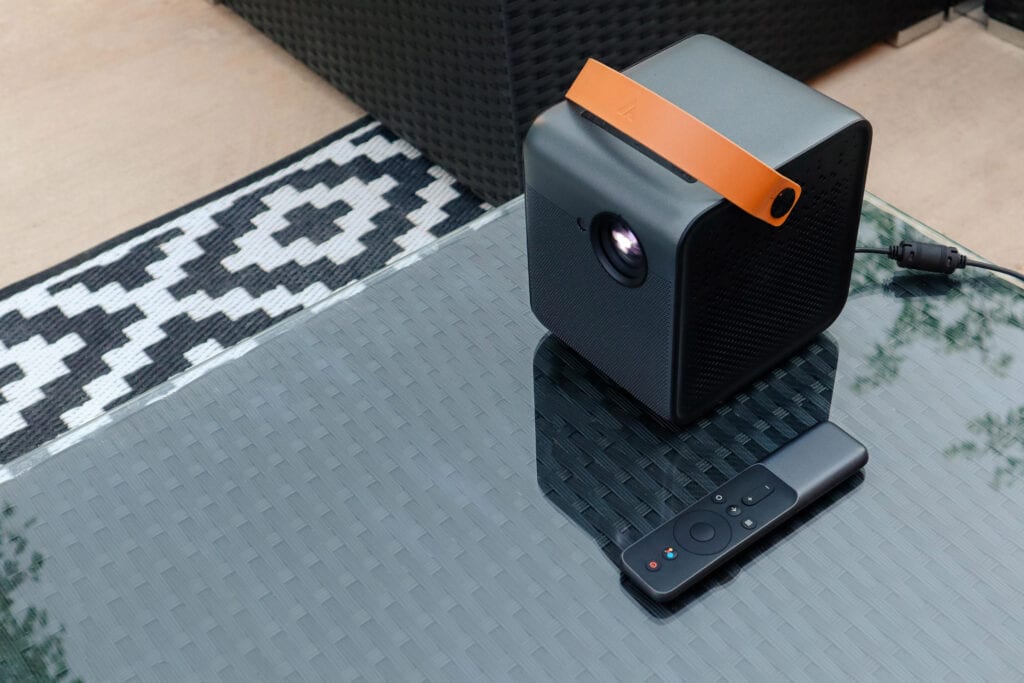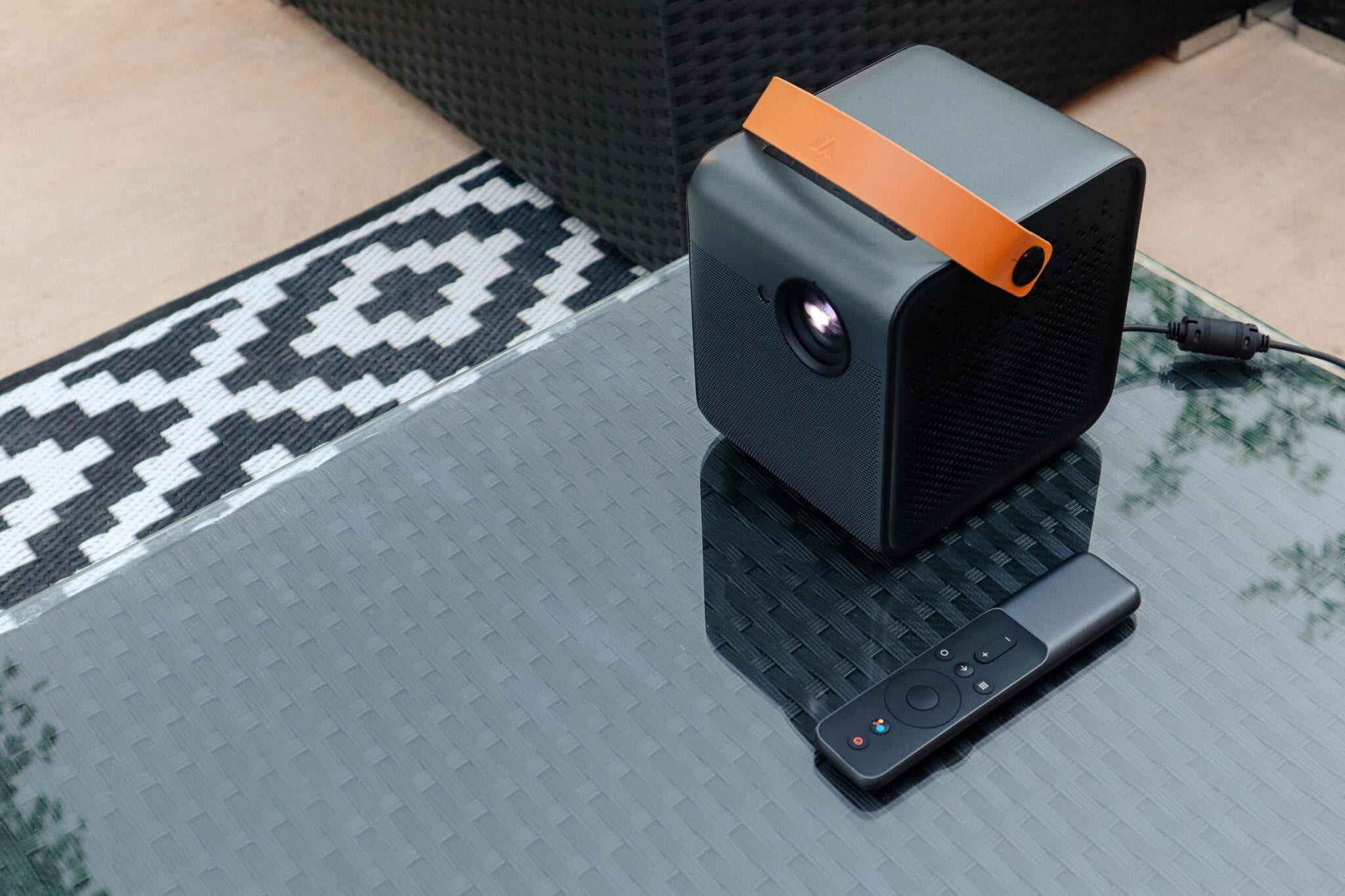 Shop for Brightness before Resolution
Many times when people are trying to decide between various types of projectors, they only pay attention to the resolution. However, because outdoor projectors are used in many different scenarios and different lighting types, it's extremely important to choose a projector that is bright enough.
Your projector can have an excellent quality picture but if it's not bright enough to even see the movie then it won't matter! So make sure to pay attention to the number of lumens that the projector claims to have when you are considering which projector to purchase.
Buy a Projector with Bluetooth Capability
Another really important factor to consider when purchasing an outdoor projector is to make sure that it has Bluetooth capability. There are many different scenarios when you are going to want to connect it to a phone, or even to external speakers so that you can hear the movie even better! Bluetooth is just another feature that is not optional in my opinion.
The last thing I want to do is to be struggling with chords and wires between devices all over the yard. Not to mention having a panic attack every time someone attempts to cross the cords to get to the bathroom. The last thing you want is your projector to be ripped off the stand because someone accidentally tripped over the wire!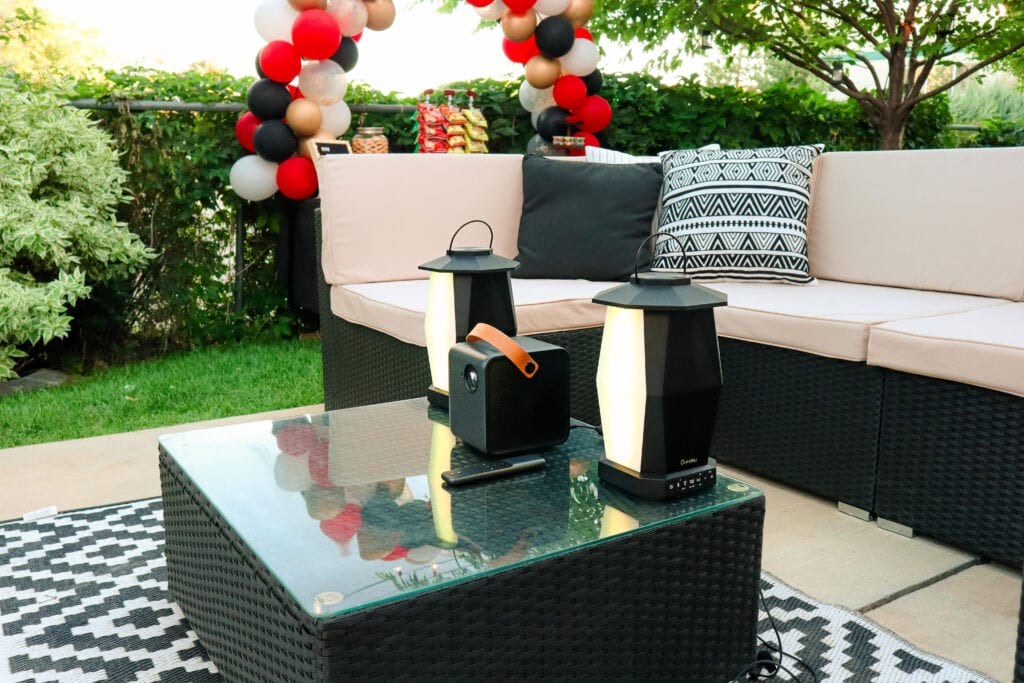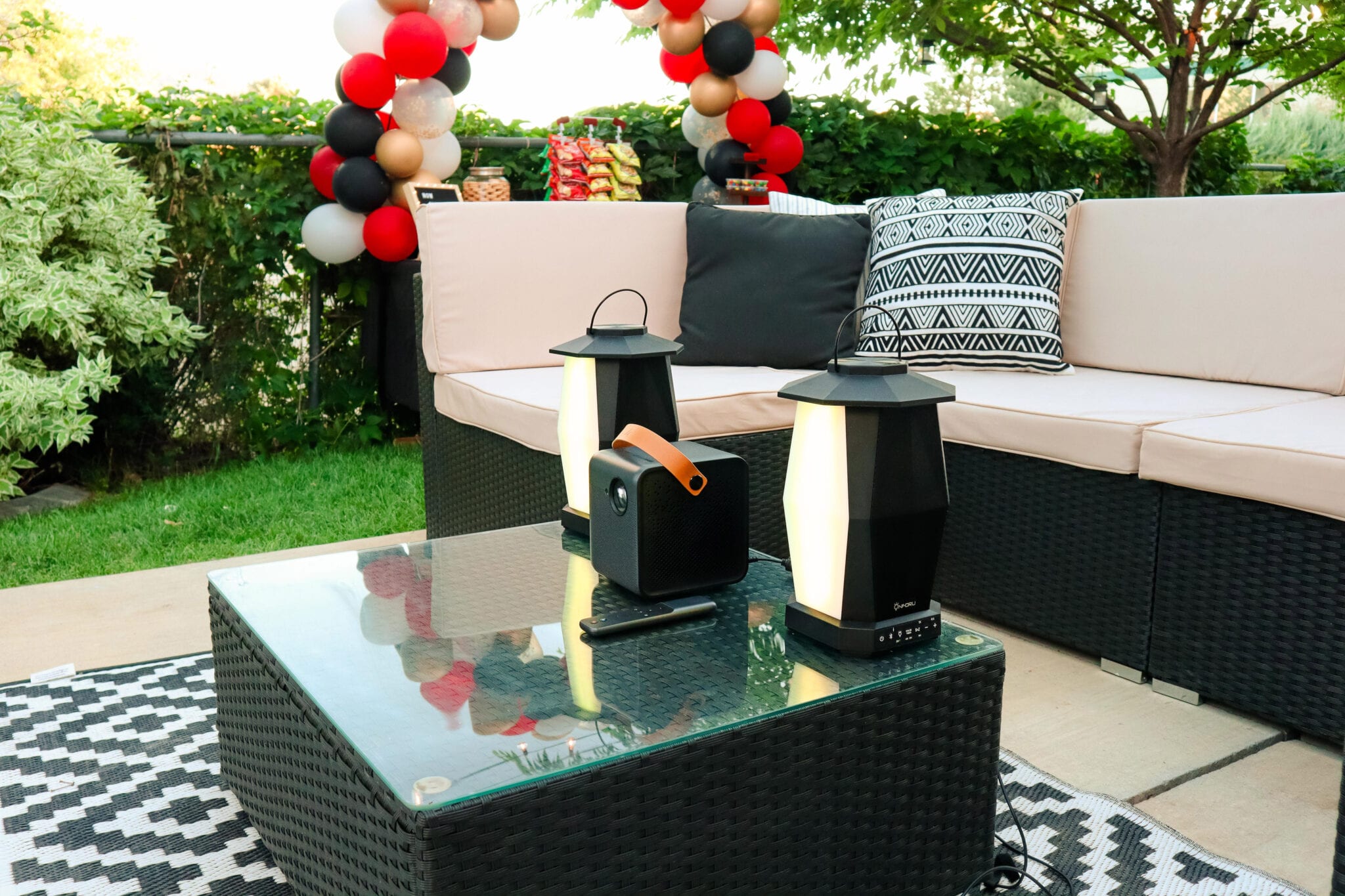 The Projector that I Recommend and Use Myself
There are a lot of statistics to consider when trying to decide what kind of projector to purchase. It can be quite overwhelming, especially if you don't know what the specs even mean or what's most important. But for me, the projector that I chose checked off all of my most important boxes.
The WEMAX Dice Projector is portable, has good quality images, runs on a battery (remember how annoying it is to run tons of cords through your yard?), shows a bright picture, has autofocus, and has keystone adjustments so your image isn't skewed. It's the whole package! I'm super happy with it and I love that we can use it in tons of different scenarios. Making memories with my kids is hugely important to me and the WEMAX Dice allows me to do that more than other projectors would.
Most Projectors Have Built-In Speakers
Many, if not all, projectors have built-in speakers. This is obviously an important feature when showing a movie. But depending on the size of your party, one little projector speaker may not be enough!
Sound Speakers
The Louder, the Better
Sound is an extremely important part of an outdoor movie night. Speakers are not something that can be just passed by when considering outdoor movie night essentials. Think about how loud a movie has to be inside your home to be able to hear it well. Times that by 10 and that's about how loud your volume is going to need to be when you are outdoors.
The sounds of the outdoors combined with guests moving around, eating their snacks, and even talking during the movie can often be disrupting. Therefore having the speakers loud enough so that everyone can hear is essential!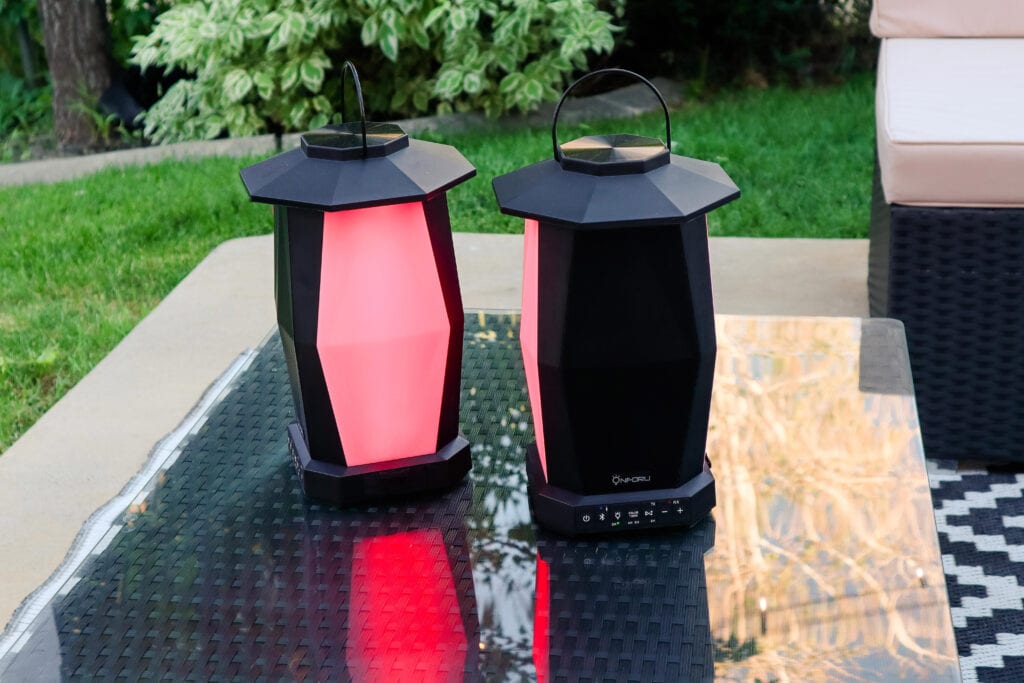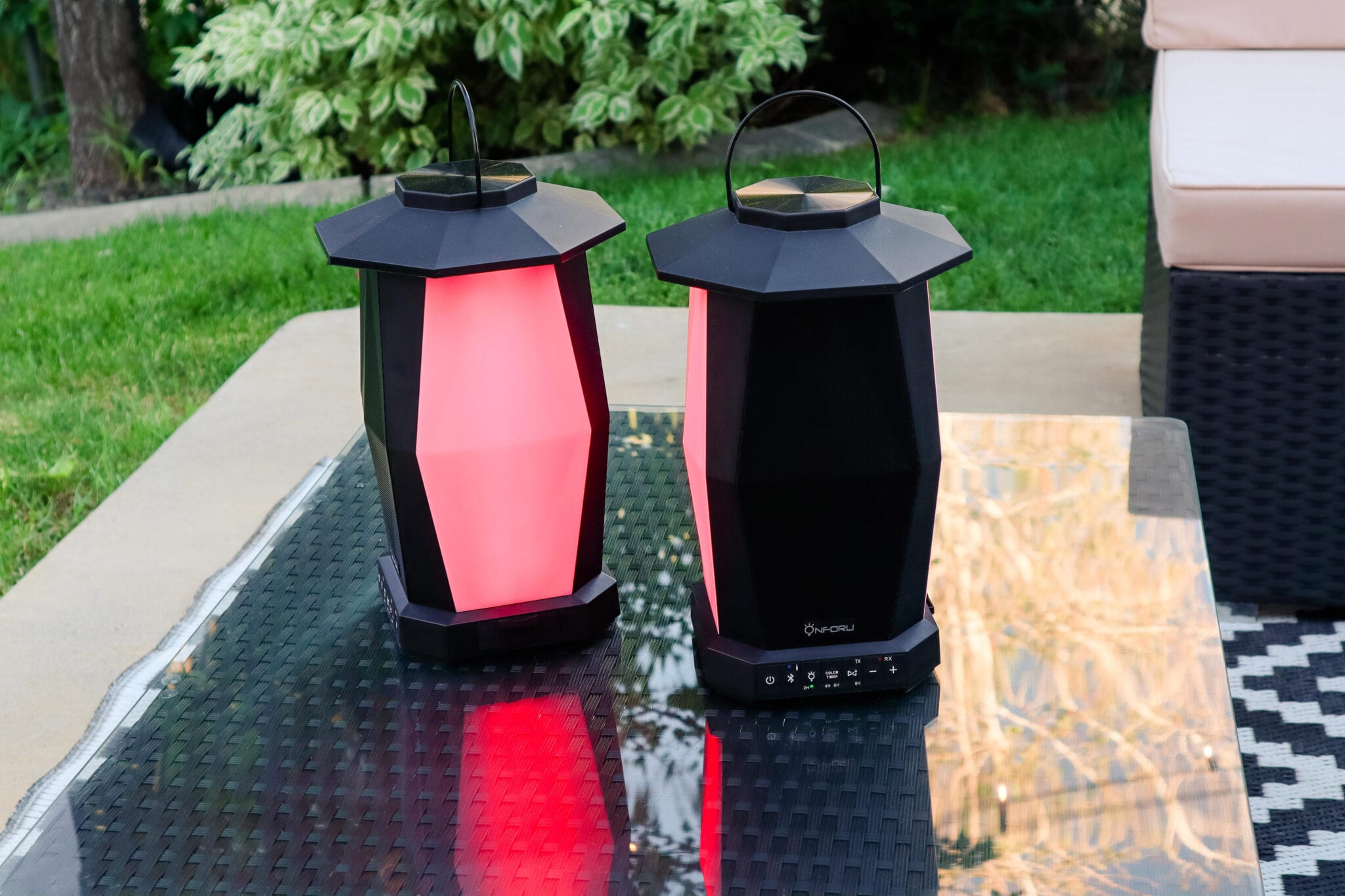 You Won't Regret Having Wireless Speakers
This concept has been repeated a couple of times but I think having outdoor speakers that can connect to your projector via Bluetooth is way better than using wires.
For the exact same reason that you don't want someone tripping over the wires of your projector, you don't want something similar to happen if they trip over your speaker wires! So make sure to buy speakers that have Bluetooth capability.
In order to get a better surround sound effect I also recommend having one speaker on each side so that the sound is equalized. It's also extremely quick to set up Bluetooth speakers. So make that a priority if you were shopping around for speakers to buy.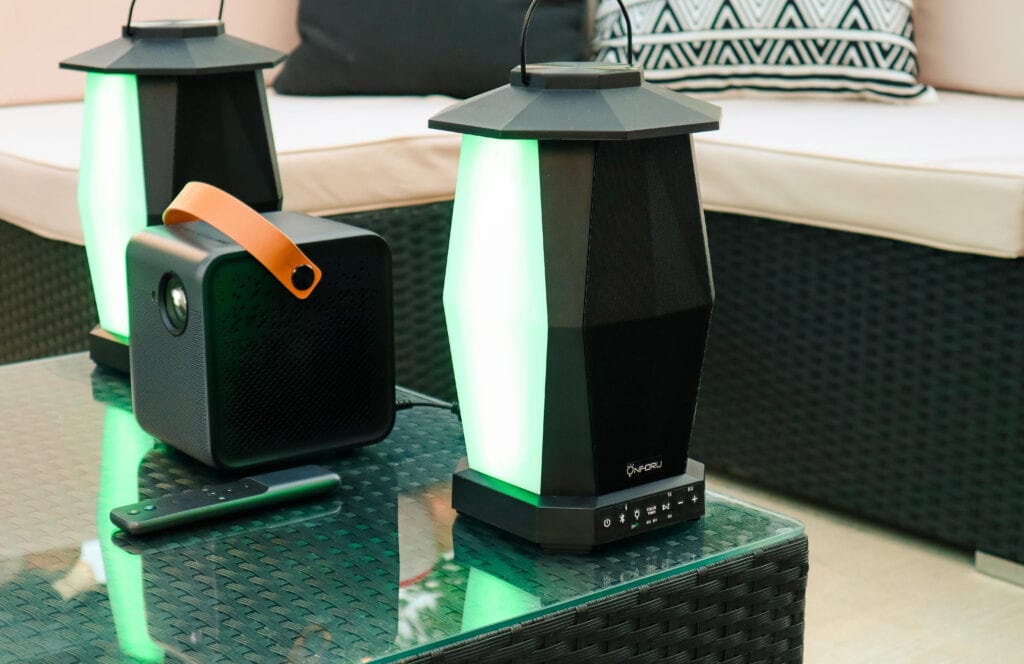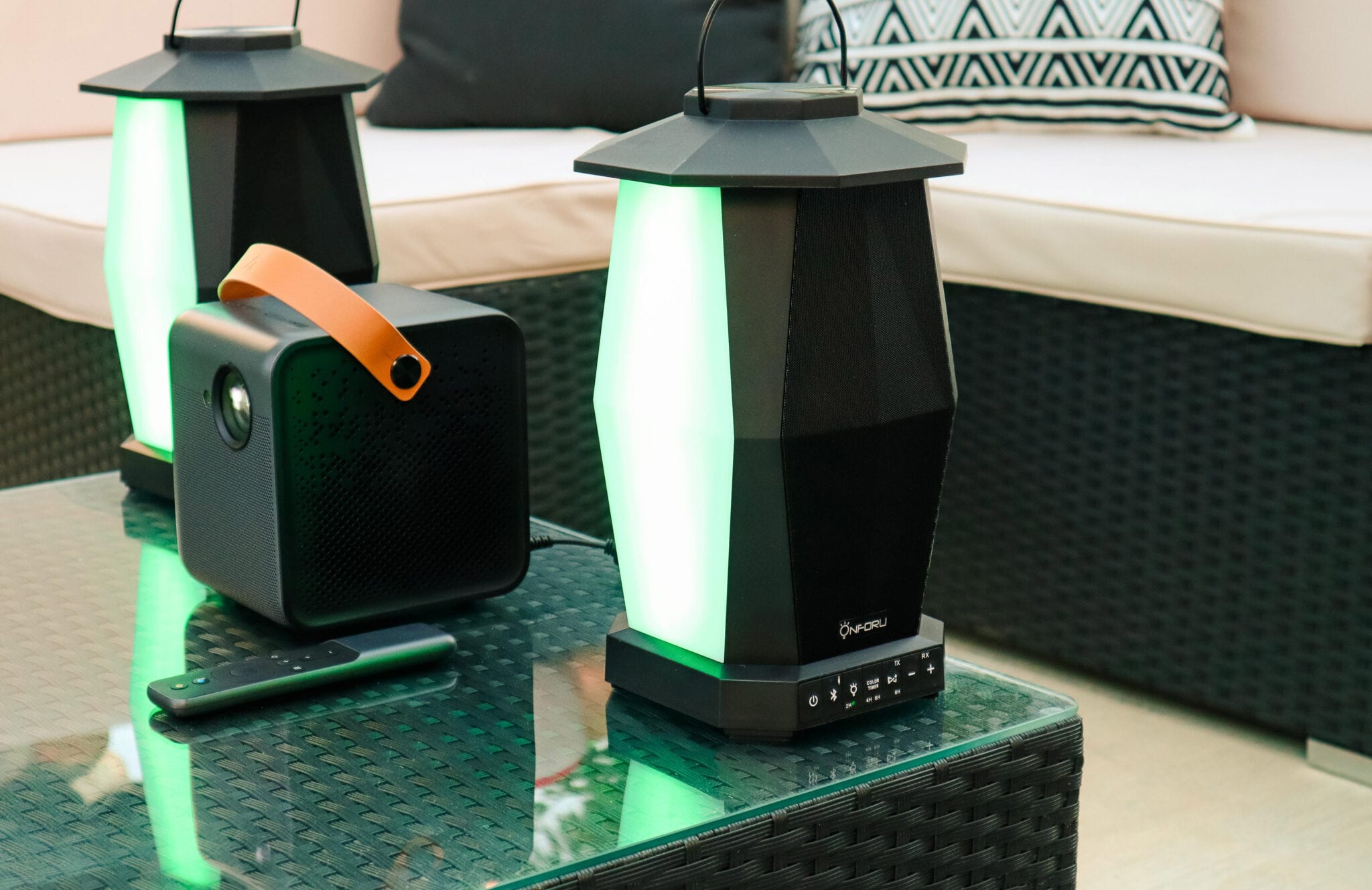 This obviously isn't necessary either, but it can be really helpful to have outdoor Bluetooth speakers with lights. The Onforu Bluetooth speaker set that I have hold a long charge, they have lights (which can change color and are super helpful in the dark), and they connect easily to my phone or the projector.
Shop Outdoor Movie Night Essentials:

Comfortable Movie Night Seating
You can have the most expensive movie equipment in the world but if your guests are not comfortable, you better believe that they won't last the entire movie night! So it's really important to do your best to be accommodating to your guest's needs by helping them find the type of seating that they will need to be the most comfortable.
There are so many different ways to gather seating for your outdoor movie night. You can either request that your guests be in charge of their own seating or if you feel like you have an ample supply of comfortable seating options, then you can put yourself in charge of that.
We decided to turn our patio furniture and it was nice to have a bunch of chairs already set up. It also makes your party have a lot more style versus just having everyone bring camp chairs.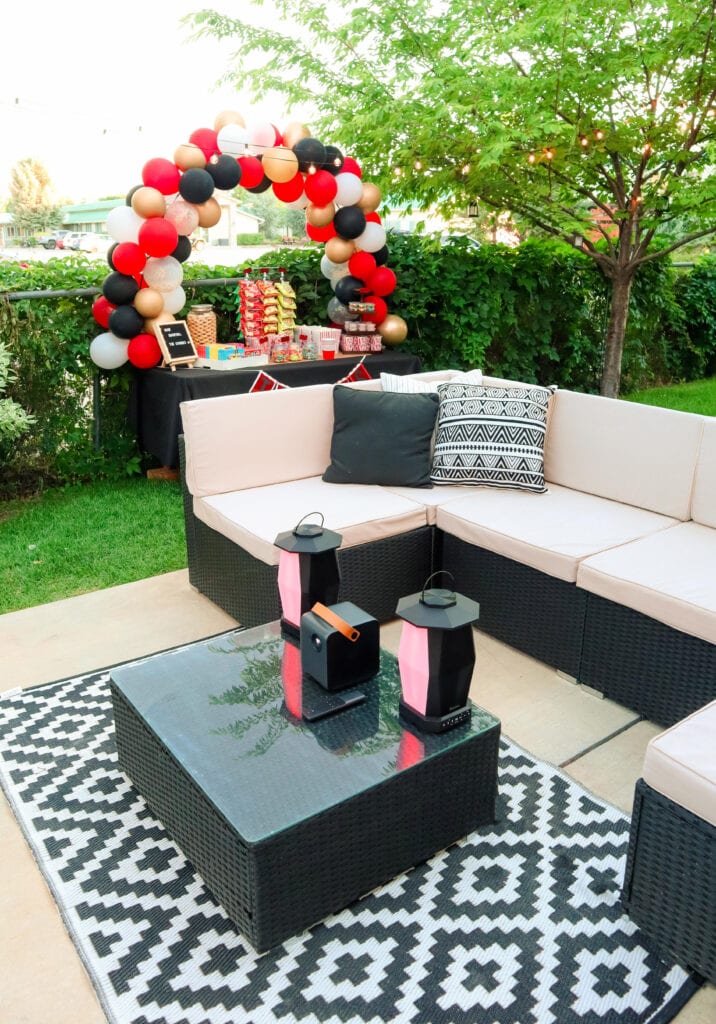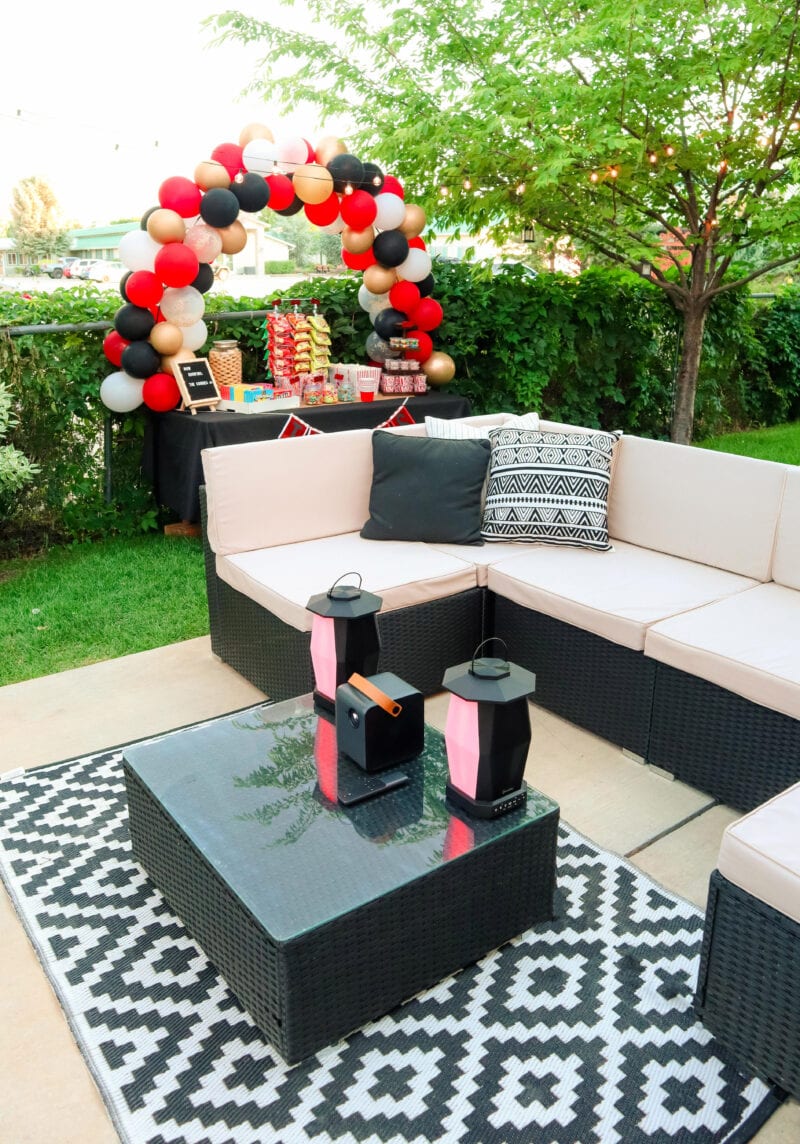 Since comfortable seating is an essential item to an outdoor movie night I have listed a few different ideas to help you.
Types of Outdoor Movie Night Seating:
Camping Chairs
Egg Chairs
Blankets
Blow-Up Air Bed
Love Sac
Old Mattresses
An Old Couch
Theatre Style Seating
This is something that's a little bit harder to control if you're leaving your guests in charge of bringing their own seating but make sure to try and place all of your guests in the theater style fashion.
For example, all the guests who bring chairs need to be in the back. While all the people who brought pillows and blankets need to be put at the front so they don't have their view blocked by the people sitting in chairs.
Shop my favorite outdoor seating that we own and love:

Give Kids Fake Money for the Snack Bar
If you are inviting young kids to your party, give all the kids fake money or create some sort of ticket system so that kids are allowed to spend their fake money (or tickets) on concession stand food. Kids will really love the ability to pick and choose what treats they want and it makes them feel even more grown-up!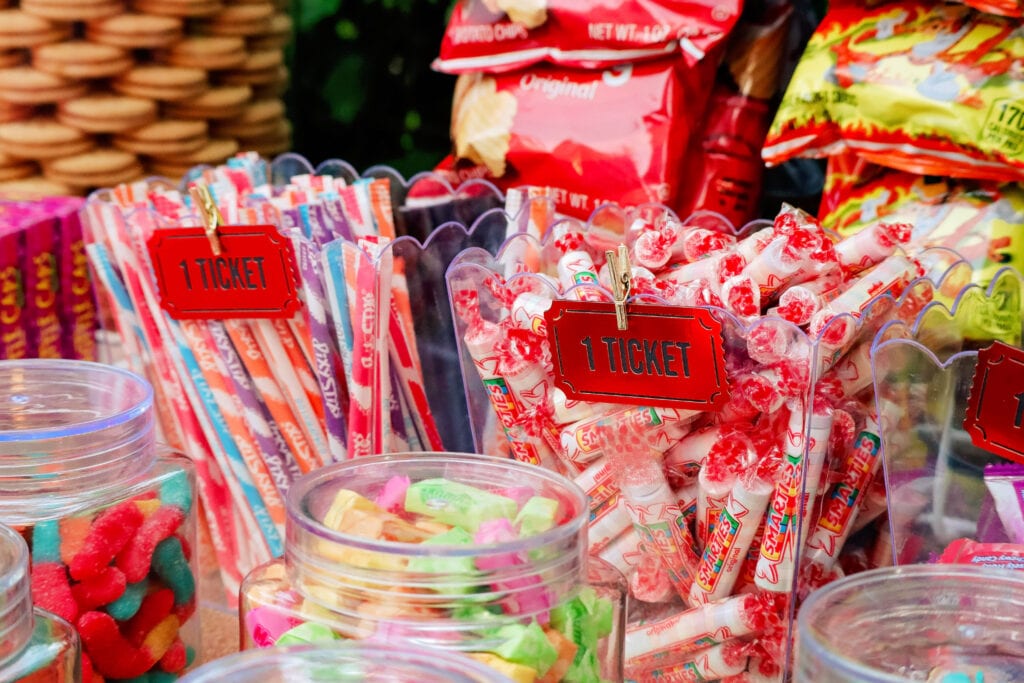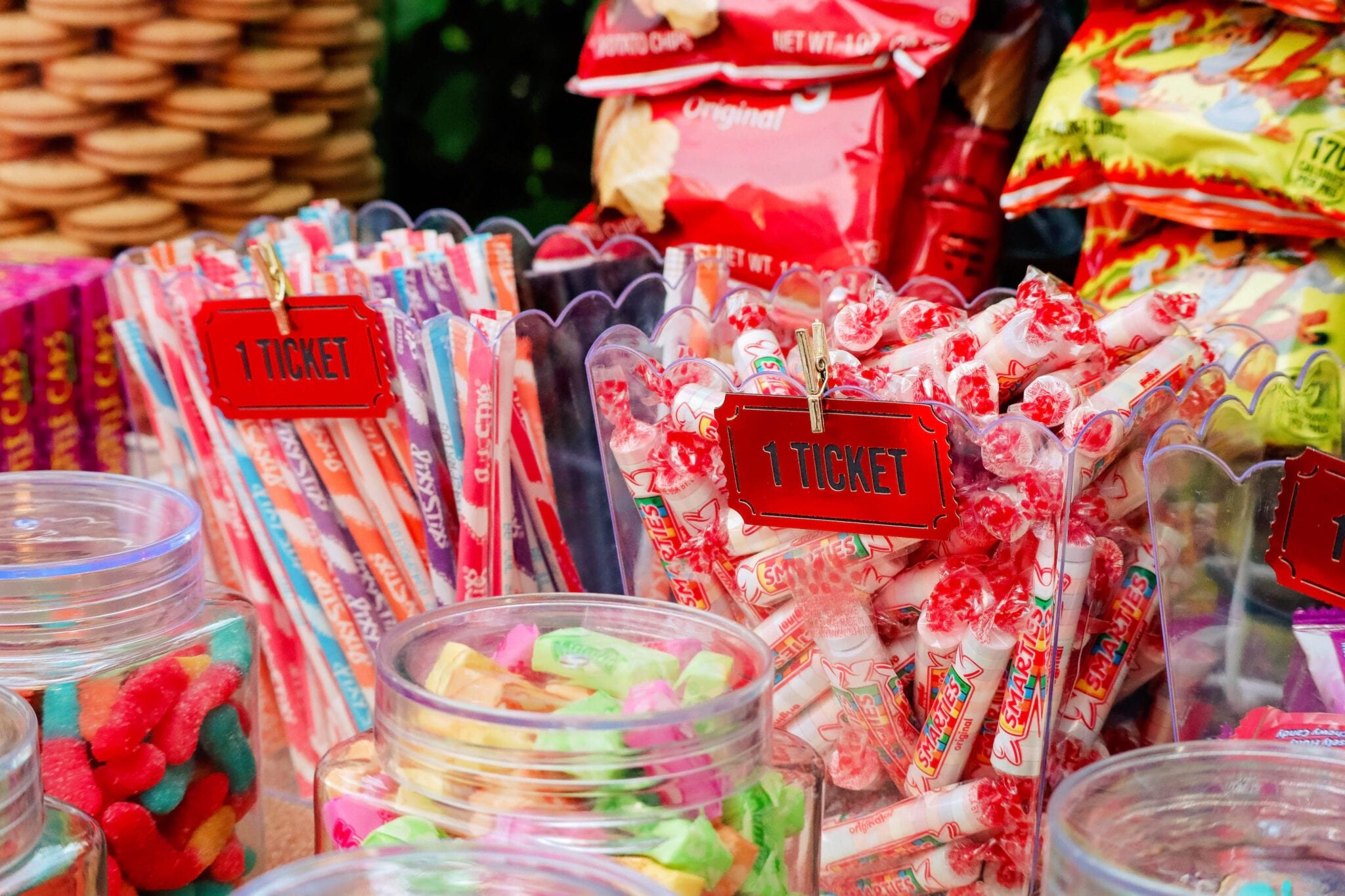 This would be especially helpful if you have limited funds and you are trying to throw a party on a budget. Many kids will frequent the concession stand and take more than their fair share so this is a good way to even out how many treats each kid receives.
Shop Tickets or Fake Money:

Create a Snack Station
Everyone knows that an essential part of an outdoor movie night is a snack station or a concession stand. If you are inviting a lot of guests, this can get pricey really fast! You can shop for snacks at the dollar store and that will help to keep your costs down.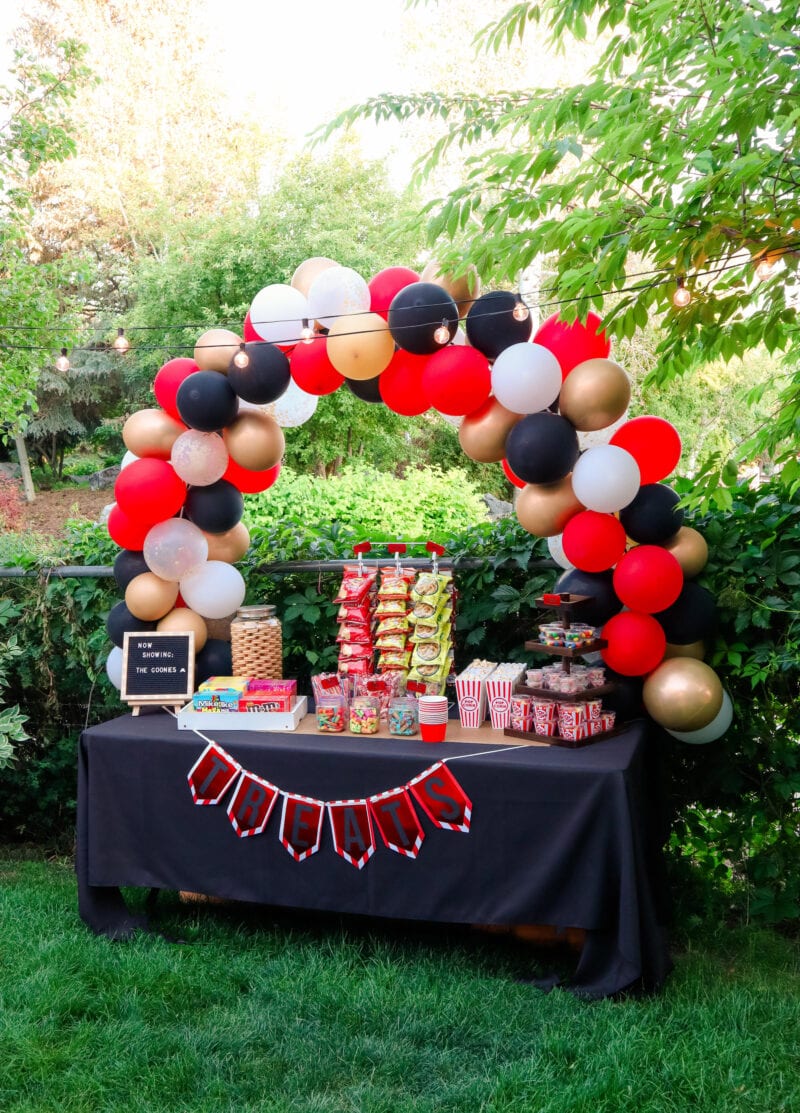 The size of your party will also determine the size of the table that you're going to need. If you're trying to provide a large variety of treats and snacks for your guests then a larger table may be a better idea.
You can also invest in small appliances that create memorable treats that your guests will love! Things that come to mind are a snowcone machine, popcorn machine or even a cotton candy machine!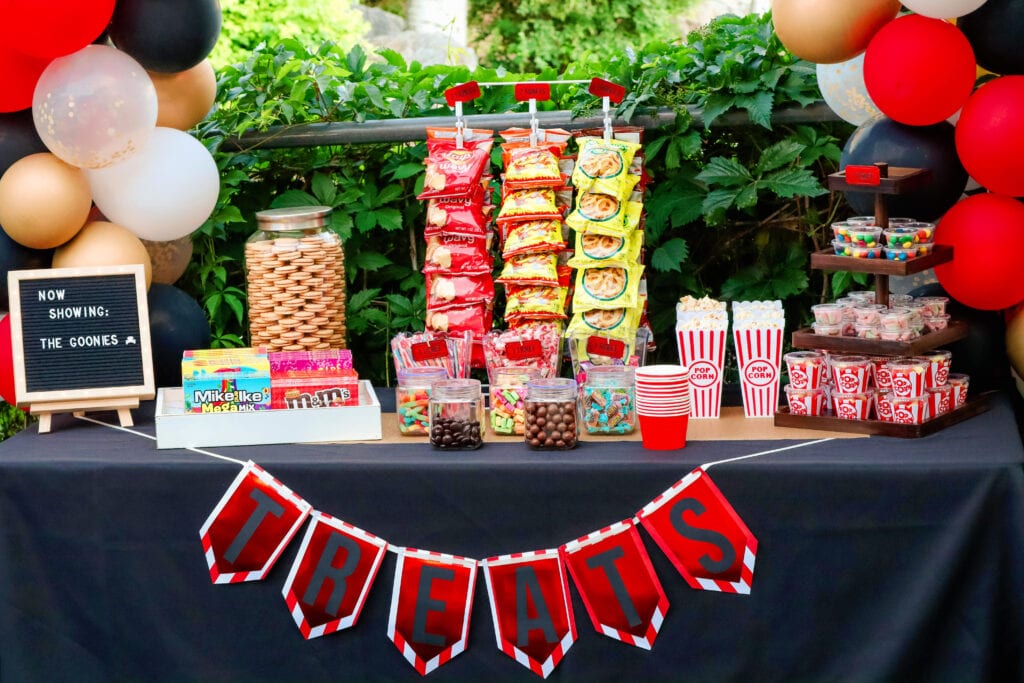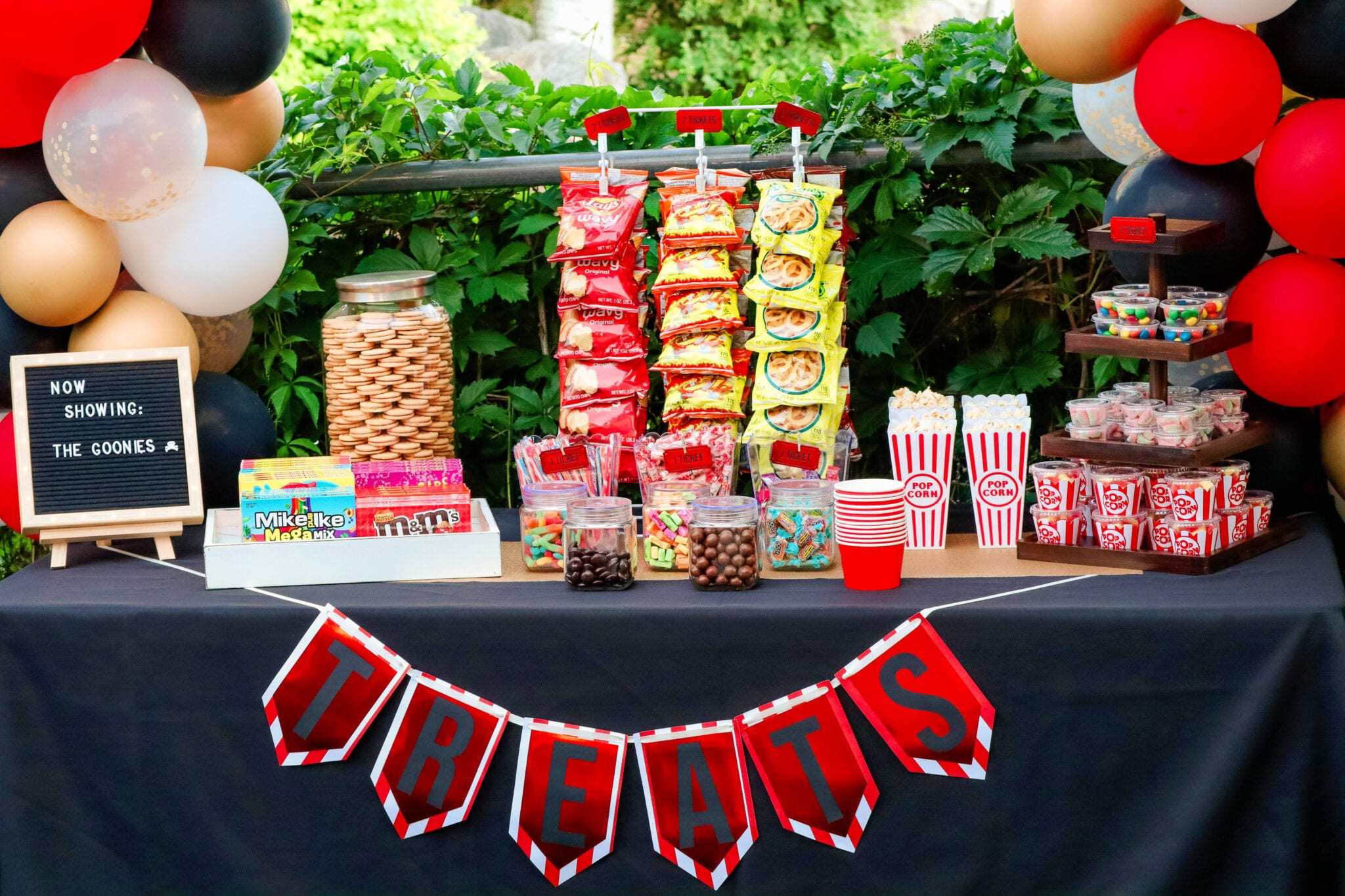 Individually Pack the Treats
If you are trying to throw a party on a budget (or even if you're not), there are a few extra steps that you can do to take your party to the next level. Prepackaging treats and snacks into smaller containers can help keep costs down when you buy everything in bulk. Packaging them in smaller packaging helps things stay organized, and it looks darling too!
You could also buy individual gable boxes or disposable trays for your guests and pre-package all of their snacks in one container, or you can leave it up to them to choose smaller containers of treats. People really love to see pre-packaged items all laid out and it really adds to the aesthetic of your party.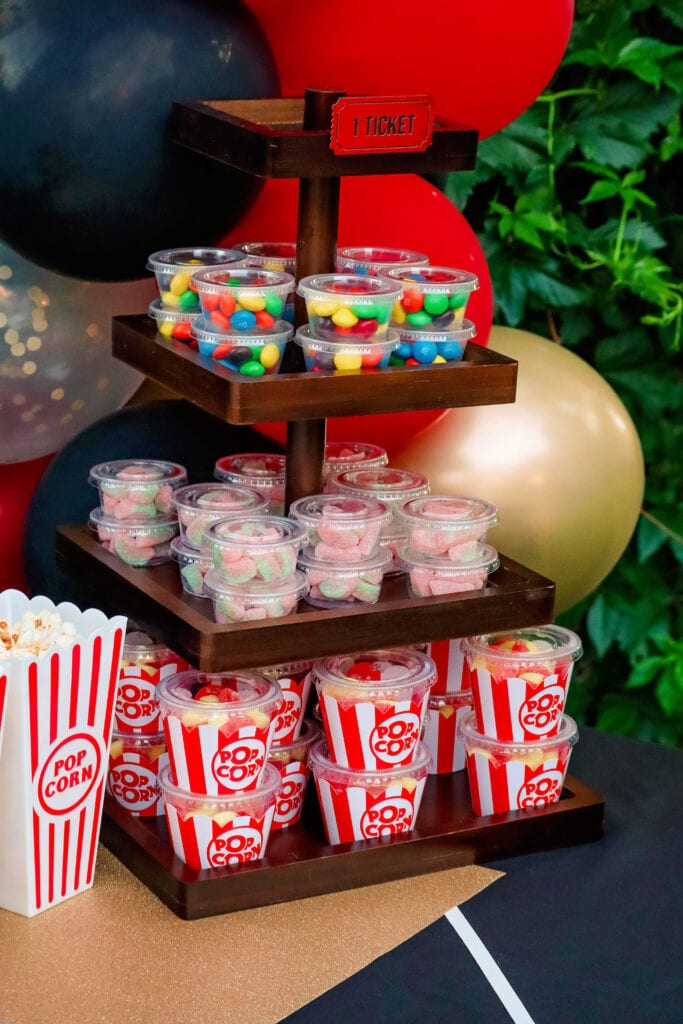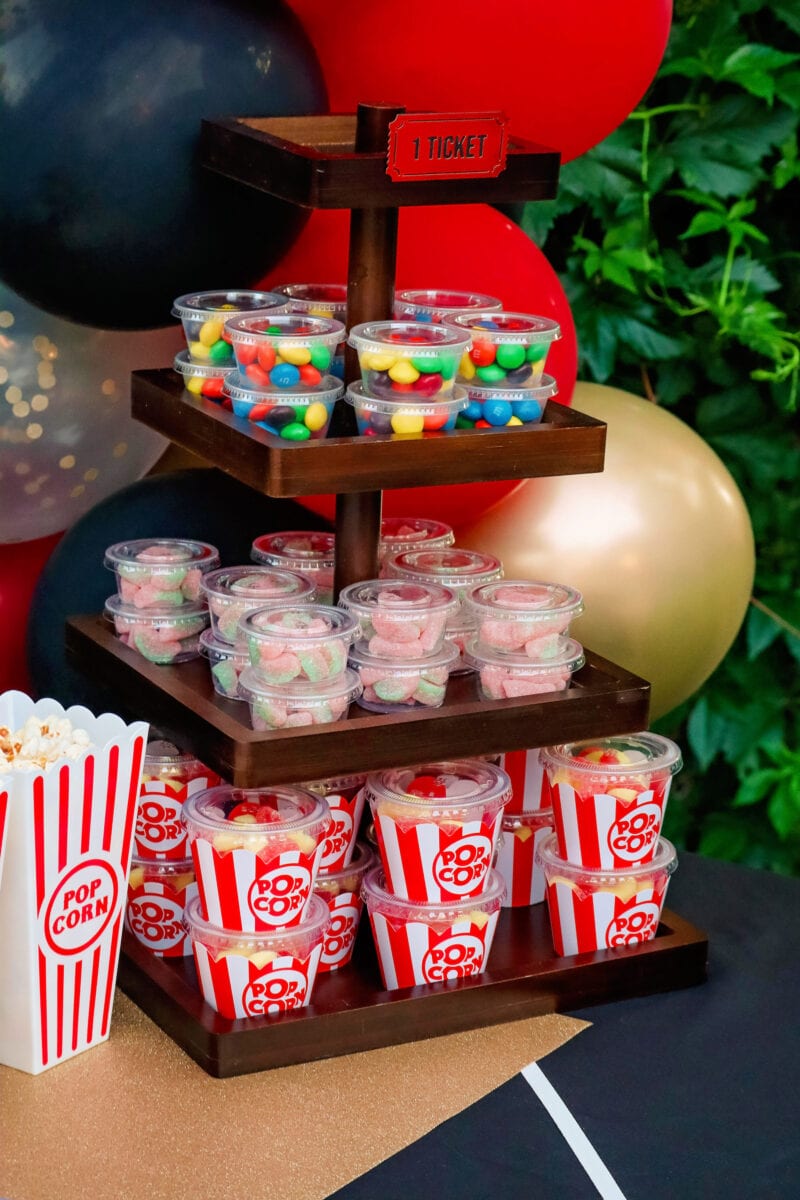 You can also use these darling clear disposable cups. I prefer to purchase smaller size cups because kids tend to waste lots of beverages. If they want more, I'm happy to supply more! I love how affordable the cups are and that they come with a lid to help prevent kid spills.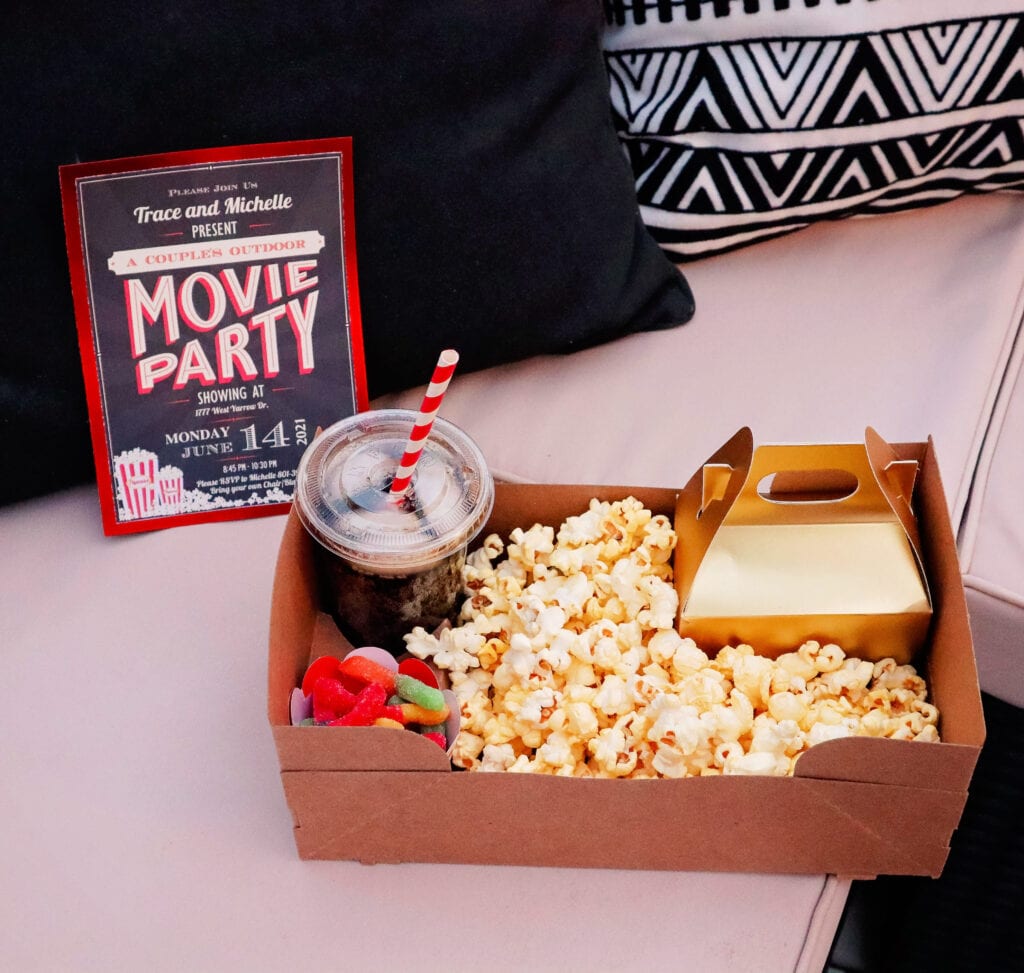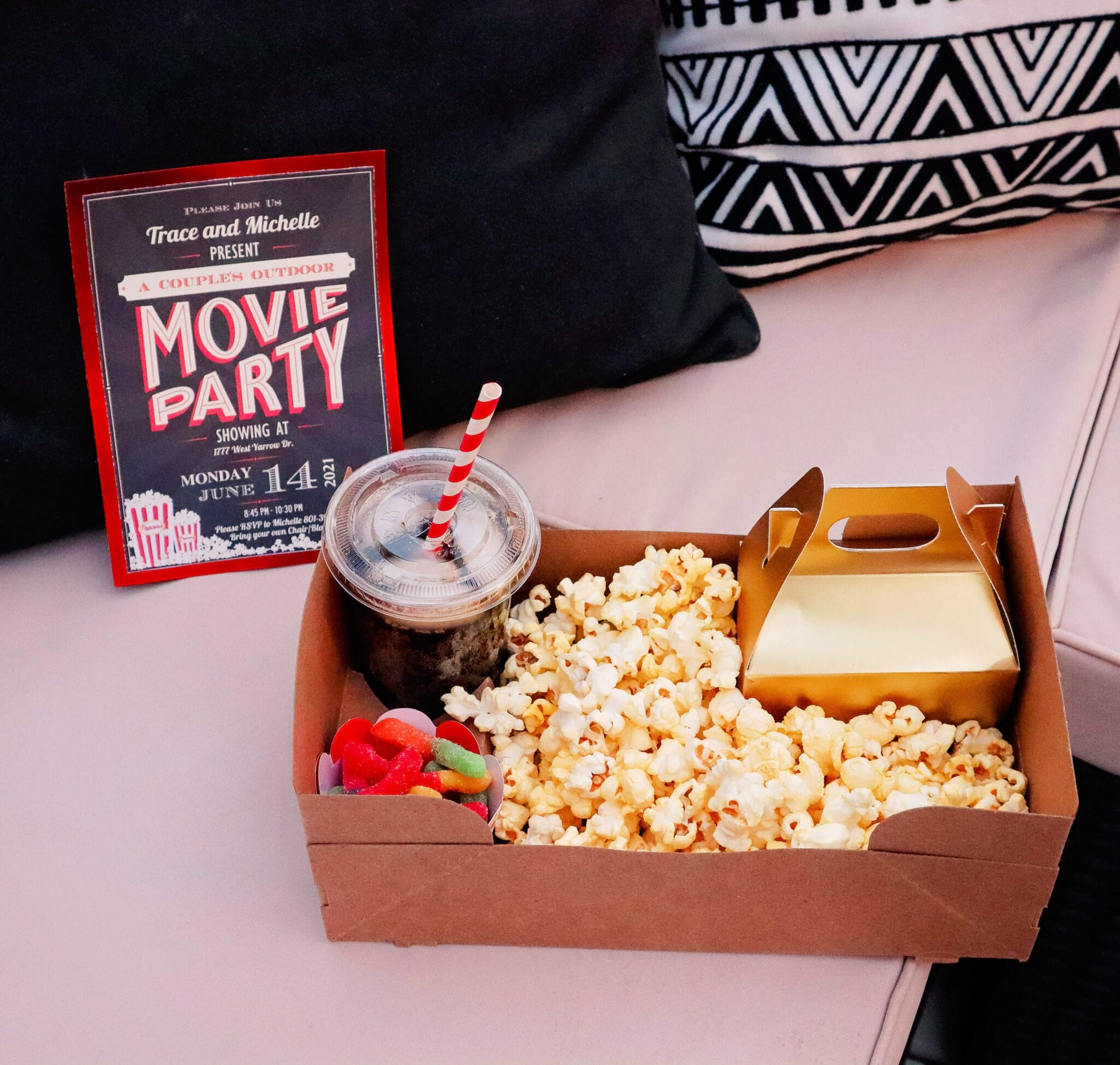 For my party, I chose to use these awesome brown paperboard trays to store each person's drink and/or treats in one convenient place. This was a great system for getting kids through the concession line quickly while keeping messes to a minimum. They even have pop out corners to hold their cups and these cute red and white striped cups for their candy. They are absolutely perfect for a backyard movie night!
Shop Cute Treat Packaging:

Displaying Movie Party Treats
Having different ways to display your movie party stacks can really take your concession stand to the next level. I wanted a way to add height to my table and have a cute way to display my individually packaged treats so I chose to use this 4 tiered square tray. It was perfect! The wood is a beautiful color, too.
I wanted to provide some salty stack options so I was looking for a way to display some chip bags that would be cute. I found this chip rack and I knew it would be perfect for my concession stand table. It was super easy to clip the chips onto the stand and I was even surprised to see that you can clip chips on both sides! It holds 18 chip bags on one side and even has upside-down clips to put a price (or in my case number of tickets).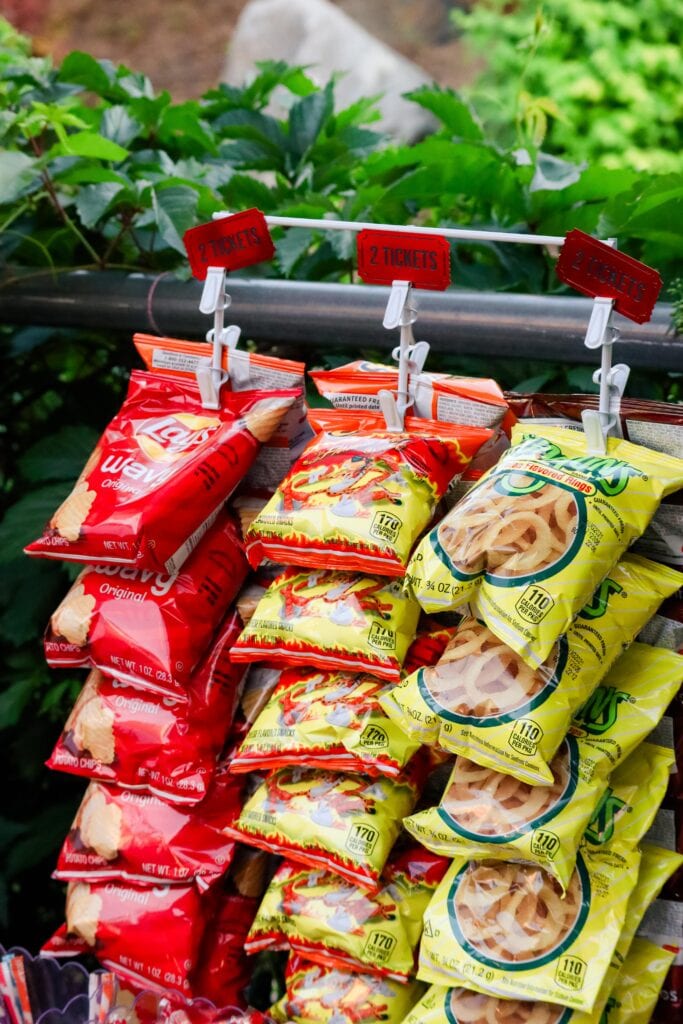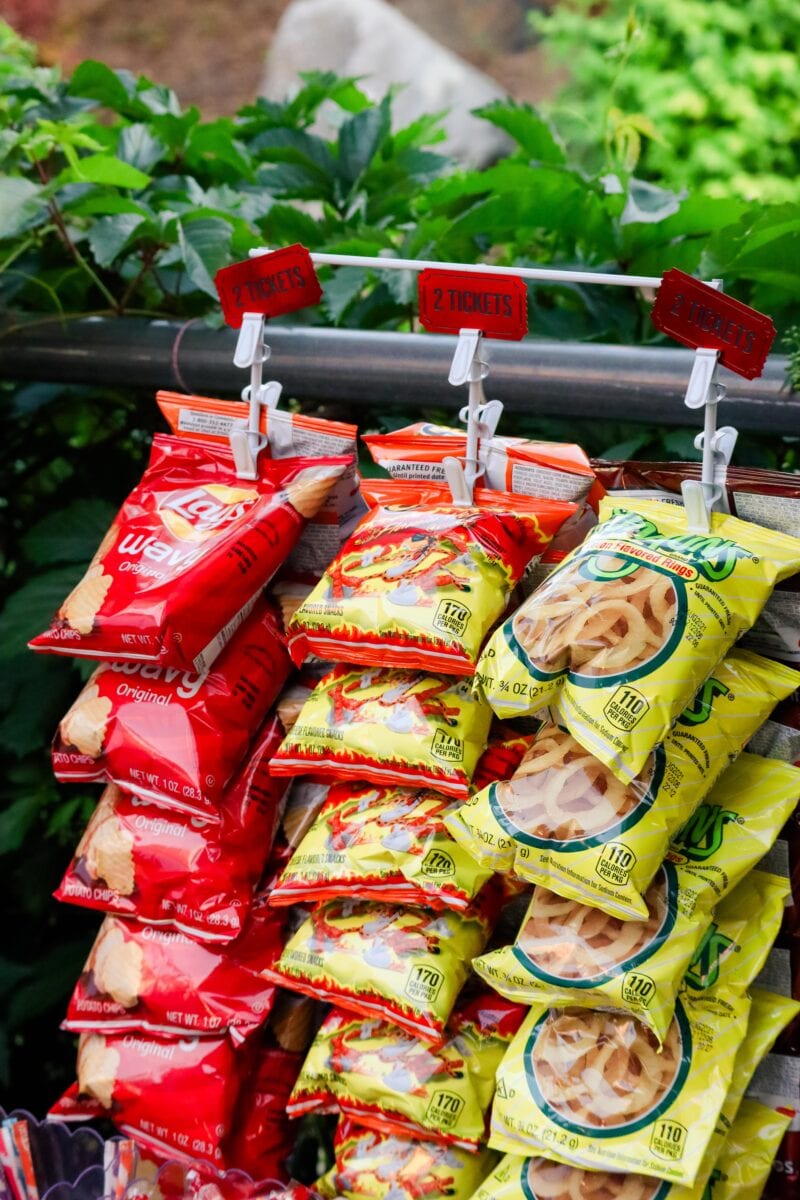 I love the awesome cookie trend where you stack cookies in an offset pattern in a glass jar. I put this out on the table as another way to display the cookies. My guests loved it!
I wanted to also have boxed candy as an option just like you would have at a regular theatre. But I wanted a way to contain them so they weren't constantly tipping over. I decided to use this white tray that I have and it worked perfectly for adding a bit of dimension as well as keeping everything organized.
Shop my treat Displays:

Bar Cart to Store Drinks
If you're hosting a party with lots of people, it's always nice to have something for the kids and adults alike. Having an outdoor movie isn't complete without having some yummy sodas on hand! You can set up a bar cart or small table in your backyard that will display all the different flavors so everyone has options.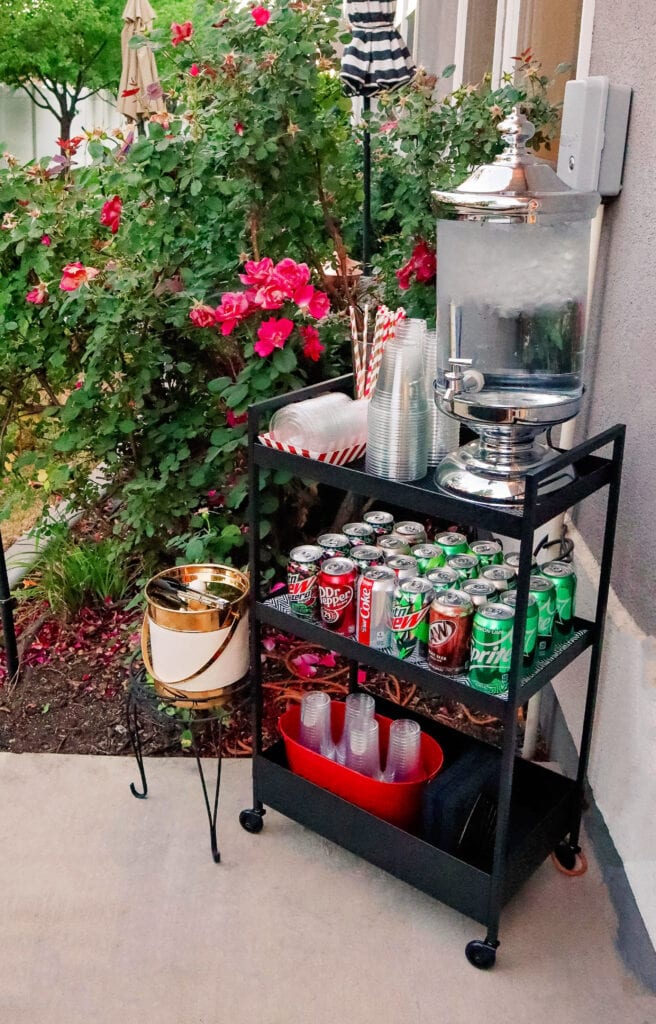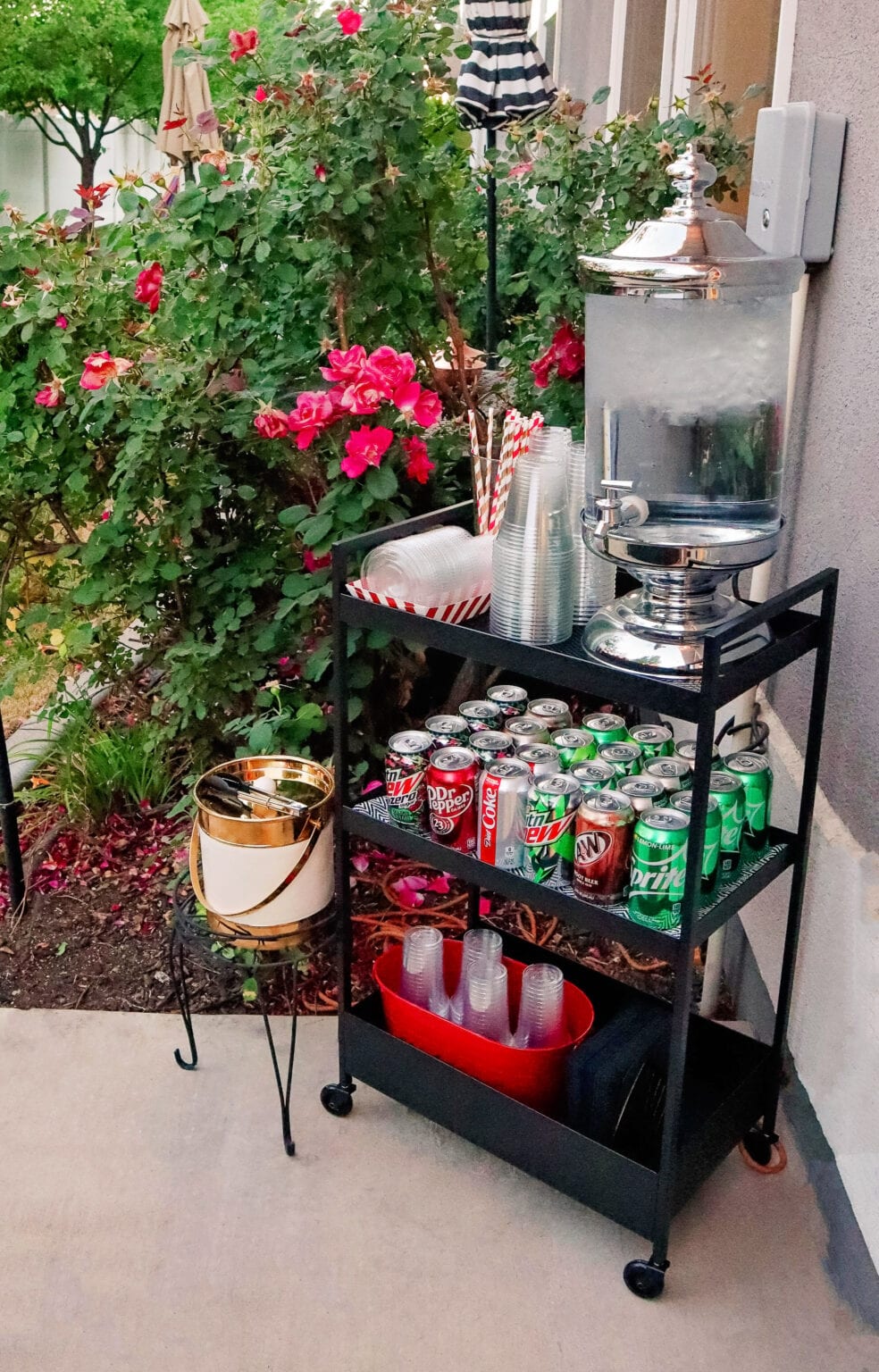 My very favorite way to serve drinks at a party is to have all of the supplies necessary to make Italian Sodas. It's a fun new twist to soda that most people don't try often and they are delicious! If you want to learn how to make an Italian soda check out my post here!
Candy and Snack Ideas
This one is a no-brainer. Every outdoor movie night needs lots of yummy and colorful candy and snacks to munch on throughout the night. Throw in some popcorn, ice cream bars, chips, candies (jelly beans are always a favorite), cool watermelon, or citrus fruit slices for snacking during the film! Here are some tips and tricks to help give you some snack ideas!
Popcorn
A popcorn machine is such a lifesaver for outdoor movie parties. It allows you to provide popcorn in larger groups when watching their favorite movie! You'll want to keep it in a separate area so not everyone will be eating it right next to where they're sitting. You can also purchase different popcorn flavorings that your guests can sprinkle on their popcorn for a personalized flair! Any extra touch will elevate the feeling of your backyard movie night.
If you are having more than 50 people, consider setting up (or renting) a large popcorn machine for added ambiance.
Shop Treat Appliances:

Healthy Snacks
Healthy snacks are important at any outdoor event, but some people forget to pack them. Make sure you have a few healthy options on hand so your guests won't get sick of all of the unhealthy food! This is also a great option for guests who have food allergies.
Here are a few healthy snack ideas that you guests will appreciate:
Cut up apples and peanut butter (if you don't have guests with peanut allergies)
Clementines
Orange Slices
Bananas
Seeds and/or Nuts
Granola Bars
Carrot sticks with Ranch Dressing
Drinks
Don't forget to serve drinks at your outdoor movie night Always making sure to keep guests hydrated is it really important part of being a good host. It doesn't have to be expensive, there are tons of options out there of ways that you can serve your guests delicious drinks. Or even just water! Either way, serving drinds is an essential party of throwing a successful backyard movie night.
You also need to pay attention to what the outdoor temperature is going to be during a movie. If you expect it to get a little bit chilly you might want to consider serving warm drinks such as apple cider or hot chocolate to your guests. If you are in the dead of summer and summer nights are super hot, then cold drinks are the way to go.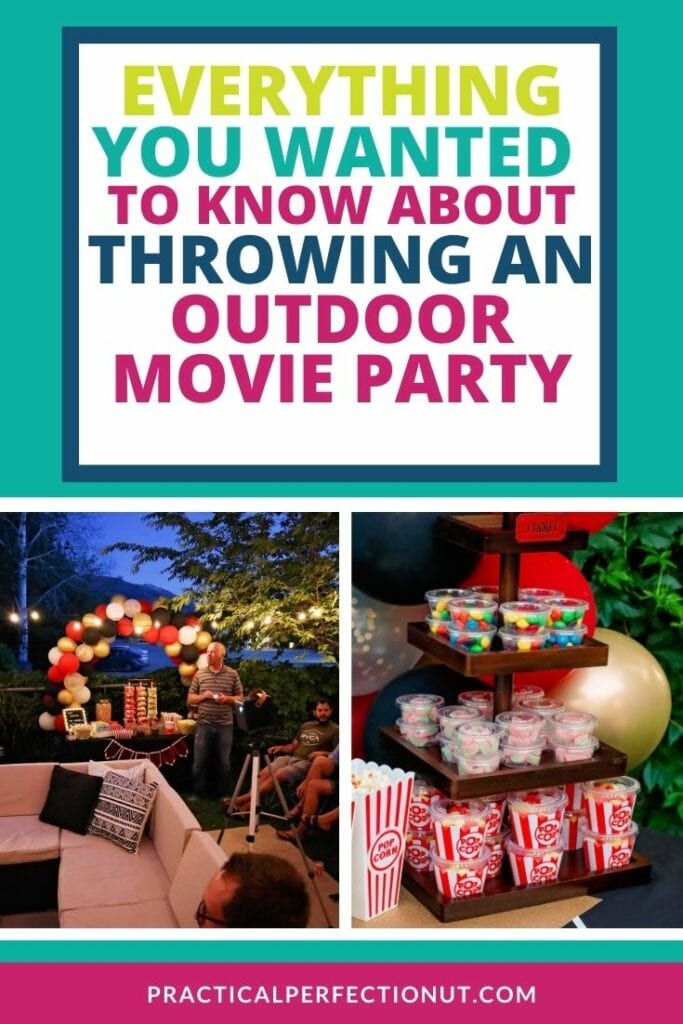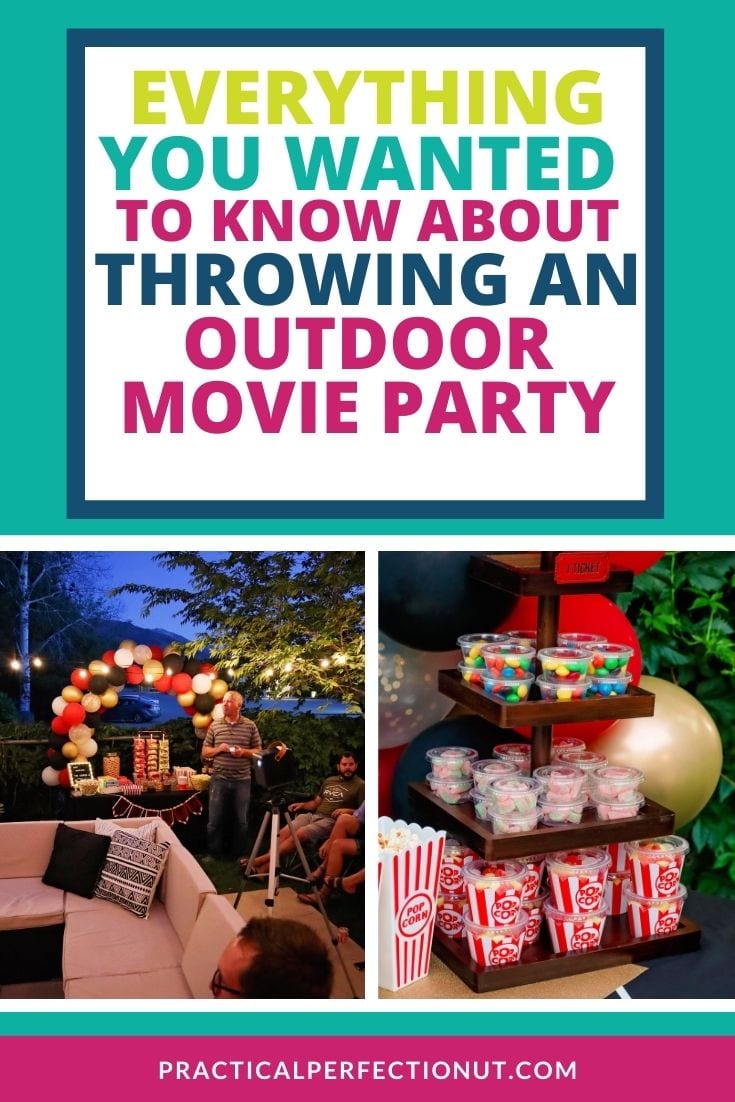 For Cold Drinks
There are of course a huge variety of cold drinks that you can serve your guests at your movie night. There are obviously beverage choices that are free or nearly free such as water or even Kool-Aid. But you can also elevate the feel of your party by serving things such as bottled/canned soda or even bottled juice! These are the cups that I use for cold drinks.
Juices (Apple, Cranberry, Pineapple, Mango, etc.)
Non-caffeinated soda (especially for the kids!)
Caffeinated soda for adults
Kool-Aid
Lemonade
Crystal Light
Water/Bottle Water
Lemon Water
Flavored Water
Sports drinks such as Gatorade
Italian Soda Bar
For Warm Drinks
If you expect your movie night to get a bit chilly then guests would definitely appreciate the thought of providing a warm beverage. You can keep any beverage warm by storing them in a thermal airpot carafe and serving them in insulated cups. You may want to also make sure that you provide cups with lids because heaven knows how easily kids spill on themselves! Don't forget to provide thermal insulated beverage cups so your guests don't burn themselves on their hot drinks! Again, I prefer to provide guests (especially the little ones) with smaller cups so drinks don't go to waste.
Hot Cocoa
Apple Cider
Hot Cocoa Bar with Flavored Syrups guests can add into the Hot Cocoa
Shop Drink Cups and Straws:

Outdoor Movie Night Decor
The great thing about an outdoor movie night is that you can do as little or as much decorating as you'd like. Sometimes it's just enough being in the outdoors with your family and friends.
You can easily add in some balloons, colorful tablecloths, or even just dress up the concession stand a bit. Getting everything set up can be overwhelming so don't feel like you need to go above and beyond with decor. Your guests are just happy to be there!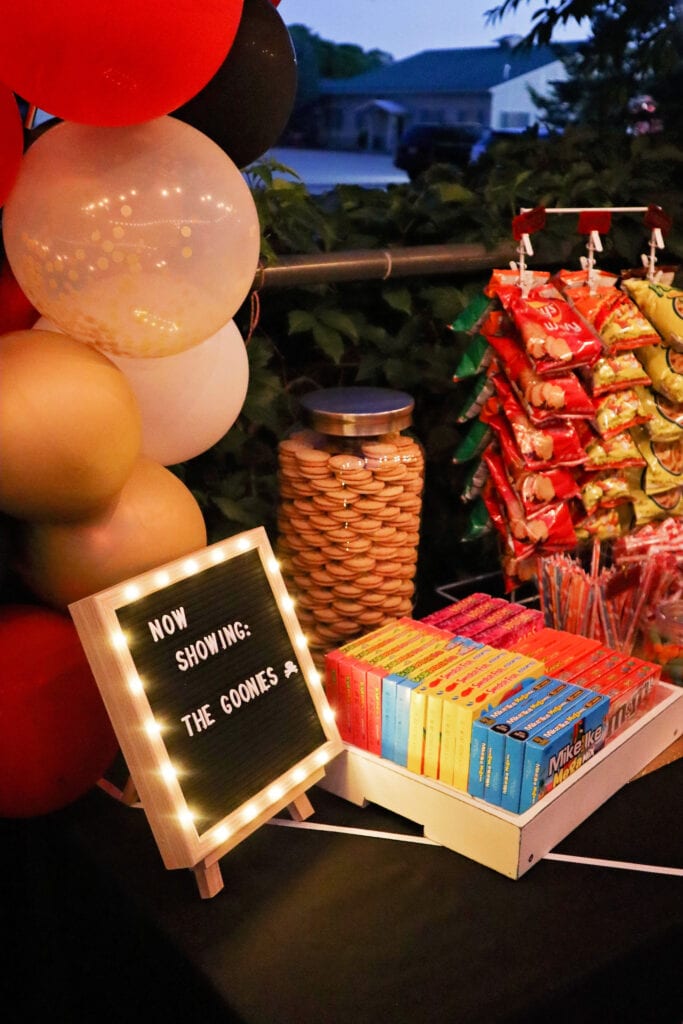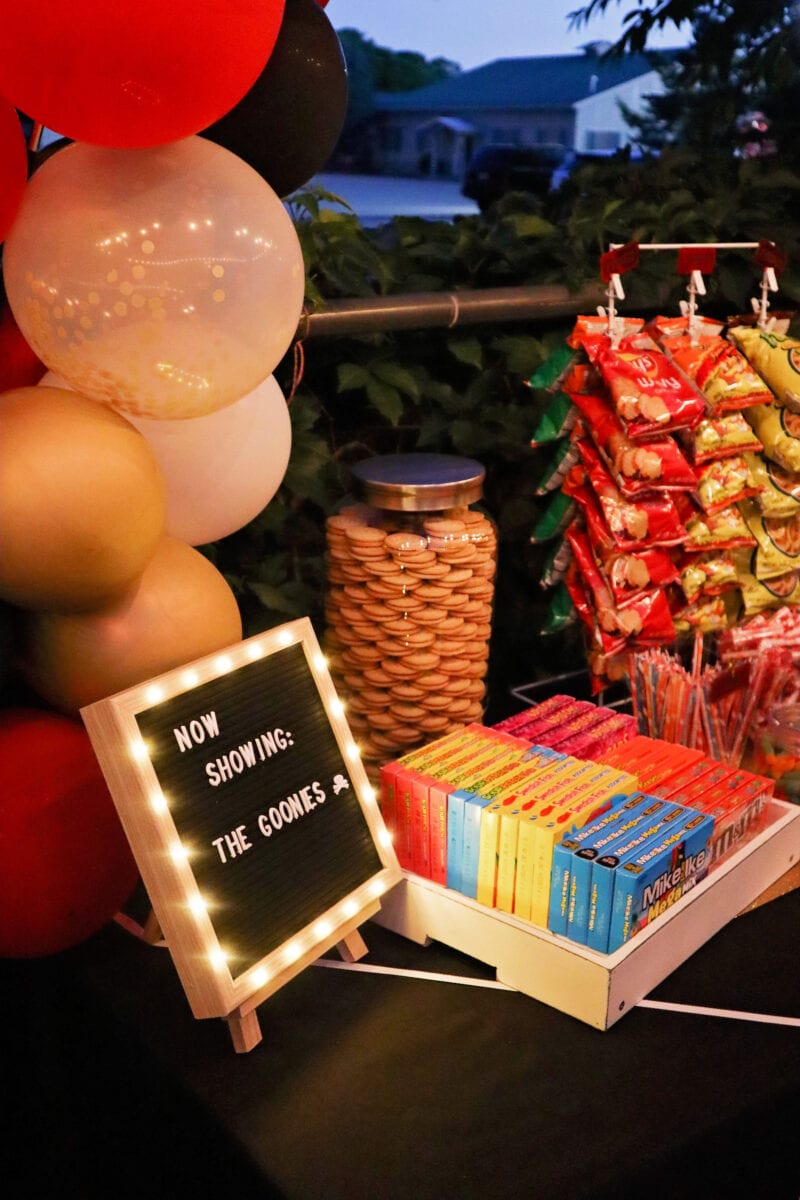 But if you really love adding to decor to immerse your guests in the experience I highly recommend a light-up letter board. There are TONS of letterboards to choose from but the lights in the frame really set this one apart. It added such an incredible touch to my movie night party decor and I'm super happy with it.
I really wanted to add in some low-cost/high-impact decor for my movie night that I could use year after year. I decided to buy a balloon arch kit and it totally MADE the movie party decorations. My table would have looked pretty good without it but the balloon arch turned the entire night into an event, not just an outdoor movie! You can hand select your balloon colors from Walmart or you can just buy a package that comes with similar colors to the one I have mentioned.
I would highly recommend getting a balloon arch kit and an electric balloon pump. I had 2 of my kids help me and we finished it in about 30 minutes and we'll be able to use it again and again for tons of different parties!
Shop Party Decor:

25 Live-Action Movie Ideas for your next backyard movie night
I've compiled a list of 25 different live-action movie ideas that will fit various ages. These movies will keep kid's attention while also entertaining adults at your next outdoor movie night!
Wizard of Oz
Mary Poppins
My Fair Lady
Enchanted
Goonies
Princess Bride
Jungle Book
3 Ninjas
Harry Potter
Fantastic Beasts and Where to Find Them
The BFG
Matilda
Narnia
Willy Wonka and the Chocolate Factory
Star Wars
Sound of Music
Parent Trap
Thoroughly Modern Millie
Beauty and the Beast
Aladdin
Cinderella
Enchanted
Jurasic Park
Pirates of the Carribbean
Indiana Jones
25 Animated Movie Ideas for your backyard movie night
I've compiled a list of popular animated movies that kids of all ages will love! These movies will typically be better for outdoor movie parties that are primarily for younger kids.
The Lego Movie
Trolls
Flushed Away
Pets
Trolls World Tour
Beauty and the Beast (animated)
Aladdin (animated)
Spiderman into the Spiderverse
Smallfoot
Monsters University
Moana
Tangled
Frozen
Inside Out
Coco
Paddington
The Incredibles
Meet the Robinsons
Sing
Cloudy with a Chance of Meatballs
Zootopia
Toy Story
Finding Dory
Finding Nemo
How to Train Your Dragon
I hope you've enjoyed this comprehensive list of outdoor movie night essentials and I REALLY hope you have an excellent outdoor movie night with friends and family!