72-Hour Emergency Preparedness Kit: ESSENTIALS to Include for Natural Disasters
When it comes to emergencies, you never know what's going to happen. That's why it's important to have a 72-hour emergency preparedness kit put together. This kit will help you and your family stay safe in the event of a natural disaster or other emergency situation. In this post, we're going to discuss what you need to include in your kit so that you're prepared for anything.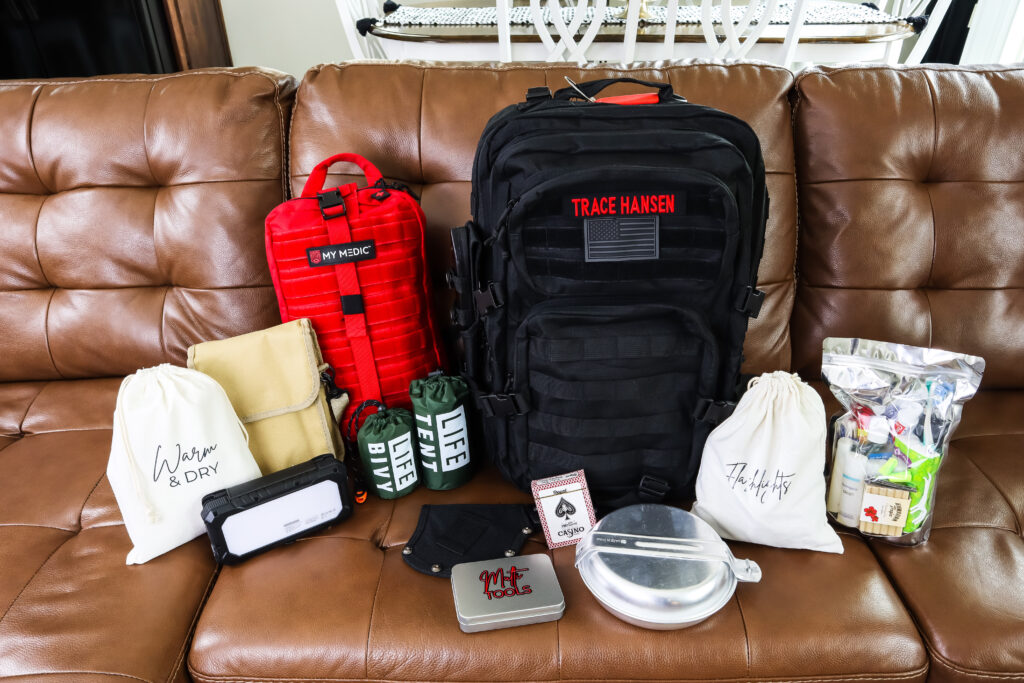 What is a 72-Hour Kit?
A 72-hour emergency preparedness kit is a collection of items that you may need in the event of an emergency. The kit should be easily accessible and be able to sustain you and your family for at least 72 hours. This gives you time to evacuate your home or wait out a storm if necessary.
It is called a 72-hour kit because you should have enough supplies to help keep you and your family safe for a 72-hour period or 3 days. So when you are trying to decide what supplies to include, imagine that you are out in the middle of nowhere and think of all of the things that you will need to survive an emergency situation for several days.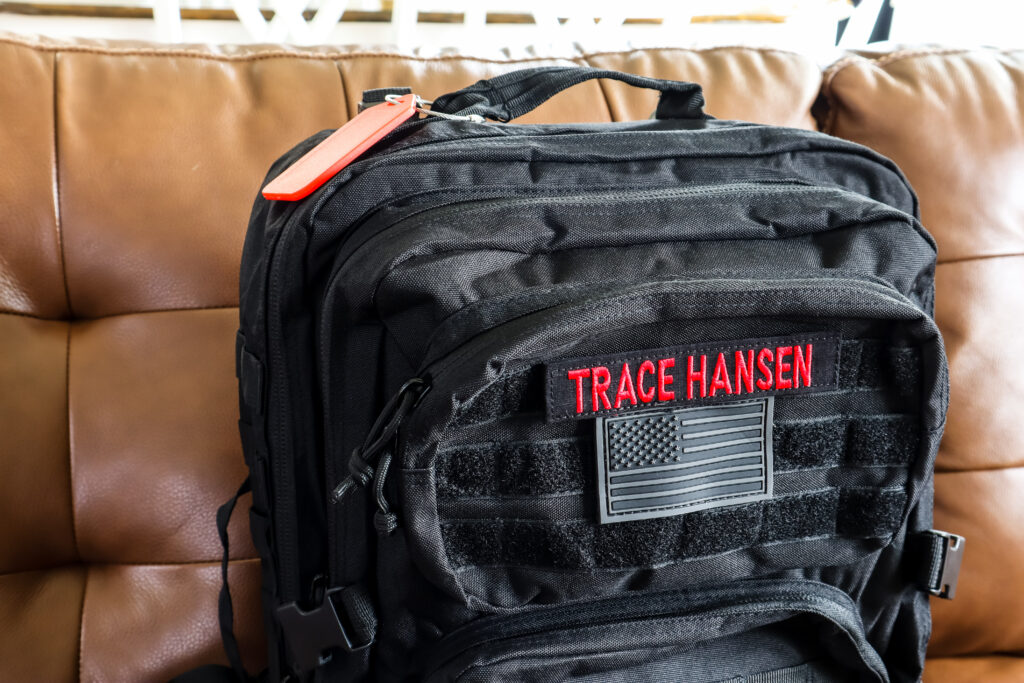 How much does a 72-Hour Kit Cost?
The cost of an emergency kit will depend on a few factors. The first is the size of your family. You will need enough supplies for everyone in your household. The second factor is the type of disasters that are common in your area. If you live in an area that is prone to hurricanes, you will need different supplies than if you live in a place where you have frequent fires.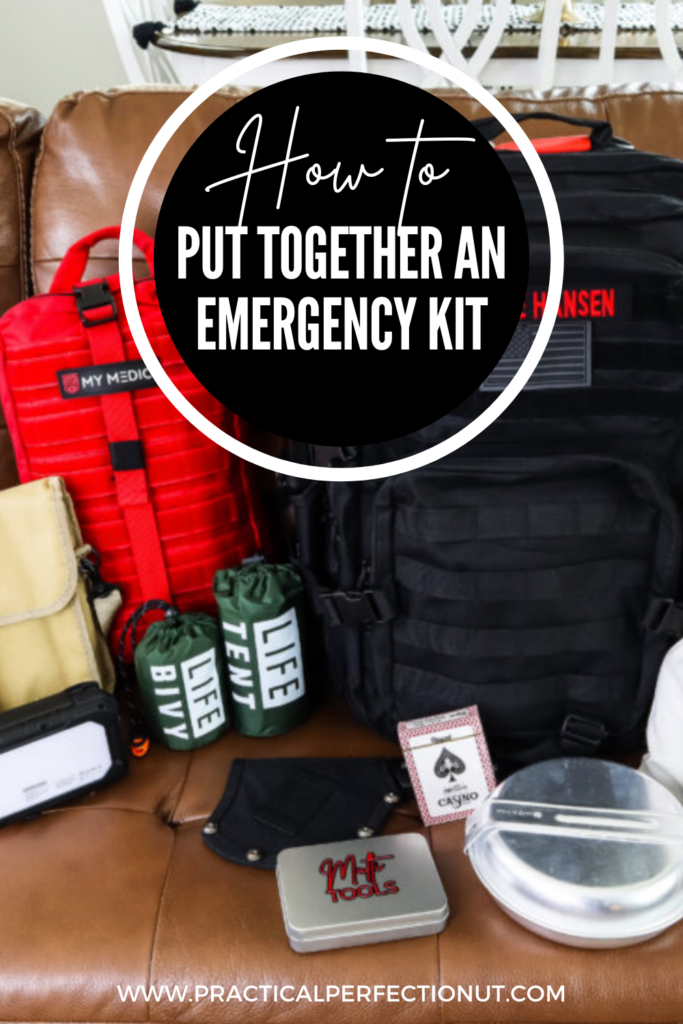 Either way, the price of emergency supplies is highly variable. You can easily purchase an emergency kit online that will contain the basics but don't forget to consider each person because your needs will vary based on the age of the person. But the emergency kits that you can purchase online have most of the essential items.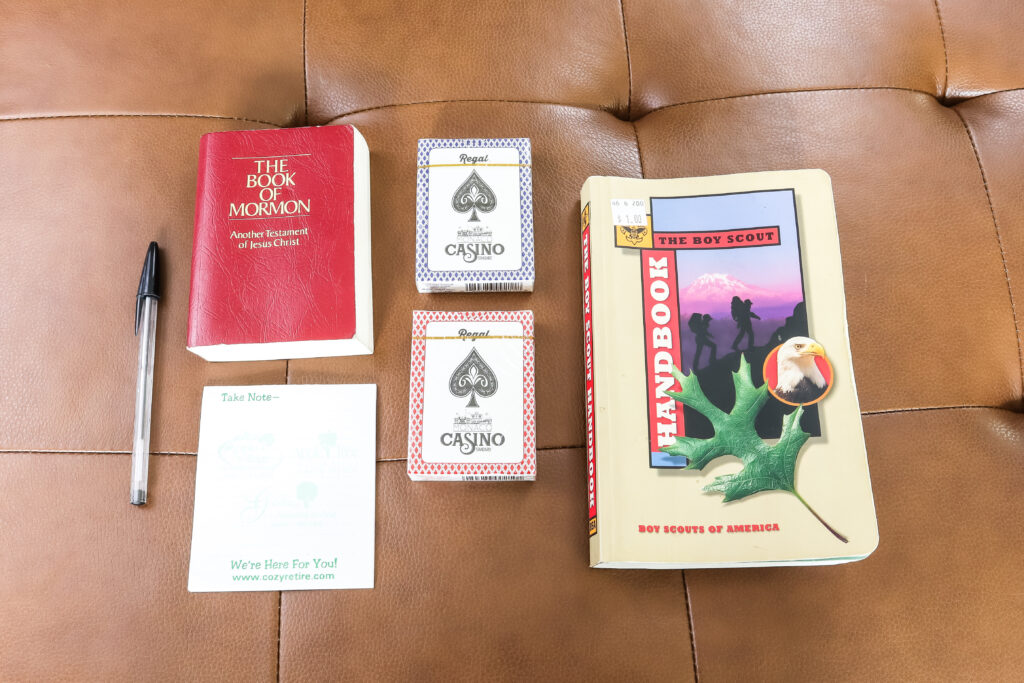 That being said, I would say that a 72-hour kit could cost you anywhere from $100-$350 depending on the family member and what survival supplies you decide to put in each bag.
My emergency kit is quite extensive and really goes above the average kit because I decided to do a lot of homework and put it together myself with exactly what each family member would need in a variety of situations. I tried to imagine worst-case scenarios and work from there. So you obviously don't have to grab as many items as I have in my kit, but it will give you a great idea of the wide variety of items there are out there.

What kind of Bag do I need for Emergencies?
There are a few different types of bags that you can use for your 72-hour emergency kit. You will want to choose a bag that is big enough to fit everything, but not too big or bulky that it becomes a nuisance to carry. I suggest using a backpack because they are easy to carry and you can wear them on your back while keeping your hands free to help others.
I've tried a few different types of bags over the years and I've decided that military bags are exactly what I've been looking for. They have tons of compartments, they hold a lot of stuff, and the velcro feature on the outside give you even more space if needed. They are a bit more money but well worth it in my eyes.
You can easily search for exactly what you need and the size allows you to be well stocked with supplies to prepare for an emergency.

What Should I put in my 72-Hour Emergency Preparedness Kit?
There are 7 different categories of items to remember when you are trying to decide what to put in your emergency preparedness kit.
Water
Food
Shelter
Warmth
First Aid
Communication
Lighting
Power Source
Personal Reference
Tools
Water
You should have a gallon of water per person, per day. This is for drinking, cooking, and cleaning. I would also recommend getting a water filter or some type of water purification system.
One way to make sure you have enough clean water is to fill up your bathtub the night before an emergency might strike. I've tried storing regular water bottles in my kit in the past and the water in the water bottle mysteriously leaks out. So I really recommend these water pouches instead that doesn't leak.
You should have around 1 gallon of water per person, per day in your preparedness kit. And you'll need to have extra water for things other than drinking, such as washing hands.

Food
You should have non-perishable food that will last you and your family for at least 72 hours. This includes food for infants and pets. I like to have a mix of canned goods, dried goods, and things that don't need to be cooked like granola bars.
I also like to have a camp stove and some way to cook food. Freeze-dried meals are also a great option that has a really long shelf life so you don't have to worry about rotating your food every 6 months. Canned foods are a great option as well but typically only last a few years. And don't forget to add in a can opener!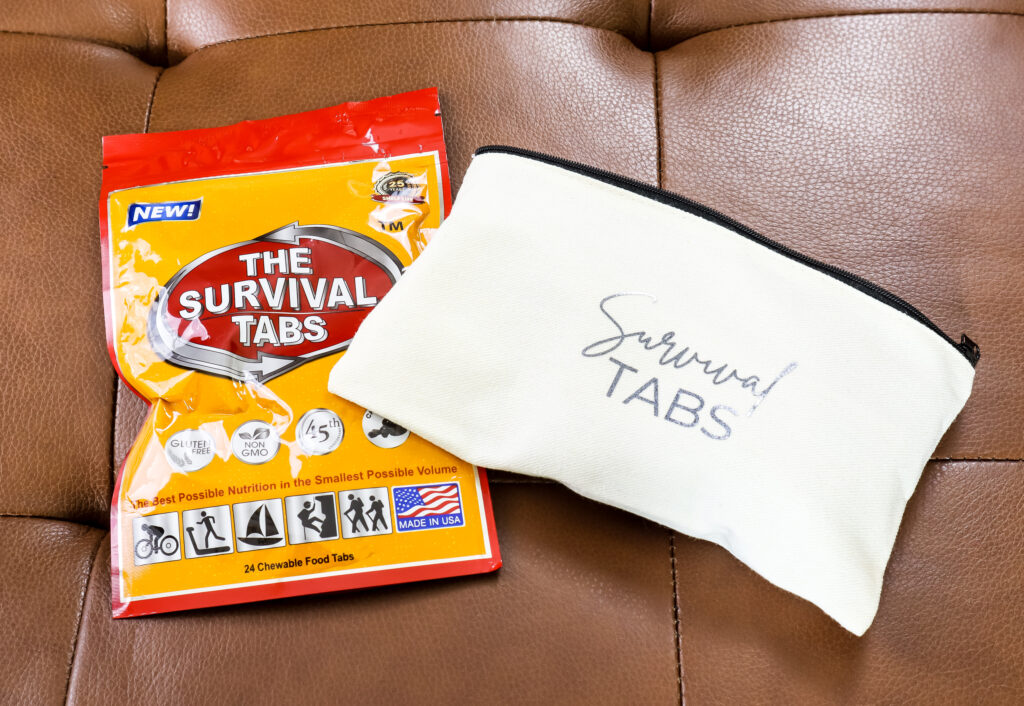 If you are really low on space, I loved the option of these Survival Tabs. They give you the necessary calories that you need to sustain your energy but don't take up as much room as typical food. It's a best seller and has awesome Amazon reviews.
Here are some food suggestions that you may want to consider for your kit:

Shelter
If you need to evacuate your house during natural disasters, you're definitely going to want some form of shelter. A tent is a great option because it's lightweight and easy to transport. You can also get tarps to put over the top of your tent for extra protection from the elements.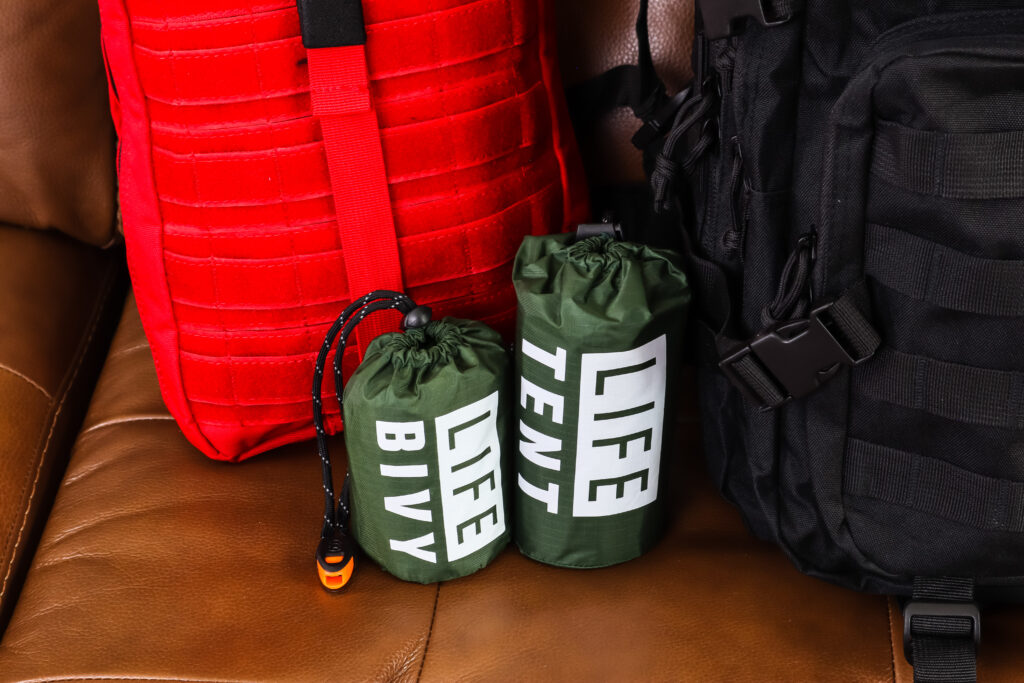 I would also recommend bringing some form of sleeping bag or bedroll. If you have small children, you may want to bring along a portable playpen. But if you are in a grab-and-go situation, you may not remember to bring all of those things. So at the very least, I recommend getting a Life Tent (it's a best seller!) to protect you and your family from the natural elements to keep everyone warm.
I also purchased these inexpensive seats so you can have a clean, dry place to sit when you are experiencing a natural disaster.

Warmth
You're going to want something to keep you warm. If it's wintertime, then you'll need a good sleeping bag that is rated for cold weather. You may also want to bring along a space blanket or two. These are great because they reflect your body heat and can help keep you warm in tough weather conditions.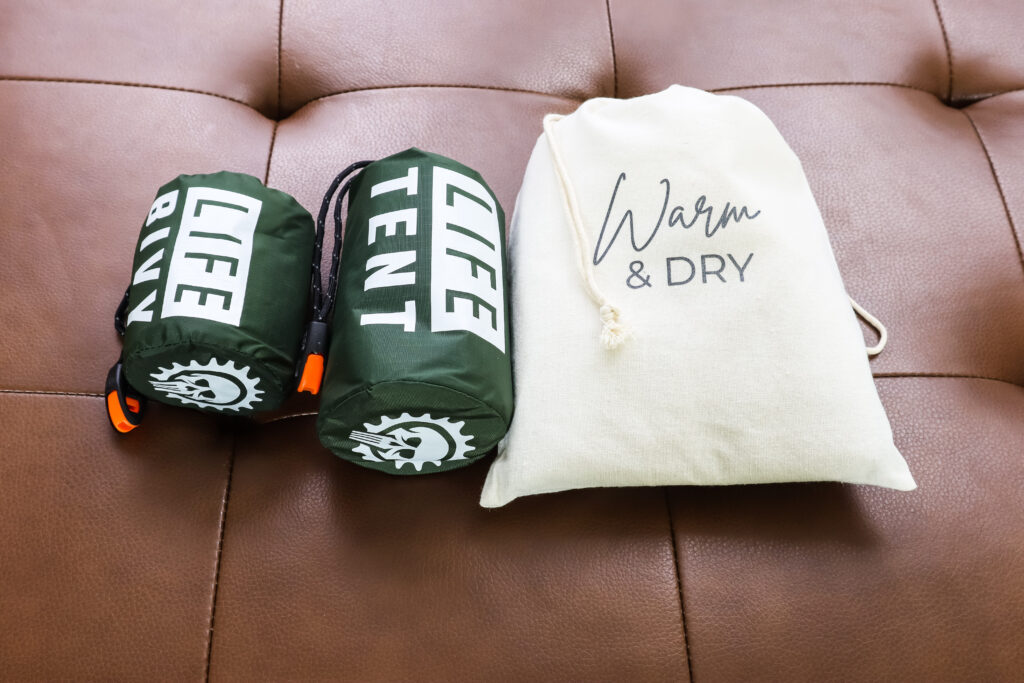 When searching for a mylar blanket, be sure not to buy blankets that are too cheap because they rip quite easily rendering your blanket basically useless. I chose these Go Time Gear Life Bivys because they are thicker and they can be closed at the bottom, similar to a sleeping bag. I also have these awesome outdoor blankets (if you're on a tight budget) that are a bit smaller so they pack into a smaller space and come in a nice storage box. I love BOTH of these!
Here are some other essential items for keeping warm when disaster strikes:
SHOP SUPPLIES TO KEEP YOU WARM

First Aid
A first aid kit is a must for any household. You can buy one at Walmart or Amazon, or you can put one together yourself. I prefer to purchase a kit and then add individual supplies that my kit needs. That way you can be prepared for any disaster that may be specific to the area where you live.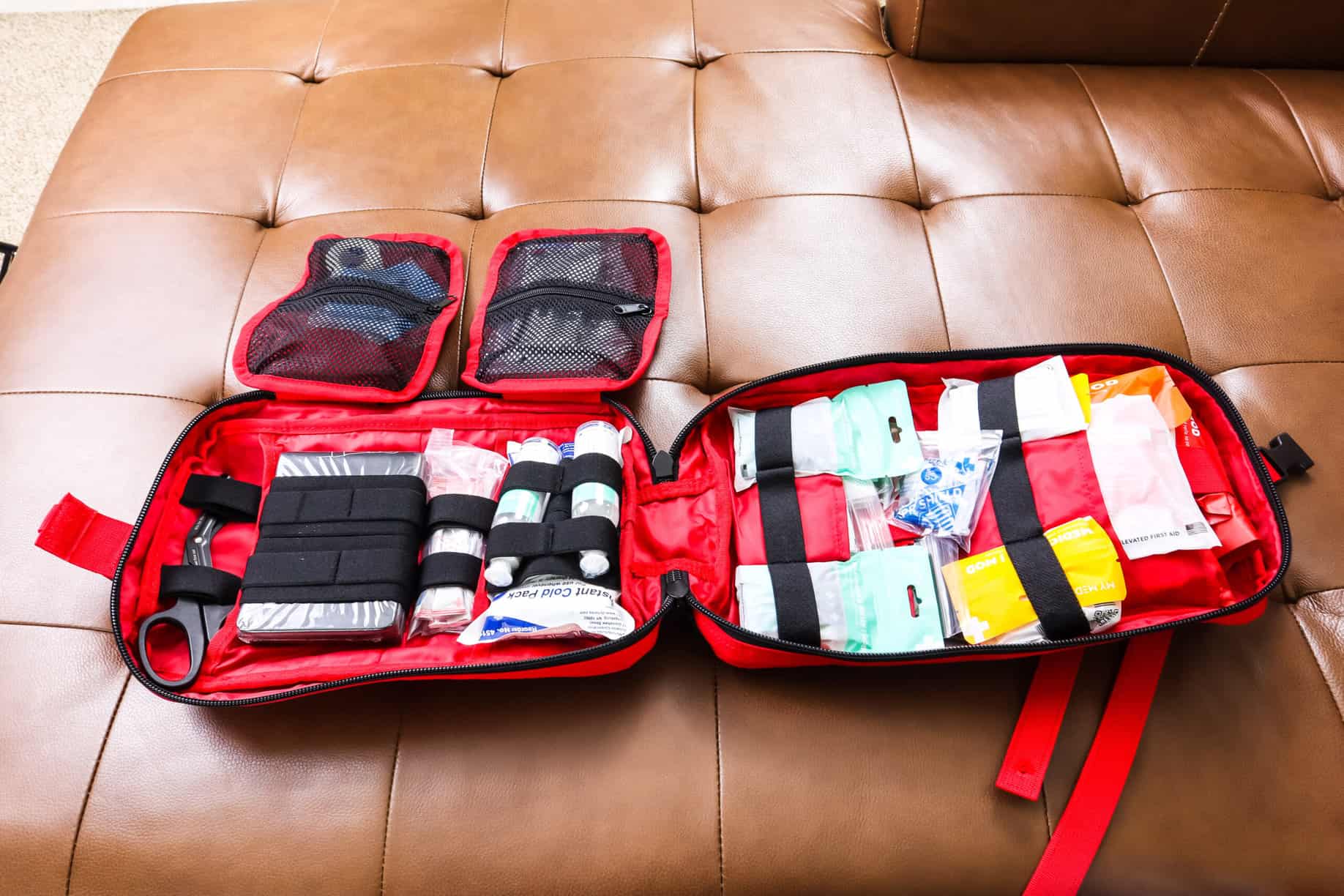 I have the MyMedic MyFAK Large bag and I am thrilled with everything that it comes with. The backpack is easy to carry and it gives me peace of mind knowing that my first aid supplies are fully stocked for a variety of emergencies. This is a best seller and the best part is that it's perfectly organized and color-coded so you can easily find exactly what you need when you need it.
Here are some of the extra things that I like to include in my first aid kit:
I wasn't willing to compromise with the quality of my first aid kit so I'm super happy that I went with MyMedic.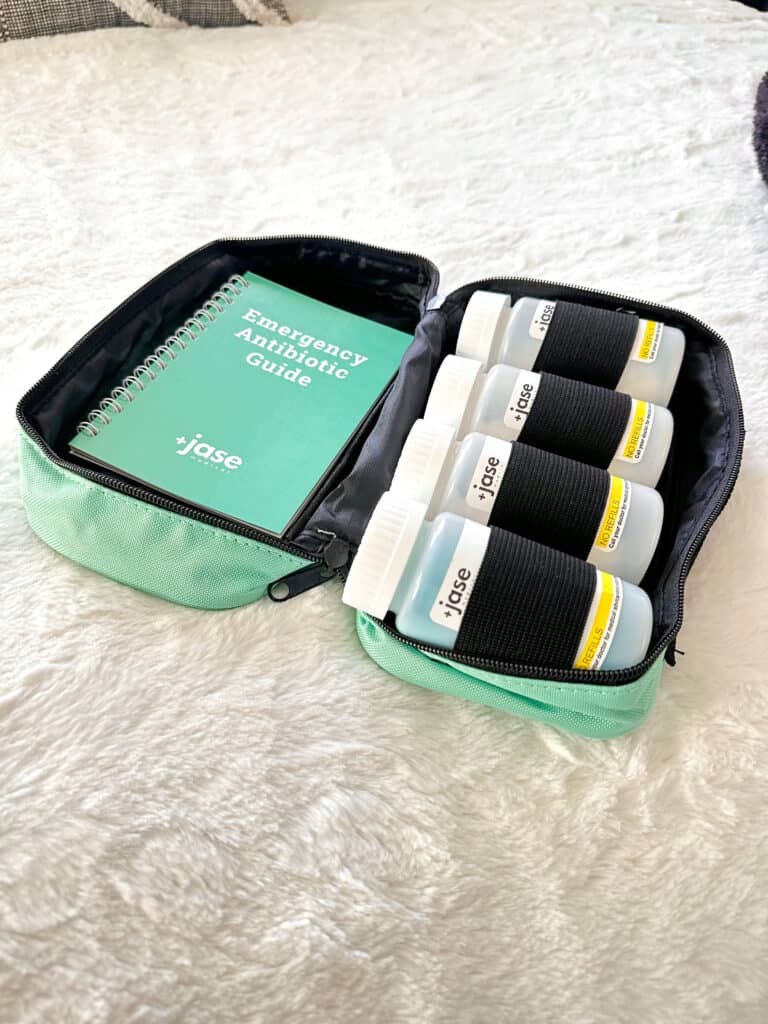 Antibiotic medication is something that we often don't think of stocking up on for emergencies. But in emergency situations, many people can die from simple infections if they don't have access to antibiotics.
This is an overlooked aspect of emergency preparedness that really hasn't been made available until the last few years. There is even a shortage of antibiotics in everyday pharmacies!
Jase Medical is the only source that I know of that puts you in connection with an actual doctor who administers a small health questionnaire and prescribes you antibiotics. It even comes with a manual for dosage and tells you what situations to use what medication.
Use the code HANSEN10 for $10 off your order!

Communication
In a natural disaster, cell towers may be down or overloaded. That's why it's important to have a way to communicate with your family in case you get separated. Here are some things that I like to include in my communication kit:
SHOP WAYS TO CALL FOR HELP

Lighting
One of the most important things in your 72-hour emergency preparedness kit is some form of lighting.
I like to have a few different options like a flashlight, headlamp, and some candles. You'll also want to make sure you have extra batteries for all of your electronics. Phones have flashlights but they can really run the battery down quickly so it's important to invest in a solar charger that can charge electronics.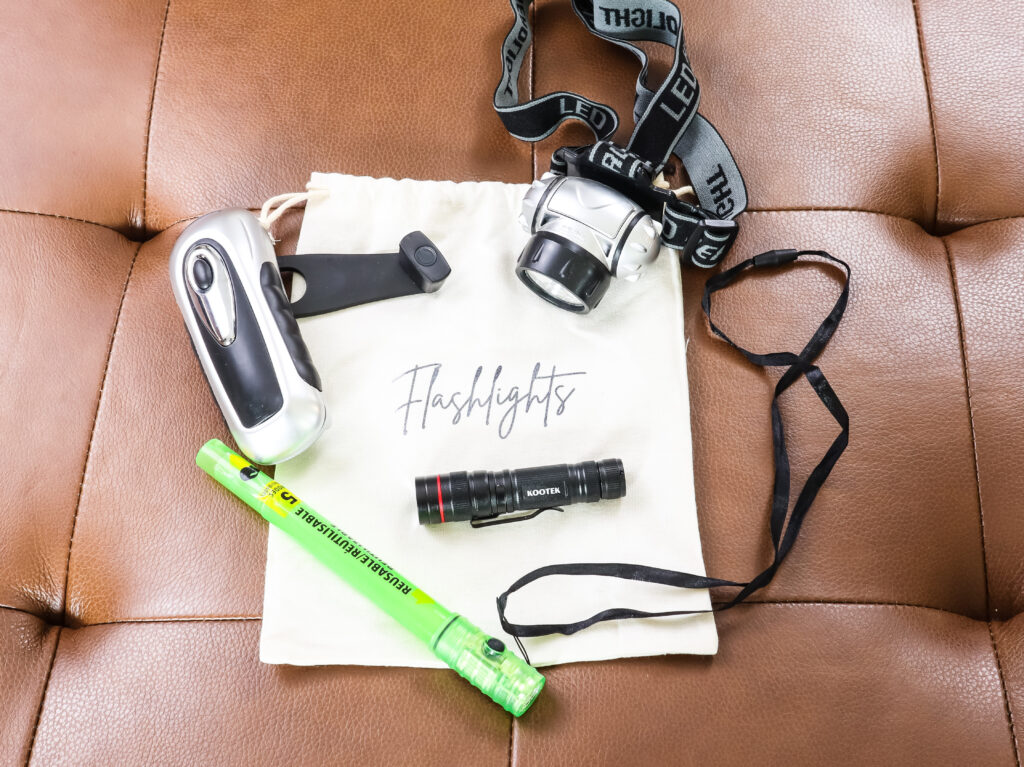 Battery-powered items are great until the batteries run out, or even worse…if you forget to pack the batteries!

Personal Hygiene Items
Personal hygiene items may not be the first thing that comes to mind when you think of an emergency, but they are essential. Imagine going several days without brushing your teeth!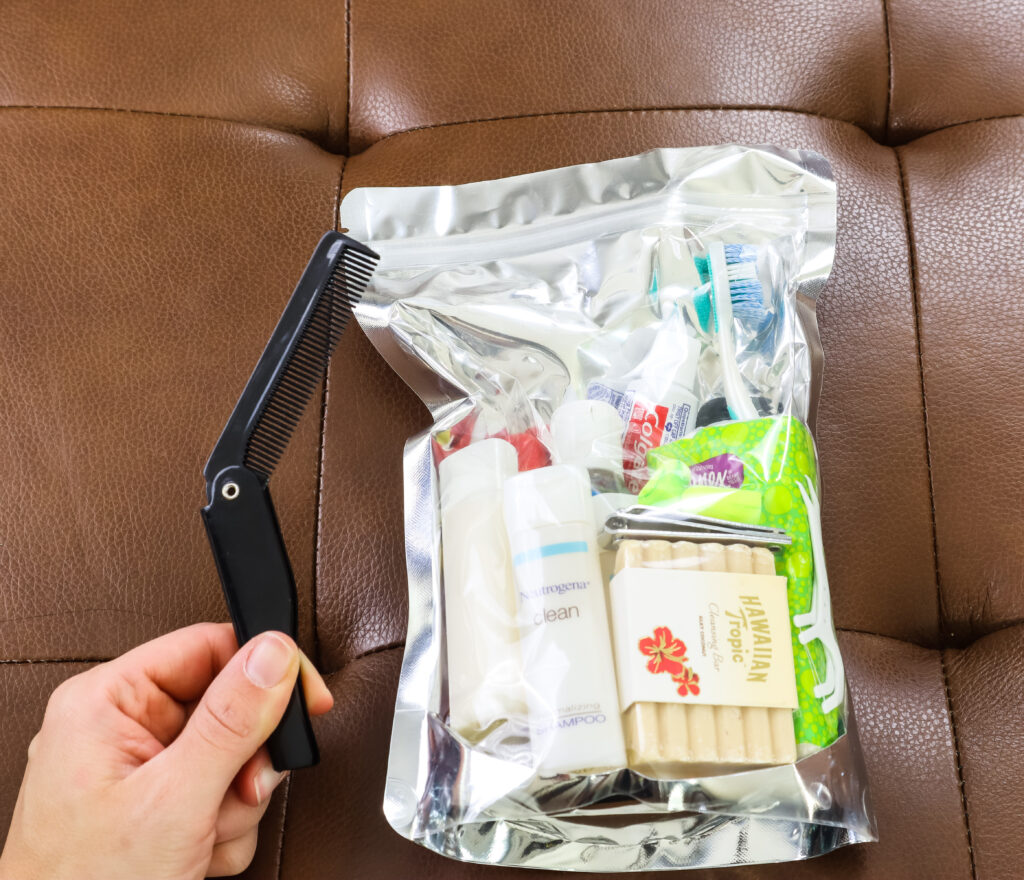 Sanitation is really important, and so is personal hygiene so don't leave these items out of your preparedness kit. You definitely won't regret it.

Power Source
In the event of an emergency, having a power source is essential. A power outage can mean being without lights, heat, or refrigeration for an extended period of time. It's important to have a backup plan for your power needs.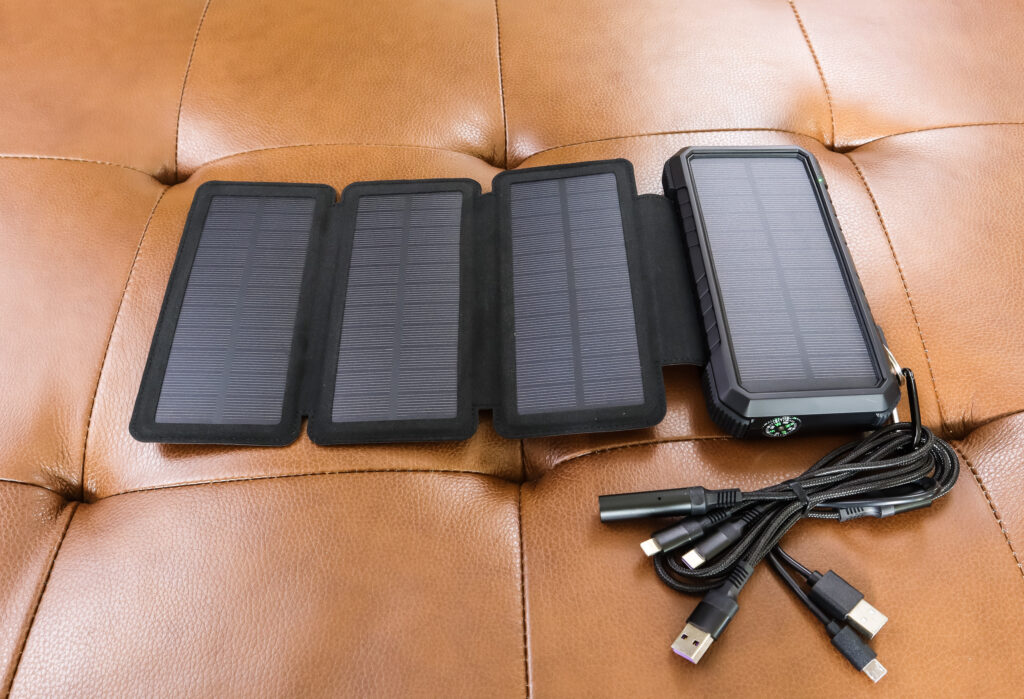 Reference Guide Kits
A lot of people forget to include reference materials in their emergency kits, but I think they are essential. All of the first aid supplies in the world can't help me if I don't know how to use them. That goes for many situations such as water purification, fishing, prepping for emergencies, sanitation, making a fire, and many more!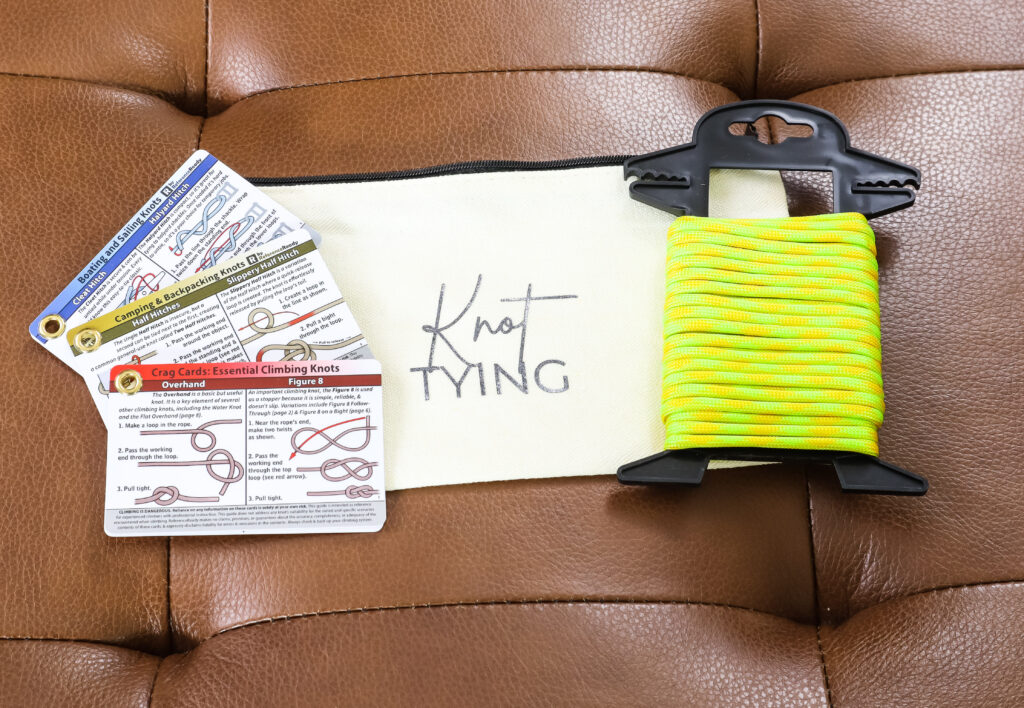 Here are some items that I recommend you include: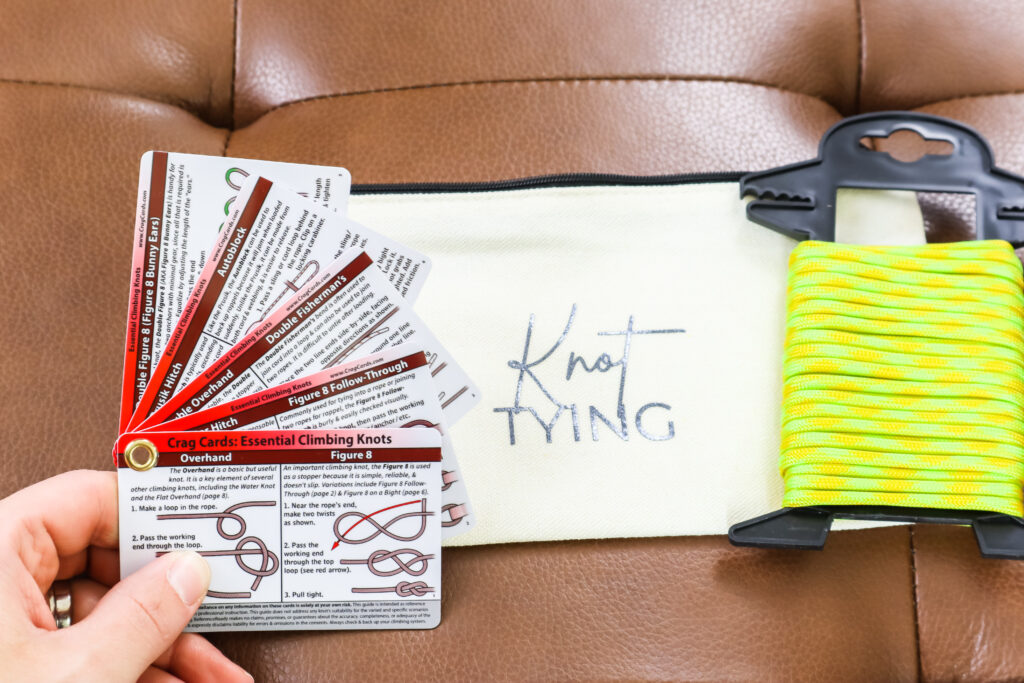 Tools
Because there are so many varying situations in an emergency, it can be hard to know what tools you'll need. But tools are one of the best ways to prepare.
I purchased these mini-tool cards for each person's bag and then put them inside of this tin. You can punch out the tools you need from the metal cards (fishing hooks, knives, etc.). I also purchased a card-sized magnifying glass to start a fire.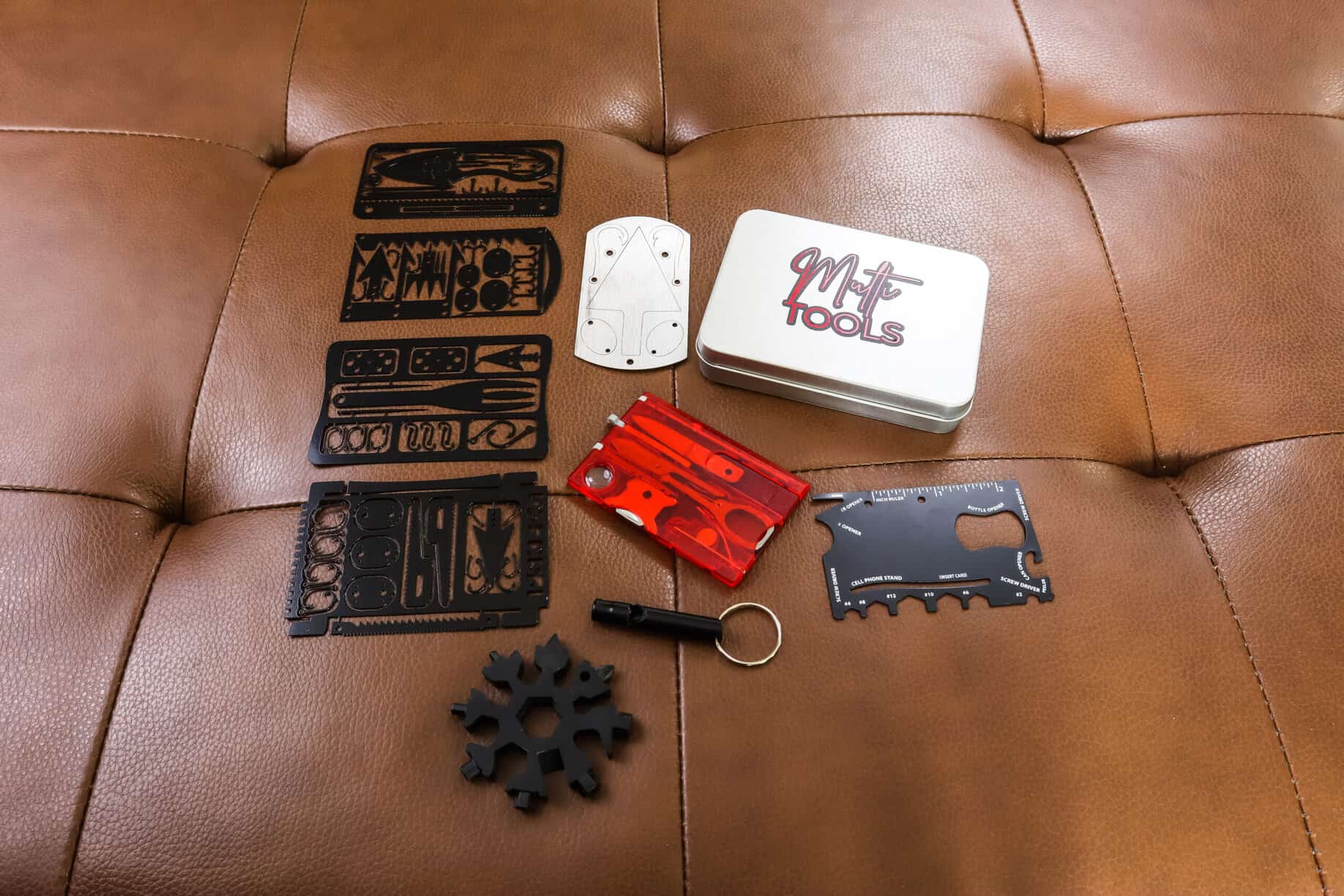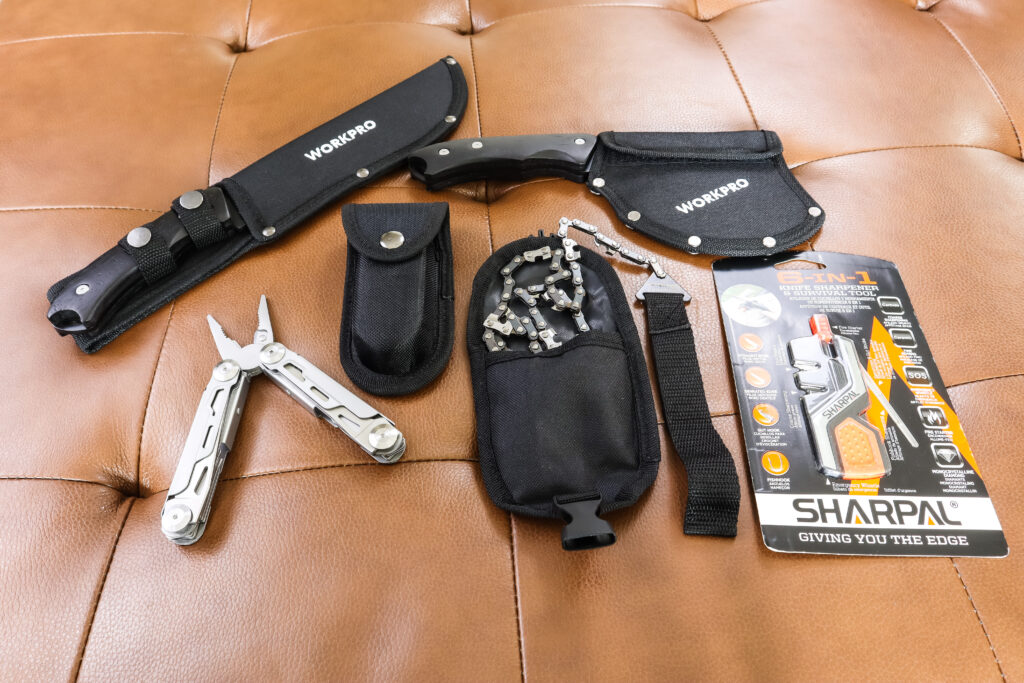 You many need emergency tools such as :

What are 10 Essentials for an Emergency Kit?
As you can see, there are many possible options for recommended items for your kit, but if you are just starting out, you may be wondering, what are the bare essentials? Here is a list of ten items that should be included in every emergency kit.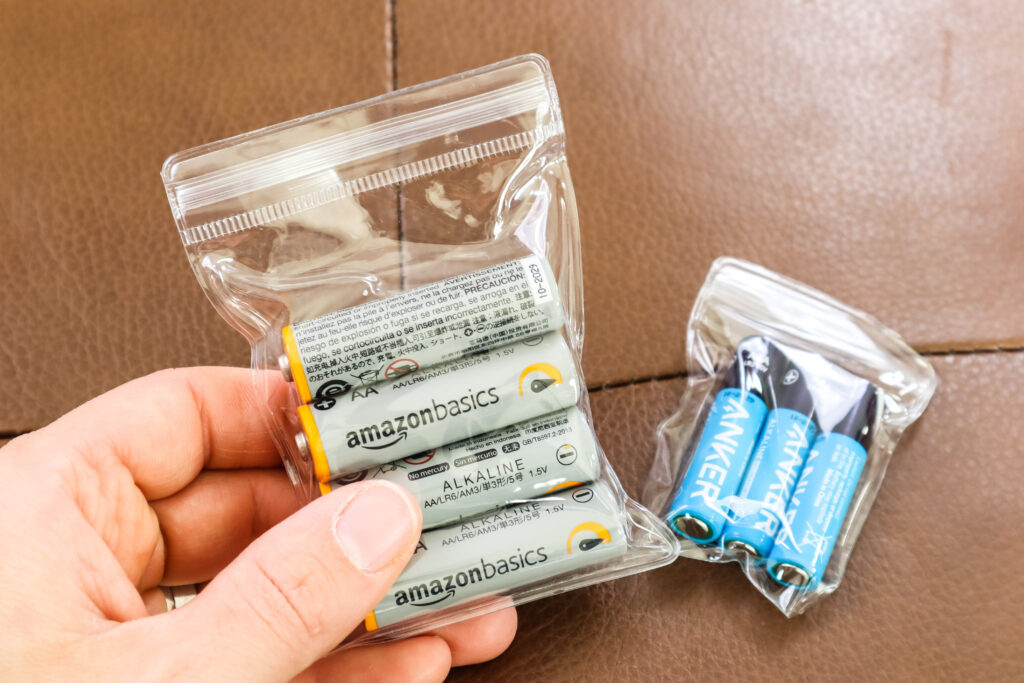 Water (buy a case of bottled water or water pouches
Food (granola bars are a good place to start, just don't forget to replace them every 6 months)
Shelter (such as a tarp)
Warmth (mylar emergency blankets pack really small and keep in body heat as an alternative to a warm blanket)
First Aid (great for emergency situations)
Communication ( hand crank radio at the least)
Lighting (a good quality flashlight is super important)
Activities (to occupy yourself or kids)
Local maps (phones most likely won't work)
You can also refer to the list of FEMA recommended essentials.
Hopefully, this list has given you a good base of emergency items to start out on and build on as time goes on. It's taken me years to get the supplies I have so don't feel pressured to get all of your items at once if you are working on a budget. Sometimes preparedness is a process and that is perfectly alright!
SHOP EMERGENCY BAG ORGANIZING SUPPLIES