Charging cords are somehow like multiplying bunnies. You blink and there are 500 of them! And they are usually in a giant tangled heap like Medusa's hair. So? What can you do?! Here are my favorite ways to organize charging cords that actually work!
*This post may contain affiliate links, which means I may receive a small commission, at no cost to you, if you make a purchase through a link!*
If you are looking for more drawer organization ideas, check out my posts about Organizing Your Nightstand and Organizing the Junk Drawer!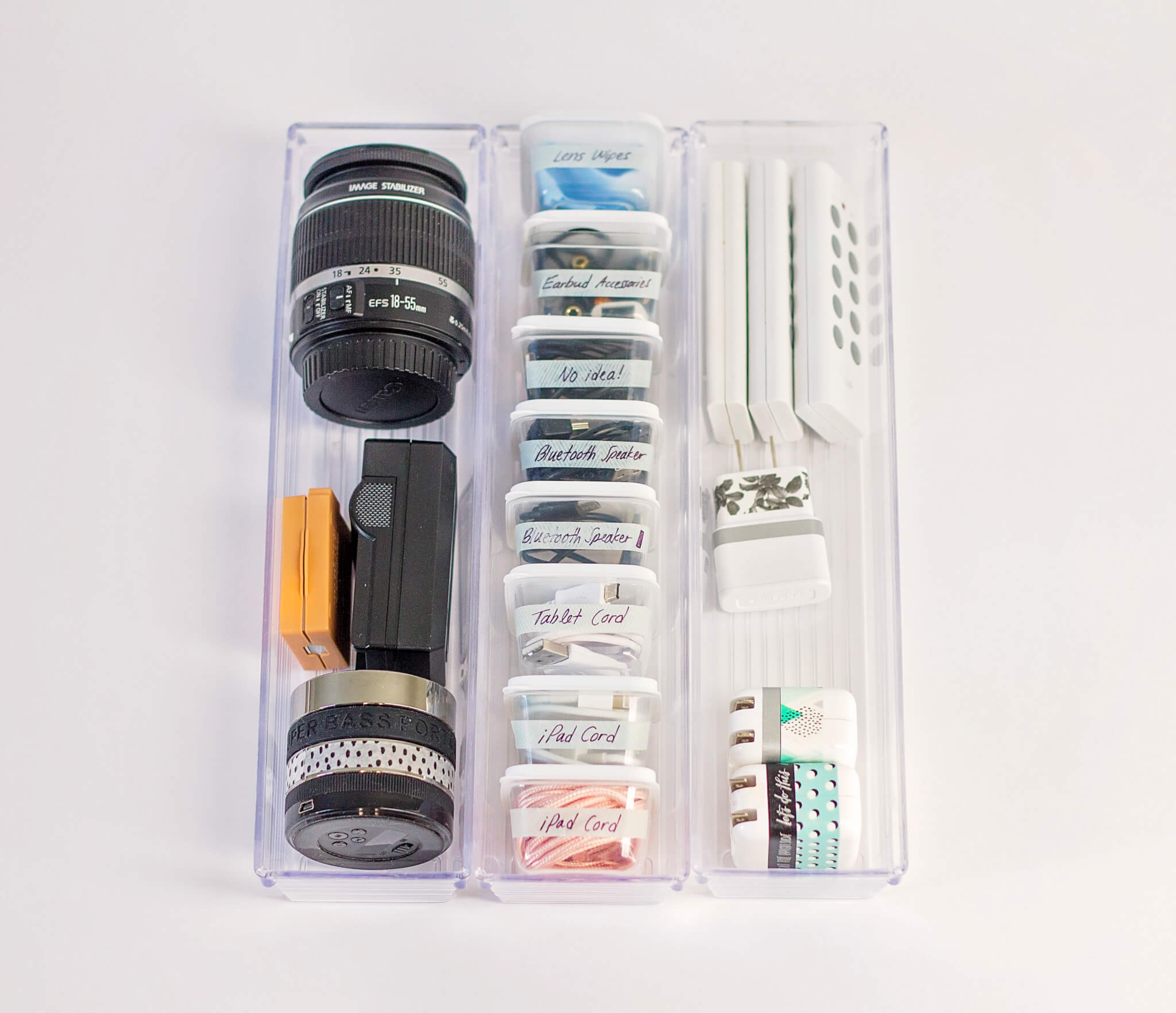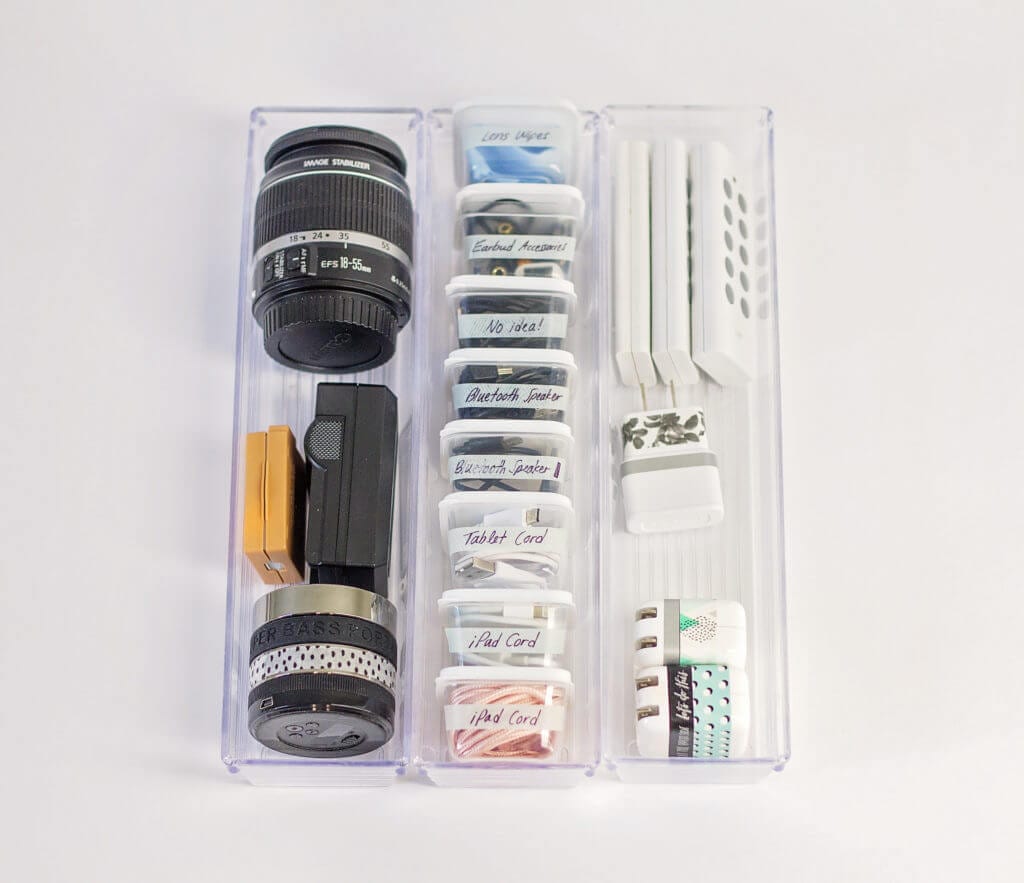 Decluttering Your Cords
Every time you get a new device or upgrade our phone, it always comes with new charging cords. And somehow you are always stuck with the old cords forevermore. And what's worse is that we don't dare throw it away because we 'might' need it someday. Or we don't even know what it belongs to!
Well, I am here to give you a challenge. I want you to go through all of your cords and only keep the ones that you currently have devices for! You will be surprised at how few of them you actually need to keep and you will free up a lot of space in your drawer! So your first step in creating an organized charging cord area is to declutter your cords.
How to Identify Charging Cords
You may look at your charging cord mess and wonder how you could ever determine what cords you actually use. You have cords that you use on a daily basis, but we all have a stash of cords that we rarely use but don't dare throw away. So how do you determine what ones to keep?
Inspect each cord to see if it's broken or missing prongs. Many times cords have broken inserts (or bent prongs) leaving them completely unusable. They won't charge anything so don't be afraid to toss it.
Take a look at all of your current devices (phones, tablets, reading tablets, laptops, computers, video game consoles, etc.) and see what type of port it uses. I'm not technical enough to know the names of the ports but I usually just go by sight. Then group the cords that match up with the devices and put them in a pile. Then decide if you have an excess number of cords for that type and get rid of any that you don't need.
If you are really struggling to find the device for that mystery cord, you can also look up the model number from the manufacturer (in Google) and see if you can find what device it belongs to.
All remaining cords that don't have a matching device can be tossed out! There's no need to keep it around and let it clutter up your drawer that you are trying to organize.
Plastic Containers to Organize Charging Cords
My favorite method to organize charging cords is to wrap each cord around your fingers and neatly place them in these amazing storage containers that I found at Dollar Tree! I use these containers everywhere in my house but they fit perfectly in this clear drawer organizer (that I also found at Dollar Tree) so they all stay perfectly organized!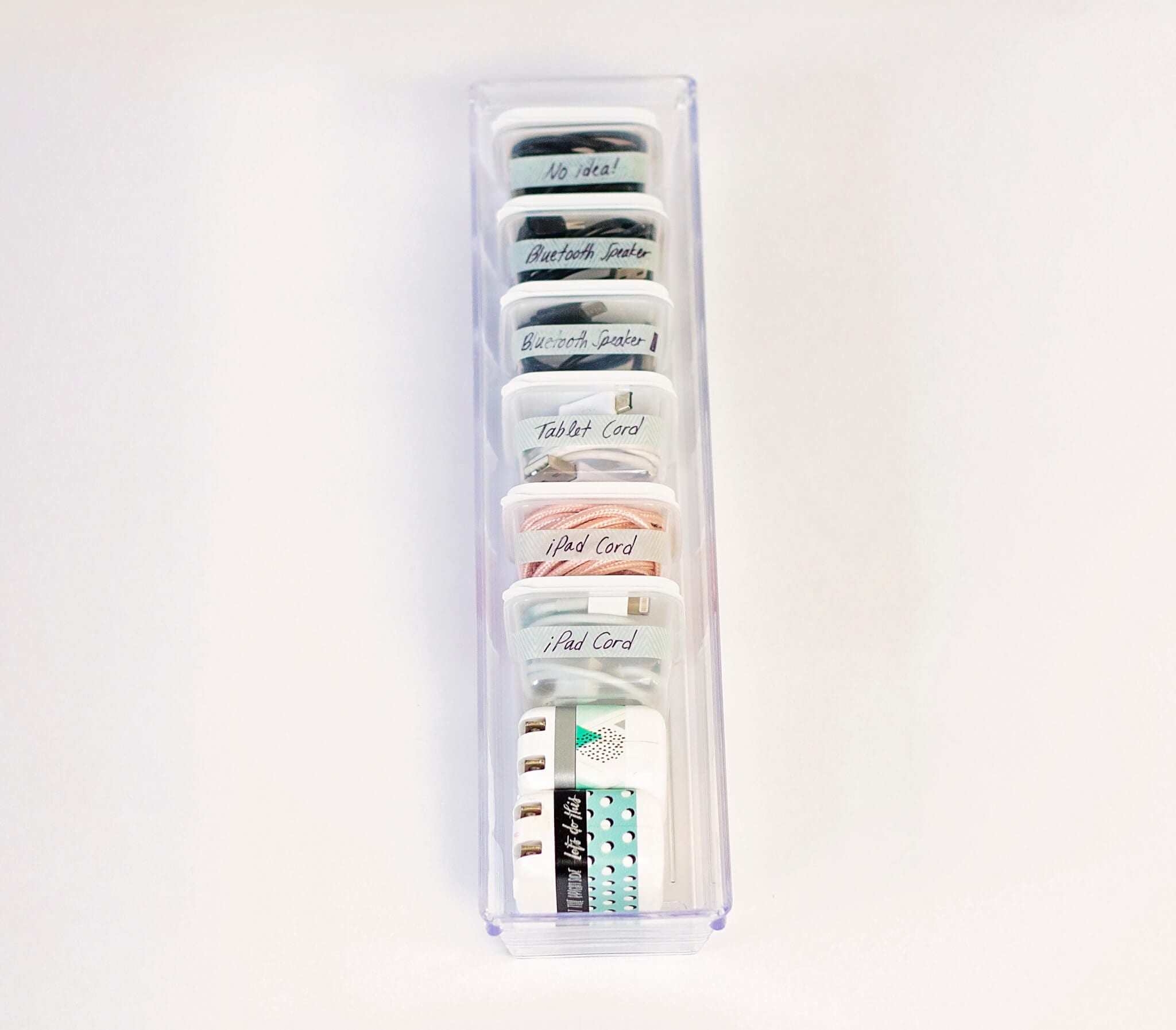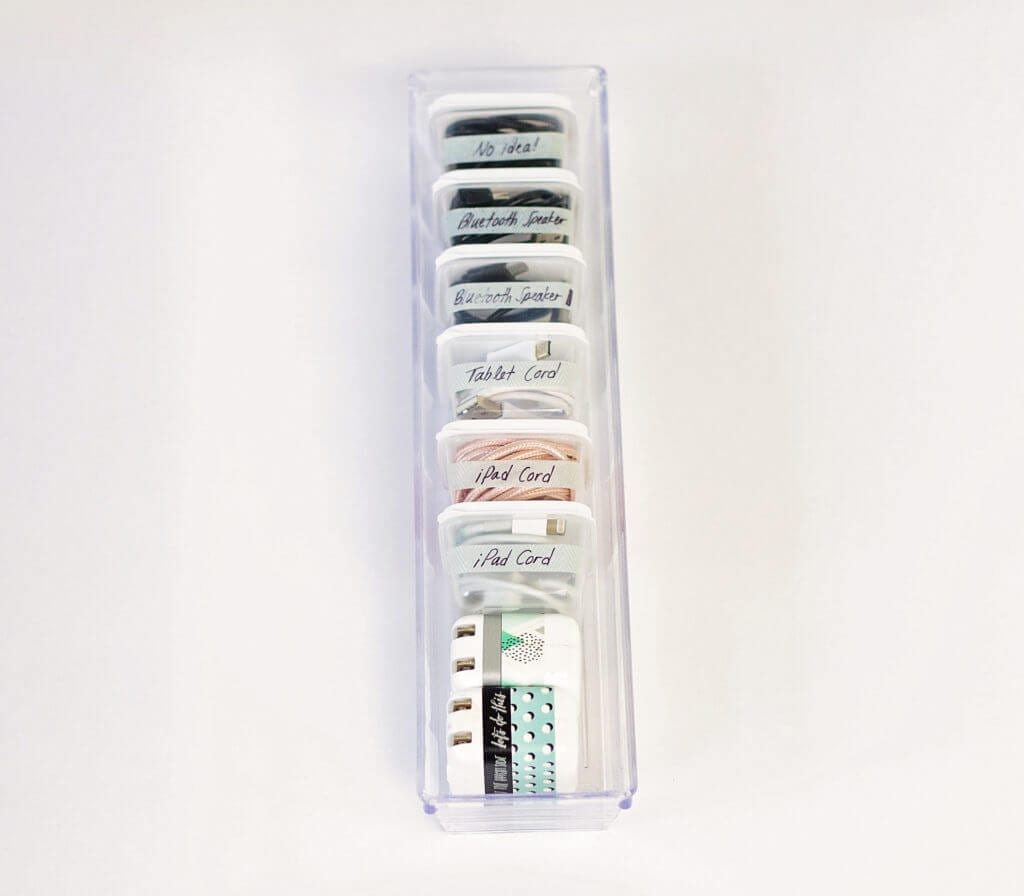 So for only $2-$4 you can transform the drawer that holds your charging cords! P.S. (Note: Please just go pick up the supplies at Dollar Tree. If you order online, you have to order in bulk, I just provide the link for reference)
We often travel with our Bluetooth speaker (mainly because my daughter broke the headphone jack off into the iPad). Because the containers are clearly labeled, it is easy to know exactly which container to grab as we are running out the door.
UPDATE: The method above USED to be my favorite until I found these plastic bead storage containers that I literally use all over my house. They are great because they take advantage of vertical space in your drawer. I like these ones better than the other ones because I don't have to worry about losing the lid (it's attached), it snaps shut, and they are also a bit bigger so I don't have to wind my cords quite as tight as with the other ones from Dollar Tree.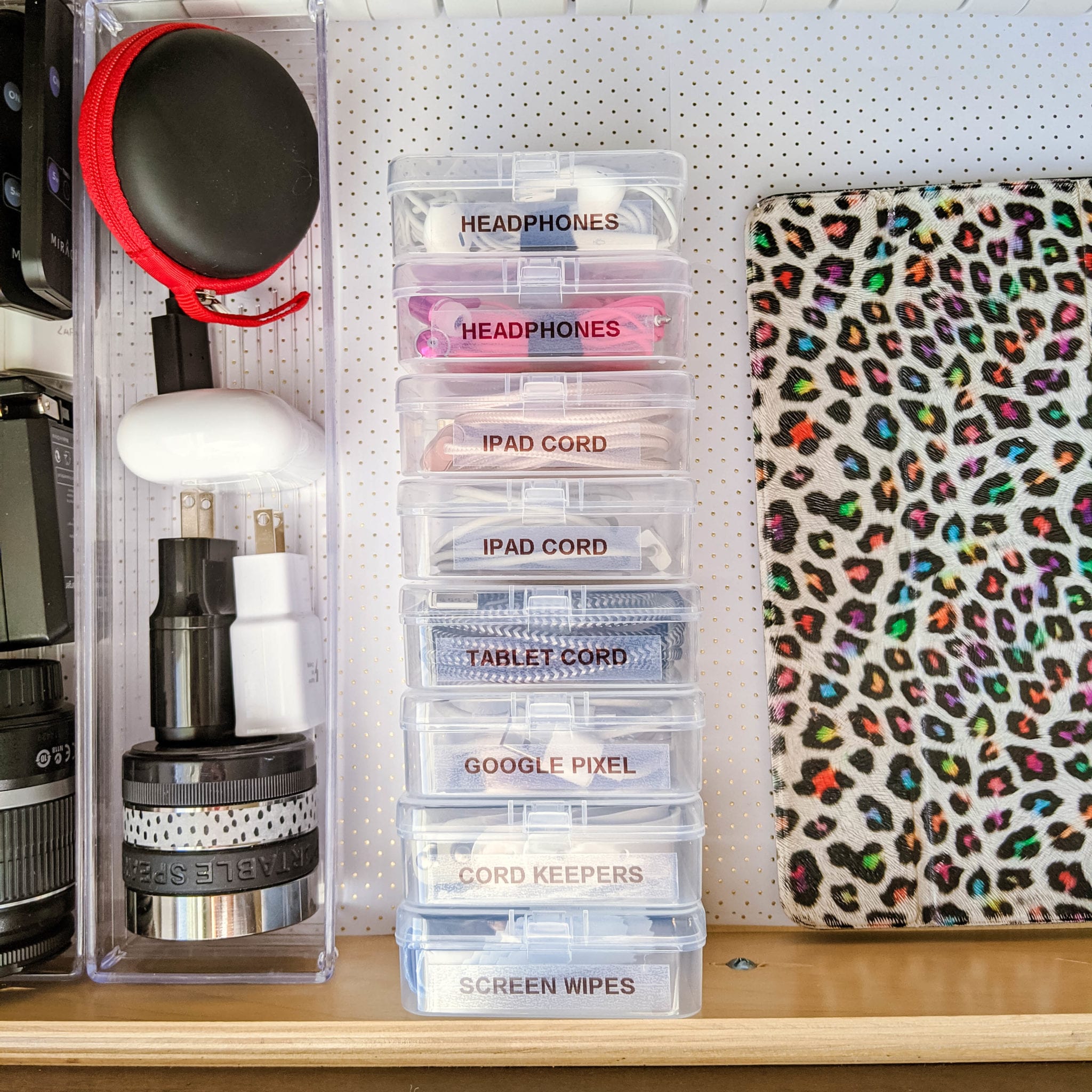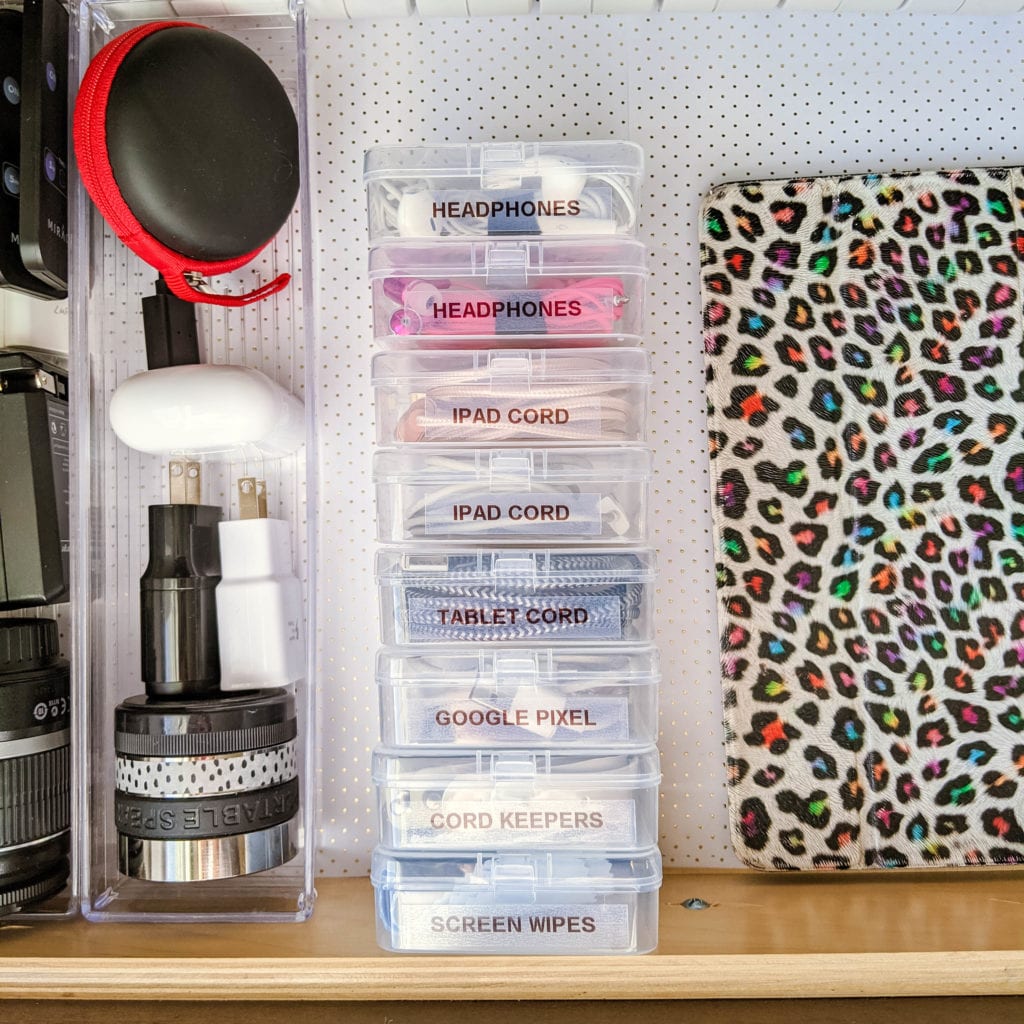 Color Coding your Cords and Chargers
I am certainly not the first one that had the brilliant idea to put decorative Washi tape onto cords. But I wish I knew who it was so I could thank them! I personally used it just for decorative purposes and to help me remember what cord goes to what. But I think this idea is extra useful for those who have teenagers or other members of their family who all have the same charger. Color coding each person's chargers/cords will end all disputes when someone steals the other person's charger.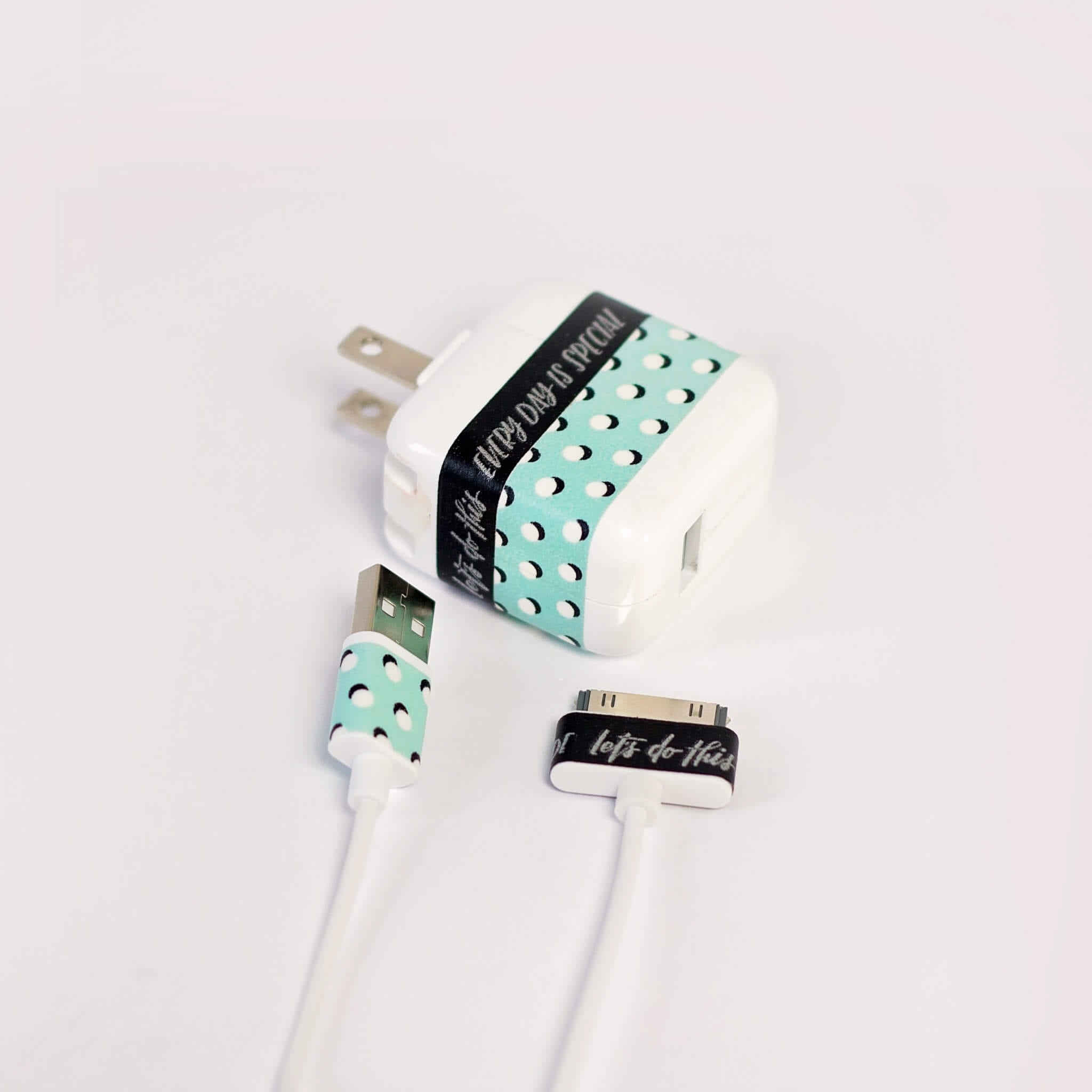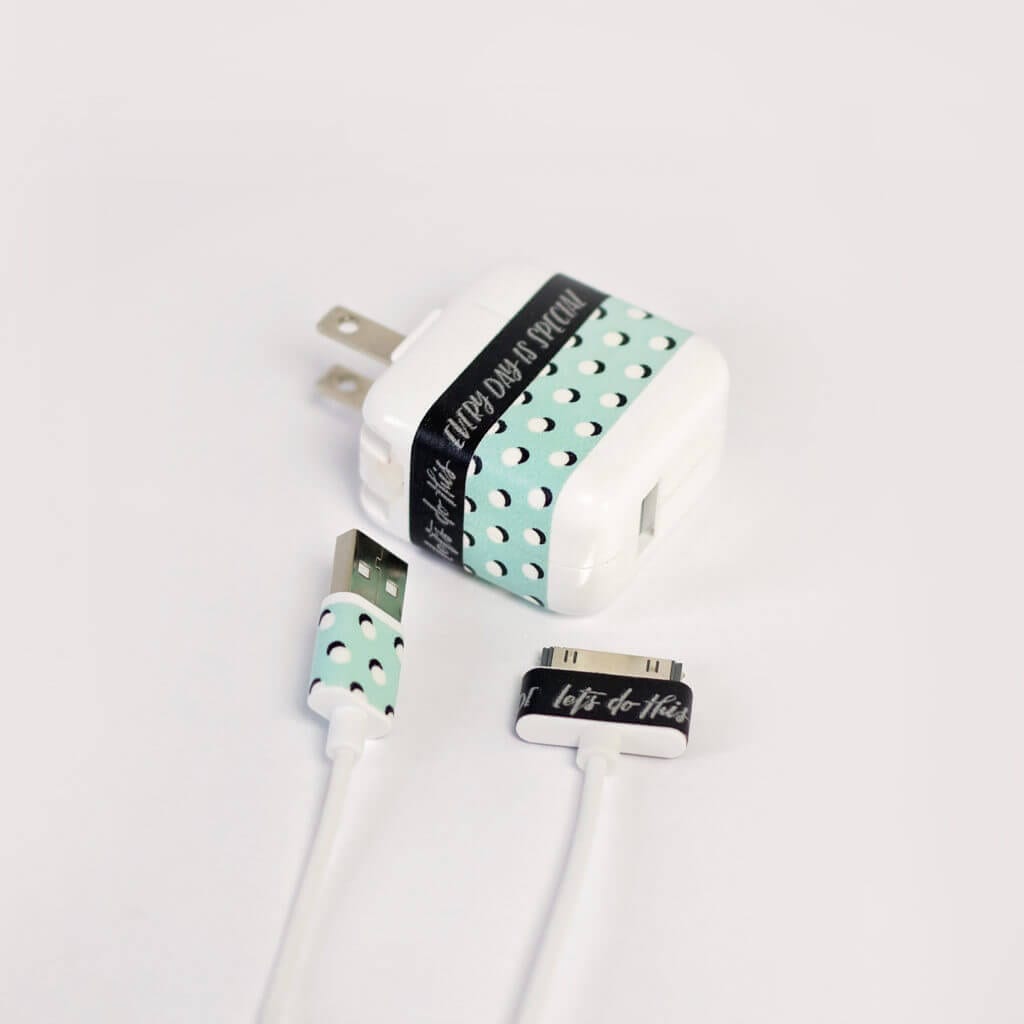 You could color code your cords in various ways. For example:
Each person has a particular label color (ex: Jace has all of the blue labels)
Every device type has a particular color (ex: iPhone cords have a red label)
Each cord type has a particular color (ex: all c-port cords have a yellow label)
Label cords according to room (ex: the cords with the orange labels stay downstairs – this could help the endless searches for missing cords)
Labeling Your Charging Cords
I think it's really important to also label your charging cords. Color coding your cords may be enough but it will be extra helpful to take it a step further and label it with it's purpose. You could put a family member's name on it, what device it belongs to, what room it belongs in, etc.
Here are some of my favorite cord labels that I have found on Amazon. And luckily, they are actually quite cheap!
There are also various ways to mark your cords. If you own a label maker, you can label your cords with that. Or, you could just use a black sharpie (or a metallic sharpie on your black cords.
Tie Your Charging Cords
Another great way to organize charging cords is to tie them! There are tons of products on the market used for just that. Here are some great products on Amazon that you'll love!
Small Boxes to Organize Charging Cords
I shared this on my Instagram awhile back and I absolutely LOVE this method. I found these containers on Amazon and knew that they would be PERFECT for my cords. They are a bit bigger than the ones I talk about above from Dollar Tree. The price is a bit more, but I am absolutely in LOVE with them! They are sturdy, stack well, and they snap securely closed. I can also easily label them with my label maker to keep track of where everything is!
I stack them vertically in my draw to make use of that precious drawer 'real-estate'. The best part? It actually stays looking nice, just like this!
Use Items Around the House
Sometimes we just want to find an organizing solution that doesn't cost money. And guess what, that's okay! There are SO many different ways that you can organize your charging cords using items that you already have around the house.
These are some ideas that I thought would work really well, but the sky's the limit! Sometimes all it takes to finding a great solution is just thinking outside the box. Maybe even consider searching around your junk drawer to see what creative ways you can use items that you already have.
Empty Toilet Paper Rolls
Pipe Cleaners
Twist Ties from a loaf of bread
Claw Hair Clips
Ziploc Bags
Over the Door Shoe Organizer
Binder Clips
Clothes Pins
Altoid Containers
Ice Breakers Mint Containers
Old Glasses Case
I hope you have enjoyed my post about cord organization. It's such a silly topic but it can be a real struggle! Organization doesn't always have to be about the big projects. Sometimes, the small projects make just as big of an impact in our lives! I hope that I inspired you to go through your cords and weed out the ones that aren't useful. As well as find a way to organize cords that will fit for your family!
Need more ideas? Check out Amy's post about Cord Organization!