Maximizing Style and Storage: The Ultimate Guide to Using a Sideboard in Your Home
Welcome to the world of versatile and stylish storage solutions! If you find yourself in need of extra storage space without compromising on aesthetics, a sideboard is the perfect addition to your home.
In this blog post, we'll explore the wonders of incorporating a sideboard into your living space. Get ready to discover practical tips and a curated list of 20+ items to keep your home organized in style.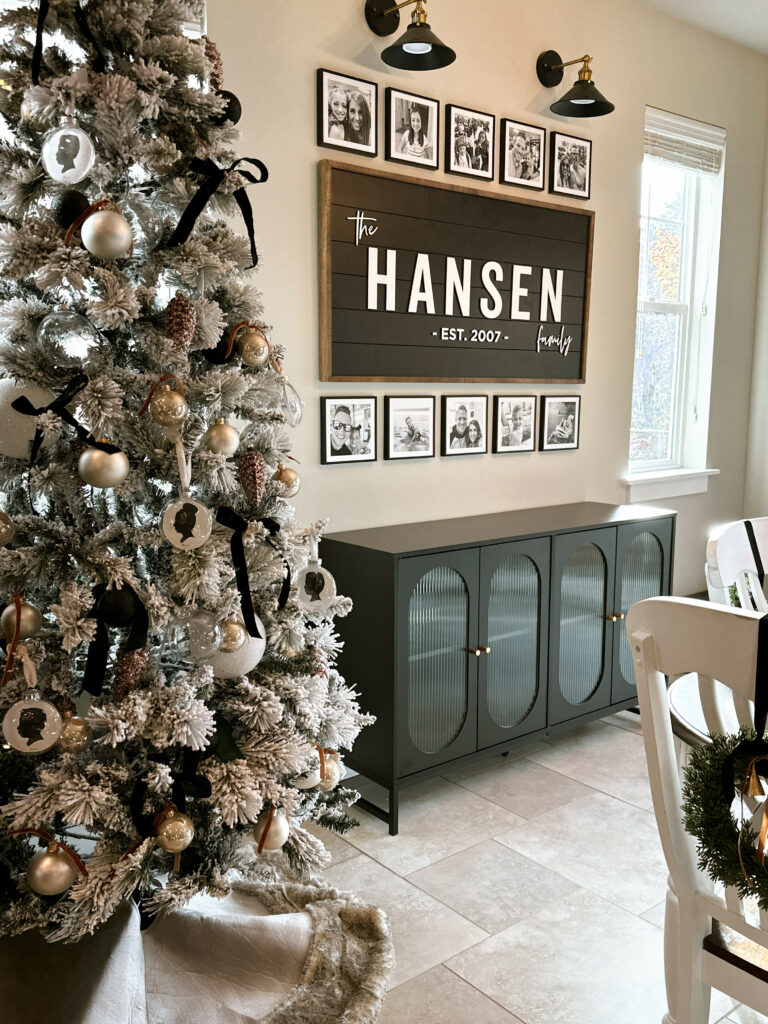 Your choice of furniture can significantly impact the overall ambiance of your home, and a black sideboard with corrugated glass doors effortlessly combines functionality with elegance.
The sleek, dark finish adds a touch of sophistication, while the corrugated glass doors provide a glimpse of the contents within, adding an interesting visual element to your space.
Practical Tips for Incorporating a Sideboard:
Define Your Purpose: Before diving into storage, identify the purpose of your sideboard. Will it serve as a dining room buffet, a media console, or a hallway catch-all? Knowing its primary function will guide your organization strategy.
Consider Placement: Place your sideboard in a strategic location where it's easily accessible yet complements the existing decor. Common areas include dining rooms, living rooms, and hallways.
Mix and Match: Don't be afraid to mix materials and textures. Consider pairing your black sideboard with contrasting items like metallic accents or natural wood elements to create a balanced and visually appealing look.
Utilize the Top Surface: The flat top of the sideboard is an excellent surface for displaying decor, framed photos, or a statement lamp. Use decorative trays to group smaller items for a polished look.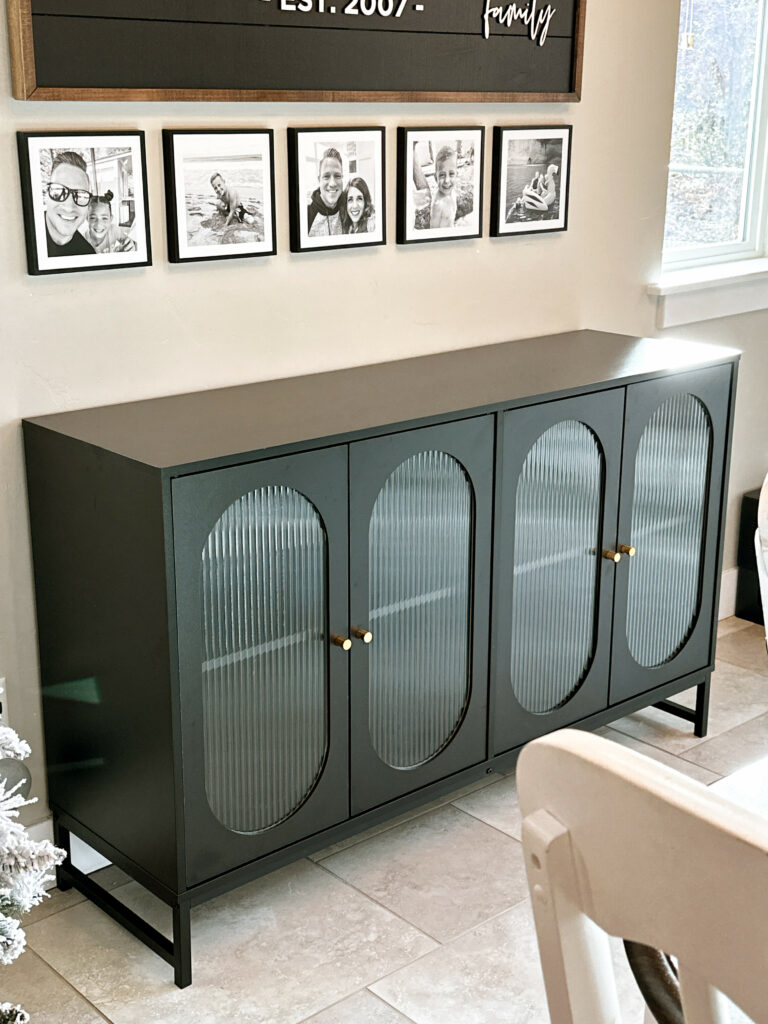 Now, let's explore the exciting possibilities of what you can store in your sideboard to keep your home organized and stylish.
20+ Items to Store in Your Sideboard:
Dinnerware: Keep your best dishes, plates, and bowls neatly organized for easy access during meals.
Glassware: Store wine glasses, tumblers, and other glassware securely behind the corrugated glass doors.
Table Linens: Organize napkins, placemats, and tablecloths in dedicated compartments.
Entertaining Essentials: Store items like serving trays, pitchers, and decorative centerpieces for impromptu gatherings.
Board Games: Keep your favorite board games in one place for family game nights.
Media Accessories: Tuck away DVDs, CDs, or video game controllers in the sideboard's drawers.
Candles and Candle Holders: Create a cozy ambiance by storing candles and stylish candle holders.
Barware: Dedicate a section to cocktail shakers, decanters, and bar tools for convenient access during social events.
Office Supplies: Use the sideboard as a stylish home for office essentials like pens, notebooks, and stationery.
Photography Albums: Safely store and display your cherished photo albums behind the glass doors.
Outdoor Entertaining Items: Stash outdoor dining essentials like tablecloths and melamine dishes for al fresco meals.
Extra Kitchen Tools: Reserve space for additional kitchen gadgets or utensils that don't fit in your main drawers.
Craft Supplies: Keep your crafting materials organized and easily accessible in designated compartments.
Children's Toys: Create a designated space for children's toys to keep the living room tidy.
Seasonal Decor: Store seasonal decorations, such as holiday-themed items or seasonal table settings.
Pet Supplies: Keep pet toys, grooming tools, and supplies in one convenient location.
Linens and Towels: Utilize drawers for storing spare linens, towels, or guest bedding.
Electronic Gadgets: Store chargers, headphones, and small electronic devices in a designated section.
Magazines and Books: Create a stylish reading nook by storing your favorite magazines and books.
Fitness Gear: Use the sideboard to store smaller fitness equipment like resistance bands, yoga mats, or hand weights.
Incorporating a sideboard into your home is a practical and stylish choice for maximizing storage. By following these tips and utilizing the versatile storage options provided by your sideboard, you can maintain an organized and chic living space.
So, get creative and enjoy the process of turning your sideboard into a functional focal point that reflects your personal style. Happy organizing!