How to Organize Your Living Room: Tips and Tricks for a Tidy Room
Your living room is the first impression many people have of your home. It's important to keep it tidy and organized so that guests feel welcomed and comfortable.
While your living room doesn't need to look perfect (after all, life can get way too crazy and busy for a spotless home all the time), having some basic organization in place will help keep things under control.
Plus, if your living room gets a bit messy and you have guests coming over at the last minute, it will be much easier to clean things up when you have a system for living room organization in place.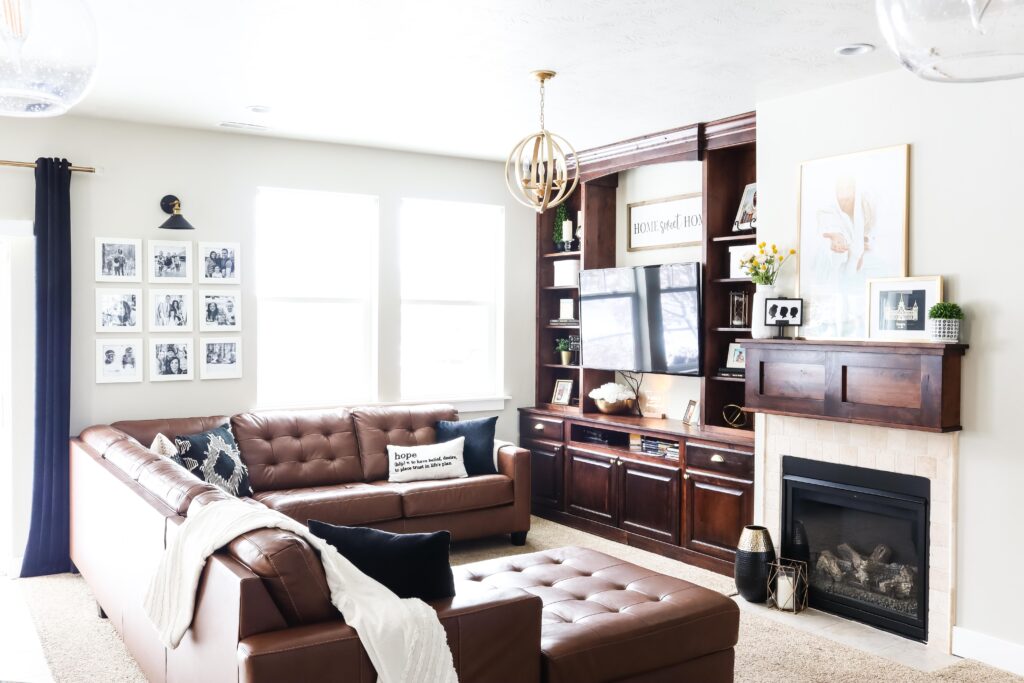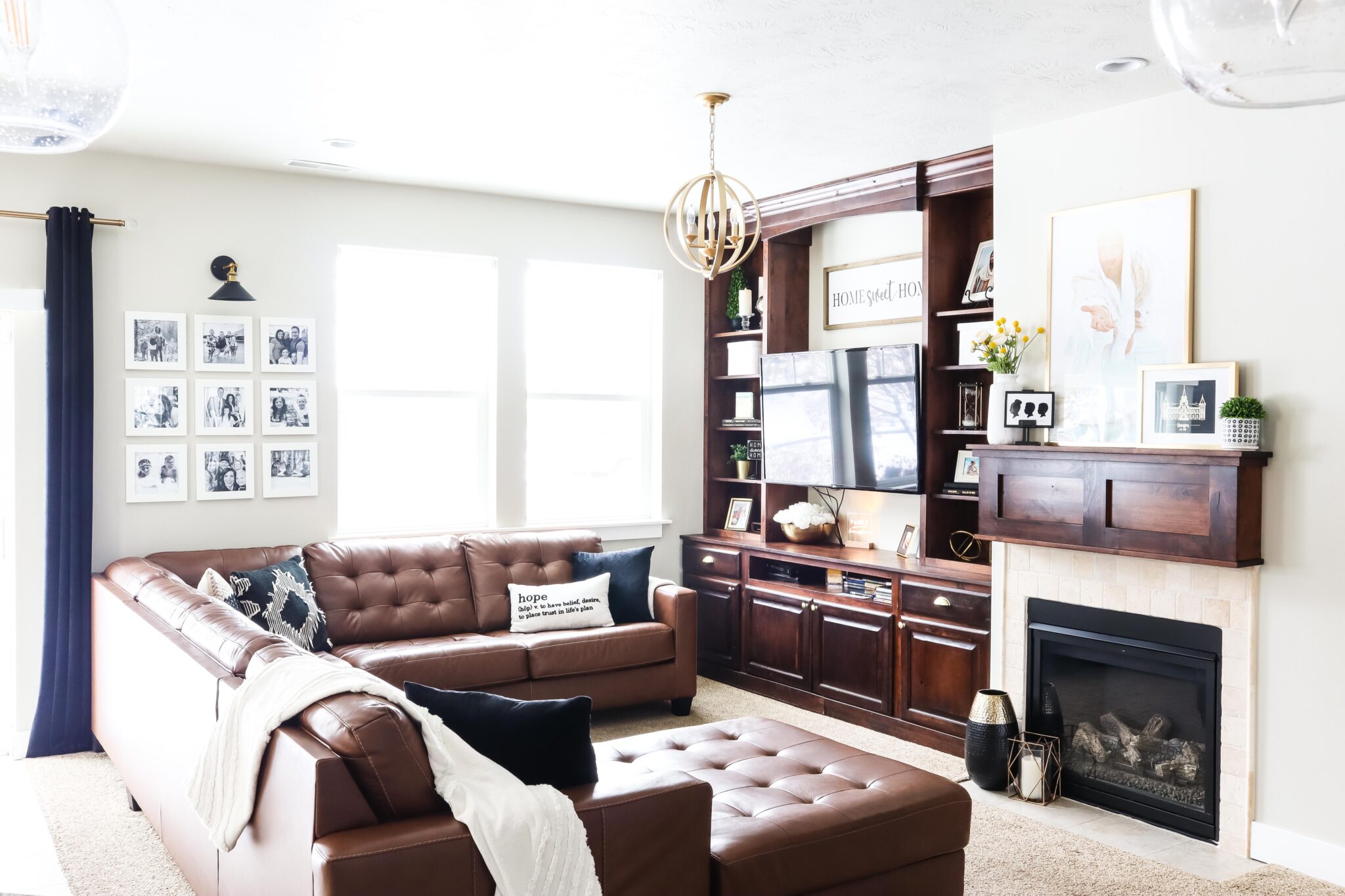 Living Room Organization Tips and Tricks
In this blog post, we will give you tips and tricks for living room organization. We'll start with the coffee table, then move on to clutter control, and finally tips for maximizing space. Let's get started!
Organizing the Coffee Table in Your Living Room
One thing you need to do to keep your living room organized is to keep your surfaces (like coffee tables, a console table, TV stand, etc.) tidy.
Here are some tips to keep your coffee table clean and beautiful:
Use coasters for your drinks. This will prevent water stains on your furniture.
Put away items when you're done using them. If you have a magazine or book, put it back in its place on the magazine rack or bookshelf when you're done reading it.
Keep a decorative tray or a catch-all bowl on your coffee table. Even though it might get filled with knick-knacks, keeping it all in a tray will help your coffee table from getting too chaotic.
If you have a small space, you might not have a coffee table at all, but this applies to any surface you use in your living room space, whether it's an ottoman, some side tables, or anything else.
Even small living rooms will have some surface space or tables that can get cluttered!
As you can see, our sectional is HUGE so we don't really have room for a coffee table, but sometimes I really wish we had one. It would be so nice to have one.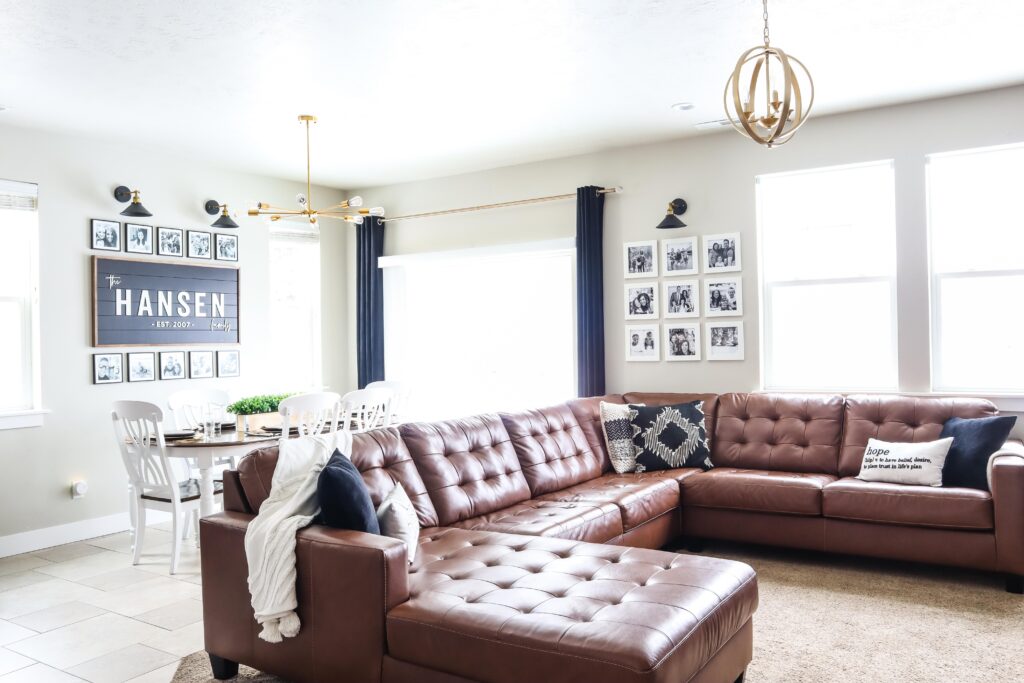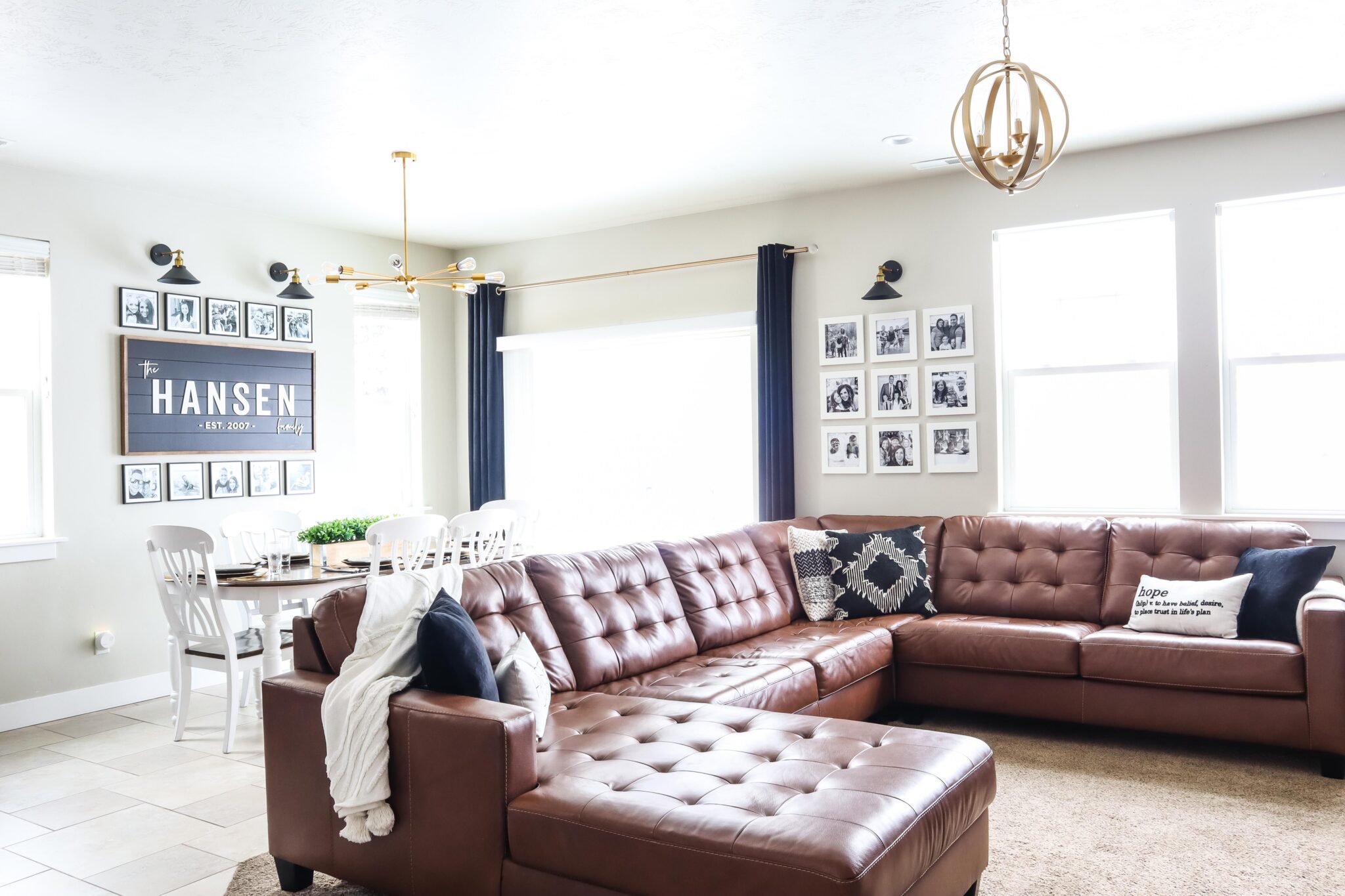 Getting Clutter Under Control
One thing about most living rooms is that they can get cluttered very easily (especially if you have young kids). With a console table, entertainment center, and other tables and storage spaces, it's easy for the living room to attract items.
Maximizing Space in Your Living Room
It's easier to implement living room organization hacks when you have extra space to store items that might clutter up your living or family room. Of course, every home is different, and you might not have enough room for lots of storage.
Here are a few storage ideas to maximize storage space in your living room.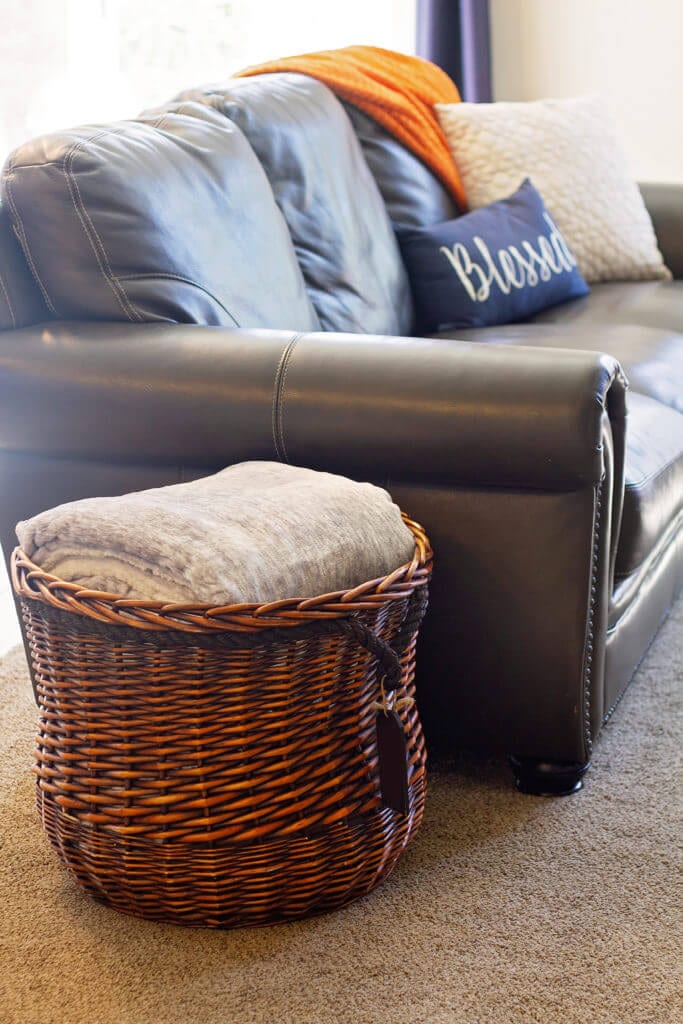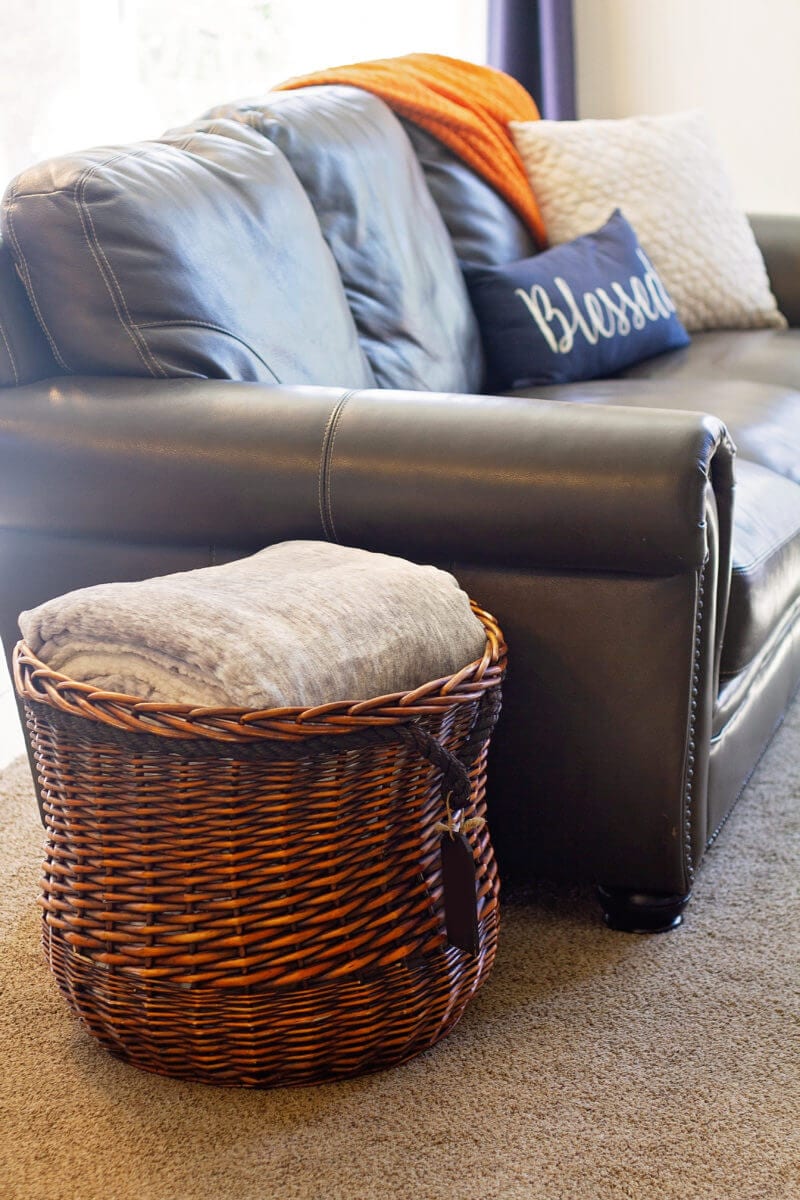 Use Baskets
Blankets and pillows are items that are often used in your living room. But it can sometimes be difficult to know where to put it all. Baskets can really come in handy!
If you have lots of blankets, consider buying an oversized basket so your family members can just throw in the blankets without having to worry about folding them. If you have kids, then you'll agree with me when I say that getting it in the basket is a big accomplishment versus just leaving it on the floor. So I'm fine if my kids don't fold the blankets, as long as they get it in the basket.

Install Shelves on the Wall
One way to get yourself some extra storage is to utilize the wall space in your living room. Install shelving along one or more walls to provide storage for books, DVDs, and other decorative items. You don't need built-in shelving to use vertical storage.
This is a great tip for a small living room because, while you might not have room for other living room furniture, you should have room for some shelves.
Living room shelves can help utilize often unused space on your wall and, if you decorate them well, they can be a really cute way to store books or board games. If you want to display photos or other things on your wall, you can always make some high shelves.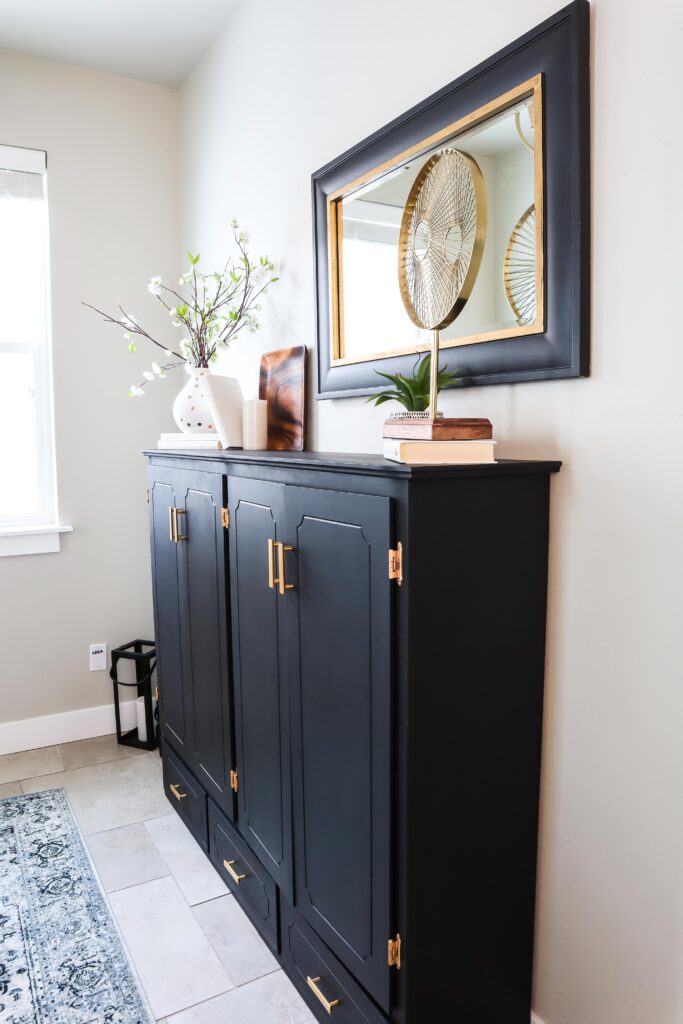 Create a Small Closet with a Hutch or Wardrobe
If you don't have a closet in or near your living room, you can create a small closet near your living room to store coats, hats, umbrellas, and other seasonal items.
Get a piece of furniture that can act as a closet, like a hutch or a wardrobe. If you don't want to spend money on a new piece of furniture, you can look for one at a thrift store or antique shop.
Then you can use these hidden shelves or storage space to help stay organized and store blankets or other large items.
You could also get a bar cart and use the bar cart as some extra space while keeping it decorative and pretty.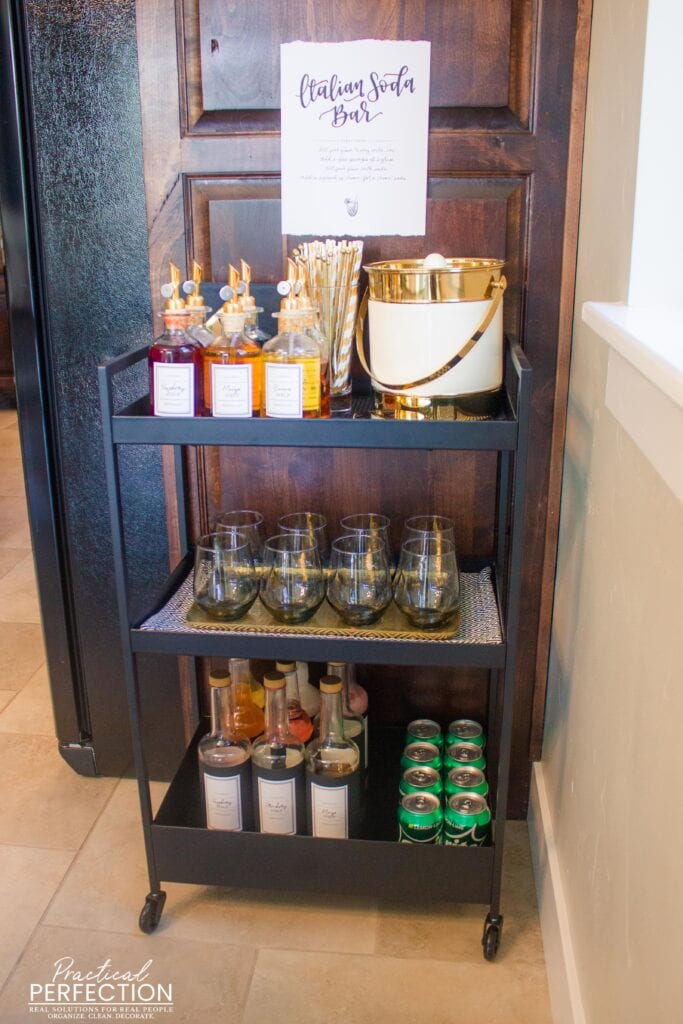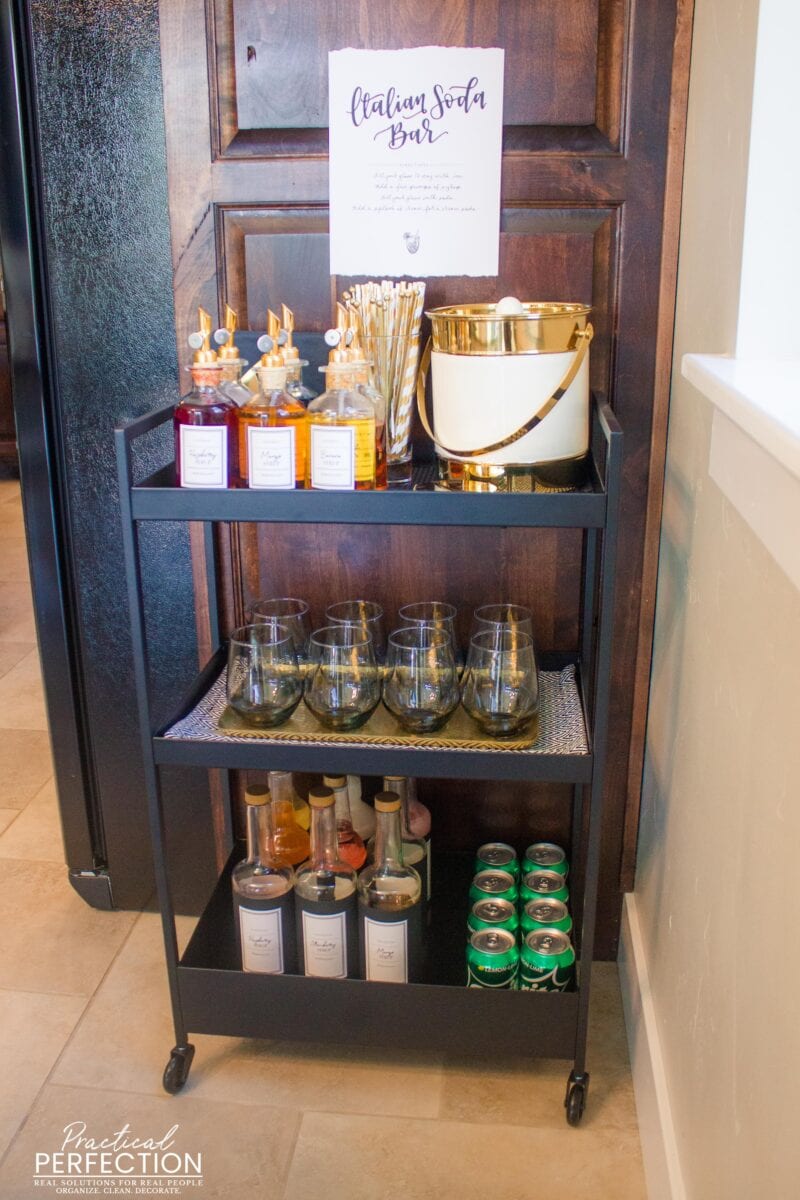 Use the Space Under Your Furniture
If you have furniture with legs, you can use the space under them to store things. Get some baskets or plastic containers and put them under your coffee table, side table, TV console, or sofa.
I don't usually recommend using floor space as storage but tucking things away under other furniture pieces can really help save space.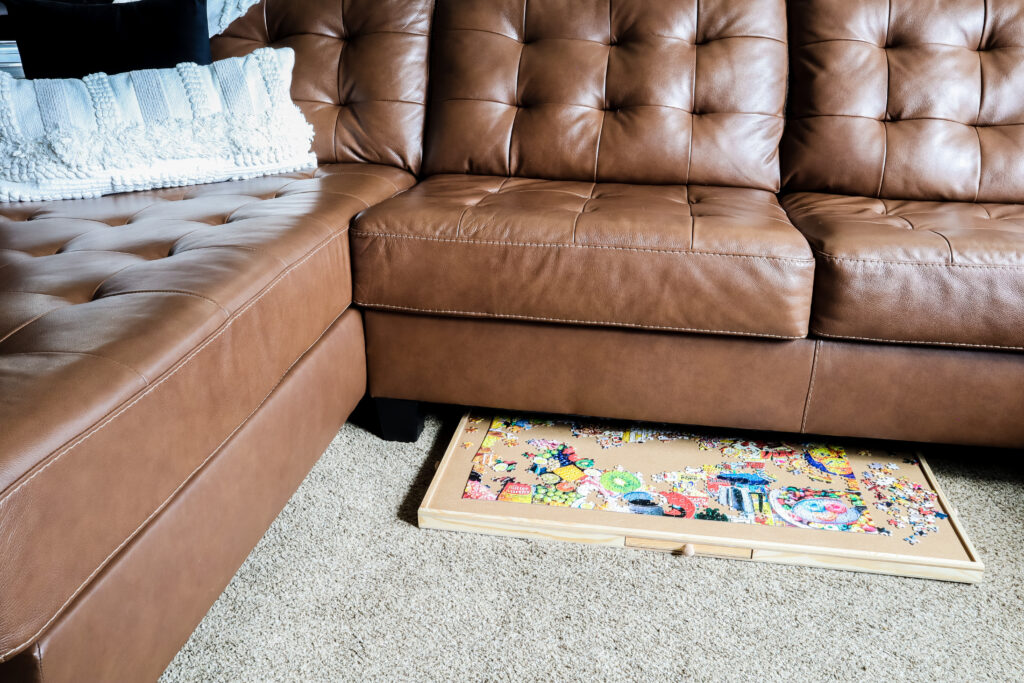 Use a Bookshelf as a Storage Unit
If you don't want to hang shelves and don't have built-in shelving, you can get shelving units in your space. Just buy some bookshelves! These are great to store books, games, movies, and anything else you want to keep in your living room.
You can also decorative bins to store toys and games when they're not in use. This is a great interior design trick. Pretty baskets on shelves can help with living room storage, free up floor space, and add style to your living space.
You can also use bookshelves as room dividers. If you have a large living room and don't know how to decorate it, get some shelves or something to use as a room divider and hold any storage.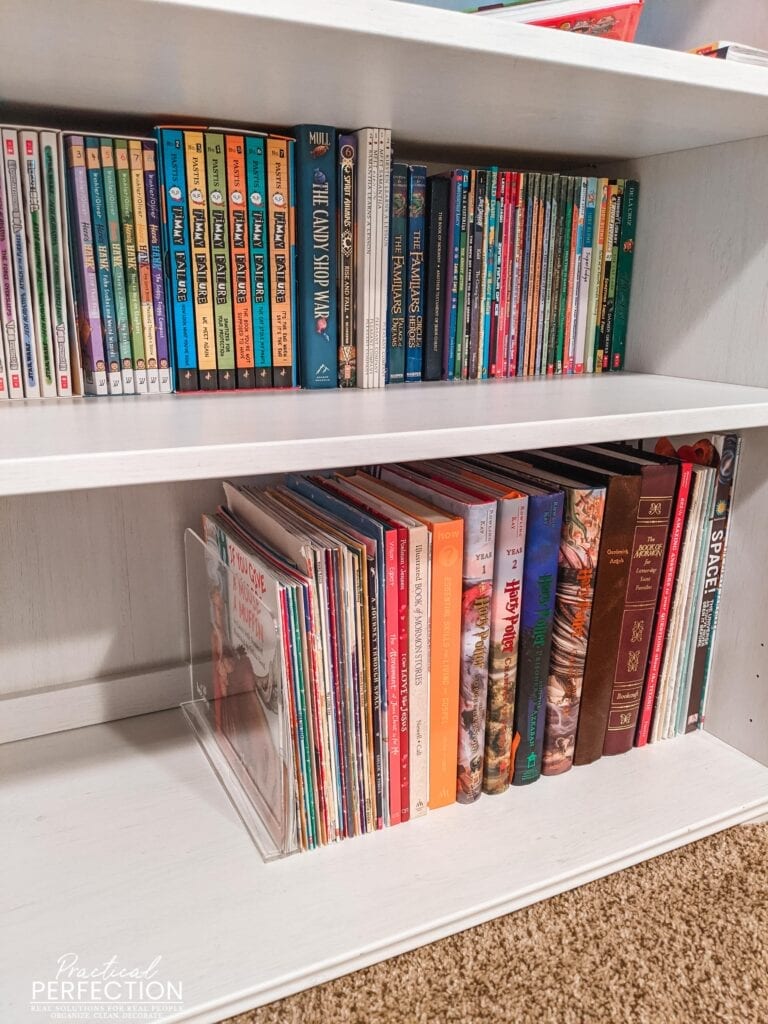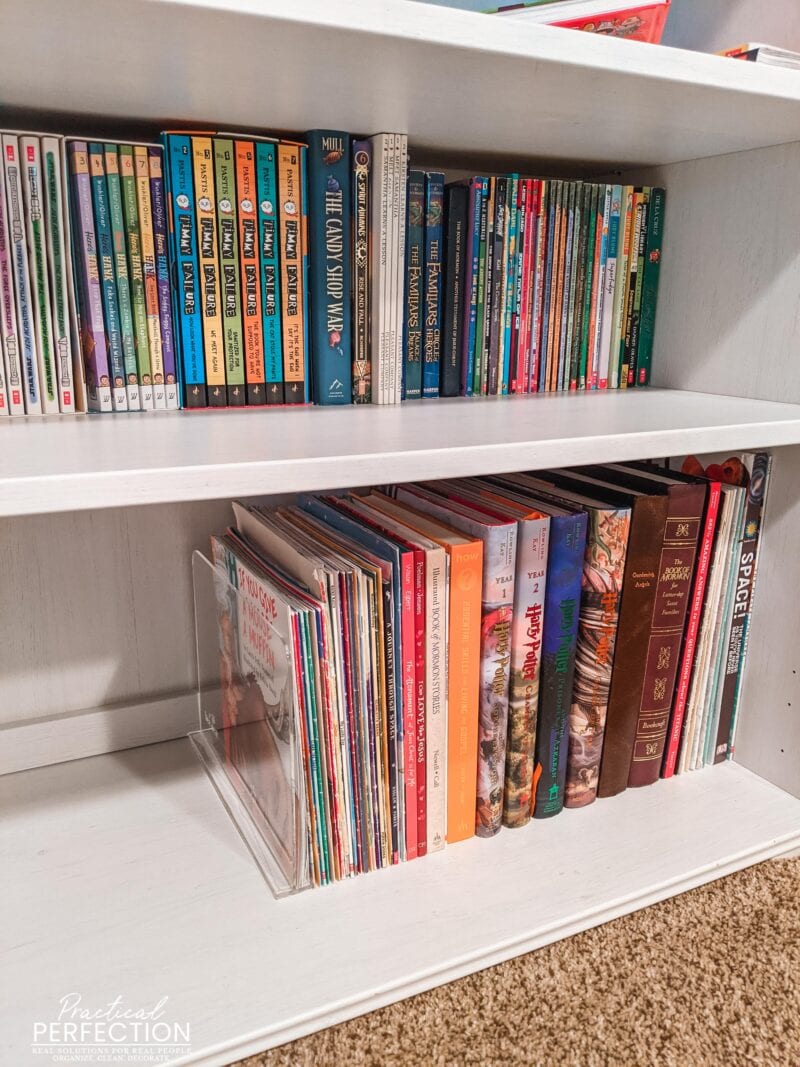 Get a Coffee Table with Storage
A coffee table with storage is a great way to store things out of sight but still have them close at hand when you need them. If you have less space in your living room and don't want to get tons of furniture, just find an end table with built-in storage space.
You can find coffee tables, side tables, or an end table with shelves or drawers pretty easily, and they will help you with extra storage! These are perfect for small spaces.

Organize and Declutter your Built-Ins
If you do have built-in cabinets in your living room, consider yourself lucky! They create automatic storage solutions that really help you get organized. You can store things in your cupboards such as games, DVD's, video games, electronics, cords, or even blankets!
We keep mostly games and puzzles in our built-ins. It is a really convenient place since we usually do game nights and puzzles in the family room and the kitchen.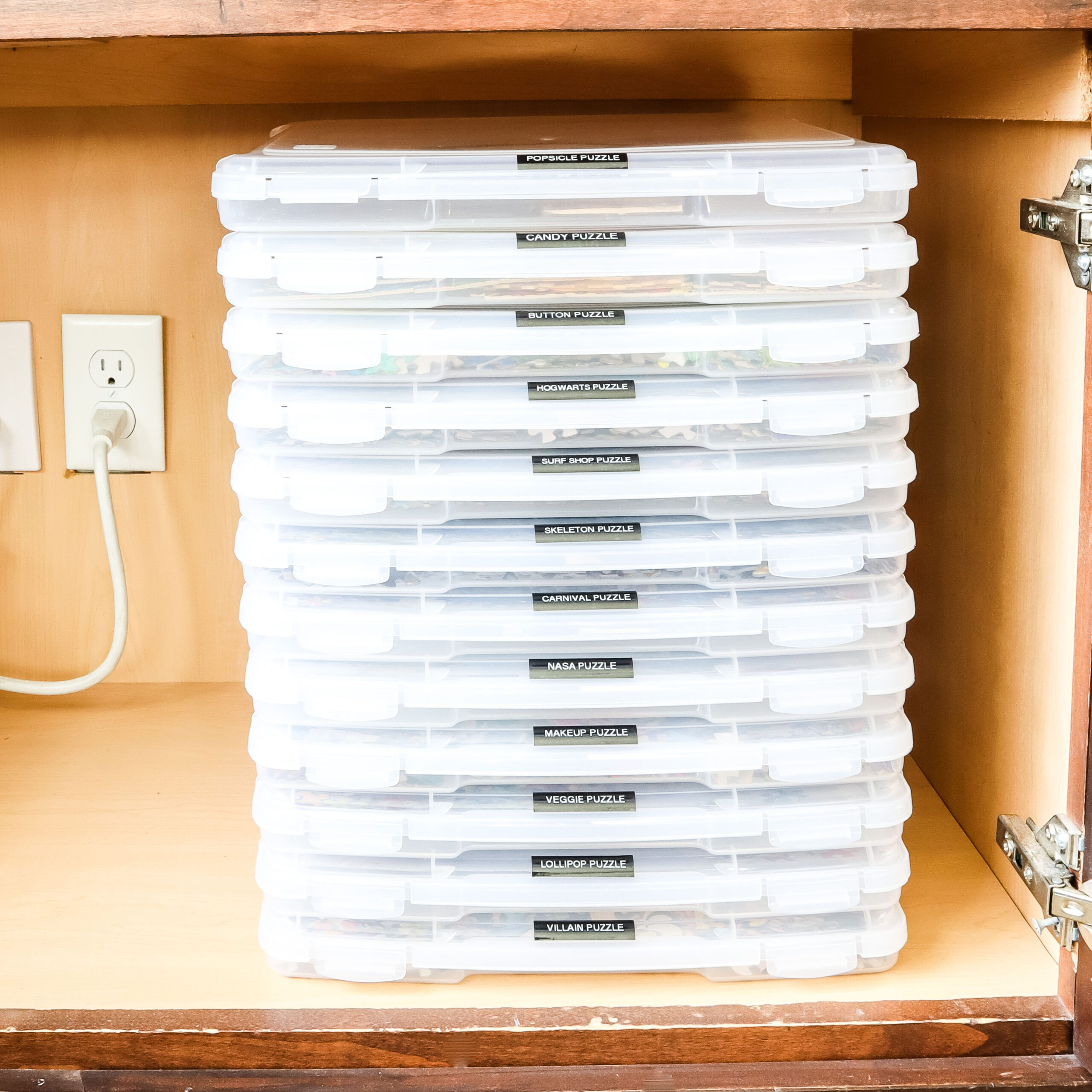 Get a Storage Bench
Another great way to give yourself extra living room storage is to get a bench for storage. Benches are perfect for putting behind your sofa or in a corner to store throw blankets, throw pillows, and other items.
You can also get benches that have a lid so you can hide things away and make the room look neater. If they are sturdy, you can even use these benches as additional seating!
If you want to take your interior design to the next level, you can use something like a vintage trunk.
Living Room Organization: Complete!
Now that you have your living room organized, you're all set for entertaining guests or just relaxing alone in your beautiful living room.
Hopefully, these living room organization tips helped and have allowed you to see that even small living room organization ideas can make a huge difference.
Keep your surface space clutter-free, keep your TV stand tidy, consider getting furniture like a side table with drawers or nesting tables. Those items do double duty: they help you save space and also help you hide away items like pet toys, remotes, blankets, and more.
Living room organization is the best way to ensure your family and living rooms are ready for any guests and that you can easily find anything you need!
It won't be as hard to keep your living room tidy now!