How to Organize Kids Art and Craft Supplies: 16 Creative Ideas for Every Home
If you're like me, you want your kids to be creative and have all the art supplies they need at their fingertips. But it can be hard to keep everything organized and tidy! That's why we've put together this list of ideas for how to organize kids' art and craft supplies in every space. Whether you use a lazy Susan, drawers, totes, or a caddy, these tips will help you create a system that works for your family. Let's get started!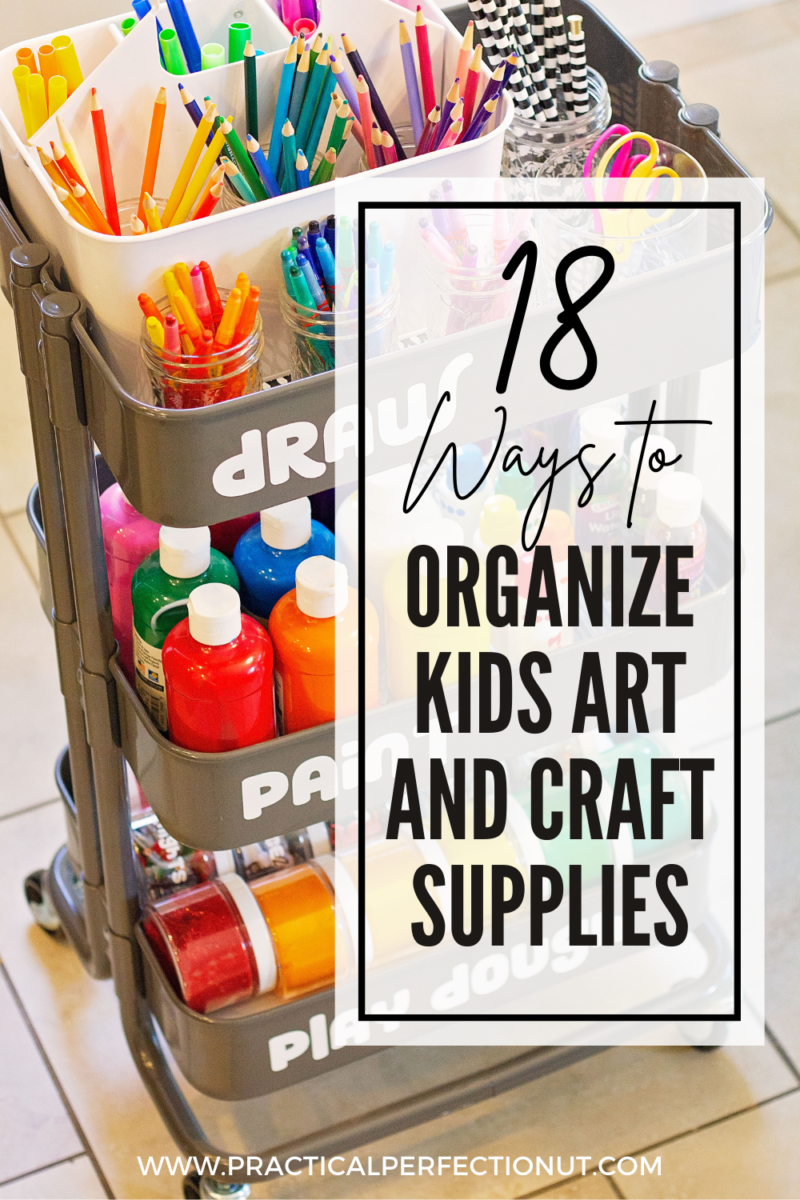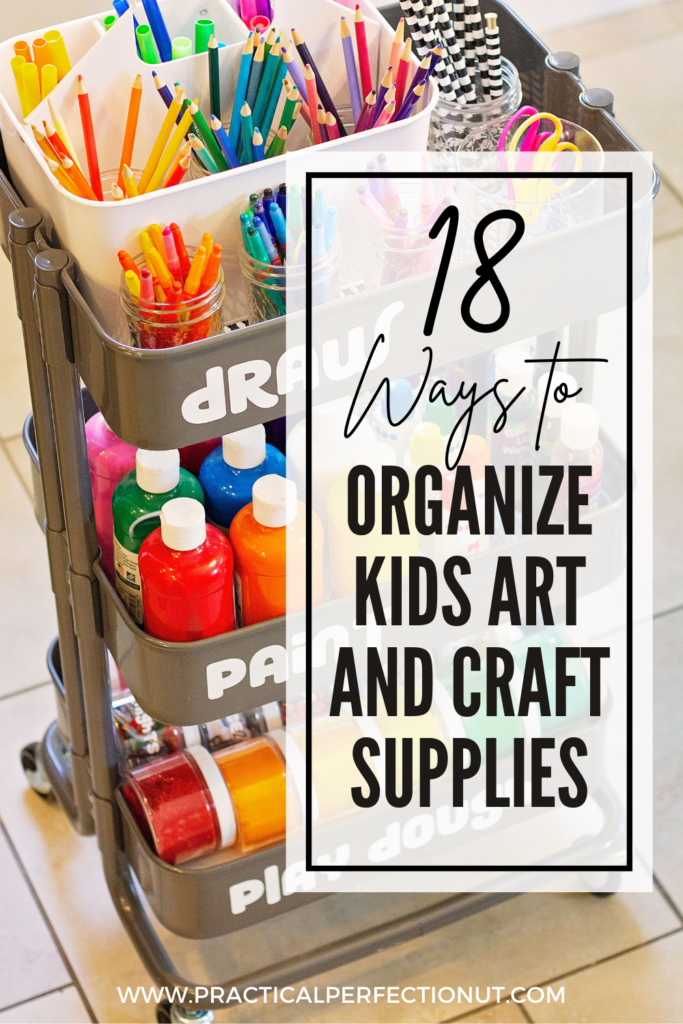 Why is it important to organize kids' art supplies?
One of the benefits of organizing kids' art supplies is that it can help them develop organizational skills at an early age. Kids who have a designated space for their art supplies will be more likely to put away their supplies when they're done using them. This will teach them to be responsible and help keep your home neat and tidy!
Another benefit of organizing kids' art supplies is that it can help foster creativity. When kids have easy access to all of their supplies, they're more likely to get creative and come up with new ideas. This is especially important for young children who are just starting to explore their creative side.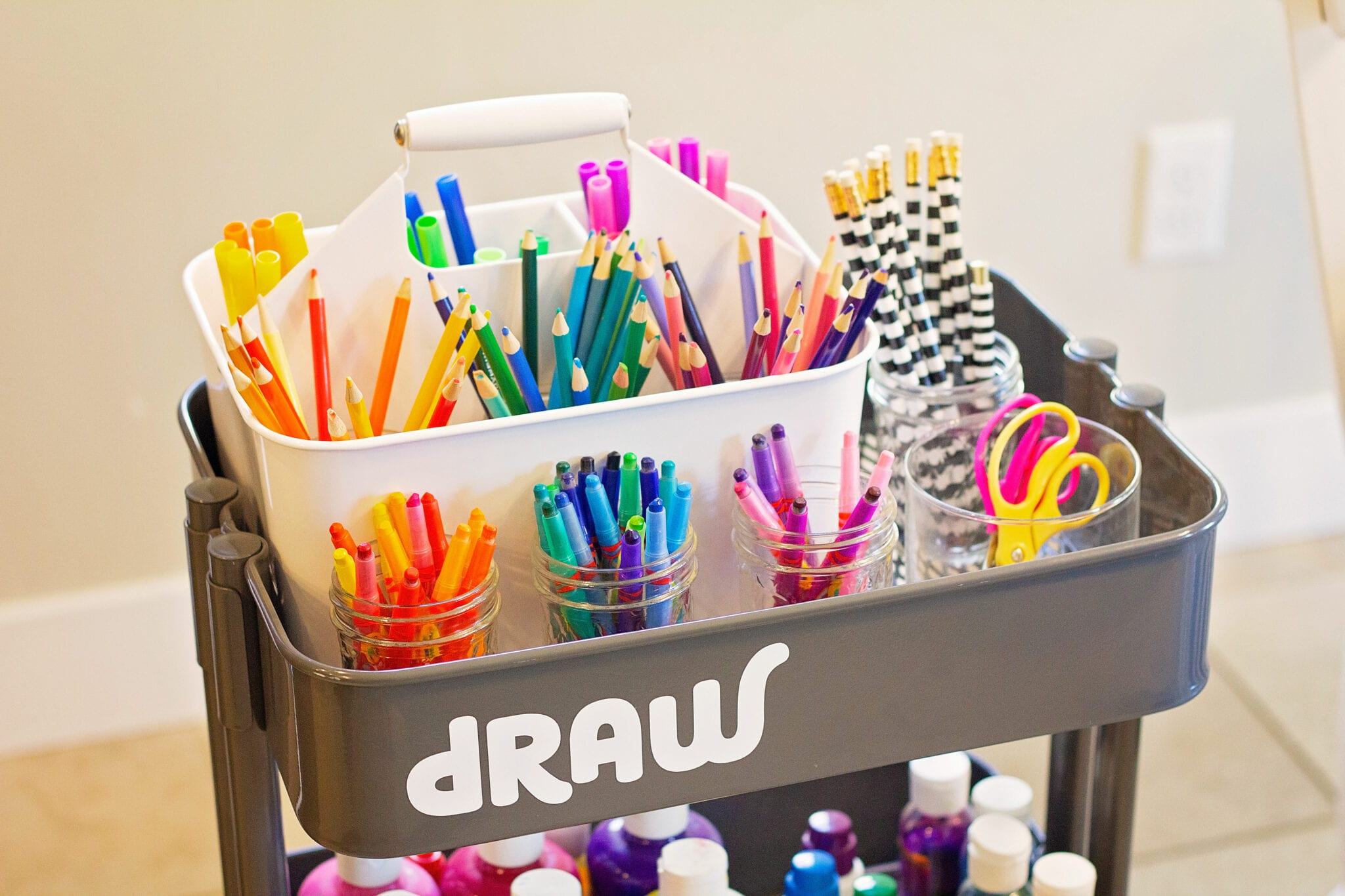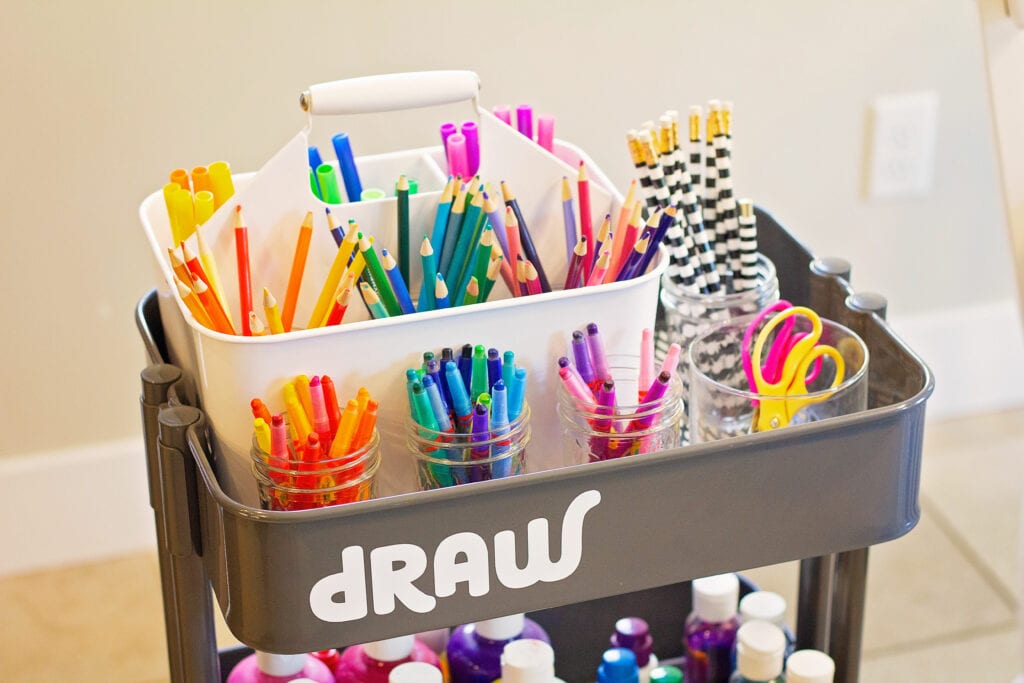 Art supply organization is important for two reasons:
-You want your kids to be able to be creative and have all of their supplies at their fingertips. This helps with the creative process and allows them to access everything they need without having to ask you or rummage through a bunch of stuff.
-A good system will help you keep things tidy and prevent art supplies from taking over your house! I know this is a struggle for many parents because let's face it, kids are messy. But, if you can find a system that works for you then it will make clean-up time much easier.
So, how do you go about organizing kids' art supplies? There are lots of different ways to organize art supplies and I have actually used all of them myself in our own home. Just assess the space in your home and decide what will work for you and your family. All of these ideas would also work great for classroom storage ideas.
How do you Organize Kids Art Supplies?
There are lots of different ways to organize art supplies, but I have found these six methods to be the most effective. Art supplies organization can be done in many different ways but it just depends on the amount of space you have in your house, if your kids have their own space to create, or if you are just looking for a portable solution for your craft supplies.
18 ways to organize kid's art supplies:
Lazy Susan
Drawer Dividers
Create an Art Station
Cereal Boxes
Art Cart
Stacking Drawers
Stacking Organizer with Dividers
Glass (or Plastic) Jars
Caddy
Peg Board
Plastic Storage Bins
Over the Door Shoe Organizer
Baskets
Tiered Tray
Craft Table
Cubbies
Rolling Storage Drawer Set
Round Plastic Containers
Mesh Pouches
Art Station
If you have the luxury of having a bit of extra space, consider creating an art station where your craft storage and workspace can live together in harmony. This could be as simple as an unused dining table or you could really go all out and create a designated art room. Either way, make sure to have plenty of storage for both small and large supplies.
The table that my kids have in their playroom is just a couple of free drawer sets that we picked up from Facebook Marketplace with an Ikea tabletop on top of them.
If you have the space to create an art station, you can also create a section of the room where your kids can display their amazing artwork. This can be as simple as a bulletin board or corkboard, or you could create a whole gallery wall.
Use a Lazy Susan
A lazy Susan (also called a divided turntable) is a great way to organize kids' art supplies because it gives them easy access to all of their materials. You can put paintbrushes and other small items in the middle and then surround it with paints, markers, crayons, and other larger items. This is a great option if you have a lot of kids who like to do arts and crafts to create fabulous creations.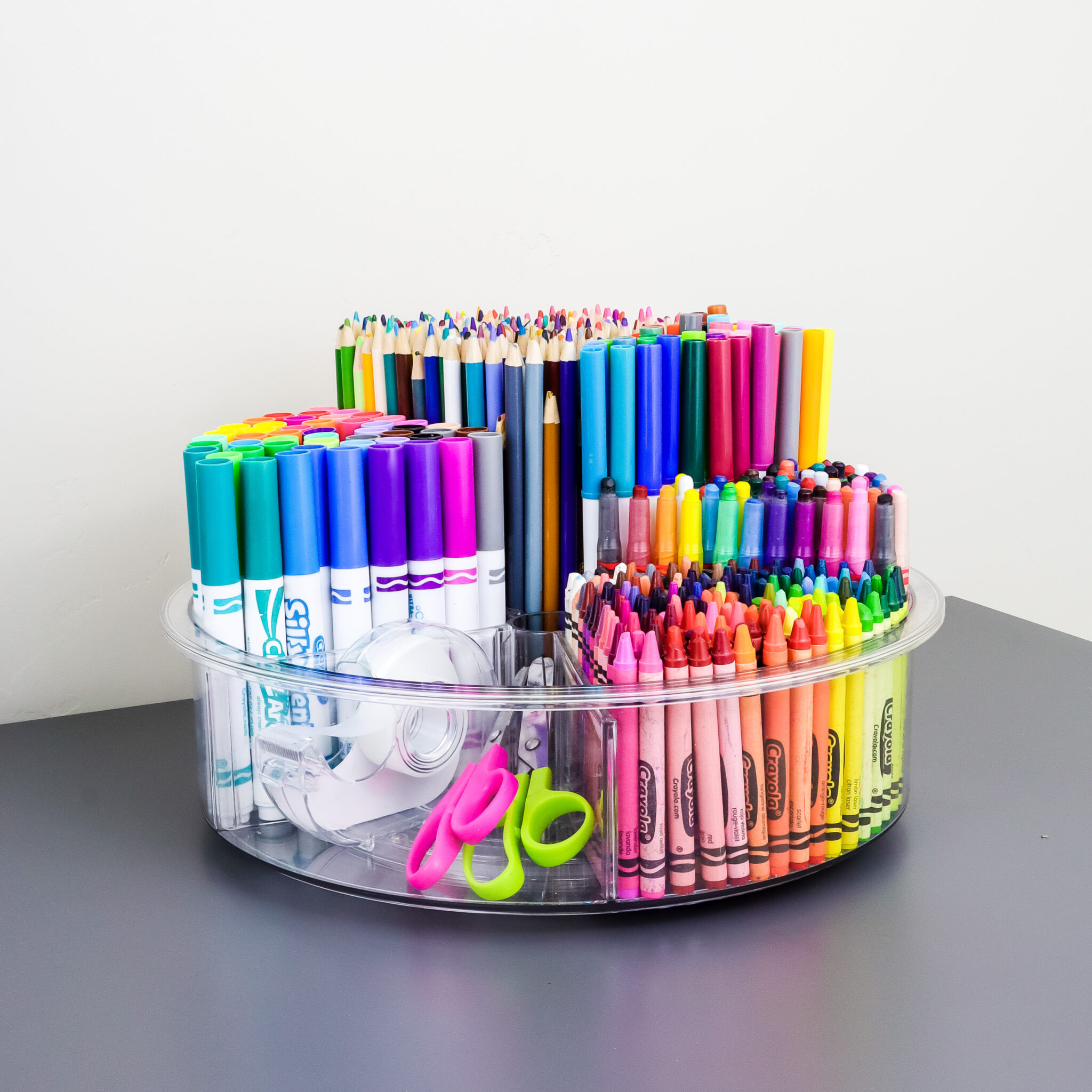 Lazy susans can store things like paint brushes, crayons, markers, and other small items. Then you can easily place it on a craft table for easy art supplies organization. It's easy to store materials and turn it as needed to grab what they need.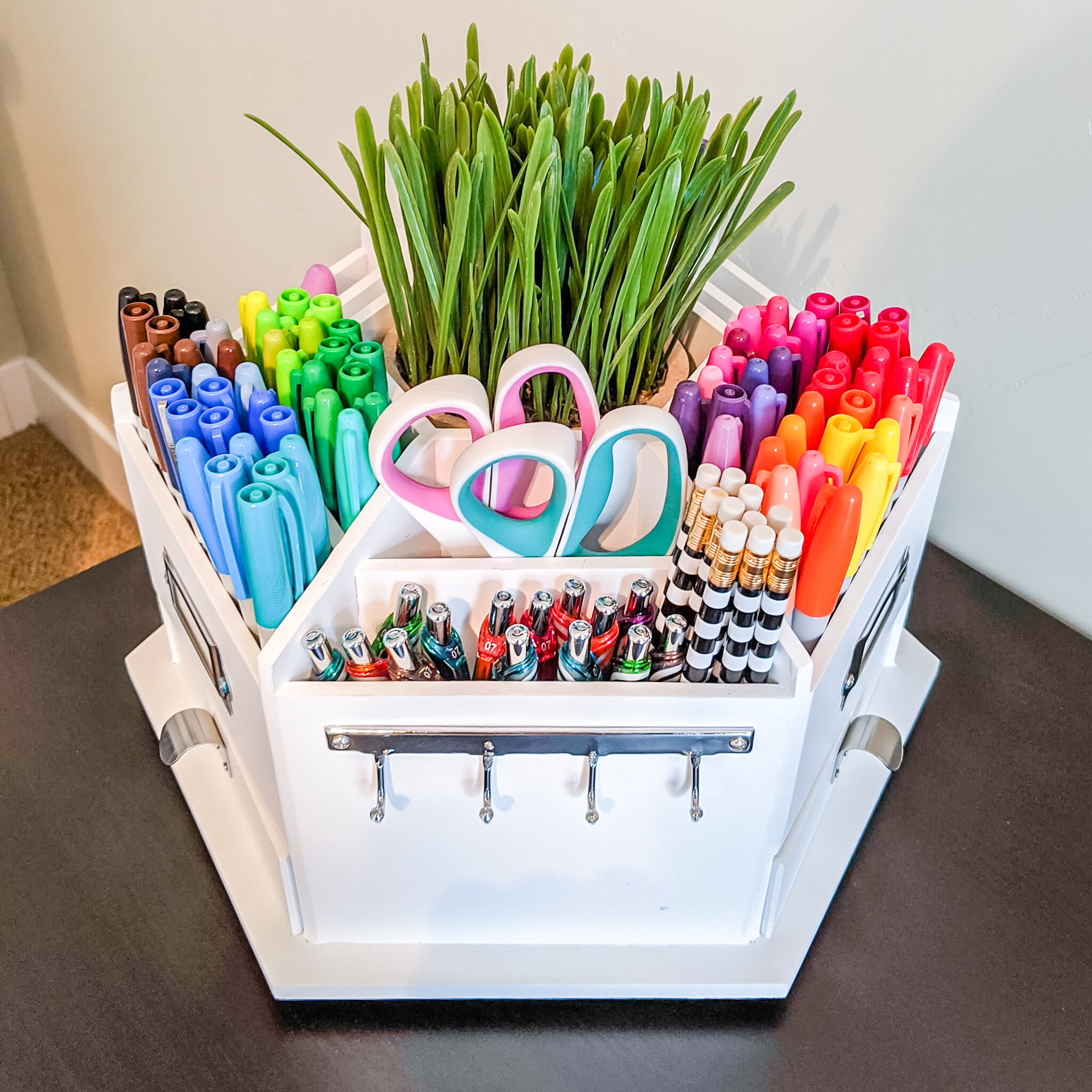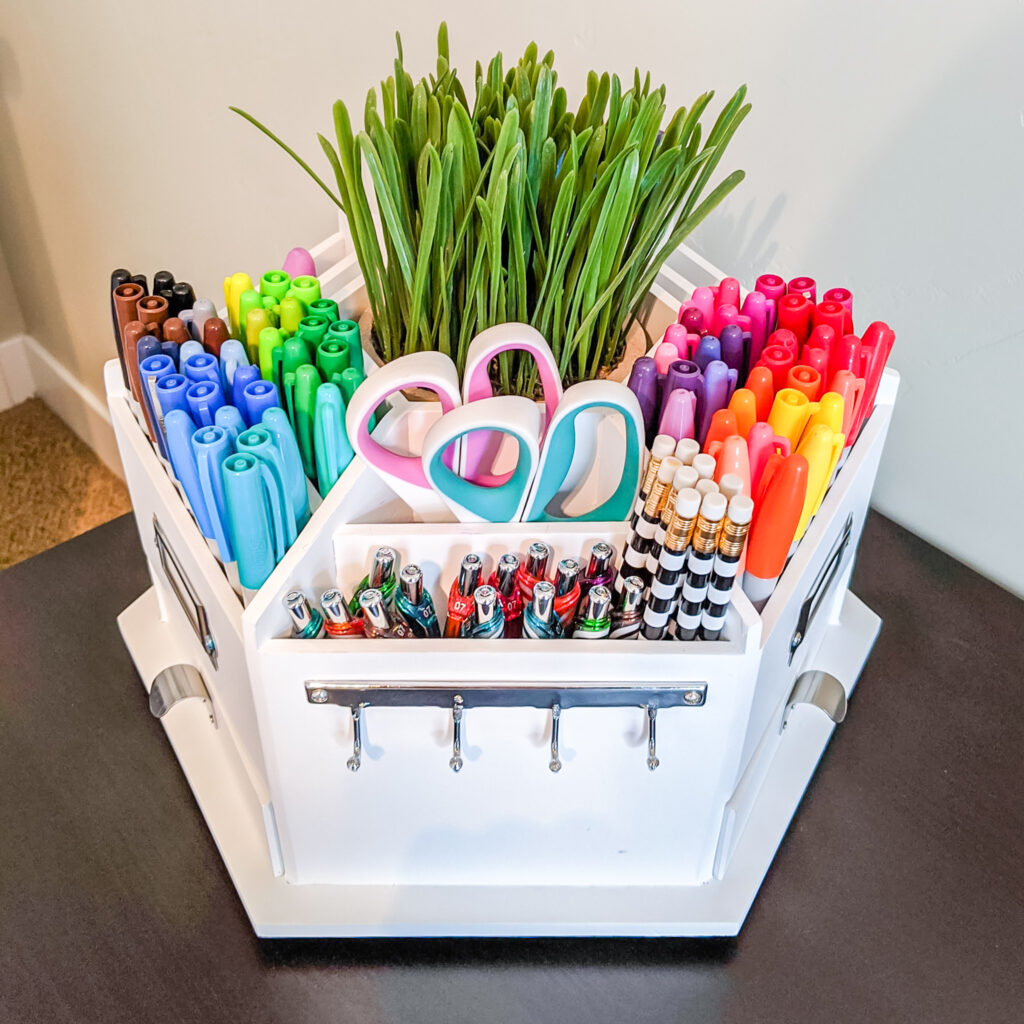 Use Basic Drawer Dividers
If you have drawer space in your home, it's super effective to designate a section of drawers to kids art supplies. You can buy a set of drawer dividers from your local store or even make them yourself. This way, everything has its own designated space and it's easy to find what you're looking for.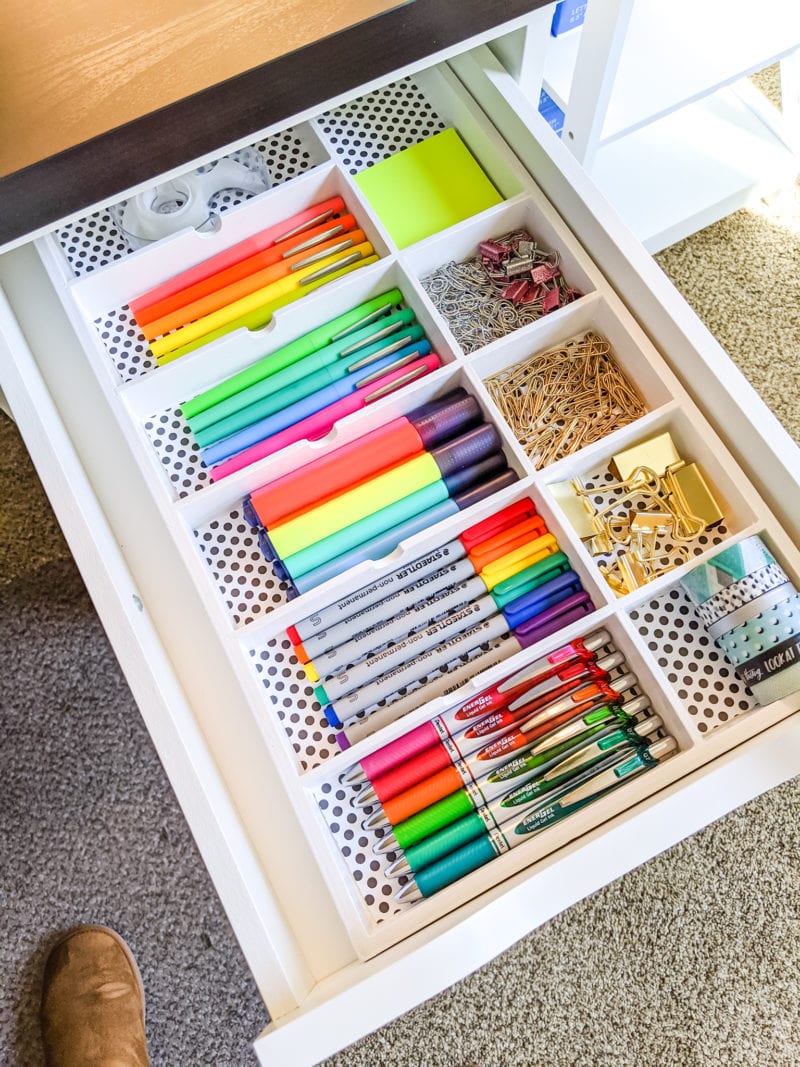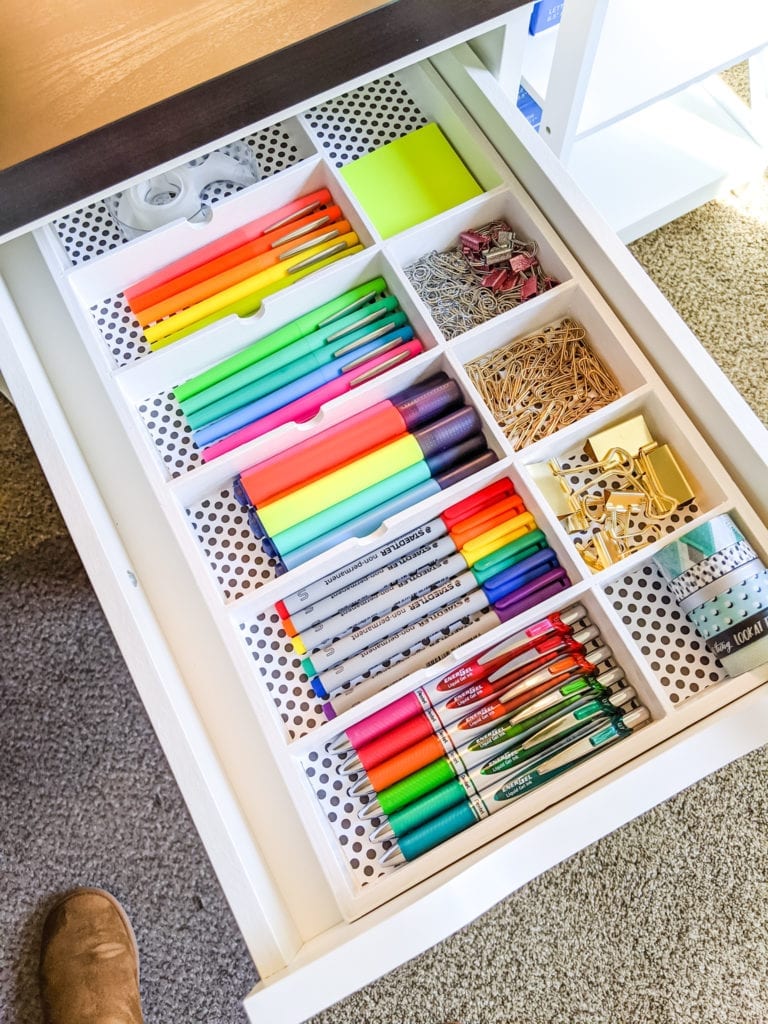 If you want to make drawer dividers on your own, you can collect cereal boxes and cut off the bottom portion of the box. Once you have several boxes cut up, you can line them up and place them in your drawer. This is a really cheap way to organize kids art supplies. If you're feeling extra fancy, you can even use adhesive drawer liner or wallpaper to line the boxes so they have a beautiful pattern.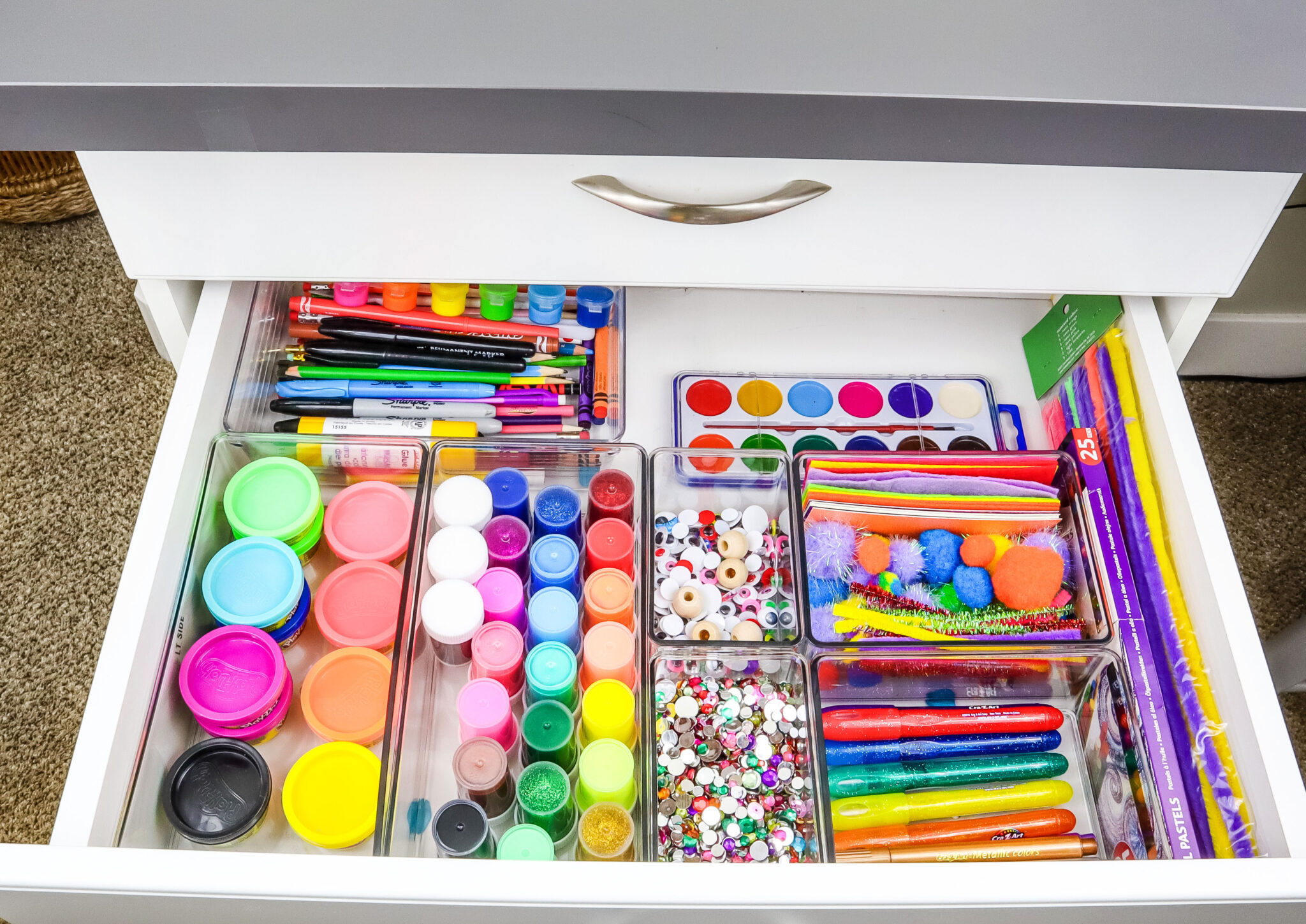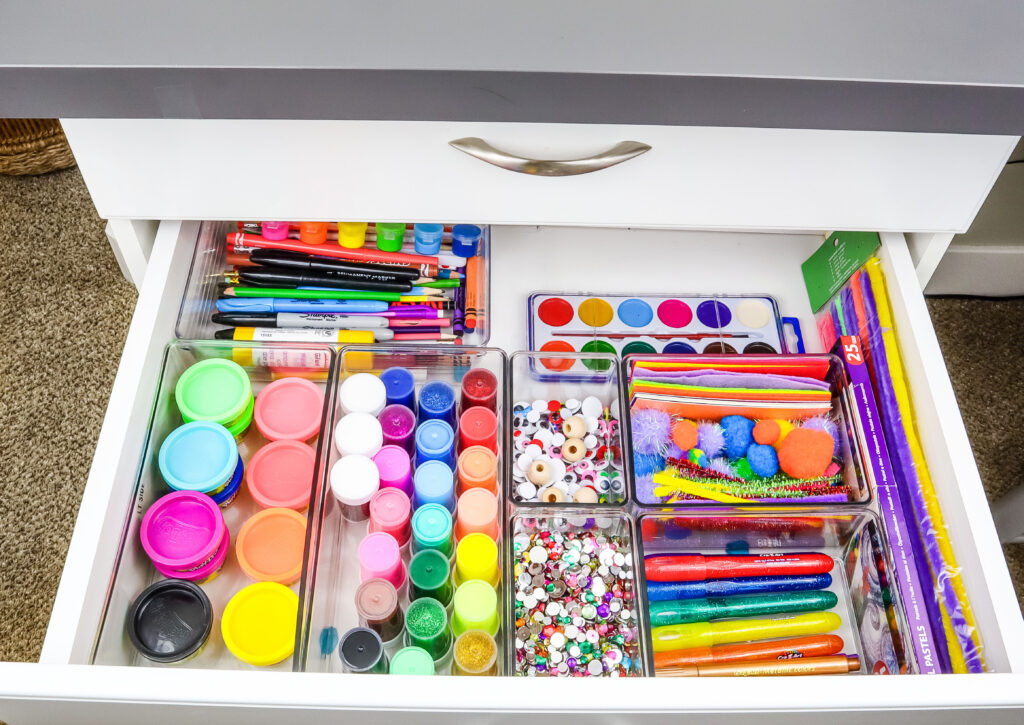 If you have more than one child, this is also a great way to designate specific art supplies for each kid. For example, one child can have all the markers while another child has all the crayons or watercolor paints. This way there is no fighting over who gets to use what and everyone has their own designated space.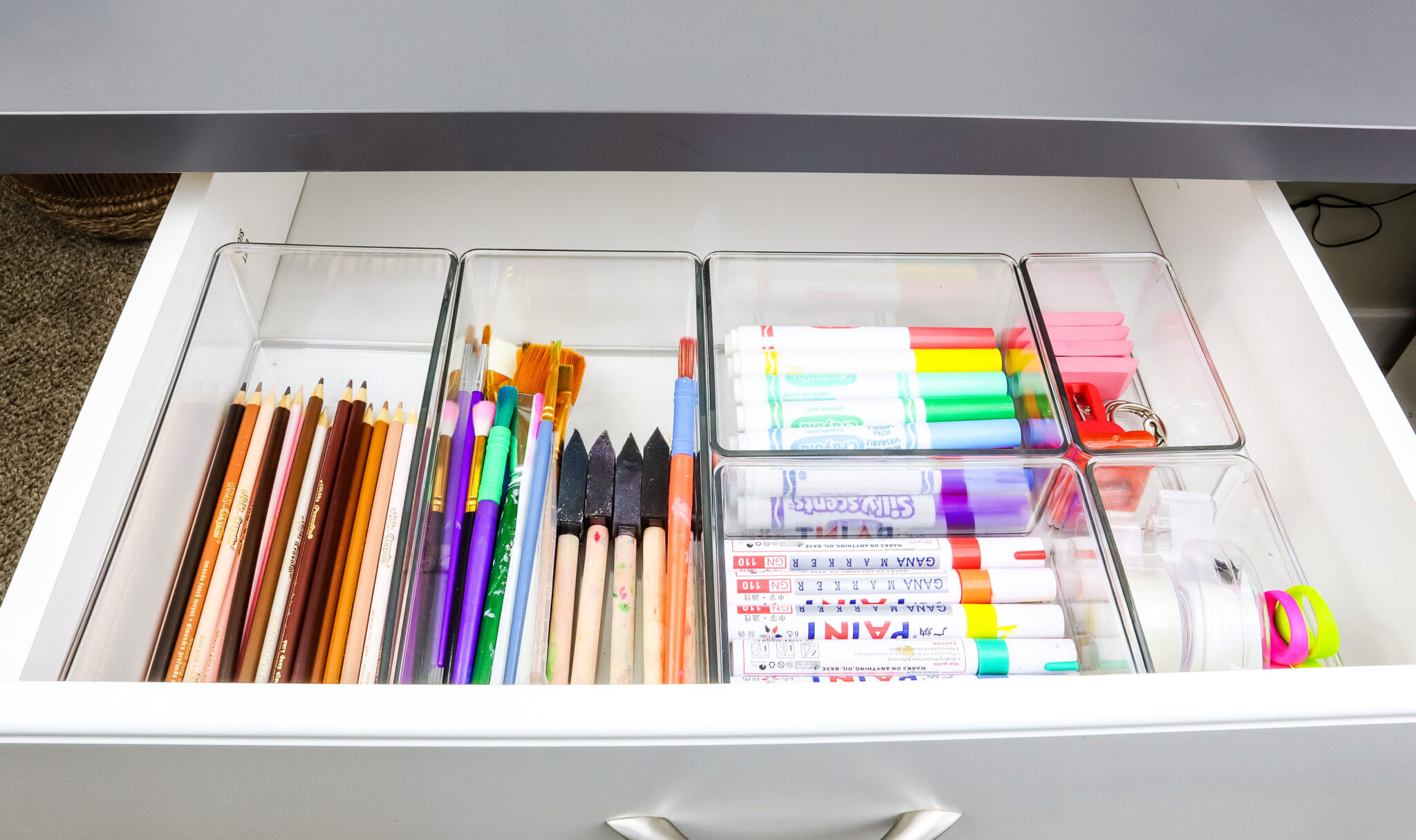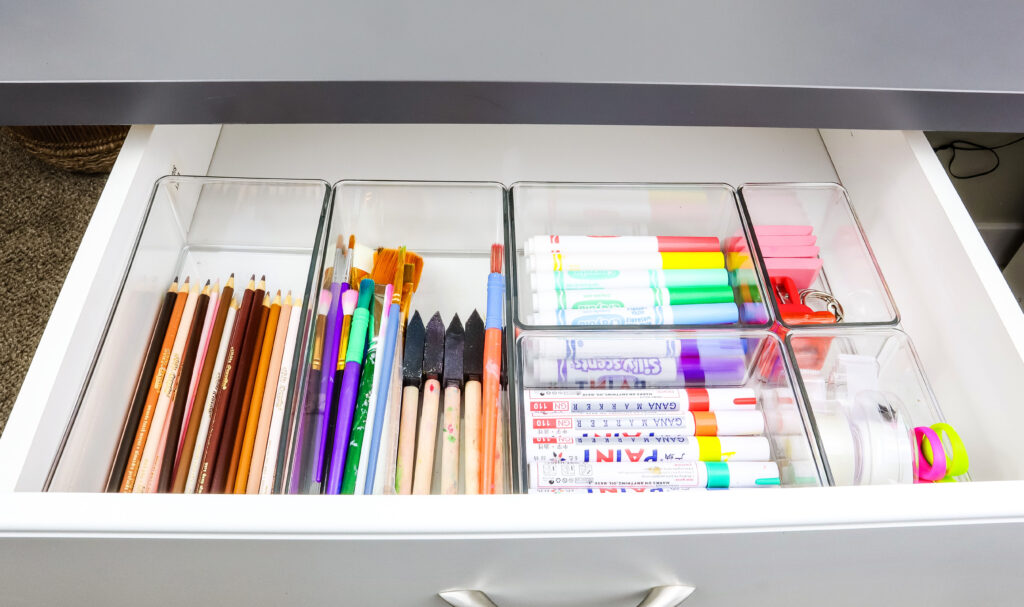 Drawer dividers are great for certain supplies that have a lot of little pieces, such as googly eyes, pipe cleaners, craft sticks, pom poms, sequins, rhinestones, or beads. There are so many varieties of kids art supplies that it can be difficult to know how to organize them all. But with a little creativity, you can come up with a system that works for your family and helps to keep things tidy and organized.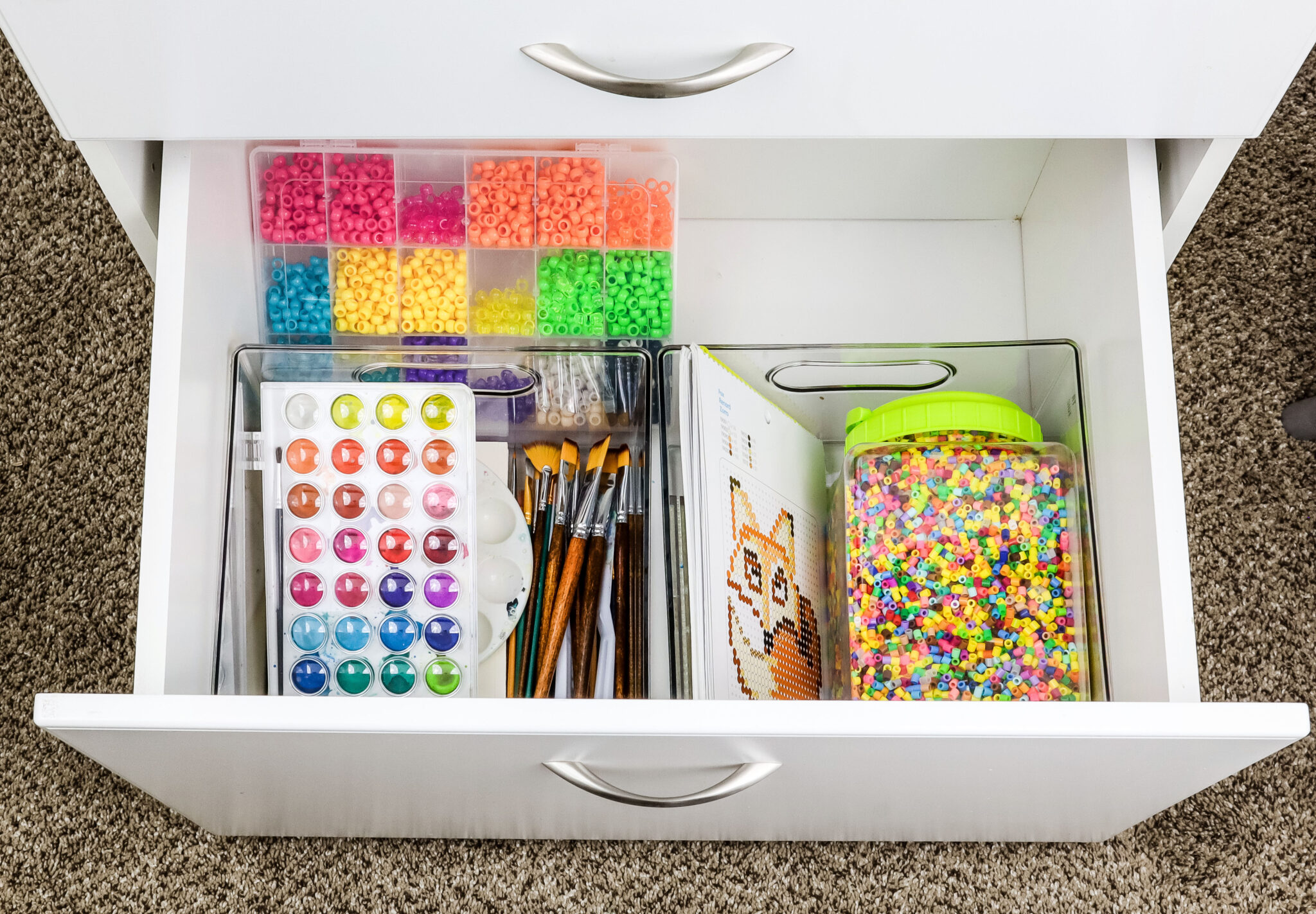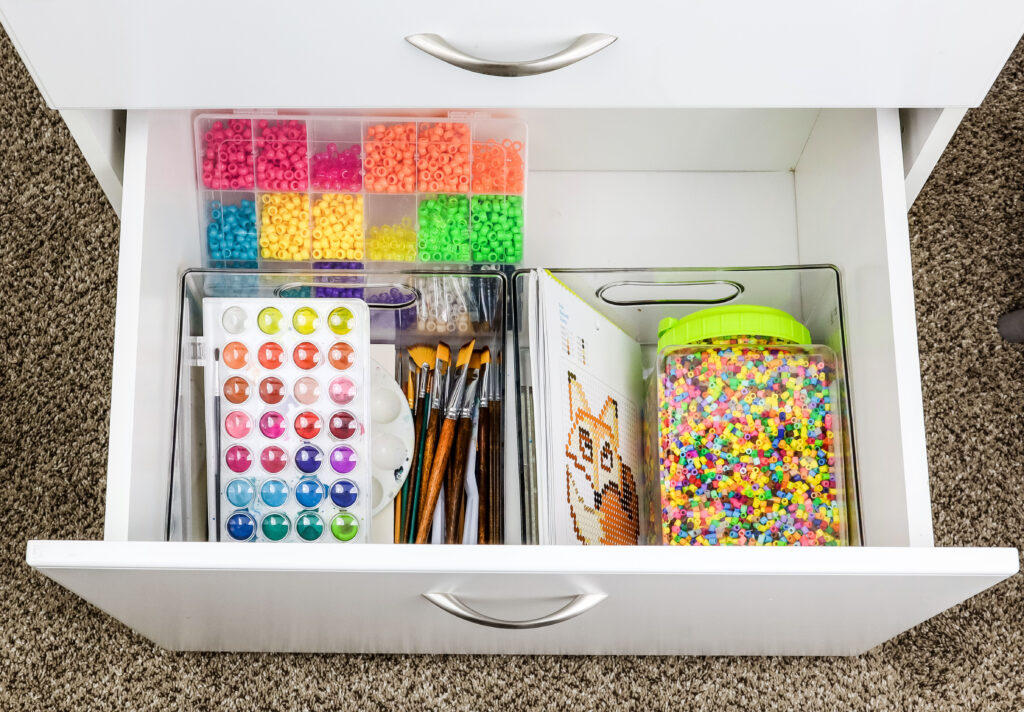 Stacking Organizer with Dividers
I'm in love with these stacking organizers. They are perfect for storing craft supplies or other art supplies that you need to keep mobile. My daughter keeps her craft supplies in the one on the left and it's easy for her to bring along on vacation if she wants to make bracelets or do other crafts.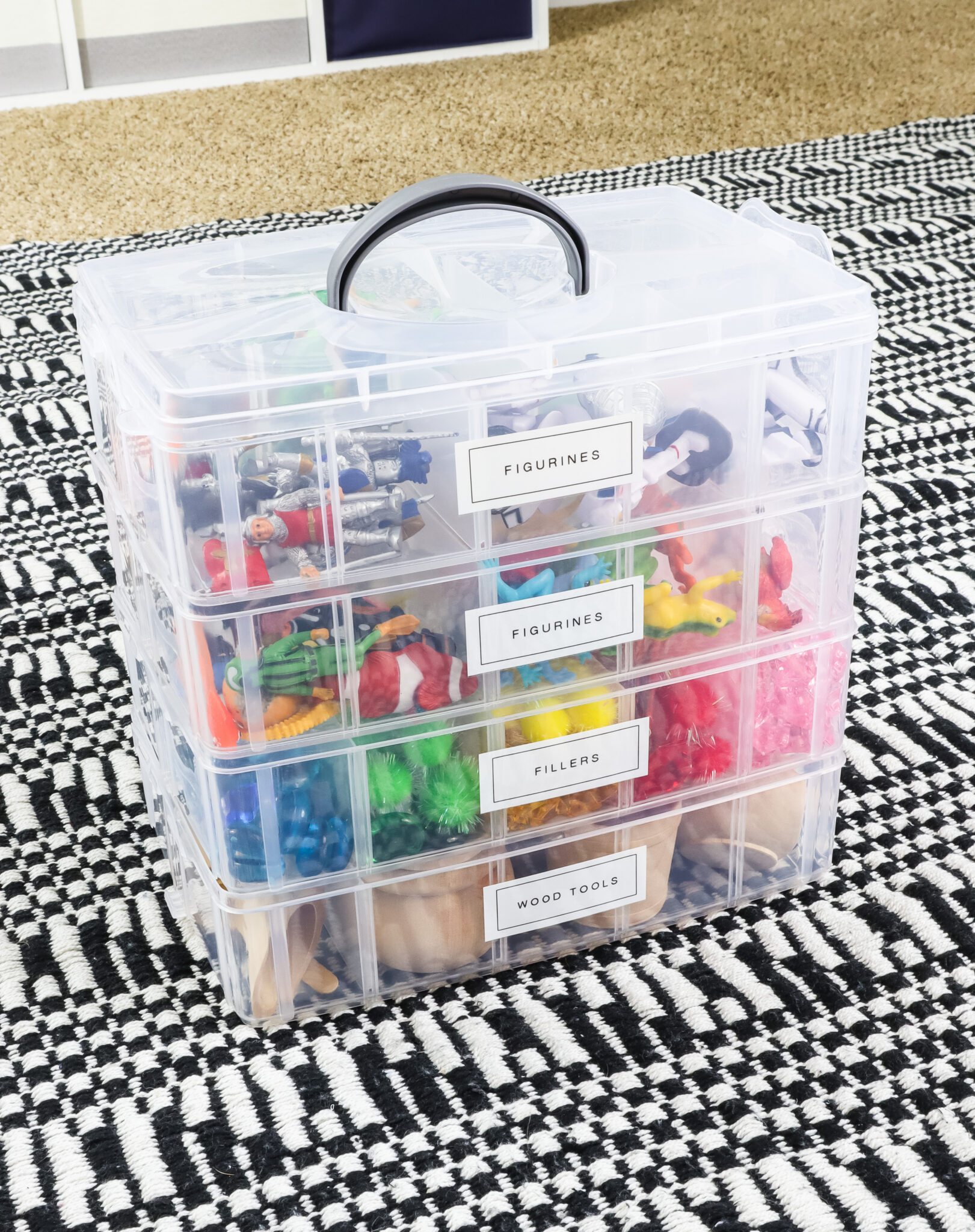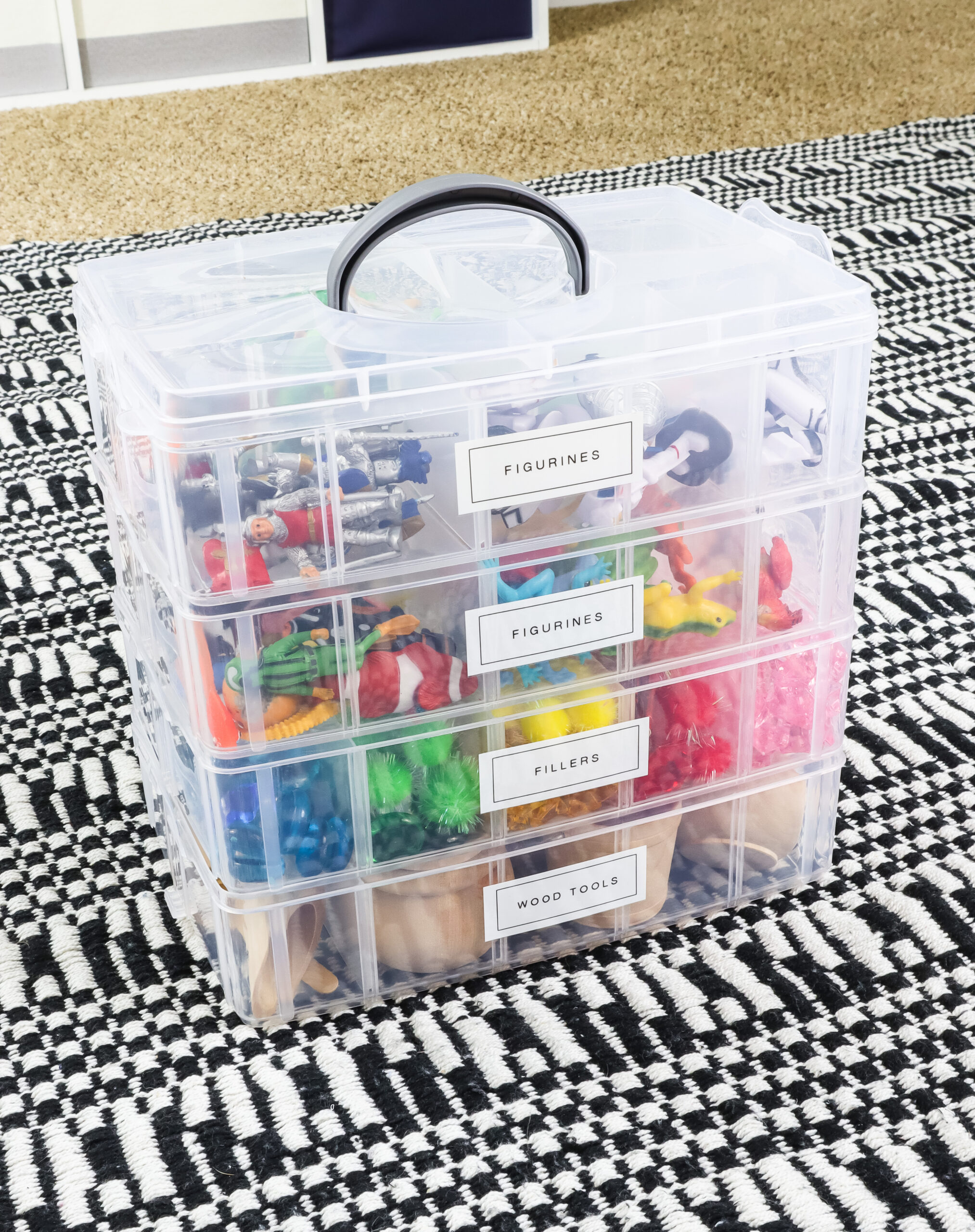 They also have dividers inside that are really great because they have dividers in each layer that you can easily adjust to fit the needs of your materials. You can un-snap each layer individually so you can grab exactly what you need. And the clear plastic makes it super simple to see what's inside.

Create an Art Cart
If you have a lot of art supplies, another great way to organize them is by using an art cart. This can be something as simple as an old rolling cart. This way you can easily move the art supplies around from room to room or even outside if your kids like to do crafts in the backyard.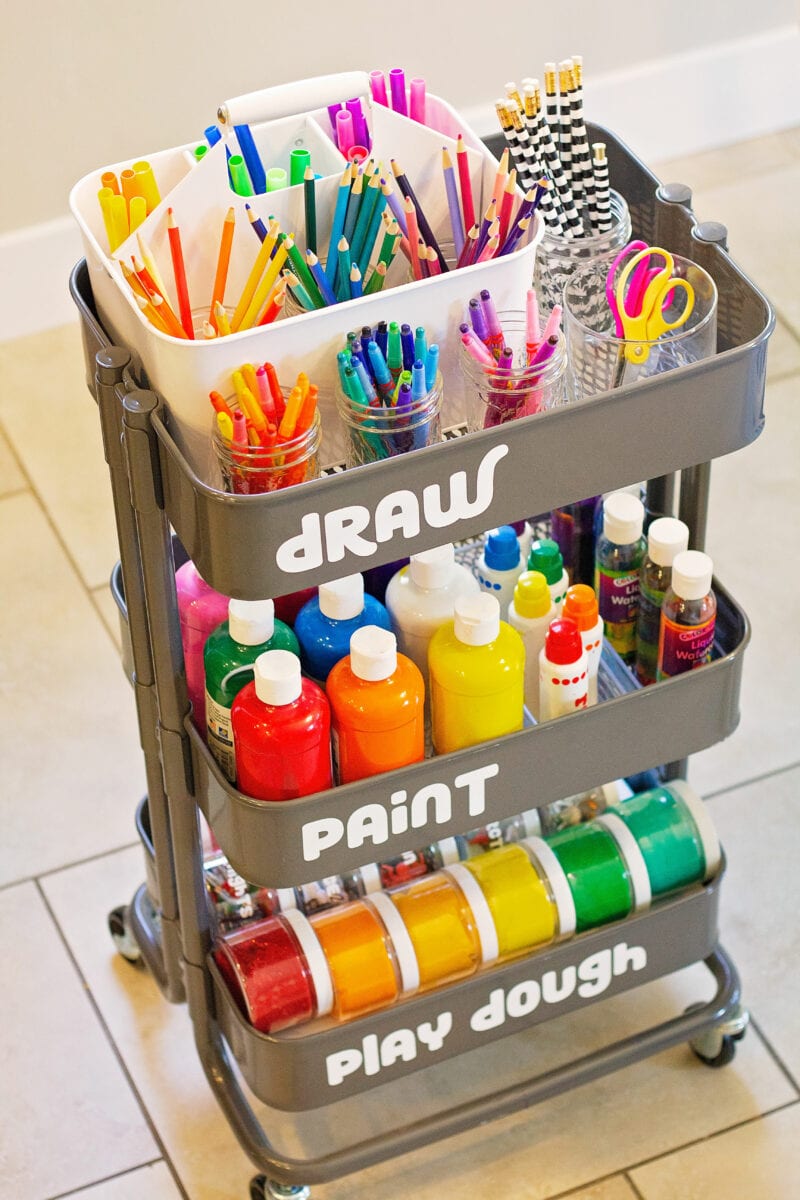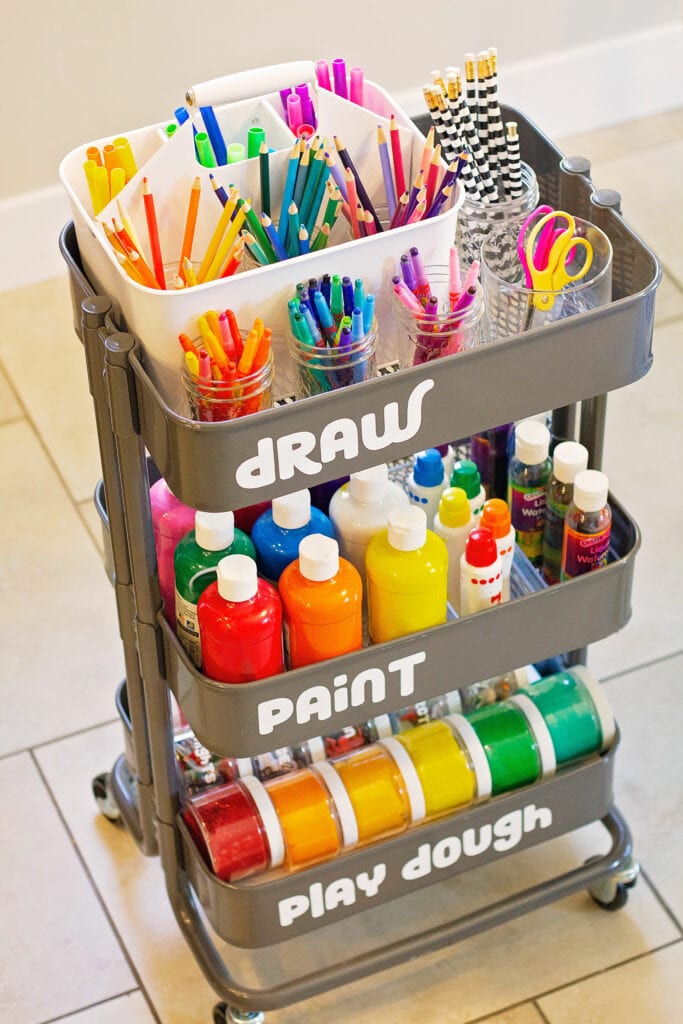 You can also use this as an opportunity to declutter and only keep the art supplies that are actually being used. For example, if your child never uses watercolors, then there is no need to keep them around taking up space. By decluttering you will not only make it easier to find what you're looking for but you'll also save money by not over buying items that you already own.
This is the perfect solution for kids art supplies because it doesn't require any installation and you can see everything that is available to use.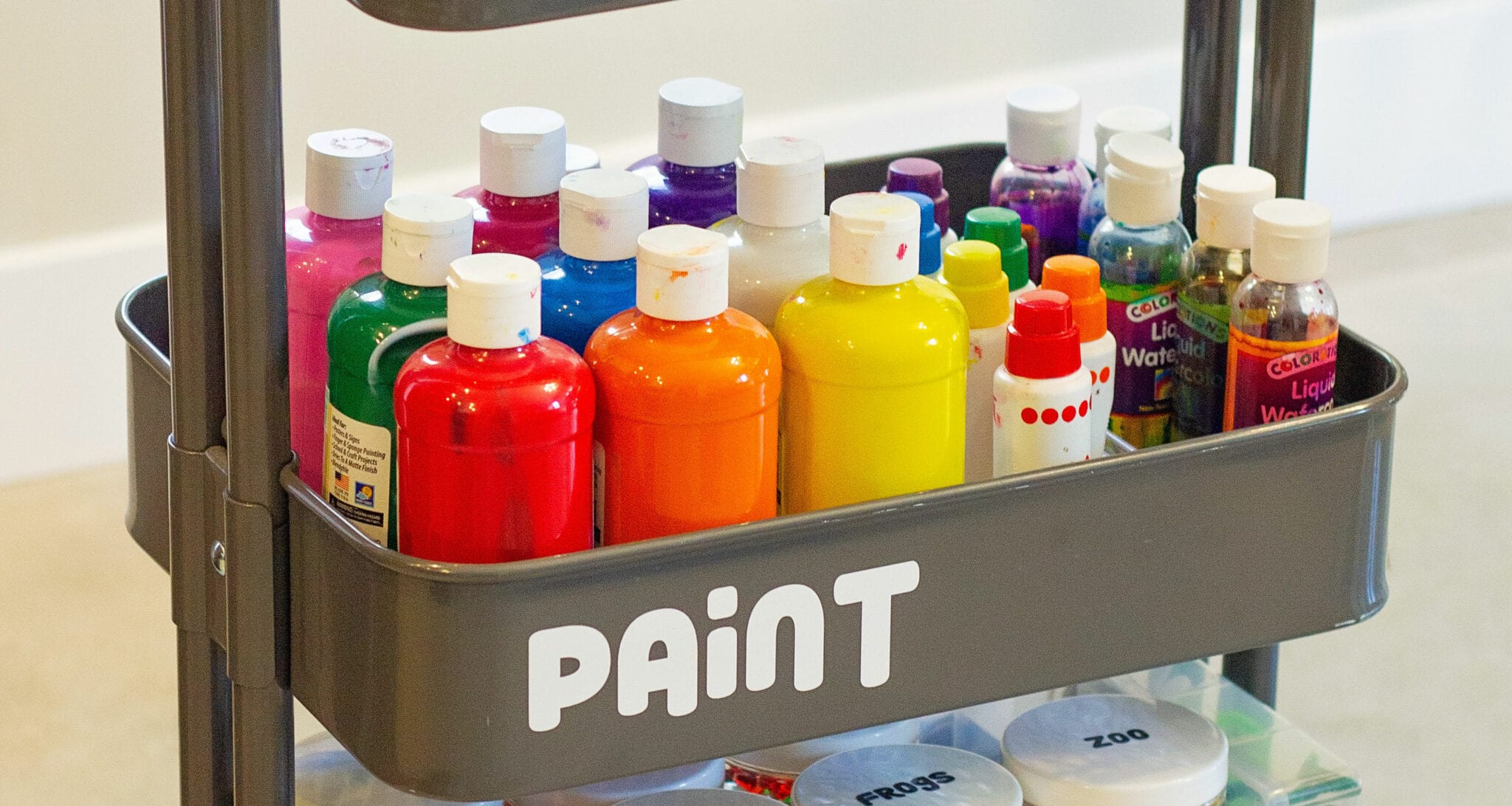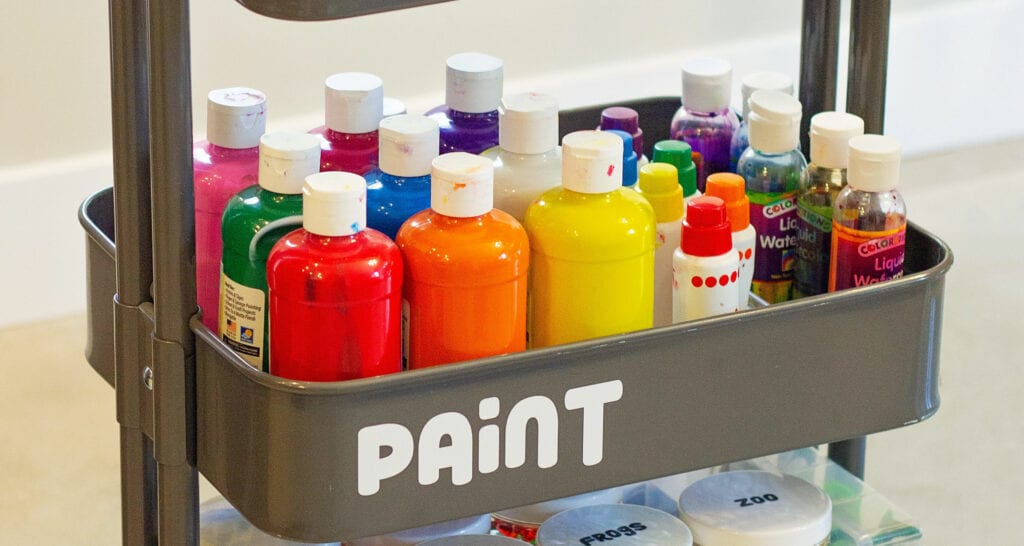 A wheeled cart adds a lot of storage to a small space that allows for a lot of mobility but also gives kids full access to their art supplies.

Stacking Drawer Units
Another great way to organize art supplies is by using drawers. You can either purchase drawer organizers really inexpensively from Walmart or you can even get really nice ones from the container store. This is a good option if you want to have a bit more control over how many art supplies they get out. You can easily just pull out the drawer that they need (ex: marker drawer, colored pencil drawer, etc.).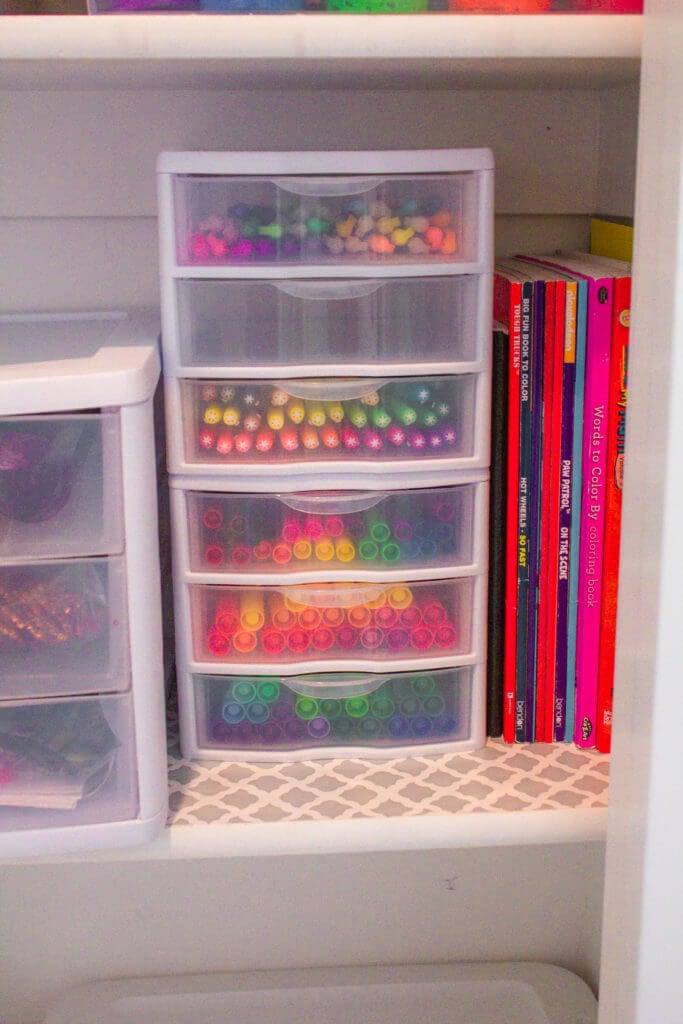 I really liked this solution because I could easily purchase more drawer sets to fit all our art supplies as we inevitably purchased more. Art supplies can really start to add up, so this is a great way to save some space. And if you have limited counter or table space for art supplies, then this can be a great solution for you!

Use a Caddy
Another great way to organize kids art supplies is with a caddy. A caddy is a great option if you have limited space or if you want to be able to easily more the art supplies to different areas of the house. This is also a great solution if you don't have drawer space or if you have small storage space.
If you want to take the caddy to the next level, you can put in pen/pencil organizers from the dollar store inside the caddy and you can further organize the supplies to make your life easier. You can easily split it up into sections of paintbrushes, glue sticks, scissors, colored pencils, or markers to keep everything organized.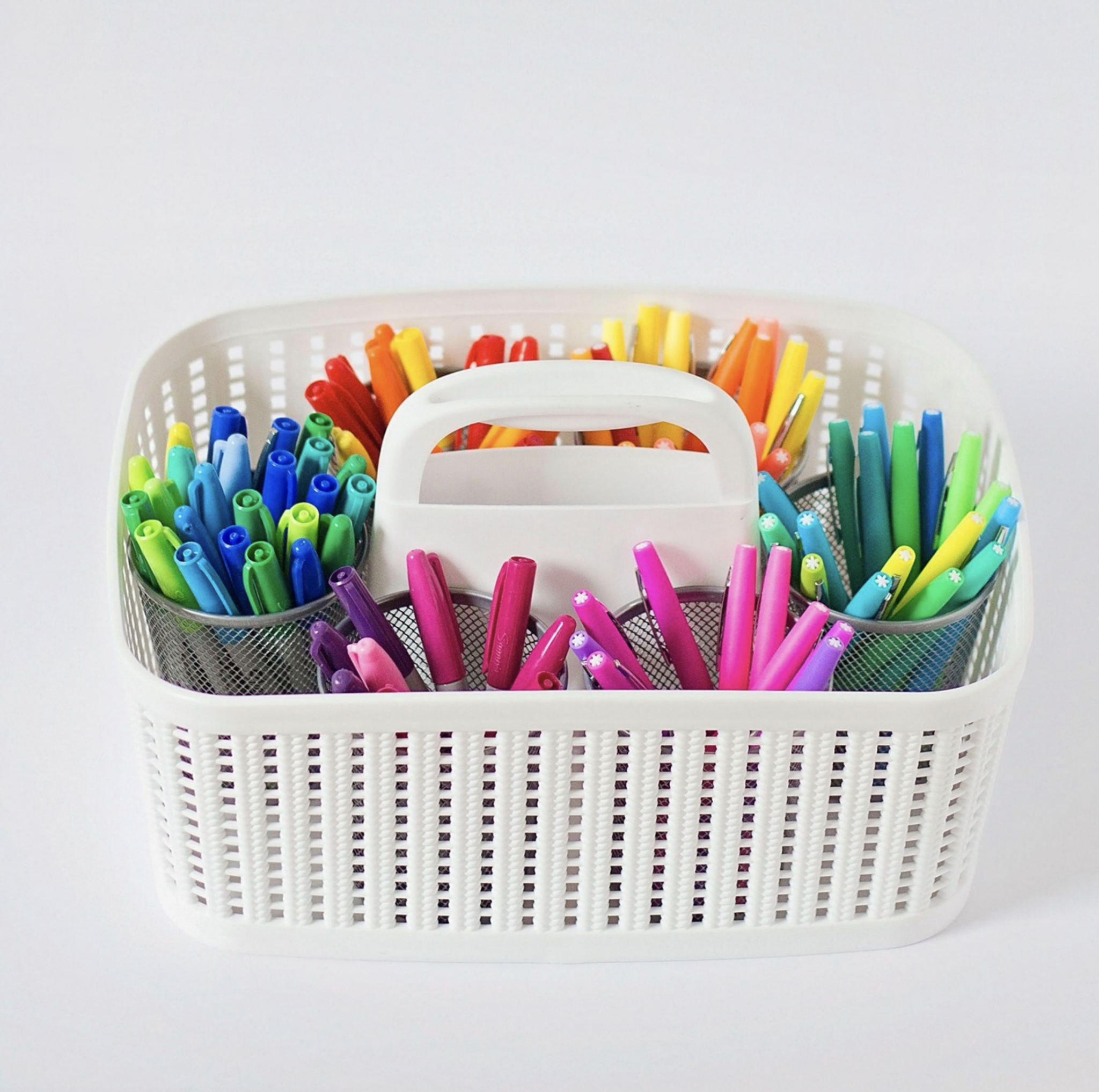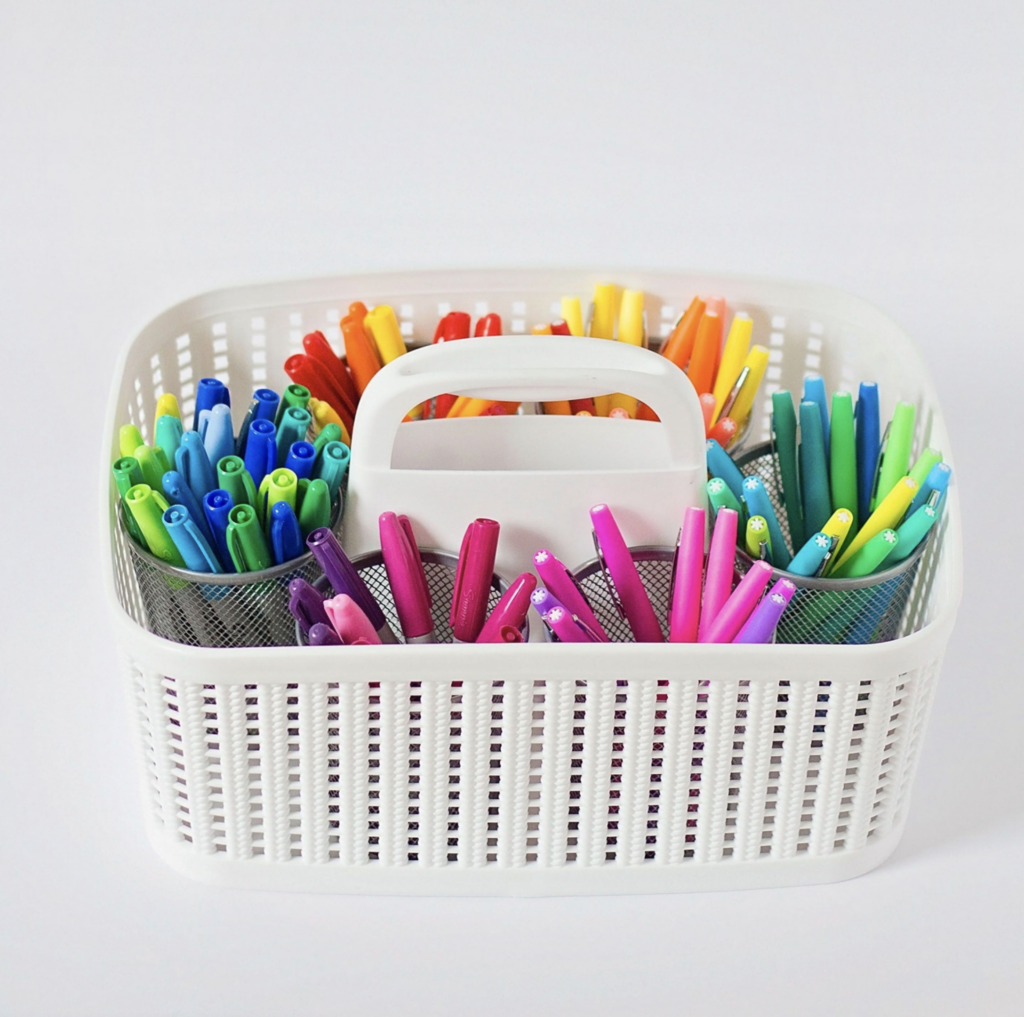 This is also a great option if you have a craft space that has a lot of paint bottles or other paint materials. You can easily add all of your paint to the caddy and grab it only when you need it. The paint stays organized and easy to access when you need it. I particularly love using a caddy if you have a small space to work with.

Peg Boards
If you have extra wall space, pegboards are a great way to organize your kids art supplies. You can buy pegboards at most home improvement stores and they come in different sizes.
Kids art supplies can be hung on the pegboard using bins that have hooks and you can easily see everything that is available. This is a great way to organize things if your kids like to do art projects that require a lot of different supplies.
Pegboards can also be painted or decorated to match the decor in your child's room or play area and you can easily add bins as your kids art supplies expand.
Plastic Storage Bins
Plastic storage bins are a great solution for art supply organization because they come in a variety of sizes and colors.
You can buy them at most stores that sell home supplies or you could look online for some deals. The dollar store even has some great storage containers to store materials, paper, food coloring, you name it!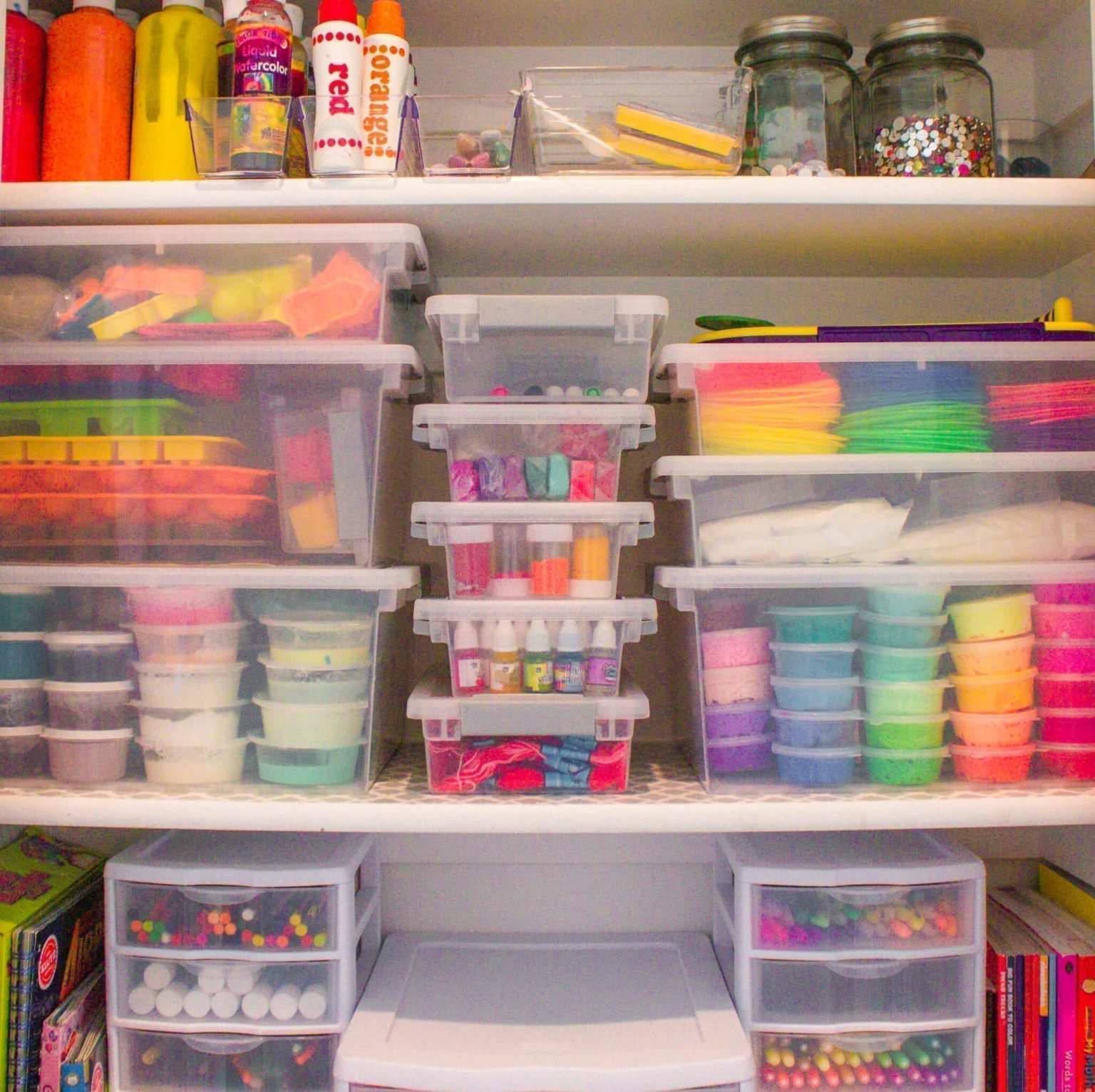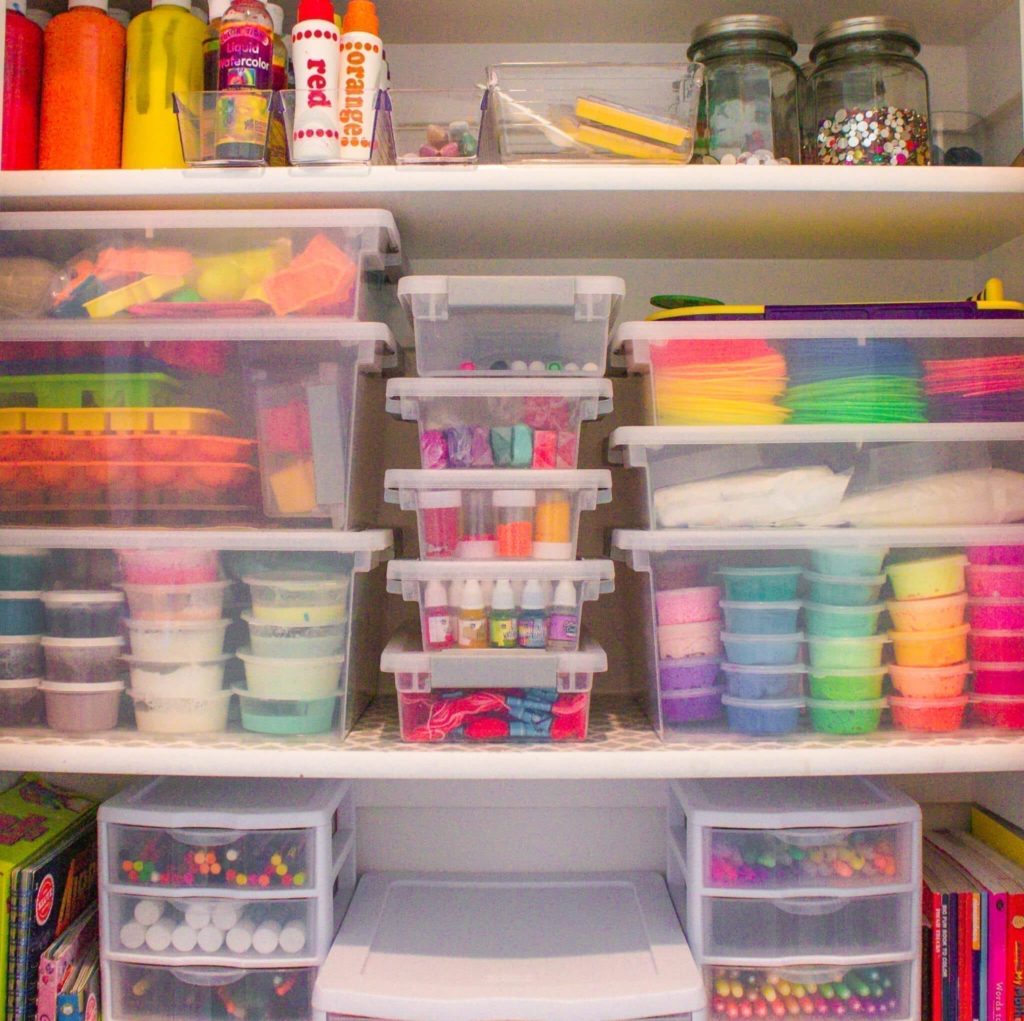 Bins with lids are great for keeping supplies dust free and they also help to prevent any accidents if a child accidentally knocks over the bin.
Labels make it easy to keep it organized and easily identify what materials are in what container.

Over the Door Shoe Organizer
One of the most creative art supplies organization is to use an over-the-door shoe organizer. It hangs neatly on the back of the door of your choosing and doesn't take up any extra space that you otherwise didn't have. It's a genius storage solution that easily separates all of your kids art supplies and keeps it all incredibly organized.
SHOP OVER THE DOOR ORGANIZERS

Glass Jars
Kid's art supplies can also be stored in mason jars or other glass jars. This is a great way to see everything that you have at a glance and it's easy to grab what you need without having to search through a bunch of different containers.
Organizing your kid's art and craft supplies doesn't have to be difficult or time-consuming. Just make sure that they don't pull the glass jars down on themselves and get hurt! This is definitely one of the more stylish storage ideas but the jars can be expensive if you need to buy a lot of them.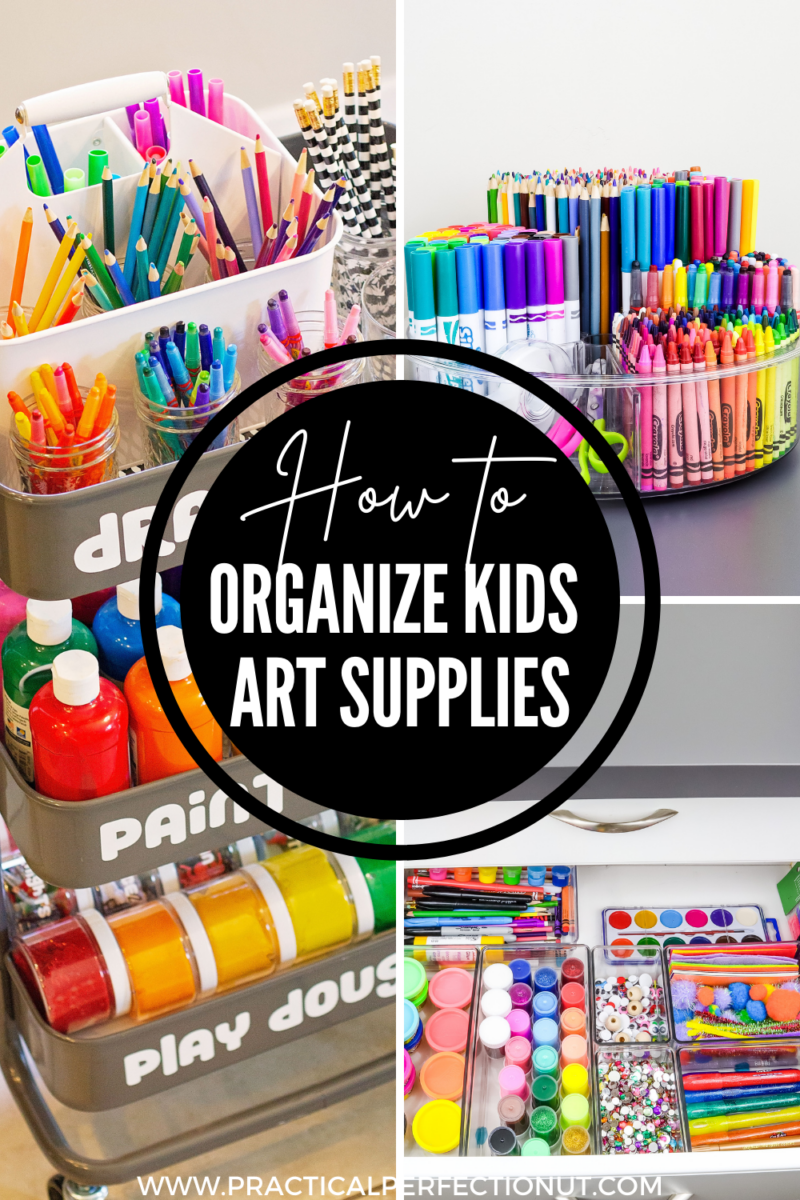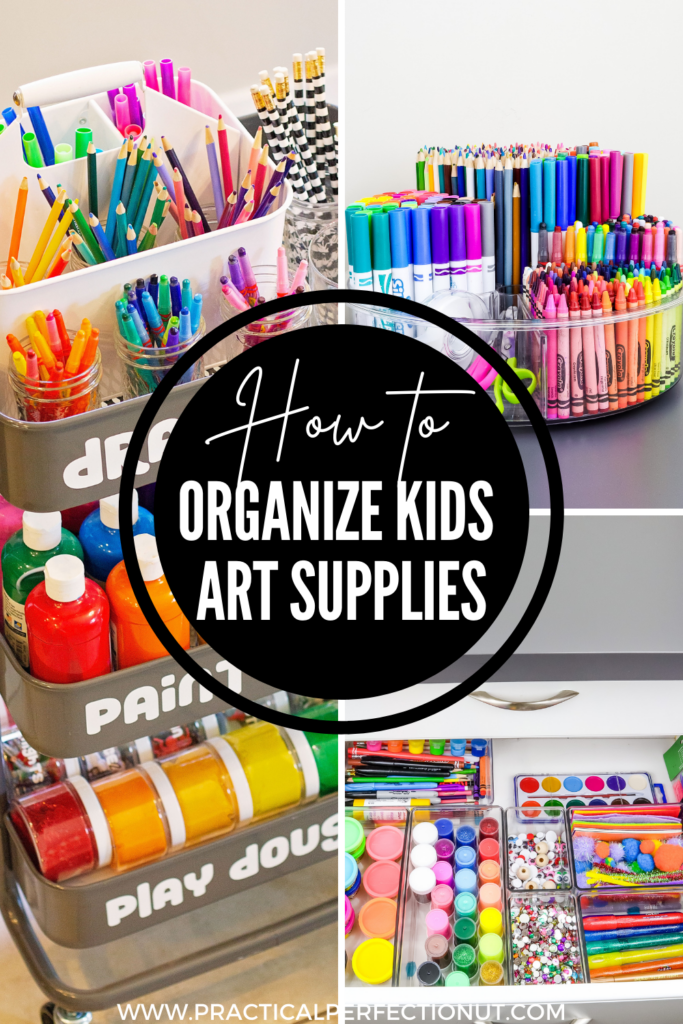 A Tiered Tray
A tiered tray is a great way to organize your kid's art supplies if you have limited counter or table space. This type of organizer can be placed on a desk, countertop, or even the floor. It's perfect for holding all of those little odds and ends that seem to disappear when you need them most!
You can take it a step further and use small baskets on the tray to keep things even more organized, similar to the caddy idea. This is a more decorative storage idea, but storage is storage, right?!
I am a professional organizer but first and foremost, I am a Mom! No matter what keep in mind that these storage solutions only provide you with great ideas. And great ideas can always be tailored to fit your own specific needs.
If you've got a really low budget, my best recommendation for storage ideas to keep kid's art supplies organized is to use what you have. Use old cereal boxes, an old shoe box or any unused baskets that you already own. You can also check out the dollar store!