How to Create a Halloween Boo Basket: Fun Ideas for Kids
If you're looking for a fun way to get your kids excited about Halloween, why not create a boo basket? If you've never heard of a boo basket before, it's a little basket filled with all sorts of goodies that will keep them entertained all month long.
In this post, we will give you some ideas of what to put in your child's boo basket. We will also show you how to make the basket itself! Let's get started!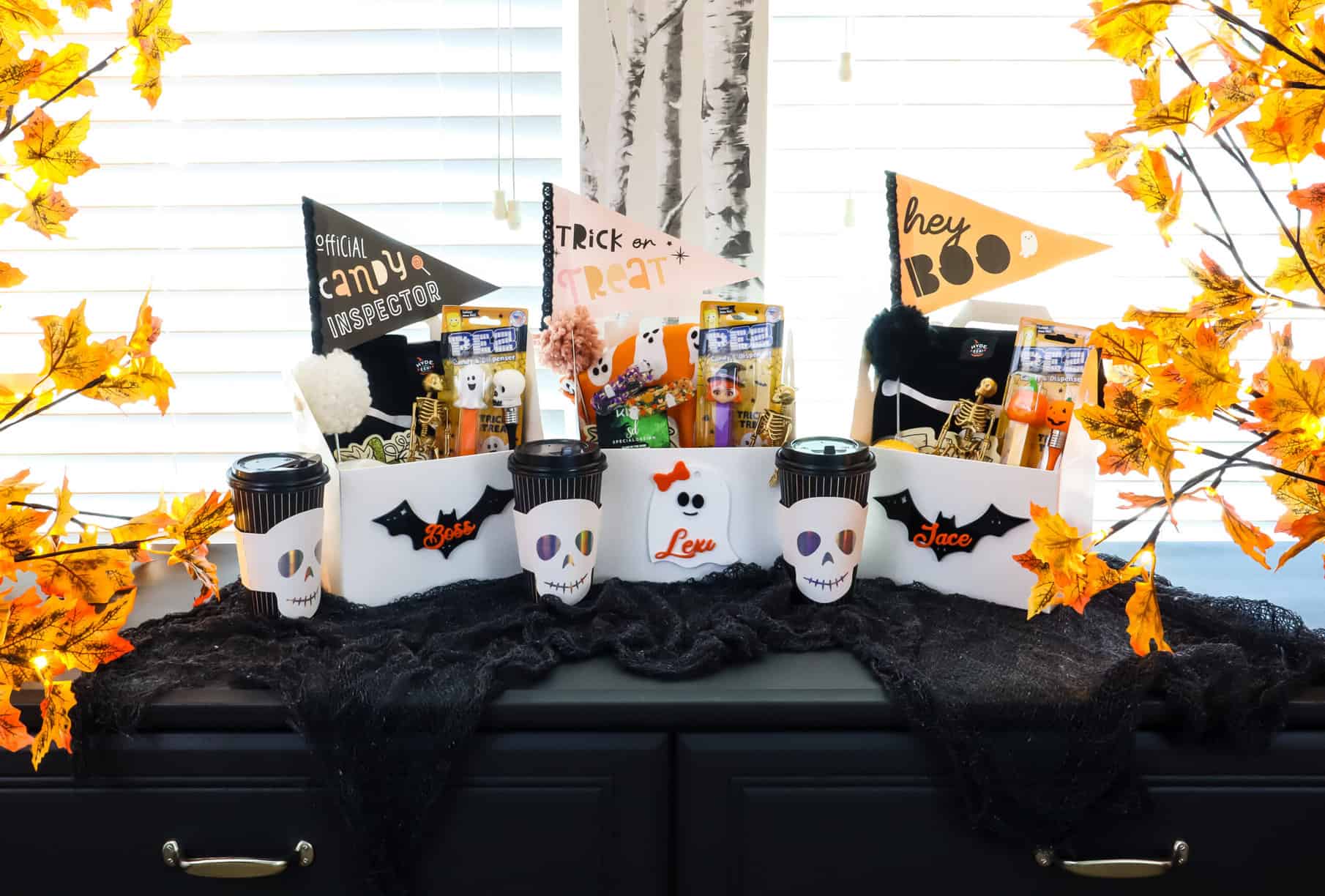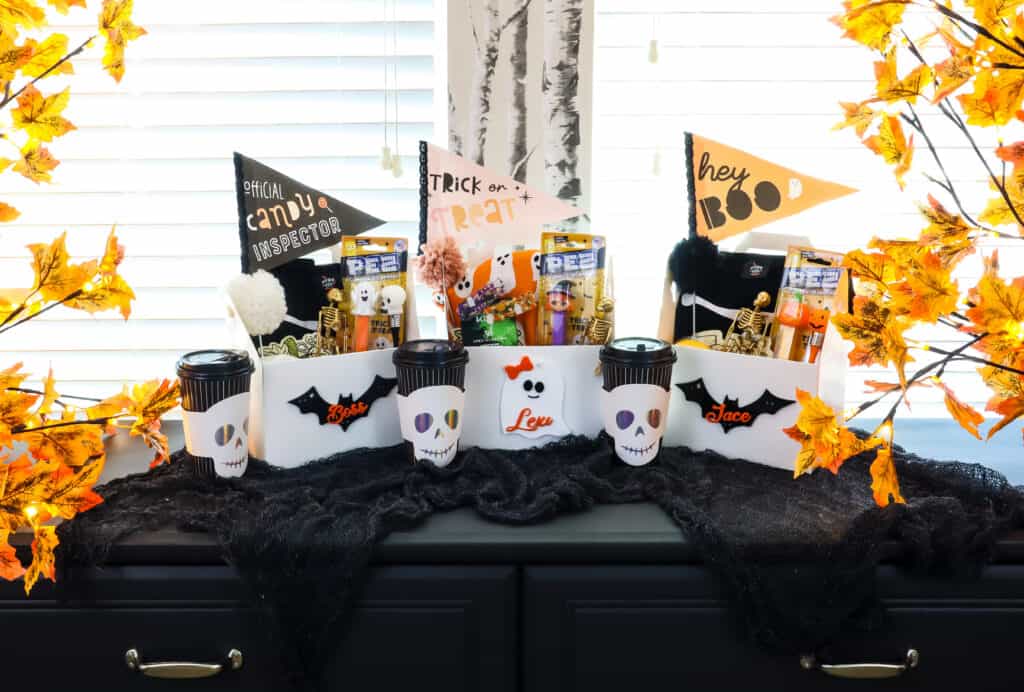 How to Make a Kids Boo Basket
So, first things first – what is a boo basket? Like I mentioned above, a boo basket is a small basket filled with Halloween-themed goodies. It's the perfect way to get your kids excited about the holiday! This means books about Halloween, Halloween-themed apparel, toys, and more.
Making a Halloween boo basket is super easy! All you really need to do for Halloween boo baskets is to buy or make a small basket, and then fill it with all sorts of fun Halloween goodies! Even if you don't think you're creative, you can still make an adorable boo basket that your child will love!
If you want to add a cute (and inexpensive!) pendant banner to your basket, I purchased these ones and I LOVE them! It even comes with 30 varieties!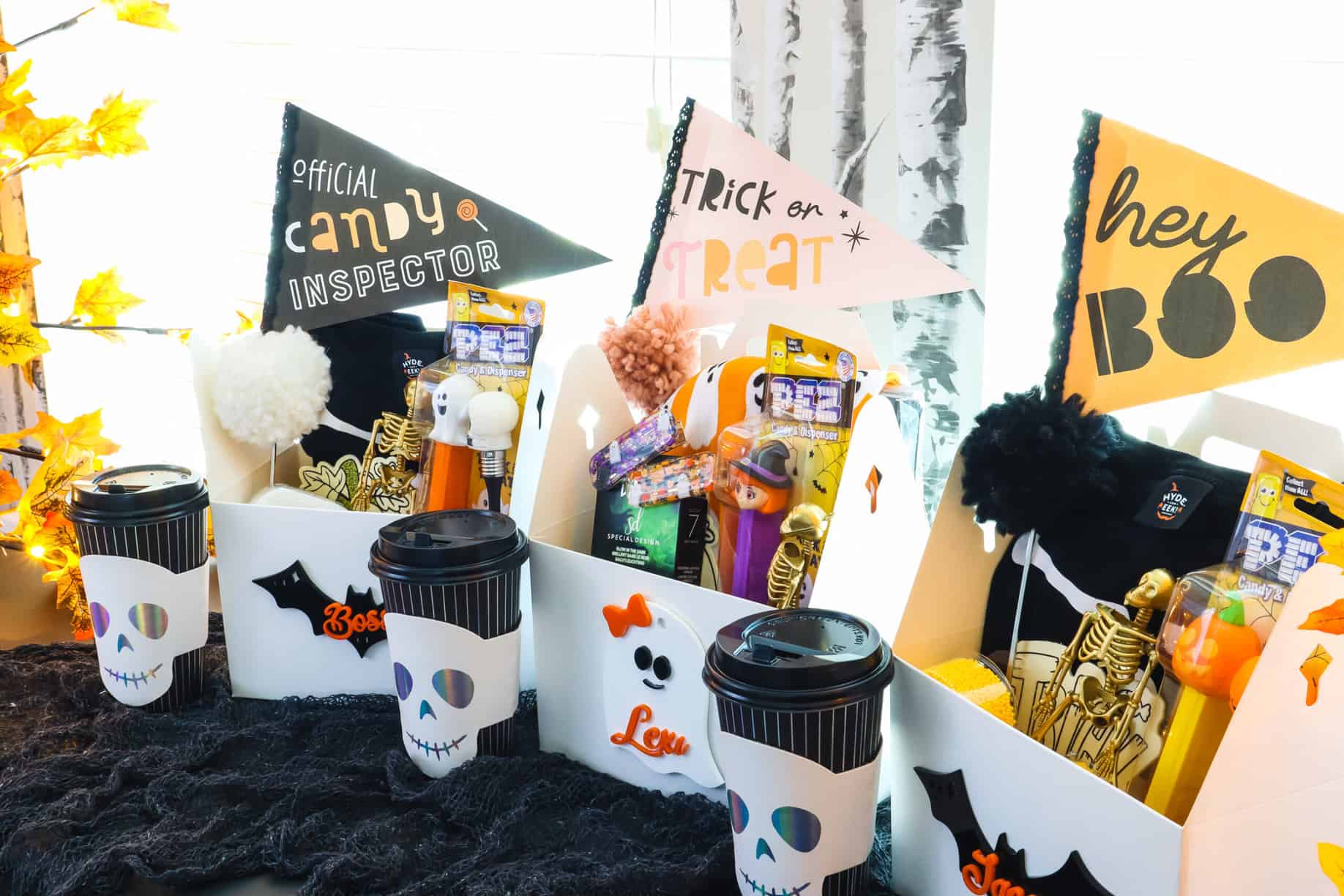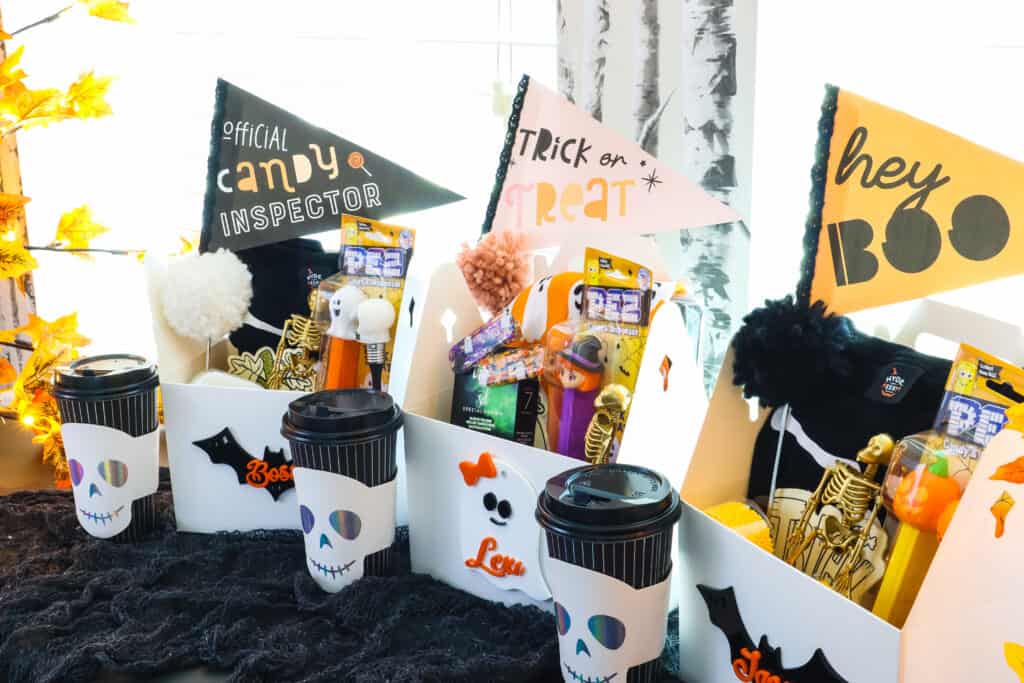 What You Need for Boo Baskets
To make a boo basket, you will first need a basket! You can find tons of baskets online or in a store, and you can get whatever size or color you'd like, though getting one in orange or black would make for a nice, spooky basket.
If you can't find a basket or only want to include a few treats, you can also get a gift bag. It's a wonderful surprise that your kids would love!
I didn't want to spend a lot of money on baskets so I chose to buy some white gable boxes that would hold just a few fun surprises for my kids. Keep in mind that the bigger the basket you buy, the more money you have to spend to fill the basket.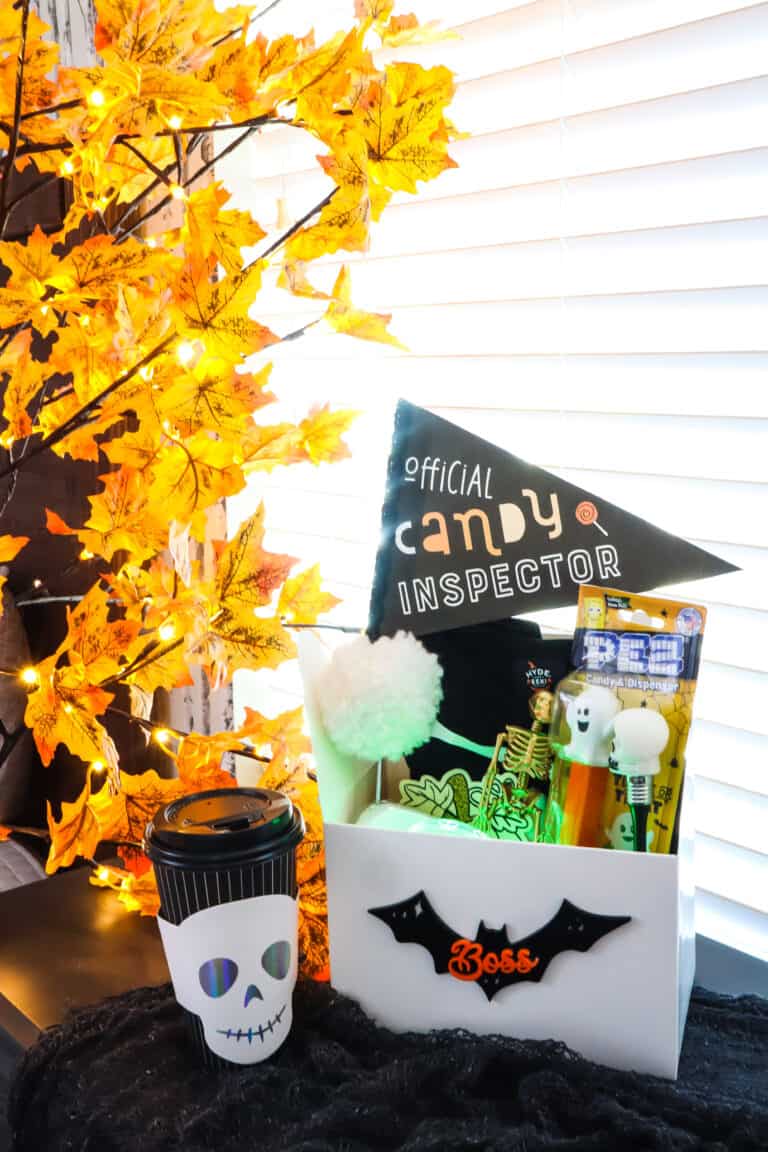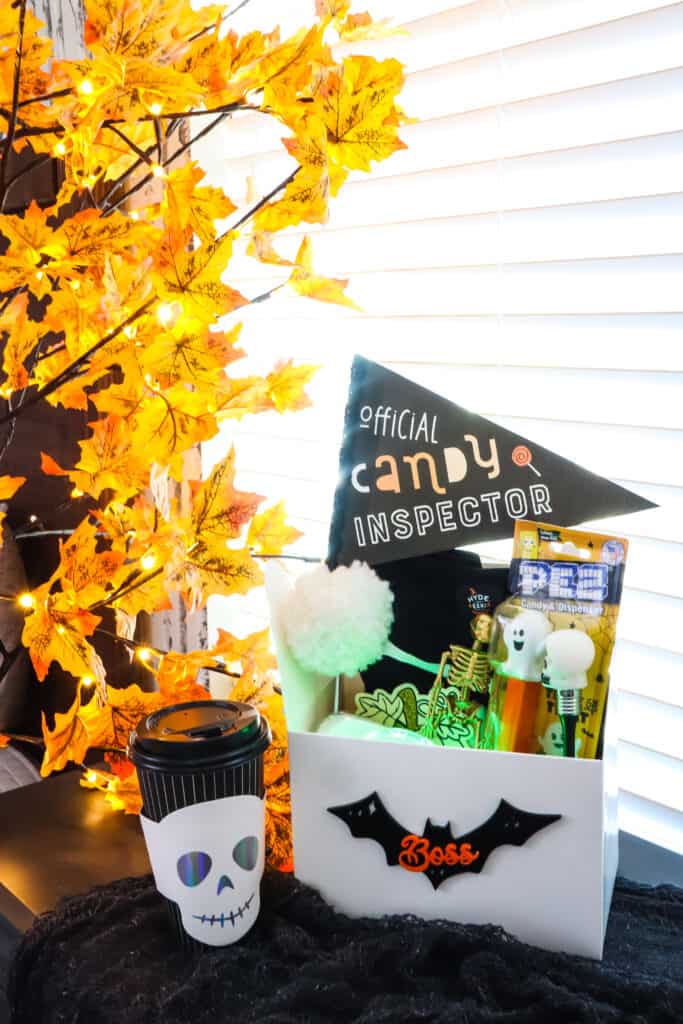 In addition to a basket, you'll want to get some gift basket paper shred for your basket (or some kind of basket filler to sit at the bottom and cushion your gifts).
I also love adding a name gift tag to my basket. This ghost tag is super cute, or if your kid likes bats more, here is a fun bat tag. Adding a tag to your basket or bag is a nice touch that your kids will absolutely love!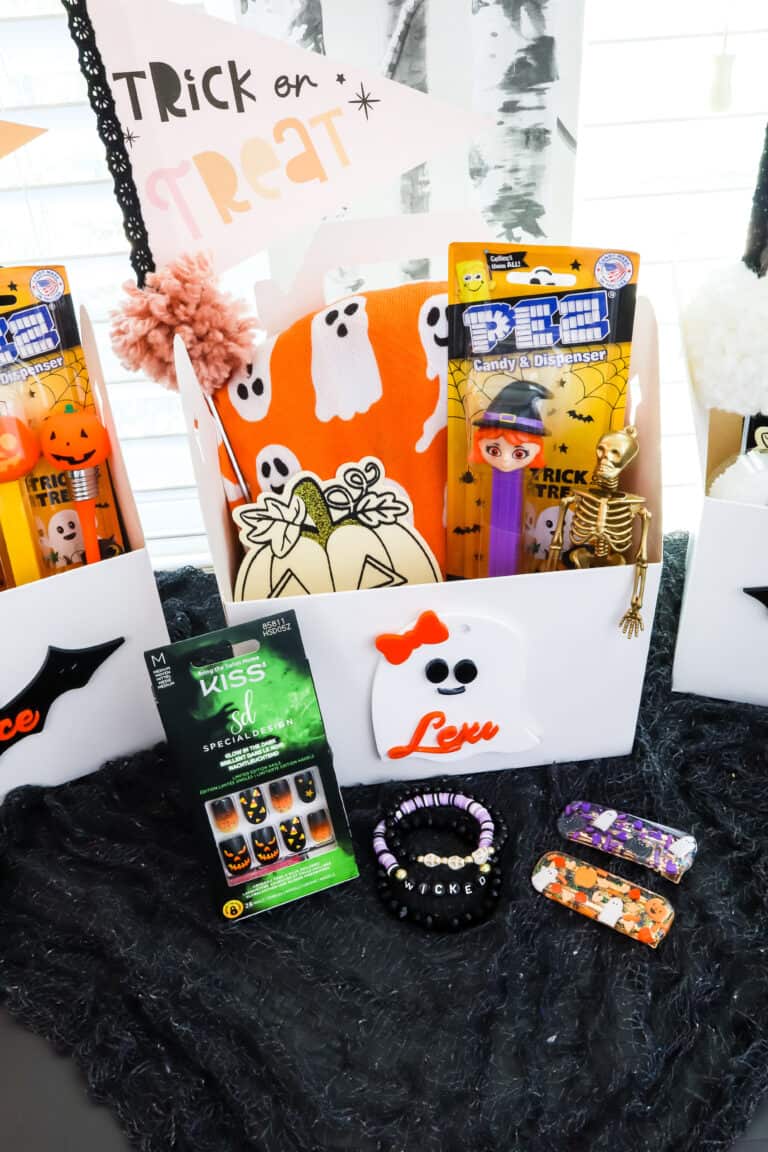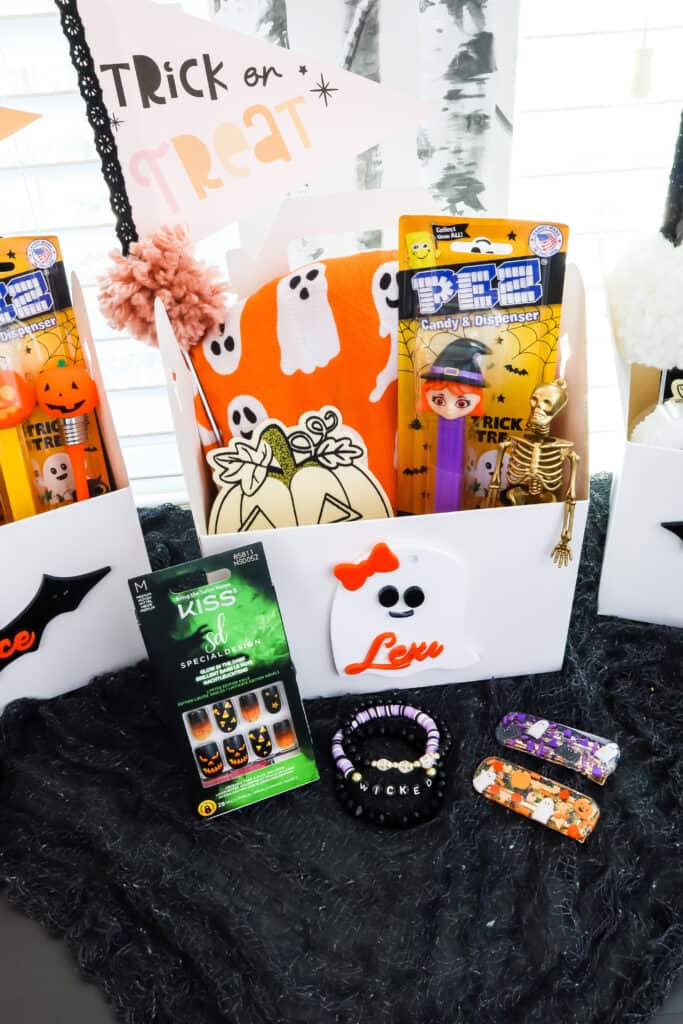 Now that you've got the basket, it's time to choose the Halloween goodies to go inside your spooky basket. You can hit up the dollar store or the Target dollar spot for some great small treats, but here are some of my favorite spooky basket ideas.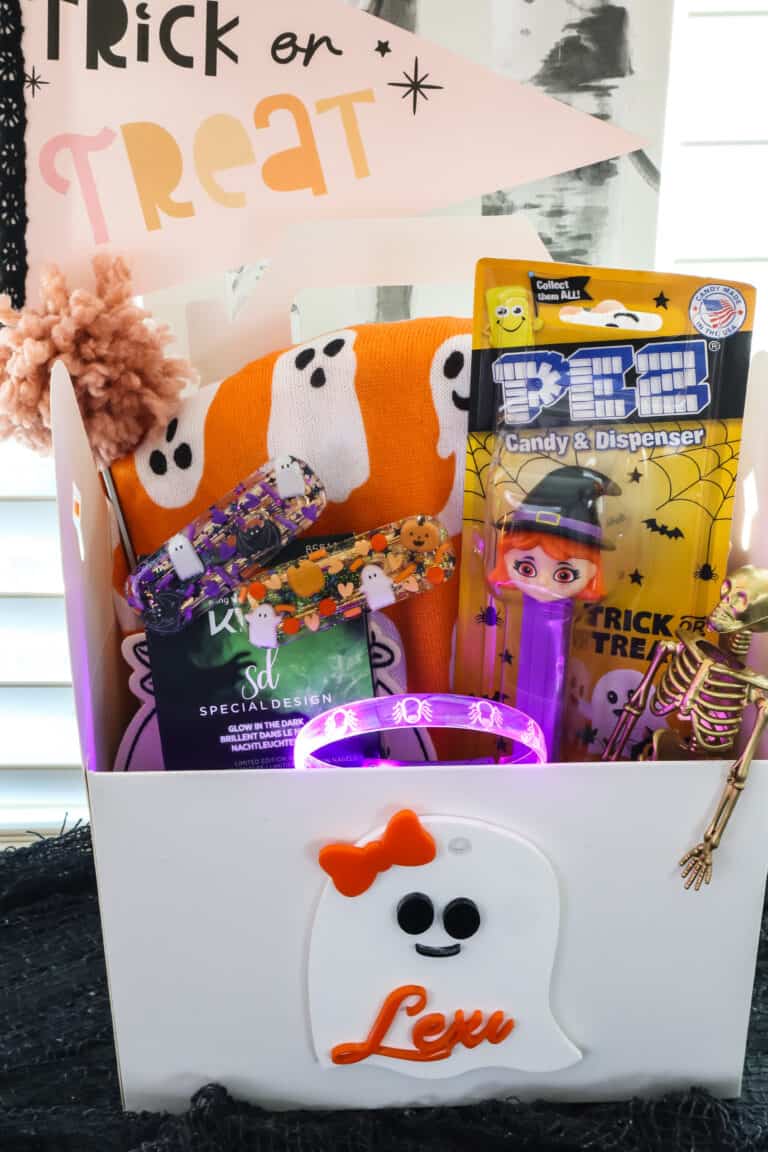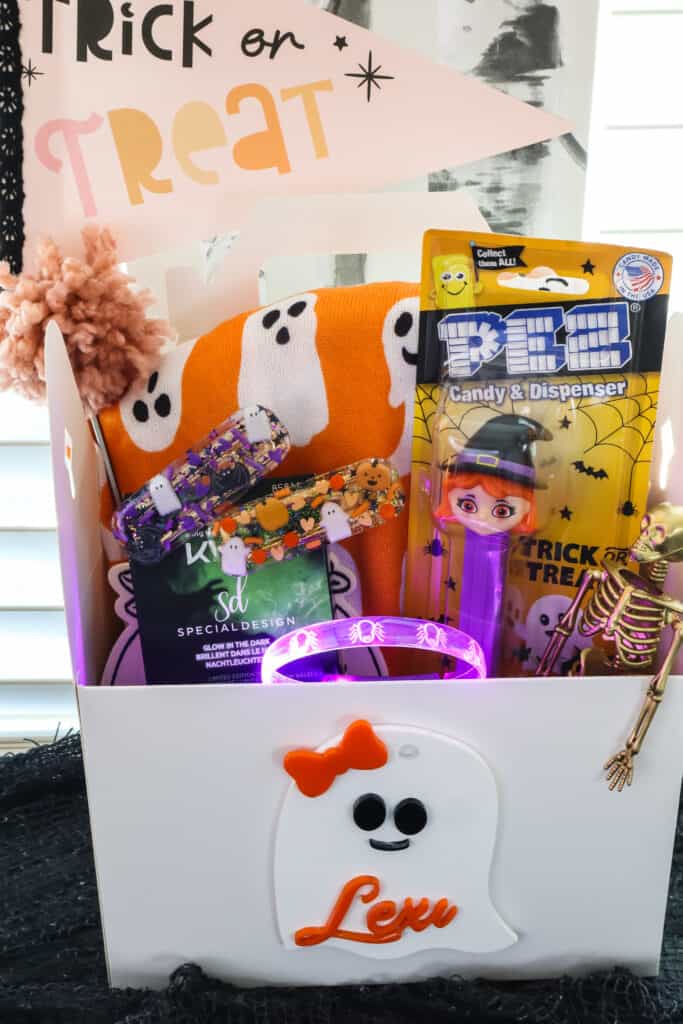 Halloween Books
One of my favorite Halloween books is Gustavo, the Shy Ghost. It's the story of, well, a shy ghost. He has a hard time making friends with other monsters, and this story is all about how a little ghost makes friends! It's adorable.
Another cute book is Creepy Carrots! This story is about a little rabbit that loves eating carrots until the day the carrots start following him. It's a funny book that your kids will love.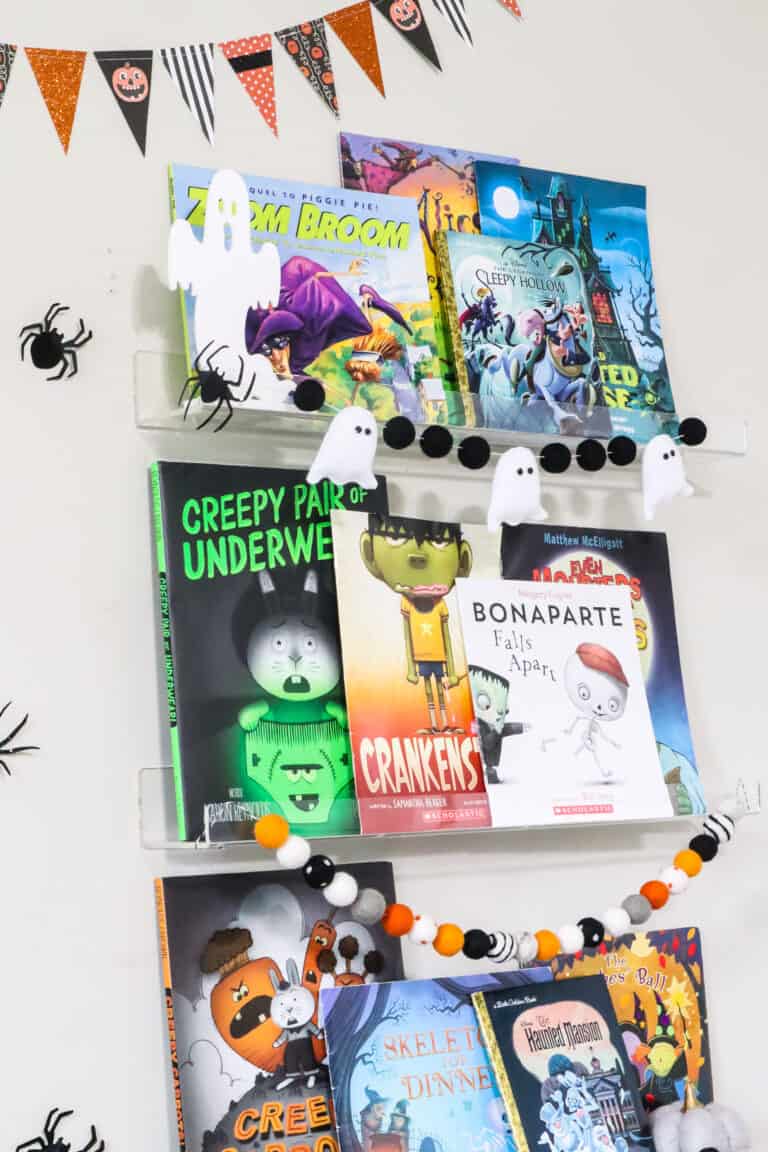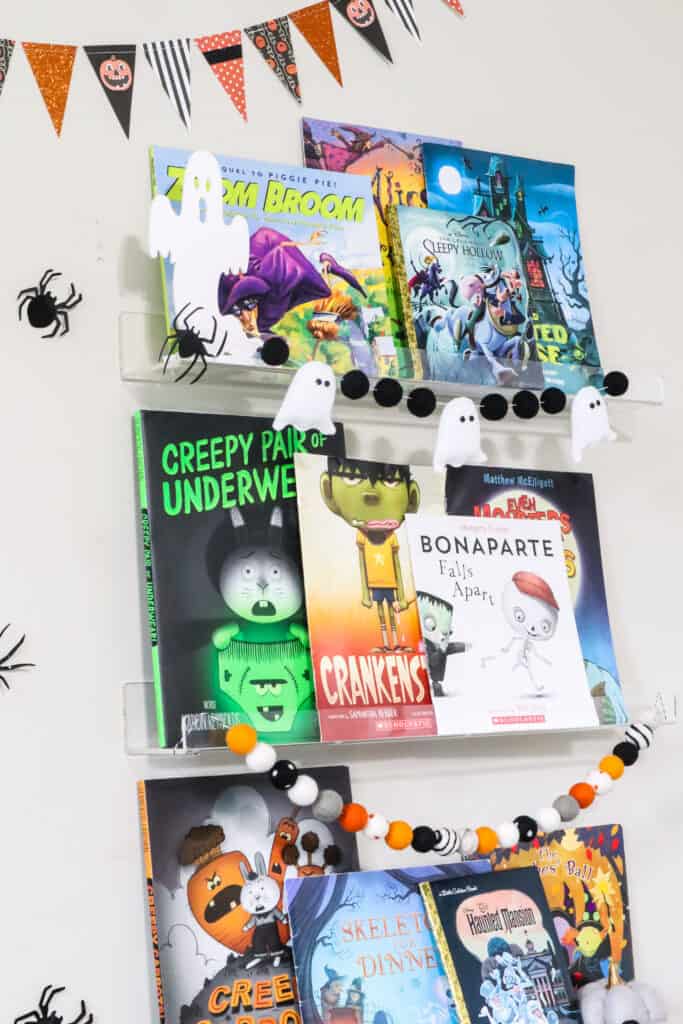 You could also get Vampire Vacation. It's about a vampire named Fang who convinces his family that a beach holiday would be better for a family of vampires than yet another trip to Transylvania. It's funny and the illustrations are so cute!

Halloween Toys
If you're looking for fun toys to include in a spooky basket for little ones, you can add a few of these items.
A small, soft plush toy in the shape of a black cat, spider, bat, witch, ghost, or other Halloween creature
A set of plastic vampire teeth
A glow-in-the-dark skeleton
A small flashlight
A pack of temporary Halloween tattoos
Halloween playdough set

Halloween Clothes
There are lots of cute Halloween-themed clothes you can add to your basket! Here are some basket ideas that will get your kids all decked out for Halloween.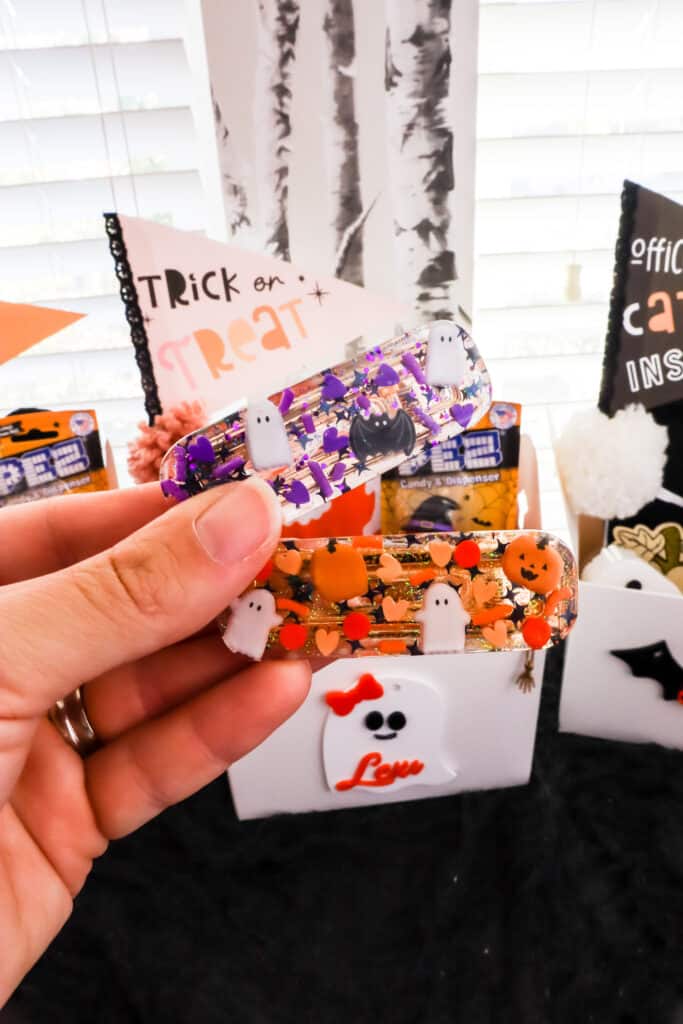 Halloween pajamas. I love these skeleton pajamas for Halloween boo baskets! Kids love them, and they have sizes to fit the entire family!
Halloween socks
An orange and black tee shirt
A shirt with a pumpkin or witch on it
A shirt with a ghost that says "Hey Boo!"
These adorable Halloween hair clips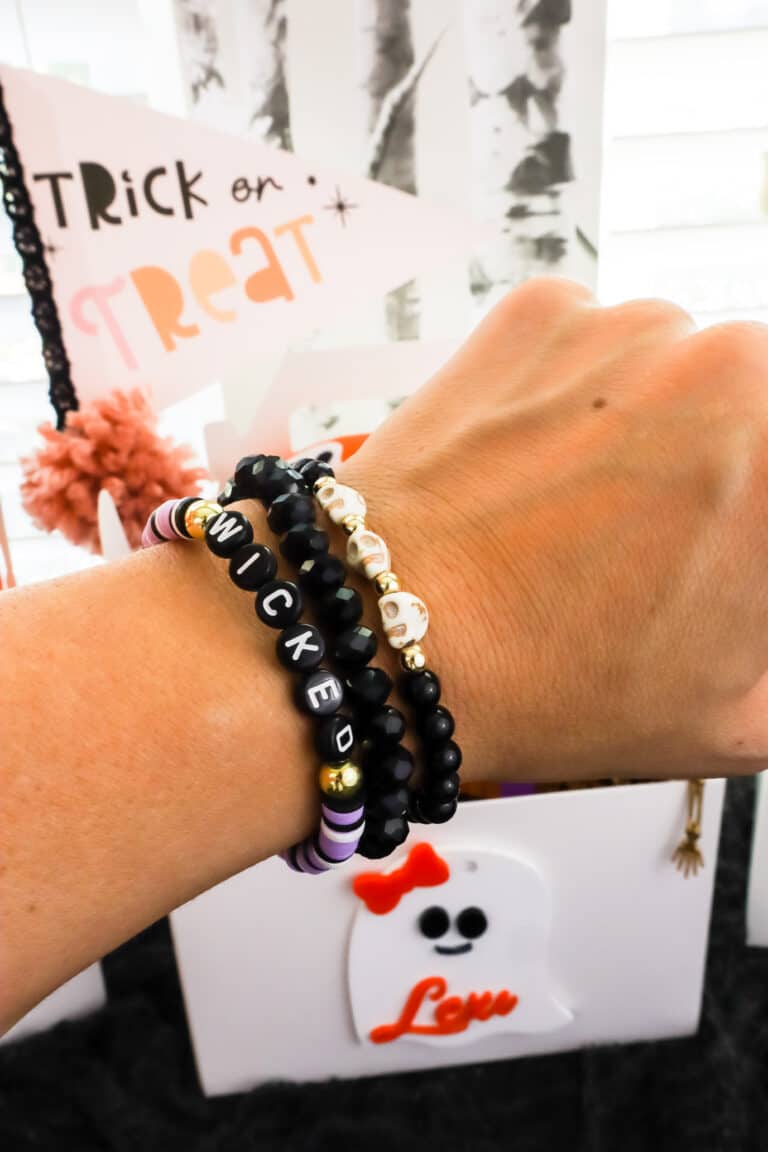 You should be able to find lots of Halloween-themed clothes at any store as October draws near or many places online!

Halloween Treats
Your child will probably get lots of candy at the end of the month when it's time for trick-or-treating, so you might not want to add too many treats to their basket, but it's always fun to add a few treats or candy pieces to get them ready for trick-or-treating.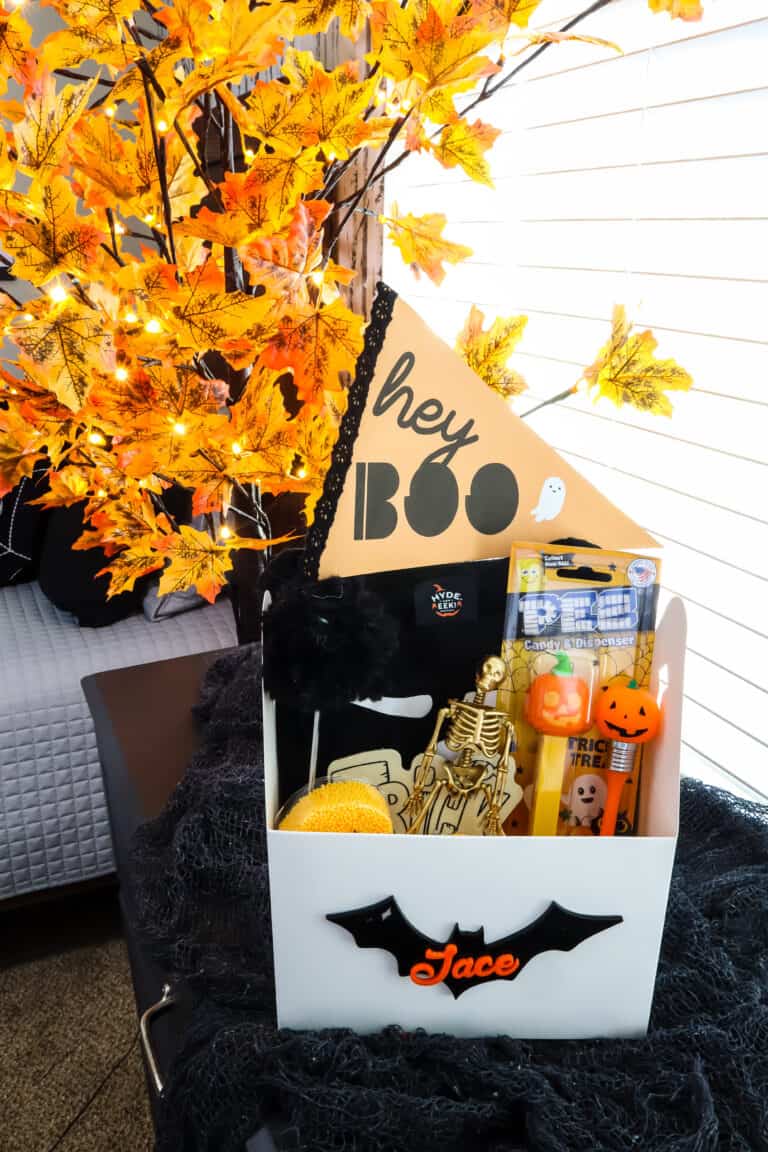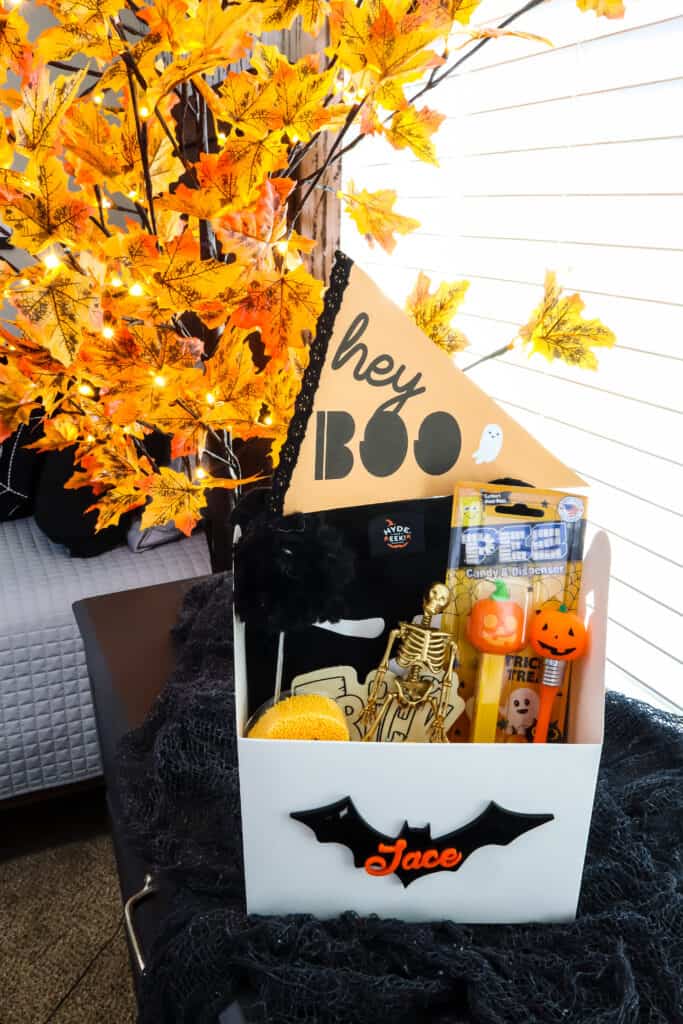 Some candy you can add to Halloween baskets include Halloween-themed candy (like the pumpkin-shaped Reese's cups), candy corn (especially the bag with the pumpkins), orange and black suckers, and lots more!
These are just a few ideas, but you can really add any type of candy or treat that your kid loves! You can also add any homemade treats your child loves during the fall season, like toffee, popcorn, and more! (Personally, I know if I got a boo basket for adults, I would love for someone to add a loaf of pumpkin bread to mine!)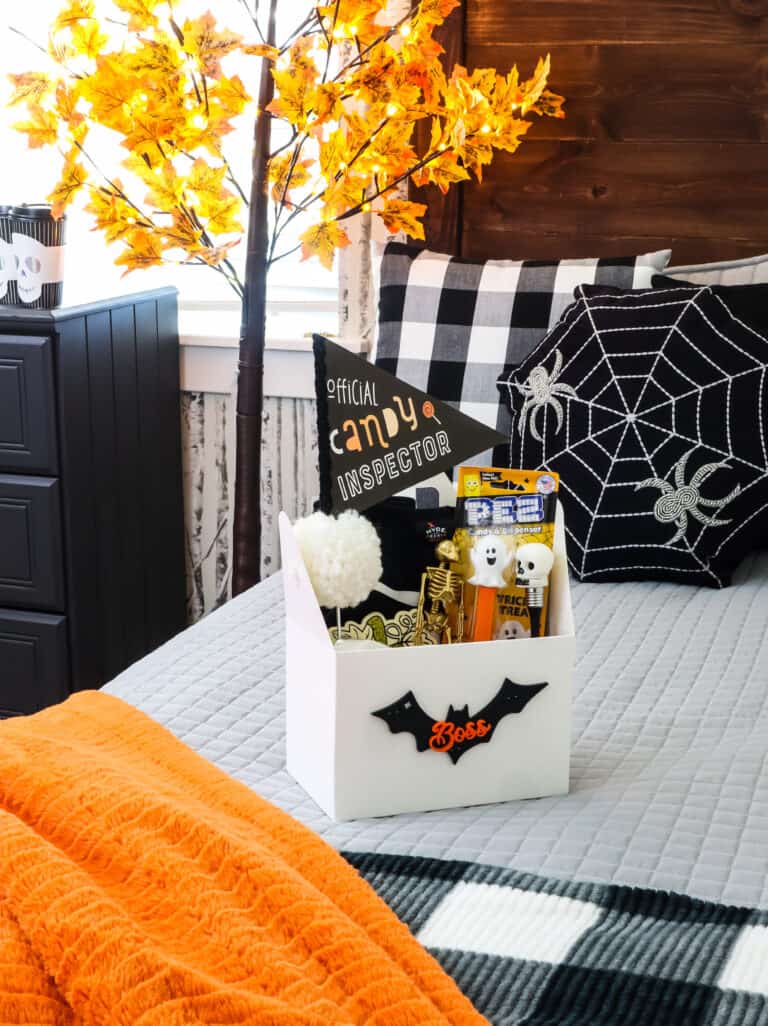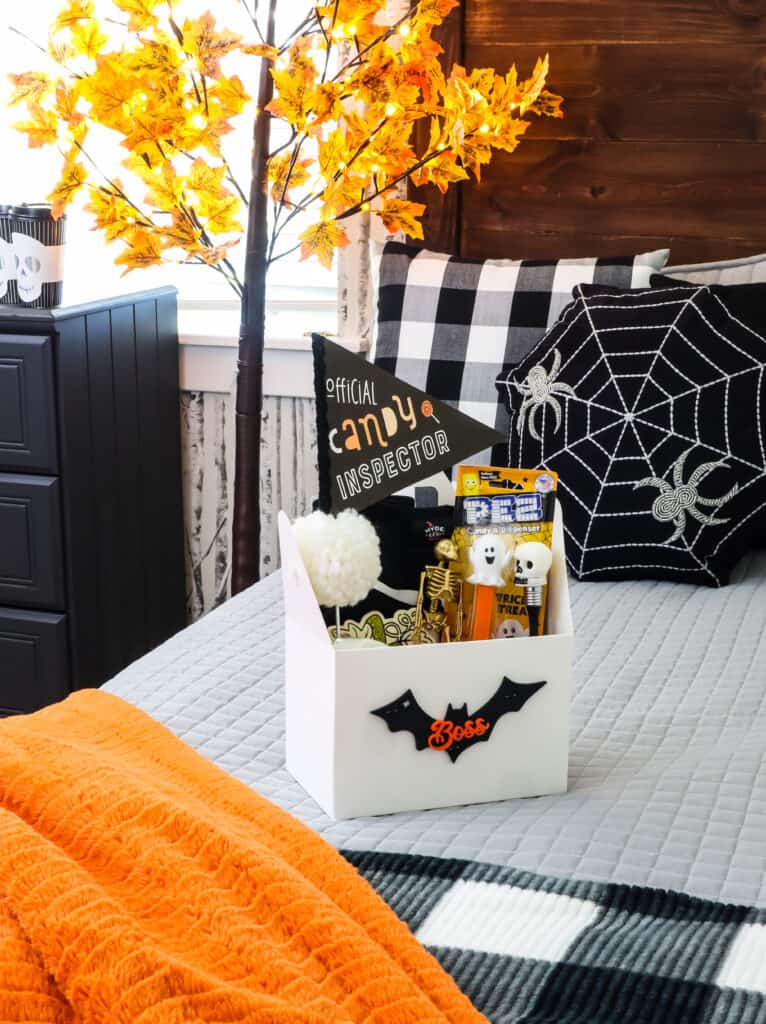 You don't need to go overboard on the candy and sugar, since your children will likely be getting a lot of treats throughout the Halloween season, but adding a treat or two is a great idea!

Other Fun Things
There are a lot of other goodies you can include in your Halloween boo basket. The dollar store should have lots of cute spooky things, but here are a few additional ideas.
Halloween craft kits
Halloween coloring pages and crayons
Stickers
Glow sticks
Bubbles
Bobble Heads
Glow Bracelets
There are lots of spooky basket ideas out there, and you might find other great stuff you'll want to gift your child when you see what the stores have.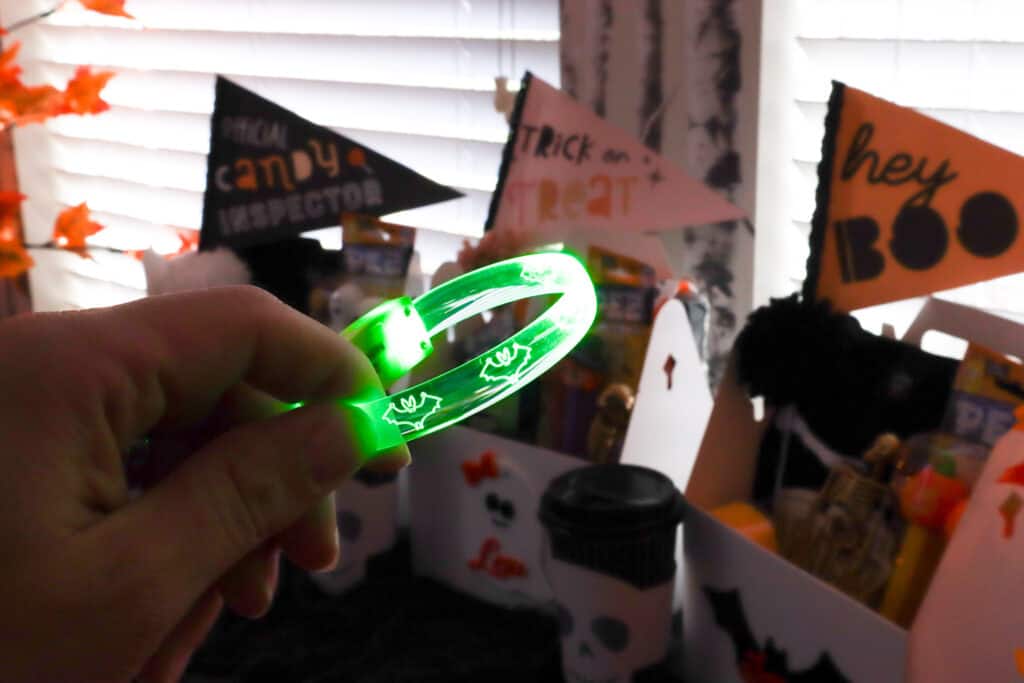 Remember, you don't have to spend tons of money putting together a boo basket! These are meant to be small gifts with a treat or two. Check dollar bins and deal areas online and in stores.
How to Put Boo Baskets Together
Now that you've read through all of our spooky basket ideas and gotten everything you need for your Halloween baskets, it's time to assemble them!
Putting together a boo basket is basically the same as putting together a gift basket. Grab your basket and then organize your gifts so they're standing up. I like to use tissue paper or shredded paper to help keep things in place, but you can also use ribbon or even plastic wrap.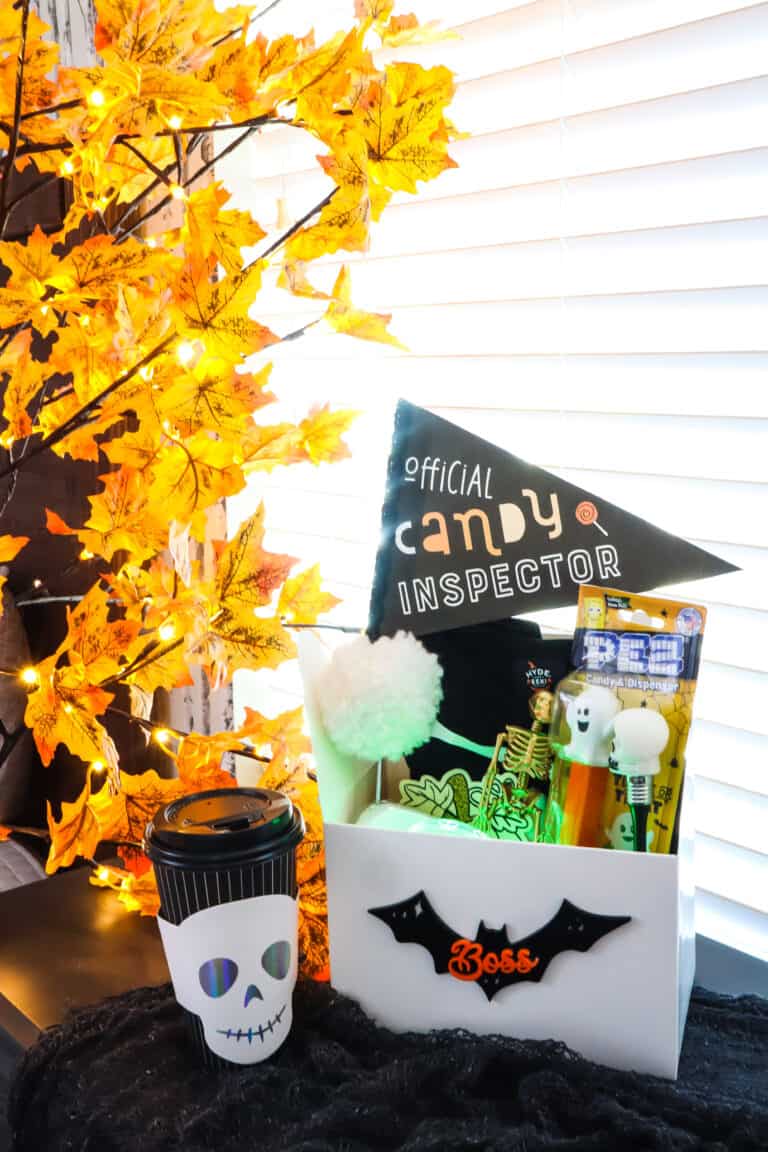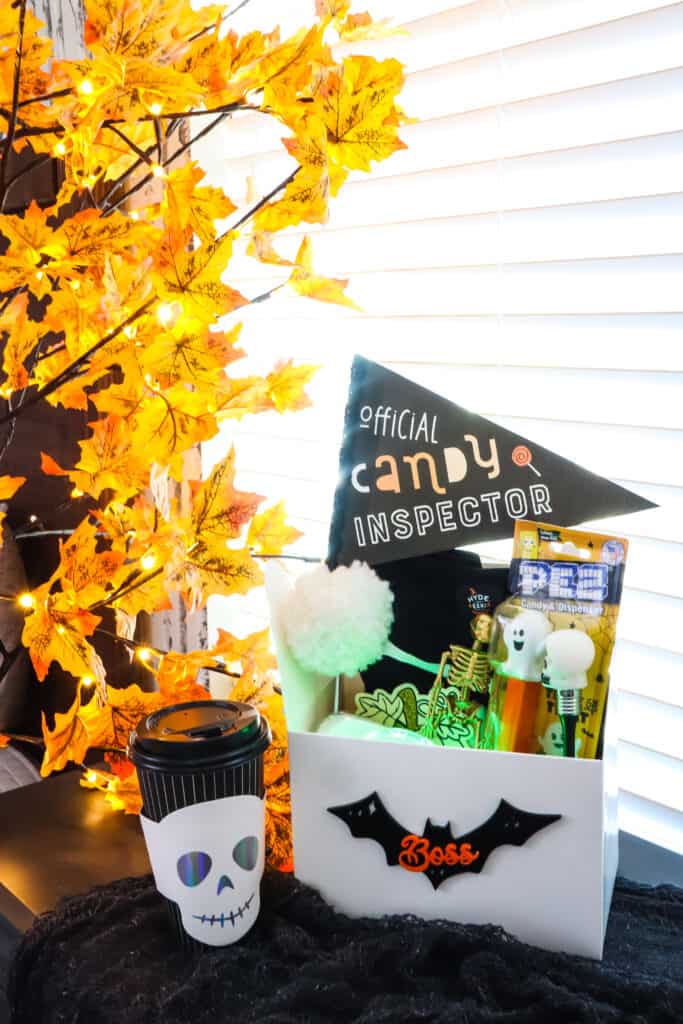 If you're using any food items in your boo basket, make sure to include them last so they don't get squished! And that's it! Your boo baskets are ready to go!
Spooky Basket Complete!
And now you have a Halloween boo basket for your kids! Boo baskets are so much fun and your kids are sure to love their baskets!
If it's your kid's first Halloween, then you just started a fun new tradition, and if it's not their first, then you just gave your kids a cute surprise that they are sure to love. Your children will definitely think their parents are the coolest.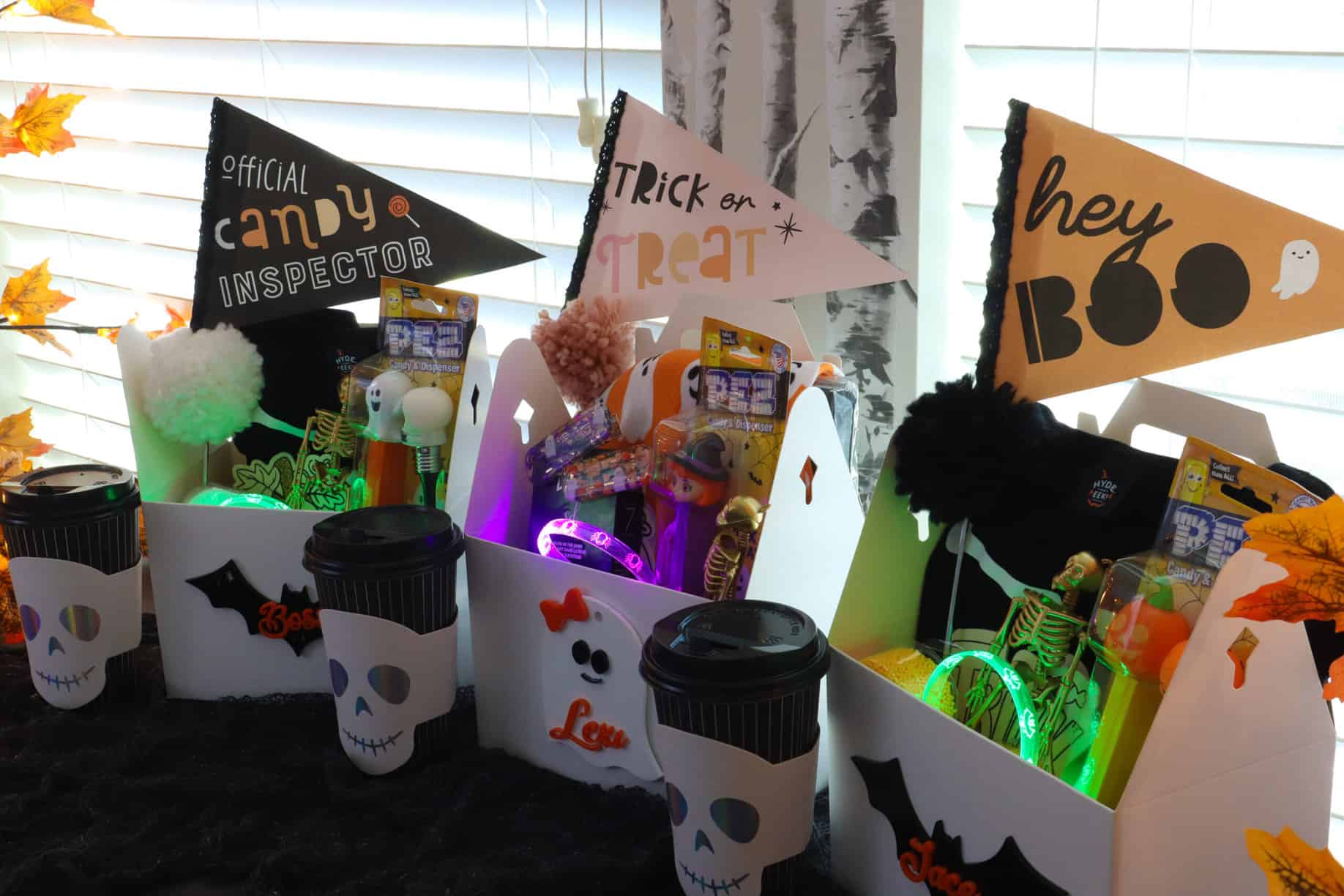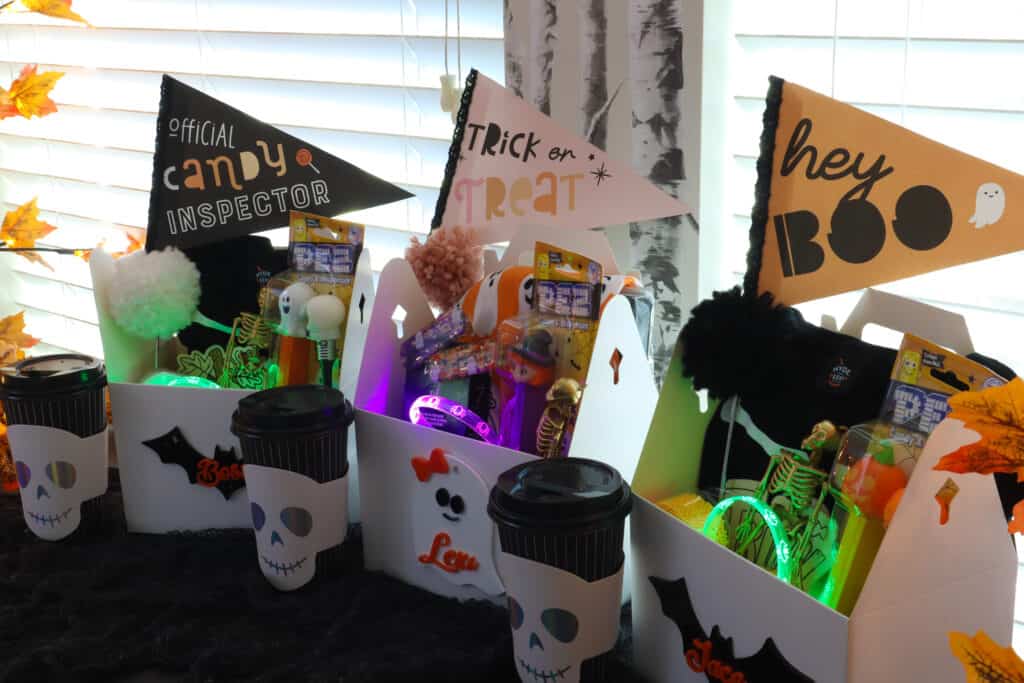 Who doesn't love a fun basket full of their favorite things? It's the perfect way to kick off the season for a special Halloween.
What are your favorite spooky basket ideas? Let me know in the comments below!