How to Keep Small Toys Organized: Safe and Easy Solutions
It seems like every day, new and tiny toys are created and marketed to children. These tiny toys can be so much fun for kids, but they can also be a pain to keep organized! They can get lost easily and they can be really difficult to keep together. But there are some easy ways to keep small toys organized so they are safe from small children and they stay organized! In this blog post, we will discuss some of the best ways to keep tiny toys organized and safe!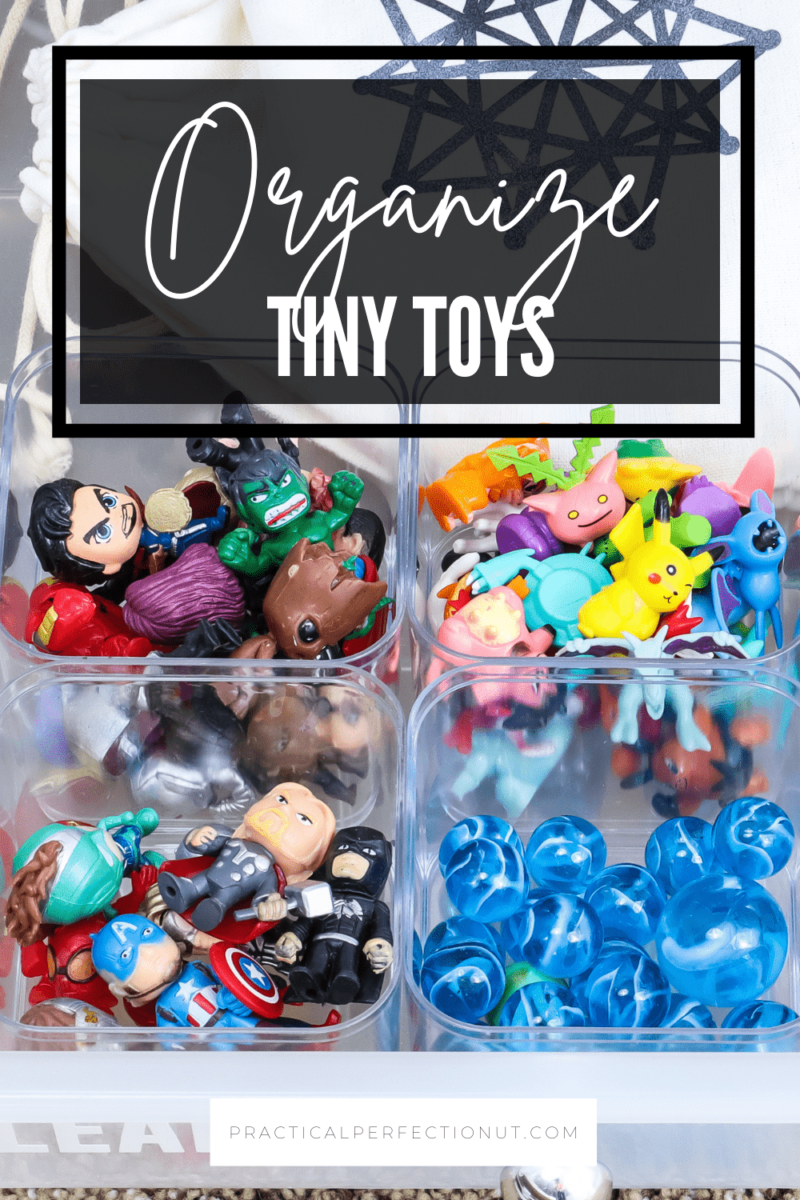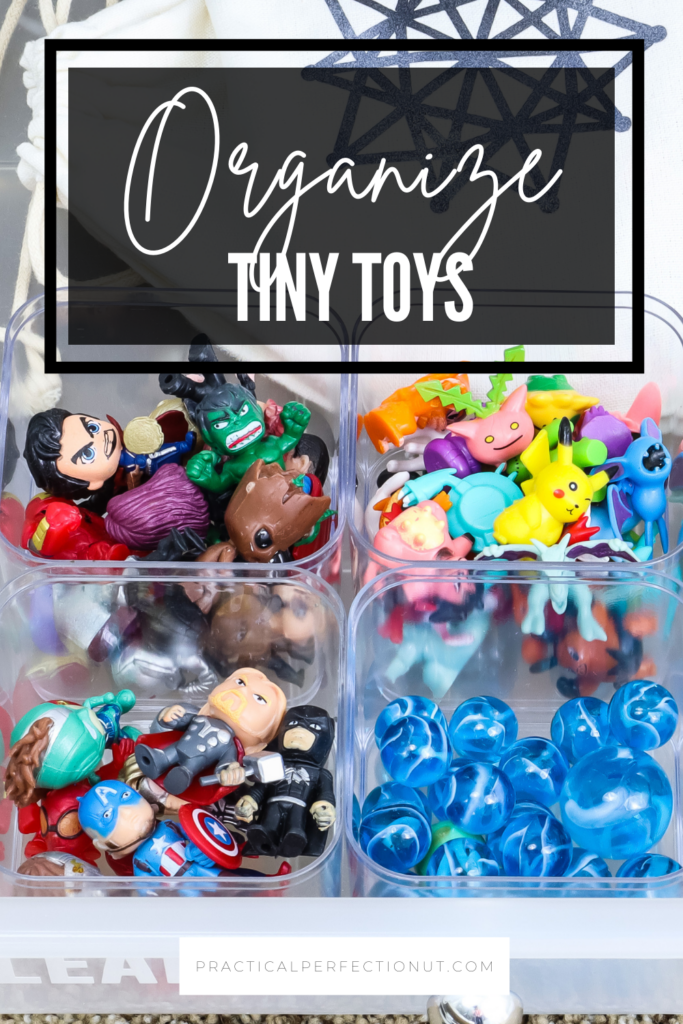 One way to keep them organized is to create a designated toy storage area for them. This can be a specific shelf, drawer, or container that is specifically for tiny toys. This will help keep them together and make it easy for you to find them when you need them. Another way to keep them organized is to use pouches within baskets or bins.
This post may contain affiliate links!
How do I organize tiny toys?
Blind bags, little characters, and mini figurines seem to be overtaking the store shelves because kids can't get enough of these small toys. And who can blame them? There are many ways to organize them in various storage bins but small toys require small storage solutions.
It can be tempting to just buy a big storage bin and dump everything in, but most often kids don't even play with their toys when they are in a big giant heap.
The first thing to do to organize tiny toys is to sort the toys into groups. For example all marbles, Polly Pockets, Mini Brands, etc. into piles. This will help you visualize how many items you have in each category and will determine the size of storage space that you need.
1. Use zipper pouches
Zipper pouches with clear plastic fronts are perfect for tiny toys. You can see what is inside and they seal well to prevent tiny pieces from getting lost. They also come in a variety of sizes so you can get the exact size that you need for each group of tiny toys. Because these are plastic, they have a naturally easy clean feature.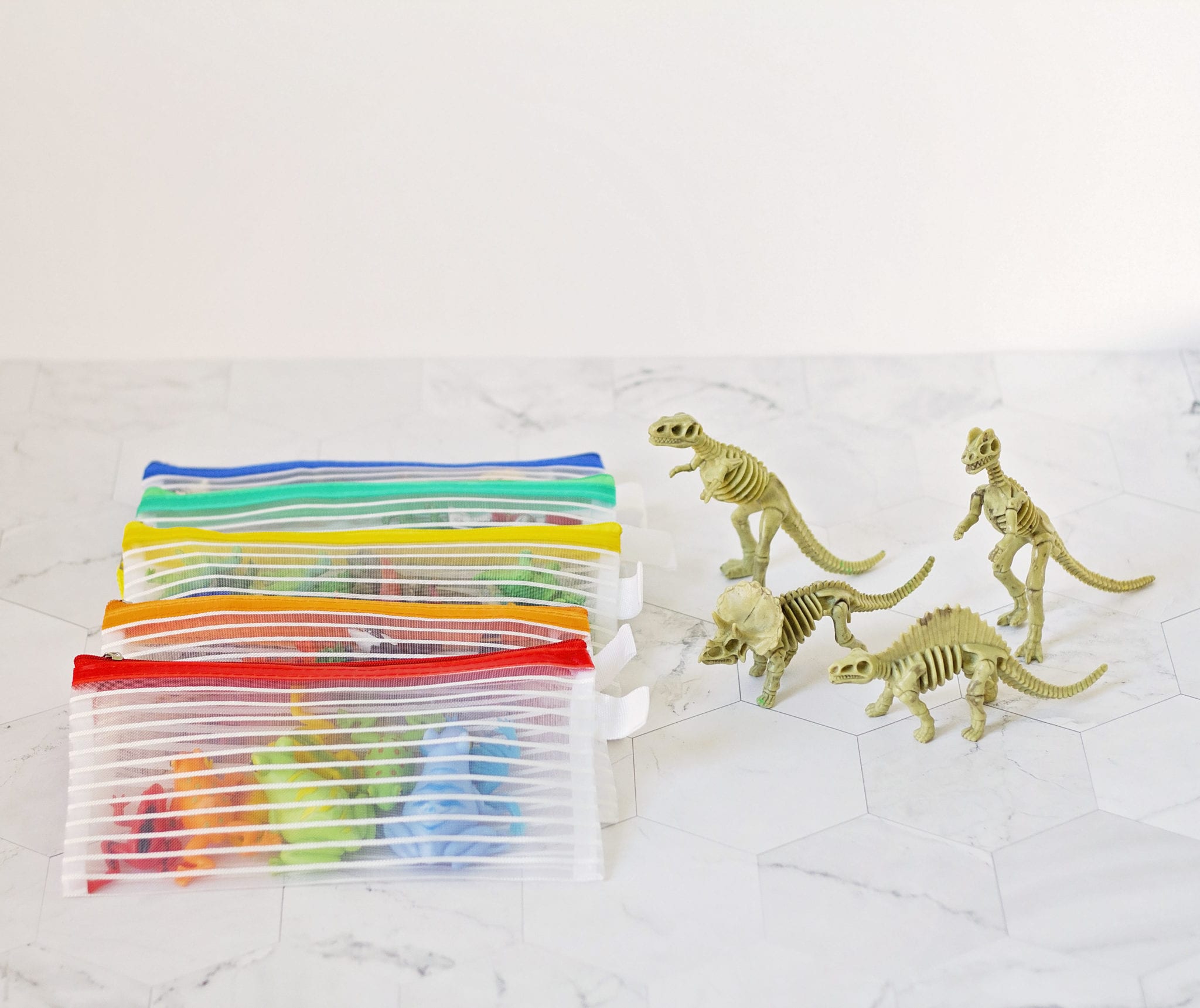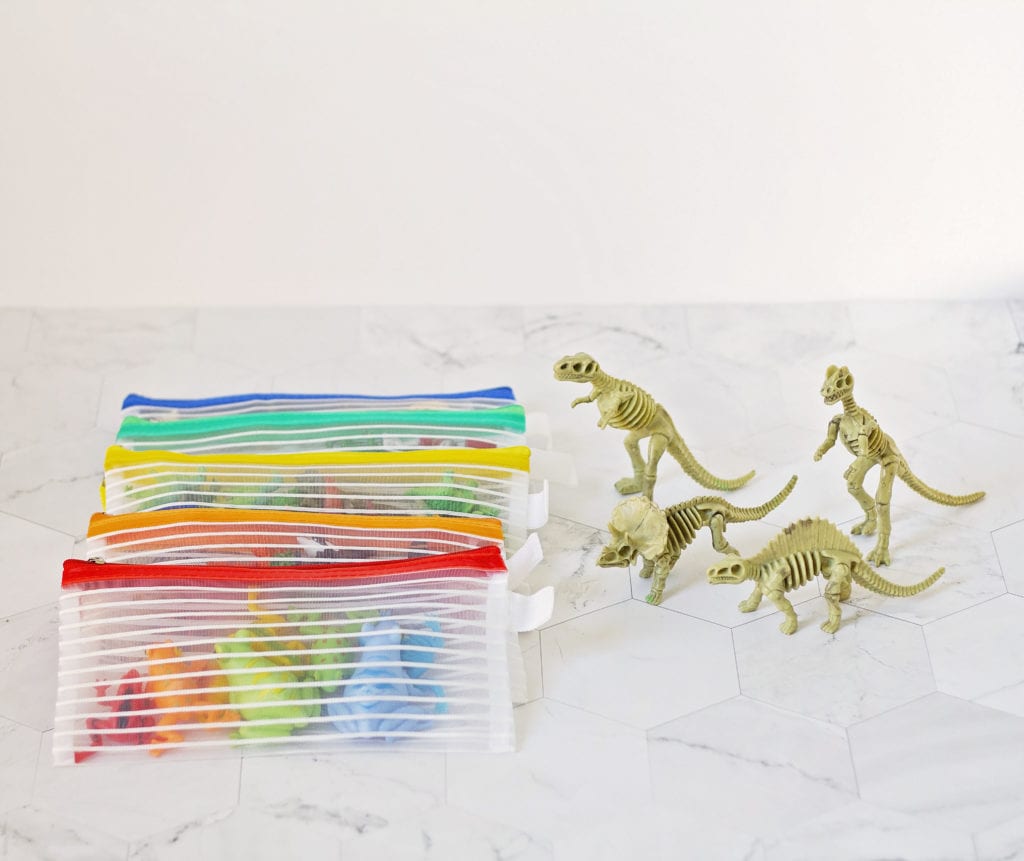 This is one of my favorite ways to organize tiny toys. This really allows kids to play with toys easier because they can see what they are looking for, which means more fun for them! It's an easily visible, compact storage solution.

2. Use plastic containers
Just like the zipper pouches, plastic containers with clear lids are perfect for tiny toys. You can see what is inside and they seal well to prevent tiny pieces from getting lost. But unlike the zipper pouches, these offer a bit more protection if your tiny toys can get squished. They are some of my favorite boxes to organize with!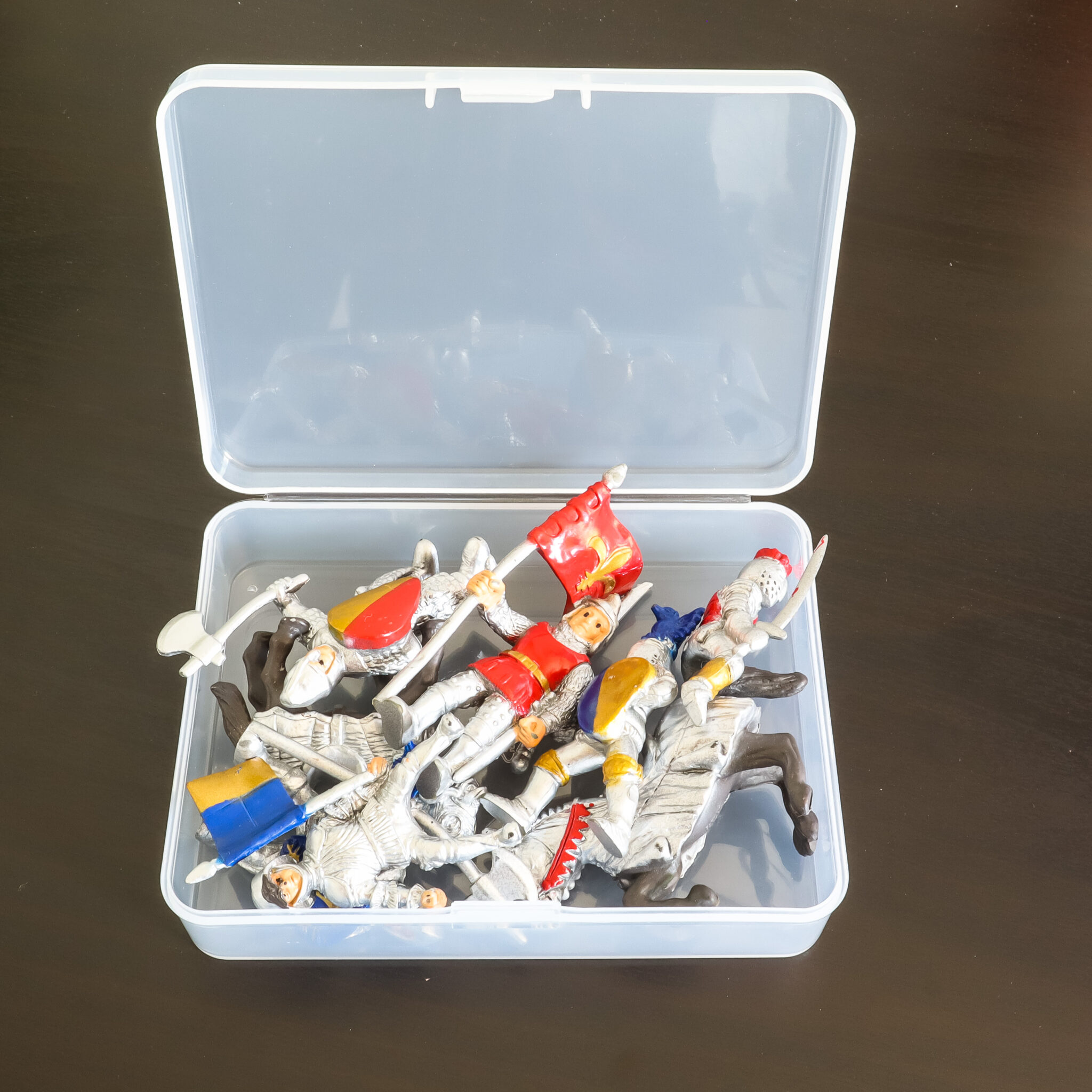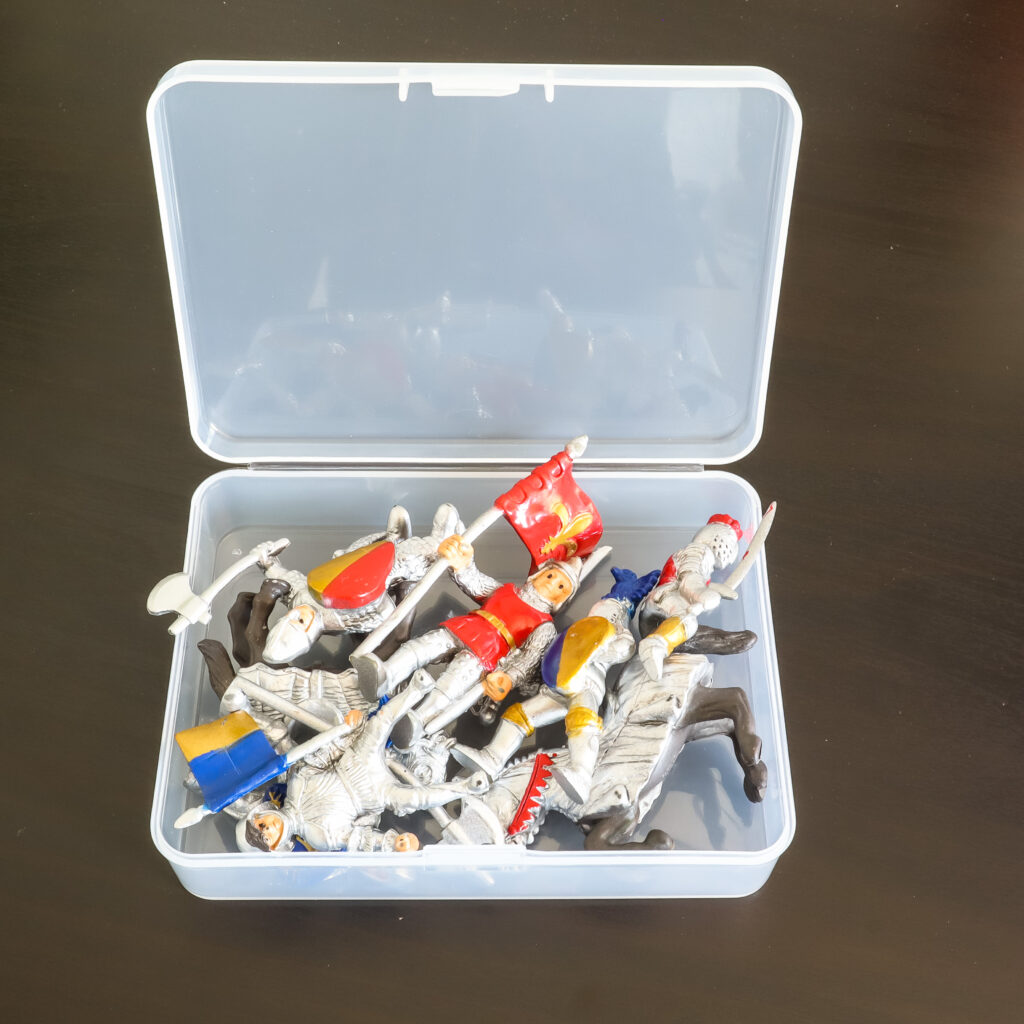 This is one of those quick projects that stay organized fairly easily.

3. Use canvas pouches
This is a customizable option that creates a more streamlined look. This is one of those ideas that I found from The Homes I Have Made that I knew that I just had to try. You can use your heat transfer vinyl and your cutting machine to create some really cute labels for toy pouches to organize toys.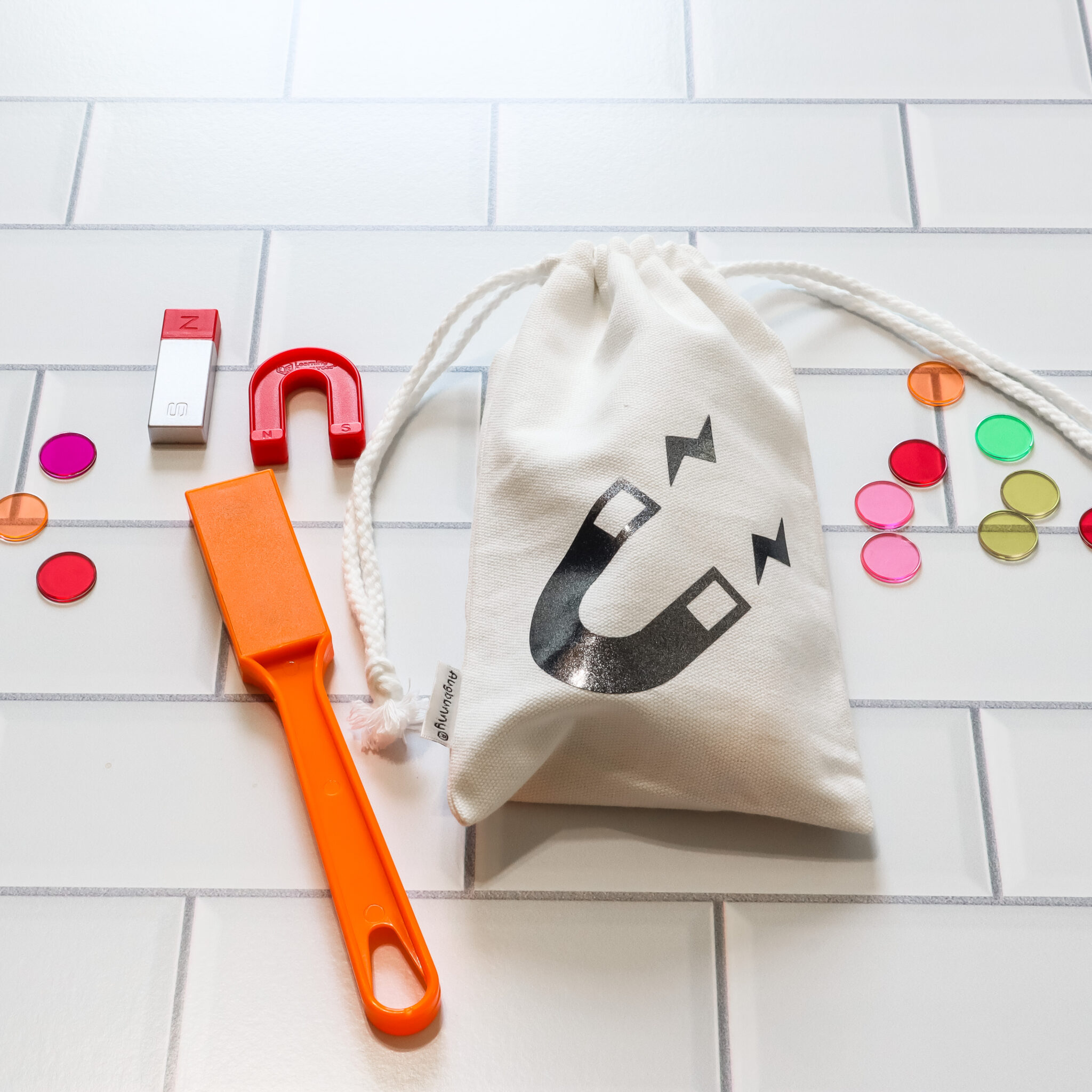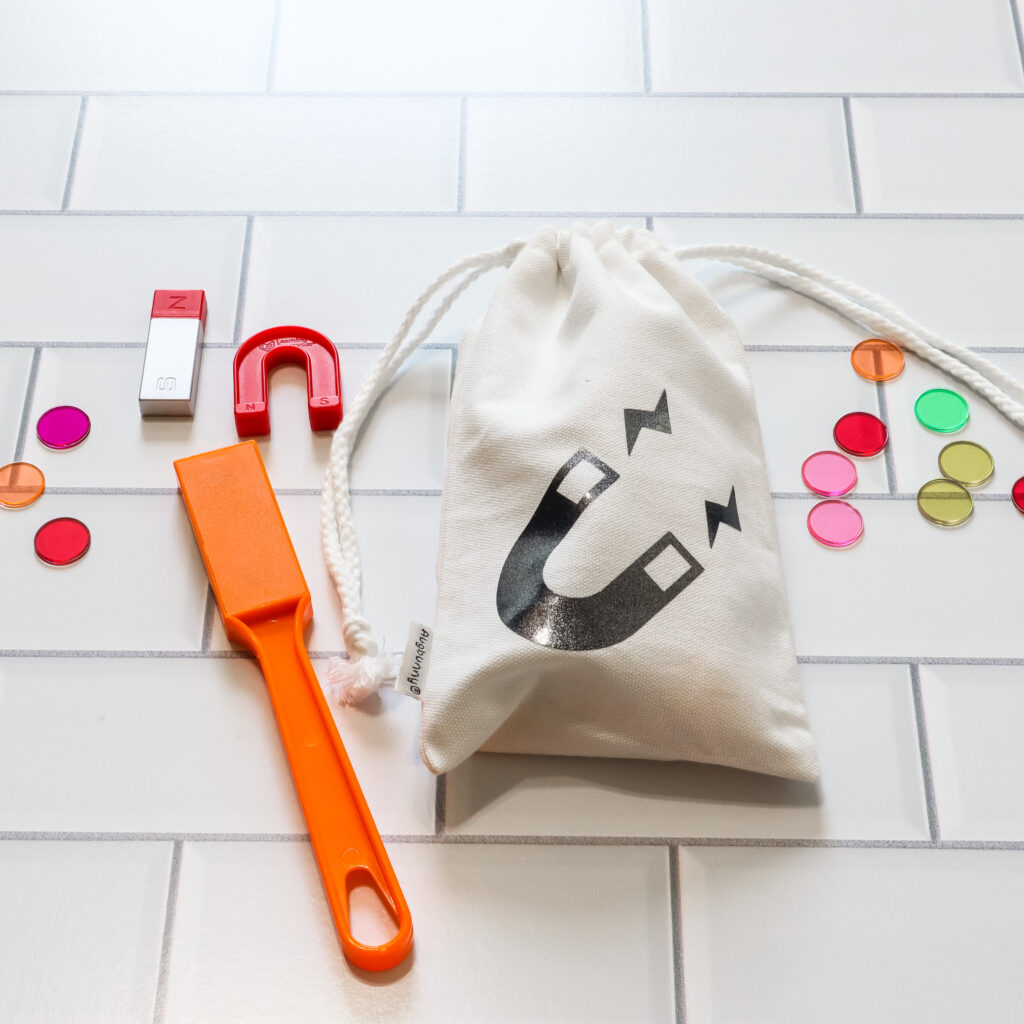 4. Use round plastic containers
This is another variation to the plastic boxes but I love the unique look of these. They are originally marketed as child slime containers but I use them for homemade play-doh, sensory bin toys, or other small items. These also make great storage items because they stack nicely in a drawer or on a shelf.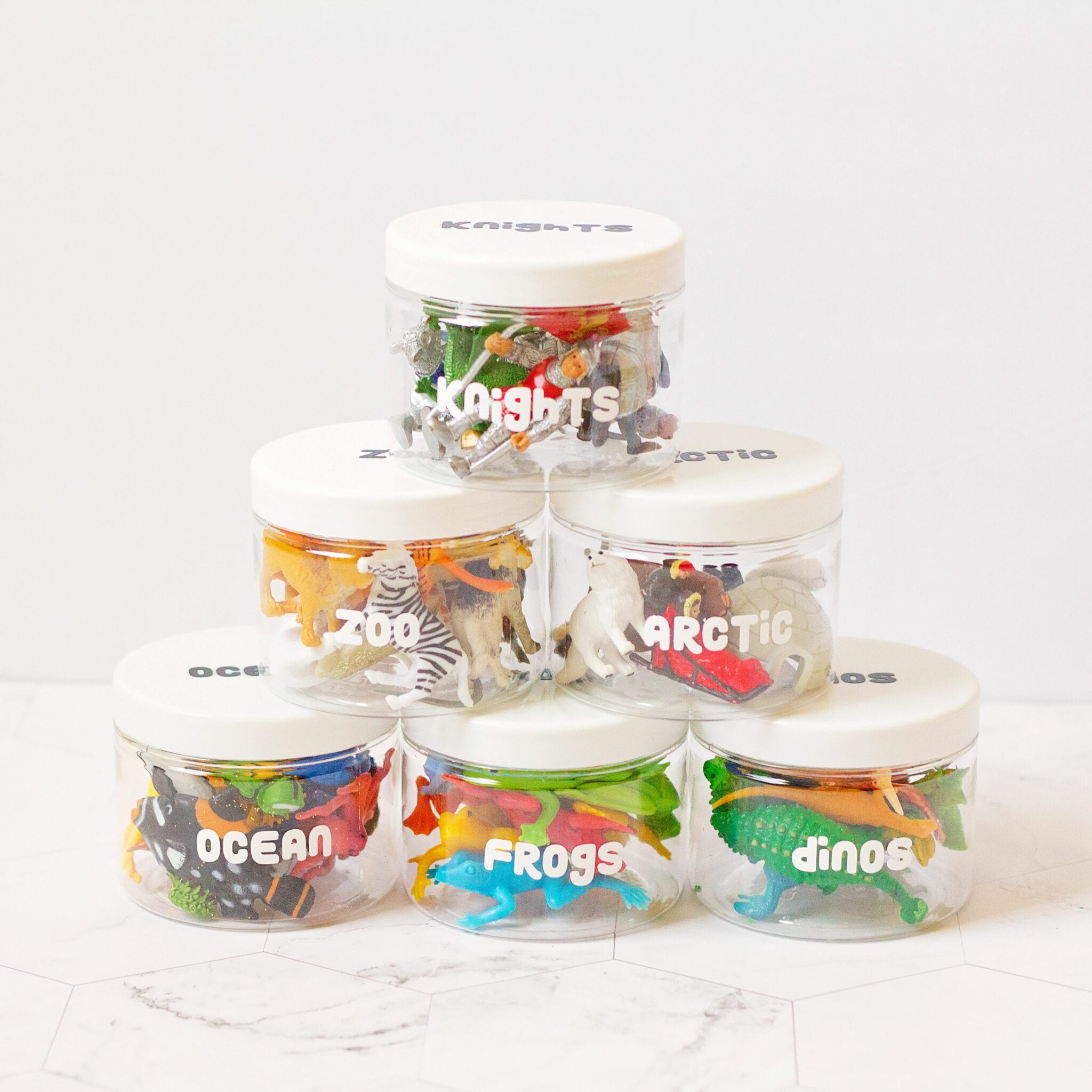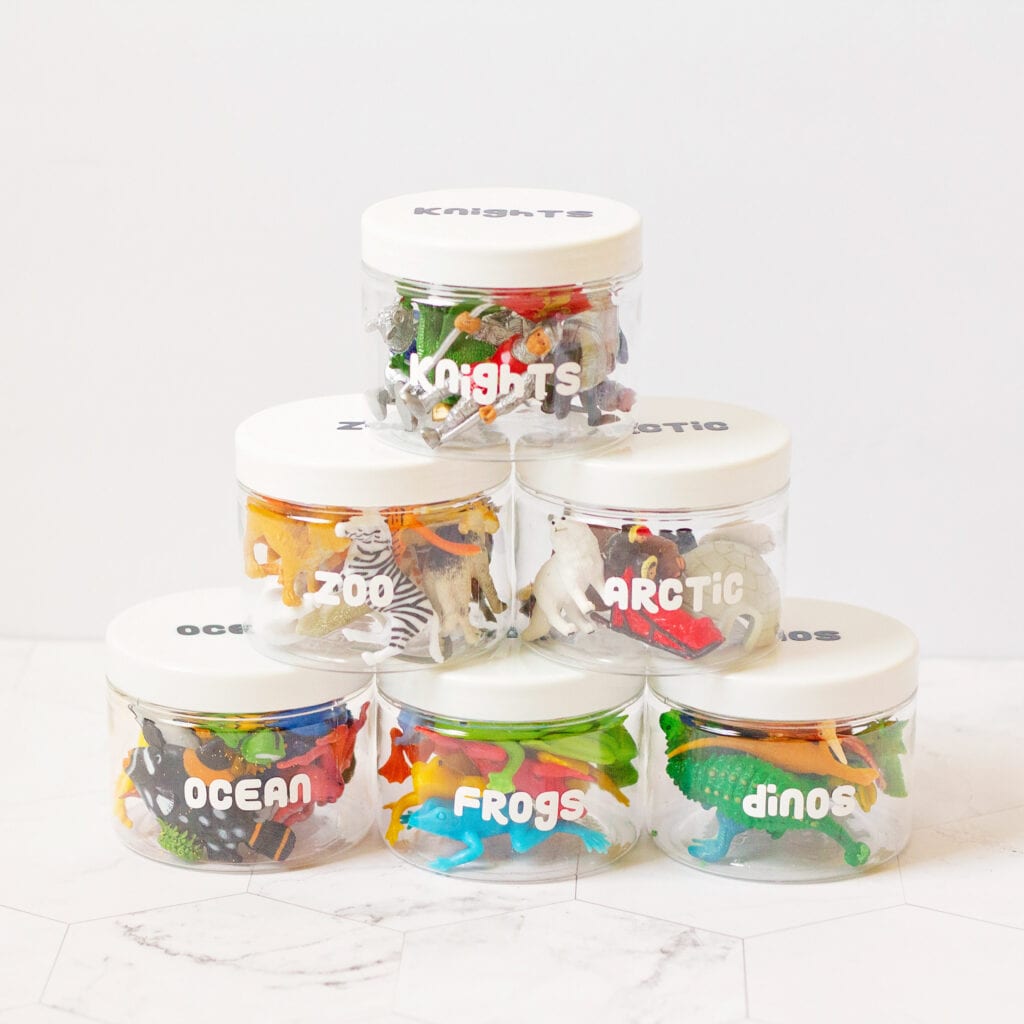 They really help to keep the clutter to a minimum because kids can see exactly what's in them without having to dump out an entire storage bin to find what they need. You can also create cute labels with your cutting machine…or you can just use a label maker!

5. Divided containers
Divided containers are really helpful when you are trying to store tiny toys. They are great for tiny toy cars and they come in a variety of sizes so you can fit almost anything you need to store in them! Toy cars could be perfect for these as long as you buy containers that are long enough to fit the cars.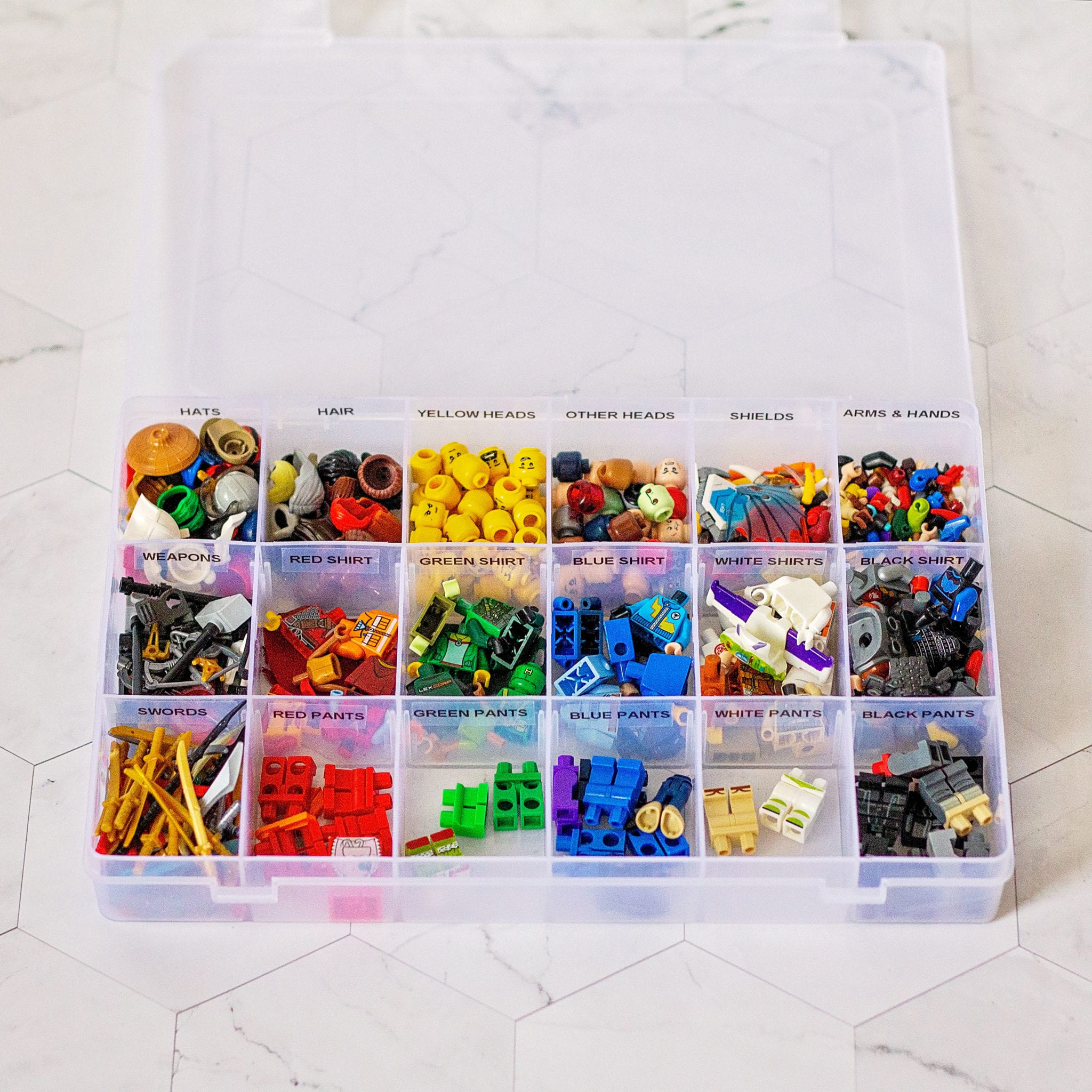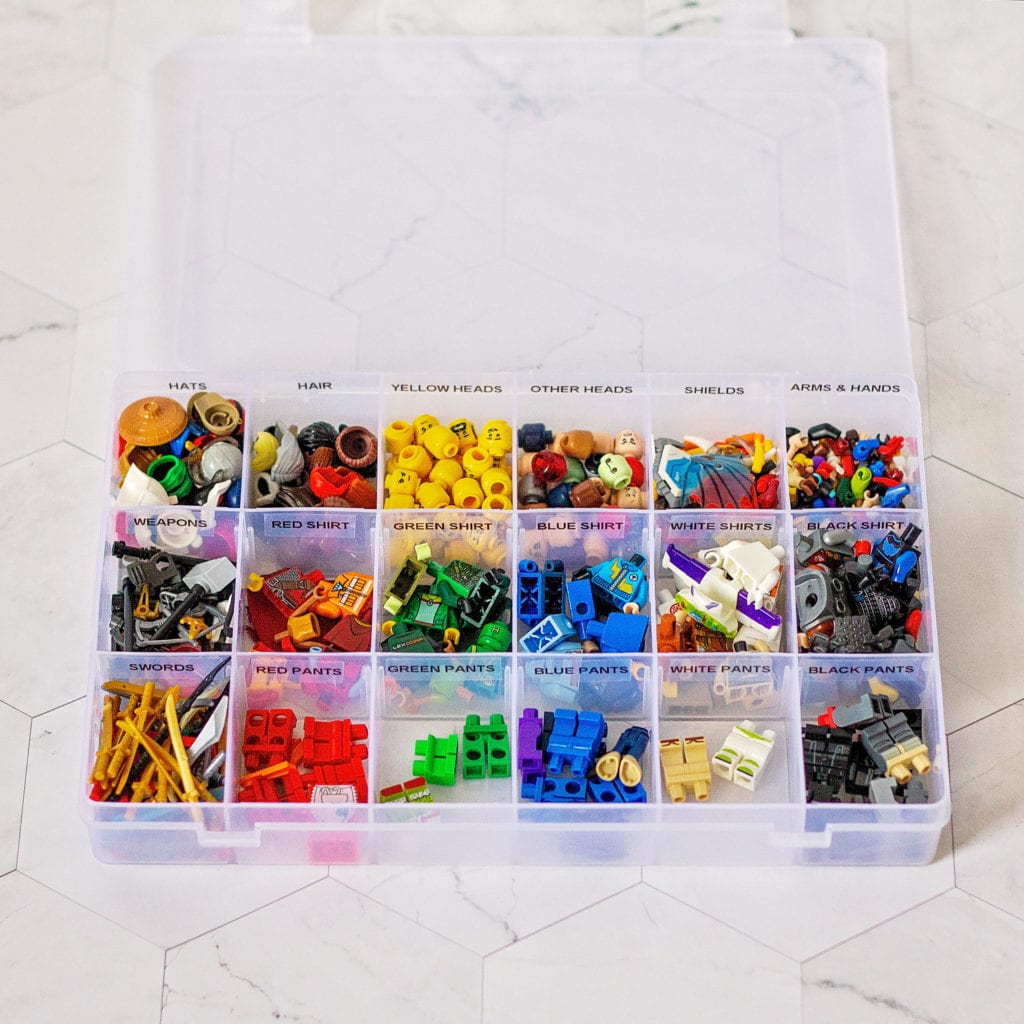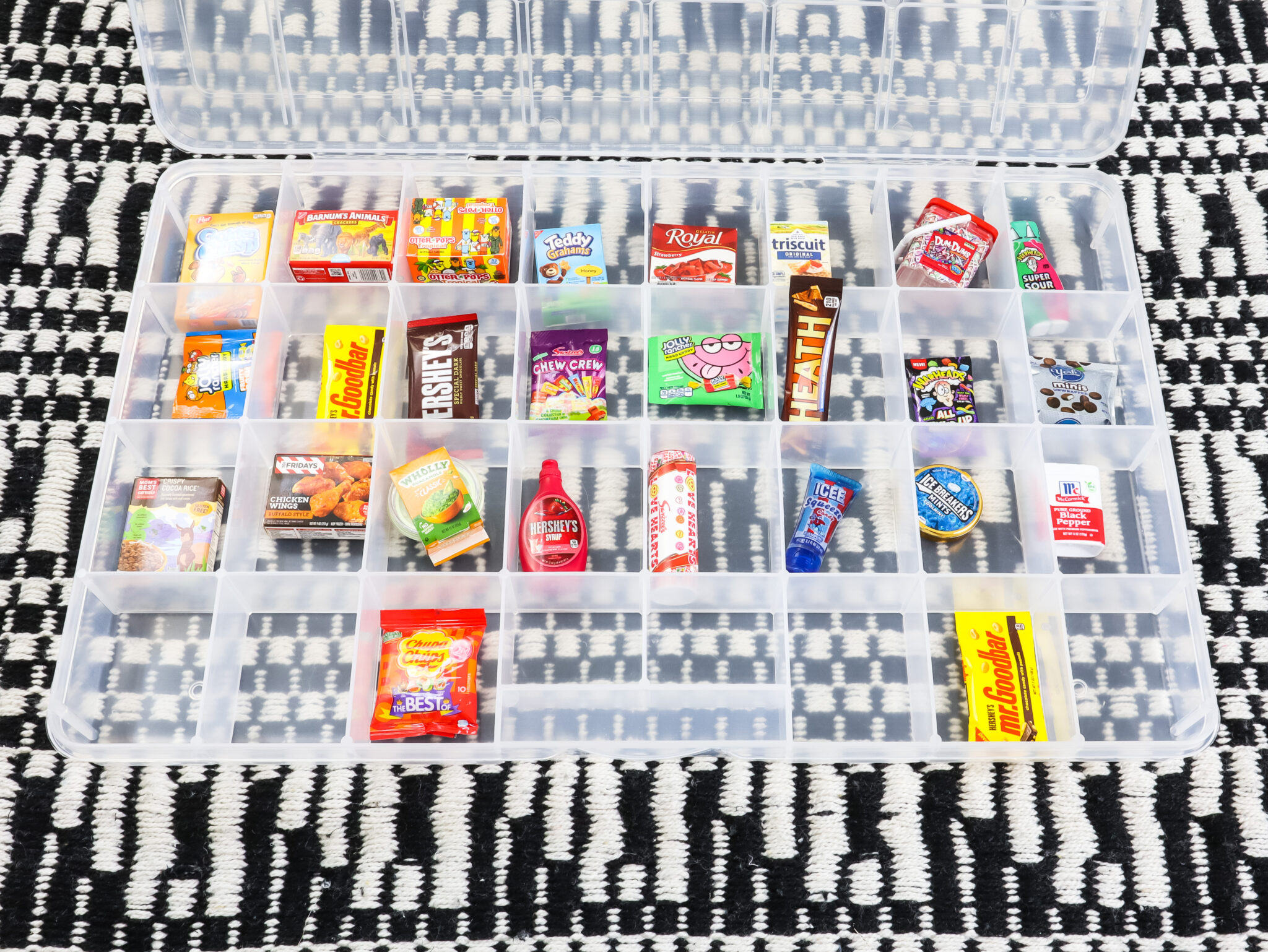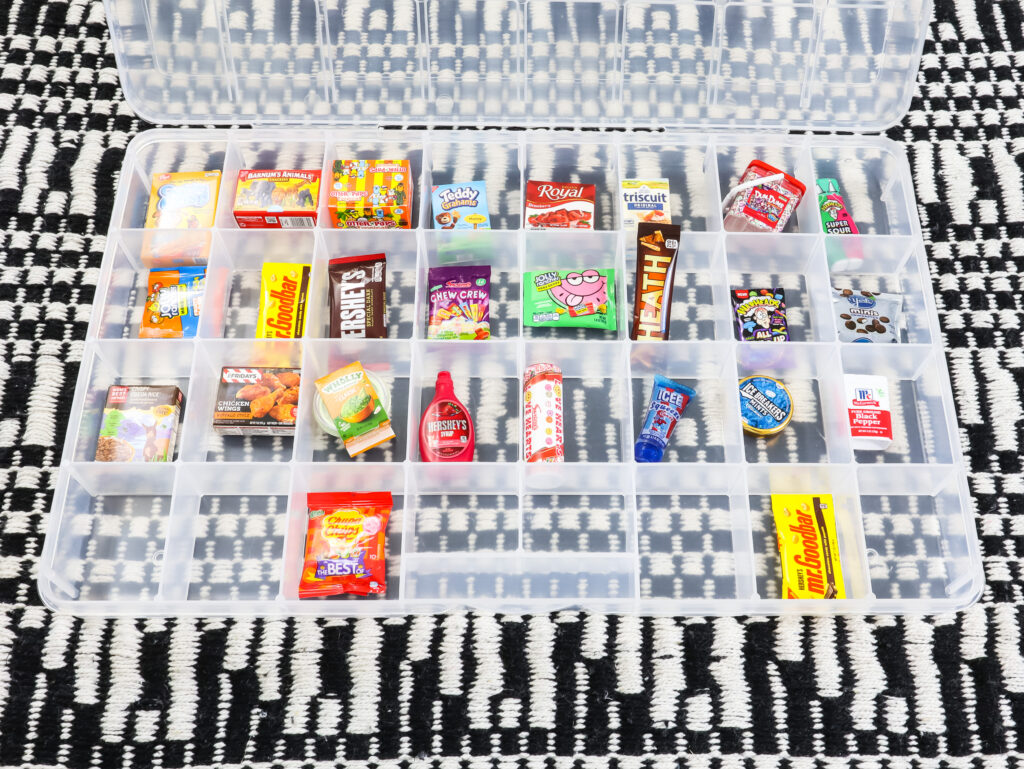 You can also store things like barbie accessories! They are great for micro-organizing. I love using these for our Mini Brand toys so they don't get squished! There is such a huge variety of kids toys that this concept could be used for.

6. Divided stacking containers
This isn't usually a very common toy storage solution but it's a great way to keep toys organized, especially if you need to organize things into subcategories. These stackable organizers a really great way to organize doll accessories. It travels really well too if you need to throw in some toys to occupy your kids while on vacation or at grandma's house. These would also be fantastic for magnetic letters or letterboards!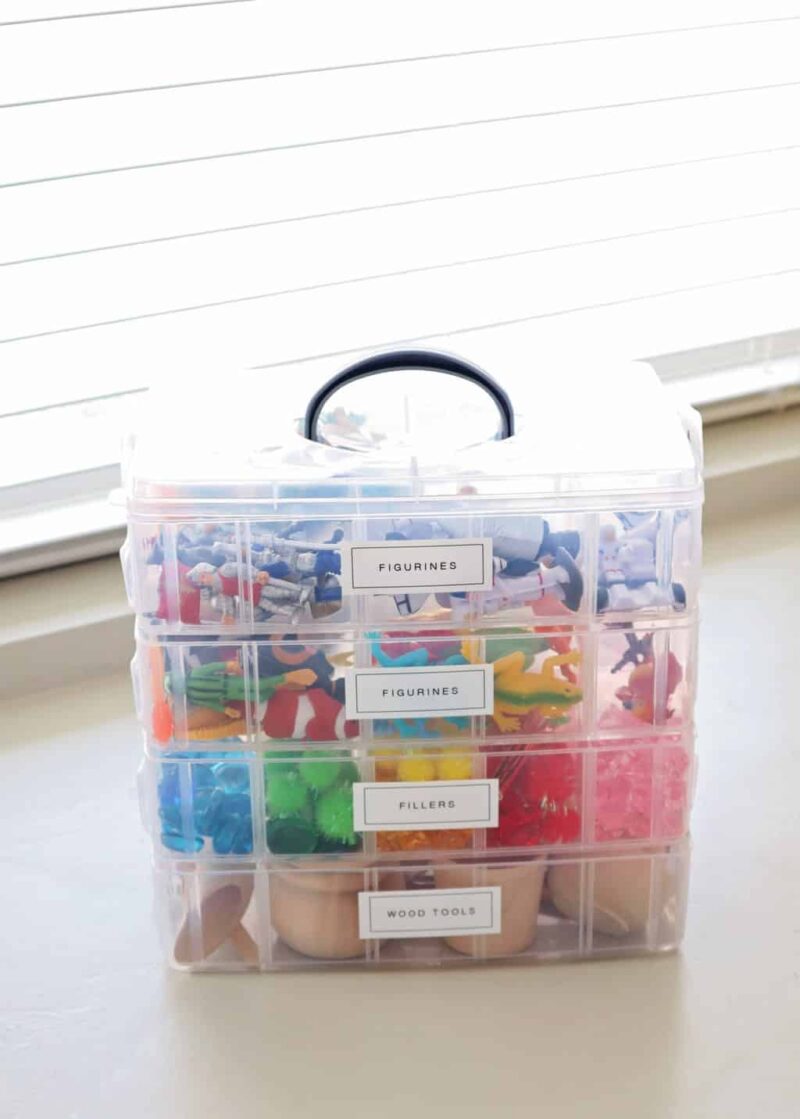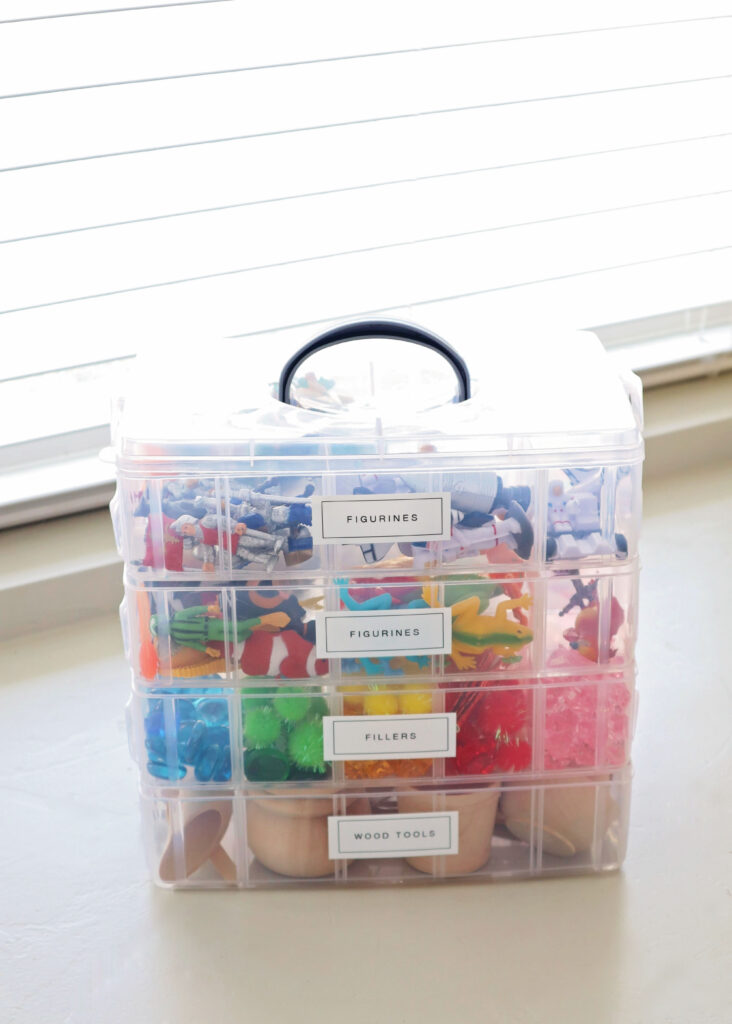 7. Tiered drawer units
I have two boys who are obsessed with Legos. There isn't a more frustrating toy to keep organized than Legos. But I'm happy to report that this tiered drawer unit is the most successful system that we've tried yet! It's so easy to find the pieces that they need and it can also easily be stored in a closet if needed. You could even fit a few of them in a closet if you have that many Legos.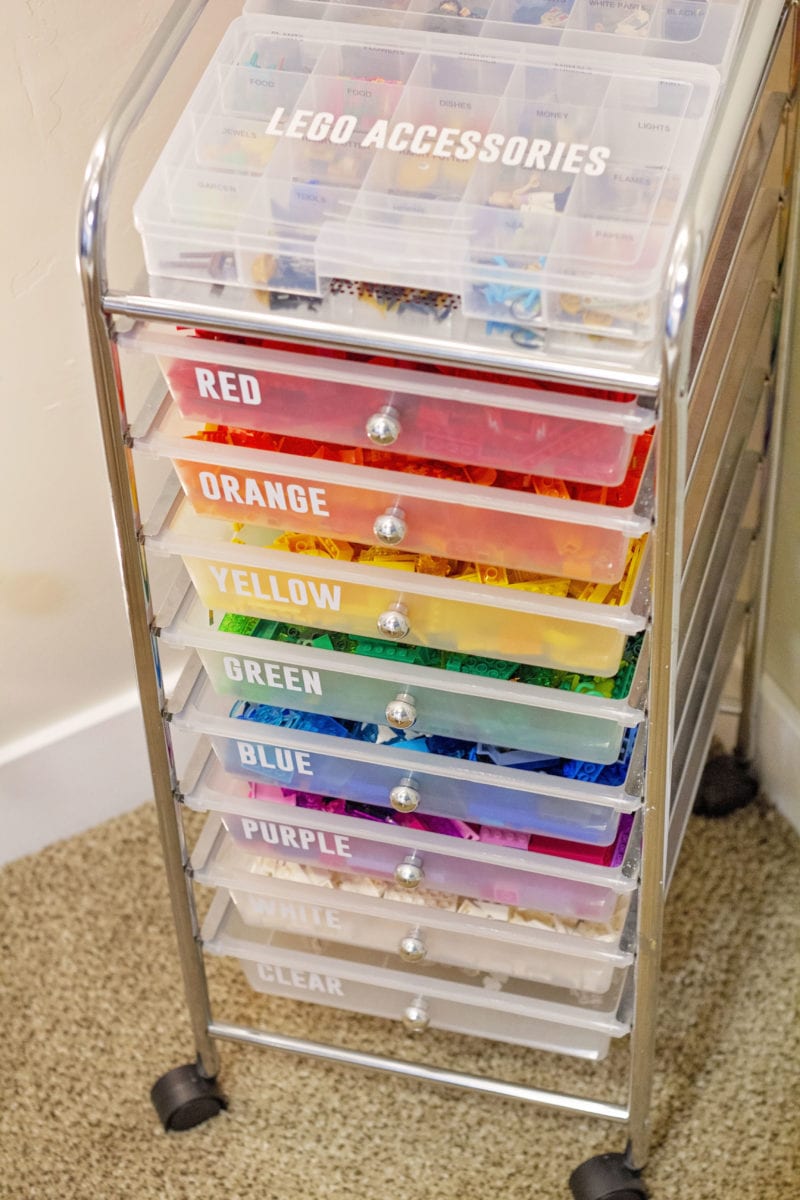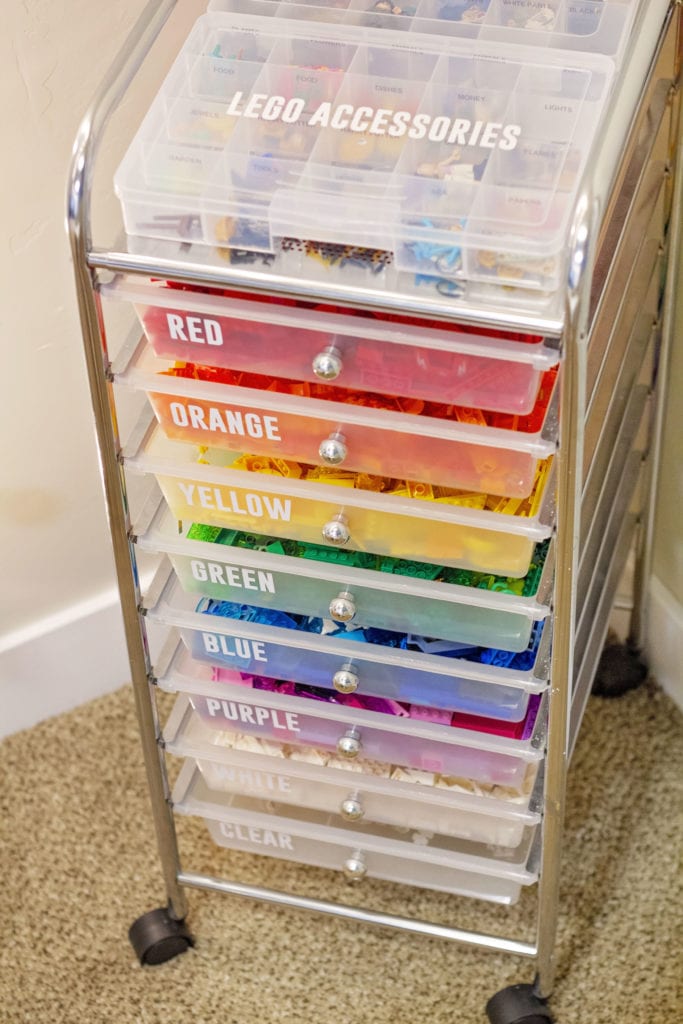 But of course, this same concept can be used for a variety of kids' toys that are small. It's the perfect addition to any playroom or child's room.
SHOP ROLLING DRAWER CARTS

8. Pencil Cases
This is one of those really easy ways to organize small toys because pencil cases are so easy to find at Walmart or Target! It can easily contain all the toys and it comes in a variety of styles. It may be really fun for kids to help decide what pencil cases they buy.
9. Drawer Dividers inside of a drawer
Drawer dividers are readily available and super easy to find. Using drawer dividers inside of a drawer makes putting things away really simple! If your playroom has any drawer units at all, this is a must-have solution that the kids will think is really fun because they can open the drawer and see everything at a glance. This method can also grow with kids as their needs change. What kid wouldn't love to open drawers and see all of their favorite things organized?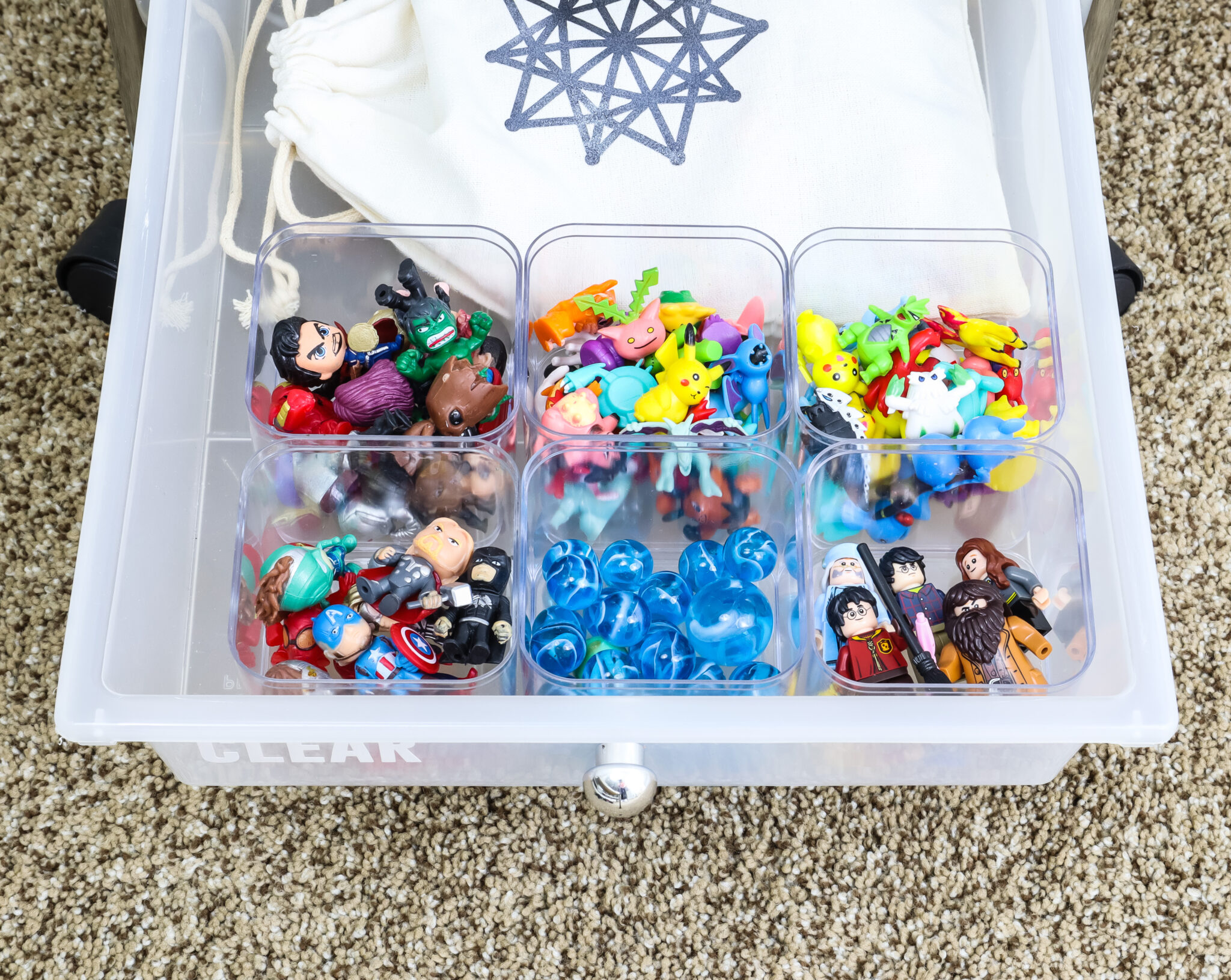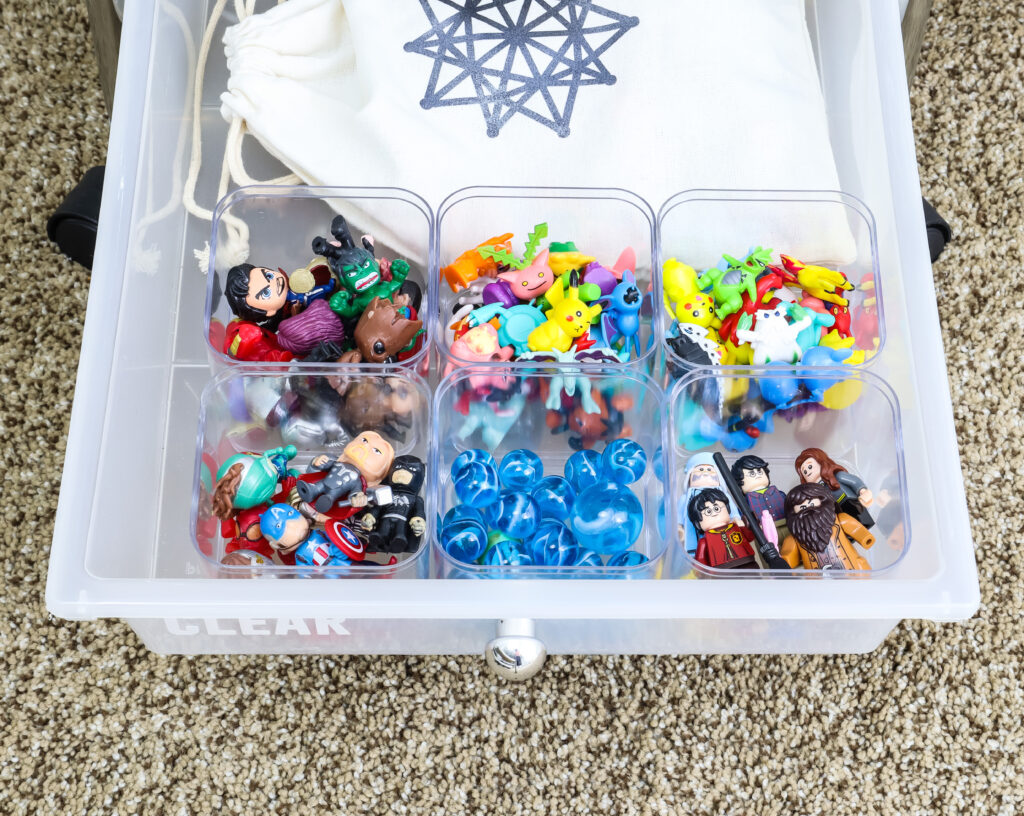 10. Use your Wall Space
Because my boys love legos so much, they have a million Minifigures. I decided that the best idea would be to use the wall space available in our playroom and create some shelves to store the Minifigures. We simply purchased the display shelf and screwed it into the wall and the boys have loved it ever since. It's a perfect wall addition for the lego section of our playroom. I love this idea! It's one of my favorites!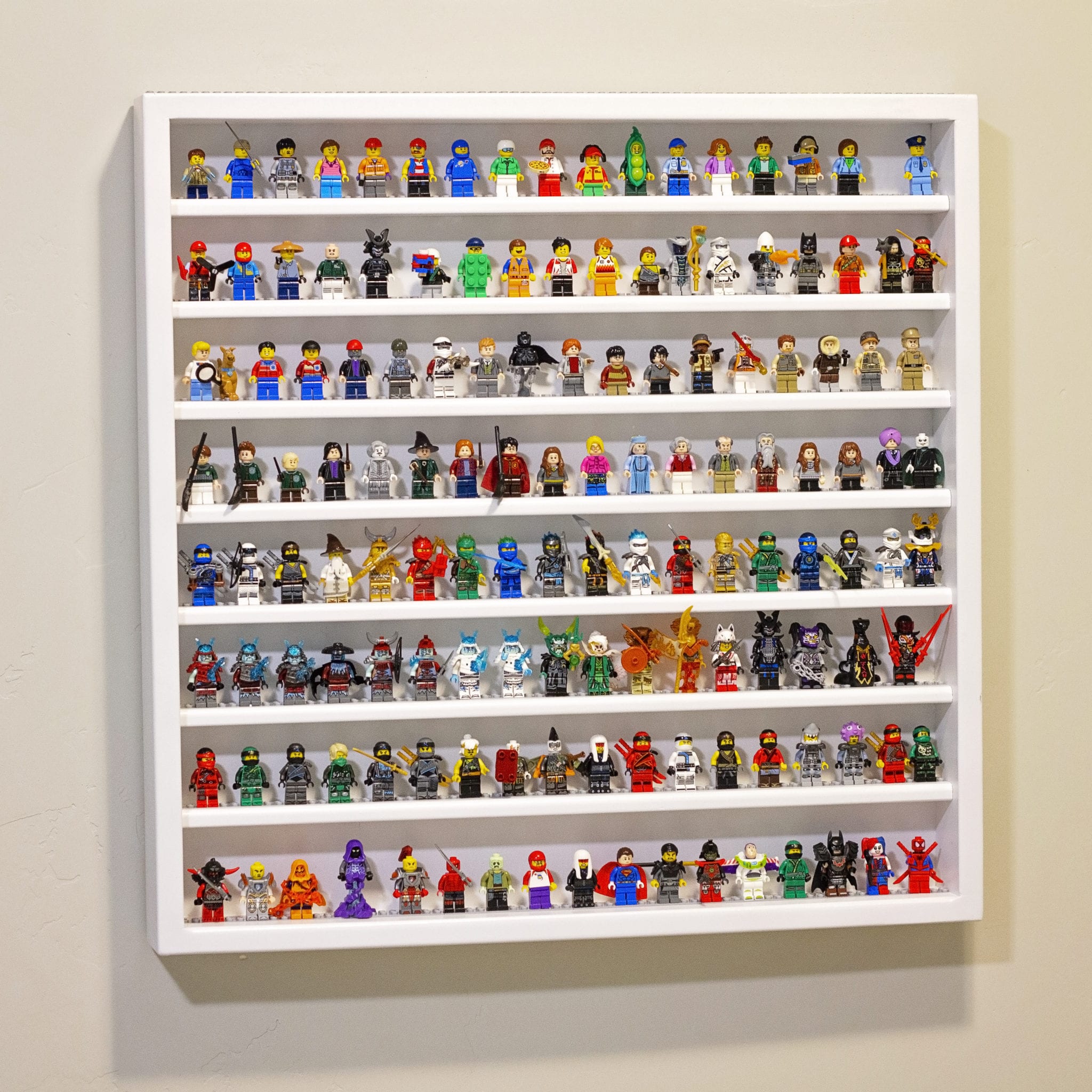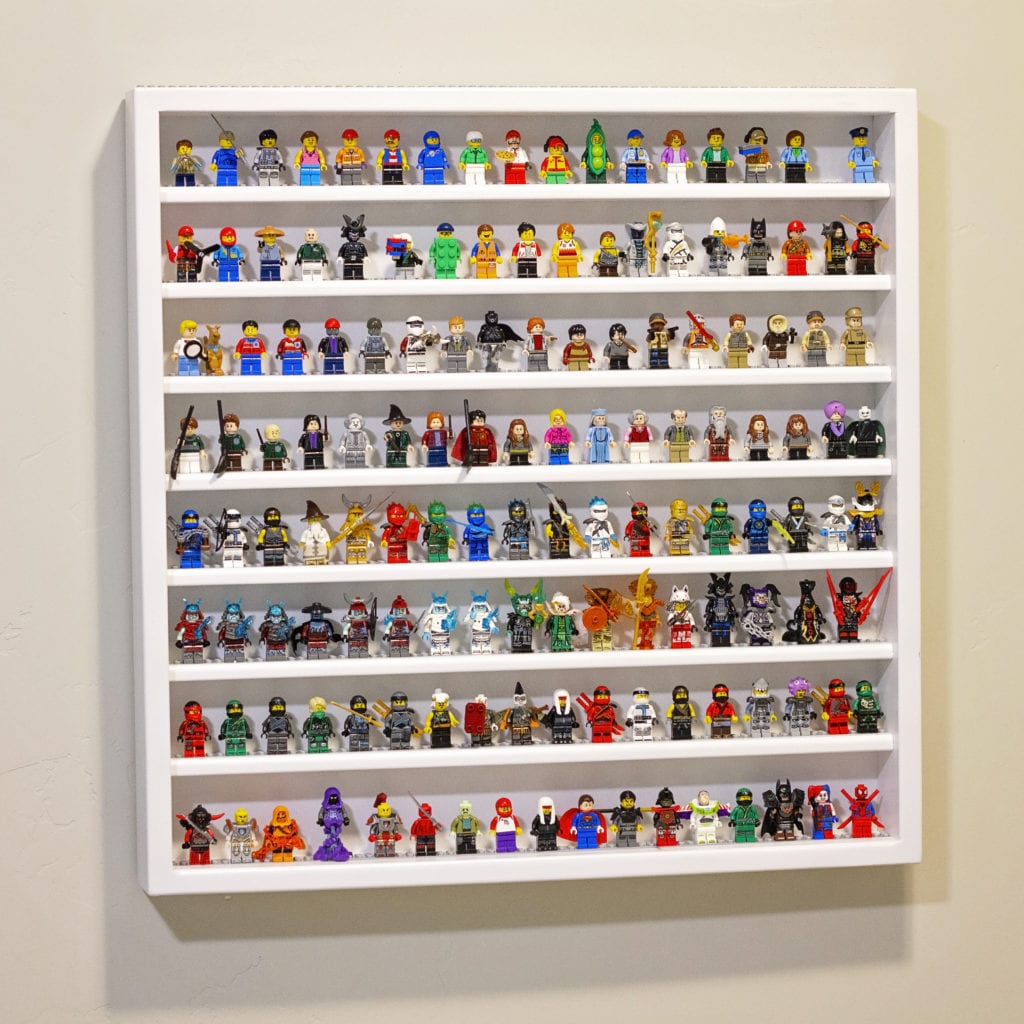 How do I keep my toys organized in my living room?
Keeping the toy mess at bay usually means designating a specific place in your home for toys, such as a playroom. But not everyone has that luxury. Sometimes we need to store all the toys (or some of them) in the living room.
It can really help to invest in a piece of furniture specifically to help to organize toys. This can help to organize when you have a small space by keeping things contained. If it doesn't fit in the designated space, it's time to get rid of some things.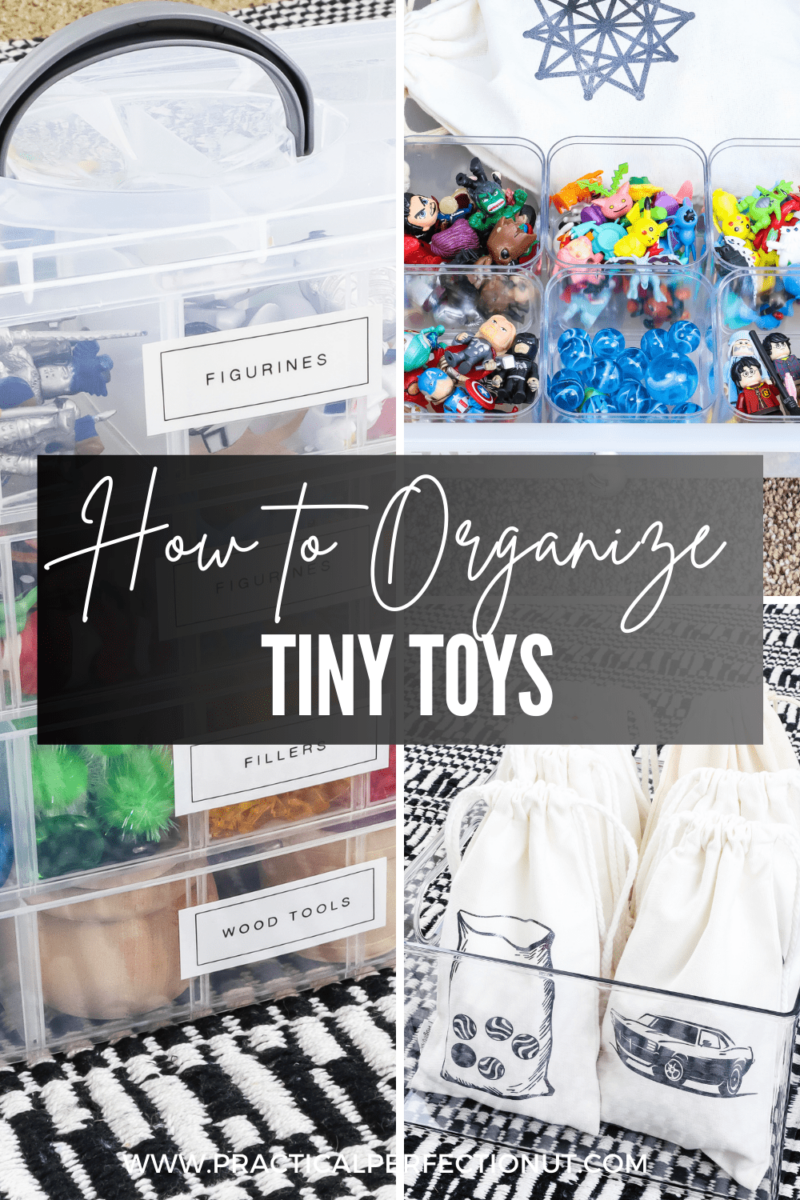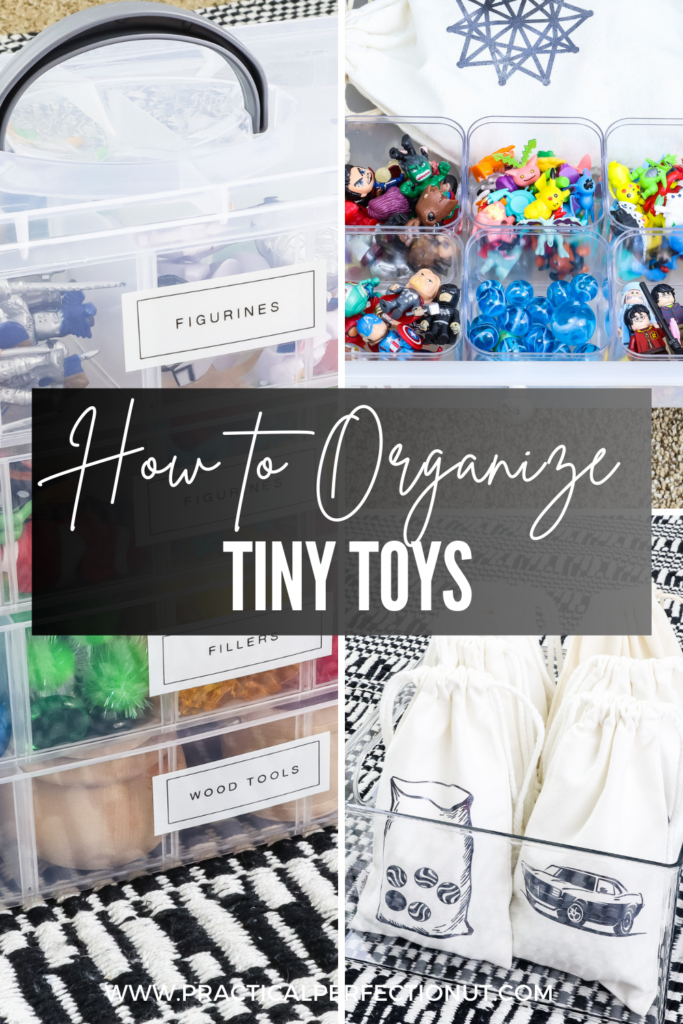 use a Rolling Cart
Buying a rolling cart can be just what you need to keep tiny toys organized. The tiny pieces can be difficult to store, but a rolling cart is a really easy solution.
The rolling cart has drawers that open up and close easily so they don't get lost in the shuffle of other things around the house! The drawers act as a sub-divider of sorts. It can also be easy to move around the house as needed, especially if you have a small room.
When you have a small room or a small space you sometimes need to move stuff around and a rolling cart makes it that much easier. Or you can even roll it around the playroom!

Boxes and bins help hide clutter
The best thing about tiny toys is that you can use them using the listed solutions above but you can also fit lots of pouches inside of one big box or basket. If you have toy storage in a certain corner of your living room, you can even use stacking boxes.
An important thing to remember is that if kids can't see their toys, they often don't remember about them and they don't play with them. So while it's important to hide the clutter, there needs to be a balance so that your child remembers to actually play with their stuff.