How to Set an Easy and Efficient Back-to-School Routine
It's that time of year again! The kids are getting ready to go back to school and you're probably starting to stress about how you're going to get everything done. It can be tough to get back into the swing of things, especially if you've been taking a break over the summer. That's why it's important to have a plan in place before the school year starts.
In this blog post, we will discuss how to set an easy and efficient back-to-school routine that will make your life a lot easier. Having a routine in place will help ensure that nothing falls through the cracks and your child is prepared for the new school year!
Why is a back-to-school routine important?
Whether it's your child's first year in school or you've had several kids in school for years, you might be wondering why a back-to-school routine is so important.
Developing a school schedule is important for the entire family because it provides structure and consistency during a time when things can feel very hectic. A back-to-school routine can help your child know what to expect each day after school, which can minimize stress and anxiety.
It's also important to have a routine in place so that you, as the parent, can stay on top of things. When you know how a normal day is going to go, you can easily prepare for upcoming school events, doctor appointments, and other activities.
Help your family members stay focused and calm by setting a back-to-school routine that is easy for children of all ages to follow.
STUDY TIP!
If your student is running short on time and doesn't have time to READ school materials, they can use the Speechify app and it can read ANY text that your student needs to read over for class, quizzes, or even tests.
How to Set a Back-to-School Routine
If you can, I'd recommend setting your back-to-school schedule before the school year starts. It makes it easier to stick to the new routine or schedule if the routine starts at the same time school starts.
If you wait to start the routine until a few weeks into the school year, it can be harder to get into the swing of things.
Here are a few ideas for how to set a back-to-school routine.

Morning Routine
Get Ready for School
When it comes to morning routines and getting ready for school, it's important to give yourself and your child enough time.
If you're rushing around in the morning, it can set the tone for the rest of the day and make it harder to concentrate in school. So walk through in your mind how long it will take your children to get ready in the morning and make sure everyone is awake to allot for the time you need.
Depending on how old your kids are, have a "morning routine" list up in the bathroom so they know what they need to do (brush teeth, comb hair, wash face, etc.).
Then you can be getting breakfast ready while your kids are getting themselves ready!
Keep on Schedule
Have a clock available that your children can read so they know what time it is. This can help them keep track of how much time they have to complete tasks.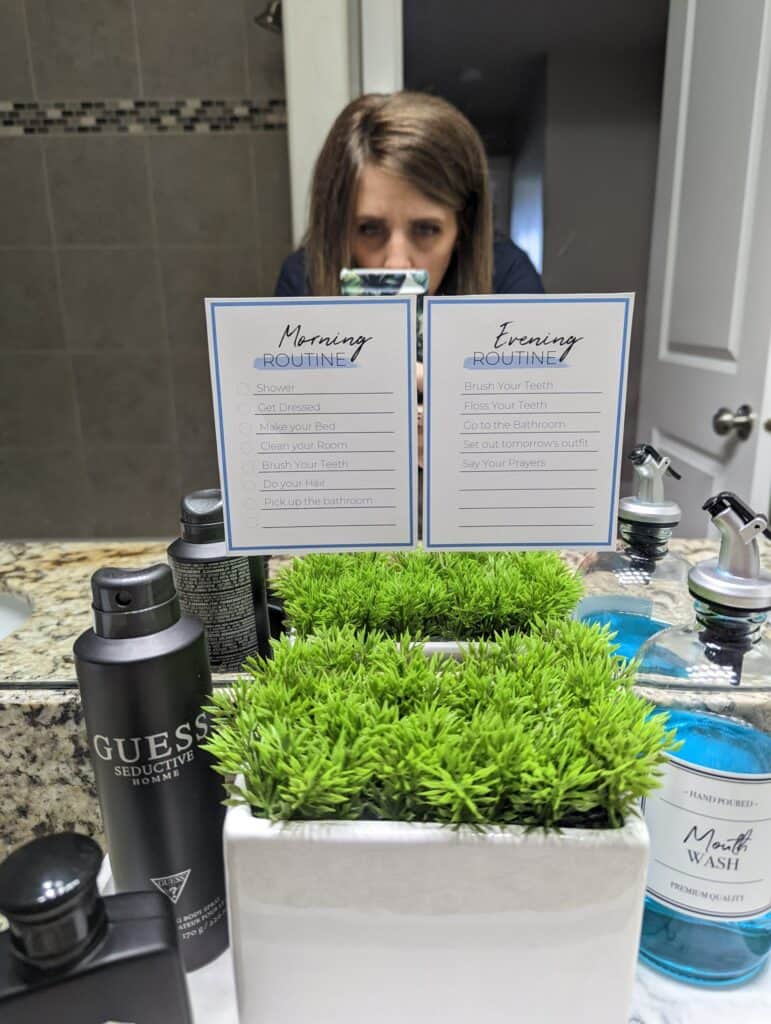 Make sure they know the expectations for the morning routine (like they need to have finished breakfast by 7:15, be dressed by 7:30, out the front door by 7:40, etc.)
This way, you don't have to constantly tell them how much time they have. Of course, some days things will take longer than on other days, especially if this new routine involves any new habits. You never know what might happen, so make sure you've worked some extra time into your schedule. That way you won't get as frustrated or stressed if you're running late.
Have a Family Command Center
Set a daily schedule or routine and post it in a common area like the kitchen or fridge. Make sure to include everything from wake-up time to bedtime. It's important that the whole family knows the routine and expectations.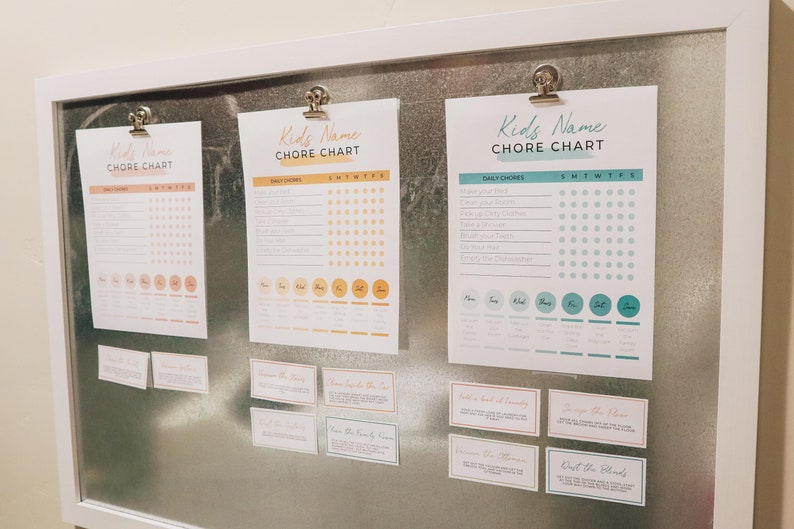 Also, make sure both parents or guardians know who is in charge of what task. Who is taking the children to school? Is it the same every day or does it change depending on the week? Note any changes on the family calendar.
You don't want to be working out the kinks as you're trying to get out the door!
After School Routine
Clean Out Their Backpack
Once your kids get home from school, have them empty out their backpacks. Clean out lunchboxes, throw out any papers they no longer need, and sign any permission slips.
This is also a good time for a little afternoon snack. I think a quick snack after school before they start homework can be a great way to give your children the boost of energy they'll need for the rest of the day.
Start On Homework
After a quick snack, make sure your kids start on their homework. If you have a homework station in your home, they can work there. Or if they have desks in their bedroom – that works too.
If you like being nearby in case they have questions, the worksheets and projects can just be done at the kitchen table!
I recommend organizing a junk drawer or creating a designated homework cart. That way, kids won't be searching all over the house for supplies they need to get their homework done.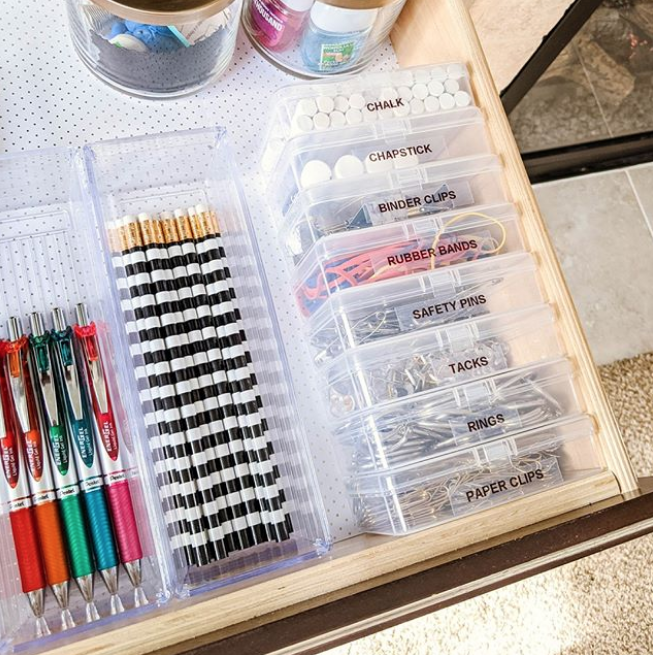 Find what works best for your kids and their concentration and stick to those routines. Make sure to implement consistent expectations, like they need to get all of their schoolwork done before they can have screen time or play.
Free Time
After schoolwork is done and before dinner, I think it's a great idea to make sure your kids have some time to play and have fun. They are still kids after all!
It's also a great incentive for them to focus when doing schoolwork since they'll know they get some time to play and relax.
Evening Routine
In the evening, it's time to get ready for the next day. The morning can be hectic, so I like to get as much done in the evening as possible to make mornings easier.
Set Out Clothes
Have your kids pick out school clothes the night before! This will help them be more independent and give you one less thing to worry about in the morning.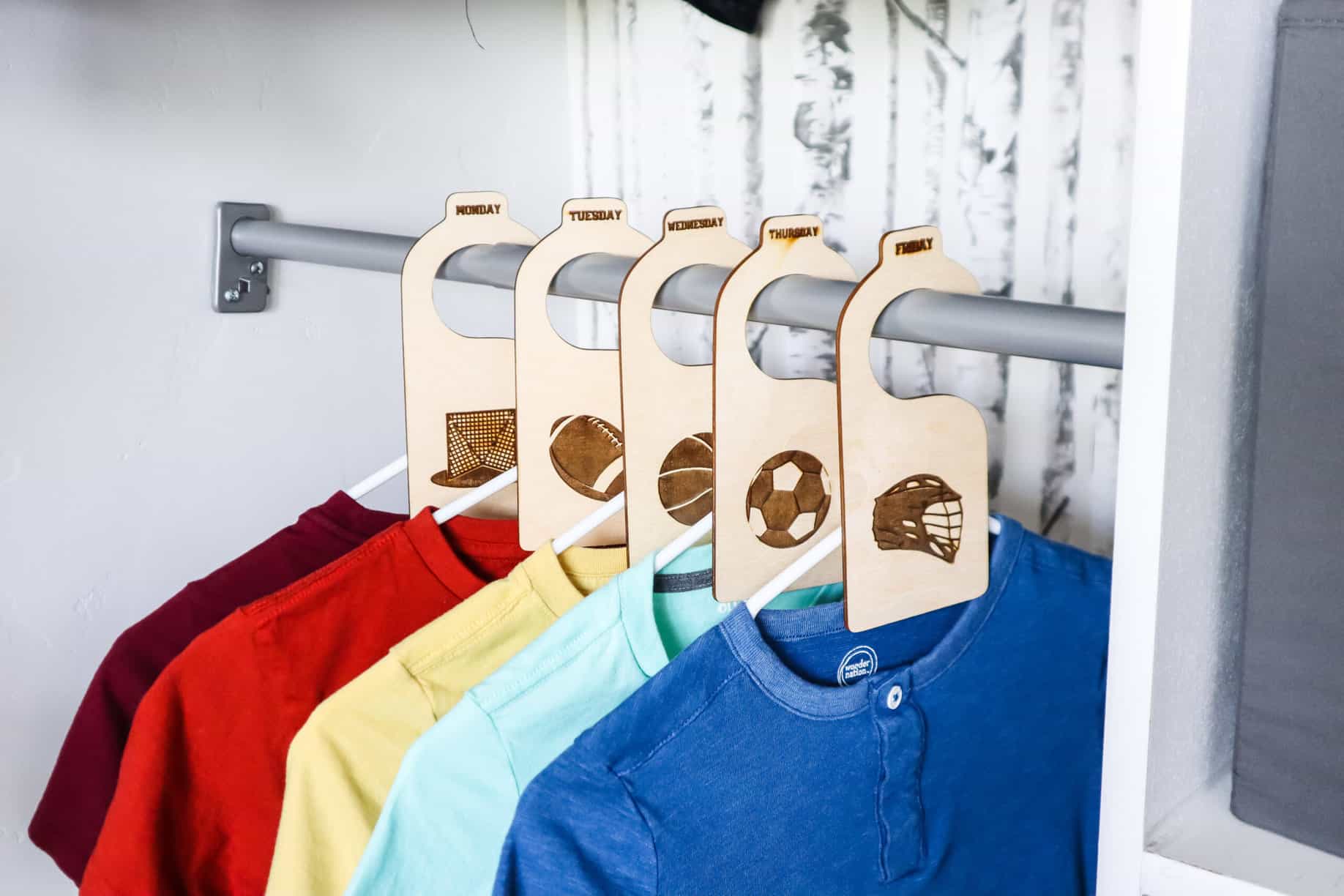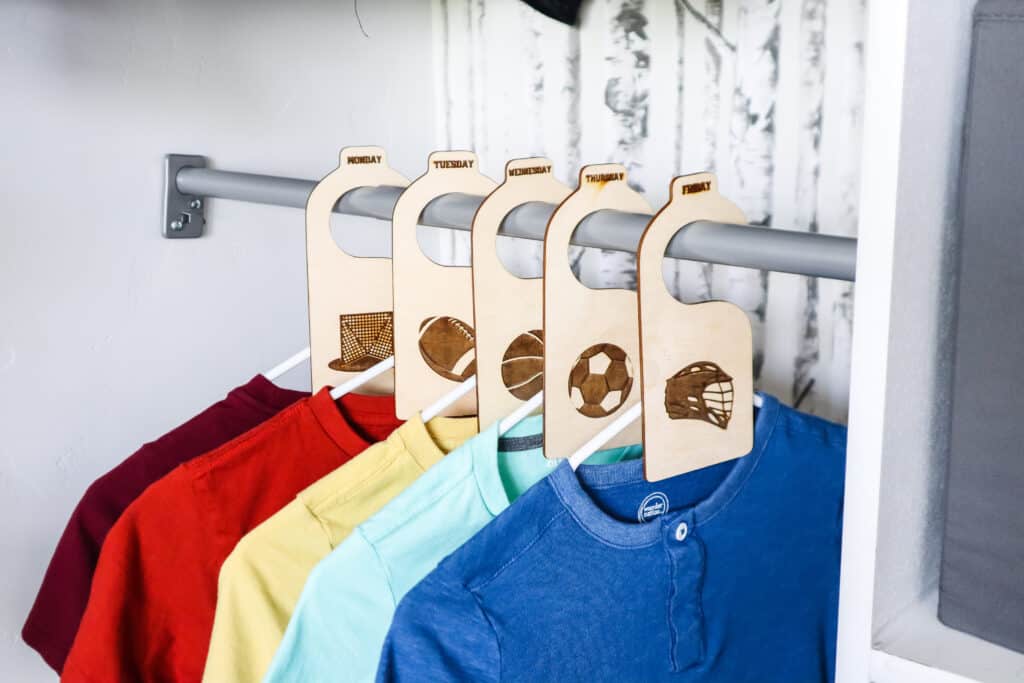 Make Sure Their Backpack Is Ready
Pack backpacks with everything your kids will need for the next day: school supplies, schoolwork, permission slips, etc. This way they're not scrambling to find things in the morning.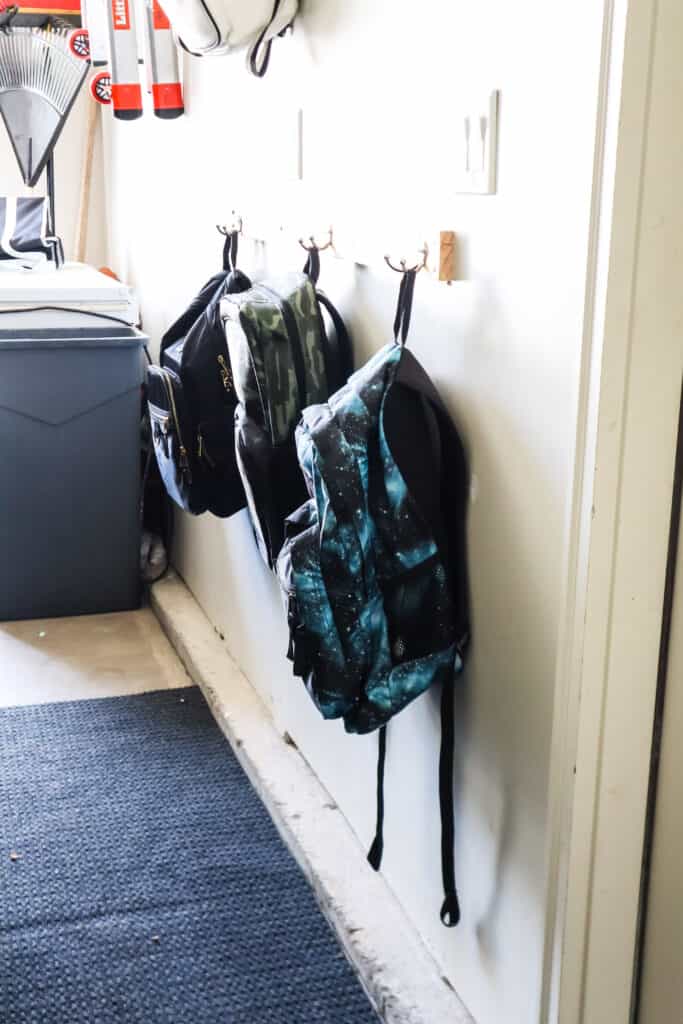 Have them set their bags right next to the door and then they can just grab their backpack and go in the mornings.
Make Tomorrow's Lunch
I also like to have my kids make their lunch as part of their evening routine. (If your children are young, you'll probably have to do this, but as they get older, you can have them help more and more!)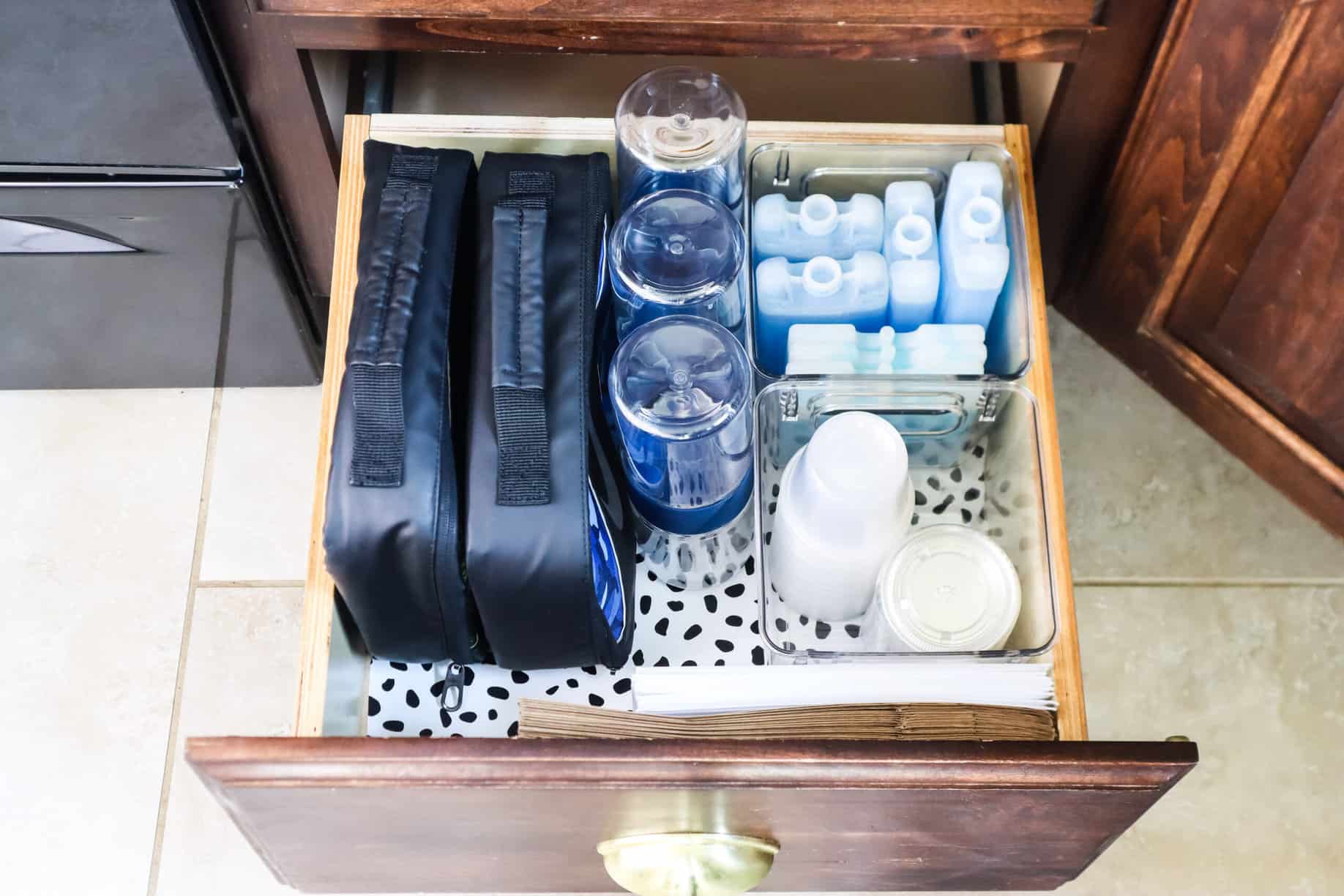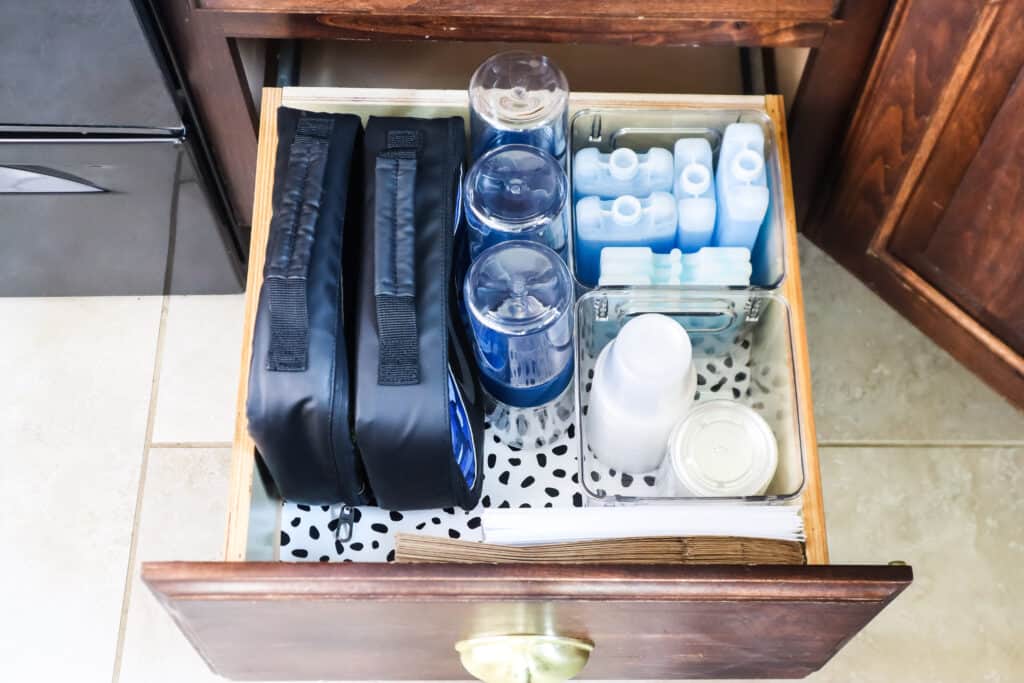 In the evening before bed, have your kids make a sandwich, put some snacks in their lunchbox, and pack up their water bottle or thermos. That way, all you have to do is grab the lunch box from the refrigerator in the morning on your way out the door.

Sleep Schedule
To help make sure your child is getting enough sleep, create a bedtime routine that works for your family. Make sure you're finishing everything in the evening with enough time for them to get to bed at a decent hour.
A bedtime routine should be started a few weeks before school starts so that their sleep patterns can adjust to the new sleep routine.
Parents might also need to adjust their own sleep routine if they'll be having earlier mornings helping their kids get off to school! So just keep that in mind.

Other Tips
Here are a few other tips that can help you as you set those routines!
Have a designated area for school things.
It's a good idea to have an area in your house designated for school things. This can be a backpack hook by the door, a spot at the kitchen table, or even just a bin in their room. This will help them know where things are and make it easier for you to find things when you need them.
Design your schedule around your child's needs.
If your routine isn't going perfectly well after a week or two, don't stress about it! It takes time for the house to settle into the new life tasks. Give yourself time and let your family adjust.
If it's really not working, then make some corrections or adjustments to your routine. Make sure you're planning it around your child's needs.
For example, if your child takes a long time eating breakfast or getting dressed, create some more time in the routine for them to prepare for the day. Cut down in other areas as you can, or just wake them up a little earlier.
Get the entire family involved in setting up routines.
Ask your kids what they think needs to be a part of their own routine. Consulting your kids as you plan family routines can help them feel more ownership and responsibility for following through with the plan.
Enjoy the new school year!
The first day can be stressful, but if you create a routine ahead of time, you can be excited instead of overwhelmed. Begin your routine a week or so before they start so your child knows what is expected of them each morning, and don't be too hard on yourself or your family through the transition.
Also, don't forget about yourself! As you're creating routines for your kids, make sure to factor in some time for yourself. Whether it's a few minutes in the morning to enjoy your breakfast in peace or a few minutes at night after a long day when everyone else is sleeping, create some time in your day that is just for you.
Good luck and enjoy the new school year!