Free Up Your DVD and Video Game Storage by 80%
Family entertainment is an essential and fun part of life. But the reality is that all of those things take up valuable space in our homes! Now, imagine your DVDs and Video Games in your own home in your mind. What if you could use 80% of that space to store other important things…without getting rid of anything! Let me show you how!
Don't forget to scroll down and sign up to gain access to my FREE Resource Library where you'll have access to more than 50 pages of free printables!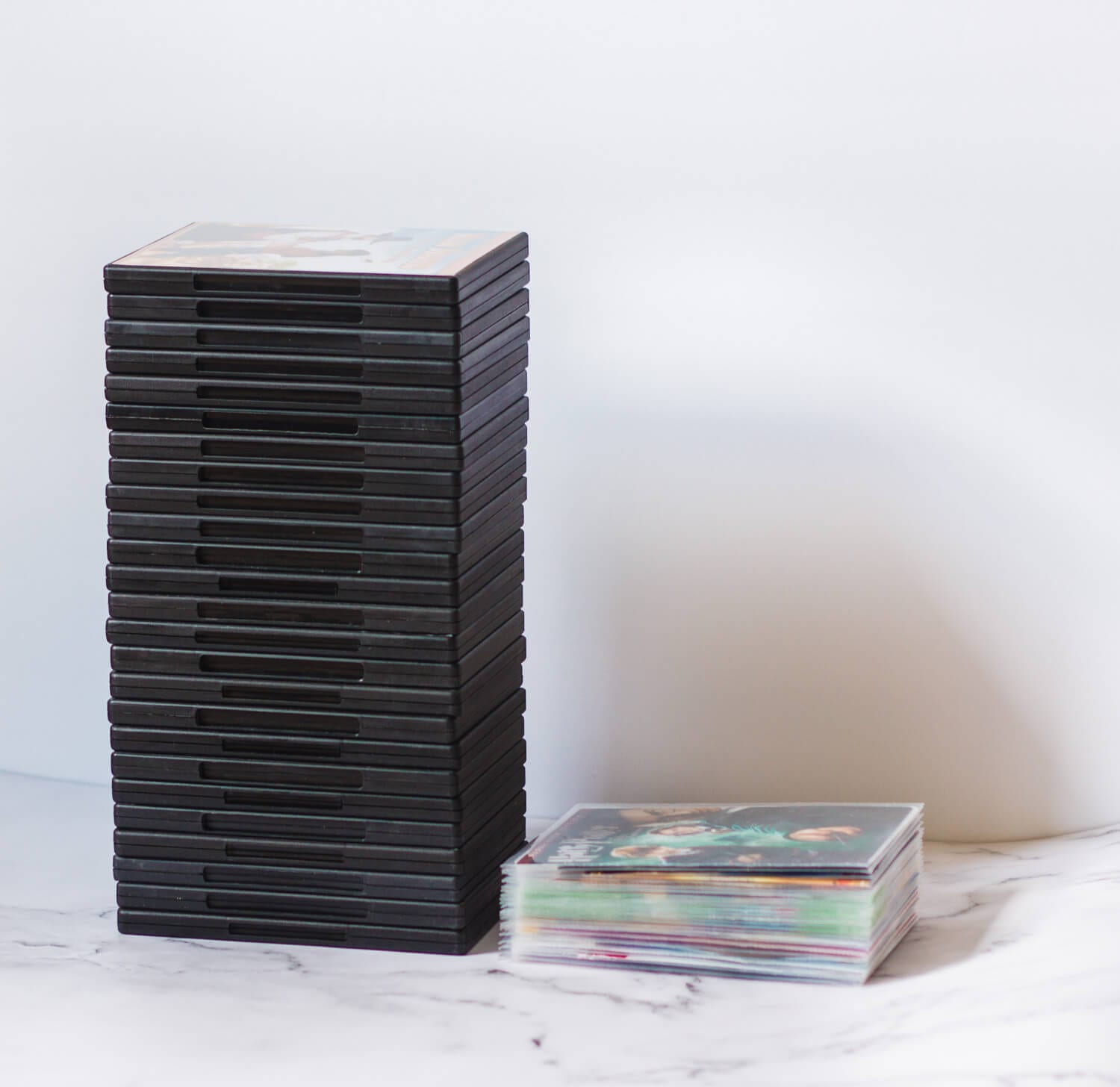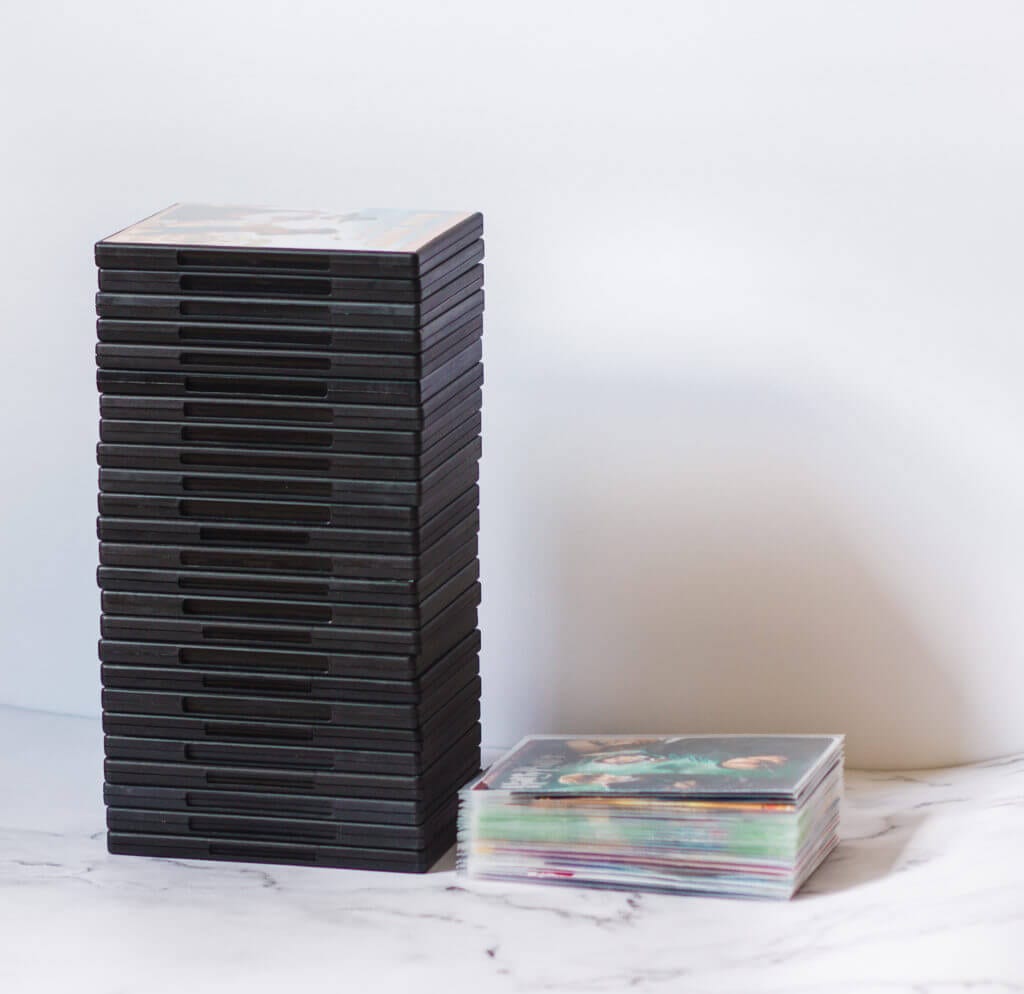 Disney Overfloweth
A few years back my kids were super little and our days were filled with all sorts of arts, crafts, and of course, lots and lots of Disney Movies! I have vivid memories of watching Sleeping Beauty and Cinderella as a little girl, so Disney Movies had become a part of my kids' lives too! We even joined the Disney Movie Club a couple of times, so we had no shortage of kids DVDs.
I started noticing how much space the DVD cases were taking up so I set out to find a solution to make the best use of the space. We previously had an entire cabinet full of DVDs, but I wanted to use it for something else and I knew there had to be a better solution out there.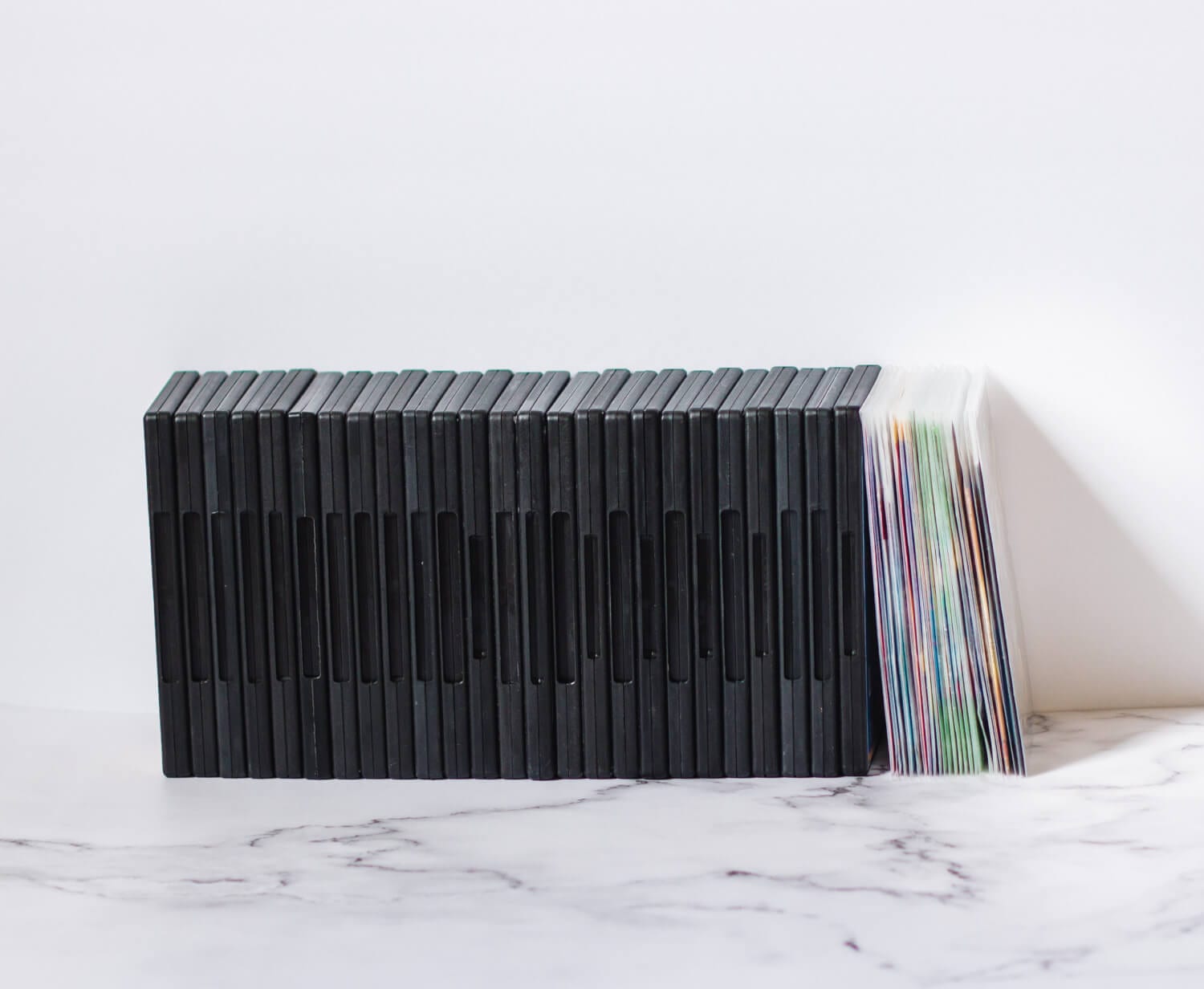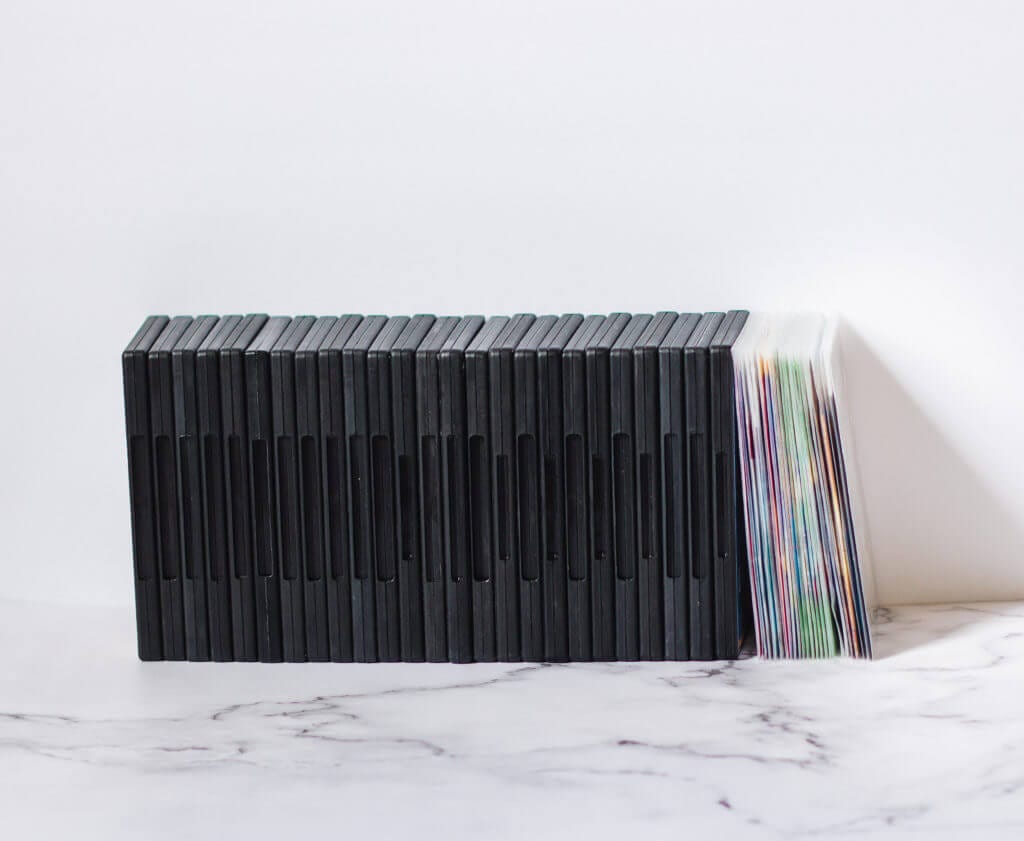 The Solution
Thankfully, streaming services like Netflix and Hulu have dramatically changed the way we watch our shows, but the DVD problem still remains. I found these Clear DVD sleeves on Amazon and I knew they were the solution to my problem! I could hardly wait for them to come in the mail, and when they did I set out to organize them immediately.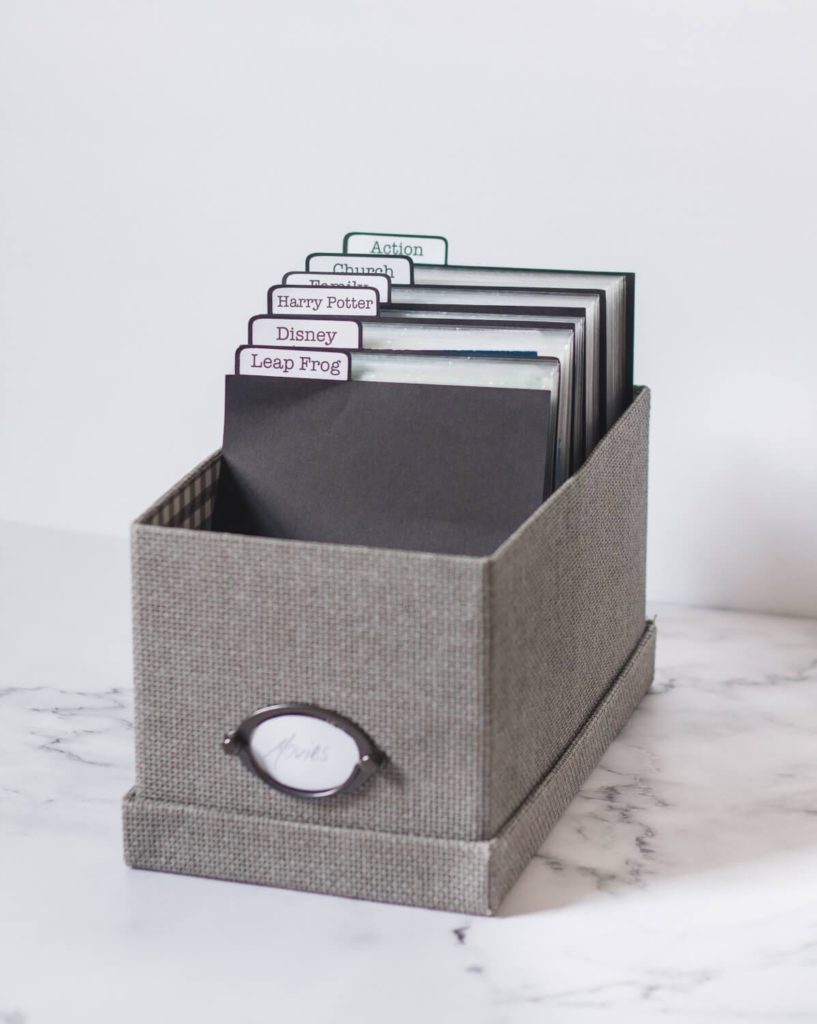 I cut the DVD cover off of the DVD and placed it in the front of my new clear envelope. Then I put the DVDs into the sleeve as well. They fit perfectly!! Then I did it for all other DVDs and was absolutely astounded at the space that it saved me! I had so much free space available that I was able to clear out the entire DVD cabinet and start using it for my spices. My space looked so clean and clutter-free and it was a complete breath of fresh air.
The Storage Box
After I had all of these newly re-organized DVDs, I realized that I needed some sort of box to put them in. So I looked around for the perfect solution for a couple of weeks and finally found it! I found the Kvarnvik Storage box that fits the DVDs absolutely perfectly! I love how this storage box is even more on the decorative side and I don't mind putting it out in the open.
I even went a step further and created DVD dividers according to the type of movie. You could easily do this yourself! Take some cardstock and use the new DVD as a template and trace around the DVD sleeve onto the cardstock. Now cut it out, leaving a small notch at the top so you can label it! Here are some category ideas that you could use for your own DVD storage space:
Disney
Harry Potter
Family
Kids
Mystery
Romance
Church
Christmas
Halloween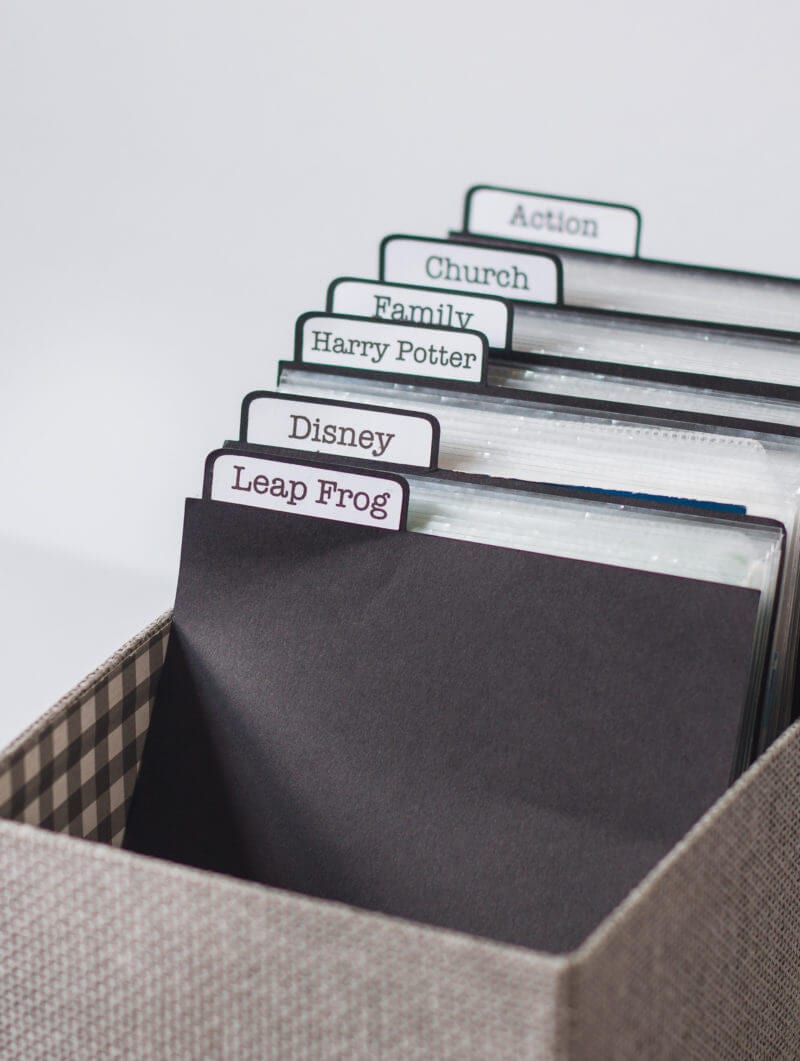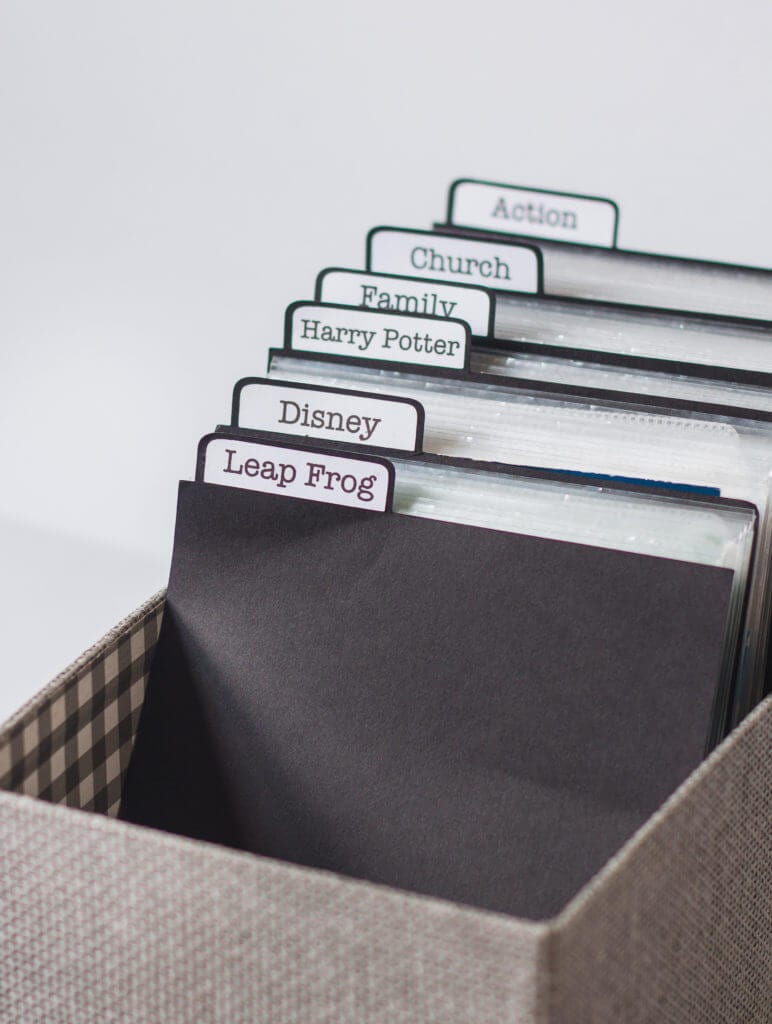 Because the storage space in our homes is so valuable to us, this solution was an absolute NO BRAINER! For only a few dollars, you can completely transform your DVD and Video Game storage! Viola, just like magic!
If you liked this post, check out my other posts on how to Organize Board Games and how to Organize Card games by significantly decreasing your storage space with those as well!