How To Make S'mores and the Perfect S'mores Caddy
Summer nights are some of my very favorite (minus the mosquitos). I have such fond memories of gathering around the campfire while camping with my family, smoke in our eyes, laughing together and of course, eating S'mores.
Personally, I was not a huge fan of S'mores until a couple of years ago when we really learned how to do S'mores the right way! I really hate it when the S'mores are super dry, and the marshmallow (despite it being hot and literally in flames just seconds before) was never warm enough to melt the chocolate. This is an actual pet peeve of mine.
What is a S'mores Kit?
A S'mores kit is simply all of the ingredients for making S'mores in one place. I like to include:
Chocolate bars
Marshmallows
Graham crackers
An easy way to transport and store your S'mores ingredients is to use a portable container like a reusable lunch box or small cooler. You can use a small tackle box, a utensil caddy or even a simple tray.

How to Create a S'more Caddy
One of my favorite tips to give when I am helping others organize is to organize things according to how you use them. Create a system, or in my case a caddy, that allows you to put all of your ingredients for your S'mores in one place I also recommend unwrapping everything!
It is so annoying to try and pull everything out of its packaging when you have a hot marshmallow waiting to be eaten at the end of your stick!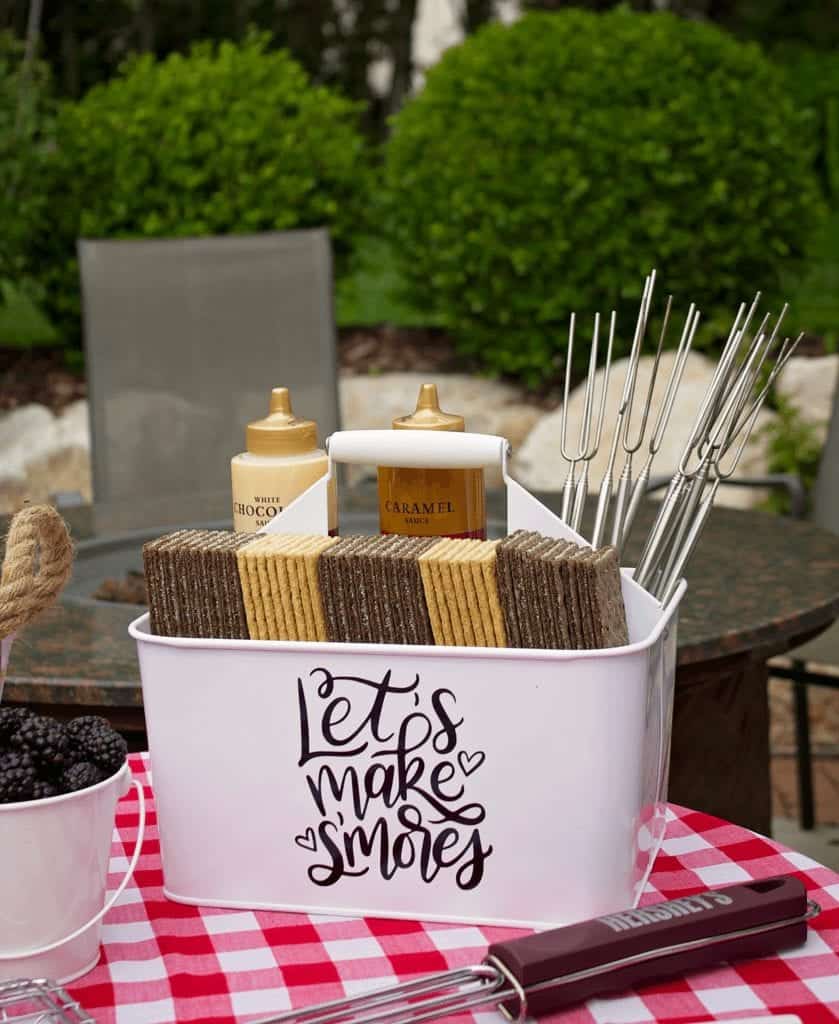 Creative Toppings for your next S'more Party
Because I hate dry S'mores, I decided to try out a few recipes of random ingredients to see what concoctions that I could come up with. Here is a list of ideas for things that would be delicious inside your S'mores.
Chocolate Graham Crackers
Ice Cream toppings such as Sea Salt Caramel or White Chocolate
Raspberries
Blackberries
Strawberries
Reeses Peanut Butter Cup
Peanut Butter
Hershey's Chocolate
Hershey's Gold
Sugar Cookies in place of Graham Crackers
The possibilities are endless!
Think outside of the box when gathering your ingredients for your S'mores. There are so many different kinds of items that would be delicious with a roasted marshmallow! We tried so many different combinations and my favorite were the ones with the fruit inside!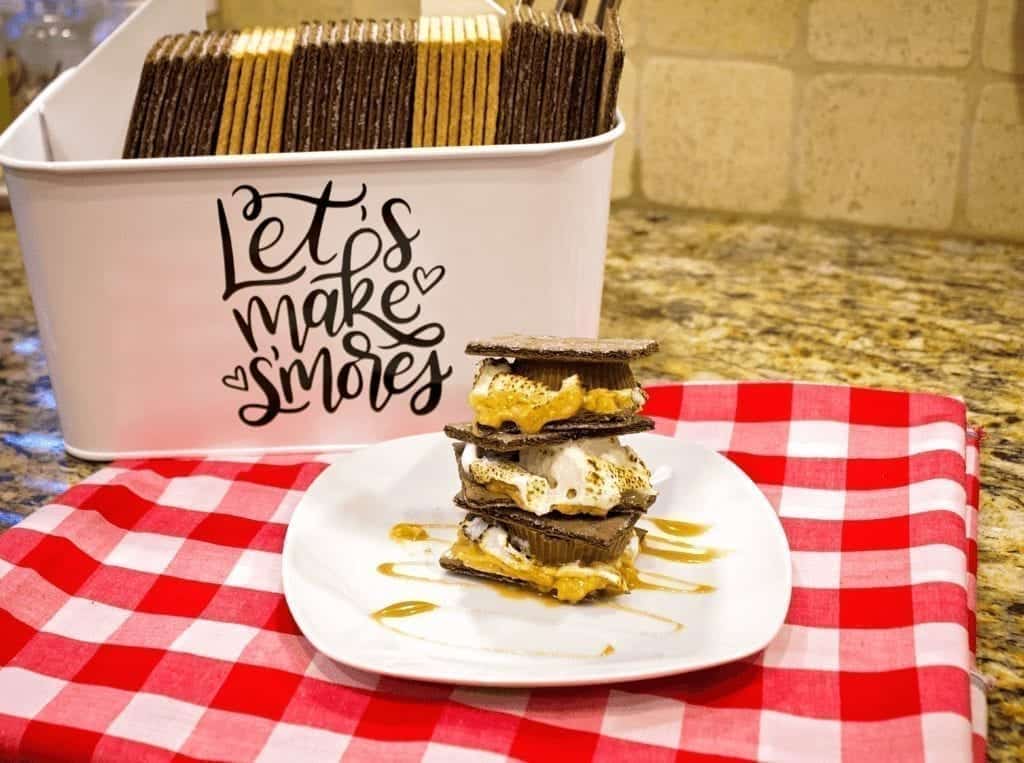 I was actually quite surprised! The combination of the crunchy Graham Cracker with the juicy berries, roasted marshmallows, and the melted chocolate was sheer perfection!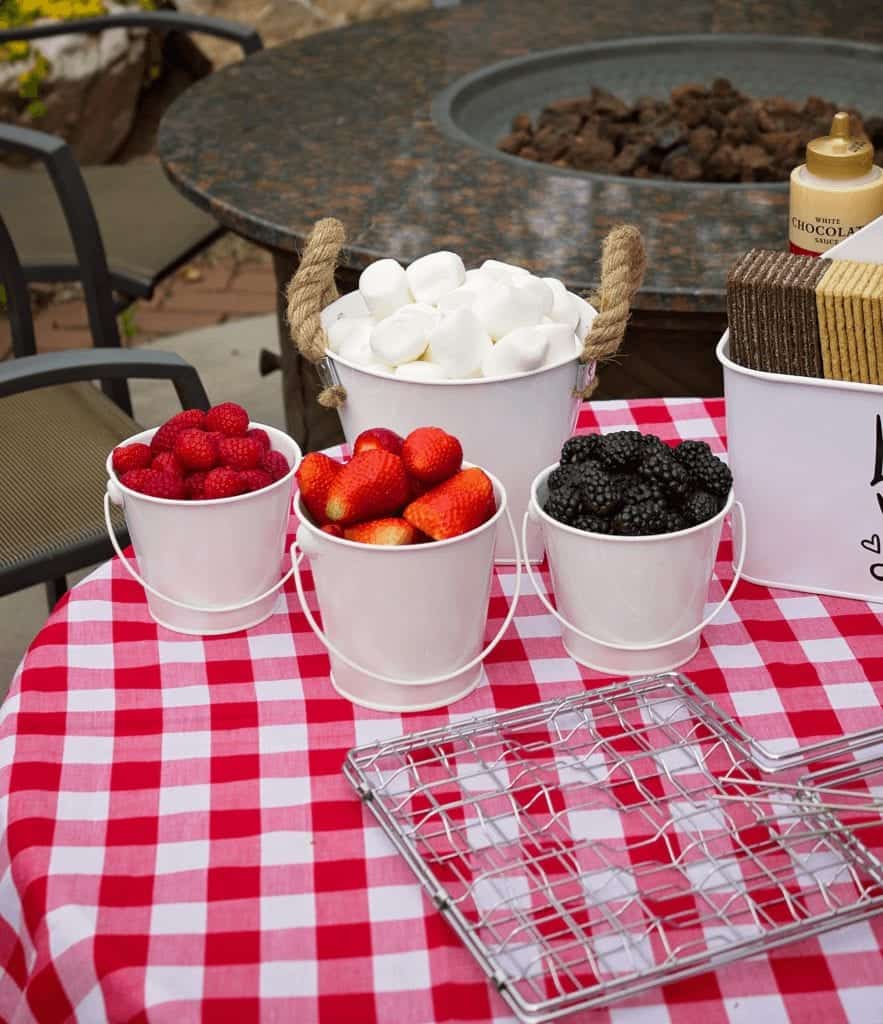 I also wanted to mention this Silver S'more maker. This is something that is great if you don't have a firepit but you do have a grill! Just make sure to wrap your S'more in tin foil before you put it into the cage so the melted marshmallow and chocolate don't melt down into the fire and make a huge mess. I purchased this at Target this season but couldn't find it online so I am going to link one that is similar that I found on Amazon.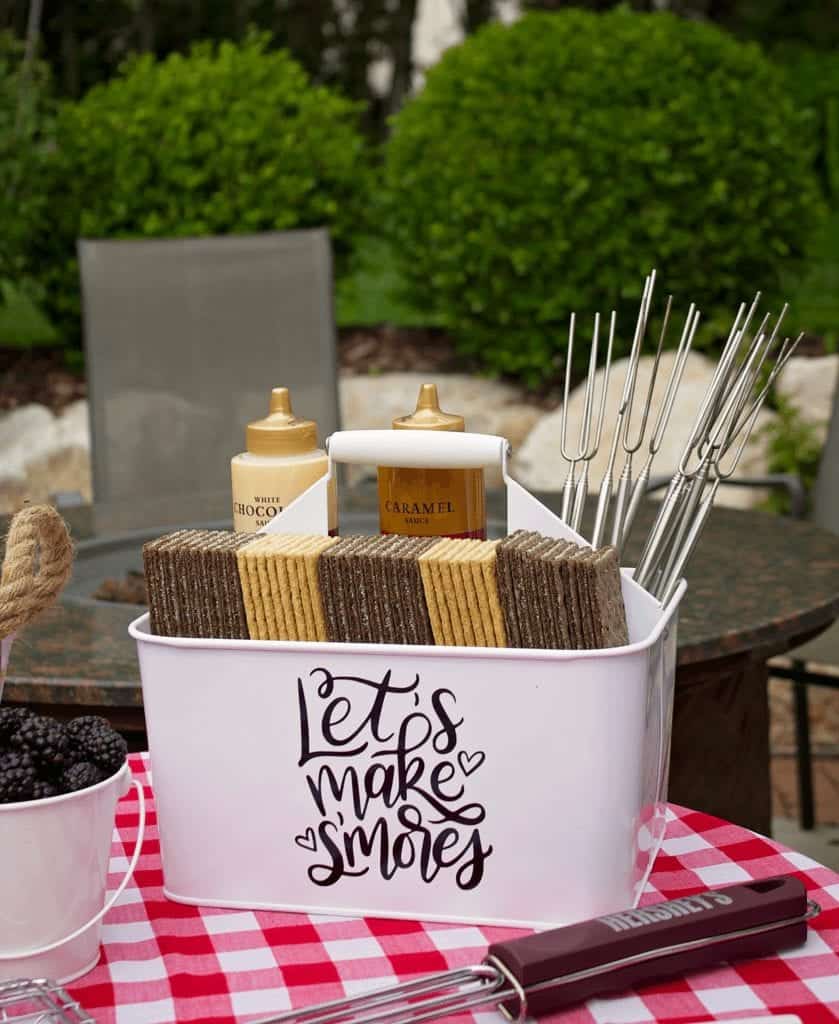 I found this caddy at Target and these have been out of stock for MONTHS, so if you are interested in one, don't walk….run! Probably one of my favorite parts of this entire S'more caddy is the vinyl lettering that I put on the front. I found this darling word art on a website called Dawn Nicole.
So if you want to make your own S'mores caddy, head on over to her website where you can download this free file to cut out and create for yourself! I also purchase these Telescoping Roasting Sticks about a year ago and I am completely in love with them!
They even come in a convenient zipper pouch to it is easy to keep them all together. I went step further and painted the handles of my roasting sticks white and it matches my S'mores caddy perfectly!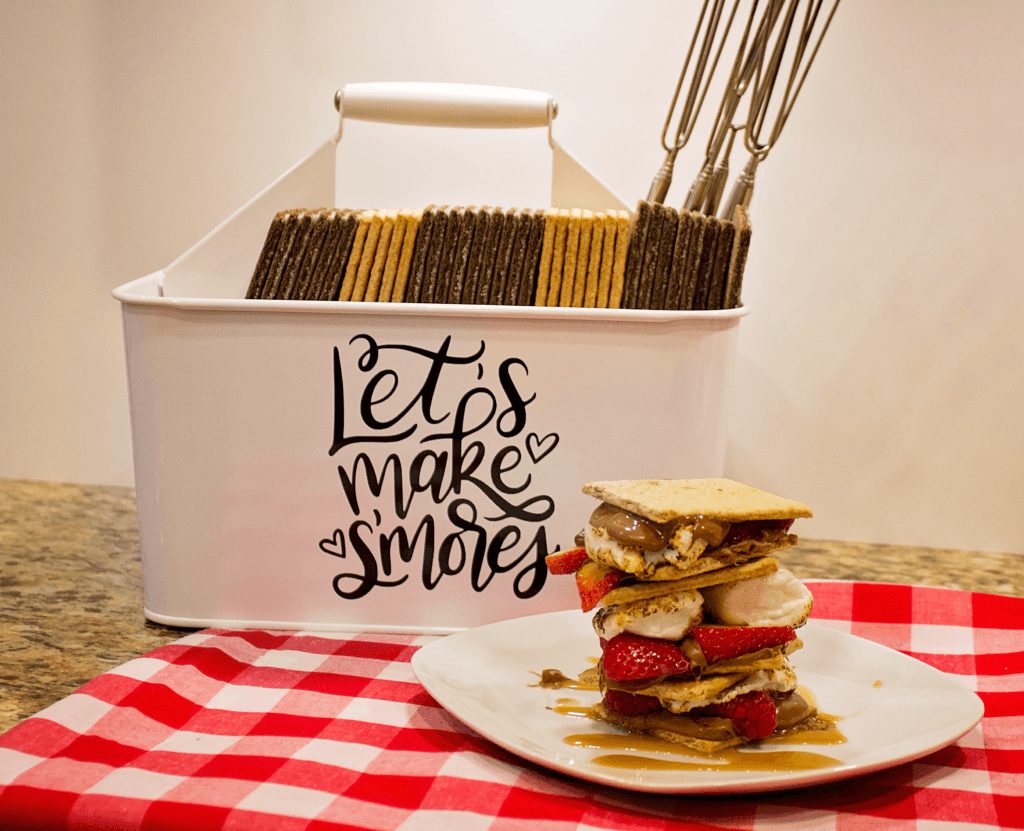 I hope this post was able to inspire you in ways to keep your summer campfire fun organized! Pin this image to save it for later!
Gourmet S'more Recipes You'll Love
Looking for some new and interesting ways to enjoy your s'mores this summer? Check out these recipes from some of our favorite food bloggers!
Looking for more summer fun ideas? Check out my post on "How to Organize a Successful Lemonade Stand"