How to Label Your Entire House with a Label Maker
Labels help us to organize our lives. They make it easy for us to find what we are looking for and help keep our homes tidy. And if you're looking for a way to label your entire home, a label maker is a great option. A label maker can be used to label everything from files in your office to food in your pantry.
In this post, we'll teach you how to use a label maker to help keep your house organized and tidy. We'll also provide some tips on how to make the most of your label maker.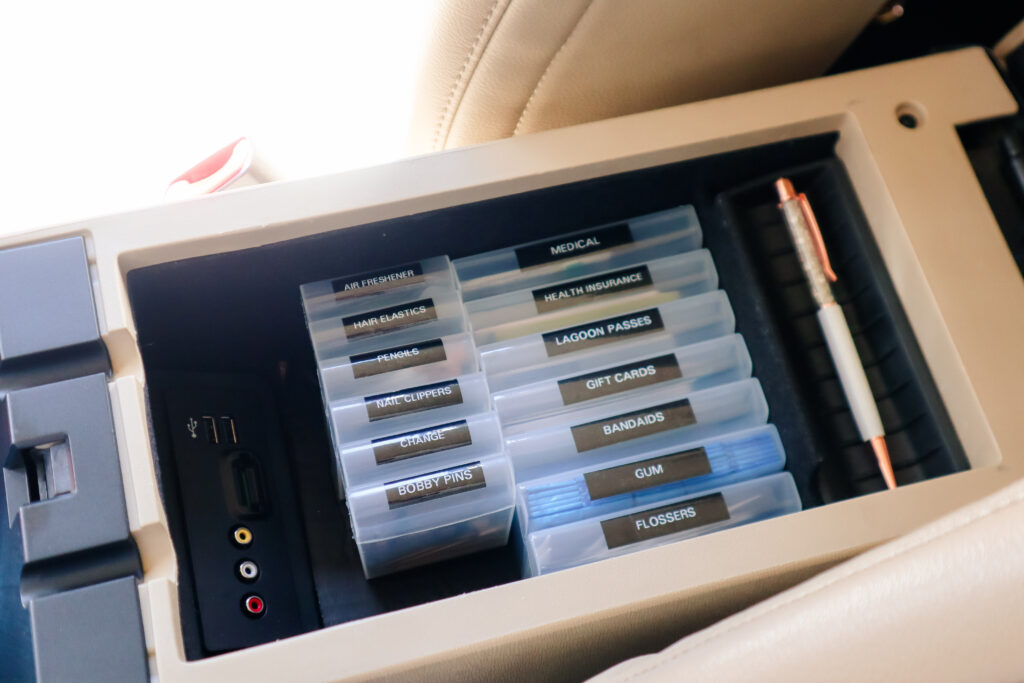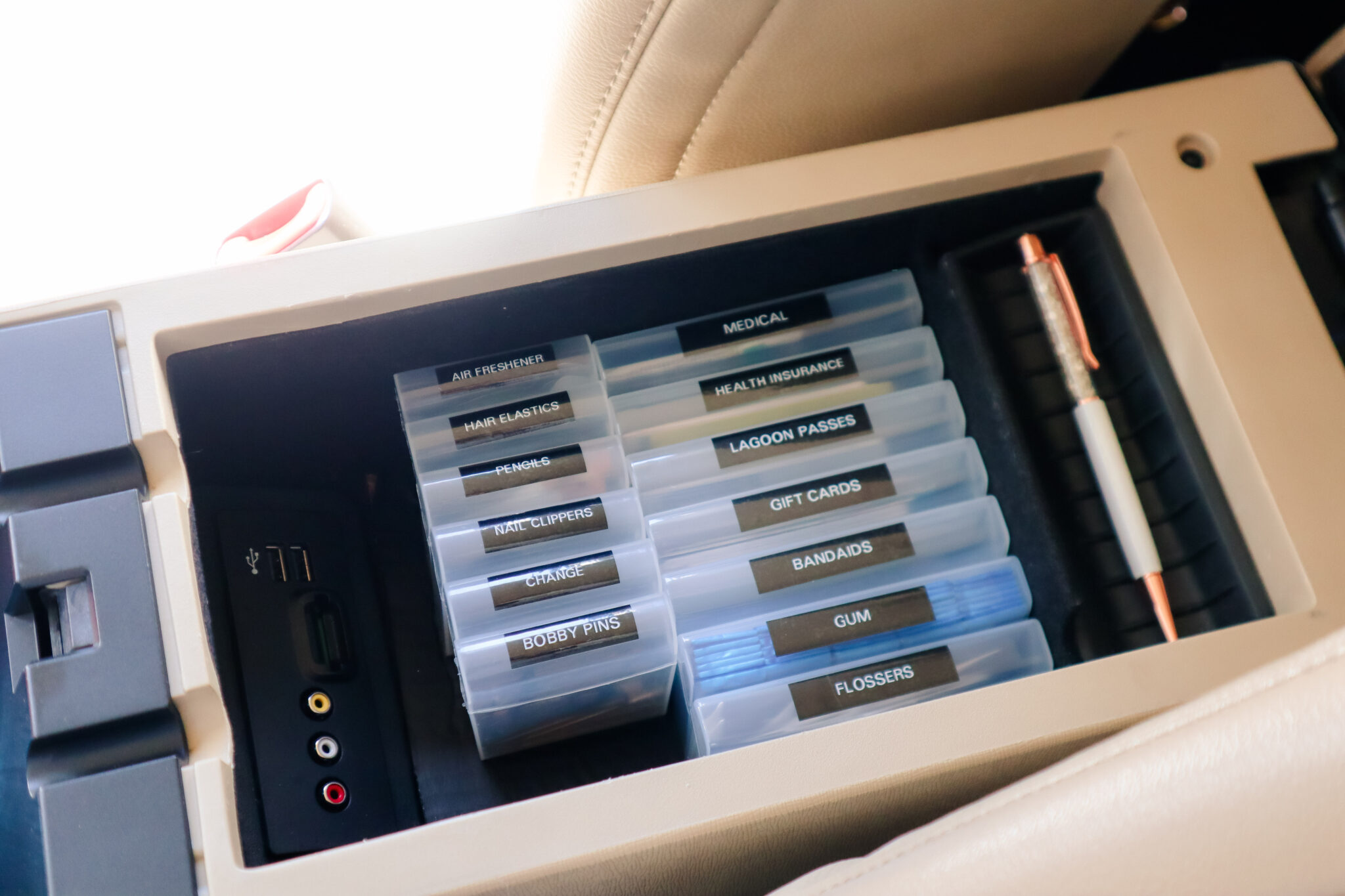 So whether you're just getting started with a label maker or you've been using one for years, this post has something for everyone!
How to Label Your Home with a Label Maker
If you want to label your home, there are lots of ways you can do it. We have another post all about the different types of labels you can use around your house, but this post is all about the benefits of using a label maker.
Using a label maker for your home can be a great way to keep things organized and tidy. A basic label maker lets you create labels quickly and easily. You can save a lot of time (and even money) by using a label maker around the house.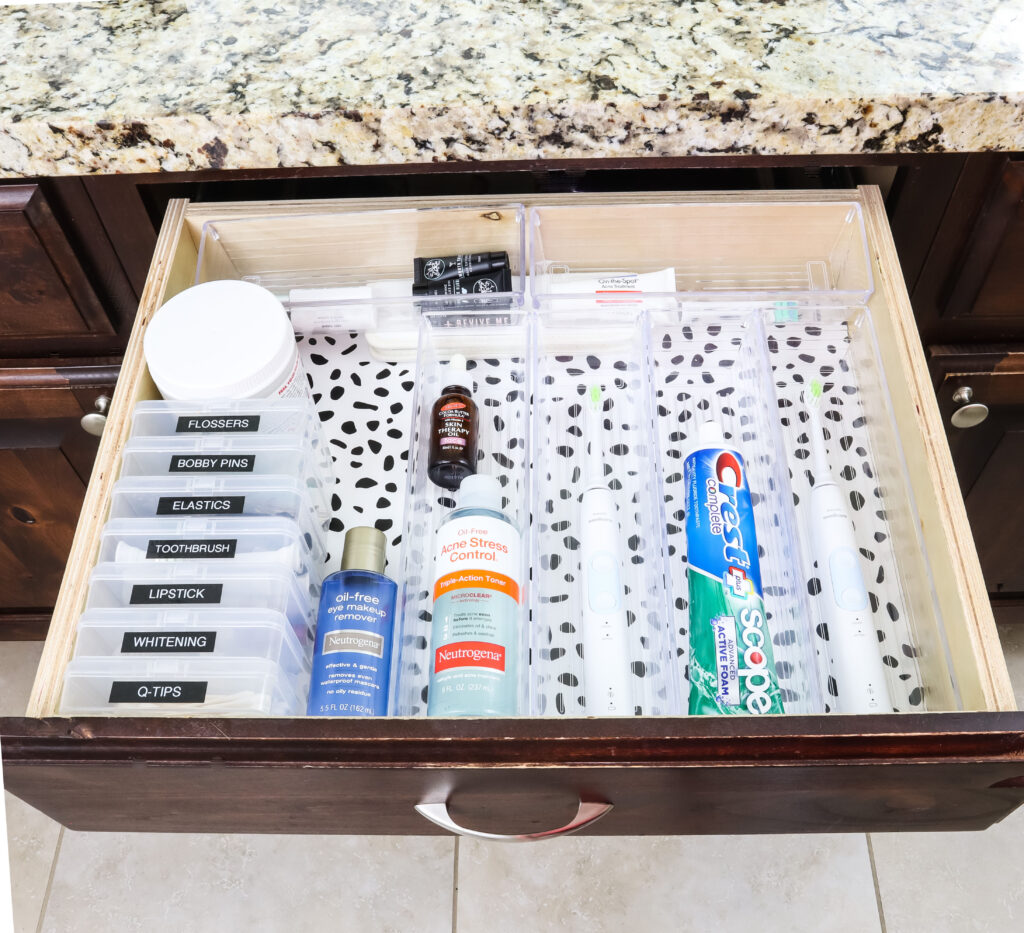 How to Choose the Best Label Maker for You
There are lots of label makers available, from the most basic label maker to a more versatile label maker.
When trying to decide what label maker you should get, there are a few things you should ask yourself.
Label Maker recommendation
My FAVE Label Maker
I have used quite a few label makers in my day and this one is by far my favorite. Extremely easy to design the labels on your phone and print with the label maker! Most photos in this post were labeled with this label maker!
How many fonts do you want to use?
Ask yourself if you care how many fonts are available with your label maker.
Some label makers, like a Dymo label maker, have only one font available – specifically the Dymo label maker that is an embossing machine. If you like that one font or the look of the embossing of that Dymo label maker, then that works for you!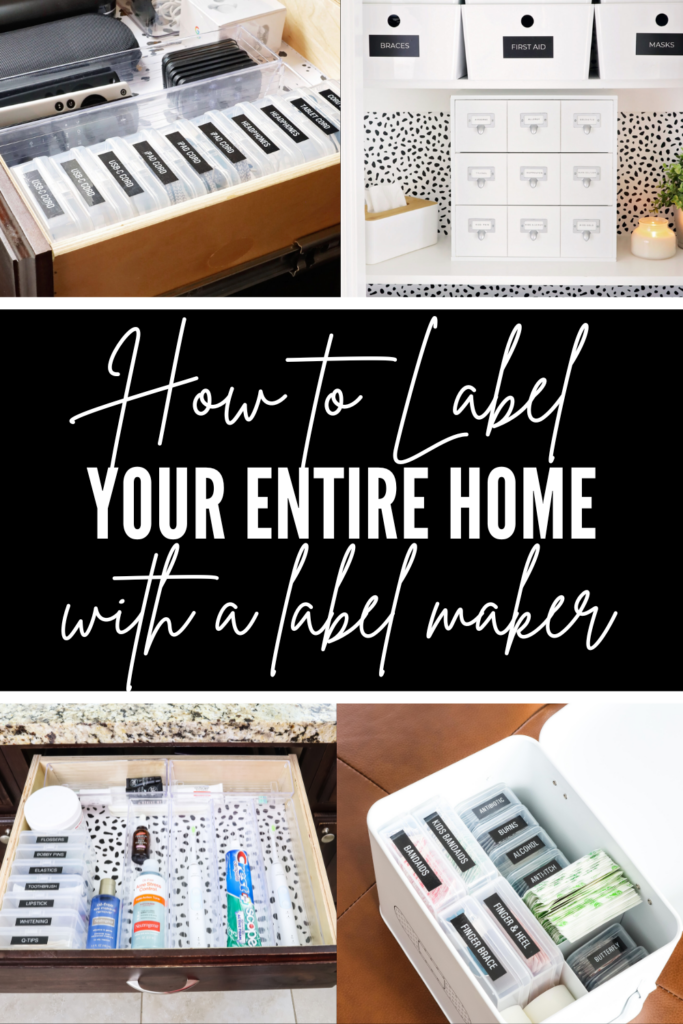 But if you're looking for different fonts so you can use a variety of fonts in each room in your home, you'll want to look at label makers with three fonts or more available. Dymo has another machine with a large variety, or you can get a Cricut (which I love) or a Brother P Touch machine (which is one of the more modern label makers).
When considering font variety, you should also consider font sizes. Check the reviews and information of the label makers before buying and see what font sizes they can print.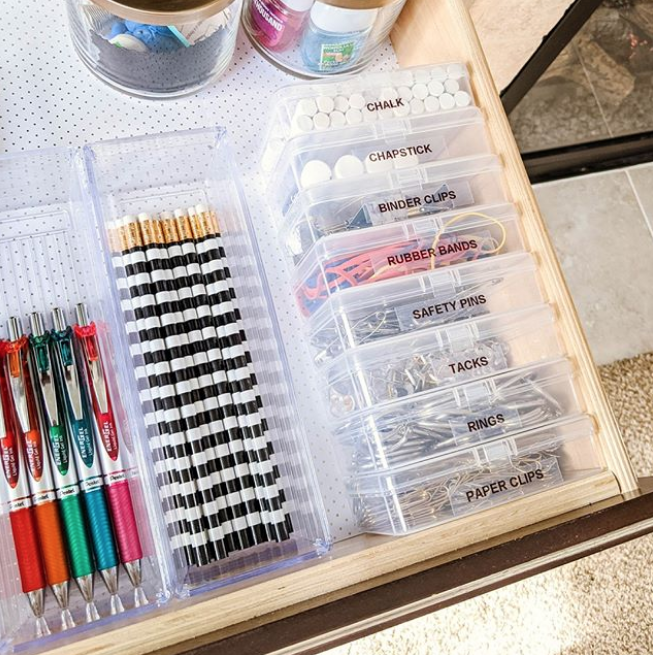 How big are the labels that they print?
In addition to font size, you'll want to check out label size. Can you adjust the size of the labels?
If you're labeling your entire home, that's important to know. You'll want large labels for shelves or big bins and containers, but you'll want small labels for spices and pantry containers.
Label Maker recommendation
My FAVE Label Maker
I have used quite a few label makers in my day and this one is by far my favorite. Extremely easy to design the labels on your phone and print them with the label maker! Most photos in this post were labeled with this label maker! It also uses a variety to tape sizes and colors for endless possibilities.
Check out the label width and height of the labels that go with the label maker and see if the label printer can adjust the label width or if only one size is available.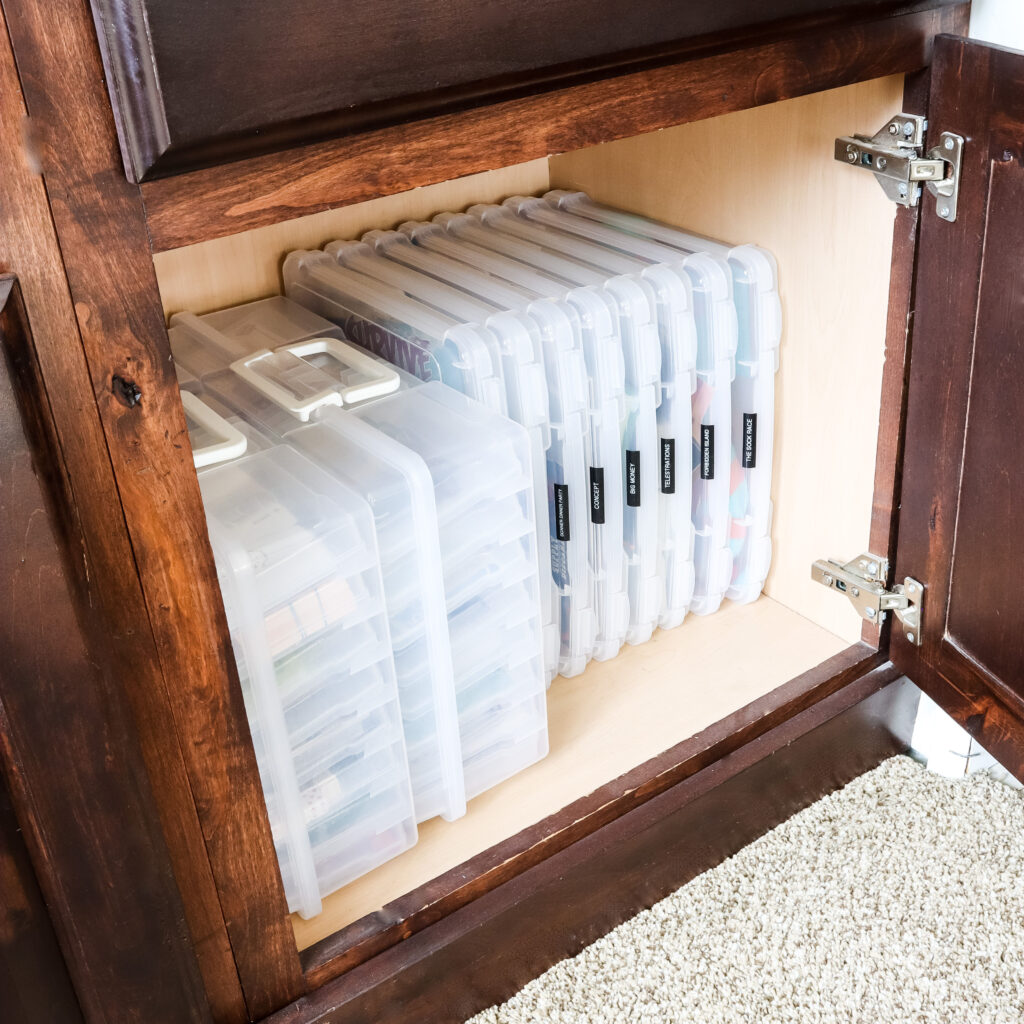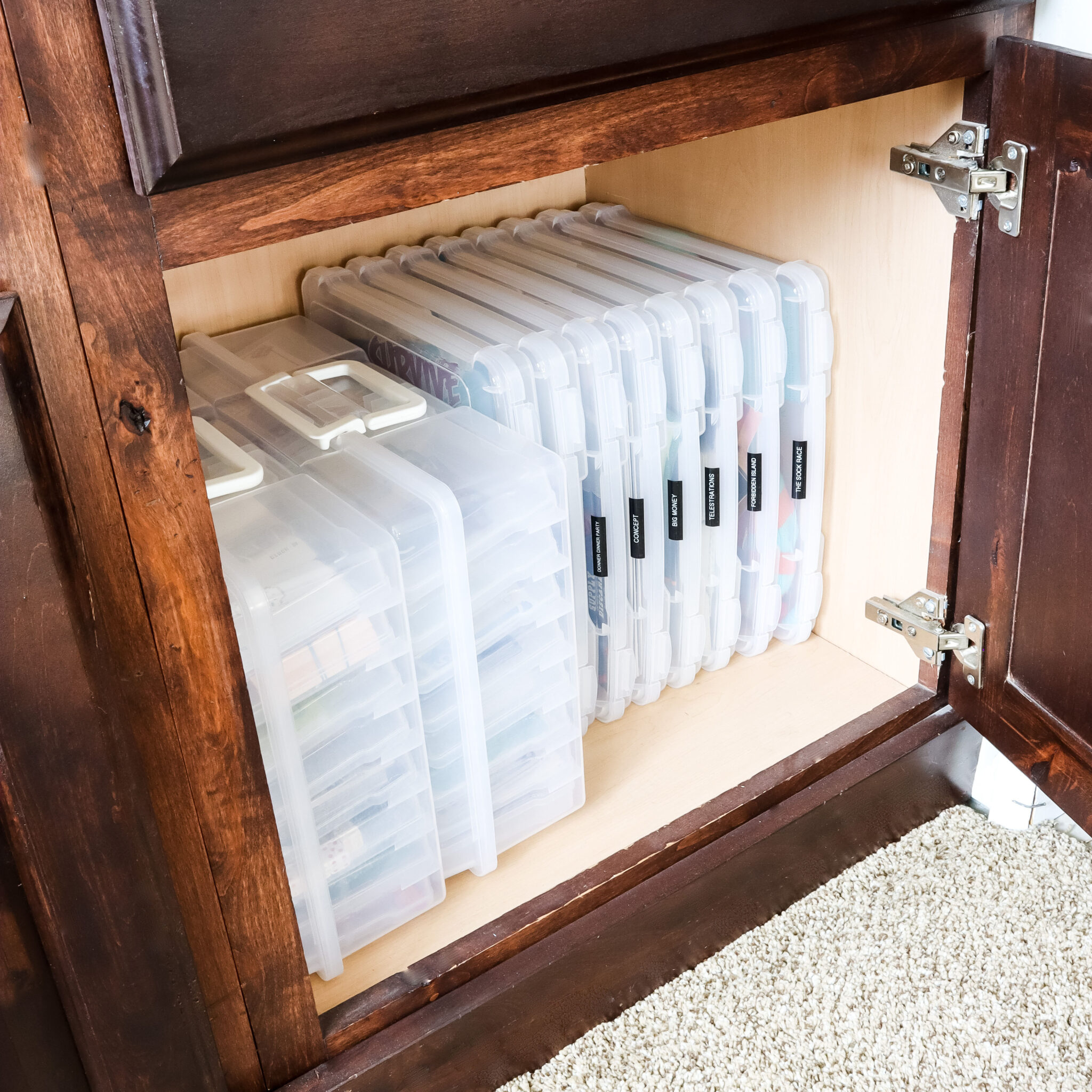 How much room do you want it to take up?
Make sure you decide where you want to store your label maker in your home. Some label makers, like the Cricut, are a bit big. If you have the space for it in your home or office, then you don't need to worry.
But other label makers are smaller if you're looking for easy storage solutions or a compact size.
For example, the Brother P Touch cube label maker is only slightly larger than a handheld label maker, which makes it good for traveling or for small home offices.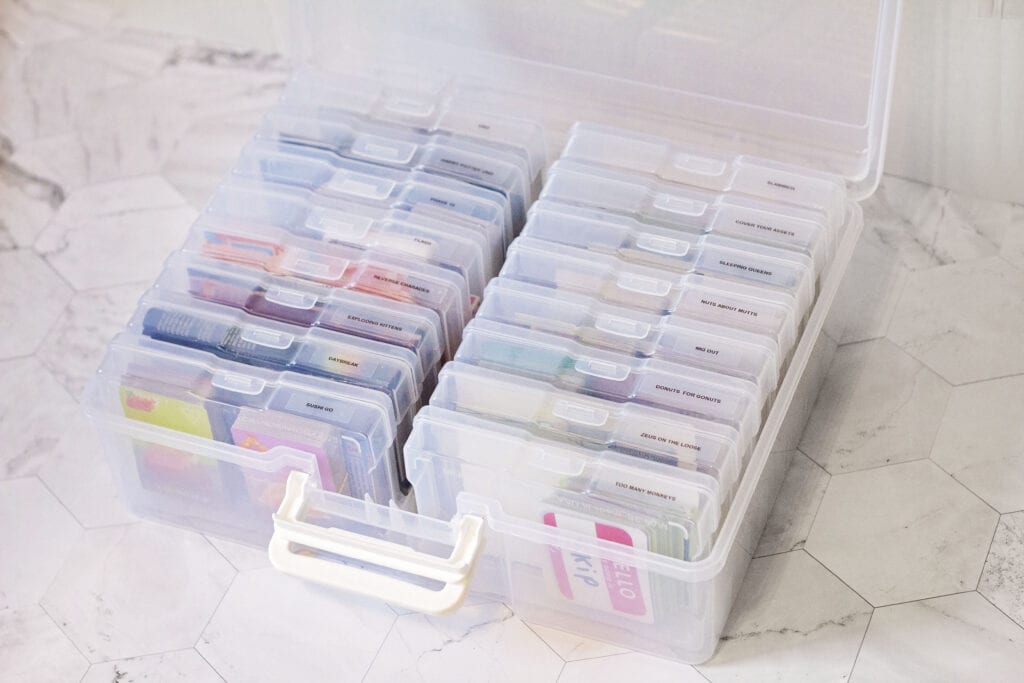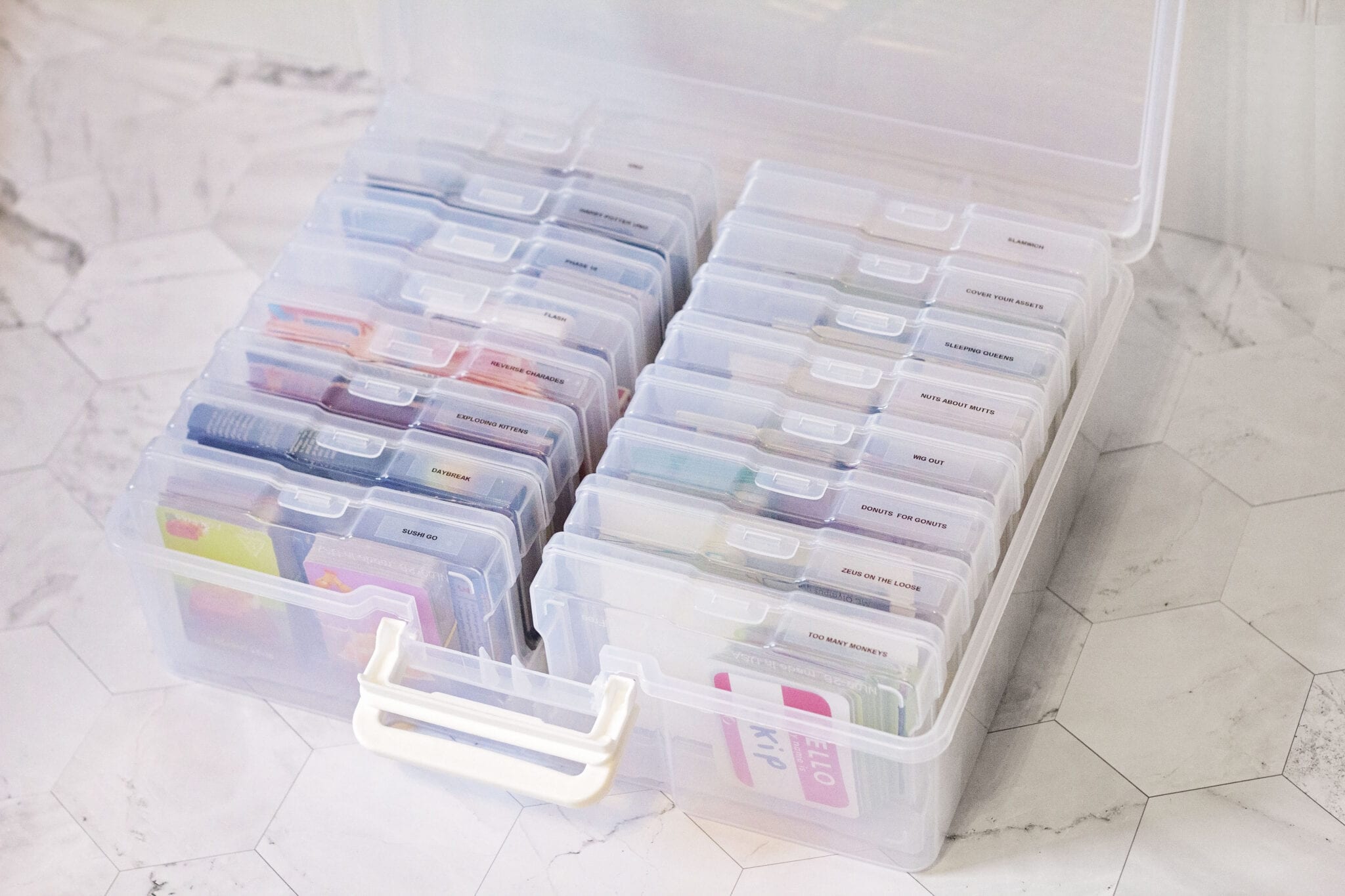 How easy it is to use?
All label makers will come with a bit of a learning curve, but if you're not great at technology, you'll want one with a user-friendly interface.
Check out other reviews when purchasing, and they should give you a good indication of if it's easy to use or not.
Some label makers, like the Cricut, have their own software, which makes them the most versatile label maker in my opinion, but also means you have to learn the software.
So check to see if it's an easy setup and if you think you'll be able to easily learn how to use it. You don't want to spend money on a label maker and then just leave it sitting unused on your desk because you can't figure it out.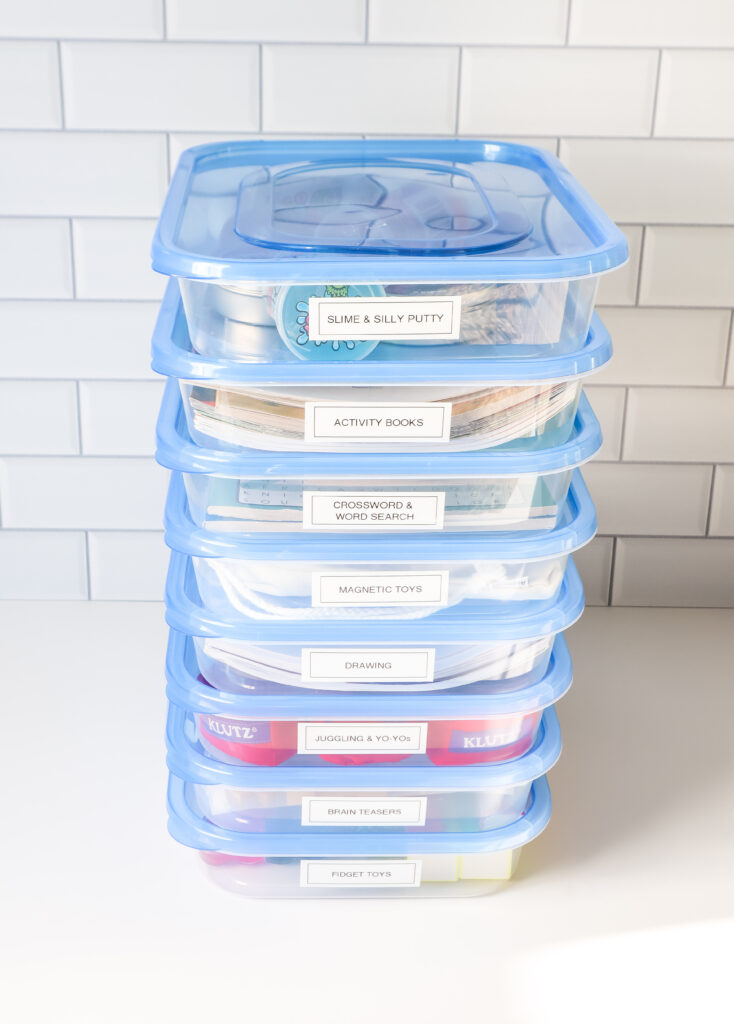 Does it use a rechargeable battery?
Some label makers can be plugged into the wall while some run on battery. If the label printer you're looking at uses a battery, make sure it's rechargeable.
Of course, you can get a label printer with batteries you replace, and if your label maker is just for personal use and you don't think you'll use it often then that's fine.
But if you're a small business owner that will be using that for your small business, or if you think you'll use your label printer often, then look for a rechargeable battery.
Getting a label printer or maker that has a rechargeable battery means you won't have to constantly buy new batteries.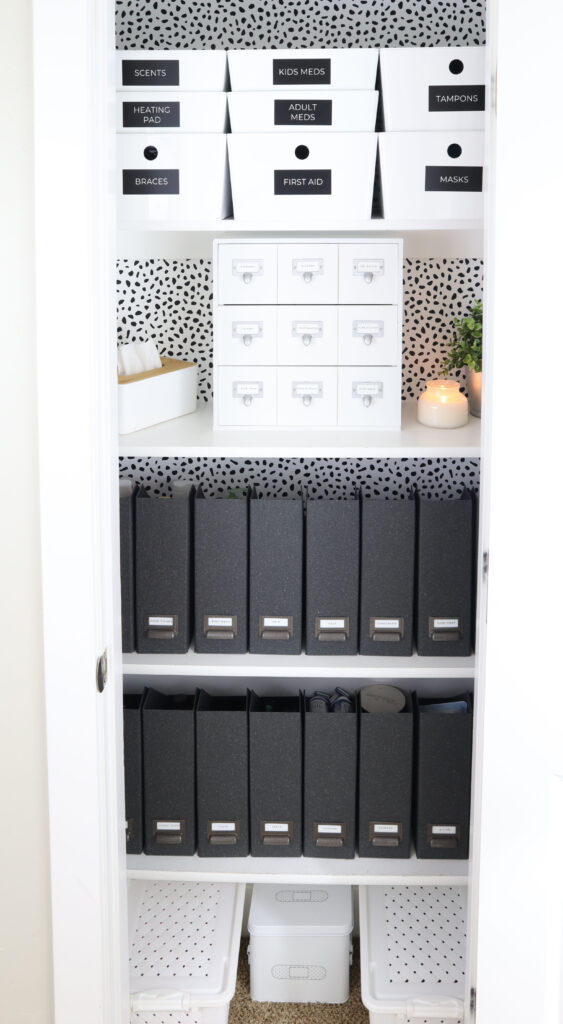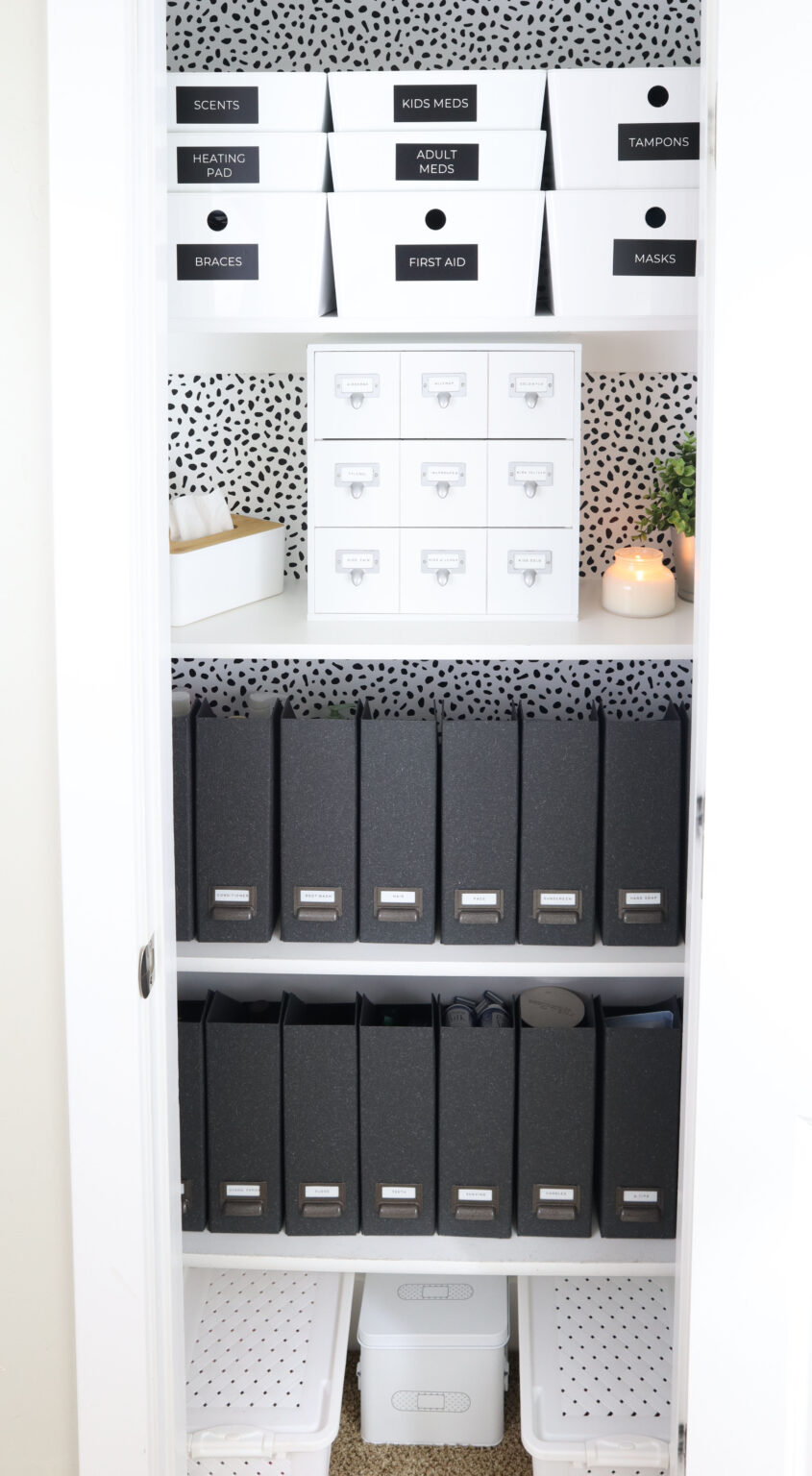 My Top Pick
The all-time best label maker will really depend on what you're looking for in your label makers and labels, but I do love my Cricut. It's super versatile and has lots of cool features on the device software.
It prints on all sorts of labels, like vinyl, so you can design labels for any box, bin, shelf, or container.
The Brother P Touch is also great if you're looking to save space in your house since it's a smaller device.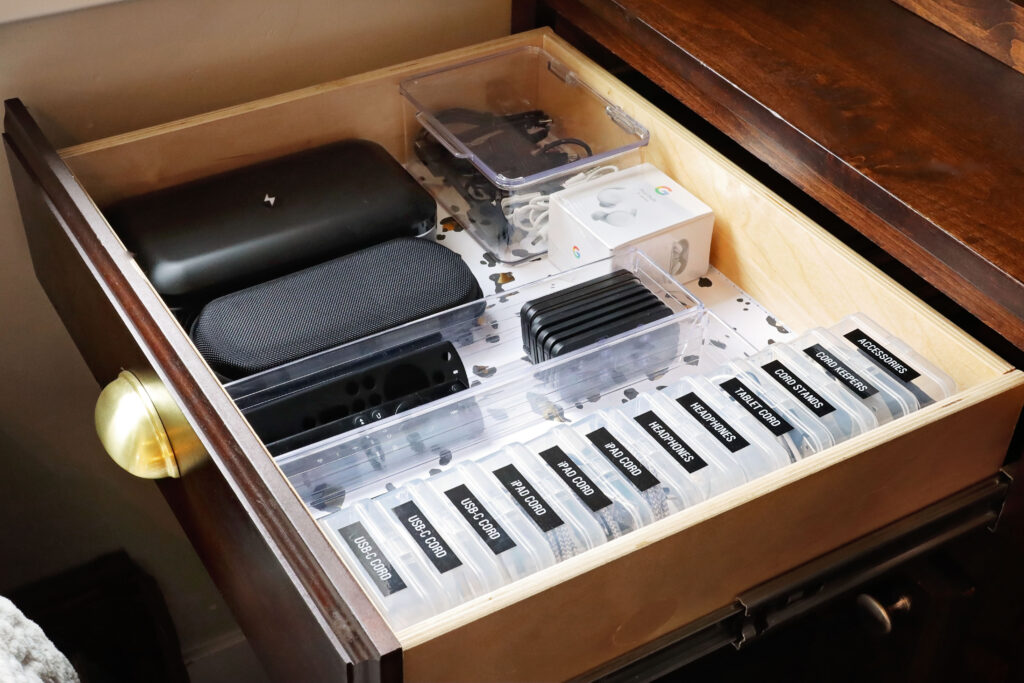 Tips on Labeling Your Entire House with a Label Maker
With those things in mind, once you settle on what the best label maker is for you, it's time to go over some easy ways you can use a label maker to print out labels and organize your home.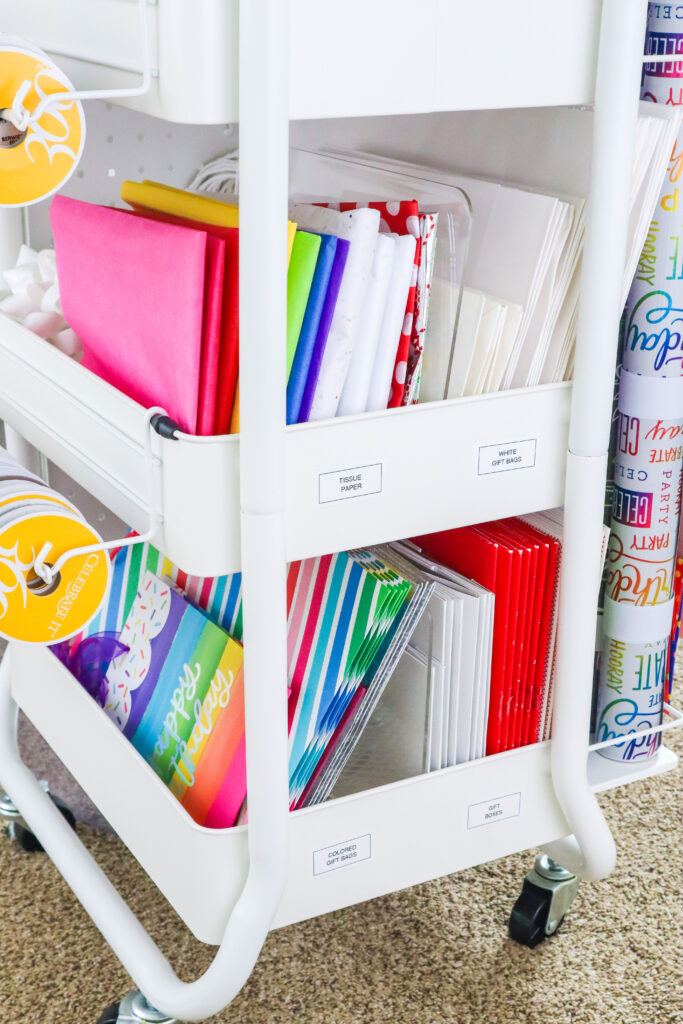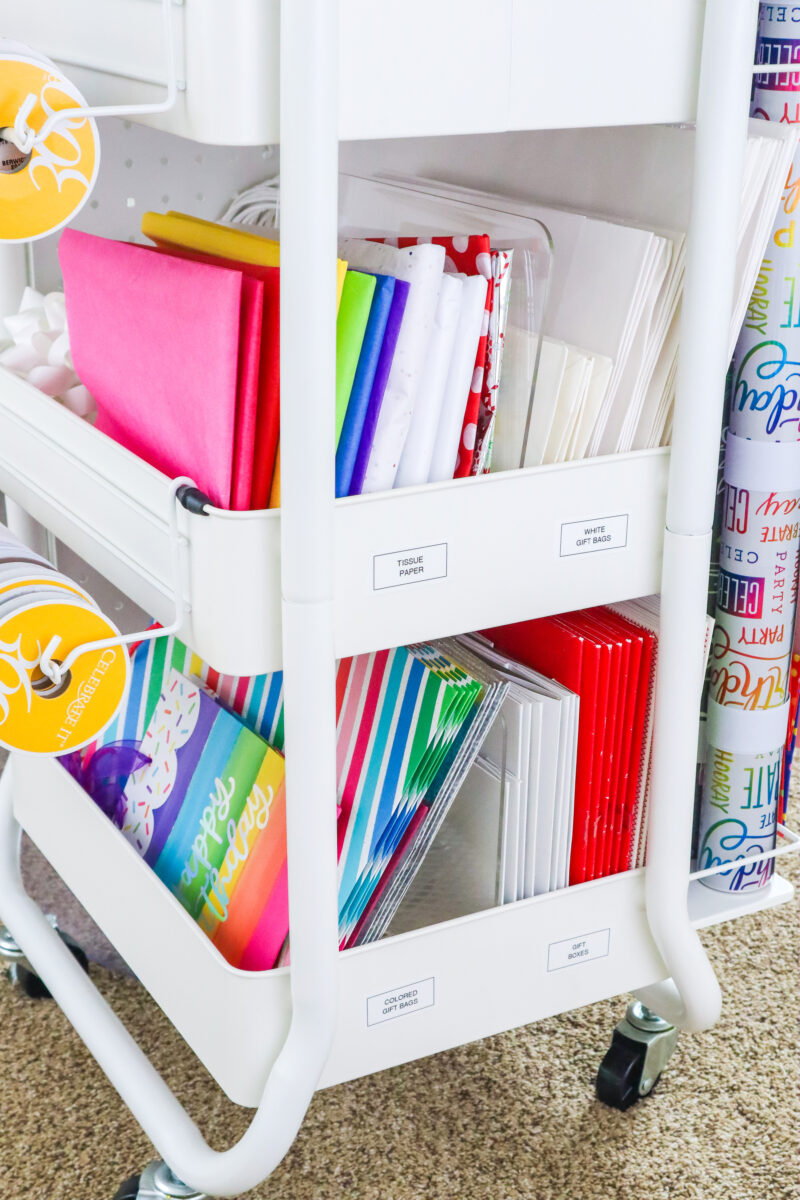 Label Closet Shelves
Use a label maker to label your linen closet shelves by printing out labels of what's on each shelf. For example, label one shelf "towels" and another "sheets."
Or, if you have a lot of different types of sheets, label each type accordingly like "flannel sheets" or "satin pillowcases." This way, you'll know exactly where to find what you need when you're looking for them!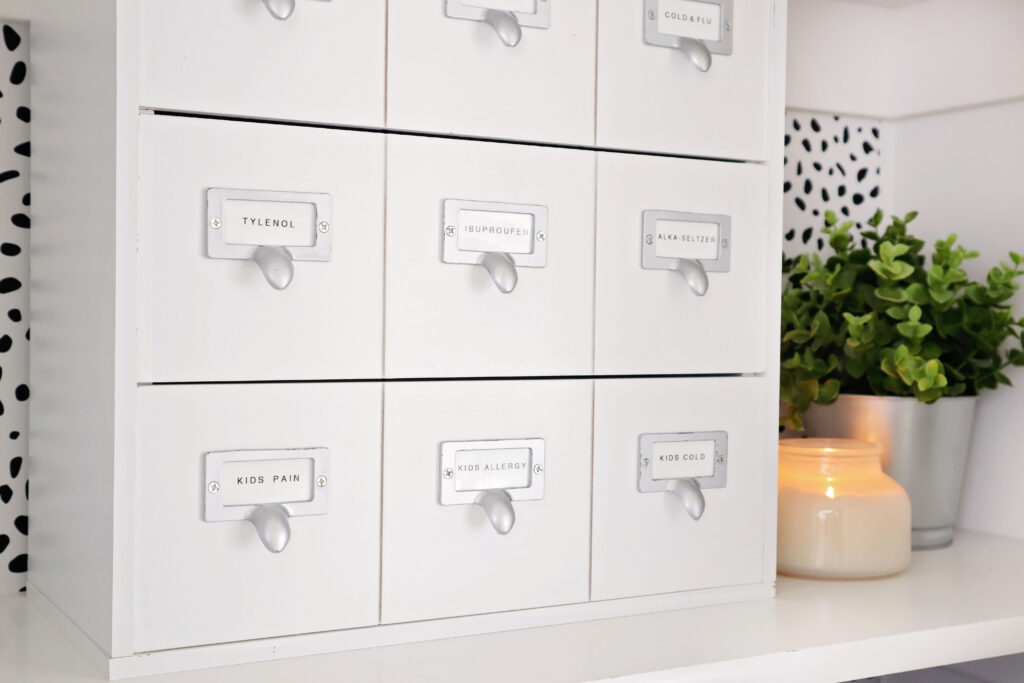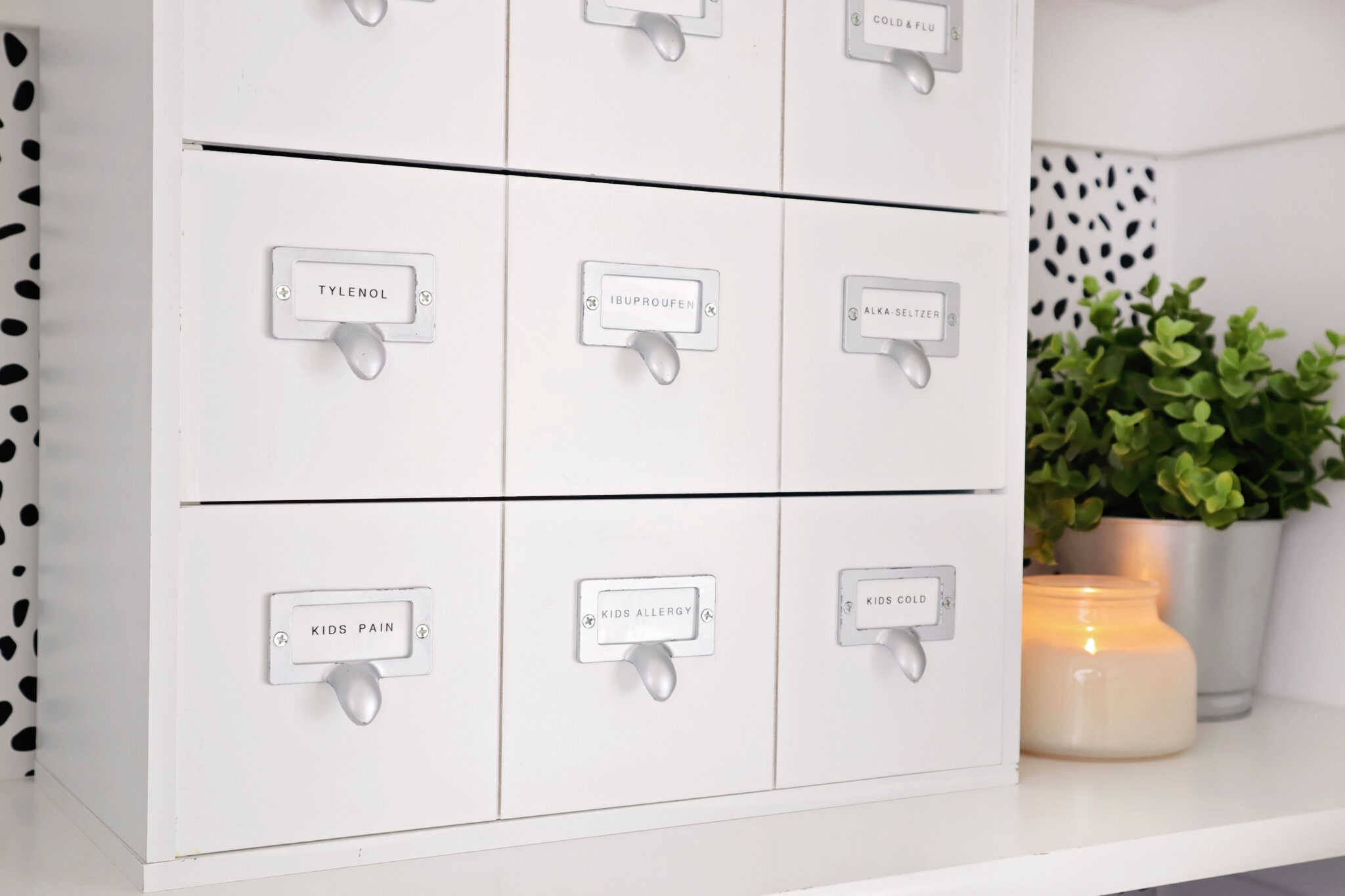 Label Your Kitchen
I like using a label maker to label the matching containers I have for condiments, spices, and food containers. Using a label printer that can change the size of the labels makes it easy to make small labels for spices or large labels for bigger snack bins.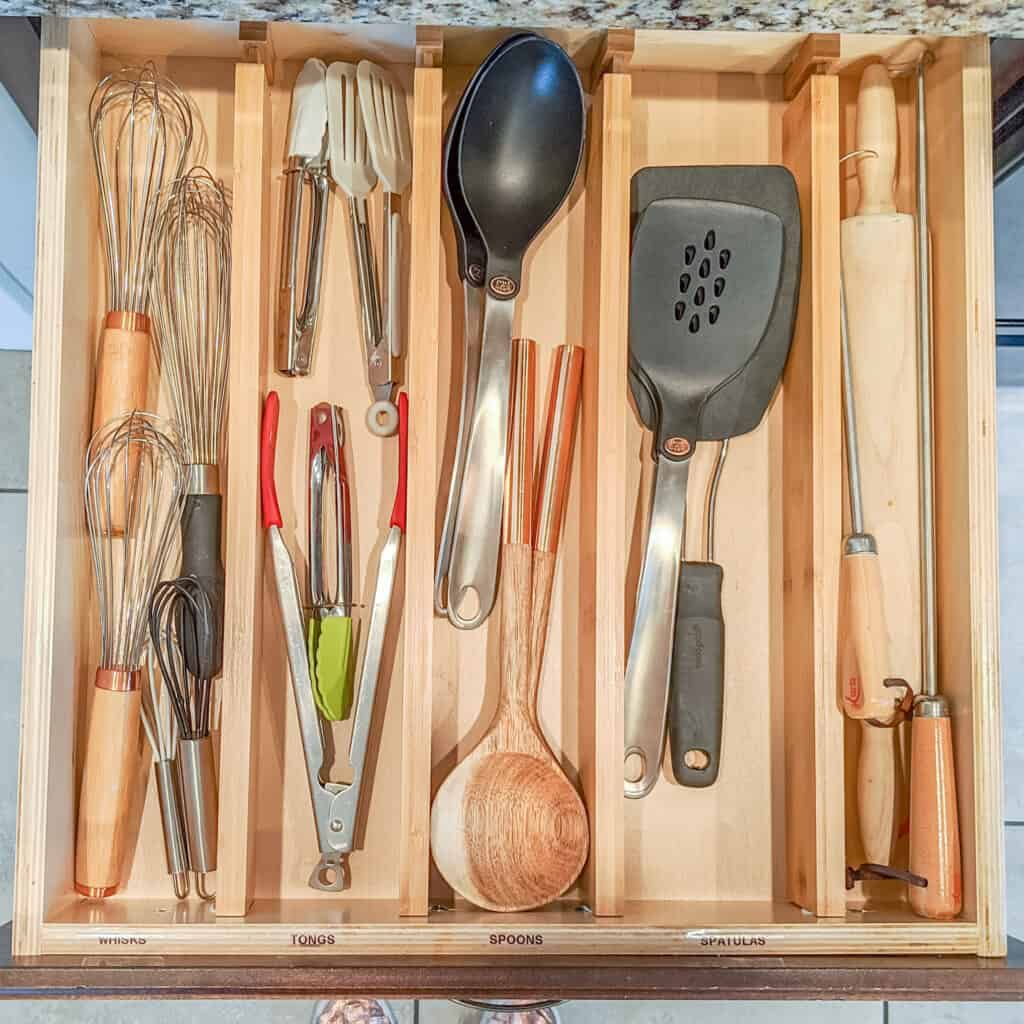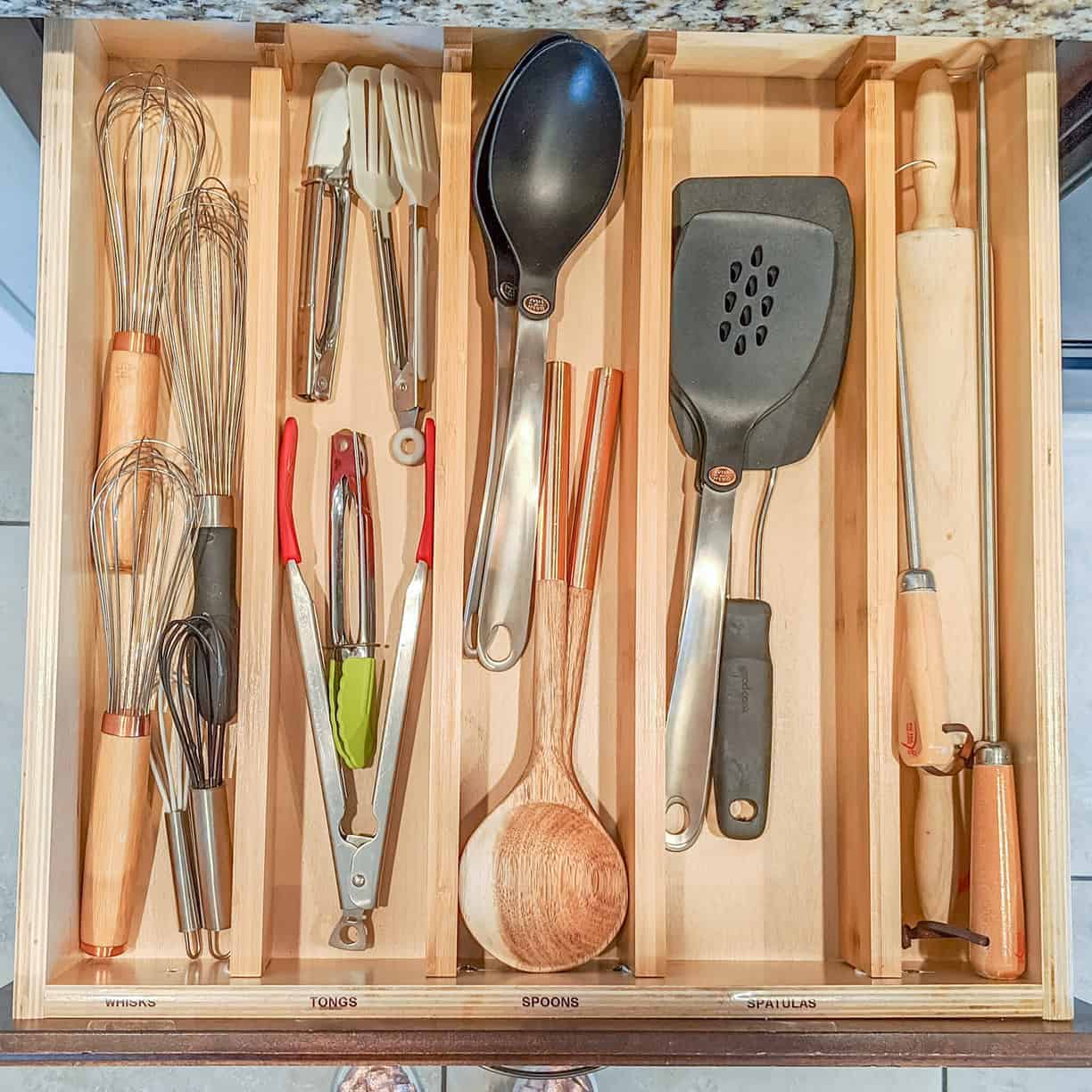 I also like to use my label maker to label spaces in my pantry or in my refrigerator. With labels, I can be sure none of my food will get put in the wrong spot and gets lost. This helps me save and use food before it goes bad!

Label Your Playroom
Labeling your playroom will make cleaning up so much easier. I like to put labels on everything from toy bins to art supplies. This way, my kids know exactly where everything goes and they can easily find what they're looking for.
If your kids are too young to read, depending on the label maker or label printer you have, you may be able to access clip art (or something similar) and print labels with photos and clip art on them. Then your child will still know exactly where everything goes.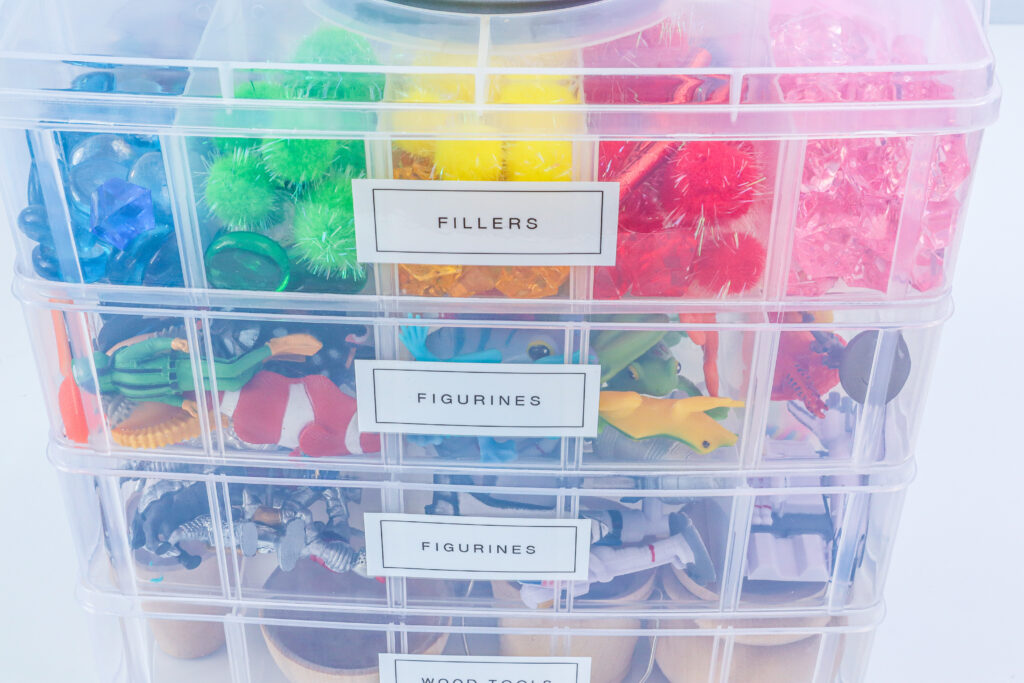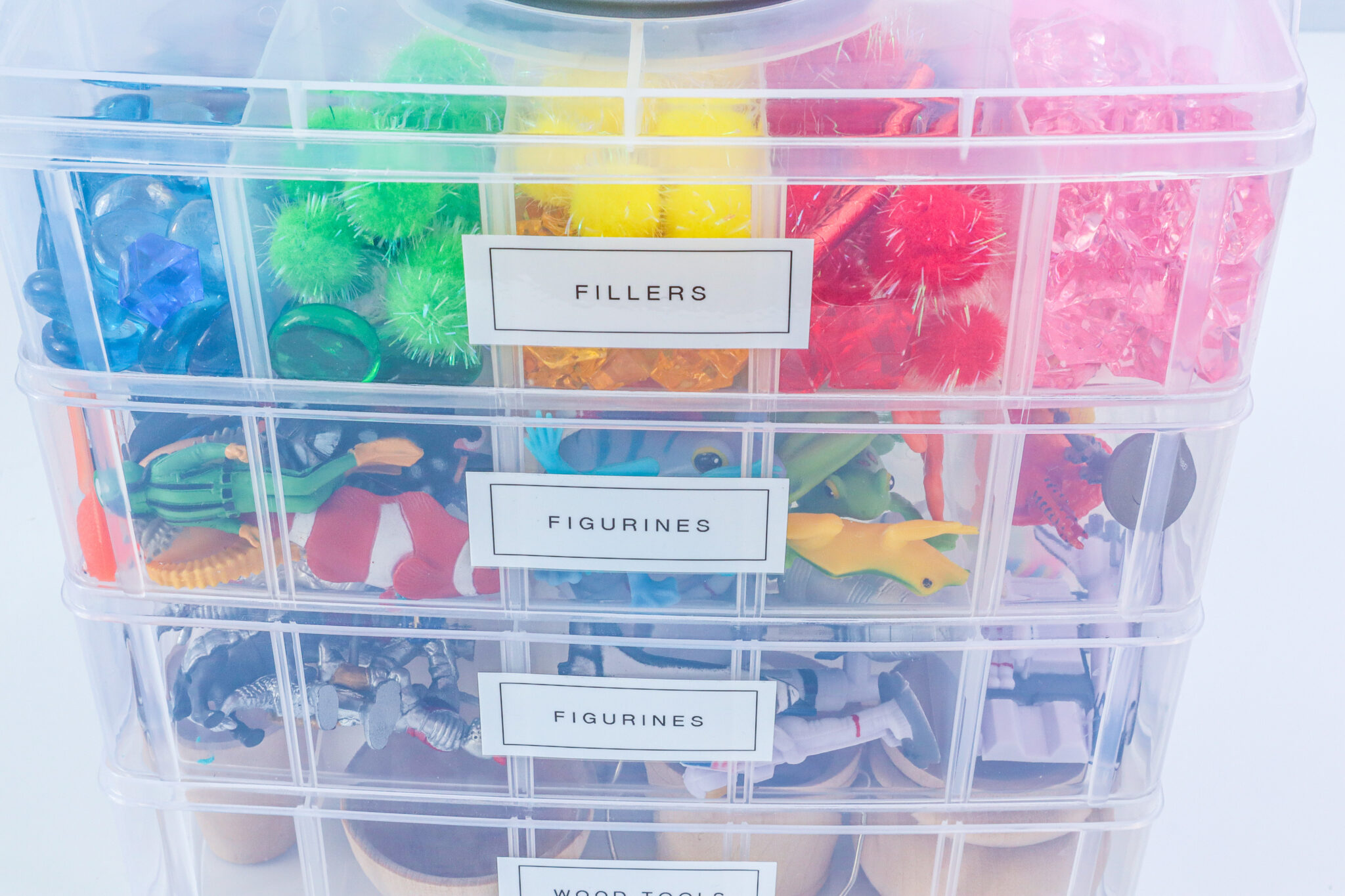 Label Your Home Office
If you have a home office, then you know how important it is to keep things organized. A label maker can help you label files, shelves, and anything else in your home office.
Print out labels for your filing cabinets, binders, and documents to keep everything organized.
If you can get a label maker that changes font color (or can print on different colored labels) then you can also easily color coordinate your documents. Color-coded labels make home office organization a breeze.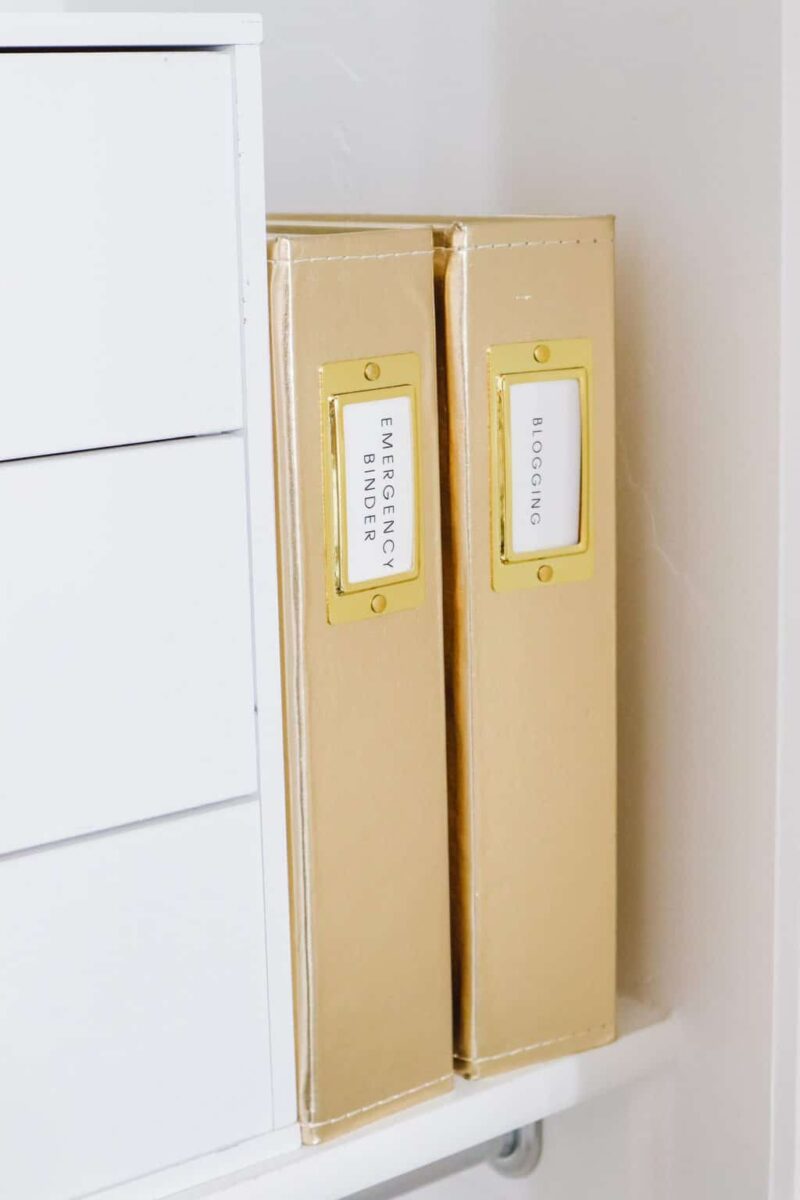 Label Your Laundry Room
Just like the pantry, adding labels to your laundry room will help save time. Using your label maker, make labels for the detergent container, fabric softener, and more.
I like putting my laundry supplies in clear containers and then using a label maker to make labels for them because I find it looks nicer when they are in matching containers.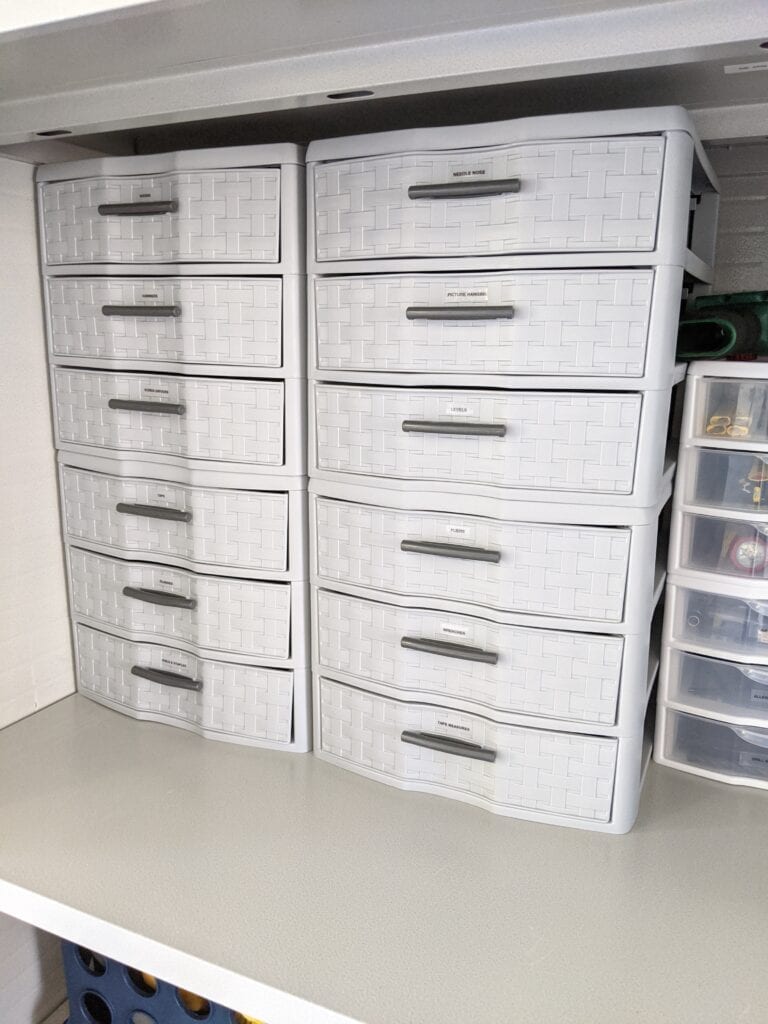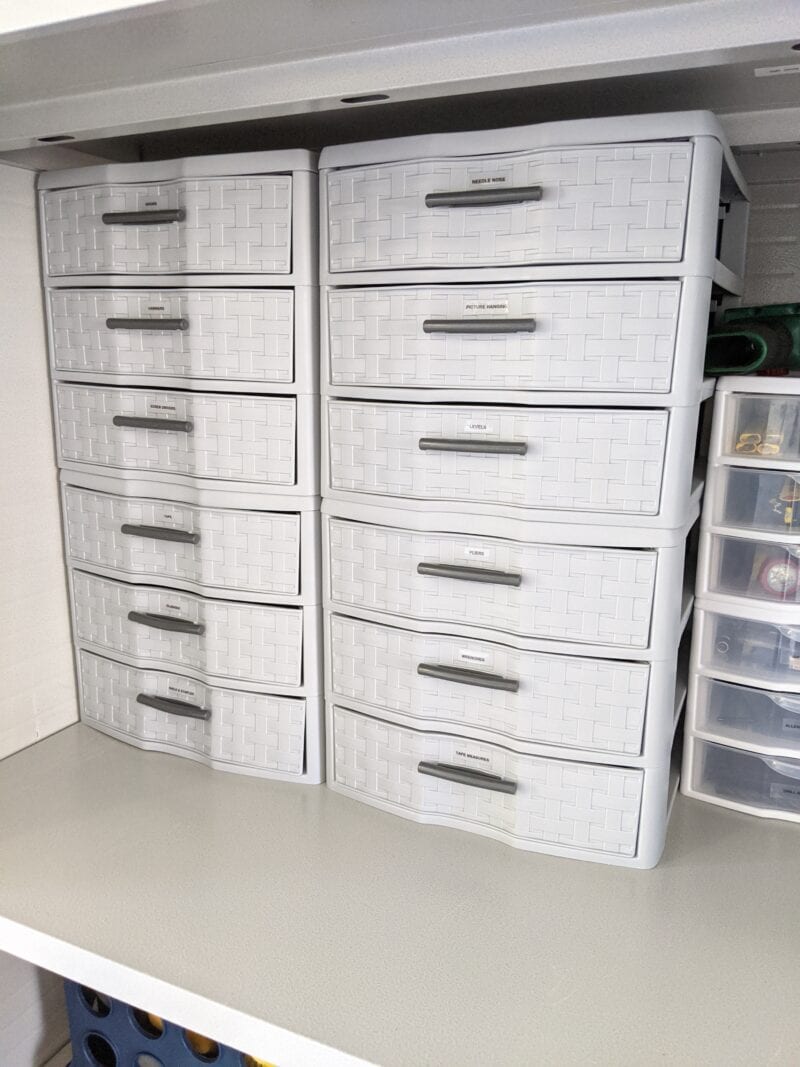 Label Your Garage
Label makers that can change the size of the labels are especially handy when it comes to your garage or shed. A label printer that can print out a large label will help you see the label on that big box on the top shelf in the garage.
Label Makers Make Home Organization Super Easy!
There are tons of ways to create labels for your home. You can print out labels from your computer printer, handwrite them on labels you've purchased from the store, and so many more design options.
But if you want a consistently easy and efficient way to label your home and save time, I'd definitely suggest getting a label maker.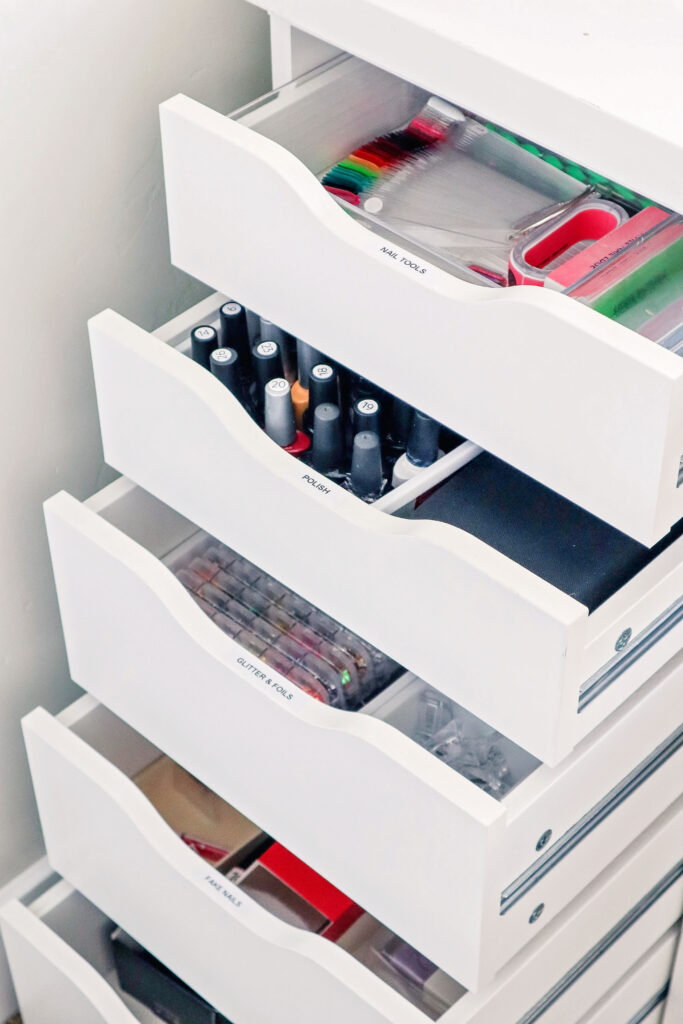 There are label makers in all different price ranges, so you don't have to get an expensive option, and once you buy one, you'll save yourself from having to buy new labels with each new organization project.
You can get a simple label maker, a handheld label maker, a Cricut, a Brother P Touch label maker, or a myriad of other options. You can get the best simple label maker that accomplishes a specific task or a device that can do it all. Some label makers have lots of features or even an app to use on your phone!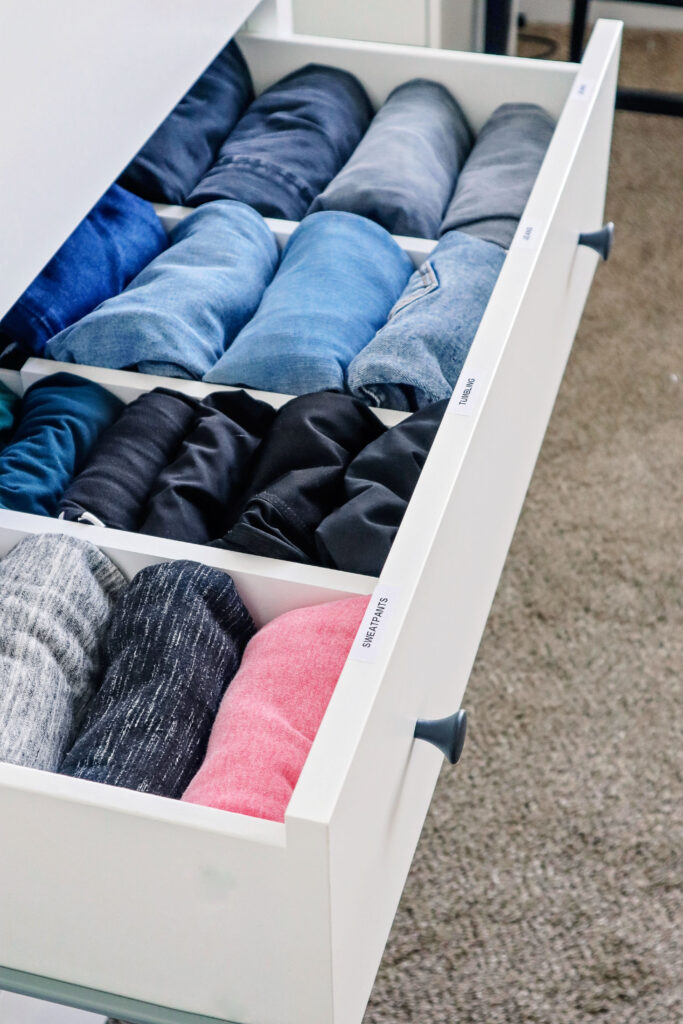 When looking for office supplies to get to upgrade your home organization or small business, I'd highly recommend looking for the best label maker for you and using it to create beautiful labels for your entire home!