How to Organize Ziploc Bags in Your Kitchen
Do you have a ton of Ziploc bags lying around? Are they hard to organize and store? If so, don't worry – you're not alone!
In this blog post, we will provide different solutions for how to organize your Ziploc bags. We will also show you some nifty ways and organization ideas to store them so that they don't take up too much space in your kitchen.
Let's get started!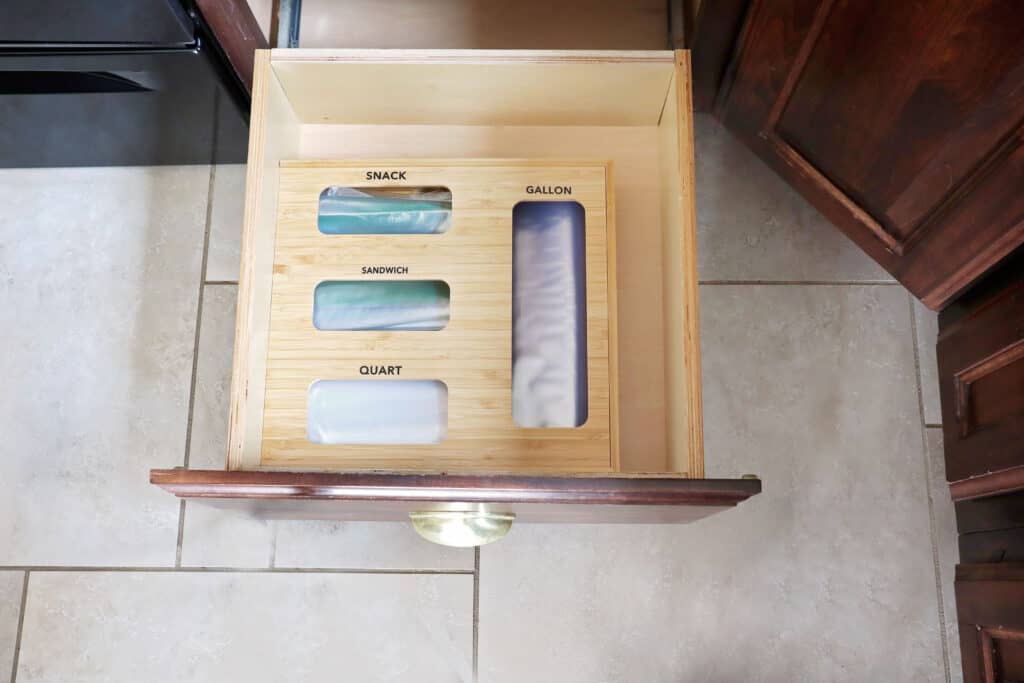 How to Organize Ziploc Bags in Your Kitchen
When it comes to kitchen essentials, Ziploc bags are definitely pretty high on the list.
Ziploc bags can be super helpful in the kitchen when it comes to storing food. But they can also be a pain to organize because they're slippery and come in all different sizes.
The boxes that the Ziploc bags come in can also be a pain. They are all different sizes and aren't super durable. Plus, if you're hoping to create a sleek kitchen, the Ziploc boxes aren't the prettiest.
So, to help your kitchen feel more organized and to keep your Ziploc bags tidy so it's not just a pile of… stuff, get a Ziploc bag drawer organizer!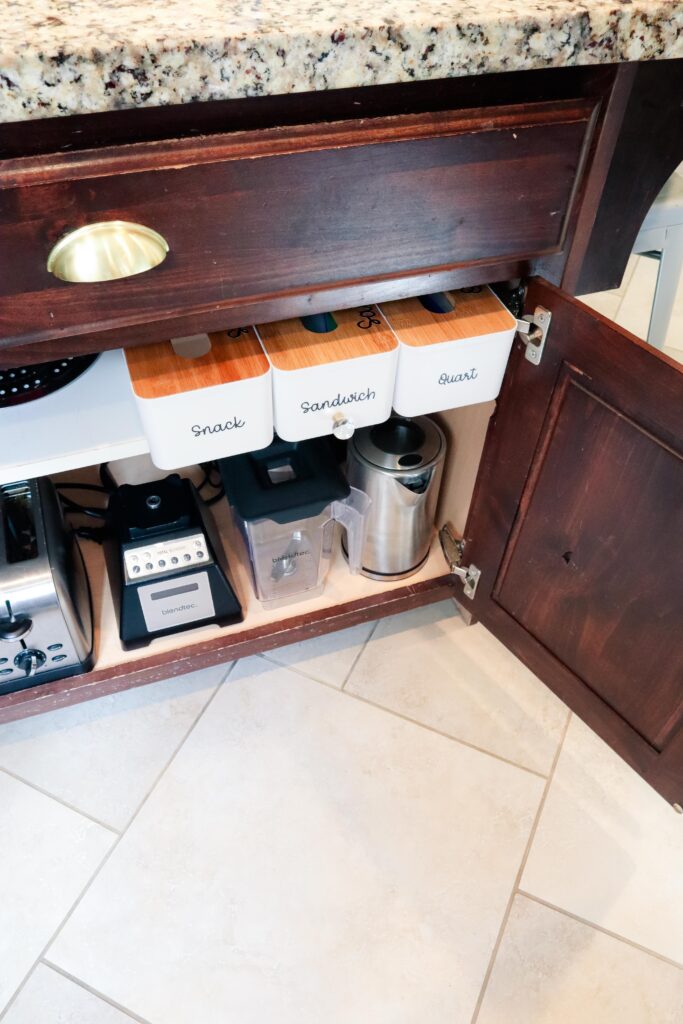 Use a Ziploc bag drawer organizer.
Using a Ziploc bag organizer is probably the best way to keep your food storage bags stored properly. There are lots of different kinds of Ziploc bag organizers on the market or you can make one yourself.
When looking for an organizer for your plastic storage bags, make sure the organizer can fit gallon bags, quart bags, and sandwich bags. Some also come with space for snack baggies! If you use a lot of snack bags, then make sure you get one with room for those snack bags! These organizers make it easy to grab a sandwich bag quickly whenever you need one.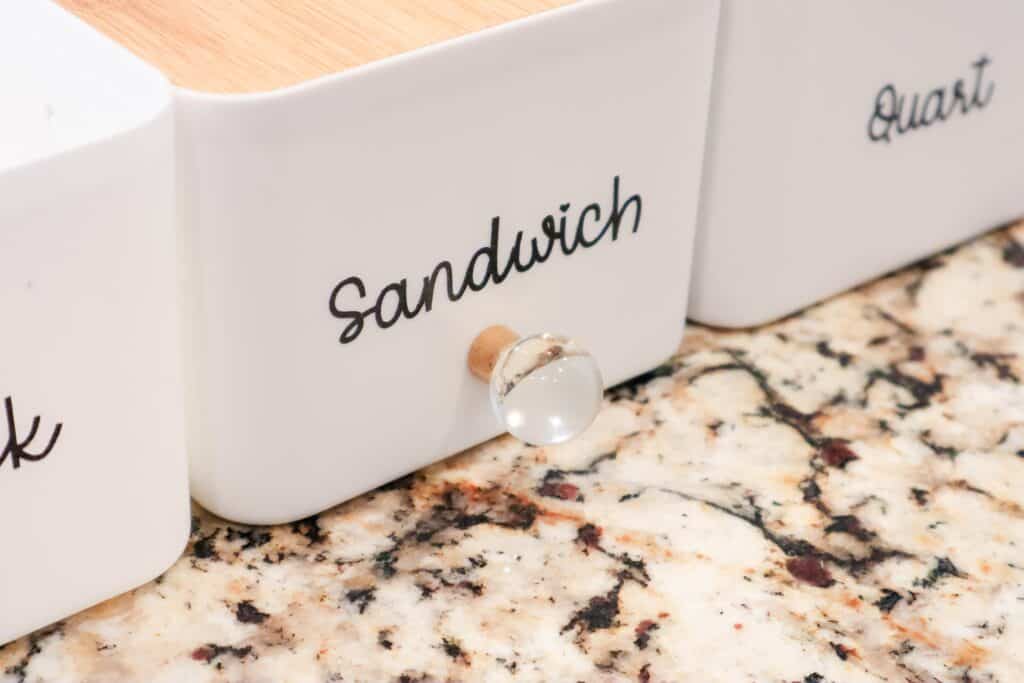 One other thing to keep in mind before getting a new box to store your Ziploc bags is to decide where you want to keep them! If you want to store them in a kitchen drawer, measure your kitchen drawers to make sure your organizer will fit. Likewise, take note of your kitchen cabinet and see how much shelf space you have if that's where you want to store them.
Here are a few of the different food storage bag organizers you can purchase or make!
Use Plastic Tissue Boxes to Create Your Own Organizer
Before there were tons of Ziploc bag organizers all over the internet, I had been looking for a neat way to organize my Ziploc bags because I was tired of looking at those ugly boxes.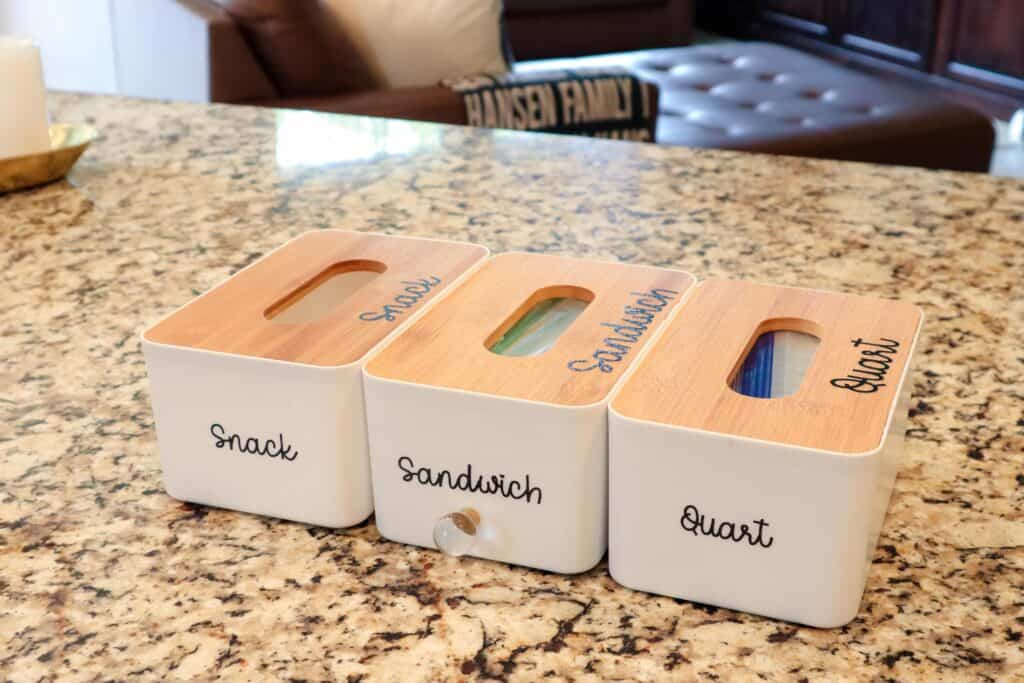 I drilled holes in 3 different tissue box holders, then I zip-tied them together. Watch my video below to see how I did it!
Wooden Ziploc Bag Organizer
One of the most popular ways to store plastic food storage bags is with a wooden organizer in your drawer or cabinet. Wooden Ziploc bag organizers come in all different shapes and sizes. You can get a small one to organize just your Ziploc bags or you can get a large one that will organize all of your plastic food storage containers.
The most common wooden organizer is probably the bamboo drawer organizer. You can get organizers like this that are separate and can be stacked if you need more storage space, or you can get an organizer like this that can fit in your kitchen drawer or in one of your kitchen cabinets.
This organizer is especially cool because it also comes with space for saran wrap and aluminum foil with cutters to easily cut through the plastic wrap or aluminum foil! Alternately, if you like the idea of an organizer for your plastic bags but don't want wood, you can use this acrylic Ziploc bag organizer!
Hanging Ziploc Bag Organizer
Another popular way to store plastic Ziploc bags is with a hanging organizer. Hanging organizers are great because they save counter space and you can easily see all of the bags that you have.
This hanging Ziploc bag organizer is wooden so it's going to be durable, and you can easily see what's inside each opening so you have easy access and know exactly which size Ziploc you're grabbing.
If you don't have tons of room in your drawers or cabinets but have a lot of wall space, this is a great option. A lot of the hanging organizers you find can be mounted to the wall and look really nice!
If you don't want to use up your wall space with Ziploc bags, that's fine. You can also use an acrylic over the door hanger like this one. Just add it to your pantry door or the cabinet door under your kitchen sink and you're good to go!
This organizer would work well for a door that doesn't have a lot of space behind it!
DIY Ziploc Bag Organizer
If you don't want to spend money on a drawer organizer or bag storage for your pantry, you can still organize your Ziploc bags by making your own organizer!
Making your own organizer is super easy and you can probably fill up an entire drawer of DIY organizers with your household items.
Here are a few ideas:
Use an old shoe box and cover it with wrapping paper or contact paper. Cut slits into the top of the box for easy access to the bags.
Cover a cardboard box (like an old Kleenex box) with fabric and fill it with rolled-up Ziploc bags. This is a great way to use up fabric scraps.
Use old baby wipe boxes – just make sure they are cleaned out first!
There are lots of old boxes and items around your house that you can use to store bags.
Other Storage Options
A few other options for storing your plastic bags would be in a hanging cloth organizer or in an over-the-door shoe organizer. You could also use binder clips to separate them by bag size – just clip the bags onto a hanger.
For smaller bags, you could use a spice rack or any other type of small compartmented organizing system.
You can also get a metal box organizer, like the racks you often see used for rolls or plastic wrap or aluminum foil. You can definitely keep your Ziploc bag storage collection on that rack as well!
How to Organize Ziploc Bags in Your Refrigerator
I'm not out of organization ideas yet. I've got one last tip for you! When it comes to your refrigerator, your plastic bags might just be thrown into the drawers. That's fine, but using a hanging Ziploc storage organizer can be a game changer for those baggies of food!
No more lost bags or having to search through a pile or drawer to find that quart-size Ziploc bag you need amongst a pile of gallon bags. You can see everything that you have at a glance and it's easy to grab what you need.
These attach to the bottom of a fridge shelf and are a great idea so the entire family can see where everything is in the fridge!
Ziploc Bag Storage and Organization Ideas
Whether you decide to store your boxes of Ziploc bags on a shelf in your cabinet, on a metal rack with your aluminum foil and plastic wrap, or in a bag organizer in your drawer, finding the perfect storage solution for your kitchen will save you time and headaches.
I absolutely love having my Ziploc bags organized. Hopefully, these organization ideas can help you get your drawer, cabinet, or pantry of bags under control!
Do you have any other tips for organizing Ziploc bag storage? Do you recommend products I don't have here? Share them in the comments below!