How to Organize Your Makeup: Tips and Ideas for Your Whole Collection
Do you have a lot of makeup? If so, you know that it can be tricky to organize. Makeup comes in all shapes and sizes, so it can be hard to keep it all tidy and accessible.
That's why we've put together this post with tips and ideas for organizing your makeup collection. By using organizers, containers, and baskets, you can easily keep all of your makeup organized and easy to find when you need it.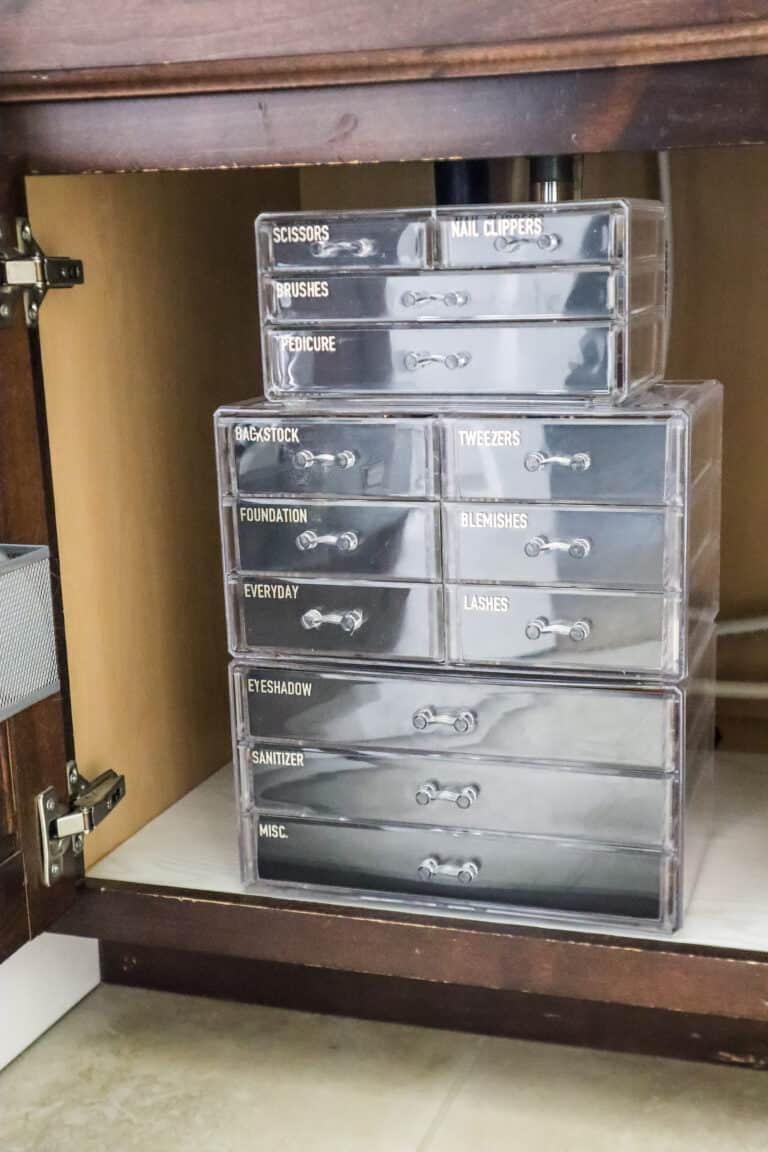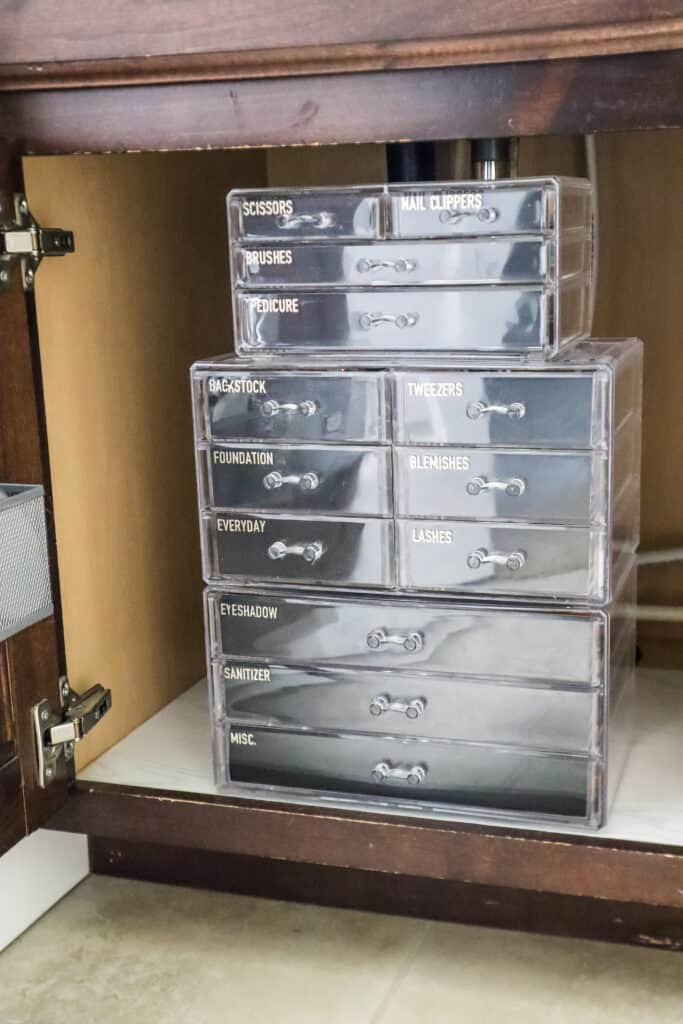 Keep reading for our favorite makeup organization tips so you can easily organize your entire makeup drawer!
How to Organize Makeup
When it comes to storing makeup, there are a few things you'll want to keep in mind. First, think about what type of makeup you have and how often you use it. This will help you determine what kind of storage solution will work best for you.
For example, if you have a lot of lipsticks, you might want to invest in a container designed for storing lipstick. If you have a lot of makeup brushes, you'll want to get a makeup storage container with space for your makeup brushes!
One of the best ways to keep makeup organized is by storing your collection in organizers. Here's how to use organizers for storing makeup.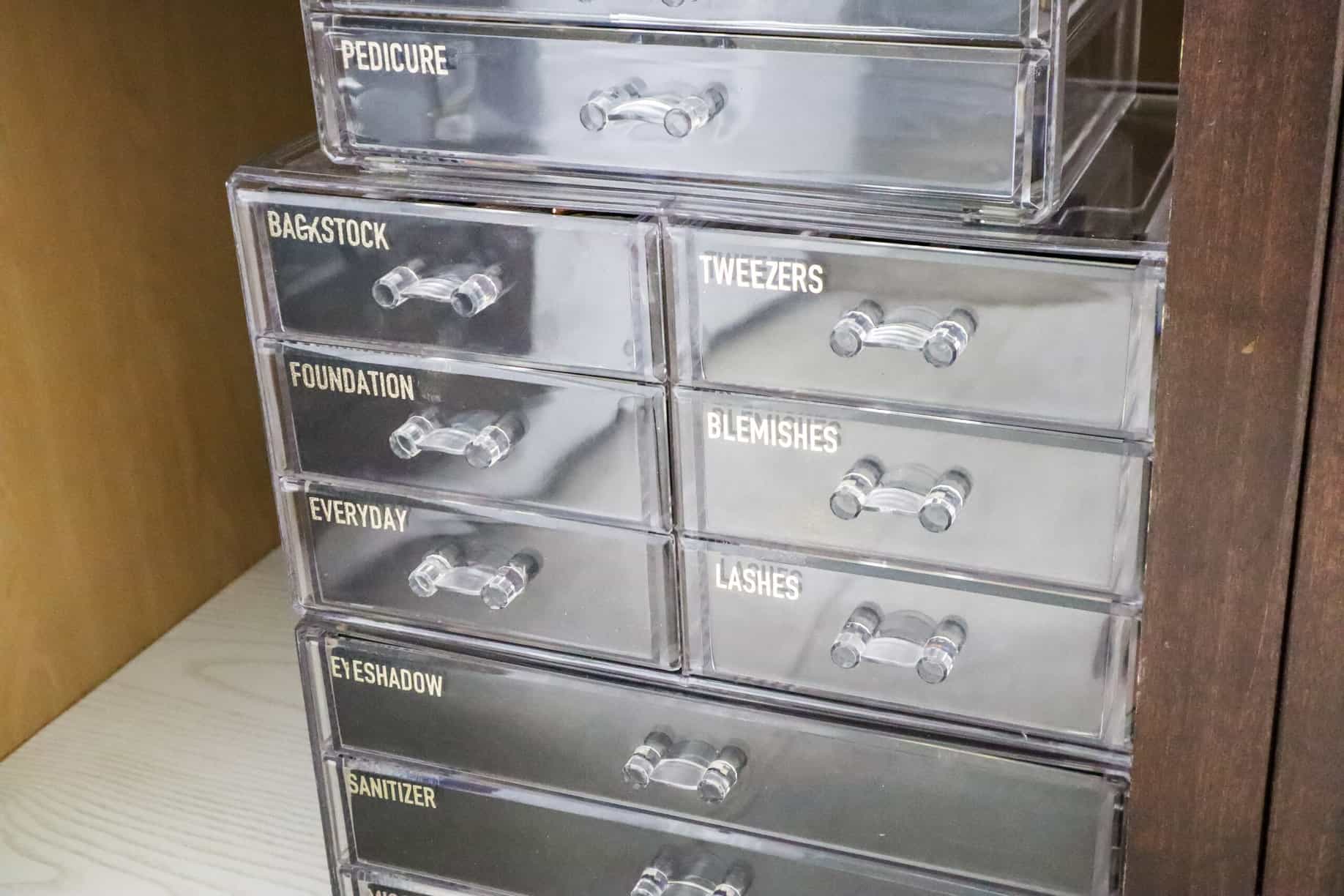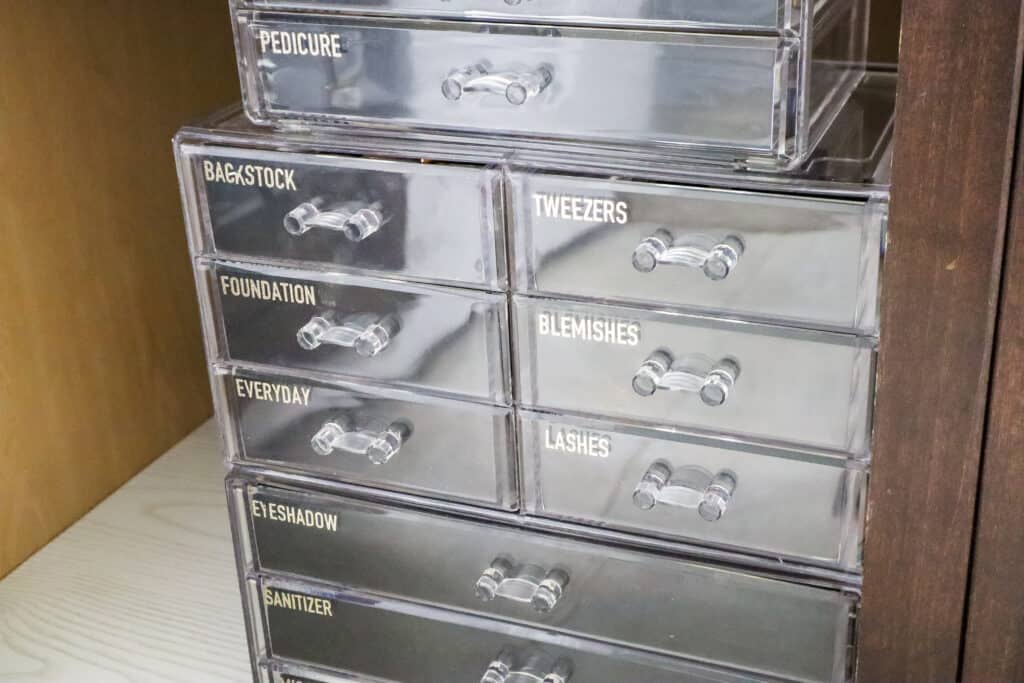 What organizers should I get?
Before you get a makeup organizer for your bathroom or vanity, you need to figure out a few things.
First, go through your cosmetics and see if anything is expired (yes, sadly, makeup does expire) or if you have any eyeshadow palettes, brushes, lipsticks, etc. that you never use. If so, get rid of them to free up space in your collection.
Next, separate your cosmetics by type. This will help you decide what type of makeup organizer you need.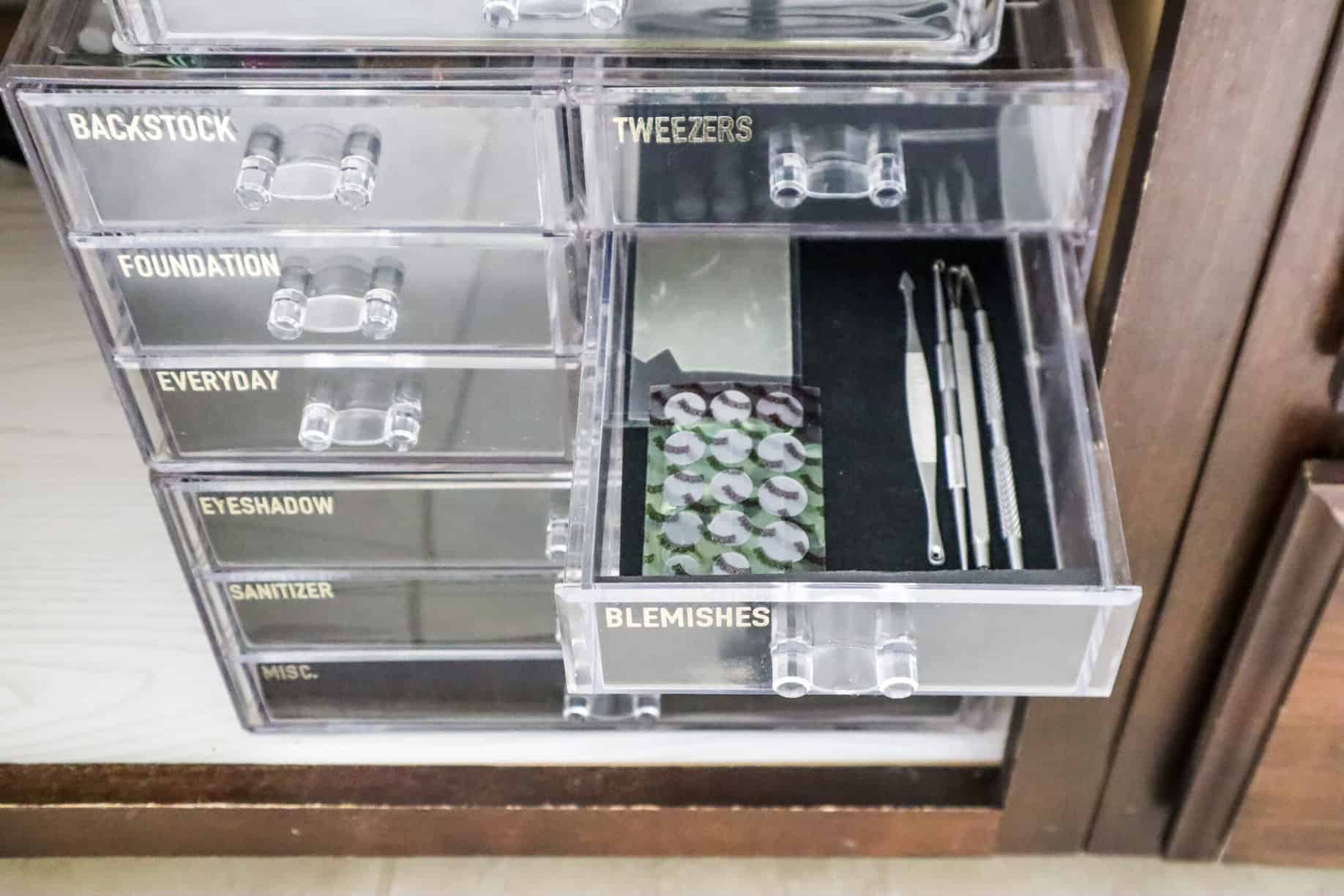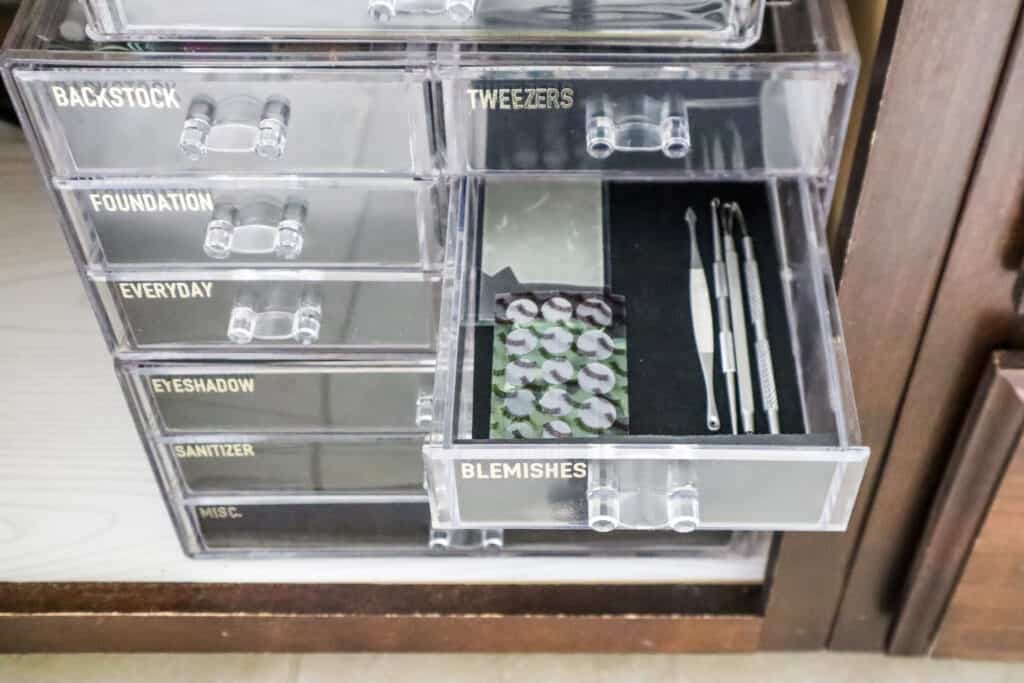 Decide where you'll be storing your makeup organizer so you know how much space you have for your bins and containers.
Are you making a makeup drawer? Then you'll need drawer storage that fits in your bathroom drawer. Do you have an entire vanity to use? Then you can use several makeup organizers of various sizes. Or are you storing your makeup on the counter because you don't have drawer space? Then you'll want nicer containers and bins to display so your counter looks pretty and organized even with your beauty products on it.

Makeup Storage for Your Entire Collection
Once you decide how much space you have for your makeup, you have several options for organizers. Here are a few ways you can organize makeup in a drawer, closet, or counter surface.
How to Organize Makeup in a Drawer
Having a makeup drawer is probably the most common way to store makeup. If you have a small collection, you can use a single drawer. But if you have a large collection, you may need multiple drawers.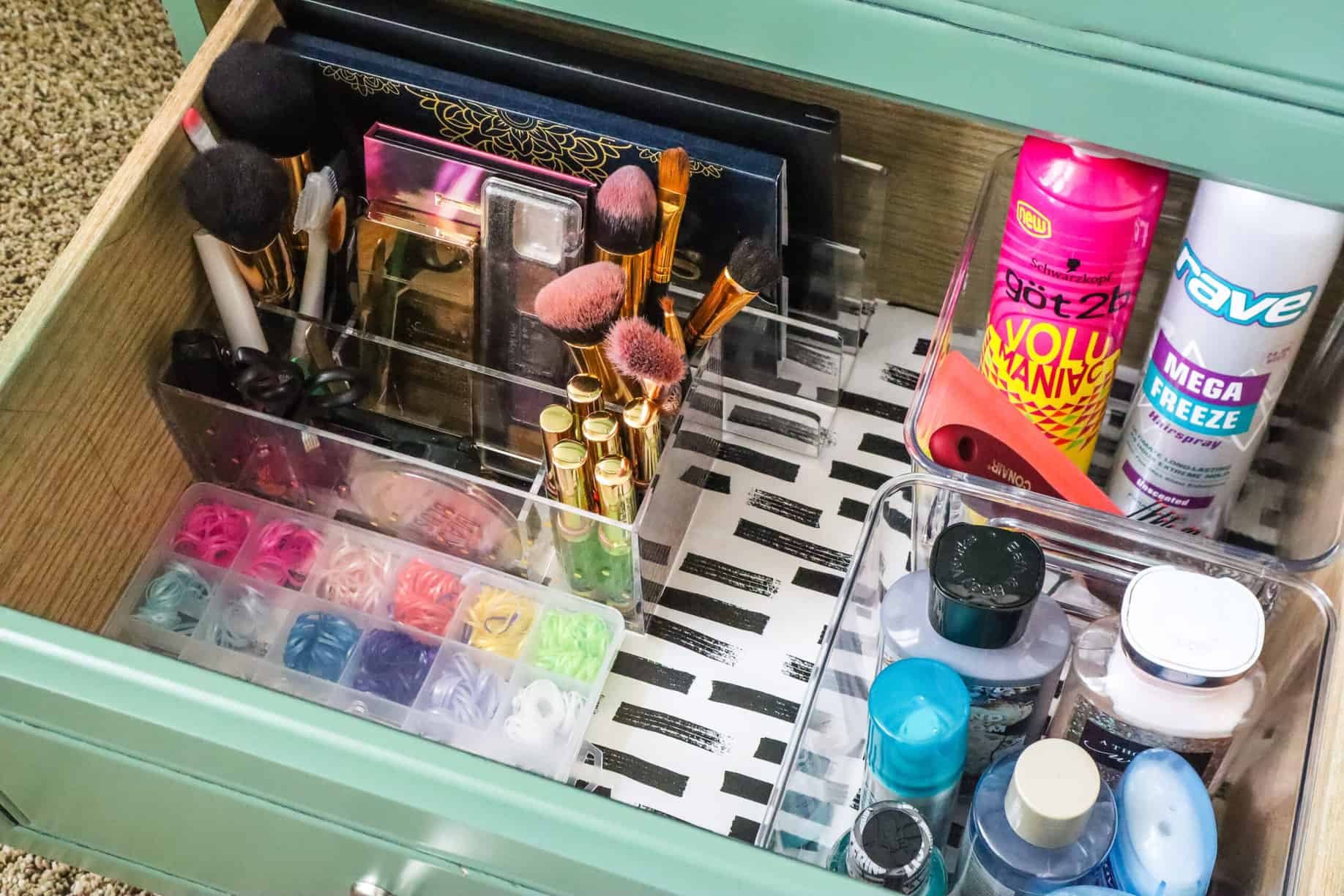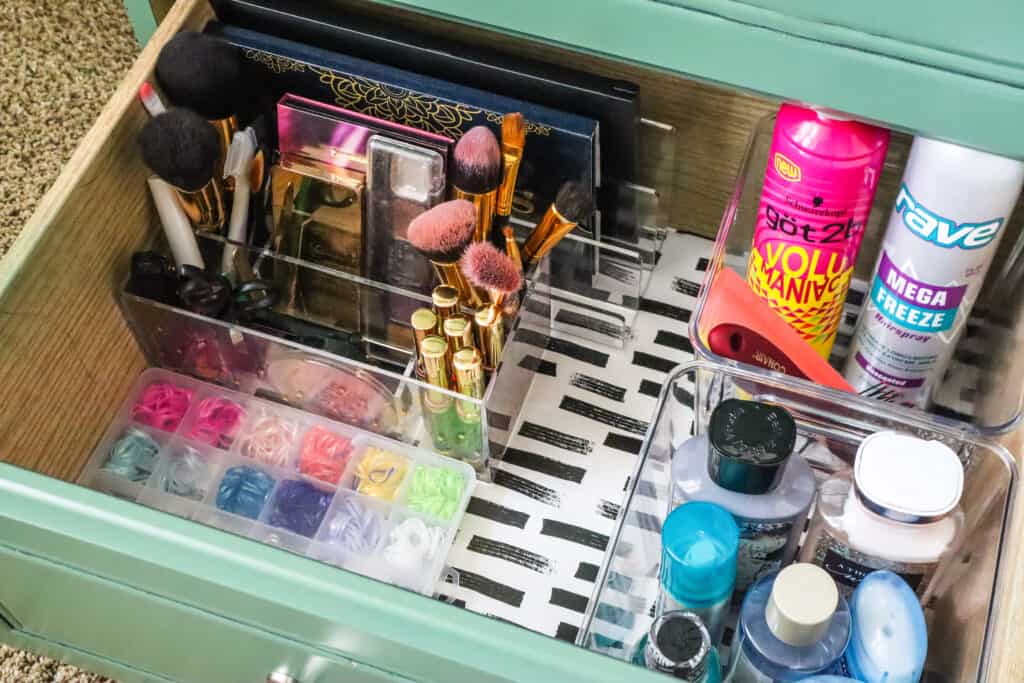 The great thing about using drawers is that they keep everything dust-free and contained. Plus, it's easy to see everything at once so you can find what you're looking for.
If you have a makeup drawer, however, it might be tempting to just throw everything in the drawer. But then you have to search through your drawers every time you need something! Instead, try one of these methods to organize your makeup drawer.
Use Different Sizes of Small Boxes
One of the best ways to organize your drawers is with clear organizers of different sizes like these ones.
Using different sizes of bins like this can help you create more storage space and keep everything tidy. Plus, you can see everything at a glance so you don't have to go rummaging through your drawer every time you need something.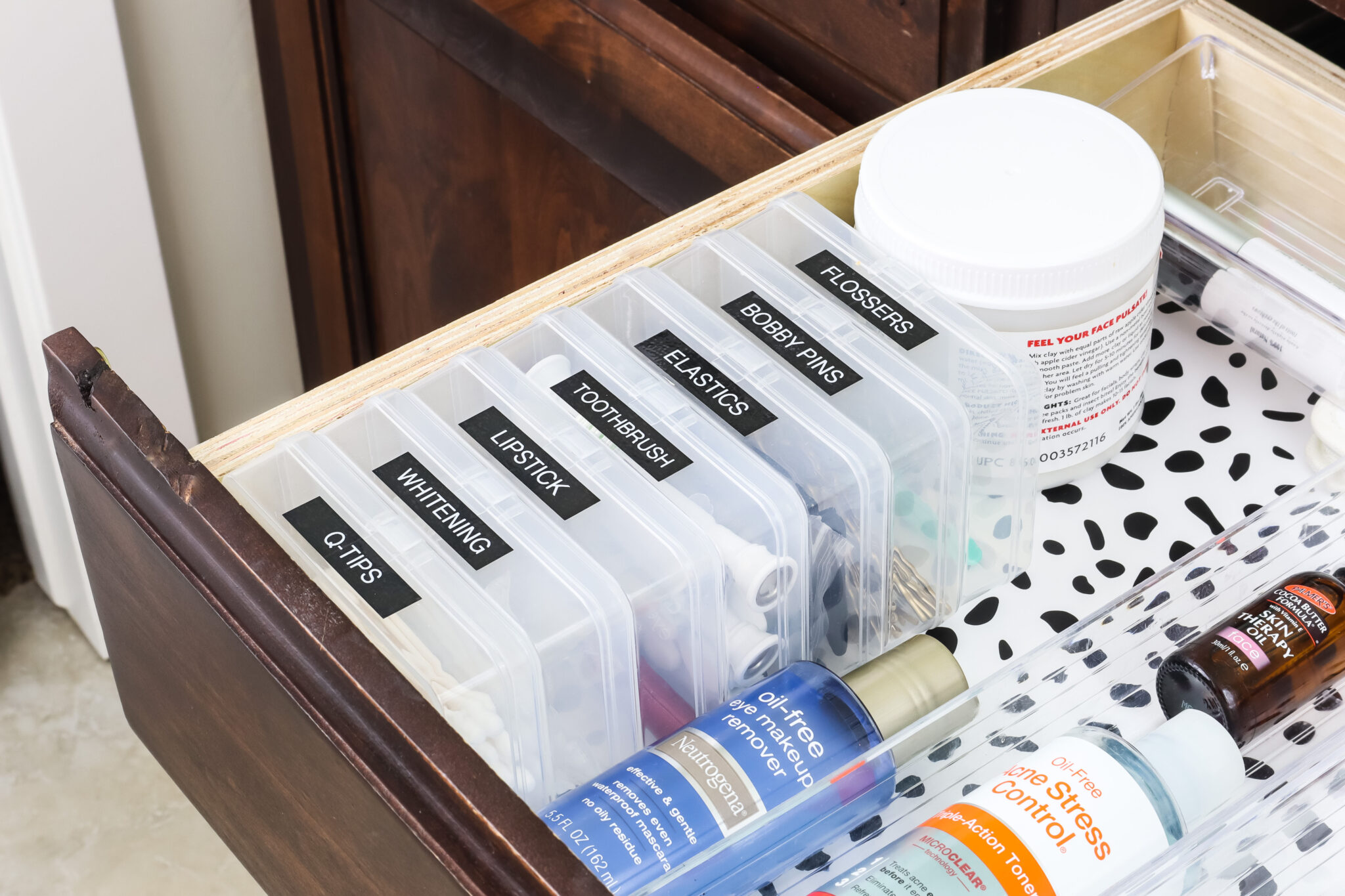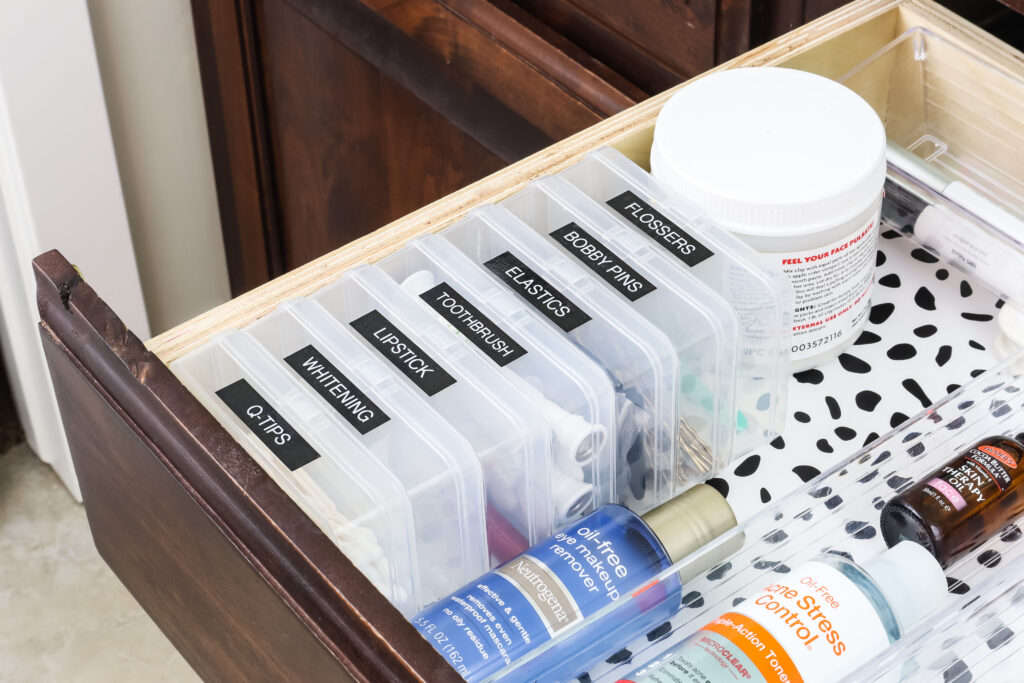 You can rearrange the drawers to make the things you need more often at the front, and put the things you need less often in the back. This way, you don't have to go through everything every time you're looking for something specific. Organizing your makeup drawer this way can help save you time and frustration.
You can also use these clear drawers to find the perfect sizes you need for your collection. This can offer freedom as you'll be able to switch containers out and find the size you need for your eyeshadow palettes, lipstick, and more.

Use Trays with Dividers
Another great way to organize your makeup drawer is with containers that have dividers already, like this one. This will help you keep things separated without you having to switch the containers around to find a configuration that works for your drawer.
Containers or organizers with dividers are great at keeping makeup organized because you can control how much space each item takes up. This is especially helpful if you have a lot of smaller items like lipsticks or eyeshadows.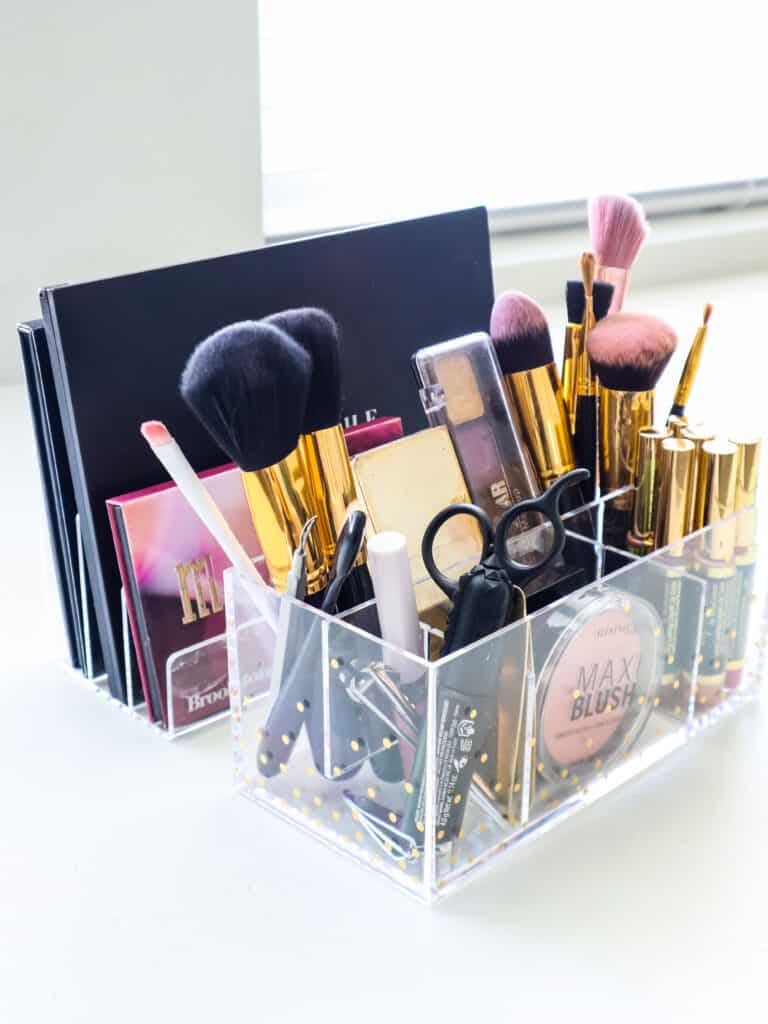 By using trays with dividers, you can keep all of your makeup organized and neat. This will help you find the perfect size for your collection and make it easy to access everything you have.
DIY Dividers for Your Drawers
If you don't want to buy an organizer, you can easily make your own drawer organizer or drawer dividers by using things around your house.
You can use cardboard to make simple dividers for your drawers. Just cut the cardboard into strips and then place them in the drawer so that each section is divided.
You can also use small containers you have lying around the house, wood pieces, or short jars.
These are my Ride-or-die Makeup Essentials:
How to Organize Makeup on a Counter
If you don't have room in your drawer for makeup, you can always use your counter surface to store makeup.
One way to do this is to invest in a pretty tray or two and use those to store your most-used items. This will keep everything organized and in one place while also looking chic on your counter.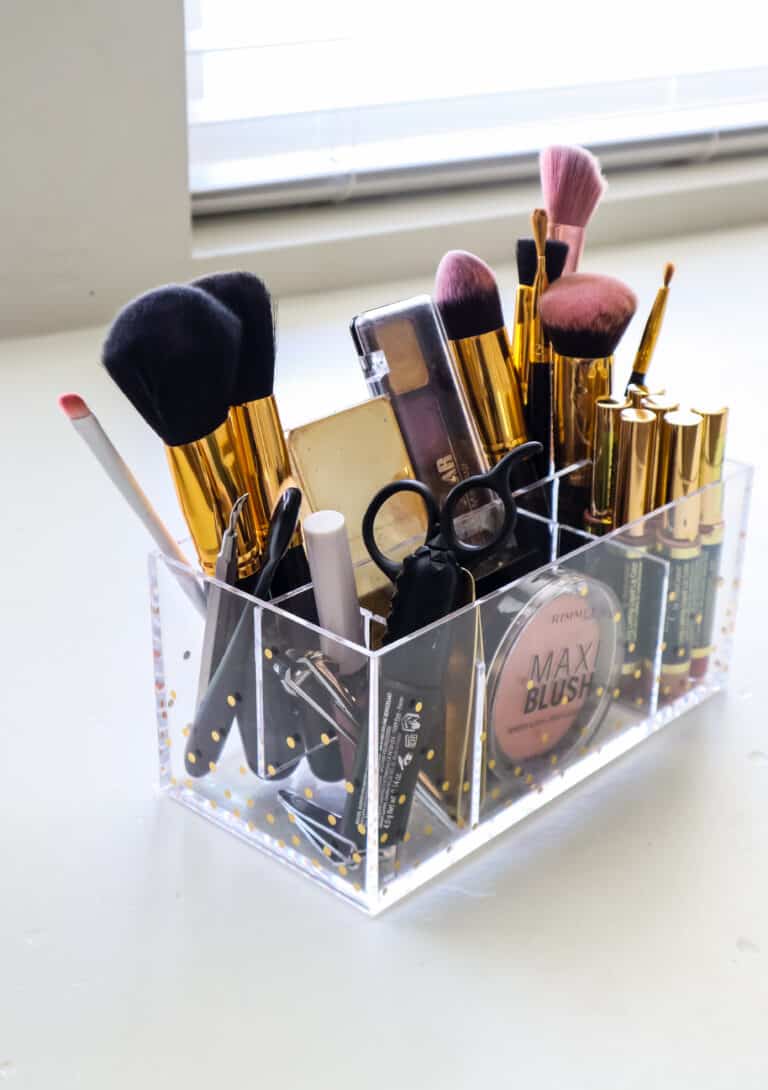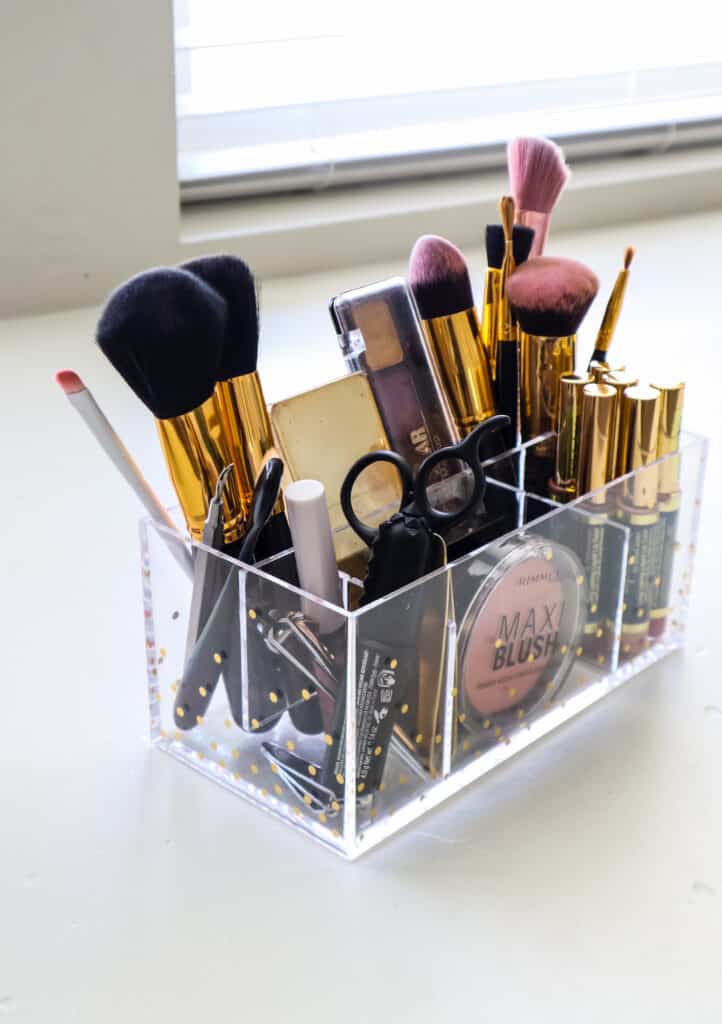 You can also use small baskets, bowls, mason jars, or even old candle jars (once they are cleaned out) to store things like lip products, hair ties, and other smaller palettes.

Use a Lazy Susan
Get a pretty lazy susan like this one to display your makeup and make it easier to grab what you need.
Fill it with jars or cups that you can fill with tons of brushes, eyeliner, and mascara. You can also get cute bins or small silicone trays that you can add blushes, bottles of foundation, and other tools.
Then you can just spin your lazy susan around and grab whatever you need.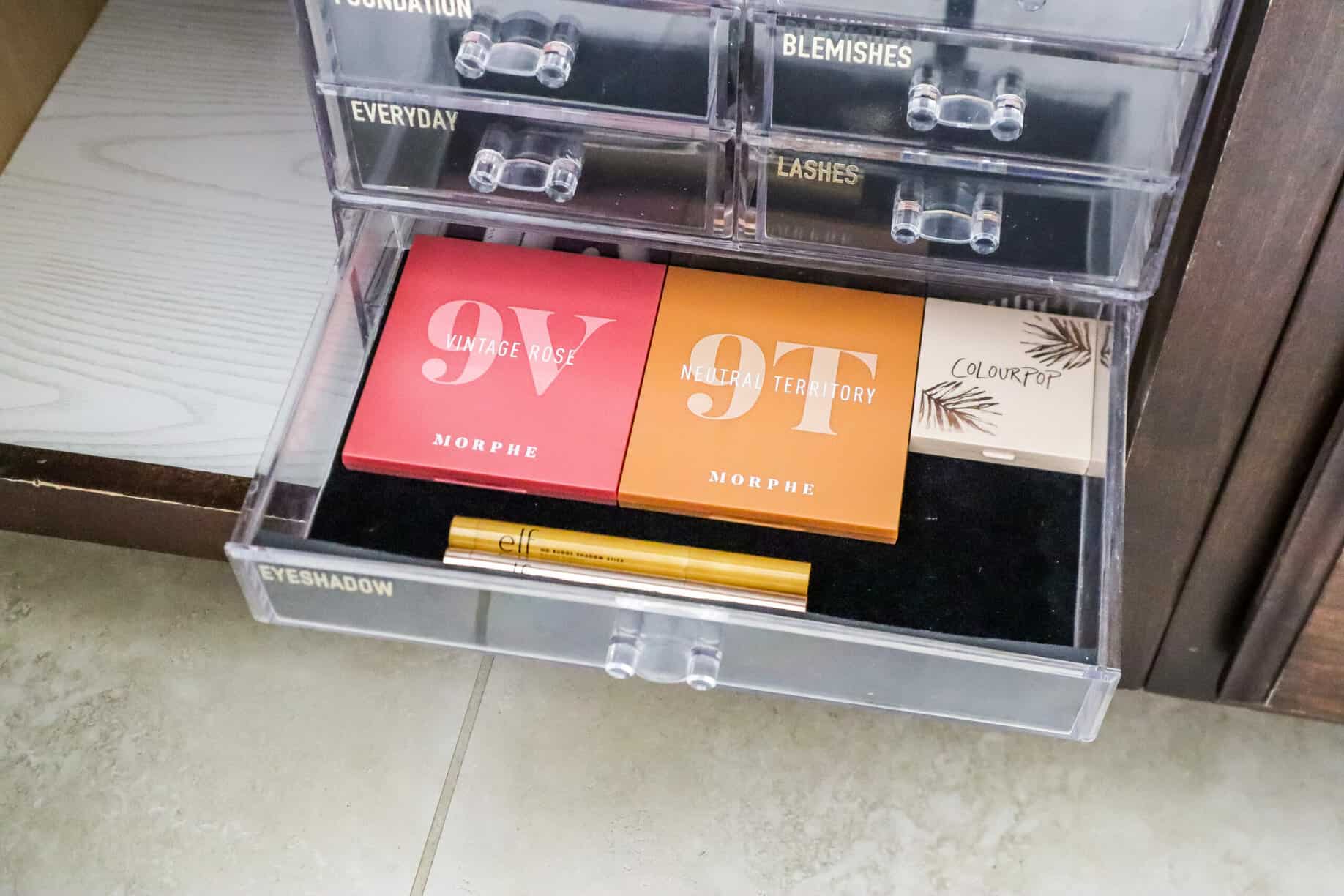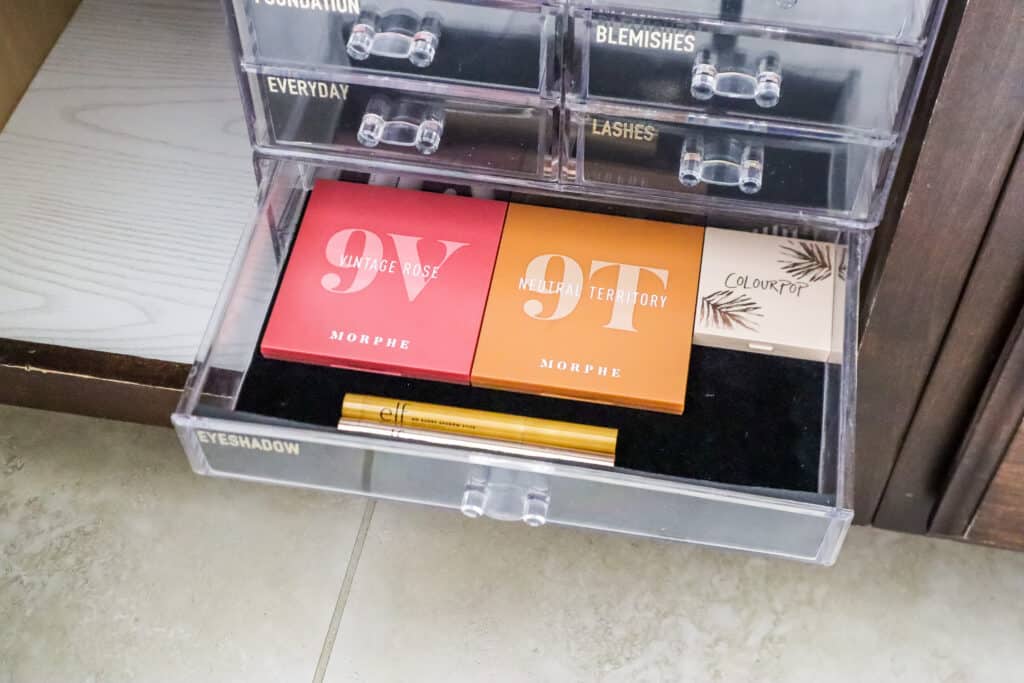 (Some actually come with dividers already, so you can get one like this or this one if you prefer.)
Get an Organizer
There are lots of organizers that look really pretty on a countertop. Check out containers like this one. Or they have larger ones like this one if you keep buying new products and have a bigger collection. I also love palette organizers like this!
These make it easy to store your makeup in your bathroom and create an easy way to go through your beauty routine every morning.
How to Organize Makeup on a Shelf
Another great place to store your makeup is on a shelf. This is especially helpful if you have a lot of makeup or if you have limited drawer space.
One way to organize your makeup on a shelf is to use clear acrylic organizers. You can find these online or at most home stores. They come in all different shapes and sizes, so you can find one that fits your needs perfectly.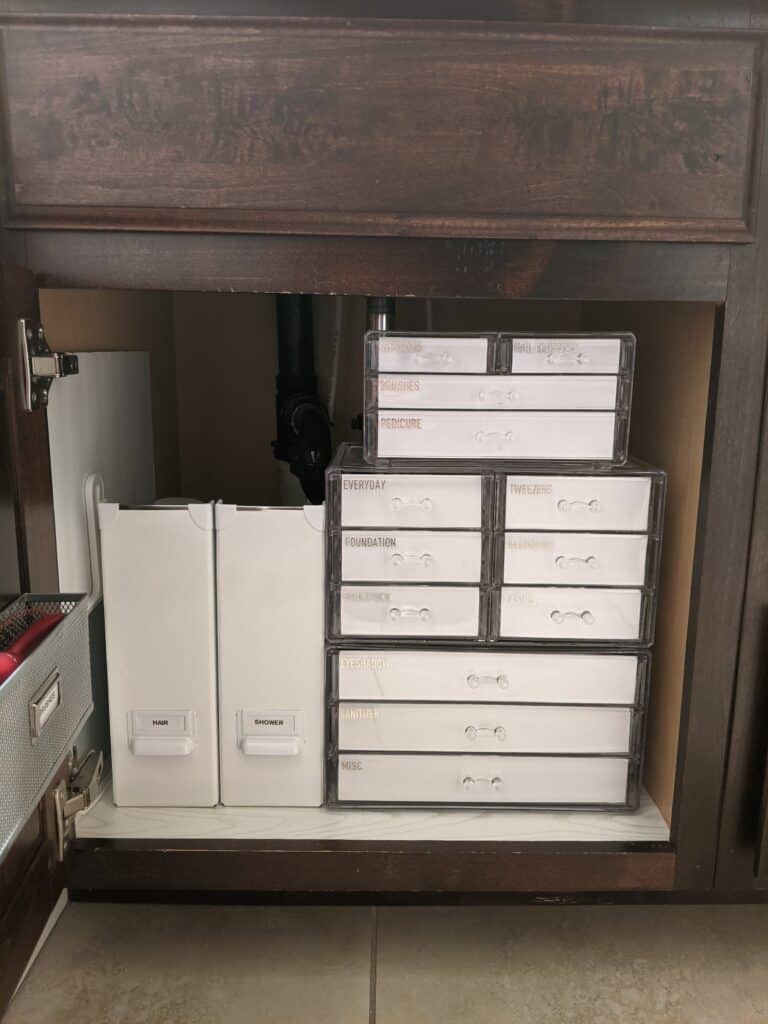 Other Places to Store Makeup
If you don't have a lot of space but you still love makeup, there are other places you can store makeup! Similar to placing your cosmetic storage on a shelf, you can also make use of vertical space on a door.
Use this over-the-door hanger to keep your makeup organized. Of course, you'll have to be careful when closing and opening your door, but if you don't have space anywhere else, this can be a great solution.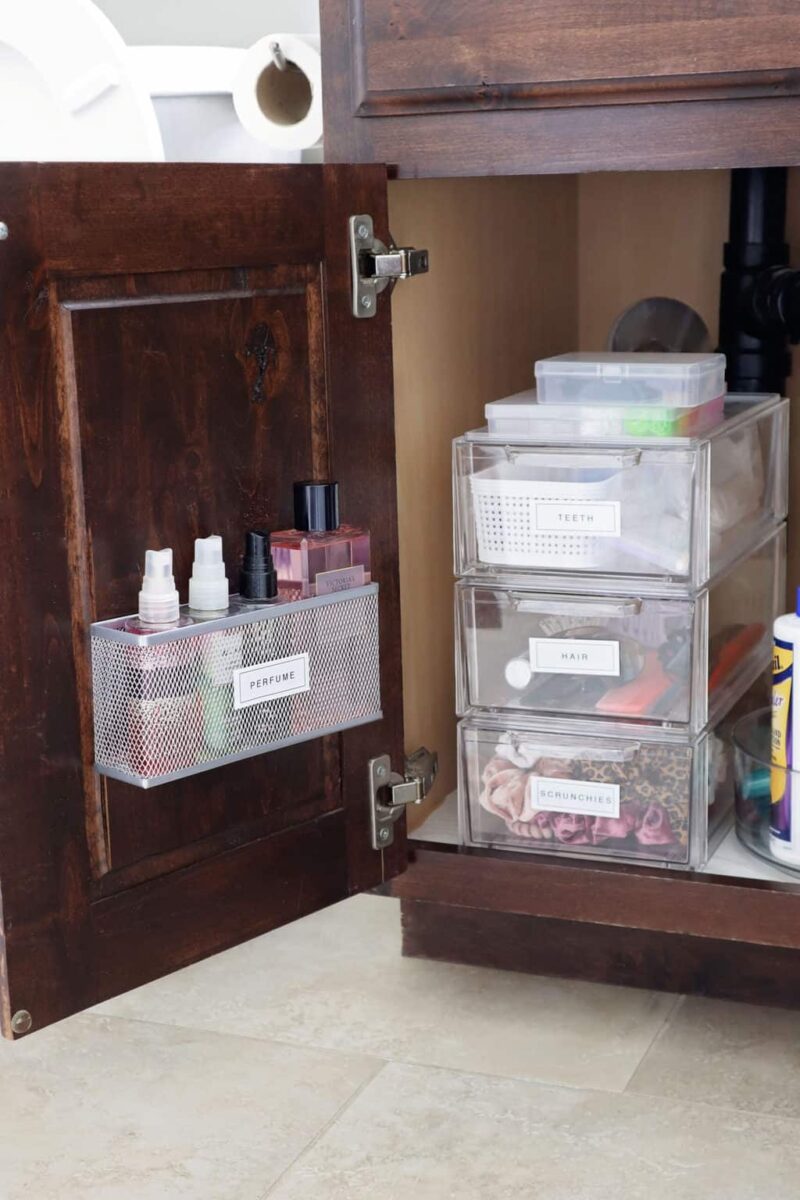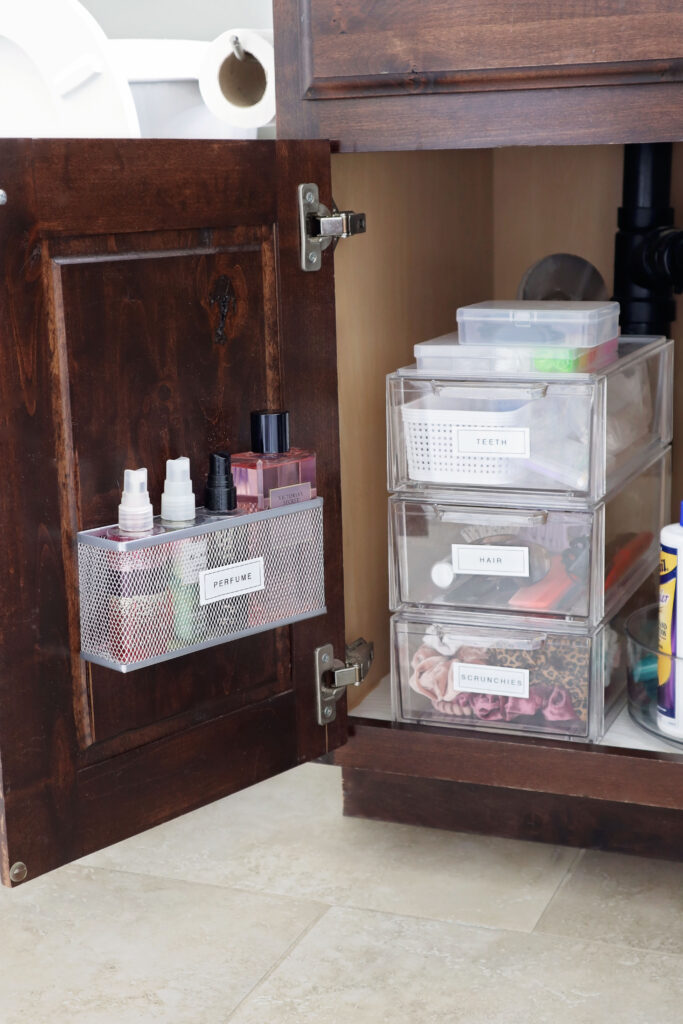 One last tip to keep in mind during this process… if you like to buy new makeup. If you do, you'll want to leave more space so you can add new stuff to your stock of beauty supplies.
Organizing Beauty Products for Easy Mornings
Organizing beauty items like foundations, brushes, concealers, and more will make your mornings so much easier. You'll know exactly where everything is, and you won't have to go through your whole collection just to find one thing.
Even if you don't love organizing your bathroom, taking time to organize your beauty supplies will be worth it. You'll thank yourself every single day when you find exactly what you want right away, I promise!