Water Bottle Storage and Organization Ideas
If your family is anything like mine, your house is full of reusable water bottles. They're way better for the environment than plastic bottles and they keep you hydrated with pure water from a water filter, but where do you put them all? Reusable water bottles can be large and impossible to stack. This can lead to a lot of clutter and frustration.
In this post, I'll cover a few different ideas for water bottle storage and organization so that they're easy to find and don't take up too much space.
There are several different water bottle organizers that you can get or make yourself. This will help keep your collection organized and easy to access.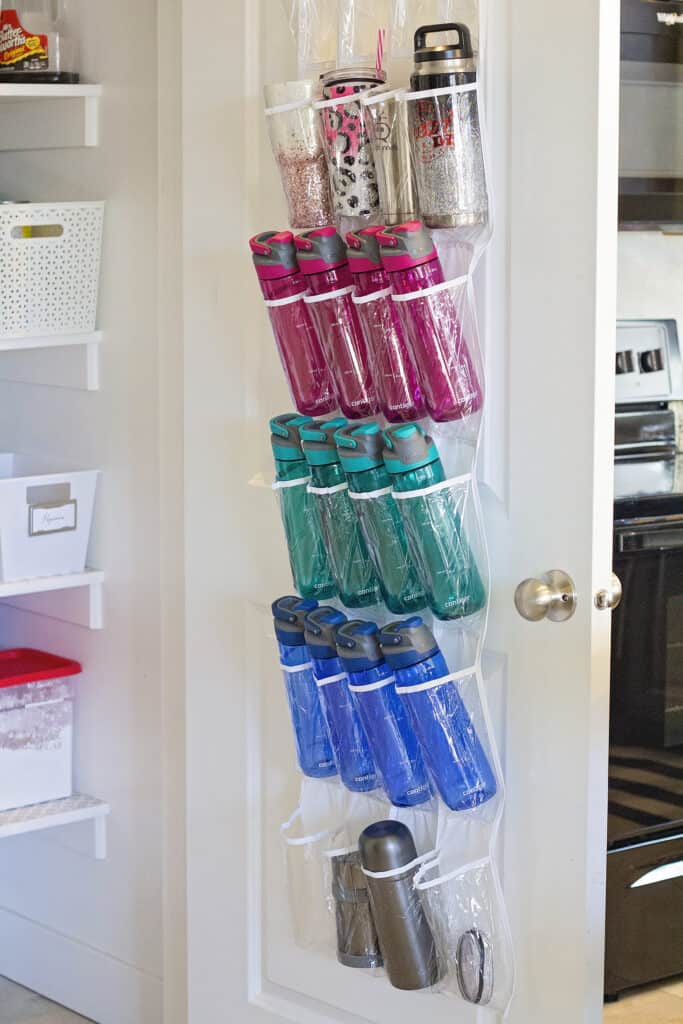 Water Bottle Storage
When it comes to water bottle storage, you have a few different options. Though water bottles aren't stackable, you can still store them in a practical, efficient way.
Water Bottle Organizers
Storing water bottles on a water bottle storage rack is one of the best ways to store water bottles in your home. Here are a few of my favorite water bottle storage organizers.
Wire Rack
This wire water bottle storage rack is a great storage solution if you have a lot of water bottles! It's four tiers tall and comes in various sizes. You can keep it on your kitchen counter if you don't mind your water bottles being out on display, but you can also stick this organizer on a deep shelf of your kitchen cabinet, cupboard, or pantry.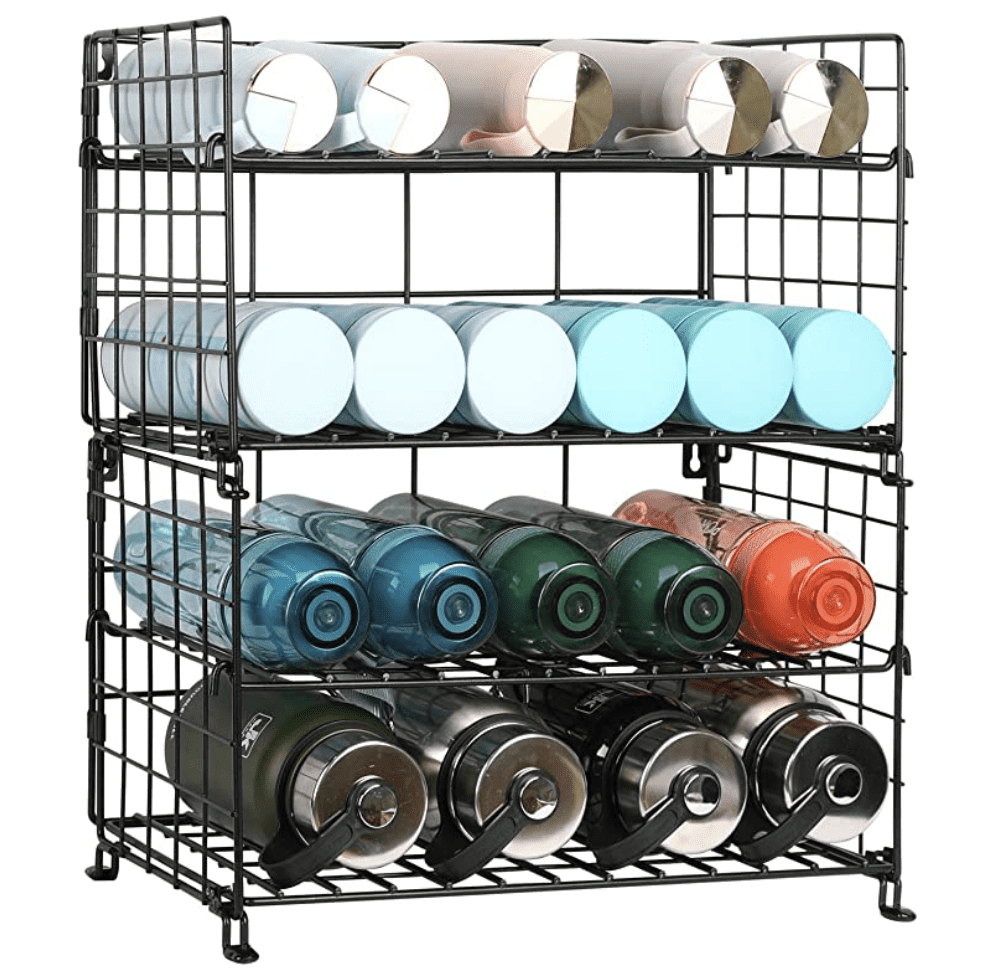 Two-Shelf Organizer
This organizer only has two shelves, so if your kitchen cabinet shelves aren't that tall, but you still want to put your water bottle storage rack in the cabinet, this is a great option. It doesn't fit as many water bottles but it should fit in most cupboards!
Stackable Bottle Storage Container
If you have lots of water bottles and you have space in your pantry to store a large organizer, this stackable organizer provides amazing water bottle storage.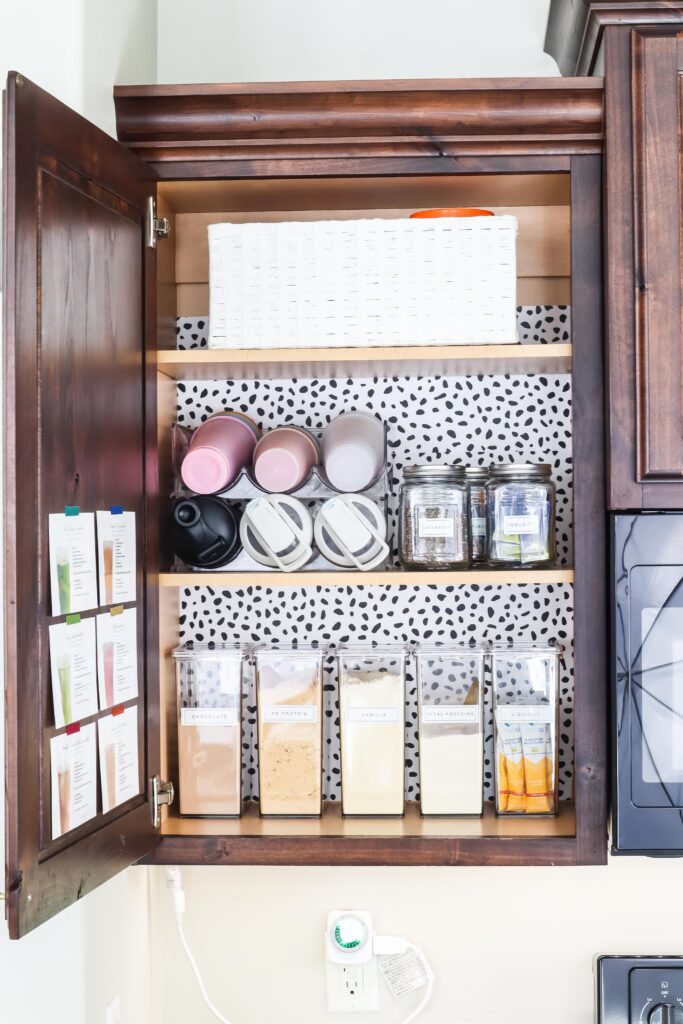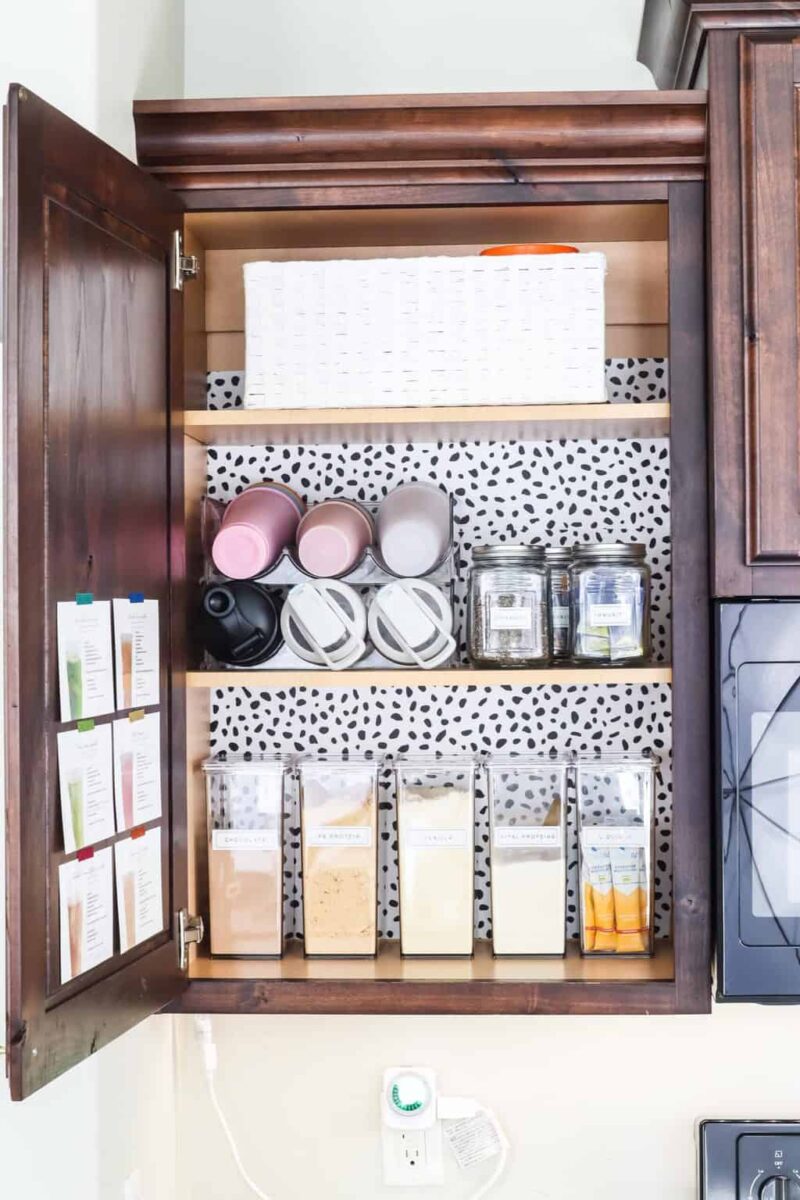 It's made of clear plastic shelves that you can stack on top of each other and the curved shelves will keep your water bottles from rolling around. It is bulky, so I don't know that I'd be able to store it under a kitchen counter in cabinets or cupboards, but it's perfect for a large pantry. (Or even on top of the fridge if you're tall enough to reach them!)
SHOP WATER BOTTLE STORAGE

Convert Other Organizers into Water Bottle Storage
If you don't want to purchase a new water bottle storage rack but you need a container for your water bottles, there are a few things you can repurpose and turn into a water bottle storage solution!
Wine Rack
Instead of getting a water bottle storage rack, you can use an unused wine rack for your home storage solutions! Using a wine rack as a water bottle storage rack is a great way to upcycle and have an elegant water bottle holder. Wine bottles are also about the same size as most large water bottles, so a wine rack should fit them perfectly!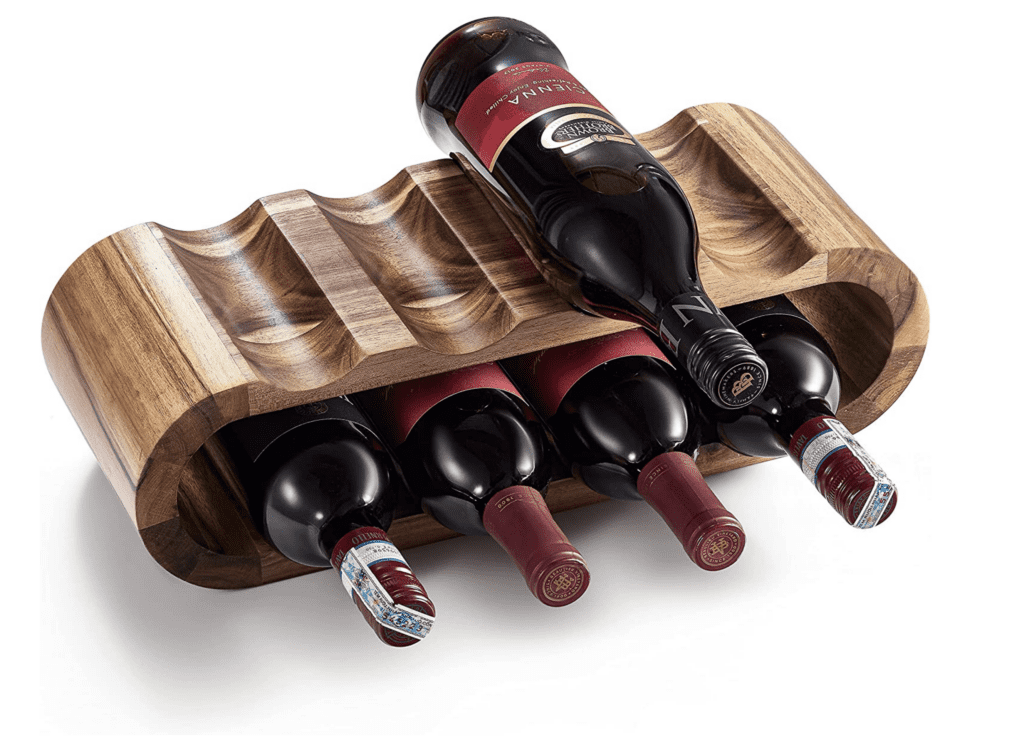 Shoe Organizer
Do you have an over-the-door shoe organizer? Did you know a lot of shoe organizers are actually a good size for water bottles? If you're looking for a water bottle holder that doesn't take up a lot of space, this is a great idea. Just hang your over-the-door shoe organizer on the back of a pantry door and holds several water bottles!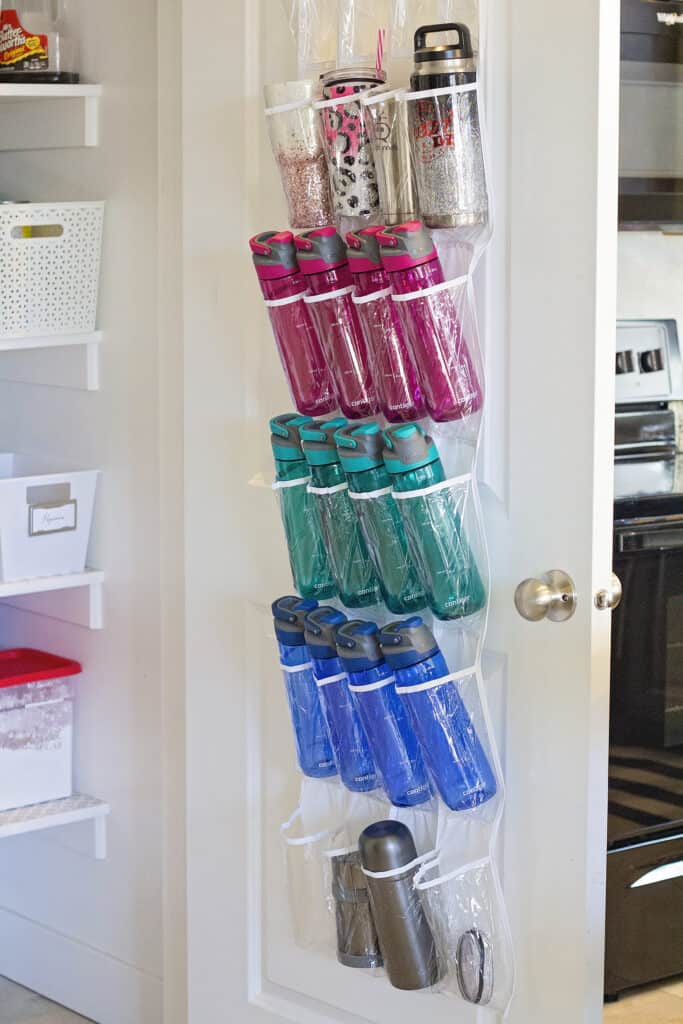 (Of course, some bottles might be too large for the pockets, but it can be great for storing smaller bottles or cups with lids.)
Mason Jar Holder
Another solution is to use a mason jar holder as a water bottle storage rack. Mason jar holders might not be as common or easy to find as a wine rack or a shoe organizer, but you can always look around your home for any rack or container that is about the right length and width for your bottles. You can also paint the mason jar holder to match your home decor!
SHOP WATER BOTTLE STORAGE

Water Bottle Organization
After you've found home storage solutions that work for your water bottles, it's time to actually organize them. Hopefully, when you decided on the organizer, you decided where in your home it would go. But if not, here are a few ideas on where to place your organizer.
In the pantry. This is the ideal solution. If you have space in your pantry for your organizer, I'd recommend sticking it on a pantry shelf. It keeps your bottles out of sight but close enough to easily grab a water bottle and go.
In a kitchen cabinet. If you don't have a large pantry, you can store your collection on a cabinet shelf. This depends on how deep and tall your cabinet shelf is, so I'd recommend measuring the space on your cabinet shelf before you purchase a water bottle organizer.
On top of the refrigerator. If there is space on top of your fridge, this is a possibility. It saves space in your pantry and cupboards. Just make sure you can easily reach a rack placed on top of your fridge or this would get very frustrating.
On the kitchen counter. I wouldn't really suggest storing your collection on the counter unless you're really short on space because they will probably be right in the way, and it's hard to hide any clutter if they aren't perfectly organized. If you do store them on the counter, make sure they are easily accessible so you don't have to move things around to get to your water bottle.
On the floor beneath a table. If you have a table or floor space available under your counters, you can place a water bottle storage rack underneath. This way, the bottles are out of the way but still easy to grab when you need one.
Organization Ideas
When it comes water bottle organization, there are a few different ways you can do it. You can organize them by size, type, or color.
If you have a lot of different types of water bottles, it might be helpful to organize them by what they're used for. For example, you could have a section for water bottles you take to the gym and another section for the bottles you use at home.
You can also organize based on your family. Does everyone in your family have a bottle or two? Make a small section for each family member so they know right where their bottles are.
No matter where you store your collection in your home, make sure it's easy to find so you can quickly grab a bottle when you need one.
Save your kitchen from clutter!
Organization is important throughout your entire home, and that includes your reusable water bottle collection too!
I hope these storage and organization ideas have helped you decide on what kind of rack or home storage solutions work best for you.
If you have any other ideas, please share them in the comments below!
Happy hydrating!