How to Decorate Your Master Bedroom for Christmas on a Budget
If you're looking to add a bit of Christmas cheer to your master bedroom without going overboard on spending, this post is for you! In this post, we will give you some tips on how to decorate your master bedroom room on a budget.
You can add some subtle touches like throw pillows with a Christmas message or furniture pieces in gold. If you want something more obvious, then garland is always an option. I'll give you ideas for both subtle and more obvious decorations so that you can choose what works best for you!
So read on and get inspired!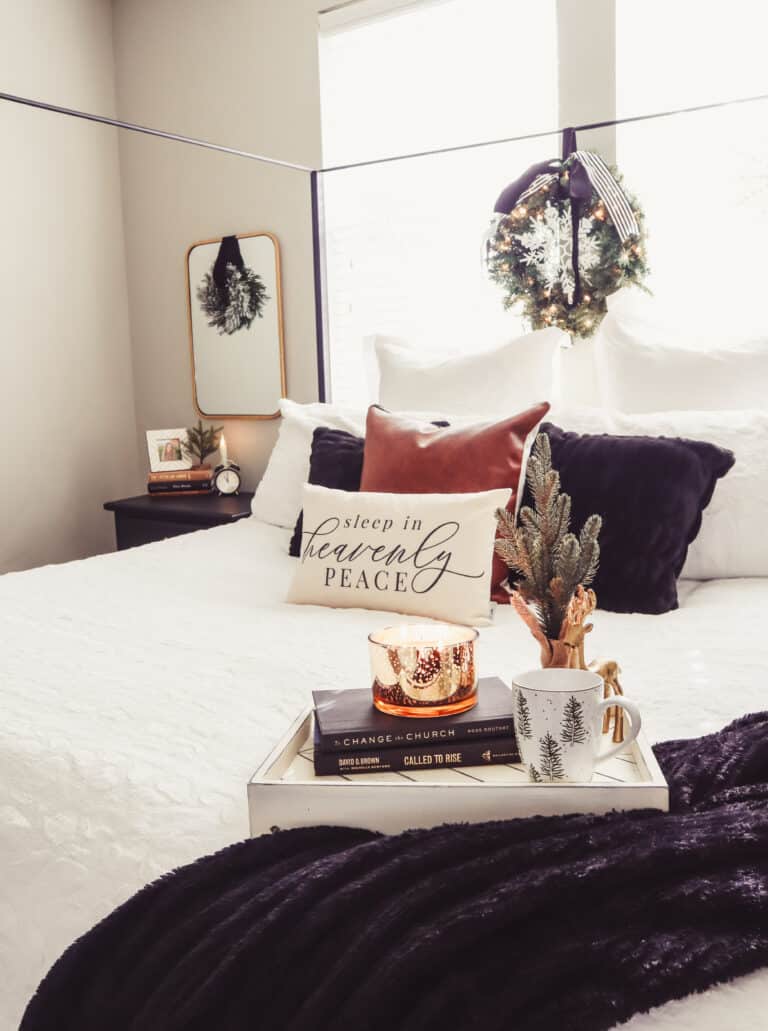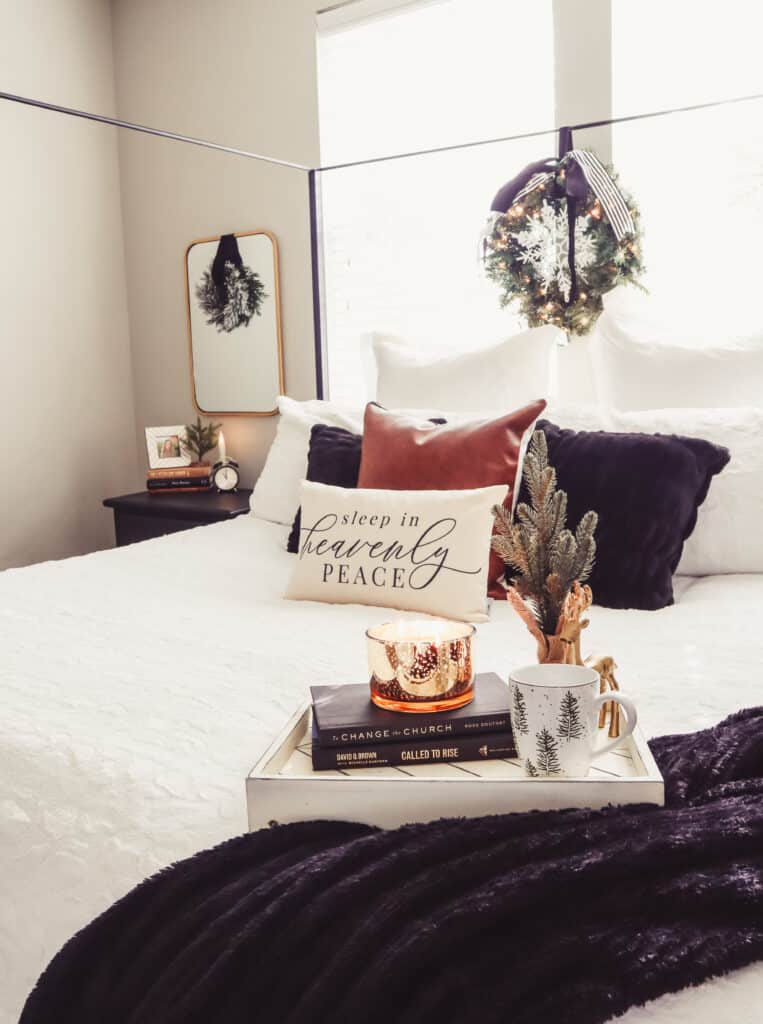 Christmas Decorating Ideas for Your Bedroom
The Christmas season is one of my favorite times of the year, and one of my favorite ways to get into the holiday spirit is by putting up Christmas decorations throughout my house.
Most people love setting up their Christmas tree, decking it out with ornaments, and adding some other Christmas decor to the main rooms, but what about Christmas bedroom decor?
One easy way to bring holiday cheer to your life is with bedroom decorations. It's impossible not to feel the Christmas spirit when you're relaxing in a cozy Christmas bedroom!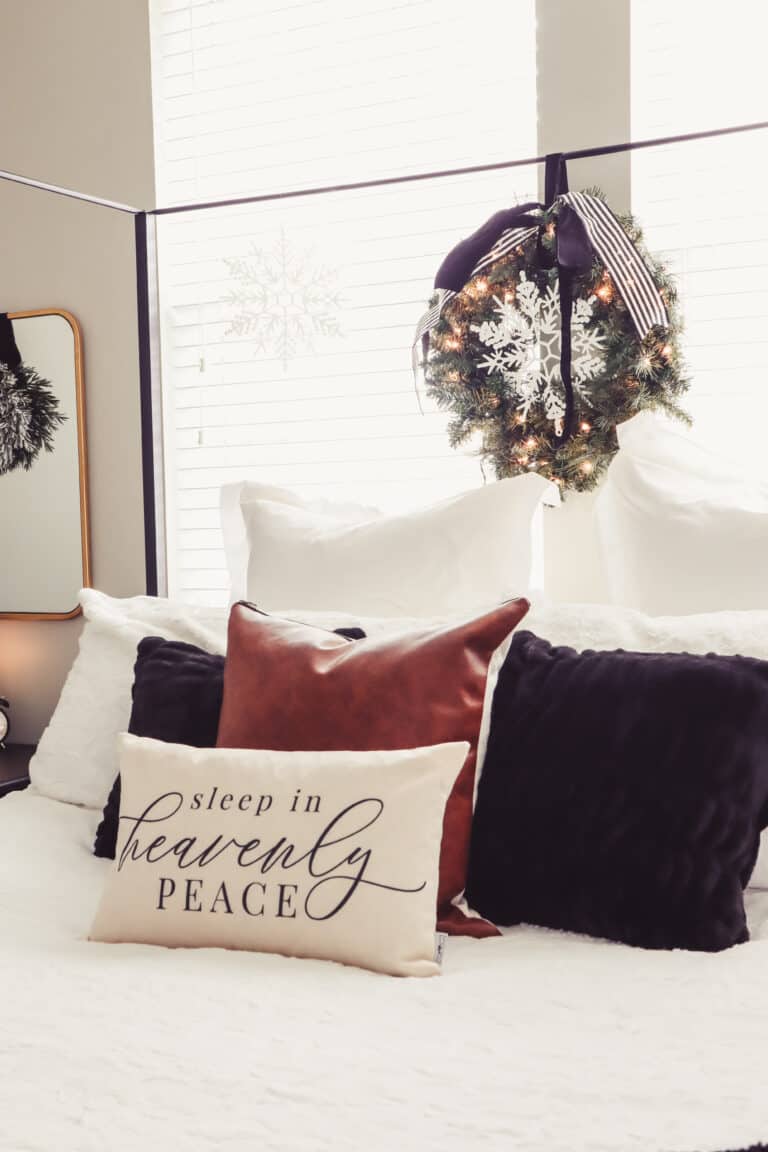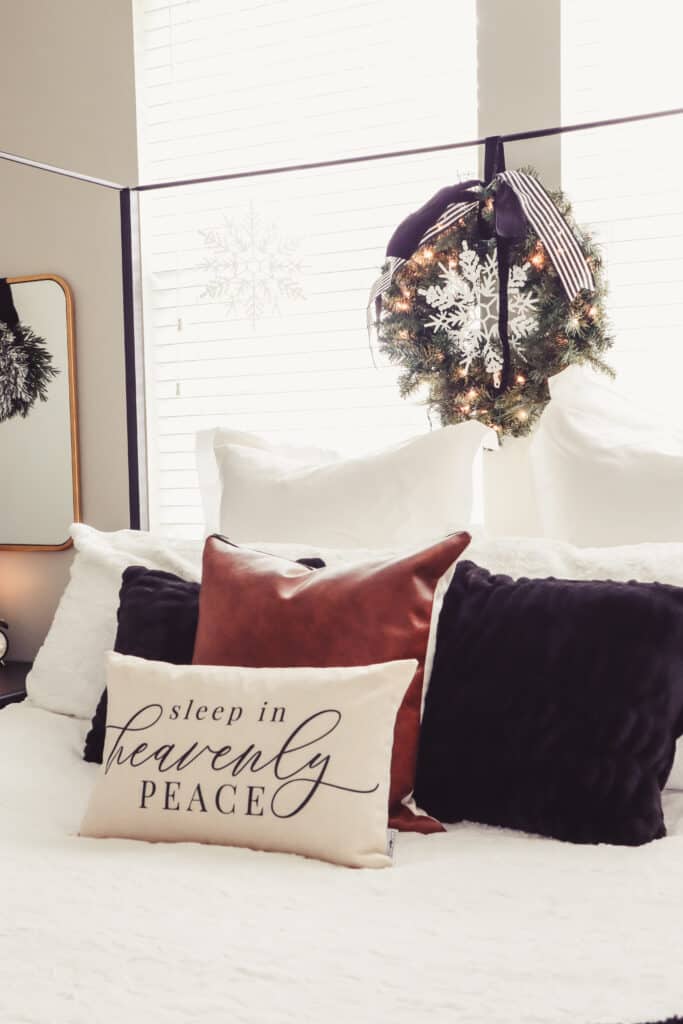 However, you probably don't want to spend tons of money on Christmas decor for your bedroom. After all, there's a lot to buy during the holiday season and you don't want to spend too much money on decorations that won't stay up year-round. So here are some Christmas master bedroom ideas on a budget to help you achieve the cozy Christmas bedroom of your dreams without breaking the bank.
When it comes to Christmas bedroom decor, there are two routes you can take. You can decorate your room in a more obvious Christmas-themed way, or you can go more subtle. Depending on your taste, I've got some Christmas bedroom decor ideas for whichever look you prefer.
Subtle Christmas Bedroom Decor
If you want your Christmas bedroom decor to be more subtle, there are plenty of ways to add some holiday cheer. You don't need to add a Christmas tree to your room to bring in the Christmas spirit! Here are a few ideas for subtle Christmas touches to add to your room.
Duvet Cover
The duvet cover and bedding you already have will definitely still work, but if you want to change things up with your Christmas bedroom decor, you can get new bedding.
I love this duvet because the white color adds a winter wonderland feel to the room. White bedding is also the perfect base for throw pillows. The fuzzy texture is also perfect for a cozy Christmas bedroom.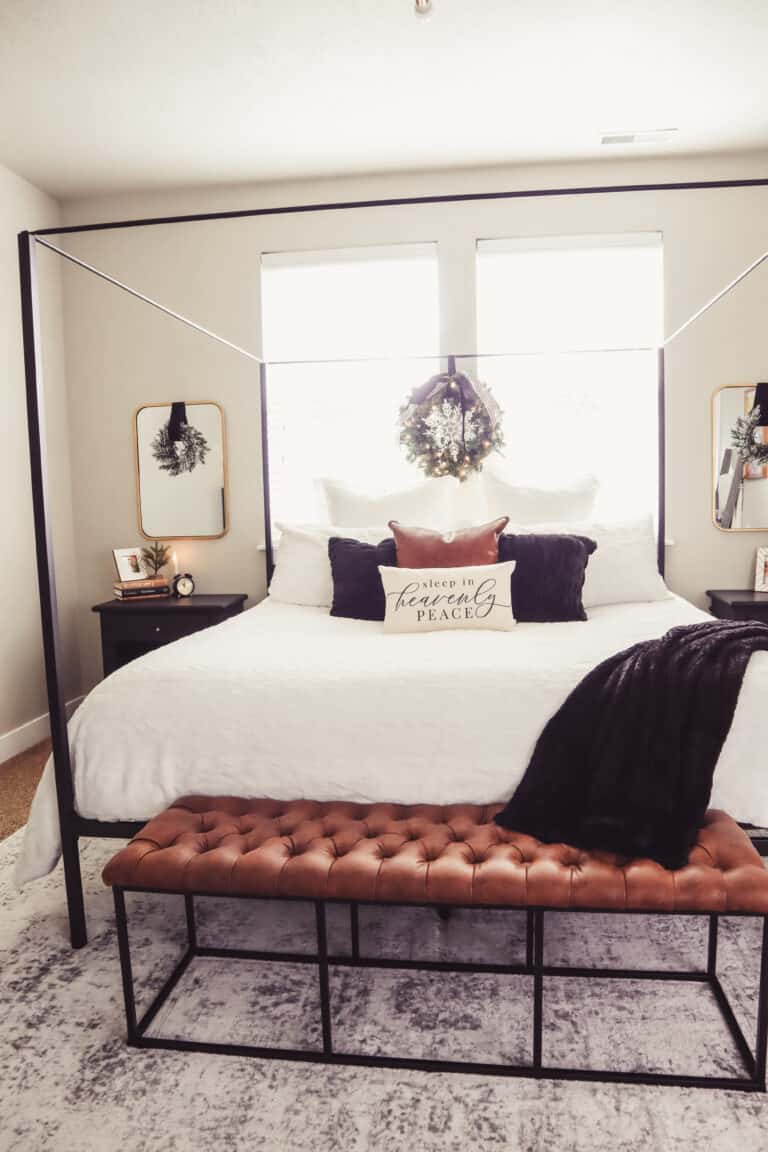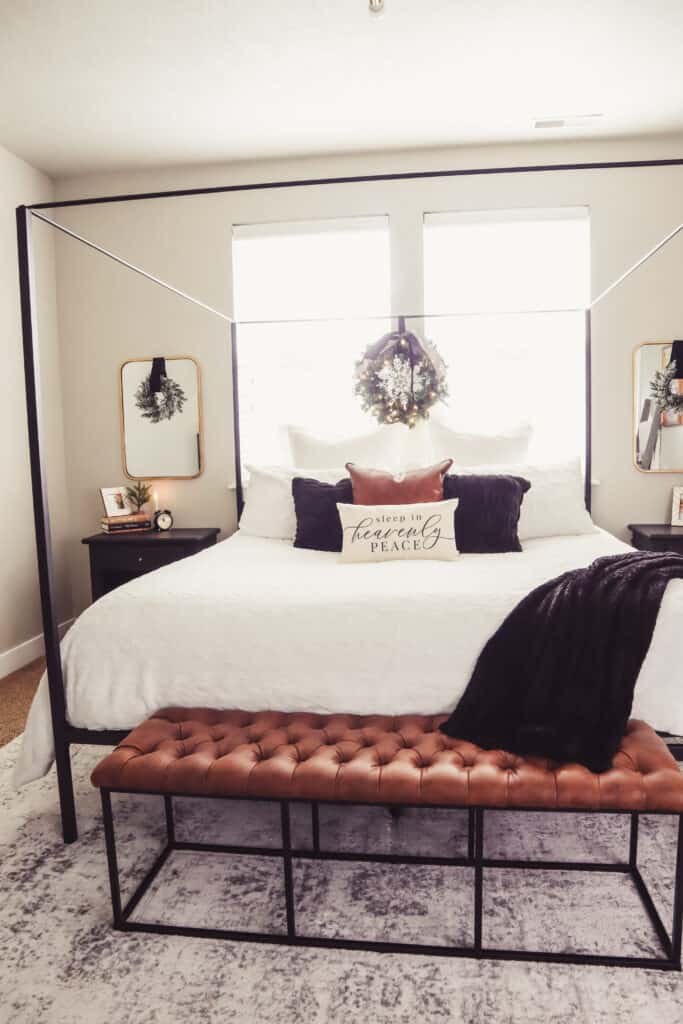 Throw Pillows
Throw pillows are an easy and inexpensive way to change up your bedroom decor for Christmas. Look for pillow covers with a festive message or pattern, or simply add Christmas colors with red and green pillows.
I like this pillow because it is more subtle Christmas decor. The simple white and black is also really classy. You could pair it with these big black pillows for black and white Christmas bedroom decor.
Remember, you don't have to use red and green to bring the festive spirit to your room. You can stick with color schemes you enjoy and find Christmas pillows in that style.
NEUTRAL CHRISTMAS BEDDING

Accent Pieces
One of the best parts of subtle Christmas bedroom decor is finding the accent pieces to really make your room festive. Again, you can find things you like in your style. Green and red aren't the only colors you can use! Gold is also perfect for Christmas. I love this gold lamp and the best part is you could even keep it up all year long!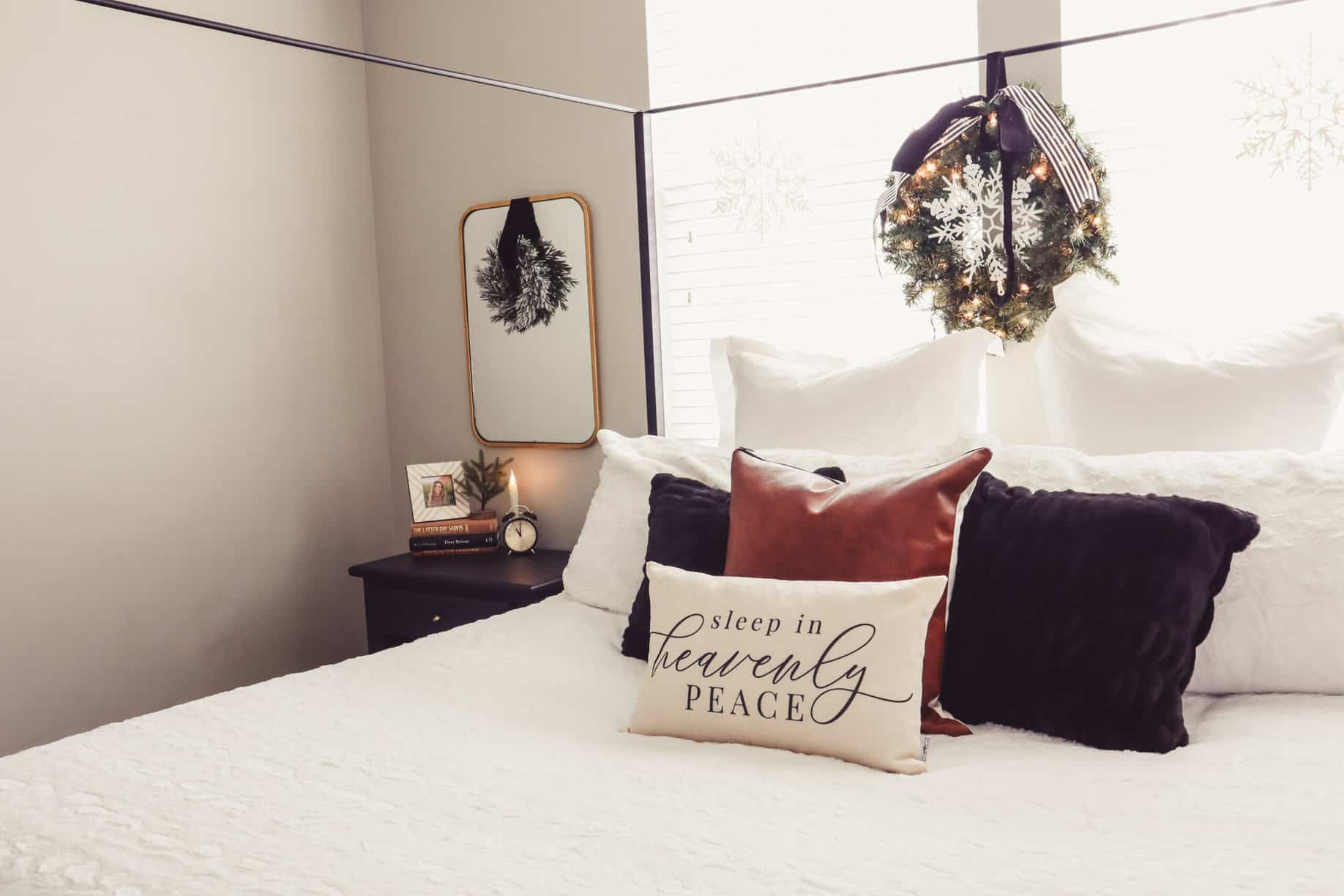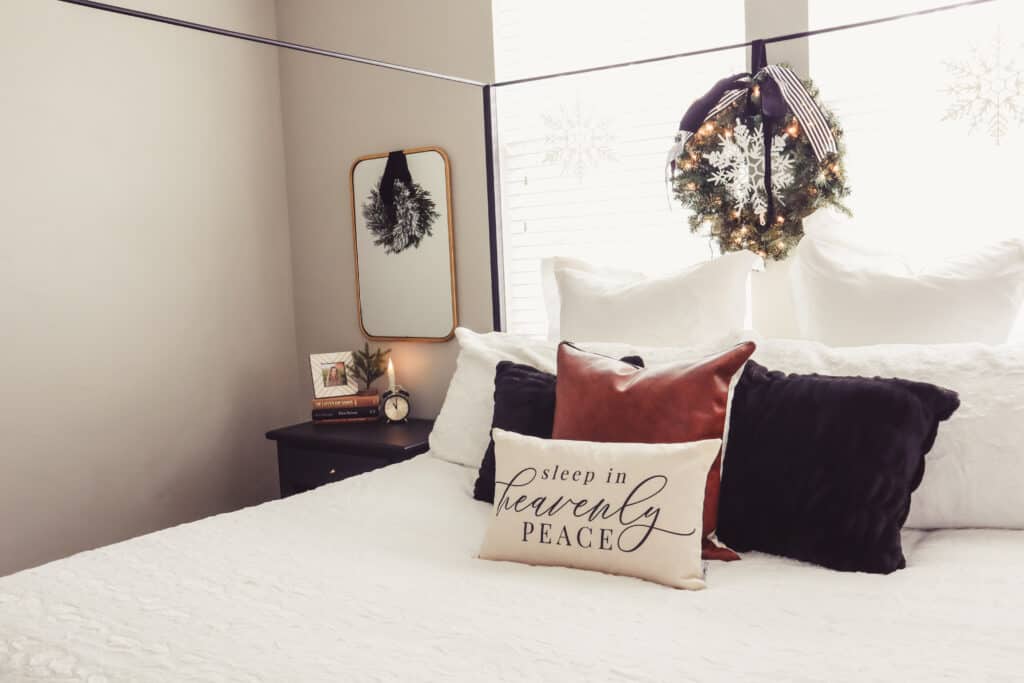 You could also decorate your Christmas bedroom in navy blue and silver to create a winter feel.
Twinkle lights or fairy lights also help create a cozy Christmas feel without screaming Christmas. Get white fairy lights to add a subtle and pretty glow to your bedroom for Christmas.
Bottle brush trees or small pine trees can also be great Christmas decorations that look classy. They introduce more earthy and natural elements to your bedroom while still being small accent pieces.
More Obvious Christmas Bedroom Decor
If you want your Christmas bedroom decor to be more obvious than a few simple festive touches, here are some Christmas bedroom decor ideas for you.
Christmas Lights or Fairy Lights
One of my favorite ways to add an enchanted look to my master bedroom during Christmas is to add extra lighting to the room. You can add Christmas lights to wreaths, garlands, or even to the actual bedframe.
Fairy lights are a really easy way to add fun lighting because they don't require you to have an outlet nearby. Most of them are just battery-powered.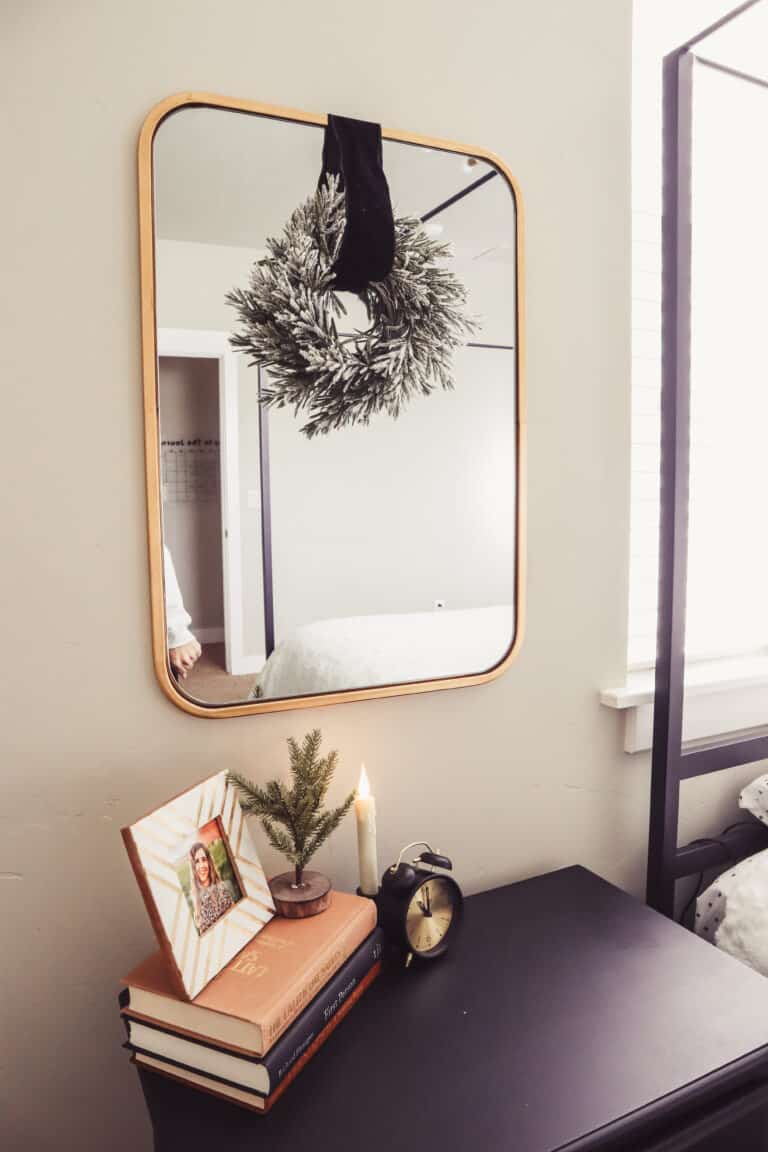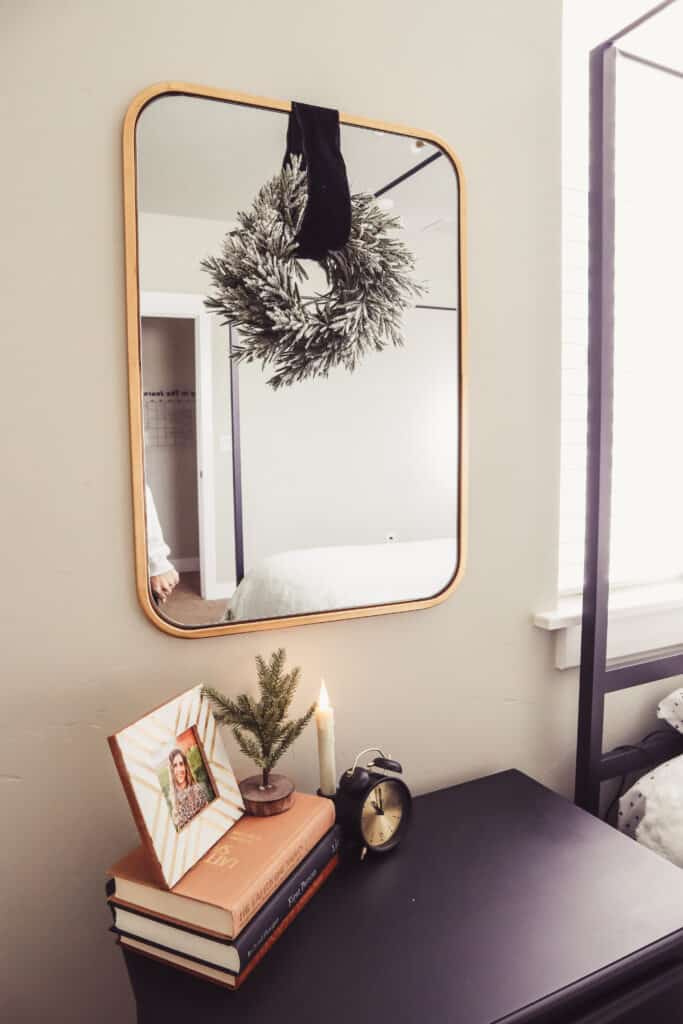 You can also add some battery-powered candlesticks. These are really fun in the windows or even on the nightstand. I use these literally ALL OVER my house. The best part is that they have a timer so you don't have to remember to turn them on and off.
Bedding
If you don't want white bedding, you can get a comforter or quilt in a Christmas color. You can find Christmas bedding online, just remember that you probably won't use Christmas bedding throughout the year in the same way you might use a more subtle bedding pattern.
Along with your Christmas bedding, you can also get Christmas pillows that are more obvious, like Santa Claus, snowmen, or other traditional Christmas prints on them.
Garlands
Adding garland to your headboard, a mirror, or around a window is an easy way to bring a festive feel to your bedroom. You could even add some lights to the garland for extra sparkle.
If you have a four-poster bed frame like this one, you can also wrap a garland around the frame. If you don't want to do a pine garland, you could also add Christmas lights. Instead of white string lights, you could do colored Christmas lights.
Wreaths
Wreaths are an easy way to add a cozy festive look to your Christmas bedroom. You can simply hang them with ribbons or you can even hang them on the wall behind your bed.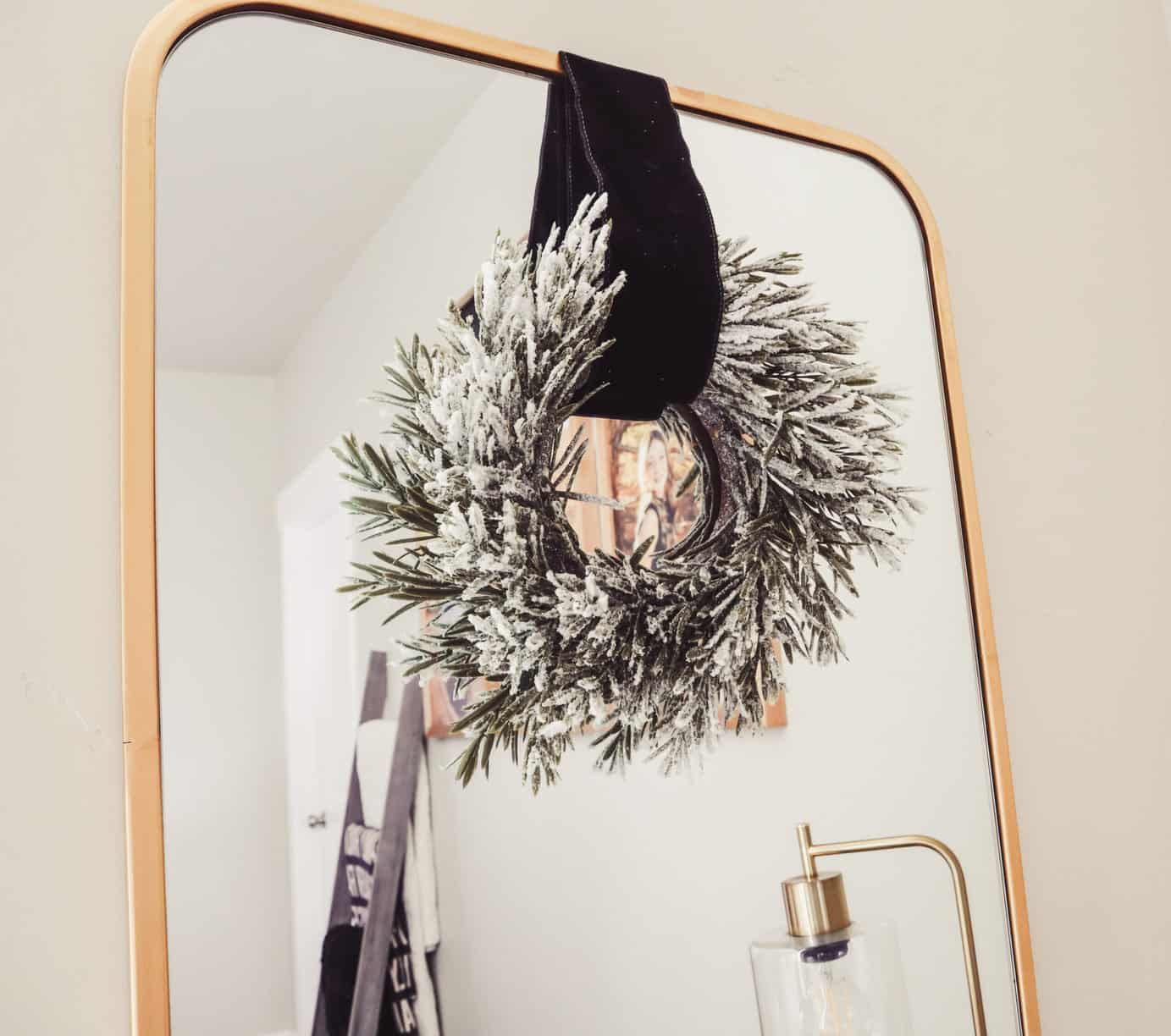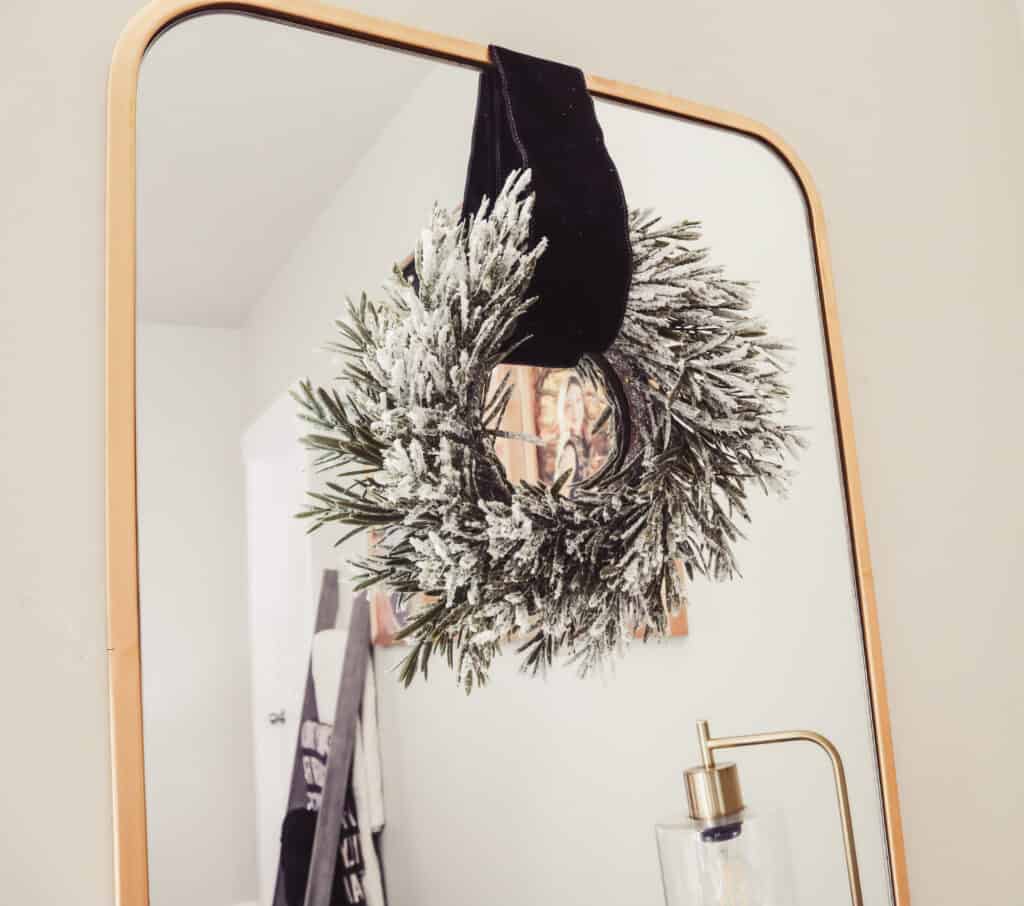 Christmas Tree
If you want to go all out for your Christmas bedroom decor, what better way to do that than to add a Christmas tree to your room? You could put a small tree in a corner or even on a table. If you don't want to deal with the needles, you could also get an artificial tree.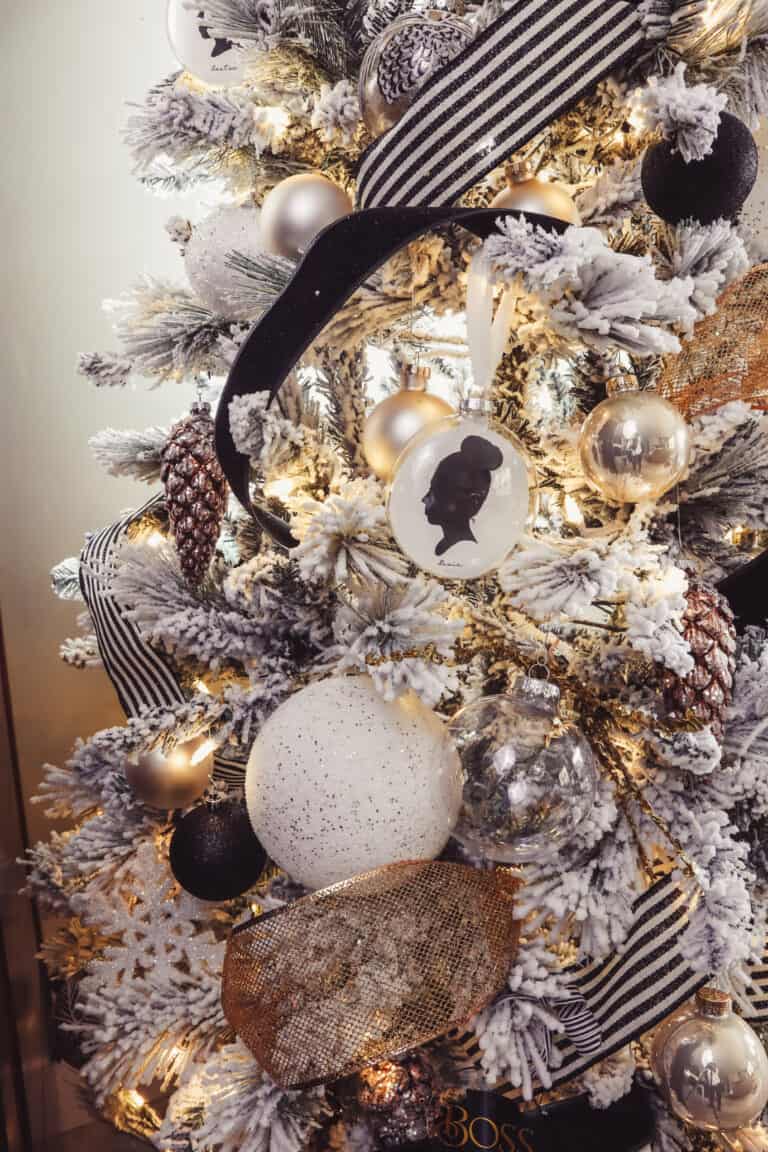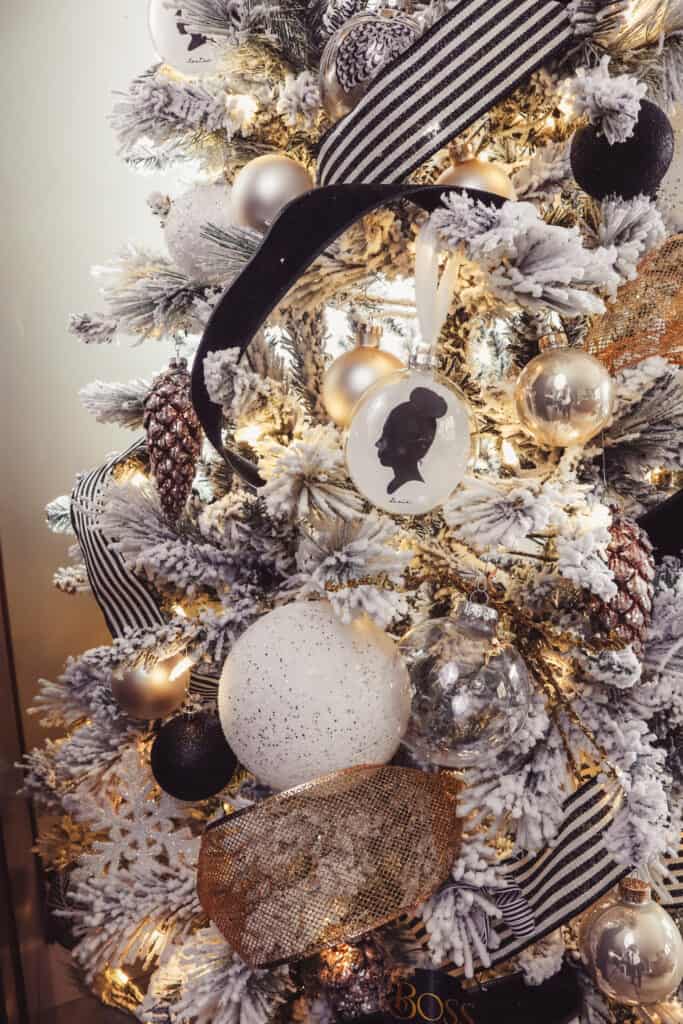 If you don't have room for a tree, you can hang a small wreath on the wall above your headboard. You can create your own wreath or purchase one. If you prefer neutral colors, you could get a pinecone wreath or a white wreath.
Christmas Sign
I have a Silent Night Christmas Sign that I absolutely love in my room. The neutral colors match my bedroom perfectly! They have a TON of cute designs and I've use their signs for years.

Other Finishing Touches
Decorating your bedroom for Christmas is really fun! Remember to add something to your bedside tables, like a vase of ornaments or a miniature Christmas tree (and I mean really miniature unless you have a large side table).
If you have large windows, consider adding a garland or string lights around them. It's also really nice to hang something over the headboard (like a wreath or a Christmas sign).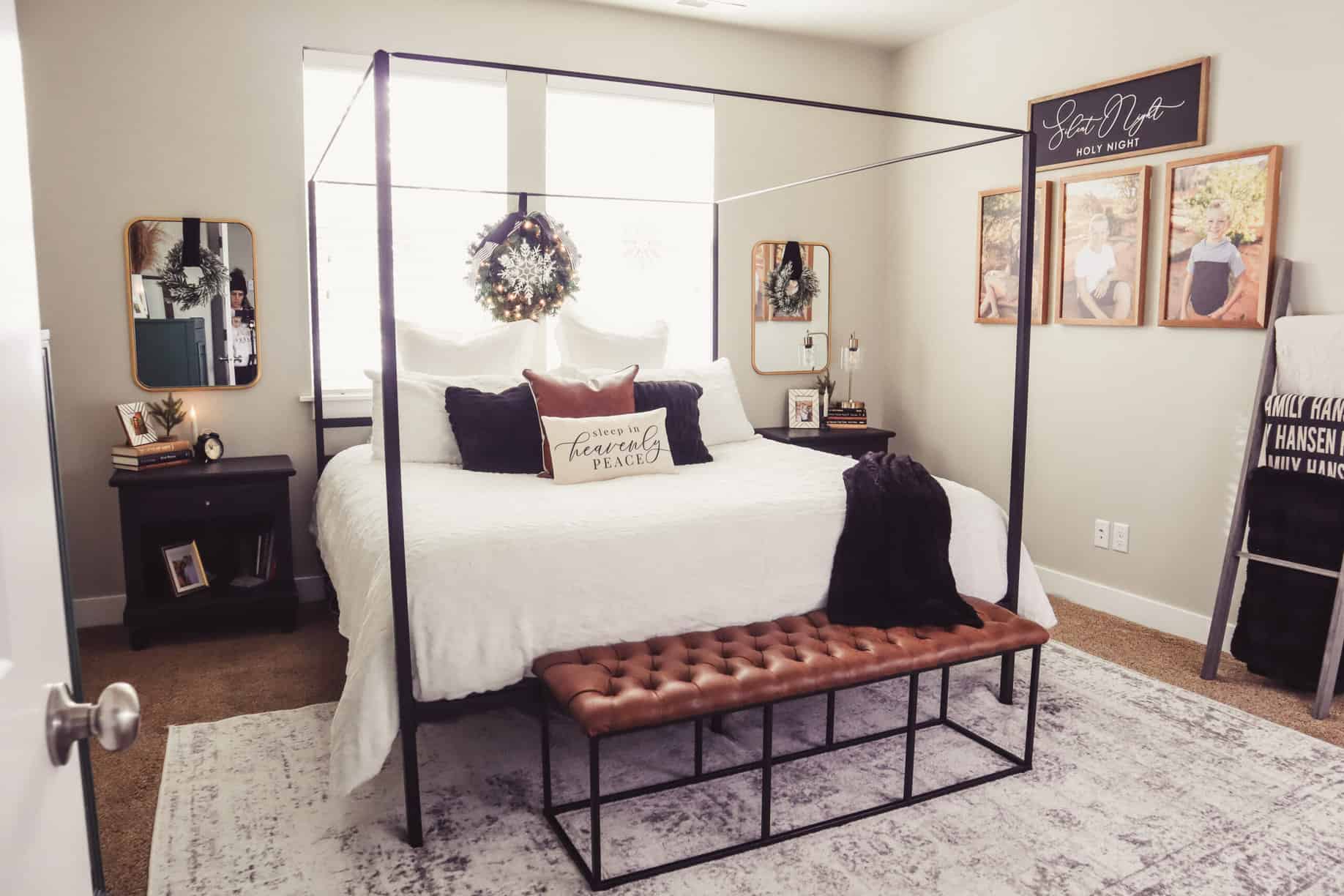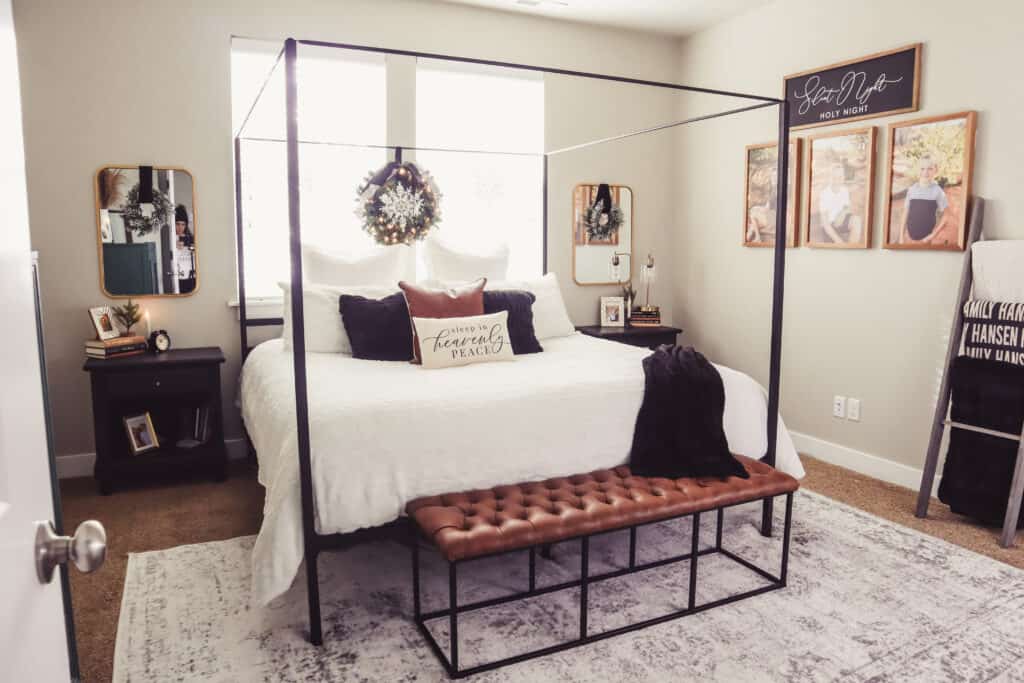 Add cozy Christmas blankets to the end of your bed as well! You can never have too many blankets to wrap up in during a white Christmas.
Enjoy your Christmas bedroom!
Hopefully, these decorating ideas will help you create a Christmas bedroom you love. Taking a little time to decorate your bedroom with Christmas decor can really make your house feel more inviting and festive. It will definitely help you get in the right mood for the holidays.
Whether you get Christmas bedding, cover your room in pine trees, wrap a garland around your headboard, or just do something simple like adding a Christmas-themed blanket or pillow, find fun ways to bring Christmas into your master bedroom. You don't have to spend a lot of money either! Look at the decorations you already have and use those if you want to bring Christmas cheer into your room at no extra cost.
I hope you have a positively jolly night's sleep in your cozy Christmas bedroom. Have a merry Christmas and happy holidays!