How to Make a Cleaning Cart: What You Need and How It Will Help
Do you always have to search for your cleaning supplies when it's time to clean? It can be really frustrating to go through all your stuff to find that one specific item, especially if you're trying to get the task done quickly. That's why you need a cleaning cart!
With all of your supplies in one place, it will be easy to get the job done. When it comes to cleaning the house, it's always easier to have everything you need right at your fingertips.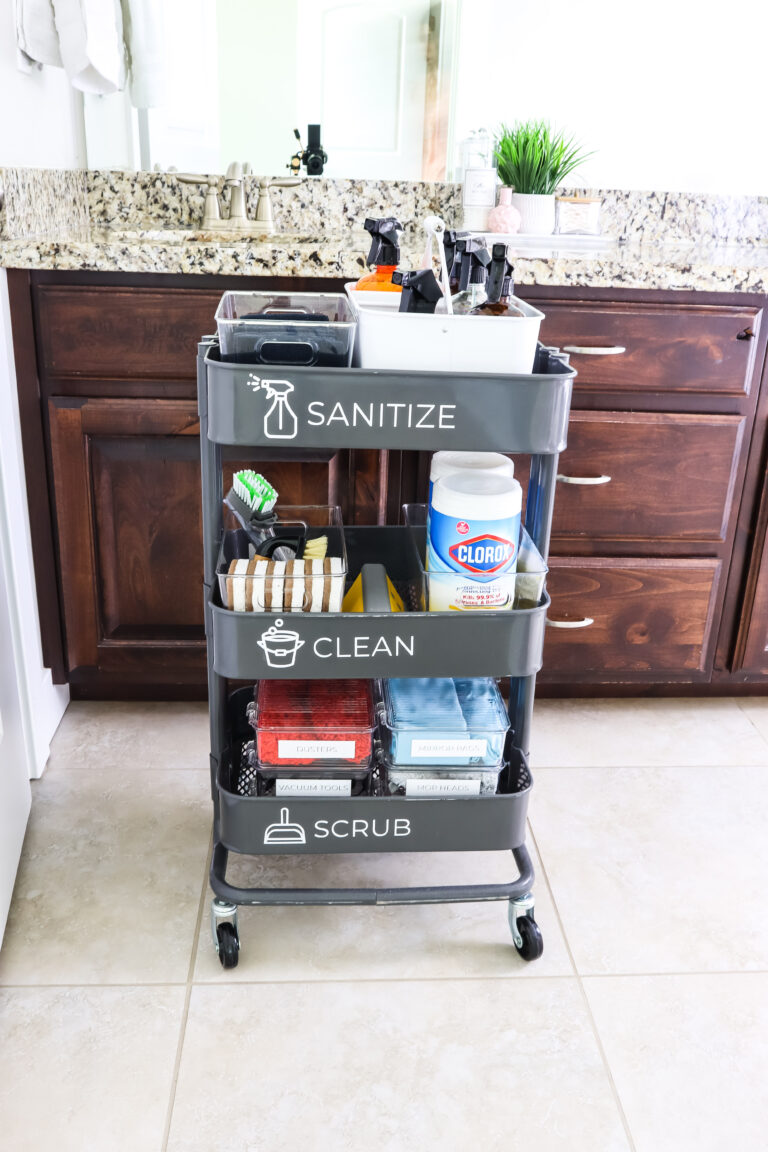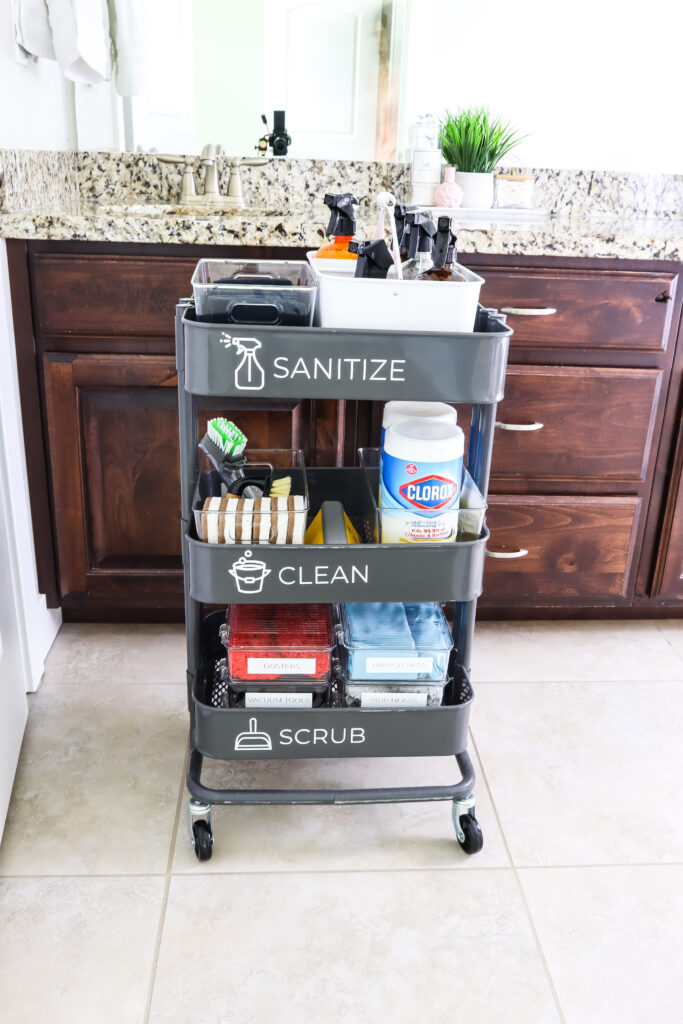 A cleaning cart will help make your tasks easier by having all of your supplies in one place. It might even make you find cleaning fun! Okay, probably not, but it will make your life a lot easier.
In this post, we will show you how to make a cleaning caddy or cart and what you need on it. Let's get started!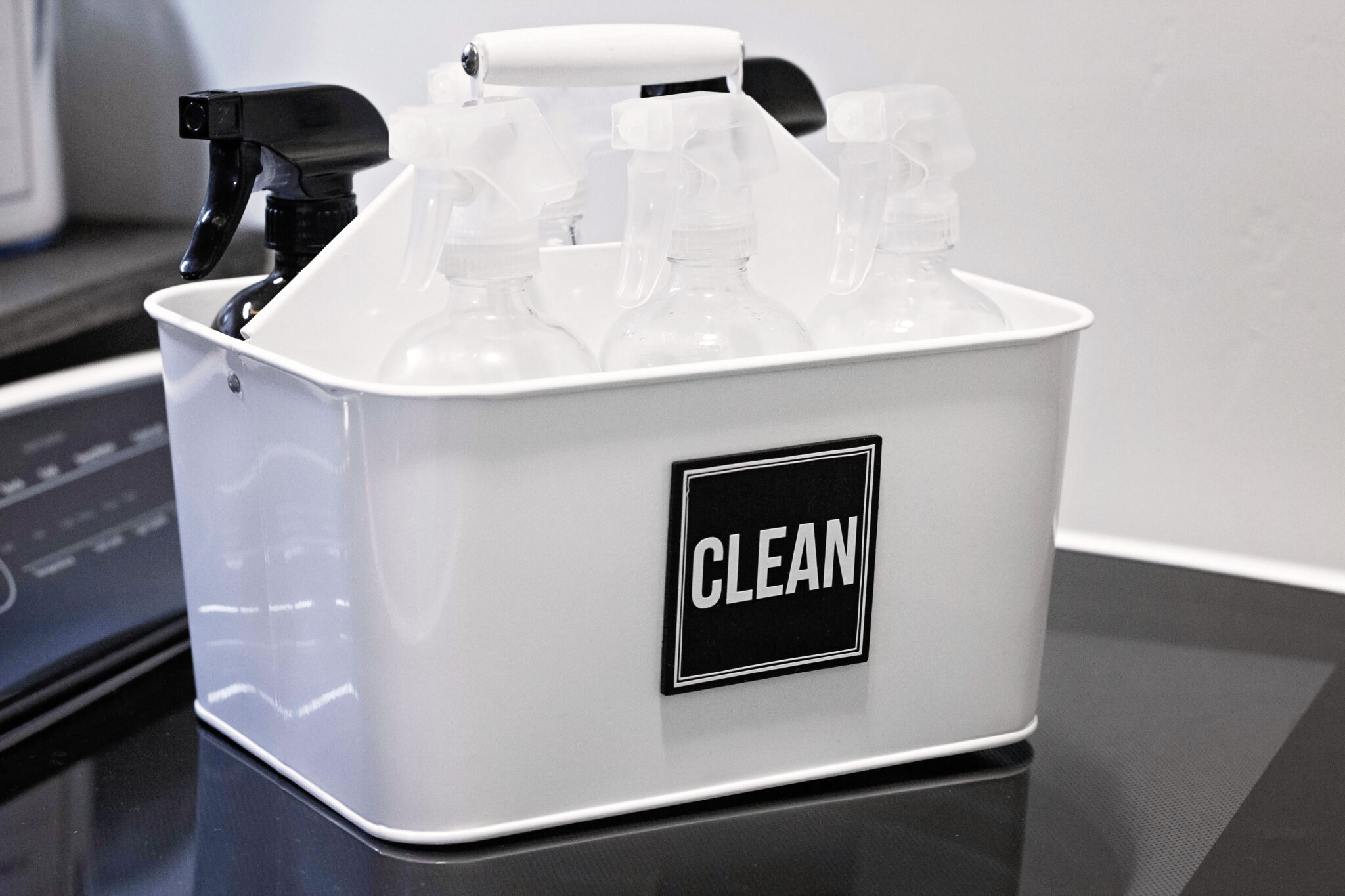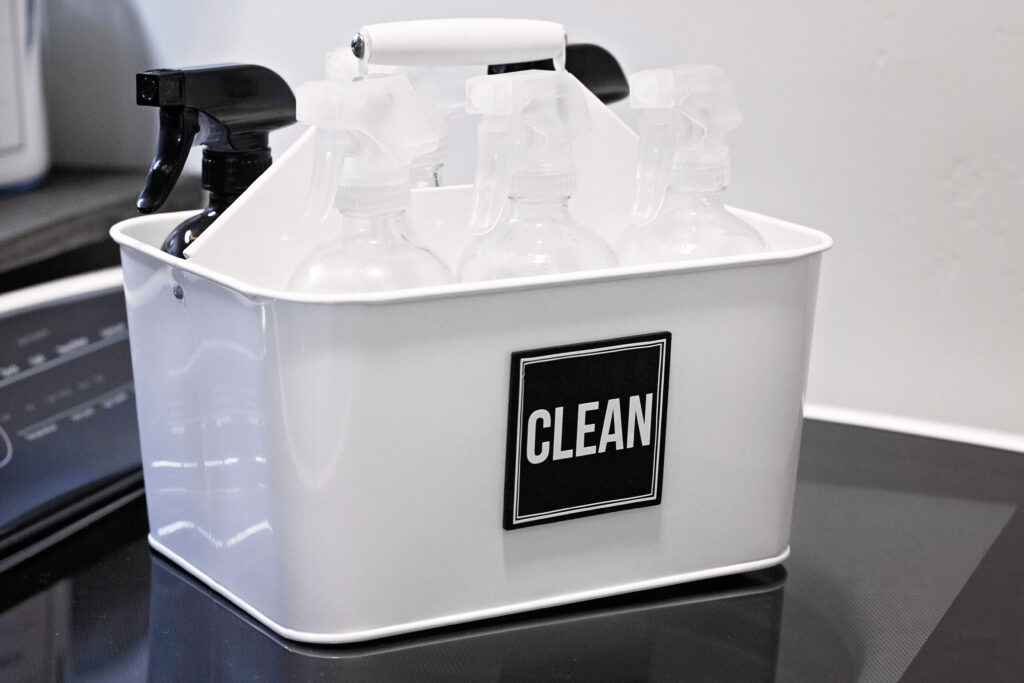 Why You Need a Cleaning Cart
Having a cleaning caddy or cleaning cart will help immensely in many different ways.
A lot of people have a cleaning closet, or maybe a shelf of cleaning supplies in their laundry room or a linen closet, but it can get really tedious having to return to your cleaning closet every time you need a different spray bottle or new cleaning products.
Having a simple cleaning caddy can be super helpful as you can keep some of your spray bottles and microfiber clothes and not have to return to all your supplies too often to search for another cleaner.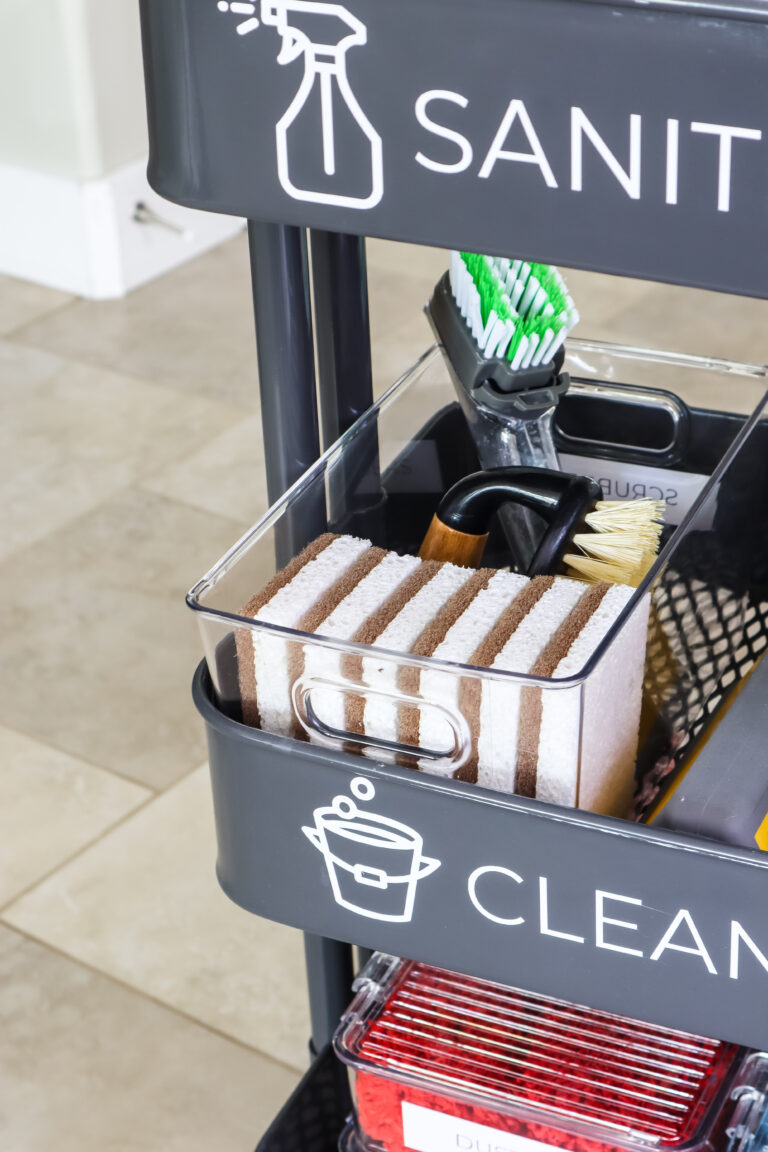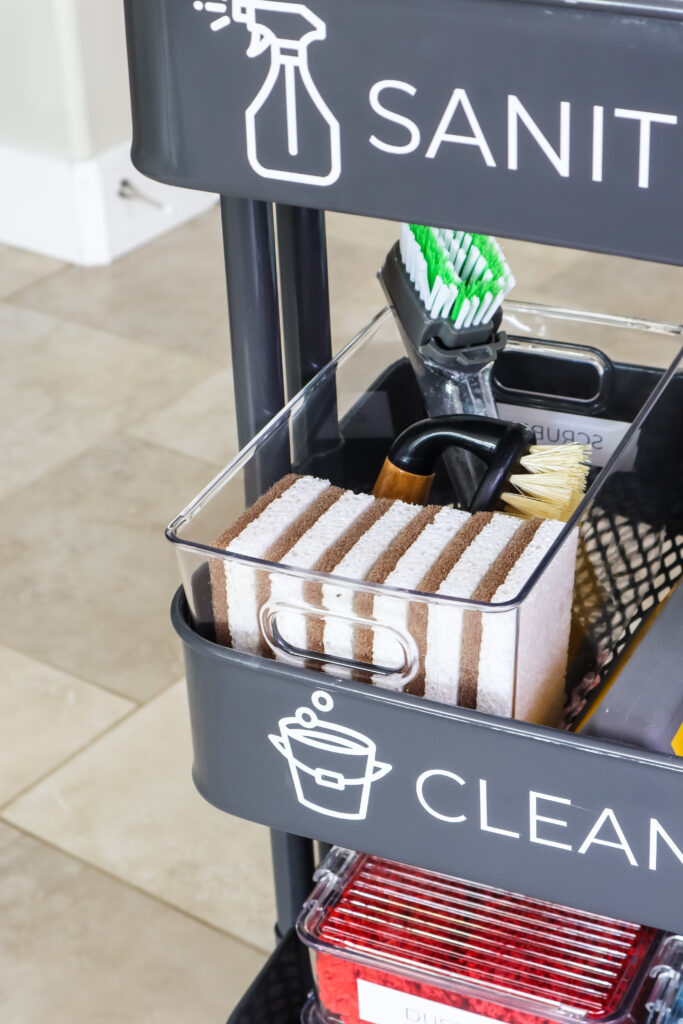 However, a cleaning caddy doesn't provide enough space for everything you need when you're cleaning the entire house! That's where a cleaning cart comes in handy!
Benefits of a Cleaning Cart
Keeping a cart full of your favorite cleaning essentials can help as you clean the house because it allows you to move cleaning products to every room without needing to go back and forth to get different cleaning supplies.
It will save you tons of time as you can carry all of your cleaners throughout the home. A cleaning caddy can help with this, but having a cart that you can push throughout the house makes things so much easier.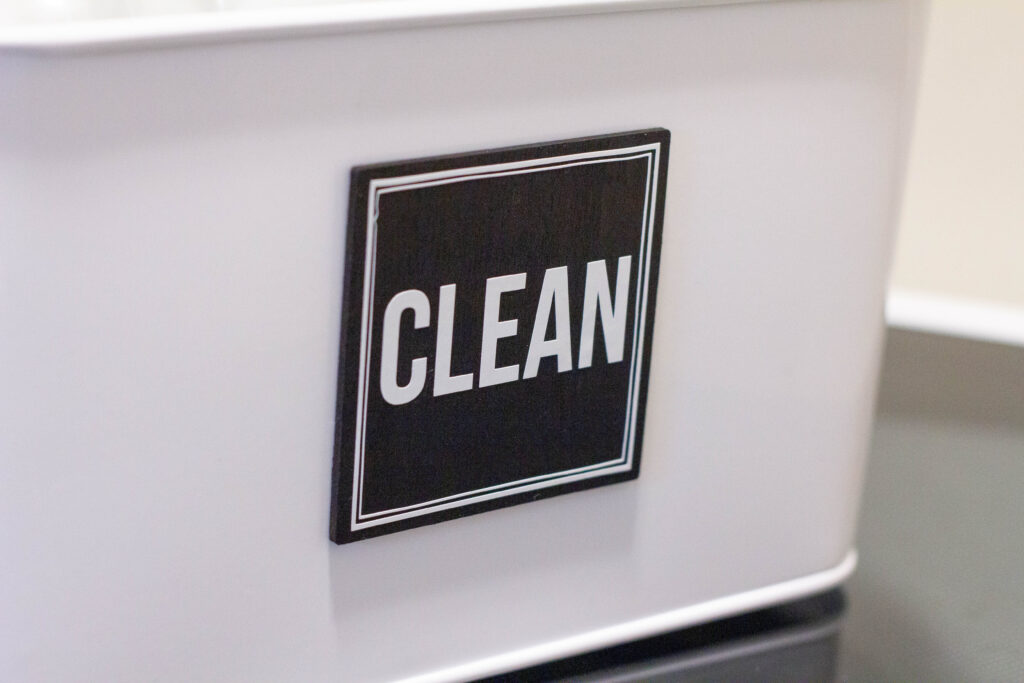 It's also a great way to organize all of your cleaning products in one place so that you can easily find what you need. With a cart, you can easily see all of the cleaners and supplies you have, and you don't have to root around underneath the sink to search for that one specific spray bottle or scrub brush you're looking for.
How To Put Together a Cleaning Cart
Putting together a cleaning cart is super easy! You just need a few supplies and then you can quickly put one together for your family!
First, get a cart.
Start by picking out a cart that you like and that will fit in the space you have available. When you're not using the cart, you'll need a place to store it, so make sure you have an area in your home (like a hall closet) that you can wheel the cart into to store it when not in use. So look for that storage area in your home and see what size cart you need.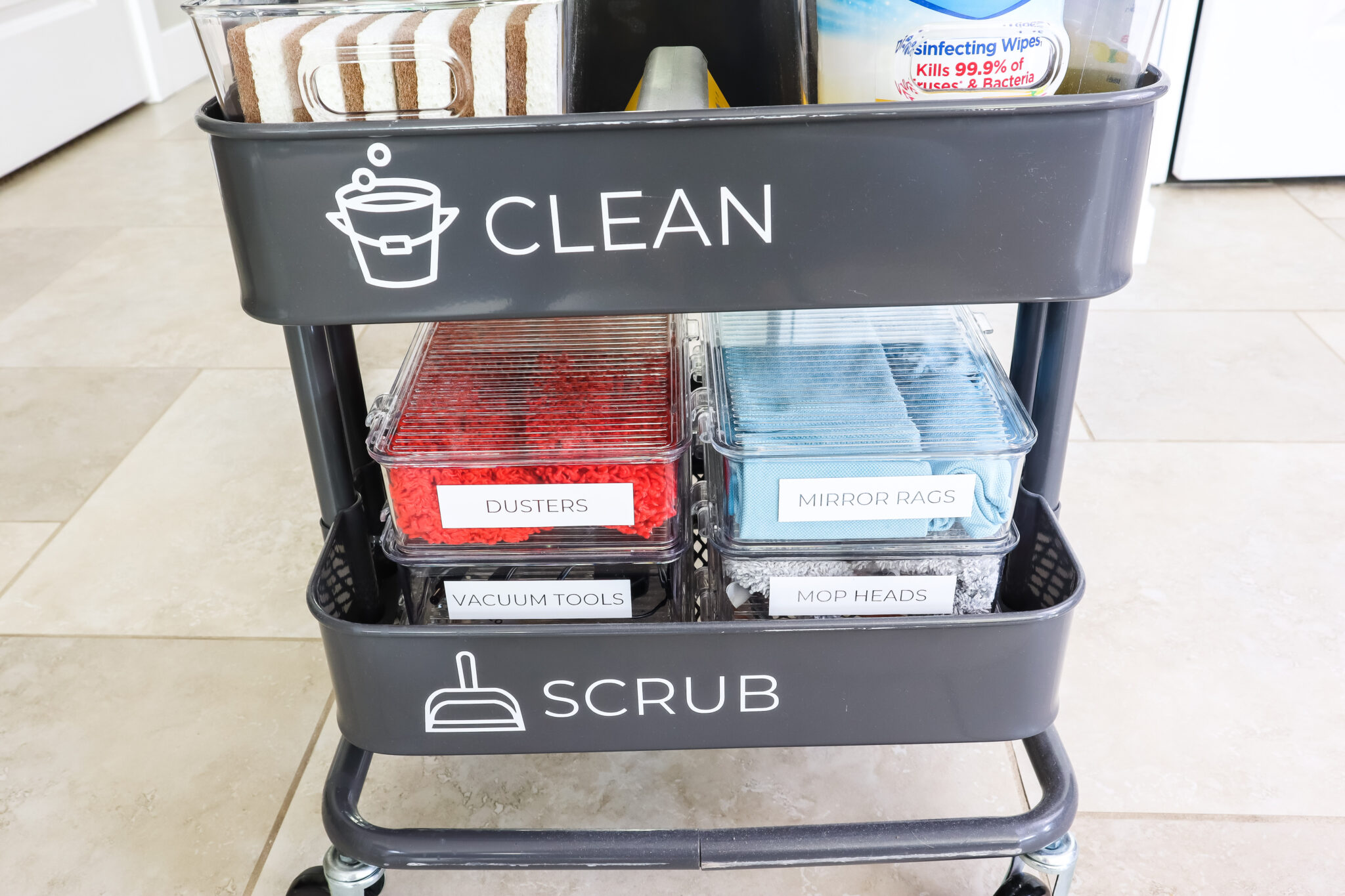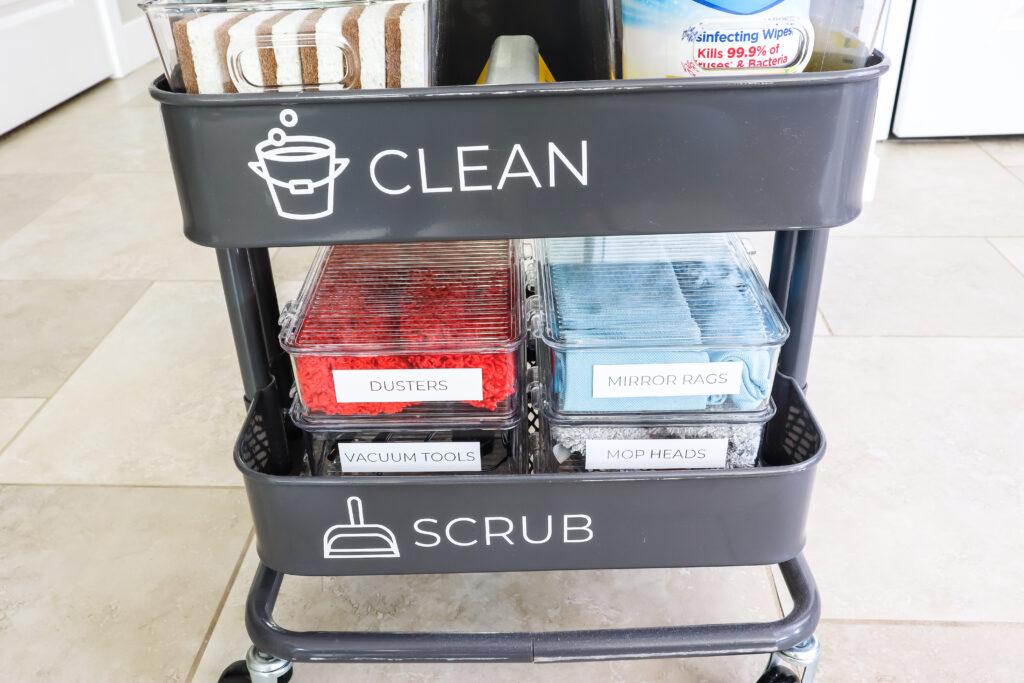 I recommend getting a cart that has three different shelves. Then you'll be able to store a lot of cleaning supplies on it and easily sort out all of your cleaners and spray bottles.
When you shop for your cart, make sure it has several shelves and nice wheels so it can easily roll around the floors of your house. You can check any home store nearby or online, and you should be able to find one that doesn't cost too much!

Next, round up your cleaning supplies.
Once you have your cart, it's time to start filling it up with all of your cleaning supplies!
Here are some things that you might want to include on your cleaning cart. Depending on what you clean often or the type of cleaning essentials you like using, you might not need all of these or you might need additional items. This is just a good starting list to consider.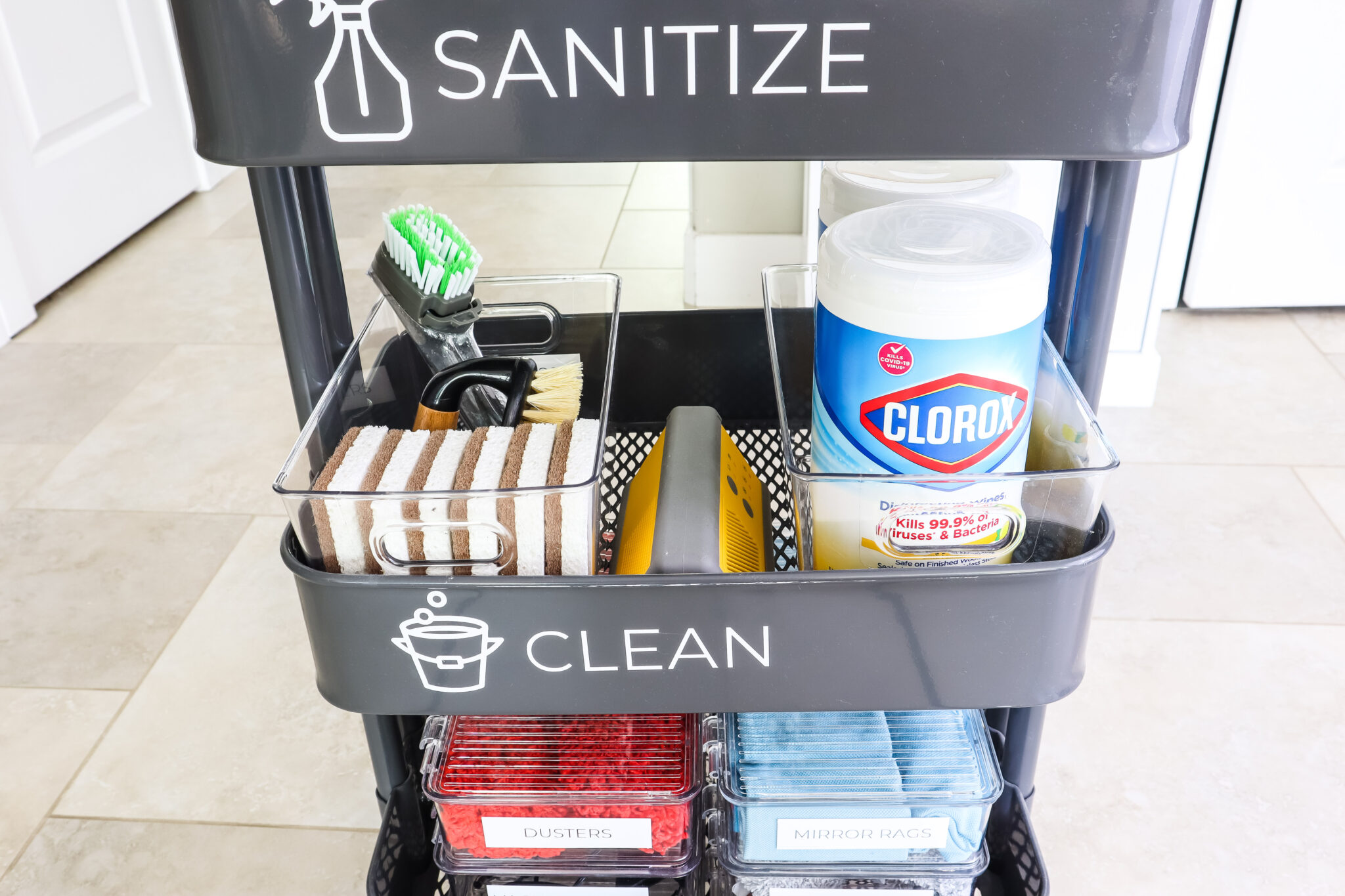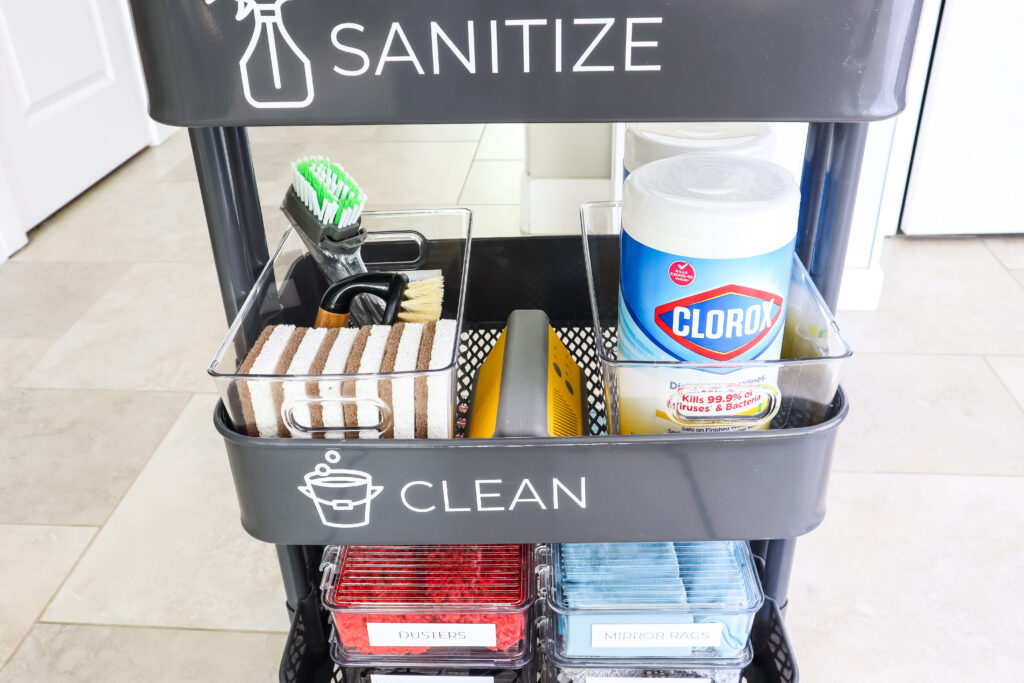 What you will need on your cleaning cart:
Paper towels or microfiber cloths
Rubber gloves
Sponges or Magic Erasers
Glass cleaner
Spray bottles for your bathroom, sink, toilets, etc.
Clorox wipes
Ozone Generator (this is fantastic for eliminating odors, mold and mildew, etc.)
Odor spray (especially if you have a pet!)
Tile or carpet cleaner
Cleaning caddies (I'll discuss why this could be helpful later)
To do list or cleaning schedule (this can help if you keep a schedule or system or when you clean each room)
Cleaning Labels if you use Glass Jars

Categorize your supplies.
I like separating my cleaning supplies into different categories, like cleaners for bathrooms, cleaners for sinks, cleaner for the tub or toilets, etc.
Separate out your all purpose cleaners from sanitizing products, put scrub brushes in one pile and sponges in another. If you have a lot of scrub brushes, you can also separate them in smaller categories, like your scrub brush with softer bristles, tough bristles, or your small brush or larger brush.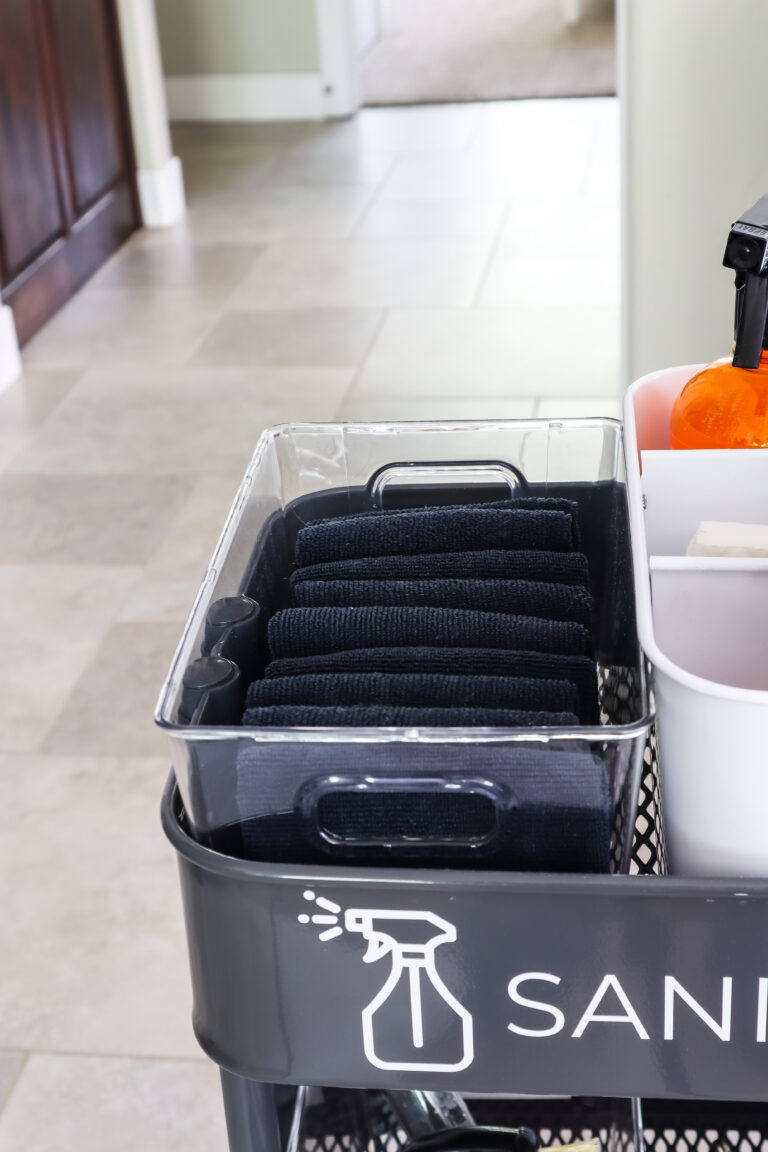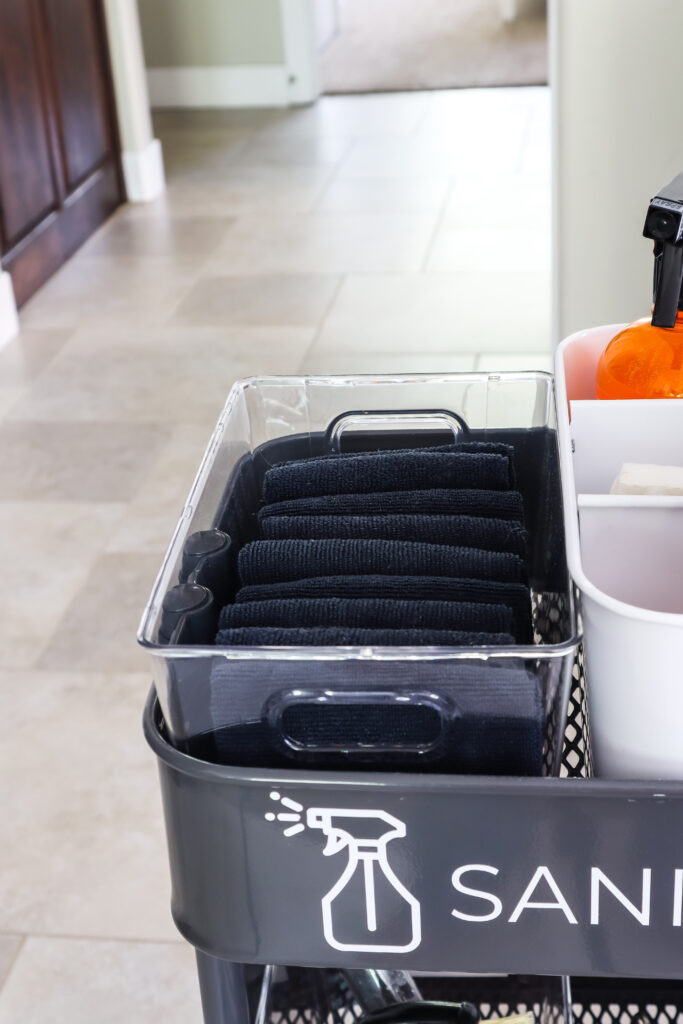 Create categories that make sense for you and how you clean your home. I knew I had three shelves, so I split my cleaning products into three categories:
Sanitizing products
Cleaning products
Scrubbing products

Assemble your cart.
Once you have all of your products categorized, it's time to assemble. I got smaller containers and cleaning caddies to put on my cart so that I could keep my products separate and easy to find.
On the bottom shelf, I put my scrub items, but I chose the items that I knew would lay flat in containers. So I added my vacuuming tools, dust rags, microfiber cloths, etc. I put them all in clear containers that I labeled and stacked them on the bottom shelf.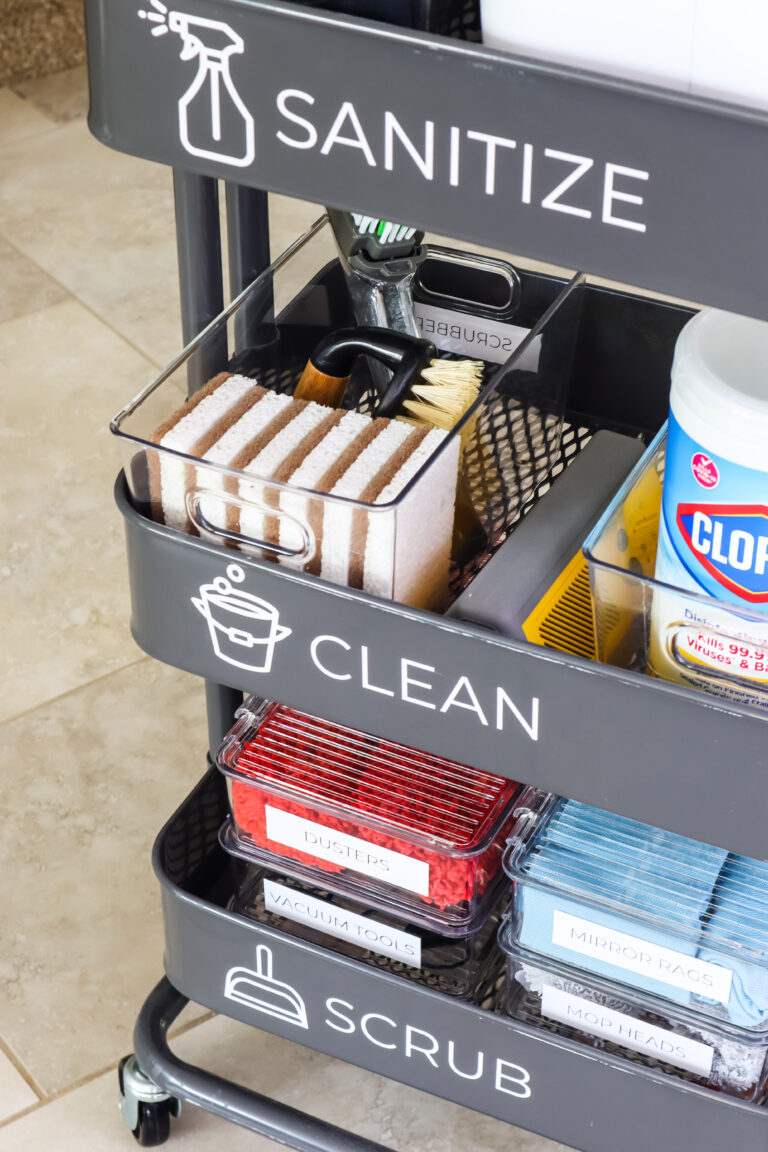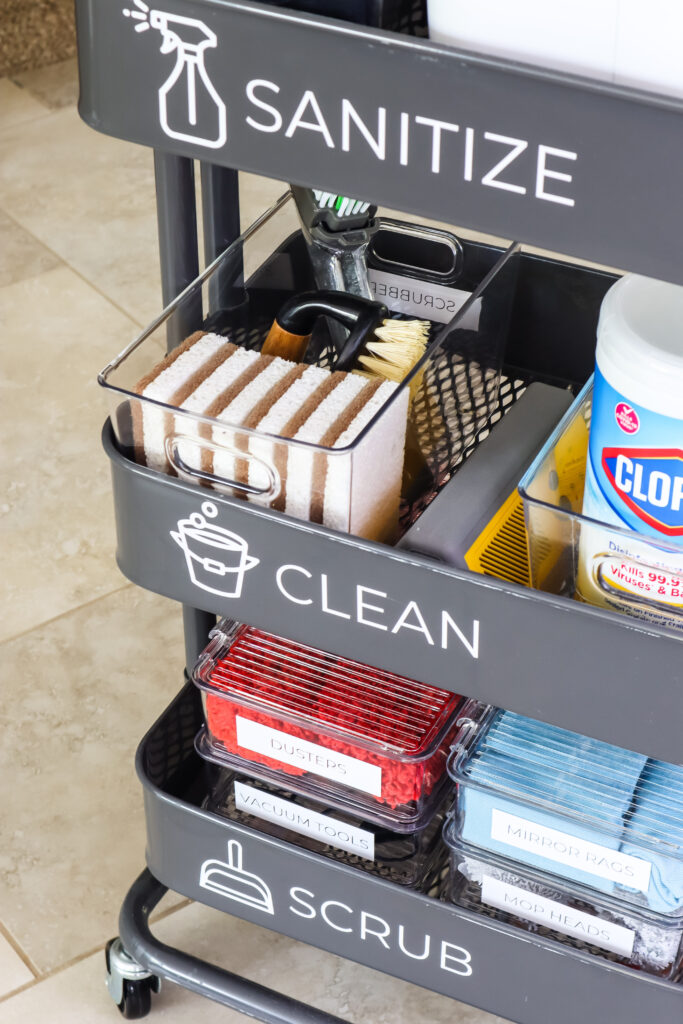 I did this because I didn't want to be reaching down to the bottom shelf all the time. So put the items down there that you'll just need to grab once while you're cleaning your house. It will help protect your back.
I made my middle shelf my cleaning section. I added Clorox wipes, sponges, and odorizing cleaner. This has items I'll use fairly often and can be easily grabbed.
For the top shelf, I added the products I use the most, which are my sanitizing essentials. I added a cleaning caddy with a scrub brush, my favorite cleaning sprays, and a few more of my favorite cleaning items.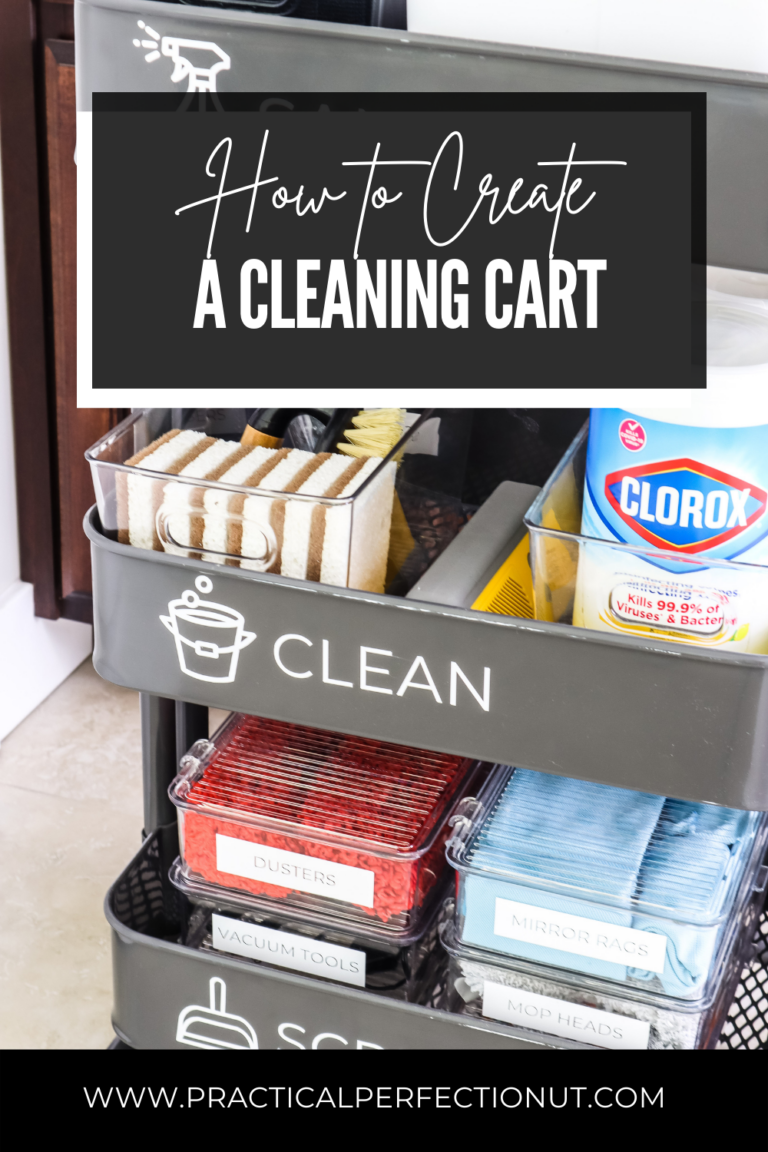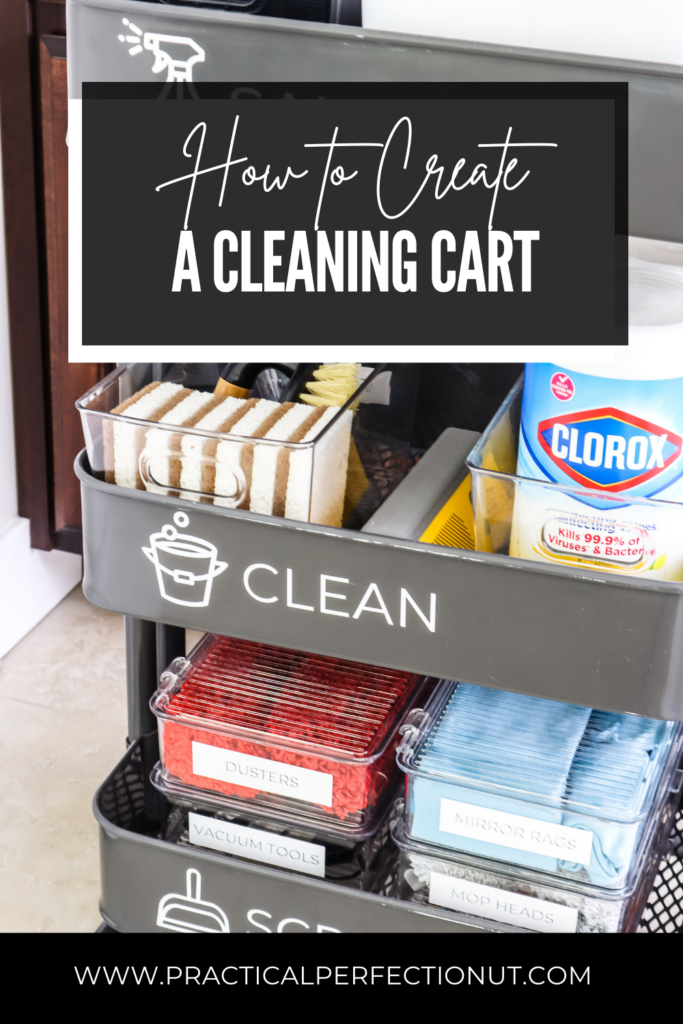 Finally, label your cart.
The last thing you need to do for your cleaning cart is label everything! This will help you keep track of what products you have on each shelf.
I made these adorable sticker labels and put them on the front of each shelf. That way I know exactly what's where and I don't have to go searching for things.
I also labeled my spray bottles because I put some of my products into matching bottles. I just think it looks nicer and more uniform that way!
You can print out labels, use a cricut maker, or even order some online! Whatever you choose to do for labels, make sure you don't skip this step. Cleaning is so much faster when you don't have to search for each cleaner you need.

A tip if you have a second floor in your house…
I have a second floor in my house, and I definitely don't want to carry my cart up or down the stairs. If you have a basement or a second story, you might have been wondering if a cart is a good idea for you. I promise you it still is!
As I mentioned, I keep a small cleaning caddy on the top of my cart with most of my essential cleaning items. When I go upstairs, depending on what room I'm going to clean, I can swap out a few of those items and then just take the cleaning caddy upstairs! This is when having a cleaning supply caddy can help.
So if you're going to clean the bathroom upstairs, just make sure your cleaning supply caddy has the right cleaner for washing your sink or getting the dirt off your tile or grime out from the grout in your shower. Then you just need to carry the caddy up the stairs.
Just keep the cart on the floor where you do most of your cleaning and keep the cleaning caddy available and accessible to just grab and go.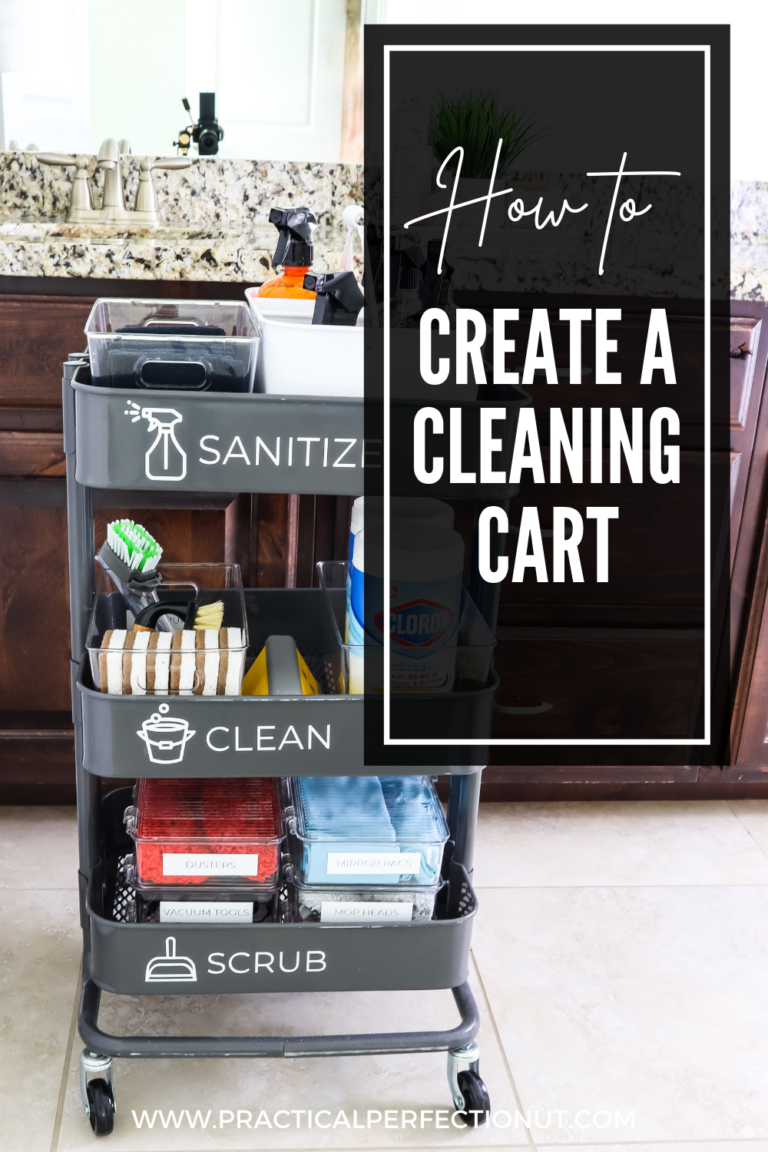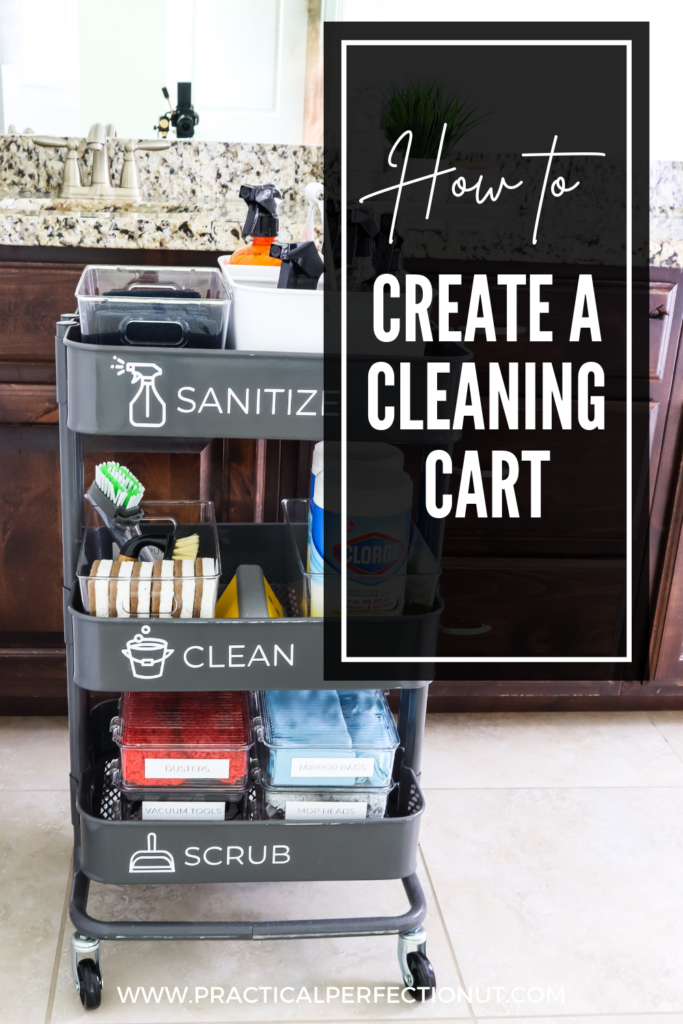 A cleaning cart makes cleaning easy!
Okay, maybe not easy… but easier, at least. When you have your rubber gloves, scrubbing items, paper towels, and cleaning essentials all together on one cart, you can easily wheel it through every room in your house. It totally makes cleaning an easier task.
Assembling a cart doesn't cost too much money, and it will save you tons of time and energy since you won't have to return to your cleaning closet every time you need a new cleaner.
While a cleaning caddy is a great idea, I suggest adding cleaning caddy on your cart, so you have the bigger cart to take around to most rooms, and then can pull out your caddy for that downstairs bathroom or something.
Having all of your favorite stuff to wash and clean your home together on one cart might not make cleaning fun, but it will make your life a lot easier. It'll save so much time and I know you'll love it as much as I do!