The Best Way to Organize and Store Your Christmas Decor
It's that time of year again! The decorations are out, the Christmas music is playing, and the eggnog is chilling in the fridge. Soon, families will be coming together to celebrate and decorate their homes with festive cheer.
But no matter how much fun the holiday season is, one thing always seems to cause trouble – storage. How do you store all of your Christmas decorations so they don't take up too much space and are easy to grab next year? If you're like me, you want to make sure your Christmas decor storage is well-organized.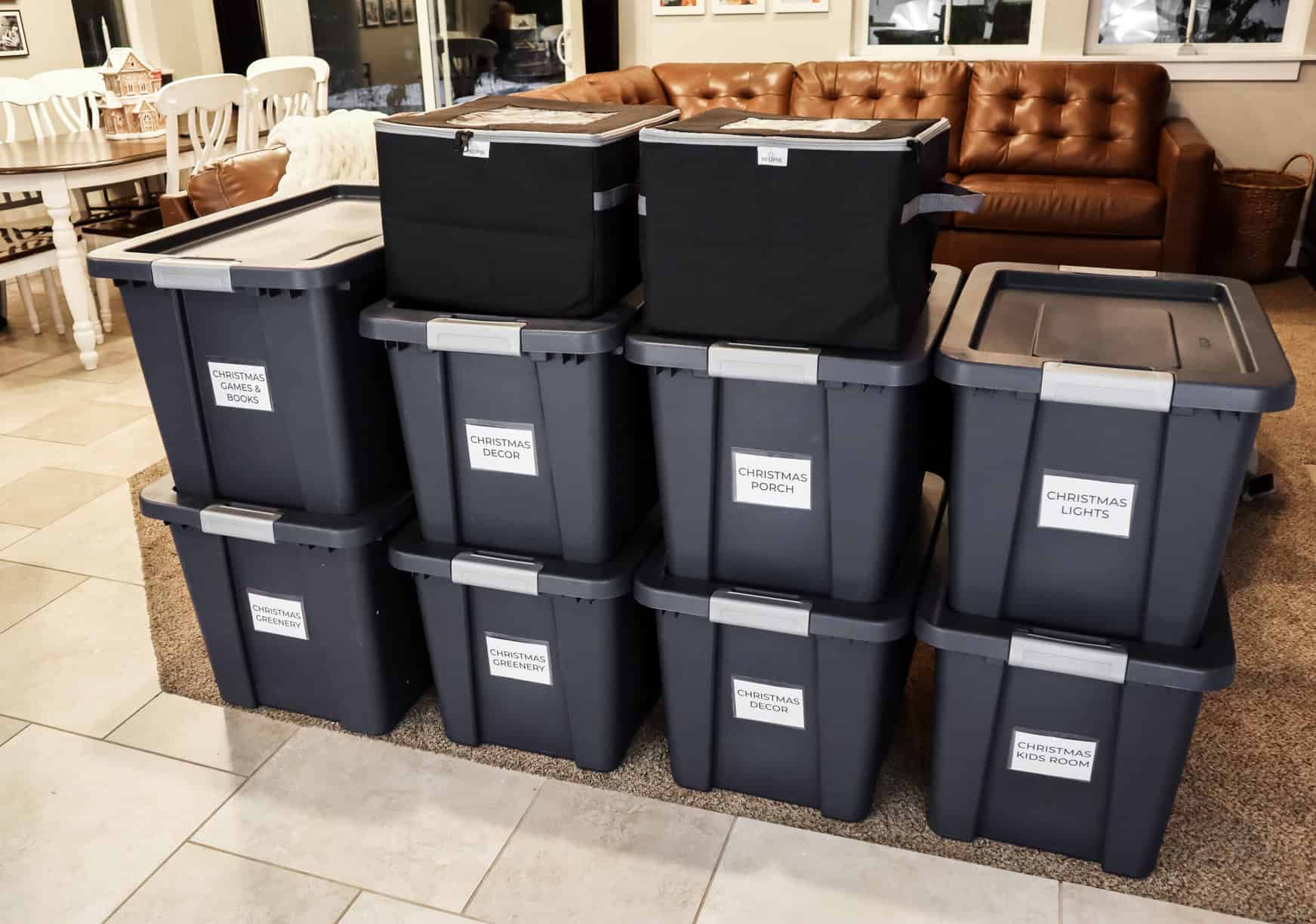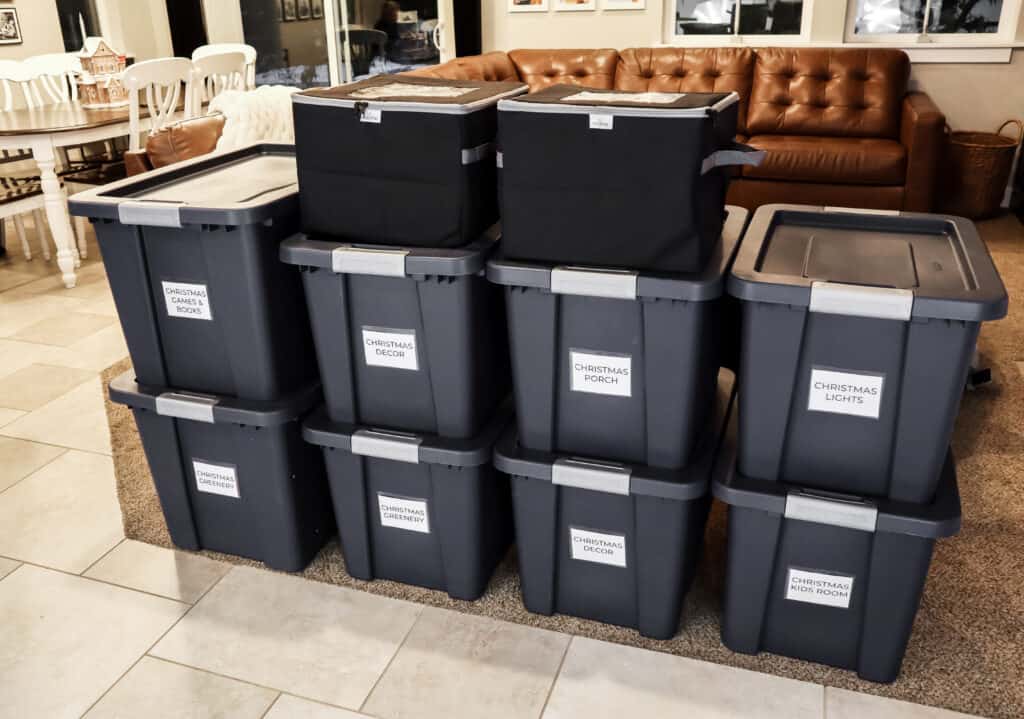 This blog post will teach you everything you need to know about storing your holiday decor. We'll cover what kind of containers to use, the best products for the job, and how to organize everything so it's easy to find next Christmas. Here are my favorite tips on how to store your Christmas decor so it doesn't take up too much space and is well-organized for the next holiday season.
More Christmas Organization Posts
How to Store Your Holiday Decor
When the Christmas season is over and it's time to store all of your holiday decorations, the first step is to decide where you're storing everything. You can't buy the right size bins if you don't know where they will be going!
Christmas Storage Ideas
Depending on the size of your house and storage space, finding places to store your Christmas decorations might be tricky. So your first step is to find out where to put your Christmas storage.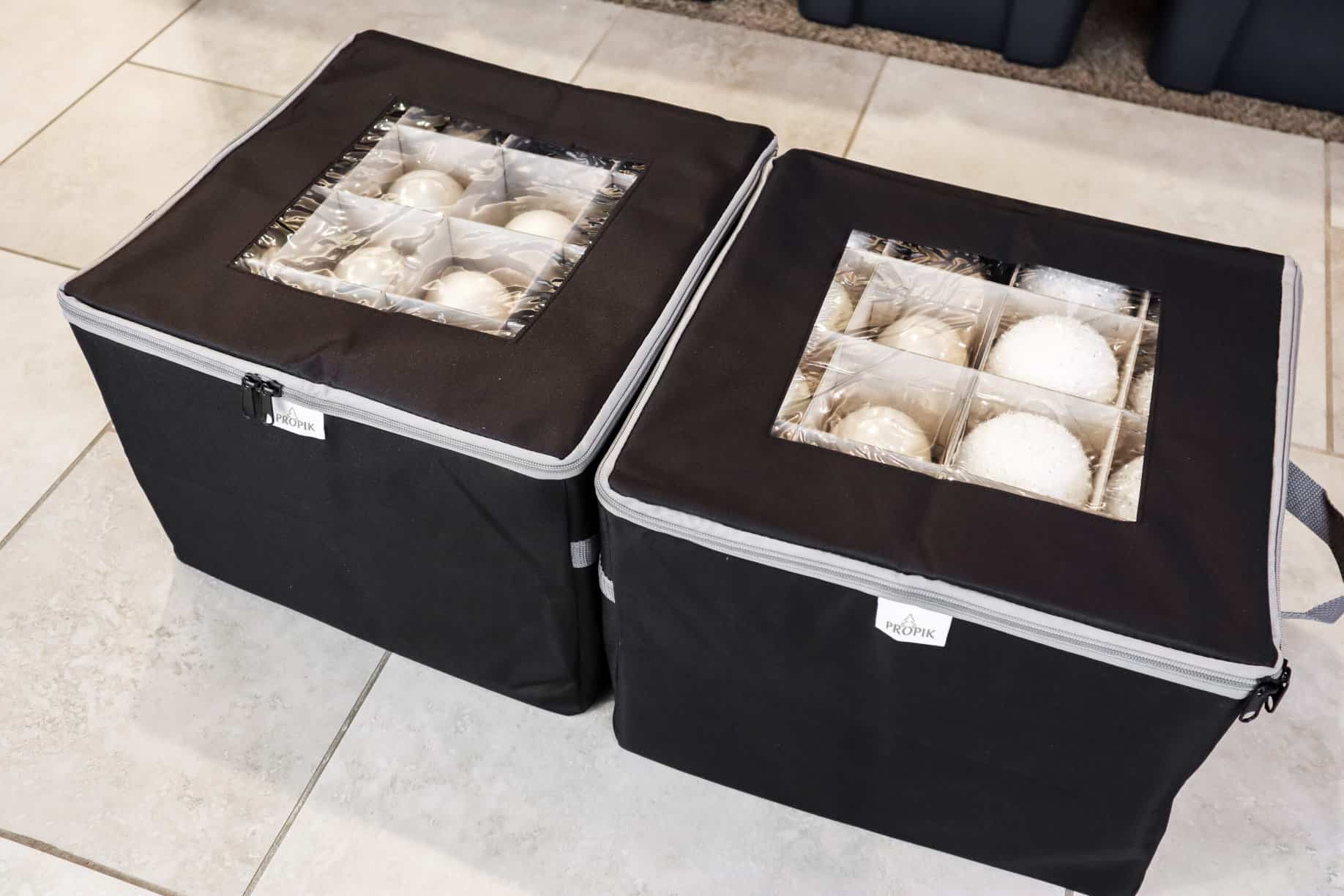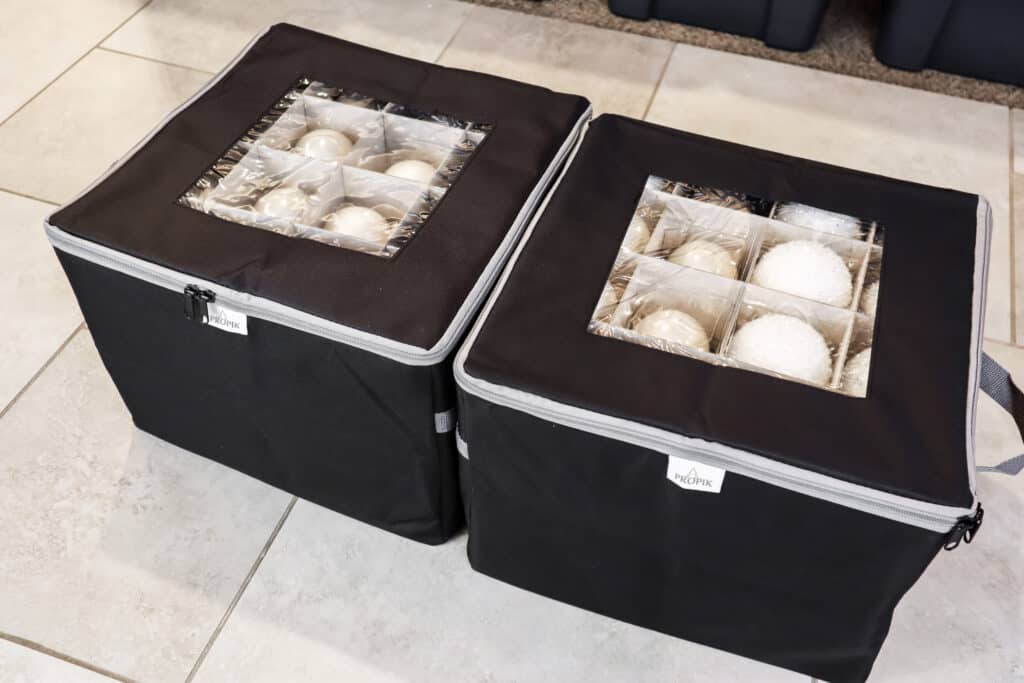 If you have an attic, garage, or shed (or storage unit), then you should have room for several holiday boxes there. If you don't have big storage spaces like that, then you might need to get creative.
Ideally, you'd want all of your Christmas decor to be stored together, but if that's not an option, don't worry! As long as each box is properly labeled, then you'll be able to find all of the right boxes next Christmas.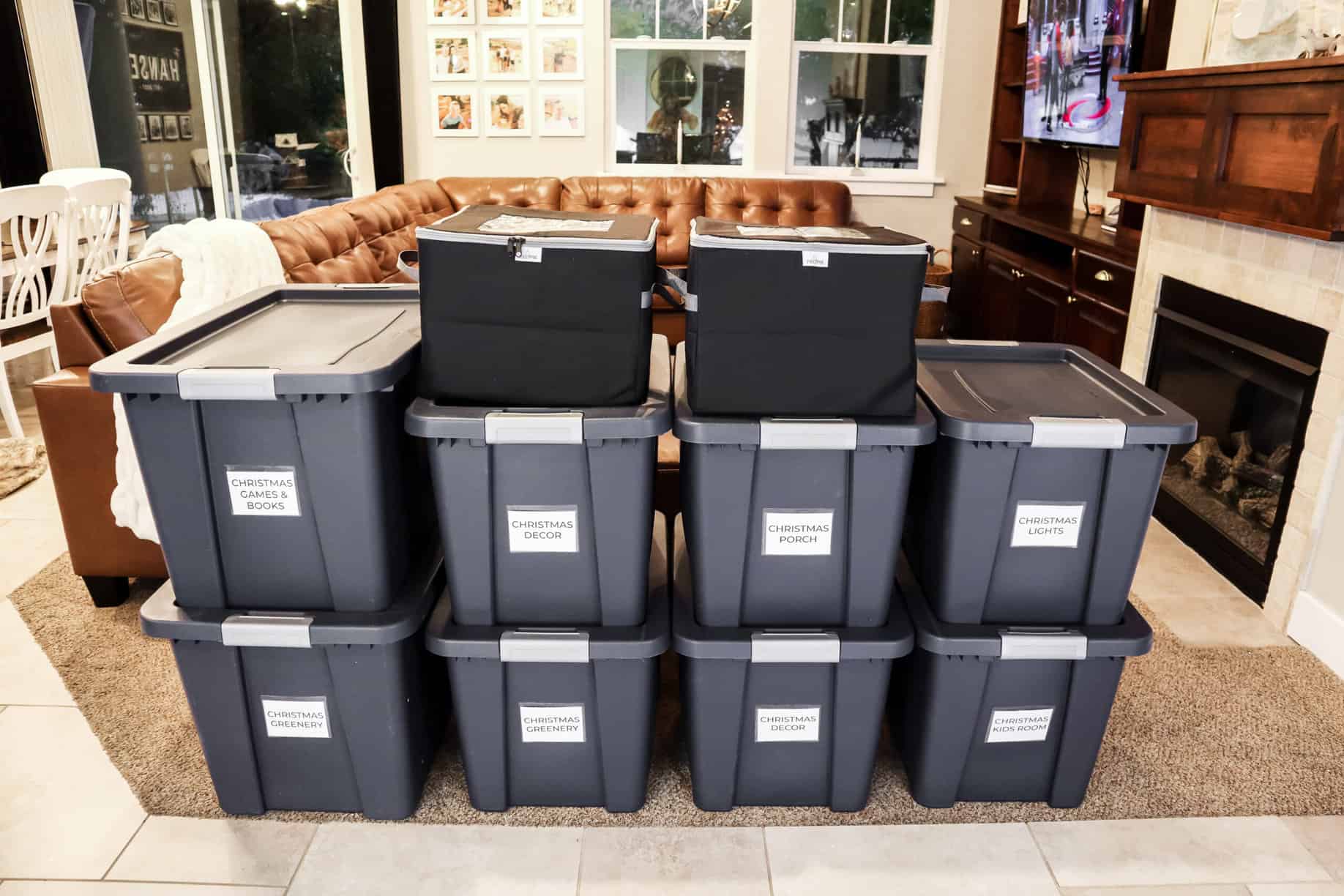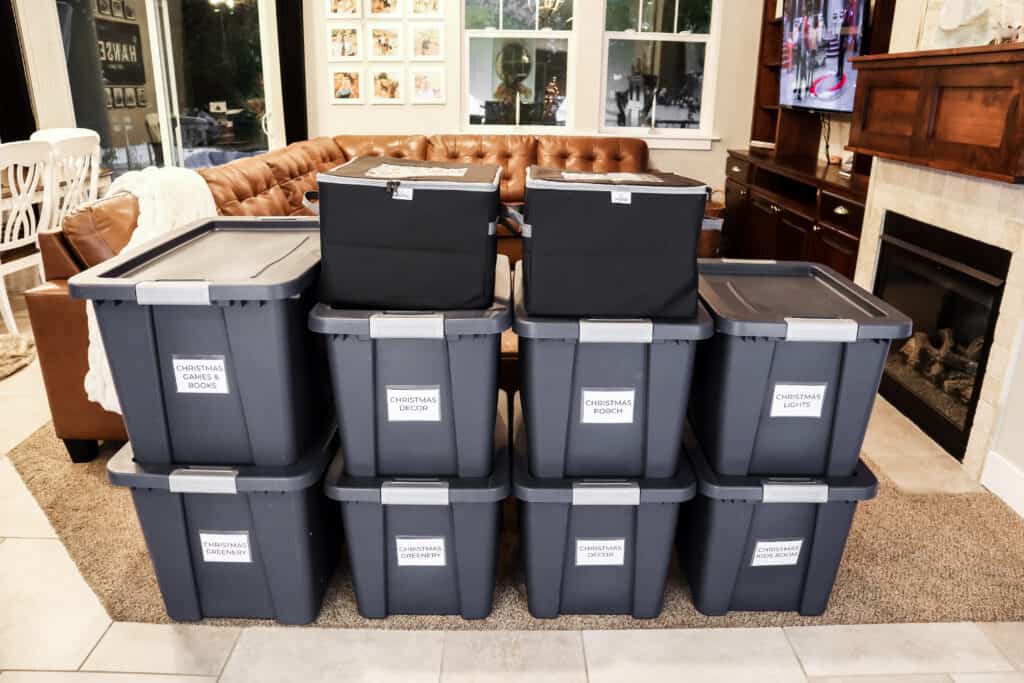 Look for areas around your home where you can fit a storage box or two. For example, on high closet shelves, you only want to reach once or twice a year. You could also put smaller boxes and containers under your bed.
Shop for a storage box that fits in different areas in your home that will stay out of the way throughout the year. Then you can organize your storage and place things that fit in that storage box.
MY FAVE CHRISTMAS ORGANIZERS

My Favorite Storage Boxes and Containers
If you don't already have storage bins and need to stop for new containers this year, here are my favorite options to help you organize your holiday decor.
For your Christmas tree, this tree bag is amazing. It's made of sturdy and durable material and has wheels so moving it around is super easy! It also has pockets in the front so you can keep instructions for how to set up your tree or even place your tree skirt inside!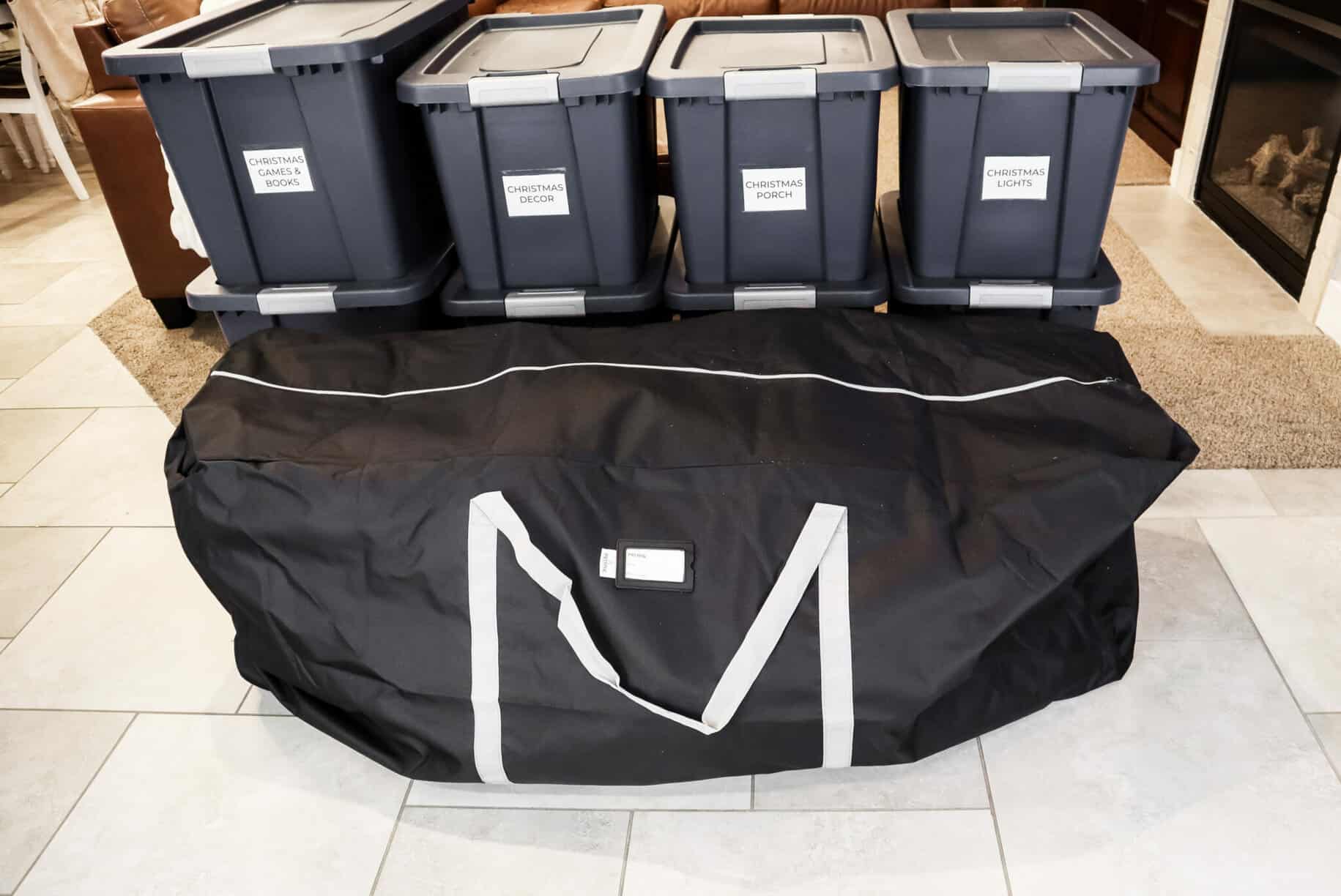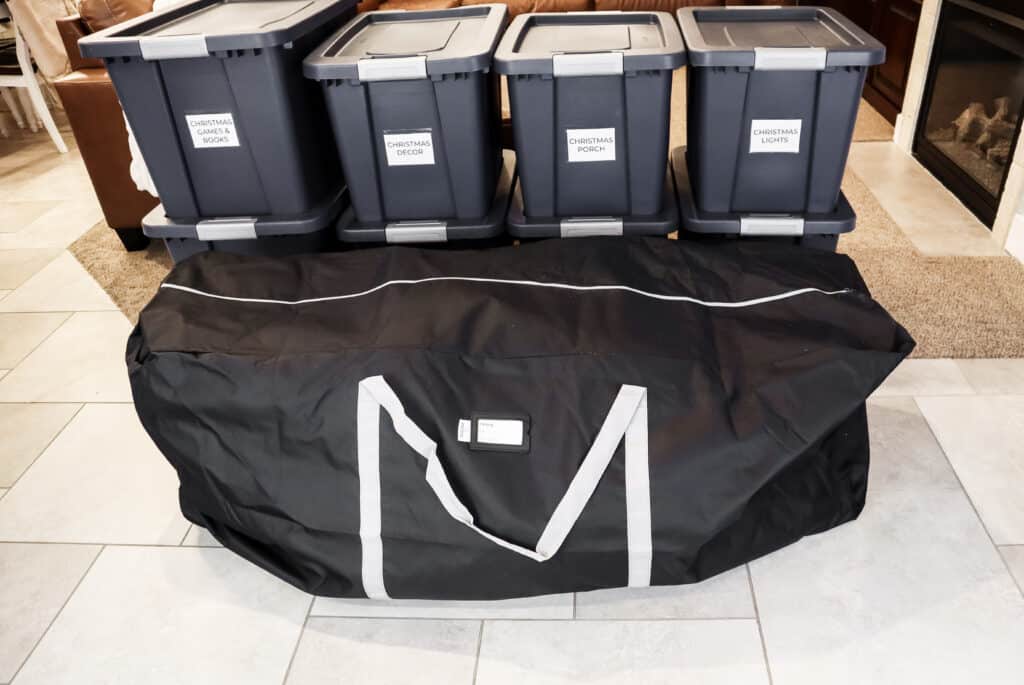 For the ornaments on your tree, I have a post all about Christmas ornament storage ideas, but this ornament storage box is my favorite. It has dividers and individual compartments for your collection of ornaments as well as reinforced handles for safe carrying.
For your wreath, I love this storage bag. They protect your wreath and it fits under a bed!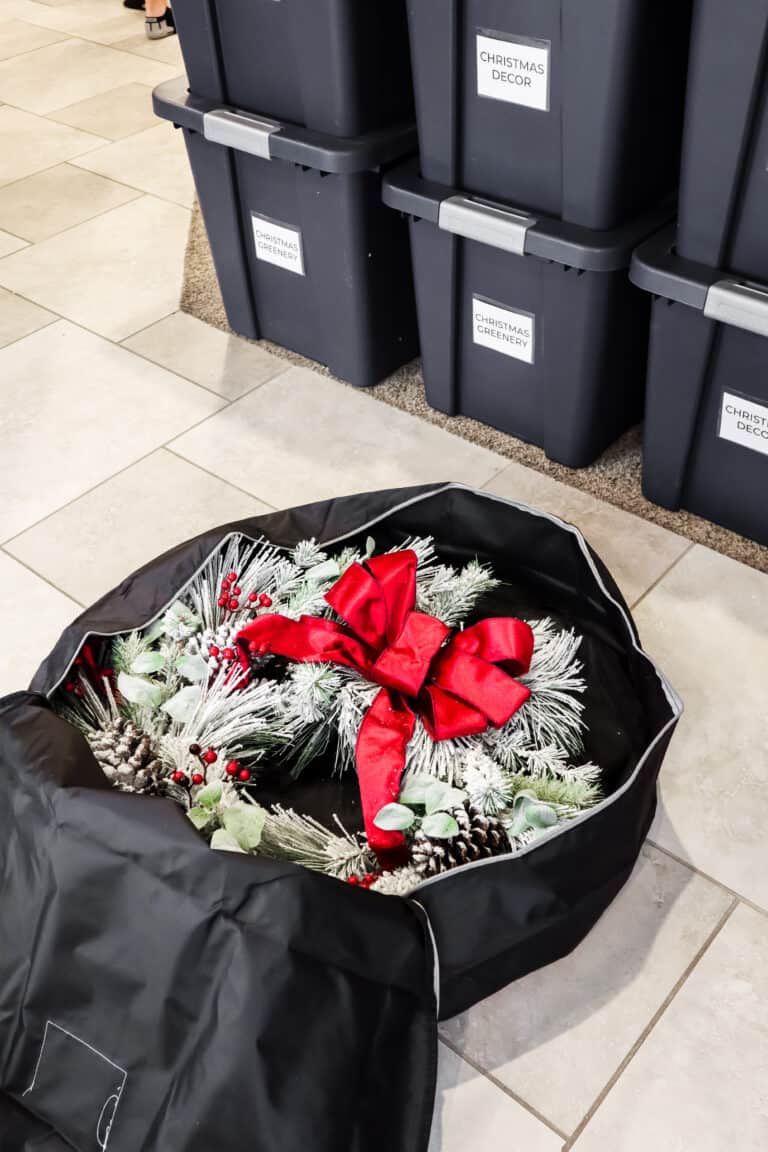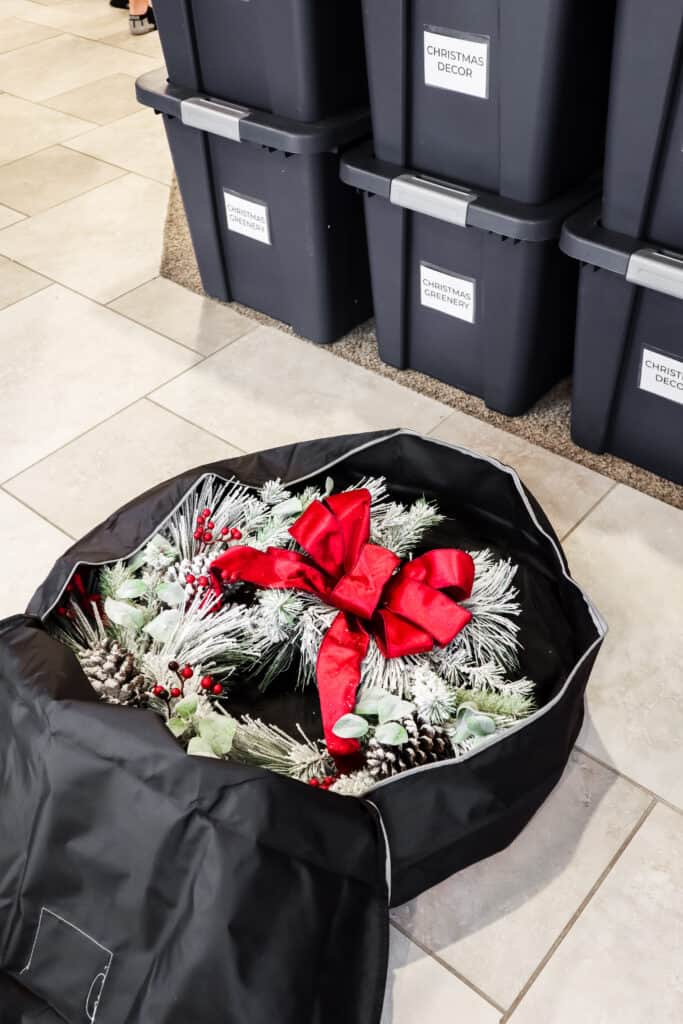 This product can be used to organize holiday wrapping paper, ribbons, etc. There are several pockets where you can easily store smaller things. It can also be used to organize Christmas pillows and bedding under the bed! Even though it was originally made for holiday wrap, there are so many different uses for this organizer.
Bedding and pillows can be vacuumed in these bags to remove all of the air for smaller storage. Just add a dryer sheet into the vacuum-sealed bag so you have fresh-smelling linens whenever you get them out for future use!
Christmas light storage is important because, like your ornaments, you want them to be protected while they are in storage. Your storage box needs to have dividers to keep your compartments of lights safe. This container has adjustable dividers so you can have adjustable compartments that perfectly fit your needs. You can store up to 12 sets of holiday lights.
For large figurines (like the Nutcracker or something), you can use this storage box. It has a pull-out drawer and comes with a set of satin fabric bags to protect your figurines and collectibles.
MY FAVE CHRISTMAS ORGANIZERS

DIY Storage Options
If you don't want to shop for a bunch of new storage containers, you can re-purpose the ones you already have! Make cardboard dividers for your Christmas ornament storage box, add egg cartons for your collection of small breakable things, and add fabric or soft material to wrap around any figurines.
You don't need to shop or spend a lot of money to have great options for organizers and storage bins.
Storage Box Tips
No matter what kind of storage box you choose to get, make sure it fits in your garage or storage space. Getting stackable containers is a great option if you have a lot of decor. Having stackable containers means they can all go in a corner of your storage shed and be out of the way.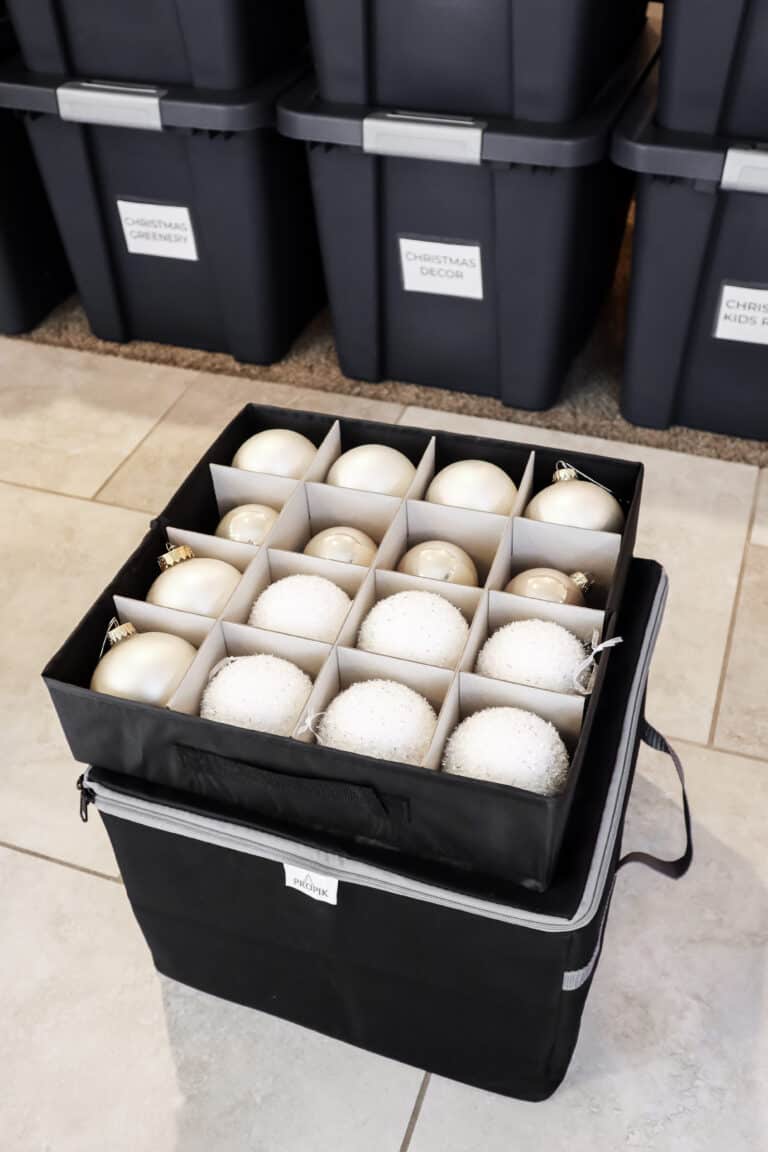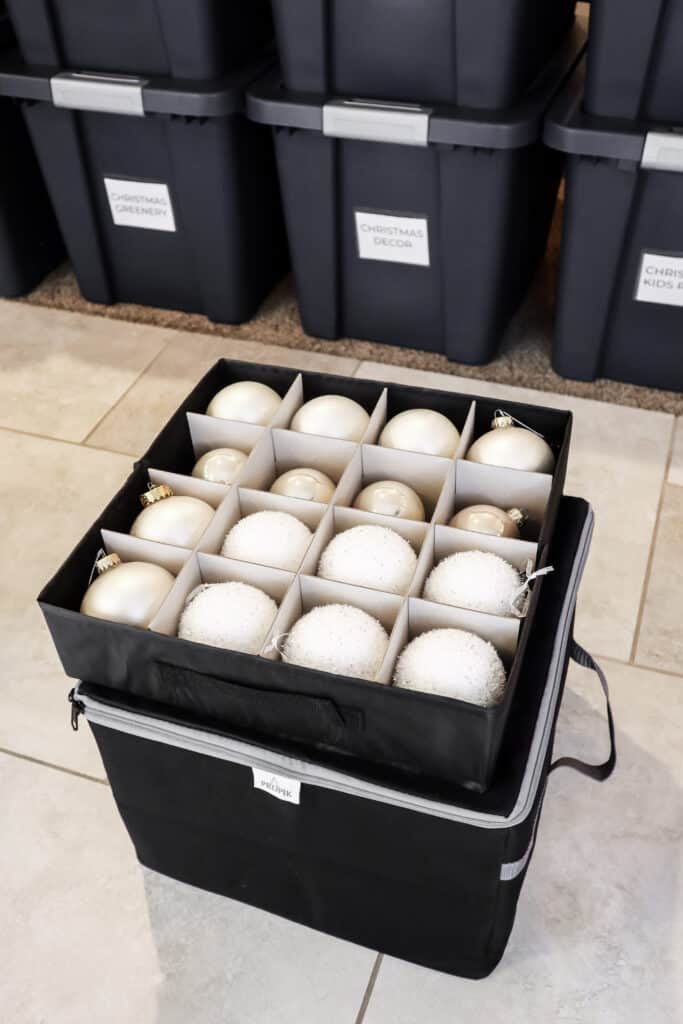 You can also get clear containers (or containers with a clear window in front) so you can easily see what is inside. I do like labeling all of my containers, but having a clear space on your box helps you view exactly what is inside.
How to Organize Your Holiday Decorations
Once you have all of your ornaments in a storage box and have packed up your tree and your collection of other decor, it's time to organize them in your storage space!
If you haven't already, check out my post that is all about organizing Christmas ornaments. That will give you a good idea on some ways to organize your Christmas items.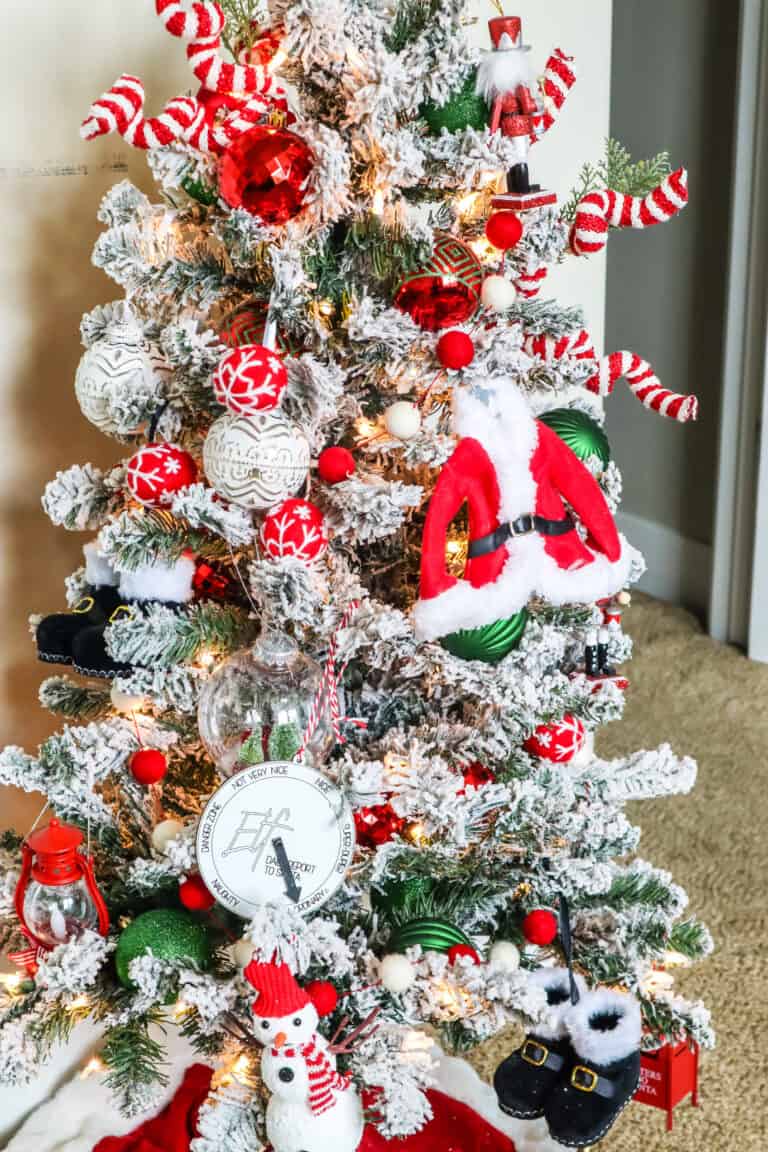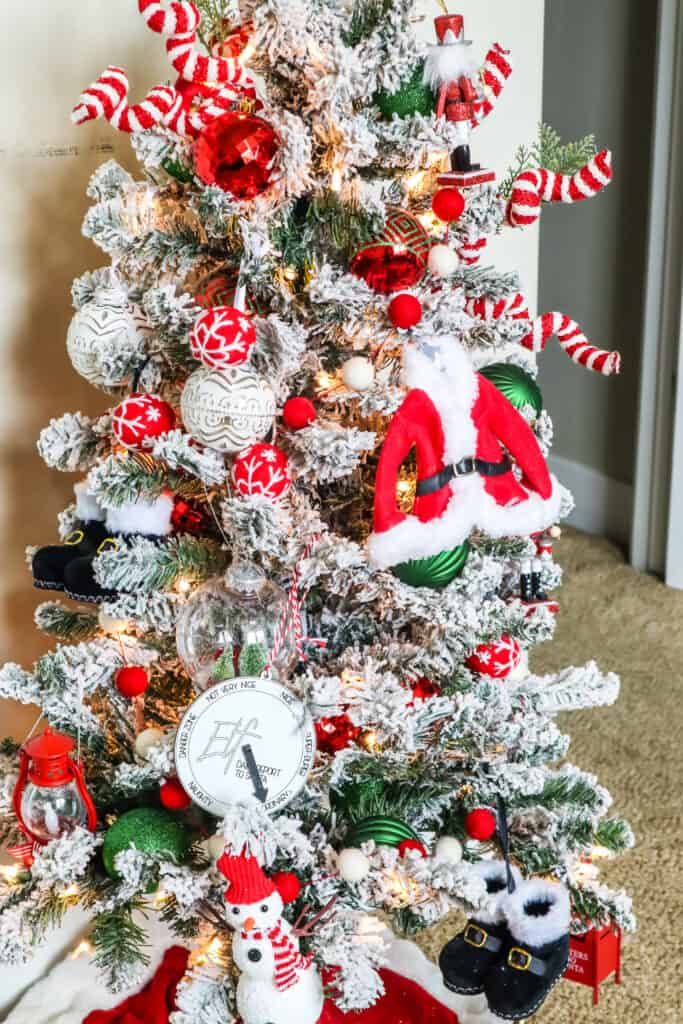 Basically, you'll want to keep similar items together. I like to put my ornament storage box right next to my tree, since I'll be using the ornaments and tree together. All of my outdoor lights are organized together, and for other items, I organize them based on where I set them up. For example, I have a storage box for the items I put in my living room, another storage box for things decor I put in my room, and so on.
If that doesn't work for you, you can organize based on type. All of your signs go together regardless of what room they go in, all of your figurines are in a separate box, etc. That might make more sense for your storage space and how you like to keep things sorted!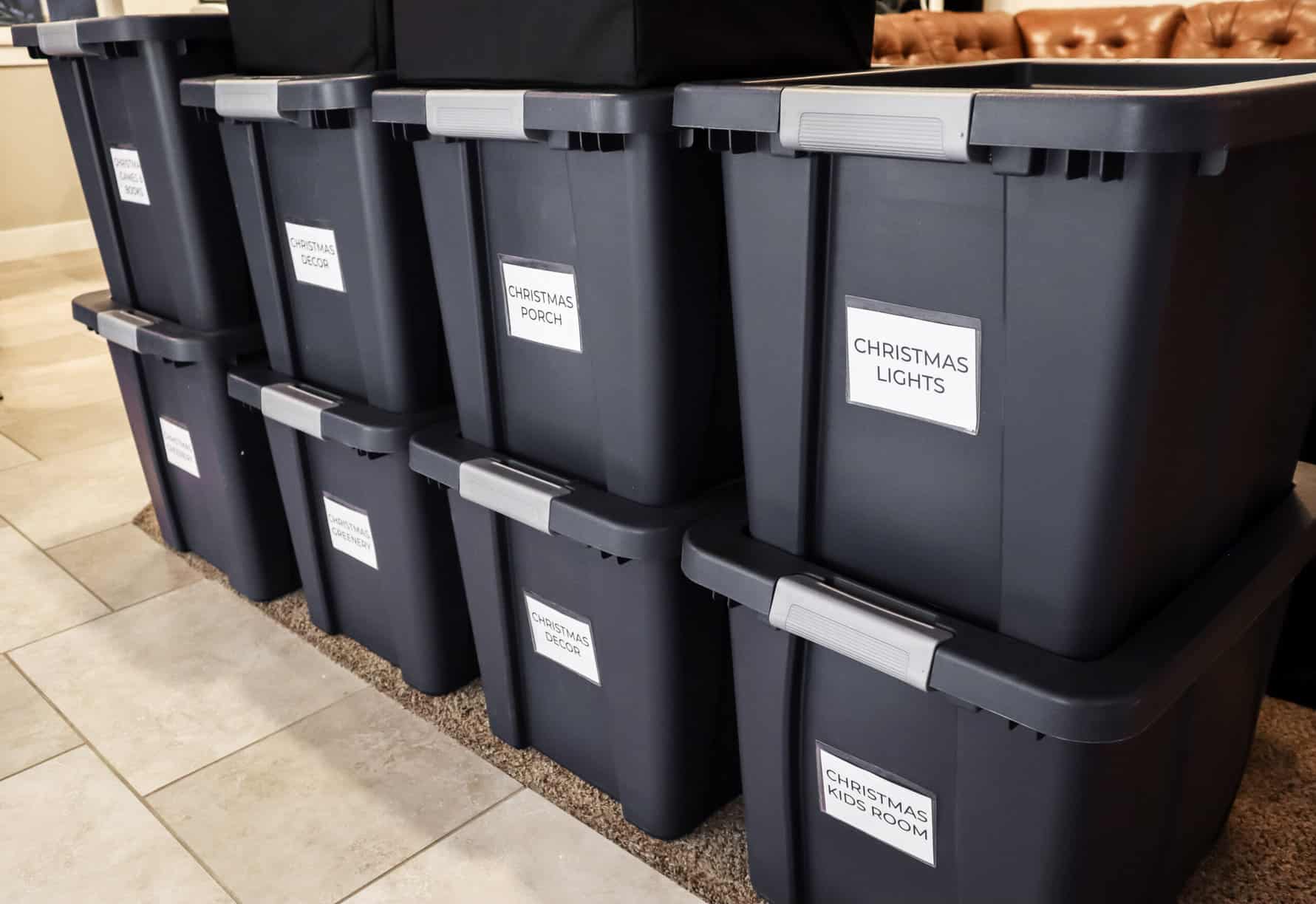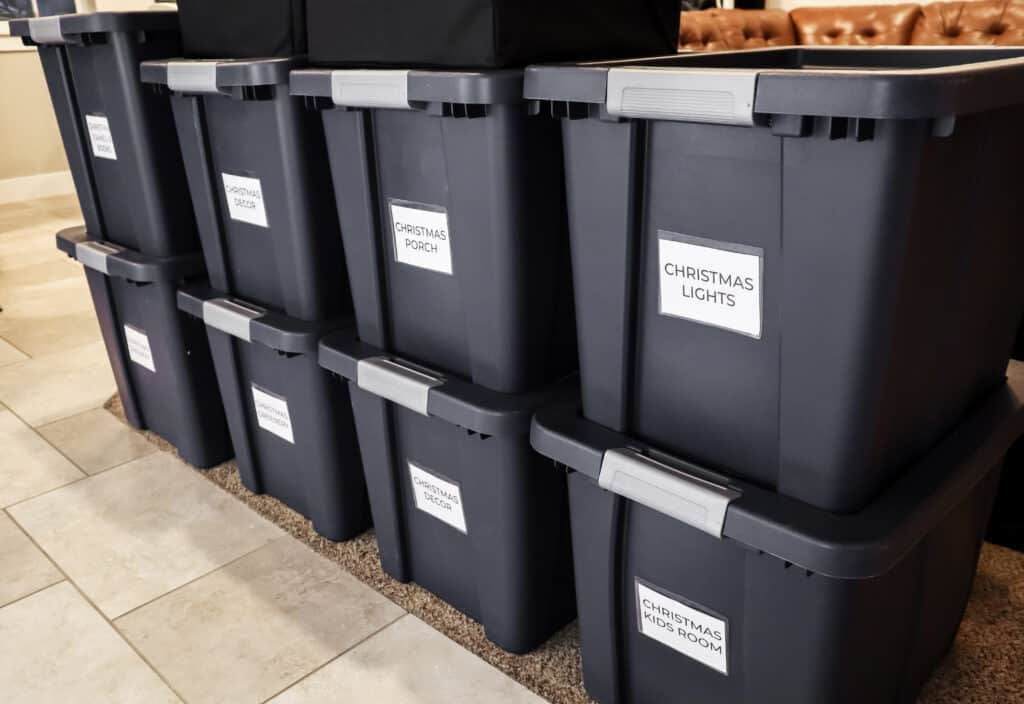 One other idea is to organize your stackable containers based on how you decorate. For example, do you put your Christmas lights up first? Put that box on the top. Do you like to set up your tree and ornaments first? Put those containers closest to the door. That way you're not pulling out a million different bins that you won't need yet.
Decide what organizing style works best for you and make it a habit each Christmas. Soon it will become second nature and you'll be able to easily set everything up each holiday season.
MY FAVE CHRISTMAS ORGANIZERS

Organized Christmas storage makes decorating a breeze!
Organizing your Christmas decorations as you put them in storage will make your life so much easier in the future. Plus, packing everything up properly will ensure that nothing breaks and it all stays safe in storage until you need it again.
Even though Christmas is still underway, it's never too early to think about what kind of organizers you want to use for storage so it's all neat and organized!