How to Label Your Christmas Storage Bins (with Free Printable Labels!)
Christmas is a time for family, friends, and of course – lots of decorations! If you're like me, you probably have a bunch of Christmas decor stored away in bins and totes. And if you're like me, you also probably have a hard time finding what you need when it's time to decorate your home for the holidays.
That's why I'm excited to share this blog post with you today! In it, I'll show you how to label your Christmas storage bins so that everything is easy to find next year. Plus, I've included free printable labels (editable!) for you to download and use yourself. Let's get started!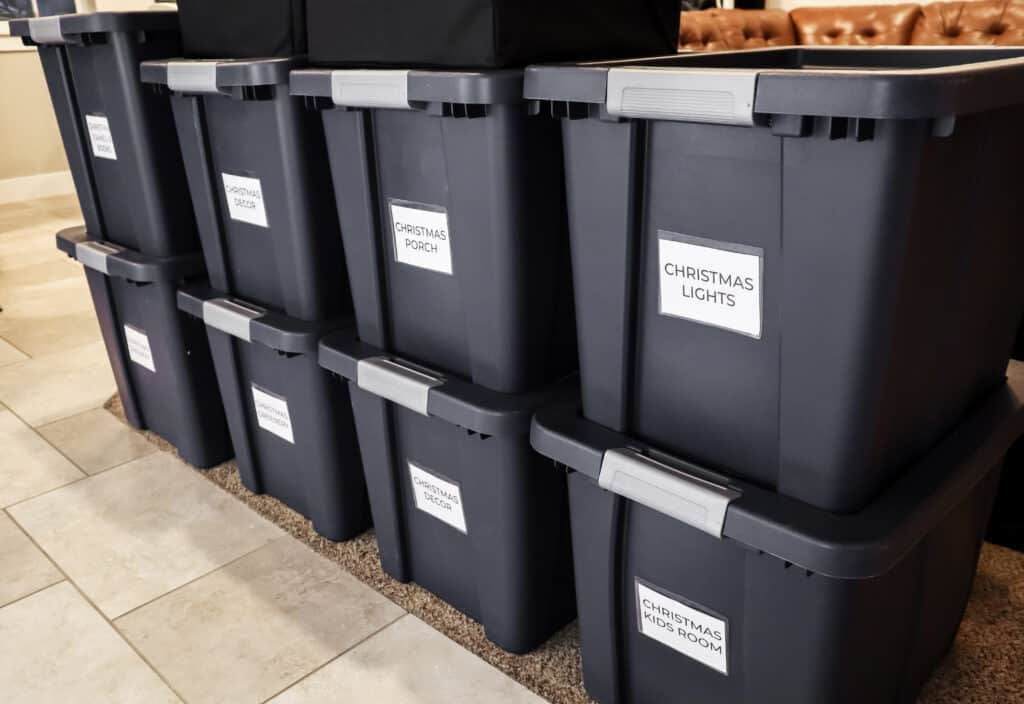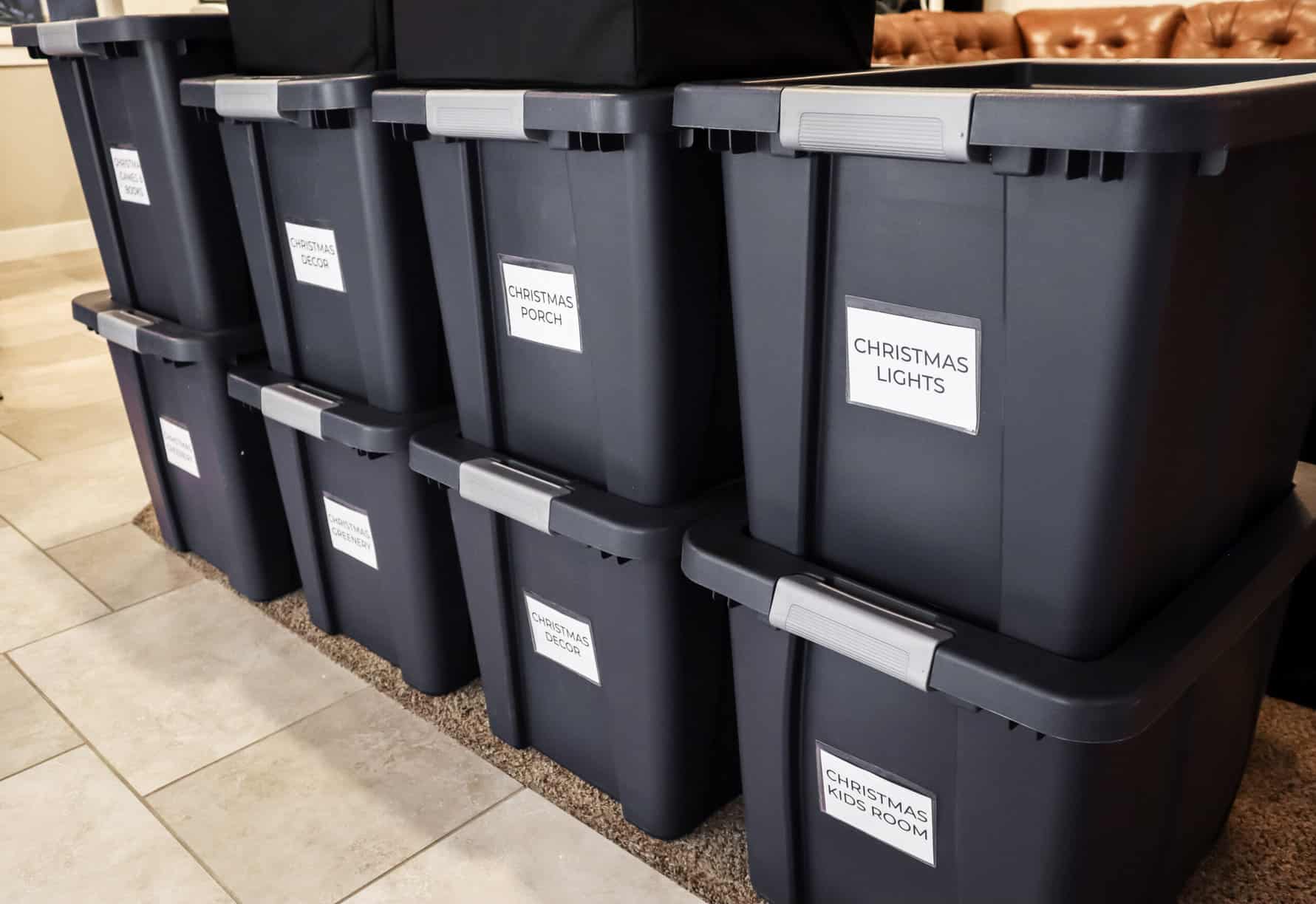 Items you need to Organize Christmas Decorations
It can be overwhelming to organize your Christmas decorations but it doesn't have to be! The benefits far outweigh the effort in the end. Here are some awesome Christmas storage products to help you get started:
MORE CHRISTMAS ORGANIZATION POSTS
Free Printable Christmas Labels
The Benefits of Labeling Your Christmas Storage Boxes
It may be easier to just throw all of your holiday decor into a box at the end of a season, but you can save yourself a lot of headache and overwhelm if you take the time to properly label your Christmas storage boxes.
When you're ready to take out your Christmas decor next year, it will be so much easier if you can just look at a label and know what is inside each container. You won't have to worry about guessing or searching through dozens of boxes in order to find certain items.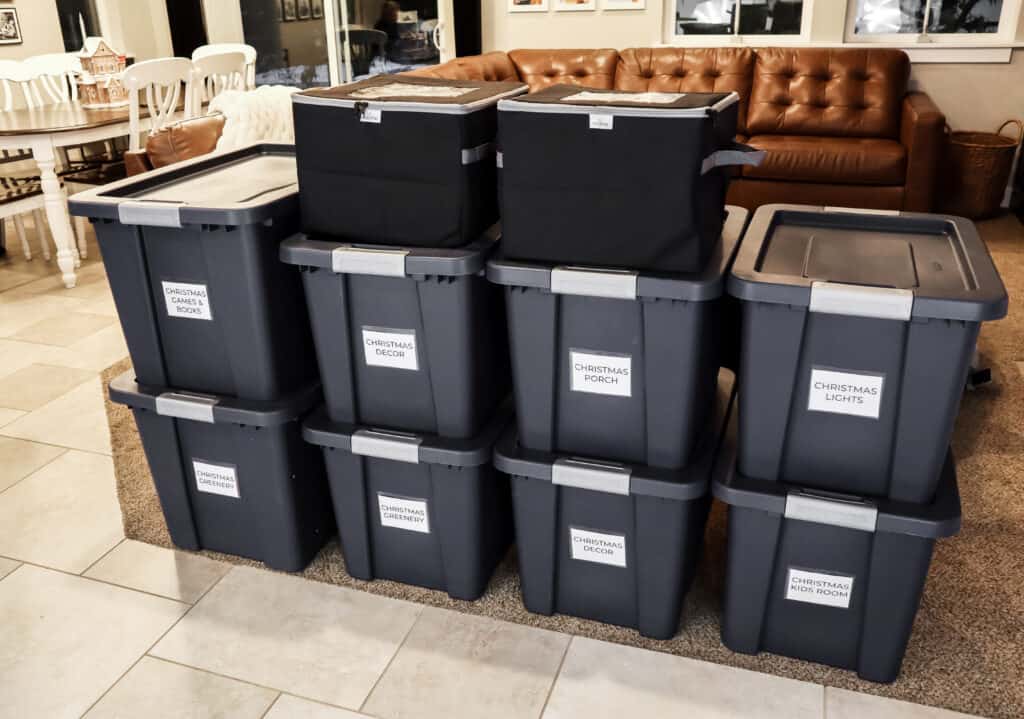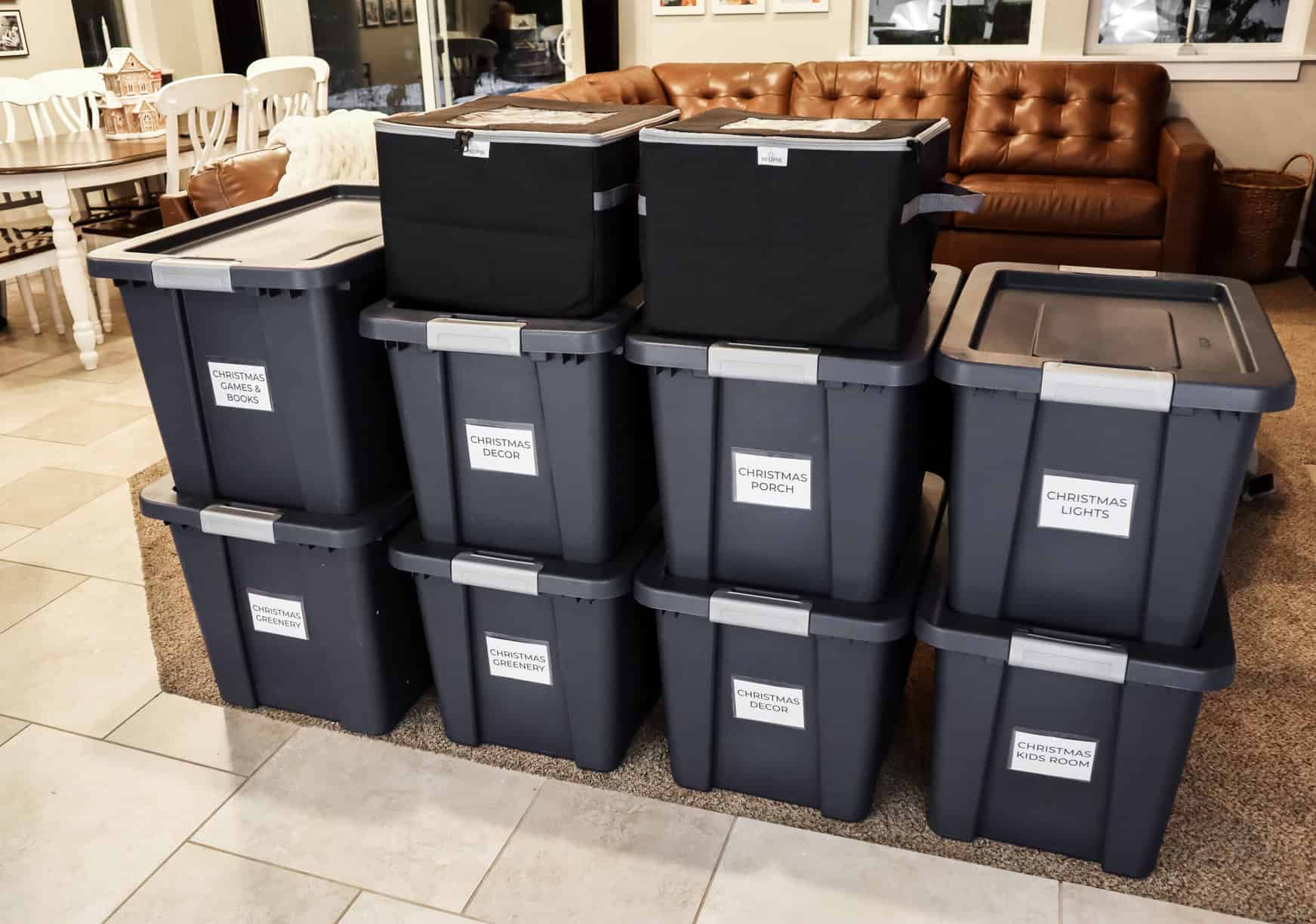 Label Each Box or Storage Container With Christmas Storage Labels
In order to make it easier to organize your Christmas storage boxes, you'll want to label each of them with Christmas storage labels. These labels let you know what is inside the box so that you can quickly grab what you need without any guesswork.
Free Printable Christmas Storage Labels
It can seem overwhelming to type out new labels, so that's why I created some free printable storage labels that you can easily print from your home printer and adhere to your storage bins.
Best Tips to Print these Free Storage Labels
There are a few different ways that you can choose to print out and adhere the Christmas labels to your Christmas bins. Here are some ideas:
1. Use Sticker Paper
You can choose to print the labels onto waterproof sticker paper and adhere them directly to the storage tote. The sticker paper is a full sheet so it gives you the freedom to choose whatever size labels you want to print without having to worry about matching the print up to specific cut lines.
After you print, you simply cut out the labels with scissors or a straight paper cutter. Then peel off the backing off of the labels…just like a sticker!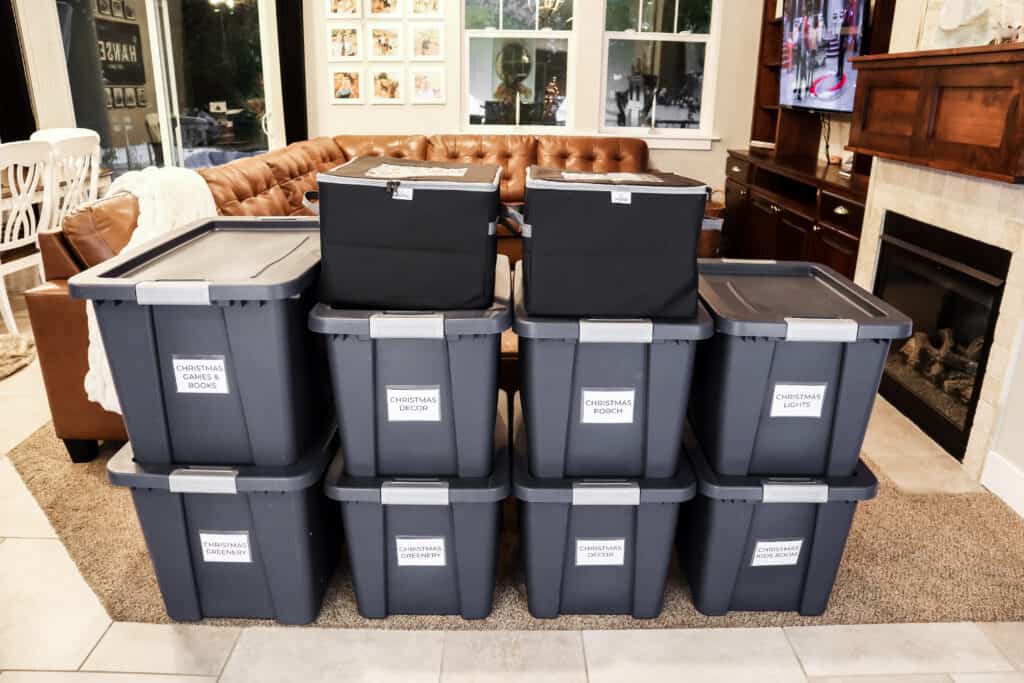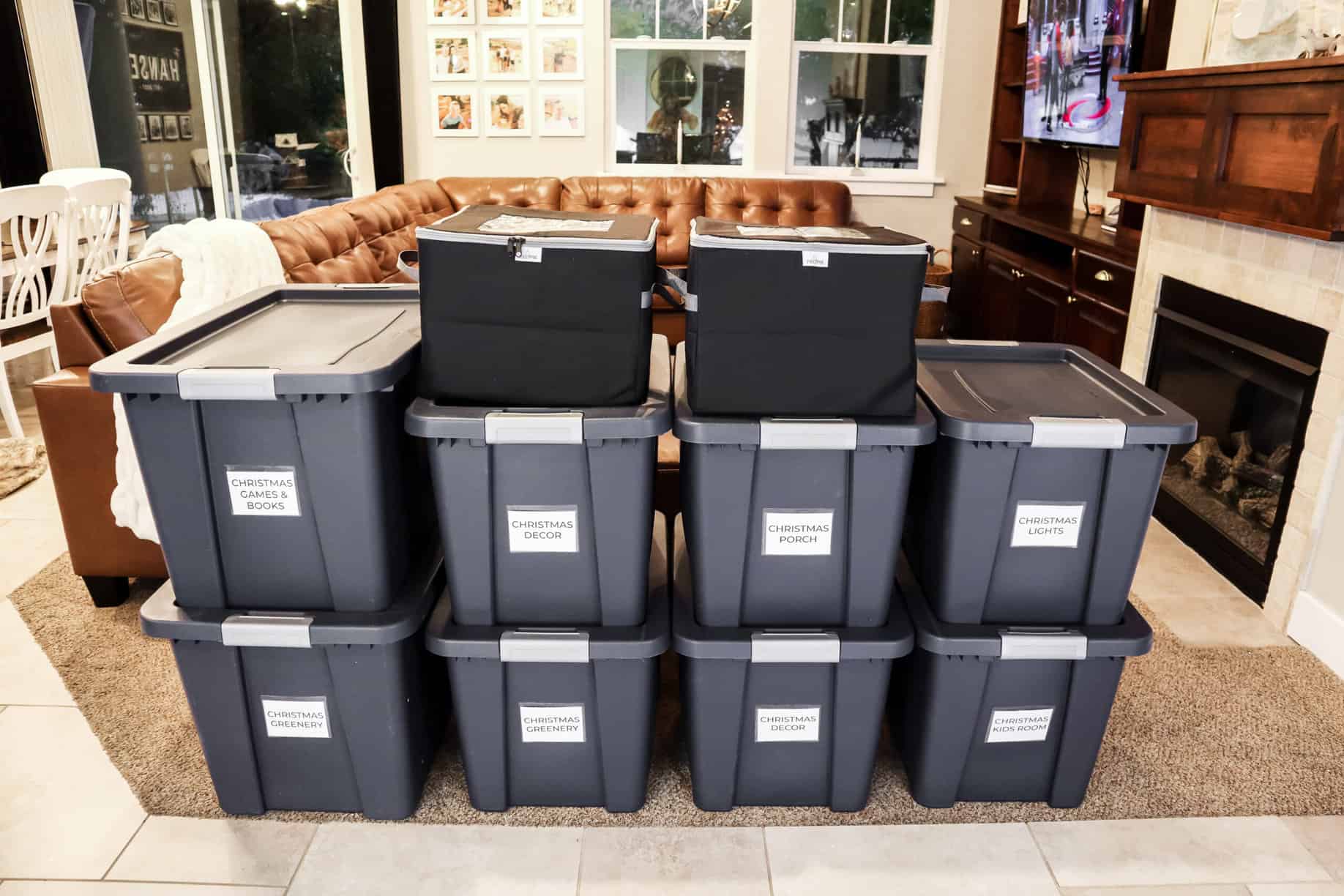 2. Use Label Holders
Another way you can apply your free Christmas printables is to use these adhesive label holders and slip the labels into the pockets.
Simply edit the labels, then you can print the labels onto cardstock or copy paper from your home printer. Cut the labels to size and slip them into the label holders.
If you want to get extra creative, you can even print these labels on colored paper to micro-organize the bins to help you identify your holiday decor even easier.
3. Print them on Cardstock and Display them Inside
If you have clear storage bins, you can also just print off the free printable storage labels and put them on the inside of the storage bins. This will allow you to still read the labels but you don't have to worry about adhering the labels to the outside of the bin.
This is the most budget-friendly option.
4. Print Storage Labels and Laminate Them
If you want your Christmas storage labels to really stand the test of time, then it's a great idea to laminate them using a laminator (this one is a laminator and a paper cutter in one).
The lamination makes the label waterproof and extra sturdy, especially when the labels are printed out onto cardstock instead of copy paper.
These free printable Christmas labels are editable so you can edit the text to have it say whatever you want! You can even use it on other storage bins besides just your Christmas ones! Just edit the text on the Christmas labels to use on any of your holiday decor totes.
Top Tips for Packing Holiday Decor
Purchase Christmas Storage Boxes All In the Same Color
This will help you designate boxes for the same type of decorations. For example, if you buy all red storage totes, then each tote can represent a different room in your home (kitchen ornaments go here, bedroom Christmas bedding goes there).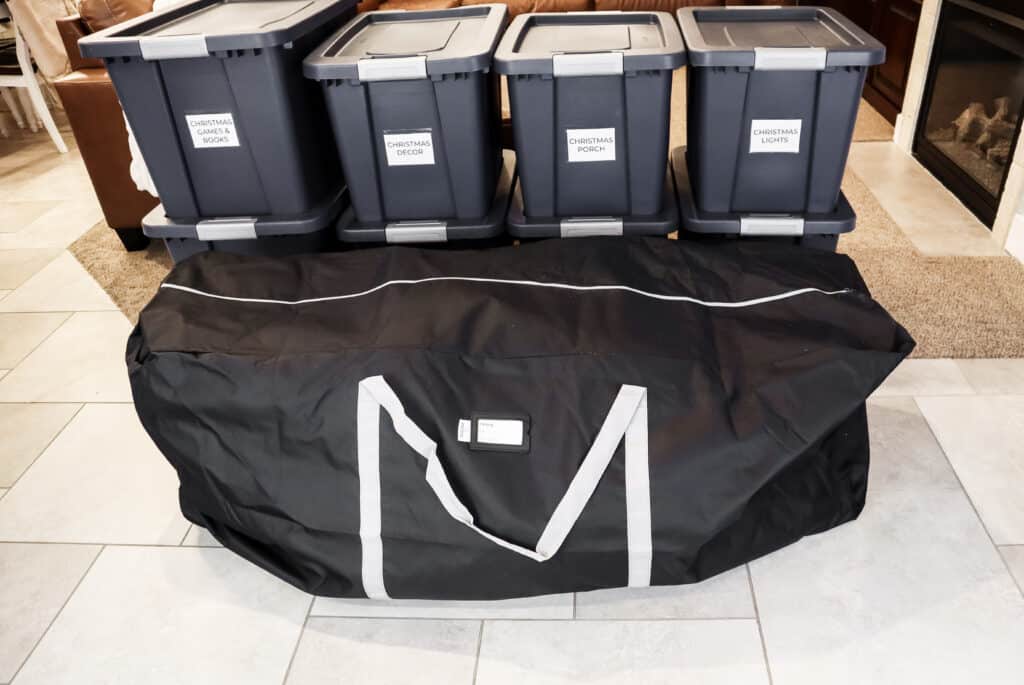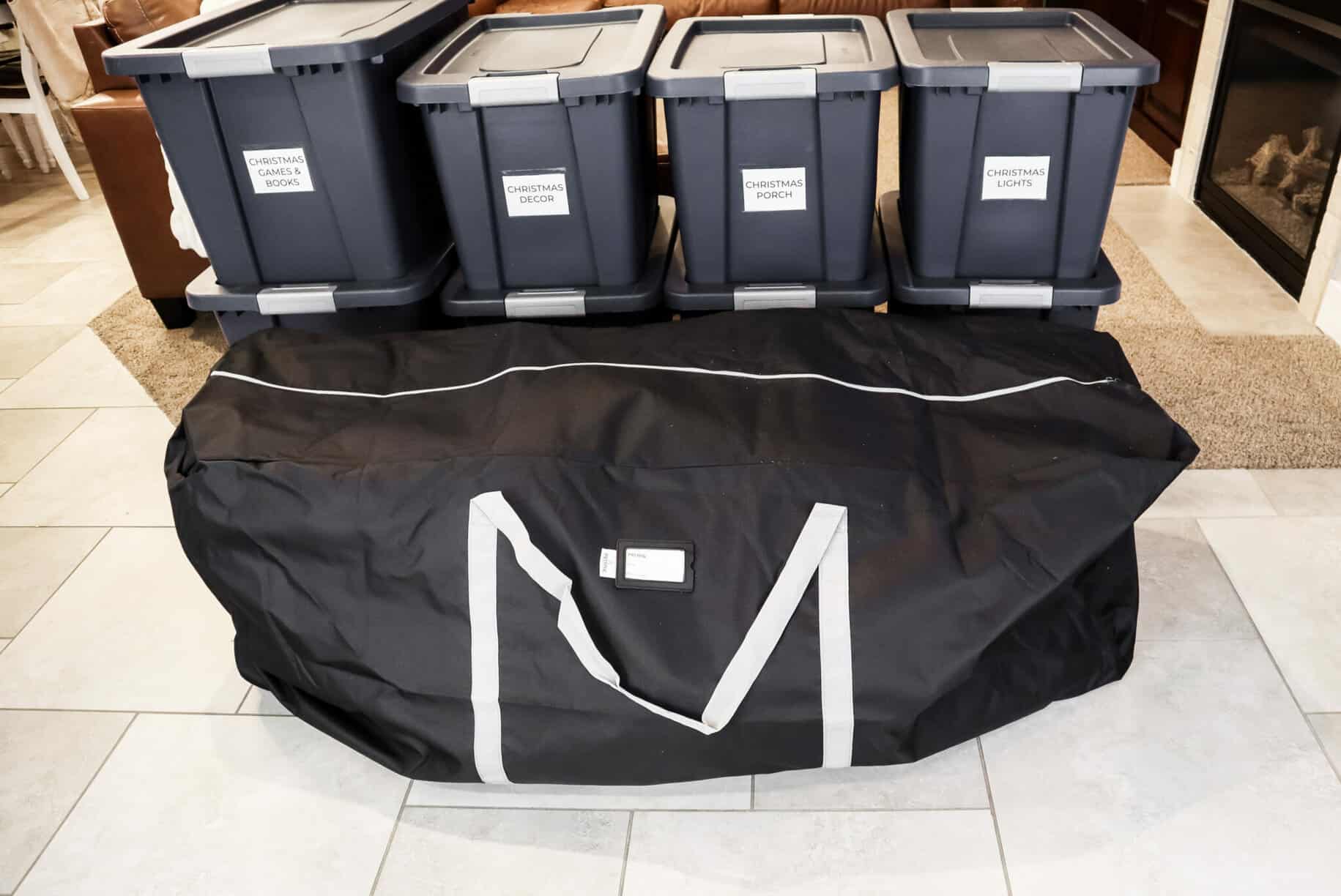 Or if you want it more simple you can put all of your Christmas decorations in red or green totes. I prefer to buy black for everything but it does make it a bit trickier to find what I need. Don't forget to add labels so you know what is in each box or storage container!
Declutter and Inspect Holiday Decor Before Putting Them Away
Before you put your Christmas decorations away, make sure to declutter the decorations that you didn't use that year. Realistically, you won't use it next year, either. Get rid of the excess clutter and make space for new decorations that you may purchase in the future.
Additionally, inspect each decoration before you pack them away to ensure they are still in good condition. If not, replace or discard accordingly.
Place Heavy Items at the Bottom of Your Christmas Storage Boxes
When you're packing away your Christmas decorations, place heavy items like Christmas books and figurines at the bottom of each storage box. This will make them easier to lift when you pull the boxes out next year.
Plus, the lighter items on the top won't get squished by the heavy items.
Take Photos of Your Holiday Decor for Next Year's Reference
Before you take your Christmas decorations down, take photos of your holiday decor. It will be a helpful reference for next year, so you remember how everything looked before it was put away.
You can even print out the photos onto cardstock from your home printer to put inside the box on top of all of the Christmas decorations. This will make it much easier on you next year
Pack Fragile Ornaments Well
Nobody likes to open up holiday decor boxes to find broken items, so it's important to pack them well. Put each ornament in a separate bag or tissue paper and wrap the boxes in bubble wrap before putting them in the storage bin.
Glass Christmas ornaments will be best packed in one of these ornament storage boxes.
Pack Christmas Decorations According To Where You Use Them
This is my favorite tip! It is so much easier to get out one tote at a time when you set up for the holidays. Put all of your tree decorations in one tote, mantel decor in another, and so on. This will save you a ton of time when it comes time to take everything out next year. Just do what makes sense to you and your family.
Labeling your Christmas storage containers is essential for keeping track of all the Christmas decorations you have. It makes it easier to find the decoration you need next year and also helps to keep all Christmas decor organized so it doesn't get mixed up with other items in your home.
With the free printable labels provided here, it's easy to label Christmas storage bins and make sure all Christmas decorations are stored properly. So go ahead, get your Christmas decor organized this year and start labeling those Christmas storage containers! Good luck!