The Ultimate List of Sick Day Essentials
Winter is peak sick time. Everyone is catching the flu, a cold, or something else. Of course, ideally, we all want to avoid getting sick. Washing hands often, avoiding close contact with anyone sick when possible, and cleaning or disinfecting frequently-touched surfaces will all help prevent sickness, but sometimes sickness can't be stopped.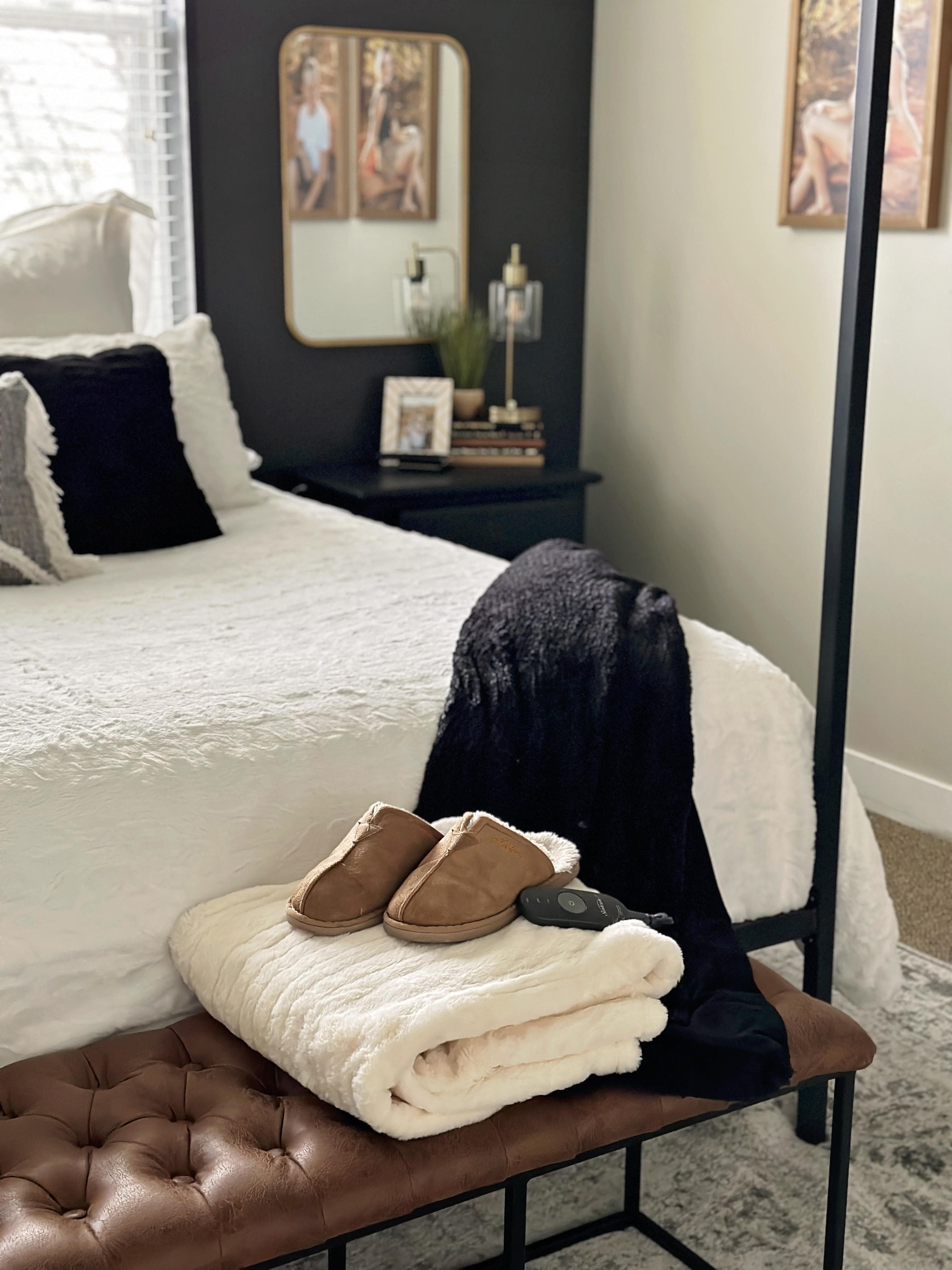 When that happens, it's time for medicine and rest. I don't know about you, but I hate having to get a bunch of things when I'm sick. All I want to do is lay in bed! This post is all about prepping ahead of time for a sick day so you aren't caught off guard. Nobody wants to shop for sick day essentials when they are sick!
Some of these are definitely essential, but some are just nice to have. Obviously, some of these products are luxuries and are not necessary to take care of yourself, but sometimes it's nice to have products on hand to treat yourself when you're not feeling well.
You'll love this post, too!
When you're super sick, you don't want to do anything but sleep…but sometimes you feel well enough to get bored. Here are 60 Things to Do When You're Sick
The Best Sick Day Essentials
Here are some sick day essentials that you should always have on hand.
Medicine
Medicine is one of the most obvious sick day essentials but I've still got to mention it. Keeping your medicine cabinet full will ensure that you're prepared for any sort of sore throat, fever, aches, stomach bugs, or anything else you may catch!
Always have an over-the-counter medicine such as ibuprofen, acetaminophen, and antihistamines to help with your symptoms. You may also want to stock up on cold and flu medications, especially during cold and flu season.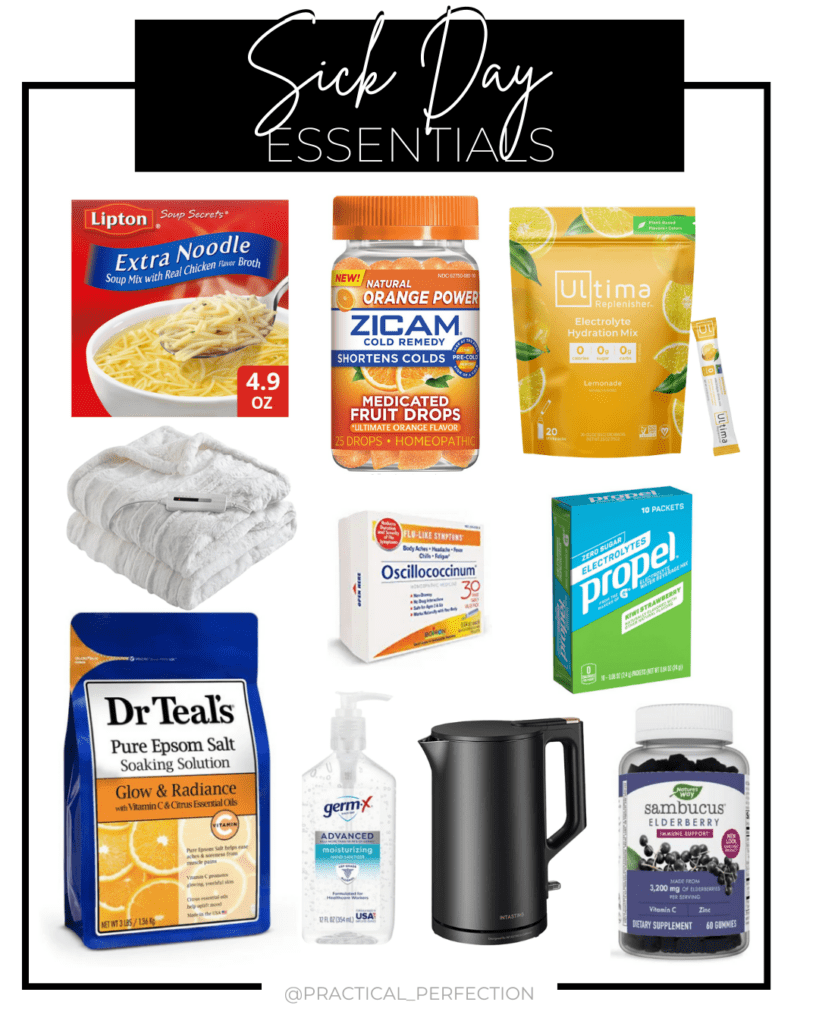 You'll also want some decongestants for any stuffy noses! I like this Boiron Oscillococcinum because it really helps you get better, it doesn't just keep the symptoms at bay. Alka Seltzer is also one of our favorites for a cold, chills, or fever… you name it!
Along with medicine, you'll also want to keep a thermometer on hand (I like this digital thermometer) and some cough drops. These doTERRA ones are THE BEST.
I also like to have Aquaphor ready for dry lips or skin and SOFT tissues with lotion so no one's nose gets super dry from constantly wiping at it when they have colds.

Food
Another big part of sick day essentials is food! You need to make sure you have snacks and meals to eat so you can rebuild some strength as you rest.
Having any kind of hot soup (real chicken noodle soup is best) or Lipton Soup helps soothe any sour throat and can help you feel nice and warm when you have chills. You could also have Top Ramen for your soup – it might not be the most healthy but it's comforting for many. Keep a couple of packs in your pantry for when colds pass around your family.
Hot drinks like herbal tea or honey lemon water can help as well when you're under the weather. You can use an electric kettle to warm up water quickly. This Non-Alcoholic Hot Toddy Recipe is also perfect to help you recover quickly!
Honey can help with coughs and Sprite or Ginger Ale are perfect for an upset stomach. Crackers and electrolytes (such as Gatorade) are definitely essentials. Popsicles or sorbet (in the freezer section) are also great for sore throats.
Remember to follow the B.R.A.T diet foods (Banana, Rice, Applesauce, or Toast) for an upset stomach when you're easing your way back into eating! Listen to your body and take it slow.

Hydration
We covered drinks a bit, but drinking lots is so important when you're sick! Drinking tons of water has lots of health benefits but it will help even more when you don't feel good.
Drink a lot of tea, water, Gatorade, or Ginger Ale, depending on what illness you have. You can also use an insulated tumbler to keep your drink warm for longer. Just remember to stay hydrated!
To hydrate in another way besides just a drink, you can also use a humidifier to keep your throat and skin from getting super dry. Use plenty of lip balm (Aquaphor is the BEST). You can also use essential oils to clear sinuses.
Taking a hot bath or shower can also help when you're feeling under the weather. VapoShower Tablets work really well in a hot, steamy shower. You can also get Epsom Salts for a luxurious, comforting bath.

Comfy Clothes
Having comfy clothes is definitely a must when you're sick. There's nothing better than curling up in pajamas or a cozy onesie to help you rest and relax. I love these soft sweats but any sweatpants, pajamas, or comfy sweatshirts work!
To really achieve the ultimate level of coziness, pair your comfy clothes with this cozy robe, these super soft socks, and these slippers. Cozy pajamas, robes, socks, and slippers will make lying on the couch or your bed much more comfortable and help you get the rest you need!
You'll also want to wrap yourself up in a blanket! This insanely soft blanket is perfect for a sick day! Keep yourself warm with a nice big, soft blanket.

Supplements
If your sick day includes the sniffles, you should consider stocking up on supplements like vitamin C, zinc, and probiotics. These can be great for boosting your immune system and helping with cold symptom relief.
Keep things like Airborne or Emergen-C, vitamins, and Elderberry Syrup or Gummies on hand for days when you feel like you're starting to get a cold. You can also take some supplements when you're healthy to help prevent sickness!

Sleep and Relaxation
Rest is often the best medicine when you don't feel well. These might not be necessities but they should help keep you from waking up as you're trying to sleep.
I suggest that you get earplugs so you can sleep WELL… these are life-changing! An electric-heated blanket or space heater will help you stay warm while you sleep.
I also recommend having a microwavable heating pad or electric heating pad for any aches you may get. Get some ice packs too for the same reason! Massagers (like this eye massager, massage gun, or foot massager) are also so nice to have on hand.
MY FAVE RELAXATION PRODUCTS

Disinfecting
When you're ill, it's important not to pass it on to anyone else in the house if you can help it! Sometimes you don't have control over it, but having items in your house like hand sanitizer, disinfecting wipes, and laundry sanitizer can really help.
For Kids
When kids aren't feeling well, they can get bored pretty easily. Keeping them entertained can be hard, if you don't want them to binge-watch a show, of course.
Warmies can help your kids cuddle up with something warm. It's also scented like lavender so it will help bring relief from worry, stomachaches, and more.
Books and movies are also a great way to fill their day while helping them rest. You want to create a cozy and relaxing environment! Our next post, however, will cover tons of ideas and tips for how to spend your time when you're ill – if you can't sleep, that is.
Prepare for sick days!
When you're under the weather, or even if it's as simple as your head hurting or your stomach aching, take a little break, drink a cup of tea or another warm drink, put your feet up, and rest a bit to keep yourself from getting worse! But if you do come down with something, it's nice to not have to go to the store to get anything.
Preparing for sick days ahead of time will save you so much time and energy. Make sure to stock up on sick day essentials like cozy clothes, medicine, supplements, nourishment, and relaxation items! This way, when sick days come around, you won't be caught off guard.
Plus, having all of the sick day supplies on hand along with some little luxuries can make sick days more enjoyable and allow you to relax even more!