30 Best Gifts for Organization Lovers
Do you know someone who loves to be organized? If so, then you're in luck! We've compiled a list of the best gifts for any organization lover. From label makers to storage drawers to dispensers, we have everything you need to make your loved one's Christmas wish list.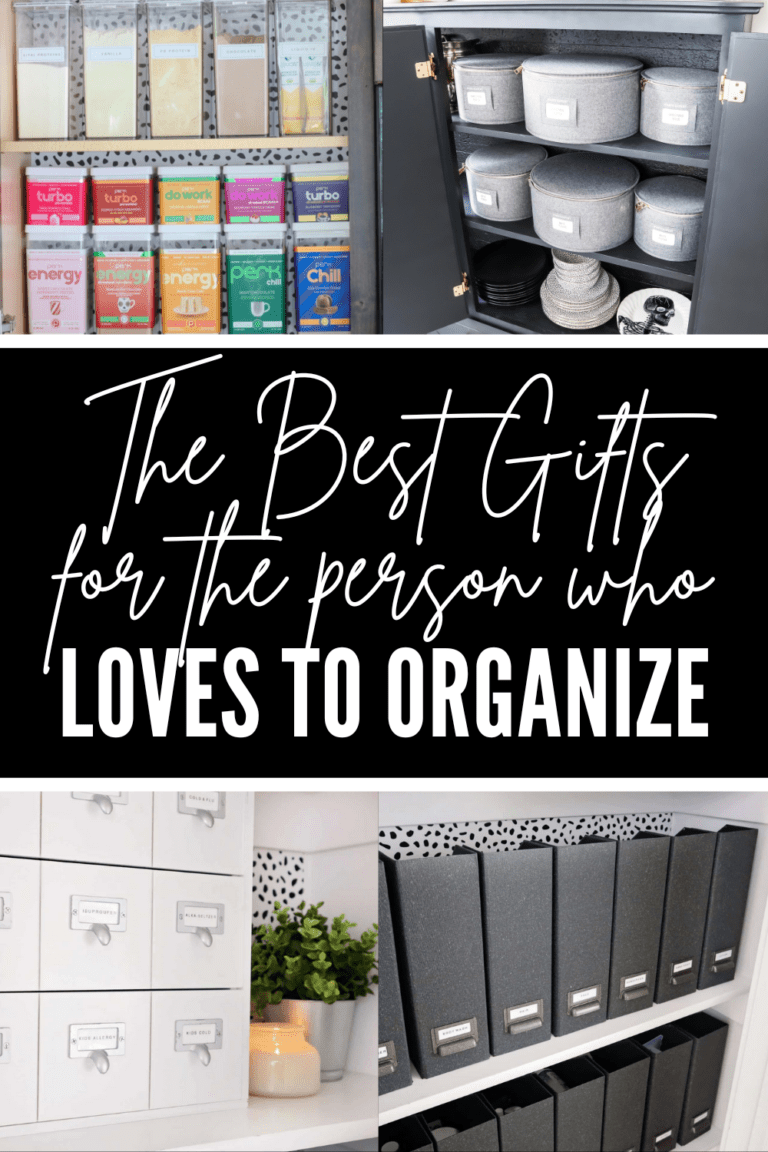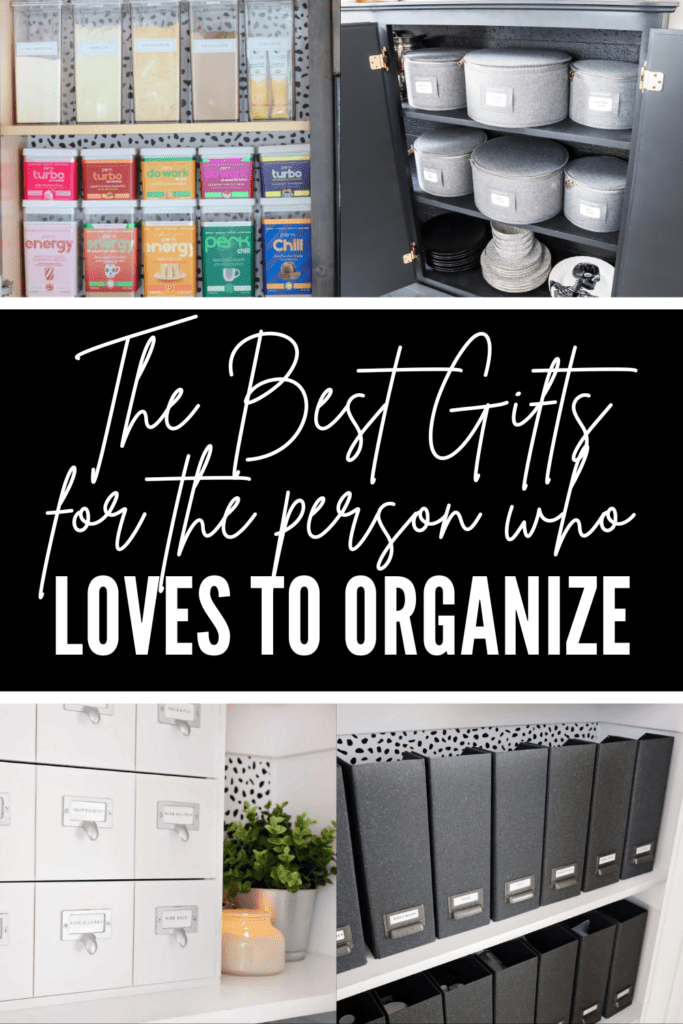 Whether you're looking for things to add to your own Christmas list or want to surprise someone else with an amazing gift, we've got you covered with gift ideas. So if you're looking for something special this year, take a look at our list and find the perfect gift for the organization lover in your life!
30 of the Best Organization Gifts
As the holidays rapidly approach, you're probably searching for things to add to your long list of either presents you want for yourself or presents you want to get for someone else.
While there are lots of different gifts you can get for friends or family, if you have a neat freak in your life, it can be a great gift idea to get them something they'll use to keep their homes organized.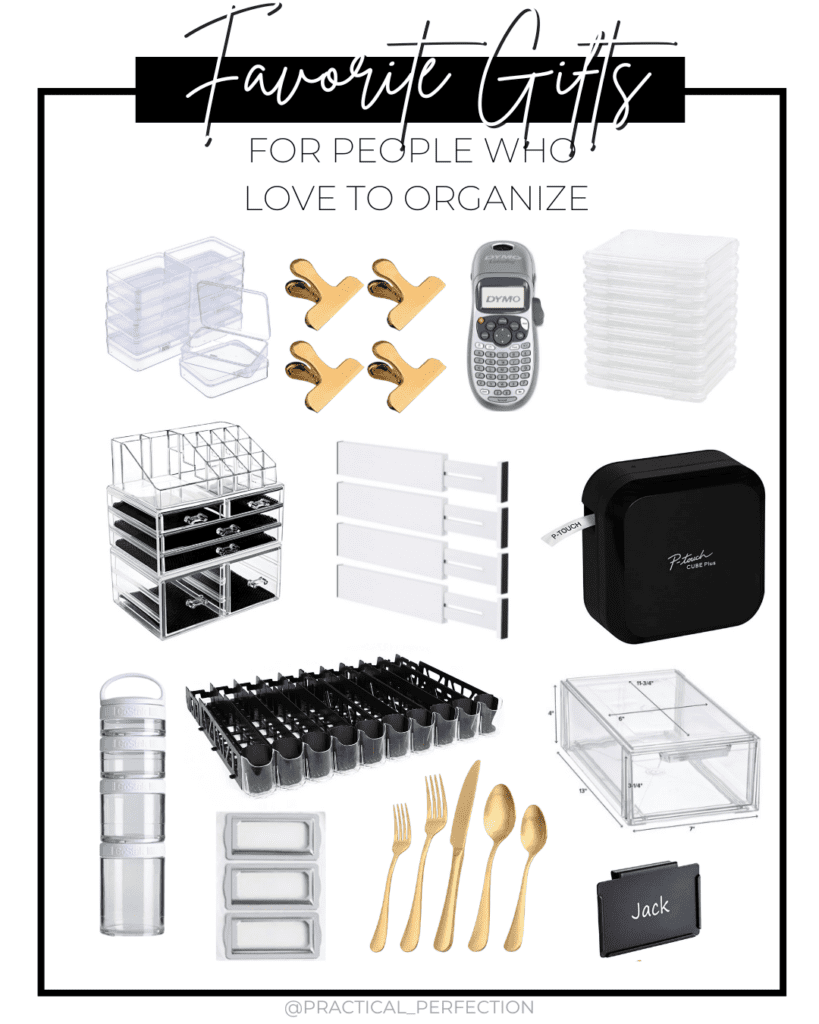 I've compiled this little gift guide with some of the best organizational gifts you can give to any organization freaks you know (and I say that lovingly because I'm one too).
Before I go into detail about each item and why I love it, I thought it would be helpful to start out with a list for a quicker reference to all of the best products.
1. A Label Maker
This is a must-have for anyone who likes to keep their home super organized. A label maker allows you to quickly and easily create labels for just about anything. You can use it to label storage containers, files, folders with important papers, baskets, office supplies, laundry room supplies… you name it!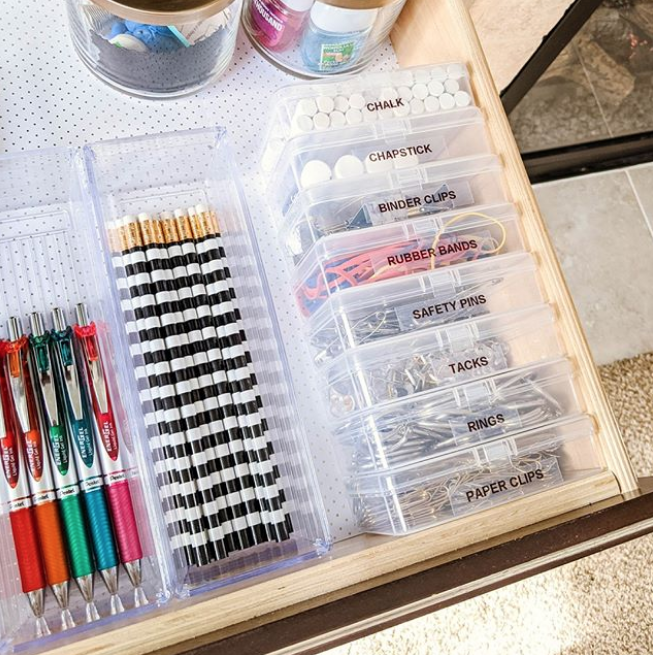 If you have an organized friend, they probably already have a label maker, so you might want to double-check with them first. But this is one of the best organization gifts you can get, so if the organized person in your life doesn't have one yet, you should definitely get one for them.
I love this label maker, but if you're looking for a less expensive label maker, this one is a good option.
2. Cutting Machines
This rolls into crafting territory a bit, but a cutting machine can be a thoughtful gift for organized people because it helps them with their DIY projects like labels. If you don't want to get a label maker, this cutting machine can make amazing labels as well as quite a few other things.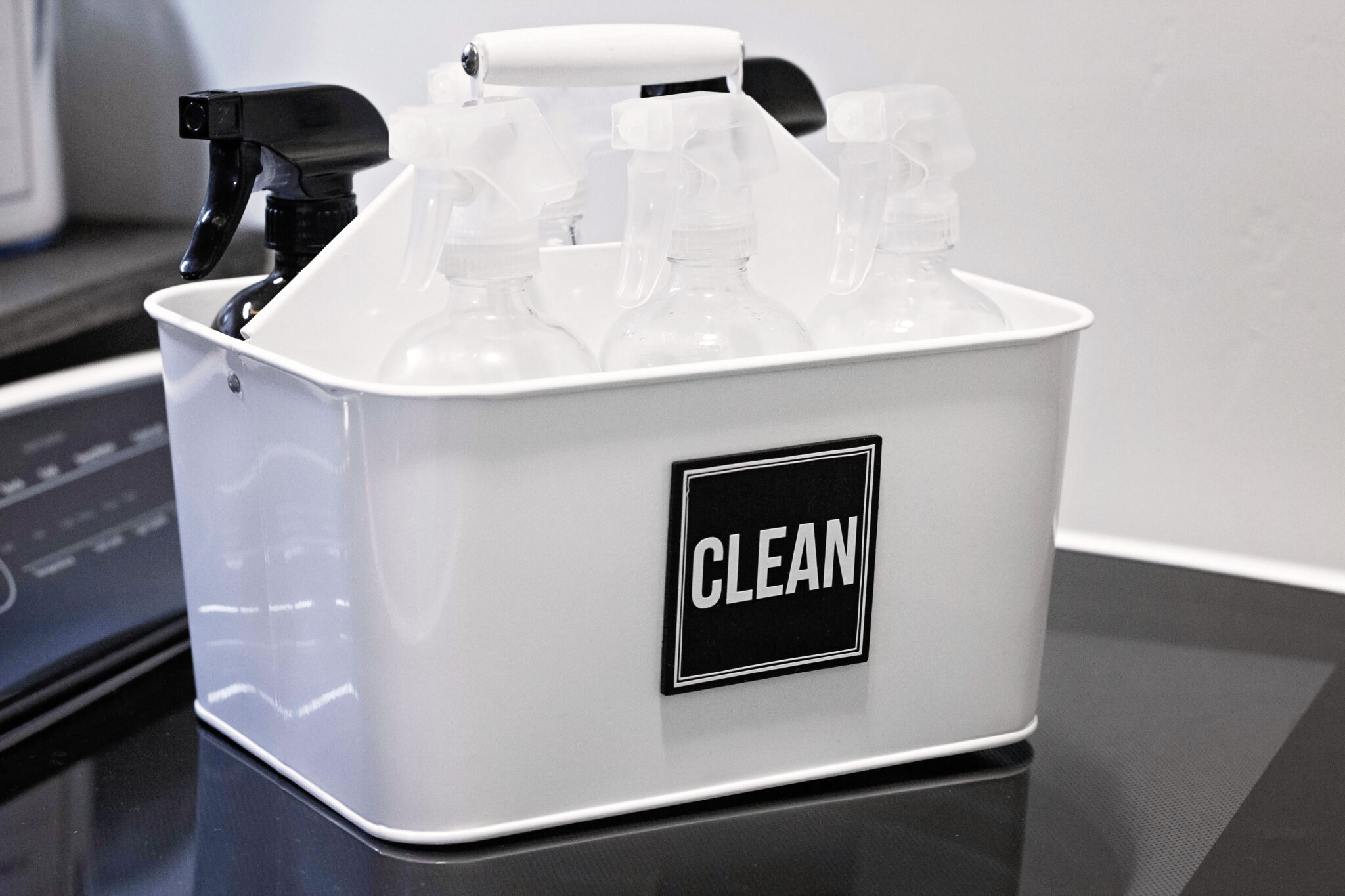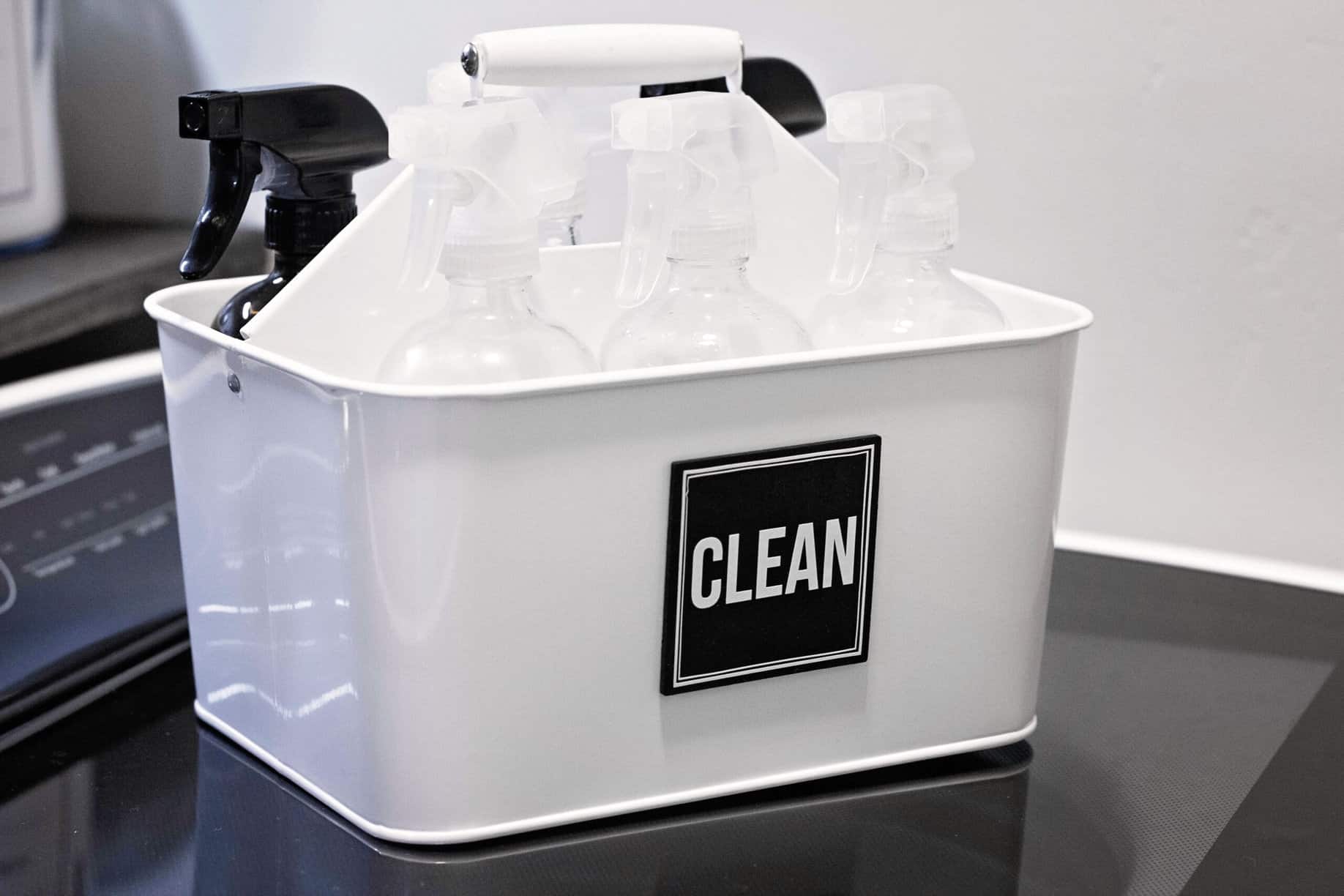 I use my cutting machine to label areas all over my house and it has limitless possibilities! There are thousands of different adhesive vinyl options to choose from, not to mention you can use any font on the web!
If you know someone who loves to make their own cards, invitations, or labels, a cutting machine would be a great gift for them.
3. Rolling Carts
One of the other best organizational gifts you can get for someone is a rolling cart. If your organized loved one doesn't have a lot of counter space or extra storage space, rolling carts can really help them stay organized.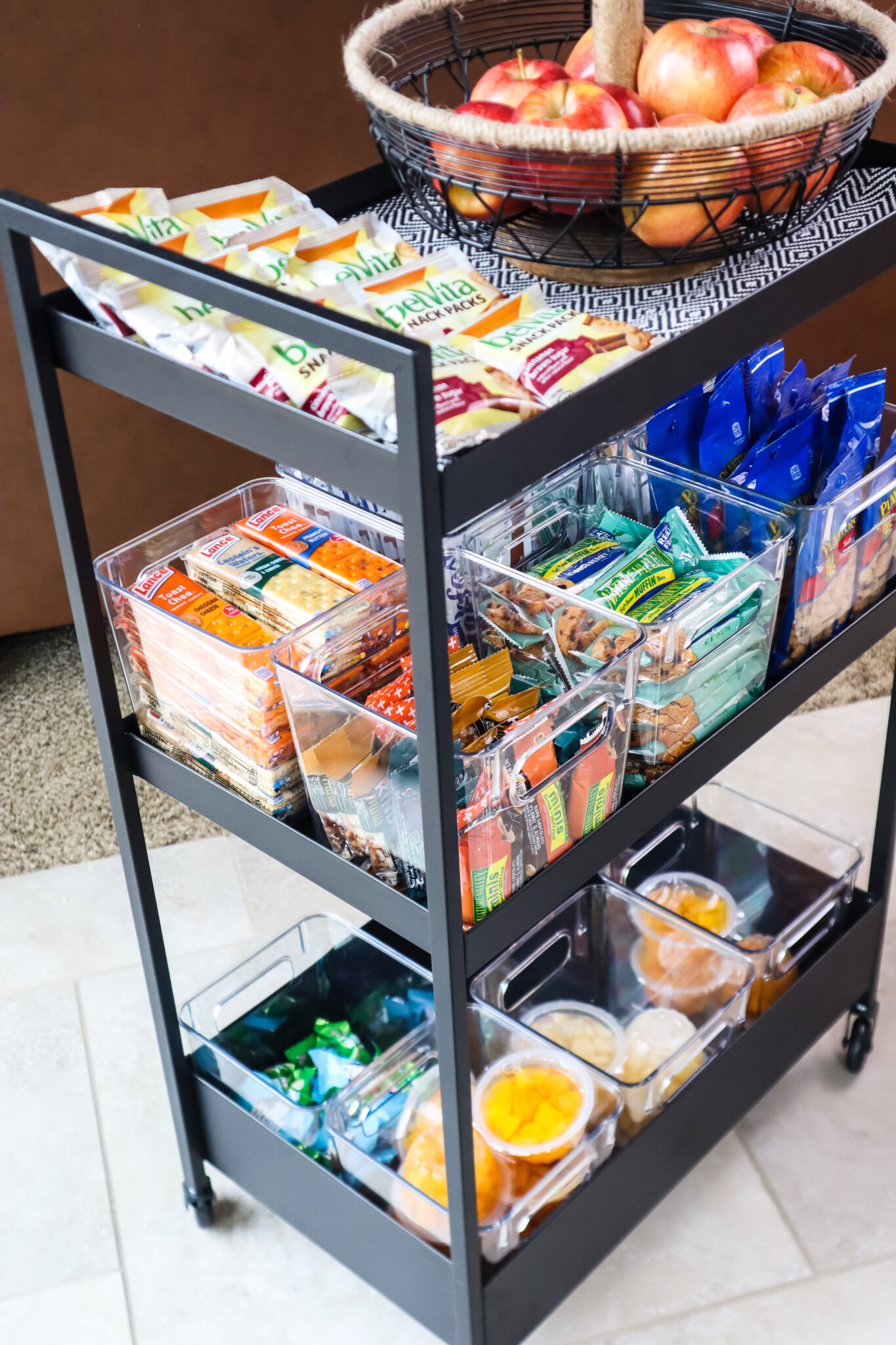 Rolling carts are the perfect solution to store wrapping paper for a gift-wrapping station (which I've written about before!) or a moveable crafting station.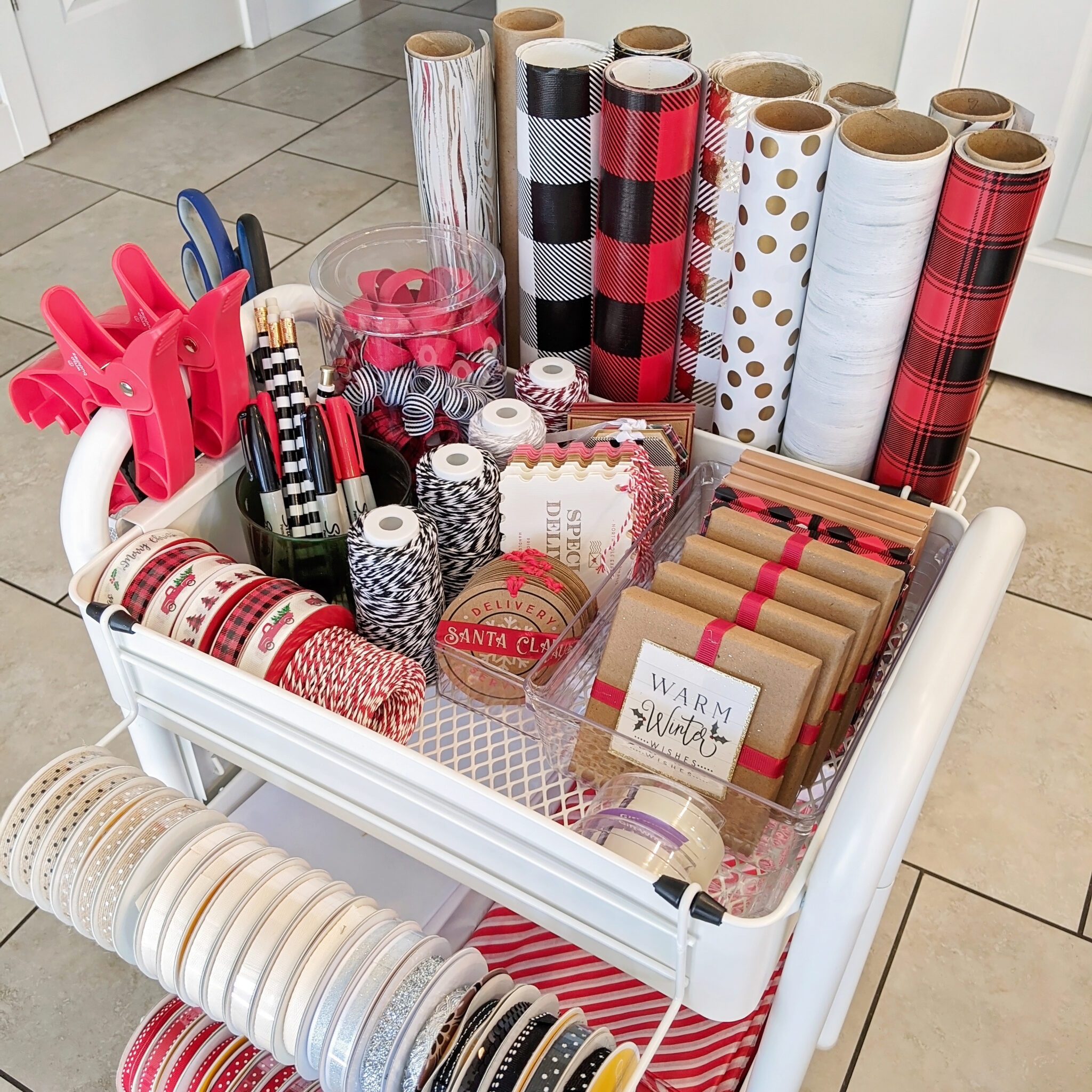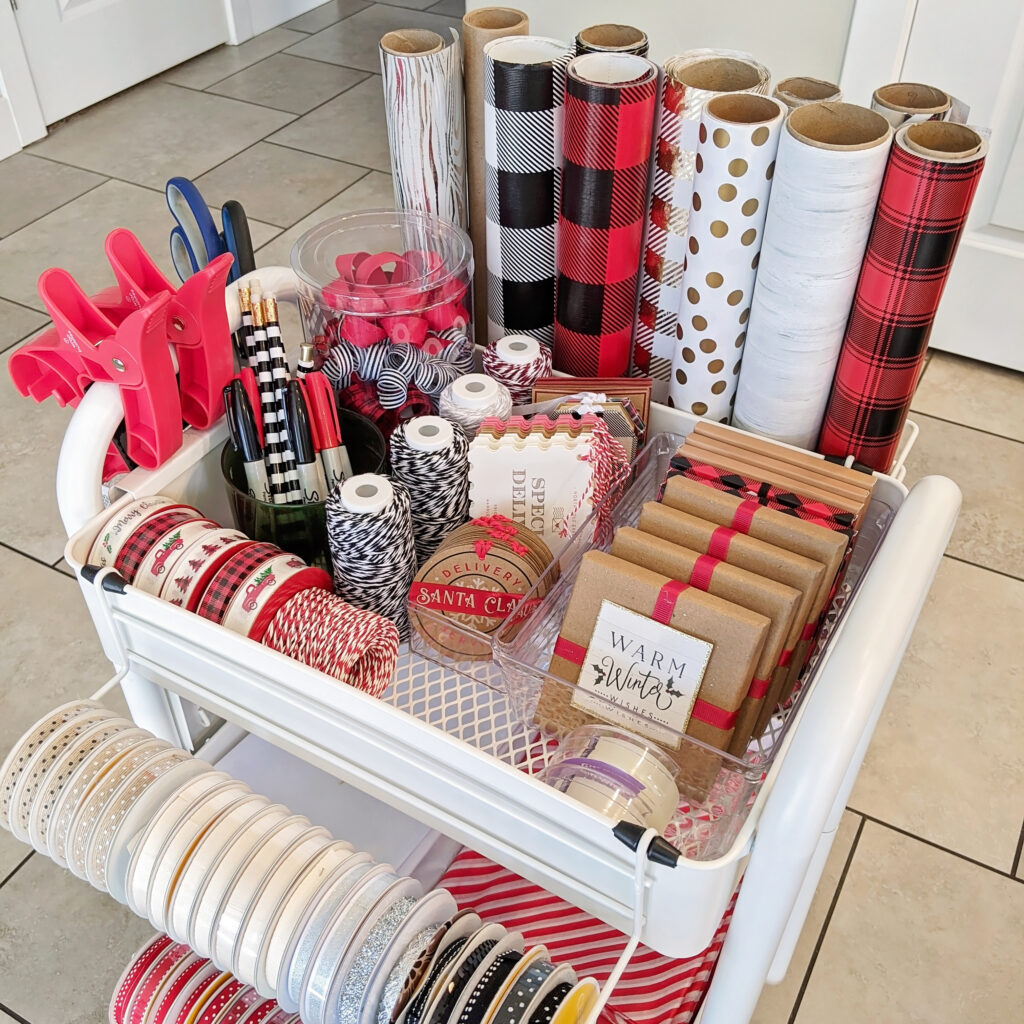 If you know someone who likes having stations and a way to store fun stuff like their crafting collection, consider getting them a cart! Personally, I love this one!
4. Soda Can Dispenser
Do you know someone who loves soda? Does it spark joy for them? Do they always have a soda or beverage in arm's reach? If so, your loved one might enjoy getting this soda can dispenser.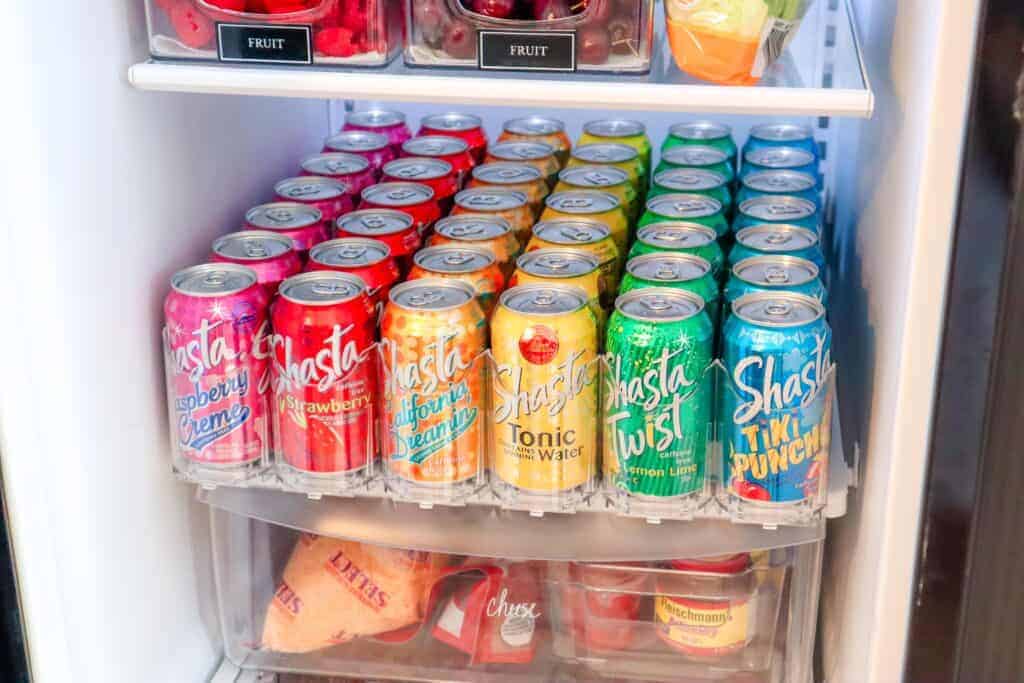 This soda dispenser can store tons of drinks of all different sizes – from juice boxes to soda cans to larger 18 oz bottles. It has ten rows so it can basically store all the things. (If you know any new parents who need that soda rush for energy, this could be a great idea.)
Here is one of my videos of this organizer in action!
5. Stackable Storage Drawers
These clear stackable storage drawers are the perfect gift for anyone looking to organize their beauty products or makeup. The simple, clear design is stylish and would look good in any room.
There are different options for drawer size, but they are all stackable so you can mix and match to create the perfect storage solution for your needs. And if you need more than one set, you can definitely get a few.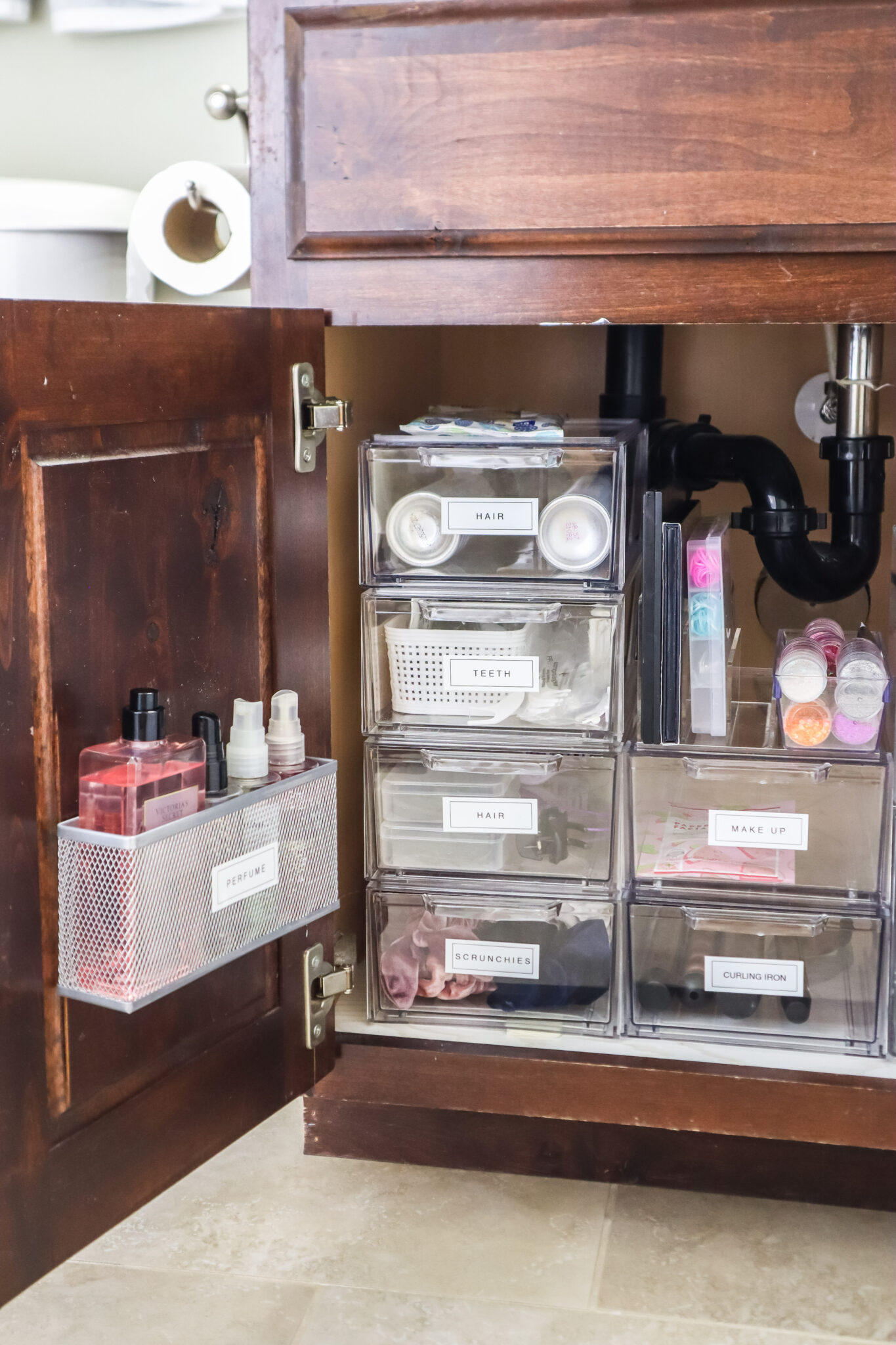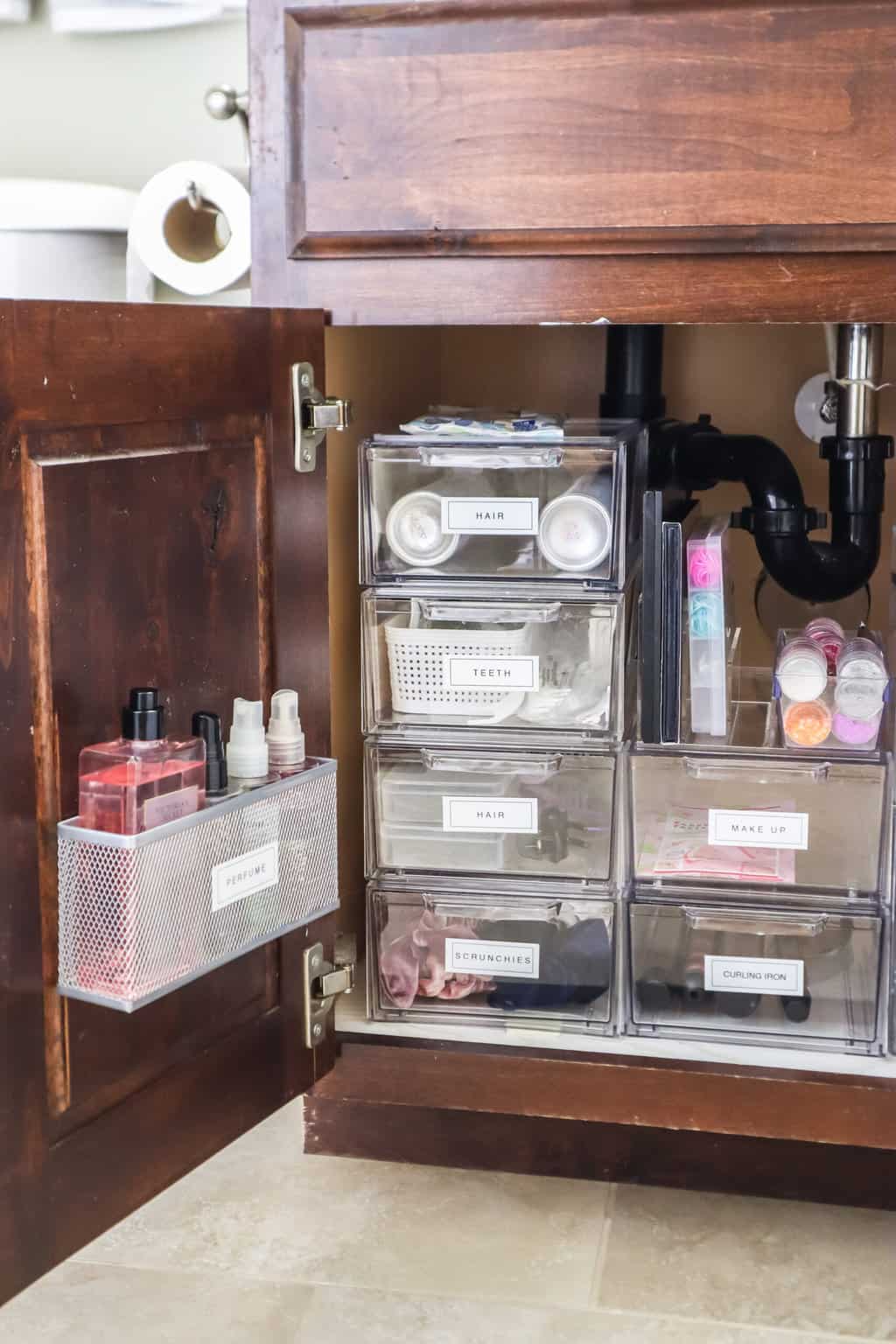 These drawers are great for organizing smaller items like makeup or jewelry. And because they are clear, it is easy to see what is inside them (though you can always add fun labels still if you'd like). These are practical gifts that will help organize the mess that can be beauty supplies.
6. Fridge Drawer Organizer
Do you have an organized person in your life who has been trying to organize their refrigerator? If so, get them these organizing fridge drawers.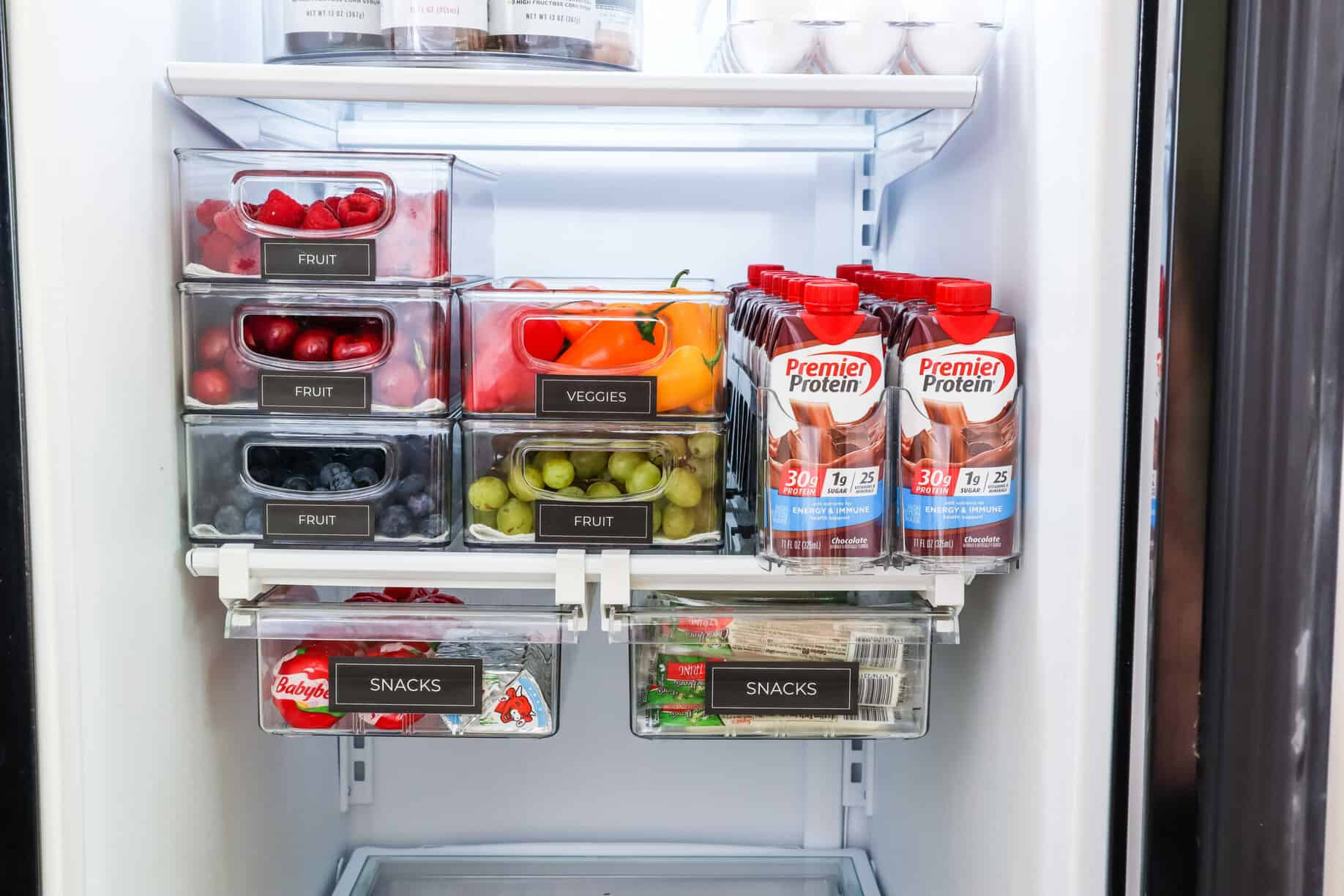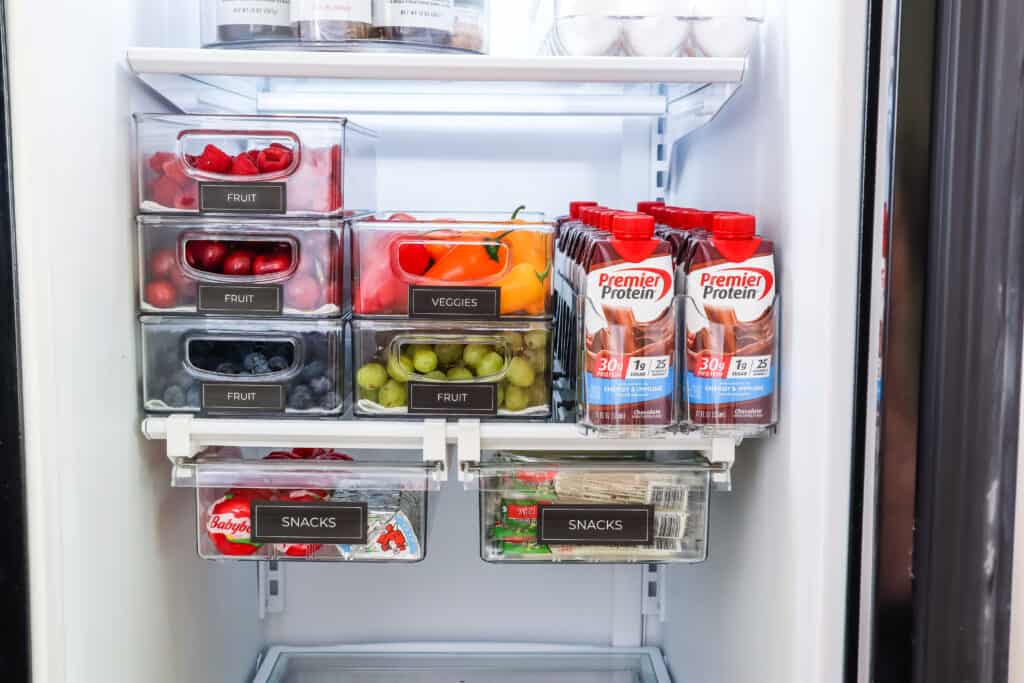 A drawer like this fits under your fridge shelf and can serve as egg storage or store other things like veggies. They have a drawer specifically made for eggs and another drawer that is flat so you can use it to organize any item.
7. Dry Food Dispenser
This dry food dispenser is great storage for cereal, candy, nuts, etc. If you want to keep your pantry tidy and want to get rid of the bag that nuts and candy come in, then you can use this for storage.
The outside is clear so you can easily see what is inside, and the dispenser helps prevent the mess from pouring cereal or nuts out of the bag. This is a great organizer for little foods. It keeps them handy to grab and go.
8. Drawer Organizer
This gift requires you to know the recipient pretty well. If you know someone who needs help organizing items in the drawers in a room, you can get an organizer.
You need to know the person's space pretty well since you'll want to get an organizer that can fit in that space – whether it's in an office desk, a bathroom drawer, or the kitchen.
An organizer helps keep any space neat and tidy, so they make for great gifts, but just make sure you know the space they are trying to organize so you can shop for the right size and style. Check online or at a local container store for stylish and convenient organizers.
9. Sports Equipment Organizer
Another fun organizing gift you can get is something to help organize their sports equipment. Again, you'll have to know them pretty well (this can be great for a spouse) so you know the kind of equipment they have and what items they'll need to keep them neat.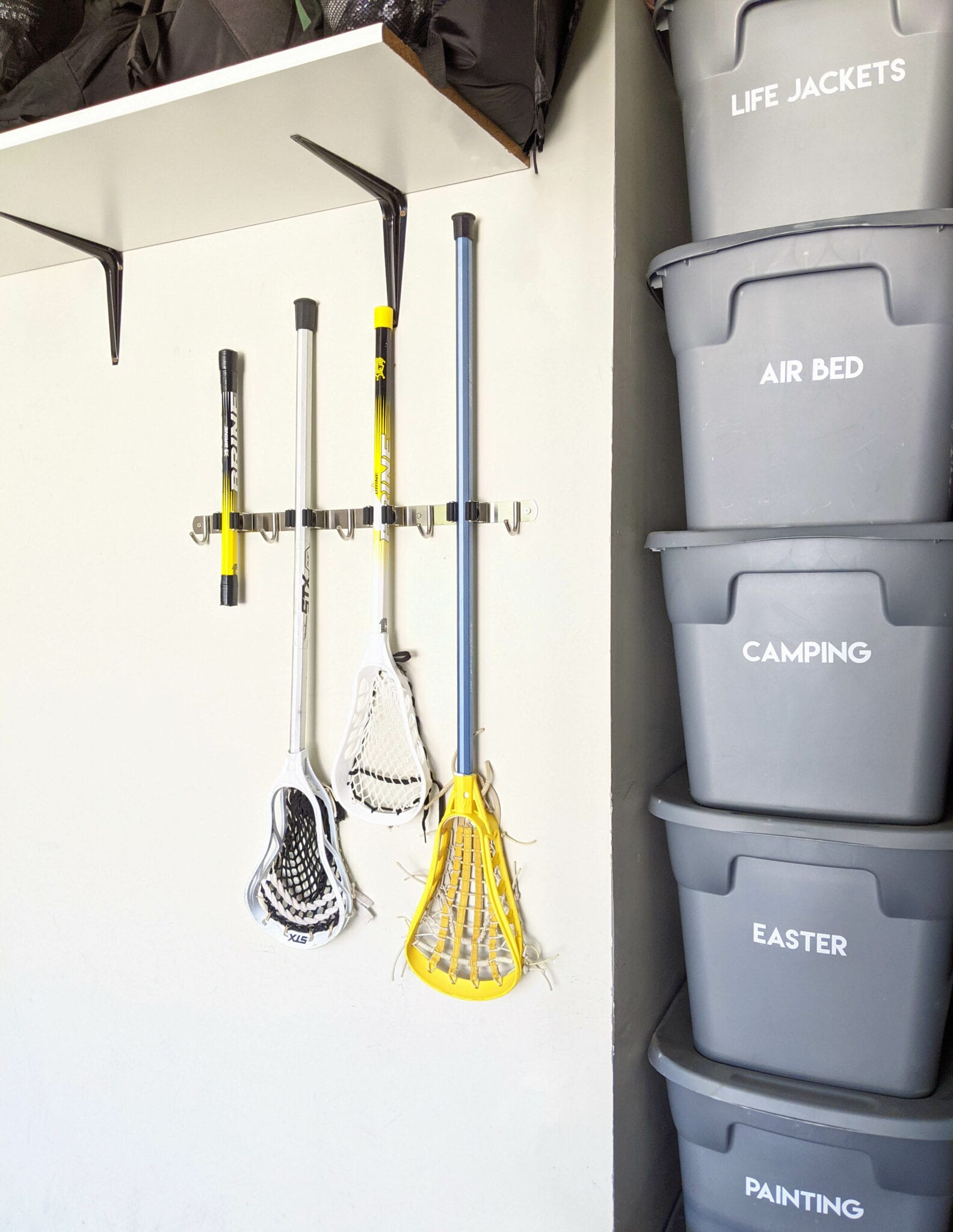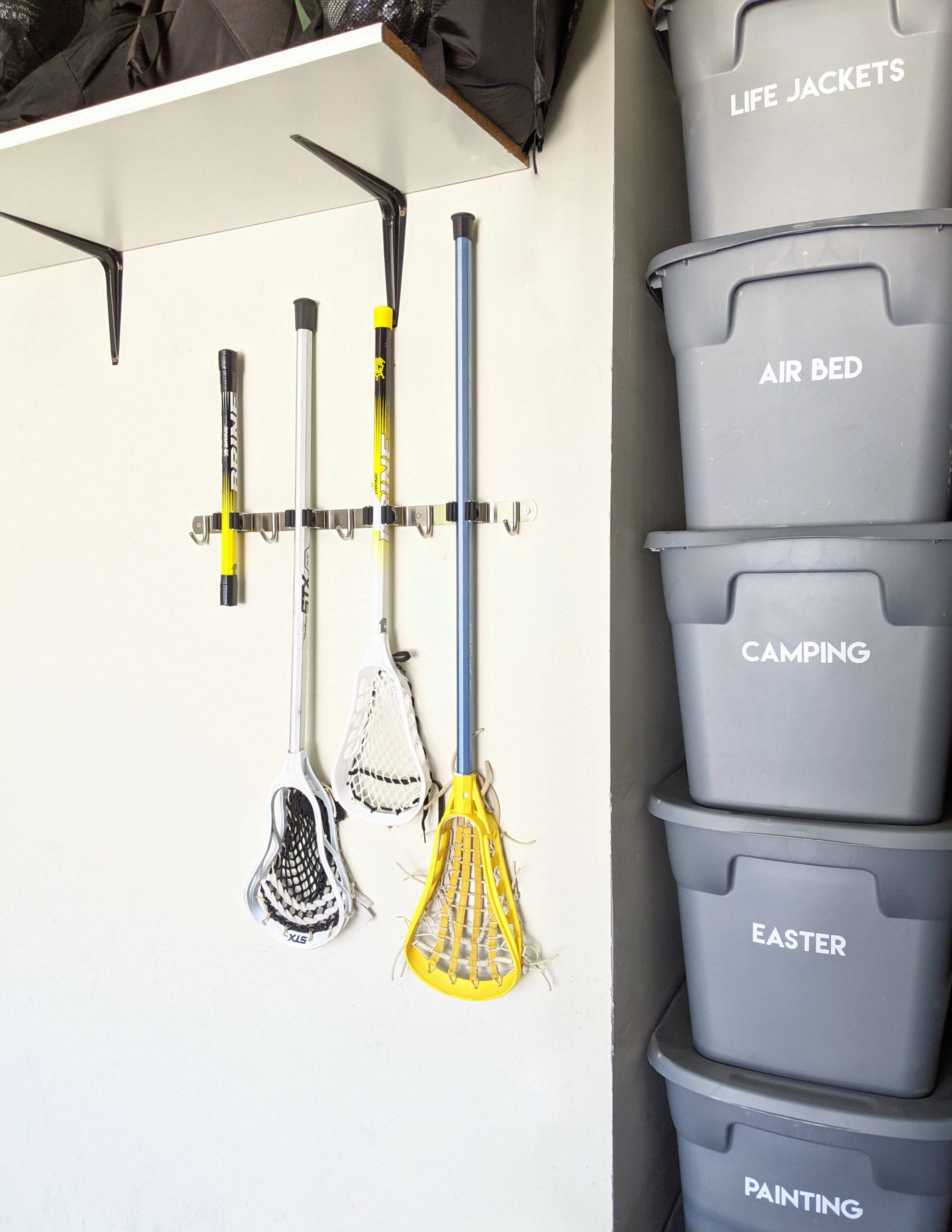 There are a few things you can grab to help someone achieve an organized sports space. Look for baskets, large bins, and furniture (like cabinets) that has compartments and drawers. You can even find some sporting equipment organizers that will go over the door or on the wall to help save space in a small room.
Think about what would make their life easier when it comes to organizing their sporting equipment and go from there! This is a great gift for someone who loves sports!
10. Packing Cubes
The organized people in your life probably also want to be organized when they are traveling. Packing cubes can help do that!
Getting a set of cubes designed for different suitcases can be a lifesaver. You might want one set for all of your toiletries and another set or two for clothes. You can also find cubes that are meant specifically for shoes or other delicate items.
If your friend or family member is constantly traveling and like to keep their bag organized, then these are a handy gift.
11. Travel Organizers
It can be really overwhelming for organized people to travel. We thrive on tidiness and living out of a suitcase can sometimes be stressful! So this personalized travel bag is a HUGE help to me! I hate searching for the different products that I'll need to get ready so this bag is a lifesaver. The glitter chenille patches are customizable and this is one of my very favorite bags I own!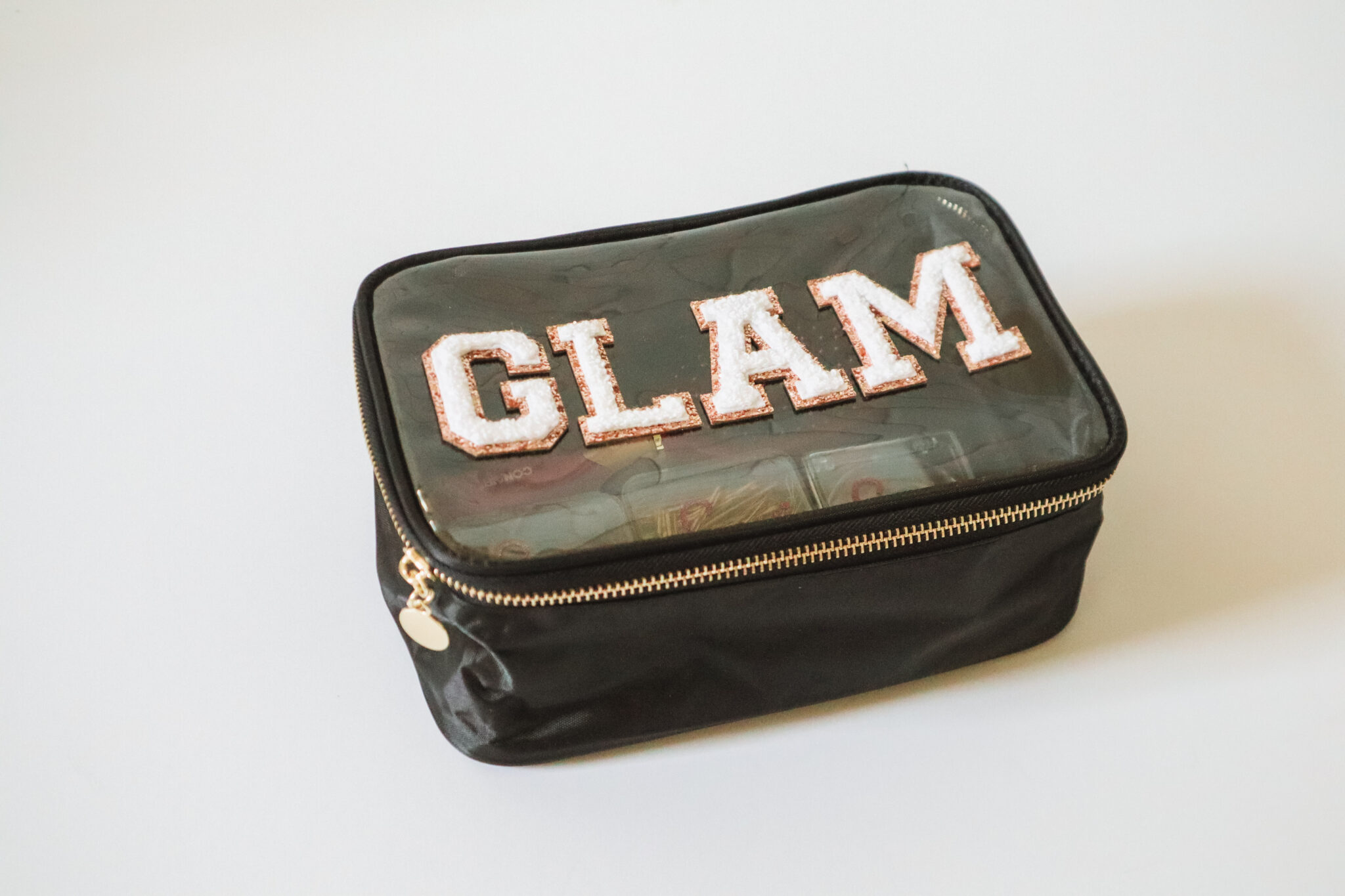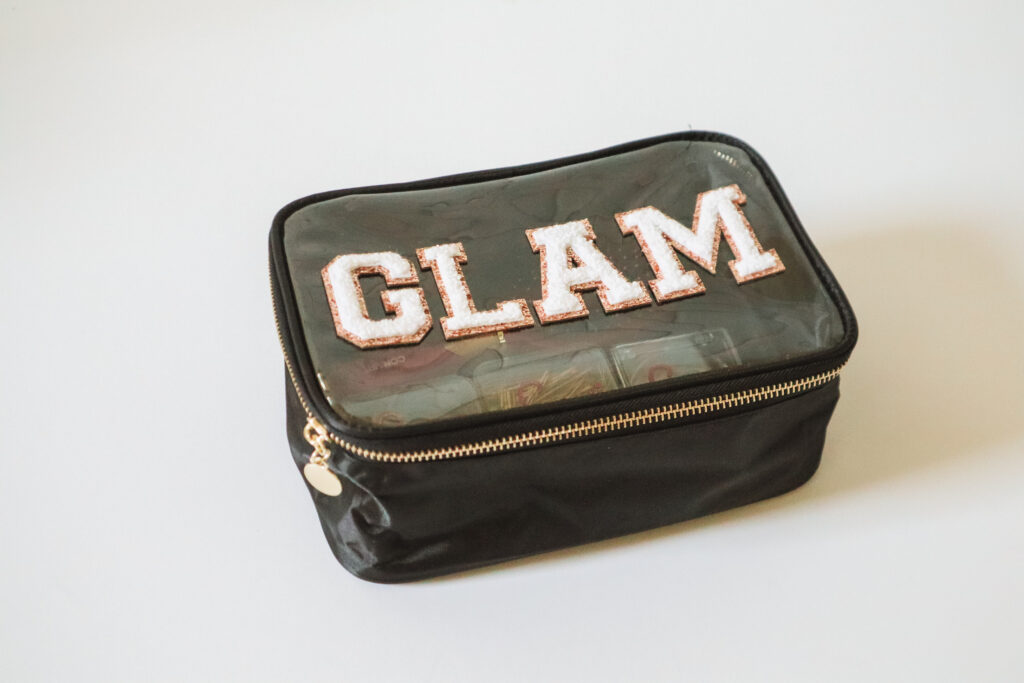 12. Drawer Dividers
These expandable drawer dividers are life-changing! You can transform any drawer into custom-built cabinetry. They are spring-loaded and they can be adjusted to whatever width you need! I use them in my bathroom, kitchen and even my office.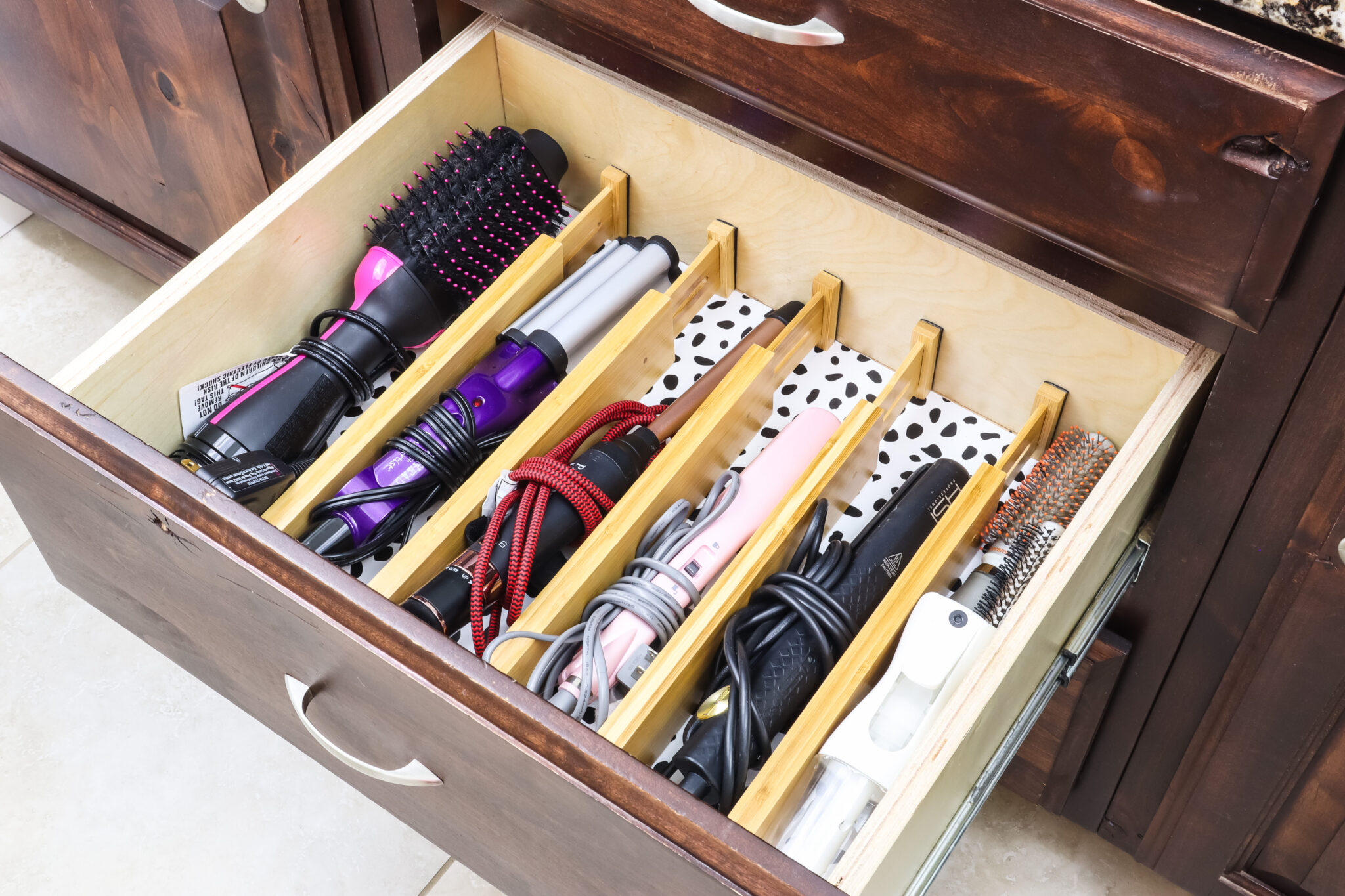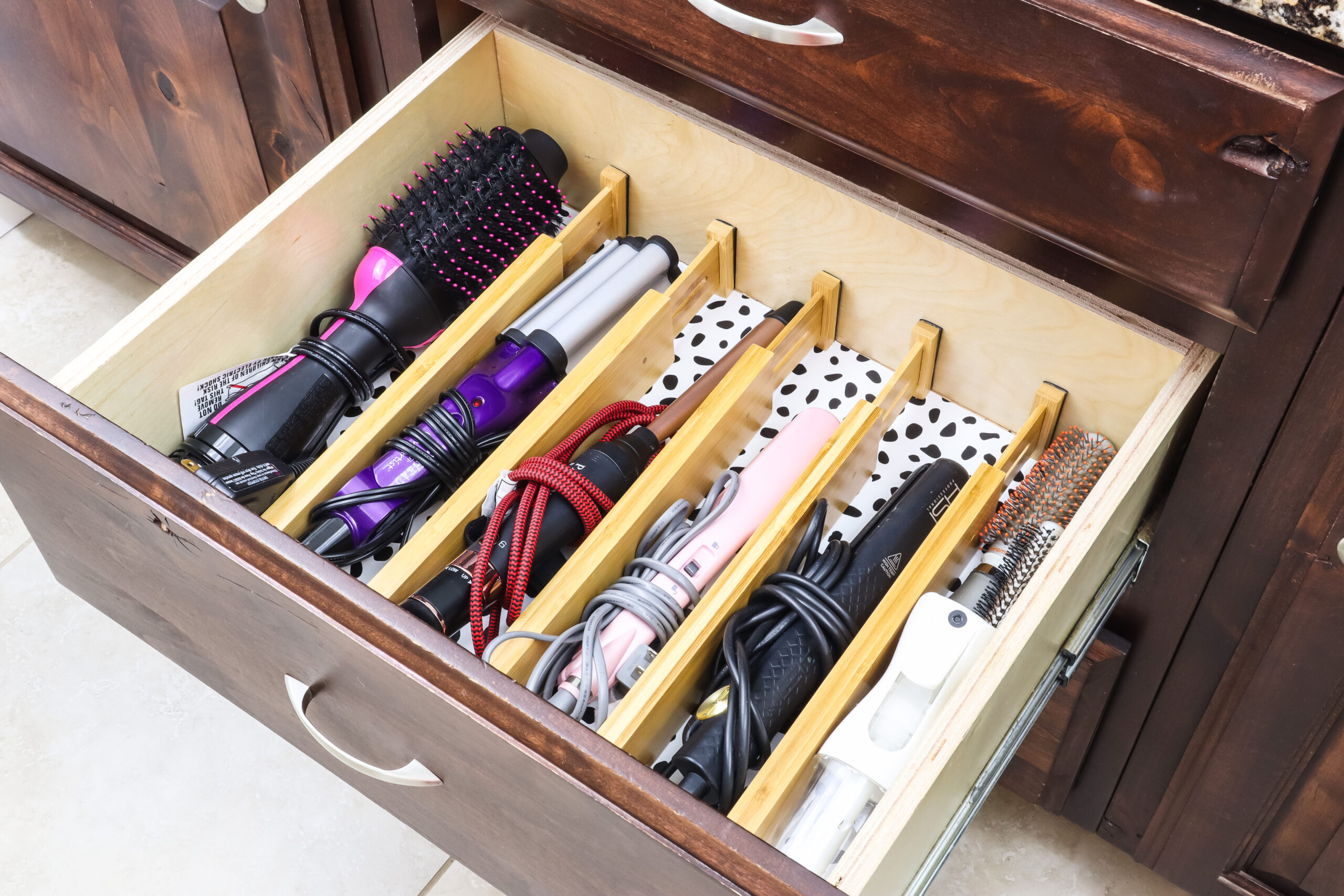 13. Jewelry Cabinet
I was searching for a jewelry organization product a few years ago and through hours and hours of research, this is the only one that I thought was good enough. It checked all of the boxes for me. I also love how it has the option to have it wall-mounted or can mount behind a door.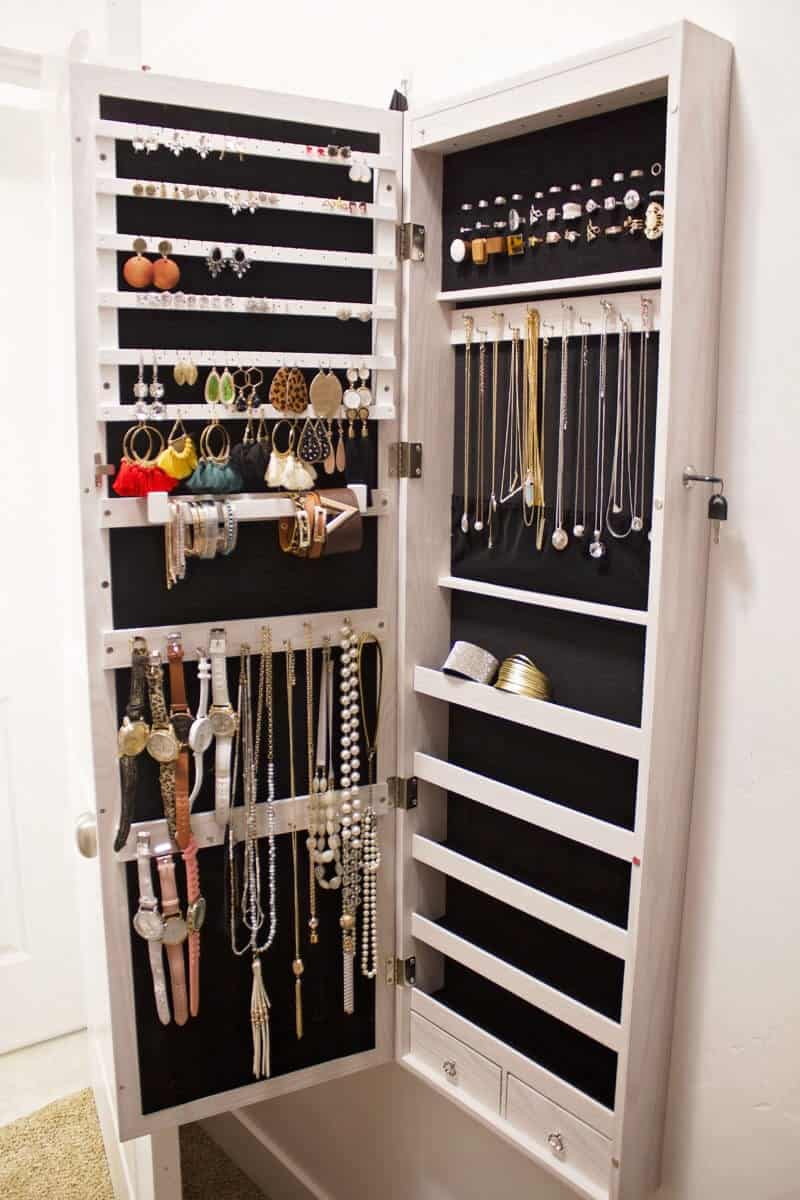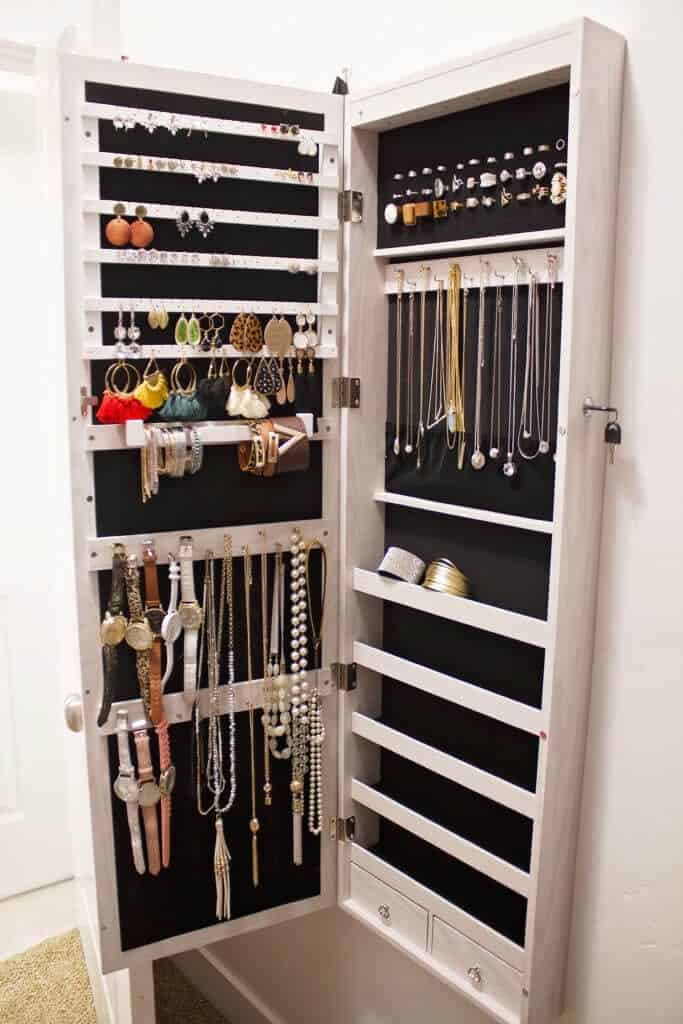 14. Rainbow Pouches
Pouches have an unlimited amount of uses. I have used these pouches to organize everything from kids toys, games, puzzles, balloons and even car activities. They work wonderfully and they ar great quality!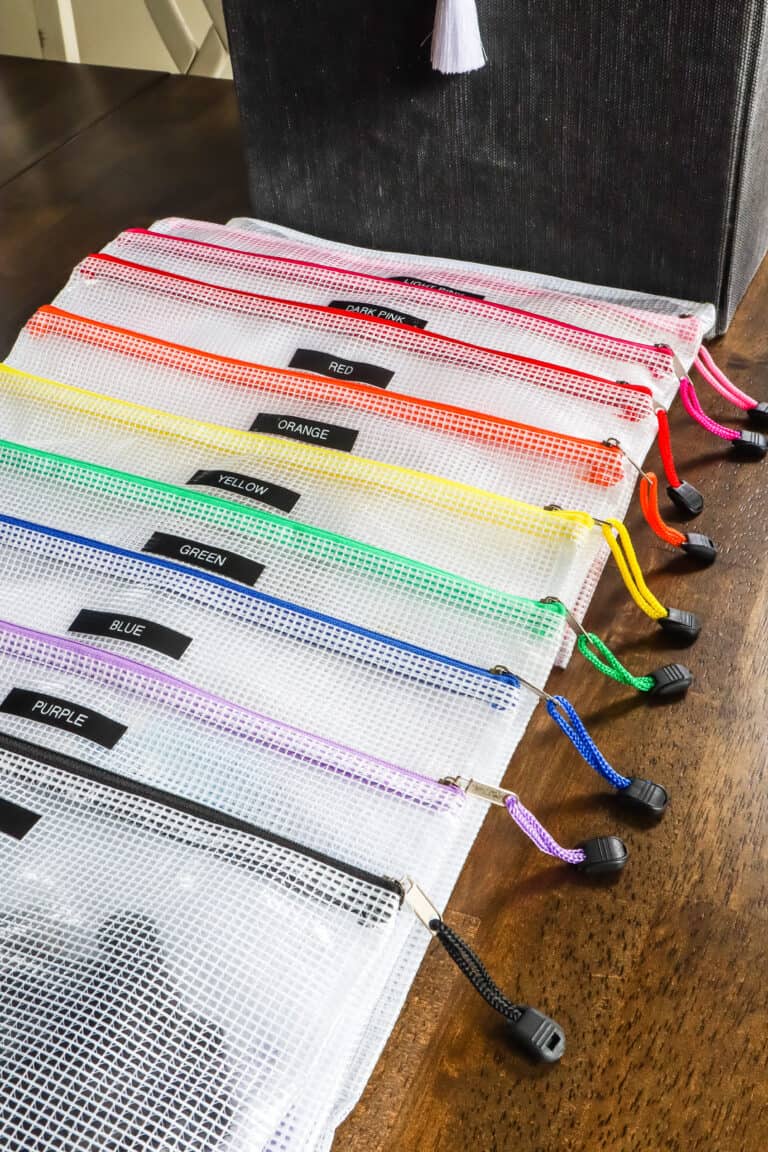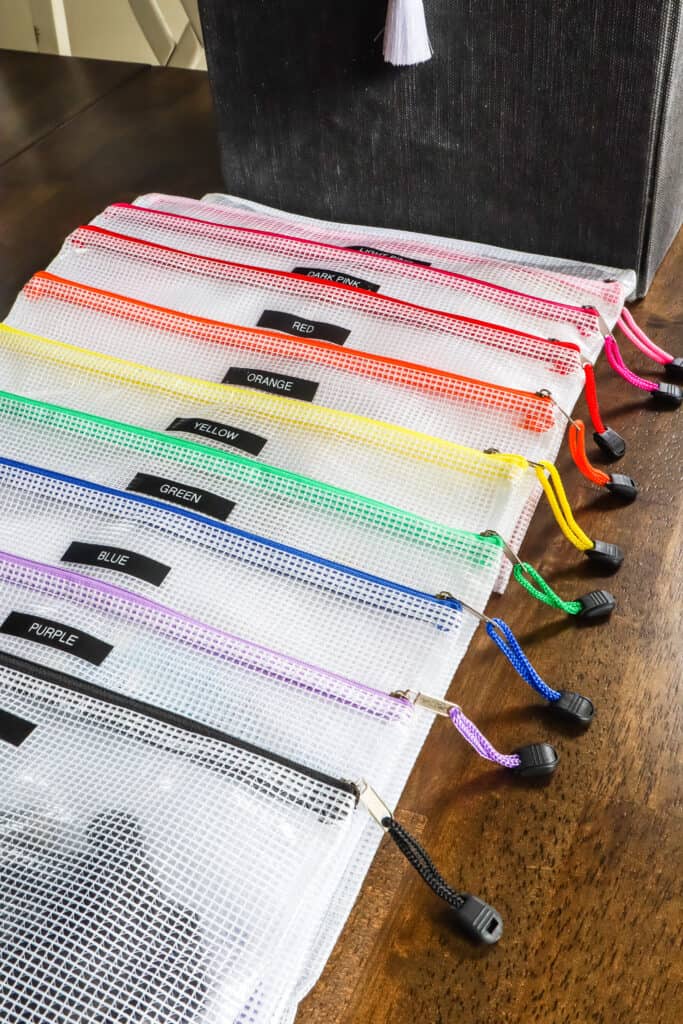 15. Plastic 12×12 Stacking Boxes
I've been using these boxes for a couple of years to store our games and puzzles and they are by far the best system that I've used. Not only do they allow you to throw away the game box, but they provide a streamlined look! I'll never go back!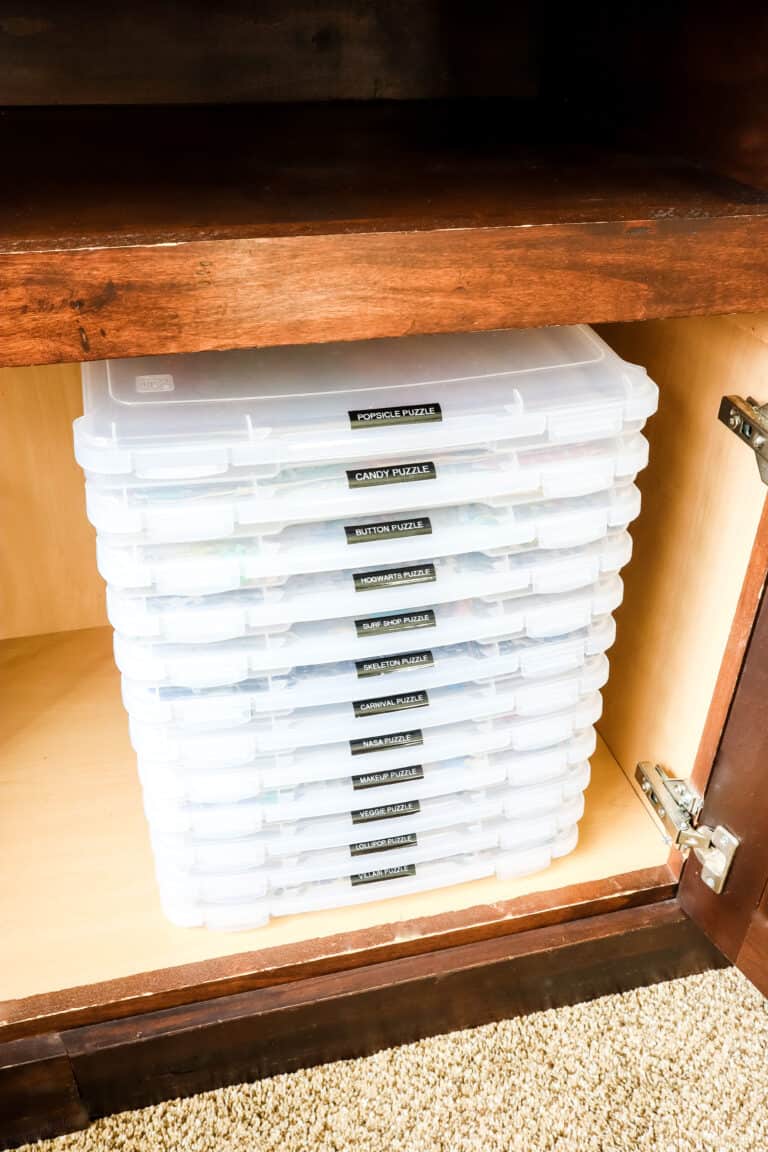 16. Food Storage Containers
Gone are the days when good quality food storage containers were so expensive that only the wealthy could afford them. These awesome food storage containers from Target and the best quality I've seen (just as good as The Container Store bins on the second shelf up) for a fraction of the price! You won't regret buying these ones!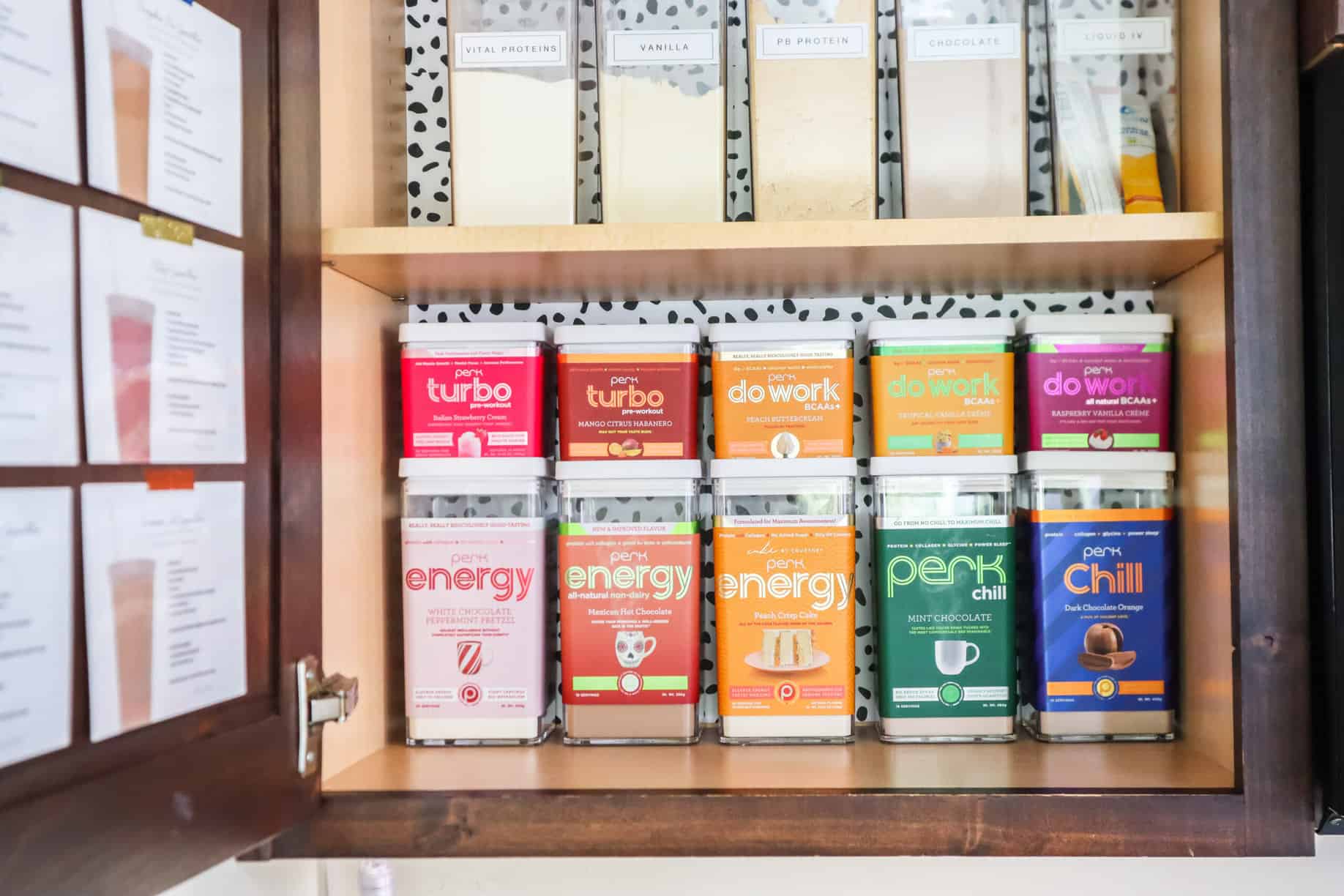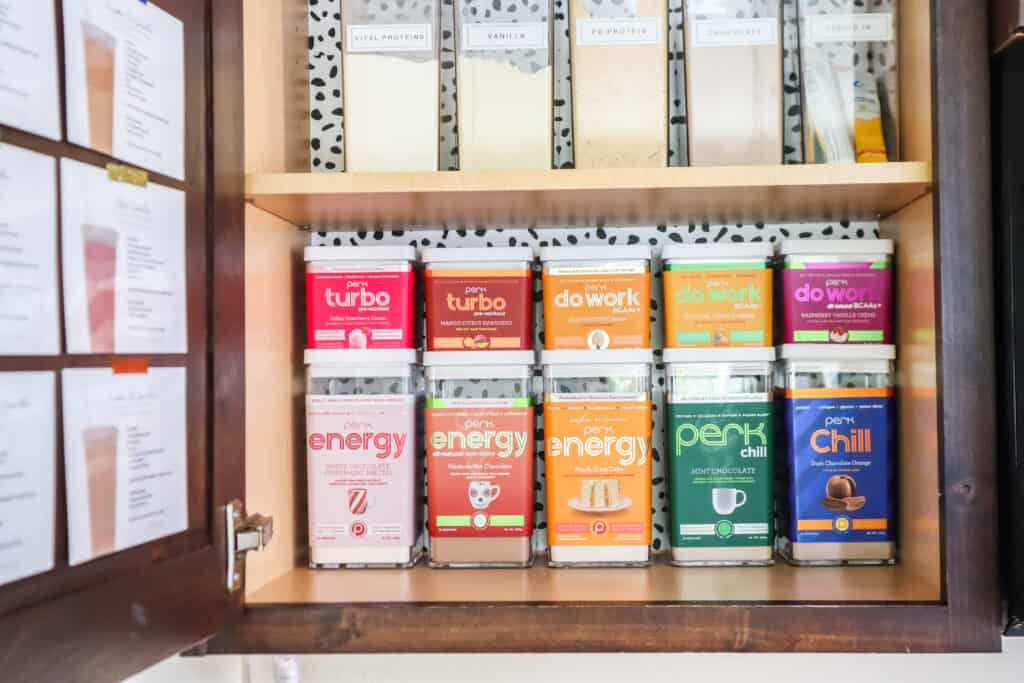 17. Under Cabinet Adhesive Mug Holder
I have a slight obsession with mugs but they sure are annoying to store. They usually leave so much space at the top of the cupboard completely unused! That's why I love to use these under-the-cabinet hooks. They are amazing!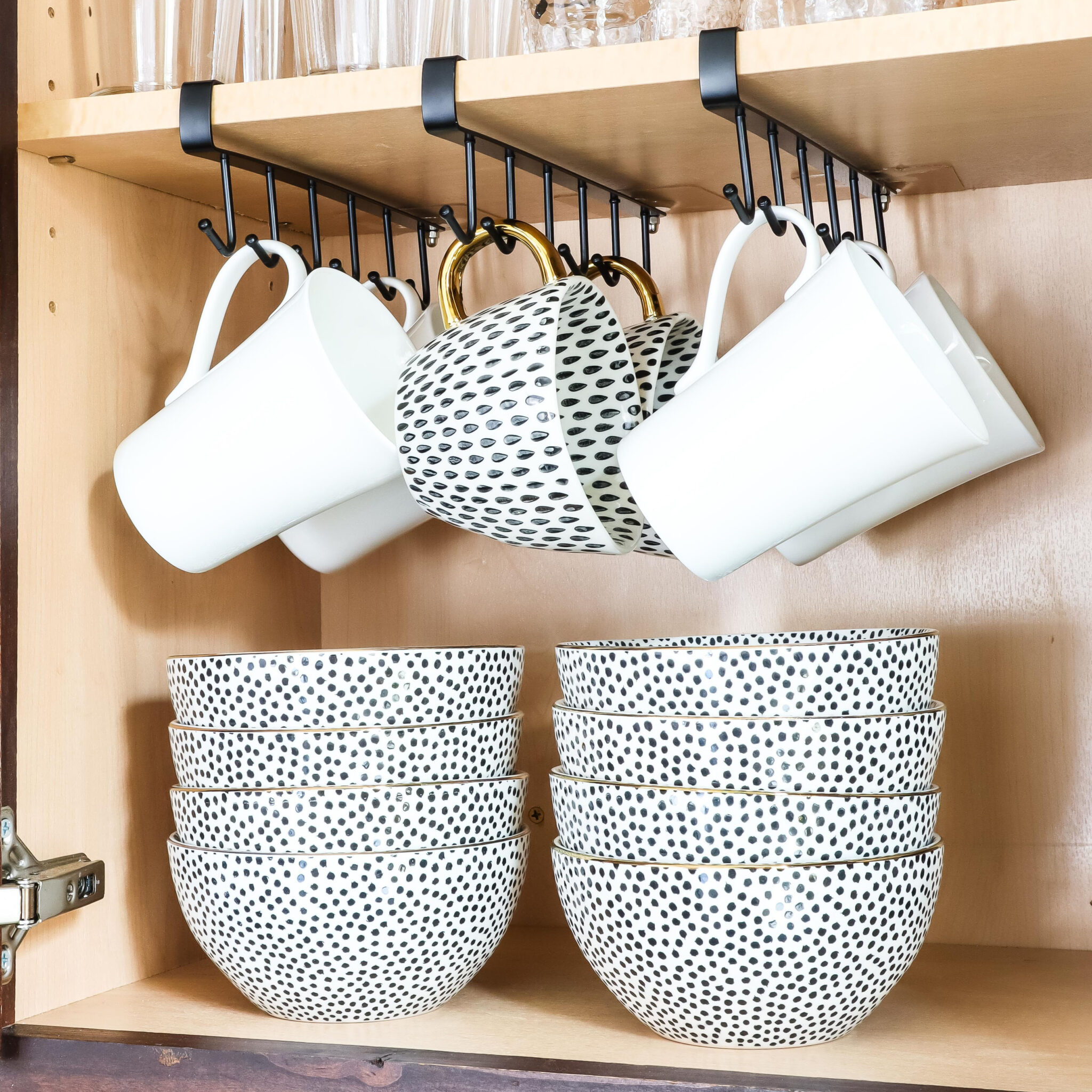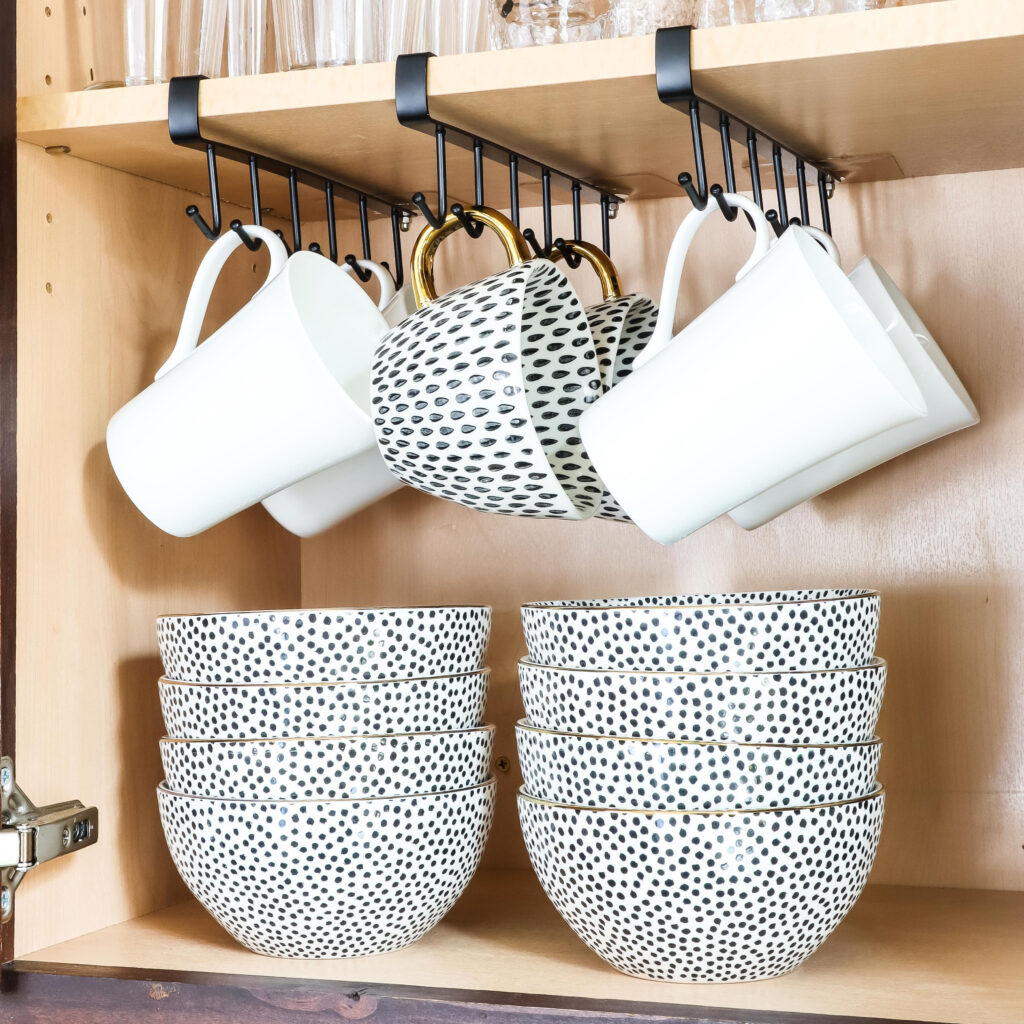 18. Waterproof Sticker Paper
One of my favorite ways to create labels is to use Canva. They have tons of templates that are a great starting off point. Then you can print your labels on waterproof sticker paper so the ink won't smear or smudge…even if it gets wet.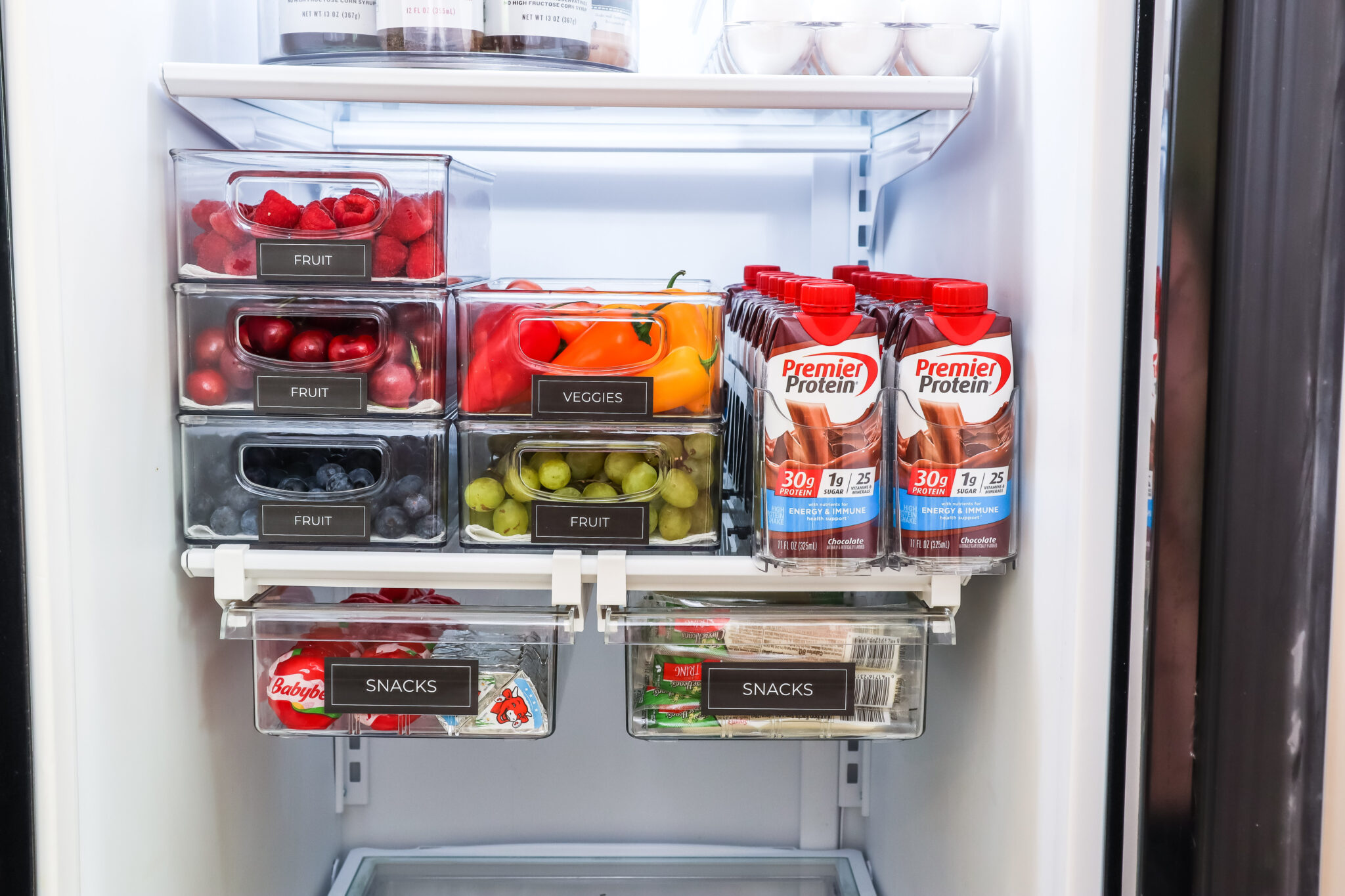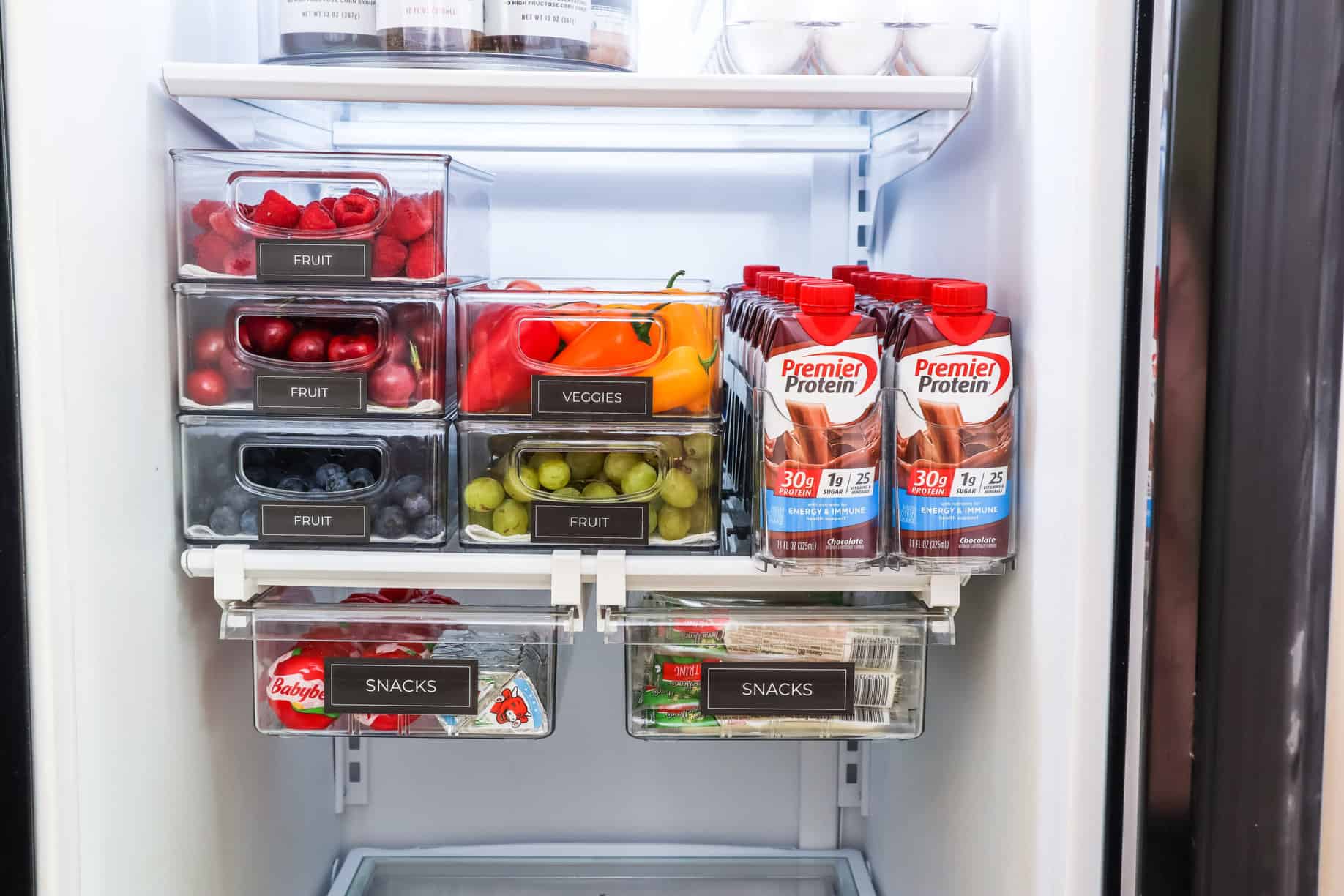 19. Shower Organizers
I've been using this shower dispenser for a few years now and I never want to go back to the traditional shampoo bottles. I love how clean and uniform my shower looks!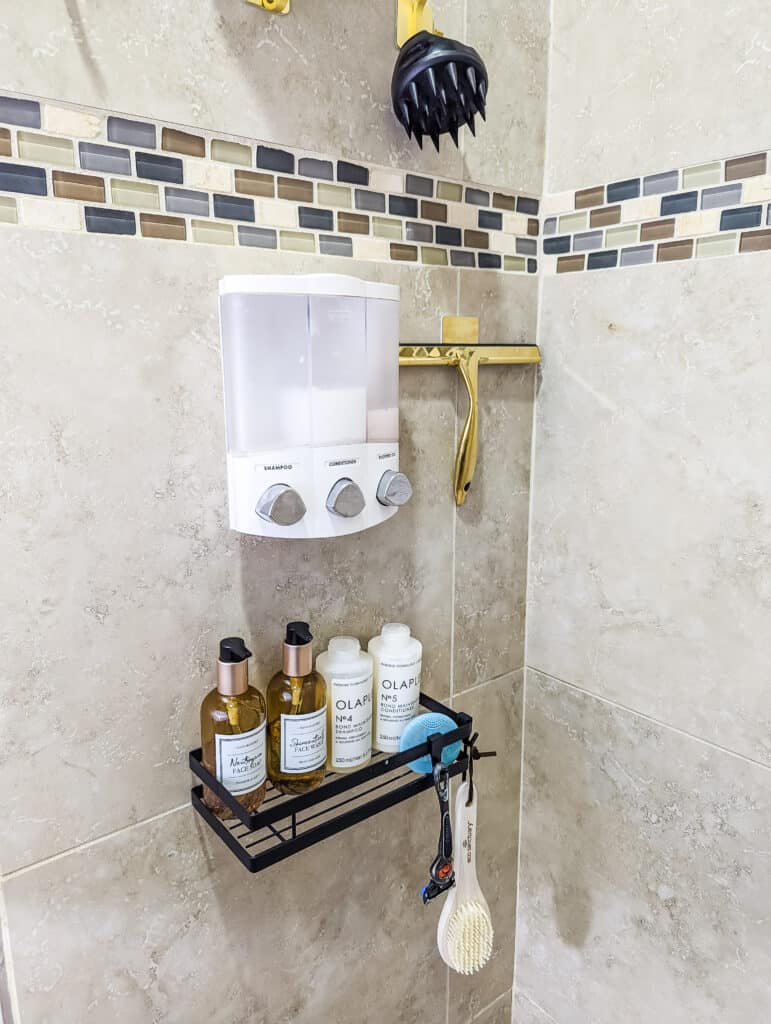 20. In-Drawer Spice Organizer and Spice Jars
Spices are one of those essential, but obnoxious kitchen items that can never seem to stay organized…until I started using this system. The spices stay perfectly organized and my cupboard isn't a disaster anymore! Seriously one of my very favorite spaces!
The spice drawer organizer is just as essential as the glass uniform spice jars! And these spice labels are my very favorite!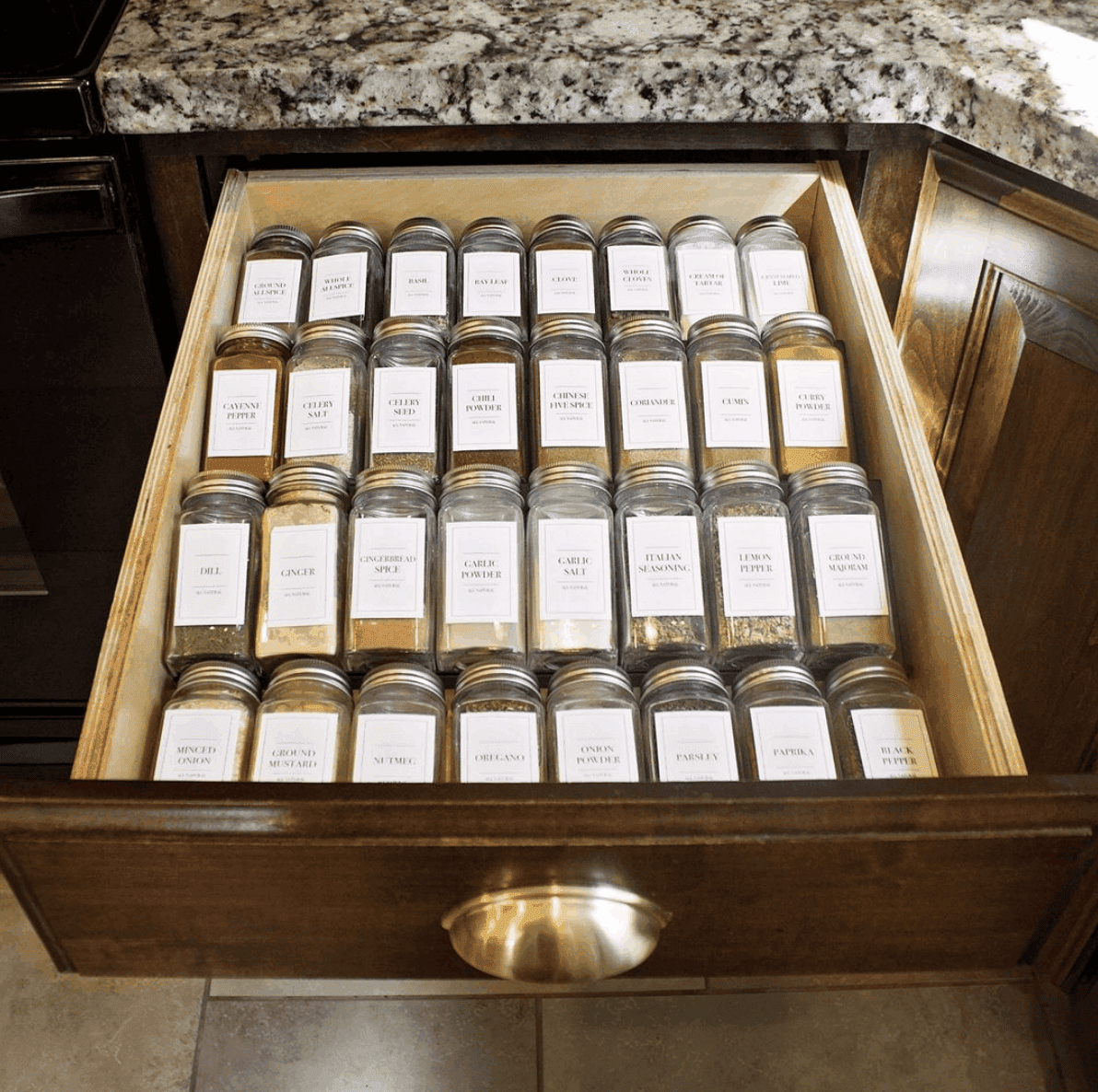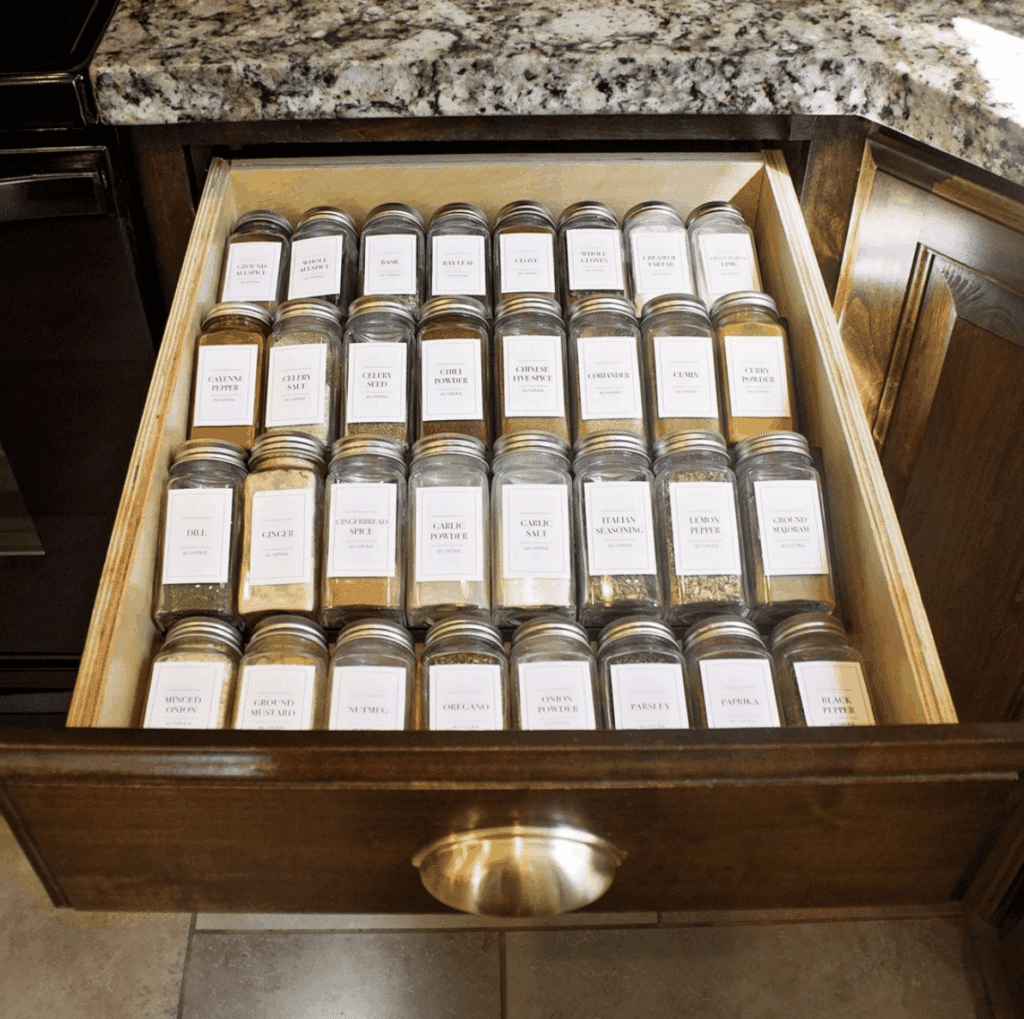 21. Condiment Squeeze Bottles
These have been pretty life-changing for our fridge! I love how these uniform squeeze bottles save tons of space, we can see exactly how much is left in each bottle, and you never have to shake the bottle and turn it upside down to get the condiments out. Subway has used these for years and I'm glad I finally hopped on board with these!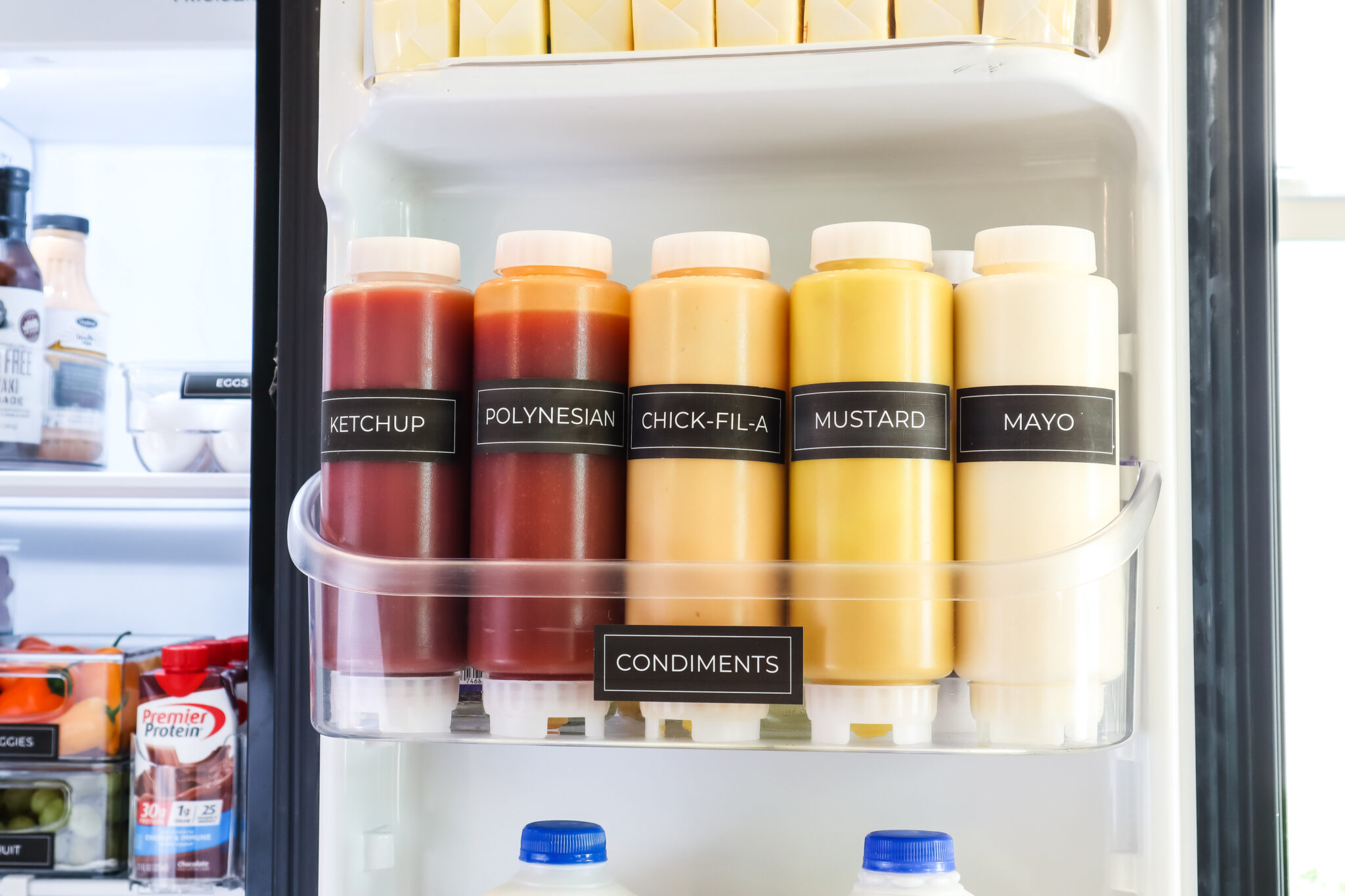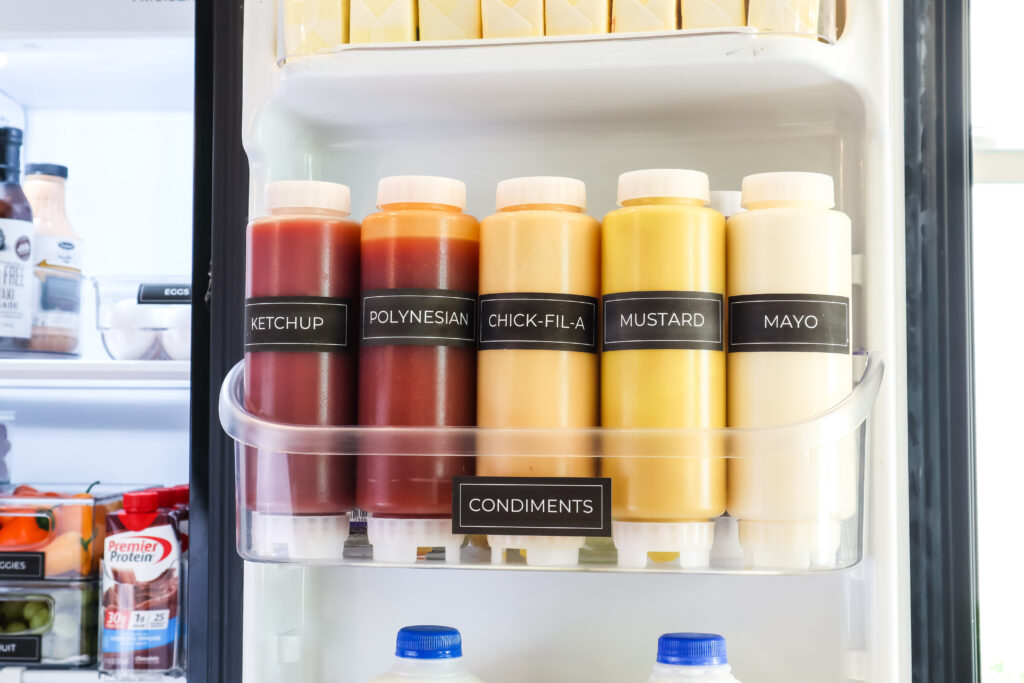 22. Small Plastic Organizers
I literally use these plastic organizers all over my ENTIRE house. I use them in my car, in my junk drawer (paper clips, rubber bands, etc.), in my bathroom (flossers, elastics, etc.) and even in my office! They are my favorite way to organize!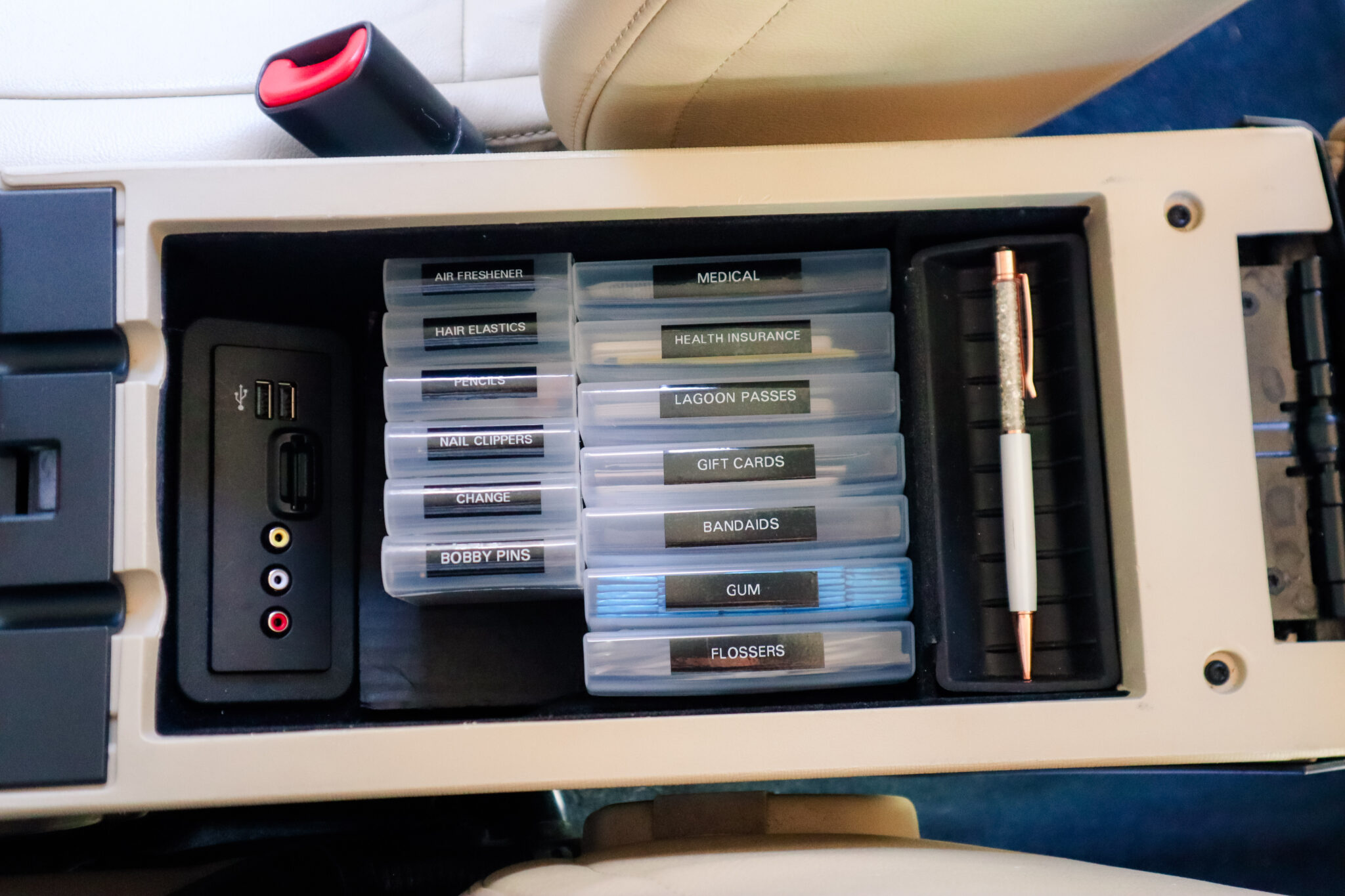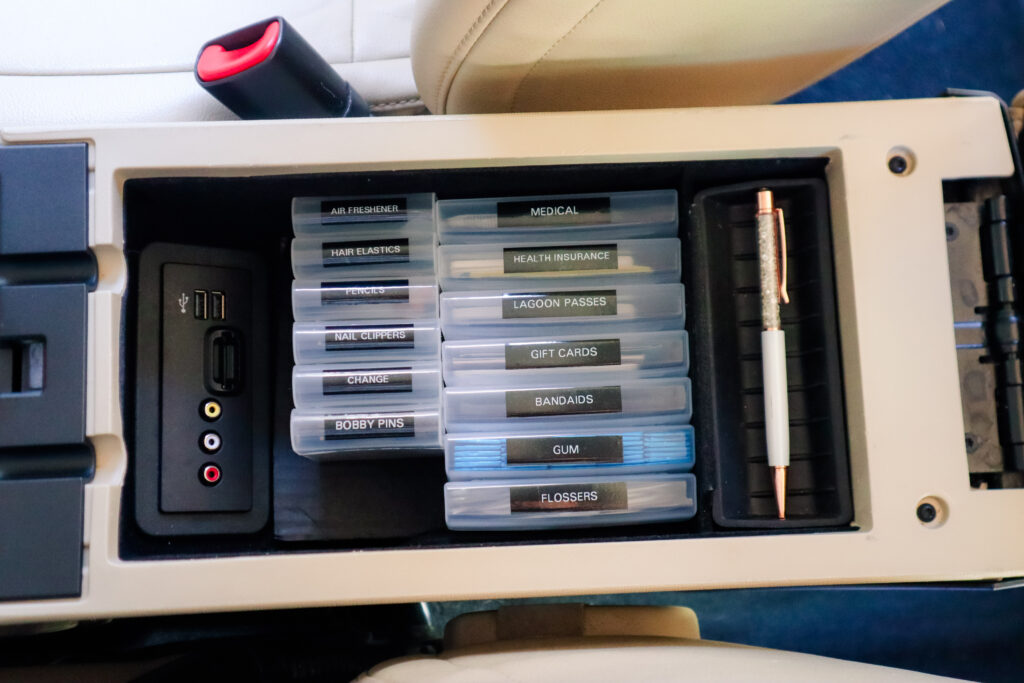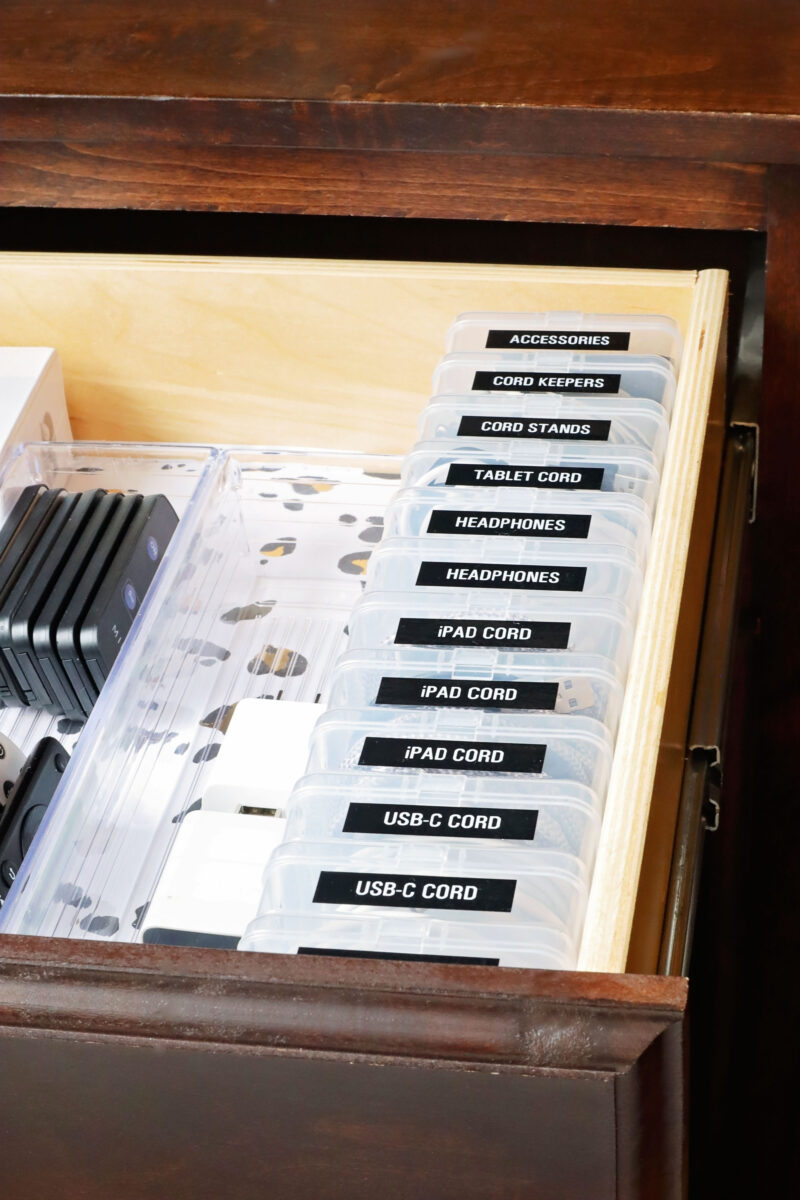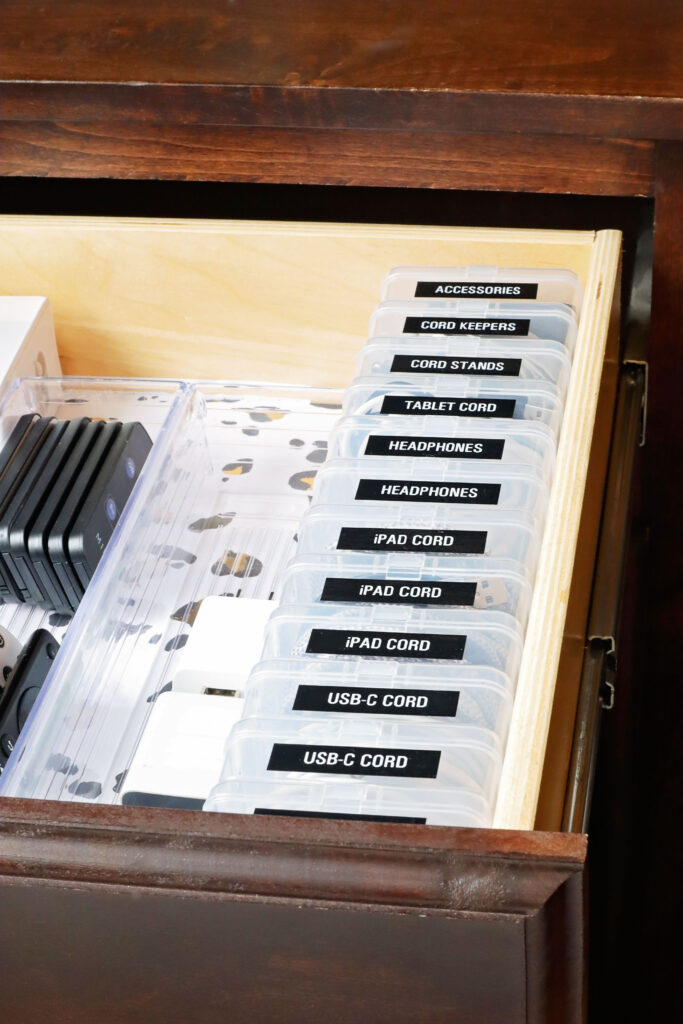 23. Magazine Holders
I love to organize my backstock personal hygiene items in magazine holders. It looks nice and beautiful on the outside, but when you peek inside, you see anything from deodorant to shampoo. Everything stays looking exactly like you see in this photo, all year round. That's what I call successful organization!
Make sure you buy magazine holders that have a space for a label, that way you can know exactly what is in each one!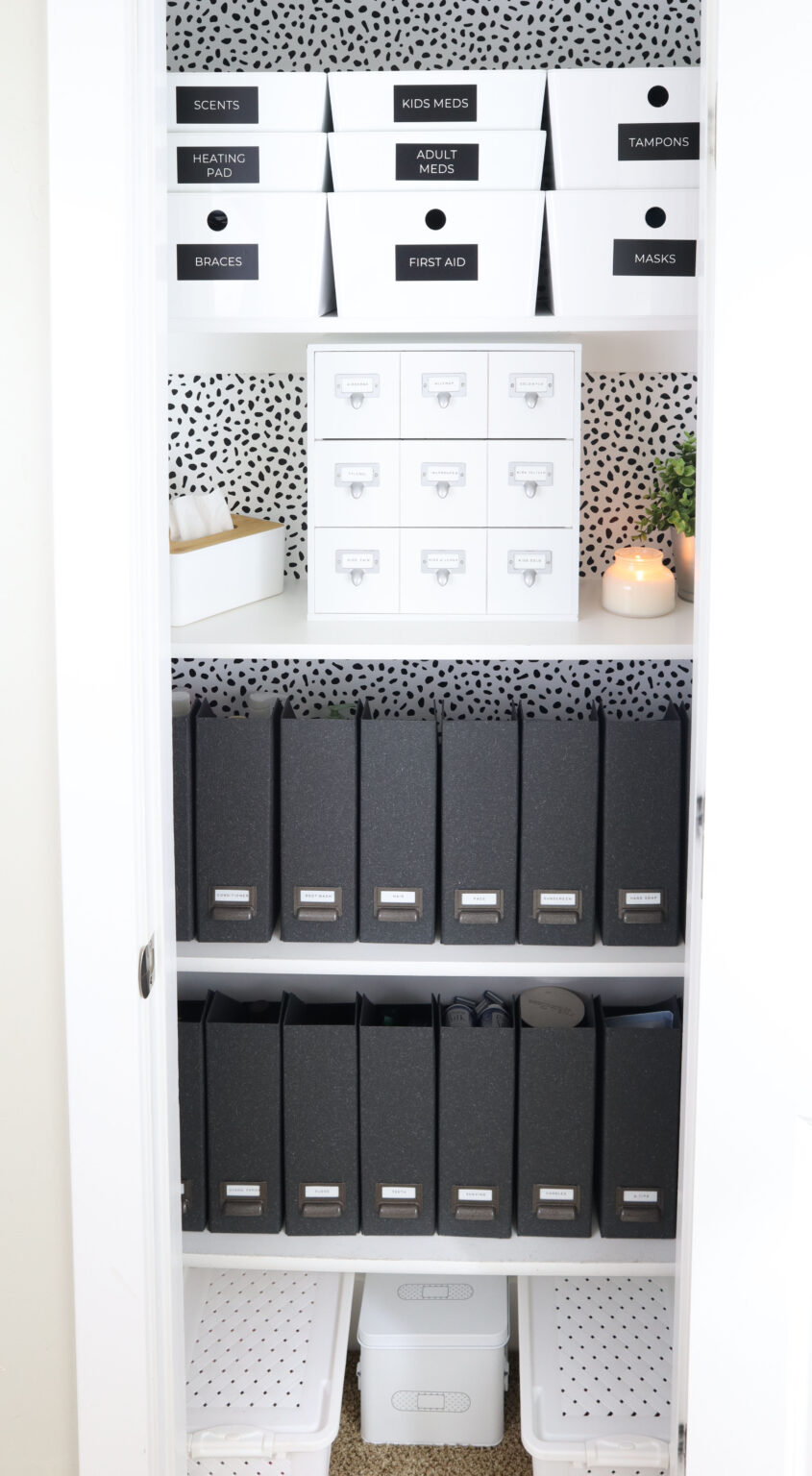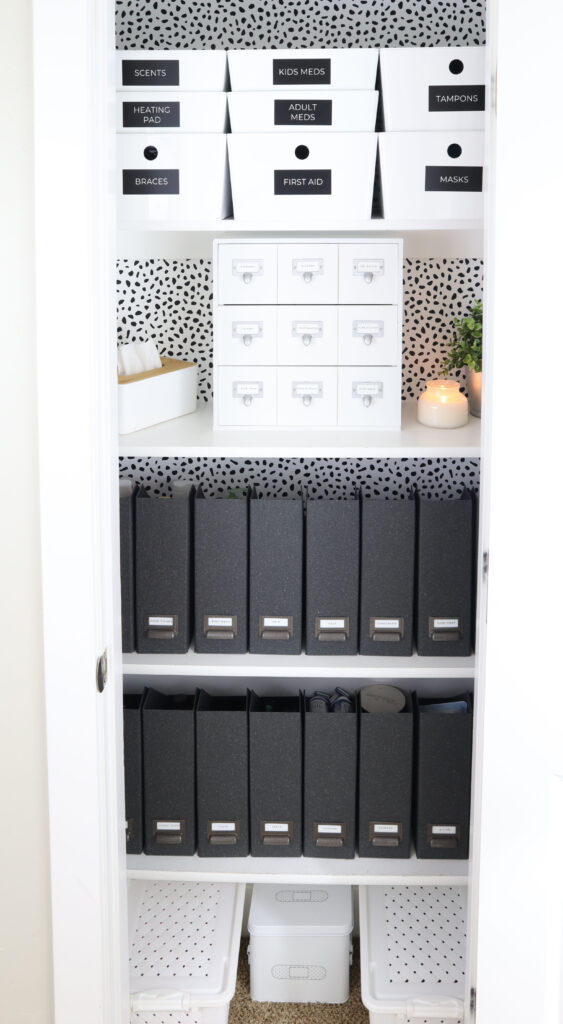 24. Under the Bed Storage Boxes
Stop shoving your junk under the bed! It gets dirty, dusty and you can never find what you need. These under the bed organizers have been such a lifesaver for me and I am obsessed with them! They are great for storing out of season clothes or bedding as well!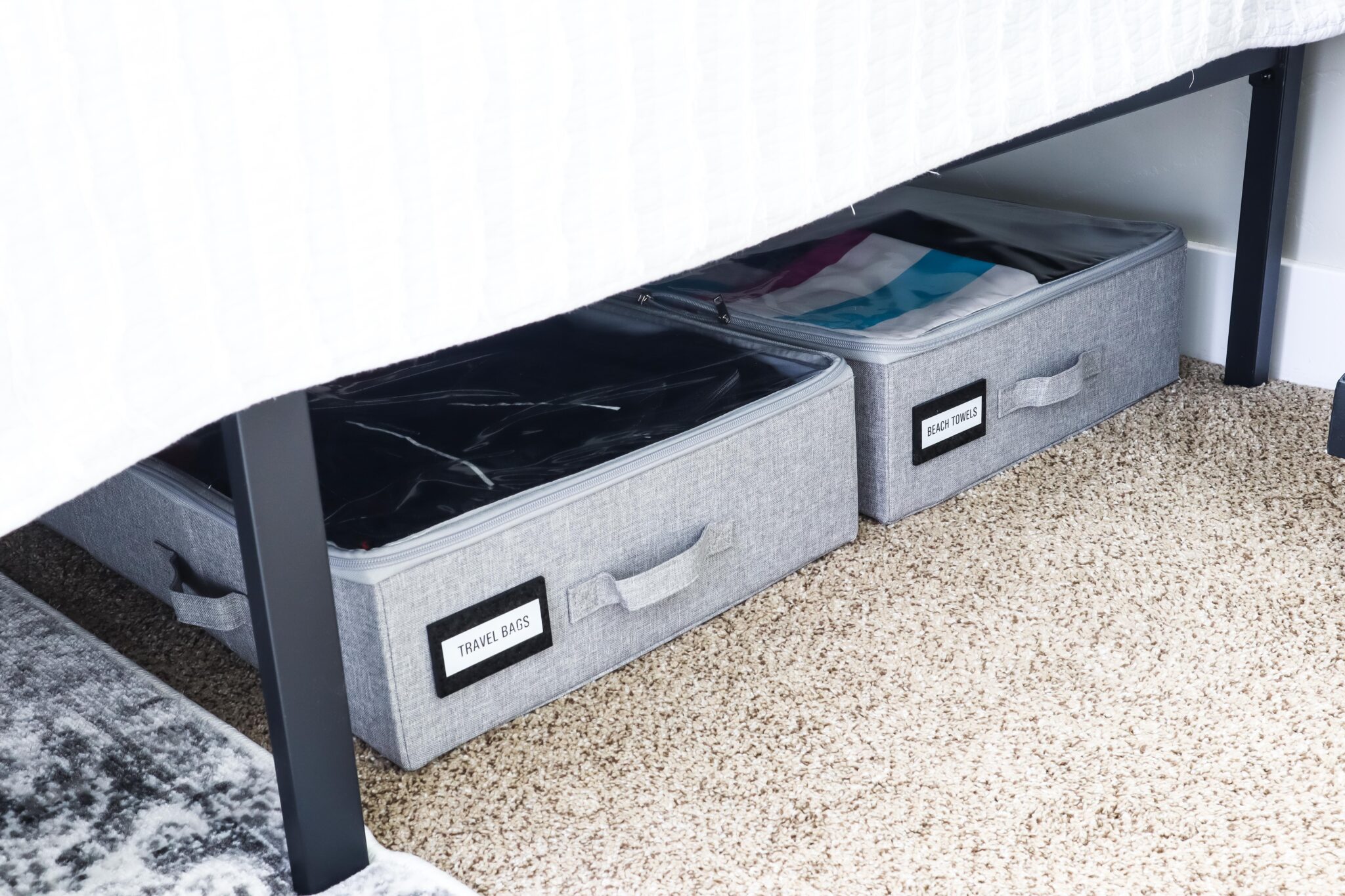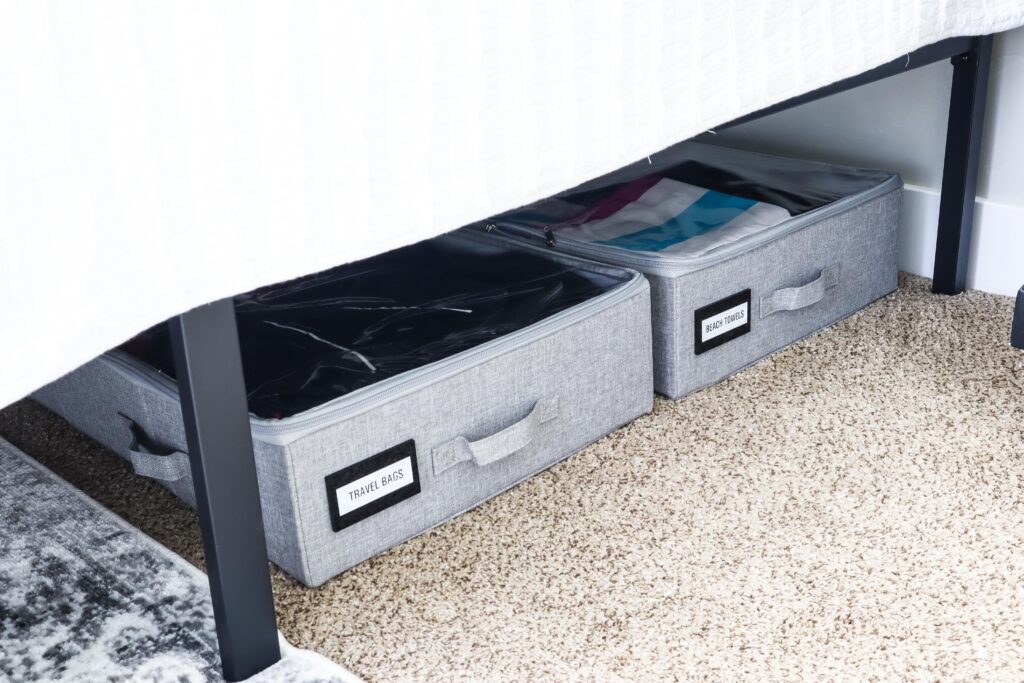 25. Go Stack Snack Organizer
This is my favorite way to organize snacks or protein powder for a trip. These Blender Bottle GoStak containers stack perfectly on top of eachother and it looks so nice!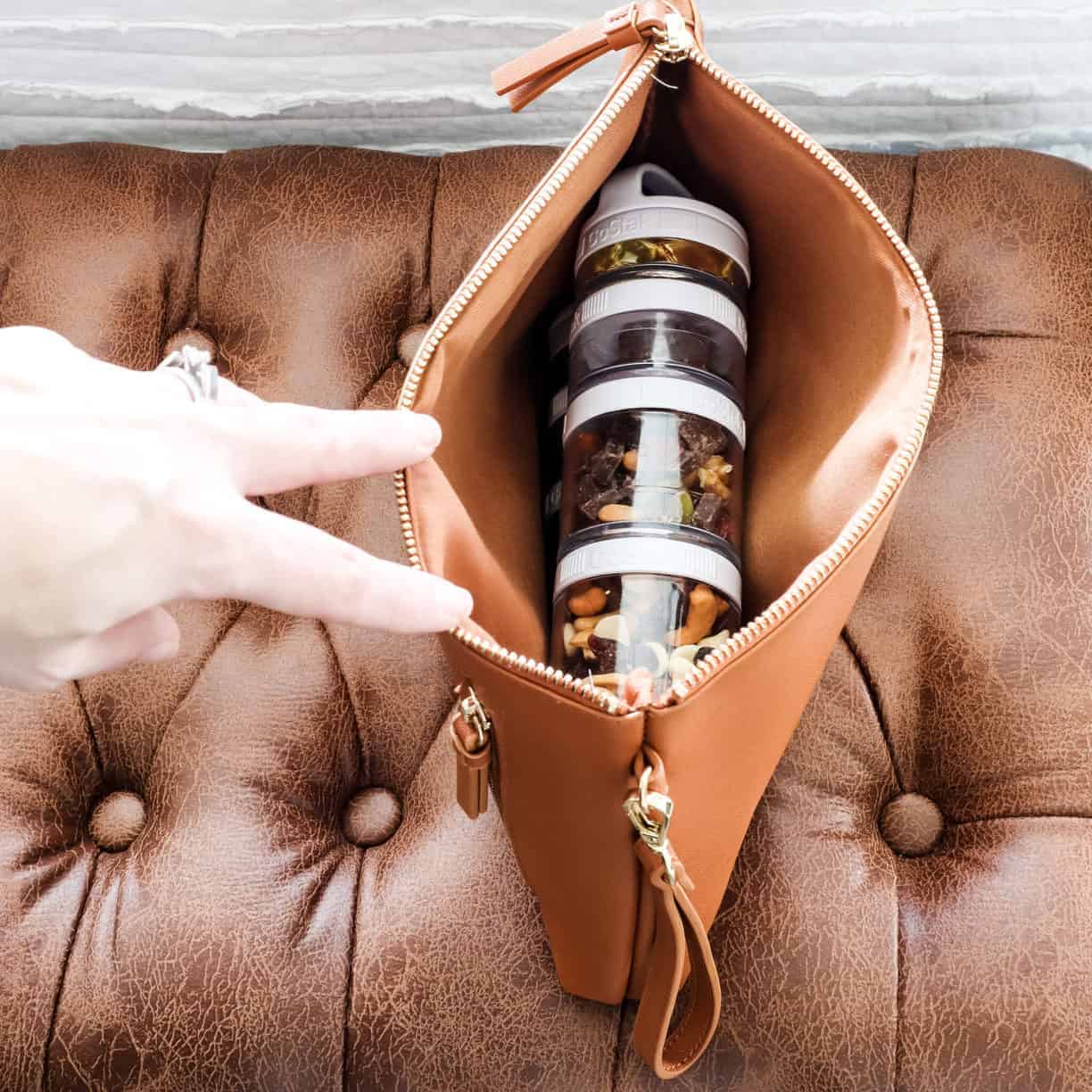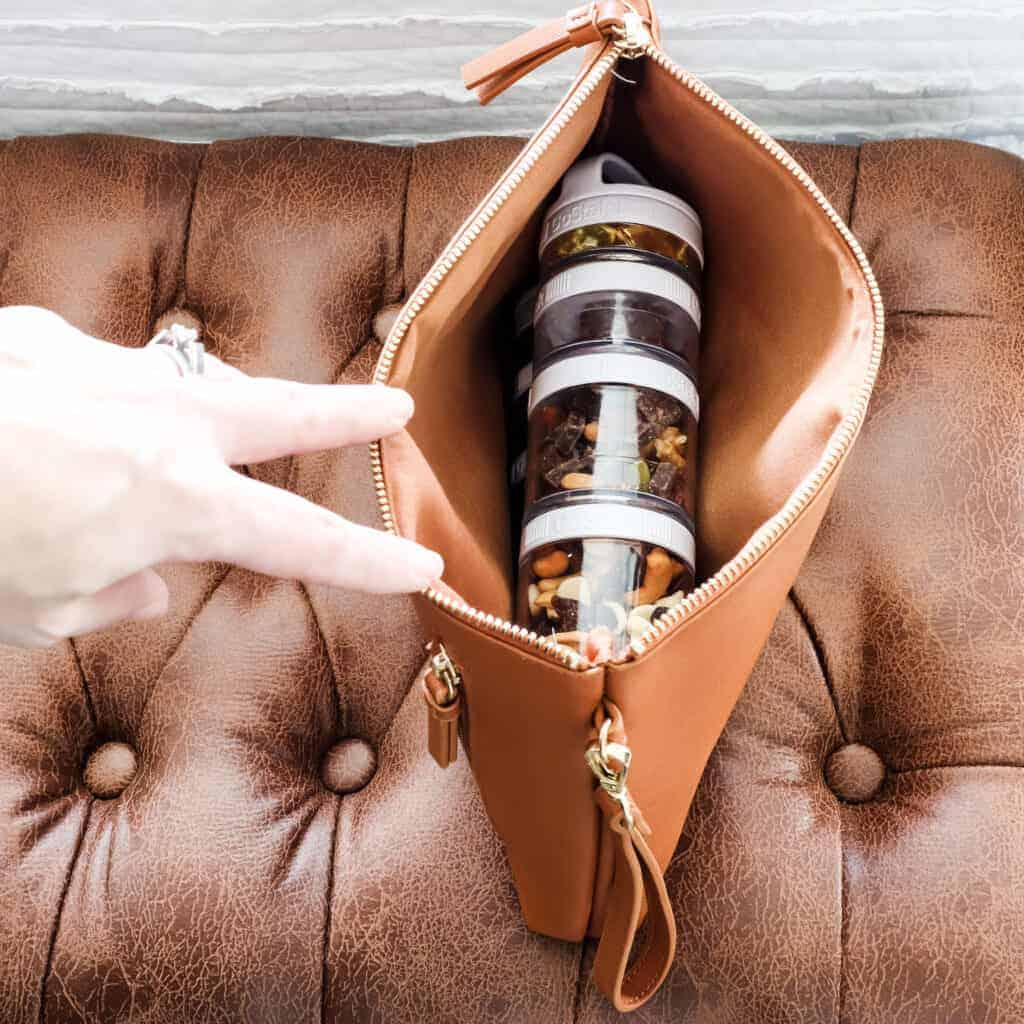 26. Travel Pill Organizer
Nothing is worse than getting sick away from home. So make it easier on yourself by organizing your medicine in this incredible pill organizer! It can be used for many things but it works amazingly well for pills. Just make sure to clearly label the medicine and how much to take. I have one with my travel gear and also keep one in my car.
**This may not be the best method if you have young kids.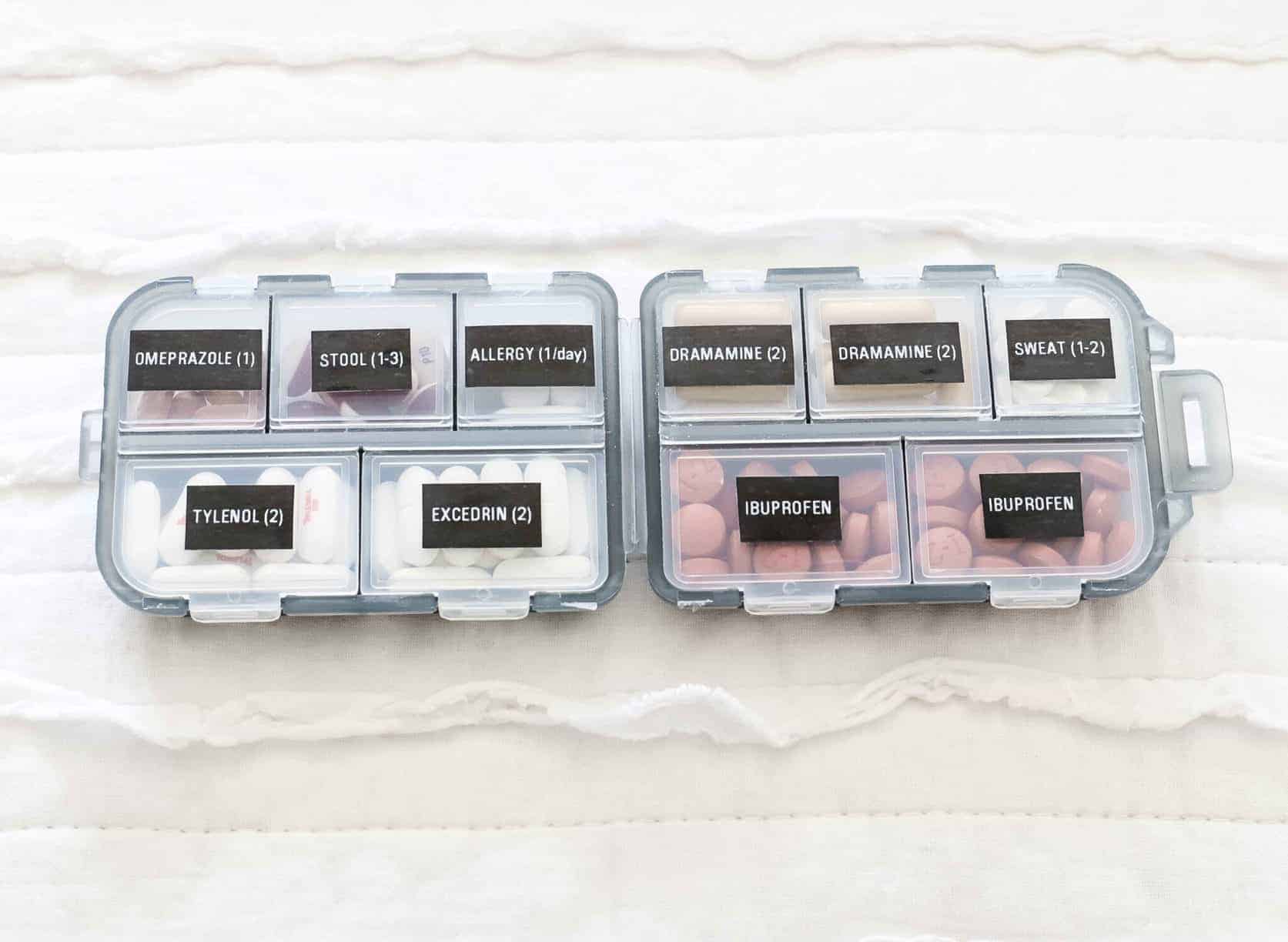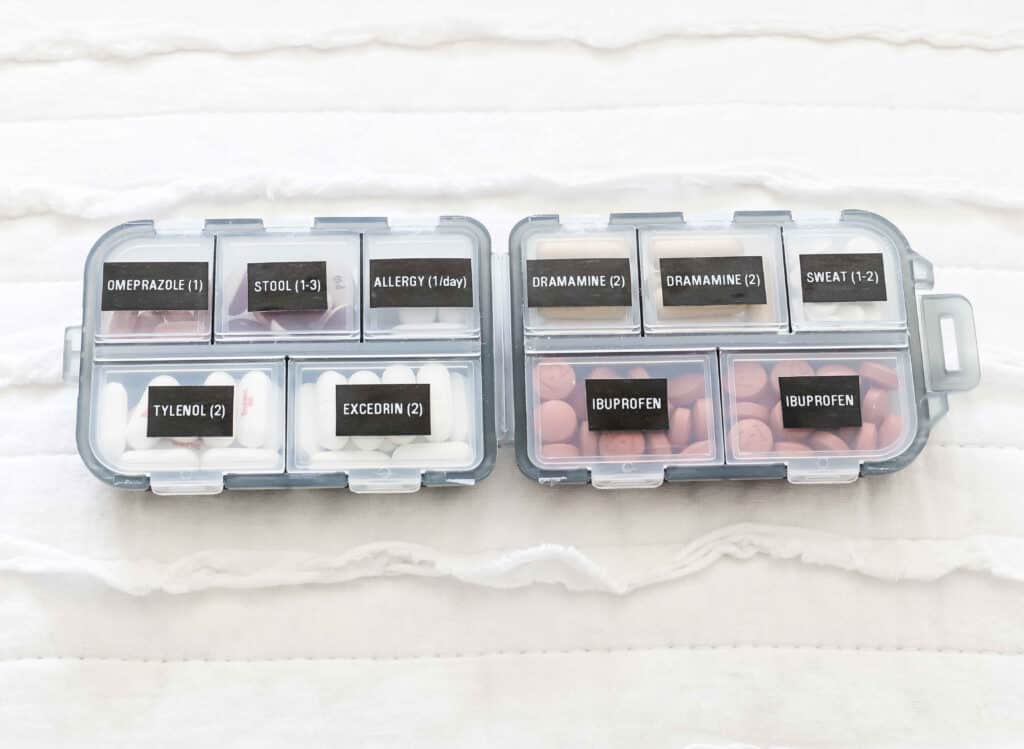 27. Batter Organizer
This is a life-changing method to store your batteries. I love how this battery organizer lets me see which batteries I am running low on. It can be stored in a drawer or mounted on a wall. I also love the battery tester so I can see what batteries still have life left in them.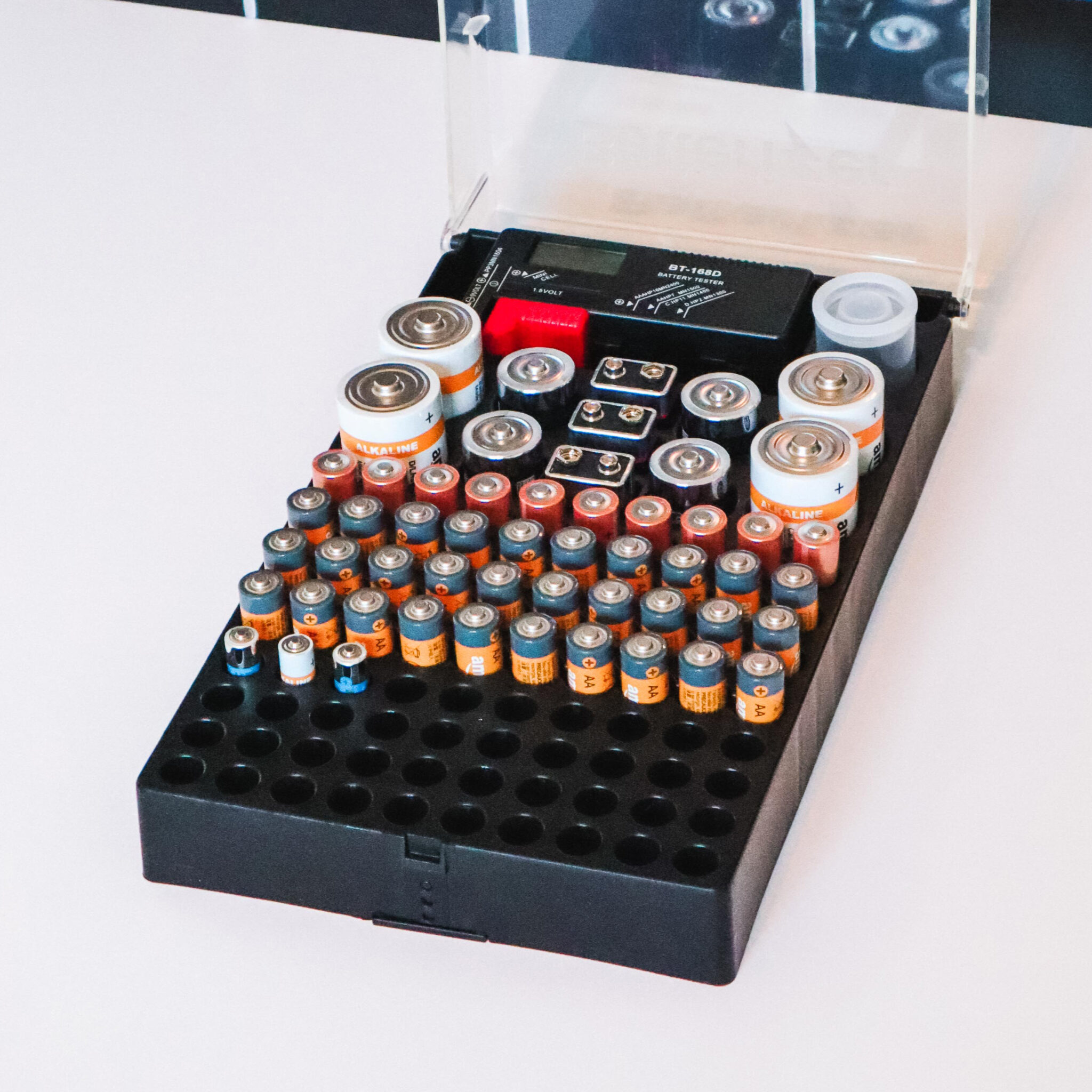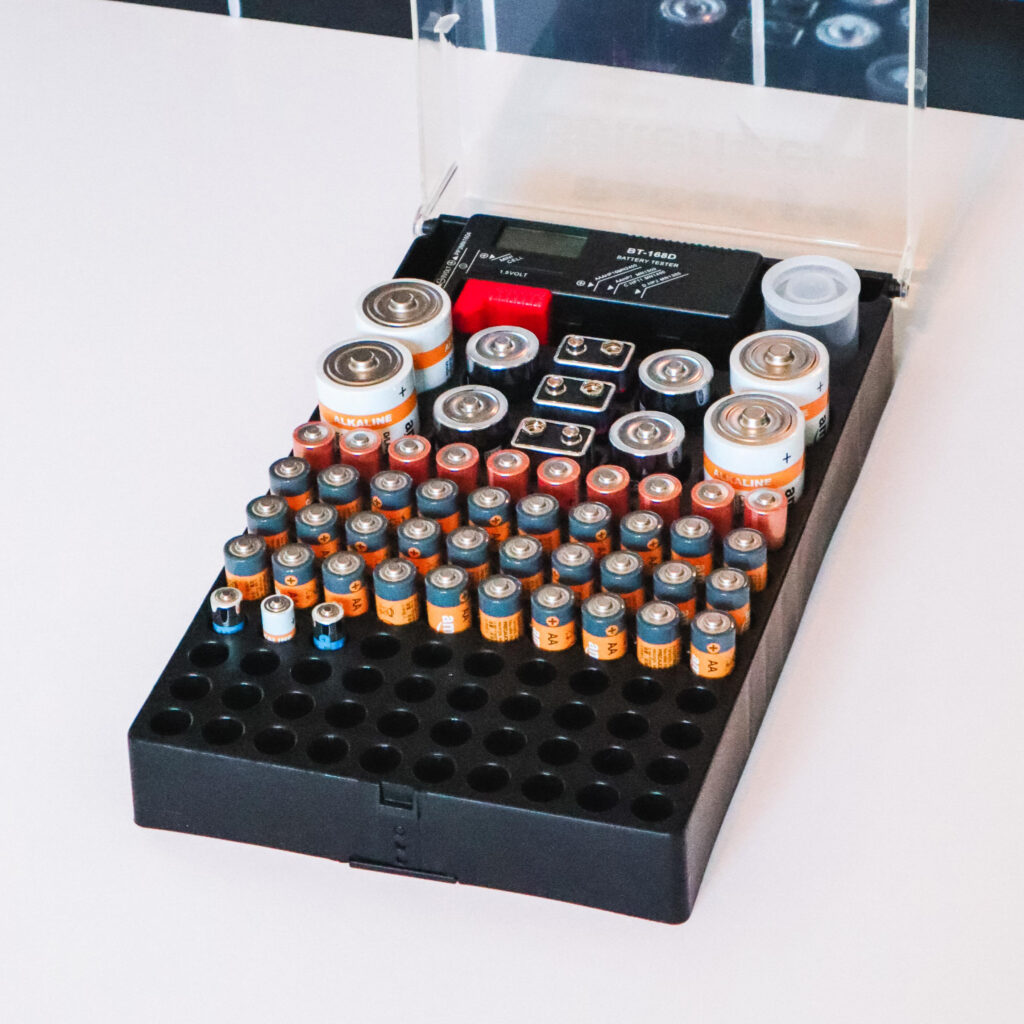 Organizational Gifts for Organized People
These gifts are perfect for any organized people in your life. Sure, a new lip balm and hair ties always make for great gifts, but a gift that can help you or your friend with organizing? That will definitely be well-used.
One note though – make sure the person you are gifting these to actually enjoys organizing. Don't gift them a gift like this as a hint or anything. That will not go over well and no one wants to be shamed through holiday gifts. So make sure you know your recipient well and are sure this is something they'll like. Other than that, happy gifting!
Any other organizing gifts you'd love to receive? Let me know in the comments!