33 Unique Christmas Activities You Can Do With Your Kids
Christmas is almost here and we all know what that means. It's time to get your kids in the Christmas spirit with some awesome activities! But for most moms, this can mean a lot of last-minute shopping and stress. Not to mention, you're probably short on time these days because of work or school. So today I'm going to share with you the best things you can do with your kids during Christmas that will save you time and help create memories together that will last a lifetime!
Time-Saving Christmas Activities for Families
Packing in all of the family Christmas activities that you want to do can be really difficult to do when you're short on time. But it's so important to not go crazy and spend all of your free time shopping for presents! So what can you do instead? Here are a few things that I recommend:
Set up a festive Christmas craft station in the house, with everything from Santa hats to paintbrushes within easy reach for the kids to use.
Read a Christmas book every night as a family
Have a Christmas Movie night where you sit down together and watch Christmas movies. You can even turn it into a family slumber party!
Do fun Christmas activities that get you into the holiday spirit
Visit seasonal places like a Christmas tree farm, drive around to see holiday lights, or surprise the kids after you've put them into bed by taking to them to a hot chocolate bar.
You can also make Christmas time meaningful for the whole family by doing things such as a local toy drive, participate in church service, visit a food pantry, visit a local nursing home, sing christmas carols, or serve at a local soup kitchen. Don't forget to get the kids involved so they can appreciate what they have.
Host a variety of parties for friends and family such as a cookie swap, family sleepover with cousins, decorating gingerbread houses, write letters to santa, ugly sweater parties, or watch a holiday movie.
You can also create incredible memories by doing simple christmas activities by stringing popcorn garland, making DIY ornaments, helping your kids make holiday cards for loved ones, decorating ugly sweaters for your next party, or even painting santa figurines.
And don't forget to turn on your favorite holiday tunes when you are doing these christmas activities to amp up the christmas cheer!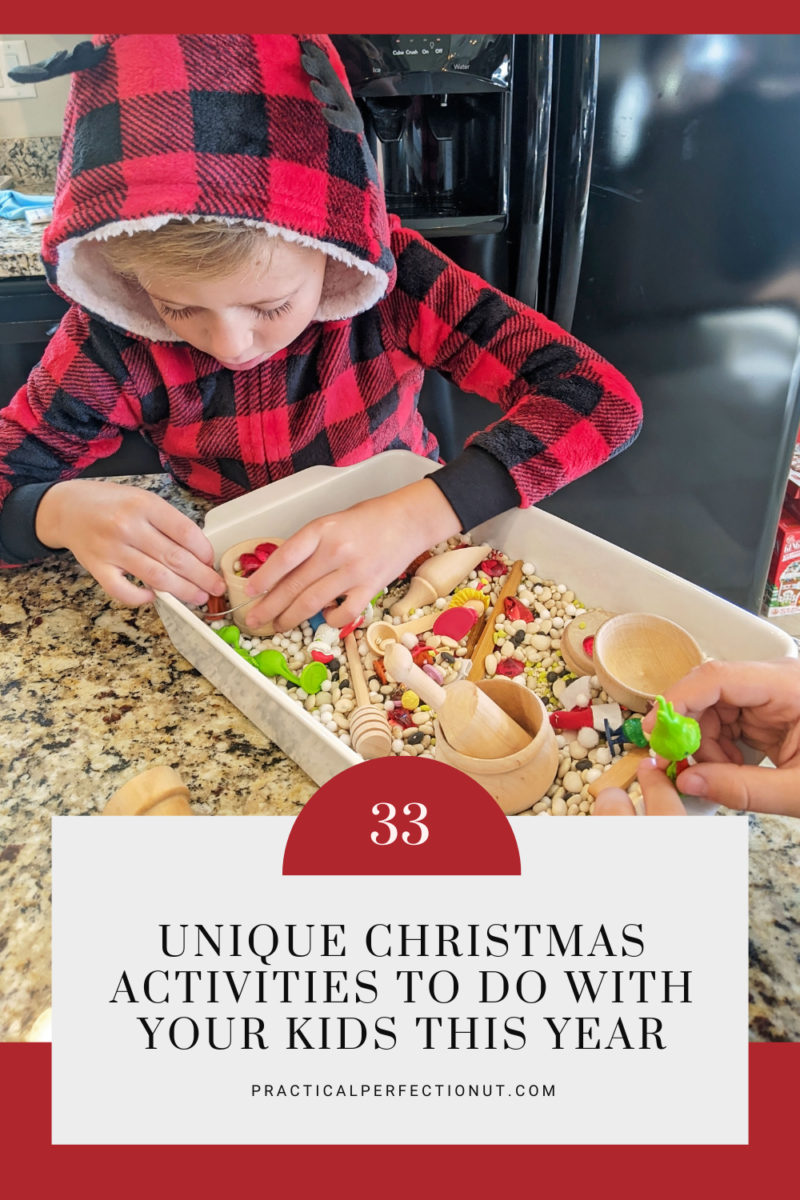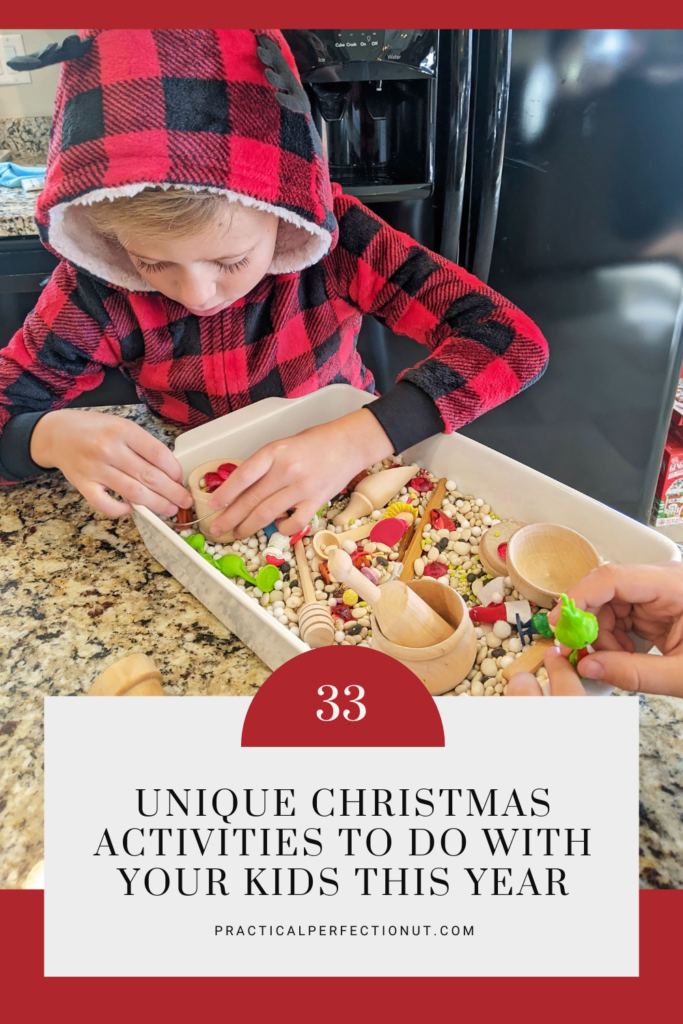 Many of these Christmas activities can be done on Christmas Eve, Christmas morning, or on Christmas day! And make sure to include the whole family.
Sensory Play Christmas Activities
Sensory play is really important for children and it also helps them to develop and learn different concepts. You can make your own sensory play activities or you can buy some pre-made ones from the store.
You could do things such as using shaving cream, putting cotton balls in a container with water, painting on Christmas cookies with glitter paint, making homemade slime. But if you are super short on time, why not support small businesses and purchase some of those activities to relieve some of the stress this holiday season?
Christmas Themed Playdough Kits
Fun Christmas activities are not in short supply during the Christmas season but sensory activities are among my kids' favorites. And to be honest, it's one of my favorite Christmas activities to do with my kids too! There are a lot of sellers that make playdough kits, but they are not all created equal. Some sellers just have a higher level of quality in the figurines that they send. Playdough kits are an activity that is fun for the whole family.
I really love this Ice Princess Playdough Kit because it can be used for more than just Christmas time. This one can work all winter long! I love how it comes with the little pieces to make a snowman and I especially LOVE the glitter!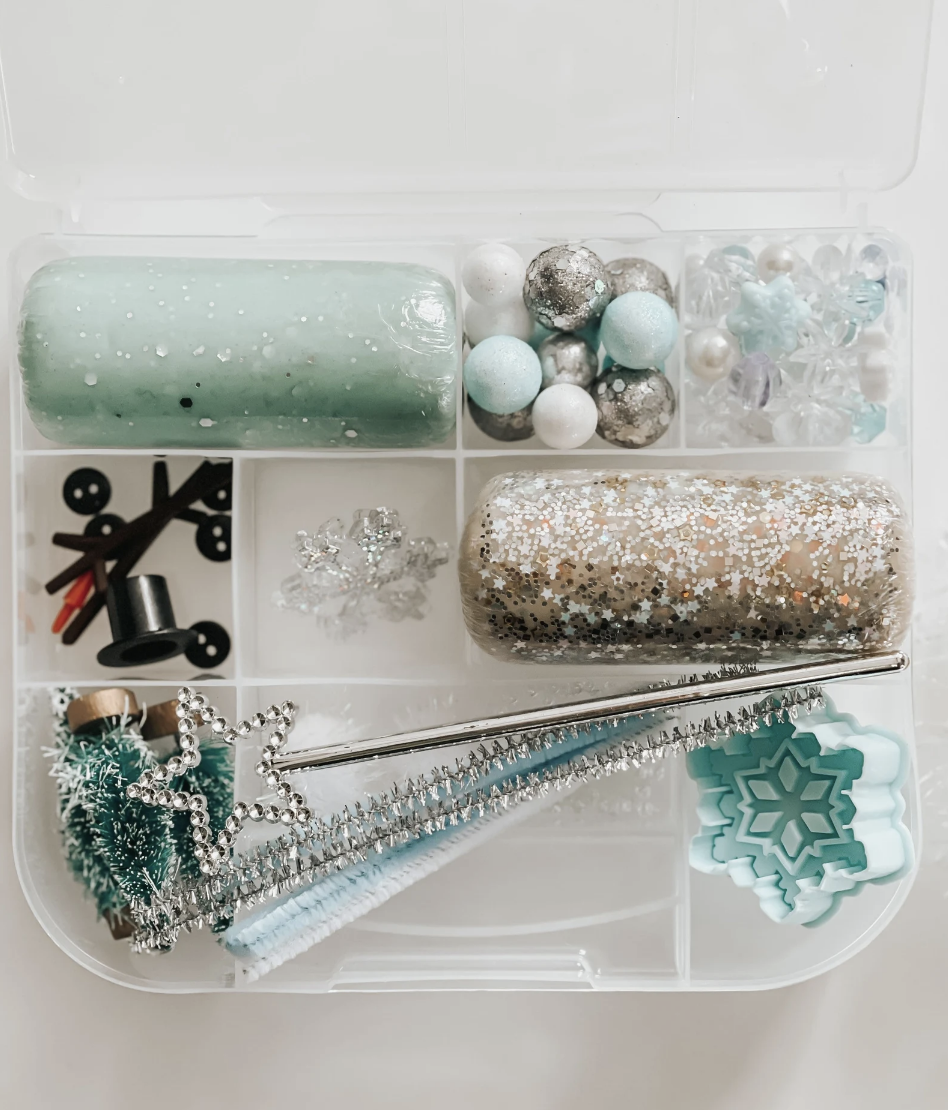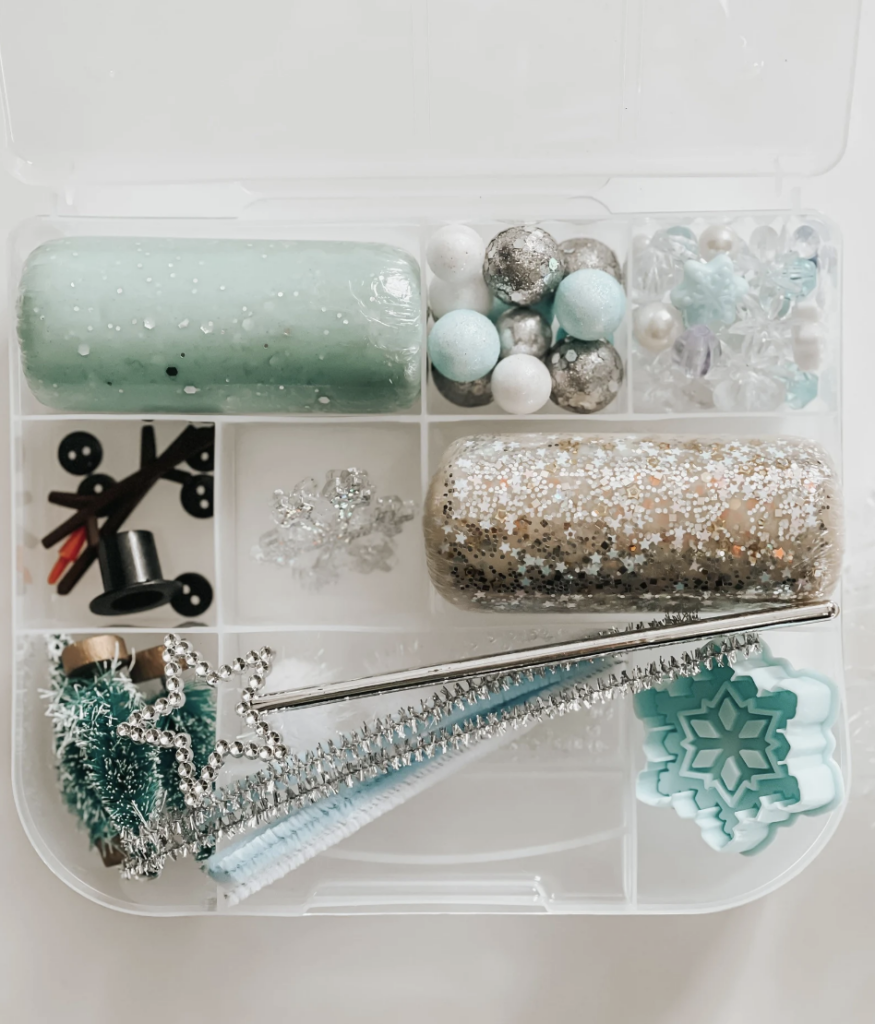 Sometimes it's easy to forget the entire reason why we have Christmas but I think it's super important to help teach our kids the real meaning behind Christmas. It's not about Santa and Presents, but it's about Jesus Christ and his birth! That's why love this Nativity Playdough Kit so much because it's not only a toy but a teaching resource to help our kids learn more about the Christ child and his birth.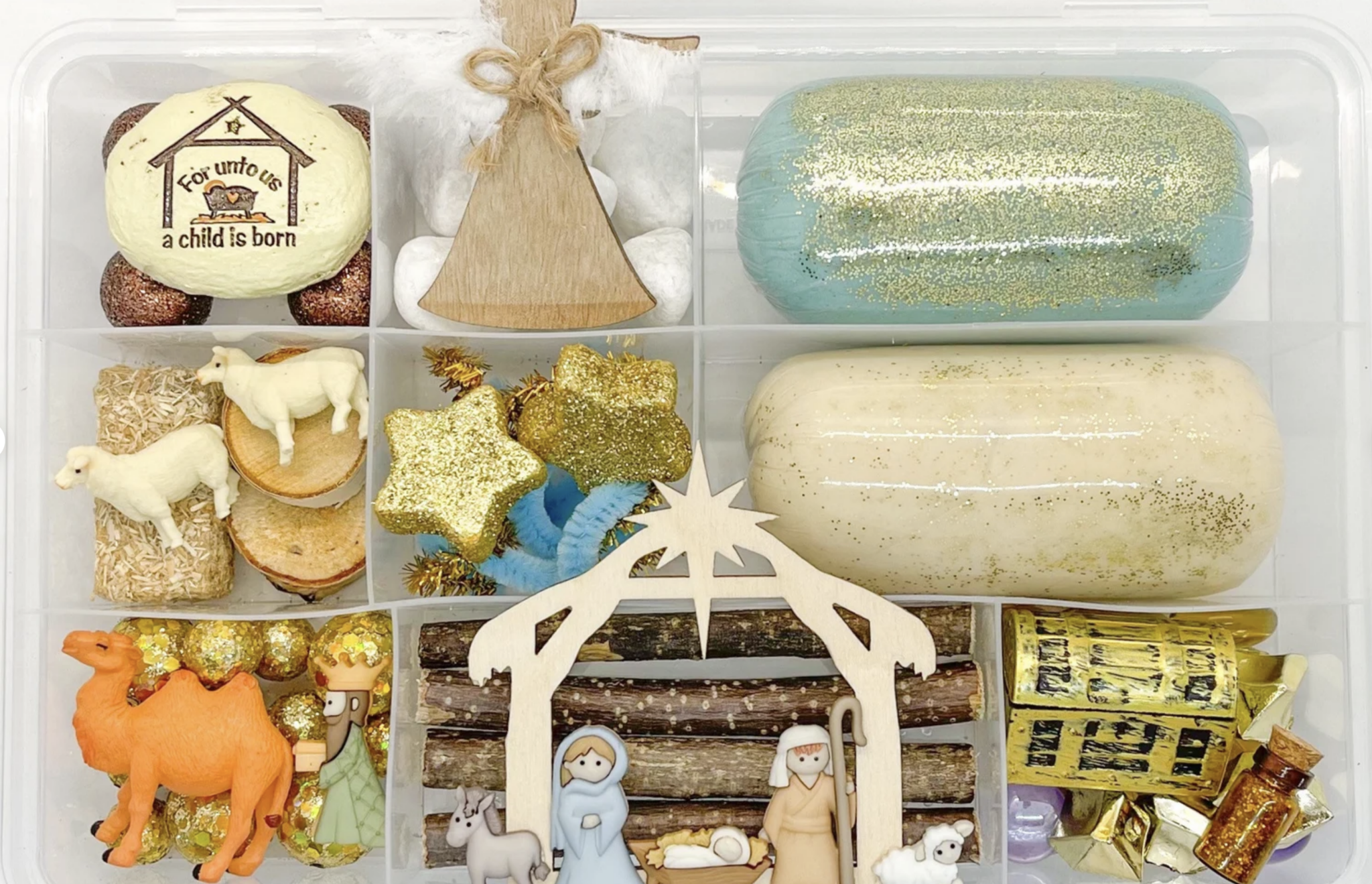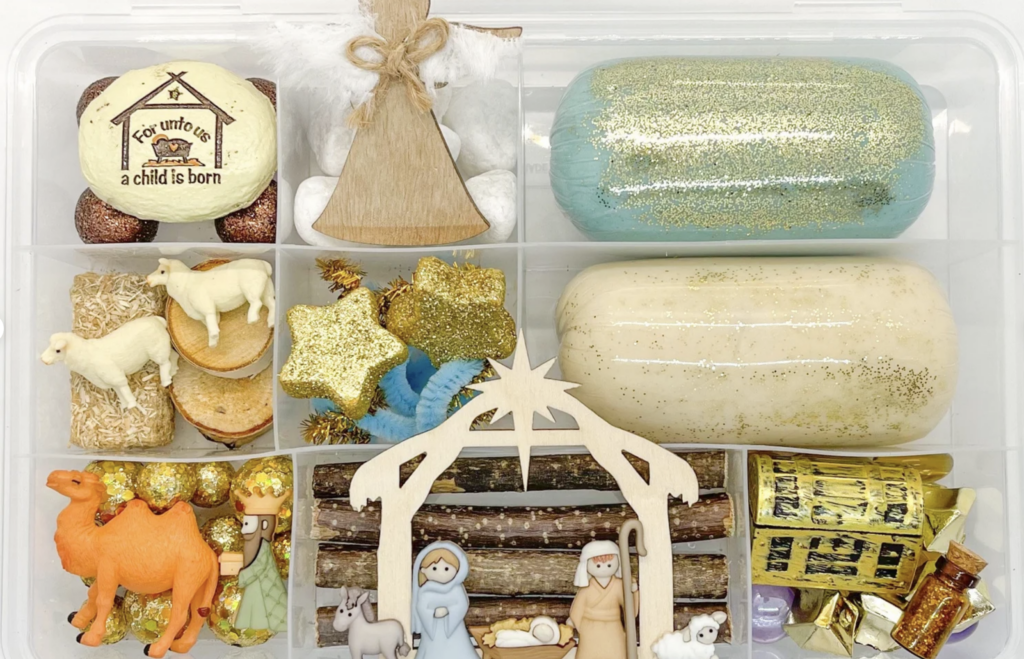 This is such a Christmas Tree Playdough Kit! I love how it comes with a cone so you can decorate the Christmas tree with the playdough and then you can add in Christmas ornaments!
This Christmas sensory bin is another one of my favorites because it has so many different scents and feels to it. It's perfect for the young ones who are still learning their senses! If you're looking for something that can help your kids practice using their imagination instead of watching screens, this is the way to go!
Wooden Playdough Stamps
The options for playdough are endless and Wooden Playdough Stamps are a great investment that your kids can play with for years to come. They would even be fun to use when making salt dough ornaments or with cookie dough!
Sensory Bins
Who doesn't love the Grinch? I know that watching the Grinch is one of our favorite Christmas activities. The movie came out when I was in high school so I have fun memories from my own childhood watching the show. So why not incorporate the Grinch into your Christmas activities?
Kids love sensory bins and it is super fun for them to use their hands their tactile senses to explore different textures. This one is the perfect activity for the kids to learn how to sort and classify items! I also LOVE the Wooden Sensory Tools for sensory bins.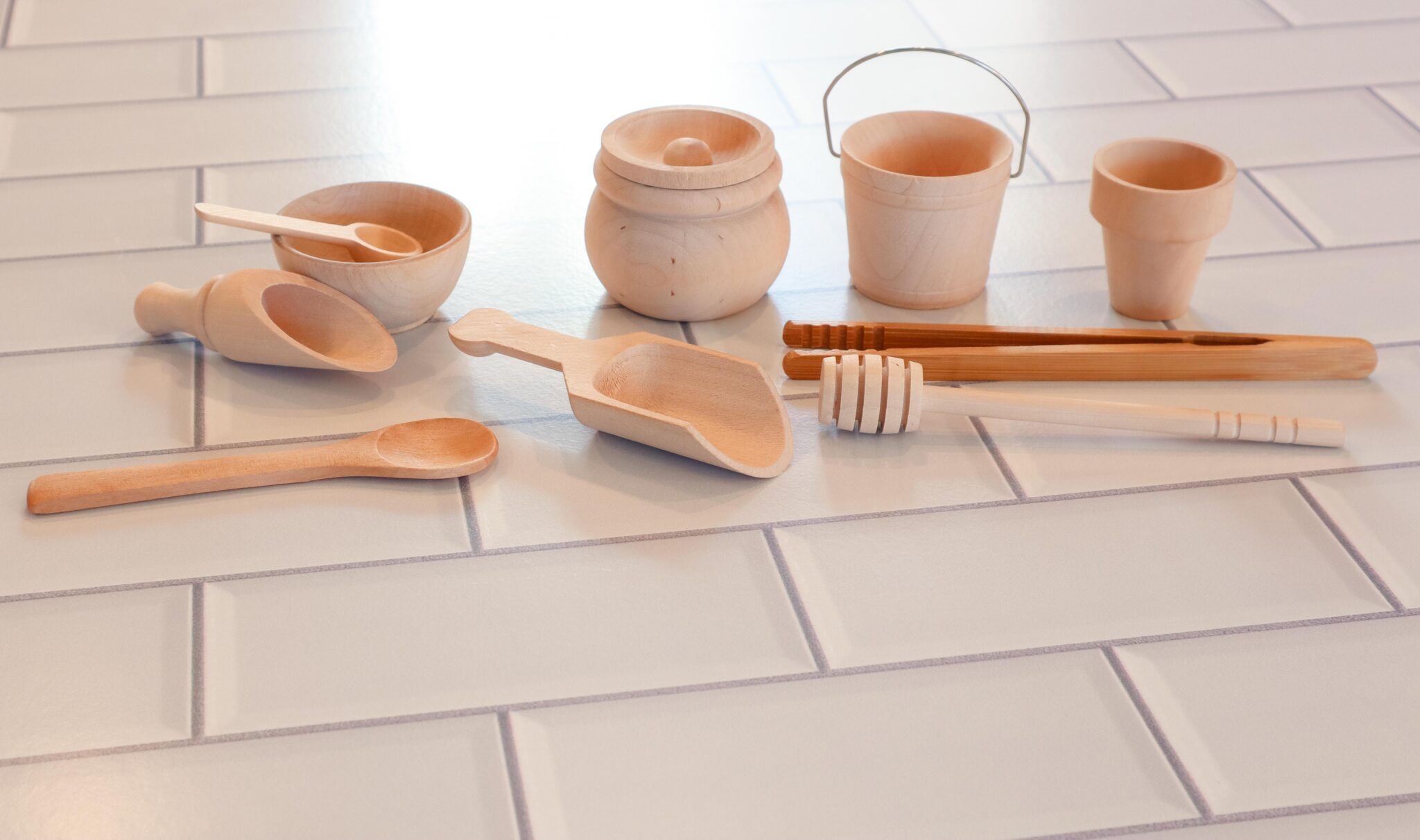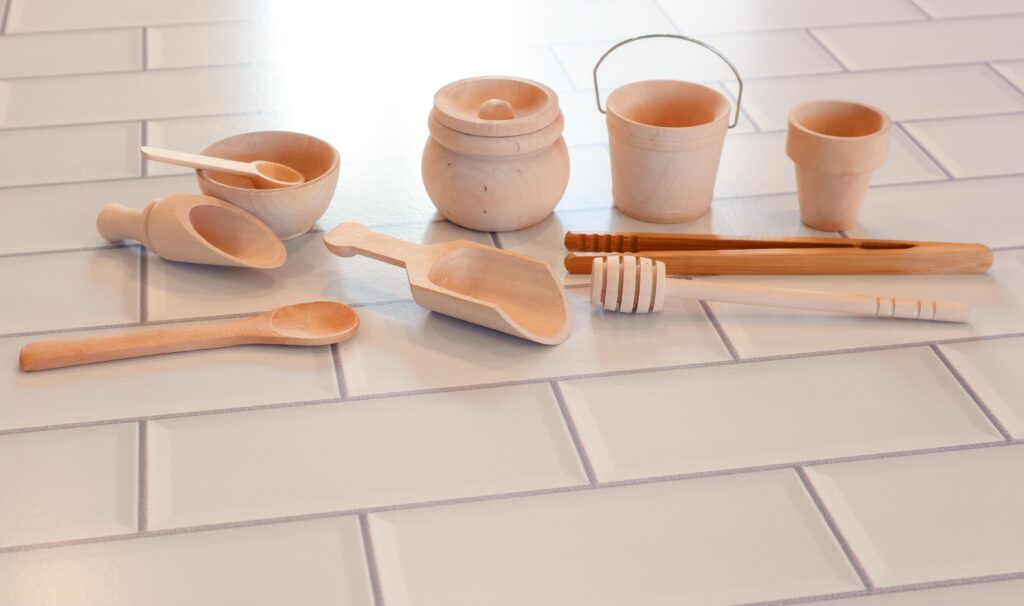 Hot chocolate is a staple Christmas item and what better way for you to incorporate it into your Christmas activities than with a Hot Cocoa Sensory Bin! I saw this set and I just about died at how cute it was! Kids love to pretend play and let them pretend that they are running a hot cocoa bar will make them feel like they are living their best life!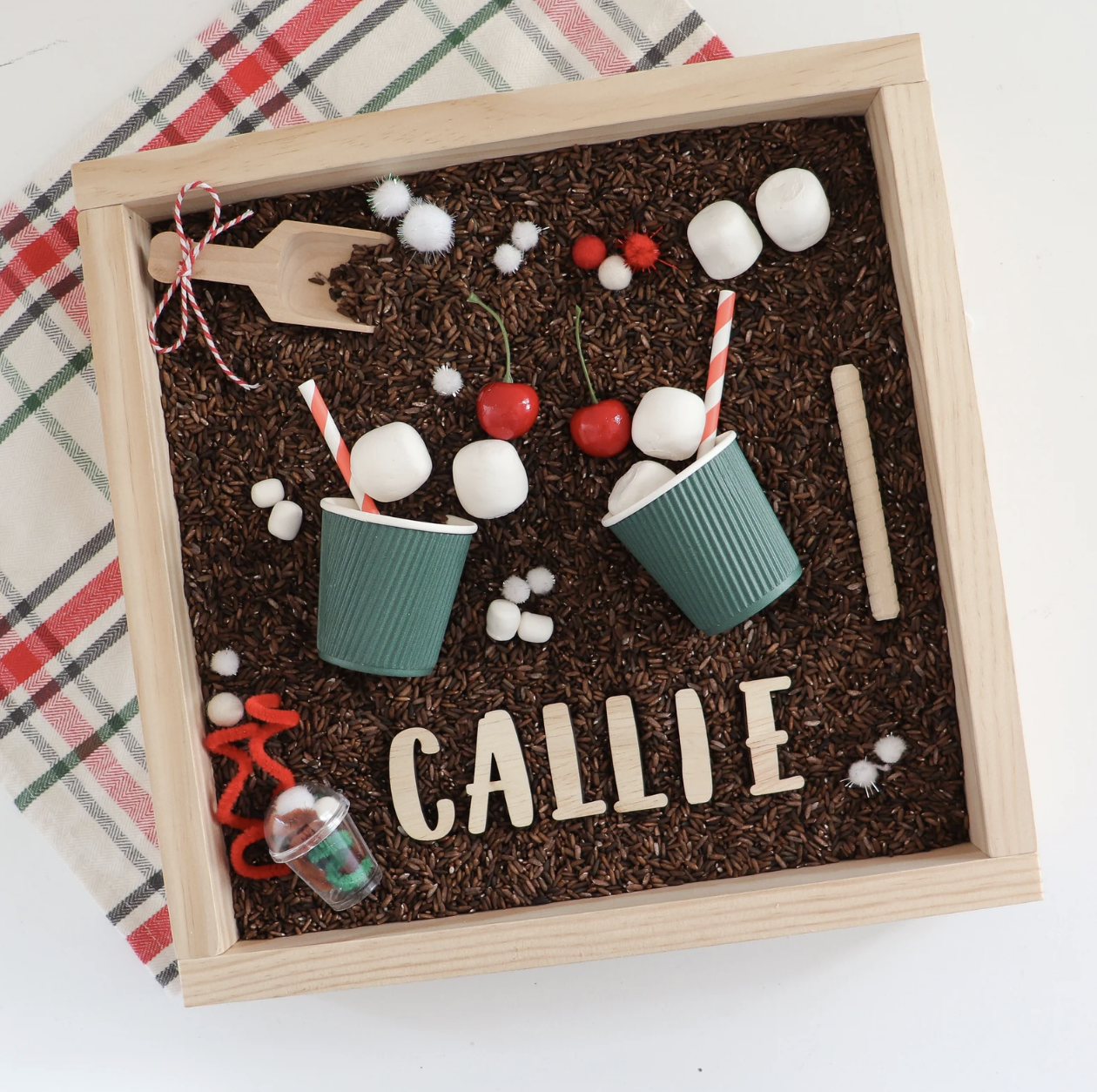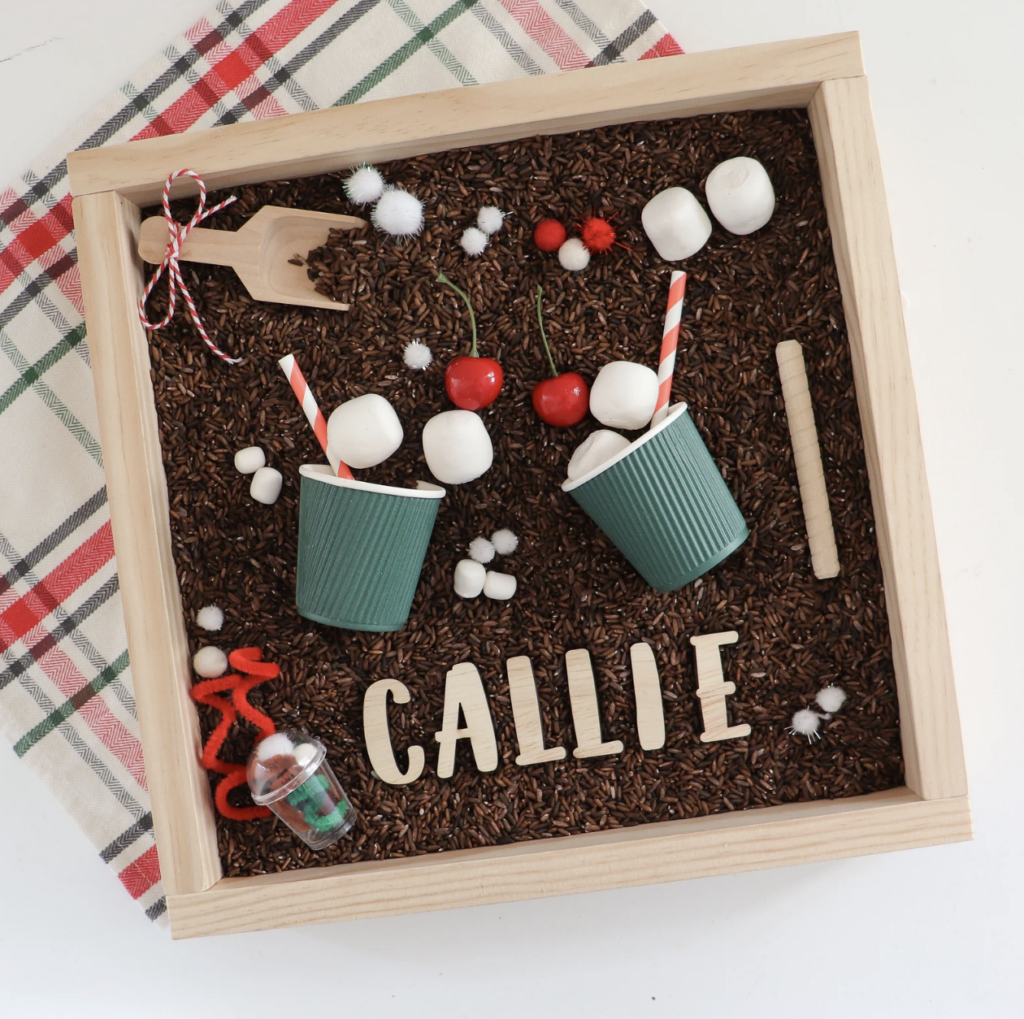 Kids Christmas Kinetic Sand Kit
I have a secret obsession with Kinetic sand. It's sooooo amazing to play with and I could play with it for hours! I really like that this is a super unique spin on sensory kits that not many people have around. Your kids would just go crazy for this Kinetic Sand Christmas Kit.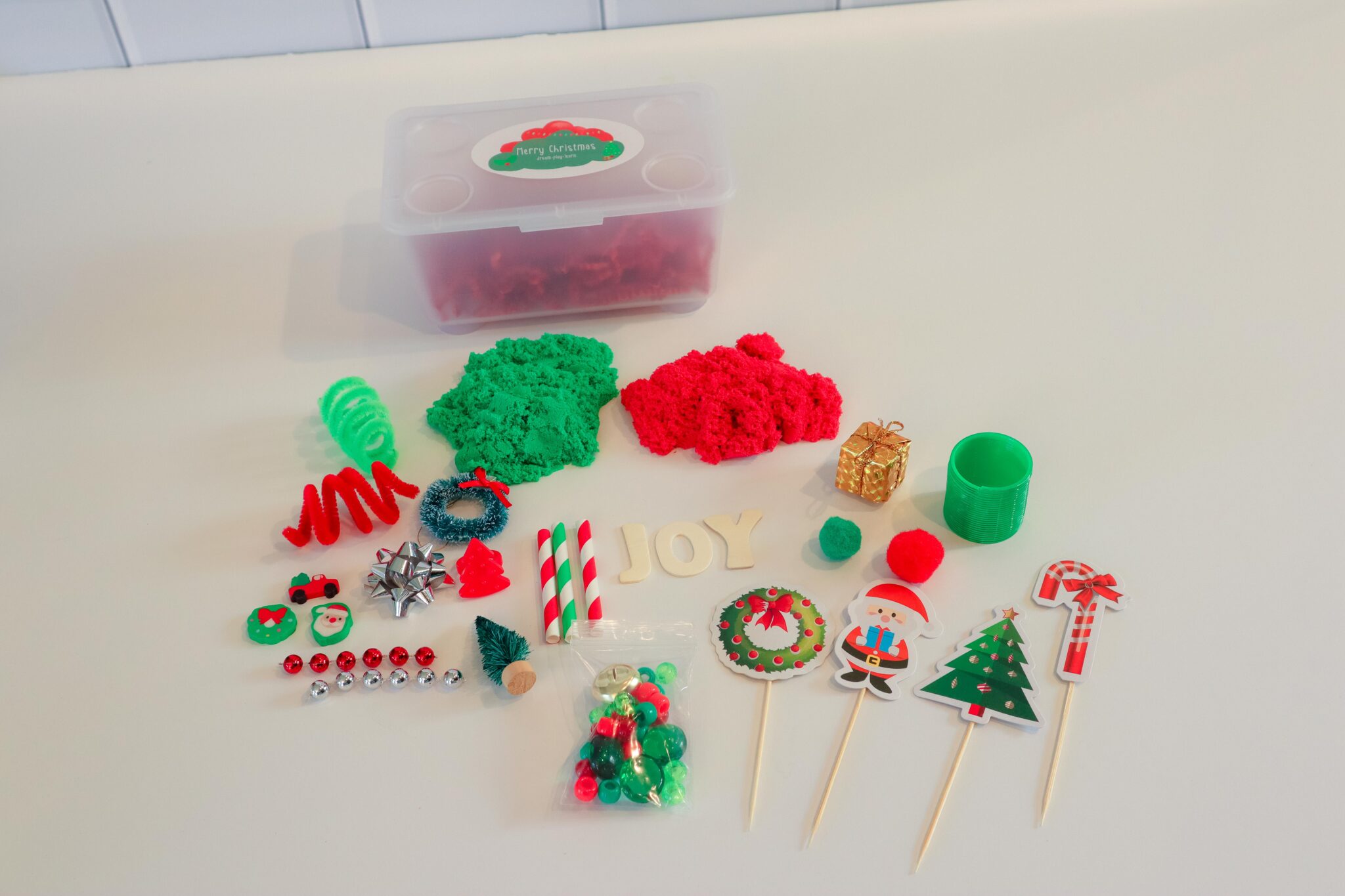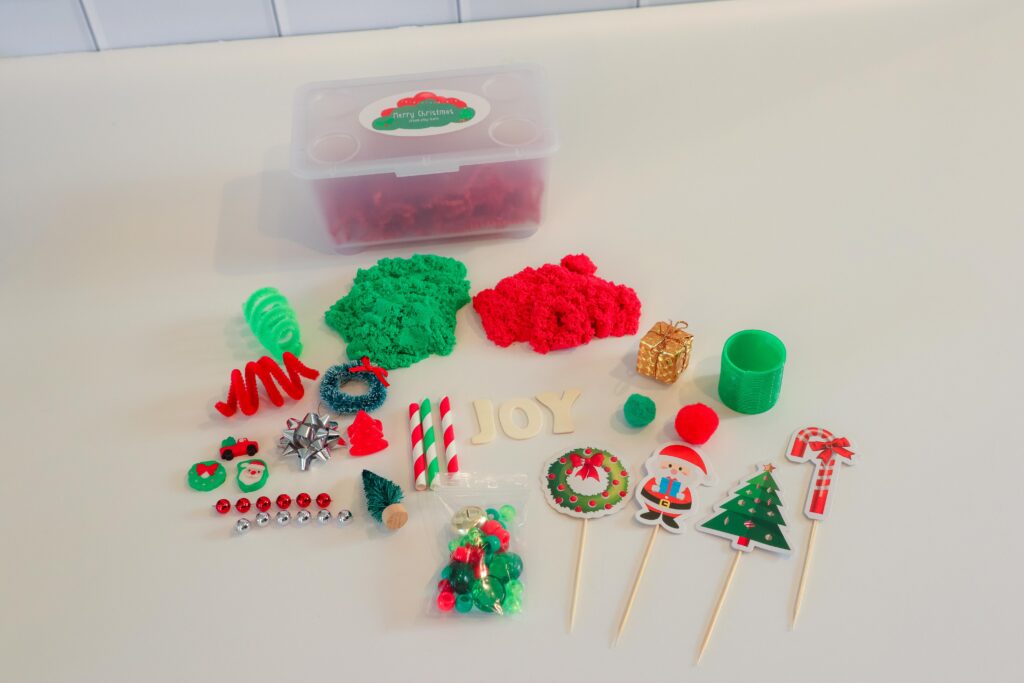 Snowman Slime
Slime is the perfect sensory activity because it's so smooth and soft. Your kids will love building a snowman, adding the eyes, nose, and hat, and then watching him melt! You definitely need to try out Melting Snowman Slime!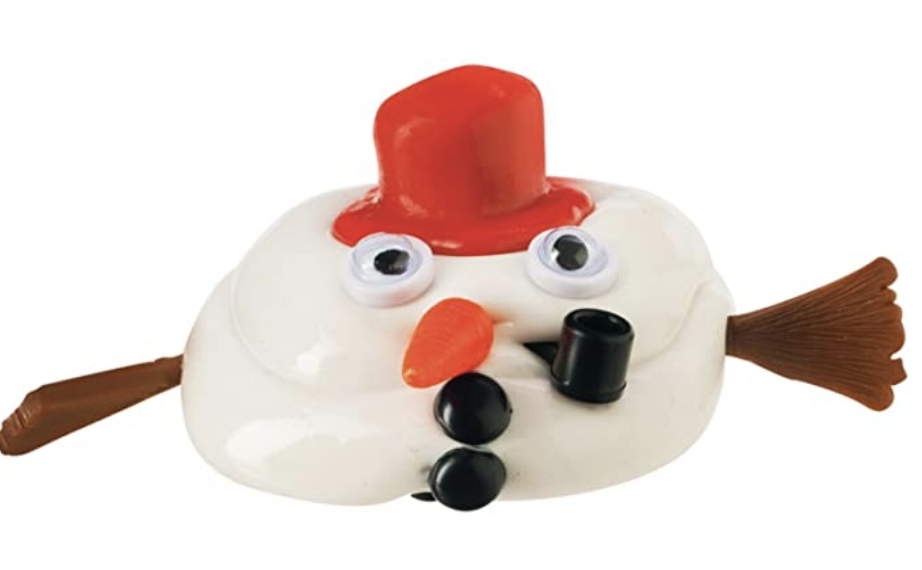 Christmas Magic Science Experiment
Christmas activities don't always have to revolve around sugar! Sometimes it's fun to incorporate science into your Christmas activities. This Christmas Magic Potion and Sensory Kit is the perfect kit to add some holiday fun to your holiday season. My kids loved putting the ingredients together and watching everything unfold.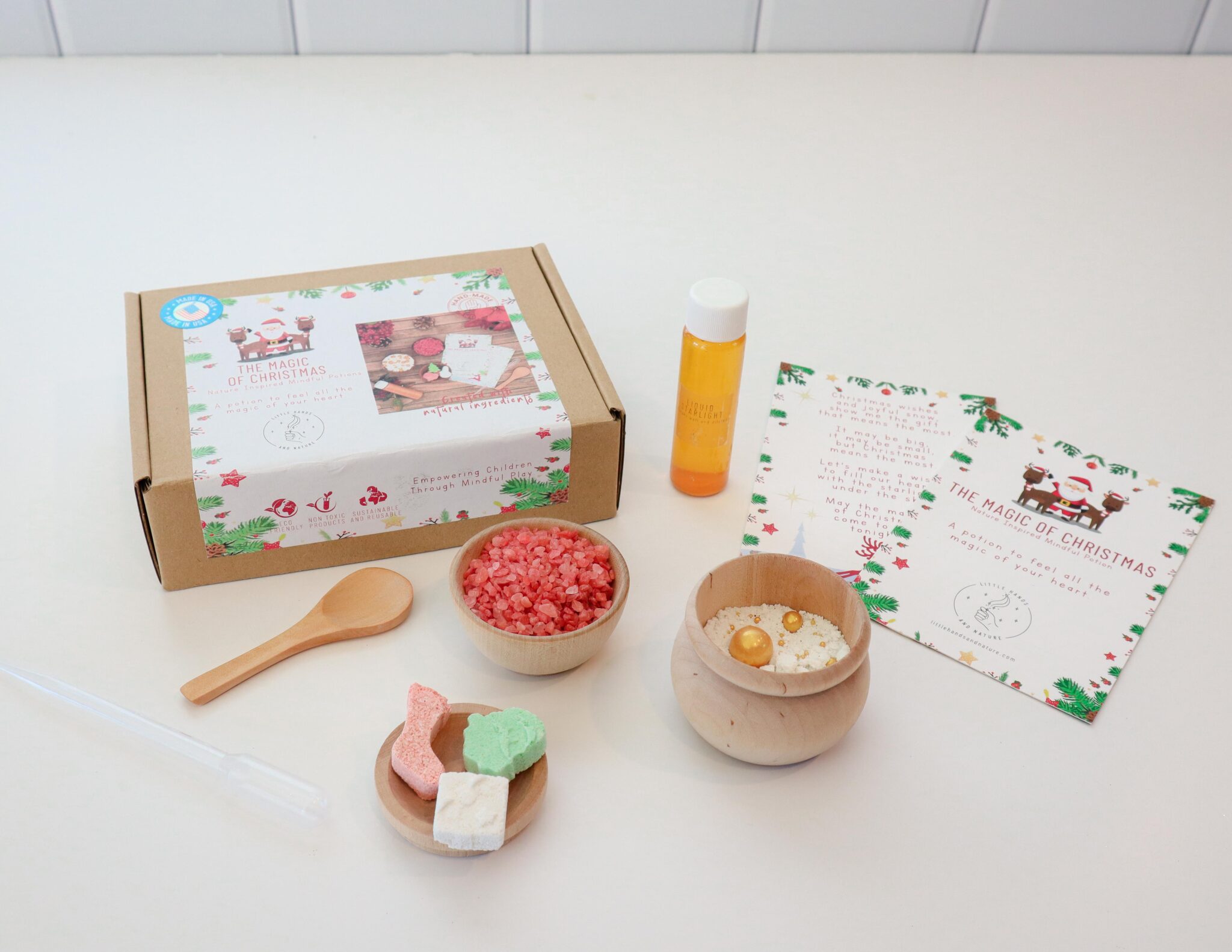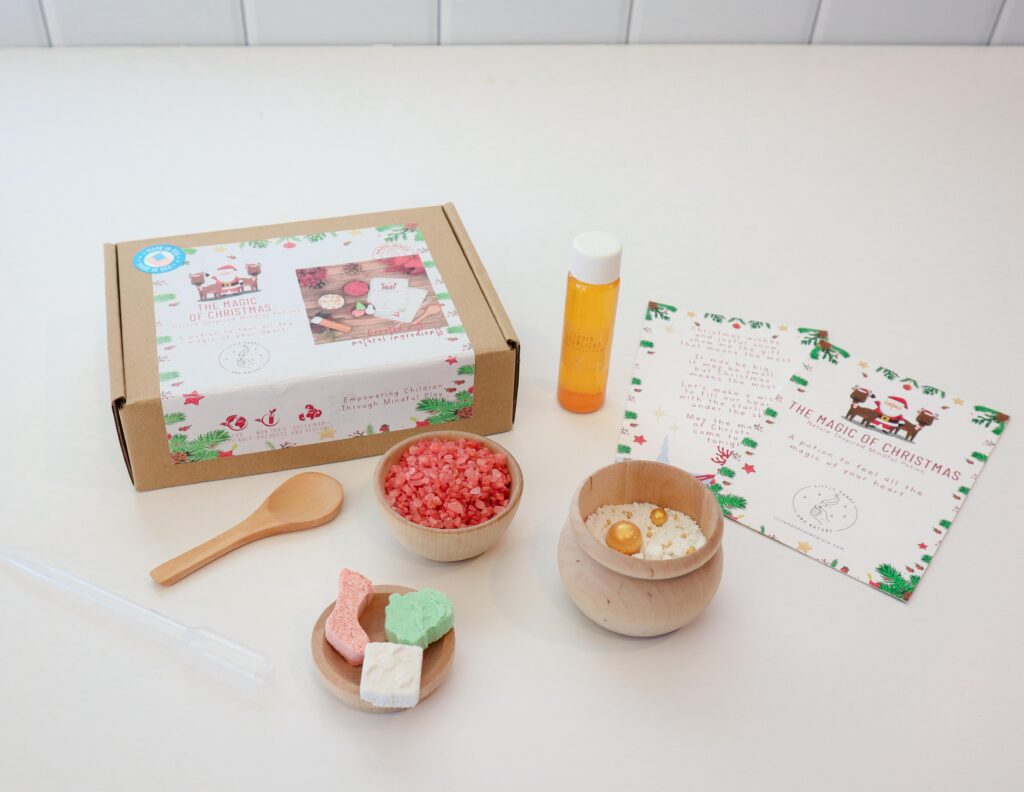 Gingerbread Man Sensory Bottle Kit
Sometimes you want to give your kids an activity to do, but you don't want to deal with the mess. This Gingerbread Man Sensory Bottle and Book is the perfect solution for that. You can read a story together and then look through this cute i-spy sensory bottle for some quiet time.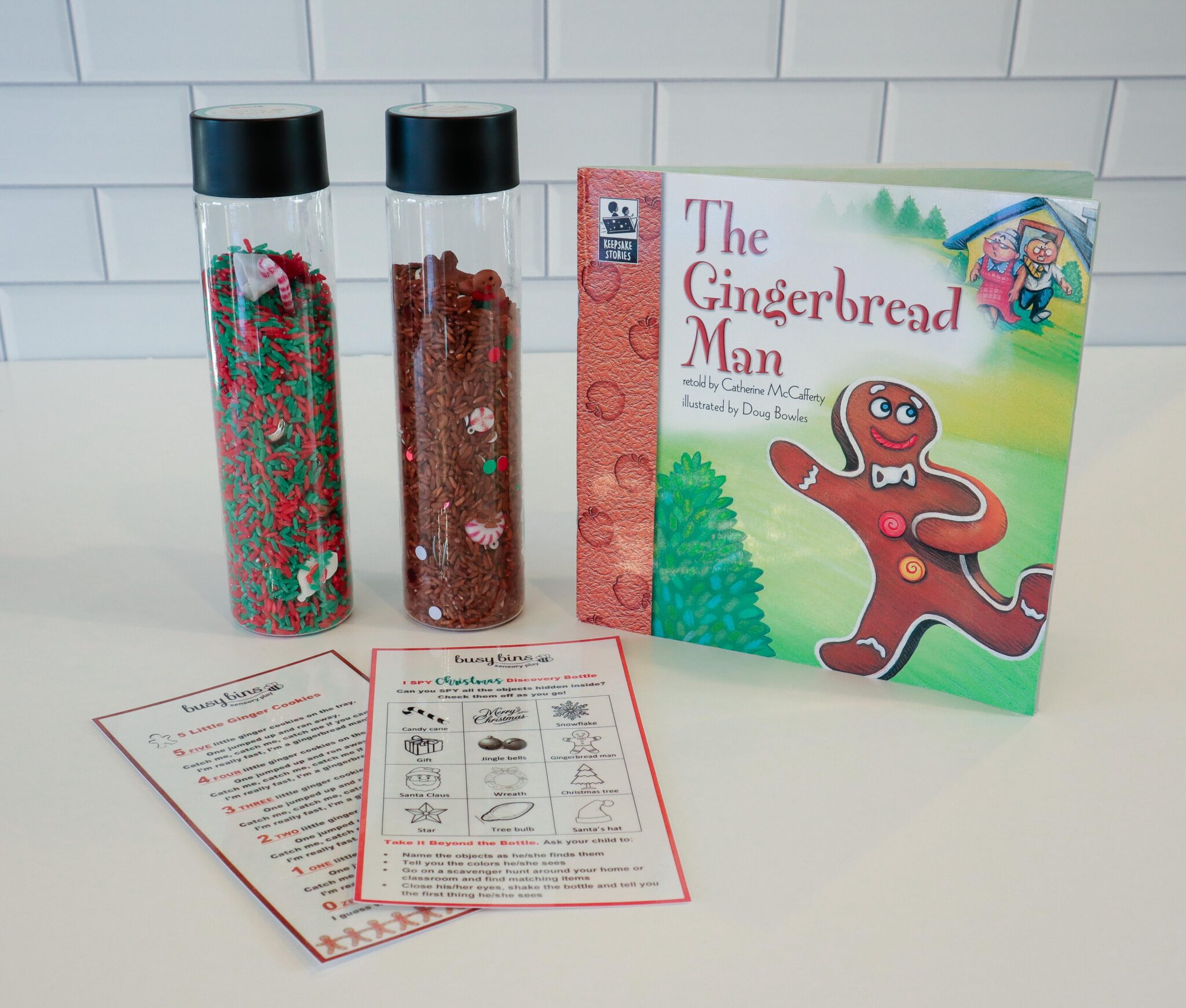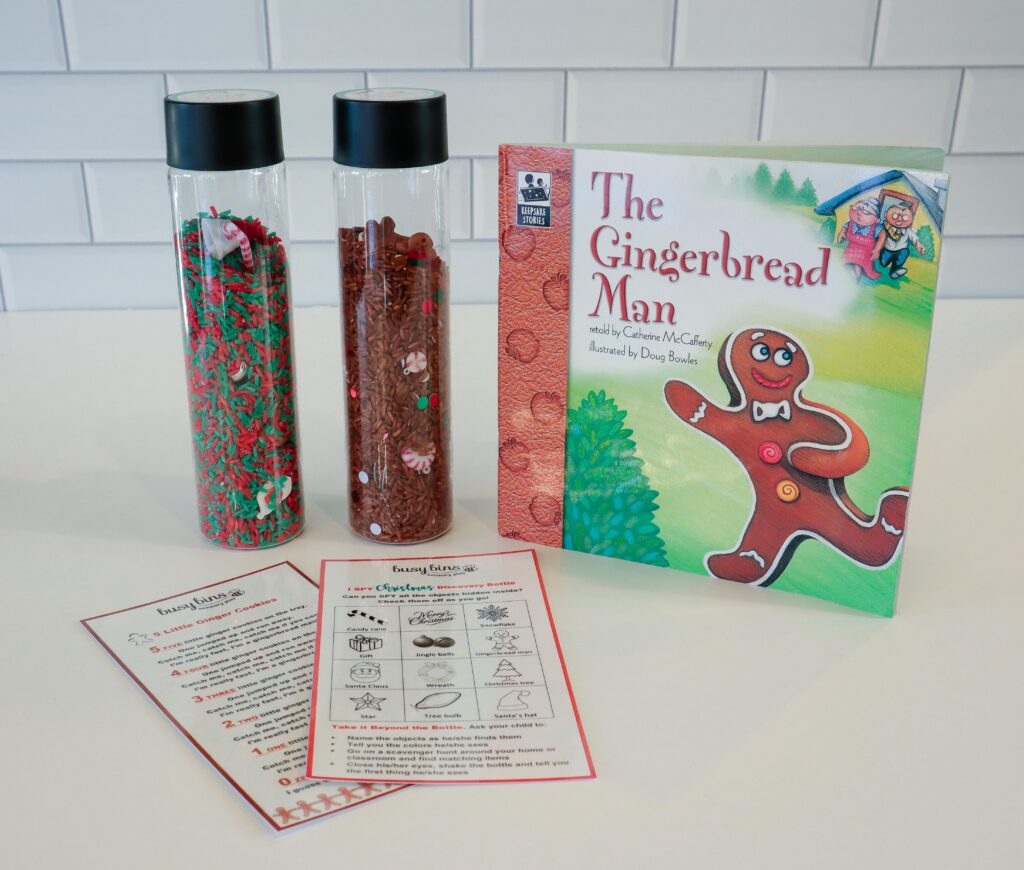 Christmas Sensory Bottle
This Christmas Sensory Bottle is just as fun as the Gingerbread one but it just has a different theme! These would be perfect for traveling in the car to family parties, or driving to Grandma's house!
Instant Snow Powder
Not everyone has the privilege (or curse, depending on who you are) of living in a place with snow. Or if you do have snow at your house, sometimes you want to play in it without getting cold! That's why I love this Instant Snow Powder. All you have to do is add water and watch the snow powder expand and grow into fake snow!
This is the perfect afternoon Christmas activity for when your kids are bored inside.
Modeling Clay Snowman Craft Kit
Sometimes we want to play in the snow without enduring the cold and this Modeling Clay Snowman kit is the perfect way to do that!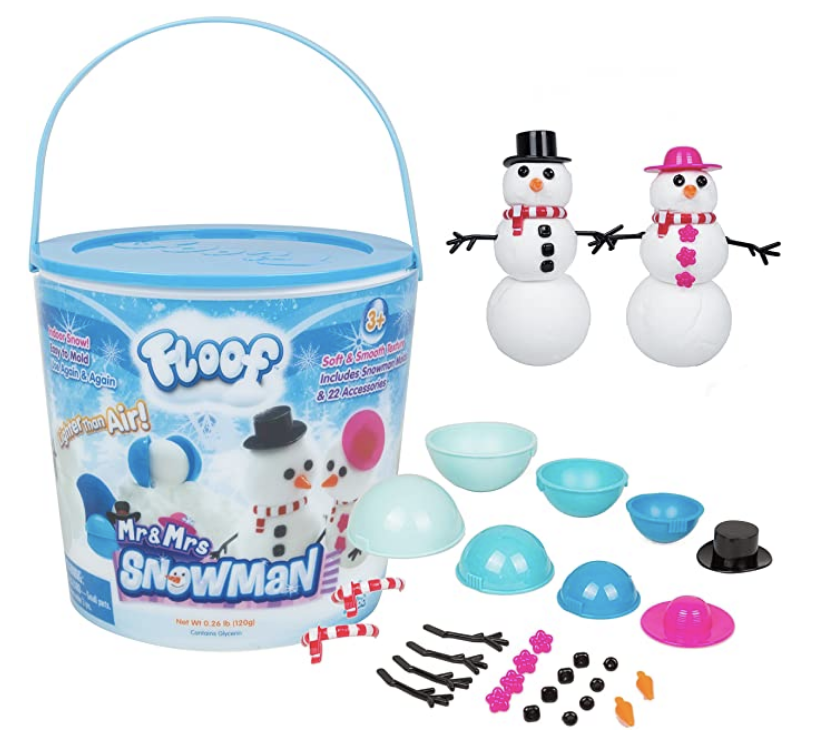 Shop Christmas Sensory Activities and Kits:

Christmas Food Activities
So many fun Christmas activities revolve around food. There's something about the holidays that make food and treats so fun. And it makes sense since we all enjoy our favorite holiday foods!
Christmas Lollipop Making Kit
A unique activity that you may not have done before is making lollipops! Sometimes making candy can be intimidating because it has to be pretty precise but this Christmas Lollipop Making Kit makes it super easy and fun! Plus, you get to add sprinkles… and what kid doesn't love adding sprinkles?
Hot Chocolate Bomb Making Kit
Hot cocoa bombs are a huge trend right now and they are surprisingly easy to make! There's something magical about making hot chocolate and adding the "bomb" that makes it taste even better. Just make sure your kids don't drink the bombs before they are cooled down first!
This Hot Cocoa Bomb Kit includes everything you need to make a memorable family experience so you can not only create your own bombs but can even make them for a family member as a gift! Hot chocolate is a gift that anyone can enjoy!
Decorate a Gingerbread House
A fun family tradition that is a holiday classic is the gingerbread house kit. Decorating a gingerbread house with all the candy, icing and frosting can be a great family activity. You'll get to make memories with your kids while also decorating something that they will love when it is finished!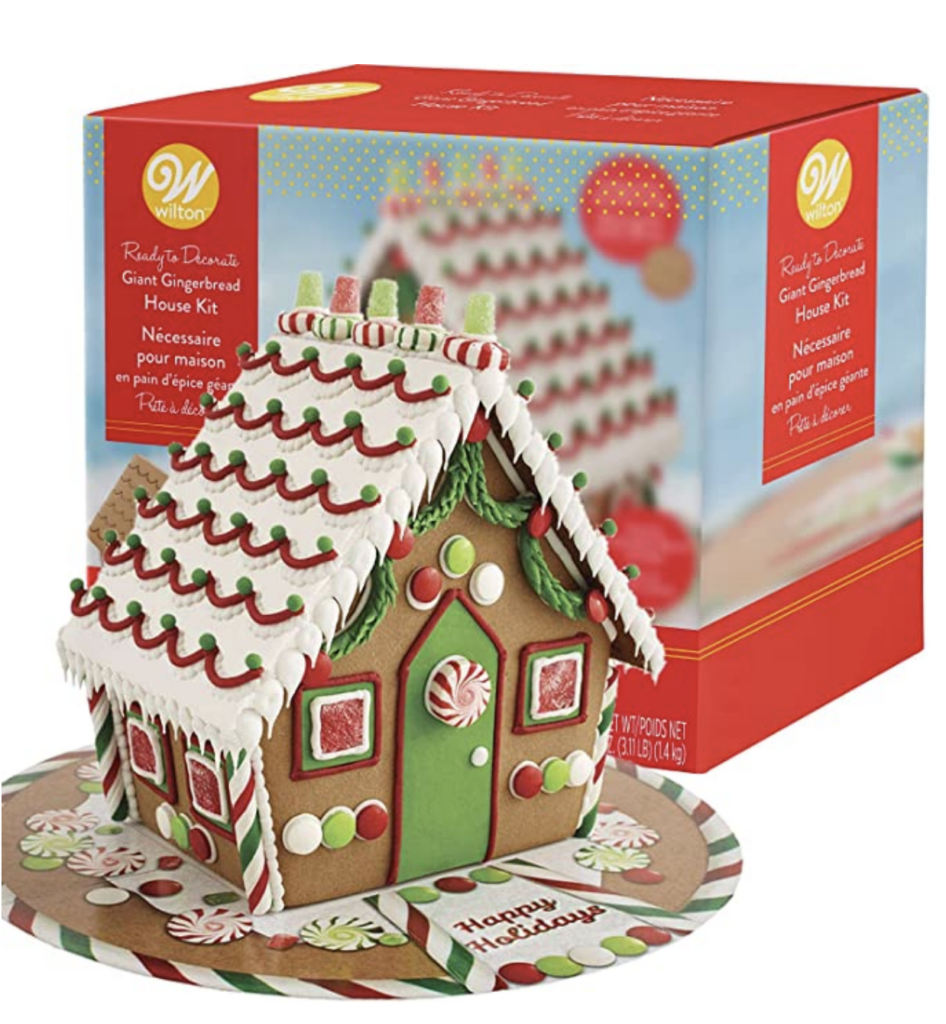 Decorate Christmas Cookies
I don't know who started the tradition of decorating Christmas cookies but I'm sure glad that they did! This is a great tradition to start with your kids. They will love getting creative while also enjoying the delicious end result of their work. Making Christmas cookies is a season must-do item for your holiday season.
For this activity, you can use store-bought or homemade dough and lots of fun festive toppings for decorating. With Christmas cookies, the sky is the limit and it's fun for all ages. It's great for keeping kids busy and a great memory for friends and family.
This would also be really fun to have a party with friends and family and do a fun cookie swap. At a cookie swap, everyone can bring their own plate of cookies (decorated or undecorated) and swap cookies and every kid gets to get home with a few dozen cookies! It's the perfect activity for the holiday season.
Shop Christmas Food Kits:

Family Christmas Activities and Crafts
There is something about Christmas that brings out the crafty nature in all (or most) of us. I think it's because there are so many fun Christmas crafts to do with the kids. They also make great gifts for family and friends!
Unfinished Wooden Peg Dolls
This is such a unique craft activity that I just died over. There's a huge trend towards using wooden peg dolls but the trouble is that they can get super expensive to buy them finished. Because that's a lot of work! So why not involve your kids in the fun Christmas activities and let them paint their own? These Unfinished Christmas Wooden Peg Dolls are the perfect kid's craft!
I love how these come unfinished but they have the lines engraved so that the kids have some guidance when they are painting.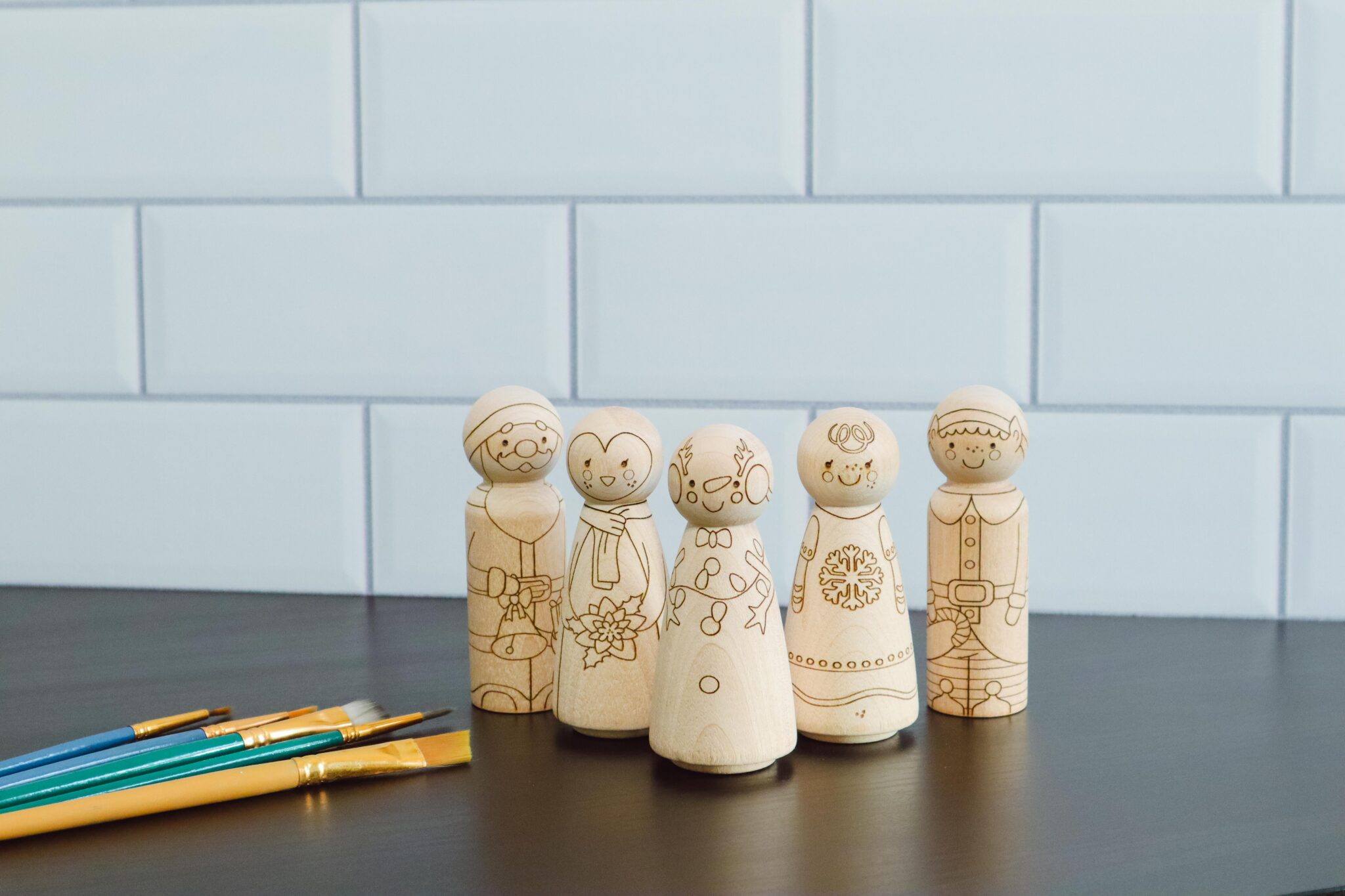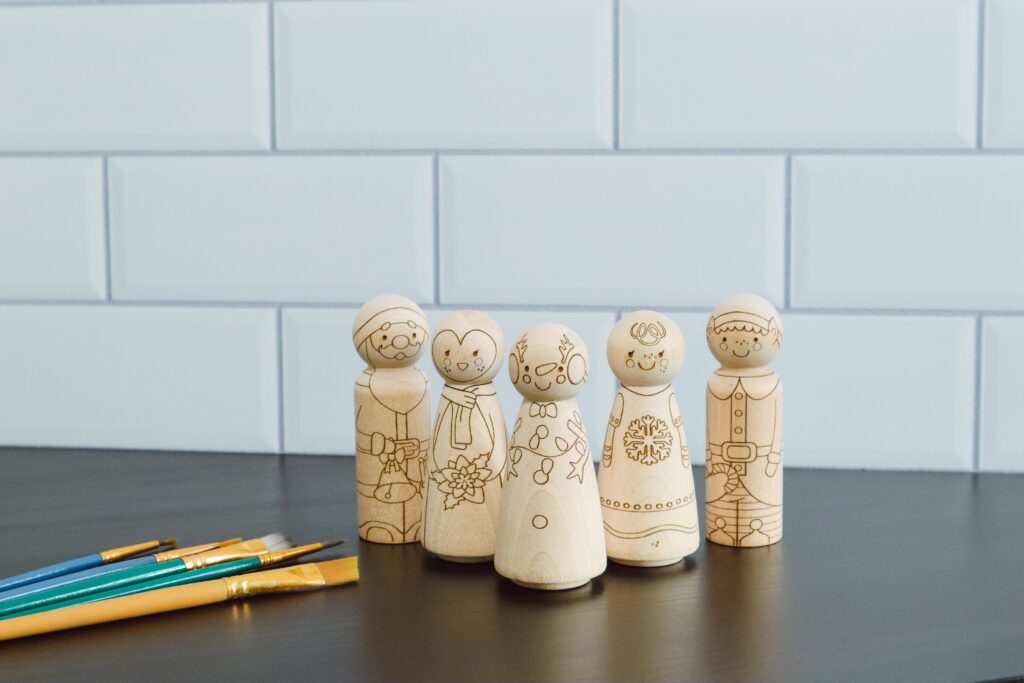 Wooden Christmas Activity Bundle
I love Christmas activities that you can keep and cherish for years to come. Christmas can be a memorable time of year and reliving past memories can bring holiday cheer! That's why I love craft kits that will last for years to come. These Wooden Christmas kits have a ton of different options for crafts, activities and there is even a wooden elf surveillance camera to remind your kids that it's important to be good!
I love the 'build a snowman' game and Santa's Sleigh Tic Tac Toe that they can play year after year as well as the gingerbread baking sheet paint kit that doubles as a craft and a toy. They also have an awesome Santa Clause Footprint Template and an Elf Surveillance/Santa Cam Ornaments that are sure to be a huge hit!
You can use the code "Organize10" for 10% off your purchase from Brookstone Boutique!
Family Christmas Movie Night
Christmas movies have become an integral part of our Christmas celebrations. So why not make a night out of it and have a family member choose a Christmas movie and have a themed movie night around that movie. These Christmas Family Movie Night Menus make the planning SUPER easy.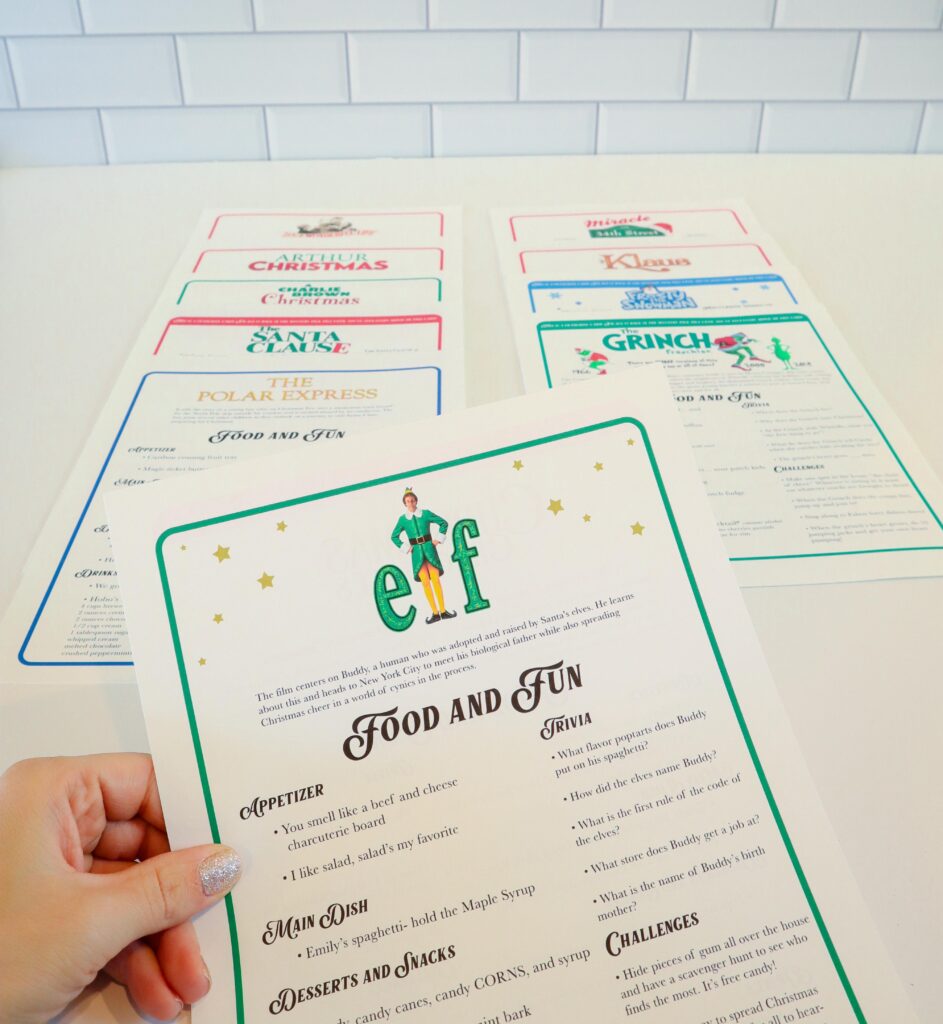 This year, our family movie night was around the Grinch which is my daughter's favorite. We made green popcorn and had a good time together watching it! Plus this provided some great conversation with her about why he didn't like Christmas so much.
You could also try having a themed pancake breakfast or even a hot cocoa bar.
Shop Christmas Crafts:

Christmas Board Games and Escape Rooms
Christmas board games are a fun Christmas activity that is kind of a new family tradition. In the last few years, game companies have come out with lots of new Christmas games that are perfect for families and friends to play together. Some of our favorites, like Elf, will provide hours of fun!
Christmas board games make a great family activity during your holiday vacation. We suggest hosting a game night with all of your favorite people with your favorite Christmas games.
Christmas Escape Rooms
Escape rooms are all the rage right now. It's so fun to be able to use your mind to solve mysteries and get your kids involved in the fun. The best part is that you don't need anything else for these fun escape rooms other than a printer (or printing service)! Simply print out the included pages and have a fun-filled evening together solving a mystery!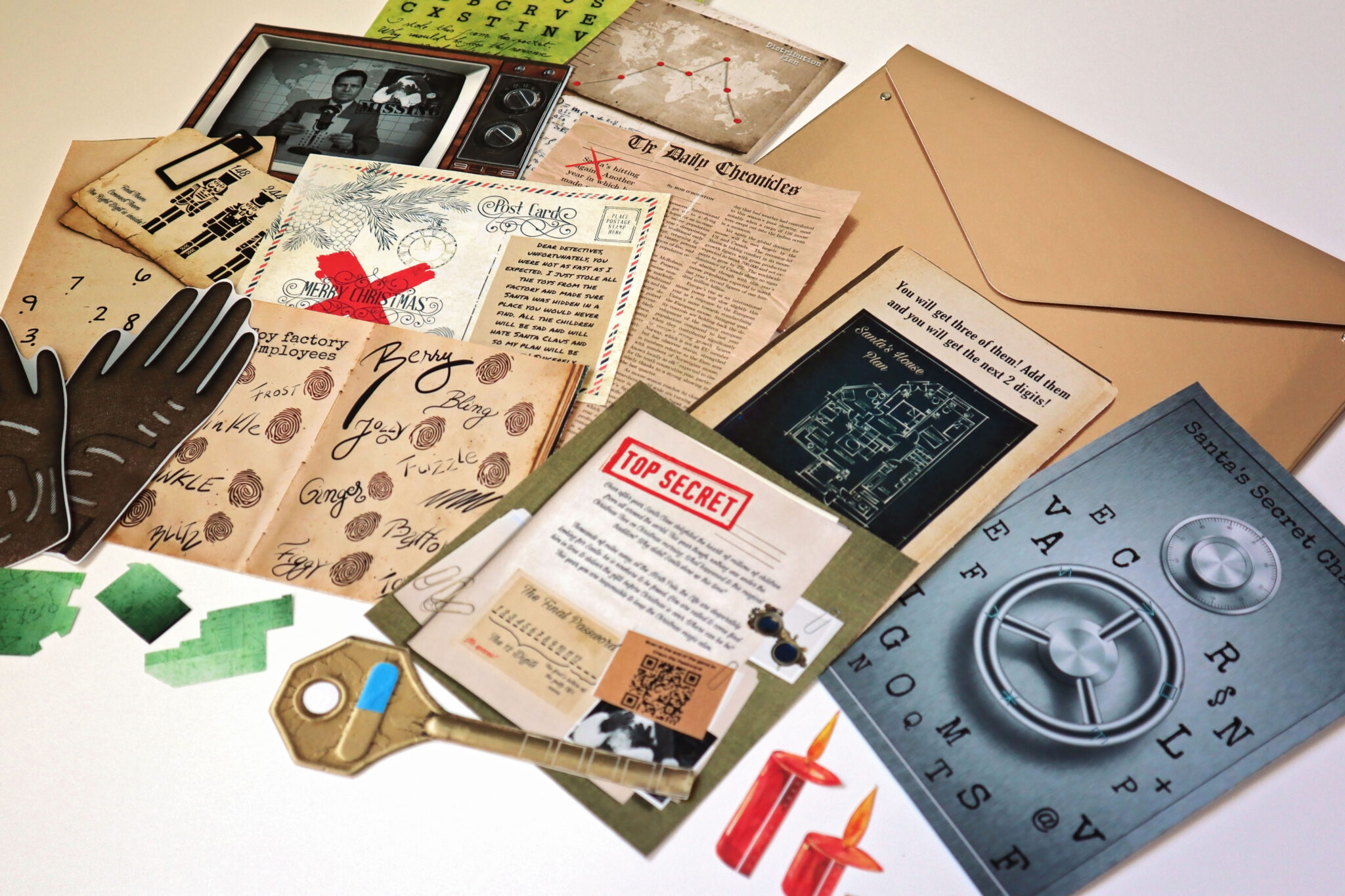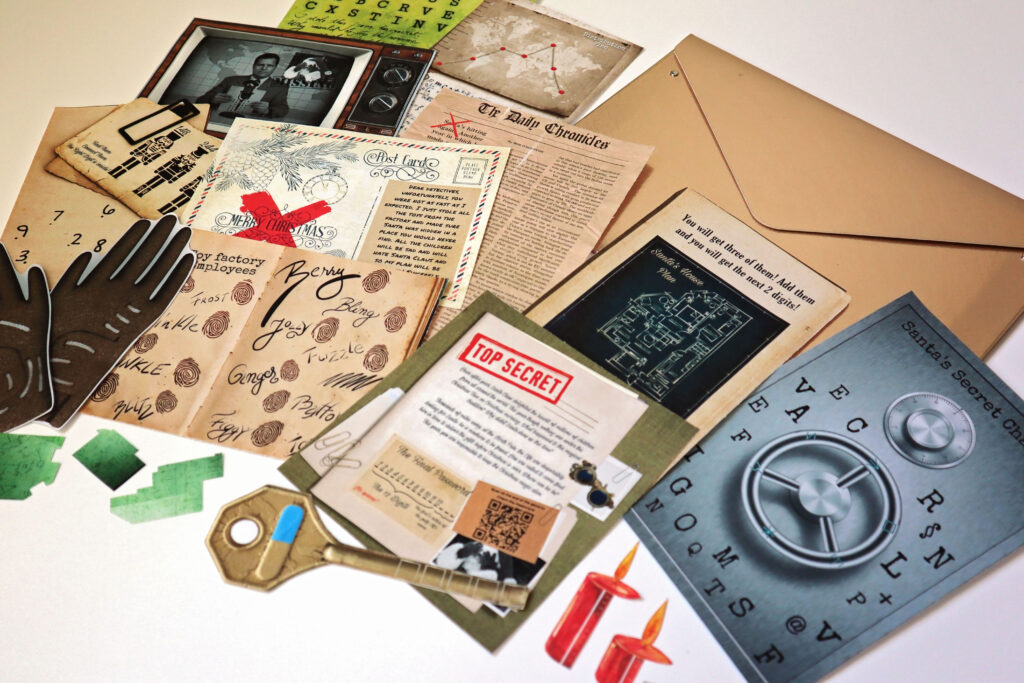 Mystery Locks has a few different Christmas Escape Rooms to choose from but I really love The Great Christmas Escape, Christmas Scavenger Hunt and Santa is Missing! Use the code PRACTICALPERFECTION for 30% off both games!
Shop Christmas Escape Rooms:

Christmas Elf Board Game
Playing this Elf Board game is a Christmas tradition that my kids absolutely love!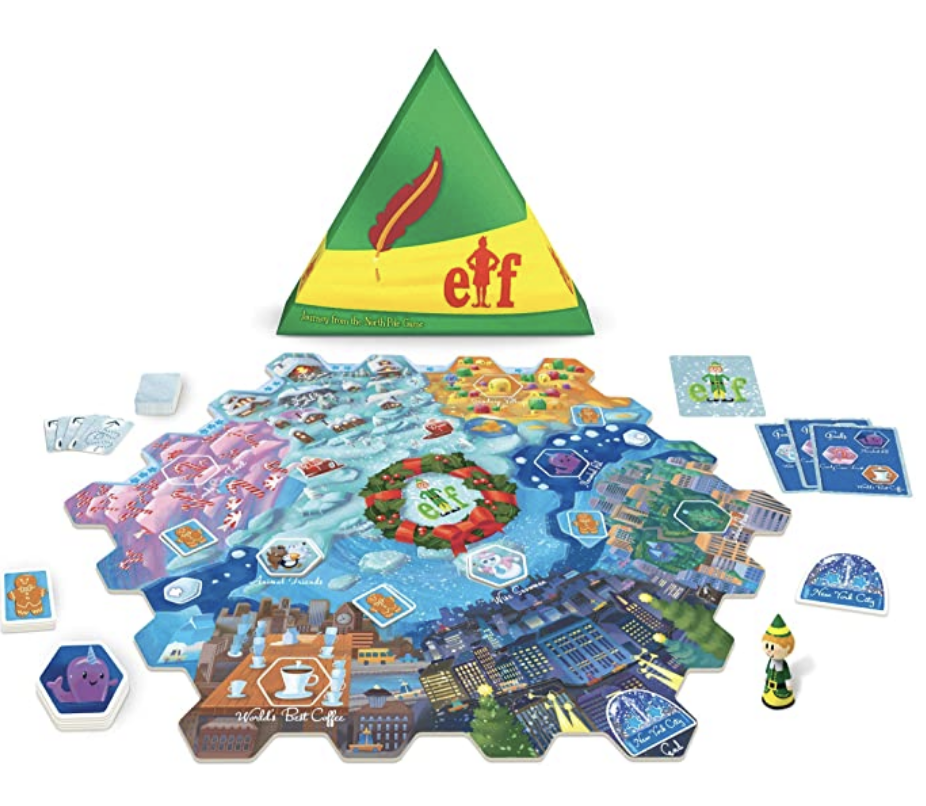 Grinch Grow Your Heart Card Game
Nothing teaches about the Christmas spirit quite like the Grinch. And this darling Grinch game will do just that as everyone tries to grow the Grinch's heart several sizes to win the game.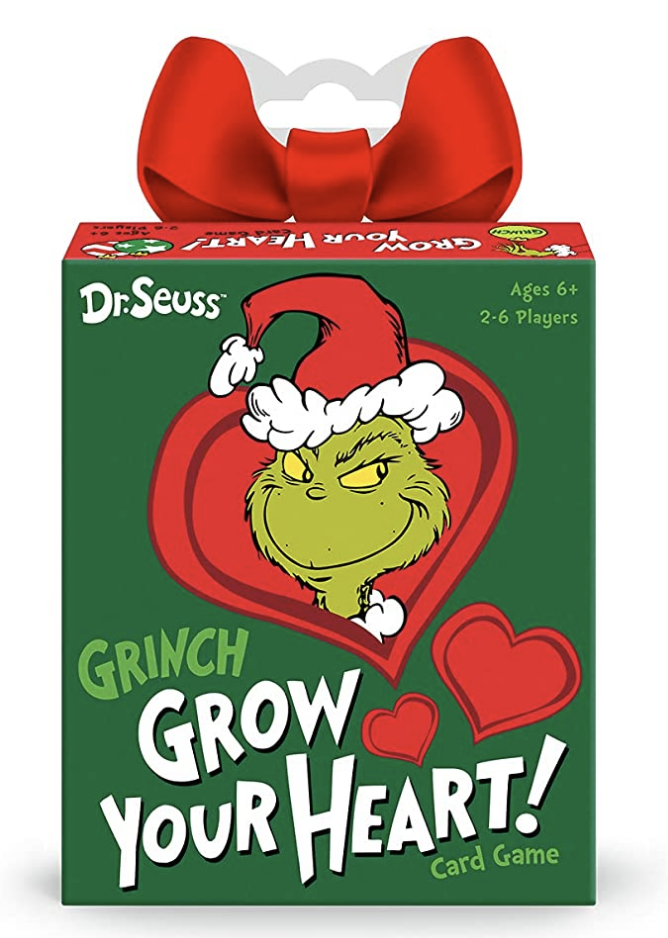 National Lampoon's Christmas Vacation – Twinkling Lights Game
This is a really fun card game where you try to use your cards to create certain pathways with your Christmas lights cards. It has great reviews and we're excited to try this one this year.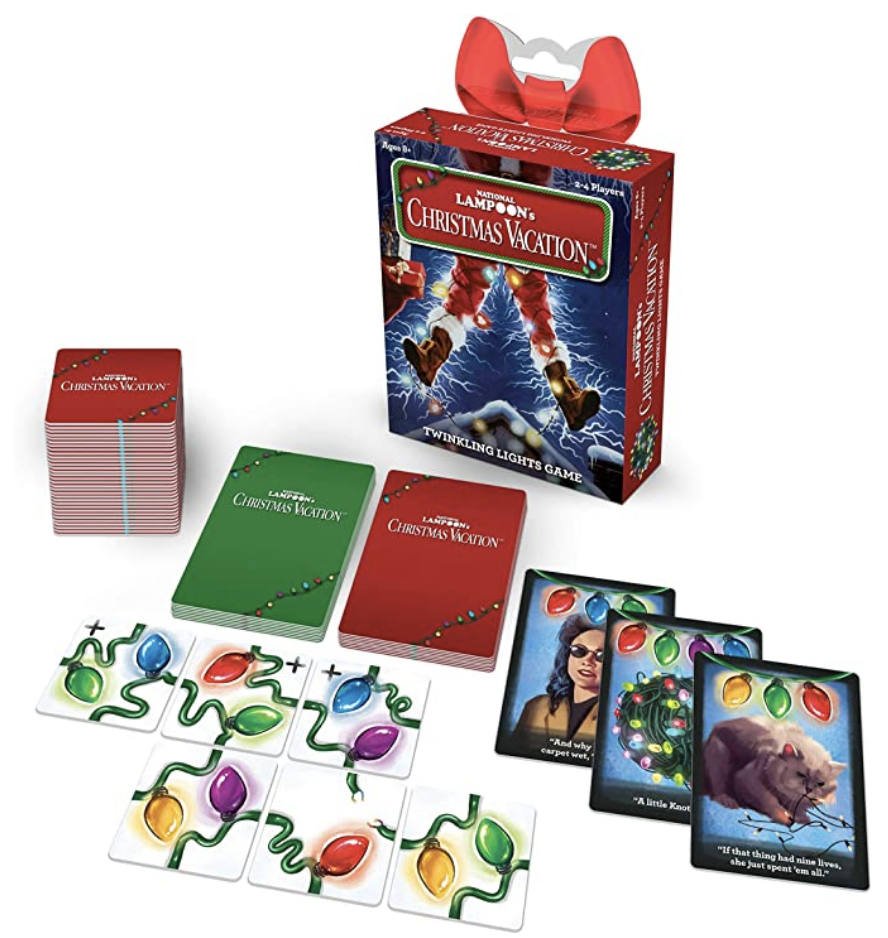 Shop Christmas Games: