How to Store Gift Bags: Get Your Gift Bags Organized Once and For All!
Do you have a ton of gift bags taking up space in your closet? Are they all different shapes and sizes, making it difficult to store them efficiently? If so, this post is for you!
Finding a good storage solution for them can be tricky, but we have some tips that will make it easy to store gift bags and keep them organized. Your new system will make it easy for you to find the right bag when you need it and free up some much-needed closet space.
How to Store Gift Bags
Storing gift bags can be a nightmare. They are often different sizes and shapes, making it difficult to find a storage solution that works for all of them. But don't worry! There are some quick easy ways you can organize gift bags.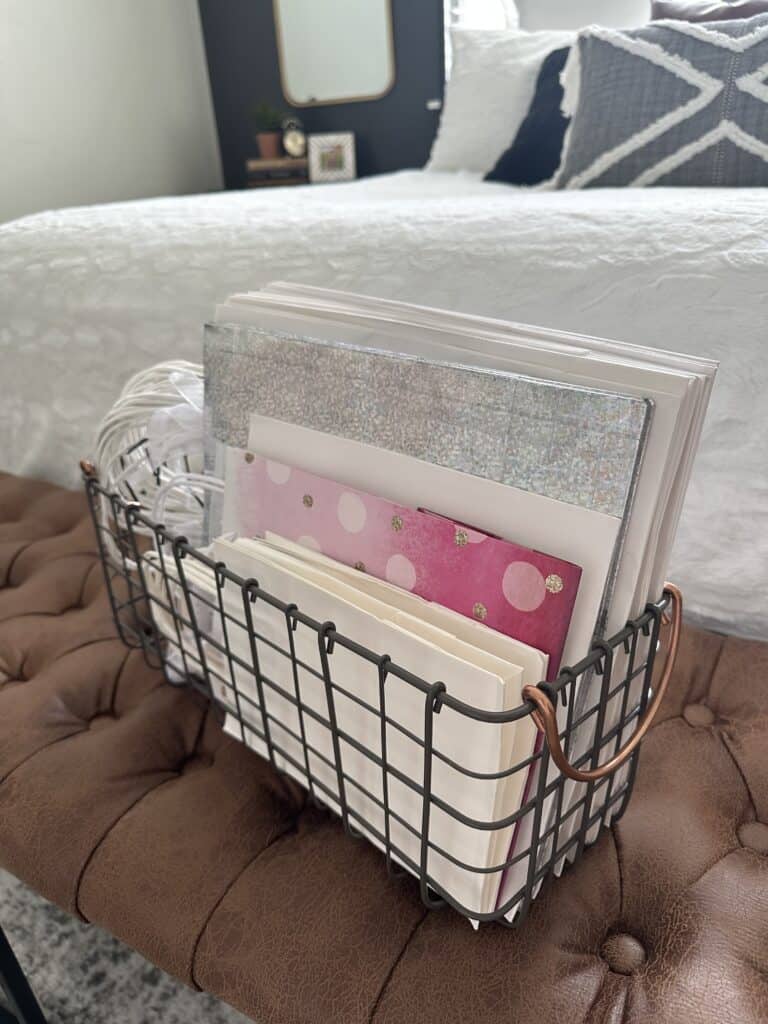 Before I jump into my favorite tips and storage ideas, I just want to point out that this post is about gift bags specifically. I've got another post all about wrapping paper and how to store gift-wrapping paper and other gift wrappings supplies, but this post is specifically about tissue paper and gift bags!
There's a good chance you'll want to store your tissue paper and gift bags with your other gift wrapping supplies, like wrapping paper, and these tips can definitely apply to storing and organizing them with other gift wrapping supplies. But I just wanted to give you a heads-up that this post won't really talk about how to store wrapping paper rolls.
Okay, now on to the tips!
Find a Place for Gift Bag Storage
The first step when it comes to home storage solutions is to figure out where to store items. So with your gift bags, before you can really organize them, you need to figure out where to store them!
Storage Solutions for Bags
If you already have a designated area where you store gift wrap, then you can skip this step. But if you're having a hard time figuring out where to store your bags, here are a few ideas for where to keep your bag storage.
Craft Room
If you have a room dedicated to crafts, sewing, painting, or more, keeping your gift bags and gift-wrapping station in there would be a great idea! This will give you easy access to your bags, and having them all in one place makes it easier to find what you need.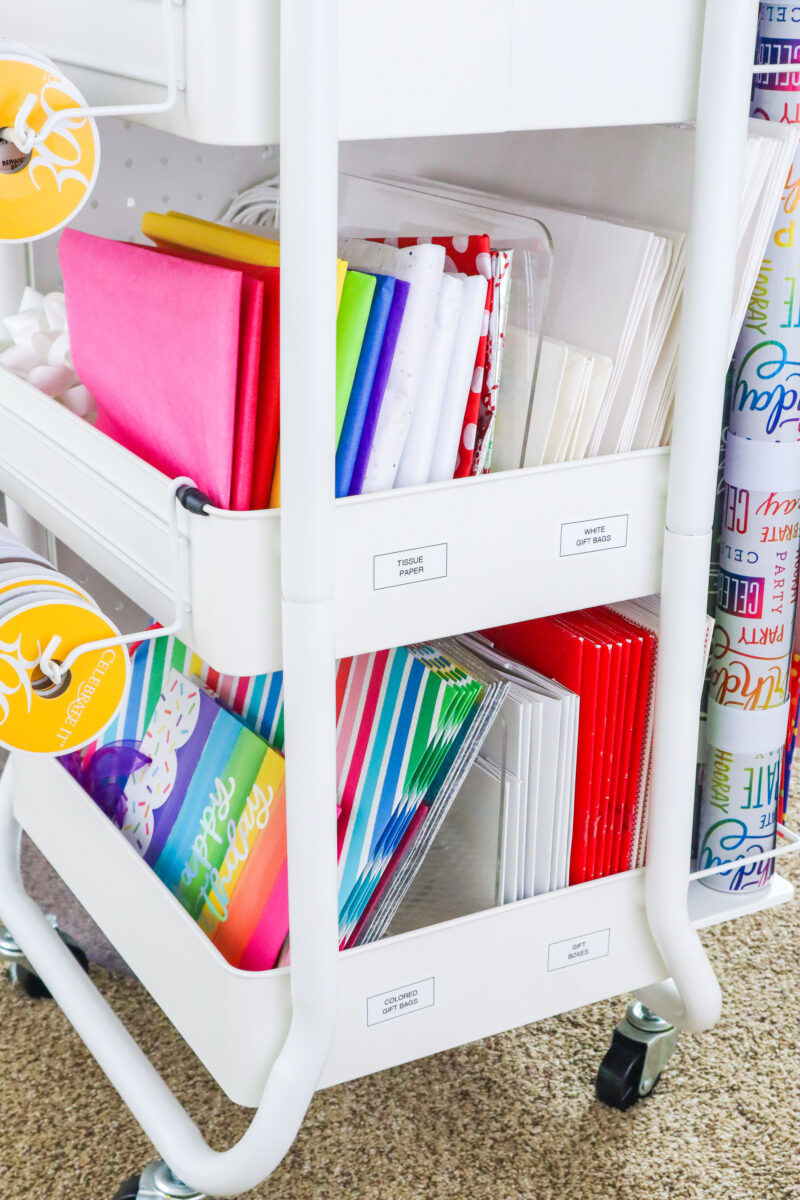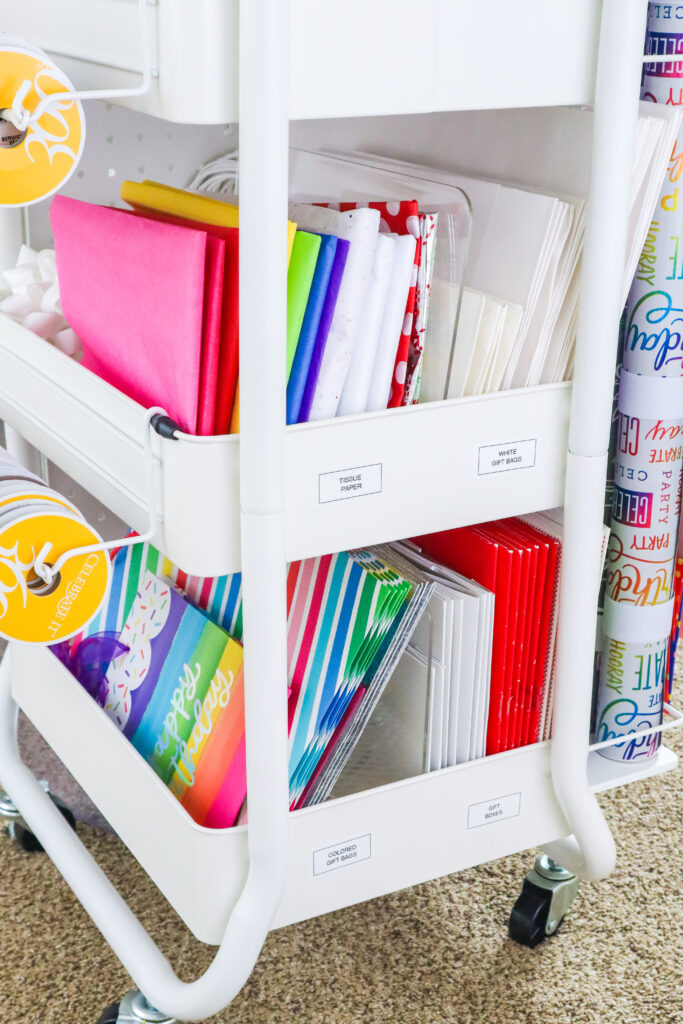 Under the Bed
To save space in your house, you can put your gift wrap storage under your bed! Gift bags fit nicely under the bed because they easily lie flat and you can organize them inside flat, clear containers that will slide right under the bed. You could also use baskets for under-the-bed storage.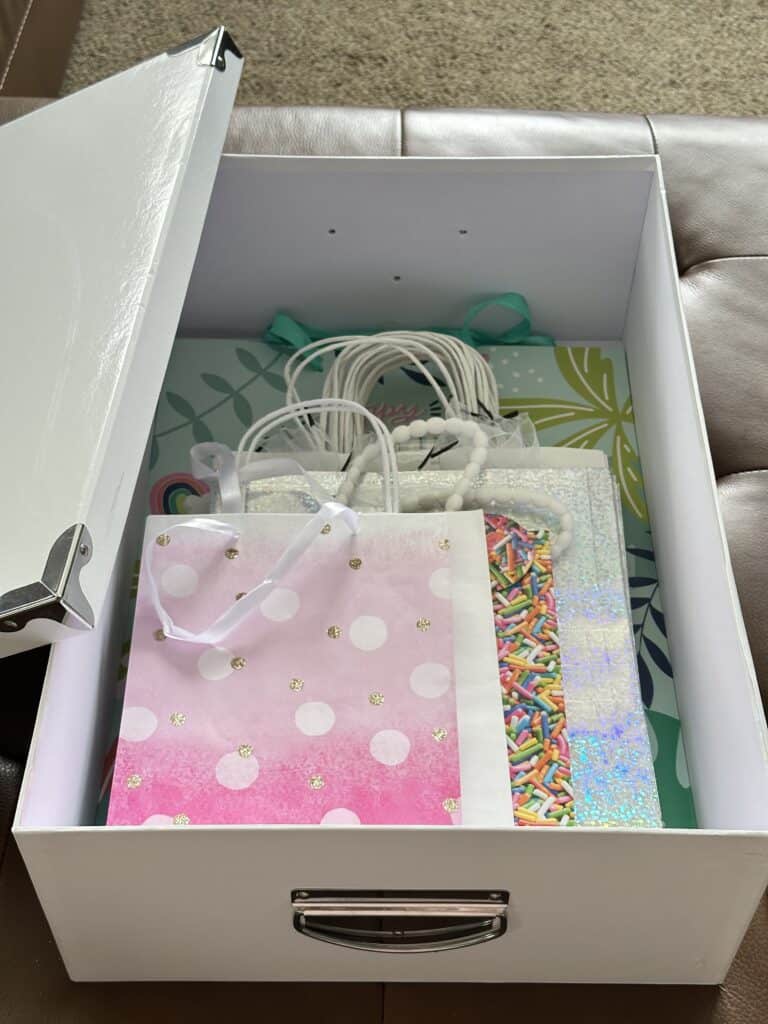 In a Closet
You can also store your gift bags in an existing closet or free-standing wardrobe unit. Just make sure that the space is big enough for your supplies, and that everything fits neatly inside the closet.
Luckily, bags won't take up the whole closet. Get an expandable file folder-type box to store your bags and put them on the top shelf so that you can easily grab them but they are out of the way when you don't need them. Because bags are so skinny, standing them up in a narrow box won't take up too much shelf space.
On the Back of a Door
Storing gift wrap supplies on the back of the closet door is a great solution. Get a door organizer that you can slide your bags into, or get some hooks for the door that you can hang the ribbon gift bag handles on.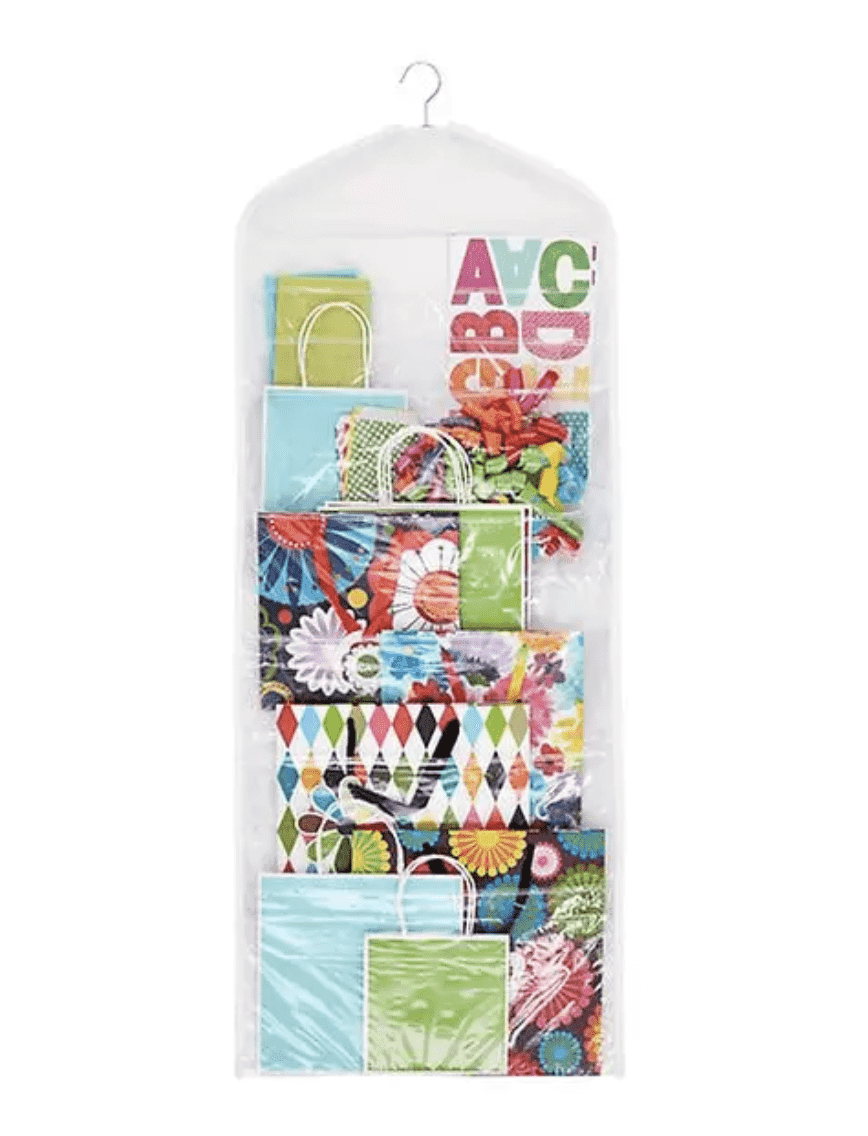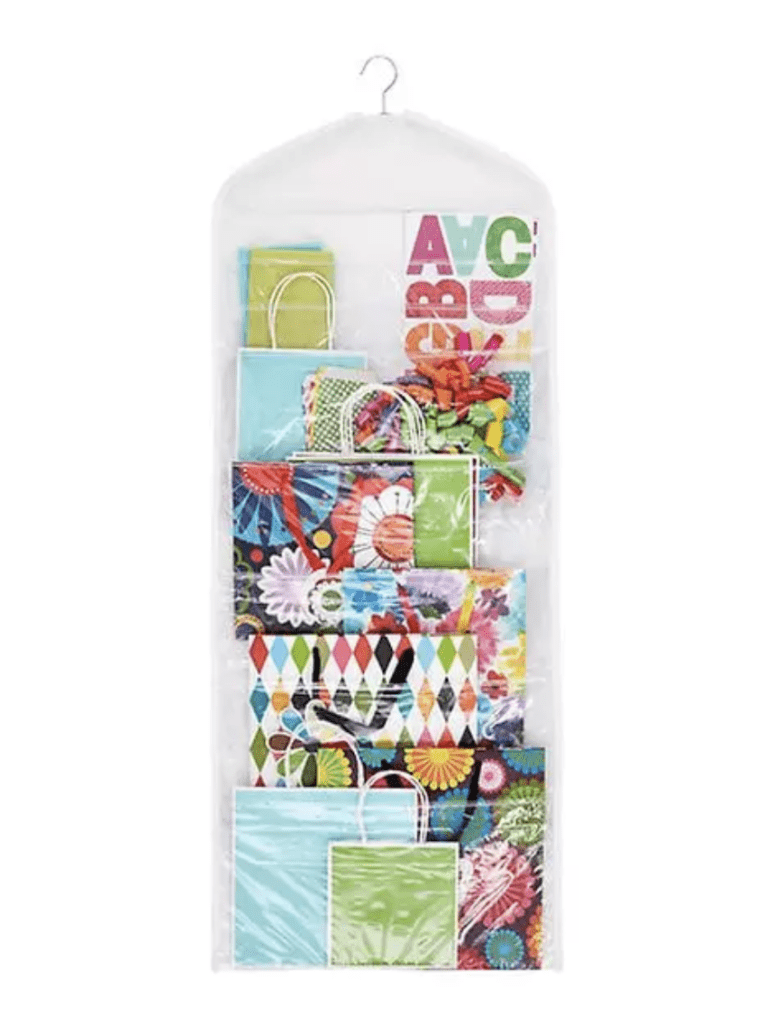 I highly recommend this over-the-door organizer that can free up a lot of space in a closet by creating new space to store gift bags and wrapping paper.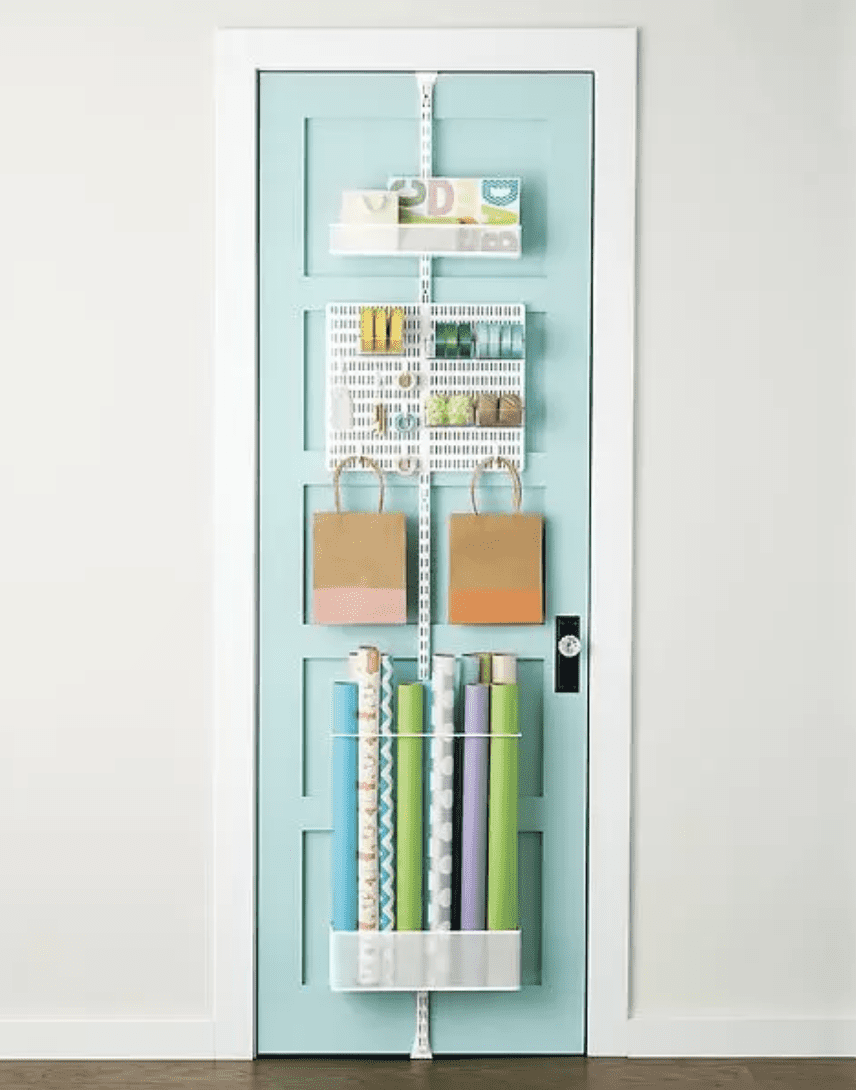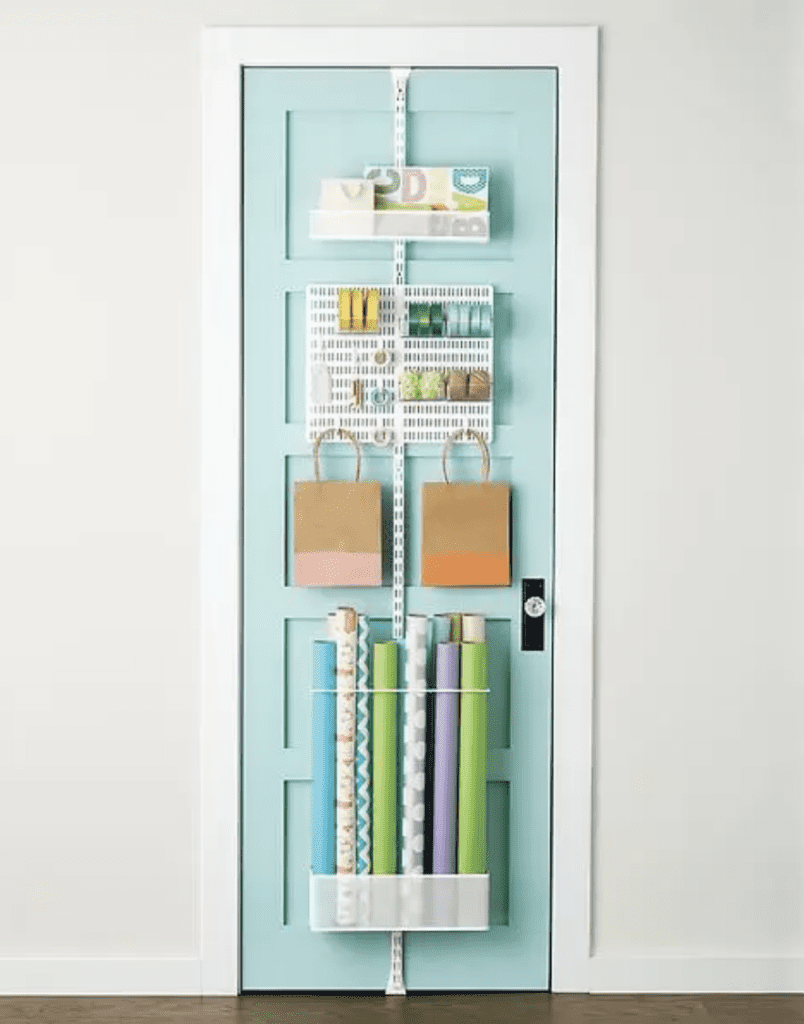 If you don't have room to hang an organizer on your door, you can also put cup hooks on the wall or shelves. Hanging your gift bag storage is a good way to use up a blank closet wall, but you'll want several hooks so you have plenty of space to organize your bag storage.

What to Store Your Bags In
The space you're using for storage will dictate what kind of boxes or containers you use to store your bags. If you don't have a ton of room, consider using clear plastic boxes with lids. This will allow you to see what's inside without having to open it.
You can also use:
An extra-large gift bag
Repurpose an old basket or container
Lay them flat in a large drawer
Organizing Gift Bags
Now it's time to organize your bags! This will make it easier to find the right bag when you need it and make the most of your storage space. When you're organizing your bags, I suggest breaking them down into groups and then subgroups within those groups.
Organize by Occasion
First, I suggest organizing your bags by occasion. Then, depending on what the gift is for, you can easily grab the type of bag you need.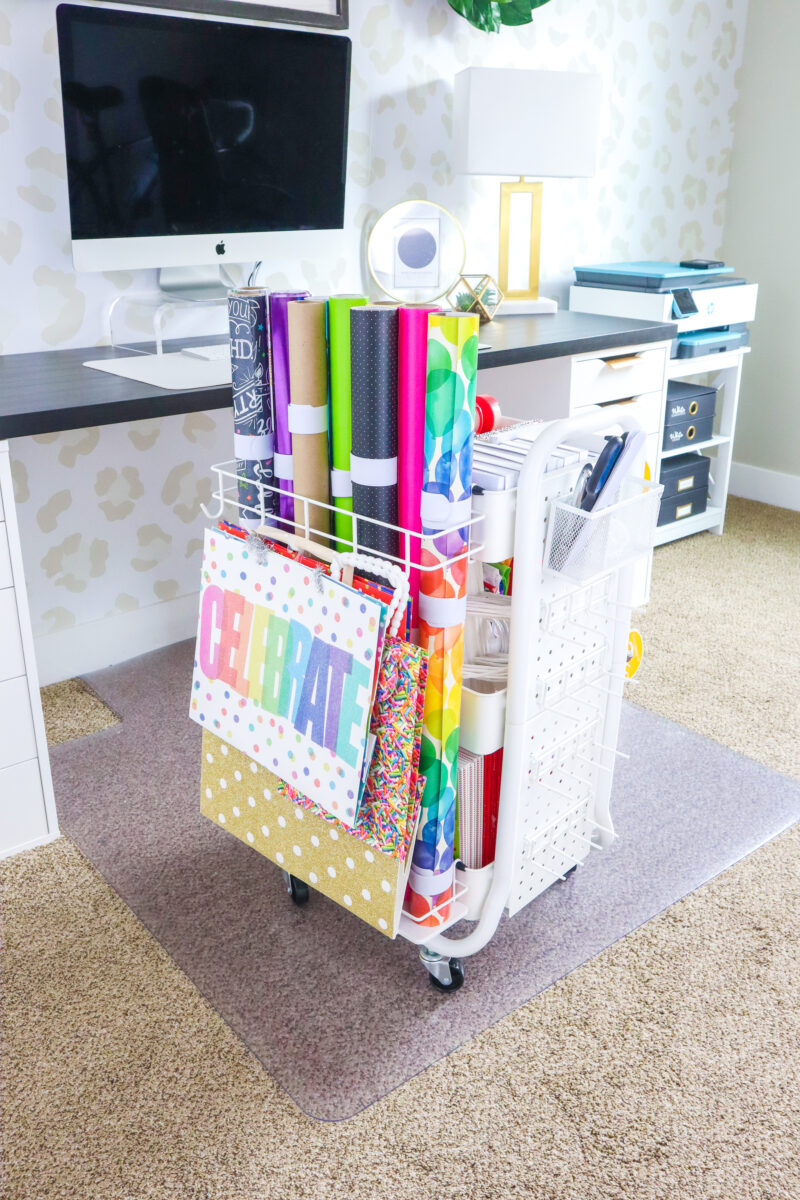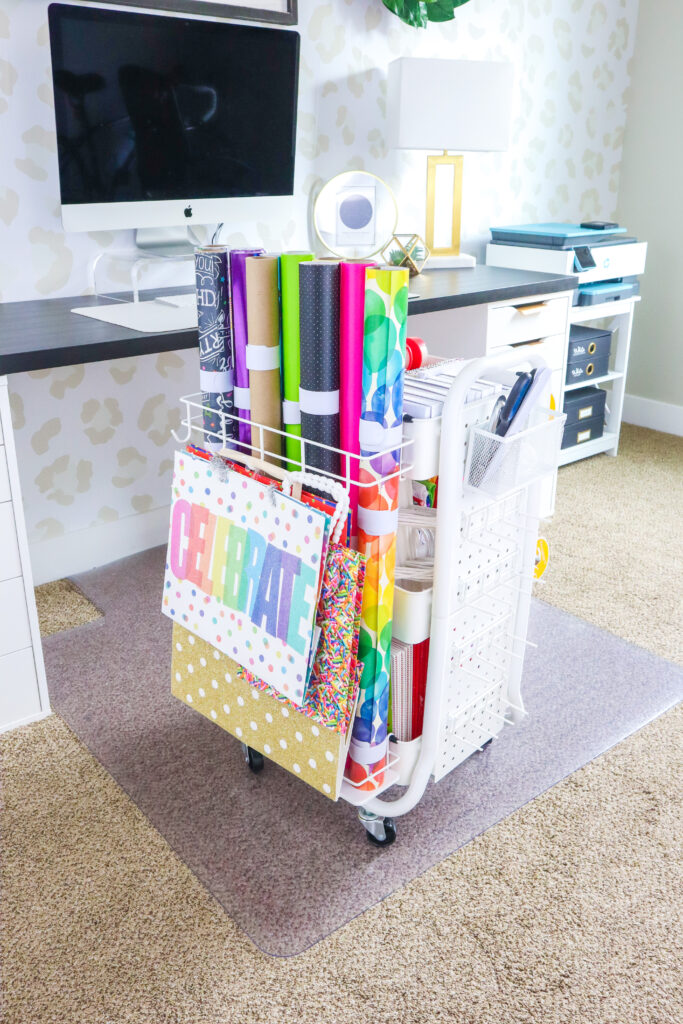 So, keep all of your birthday bags together. Then, have a section for your holiday gift bags, special occasion bags (like a wedding), and a miscellaneous section for other occasions.
Organize by Size
Once you have your bag storage separated into categories by occasion, next you should organize those sections by size. Start with small gift bags and get progressively bigger.
Then, when you're going to grab a bag, you can easily find the exact size and type you need!
Other Ways to Sort Gift Bags
Organizing by occasion and size is my favorite way to sort bags, but you can also sort by color. Keep all of the solid colors organized and patterned bags separate, etc. You can also sort them by type of material, like matte paper bags, shiny bags, and so on.
Sort out your gift bags in the way that makes the most sense to you!
How to Store Tissue Paper
You might be wondering how to store your tissue paper, but there's a simple solution to it! Wherever your gift bag storage is, have a small container or bag nearby where you store all of your tissue paper.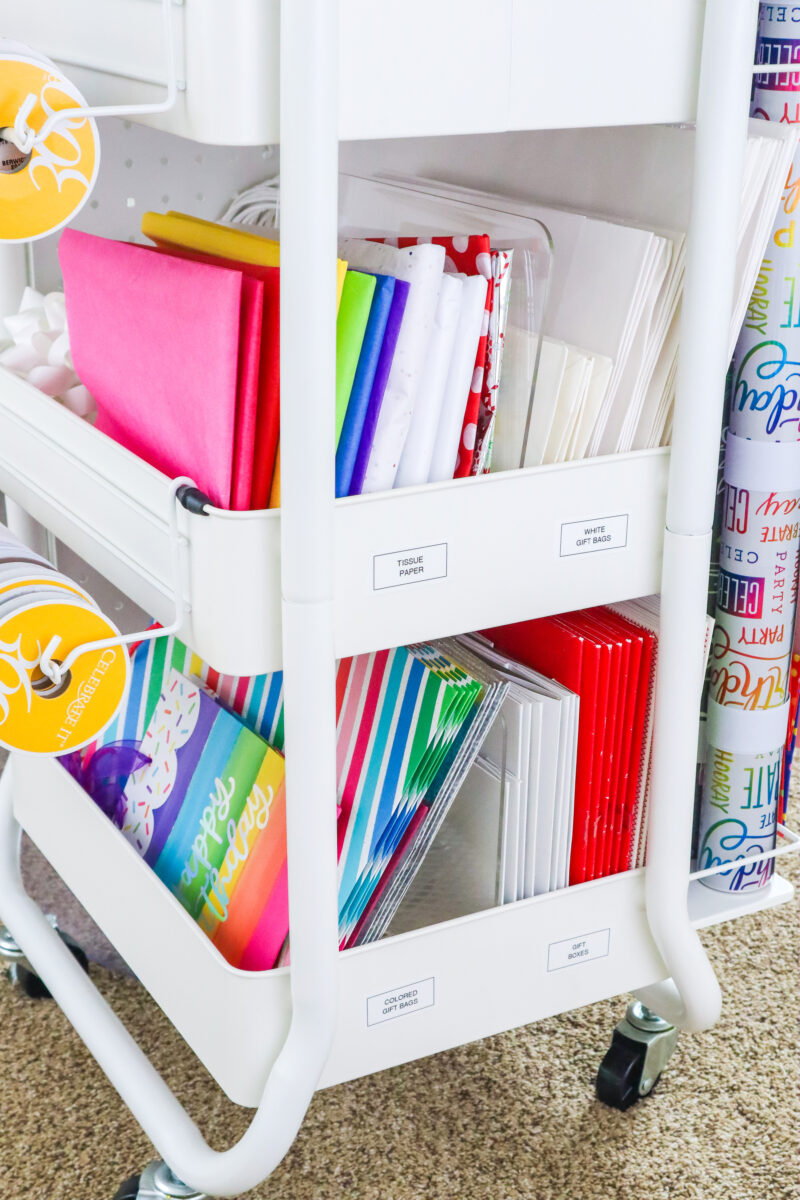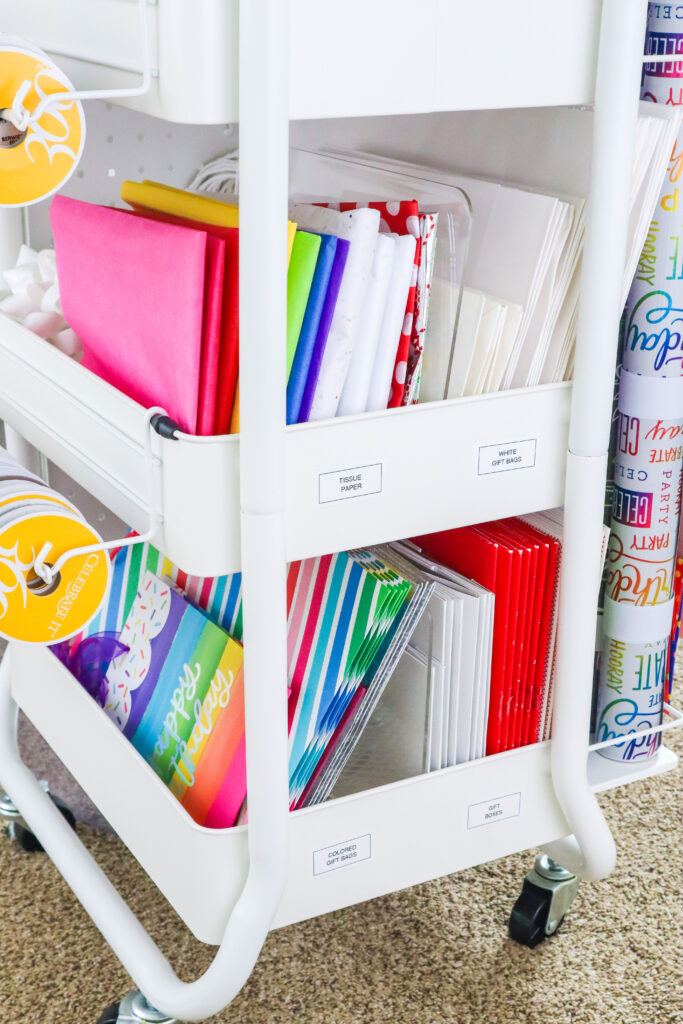 I like to take all of my tissue paper out of the bags and keep them separate so the bags lie totally flat. Then you just sort your tissue paper by color so you can pick out the exact color of tissue paper you need to match your gift bag.
Fold the tissue paper up neatly and it will store easily!
Now your gift bags are organized!
Hopefully, these storage ideas can help you keep your gift bags organized and stored so you can quickly and easily grab a bag whenever you need one!
Whether you keep your bag storage with your other gift wrapping supplies or if you keep it separate on shelves or under the bed, do what works best for your home and the storage space you have.
Taking a little bit of time now to properly store your gift bags will save you so much time in the future!