Get Your Wrapping Paper Out of the Way With These Easy Storage Ideas
Do you have a lot of wrapping paper? If so, it can be tough to find storage for it all.
If you are struggling to find a good storage solution for it, we've got you covered. In this blog post, we will discuss different ways that you can store your wrapping paper. No matter how big or small your house is, we have ideas that can work for you! So read on and get ready to store your wrapping paper in a way that is easy and convenient!
My Favorite Wrapping Paper Storage Ideas
If you have a wrapping paper collection, it can be frustrating to figure out where to put it all. Typically, you'll be using a lot of wrapping paper during the holidays, but once the holidays pass, you'll still need some for birthdays, parties, anniversaries, and other events throughout the year.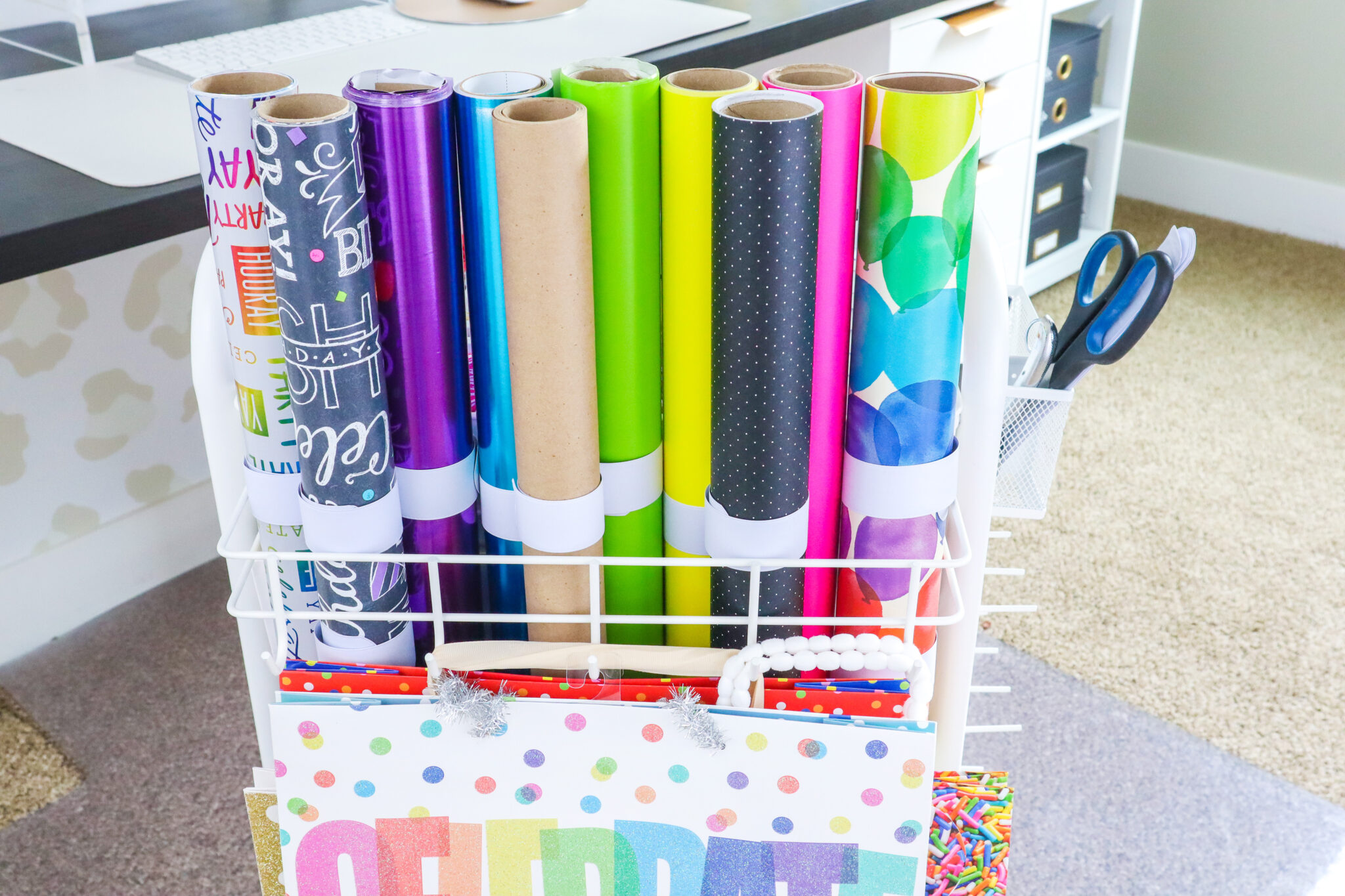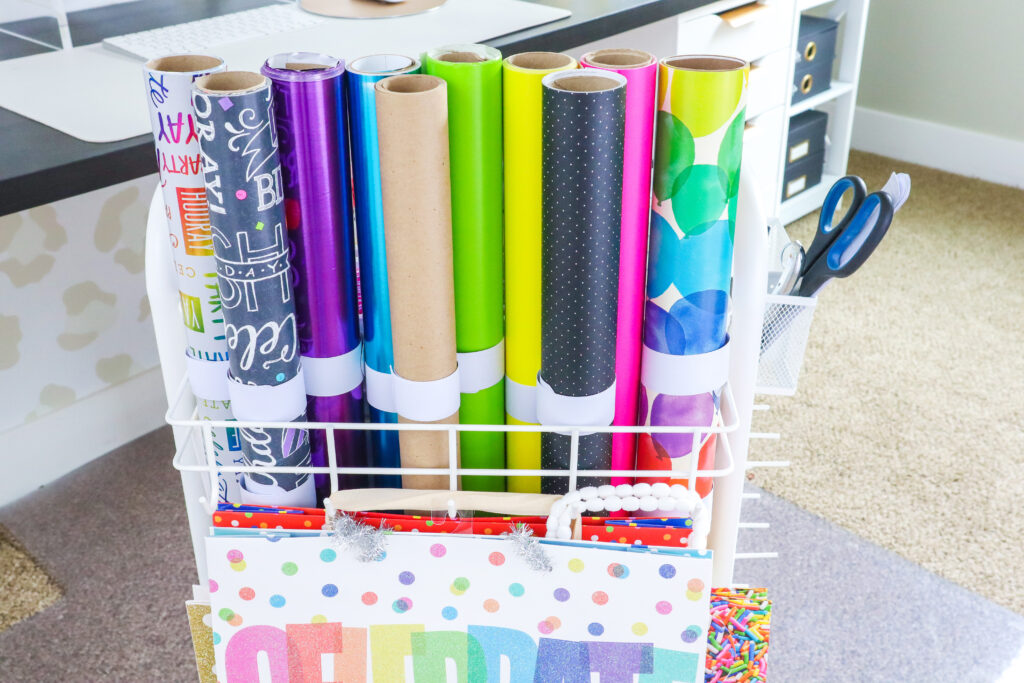 So when it comes to storing wrapping paper, you want to make sure your gift wrap is easily accessible when you need it while staying out of the way when you don't!
Here are a few of my favorite wrapping paper storage solutions!

Wrapping Paper Storage in the Closet
One of the best locations for wrapping paper storage is a closet. Storing your gift wrap in the closet is a great way to keep it out of sight and in one central location. Plus, closets tend to be easily accessible. When storing your gift wrap in the closet, you have a few different options.
Hang Your Wrapping Paper on the Door
One great solution for wrapping paper storage is using the back of your closest door. Hanging your gift wrap storage on the door is a great way to keep it in one place, as well as make sure you don't run out of room on your closet shelf.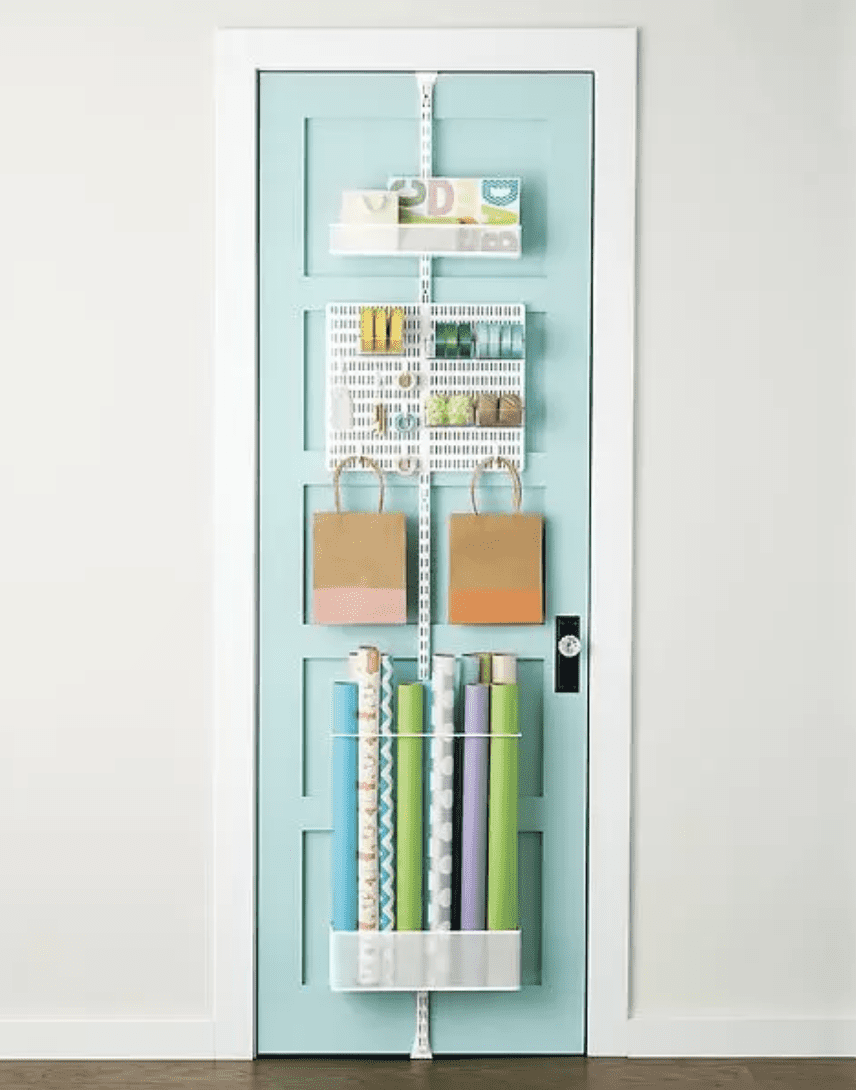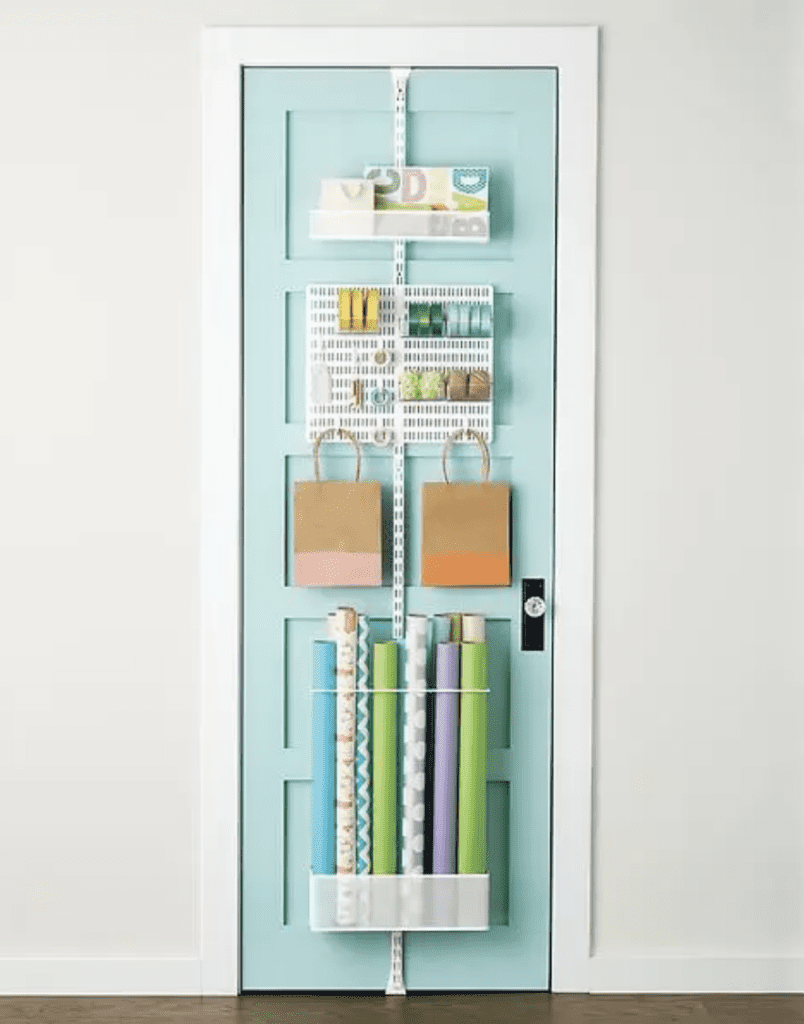 You can either buy an inexpensive over-the-door wrapping paper organizer or you can use adhesive strips to adhere wire baskets or another container directly to your door. Then just slip in your rolls of paper!
Hang Your Wrapping Paper on the Wall
If you don't have space to hang your gift wrap on the door, try hanging it on the wall! You can get a large basket or bin to secure on the wall (or just lean against the wall). You can find a wrapping paper storage box at a nearby container store or online. You can even find some with multiple compartments so you can organize your gift wrap!
I really love this wall-mounted wrapping paper unit that you can purchase from Etsy. It stays neatly organized while still allowing you to see every single roll of wrapping paper.
If you don't want to buy a wrapping paper storage container, you can easily make your own with a large cardboard box!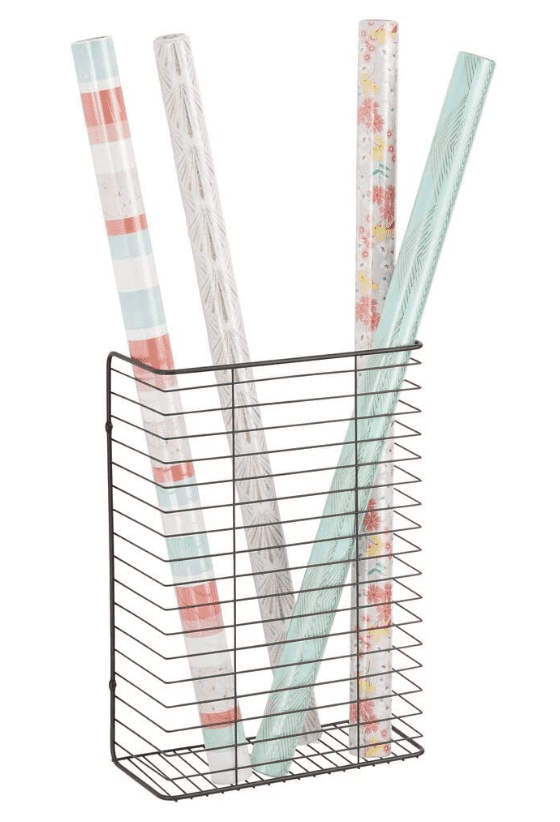 You can also use smaller bins or containers for your gift bags, tissue paper, ribbons, bows, and other gift wrap supplies. Just store your gift-wrapping supplies on a nearby shelf!

Make a Gift Wrap Station
If you have a lot of space in your home, you can also make a starting for your wrapping paper! Then you don't even really need gift wrap storage, since you've turned your wrapping paper storage into a whole station.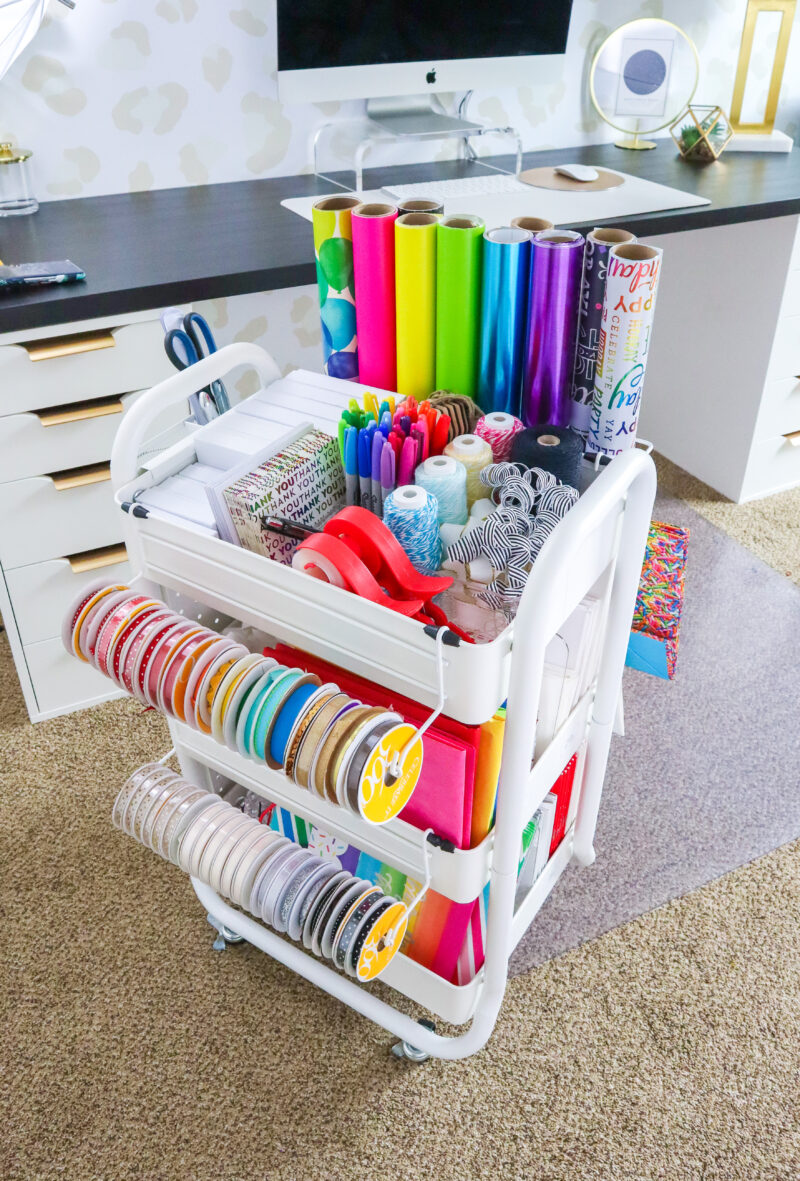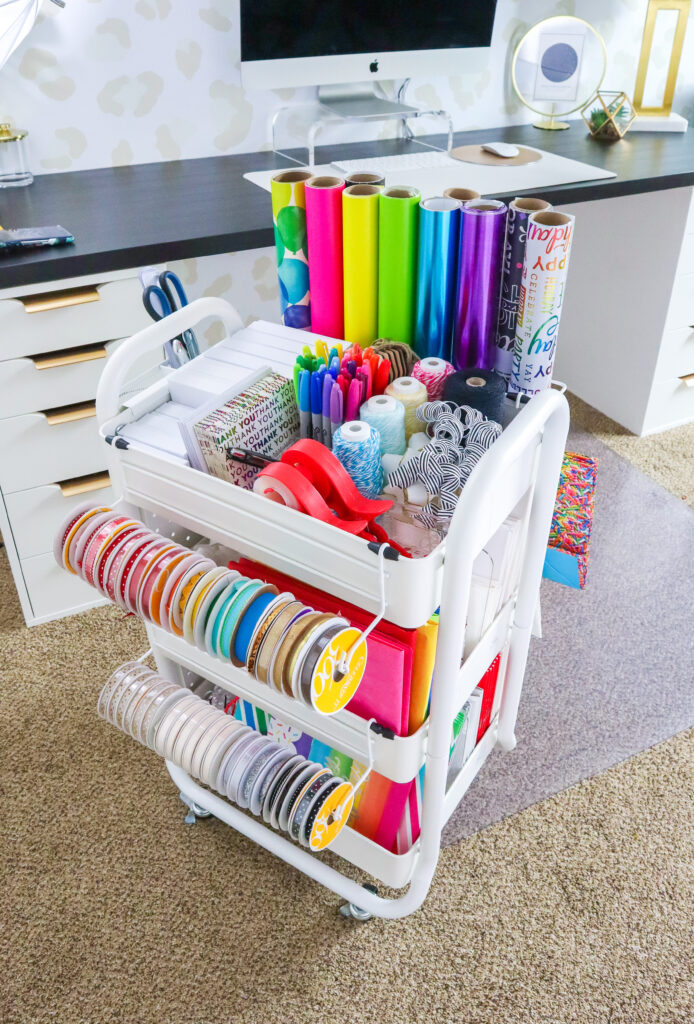 Start by setting up a table or a desk dedicated to gift wrapping. Keep it organized with different supplies like ribbon, tape, scissors, gift tags, and other supplies like gift bags and tissue paper. Add organizers to the drawers to easily keep your tape, bows, ribbon, and other accessories organized.
Displaying Rolls of Wrapping Paper
You can display your wrapping paper rolls in several ways. One of my favorite ways that I've seen is with wrapping paper on rolls with a frame around them so they look like a photo!
Just put your gift wrap on dowels and hook your rolls to the wall, and then you can easily pull out the amount of gift wrap you need for each present. Hanging your gift wrap in a craft room can be a unique and fun way to store your gift wrap while also using it as decor.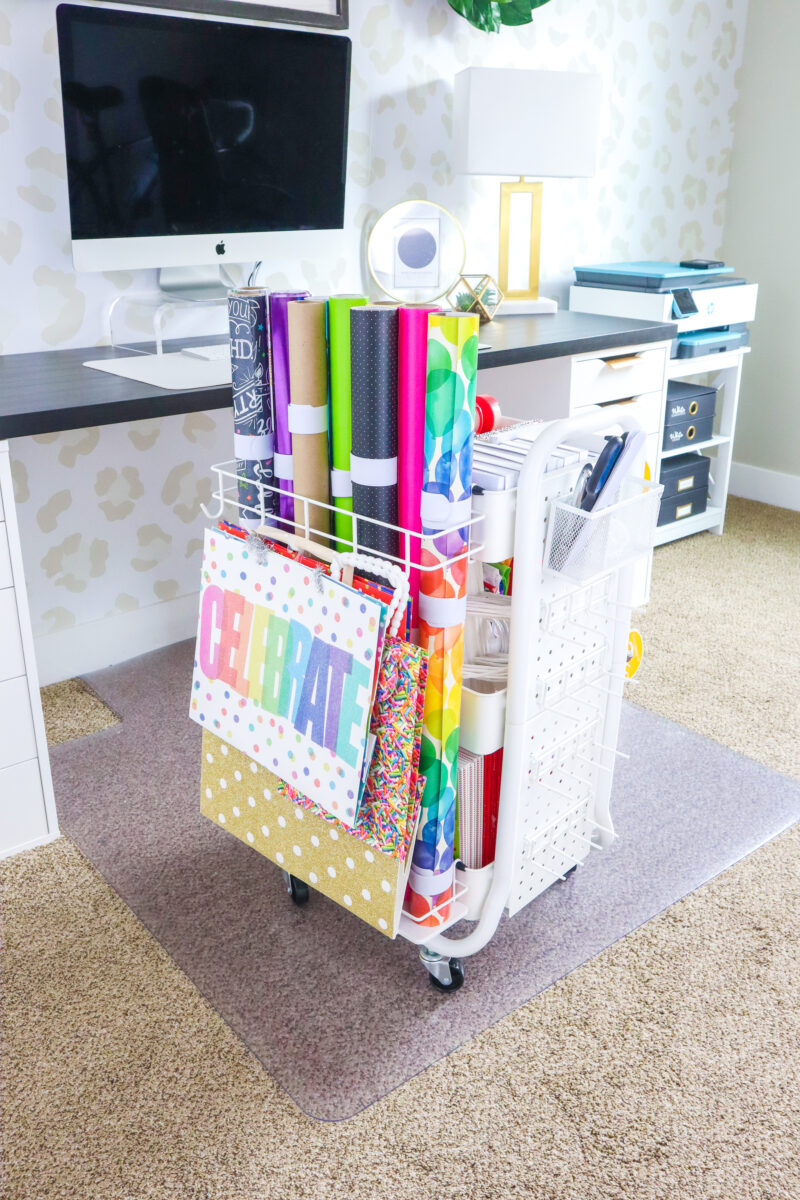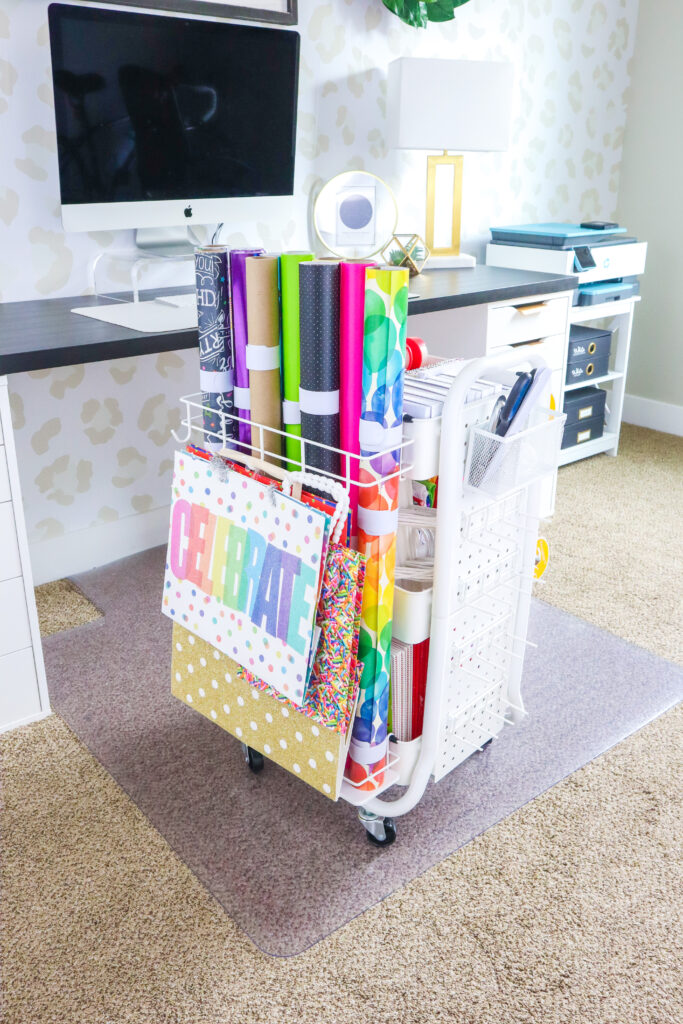 You can also get a pretty basket for your gift wrap storage! Set it by your wrapping table or in the corner of your craft room.
Or if you have a dresser with drawers large enough to accommodate rolls of gift wrap, you can store them in the dresser! I'd suggest adding separators to the drawer so you can create compartments to keep your wrapping paper organized.
Get a Wrapping Paper Organizer
If you prefer to keep your wrapping paper visible and easily accessible, you can get a gift wrap organizer. Purchasing wrapping paper organizers is a super simple solution to wrapping paper storage. Look online or at a local store (like a container store) for the best wrapping paper organizers.
If you have a large storage space (like an attic, basement, shed, garage, etc.), then you can just keep the organizer there. If you don't, you can keep your organizer under the bed, in a closet, or tucked in the corner on the floor of your craft area.
When looking for wrapping paper organizers, make sure they will fit your space. You can also look for something that has some type of cover (like a lid) if you're planning on storing it outside in a shed or in the garage. I love this gray, tall storage box.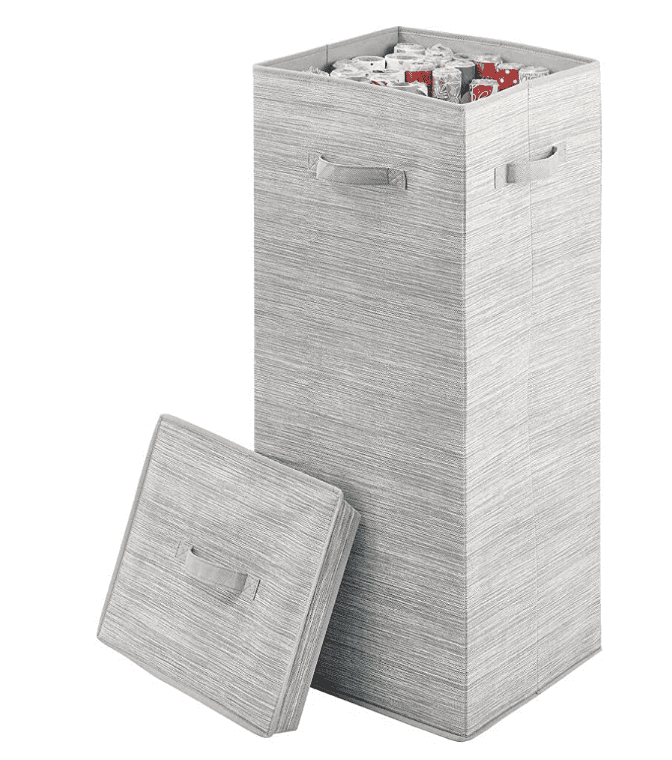 You can also get a storage container to organize your wrapping paper that has a clear window so you can see exactly what's inside. This would be particularly helpful if you have a lot of gift wrap and need to organize it according to holiday.


Store Wrapping Paper in an Underbed Storage Container
If all else fails, under-bed storage containers are great for a small space. If you don't have extra storage room, you can get flat containers that fit your gift wrap and then easily slide them beneath the bed.
A wrapping paper storage box should be easy to find and could also slide on a top shelf, under a couch or long table, or be placed in another storage spot within your home.
Organizing Your Wrapping Paper Storage
In your wrapping paper storage, sort out your gift wrap into sections. Even though it might be easy to look through your gift wrap storage, it's always better to keep your collection organized!
Organize your gift wrap storage by occasion! For example, keep your holiday wrapping paper together, your birthday paper together, etc. Keep the gift wrap for each different occasion in its own little category!
Then, whenever you have a holiday or event to attend, you can quickly grab the wrapping paper you need! It'll be much easier to find the perfect paper for that special event or holiday.
You can also organize by color! This makes it easier to pair a complementary card and ribbon with your paper. Taking some time to organize your wrapping paper, gift bags, and wrapping accessories will ensure your gifts are wrapped and ready in no time!
Get Your Wrapping Storage Ready for the Holiday Next Year!
Now that you have some ideas for wrapping paper storage, get your supplies ready for the holiday next year! Start gathering wrapping paper and supplies throughout the year, so you won't have to scramble at the last minute. You can also take advantage of shopping sales or promotions to get the best deals on your favorite paper!
Organizing your wrapping paper can be fun! Just make sure your storage solutions keep your rolls of paper nearby so you can access them quickly and for any occasion! And if you need any storage ideas for gift bags, I have a post about that too.
Do you have a favorite storage solution for your gift wrap? Let me know in the comments!