6 Cute and Creative Ways to Accessorize Your Car
Do you want to add a personal touch to your car? If you're looking for a way to make your car feel more unique and show off your personality, there are a few things you can do. In this post, we will be discussing some of our favorite ways to personalize your car. In this post, we will be discussing some of our favorite ways to personalize your car and showcase your individuality.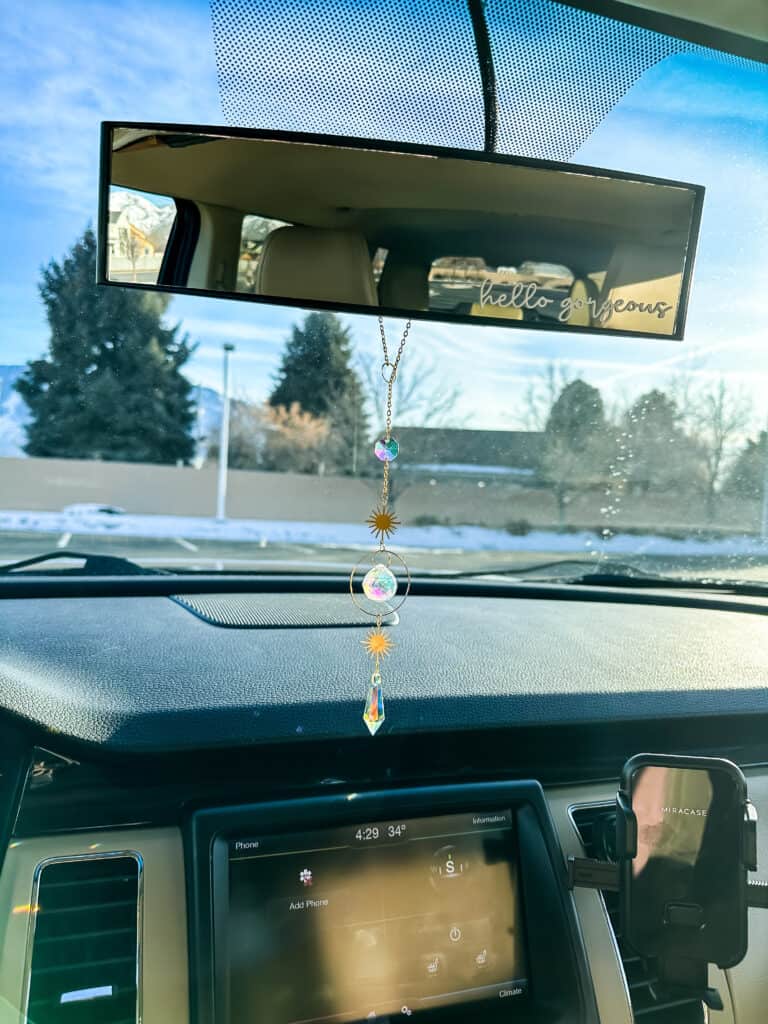 We'll cover car spray, vinyl quotes, hanging hooks, and other decorations. So whether you want to add a little bit of flair or change up the look of your car altogether, these car accessories for women will help!
You'll love this post, too!
There are a lot of great ways to make sure your car smells amazing! Check out my post for TONS of unique and fun ideas!
Car Accessories for Women
If you're in your car a lot, either commuting to work, running kids around, or running errands, you may notice that your car is a little drab. If you want to add your style to the car interior, there are a few ways to do this. Here are my six favorite ways to bring a bit of your personality and style into your car with car accessories.
(Most of these car accessories do veer a bit more into car accessories for women or more feminine car accessories, but they can work for anyone who likes them and will look great in a family car as well!)
1. Make sure your car interior smells nice.
One of the most important things to do to your car is to make sure it smells nice. This applies to all drivers, but especially for any parents or guardians who spend a big chunk of their life driving around kids.
Kids and teenagers can really stink up your car interior, so car freshener or scented car spray is the best way to save your vehicles from bad odors.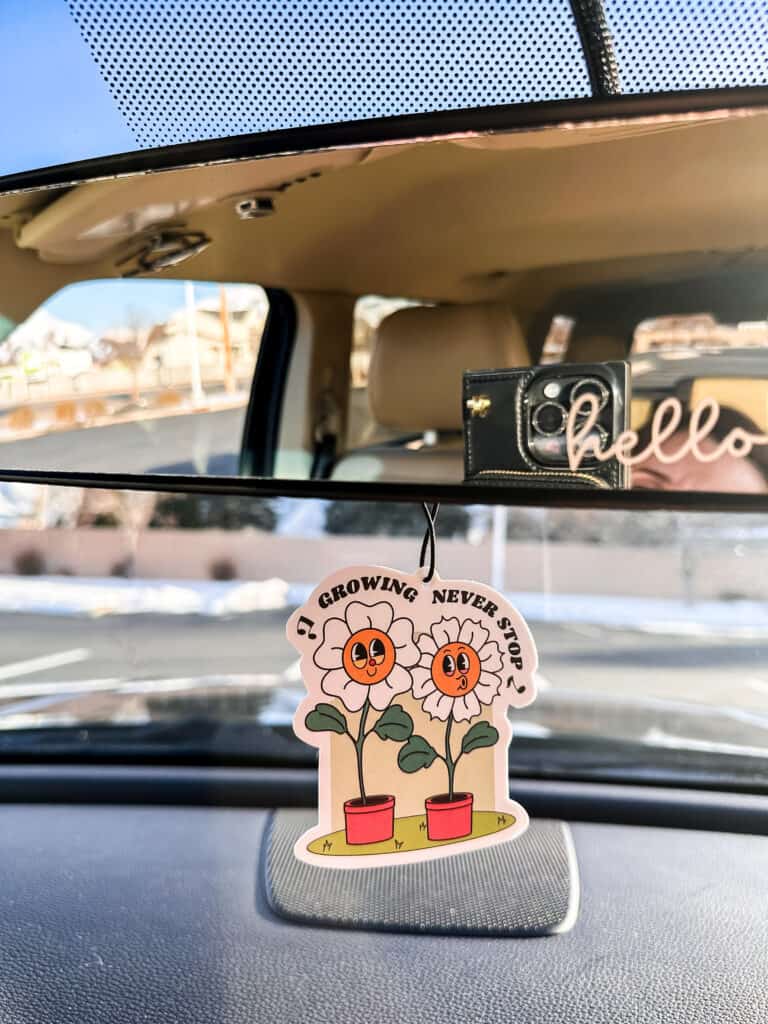 Car Freshener
If you prefer car freshener, you can get these fun retro-inspired ones. Or, if you prefer pink freshener, you can get this set or this set. They add a fun style to your car interior.
Car freshener is super easy to find at almost any grocery store or vehicle store, but you can also check Etsy or Amazon for unique designs. You can even get this car freshener with a custom photo of your family, a friend, or even a dog – whatever you want!
Scented Car Spray
Scented car spray adds a pleasant aroma to your car. You can use it instead of car freshener or when your car really needs that extra help smelling nice again. (Maybe your kid and all their teammates took their shoes off after practice and now the carpet and seat need a good spray.)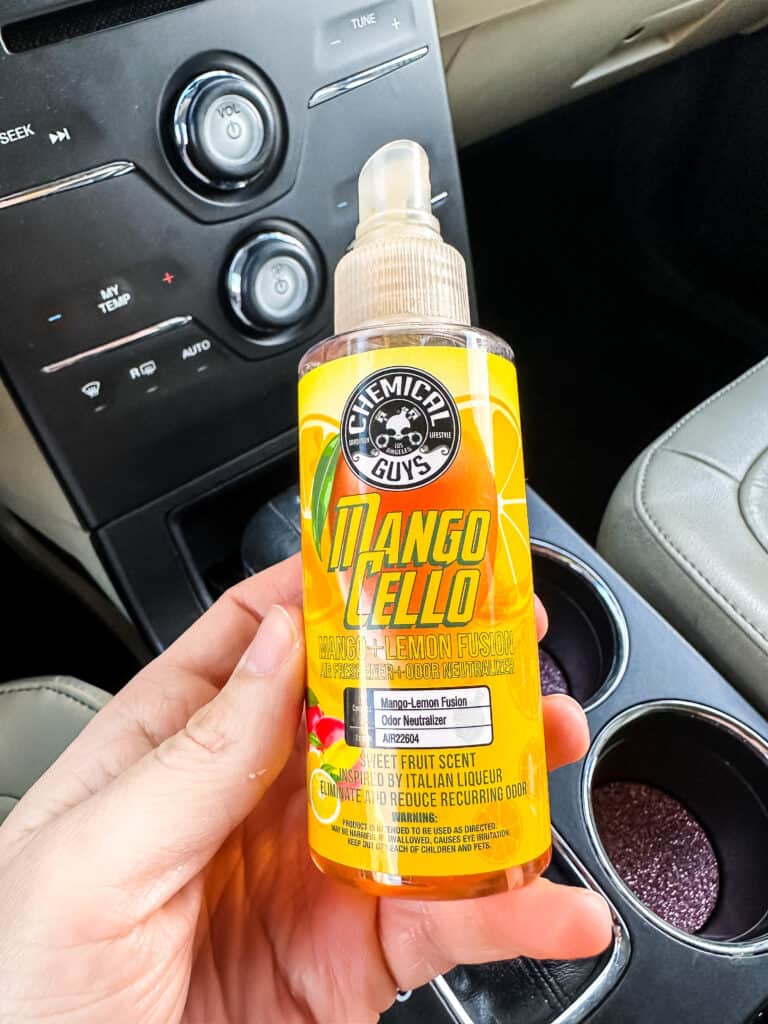 This one really helps eliminate bad odors and has a fresh mango scent. if you like something a bit sweeter, this one smells like donuts! I also love this horchata spray. It's a nice vanilla and cinnamon smell.
(These also work well to eliminate in dog or pet odor in your car if you've taken them in your vehicle.)
SHOP MY FAVE CAR FRESHENERS

2. Add functional hooks for supplies.
Car accessories don't just add style, they can be functional as well! Seat hangers are one of the best car accessories for women or any drivers that cart around bags or purses.
With a seat hanger, you can easily hang your purse or bag behind the seat next to you so it doesn't fall over or move around a lot as you drive. This will protect both your bag and your passengers since it will keep your bag secure in your vehicle.
This seat hanger is great for anyone who wants to bring a little blind into their vehicle. Or, if you prefer a classic black headrest hanger, this one is pretty as well. I can't get over how cute this bow hanger is though. Perfect to hang any purses!
Getting metal or plastic hangers for your seat are both great options, but keep in mind where you live before you purchase some. In the winter, plastic might be fine, but if you live somewhere really hot, the sun could melt down or distort some of the plastic hangers. Likewise, the sun will make the metal seat hangers very hot to the touch, so make sure you add cloth to protect anyone from touching them.

3. Decorate your car with fun items.
Don't forget one of the best parts of shopping for car accessories… finding car accessories with your style!
Cute Keychains
Everyone loves a cute keychain, so why not buy one for yourself? I especially love these cute retro-inspired motel keychains that are a huge trend right now.
Adding Photos
One really great way to personalize your vehicle is by adding pictures of your loved ones! This frame clips onto the air vent on your dash. It's a very small glass frame that will really bring life to your car.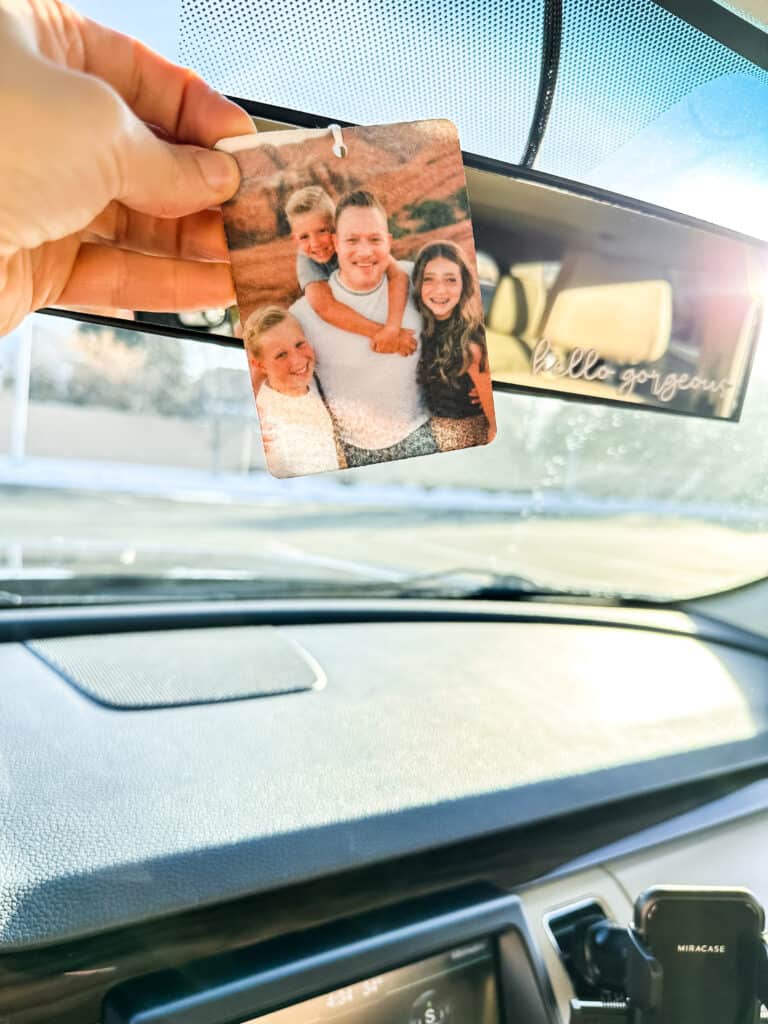 You can also hang a photo from your rearview mirror with this acrylic frame. The photo is printed directly onto the frame. You could also get this wooden accessory with your photo printed on it.

Car Coasters
Car coasters are a great way to add a personal touch to your car. They come in a variety of styles, colors, and designs. Car coasters are designed to protect the cup holder from water damage – so you can enjoy that drink without worrying about spills!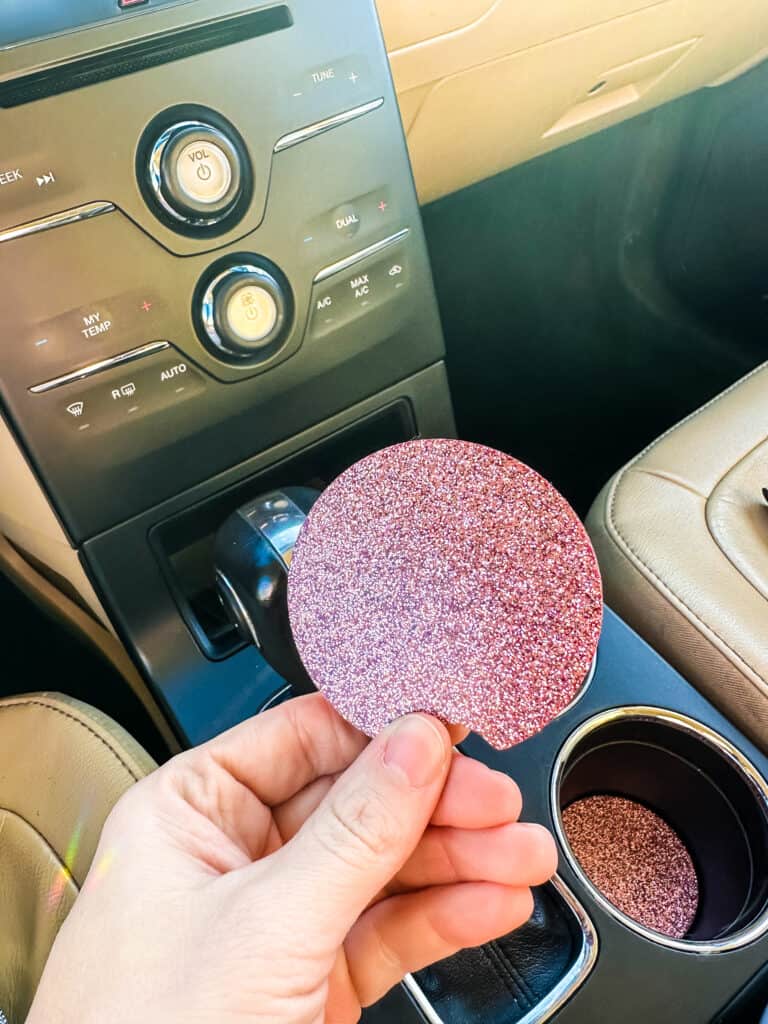 This one can be customized with your favorite photos. You could get a patterned car coaster like this one, or this set of bright pink and yellow coasters that match some of the car fresheners earlier in the post.
To stop for other coasters or cup holder covers, you can check here.

Car Plants
Adding plants to your vehicle can have a calming effect, as well as being fun and decorative. There are several types of car plants available, like this succulent that comes with a secure holder to hang on your rearview mirror.
My favorites are this hanging car plant and this one. Both come in adorable macrame holders that hang from your rearview mirror, so it really just depends on what size and style you prefer.
4. Don't forget to decorate outside the car as well!
We've been focusing on car accessories for inside the car, but when it comes to accessorizing your vehicle or really riding in style, you can't forget about the outside of your car as well!
One easy way to add car accessories to the exterior of your vehicle is with a license plate frame! A license plate frame adds a personal and unique touch to your car, regardless of the make or model. There are tons of different designs available, so you can pick something that expresses your own style.

5. Add small decorations to your mirrors and windows.
You've probably seen lots of drivers with decorations on their windows or mirrors. While some of the car accessories people put on their car windows can be distracting, there are also some really cute options as well.
Rearview Mirror Decorations
If you want to add personality to your car, one of the easiest ways is to use rearview mirror decorations. These can come in a variety of shapes and sizes, such as small charms, beaded strings, feathers, or even furry animals.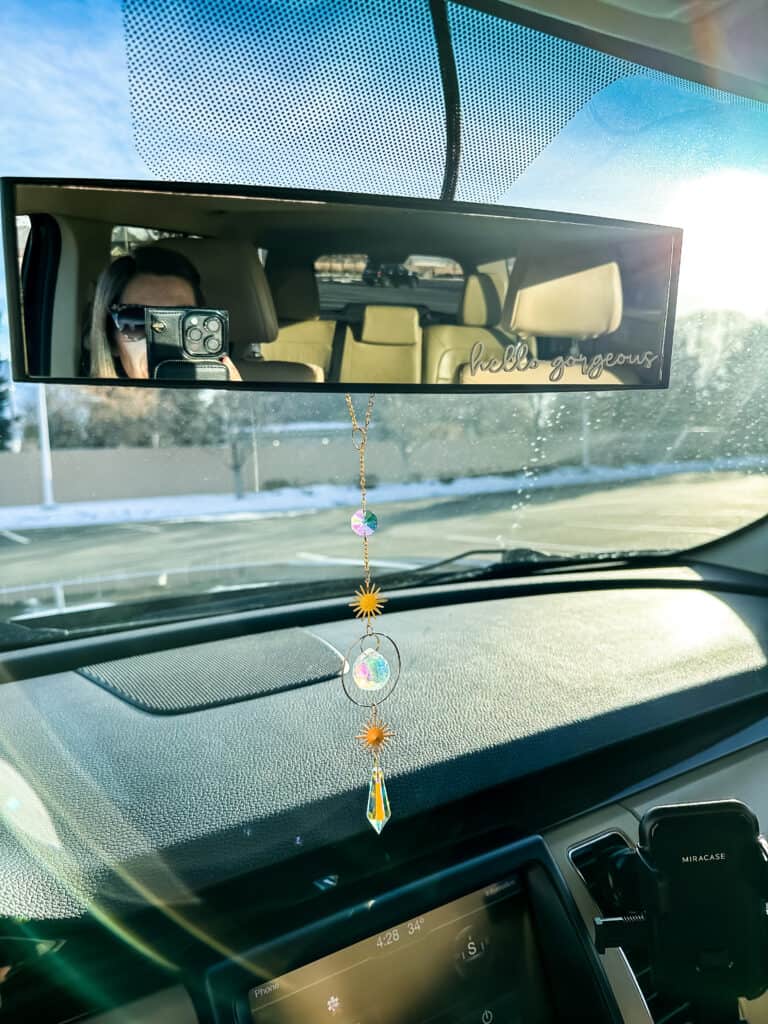 I love this macrame rainbow, this car charm that acts as a sun catcher, this clear acrylic smiley face, or this customized initial car charm.
Whatever rearview mirror decorations you choose, make sure that they don't block your view of the back window. Also, if you choose something that hangs down too far, it can obstruct the driver's vision in the rearview mirror.
Other than that, choose whatever kind of car accessory that will show off what you love most – a design, a friend, a pet, a significant other, or even a book!
Sun Visor Mirrors
When it comes to car accessories for women, we have to talk about the sun visor. Your sun visor mirrors can be a great place to check for lipstick, smudges, etc.
While most sun visors have mirrors already, some vehicles don't. If yours doesn't have a mirror already, you can get this self-adhesive mirror and attach it to your sun visor.
There are a variety of sun visor mirrors to choose from depending on the look you're going for. You can find ones with LED lights and magnifying options. This one can give you a lot better lighting!

Window Decals
Another great way to personalize your car is by adding window decals. Window decals can range from funny sayings to images that represent something important to you.
If you want to add something to your vehicle but aren't sure what, I think adding a kind quote to your window is always a good idea. Who doesn't want to see a nice, kind reminder when they are driving?
Here are my favorites:
6. Give your keys some love too with a keychain!
Don't forget about your keys! You don't want to add a bunch of car accessories to your vehicle and then your keys still look boring. Adding a keychain can give you something to look at, and it's a great way to show off your personality.
You can find keychains that are funky, cute, or even with your initials on them! It's also a great way to keep track of all your keys so you never lose them.
I love this customized name keychain, this retro one about having a good day, or any of these! Adding a cute keychain to your keys is an easy way to bring personality to your key ring.

Other Car Accessories You Need for Your Vehicle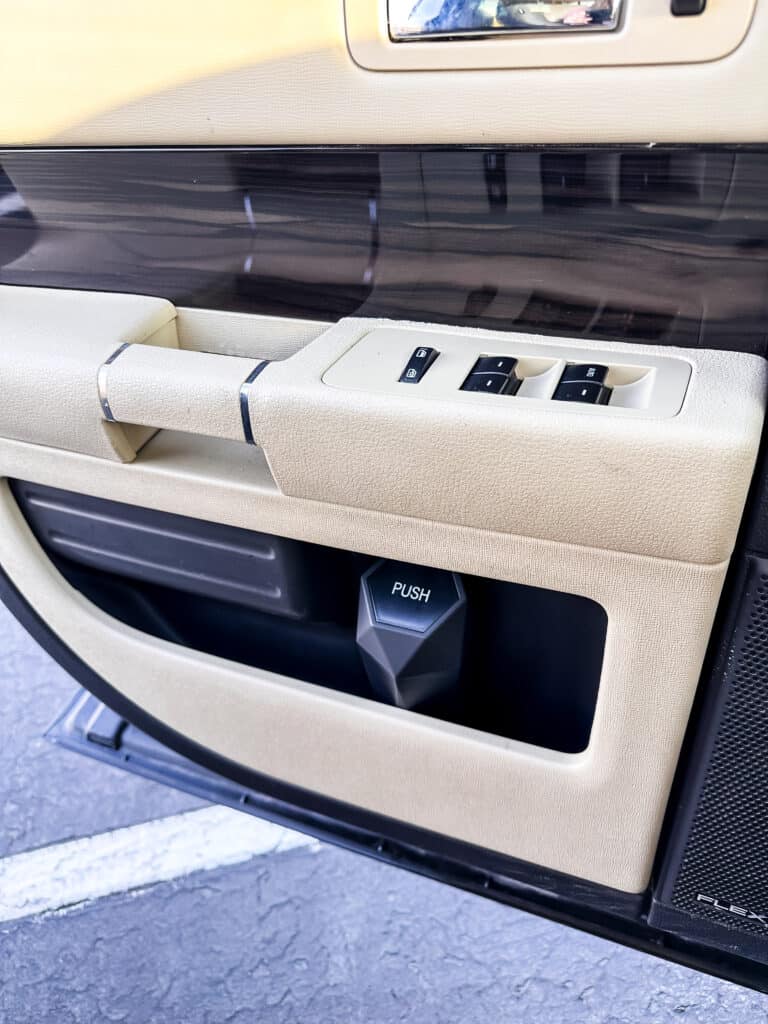 If you're looking for car accessories to keep your car organized, there are lots of different ideas I can give you. As a mom, I know how easy it is for your vehicle to get messy, dirty, and chaotic. There are lots of car accessories for women that can help keep your vehicles under control. Here are just a few:
Car Accessories to Keep Your Car Organized or to Stay Prepared
A garbage can or container
A tissue box
Car or seat covers
Feminine hygiene products or other women supplies
Hair ties and rubber bands
Bags for your pet's business
Spare change holder
First aid kit
Ice scraper and brush for the winter
Seat cushions
Flashlight and emergency light
Emergency blankets or ponchos
Portable phone charger
Sunscreen and bug repellent
Organizer for your documents and insurance card
and so much more!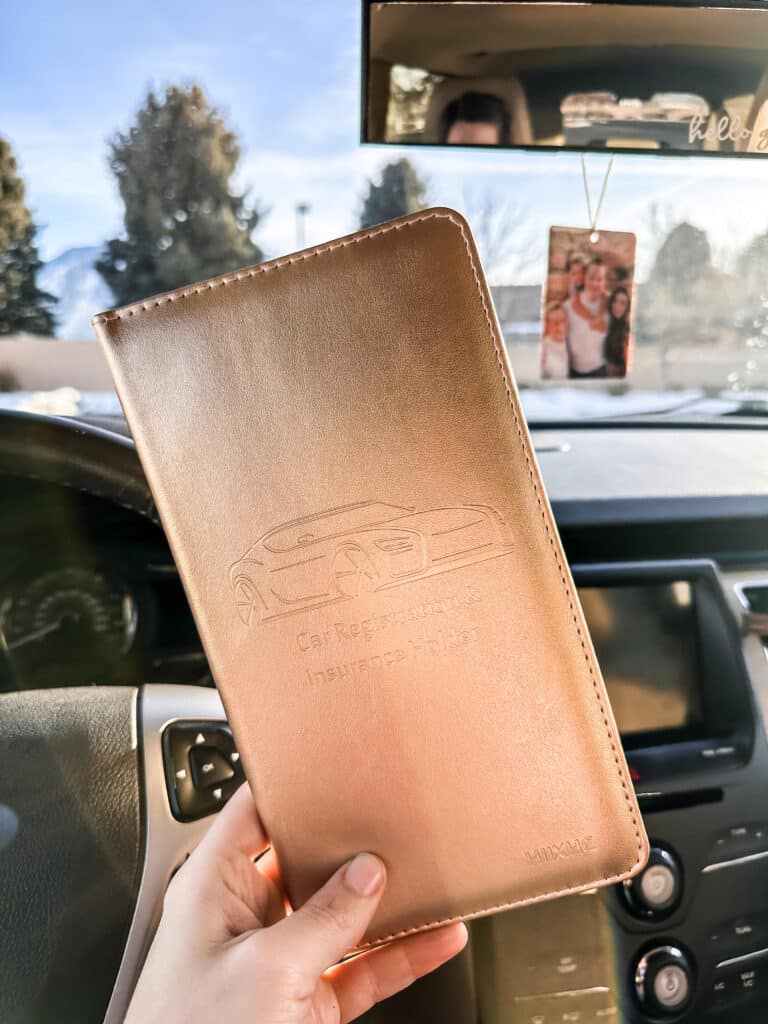 Car Accessories for a Car You Love
If you spend a lot of time in your car, adding some accessories can make your car feel more like home. You don't have to add a million things or spend tons of money to do it either! For example, considering some deluxe-looking Alfa Romeo accessories can be an excellent choice.
Just go slow and add a few car accessories at a time that make you happy and make your car feel like an extension of your home.
Do you have any car accessories already? Which is your favorite? Let me know!