Kitchen Island Centerpiece Ideas: How to Decorate Your Kitchen Island
Your kitchen island can be a beautiful addition to your kitchen – but it can also be a bit plain if you don't know how to decorate it! A lot of people struggle with this because they don't want their kitchens to look too cluttered. But with the right ideas and utilizing kitchen organization products, you can easily create a beautiful centerpiece for your island and show off personality and style while you're at it.
In this post, we will discuss some great ideas for kitchen island centerpieces that will work in any kitchen!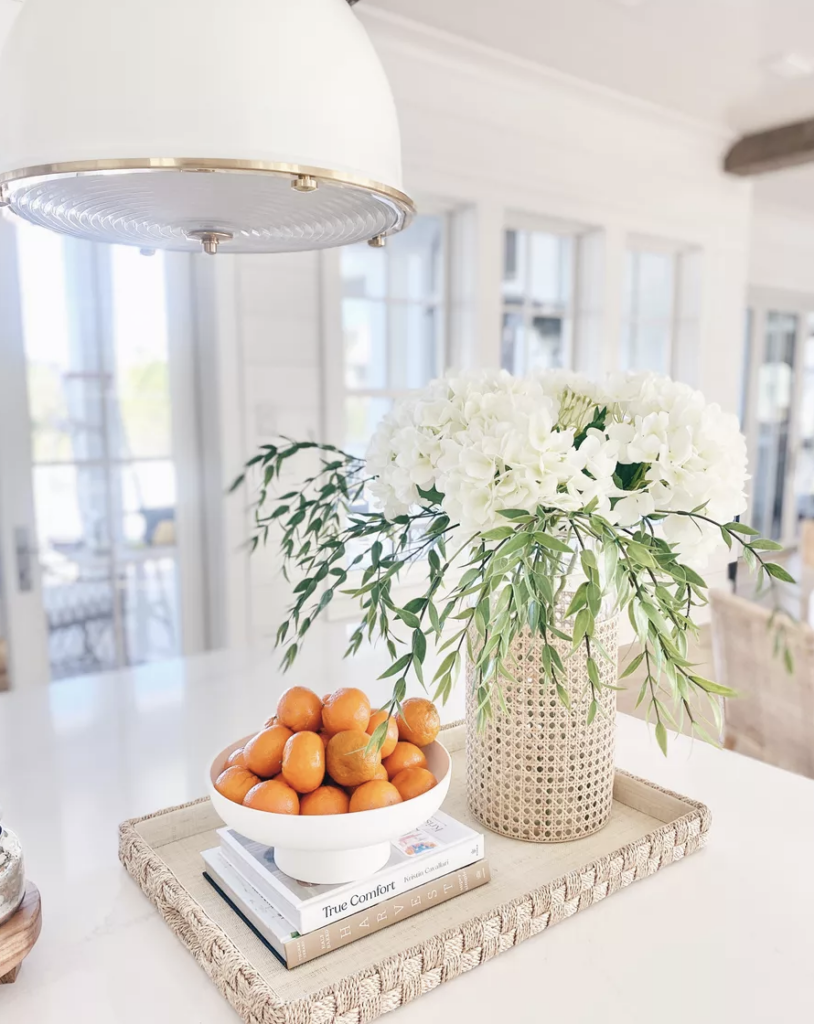 Kitchen Island Centerpiece Ideas
If you have a kitchen island, chances are you've wondered what to fill it with. Decorating your kitchen island with a centerpiece can be a great way to add personality and style to your kitchen. But what do you put there without making it look cluttered?

If you have a small kitchen island, you may not want a centerpiece at all. Or if you have little kids who will be tempted to climb up and grab any decor off the island, you may want to wait on creating a display until they are a bit older.
But if you have a large island or just feel like your kitchen island is a little bare, then an island centerpiece is a great decision.
There are many different ways that you can decorate your kitchen island with a centerpiece. Here are some tips and ideas: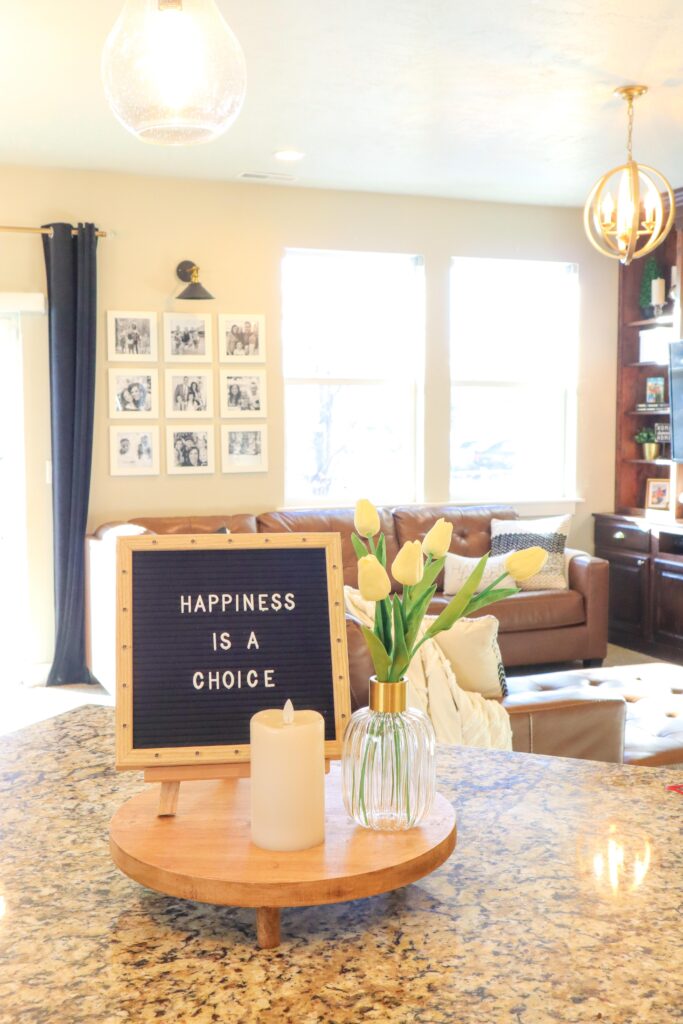 Flowers are always a good idea.
A classic centerpiece for all surfaces is a vase of flowers. If you don't like the idea of replacing flowers on a regular basis, then you can always get artificial silk flowers.
While I tend to prefer the look of fresh flowers (and the nice smell!), you can find some really pretty artificial bouquets that could add color and brightness to your kitchen island.

Use fresh fruits.
If you don't like the idea of flowers, consider adding fruits to your centerpiece. Putting fruit in a large bowl is an easy way to create a colorful display.
You can also get creative and arrange the fruit in different patterns or designs. If you want something that will last longer, you can always use dried or fake fruits.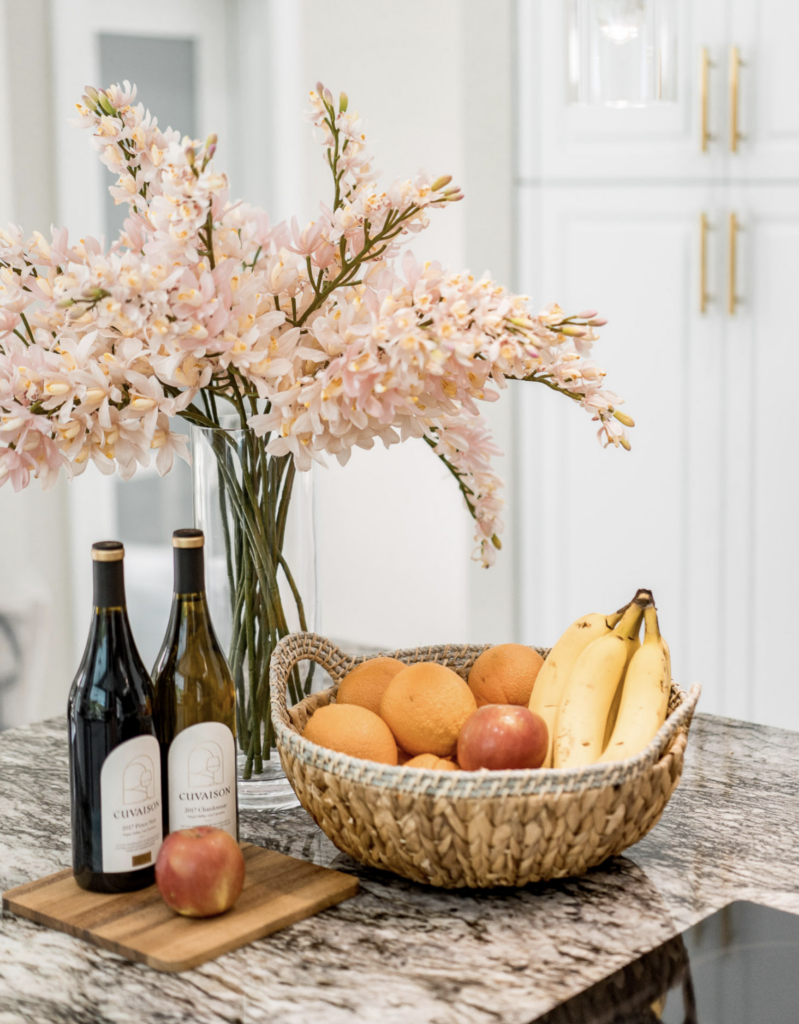 You also don't have to just put them in a large bowl. Get creative! Get a modern tray or display them on cutting boards or small plates.
Consider using seasonal fruits (or even vegetables if you prefer) and changing them out throughout the year.
Add some greenery.
Adding greenery to a vase or bowl can really help to liven up your space. If you're using fresh greens, they not only look good but also smell nice!
There are many different types of greenery that you can use. Consider using eucalyptus, rosemary, mint, or basil. Again, you can also use fake plants if that's easier to maintain.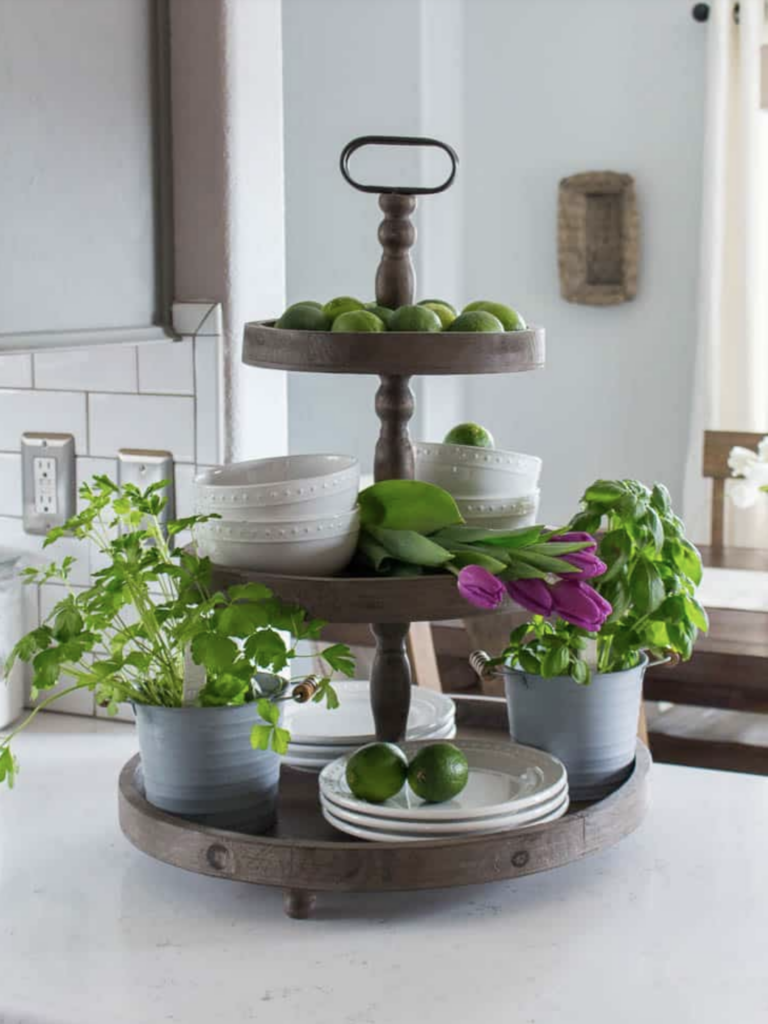 You could even consider adding a small potted plant to your island. Decorating with a plant is super easy and always adds life to your space.

Pick out a pretty vase.
Even if you aren't showing off a bouquet or greenery, I love using vases for a kitchen island centerpiece. A nice vase can really add some sophistication and style to your space.
You can find vases in all different materials, sizes, styles, and shapes. Play around with different vases until you find one that you love and that fits your kitchen island decoration perfectly.
Look at modern vases or find a vase with an interesting texture. A woven or textured vase can be very appealing to the eye!
Add a candle.
Another easy and great decor item for your kitchen island is a candle! Candles usually bring a certain elegance to a space as well as a great smell.
I love having a candle in my kitchen. It's nice to light a scented candle and let it waft through the house during the day.

Use your kitchenware.
Using kitchenware is a great way to fill your kitchen island. Do you have a pretty bowl, cutting board, plate, etc. that you don't want to serve food on or use for food? I know sometimes people gift kitchenware that is just too pretty to use.
If that's the case, use it when decorating your kitchen island! You can fill a bowl with fruit or put a cutting board on top of your island and arrange some pretty kitchen utensils on it.
Stack pretty places with a few apples on top of it, mix in a glass jar with colorful candies – whatever you want!
Search through your cabinets and around your home for decor items and accessories with a cool texture that fits your style but might not be totally useful on a daily basis. Then utilize them in your kitchen island decor!

Change your display according to the season.
One fun thing to do with your kitchen island centerpiece is to switch it out depending on the season. So design your centerpiece based on the holidays like red and green for Christmas, a pumpkin or two for fall, or bunnies and eggs for Easter!
Having a monthly theme for your display and changing that theme throughout the year can make your kitchen island style stay fresh and exciting. It can also keep things fun for the kids.
Play with different colors and levels.
Regardless of what you choose to use in your kitchen island decor, play around with it. Get creative with the height of your displays. Utilize different levels by using cake stands or different size plants or bowls. You can even use a stack of small bowls rather than just one large bowl if you want height rather than width.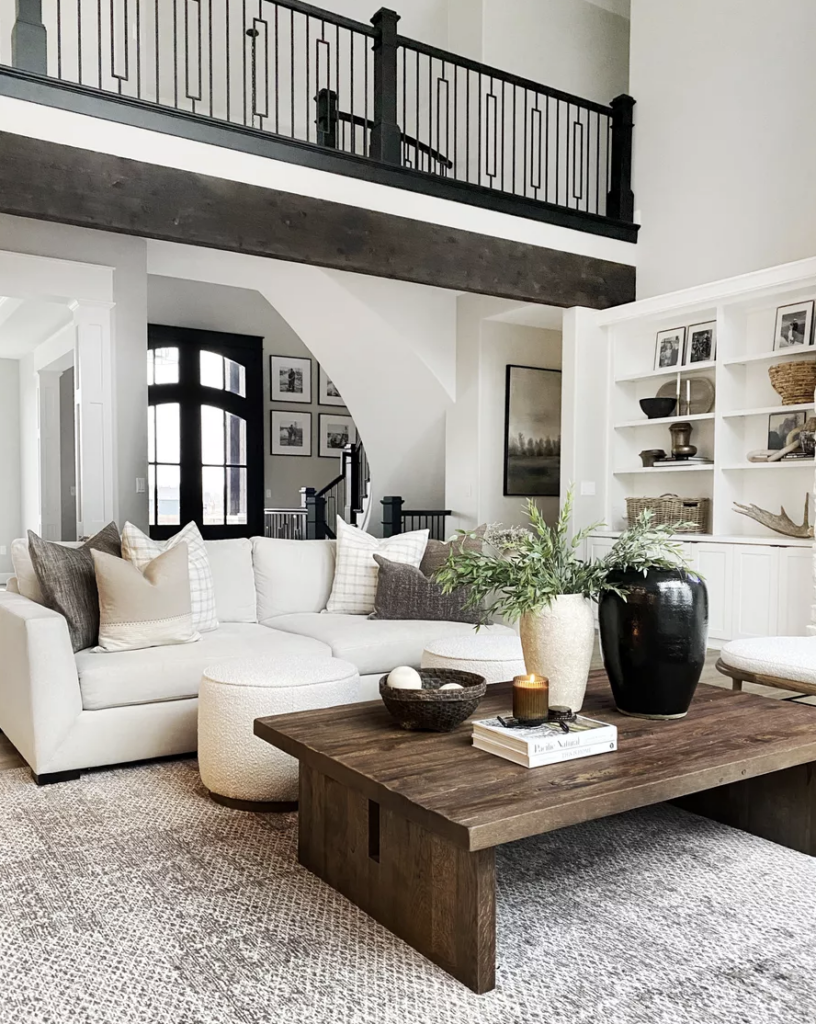 Use a variety of colors and textures and styles. Try using a tray and organizing a few accessories in the tray. Using a tray is a great idea if you need to move the decorations off of the kitchen island often. THen you can easily move it off the island countertop when necessary.
You can also display your favorite cookbooks! But be thoughtful when displaying them – you don't want it to look like you just forgot a stack of cookbooks on your kitchen island countertop!
Go simple or big.
Depending on the size of your island and what your style is, you may prefer going more simple in your decor or want something really big and grand.
Find inspiration online and tweak things according to your taste. It's your kitchen after all!
Use just one large statement piece or a few smaller accessories. Or maybe just one small piece if you prefer a light countertop.
These are only a few ideas and tips to get your creative juices flowing. Kitchen islands can be a great centerpiece in your kitchen so have fun with it!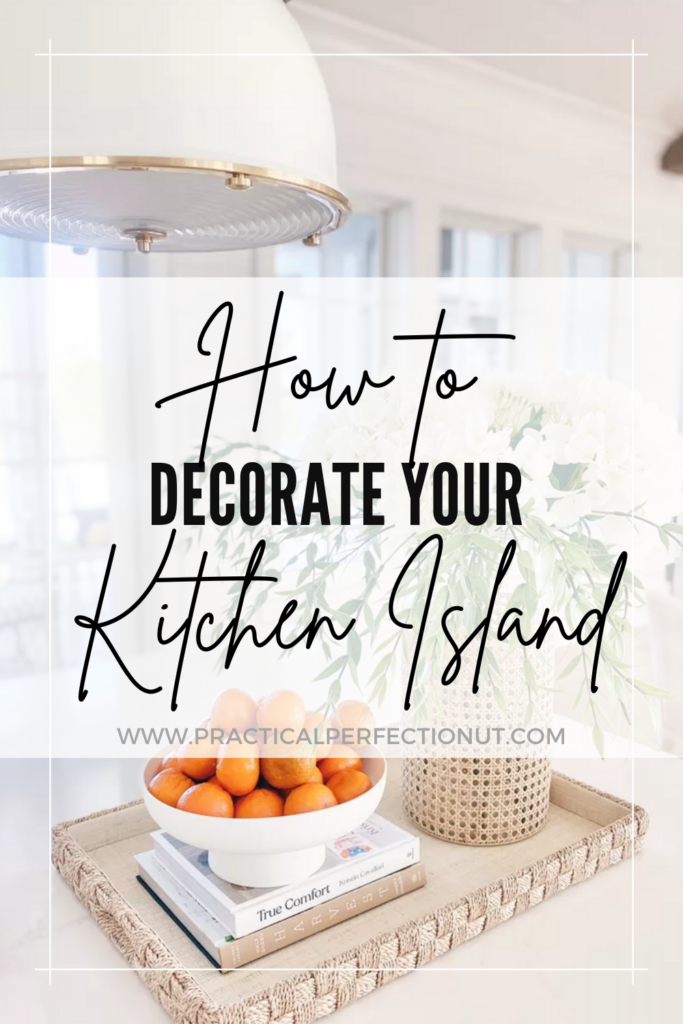 Kitchen island ideas… not just for your island!
If you don't have a kitchen island, don't worry! These ideas can all be applied to your dining table as well! If your table is in a front room or visible space and you feel like it looks empty between meals, consider adding a centerpiece to your table!
I'd recommend using something that is easy to clear off if you need that space during dinner, but you can still easily implement these ideas on a table in your dining room or a front room table as well.
Don't forget to play with the textures, colors, and space until you find something you love for your kitchen island countertop.
Decorating your kitchen island is something small that can make your home feel even more warm, inviting, and homey!