5 Easy Steps to Organize Under Your Kitchen Sink Once and For All
We all know that living in a small space can make it difficult to organize. But, for some reason, the kitchen seems to be one of the hardest spaces for people to maintain order and organization.
The sink is often where the most chaos takes place because we do so many things there: cooking, washing dishes, cleaning up spills or messes from lunchtime snacks.
The cabinets under the kitchen sink are usually filled with cleaners and miscellaneous supplies, so it can be hard to organize under the kitchen sink.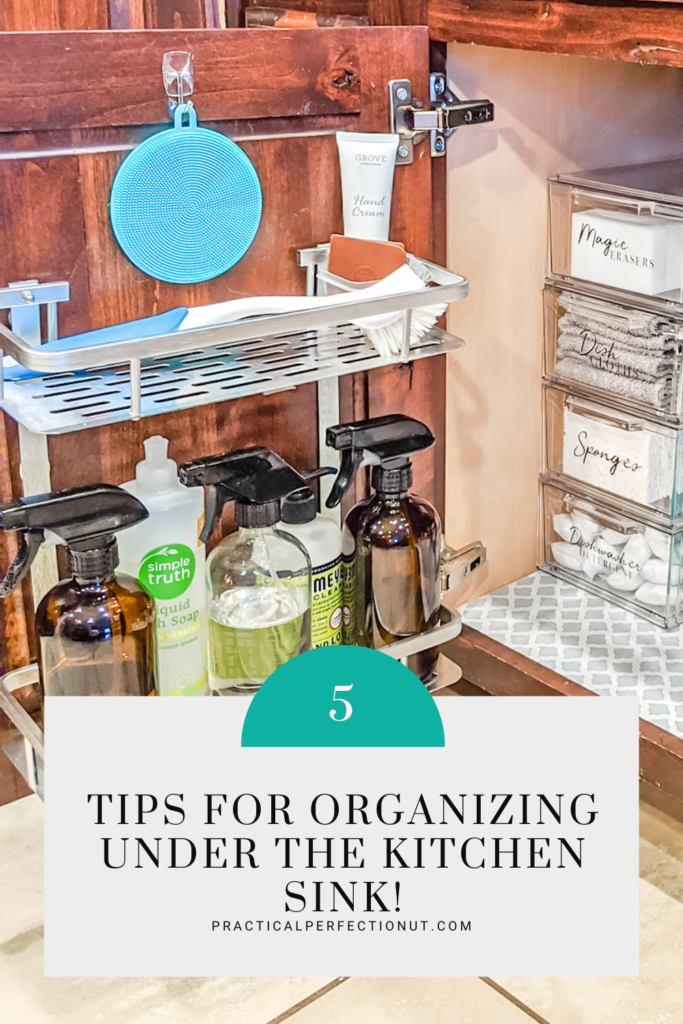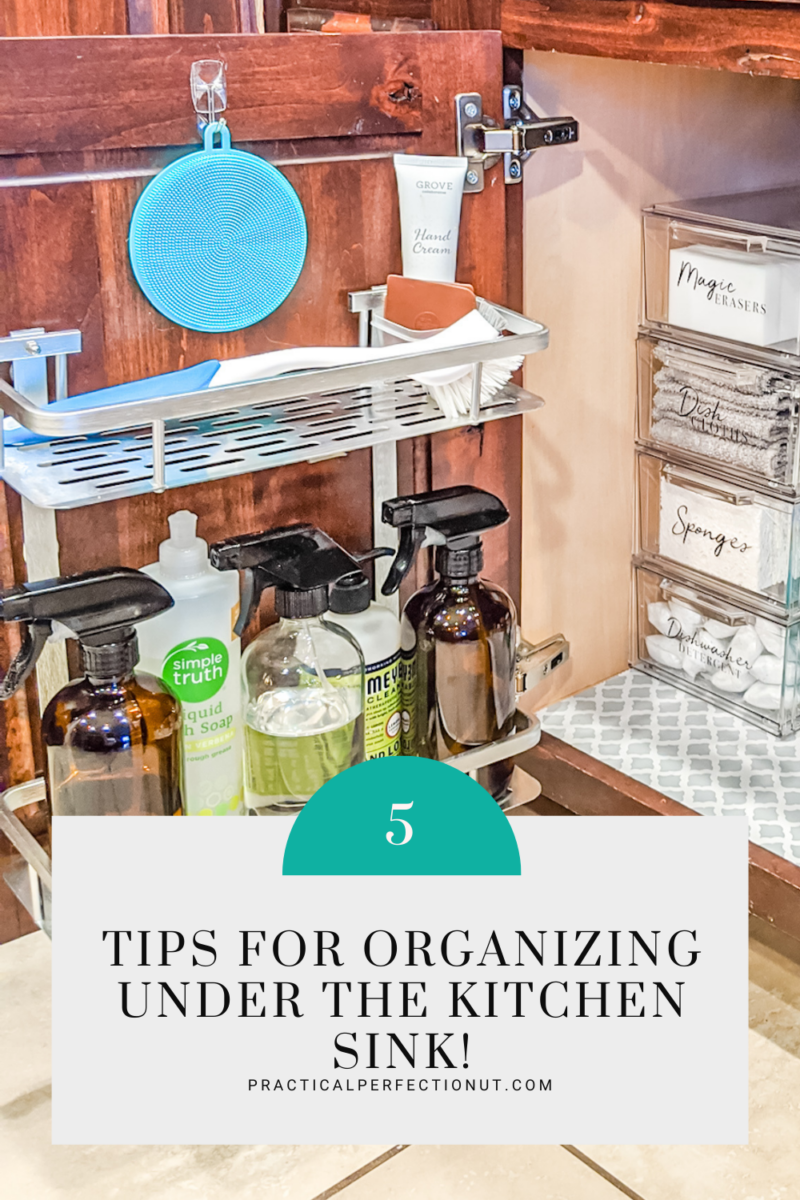 In this blog post, we will share 5 easy steps on how to keep your kitchen sink organized once and for all (along with some other helpful organizing tips).
Use these five steps for organizing under your kitchen sink today!
Need more ideas? Check out: How to Organize Your Kitchen Cabinets in 3 Simple Steps and Organize Your Pots and Pans and How to Care for Them
How do I organize under the kitchen sink?
The first step to organizing under your kitchen sink is to go through and throw out any items that you no longer use or need.
Here is a list of things to look for:
expired products
duplicates
damaged products
containers with missing lids
You might be surprised to see how many of those cleaning products are expired or the spray cap doesn't work anymore.
It's also nice to get rid of any extra supplies such as large bottles because they take up too much space in your cabinets!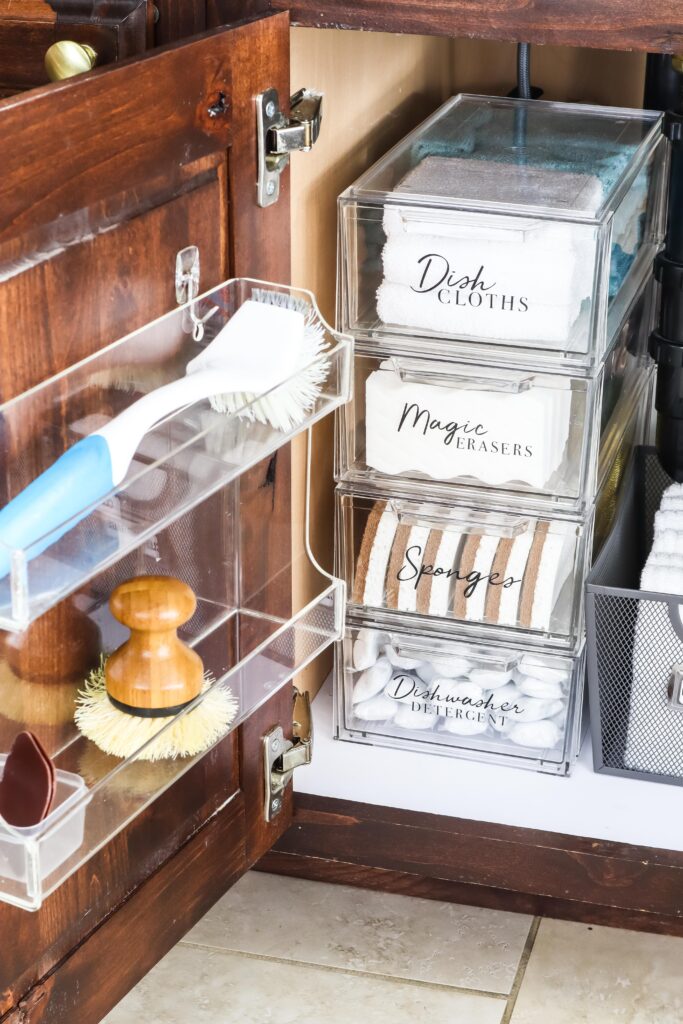 If you haven't used it in a while, consider giving it to someone who would use it. Sure, cleaning supplies might not make a great gift, but I'm sure your neighbors or friends would appreciate any duplicates you have and don't need anymore.
Or, if you have extra space in another closet, move any duplicates to your extra storage. That will keep the limited room under the sink from getting too cluttered.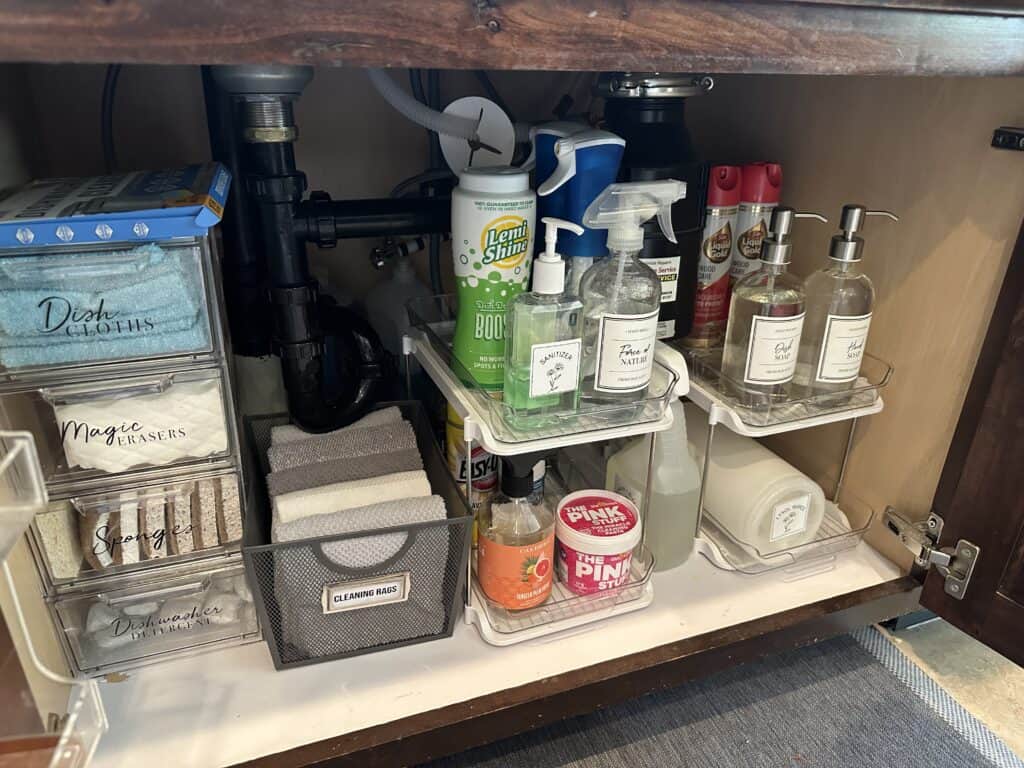 How do I organize my cleaning supplies under my sink?
How are you currently organizing the under your kitchen sink? Just placing all of the items under your sink with no organizational system is probably not working well for you.
If your things don't have their own place, then they might get jumbled and you won't be able to find something when you really need it! You don't want to have to search for specific items or forget where you put them.
Or you might think you're all out and buy another, only to come back from the grocery store and find that you have two now. (That happens to me more than I'd like to admit!)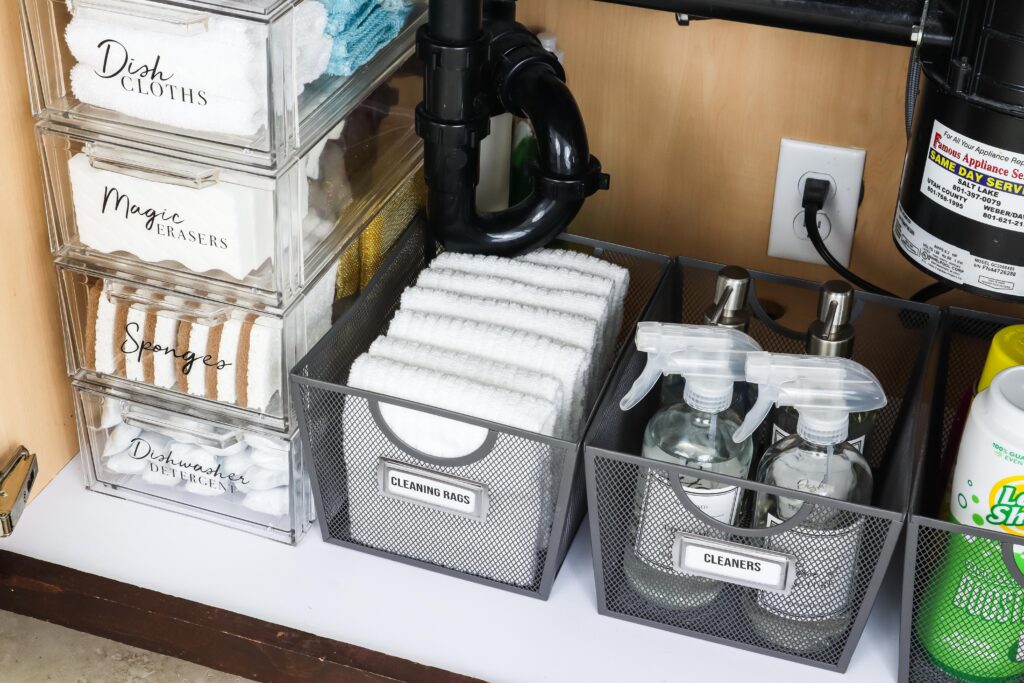 There are two main ways to organize things, by category or by location. Of course, it's a good idea to use both methods if possible!
Here are five easy steps to help you organize under the kitchen sink.
1. Declutter under your sink
Like we covered in the first section, decluttering is the first step to any organization project.
So throw out anything you don't need and give away or donate any duplicates you don't have a spot for.
It's also a great idea to consolidate anything you can. So, if you don't have enough room for multiple containers of dish soap and hand soap, then try keeping them together in one larger container.
Pare down what you have so you know exactly what you need to fit under your kitchen sink.
Clean and line the cabinet under your sink
After you remove everything from the sink and under sink area, it's time to clean. Before you really start organizing everything, you'll want to do a nice deep clean and get out any crumbs or other messes.
We'd also recommend using a shelf liner. Shelf liners are great because they are durable so they last a long time. They are also very easy to clean whenever you need to wipe down that area.
They also keep things from sliding around and scratching up your cabinets. They're great for keeping spills contained, too!
Shop Shelf Liners:

2. Find an under-the-sink organizer you love
Now that everything is clean, it's time to find a kitchen sink organization system that works best for you.
You'll need to decide if you want one main organizer or several small containers or jars.
Look at your supplies and decide how much room you need for all of them.
There are tons of kitchen sink organizers on the market with different features like drawers or shelves. Browse through them or go to a container store near you to choose what will work best in your space!
Using a kitchen sink organizer helps so much. They ensure that you can organize and store cleaning supplies easily.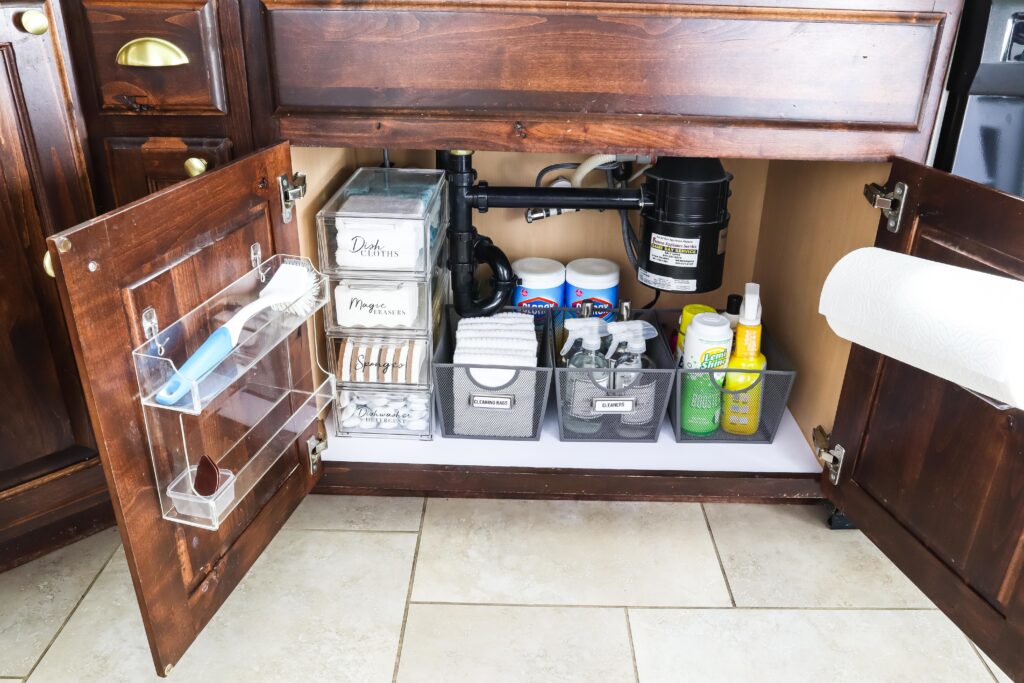 Once you have a kitchen sink organizer or a collection of containers to use, put similar items together.
For example, put all of your spongers in one bin and all of your trash bags or grocery bags in another.

How do I know which organizer to pick?
Make sure you find that organizer that can help you create a system that makes sense for you and your house.
You'll need something that fits under your sink and gives you enough separate areas for all of your items.
You can also consider getting a lazy Susan. A lazy Susan will help if your cupboard under the sink is particularly deep and you can't reach the back.
Placing something that spins in a far corner will help you easily grab everything you need.
3. Get an under-the-sink door basket
The backside of a cabinet door is usually overlooked when it comes to storage space. But using a basket on the backside of your cabinet door can be just what you need to get even more storage space in that area.
Find a small basket that fits the door of your kitchen sink cabinet. You can put dish soap, spray bottles, sponges, scrub brushes, dishwasher tablets, or other supplies.
You can also find an over-the-door rod to hang your paper towels. There are some especially designed to keep your paper towels out of eyesight behind the sink cabinet door.
So if you don't have tons of room on your kitchen counter, that's a great alternative and they are still in a spot where they are easy to grab.
Hang up a basket and utilize those cabinet doors for storage!
Shop Door Organizer:

4. Utilize vertical space on cabinet walls
Just like with the doors to your kitchen sink, don't forget about the walls of your cabinet.
Get some command hooks and place them on the sides and back of your sink cupboard.
You can use these hooks to hang up dish towels or even spray bottles.
The hooks come in different sizes so you don't have to worry about each one being too small or too big for your needs.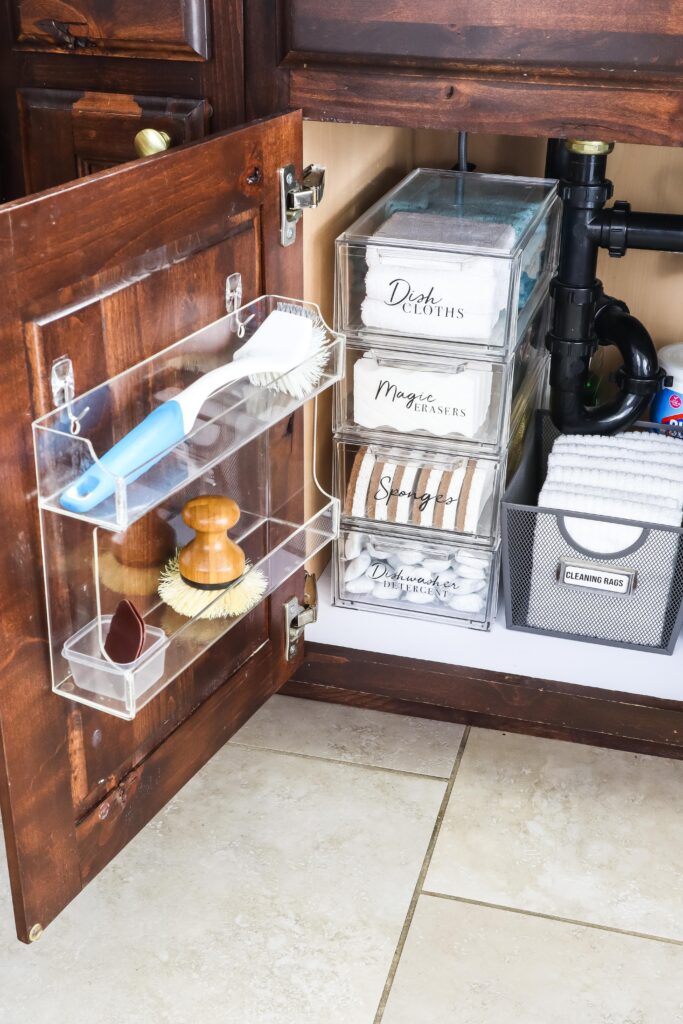 There are some that can handle up to five pounds of weight which is plenty for most things inside the cabinet!
If you don't want to use hooks, you can also put a tension rod along the back or side of your cabinets. (You can find them easily at a hardware store.)
You can easily hang spray bottles or other items on a tension rod, and it will help keep the bottom of your cupboard clean and open for other things.
Shop Adhesive Hooks:

5. Remove extra packaging
Sometimes the boxes and containers that things come in take up a lot of room. Because of this, I like to take those things out of their store packaging.
Take out your products if you can (like dishwasher tabs, sponges, or trash bags) and put them in a glass jar or smaller container.
If you don't know what to do with the packaging, consider recycling it instead of throwing it away.
This will help you create more space in your cabinets without having boxes taking up room on the bottom of your cabinet!
Shop my Cabinet:

Now that you've organized, make sure you label!
If you're really trying to consolidate everything and you've removed packaging to place your supplies in organizers and plastic bins or glass jars, you'll want to label everything.
Labeling your containers and bins is helpful because it not only tells you what everything is, but it helps anyone else in the house (like your spouse or kids) when they are cleaning up.
When things are labeled, they'll know exactly where to put things!
Shop Labeling Products:

What products are helpful when organizing under my sink?
Now that we've gone over some kitchen sink organization ideas and tips, let's cover what products will help you get that organized life you crave!
There are tons of things you can use to keep the space under your sink organized.
Here are a few ideas that you can find online, but you can also check out your local container store.
Kitchen Sink Caddy
This might not go under the sink, but a kitchen sink caddy can be super helpful to keep your sink area clean and organized.
A sink caddy is a perfect spot for sponges and soap because it helps your sponge dry out after use. Plus, it makes your sink look neater than if you just left the sponge in the sink.
Shop Kitchen Sink Caddies:

Door Basket
An over-the-door basket will help organize lots of your products and keep them off the floor of your cabinet.
Cabinet Storage Rack
Sink organizers are super helpful because they can help you organize all your cleaning products in one spot.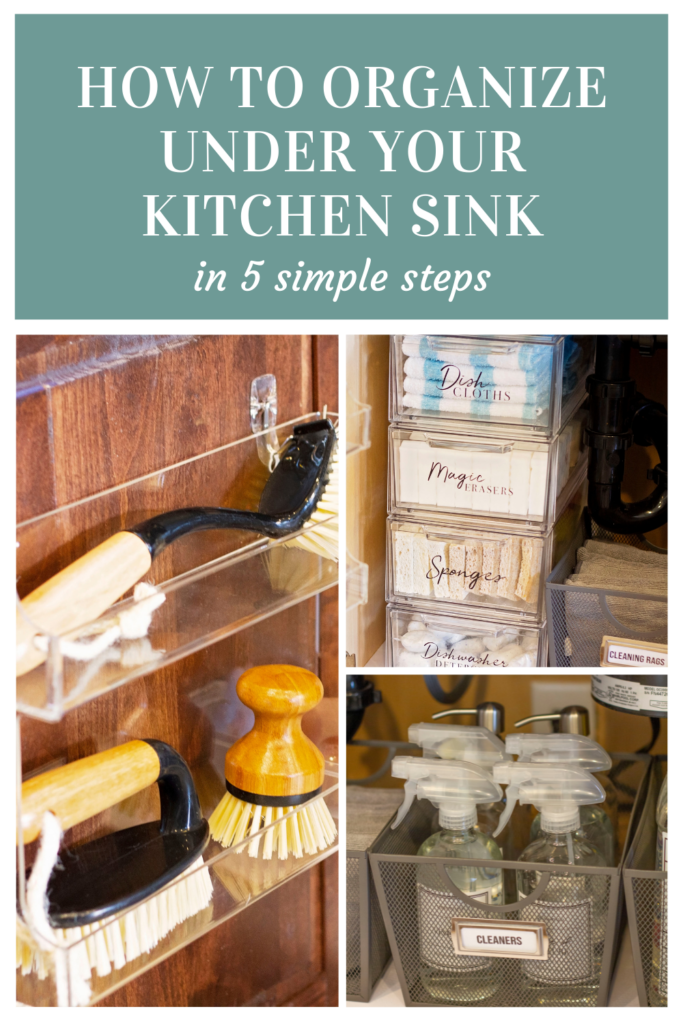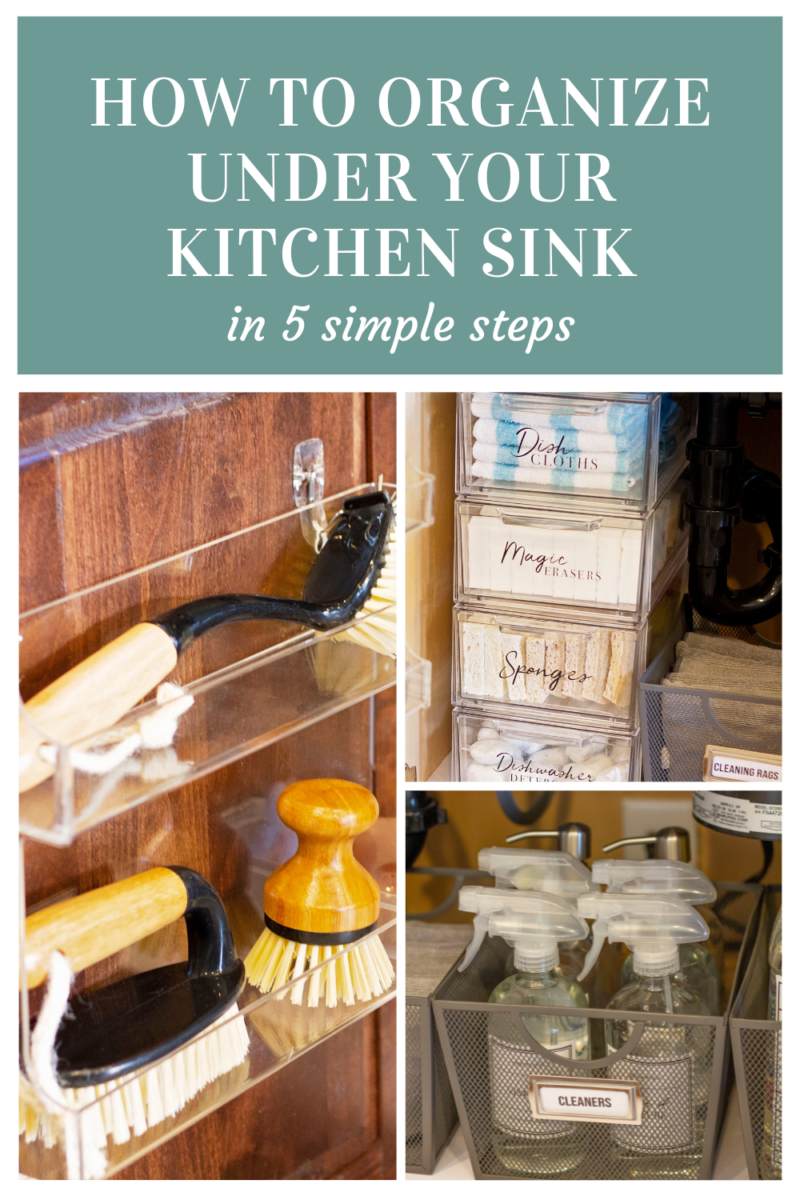 Portable Cleaning Caddy
Consider getting a portable caddy that you can group certain products in.
For example, if you don't have a spot in your bathroom for bathroom cleaning products, you can put them all in the caddy. Set that caddy near the cabinet door where it's easy to pull out, and then when you need to clean your bathroom, you can just grab the caddy and go!
Clear Jars
Get clear jars to put your products in. It keeps everything tidy and organized but you can still see where everything is.
Shop Clear Jars:

Foldable Drying Rack
If you wash your dishes by hand (or even if you need a rack for your pots and pans) then you probably need a drying rack. A foldable rack is a real storage saver.
Just slide it in along the side of your cabinet and you can easily pull it out when you need it.
Now it's time to maintain it!
After you spent all that time cleaning one of the most forgotten places in your house, you'll definitely want to maintain it so it doesn't get dirty or cluttered again.
With sink organizers, bins, or trays, you won't have to worry about the little things getting jumbled together and lost.
Cleaning under your sink shouldn't take long if you keep up with it and put your sponges and supplies back in the right spot after you use them. And with labels, everyone in your home will know exactly where things go.
An organized life is a happy life, so hopefully, these kitchen sink organization ideas helped you transform your sink into a neat, tidy area.