How to Organize Christmas Ornaments for Next Year
The Christmas season is far from over but, sadly, in a few weeks, it will be time to take down the tree and put away all of our decorations. This can be a daunting task, but it doesn't have to be if you have a plan in place.
Today, we're going to show you how to organize your Christmas ornaments so they are easy to find and store away for next year. Whether you want to store them by type, shape, or color, we've got you covered! So pull out those boxes and bins from storage and let's get started.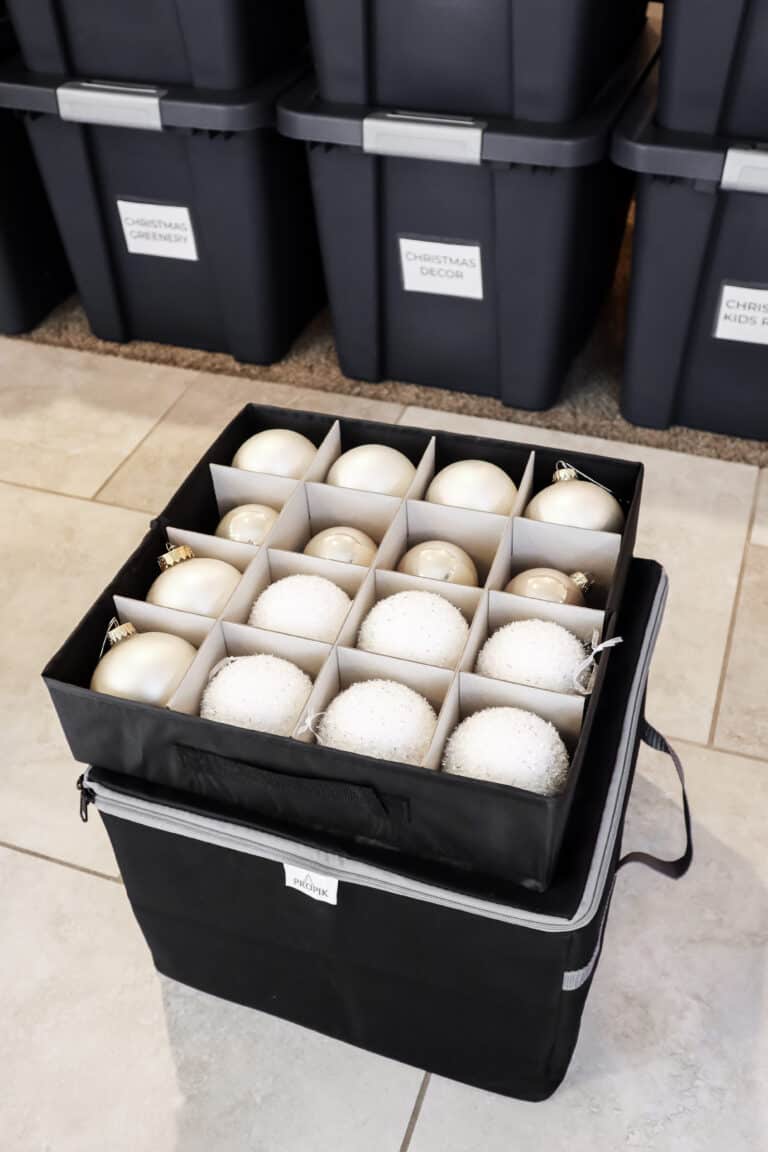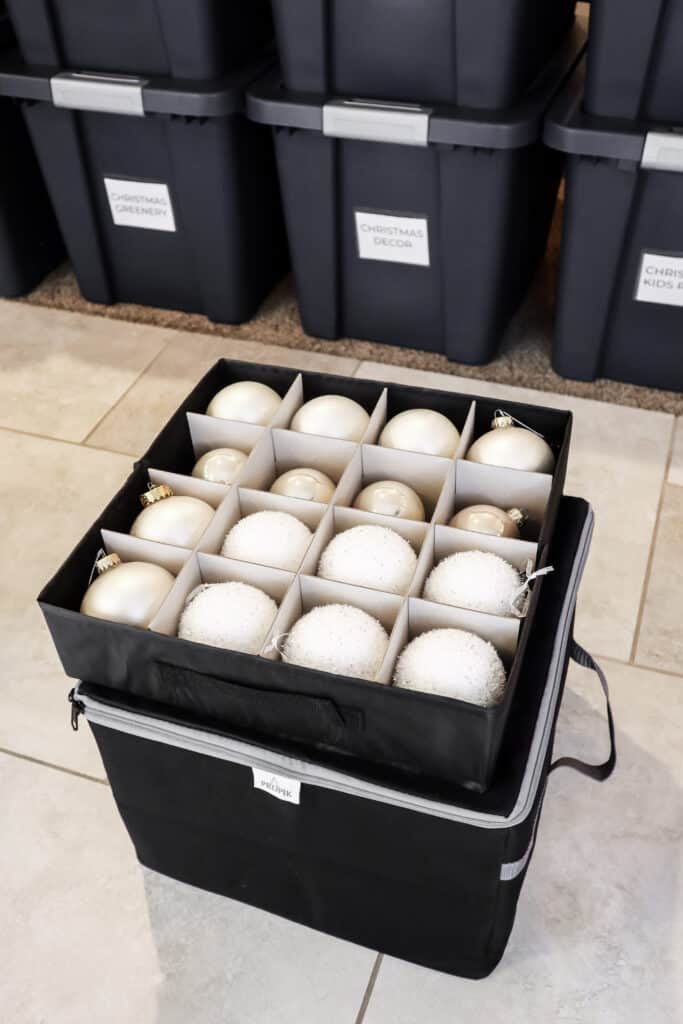 More Christmas Organization Posts
The Benefits of Organizing Christmas Ornaments
No one enjoys putting away Christmas decorations, but it's a necessary part of the season. When you take extra time when storing holiday decorations, you make it easier for yourself to find specific items when it comes time to decorate the tree again.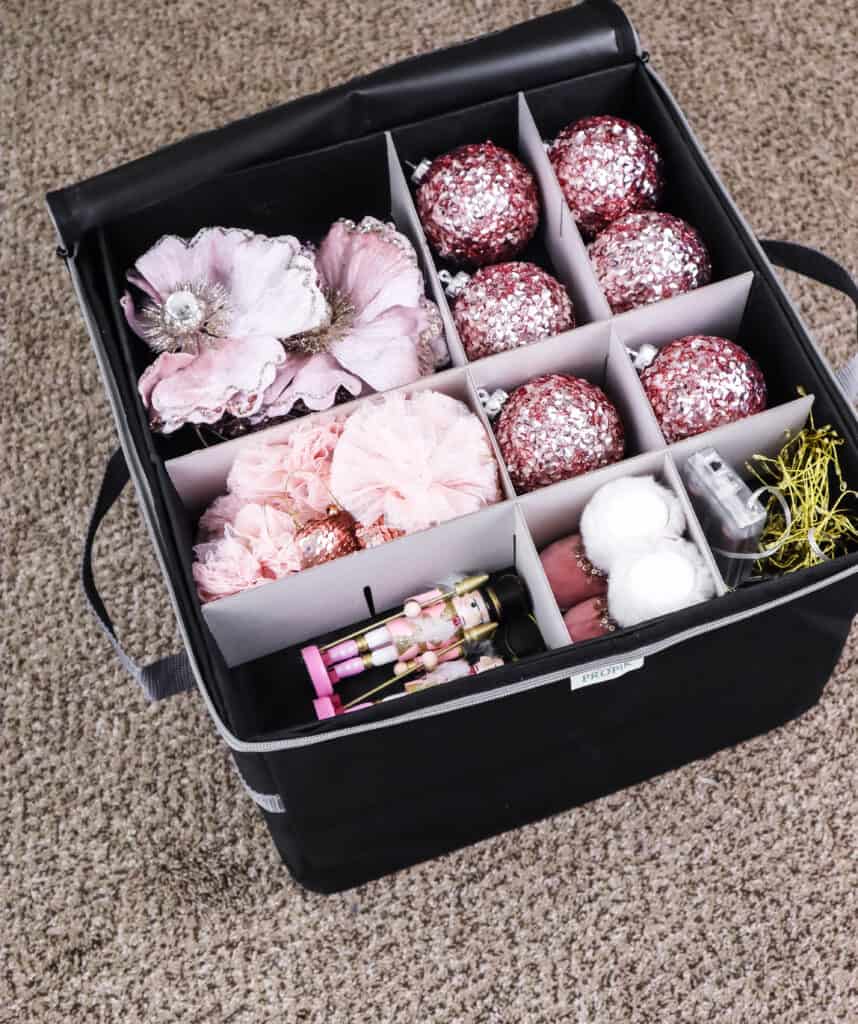 Organizing Christmas ornaments can also save you space and money. When packing away your decorations, make sure all of your pieces are placed in smaller containers or bins that fit within larger boxes, instead of just throwing everything into a big box. This will protect your fragile ornaments so they don't break in your storage bin. You don't want to have to replace your ornaments every year!
So, even though it might take a little longer to put away your ornaments, storing ornaments in an organized, safe way will keep your delicate ornaments safe for next year! And it will make decorating next Christmas a breeze!
How to Organize Christmas Ornaments
It isn't too hard to organize Christmas ornaments and get them ready for your storage area. You just need to be prepared and know how you want to organize them!
Step 1: Get the right storage containers!
The first thing you need to do when you organize Christmas decorations is find the right storage box or plastic bins for your decorations. I have a comprehensive post about Christmas decor storage here, like how you store Christmas wreaths, storing Christmas lights, or Christmas tree storage (I love using a storage bag like this for my Christmas tree).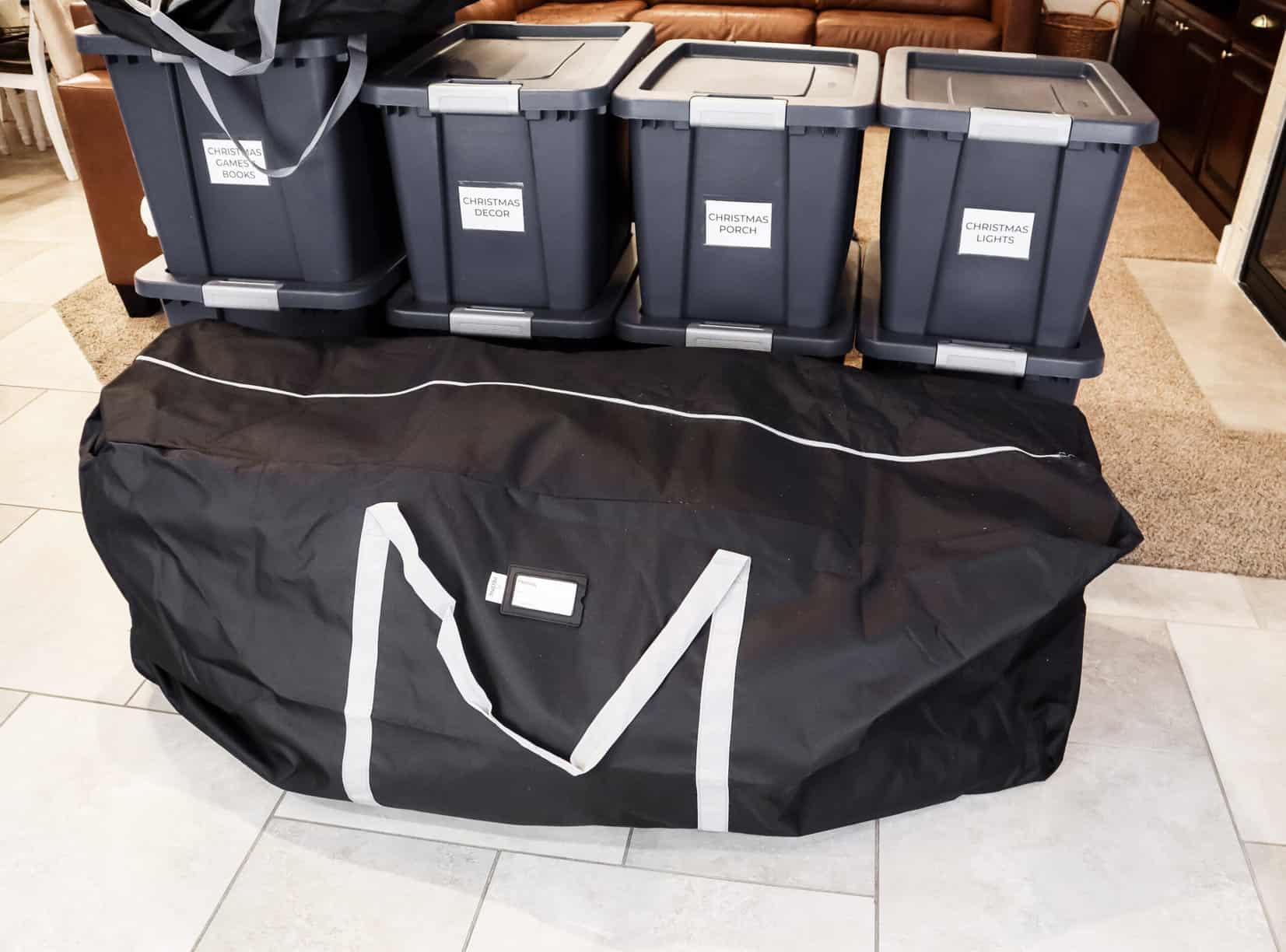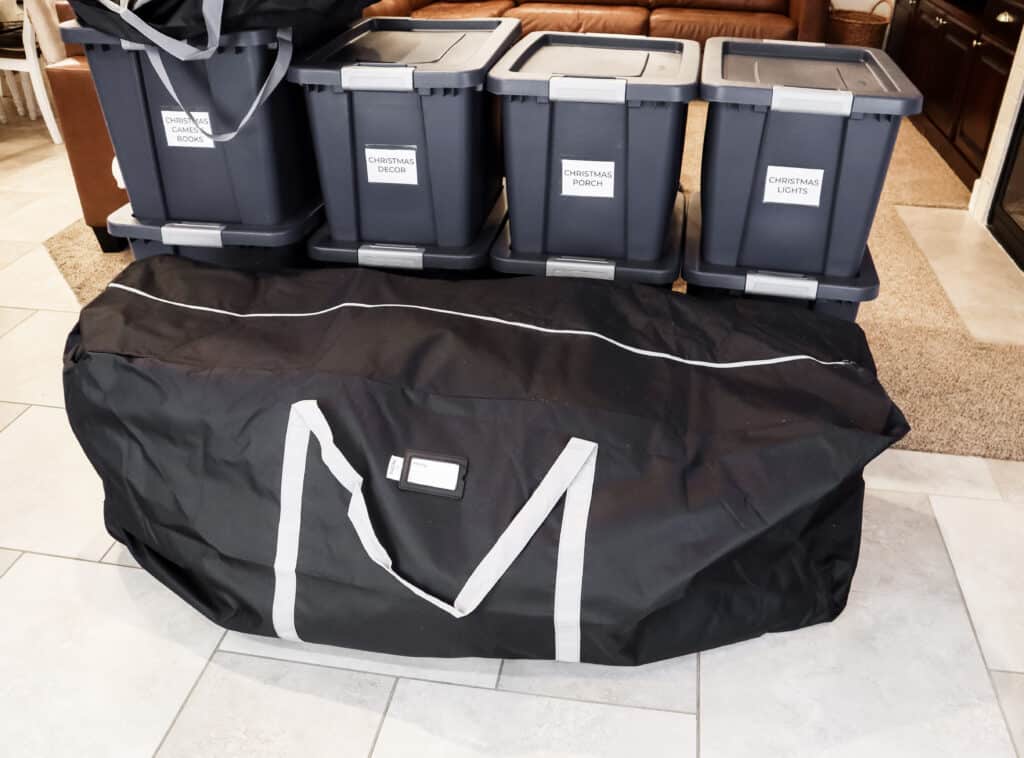 But this post is about ornament storage! So, for your ornaments, find a storage box that can both fit all the ornaments and not take up tons of storage space. You want to be as efficient as possible with Christmas ornament storage because a lot of your space will probably be taken up by big items (like your Christmas tree).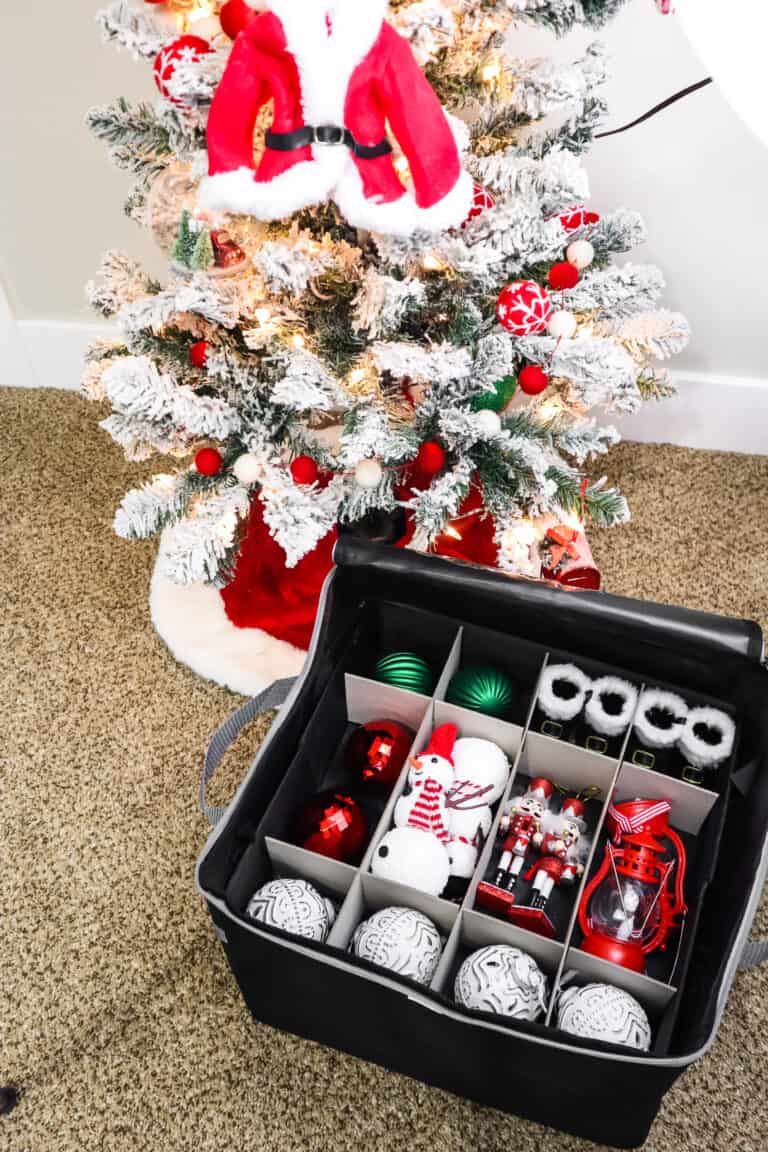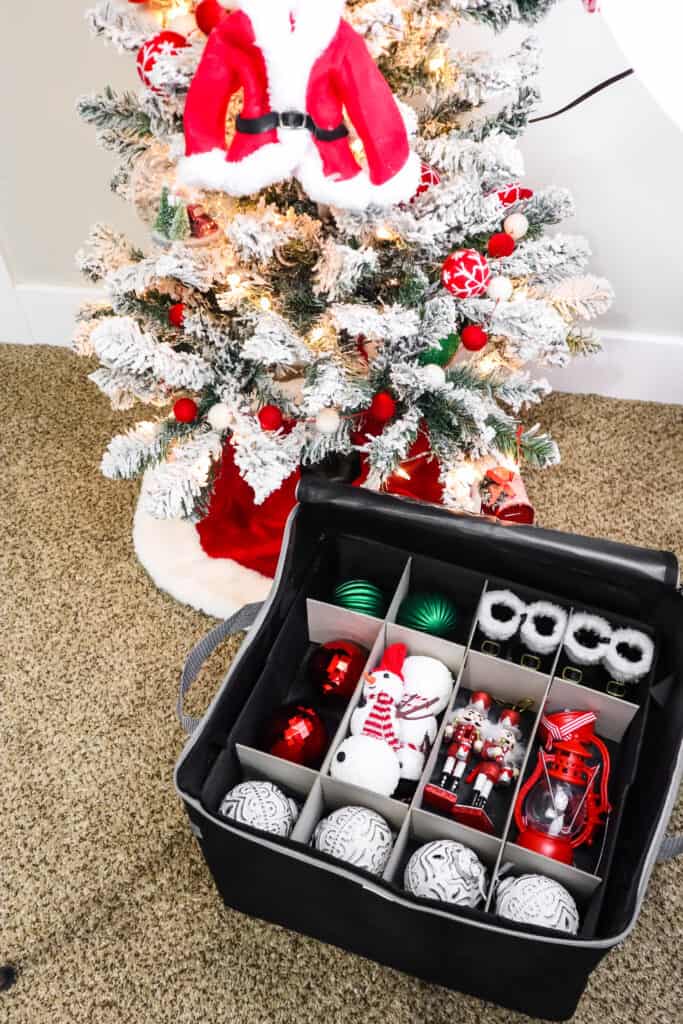 I like storing Christmas ornaments in storage bins like this because it makes it easy to store them in an organized way.
FAVE ORNAMENT STORAGE PRODUCTS

Step 2: Use dividers to separate your ornaments.
The storage bins I linked above already have dividers for fragile ornaments, but if you already have Christmas storage boxes you like and don't want to buy new divided bins or containers for ornament storage, there are a few DIY options as well.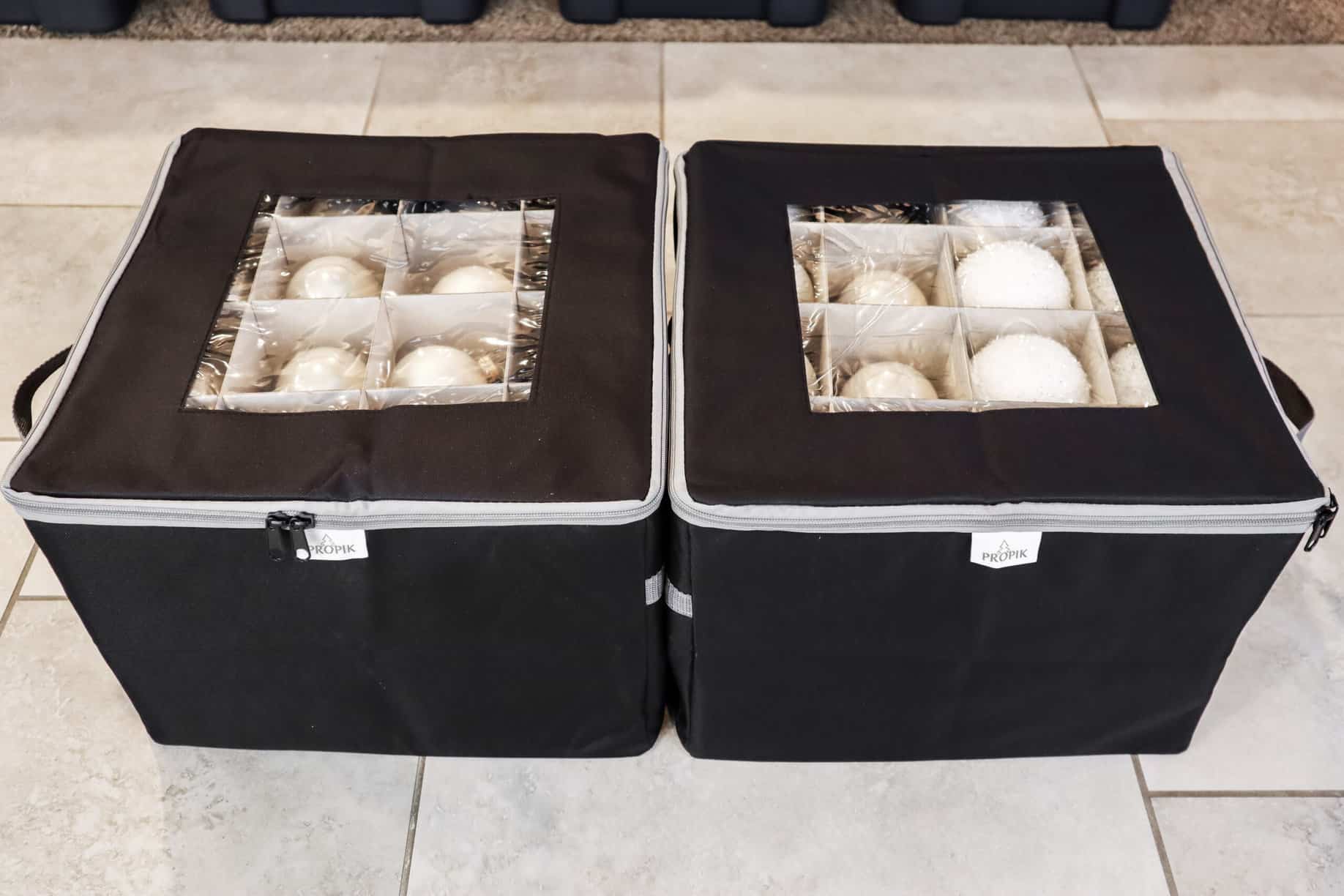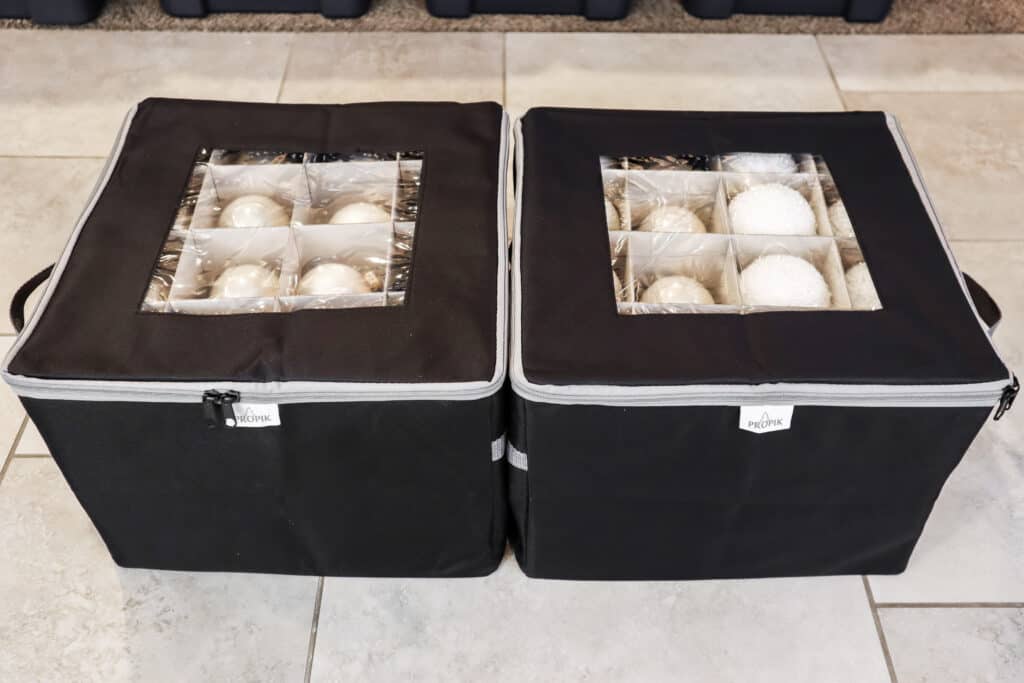 You can use cardboard dividers (and cardboard dividers are super easy to make yourself, especially with all of those cardboard boxes you probably have after opening Christmas packages). This also makes it nice because you have DIY adjustable compartments and can change them as needed.
You can also make dividers with old egg cartons! Keep in mind that egg cartons mostly work with smaller ornaments.
You can also use bubble wrap glass ornaments (which I still encourage if they are really delicate) or place tissue paper at the bottom of your Christmas storage boxes to give your ornament storage a little extra protection.
FAVE ORNAMENT STORAGE PRODUCTS

Step 3: Organize ornaments by type.
For your Christmas ornament storage, it's a good idea to organize your ornaments by type. Having your ornaments grouped together will help when you decorate for the next holiday season!
Start by grouping your ornaments into categories. You can decide on the categories you like. For example, you can group by ornament type (like glass or plastic), shapes (balls, specific shapes, etc.), size (small, medium, or large ornaments), or even color. This will make finding the right ornament for decorating much easier next year.
Depending on how many ornaments you have, each type might have a different box, or you might just have each type in different levels in the box.
Use subcategories if you have a lot of ornaments!
You can also organize with subcategories. For example, if you have lots of red ornaments, you could have your smaller ornaments that are red together, and your larger ornaments of the same color below those. Then repeat the same system with your white ornaments and so on.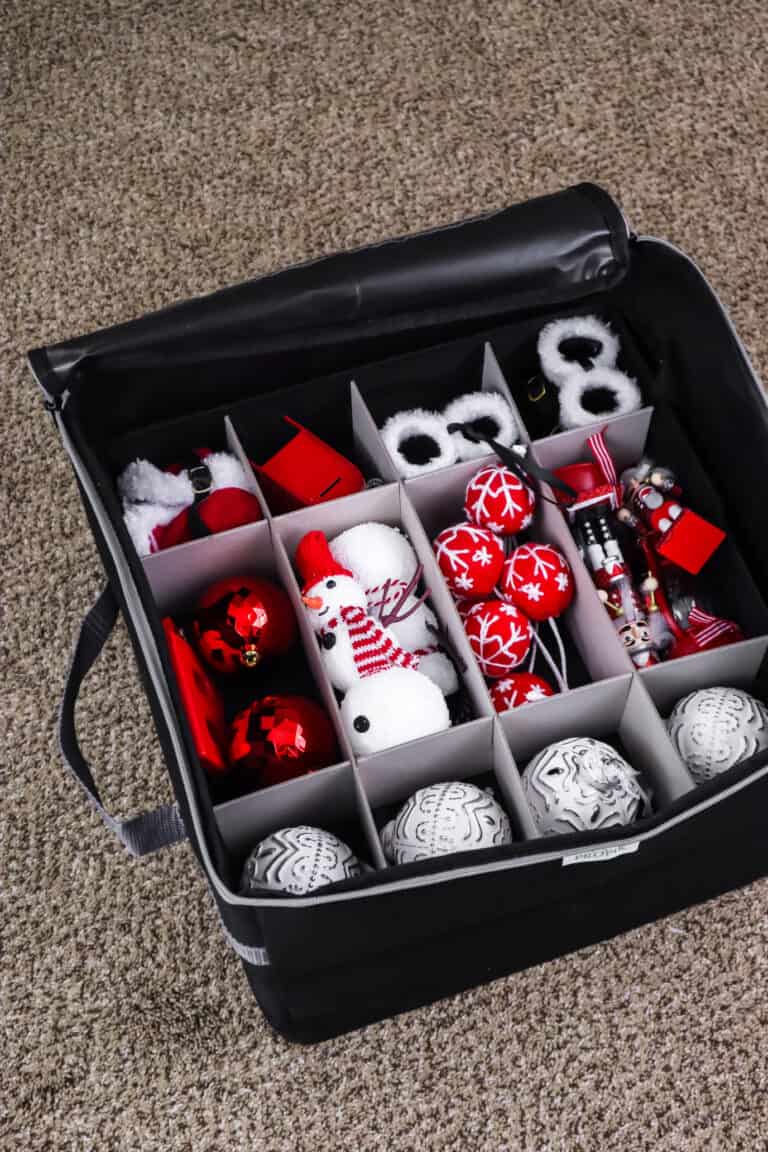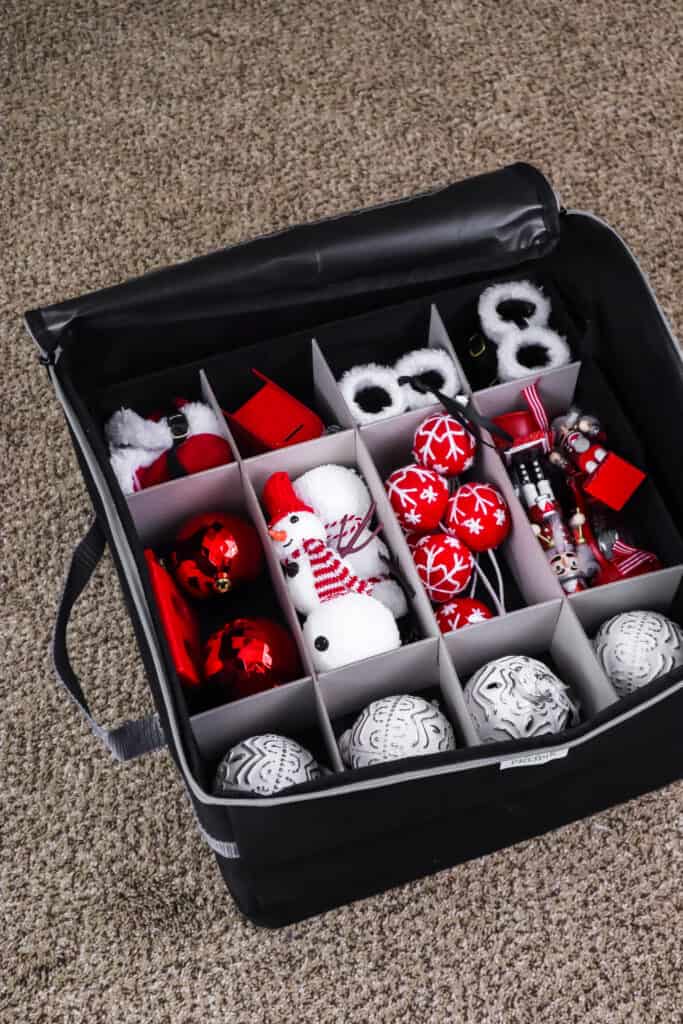 Your categories don't have to be based on color either. You can also organize by type – for example, angels together, birds and snowflakes together, etc. Look at what you have the most of and find a Christmas storage system that makes sense to you.
Step 4: Keep your ornament hooks together.
This is a small step, but important nonetheless. How often do you have to go out and buy more hooks for your ornaments? Basically every year? Yeah, me too.
So take the time to put all your hooks in a small container, or even just a plastic bag. That way, you're not running around looking for them when it's time to hang up the tree next year.
(You can try keeping your hooks in the ornaments in your storage, but sometimes those can scratch the ornaments while in your storage unit, so be careful storing them that way!)
Step 5: Label your Christmas decor!
It's also important to label your boxes, so you know which box holds the ornaments that match certain colors or styles. You can always use a generic label for all of your ornament boxes, but I like being as specific as possible. Write what color or size ornaments are in each box if possible. You'll be glad you did next year!
Once you've got everything properly sorted and labeled, it's time to store it! Store your ornament boxes in a dry area away from sunlight and extreme temperatures where they can remain safe until the next holiday season.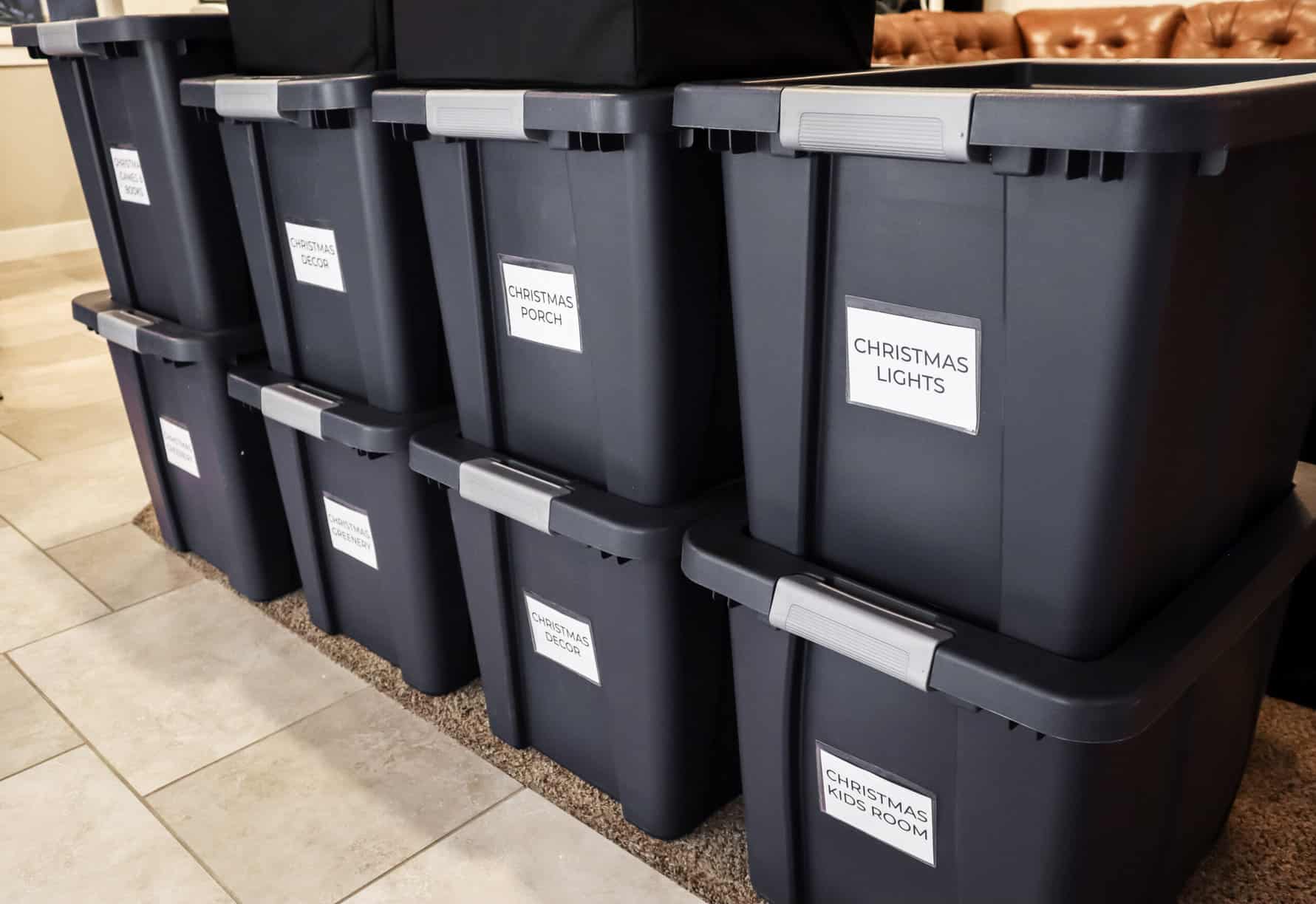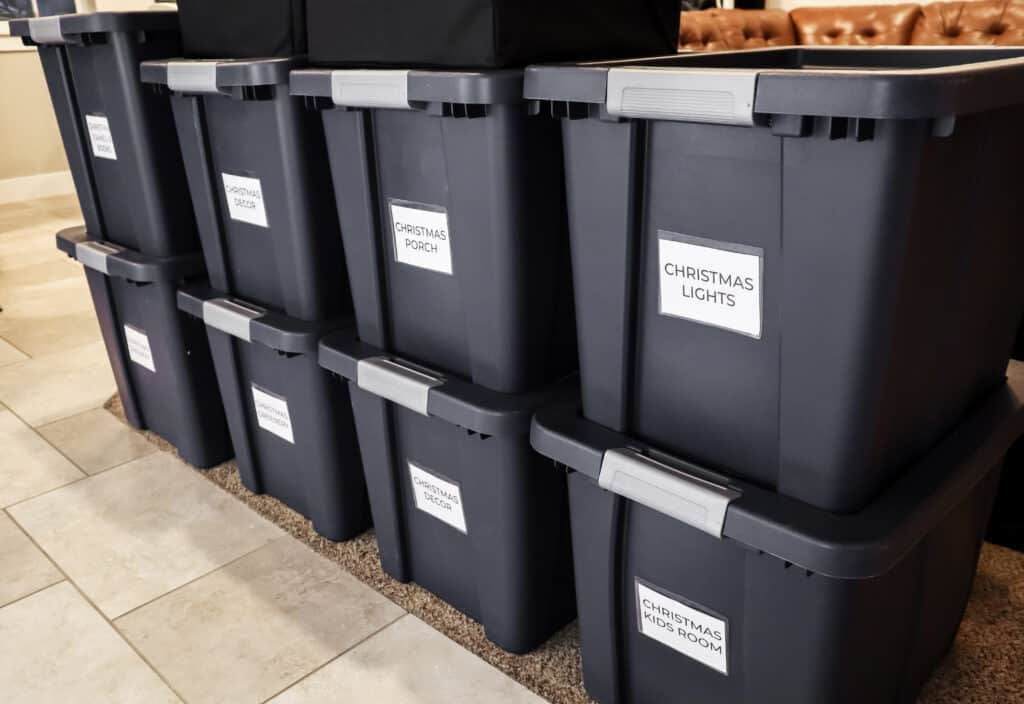 MY FAVE CHRISTMAS ORGANIZERS

Your Christmas Ornament Storage is Complete
Now your ornaments are ready for next Christmas! Hopefully, these Christmas ornament storage ideas will help as you're putting away Christmas decorations this year.
With this simple storage system, you can easily find and access the ornaments you need for decorating your tree next year. As a bonus, when you store Christmas decorations in years to come, everything will be in its place ready for packing away. Taking a little extra time to organize Christmas decorations will be a time-saver in the future!
Enjoy the rest of your organized festive season!