Get into the Halloween Spirit with These Festive Mantel Decorating Ideas
If you're looking for ways to get into the Halloween spirit, look no further than your mantel! Decorating your mantel is a great way to add some festive flair to your home. It's one of my favorite ways to get in the holiday spirit.
In this post, we will provide ideas for Halloween mantel decor. These ideas are simple and easy to follow, so you can have a spooky and festive mantel in no time!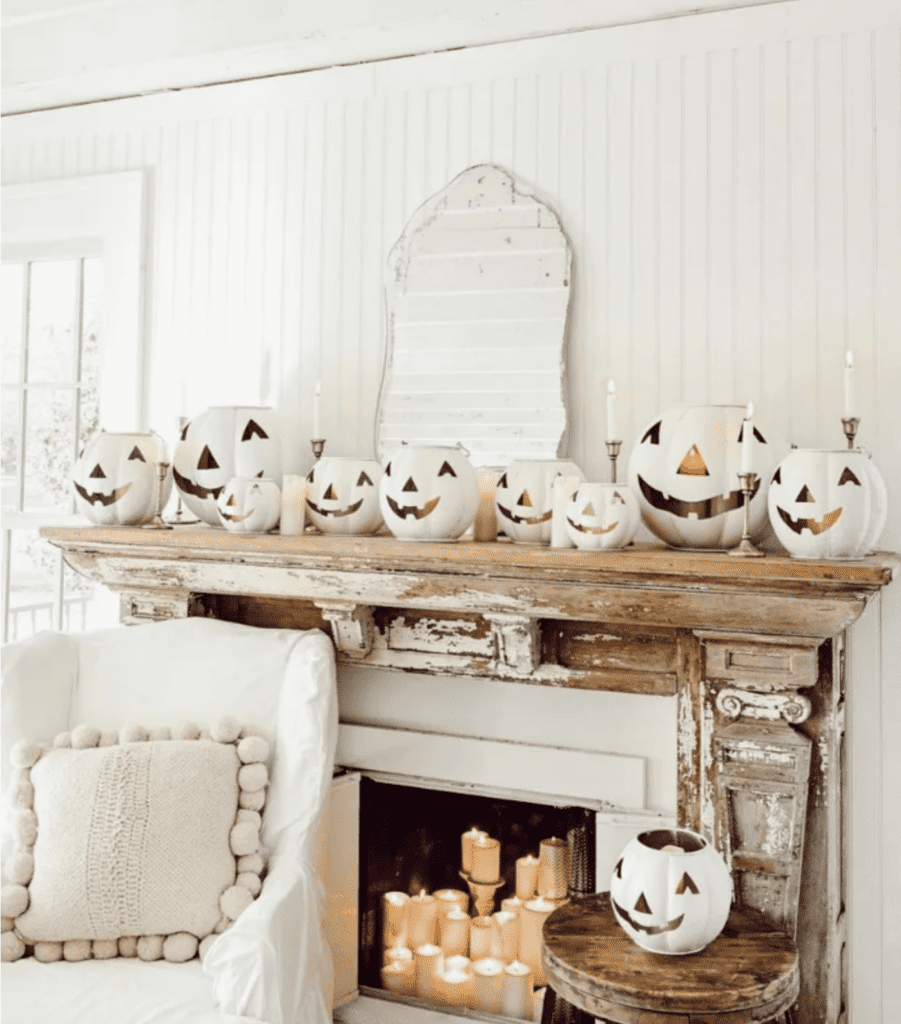 And don't worry, if you don't have a mantel, you can apply these ideas to a shelf in your main room!
Halloween Mantel Decor Ideas
When it comes to Halloween decor, you can't overlook the fireplace mantel. Adding Halloween mantel decor will give your home a festive touch that will make it feel more like fall.
There are a few different ways you can decorate your mantel to get in the holiday spirit, so it just depends on your style and how the rest of your house is decorated.
Here are some ideas for different ways you can create a Halloween mantel in your own home.
Fall Halloween Mantel Decor
If you're not super into Halloween (or Halloween decor) then you can go with a fall theme for your Halloween mantel. You don't have to add spider webs or bats or ghosts to make a nice fireplace mantel for the holiday. You can totally just go with a fall theme!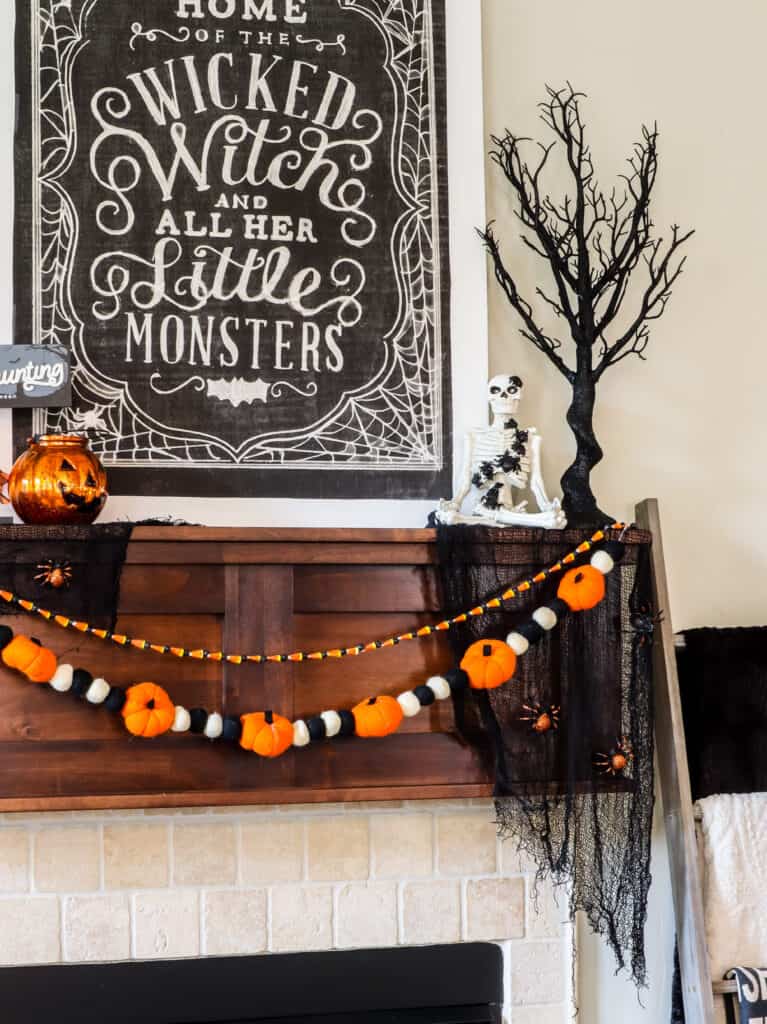 The nice thing about going with a fall season theme is that this fireplace mantel decor can carry over to Thanksgiving as well.
For a fall fireplace mantel, you will need things like pumpkins, a garland of fall leaves, gourds, and corn stalks. Get multiple sizes of gourds and mini pumpkins so you can arrange them in small groups. Weave the garland through the decor.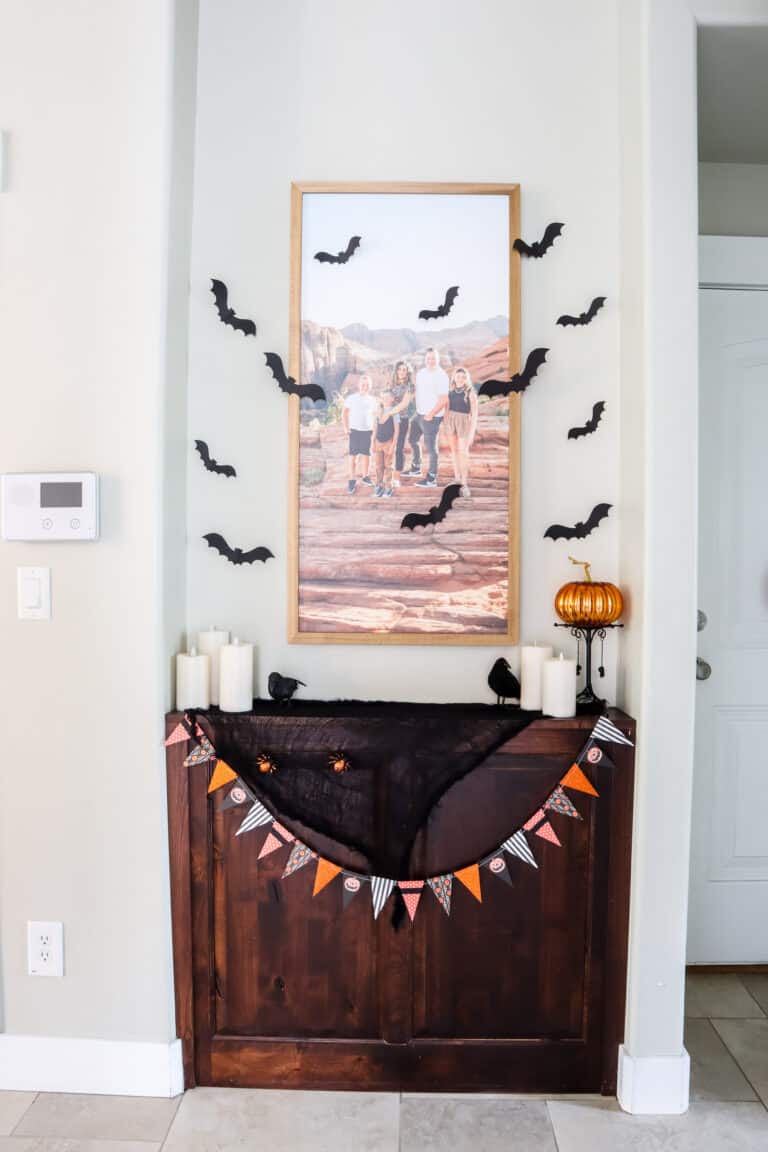 You can go with autumn colors like dark orange, maroon, mustard yellow, and brown, or you can go with neutral colors and get black, gold, silver, or white pumpkins.
You can also follow the color scheme of your home. If your home is all white, you can continue that onto your fireplace with all-white Halloween mantel decor. Or you could go with glam gold Halloween mantel decor – just whatever color scheme will work with your house! If you can't find the right color decor to create the sophisticated fall fireplace you want, you can always spray paint decorations to create the style you want.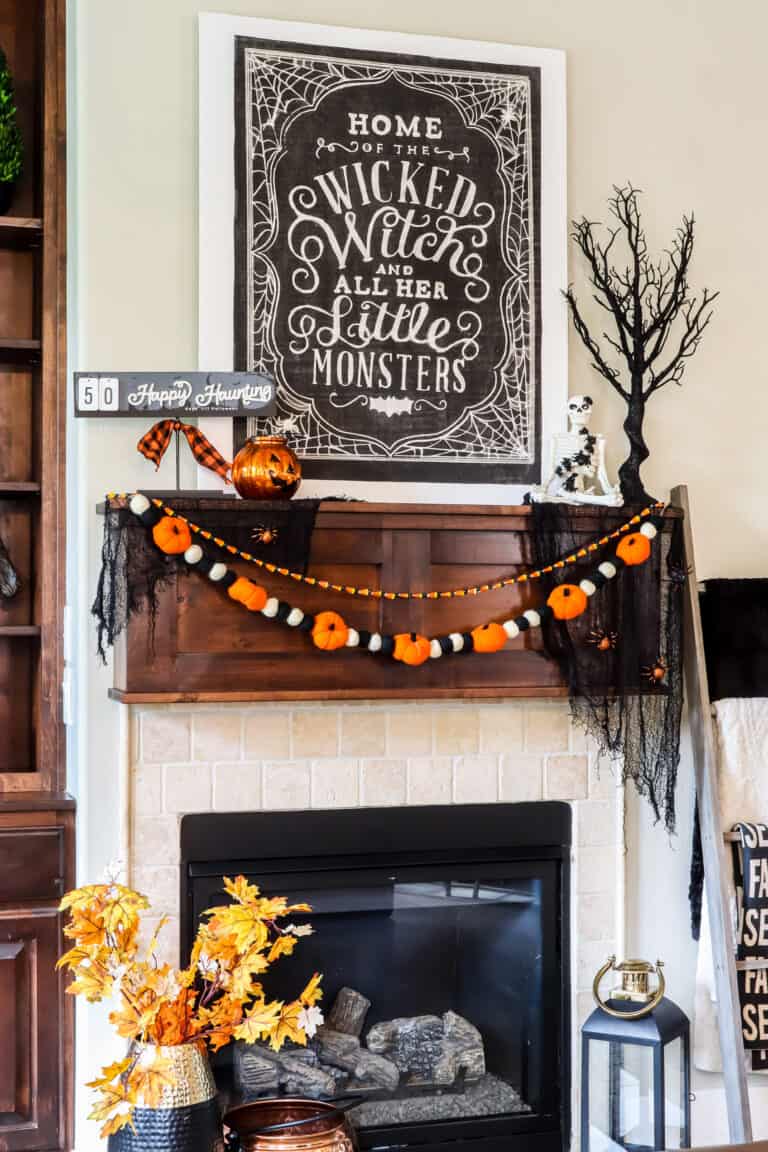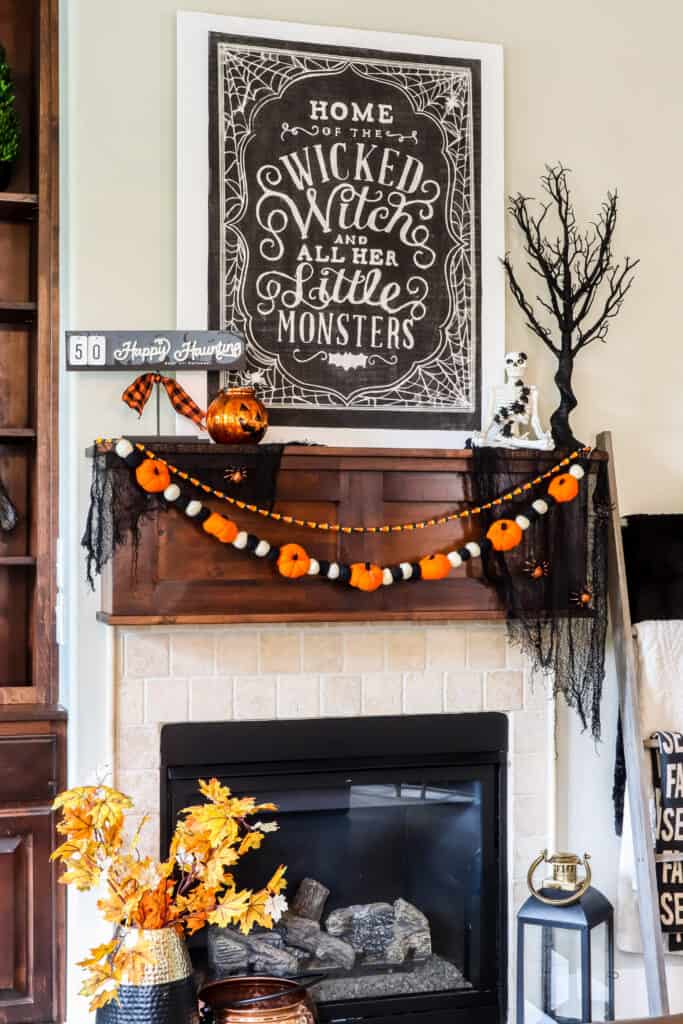 Another nice touch is to add a focal point with a big pumpkin or even some fall picture frames. I love framing book pages from a holiday book. It brings in the theme while keeping your mantel classy and pretty.
Vintage Halloween Mantel Decor
If your house has more of a vintage feel, play up that vintage fall theme on your fireplace mantel! For a vintage Halloween mantel, decorate with old lanterns, black cats, and black crows. You can even add some wheat and corn stalks for a more rustic feel.
For vintage Halloween decor, I think purple Halloween mantel decor would work well. Think Hocus Pocus and go with rich colors and deep purple patterned fabric pumpkins.
Don't forget the candles! Candles are always a must in my book. They add such a nice touch and ambiance to any space. If you're going with an elegant mantel, put your candles on candlesticks or add some old lanterns.

Spooky Halloween Mantel Decor
If you want to add a little bit more of a creepy or spooky feel to your mantel, then you should lean into full-on Halloween decorations on your mantel.
I'm talking paper bats, creepy spiders, spider webs, skeletons, skulls, jack-o-lanterns, and ghosts. A spooky mantel is pretty easy to make. Just go to the dollar store and pick up some decorations from there.
Arrange skeletons or skulls by orange and black candles. Add witch legs hanging over the edge of the fireplace. Make a garland of bats, cats, spiders, or ghosts.
Get your kids involved and asked them what style mantel they'd like. I'm sure your kids will have great ideas you can use as inspiration when decorating your spooky Halloween mantel.

Subtle Halloween Mantel Decor
If you want to use Halloween mantel decor and get more into the Halloween mood than just a generic fall feel, but you don't want it to be completely Hocus Pocus, you can decorate your fireplace with more subtle Halloween decorations.
Look for a Halloween garland like small Halloween pumpkins or cute orange lights to string around your mantel.
Pumpkins are a must-have for any Halloween decorating. You can use real or artificial pumpkins, depending on what you prefer. Arrange them on your mantel in different sizes and intersperse the pumpkins with candlesticks or a collection of picture frames with photos of your children in their Halloween costumes. Using photos of old Halloween costumes is a great focal point and a fun way to use cute family photos as decor.
SHOP HALLOWEEN MANTEL ART

DIY Decorations
If you're looking for a budget-friendly way to make decorations for your fireplace, it's really easy to DIY cute and spooky decor. Make a DIY garland of bats with just black paper and string. You can also make a garland of orange pumpkins, cats, spiders, ghosts, or anything else you want the same way. It's quick and easy!
Other DIY decor for your mantel can include making a wreath out of black and orange ribbon, painting pumpkins in fun and festive designs, and creating a banner with Halloween words or phrases. This is a great way to save money on Halloween decor while still getting the Halloween mantel you want.
Go to the dollar store and find pumpkins, spiders, bats, or whatever you'd like, and paint them the color you'd like or use them to create something even better. The dollar spot at Target is also filled with decor you can upcycle if you're crafty.
Halloween Mantel Decor
These are just a few Halloween mantel decor ideas to get you started on decorating your mantel for Halloween. Get creative and have fun! Use items you already have around the house or check nearby stores for cheap Halloween decor you can use.
I hope these Halloween mantel ideas can help you decide on the mantel decor you'd like to use in your home. It will definitely make the room feel ready for a Halloween party. You can also search online for other decorating ideas and use that as inspiration as you create a similar look.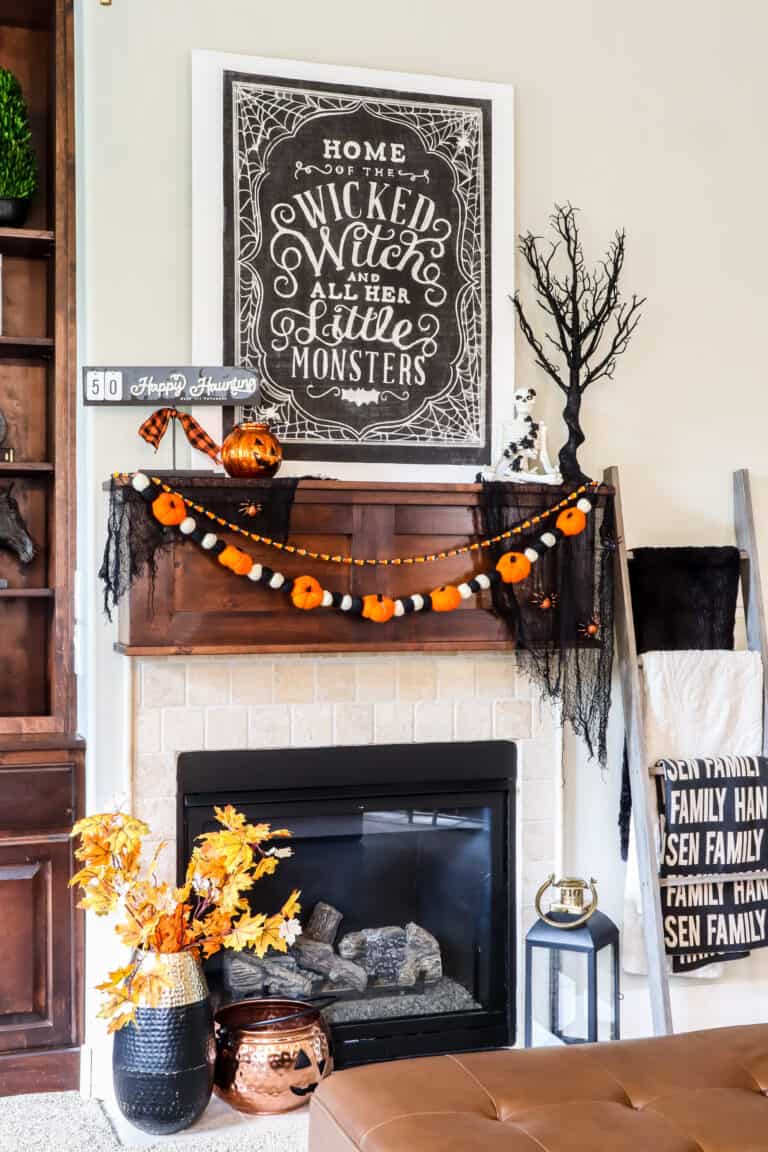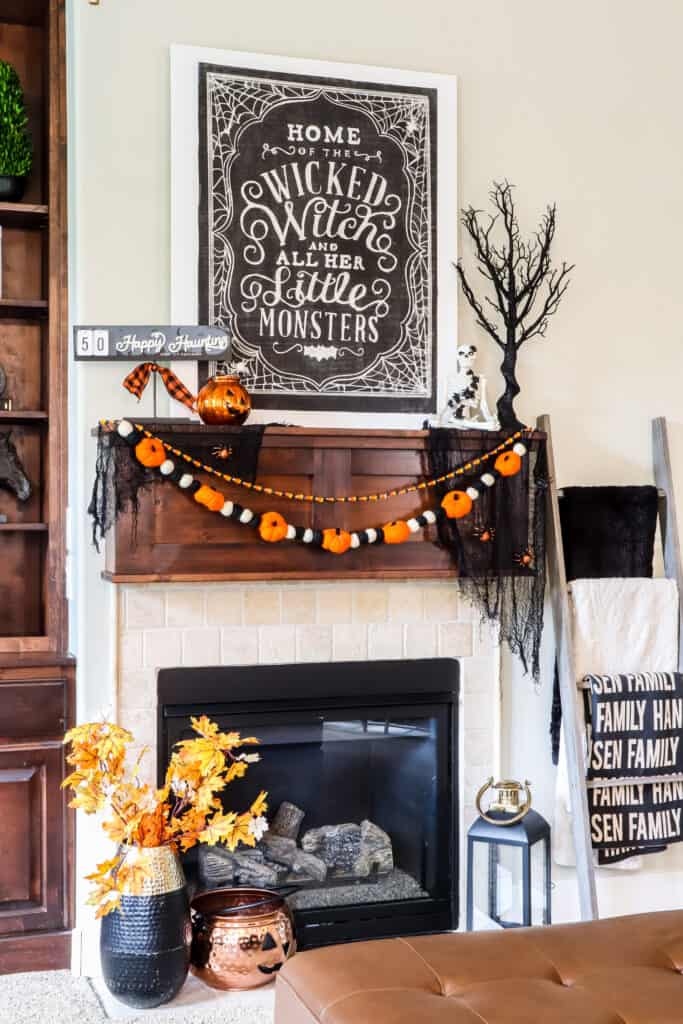 No mantel? No problem.
Remember, you don't even need to have a fireplace to use these ideas or make a Halloween mantel! If you have a big shelf on the wall in your main room (or even a bedroom or kitchen wall shelf), you can add Halloween decorations, an elegant garland, nice picture frames, or whatever else you'd like! Even without a fireplace, you can have mantel decor. If a shelf doesn't work, look at any old windows you have with large windowsills you can use to show off your mantel decor.
Whether you make a spooky Halloween mantel with bats and ghosts or an elegant fireplace filled with gold Halloween mantel decor, whether you DIY all your decorations or buy a new garland, Halloween mantel decor is the perfect way to get your whole family in the Halloween spirit.
Do you have any good Halloween mantel decor ideas? Let me know in the comments!