Why a Day Planner Template is Essential for Staying Productive and Organized
Having a daily planner can help you stay organized and on track with all the tasks that need to be done. A daily planner can help you manage your time better by allowing you to plan ahead, prioritize tasks, create to-do lists, and keep track of deadlines. It is important to remember that a daily planner should not become an overload of tasks but instead, a tool to help you break down your day into manageable pieces.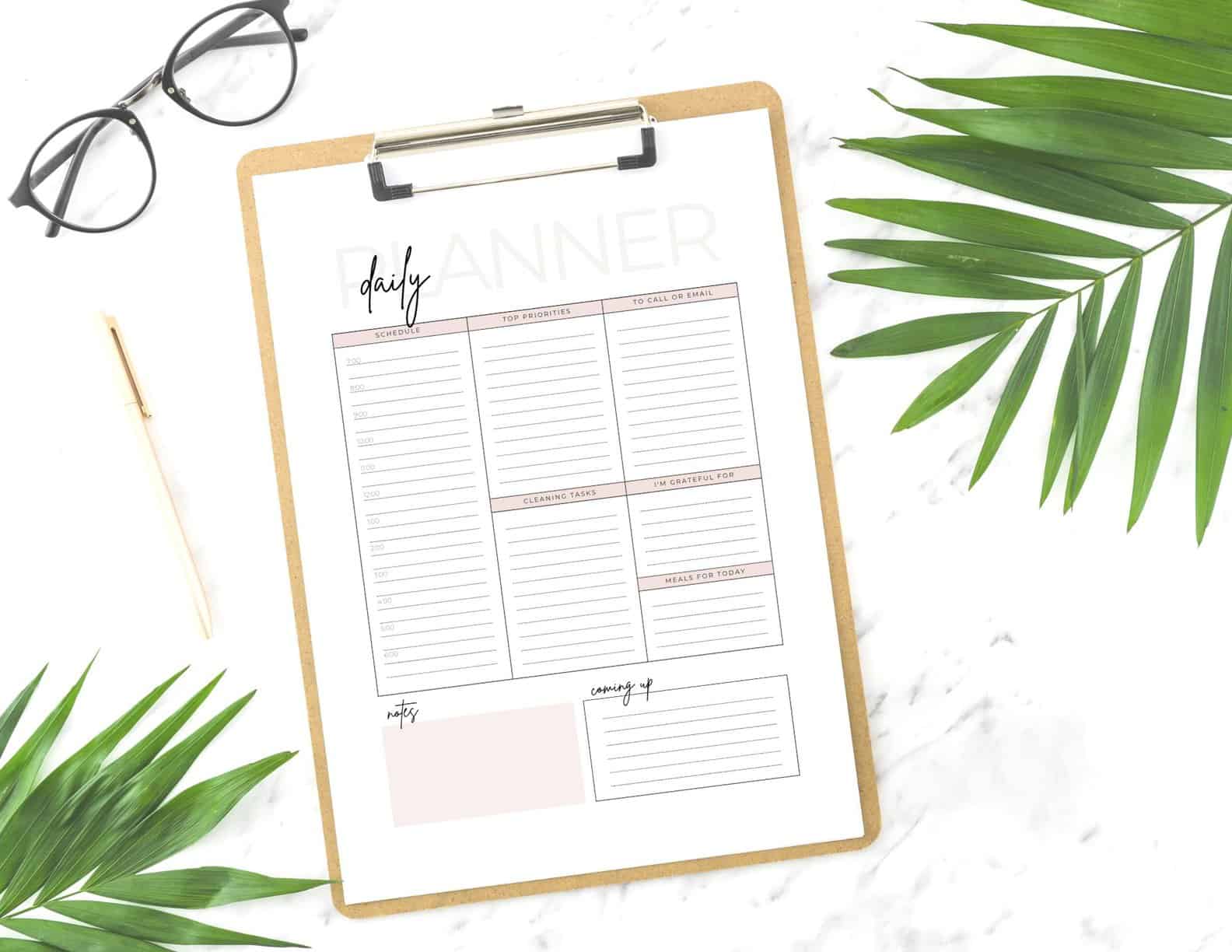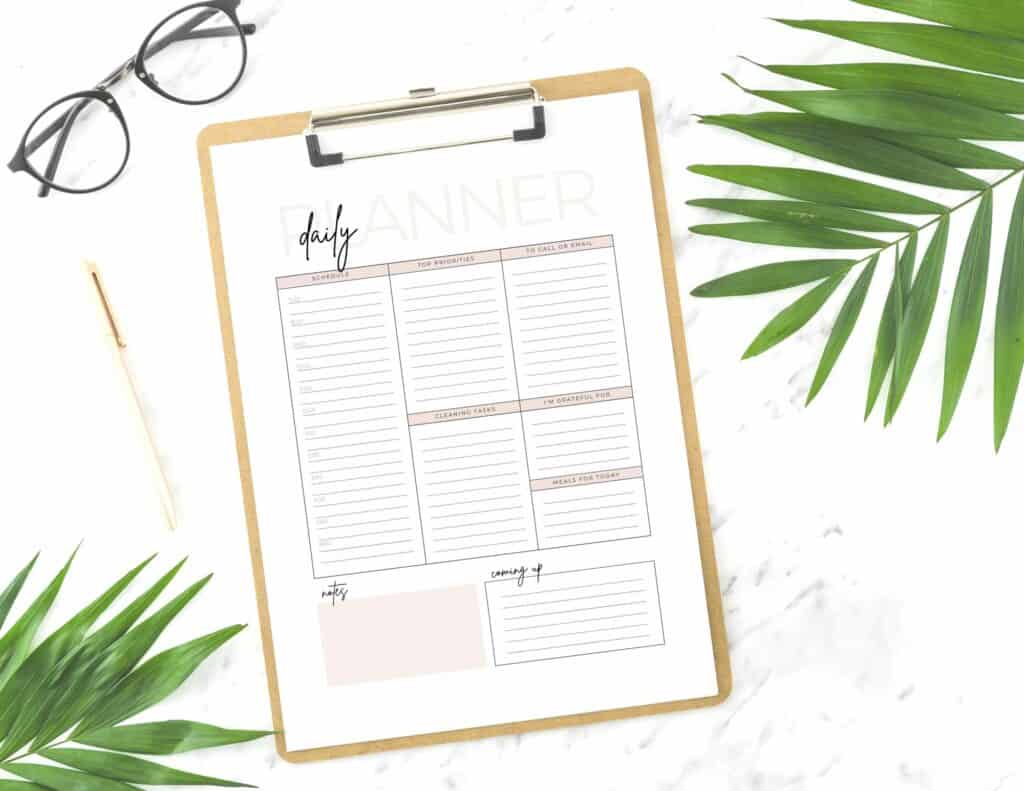 Why a day planner template is essential for staying productive and organized
Having a day planner template makes it easier to organize your tasks, prioritize activities, and keep track of deadlines. It can help you stay on top of current projects as well as plan for future ones. Having a daily planner template also allows you to create a system that works best for you and your lifestyle.
A daily planner template is something that you can print out new every day, or you can print out a copy on cardstock, laminate the PDF file and re-use it day after day. Having daily planner pages helps you make incredible use of your daily schedule. Daily agendas can help you tackle big goals and tasks by doing small tasks on a daily basis that add up to help you accomplish great things.
If you manage time poorly, it can often lead to missed deadlines, unfinished tasks, and overall disorganization. A daily planner template serves as a reminder for you that there is always something to do. It keeps you accountable and encourages productivity throughout the day.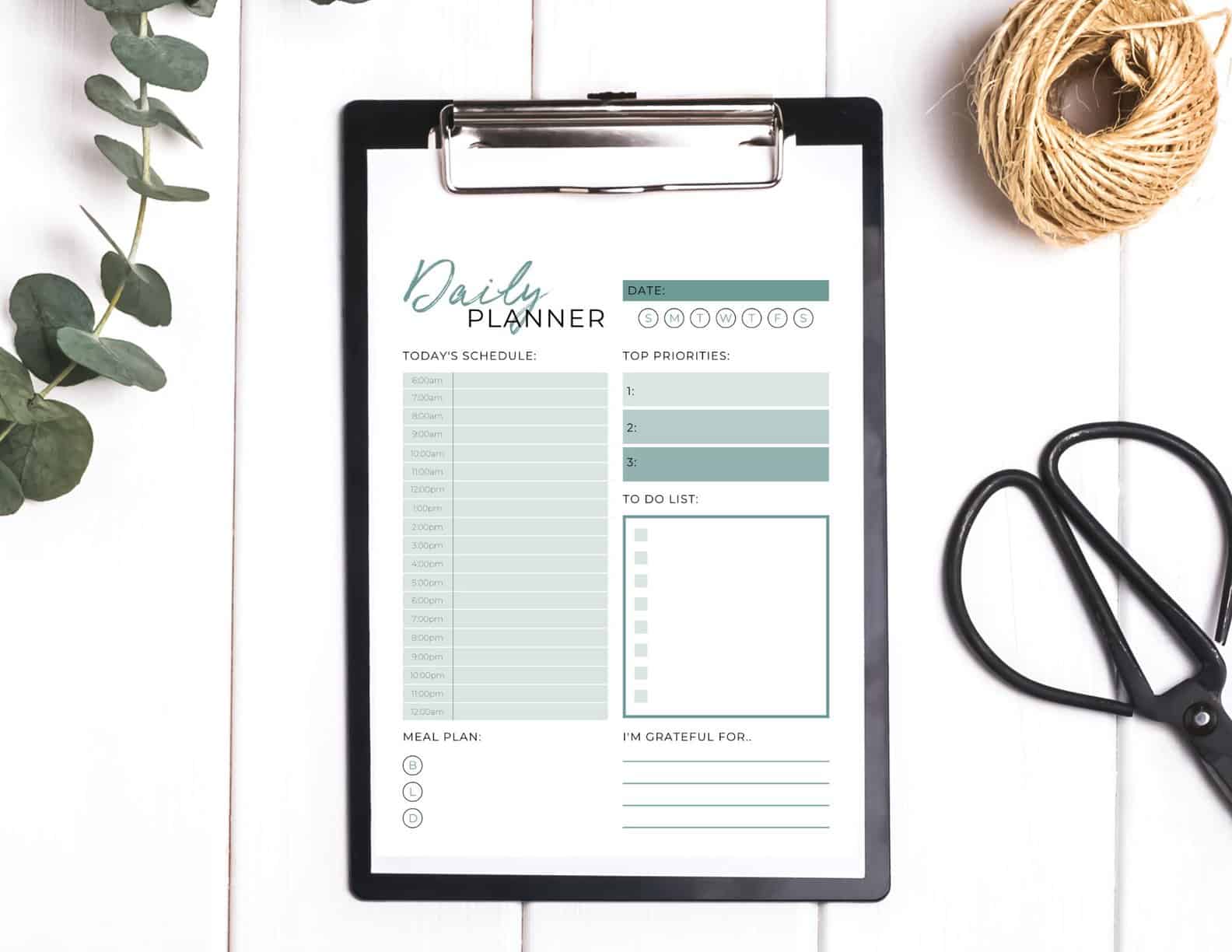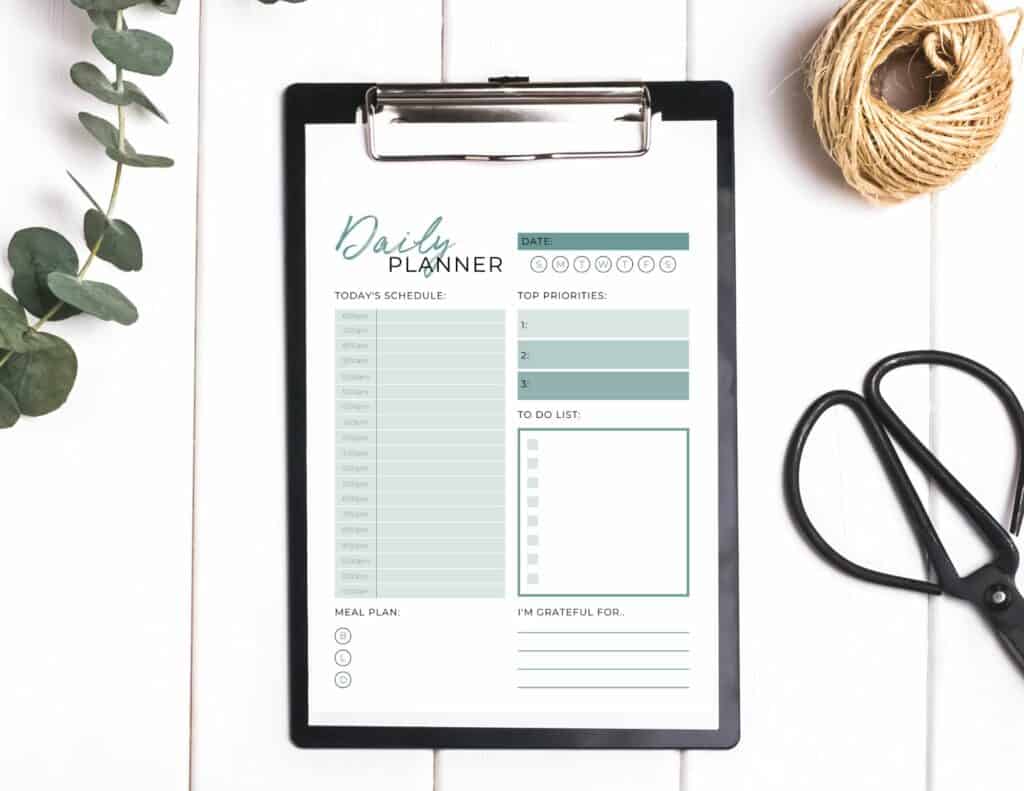 A day planner template is essential for staying productive and organized because it allows you to plan ahead, prioritize activities, spend time with family, plan meals, etc.
Here are some reasons why you need a daily planner template:
Tackle your busy schedule with small daily tasks
Plan ahead for upcoming events, birthdays, holidays, etc.
Keep track of urgent tasks
Form a daily routine
Organize your work schedule
Make progress with personal goals
Better time management
Track daily water intake
Keep track of your priorities for the day
Spending time with family and friends
Regular daily chores
Meal plan for the day for healthier eating
Save time by running errands all at the same time
How a day planner template helps improve focus and decrease stress
A daily planner is a fantastic way to improve your focus. It helps you to keep track of what you need to do and when it needs to be completed. Having a daily planner template gives you the ability to stay organized and on top of your tasks.
Daily planners also help reduce stress levels by helping you prioritize activities, manage deadlines, plan ahead, and stick to goals. Having an organized plan with a daily planner template is much like having a personal assistant that can help you with your family life and your work life.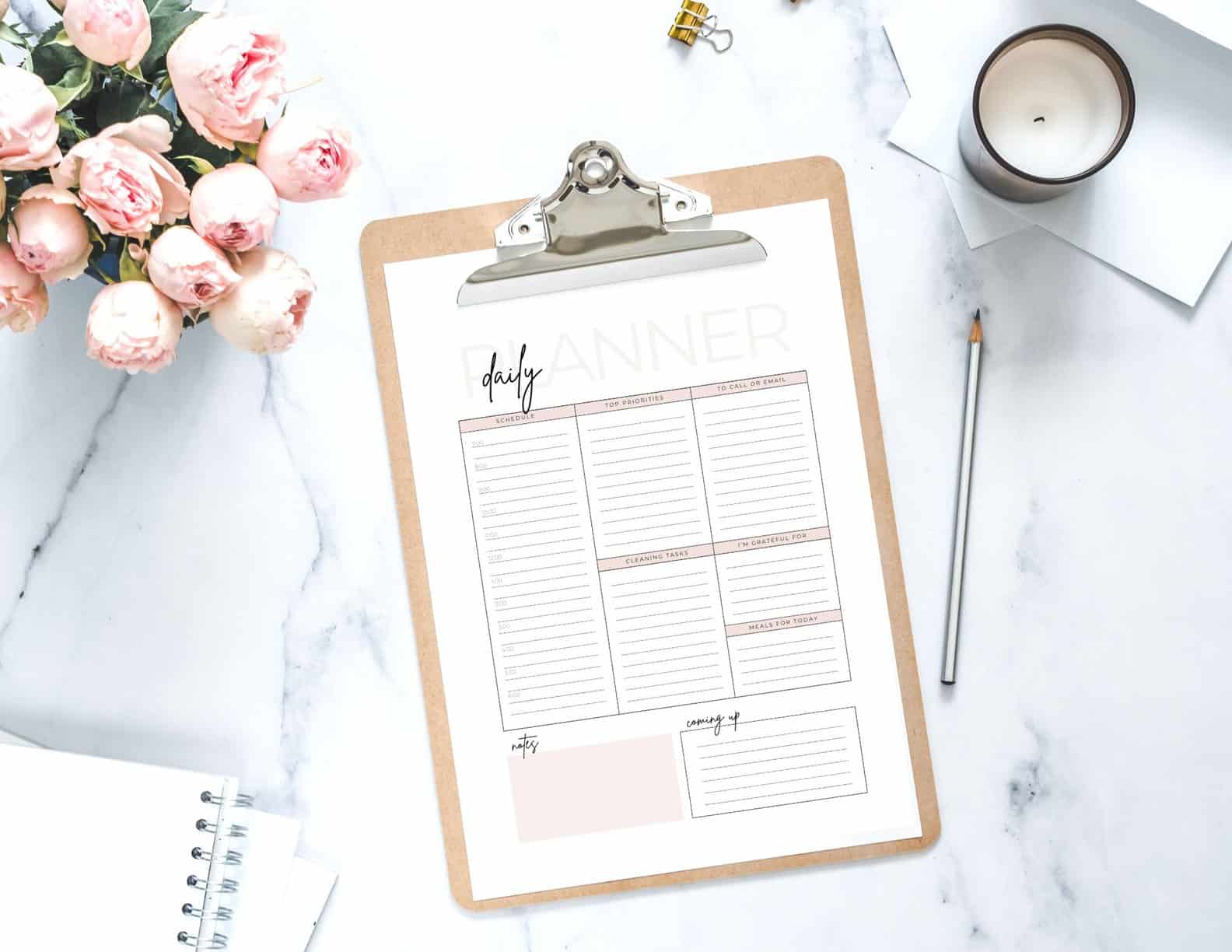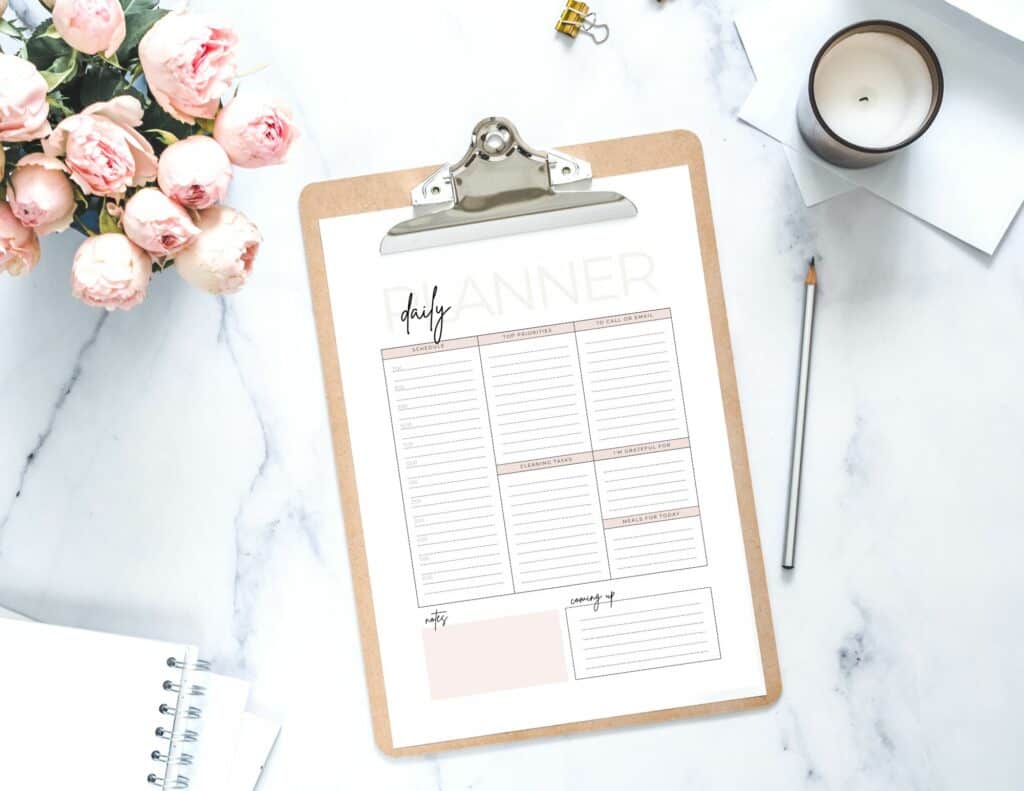 Different types of day planner templates and their features
There are a wide variety of daily planner options out there that can help you keep track of important tasks and appointments. When looking for a daily planner, write down the things that are important for you to record and remember throughout the week. There are a huge variety of different layouts and different formats that can suit your needs.
Here are some different areas that a daily planner can include:
Daily schedule/Hourly schedule
Daily tasks
Top priorities for the day
To do list
Meals
Water intake
Cleaning Tasks
Church/Work meetings
Monthly Calendar
Shopping list
Notes
Calendars
Tasks for meetings
Different document formats for a daily planner:
Google docs
PDF format
Canva template
Online daily planner templates
Online daily planning apps
Editable planner pages
A traditional personal planner
There have never been more options when it comes to printable daily planners. You can easily find a printable daily planner template anywhere online…even in this blog post. The best part is that my printable daily planners are free to download!
How to create your own free personalized day planner template
If you aren't interested in a free daily planner template, you can also create a printable daily planner from scratch. This is a bit more time-consuming but it allows you to design the planner templates exactly to your needs and wants.
If you have a really long daily to do list but most planner templates only leave a few spaces, then creating your own daily planner templates might be the best thing for you. Daily planners can have an infinite number of options so feel free to create one that works best for you!
One of the best things to keep in mind when choosing (or designing) a daily planner is to choose a simple layout that won't be an overload for your mind.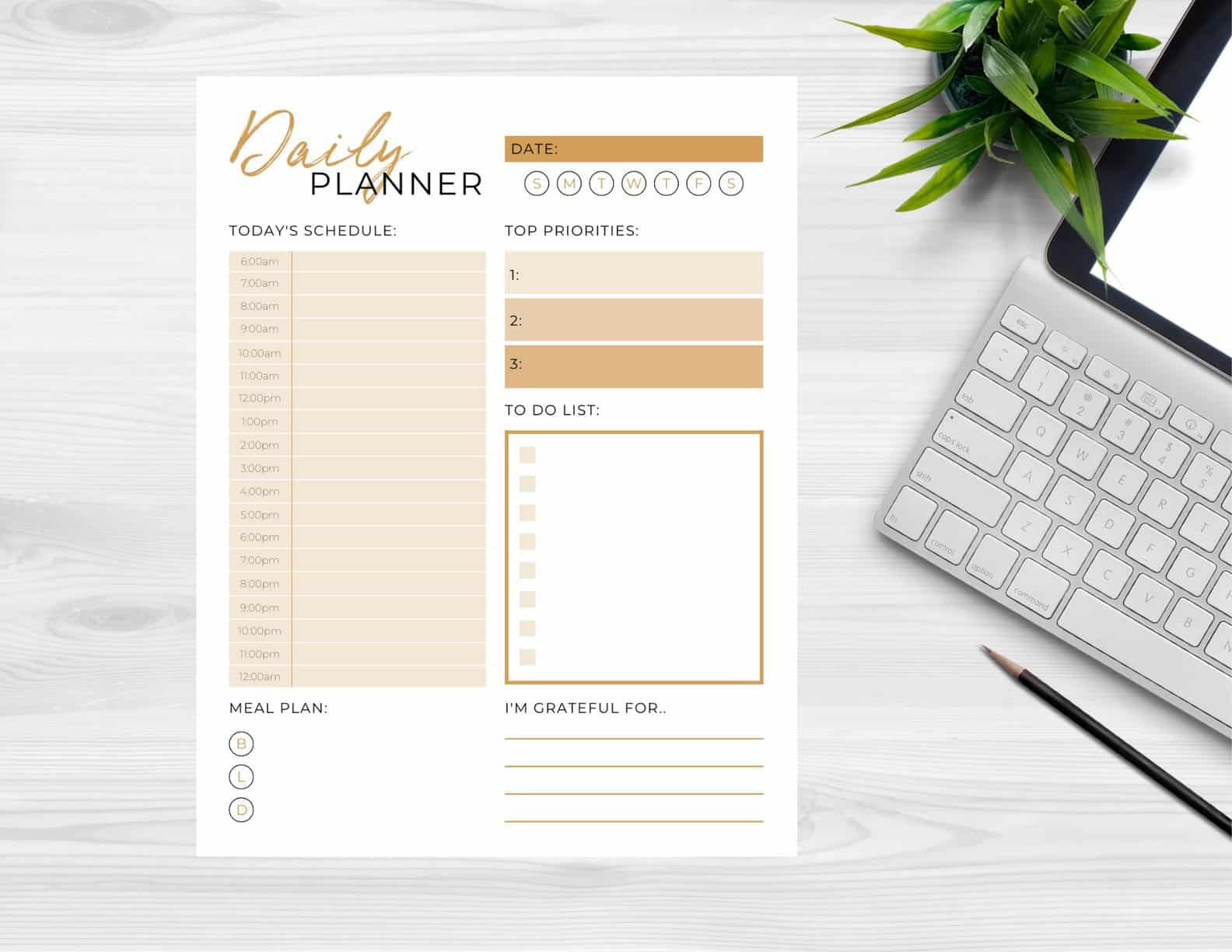 Tips for making the most out of your day planner template
Once you find the ideal day planner template for you, make sure to follow these tips:
Schedule tasks in advance – Scheduling your tasks ahead of time will help you stay organized and efficient.
Break down large projects into small steps– Breaking down large projects into smaller steps can help you stay focused and on task.
Look at your calendar ahead of time and plan accordingly – is someone's birthday coming up? Make sure to add birthday shopping to your to-do lists
Track meals, water intake, or calories – if you're concentrating on making healthier habits, this is a great way to hold yourself accountable.
Plan appointments far in advance – don't forget appointments for pets and family members, too!
Set realistic goals for yourself – don't set yourself up for failure by having goals that aren't achievable in a small time frame. Set small goals to help you achieve larger ones.
Review your to-do list each night before bed and make a plan for the next day. Daily planning success starts the night before and it also helps with time management.
Make sure you take breaks throughout the day to give your brain a break.
Printable daily planner templates with free examples to get you started
Having a daily planner can make a huge difference in your stress levels and productivity. There are many different types of day planner templates available to choose from. You can even teach your kids how to be more productive with a daily planner. This will help them learn to manage time and get on top of their to do list.
How do I create a daily planner?
Creating a daily planner is easy and accessible for everyone. You can start by downloading or creating your own template. If you are using our free printable daily planner templates, just enter the desired information and you're good to go! Not only is this template easily customizable, but it also helps you stay organized and see what needs to be accomplished first.
Why is it better to have a printable daily planner instead of using an app?
Printable daily planners come with multiple advantages such as increased productivity and better time management. With a printable daily planner, you can easily customize it according to your needs, including setting reminders for yourself or adding additional tasks/goals. Furthermore, they are often more cost-effective than apps and allow you to be flexible with the design.
When you use an app, it's easy to get lost in meaningless notifications, small (but unnecessary) tasks, and they are often not free. Having a paper planner can really help you to stay more focused and not get as distracted. Because that is so easy to do!
Daily planners that you print out and write on are a great way to stay organized and motivated. Printable daily planner templates can provide structure, help you set goals, chart progress, and stay on top of tasks. They also make it easy for you to customize your daily schedule so that it works best for you. Plus they are a physical reminder of what needs to get done which makes them more motivating.
I hope you've found this article helpful and that you can use the free daily planners available in this post.