Conquer Your Week: Get The Most Out of Every Day With This Free Weekly Planner Template
Have you been struggling to stay organized and on top of your tasks? Do you feel like you never have enough time in the day to get everything done? If so, it's time for you to get the most out of every day with a free weekly planner template!
A good weekly planner will help you manage your time effectively and keep track of everything taking place throughout the week. Whether you want to plan out your days, create an efficient work schedule, or focus on self-care goals, this post will show you how to design a perfect weekly planner with the right layout and content.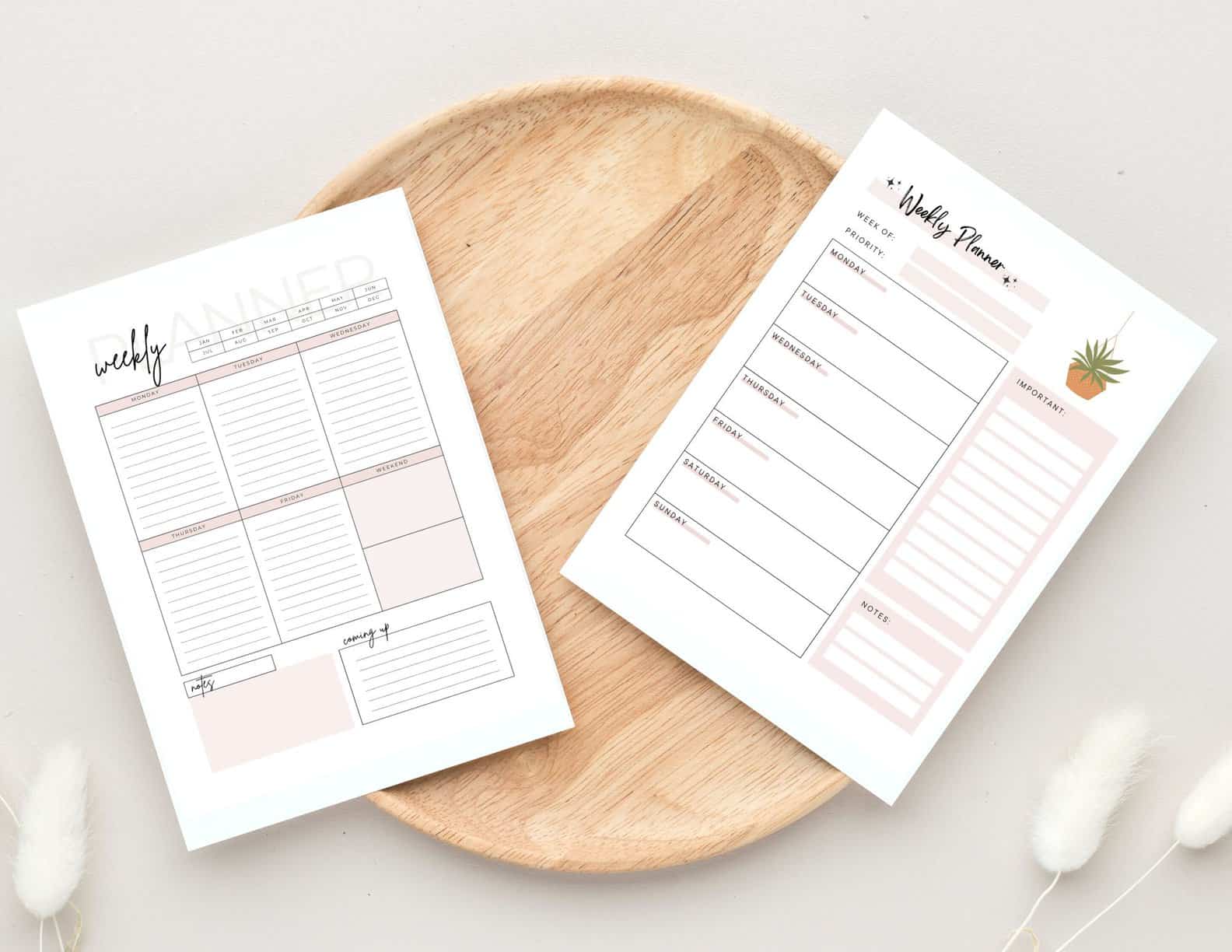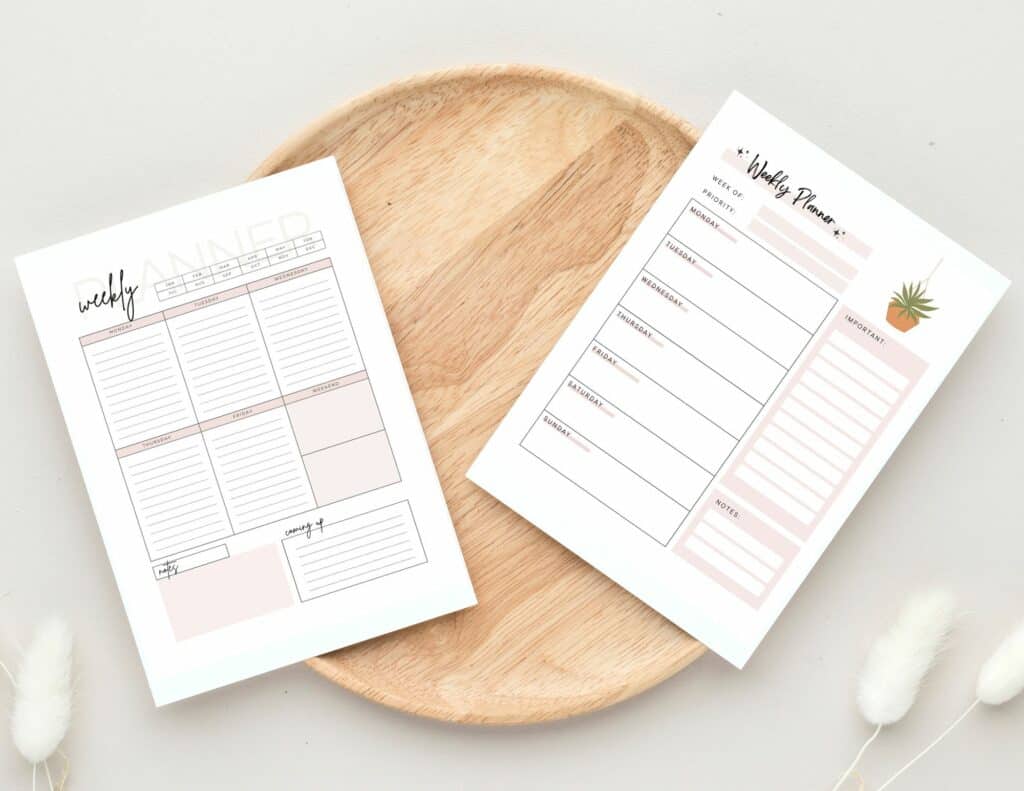 With carefully thought-out layouts, simple task reminders, and other helpful components built-in, this planner template will give you the structure and guidance needed to conquer your week!
Why do you need a weekly planner?
Keeping a weekly planner helps for tons of reasons! First of all, it helps to keep you on track and organized. With a weekly planner, you can easily set goals for each day, make important reminders for yourself, prioritize tasks and even plan out your meals!
Secondly, a weekly planner is an easy way to stay on top of your workload. It gives you the flexibility to create an efficient schedule that will help you get everything done that you need to in a set timeframe.
You can use your weekly planner to keep track of weekly goals, your family's weekly schedules, and other items on your to-do list. Weekly planners are also a great idea for college students who have a busy schedule and need to keep track of homework and tests while still keeping track of their meal plan and other activities.
No matter what phase of life you're in, a weekly planner is a game-changer for keeping your entire week organized.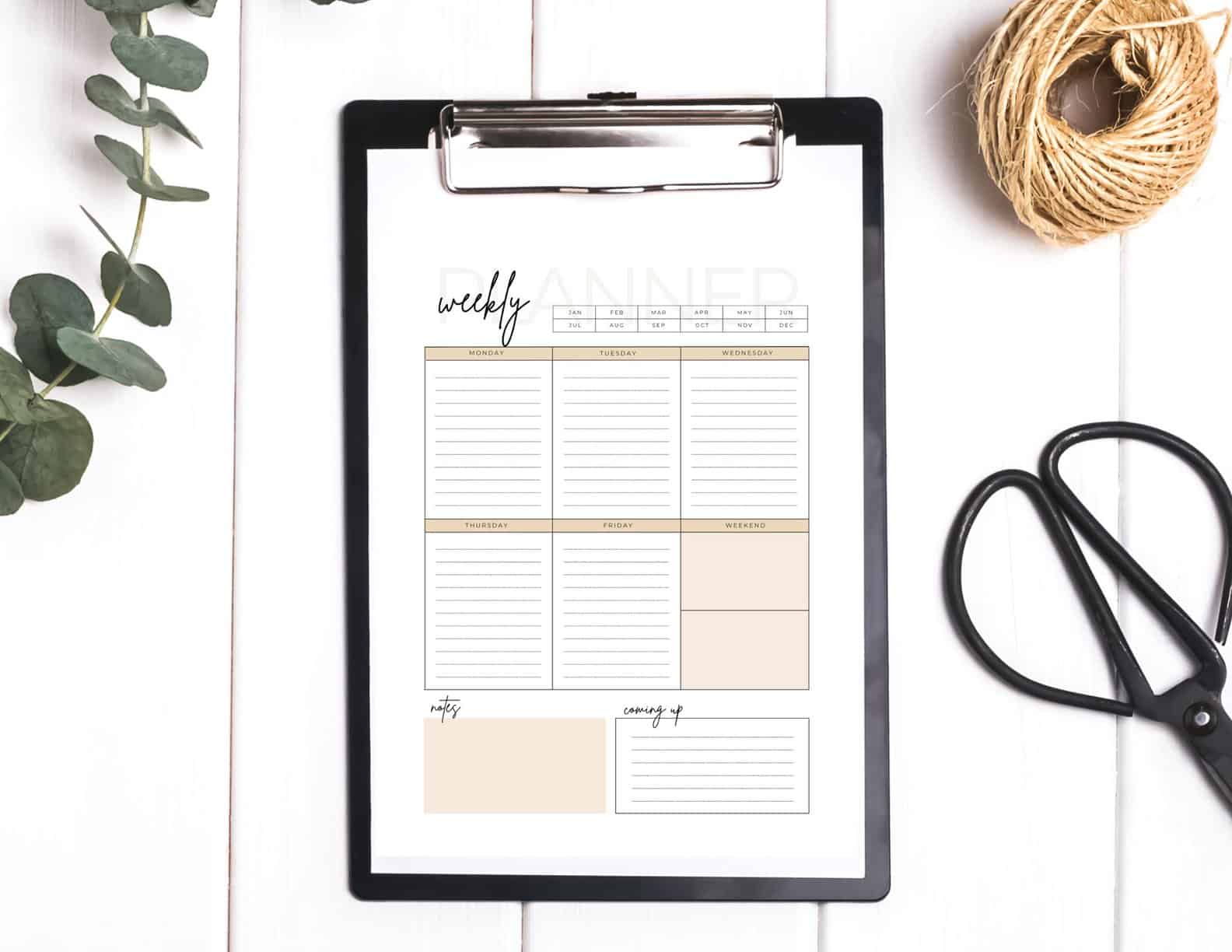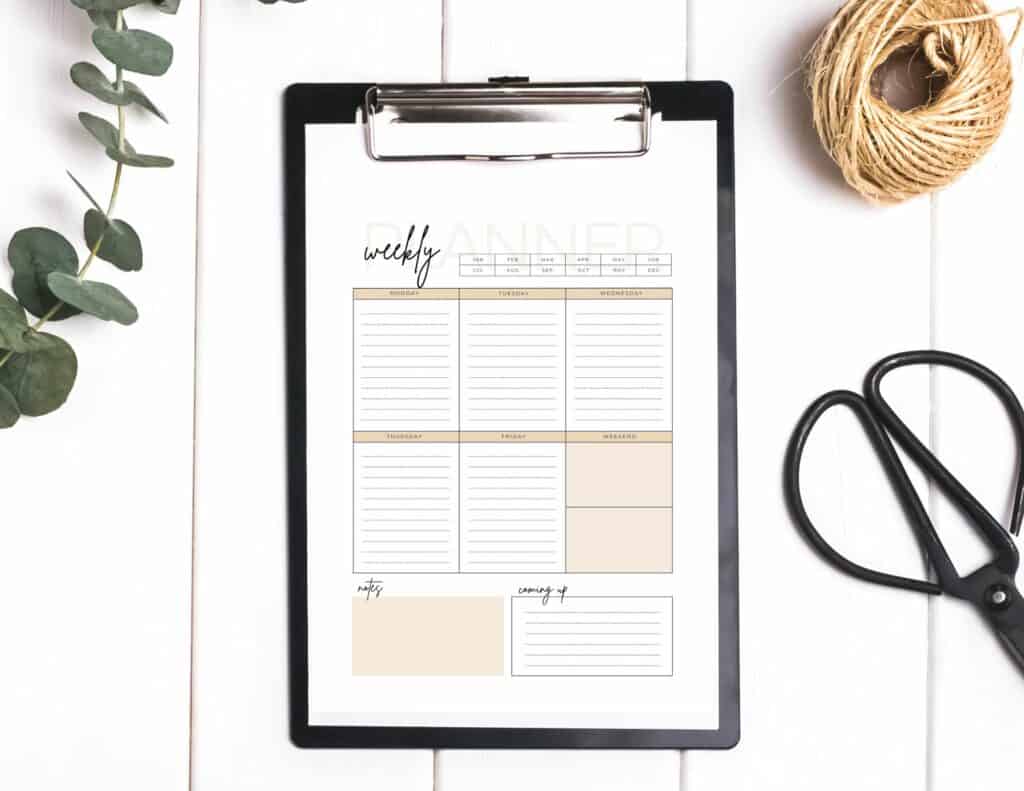 What to Include on Your Weekly Schedule Planner
When it comes to making your weekly schedule, what you include is entirely up to you. Everyone has different things going on in their lives, different goals, and different to-do lists. So what you decide to highlight and include in your weekly planners is going to vary from person to person.
However, here are some ideas for what you can include in your weekly schedule planner.
Scheduled Events and Appointments
Including any scheduled events or activities is an important part of your weekly schedule. Note down any important meetings, doctor's appointments, or other engagements that you have during the week.
Make sure to note any events for the whole family! You don't want to forget about your son's basketball game or your daughter's ballet practice.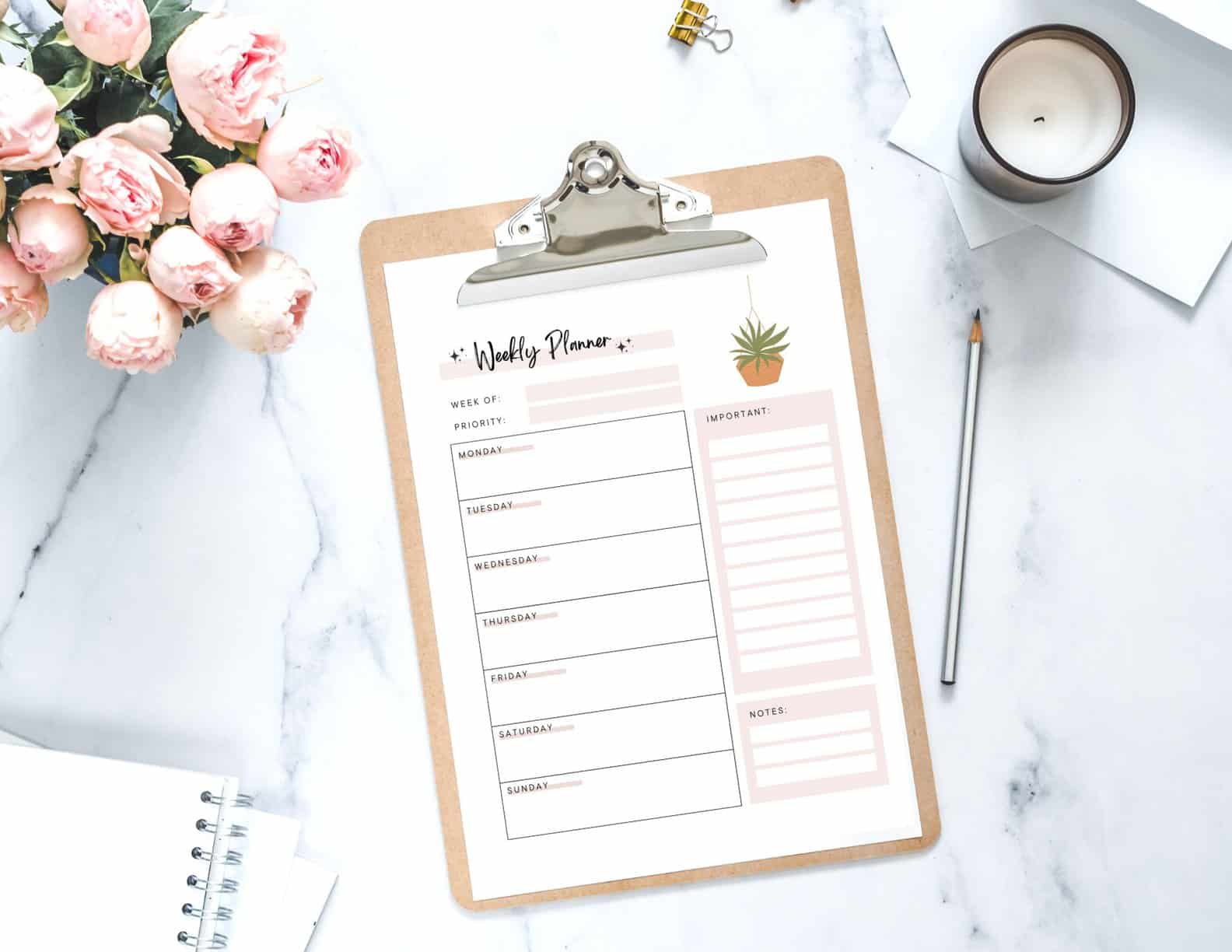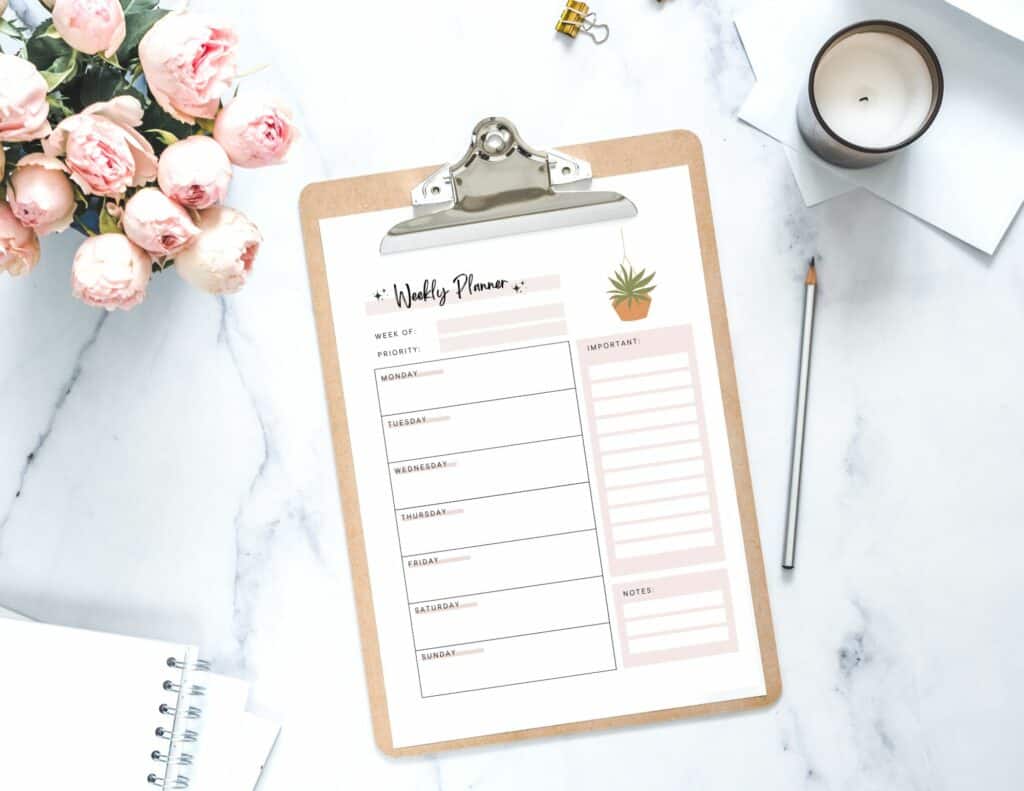 Daily Tasks and Goals
Another great way to make the most out of your weekly calendar is to plan out daily tasks or goals that you want to accomplish during the week.
For example, note down any important deadlines or projects that you need to finish, or list out any errands you need to run. What do you need to get done that day? Make sure to note it on your weekly schedule.
Keeping note of what you need to get done each day can help you stay focused on your tasks and prevent you from forgetting anything!
A To-Do List
Along those lines, a to-do list is a really important part of a weekly planner. This will help you prioritize tasks for the week and stay on top of what needs to be done.
For example, does your child have a birthday party to attend that week? Make sure you add getting a present to the to-do list.
Work Hours or Class Schedule
If your schedule for work or class is the same each week, you might not need to keep track of your schedule in your weekly planning. But if it changes, it can be helpful to add it to your planner.
That way, you can make sure that any tasks or errands you need to get done fit into your work or class hours and don't interfere with what is already scheduled.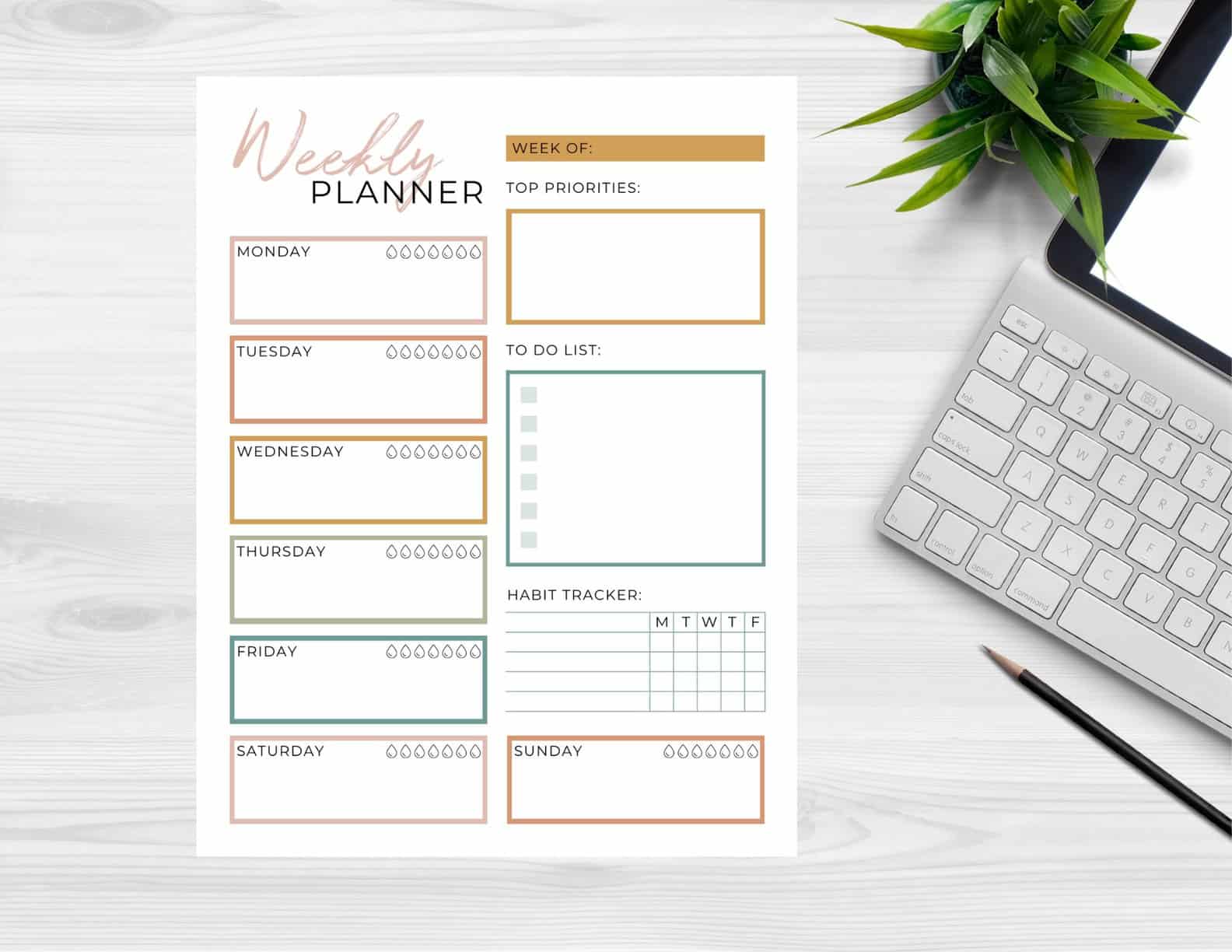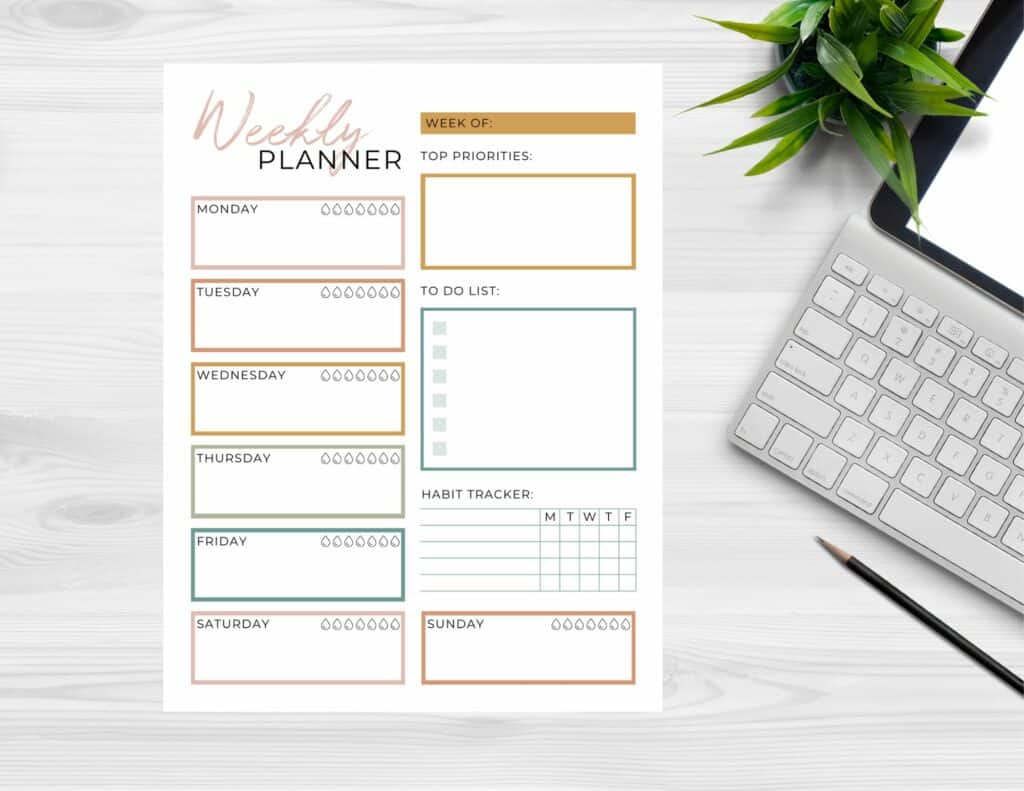 Meal Plans
Having a separate grocery list or weekly meal list is a good idea, but you can also include it in your weekly planner if you like keeping everything together.
Make next week's list for dinners and meals and then include the ingredients in the shopping list for the current week. That way, when next week rolls around, you already have everything you need!
Weekly Goals
Keeping track of goals can be a great addition to your weekly planning. If you're trying to develop a new habit, you can keep track of your progress on your weekly planner with a weekly goals section!
Adding your goals to your weekly schedule can help you stay focused on what you want to achieve, and then tick off your successes as the weeks go by.
Self Care Section
While it's important to stay on top of your tasks and obligations, don't forget about taking care of yourself! Make sure to plan out time for self-care in your week. Whether that be a yoga class or going on a walk, make sure you pencil it in.
You might be trying to drink more water to help take care of your body. If that's the case, include a water tracker in your weekly planner or look for planner templates that have one. That's definitely part of the self-care section as you're keeping yourself hydrated!
Weekend Schedule
After scheduling all of the necessary appointments and tasks, don't forget to schedule fun weekend plans too! Make sure to allocate some time for activities that you enjoy-whether it be reading a book, going out with friends, or having a family game night.
Your weekly schedule should include more than just work and obligations – make sure to add fun things too!
Finding the Right Weekly Planner Templates
Not all weekly planner templates are created equally, which can be a good thing when you're looking for the right printable weekly planners for you and your family.
While you're looking for a weekly planner template you like, you might find a weekly hourly planner. Weekly hourly planners break down the week into hours. Some people like having their entire week broken down into one-hour intervals – it helps them stay focused and plan ahead. For others, that might be too strict and stressful.
Some printable weekly planner templates also have a notes section. Having ample space to write notes can be really helpful – you don't want to forget important reminders, thoughts, and tasks that come up throughout the week.
Whatever planner template you find, make sure it works for your lifestyle and the way you like to plan! It should help you stay organized and on top of your tasks. You might not immediately find a weekly planner template that you love but don't get discouraged. There are lots of options!
Free Weekly Planner Printable Templates
The nice thing about printable weekly planner templates is that a lot of them are free! You can find free printable weekly planners in a variety of colors, styles, and layouts.
If you're looking for a simple planner, you should be able to find a minimalist design pretty easily. Or if you like being creative with colors and patterns, there are plenty of colorful planning pages to choose from as well.
Once you find a weekly planner template you like, download it and get started on filling it out with appointments, activities, and other plans!
Also, some weekly planners might be customizable, which is really nice if you want to add a to-do list area, a notes section, or change the headings on some areas of your weekly calendar!
Other Formats for Weekly Planner Templates
If you don't like the idea of a printable planner because you prefer digital documents, you can still find great digital weekly planner templates. Just download them to your phone or iPad! You can also make your own in Google Docs or other applications.
So, if free printables aren't your thing, don't worry! You can easily find a digital version that will work for you! You may be able to download a digital version in PDF format or find a digital version through an app on your phone.
One of the most important parts of finding the perfect weekly schedule planner is to make sure it is customizable or includes the sections you want. So you may have to search for a little while to the right one to download!
Weekly Planners Will Help You Stay on Top of Your Week
Printable weekly planner templates can really help you stay organized and on top of your schedule. By breaking down your week into manageable tasks, you can make sure that everything gets done!
Whether it's for work or school, having a plan is always beneficial. With a weekly planner template at hand, all the tasks and appointments are easy to see and prepare for.
Go over your weekly schedule with the whole family at the start of the week and then display your weekly planner where everyone can see it. Then the whole family will be prepared to conquer the week!