How to Organize Teen Girl Craft Supplies
If you're the parent of a teen girl who loves crafting, you know that it can be difficult to keep all of her supplies organized. You probably know the dreaded feeling of walking into your daughter's room and seeing crafting supplies scattered all over the floor (or spreading into the rest of your home).
Between the fabric, yarn, beads, and everything else, it's easy for craft supplies to take over your house! In this blog post, we will discuss some great ideas to help you organize teen girl craft supplies using baskets, bins, a rolling cart, pegboards, and more. With these tips, your teen's crafting area can stay neat and tidy without taking up too much space in your home!
How to Organize Craft Supplies
Helping your teen organize their craft supplies can be a daunting task, but it doesn't have to be!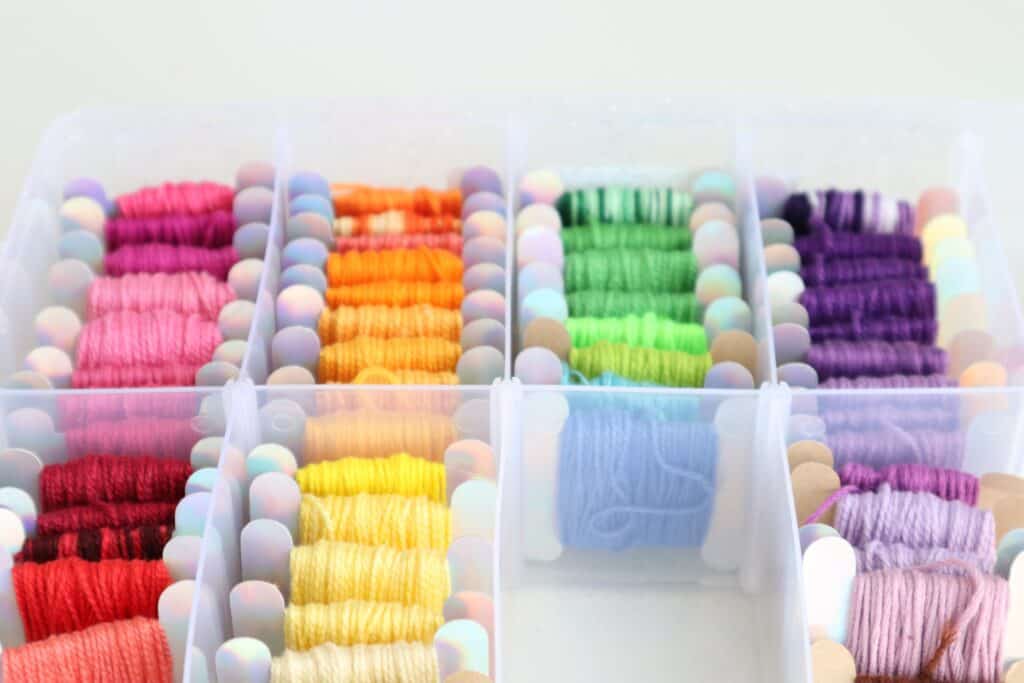 There are a few different ways you can go about organizing craft supplies, and the best way will depend on the amount of space you have, the types of supplies your teen has, and how often they use them.
Here are a few tips for organizing teen girl craft supplies.
SHOP FRIENDSHIP BRACELET SUPPLIES

Let them use a portion of your craft room.
If you have a craft room in your home already, then giving them a section of this room to use is a great idea! This way, they can have all of their supplies in one place, and you can still have your own crafting space.
You can still keep your organized craft room even when giving up a bit of space in the room to your teen if you create a great system that your kids can easily follow.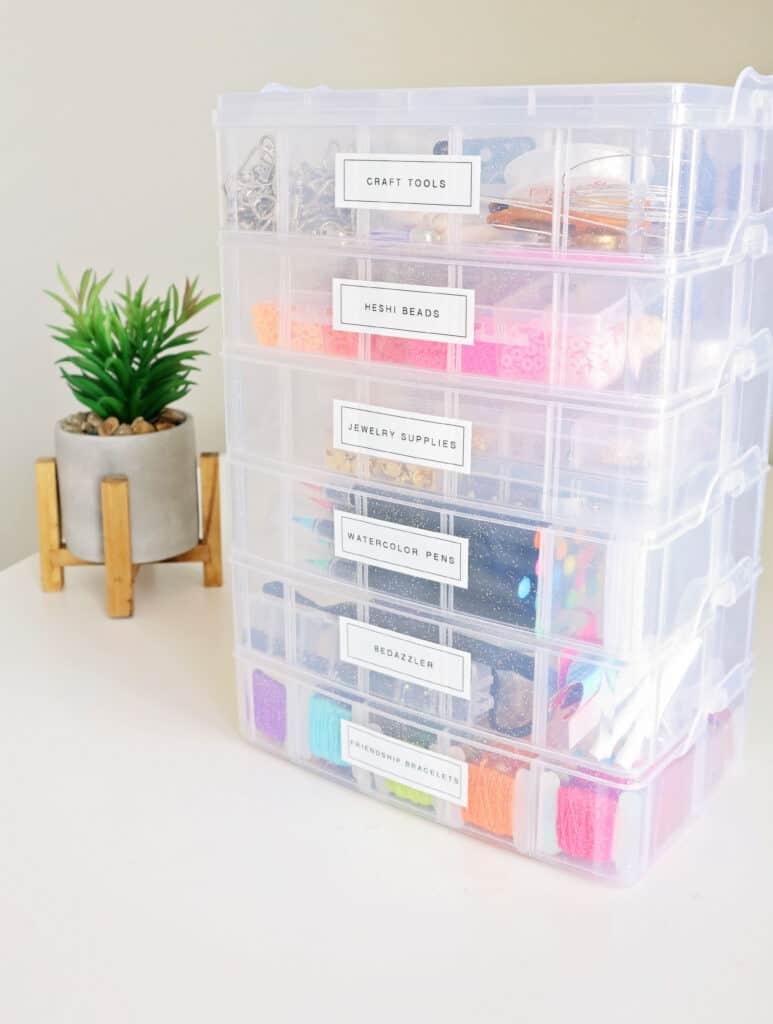 Have bins in the craft area that they can use.
If there are some materials that are off limits to your teen, make sure you designate storage areas for these items so they know where they are and they are not accidentally used.
Label your bins so they know which paper, paint, fabric, and other materials are available to them. If you have the space for it, you can even get some materials that are meant just for them!
This can be great if they are learning a new skill because you can get some cheaper materials for them to use while they are trying new projects and then buy better quality when they are ready for bigger and more advanced crafts.
This will save you more money so they won't use up quality supplies when they are first learning.

Add a craft space in their room.
If you don't have an extra craft room to dedicate to crafting, then create a designated storage area in your teen's room! This is a great idea if they really love crafting and are always creating new crafts and projects.
There are a few easy ways you can make a mini craft room within your teen's room.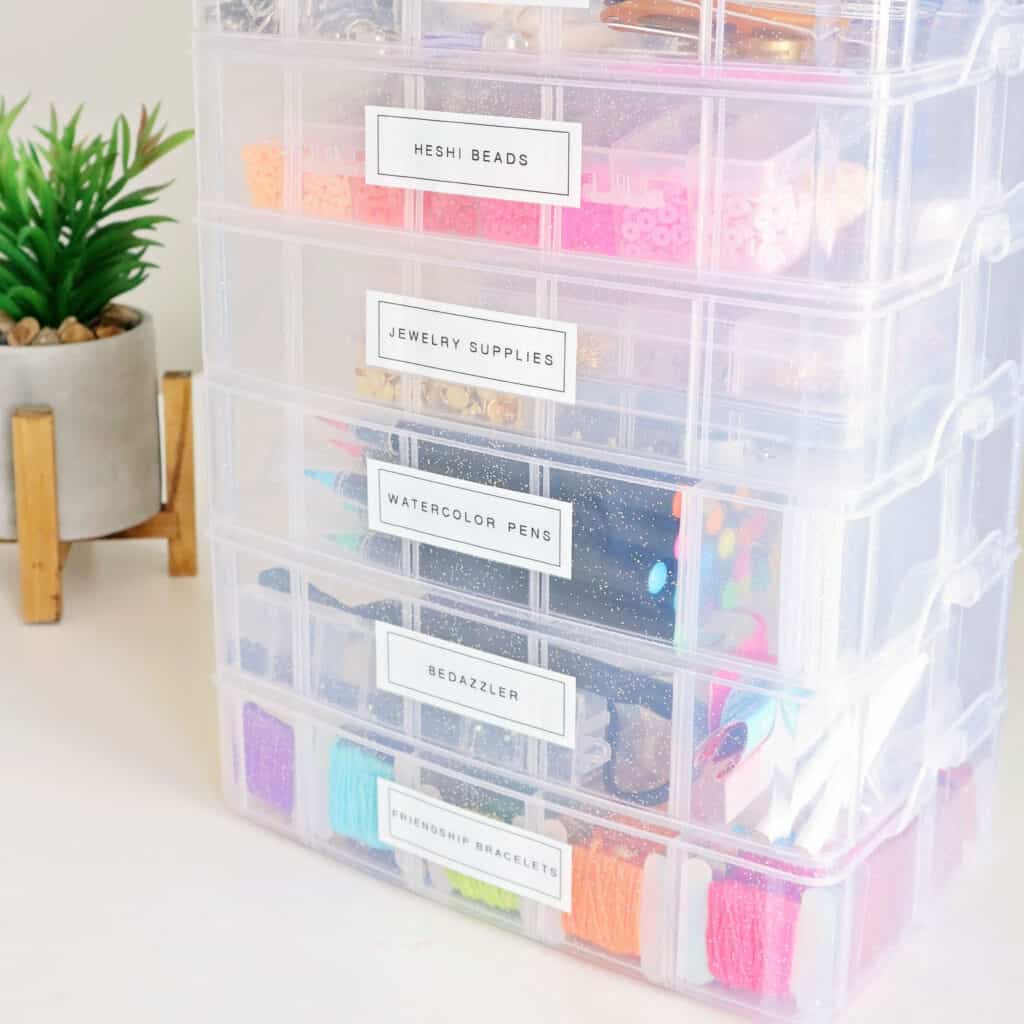 Use Wall Space
One of the best ways to create a craft space in your teen's room without taking up too much space is to use the wall space.
You can easily organize craft storage on the wall by using hanging containers, bins, and shelves. You can even get over-the-door organizers. If you're trying to resist buying a ton of new storage items, you can take a look around your house for containers you can hang or an old shoe organizer you can repurpose.
If you don't want to hang anything, you can also install shelves and add cute containers that can act as storage for materials and crafts.
Use Divided Storage Bins
Divided storage bins can be a life-saver when it comes to craft supplies. Because there are so many different types of sizes of supplies, it's great to have something that is adjustable. And in my personal opinion, it's a great idea to have storage containers that are portable! Because girls just love to take their craft supplies on the go – whether it's to a camp, on a road trip, or to a friend's house!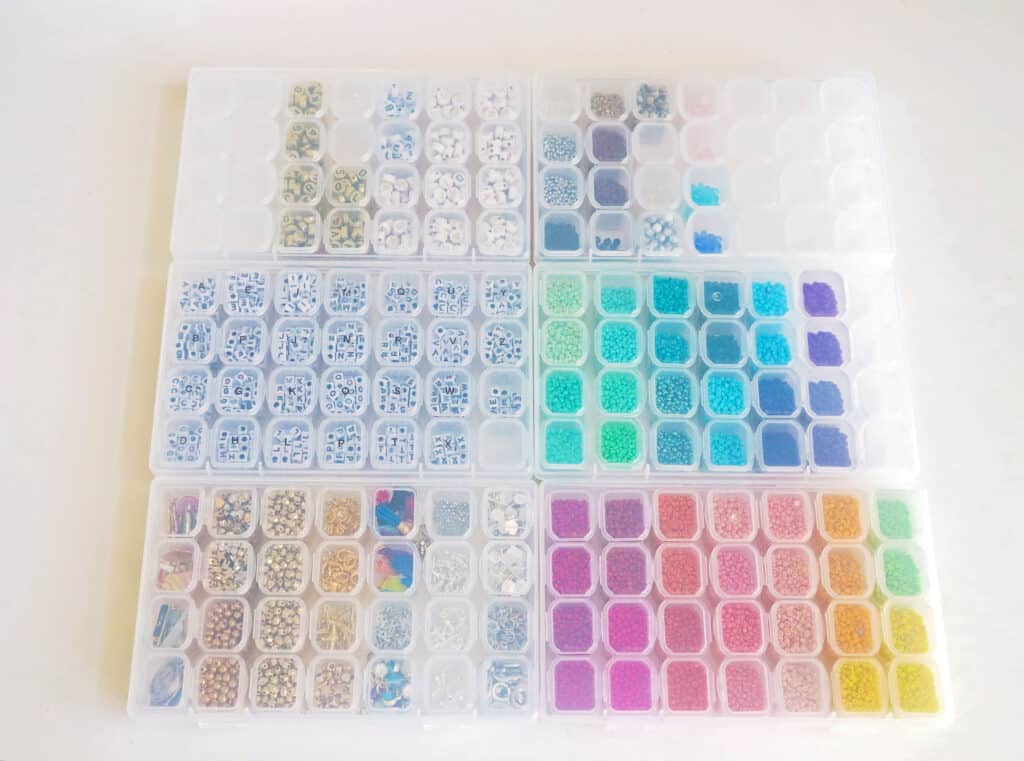 Make a Pegboard or Cork Board Wall
One way to make use of the available space on the wall is to add pegboards, cork boards, or slat boards to your wall.
Pegboard walls make it super easy to organize crafts and materials because everything has a place and you can see everything at a glance. You can buy peg boards at most hardware stores or online. If you want to get creative, you can paint the peg board to match your teen's style or decorate it with washi tape.
Get a Bookshelf for Storage Bins
If you have an extra bookshelf in your house, you can use that to store and organize craft supplies in your teen's room. Get some containers that fit the shelves and label them so your teen knows where everything is. This is a great way to use vertical space to store craft supplies.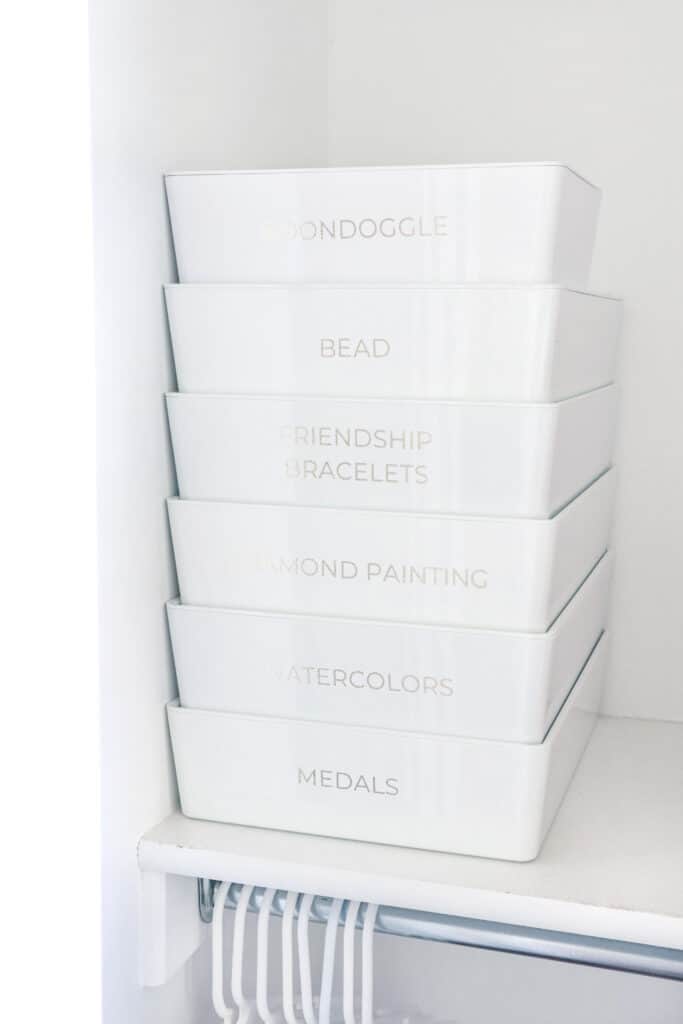 They can also easily stay organized because they can make each shelf a different craft theme. For example, the bottom shelf can be designated for paper, the middle shelf for fabric, and the top shelf for smaller items like jewelry, buttons, scissors, and more.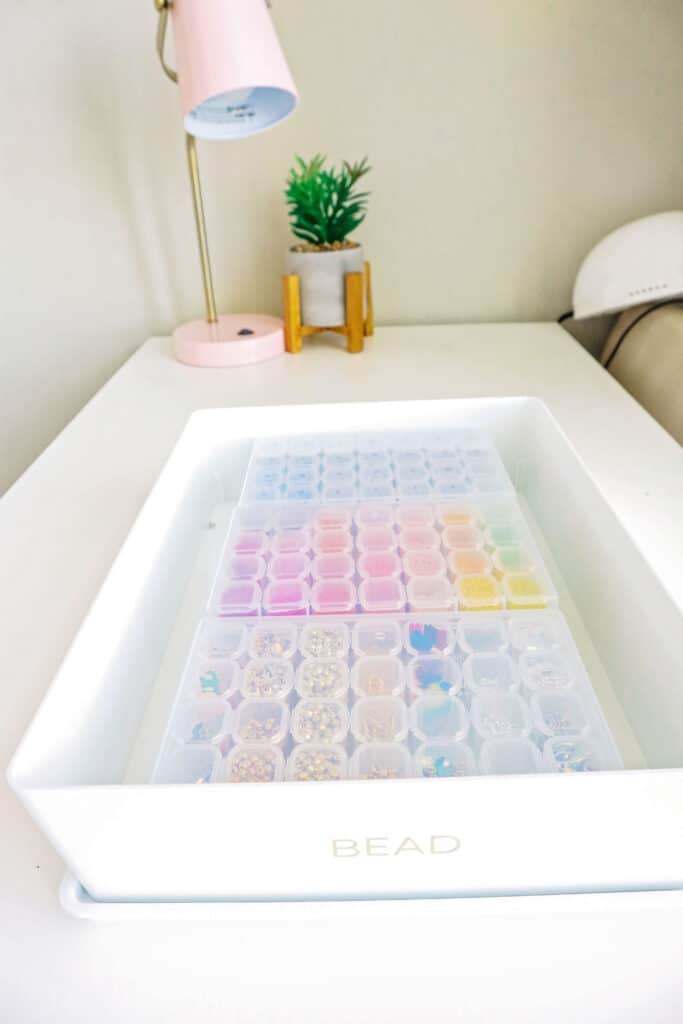 Make a Craft Table
If you have space for a desk in their room, you can make a little craft table for your teen by adding a tabletop to a bookshelf or using an old door.
You'll just want to make sure there are some shelves and drawers available to store any materials and tools so they can grab what they need and get creative!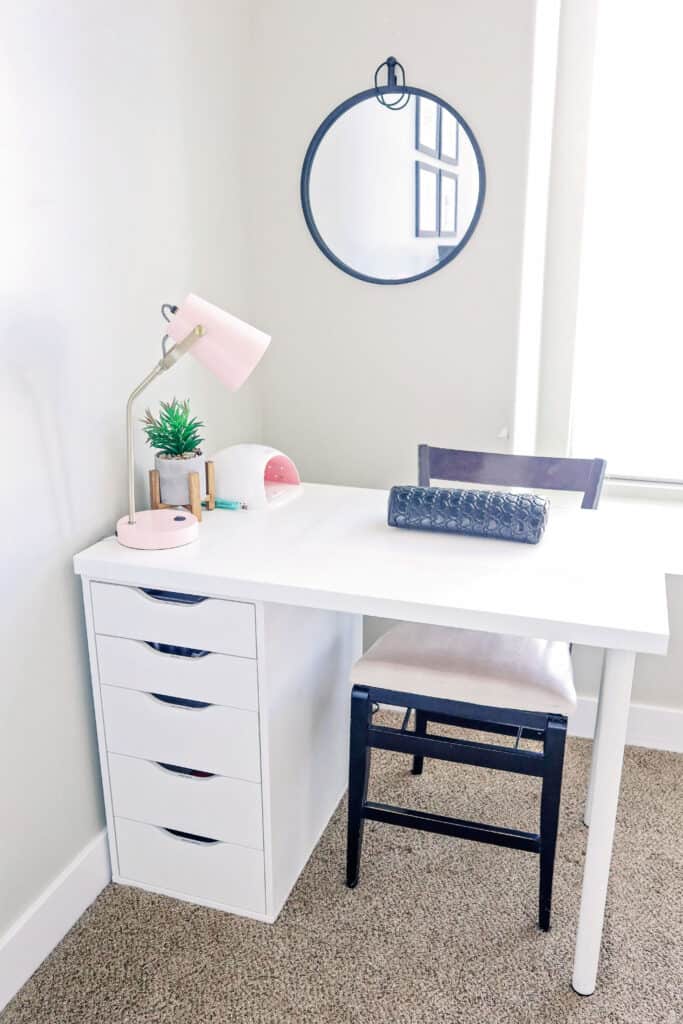 This gives your teen a designated space to work on projects and keeps their supplies in one place.

Make a rolling cart for them.
If there is no space in their room for a crafting area, then you can use rolling carts as storage space for your teen's supplies!
Using rolling carts is one of my favorite ideas because you don't have to worry about taking up a lot of space in their room. They can also be easily wheeled into your craft room or a closet when you're not using them!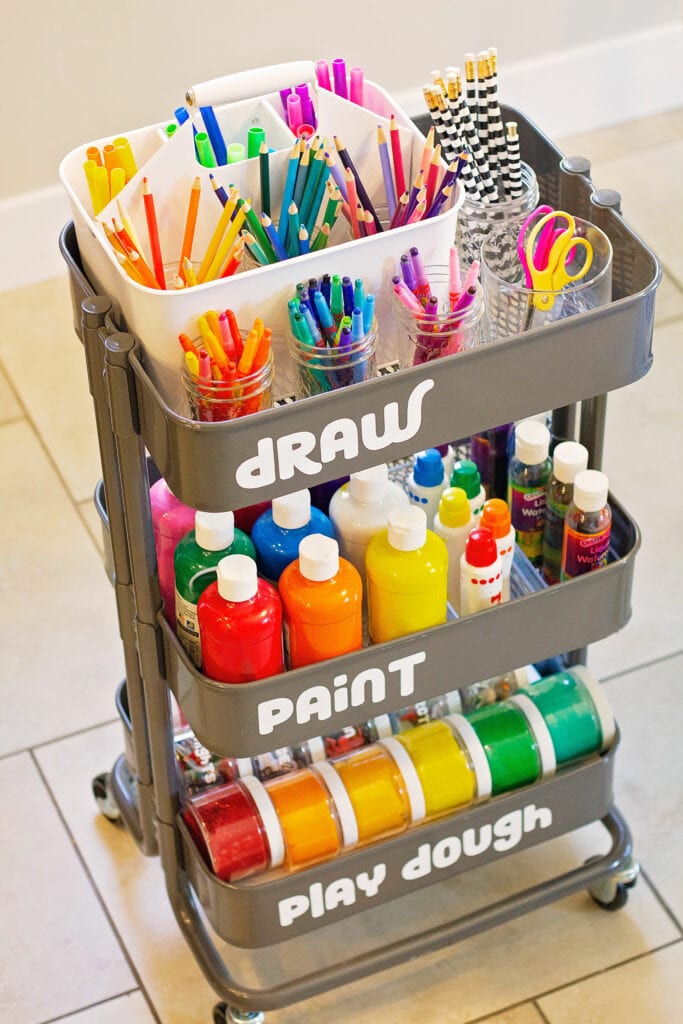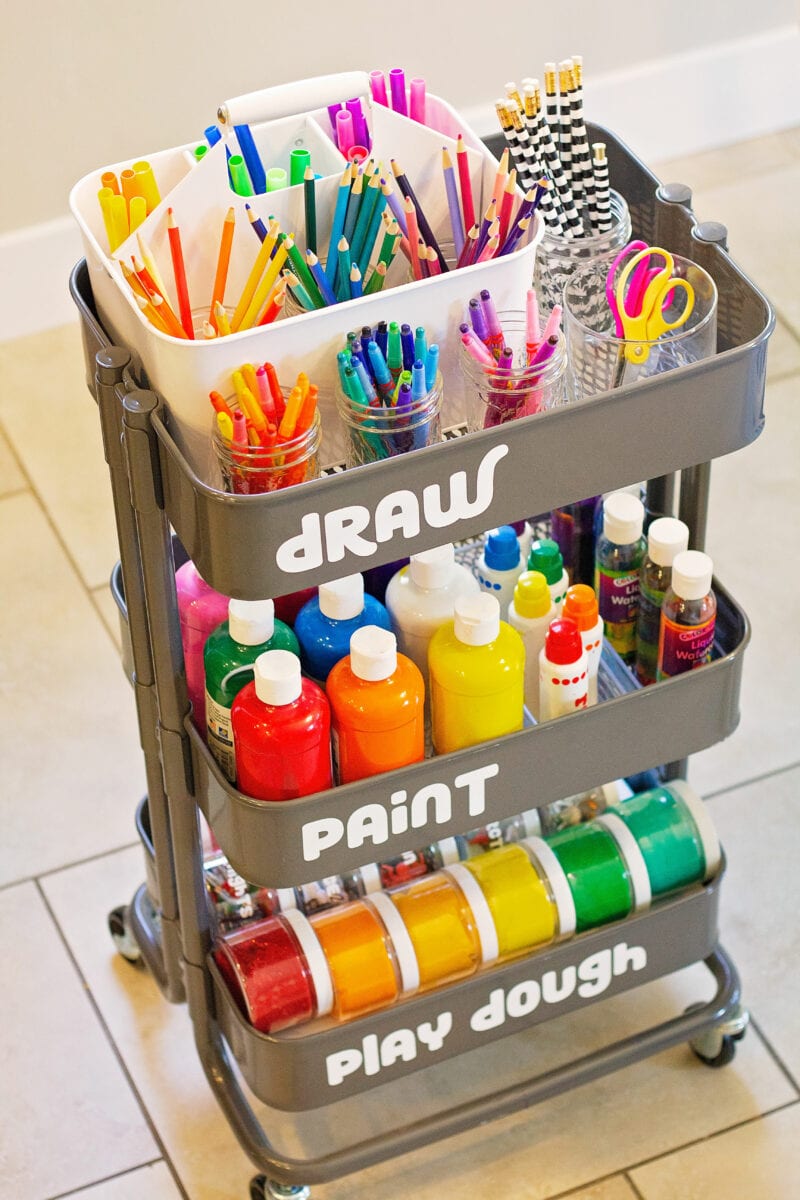 How to Organize a Rolling Cart for Your Creative Teen
Organizing a cute craft cart is easy! You just need to find some small plastic containers or dividers that will fit on your cart and keep materials organized.
Get plastic boxes to store things like yarn, ribbon, fabric scraps, and other craft supplies. They are also great for holding things like paintbrushes, glue sticks, and googly eyes.
Make space for paper, scissors, glue, and other tools your teen will want handy when they are making their fun projects!
Remember, one of the best parts of a rolling craft cart is that you can wheel it out when your teen is making their projects, and then you can just move it back into your craft room or a closet when you're all done. (You should be able to find a decent cart online or at Ikea without spending tons of money.)
Creating a Craft Space for Your Teen
Giving your teen their own crafting space doesn't have to be difficult, and it can actually help to keep your home more organized overall!
By using some of these tips, you can make sure that your teen's craft materials are always in their designated spot without cluttering up your home. Plus, with all of their materials and tools in the same spot, it'll be a lot easier for them to grab what they need and create fun projects.
Happy crafting!