Labeling 101: 17 Ways to Label Your Home to Stay Organized
Labels are important. They help us identify things and keep track of information. Labeling things in your home will help you keep track of your things so you know where to find them and where to put them back when you're done. Labeling makes staying organized easy!
When it comes to labeling our homes, we have a lot of different options. In this post, we will discuss 17 ways to label your home. From using a label maker or chalkboard labels to using vinyl with a cutting machine, there are lots of ways to label everything in your house.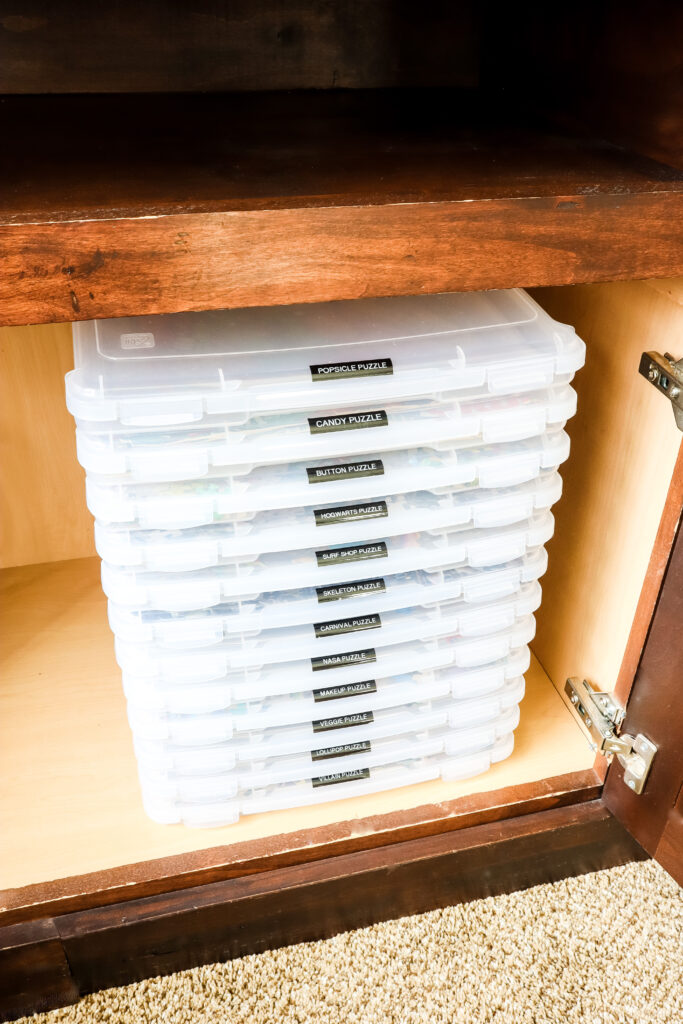 In this post, we will cover all the ways you can label your home and provide tips on how to choose the right labels for your needs and for various parts of the home. Let's get started!
Why is labeling important?
I have an entire post on how labeling helps you stay organized, but basically, when you add labels to shelves, drawers, bins, containers, and more, you know what is in those containers, bins, or drawers.
You don't have to search through every bin in your house, because you can easily locate items due to your labels.
Those labels will also help you remember where to put items when you're all done. Everything will go right back in its place so you can find it again in the future!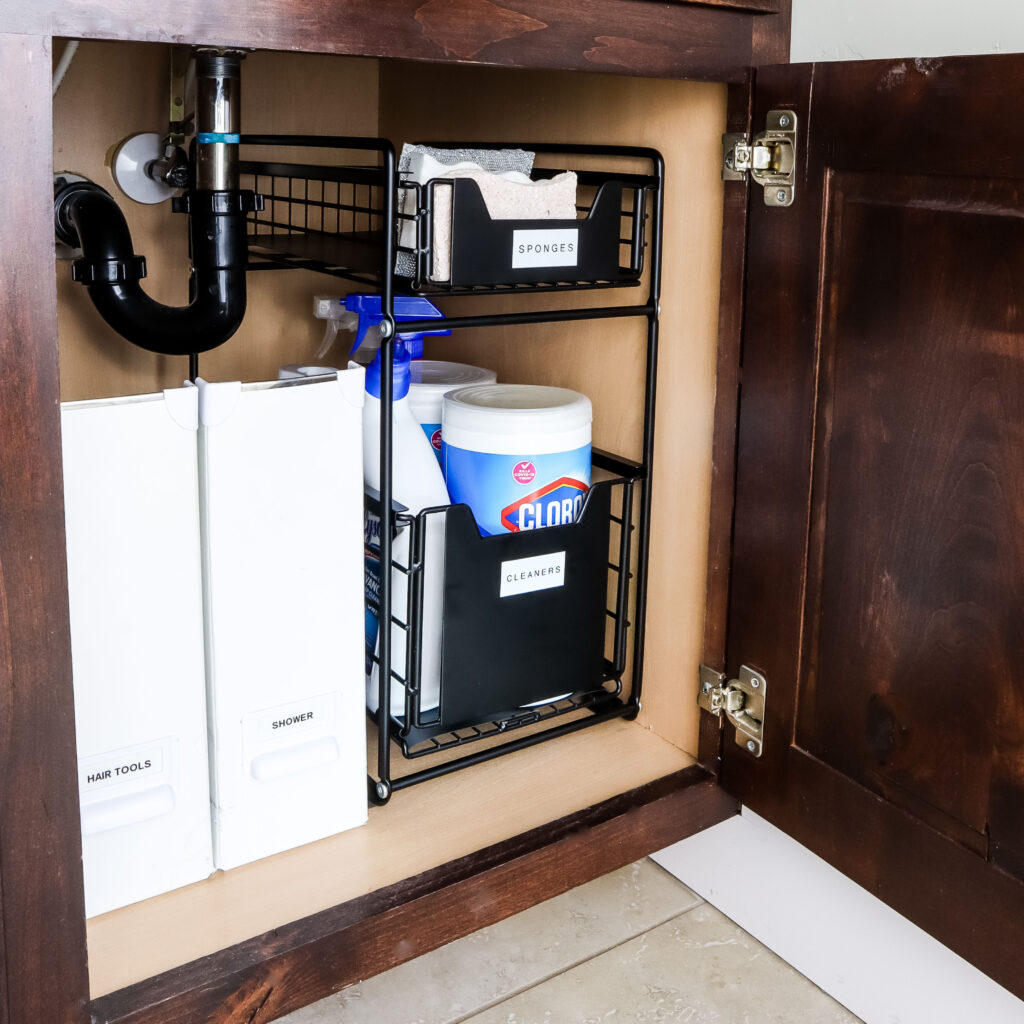 You can also use labels to add expiration dates on food you decide to freeze so you can keep track of when to use it! This is super important because you don't want to be eating food that's been in the freezer for too long and has gone bad.
You can also use fun labels to dress up your home! Get creative with it and make your labeling system work for you and your family.
17 Ways to Create Labels in Your Home
There are a lot of ways to create labels. You might want to use different labels for different projects or spaces in your home, or you might want to use the same type of label for every room if you want conformity. It's really up to you!
Here are 17 different types of labels you can use throughout your home.
1. Sticker Label
Sticker labels are great because they come in all shapes and sizes. You can find stickers at the dollar store, or you can order them online. You can also make your own! I prefer to use Canva to create my own labels.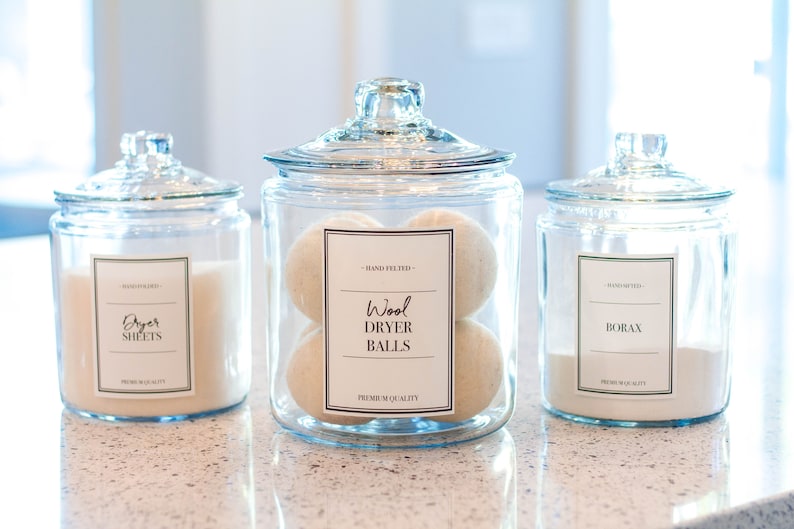 Sticker labels are great for organizing files and folders and labeling storage containers. Using a sticker label is a really cheap and easy way to add labels to your home, but I suggest using them on containers you know you'll keep organized the same way for a while. Sometimes the stickers can be hard to peel off!
2. Chalkboard Labels
I love chalkboard labels. WIth chalkboard labels and chalk markers, you can change the label as often as you need to. You just need to wipe off the chalk marker writing and rewrite your new label.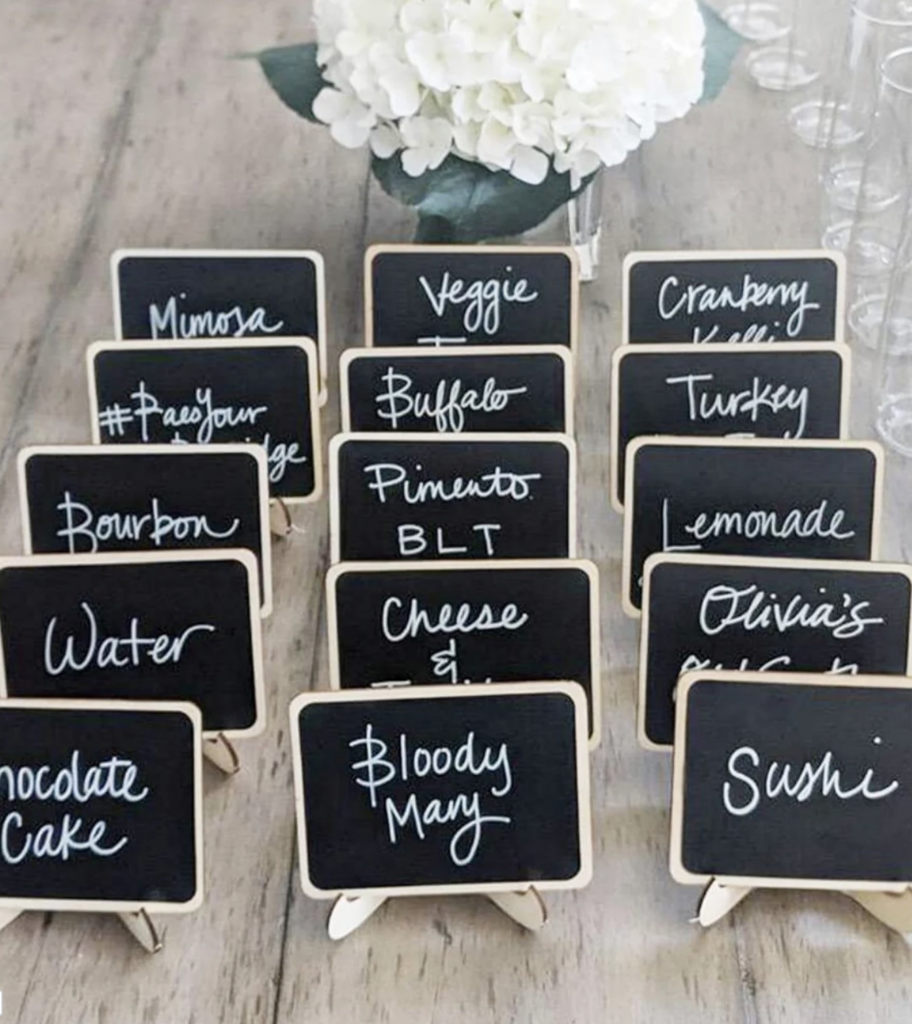 Chalkboard labels are also great for labeling storage containers and shelves. If you have a lot of spices or other small items, consider using chalkboard labels to help keep everything organized. It's a great idea for labeling jars or containers in your pantry or laundry room. They also look really pretty!
You can find chalk markers online or at most craft stores.

3. Print Out Labels
This is an easy, low-cost way to make labels. Just make your own labels on Microsoft Word Processor and print them out. Then you can simply cut them to the appropriate size and attach them to your container with tape.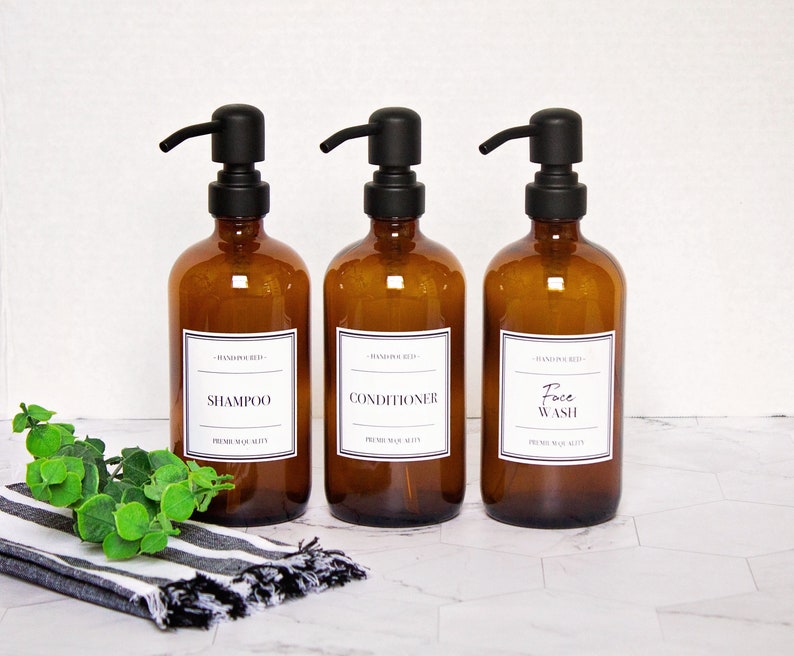 If you want them to be more heavy-duty, have them printed on card stock paper. Using card stock paper rather than regular printer paper will help your labels last longer.

4. Label Templates
You can also find label templates online that you can use. Finding downloadable label templates can be helpful if you need a specific size or shape for your labels. Just search for "label templates" online and browse through the results until you find what you need.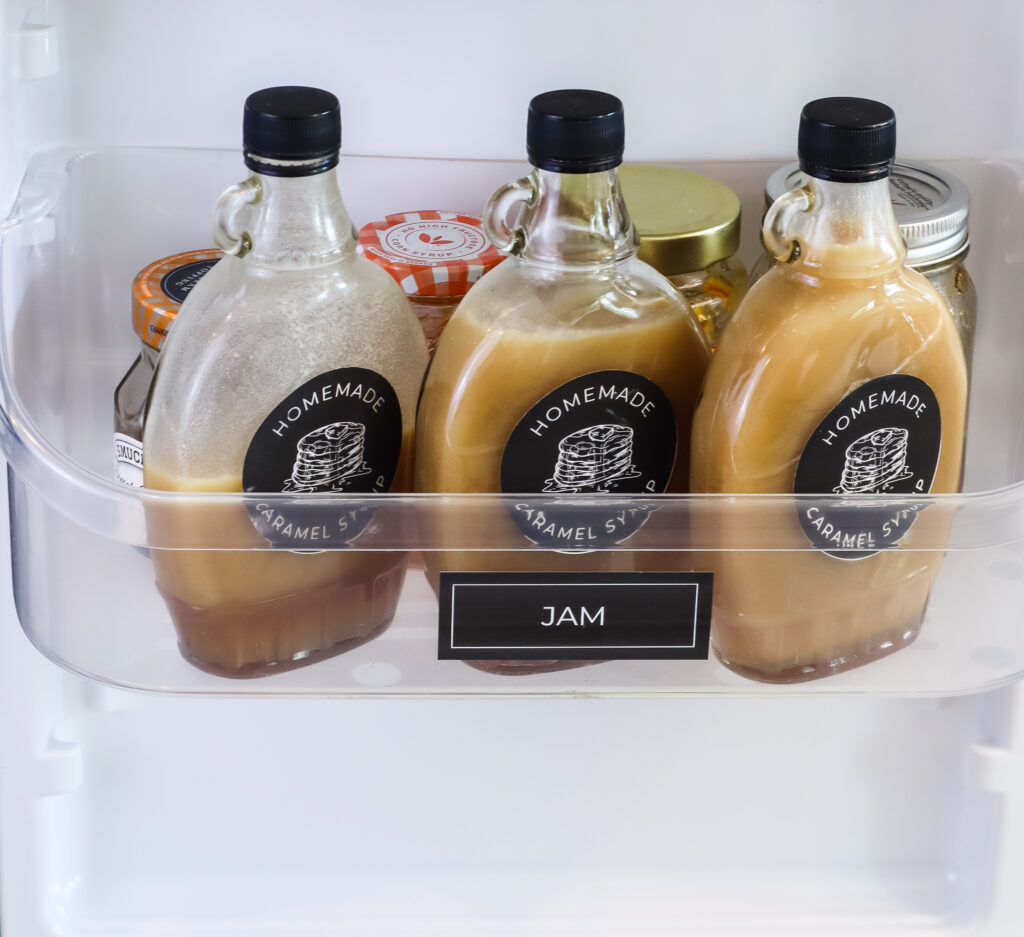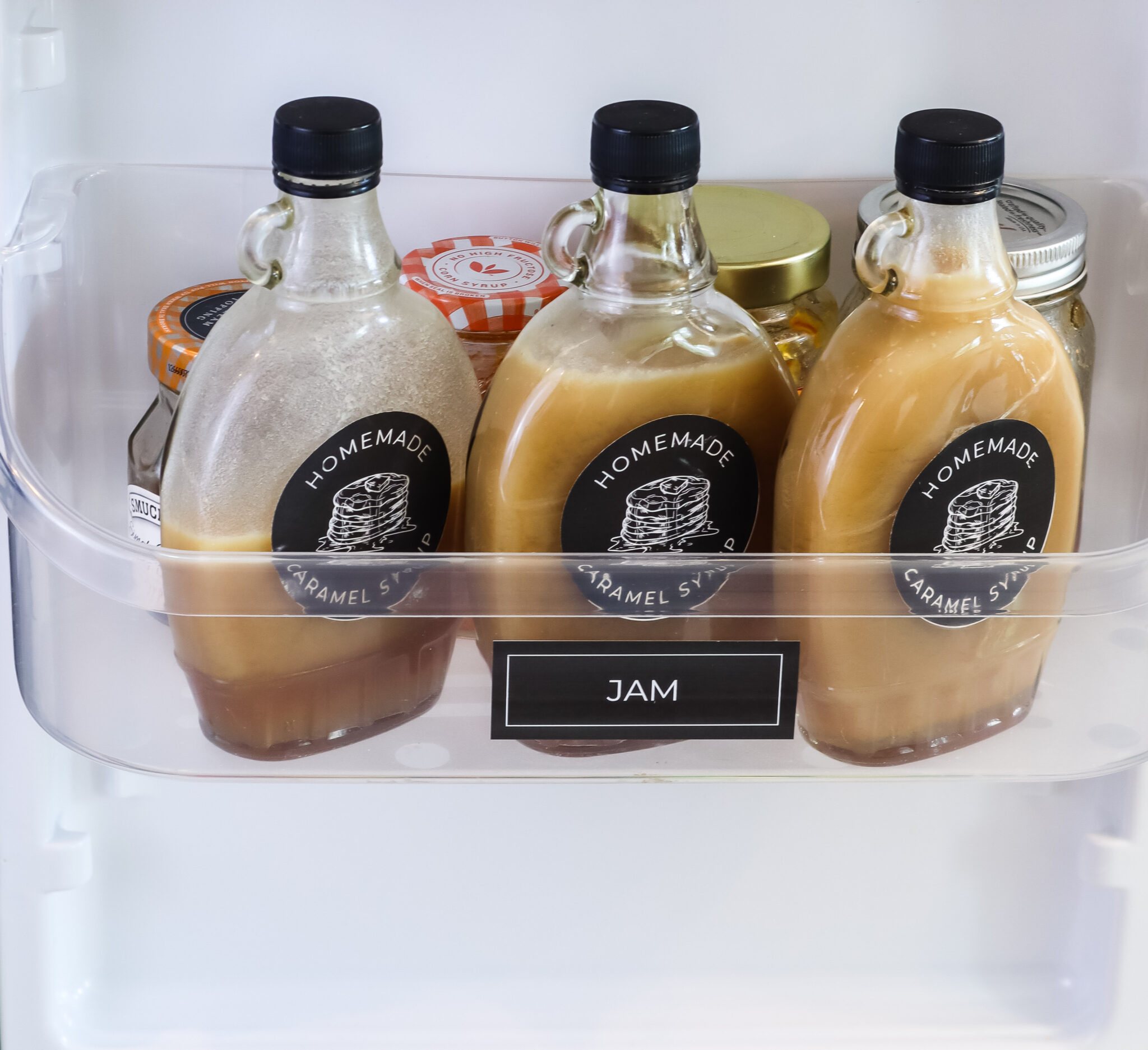 If you don't feel particularly creative or don't have the time (or desire) to design your own, there are tons of cute labels already made for you. Some might allow you to customize them as needed, but sometimes not all the labels will apply.
You can also have these printed on heavier paper and tape them to your containers or bins.
5. Vinyl Labels
If you have a Cricut or another similar label maker, you can create your own vinyl labels. Vinyl labels are great because they are waterproof, you can stick them on anything, they come in all colors and styles, and you can make them as big or small as you want.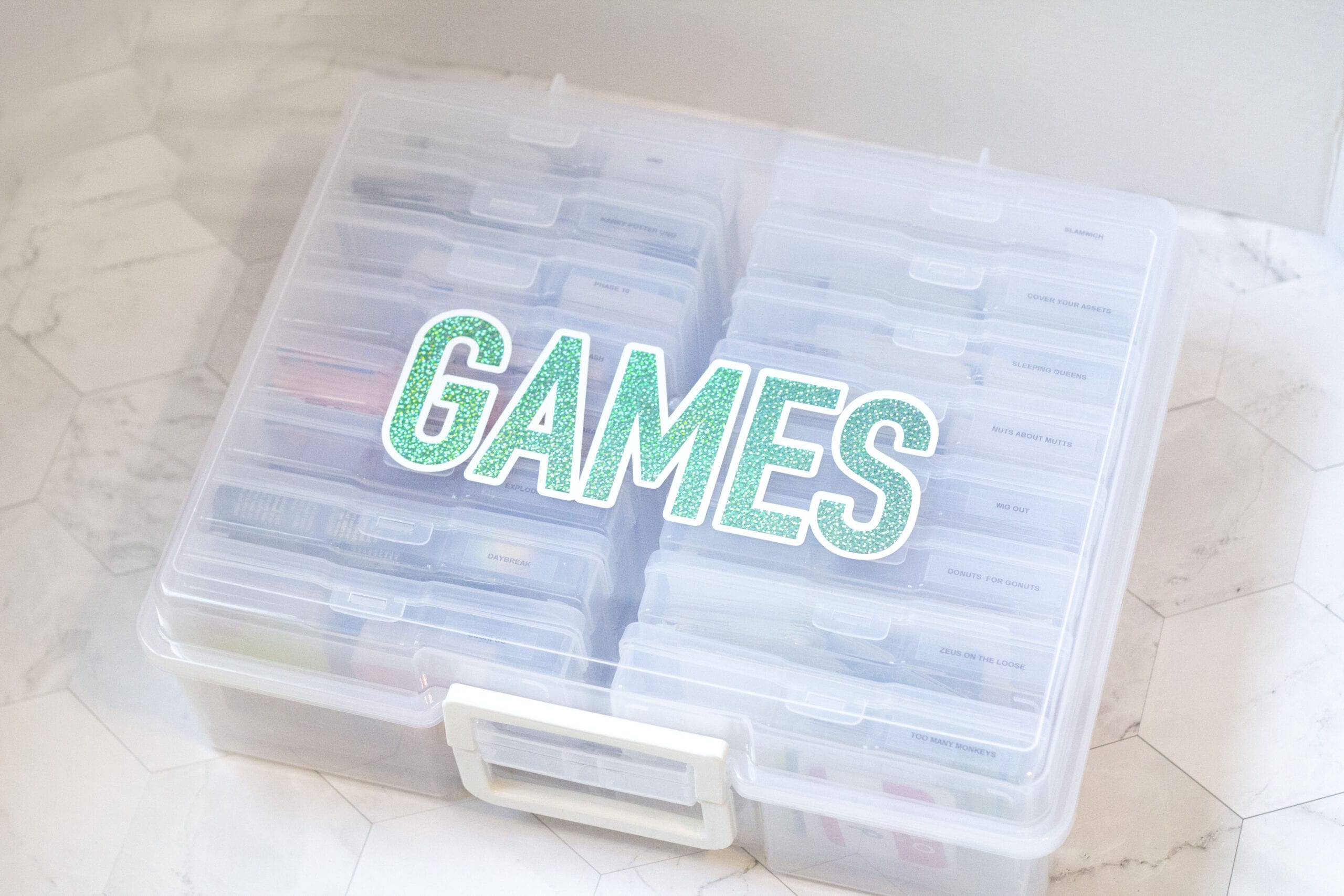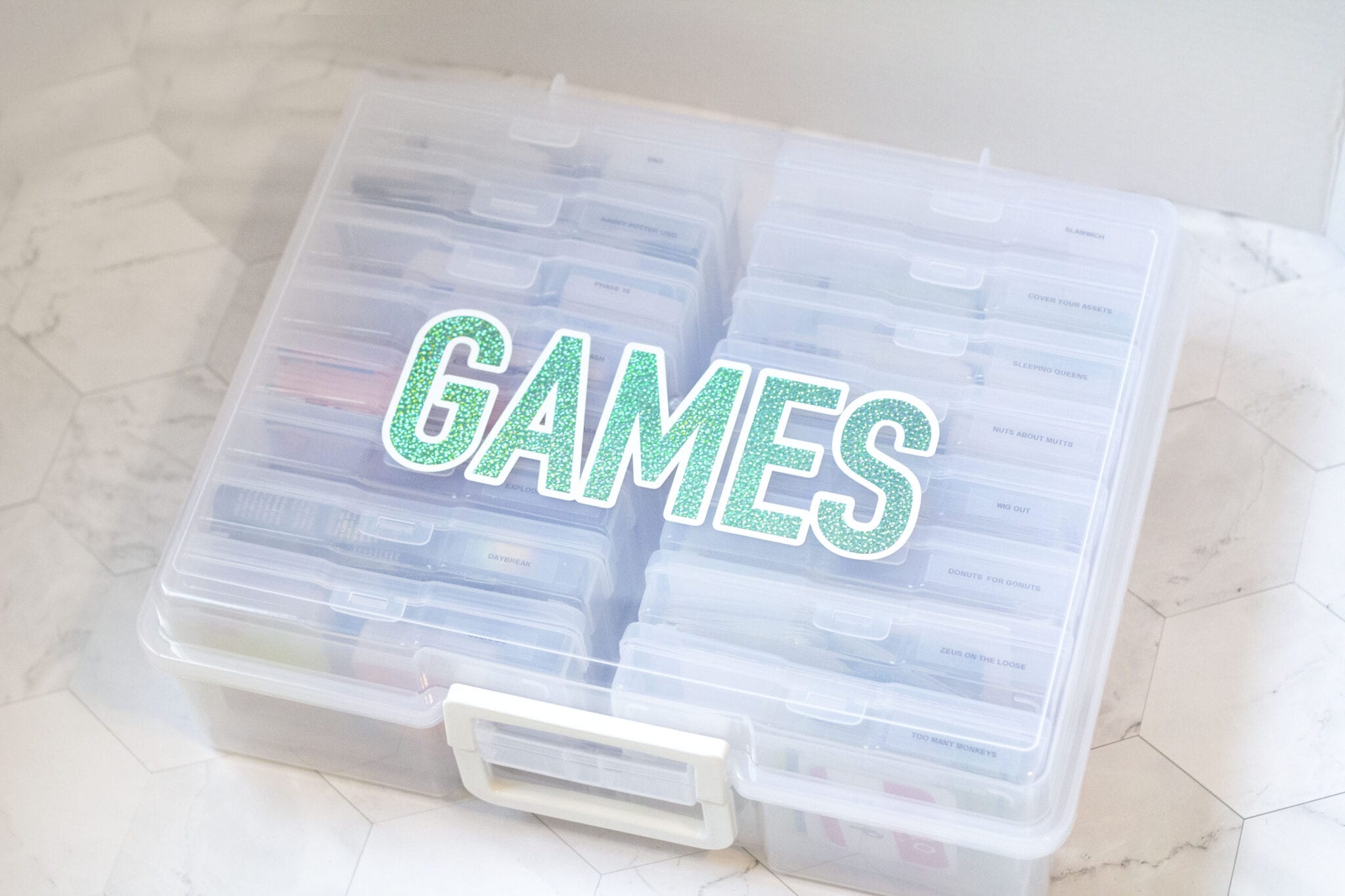 You can also buy vinyl labels that are already made. These usually come in a roll and you just need to cut them to size. You can find these online.
I think vinyl labels look really pretty, sophisticated, and clean. Using them for areas where people see them a lot, like your kitchen or the guest room, is a good idea.
6. Silhouette Cameo Labels
You can a silhouette cameo cutting machine to make vinyl labels. This creates a really pretty silhouette of a word that you can place on a bin or shelf or container.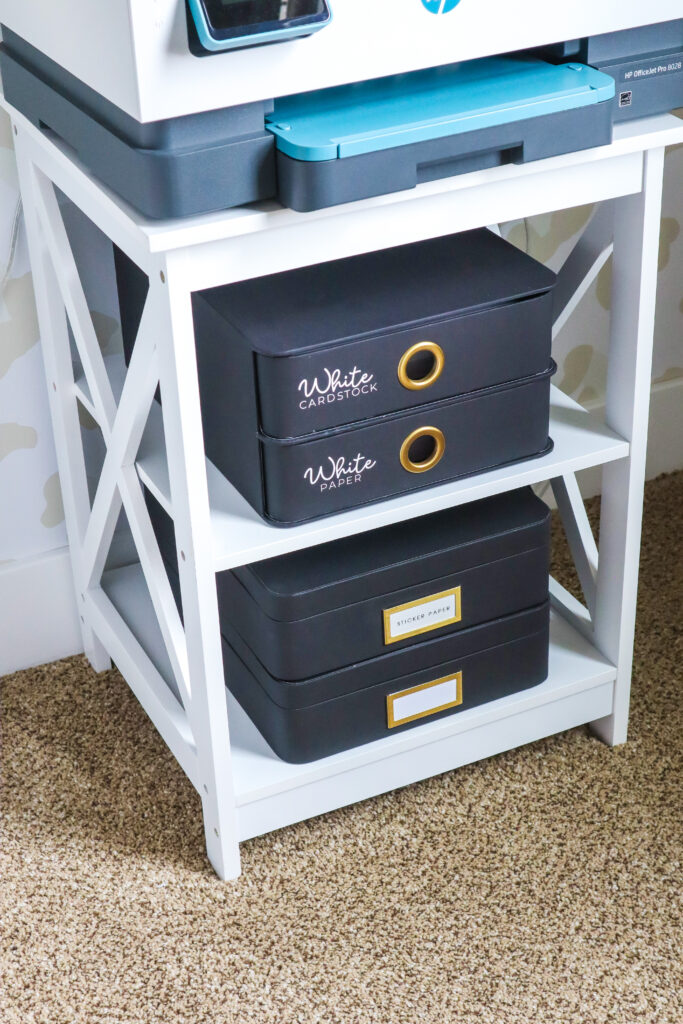 I like creating silhouette labels for jars or containers for hand soap, dish soap, or a container in a high-traffic area that I know will need that label for a long time. Seeing those pretty labels really makes it worth the effort!

7. Tag Labels
If you have any woven baskets or fabric bins, you can use tag labels. Since certain bins are made of material that labels won't stick to, get thick paper or wooden tags and write your labels directly on them. Then you can tie the tags around the handles of your baskets with string or ribbon. You can also use them on wire shelving.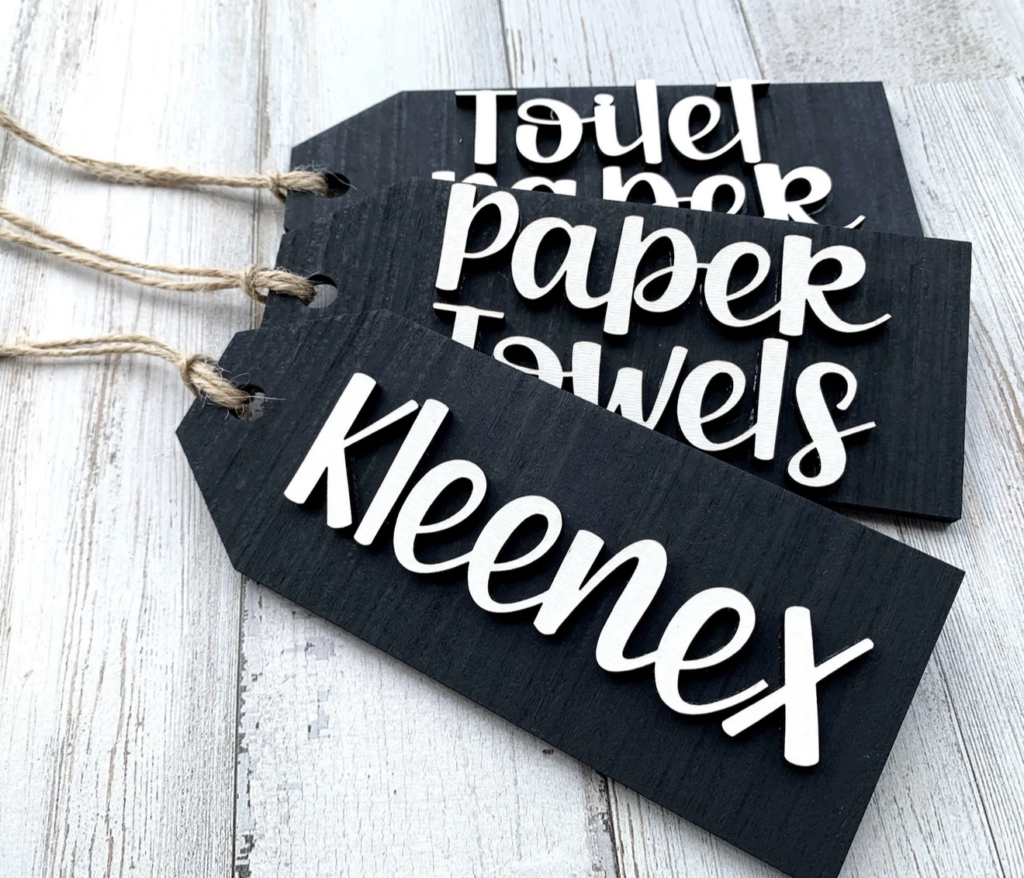 This is a great way to add labels without having to worry about them falling off. Plus, it adds a bit of decoration to your baskets! If you want to get really fancy, you can even stamp the tags before you write on them.

8. Chalk Paint
If you like the idea of using chalkboard labels, another great way to label things is to use chalk paint. Paint the lid of your jars (like spice jars) with chalkboard paint and then use chalkboard markers to simply write your label directly on the paint.
You can still erase the label when needed and rewrite it. It's a great idea for things you might switch out often.
9. Wine Glass Markers
Wine glass markers are actually perfect for labeling. In the case of these markers, you don't actually need a label. Because they are meant to write on glass but can also be easily wiped away when washing, you can use them on any glass containers, plastic bins, or for labeling jars.
If you want to write food ingredients on clear bins in your pantry, spice jars, or other clear containers, you can use this marker to simply write on them. The label will stay until you wash it off with soap and warm water.
It's a great option for pantry and food items that you will be changing out often! Then you won't have to re-print or remake labels every time. Simply wipe it off and write something new!
10. Bin Clip Labels
Bin clip labels work perfectly for open shelving in your kitchen, bathroom, or office. They come with a little clip that you can attach to the front of any bin. This is a great way to label what goes where on shelves that aren't see-through.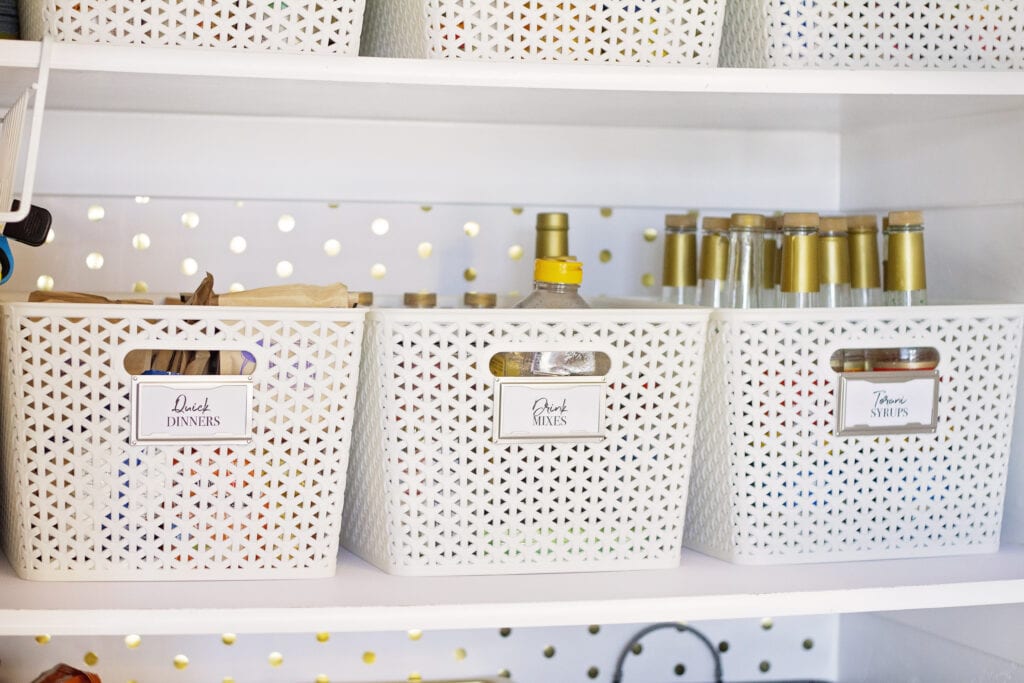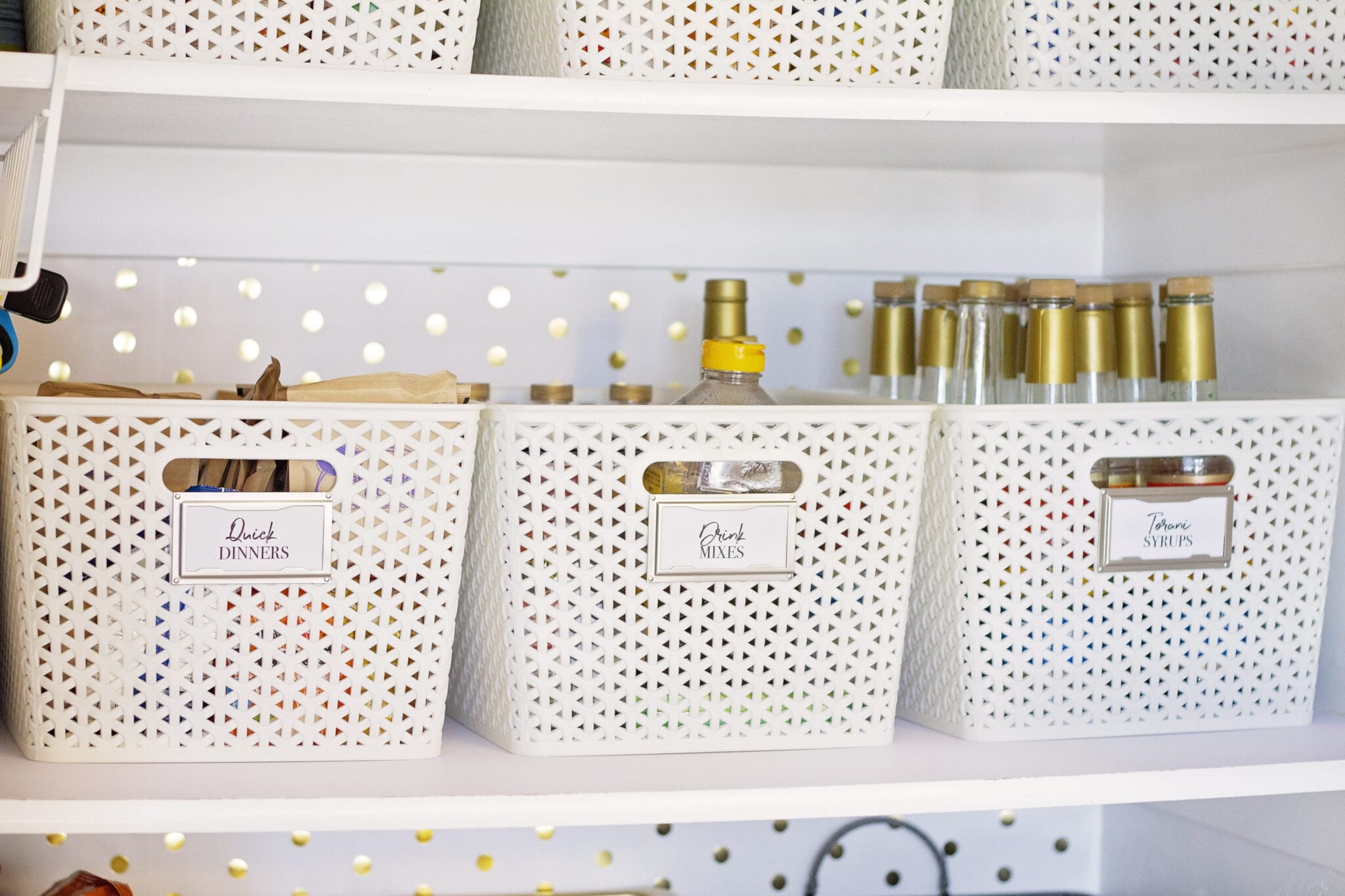 Bin clips also make it easy to change out what's in the bins as needed. You can simply switch out with different bin clips as needed.

11. Dry Erase Labels
If you like writing labels directly onto the baskets, you find dry erase labels that you can label with a dry erase marker. I like this idea for things like seasonal clothes that might change depending on the season. Then you can write exactly what is in the container and erase it with the new season.
12. Color-Coded Labels
There are lots of ways to label, but one fun way is to use color-coded labels. This can apply to almost any type of label, but it works especially well with sticker labels.
Get labels in different colors and then decide what each color will represent. For example, you could have a color for each family member, a different chore around the house, or even a different type of food. Then stick the color on the appropriate jar or box.
This can help if someone in your house isn't great at reading. Instead of looking at the word, they can look for the right color!
13. Washi Tape Labels
Using washi tape for making labels can be helpful when you need to be able to easily remove or reposition the label. This is a perfect solution for things like storage containers that you might want to move around often.
You can find washi tape in a variety of colors and patterns, so it's easy to match your labels to the aesthetic of your home. Just use label markers to write on it and stick it to your box. It's an inexpensive way to label a container or bin because washi tape typically isn't expensive.
14. Picture Labels
Using picture labels works especially well in kids' rooms. If your kids can't read, then using picture labels can help them know where things go. You can either find pre-made picture labels or make your own.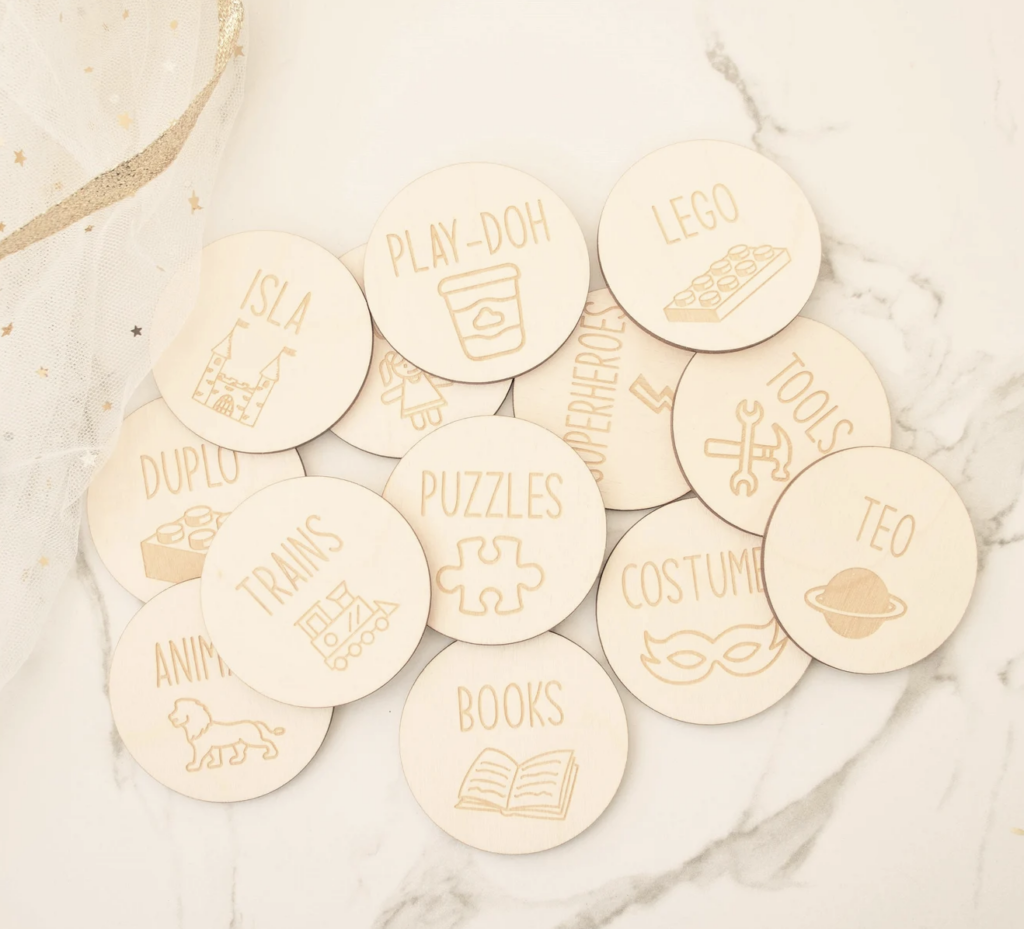 To make your own picture labels, you'll need to print out pictures of the items that will go in each storage container. Then, glue or tape the pictures onto the containers. This is a great way to label toy bins or drawers.
If they are printed on heavier paper, they'll also last longer! You can easily find a picture, add it to a document in Microsoft Word, and print it out before cutting it out and attaching it to your kids' drawers or toy bin.

15. Magnetic Labels
If you have metal filing cabinets in any office space, you can get printable magnetic labels.
Then you don't have to write the words yourself with markers, you can just create the labels in Microsoft Word and send them to your printer. Just make sure your printer is compatible with magnetic sheets or you can get them printed at a print shop.
This is perfect for labeling in an office space or for metal or wire shelves.
16. Label Makers
This one is obvious and I've mentioned it in a few others, but label makers can be used for SO many things. You can use them to label food storage, kids' clothes, spice jars, plant pots, etc.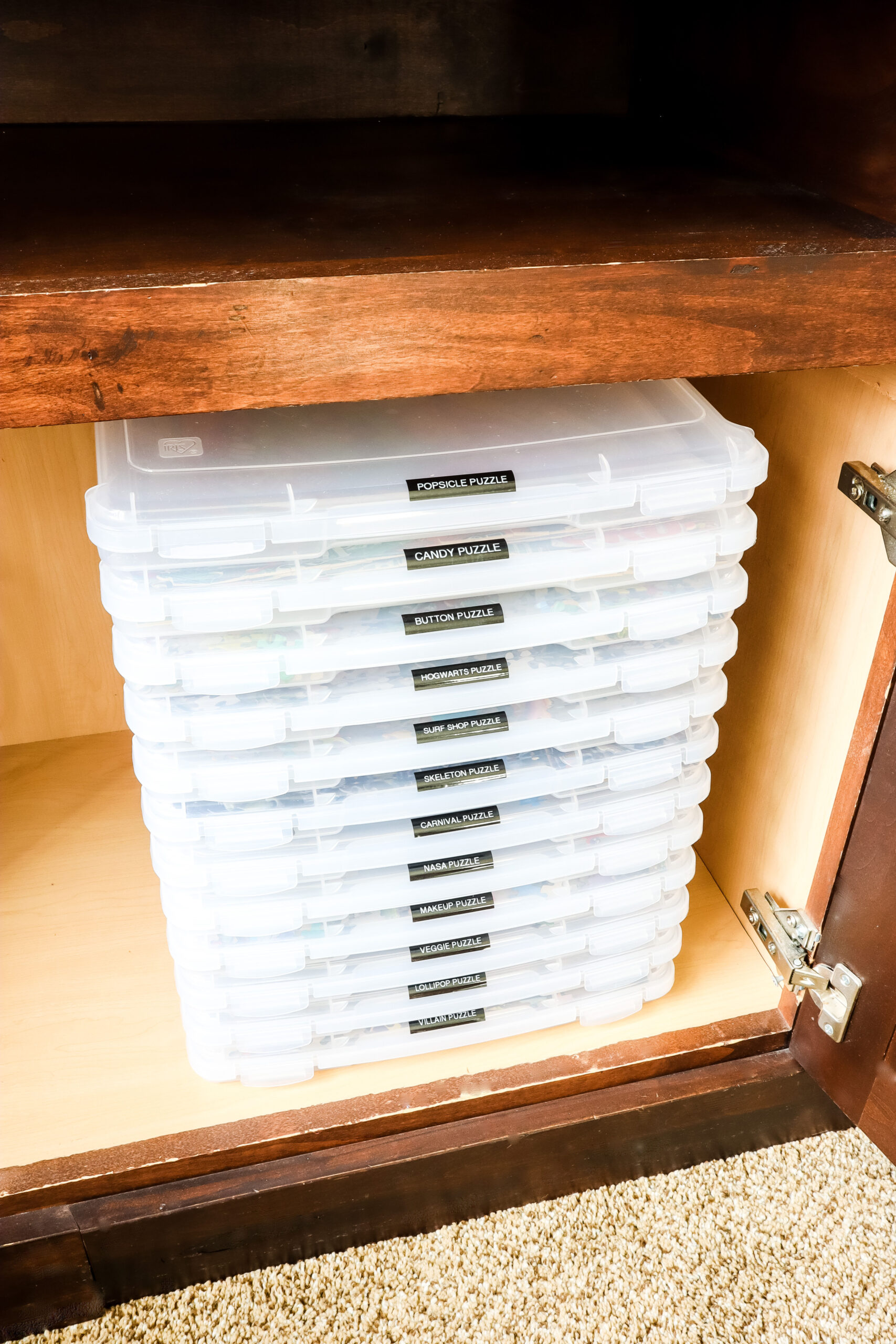 They come in handy more often than you think and it's worth the initial investment. You can find label makers at any office supply store or online.
Just print out labels and then the labels stick right onto baskets or bins throughout your house.

17. Get Bins that Hold Labels
You can sometimes find boxes or baskets that have pockets or areas specifically to hold labels. This makes labeling really easy because you can write the label you'd like to the provided labels (or use index cards or similarly sized paper). Then the label will just slip inside the pocket.
This works well for larger bins because they usually have the space for bigger labels so you don't have a tiny label on a massive bin.
Go as big or little as you want.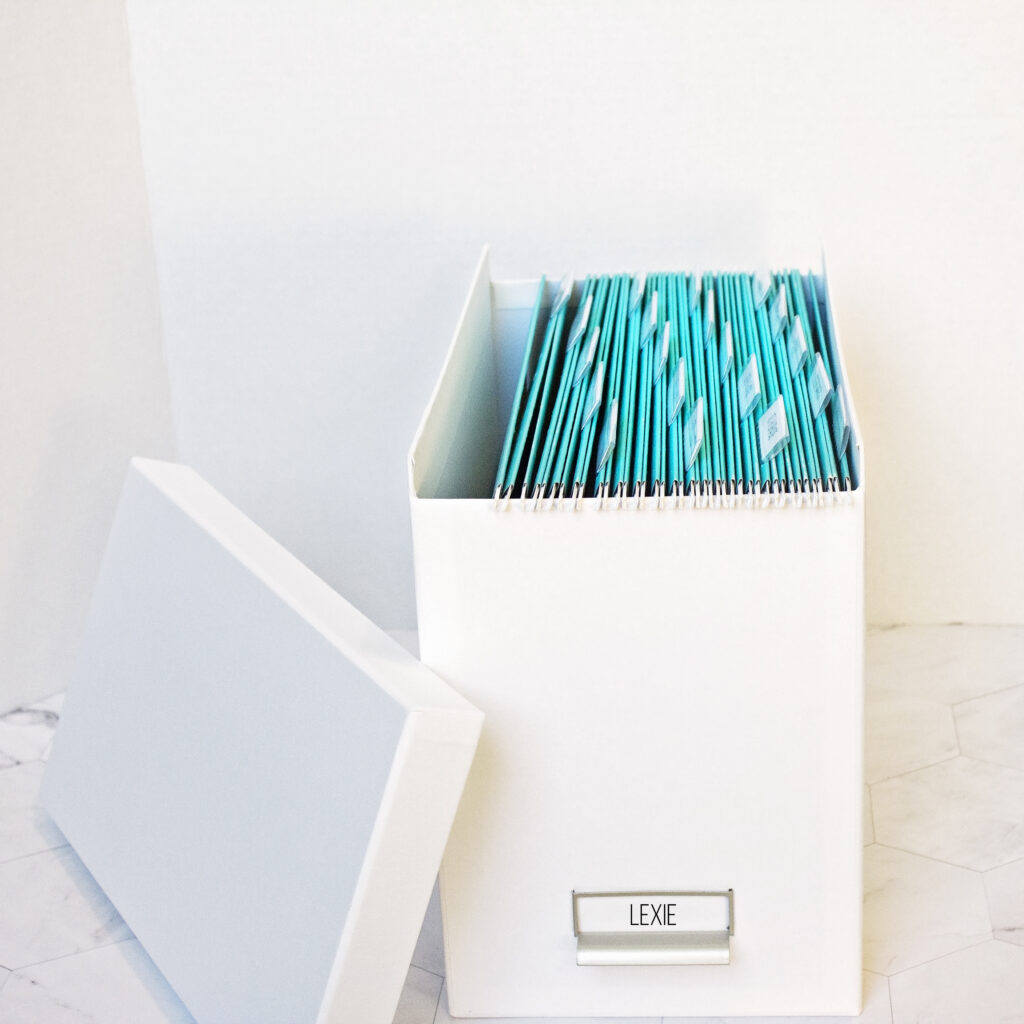 Labeling isn't a competition. You don't have to create perfect vinyl labels for every space in your house. You don't have to print out beautiful paper labels for the shelves in your linen closet or add label tape to all of your baskets.
However, labeling does make it easier to have an organized house. If labeling every space in your house doesn't seem possible, don't worry! Just create labels for the areas in your house where you'll actually use labels. Then, as you're organizing other areas of your home, you might find you want to make labels for that space as well.
And who knows, maybe someday you'll decide that your linen closet does need some vinyl labels!
Time to get labeling!
Now that you know all about creating labels, you can easily create your own labels for your home! So whether you want to create custom labels for your entire house in one sitting or start making labels with each organizing project you do, that's up to you. Just remember that making labels for your own home is a great way to stay organized.
I love labels and I'm sure once you get labeling, you'll love labels too. They really make organizing your house easy and it's super helpful for the kids to know where to put everything.
Hopefully these practical tips and ideas for ways to label with different labels and bins will help you create the organized house you want. Have fun making labels and happy organizing!
Here are some other blog posts all about labeling anything and everything in your home!