The Ultimate Guide to Cleaning Schedules: Why You Need One and How to Create It
Does the mere thought of cleaning your house make you break out into a cold sweat? If so, you're not alone. Many people find cleaning to be overwhelming. But it doesn't have to be! A cleaning schedule can help take the guesswork out of what needs to be done and when.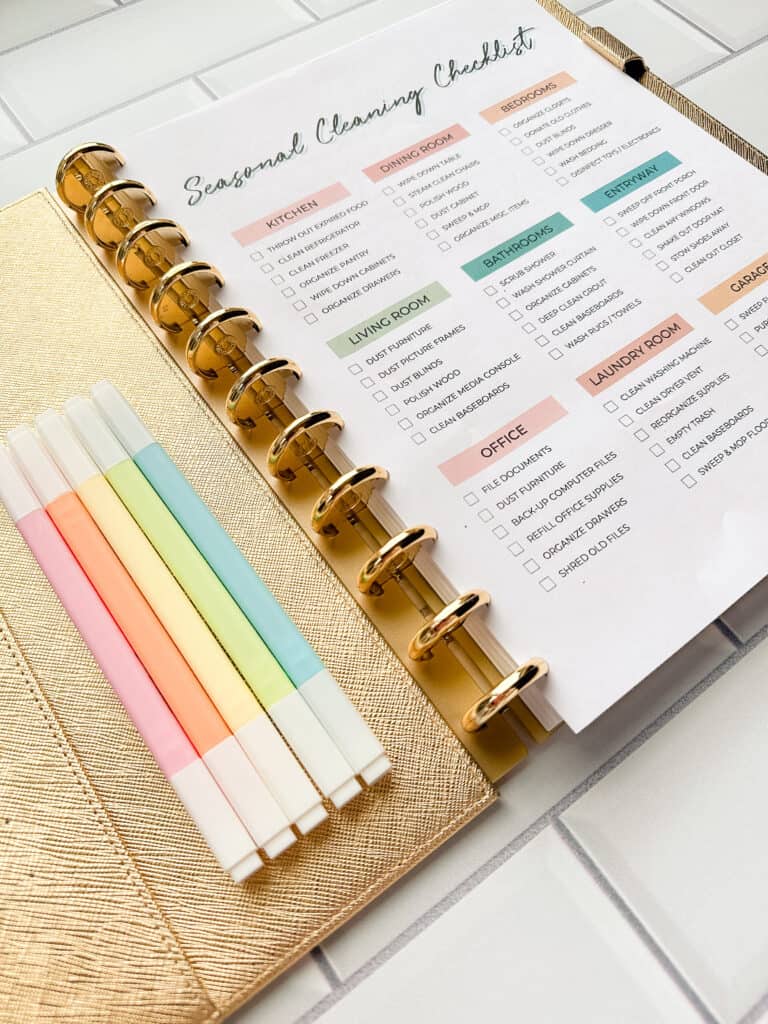 Cleaning schedules are a lifesaver for anyone who wants to keep their house clean but doesn't have the time or energy to do it every day. They can seem daunting at first, but with a little planning and some printables to help you out, you can create a schedule that works for your lifestyle and needs.
I am a huge fan of scheduling a cleaning routine. I think everyone should have one! They help you stay on top of your weekly tasks and keep your house clean. In this post, I will break down everything you need to know about cleaning schedules: why you need one, how to create it, and what to include. Plus, I have free printables for you to help get started!

Why You Need a Cleaning Schedule
First things first – why do you need a cleaning schedule? Cleaning schedules can be super helpful in helping you stay on top of daily, weekly, and monthly tasks. Without one, it can be easy to forget things that need to be done around the house. It also helps you set aside a specific time for cleaning each day or week so you don't get too behind.
Implementing a regular cleaning schedule can also give you a sense of accomplishment. Seeing your work slowly pay off over time as your home starts to look and feel better is an incredible feeling! Plus, if you ever have any last-minute guests, you don't have to worry too much or spend too much time getting a clean house!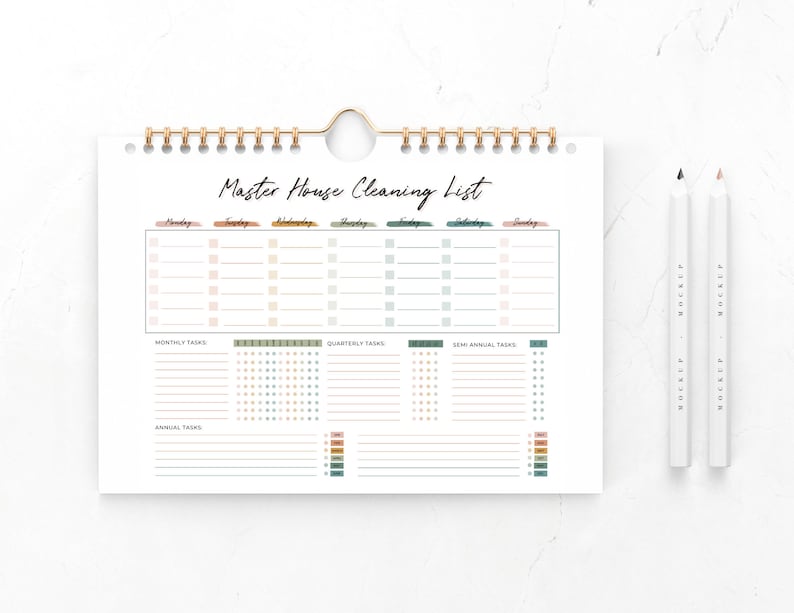 You might be looking at all the chores you already do around the house and thinking that a cleaning schedule will just give you even more to do. But here's the thing – with a realistic cleaning schedule, you're just doing all the cleaning chores you already needed to do, just more regularly and at specific times.
Creating your weekly cleaning schedule will require you to get organized, but it doesn't have to be complicated. In this post, I'll walk you through how to create your own ultimate cleaning schedule.

How to Create a House Cleaning Schedule
One way to start a cleaning schedule is by breaking your chores into categories based on how often they need to be done. Some things can be done weekly, like sweeping and mopping the floors and doing laundry, while others can be done monthly or even less frequently, like deep cleaning the refrigerator.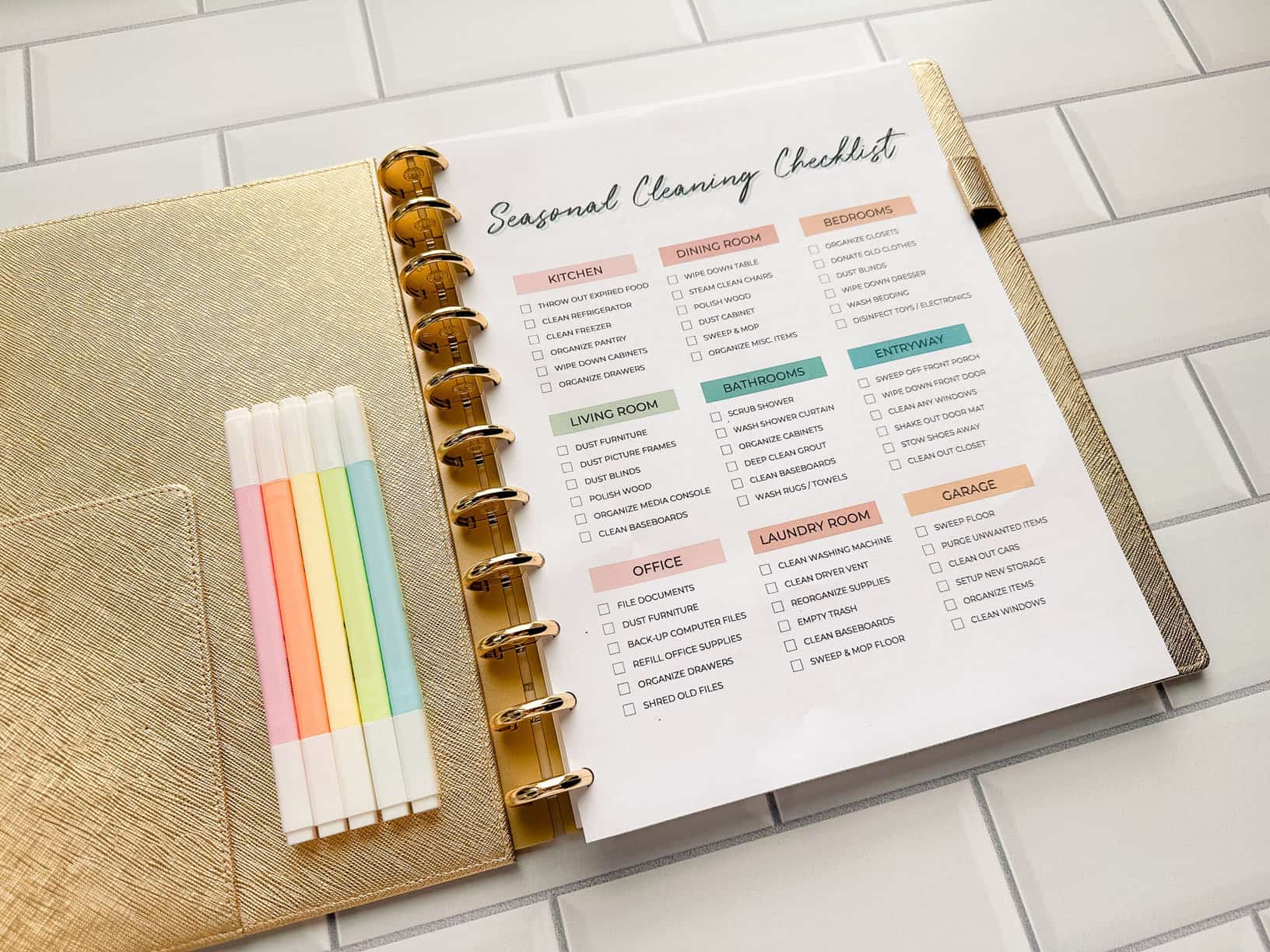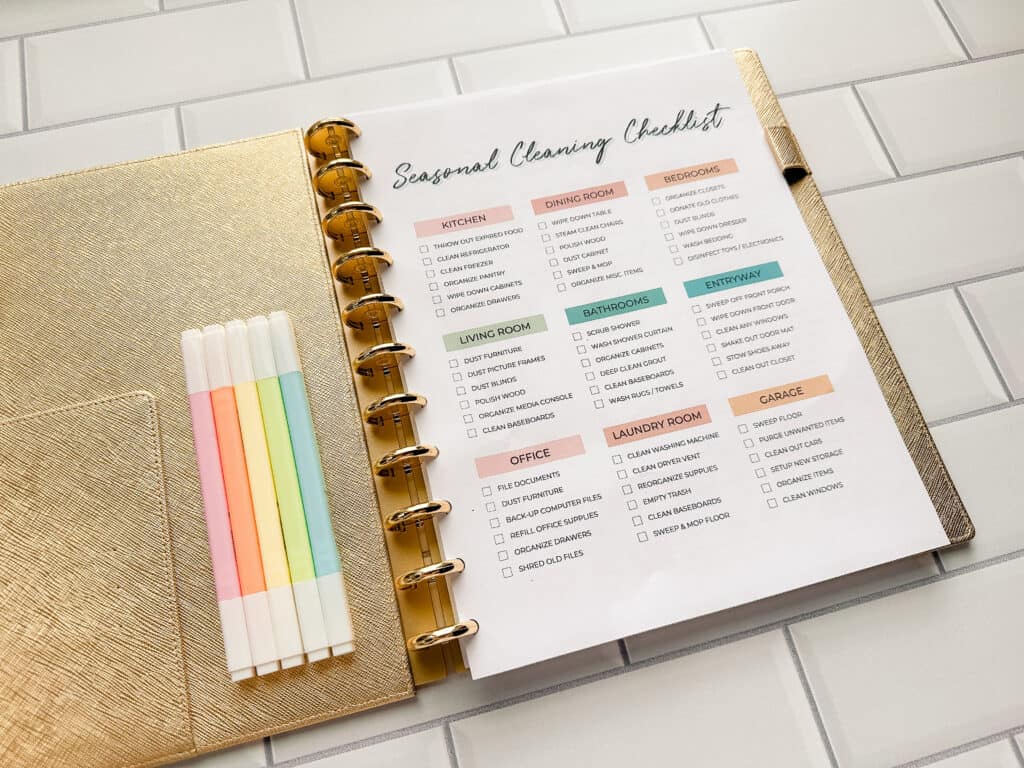 When creating your weekly cleaning schedule and figuring out your monthly cleaning tasks, be realistic. Devote an appropriate amount of time for each task based on the size of your home and how many people live there. Break up bigger tasks into smaller ones to make them more manageable.
If you have small children, you and your spouse might be doing most of the cleaning. But as your kids get older, delegate jobs to your kids as well. Create a cleaning routine that makes sense for your family's schedule, the size of your home, and the level of dust or dirt that gets tracked into your home. Your schedule should be manageable while giving you a clean home.
Weekly Cleaning Schedule
Your weekly cleaning routine is when you will wipe down and clean up certain areas of your home. A lot of the weekly cleaning tasks will be the same for everyone, but you can use an editable weekly cleaning schedule to create a schedule that is perfect for your house.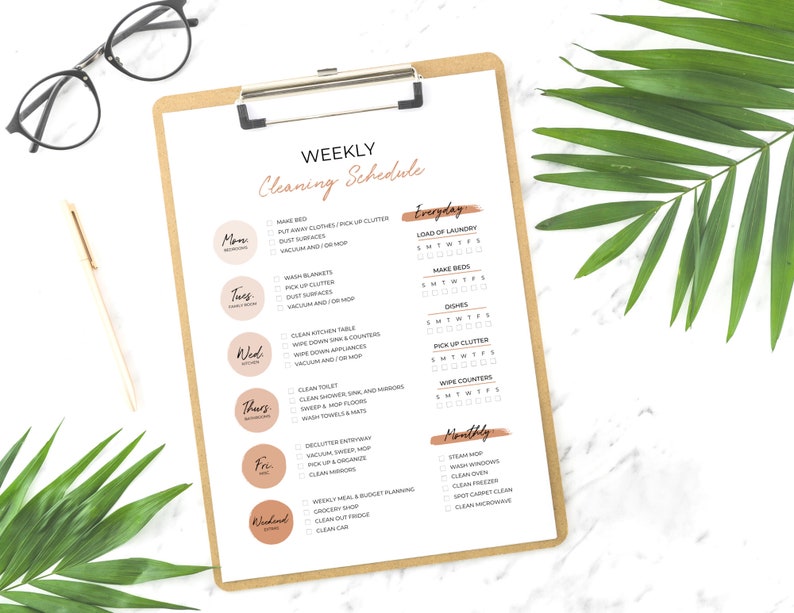 For your weekly house cleaning, include tasks like dusting, vacuuming carpets and furniture, sweeping or mopping floors, cleaning bathrooms, wiping down surfaces like counters and appliances (inside the microwave is important too!), and more.
Here are some ideas to include on your weekly cleaning schedule:
Disinfect bathroom sinks
Clean toilets
Sweep and mop floors
Disinfect light switches
Clean mirrors
Wipe down bathroom surfaces, kitchen surfaces, and any other surfaces like counters or tables
Change bedding and do laundry
Dust and clean high-traffic areas
Vacuum carpets and furniture
Clean kitchen appliances (including inside the microwave)
Empty trash cans
Take out the recycling
Sweep patio, deck, or other outdoor areas
Scrub tub and shower
And more!
Include any tasks in your weekly house cleaning that are necessary to maintain a clean and healthy home. Be sure that you have all the right cleaning supplies ready so that you can easily tackle your cleaning each week.
You can also have a small cleaning checklist for daily cleaning tasks, like picking up toys on the floor, doing the dishes in the sink, wiping down the kitchen, and putting things away. Focus especially on high-traffic areas.

Monthly Cleaning Schedule
Your monthly cleaning checklist should include more extensive and detailed chores that you don't have time for in your weekly routine.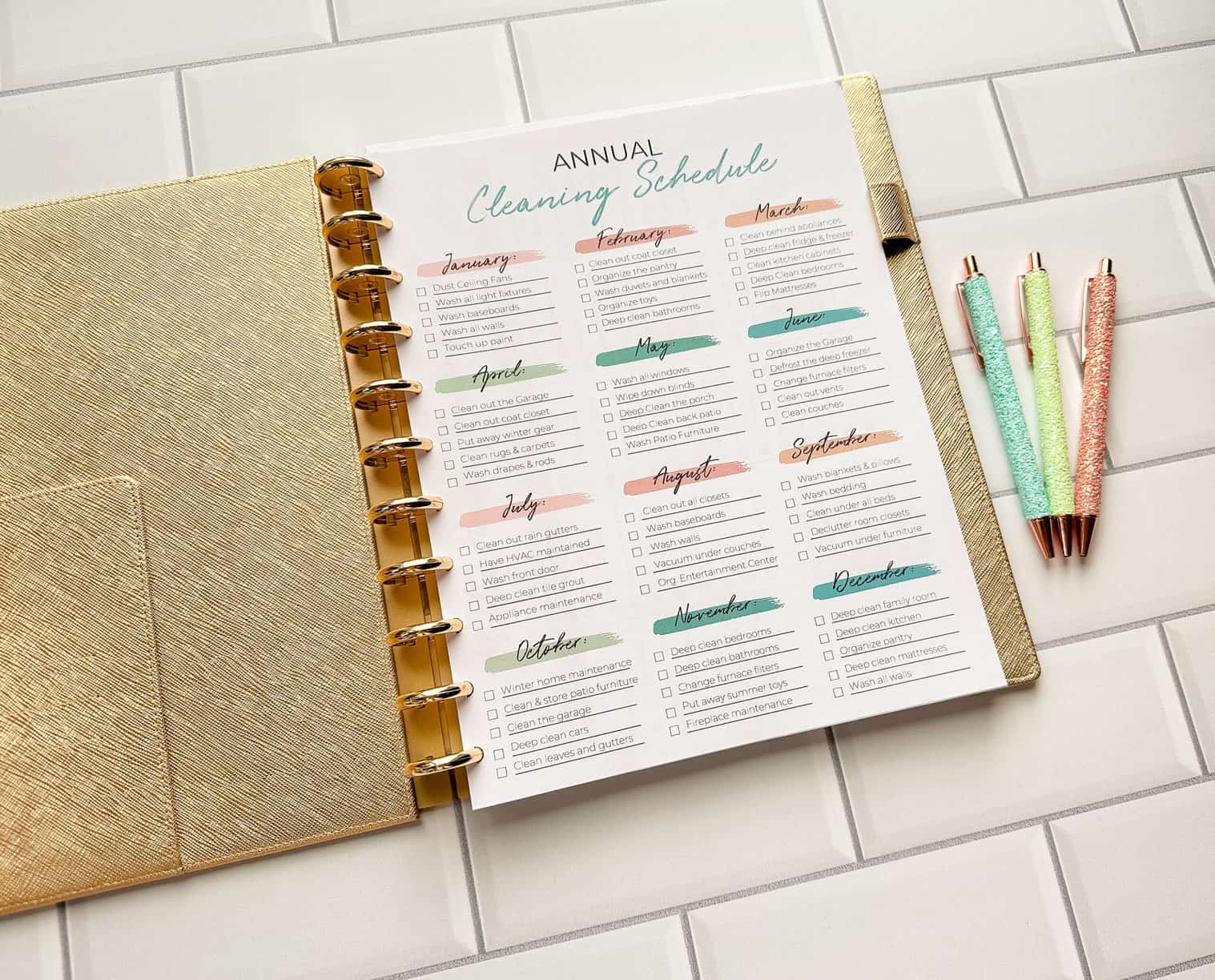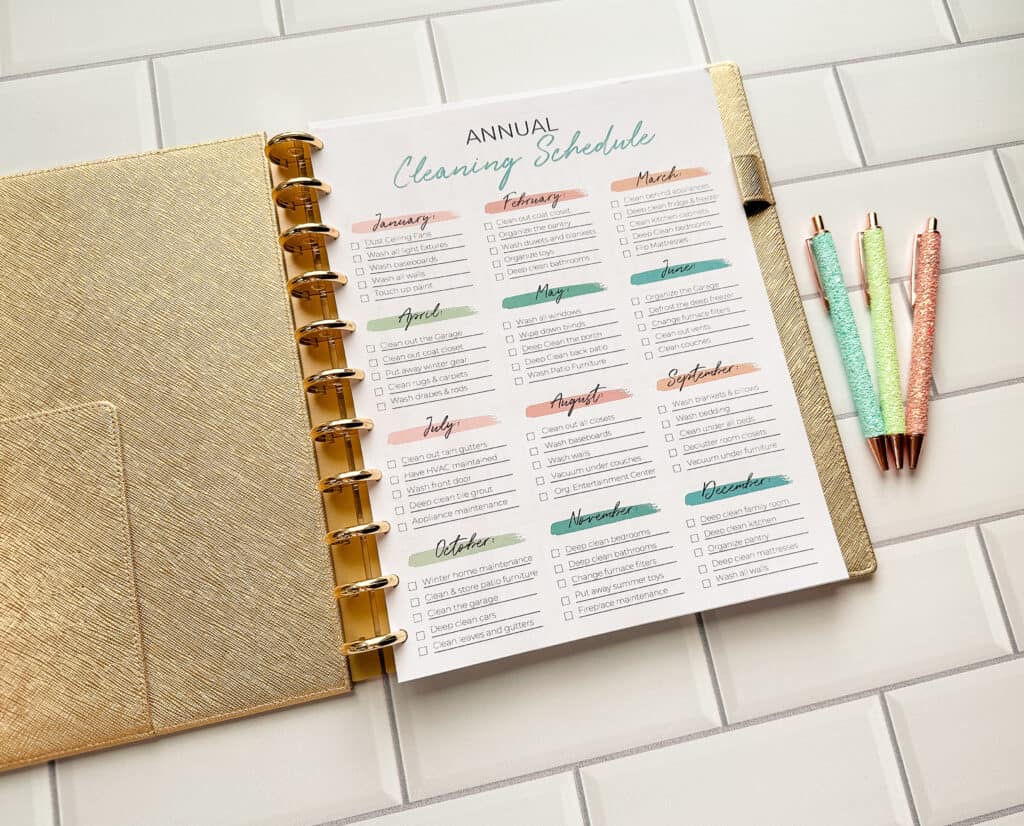 You could also have a bi-monthly cleaning checklist for things you may not need to do in your home every week or you just don't have time to add to your weekly schedule. For example, if doing laundry or changing your bedsheets are chores that you just can't do every week, that's okay! Do it every other week instead if that works better for your family!
Here are some ideas for your monthly cleaning checklist:
Deep cleaning the carpet
Checking the refrigerator and freezer for expired food
Deep cleaning fridge and freezer
Dust ceiling fans
Wipe down light fixtures
Dust side tables, lamps, dining room chairs, and any areas that get missed during the week
Wash windows inside and out
Vacuum furniture
Wash curtains and blinds
Scrub down the bathrooms
Change air filters in vents (if needed)
Clean baseboards
Dust doorframes
Organize closets, cabinets, and drawers
Clean carpets
And anything else you can think of!
Here's my editable monthly cleaning schedule that you can personalize so it perfectly fits your household jobs.
Annual Cleaning Schedule
I also love having an annual cleaning checklist. Breaking down massive tasks by month can help you keep on track of your cleaning goals. For example, this is how your annual cleaning checklist can look:
January: deep clean cabinets and drawers,
February: organize the kitchen pantry
March: organize outside shed
etc.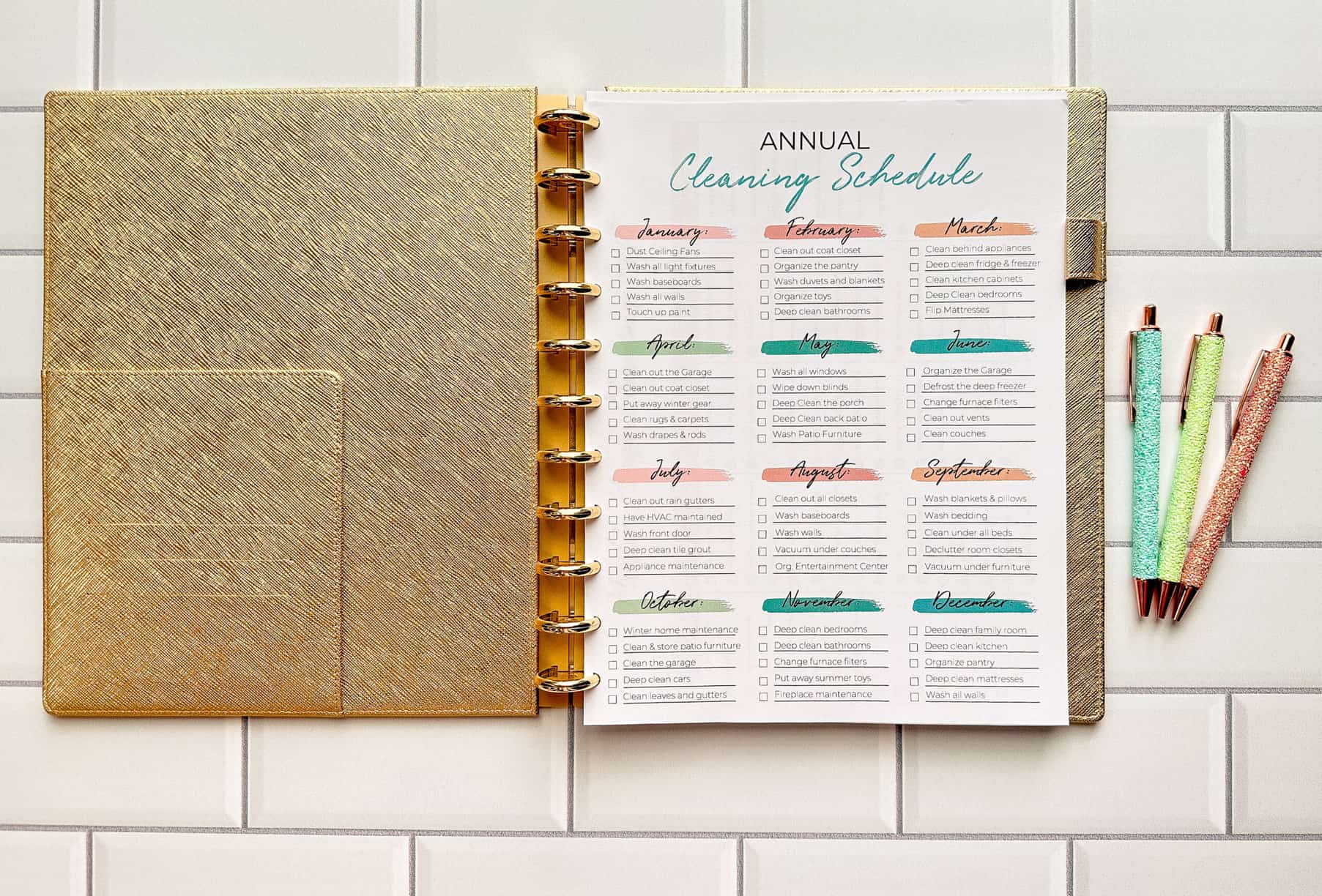 If you have any big projects around your home that you've been struggling to get to, break them up by month! Then you have the entire following month to work on that big task little by little!
I have an editable annual cleaning schedule that will help you break down your tasks by month.
Seasonal Cleaning Schedule
Creating a seasonal cleaning schedule is super important because it can help you refresh your home before each new season.
Spring
In the spring, you can focus on clean walls, windows, and floors. Deep clean carpets. Remove dust from shelves and furniture. Clean blinds and curtains. Polish silverware and china. Bring life back into your home from that cold winter!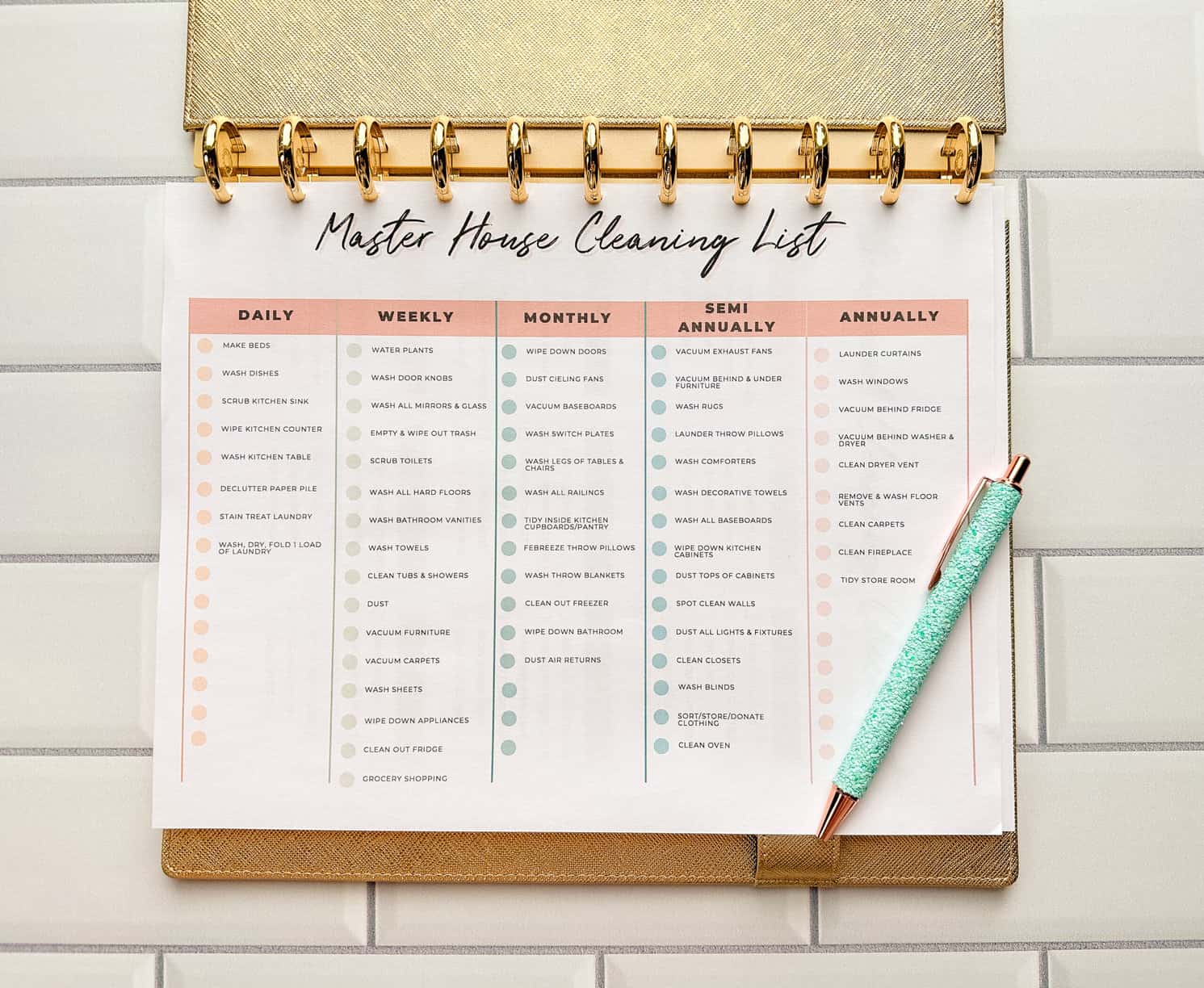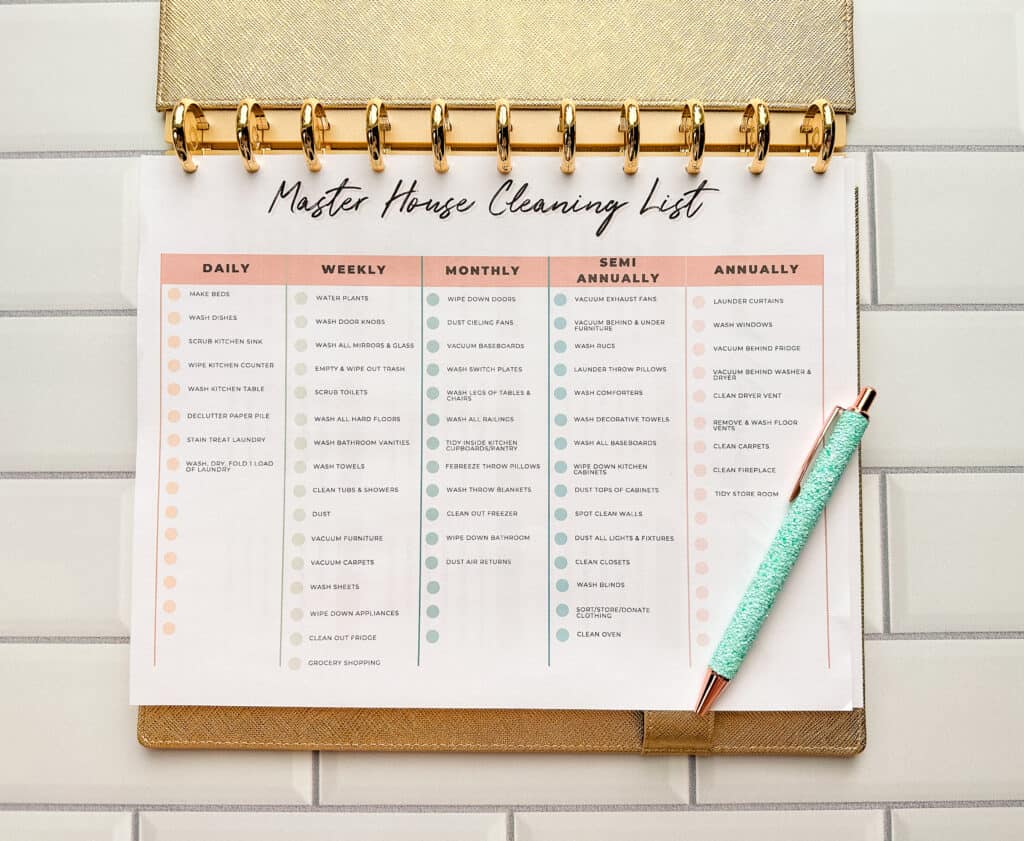 Summer
In the summer, pressure wash the exterior of the home. Wipe down windows inside and out. Wipe down outside patio furniture, cushions, and accessories. Power wash the deck or patio and get ready for fun summer parties.
Fall
In the fall, you can do a thorough check of the home from top to bottom. Clean air ducts, replace filters, and clean under furniture. Replace batteries in smoke detectors and carbon monoxide detectors. Check around windows and doors for drafts to get ready for the winter.
Winter
In the winter, clean out fireplace ashes if you have one. Inspect the heating system and change filters as needed. Clean winter bedding and clothes and re-organize closets to fit your new winter clothing.
Check out my seasonal cleaning checklist and adjust it to fit your needs.
Master House Cleaning Schedule
A master schedule takes your weekly cleaning schedule and breaks it down into daily tasks. Here's an example of a master house cleaning schedule I created that you can edit.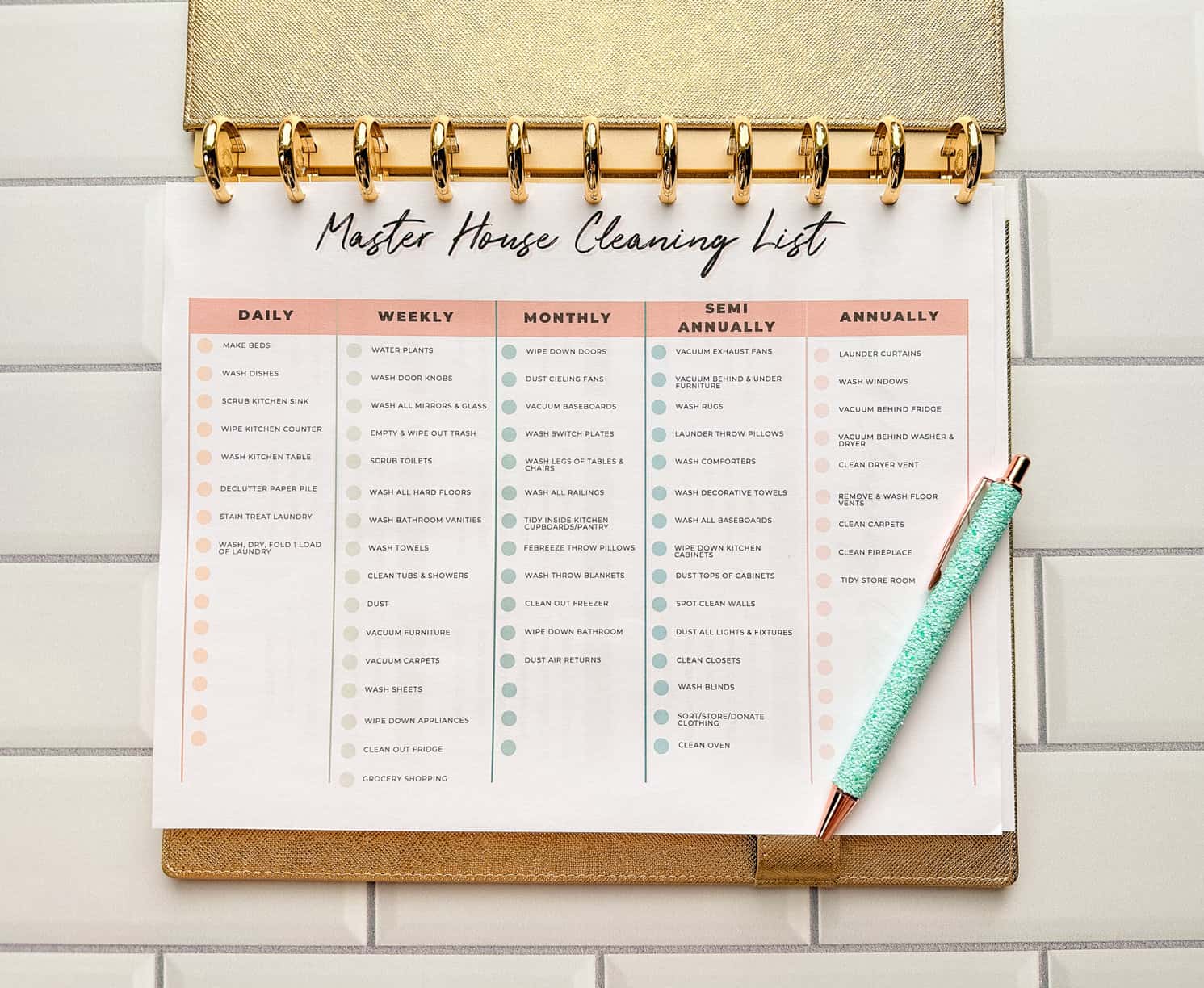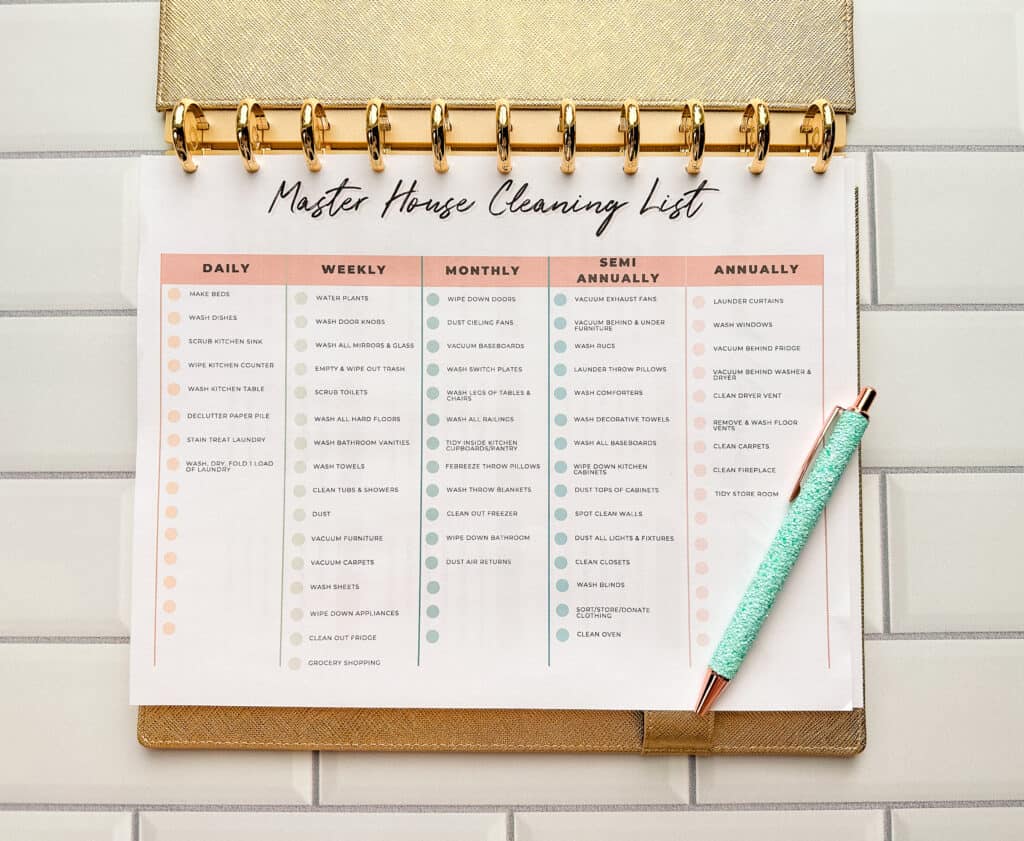 Basically, you take it one day at a time. This works well if you have multiple family members cleaning the house. You can keep track of all the cleaning tasks you need to do for the week so you can just do one or two each nice. That way, cleaning won't be super time-consuming and you can just spend a few minutes each day to keep the home clean.
Having a master schedule will help everyone get into a routine. You can have quick chores you do on the same day each week, like vacuuming every Wednesday, mopping the kitchen floor every Thursday, etc.
Editable Cleaning Cards
If you have kids who struggle when cleaning and often forget what needs to be done in each room, check out these editable cleaning cards. I've provided some ideas on the cards, but you can adjust them as needed to include any chores or jobs needed for each room in your home.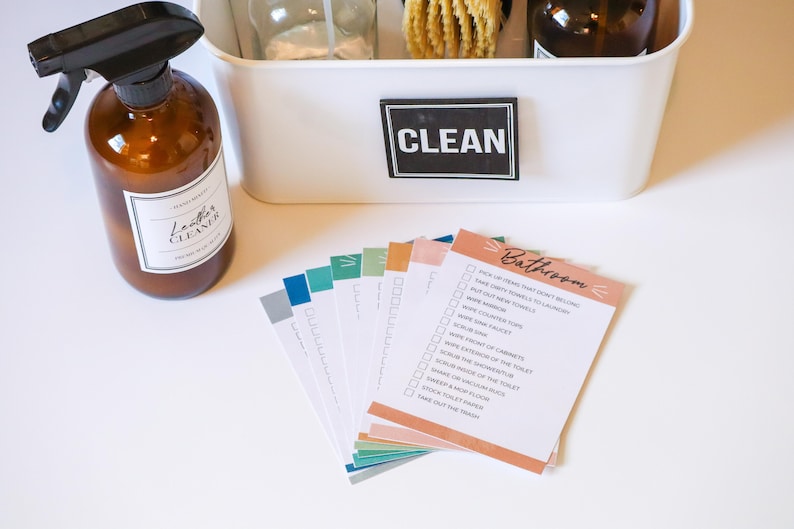 You're one step closer to a clean home!
Will creating a weekly cleaning schedule ensure that you always have a spotless home? No. But it will help you keep up with the basics and make sure that major cleaning tasks are completed regularly.
With some diligent effort, a weekly, monthly, and annual routine can help you make your house look more organized and livable every day. Best of all, it will free up more time for the activities you love most.
Good luck! And happy cleaning!