Learn How To Easily Make Your Own Emergency Preparedness Kit
"An emergency or natural disaster won't actually happen to me". Have you ever thought this to yourself? Most people have this attitude towards emergency preparedness. But what about the people who have actually been in a natural disaster? I'd be willing to bet that 100% of those who were unprepared, wish that they had been. In this post, I teach you how to easily make your own emergency preparedness kit with this free emergency binder template.
Don't forget to scroll down to download my free printable checklist to create your own Emergency Preparedness Kit
Pin this Checklist to your favorite Pinterest Board!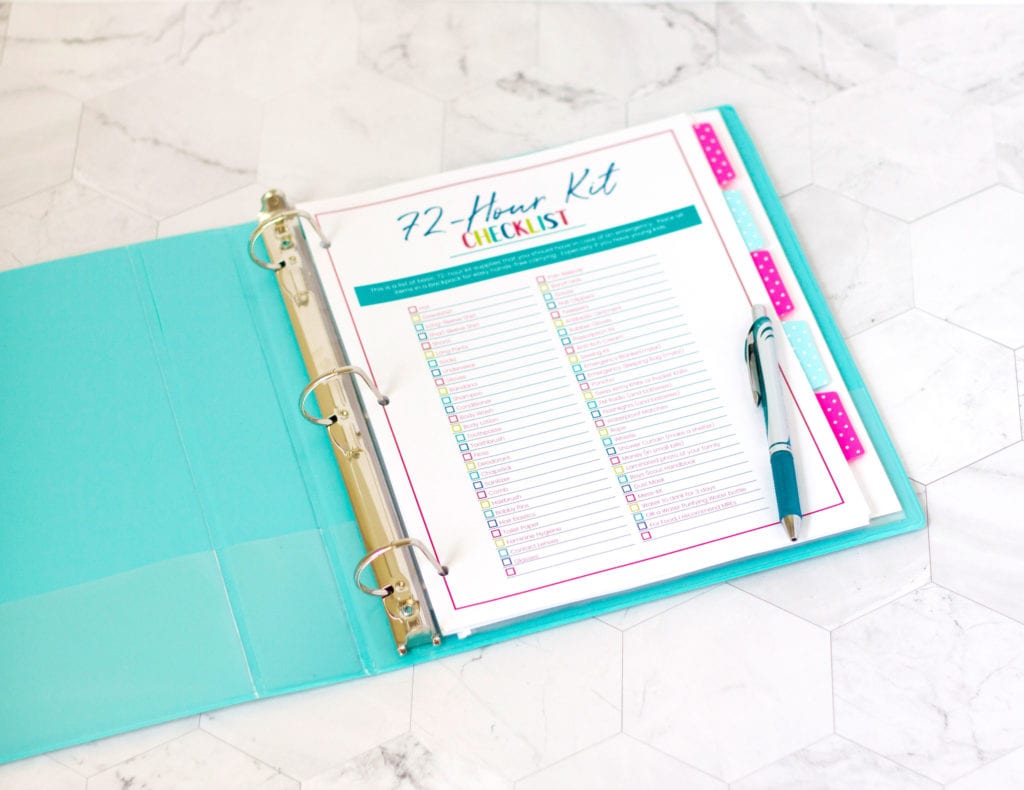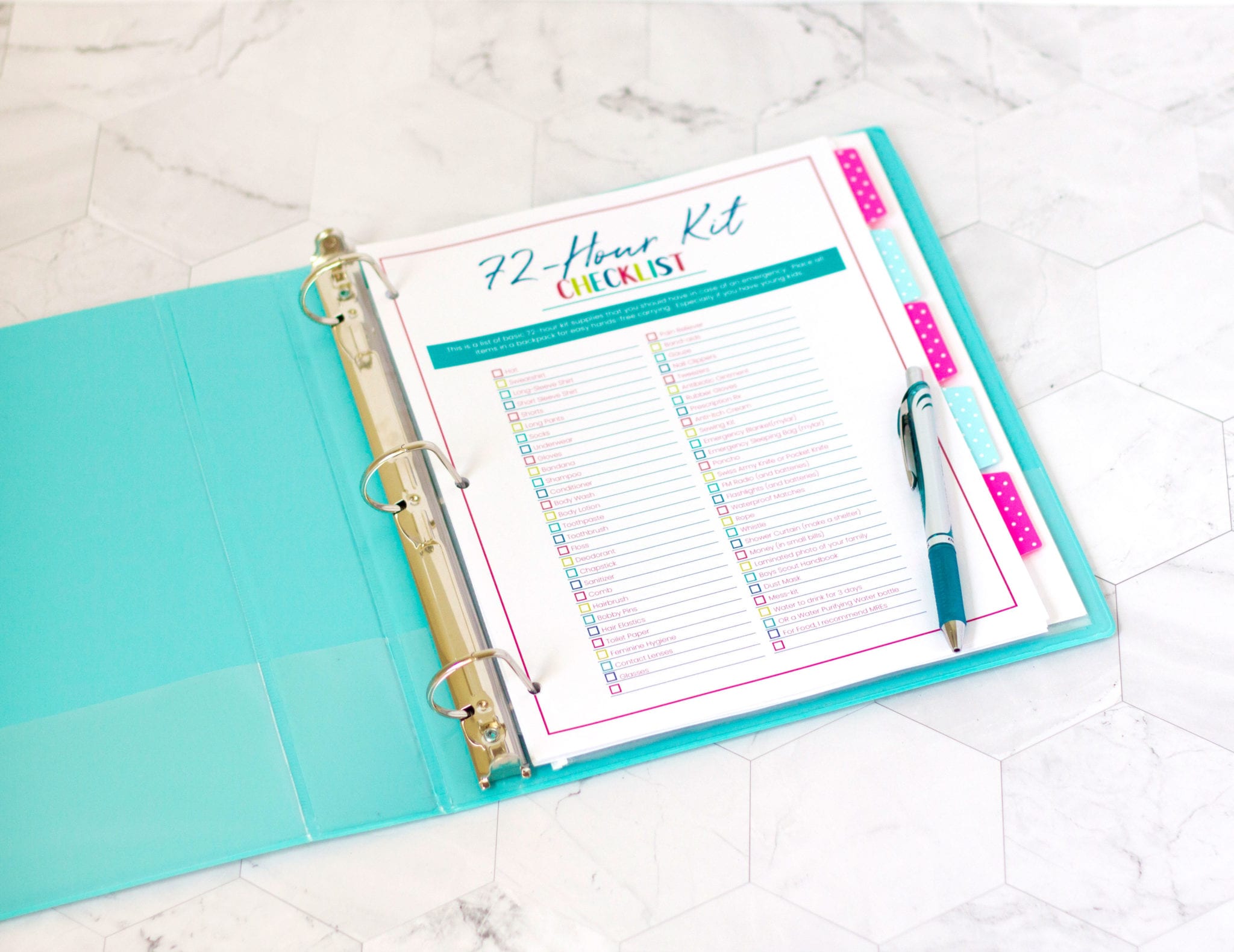 The Importance of an Emergency Go Bag
Why is an Emergency Go-Bag so important? In the event of a natural disaster, such as the fires in California, residents only had minutes to gather the most essential items. Can you imagine how frantic you would be in a situation like that? You would undoubtedly forget some very important things that would be essential for your survival.
The idea behind a Grab and Go Bag (or also called a 72-hour kit) is to have a backpack filled with 3 days worth of essential survival supplies, food, and water per person. Many people have a 'rely on the government' type of attitude when it comes to this. But the reality is, is that the government wouldn't be able to reach you for 3 days…at a minimum.
If you were in that situation, what would you do? Would you have the ability to care for your family members? Or for yourself? Having some important document binder printables will really help you to feel prepared and help you take care of yourself and your family. Get this checklist for emergency preparedness below:
Gather Supplies For Your Emergency Go Bag
Gathering supplies for your Emergency 72-hour kit can take as little or as long as you want. Some people buy a few things for their kits each week and build it over time. Depending on the expense of the item, I prefer to gather supplies sooner rather than later. You'd be surprised at how many essential items you already have on hand in your home. Sometimes all it takes is hunting them down and putting them in your backpack!
Here are some important things to remember:
You should have one backpack (or kit) per person
Try and pack backpacks that each person can carry themselves
Kid's backpacks should be lighter where possible- they don't need every single item in their backpack
Don't forget to pack small, compact activities for kids – these are stressful situations for them too and small distractions will be super important
When packing emergency money, use small bills. If you are in a situation where you need to purchase goods from an individual, they probably won't be able to break large bills and you'll end up overpaying for items.
If you are worried about your lack of survival skills, pack a survival book or boy scout handbook in your backpack
Make sure you pack waterproof watches
You may need to create a make-shift shelter. A tarp or even a shower curtain (and rope) could provide you shelter from the weather.
Having a laminated photo of family members is super important. Asking strangers if they have seen your family members without a photo can be pretty pointless. Laminating it keeps the photo dry.
Try to pack travel-sized items wherever possible. Remember, most if not all items should fit in your backpack so you can carry it hands-free.
Packing clothes can be really bulky. Packing a long-sleeve shirt and pants can always be cut into shorts and a short-sleeve shirt if it's summer. But you can never get those layers back if you only pack summer clothes and you need to use your emergency kit in the winter.
Take each person's age, physical abilities, and other determining factors into consideration and adjust things as necessary.
Go through your bags every 6 months and update as needed.
If you are looking for a low-maintenance food idea, use military MREs (they last for about 10+ years so you won't have to update your food every 6 months)
Checklist for Emergency Preparedness
Knowing where to start when creating a Grab and Go Bag can sometimes be overwhelming. Trying to anticipate what essential items you may need in an emergency is stressful! Having all the needed items compiled into one checklist makes things streamlined and much easier. All of the thinking has been done for you. Download the full checklist by signing up for my newsletter above.
Here is a sample list of some of the items on my checklist:
Long-Sleeve Shirt
Long Pants
Gloves
Bandana
Shampoo
Body Wash
Toothpaste
Toothbrush
Comb
Bobby Pins
Hair Elastics
Toilet Paper
Feminine Hygiene
Pain Reliever
Emergency Antibiotics (Use the code HANSEN10 for $10 off your order!)
Band-aids
Emergency Blanket(mylar)
Emergency Sleeping Bag (mylar)
Poncho
Swiss Army Knife or Pocket Knife
FM Radio (and batteries)
Flashlights (and batteries)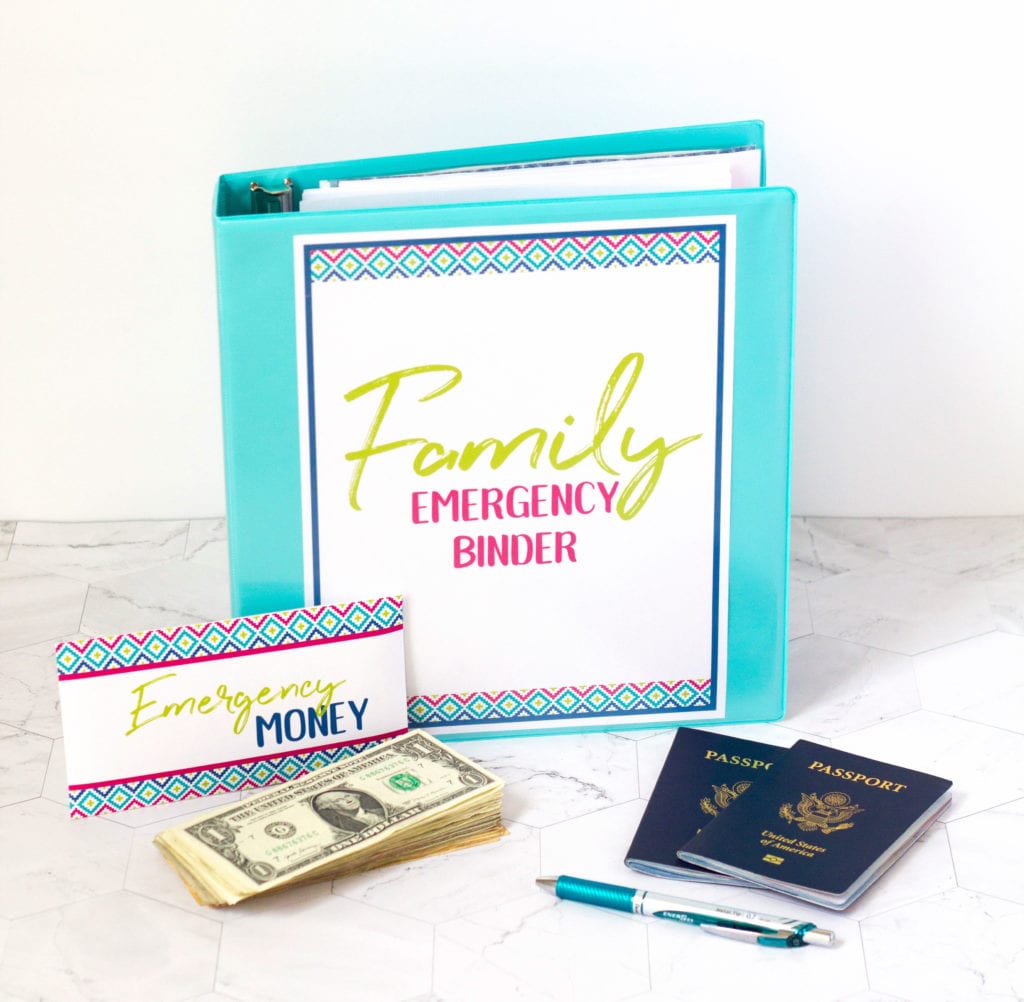 Emergency Preparedness Binder
If you are looking for a more extensive plan to expand your emergency preparations, I highly suggest this Emergency Preparedness Binder. Having an important document binder will help take some of the stress out of a stressful situation. It includes 30+ pages of printables, checklists, and worksheets. Having a Family Emergency Binder allows you to have all essential emergency information and important documents in one place so you can quickly grab it in case of an emergency.
I hope you realize the importance of being prepared and organized for an emergency. Having an important document binder will help take much of the fear out of fearful situations because if you are prepared, it takes a lot of the stress away. These important document binder printables will help you do just that! Take care of your family and start your emergency prep today!
If you are looking for some other great articles on Emergency Preparedness, I recommend these:
An Easy 6 Step Approach to Food Storage
Emergency Preparedness Fun Kit for Kids
Cheap Foods to Include in your Stockpile