Staying Organized When Traveling + A Free Printable
I will be the first to admit that I am not a light packer. I'm not one for those 'capsule wardrobes' that I see all over Pinterest. Depending on the vacation, I coordinate my outfits down to the jewelry. So if you are looking for a post about packing light, this post may not be for you. But read on to see if there are any other tips that might help you stay organized during your next vacation.
Scroll down to sign up for free access to my Free Resource Library where you can download your FREE EDITABLE PACKING LIST!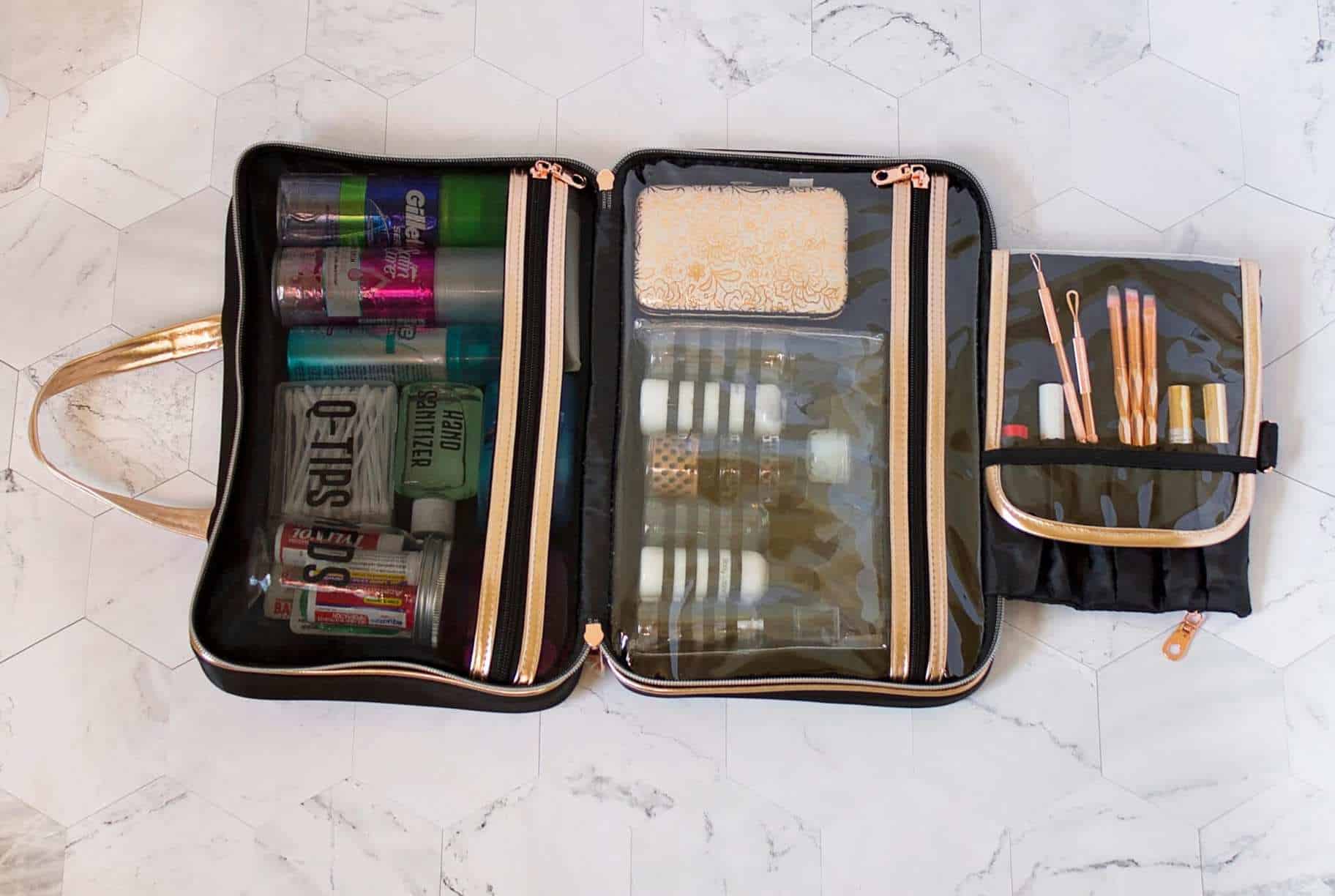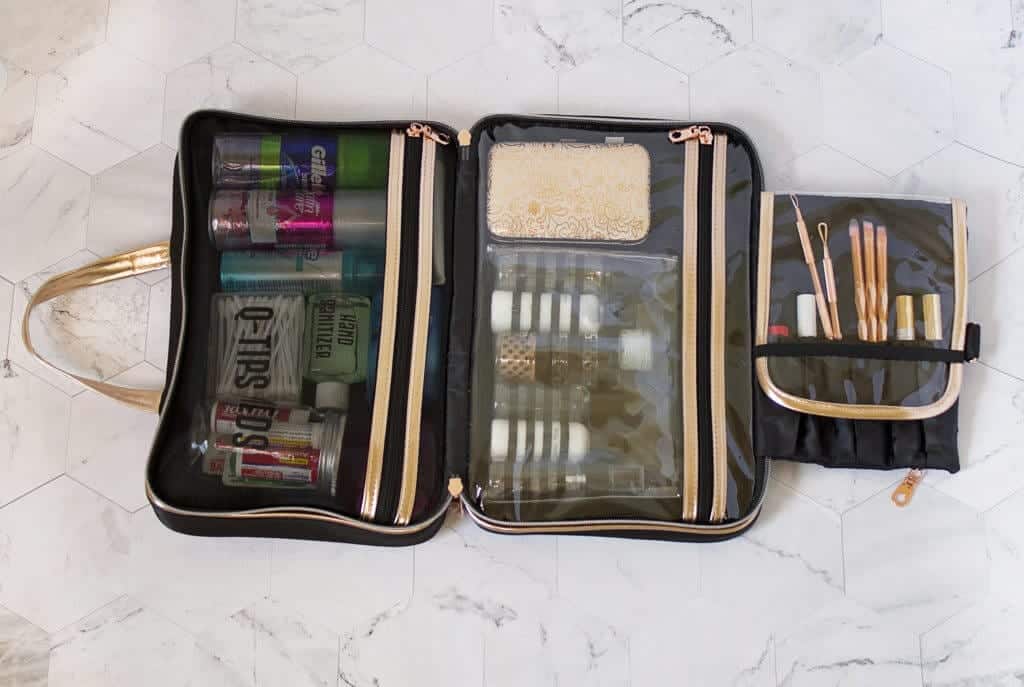 Organized Toiletry Bag
In my previous post, I talked about how to organize a Toiletry bag. Today I am talking about how to organize your suitcase! More times than not, I forget majorly important things on my vacations. I must be scatterbrained or something because, without a list of every single item that I need, it happens all of the time. Does that happen to you?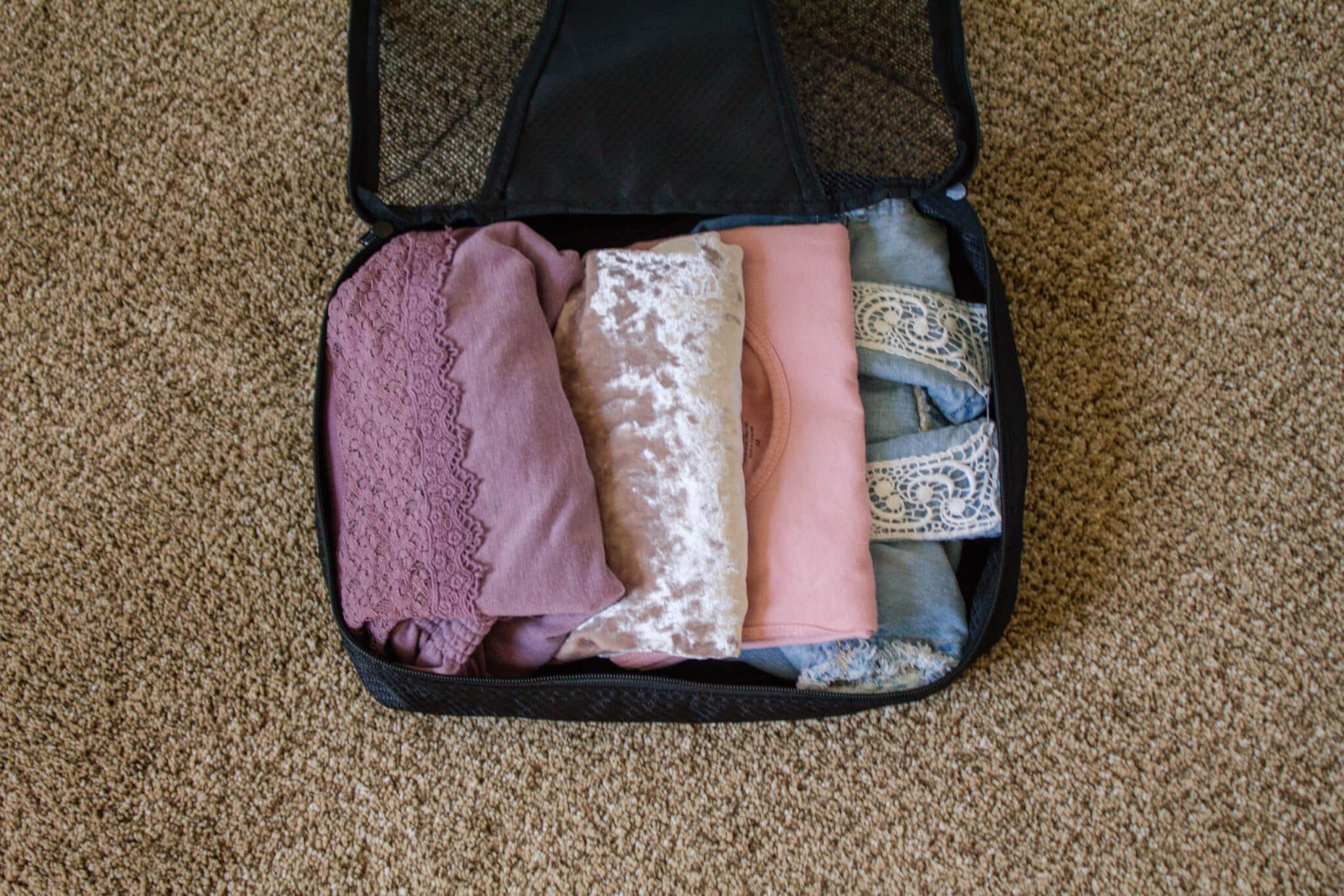 Packing Cubes
Packing cubes are an absolute lifesaver for me. There is no better way to keep your clothes and accessories organized than packing cubes. They are by no means a new product, but I have used them for years and have never gone back. Whether you organize your clothes according to type (shirts, pants, activewear, etc.) or according to day, packing cubes are essential in my book.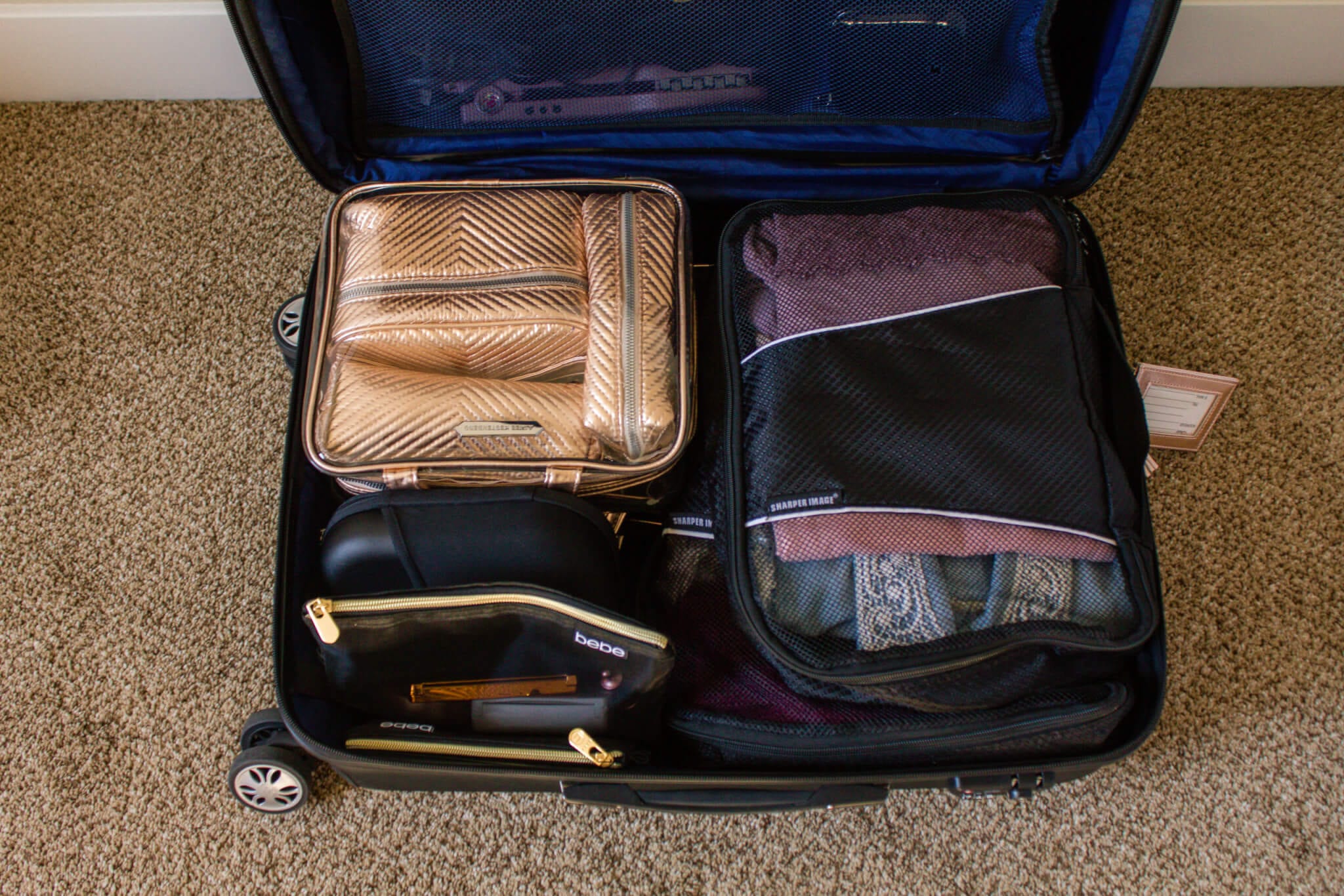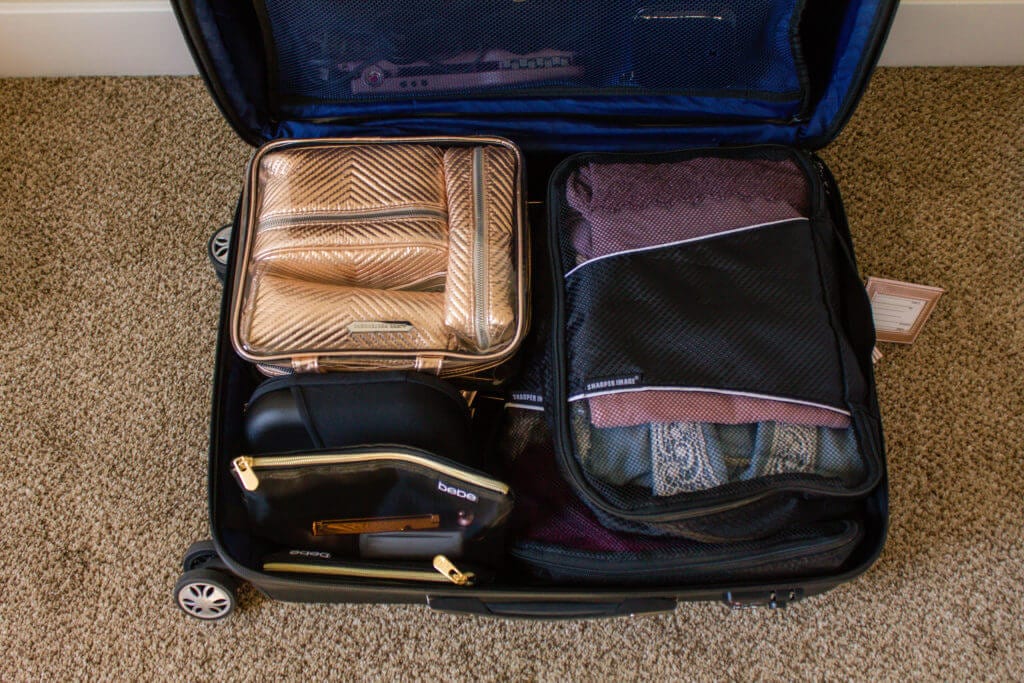 The Method of Organizing my Suitcase
Some people like to organize their clothes according to type. For example, some people organize their clothes with all of their shirts in one stack. But I hate digging all throughout my suitcase trying to find the right pair of pants. And in the meantime, I have messed up the folding of the other clothes, which make them more wrinkly for the remainder of the trip. I prefer to keep the unused clothes untouched as much as possible and for this reason, I pack my outfits according to day. Sometimes I will even go as far as labeling each outfit according to what day I want to use them on. Disney trips are particularly this way so that you are wearing the correct outfit at the park. I feel like this helps me to think of these things ahead of time so I don't forget details of why I chose to wear what in the rush of the morning.
How I organize my Clothes in my Suitcase
When planning for a vacation, I have a few steps that I follow in order to ensure that I don't forget anything. Here is my process:
Decide how many days you will be gone
Check the weather so you can plan outfits accordingly
Set out the number of shirts (one for each day)
Choose a pair of pants that will match that shirt and put them together
Set out accessories and undergarments for each day
CAREFULLY ROLL/FOLD all of the items for each day, together
Place each roll of clothes in the packing cubes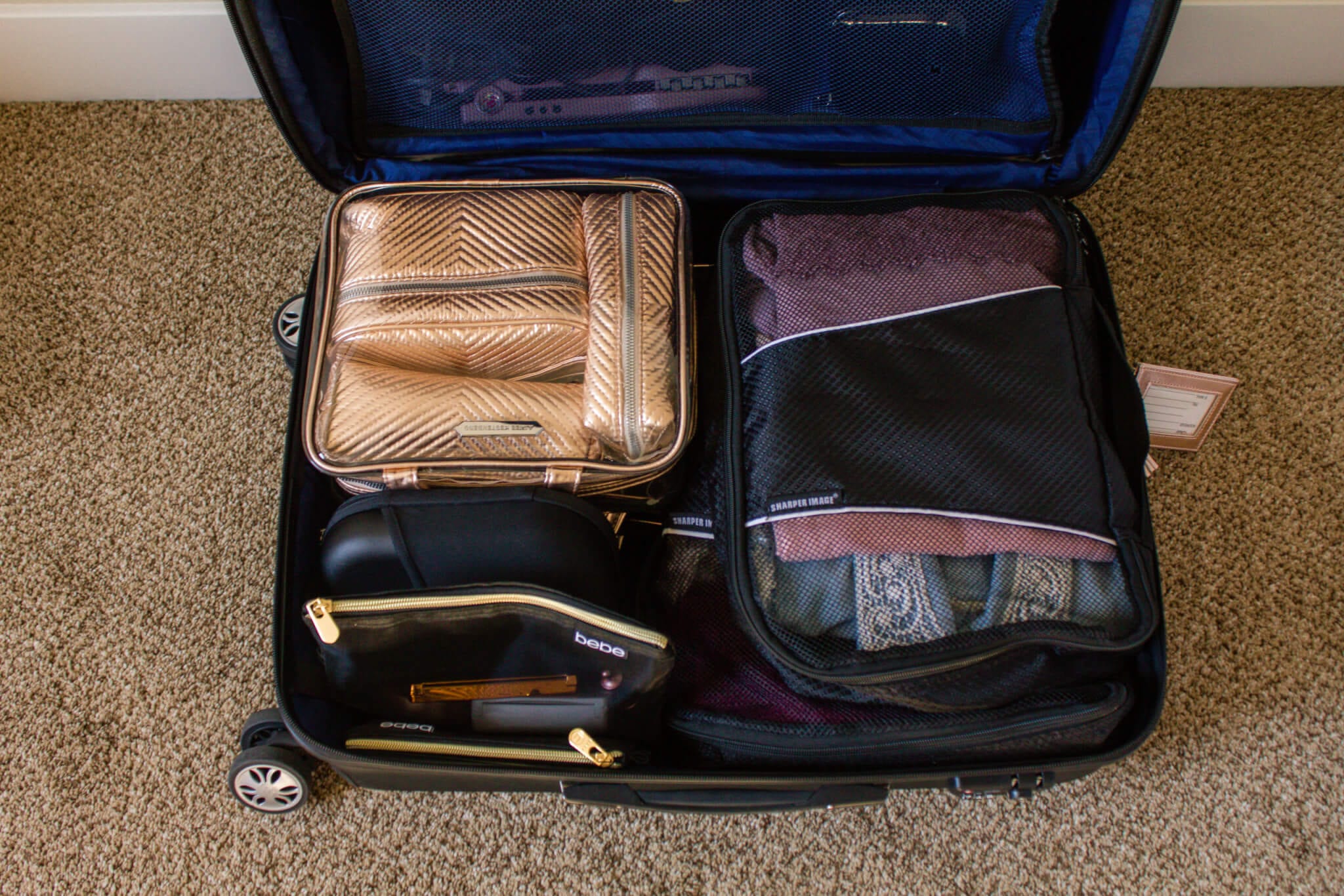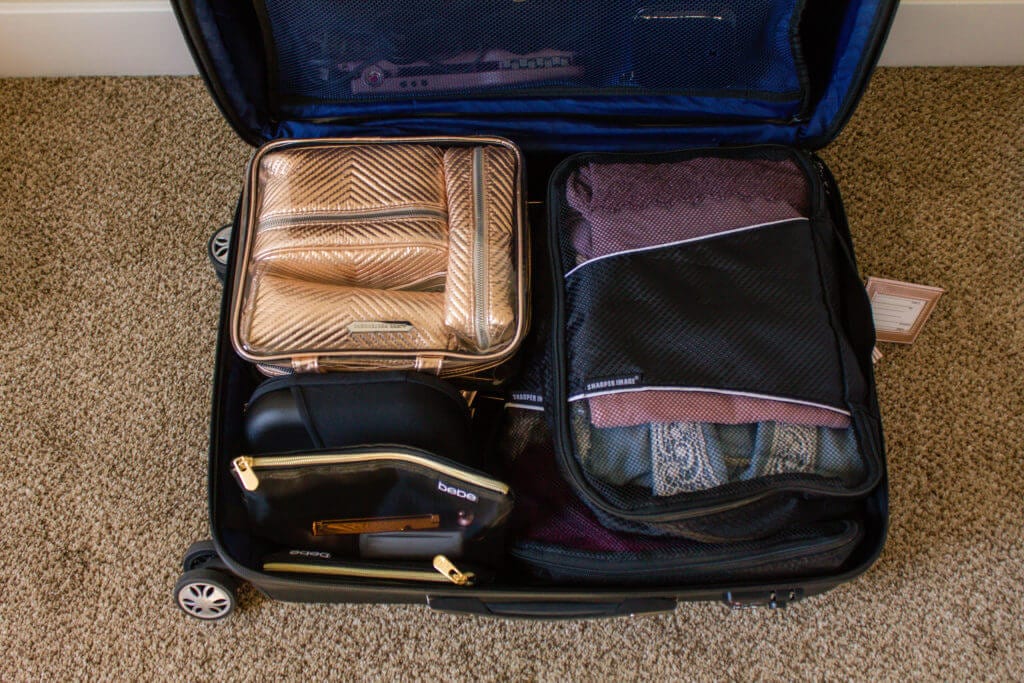 Organizing Accessories
There are always random things that need to be packed that I don't necessarily love floating around my suitcase. Things like hair straighteners, big makeup palettes, and hats (and a million more possibilities) can also be put into mesh pouches that help keep you even more organized than just packing cubes alone. I purchased my mesh pouches at TJ Maxx but here are some that are just like them. I use them to store my hair straighteners and my Voloom (it helps to give my hair body). In one of my pouches, I put the remainder of my makeup such as my magnetic lashes and eyeshadow palettes.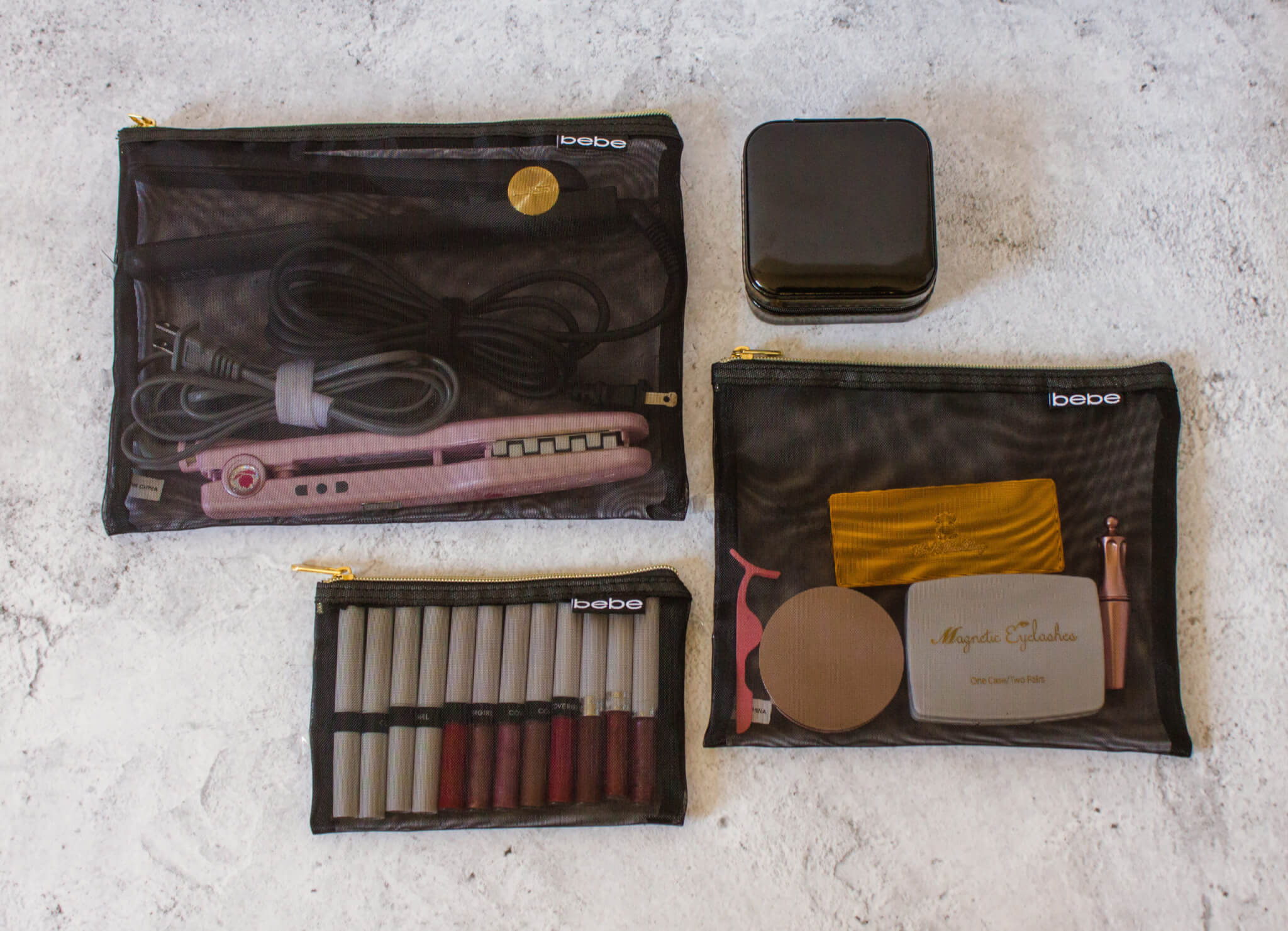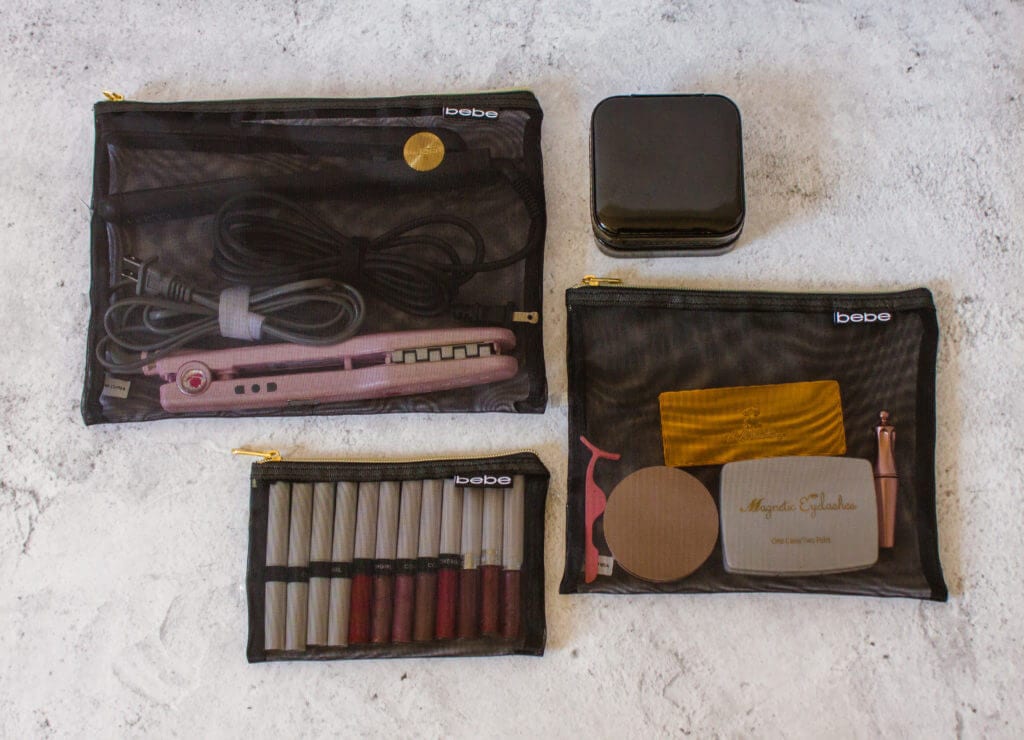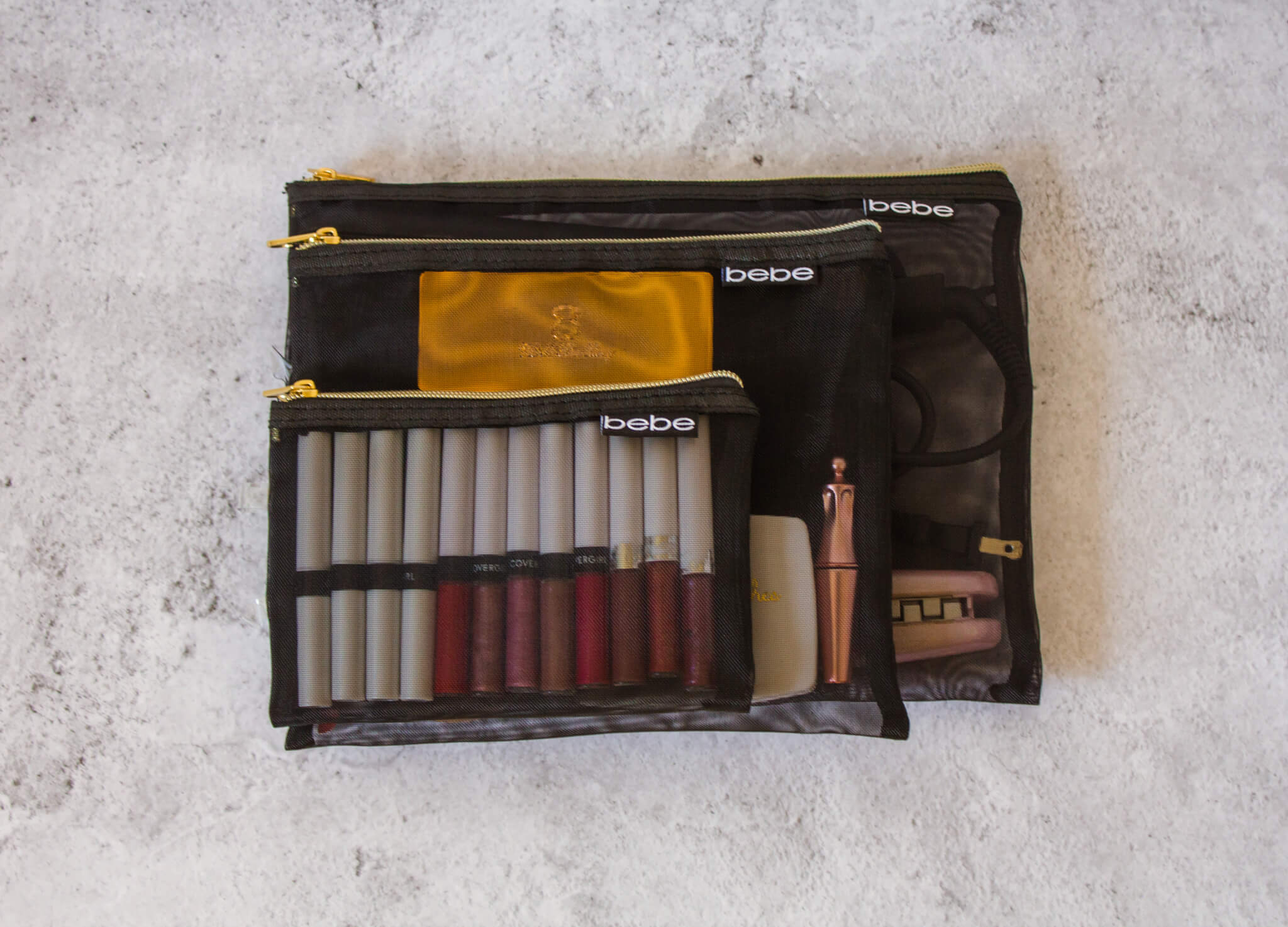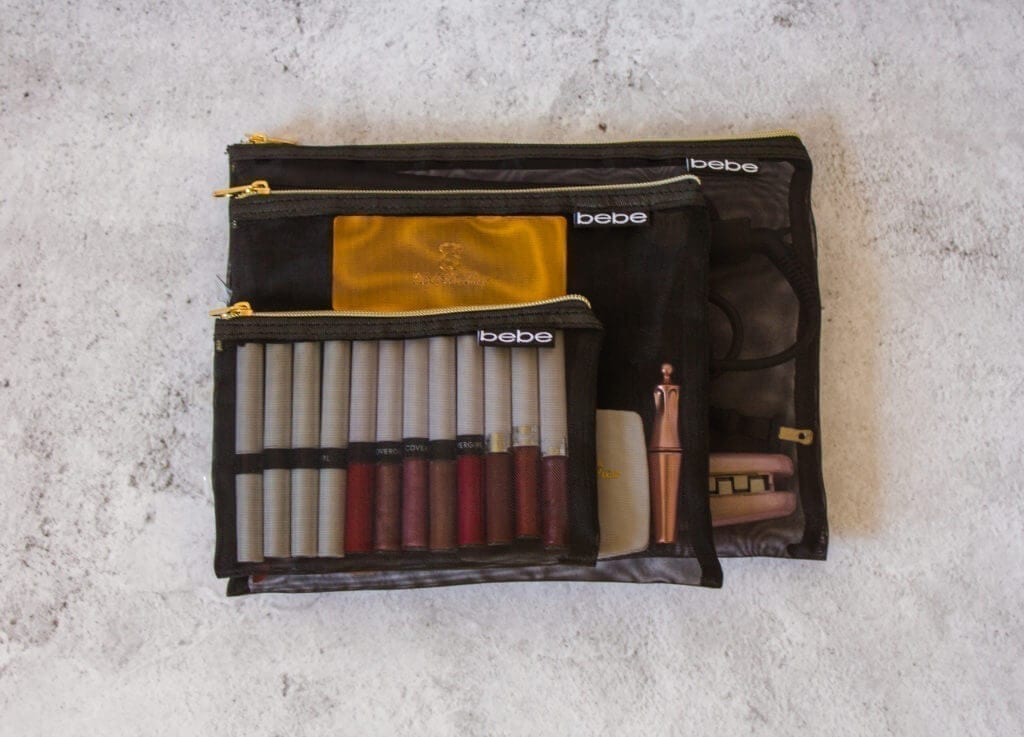 Keeping Jewelry Organized
Over the years, I have tried many different methods to keep my jewelry organized when I travel. Some of them have been homemade Pinterest ideas, some of them have been larger jewelry organizers that I have purchased at the store. But I recently found my favorite jewelry organizer of them all! It doesn't hold much, it is quite small, but it's the best one I've found. It has hard sides and keeps earrings and rings tight and secure. I also saw this one as I was browsing Amazon and it looks just like mine only a bit bigger.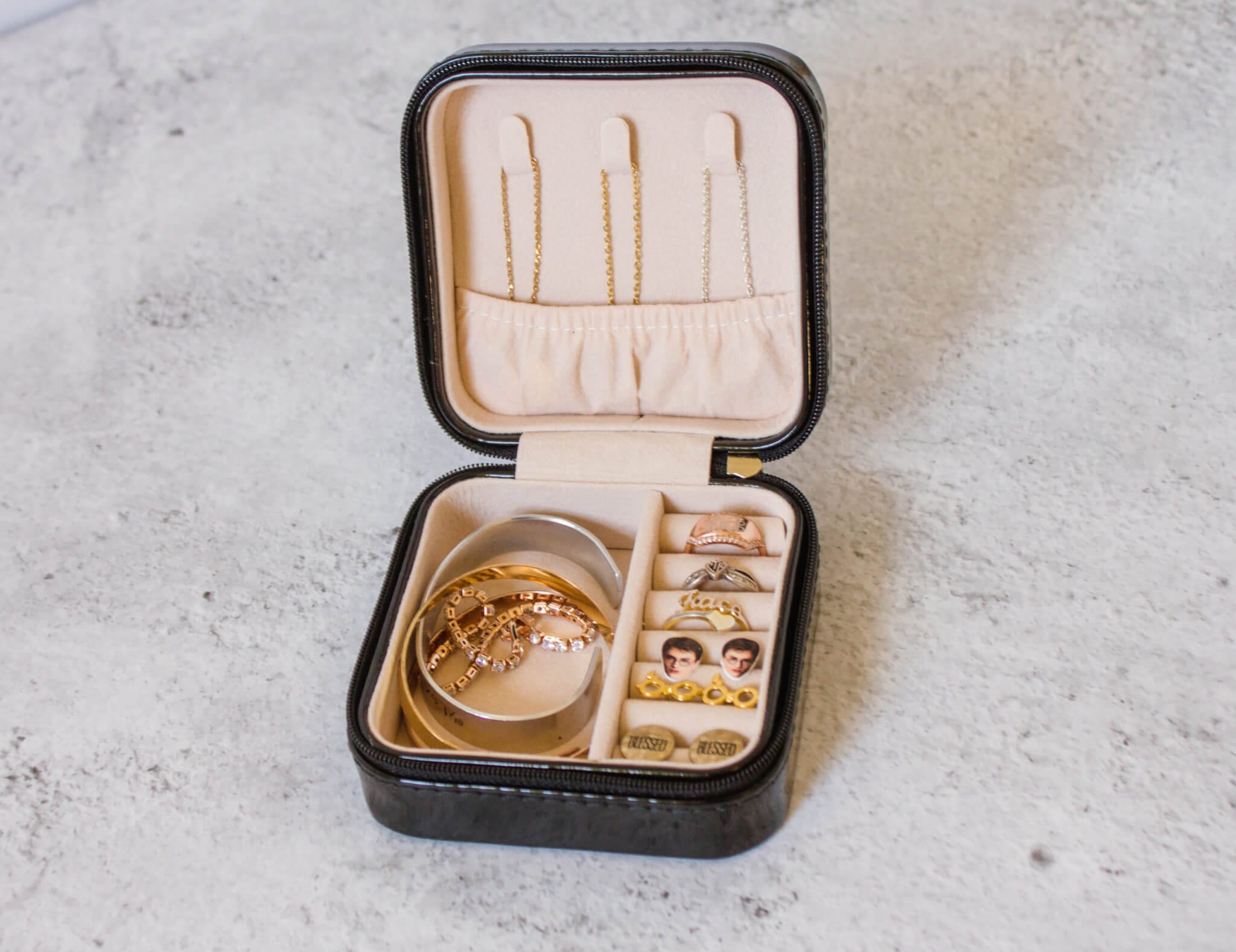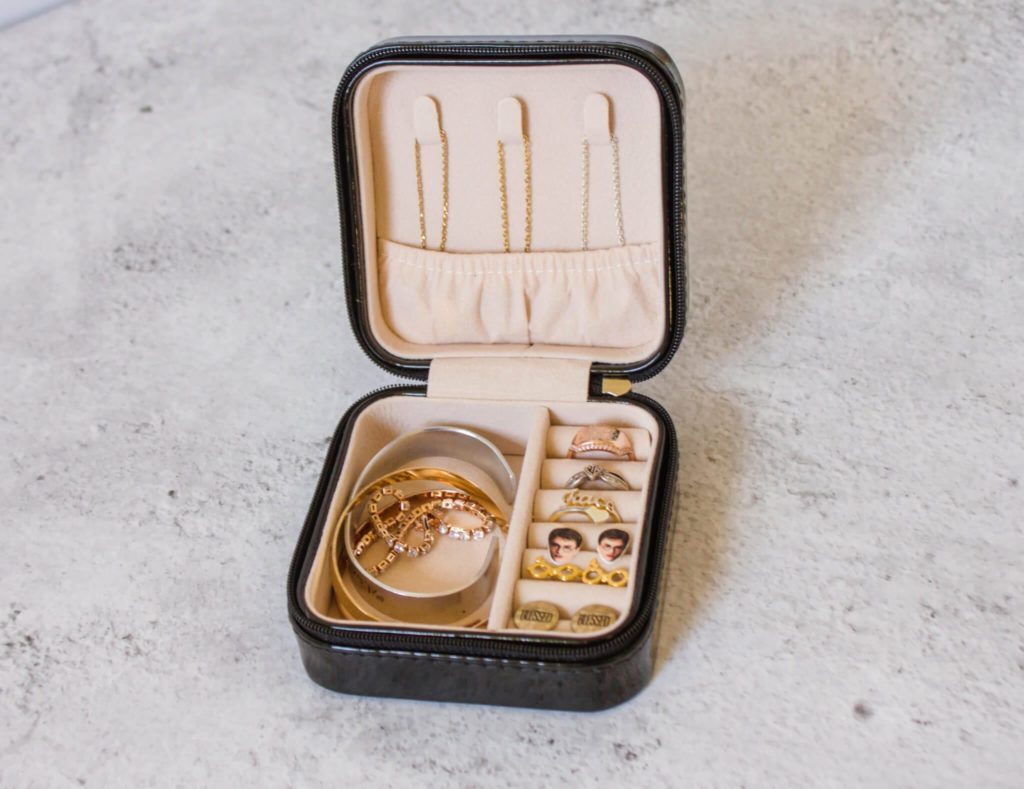 Carry-On Bag
Having a Carry on bag that can attach to your suitcase as you are walking through the airport can be super handy. That's why I bought one that has a little pocket that my luggage handle fits through. This makes it easier because you don't have as many bags to keep track of (or accidentally leave one of them behind!). Another thing that I love about this back is that it is packable. If you decide you don't need it, you can just fold up the entire bag into the pouch to store it!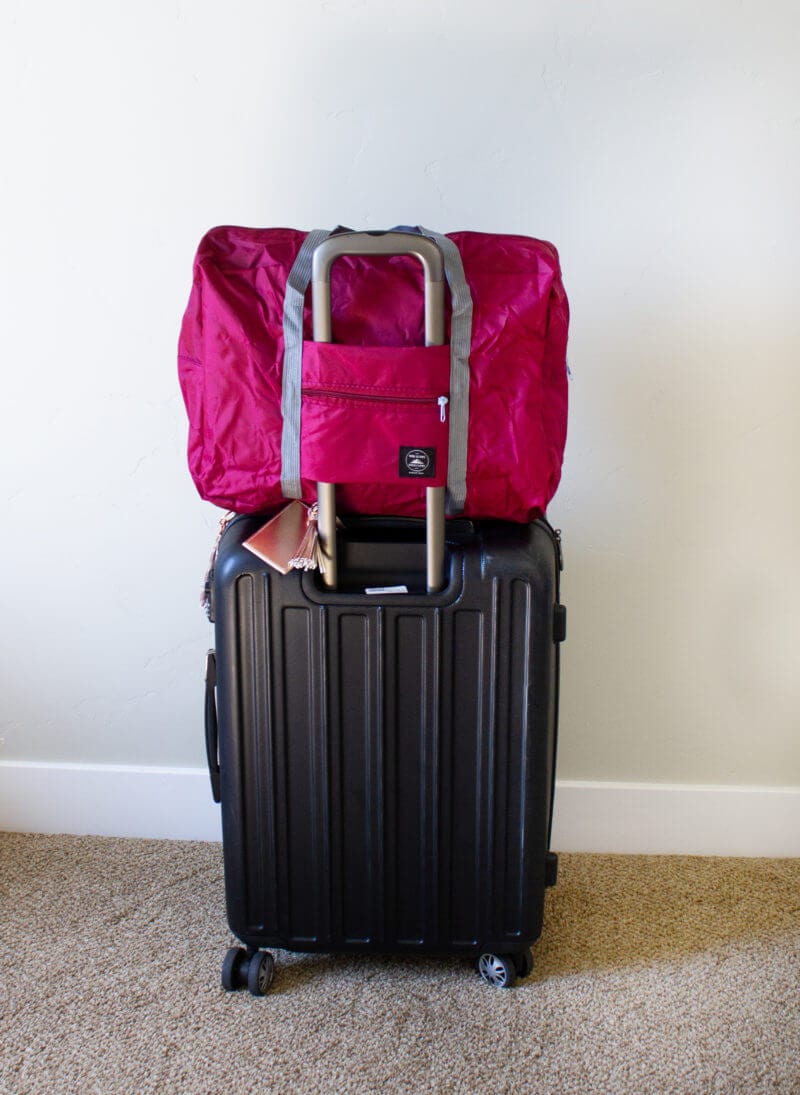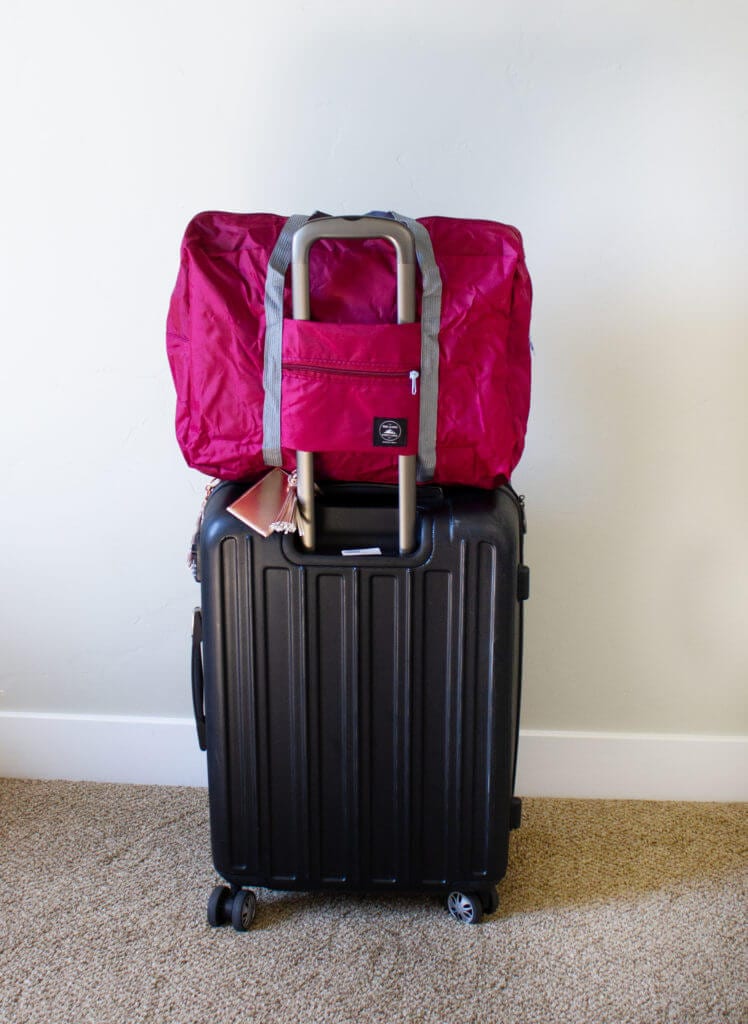 If you are interested in Rose-Gold Accessories for your bag like me, I have found a couple of fun accessories that you might be interested in! First is my Rose-Gold Key Fob from AMarieQuiltCo. I also purchased my Rose-Gold luggage tag at Walmart but found a similar one here on Amazon.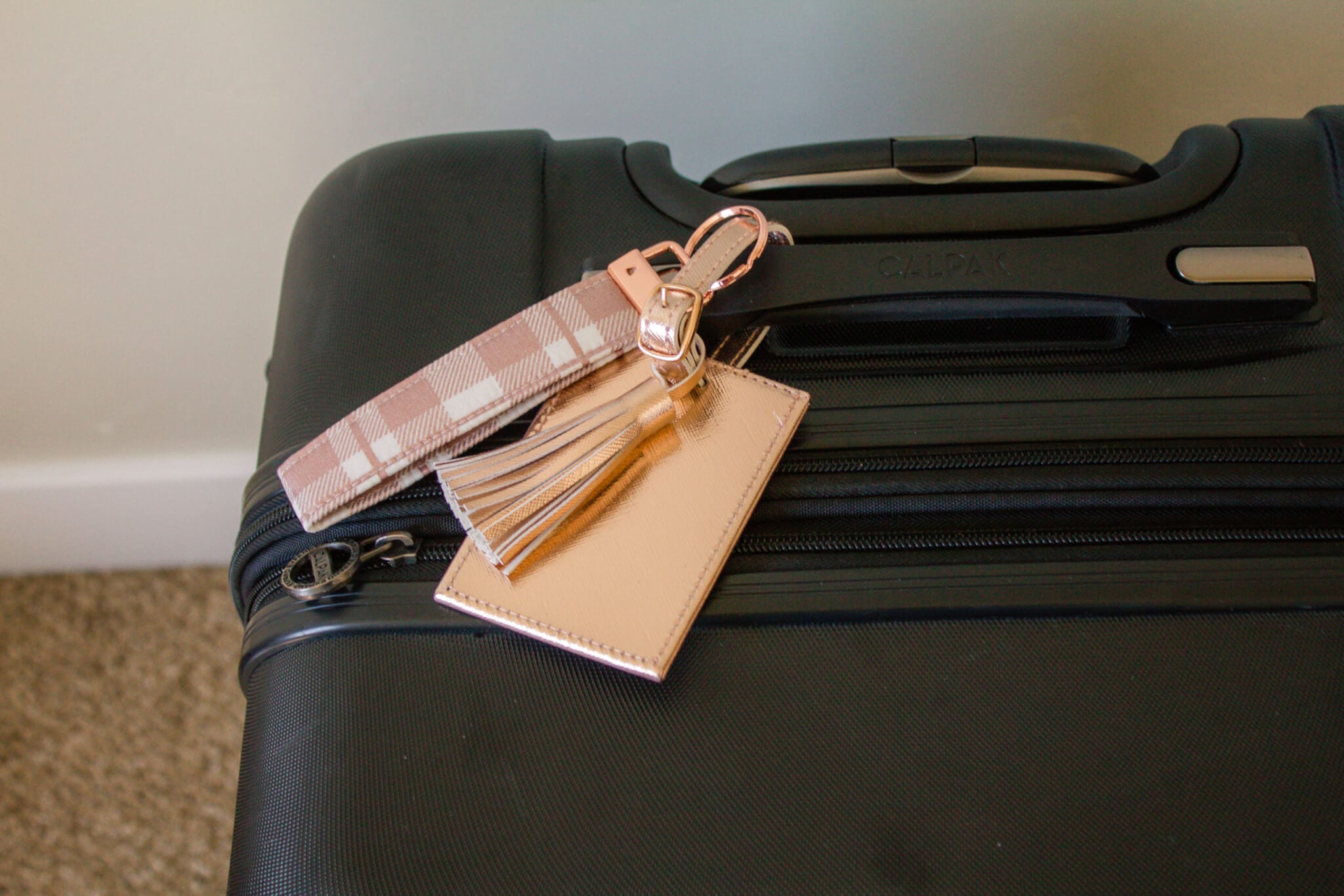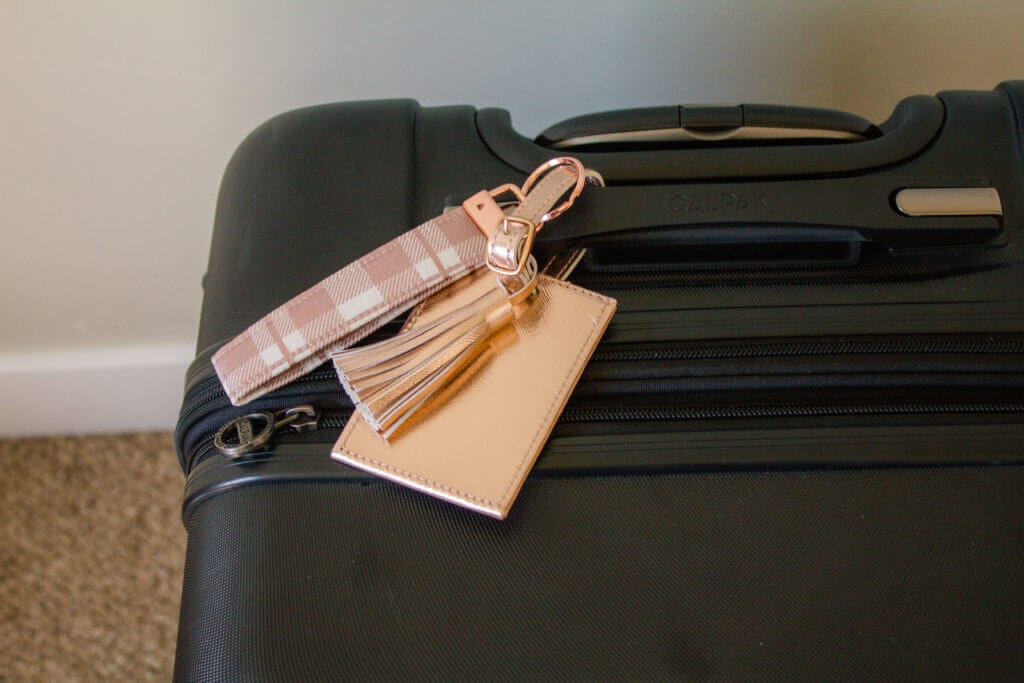 Here is the link for your FREE PRINTABLE Packing List!
Shop this Post:
Happy, Organized Travels!