How to Store Belts and Organize Them for Easy Access
Do you have a lot of belts and find it difficult to keep them organized? If so, this post is for you! In today's blog post, we are going to teach you how to store your belts in an easy and accessible way.
This will help you save time when looking for a specific belt, and also prevent them from getting tangled up together. Follow these simple tips and you'll be able to organize your belts like a pro!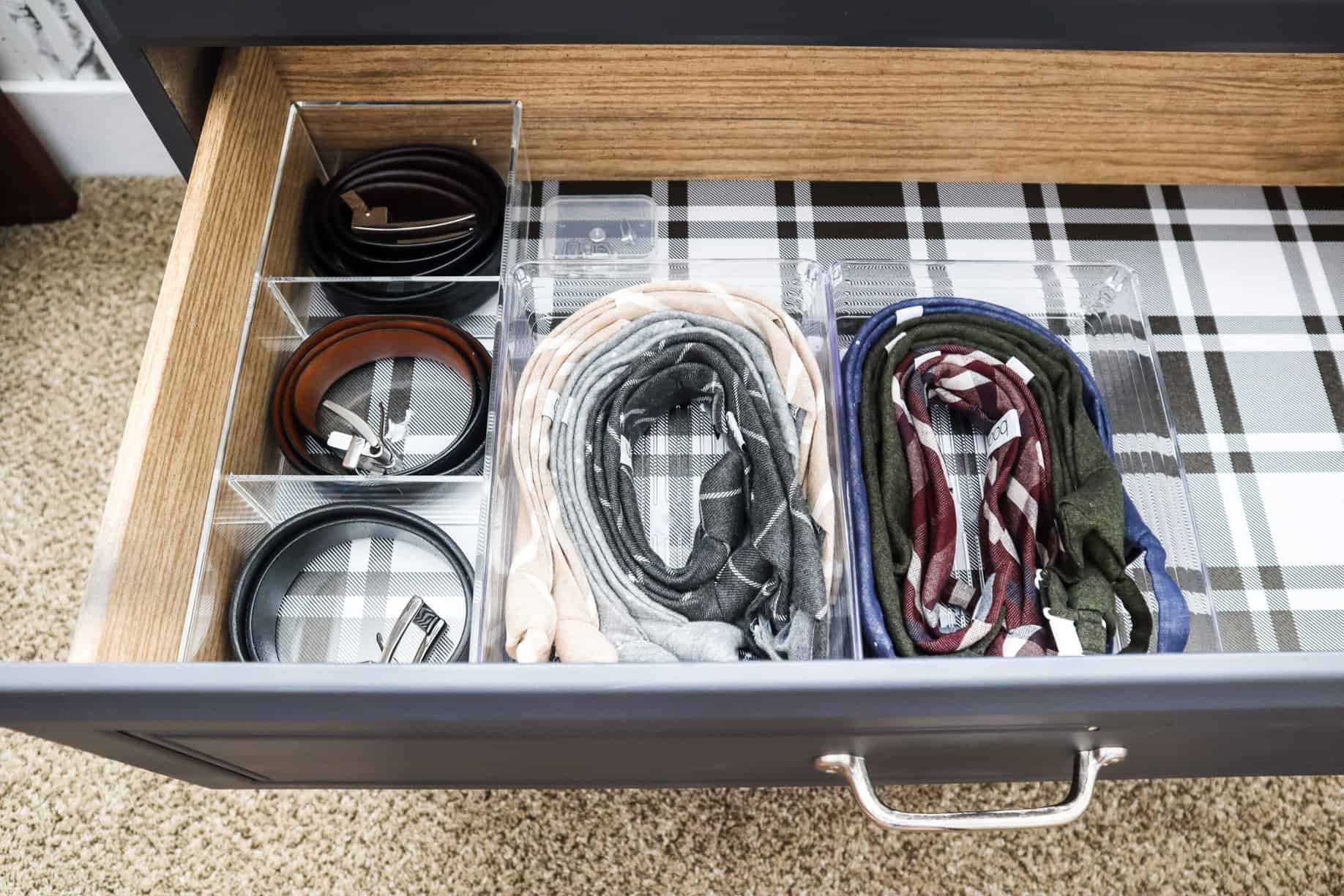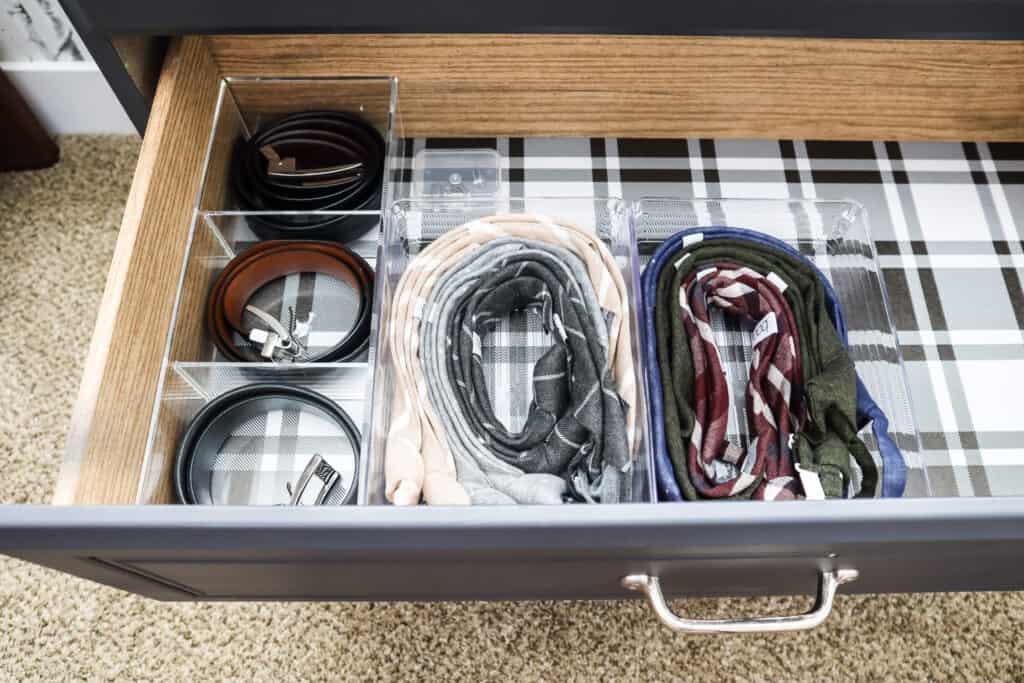 How to Store Belts
When it comes to storing belts, you want to make sure that they are not only organized but also easy to access. The last thing you want is to have to search through a tangled mess of belts every time you need one.
One way to store belts so that they are easy to organize and sort through is with a belt organizer. I highly suggest getting an organizer of some kind to store your belts.
Belt Racks
One of the best storage solutions for belt storage is using a belt rack. Belt racks can usually be hung up in your closet, like on your closet wall or the closet door. If you have closet space for a belt rack, this can be a great way to store and organize belts.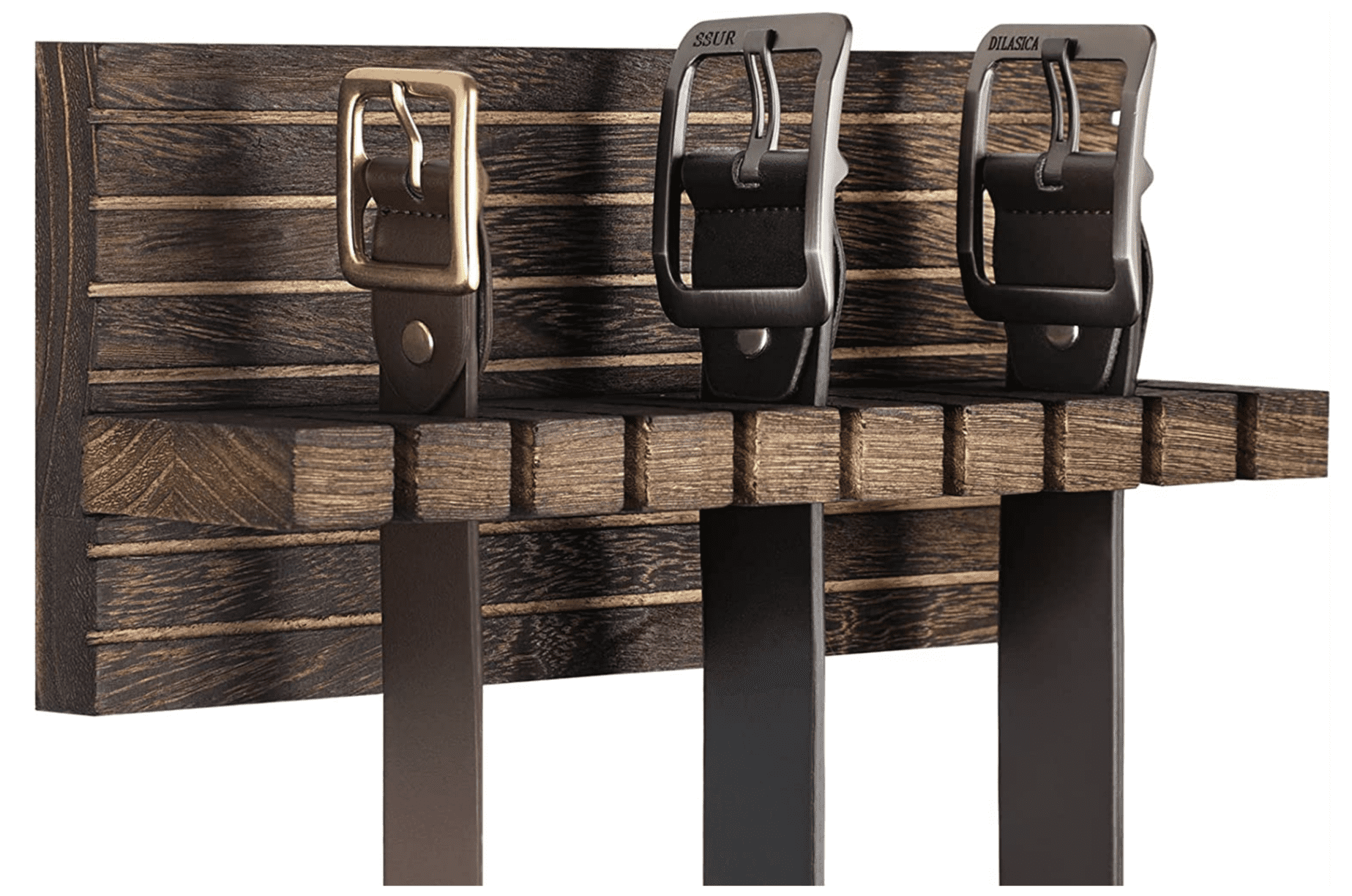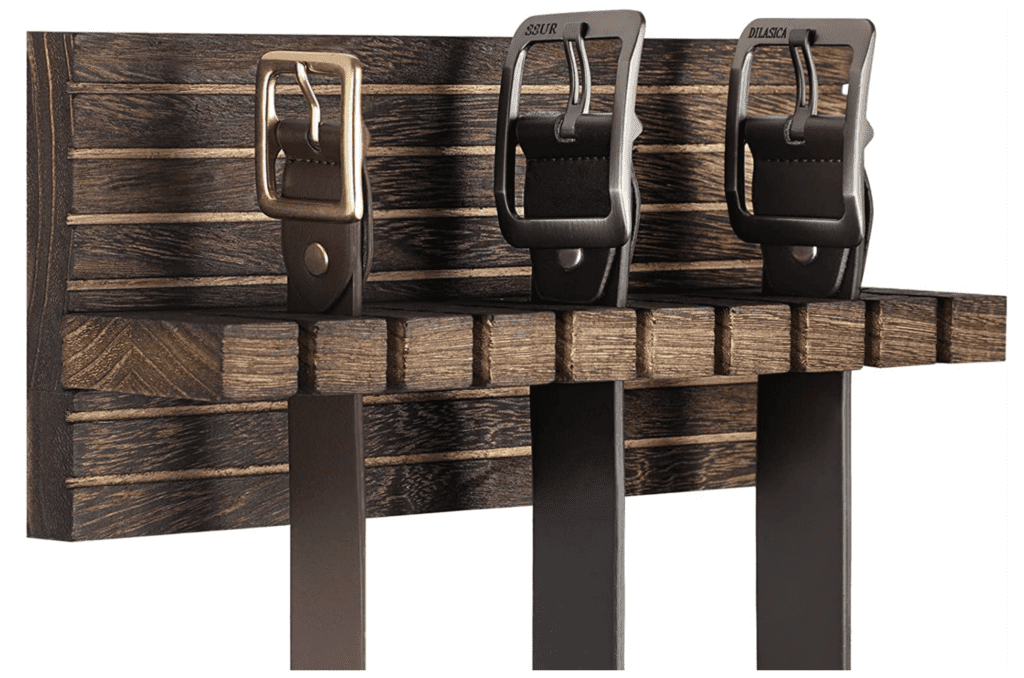 There are tons of different kinds, like a sliding belt rack or pull-out belt racks, that can be easily hidden behind clothes and slid out when you need to access your belt rack.
Depending on your closet system, you might not have room on the wall for hooks or belt racks. In that case, you can get several hooks and hang them straight on your closet rod, or get a special belt hanger that can store multiple belts on one hanger.
Drawer Organizer
Another storage option for your belt collection is a drawer organizer. If you don't have room to store belts in your closet, you can store them in your dresser drawers!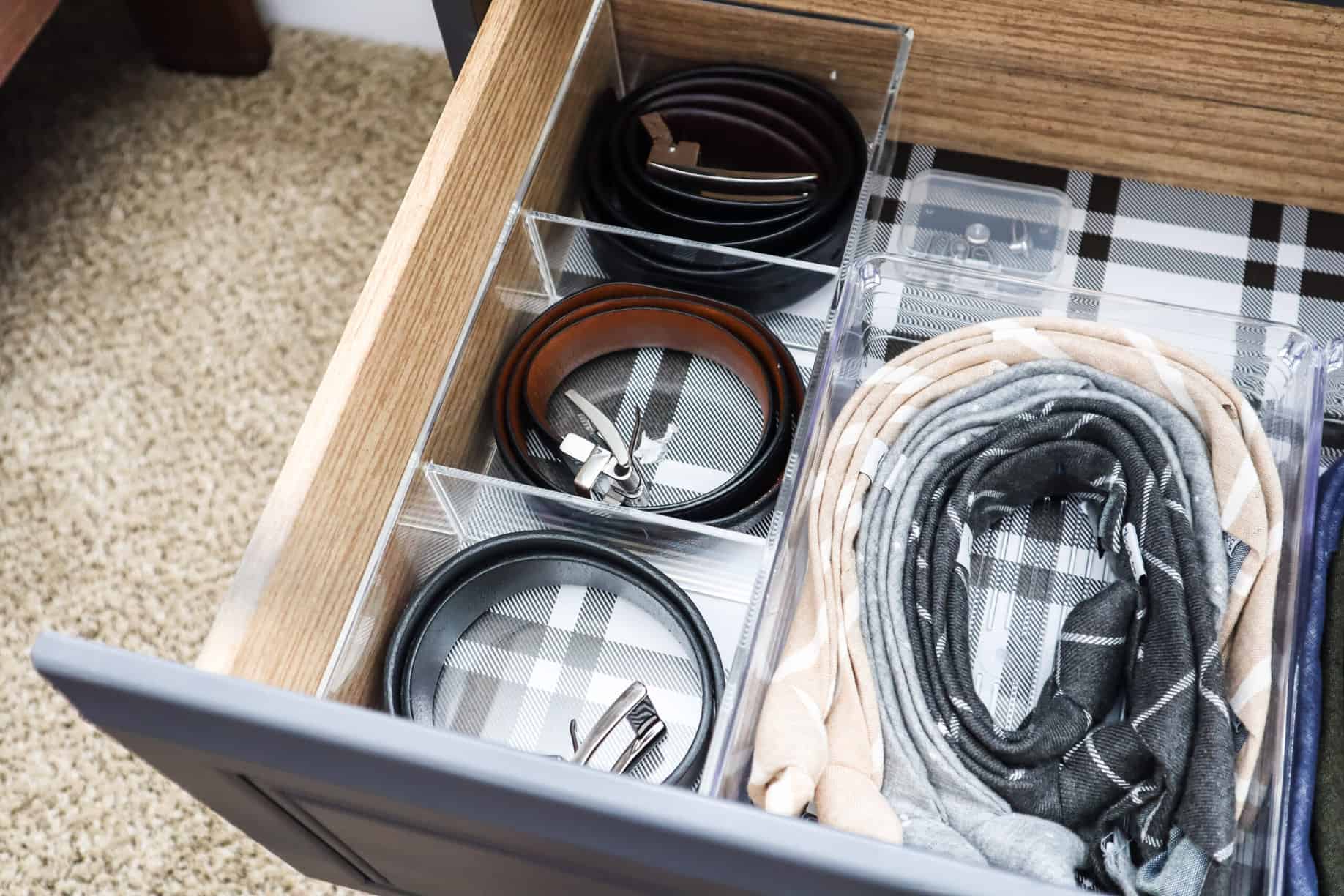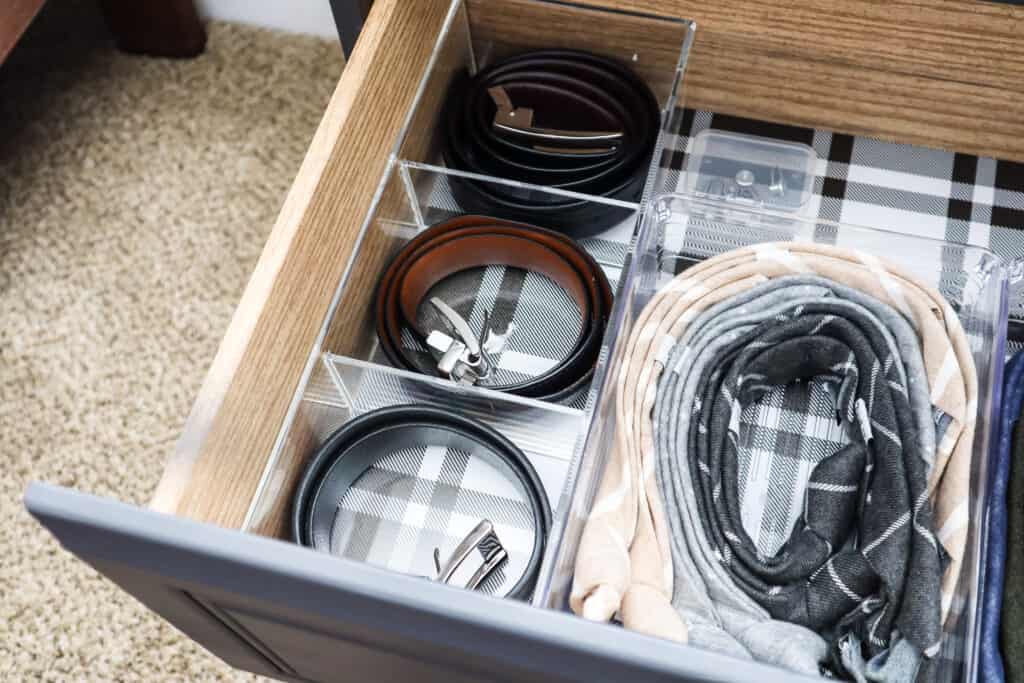 Just get a drawer divider system and place it in one of your dresser drawers. Then you can use the different compartments to store your belts. This is a great option if you have a lot of belts and need a place to keep them hidden away.

Hanging Belts Vs. Rolling Belts
The two main ways to store and organize belts are with a belt hanger or a belt organizer where you can keep rolled-up belts. Both hanging and rolling are good options for your belts, it just depends on what works best for you and what kind of belts you have.
Hung Up Belts
If you have a lot of belts, hanging them might be the best way to go so that you can see all of your options at once. You can either use a standard coat hanger or get a dedicated belt hanger that has multiple hooks. A belt ring hanger like this one will probably work better for belt organization!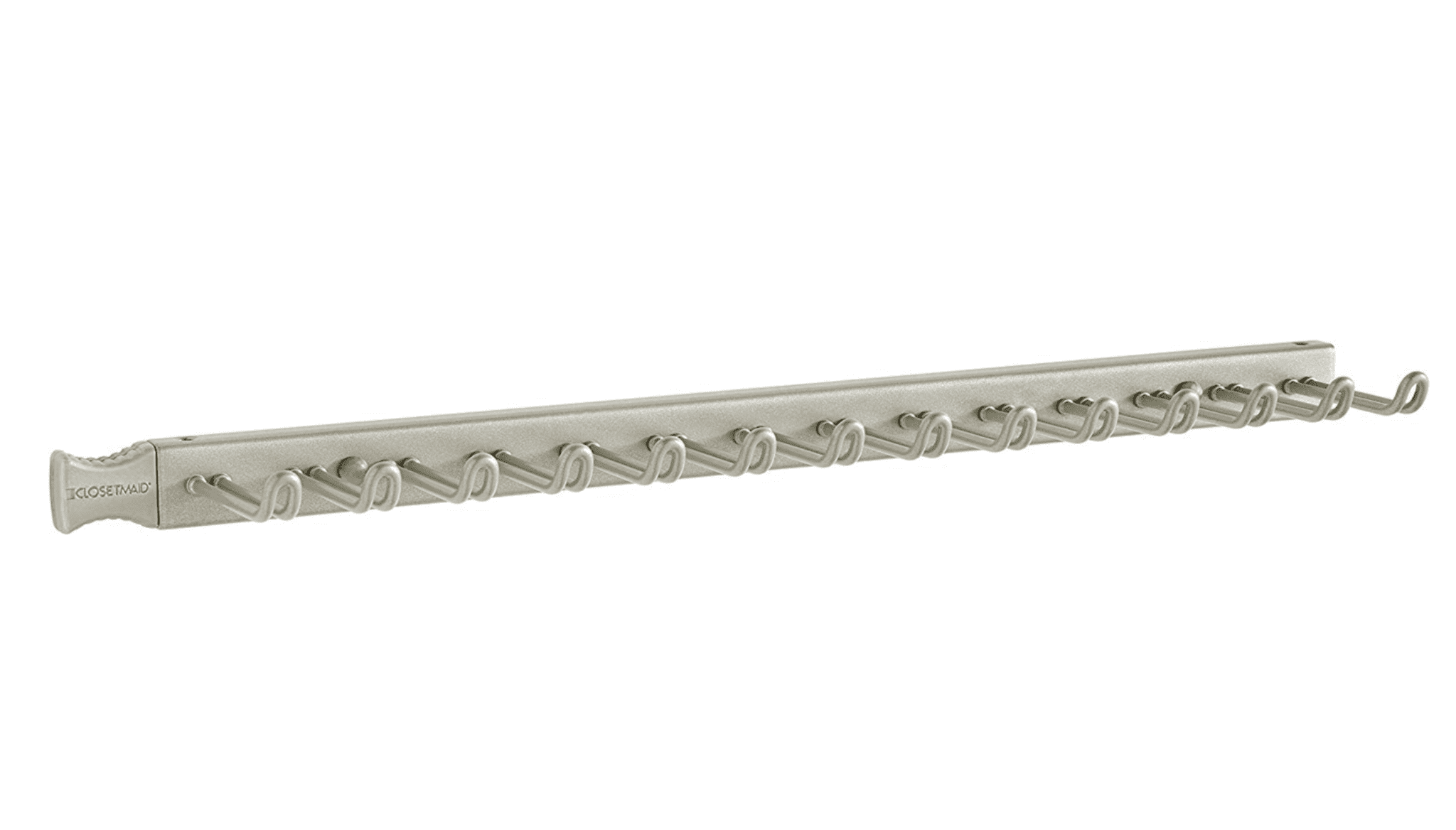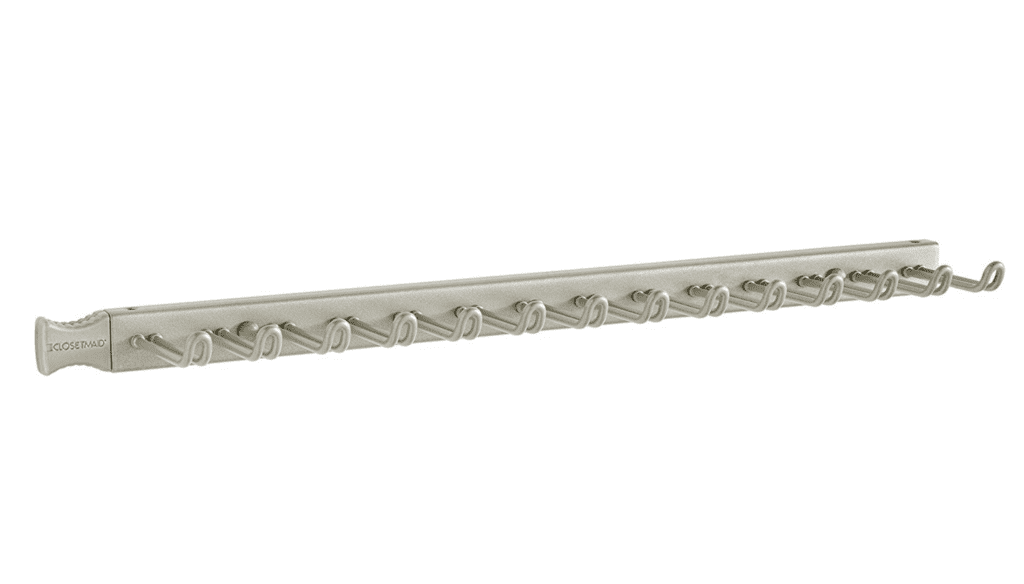 When you hang belts, it's important to make sure that they're not all bunched up together. You can do this by hanging them in order of length or color, or whatever method you prefer. Just make sure there is enough space for organizing belts on the belt rack.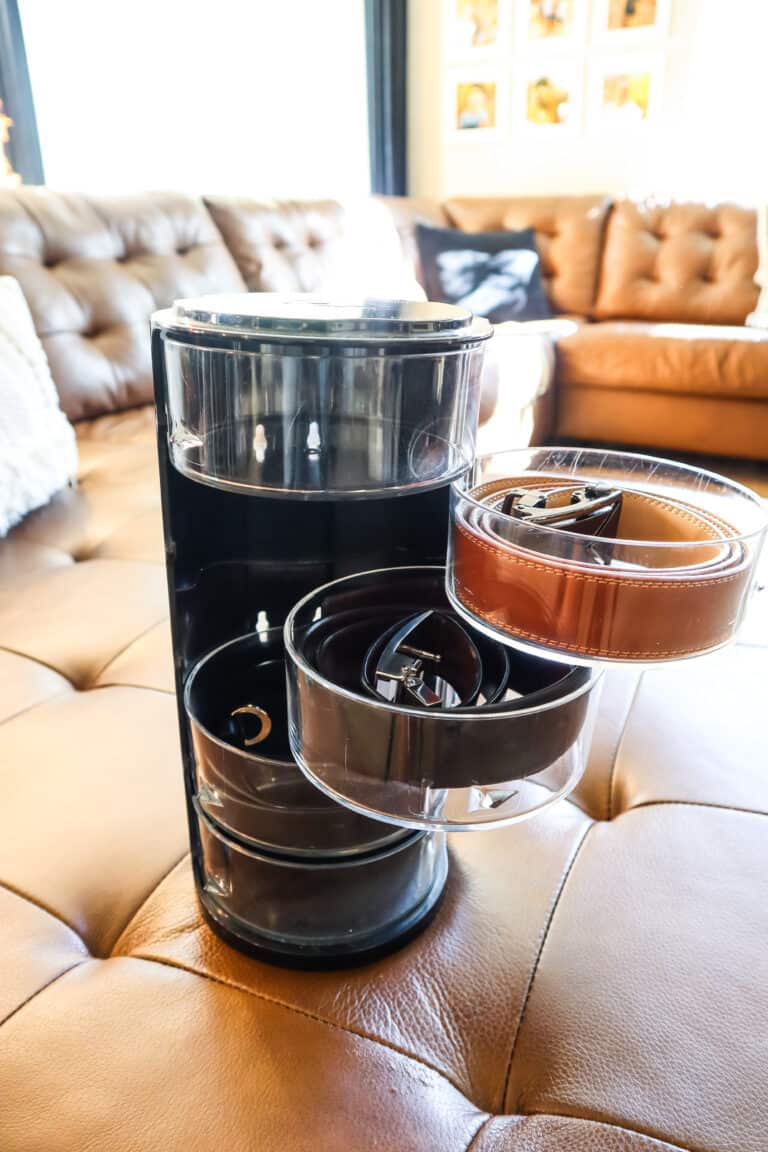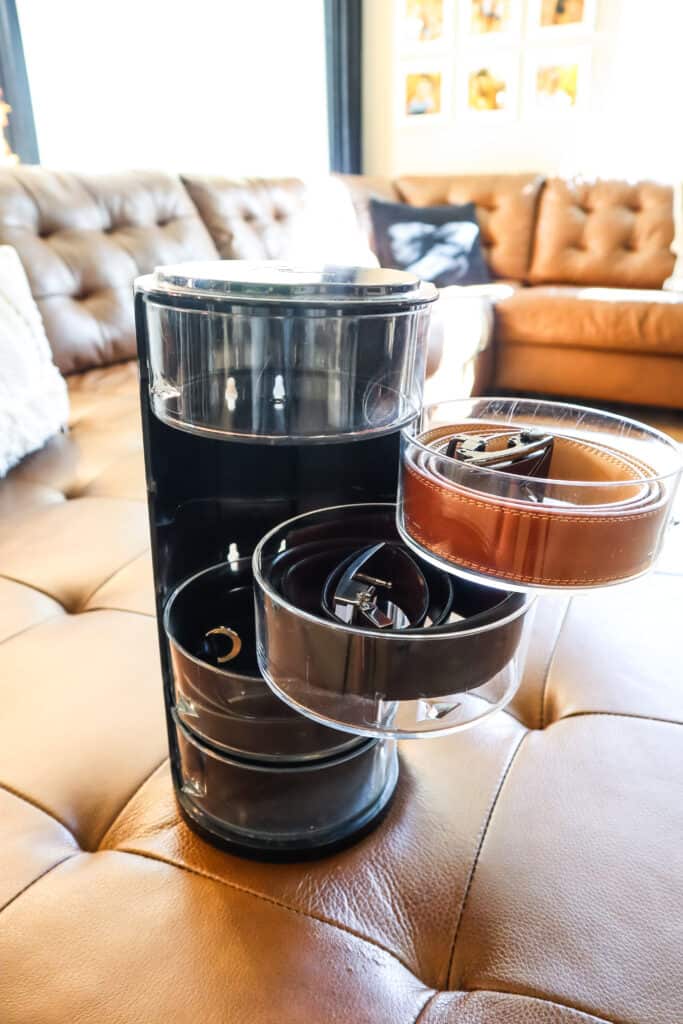 Rolled Belts
Another way to store belts is to roll them. Rolled belts work great for belt organization because they take up less space than hanging belts and can be stored in a drawer or on a shelf. If you have thinner belts, rolled belts are probably the way to go. Rolling belts also helps protect your belts from getting scratched.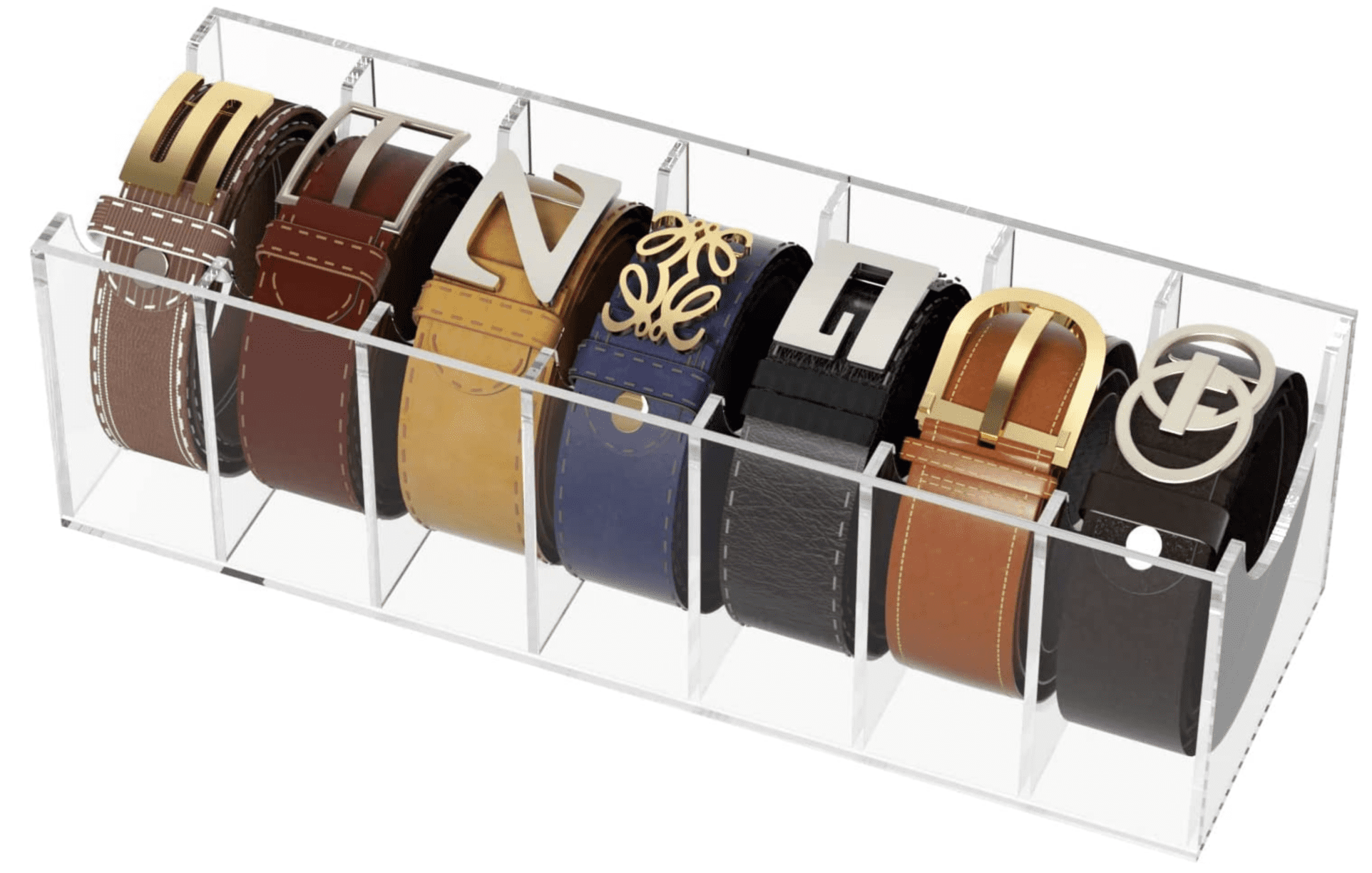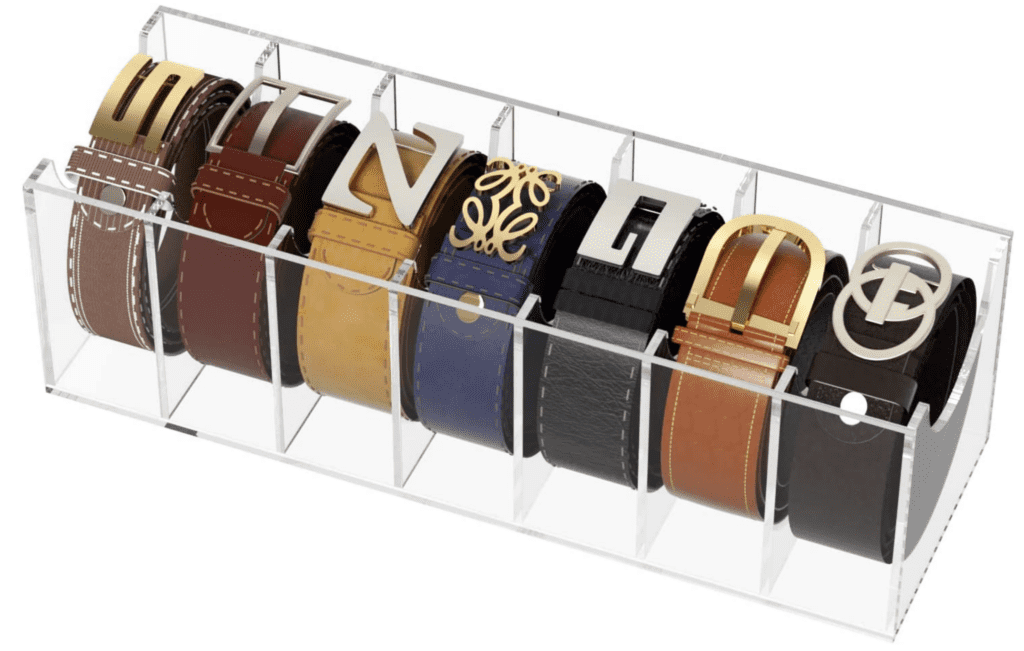 When rolling belts, make sure you roll them loosely. Also, keep in mind that if you have certain belts, like genuine leather belts, they can be susceptible to cracking when rolled. So you might want to hang some of your belt storage if they are likely to crack.
For your belt collection that is rolled, however, I like an organizer like this one or this one.

How to Organize Belts
Now that you know how to store belts, let's talk about organizing belts. To organize belts, whether it's in your closet or in a drawer with drawer dividers, you'll want to decide the best way to categorize your belts. There are two ways I suggest.
By Color
First, you can organize your belts by color. This is the most popular way to organize belts. It's also the easiest way to see all of your options when getting dressed in the morning. Depending on what suit or outfit you're wearing that day, you know exactly which color belt you will need/
By Material
The other way to organize your belts is by material. This is helpful if you have a lot of belts made from different materials like leather belts, cloth belts, woven belts, etc. You can also organize by material and then by color within each material category.
There are obviously a lot of other ways to organize and store belts but these are the two main ways I would suggest. Usually, people have several belts, but not 20-30 belts, so organizing in a simple way, like by color or material, will work best.

How to Take Proper Care of Your Belt
I also wanted to add a small section on how to properly care for your belt collection just to make them last longer.
To extend the longevity of a leather belt, you should clean it every once in a while with saddle soap and then condition it. You can wipe down cloth belts with a damp cloth if they get dirty. And lastly, for woven ones, you can spot clean them as needed but be very careful not to damage them.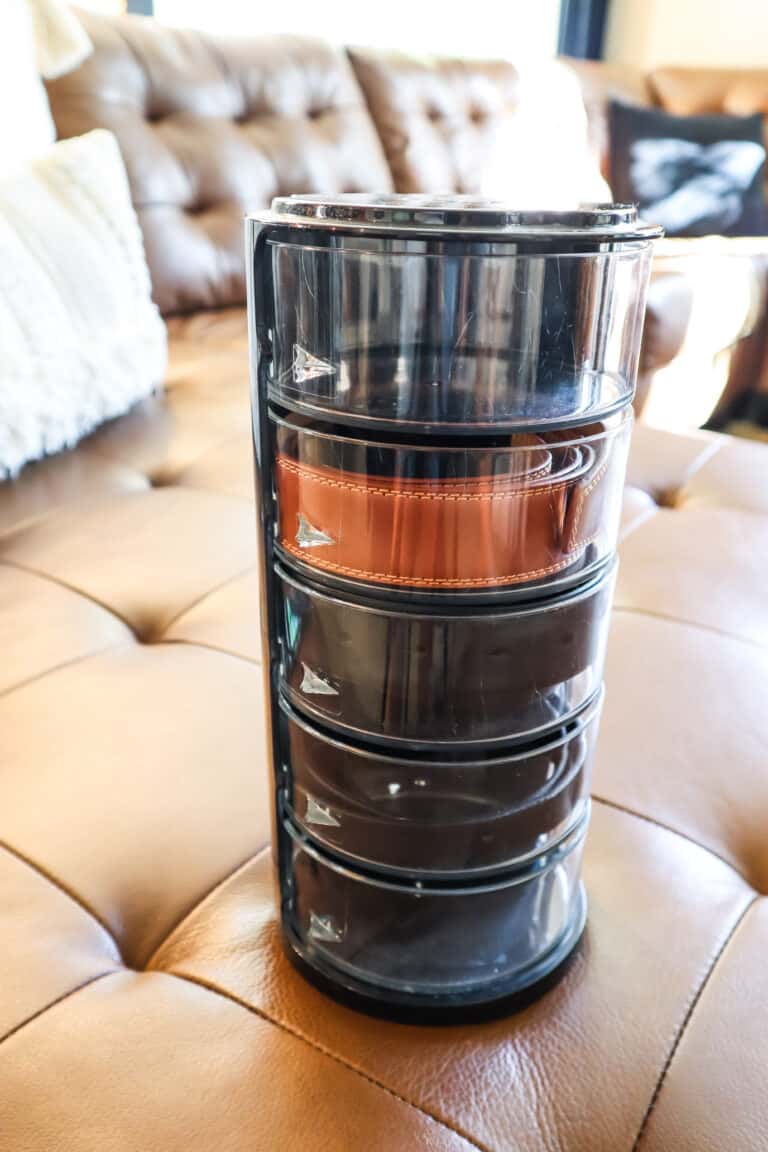 Store them in a space that doesn't get direct sunlight as the sunlight can change the color (especially if the belt is leather).
Keeping Belts Organized
Throughout this process, just remember that storing belts and organizing them is supposed to make your life easier. So find a space and system that will allow you easy access to your belts so you can find that belt you're looking for when you're rummaging around in the morning and need to be out the door in ten minutes.
I hope these great ideas and tips help you keep your belts organized and easy to find! What's your favorite way to store and organize your belt collection? Let me know in the comments.