Minimalist design is a popular trend in interior and exterior design. It's about stripping away anything that isn't absolutely necessary, which means minimalist bathrooms are just as chic as a minimalist living room. But minimalism doesn't mean being without style! In this blog post, we will discuss how to create a minimalist bathroom with great style by using key elements like high-quality materials, clean lines, and creative storage solutions.
*This post may contain affiliate links, which means I may receive a small commission, at no cost to you, if you make a purchase through a link!*
Need more ideas? Check out How to Decorate a Laundry Room or 10 of the Best Ideas for Patio Design Anyone Can Do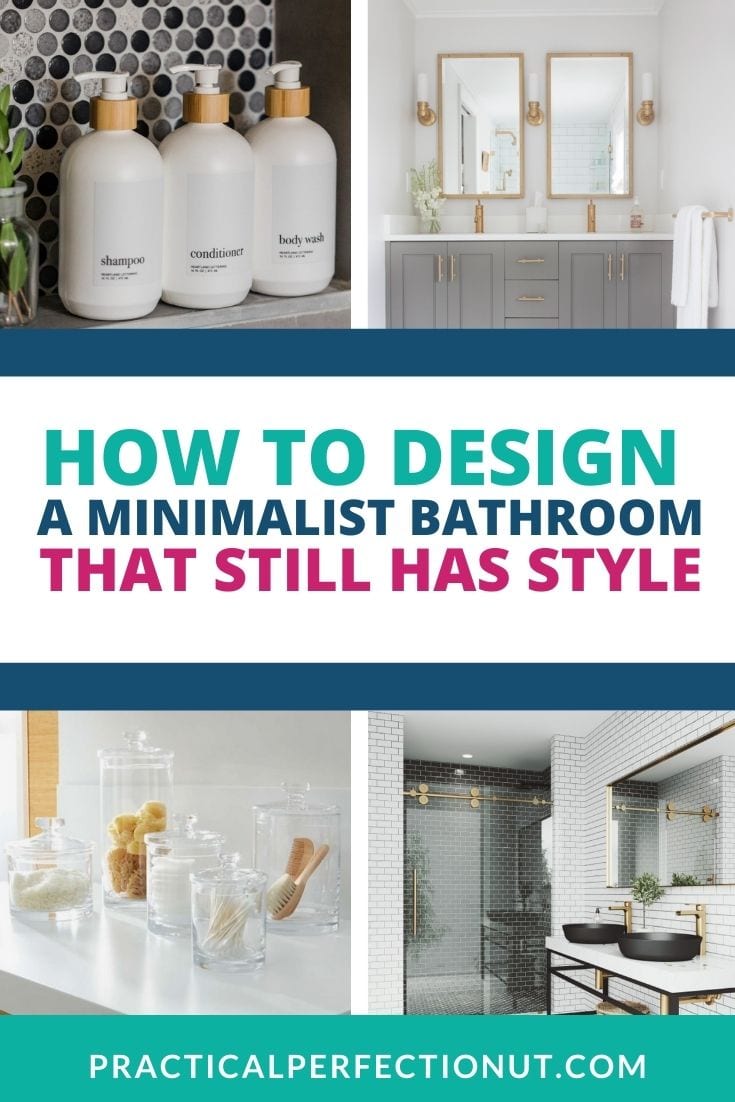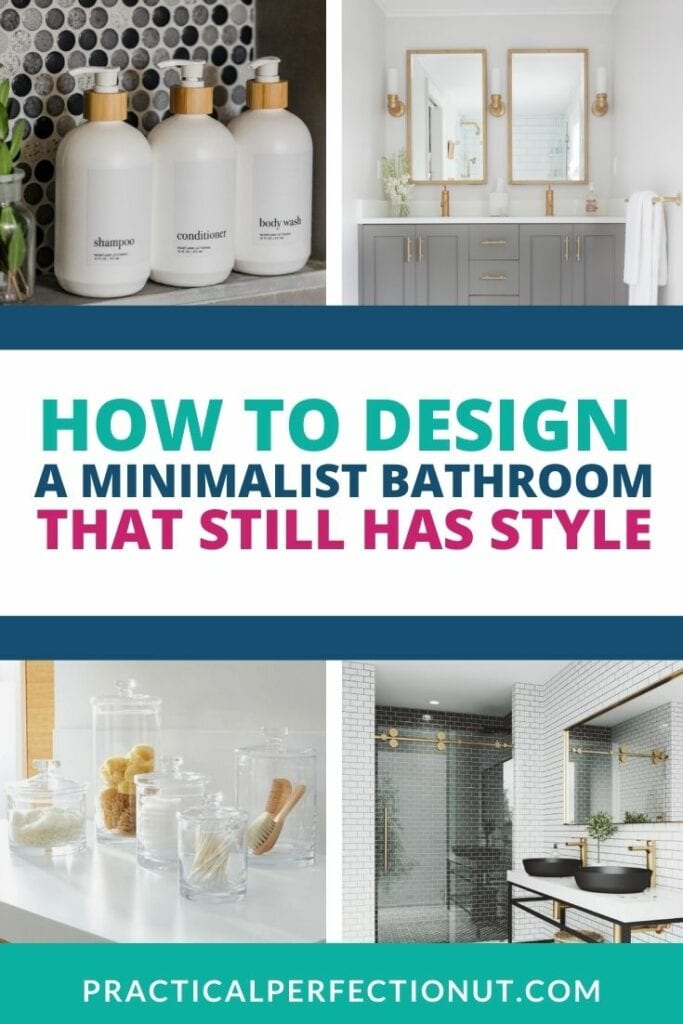 What is a minimalist bathroom?
A minimalist bathroom is a bathroom without any unnecessary extras, usually minimalist bathrooms are designed to have everything you need but nothing more. A minimalist and modern bathroom can often be confused but there are similar design concepts that are the same. Things such as clean lines and natural lighting are strong characteristics of both.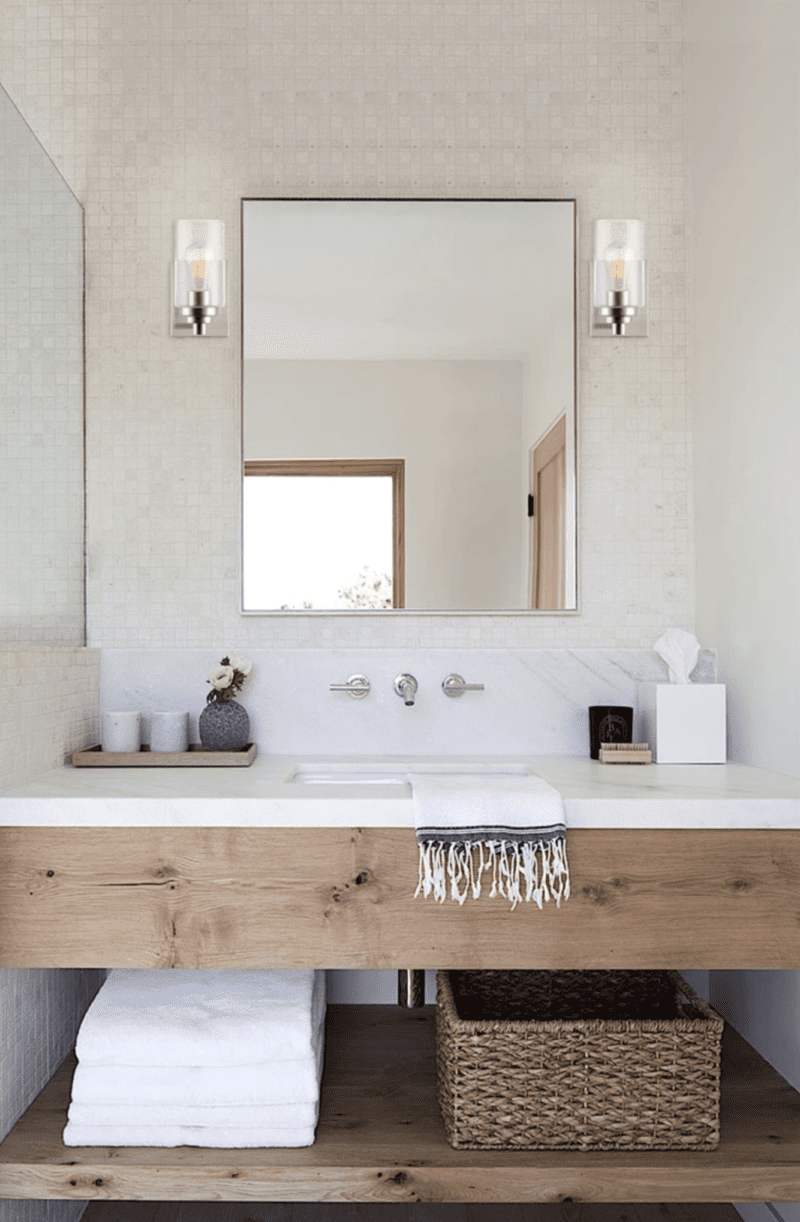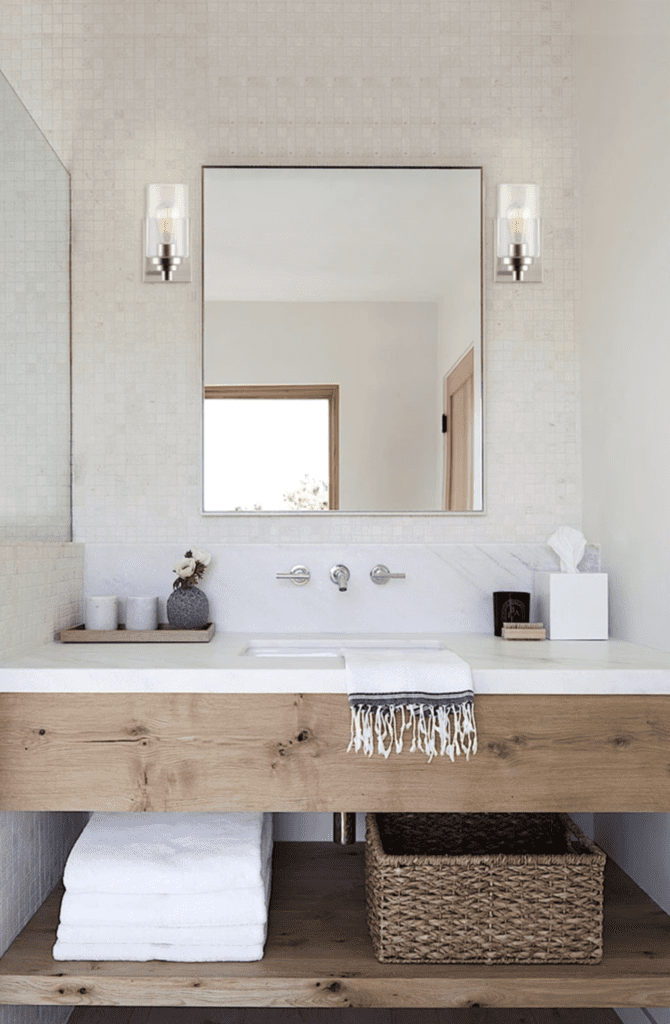 Minimalist Bathroom Ideas That Still Have Style
Oftentimes when people hear the word minimalist, they think of boring and drab. This is not the case! Minimalism in interior design emphasizes simplicity, but that doesn't mean it can't be a beautiful and stylish bathroom. A minimalist bathroom can still have a clean-lined look with creative bathroom storage solutions like baskets under sinks or freestanding shelves within reach of the toilet.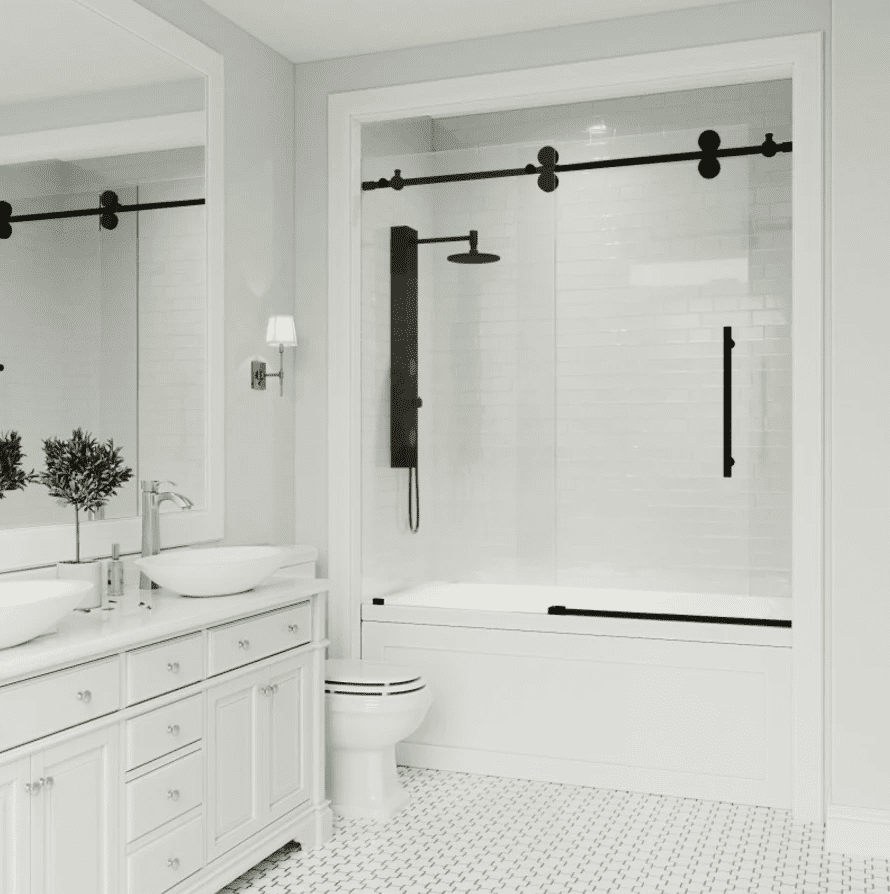 Minimalist means less
A minimalist bedroom has fewer things in it than other rooms do because you spend most of your time sleeping there so many unnecessary things just distract from its purpose as a place to sleep and recharge for another day of living life fully.
The same goes for bathrooms – they are designed to make getting ready easier rather than give you more options on what kind of toothpaste flavor you want to use for that day. It's all about choosing things that have a function and using them to beautify your minimalist space.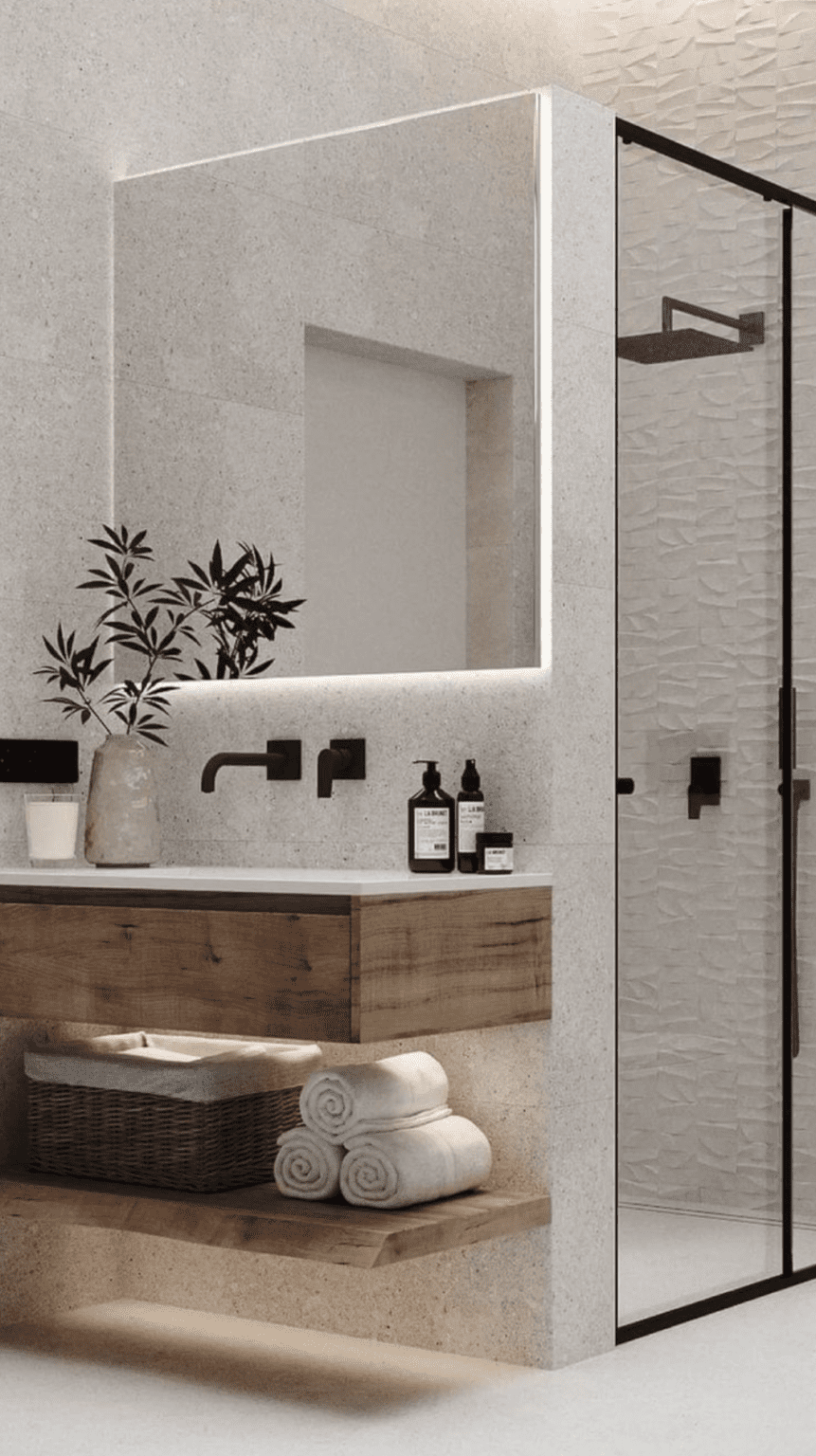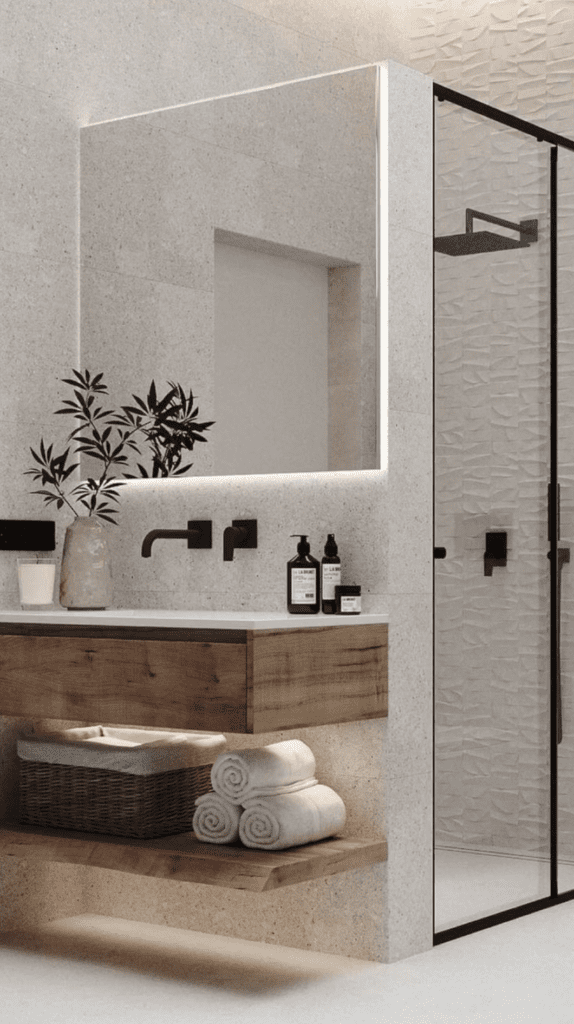 You don't have to buy everything new
If you're passionate about interior design, try incorporating some of those skills into designing your own minimalist bathroom layout before buying anything new.
When purchasing items for your minimalist bathroom make sure they go together aesthetically so everything blends nicely and neatly without looking too cluttered or messy but still maintaining that minimalist feel we mentioned.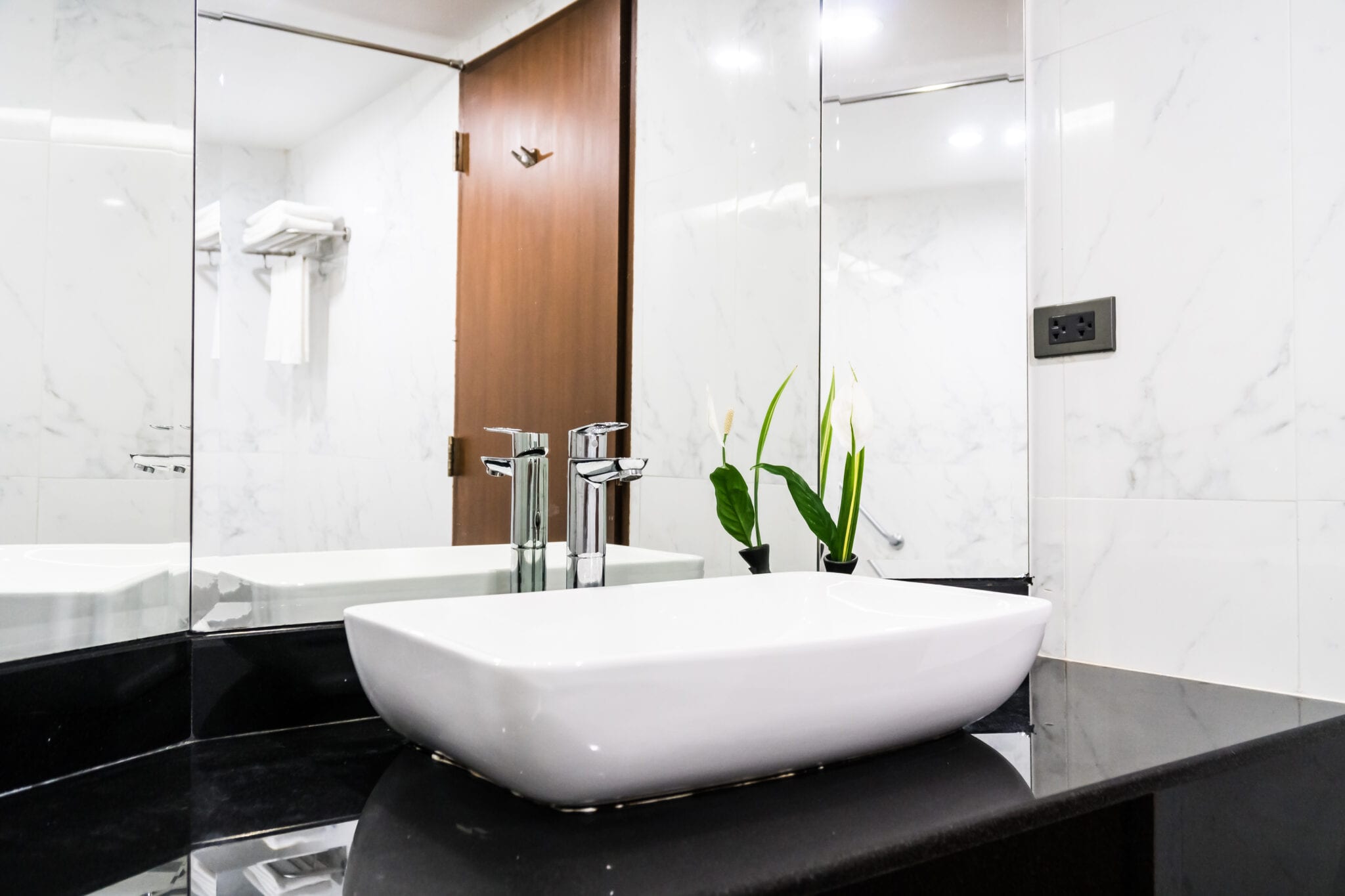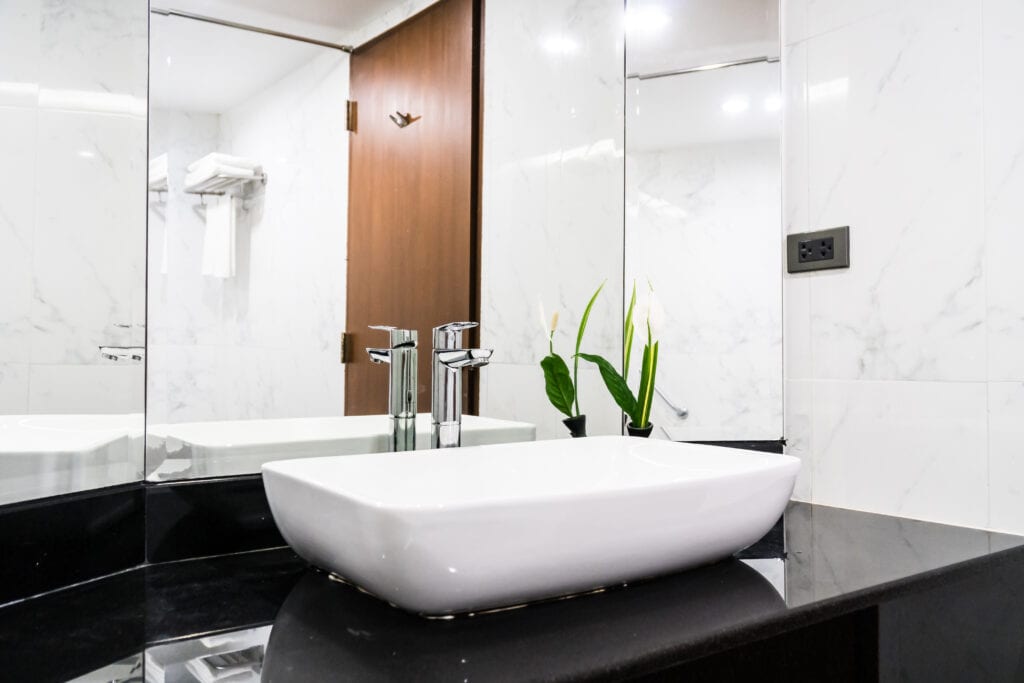 How do I create a minimal bathroom?
Creating a minimal bathroom can be quite simple. However, the hardest part might be avoiding buying too many things at the store because they are cute. Creating a bathroom design with minimalism in mind means that you are creating spaces that are beautiful and functional at the same time.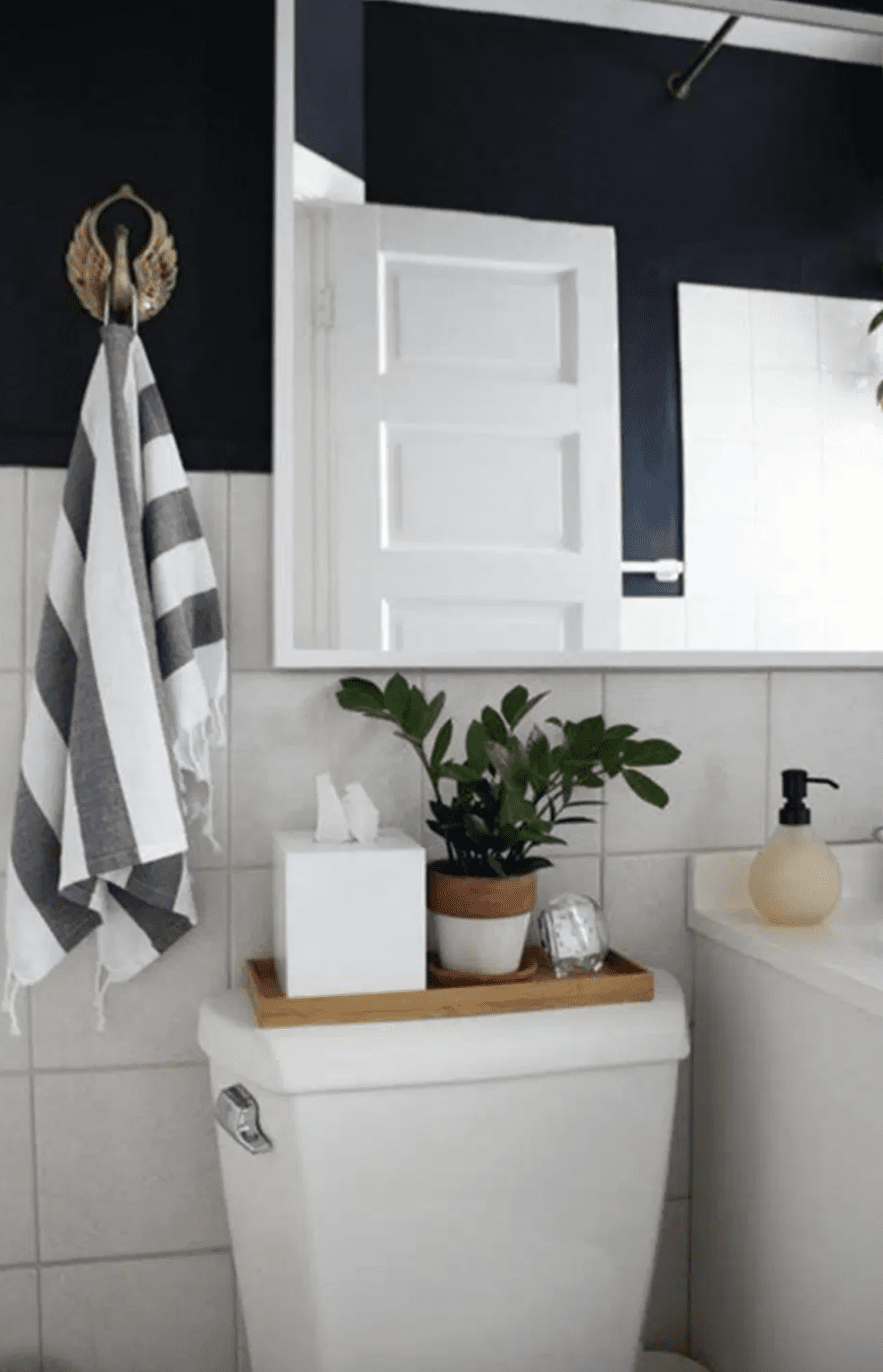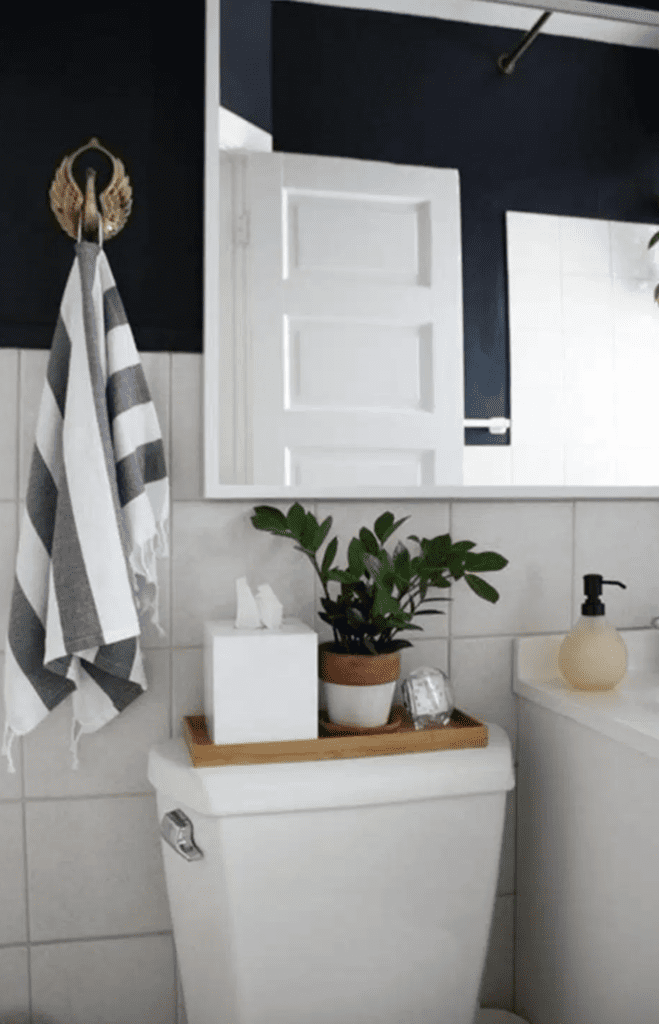 Declutter your bathroom before you start
Before you start decorating your minimalist bathroom you also need to remember that an important interior design tip is to have less clutter. The more clutter you have, the harder time you'll have to achieve a minimalist bathroom design. It's extremely important to declutter the space before you get started.
Simplifying your bathroom is an essential part of the process
Go through all of your products and all of your current bathroom decor and get rid of the things that are broken, no longer work, aren't useful anymore, or that you don't use. If you're having a difficult time letting go of certain items, think of someone who you know that would love them. Or even consider donating them! Create minimalist storage solutions by finding ways to put important things away while still leaving plenty of space open on all surfaces.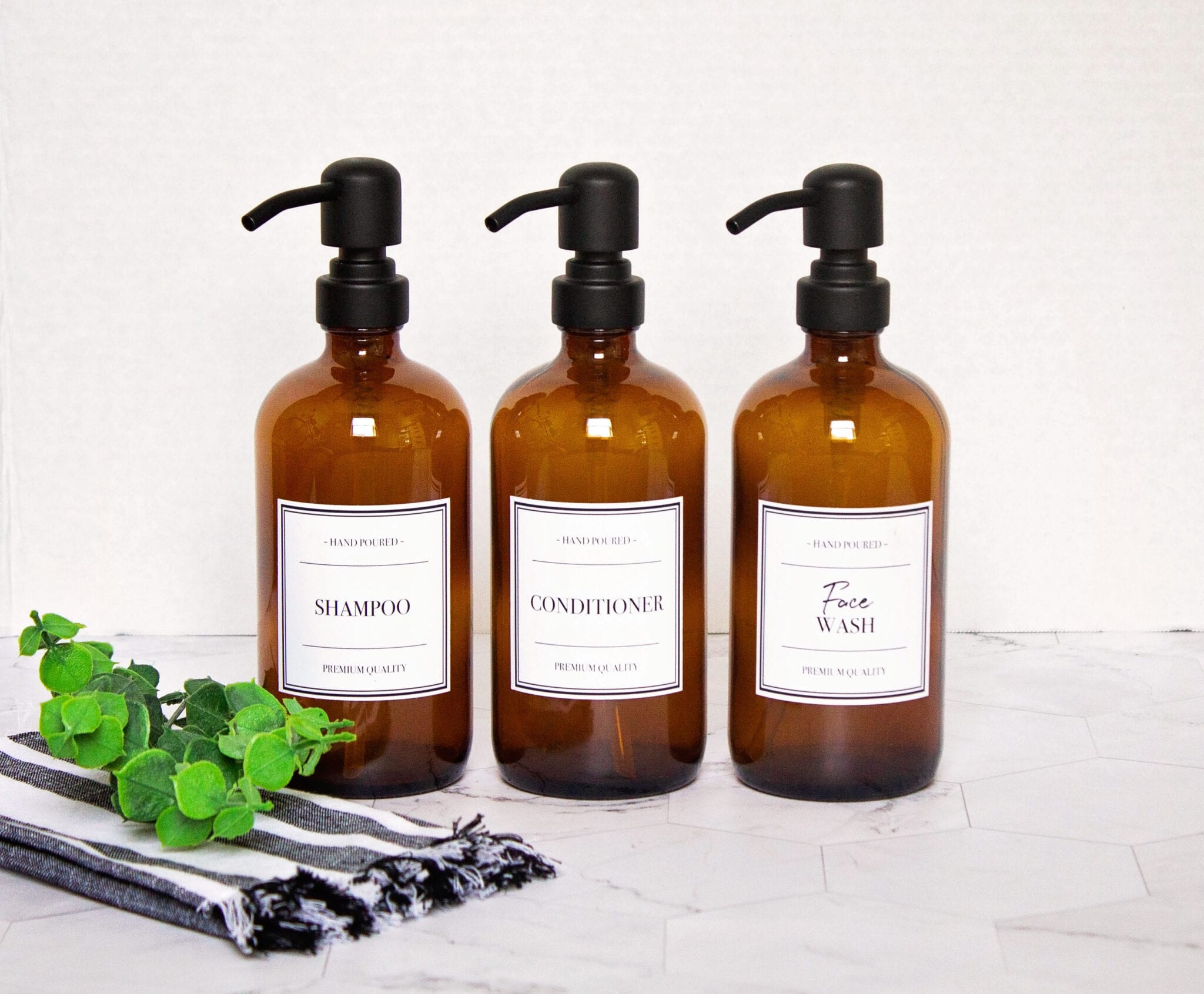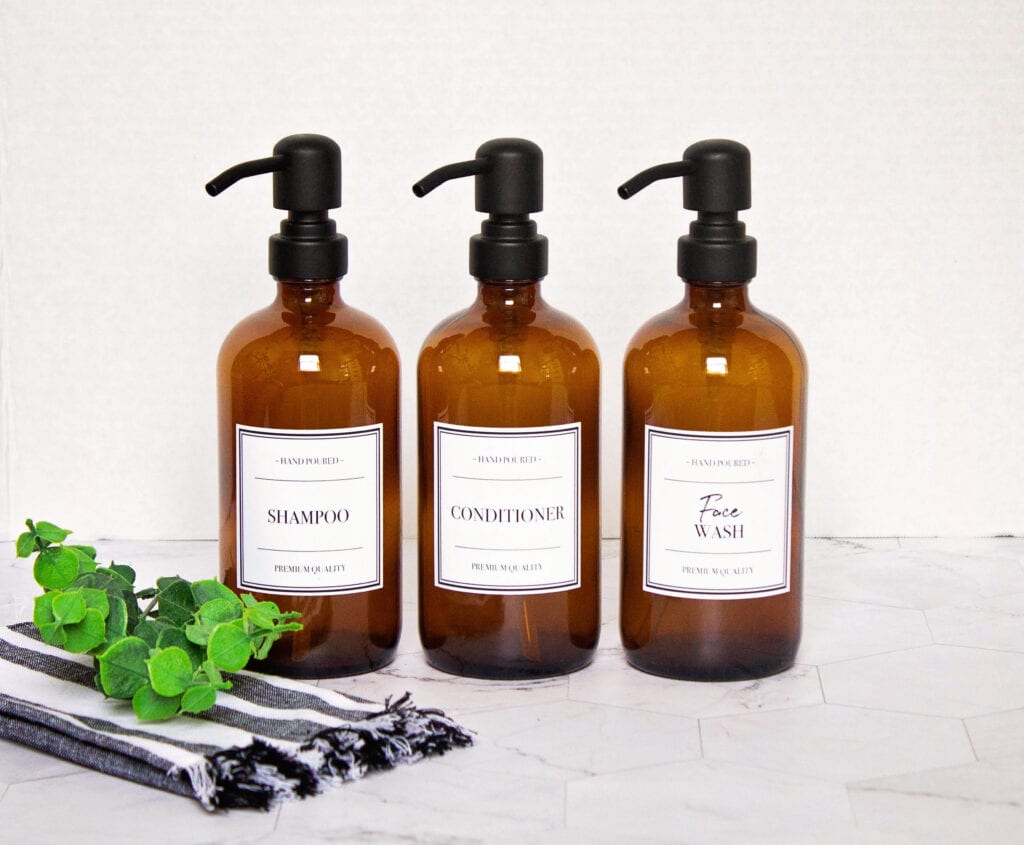 You can also buy bottles that are all the same style so that your bathroom looks beautiful and streamlined.
Shop Bathroom Labels and Containers:

Avoid clutter when putting things away in bathroom cupboards and drawers
You'll want to avoid clutter at all costs as this will only serve to make your minimalist home seem less luxurious than it is. After you declutter, it's important to create minimalist bathroom storage solutions that will help cover up the products that you decided to keep. For example, you can store your hair products in a magazine rack under the sink so that when you open the cupboard, you see a nice clean magazine rack, not a ton of hair products.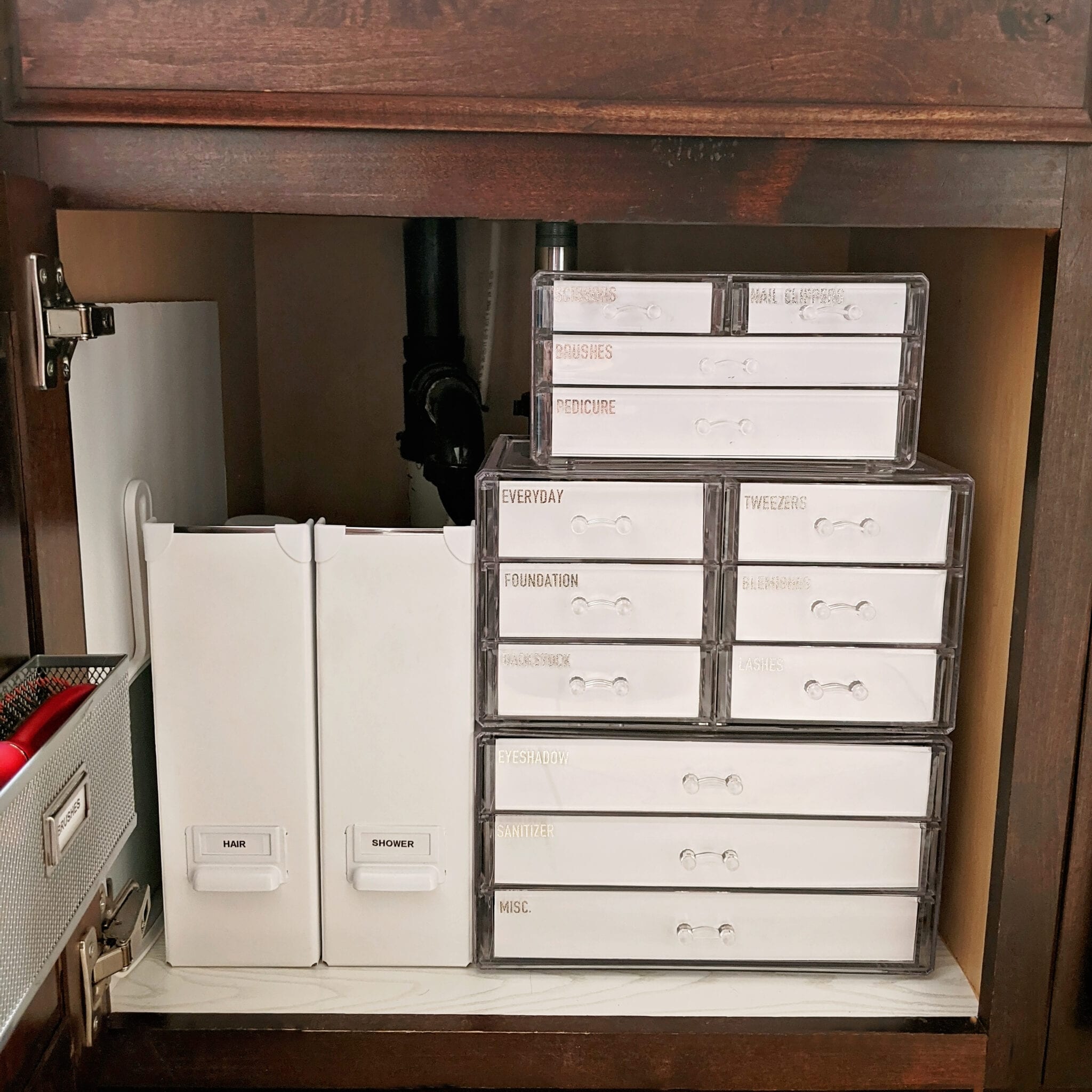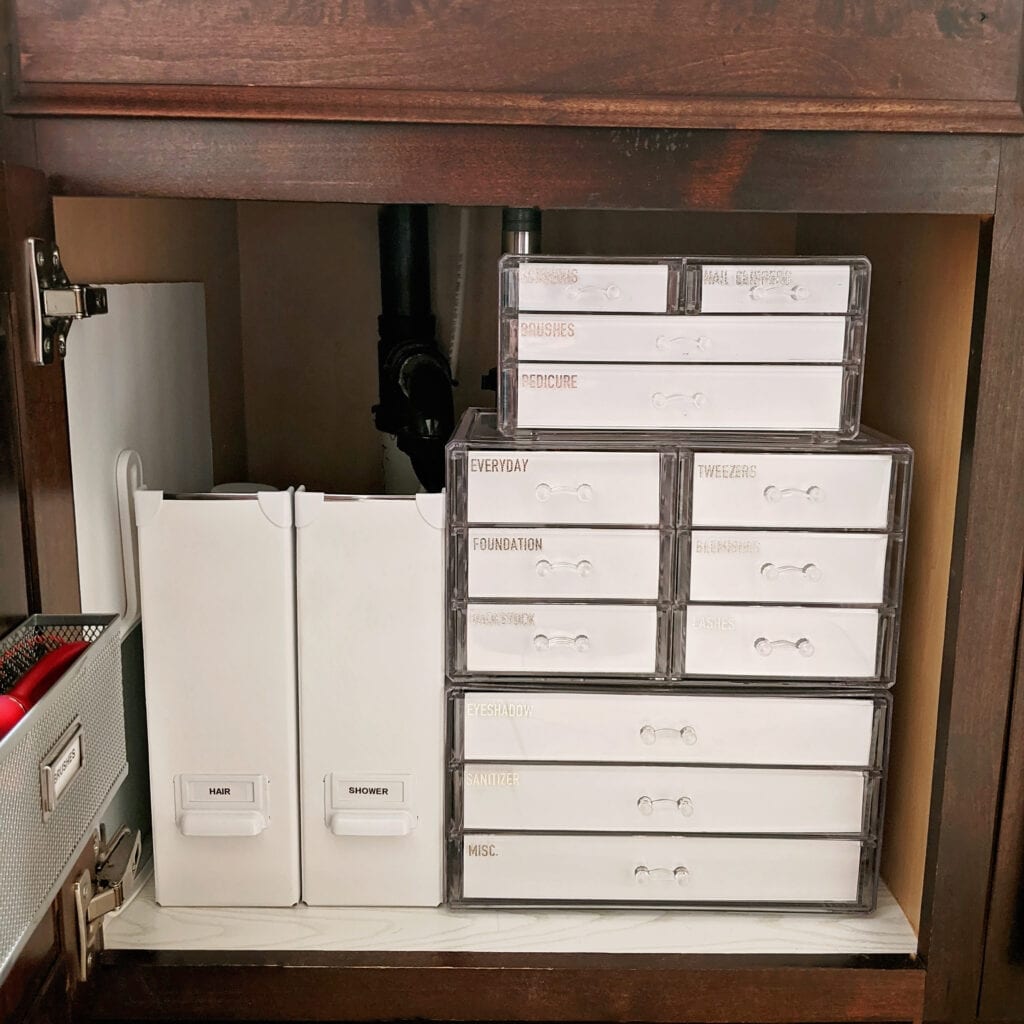 Make Storage a Part of the Decor
You can also create minimalist storage solutions with things that you already have around the house. For example, a bookcase could be used to store towels in your bathroom, or you could line up several of the same types of bin to improve the aesthetic of the bathroom. This helps to create clean lines that are pleasing to the eye.
Cover your Personal Products with Bins or Magazine Racks
Cover up personal products that you use to get ready wherever possible to help you achieve that minimalist bathroom look you are going for that is peaceful and pleasing to the eye. You can cover up some of your products by using medicine cabinets.
Interior Design Concepts for a Minimalist Bathroom
Here are a few interior design concepts that you can consider with these minimalist bathroom ideas.
Incorporate Simple Beautiful Lighting
Lighting can be an extremely simple way to add style to a minimalist bathroom. You can use lamps or candles to create different moods and add ambiance to the space.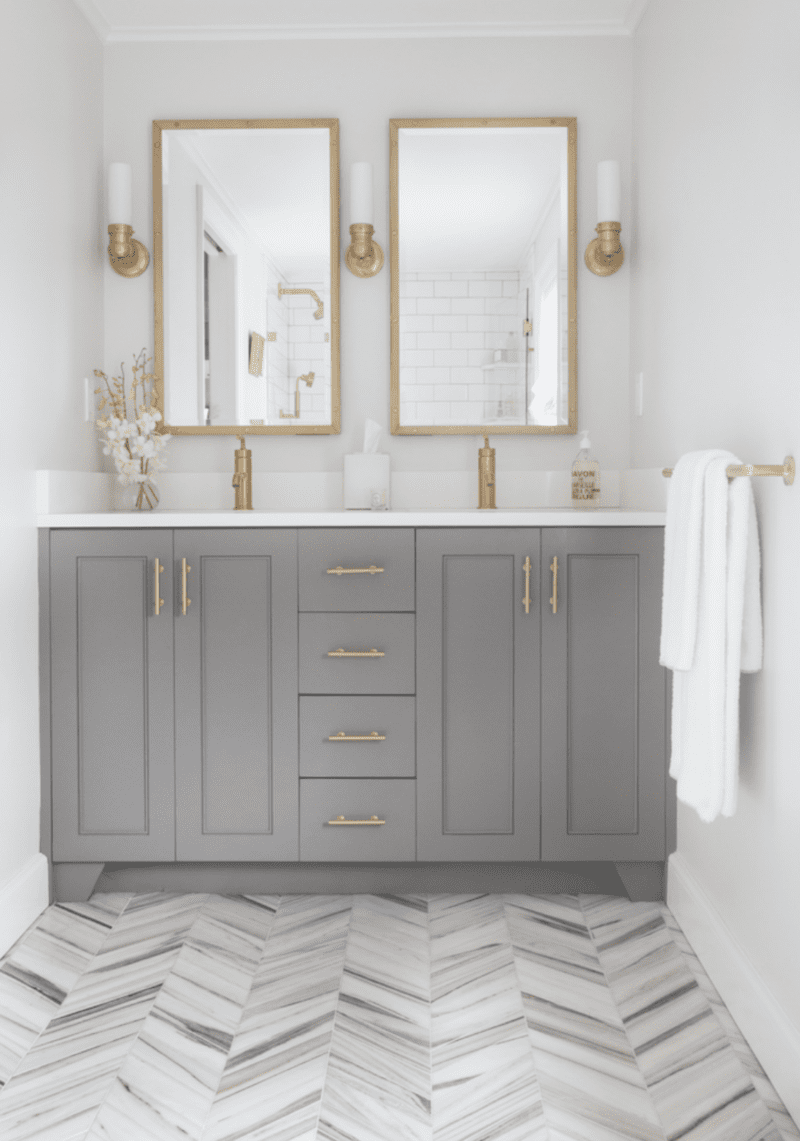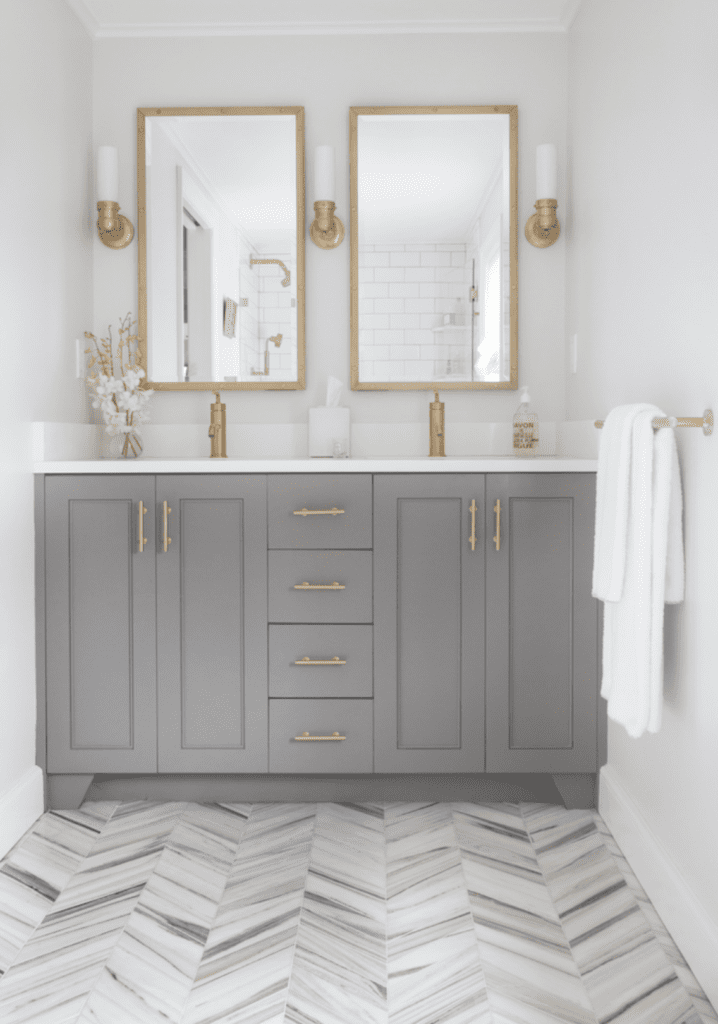 Installing a pendant light or two can really help to add some personality to your bathroom design. Finding inspiration from other minimalist bathrooms around the world can be helpful as well–you just have to find them!
A light fixture allows you to accomplish both form and function, meaning that it it gives you light, but can also beautify your design.
Shop Minimalist Bathroom Lighting:

Install beautiful flooring
Subway tiles are a popular option for a minimalist bathroom. They are stylish, yet they have the clean lines that make things feel calm and peaceful. You could also consider installing marble floors. Black hexagonal floor tiles are also a popular choice when designing a minimalist bathroom.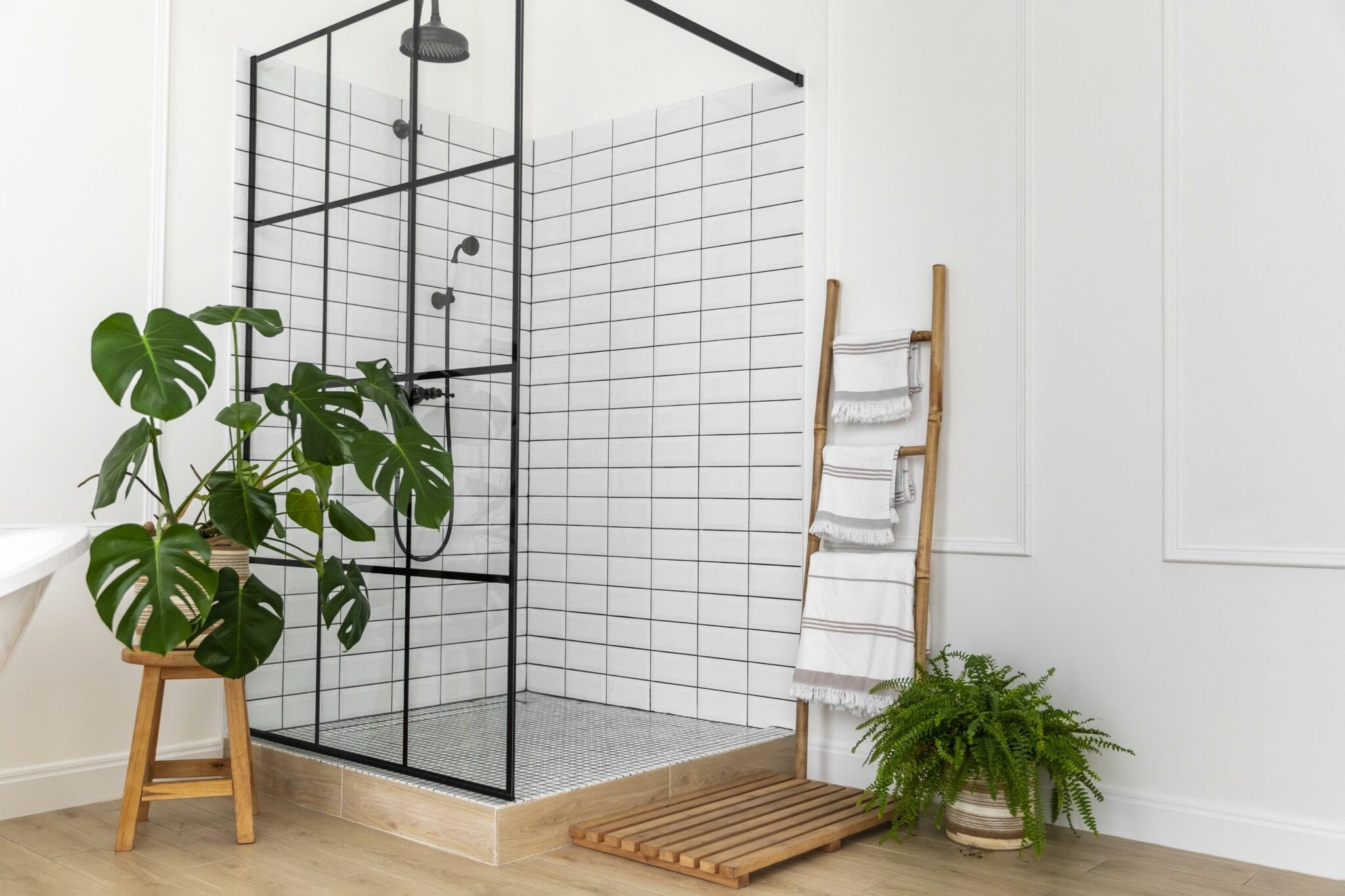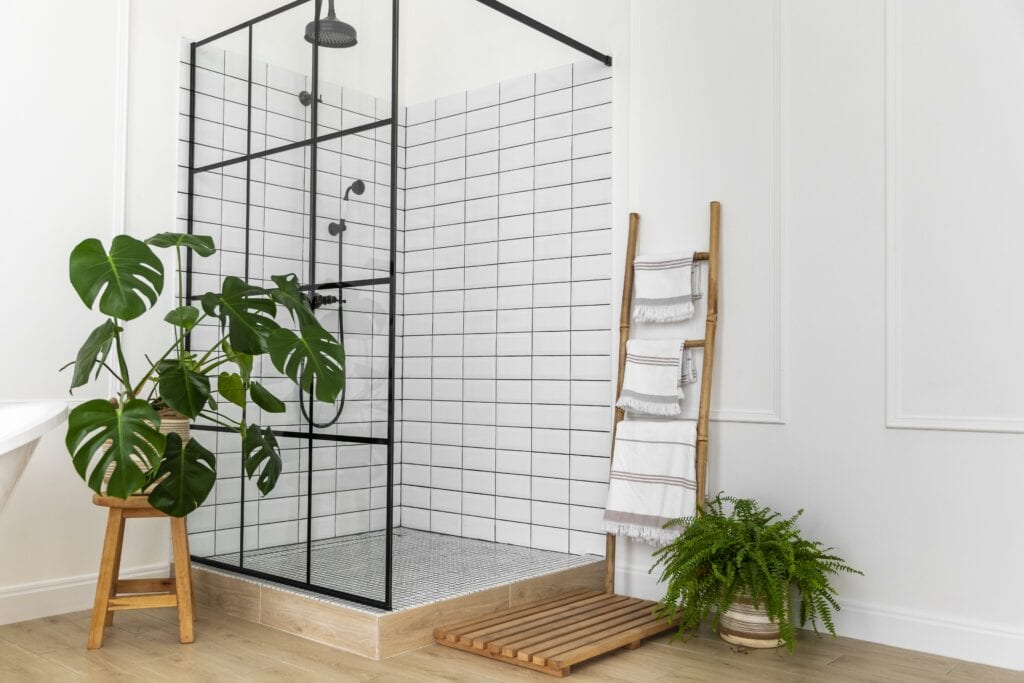 A wood floor has the ability to really warm up a room and make it feel cozy in the winter months. If you'd prefer tile in the bathroom make sure to choose floor tiles with nice clean lines. Wood brings natural elements inside and brings a peaceful feeling. Just take caution to not get the wood too wet or it will get ruined. Or you could even install tile that looks like wood!
Incorporate Wood into your Bathroom Design
When designing a minimalist bathroom, if you oversimplify, things can tend to feel cold. The minimalist approach is to combine a few great design elements with more neutral pieces. Using wood in part of your design will help to warm up the bathroom and make it feel more inviting.
Incorporate wood accents into the decor such as a wooden jar that holds the q-tips or a wooden tray to hold your bath salts. They bring a beautiful earthy tone to the bathroom and bring the outdoors, inside. This creates a calming, peaceful effect with a few simple natural elements.
Shop Wood Accents:

Add Wood to your Walls
You could also consider installing a wood panel wall to bring in the wood texture.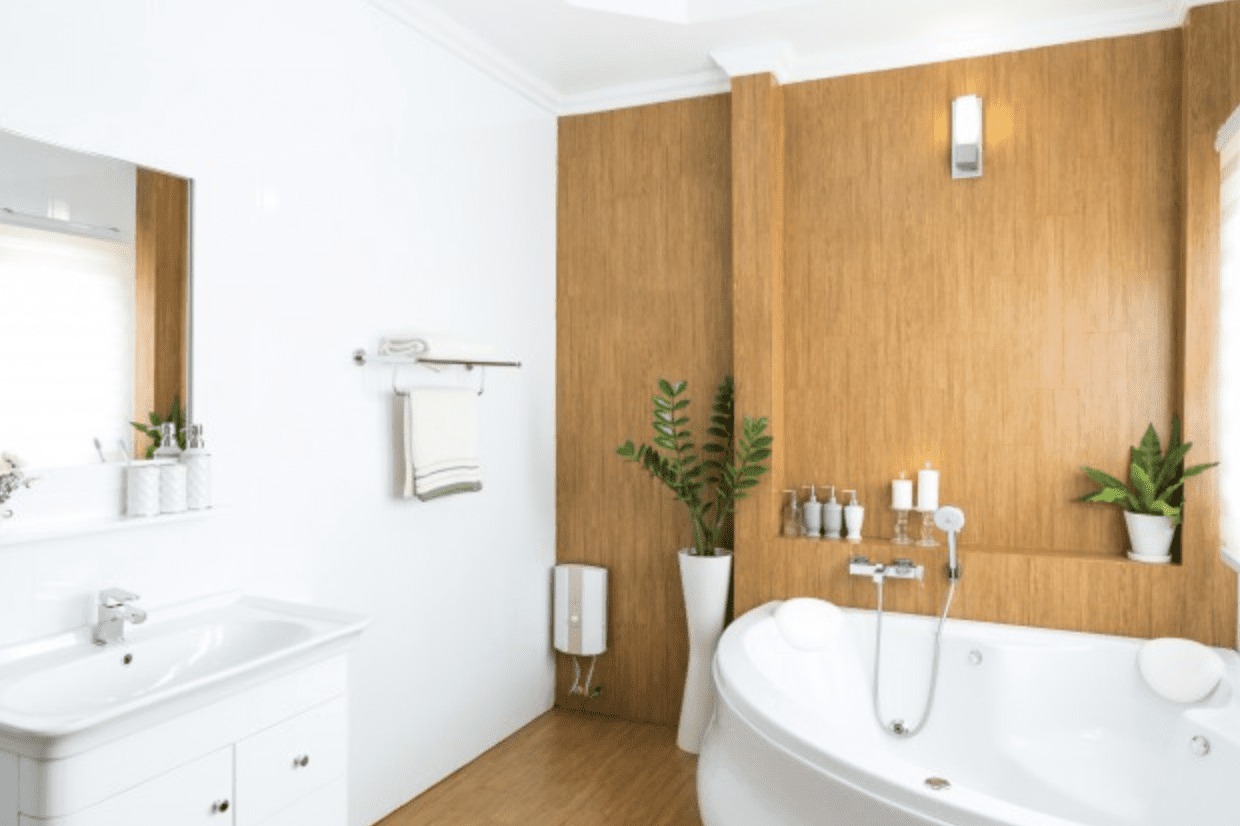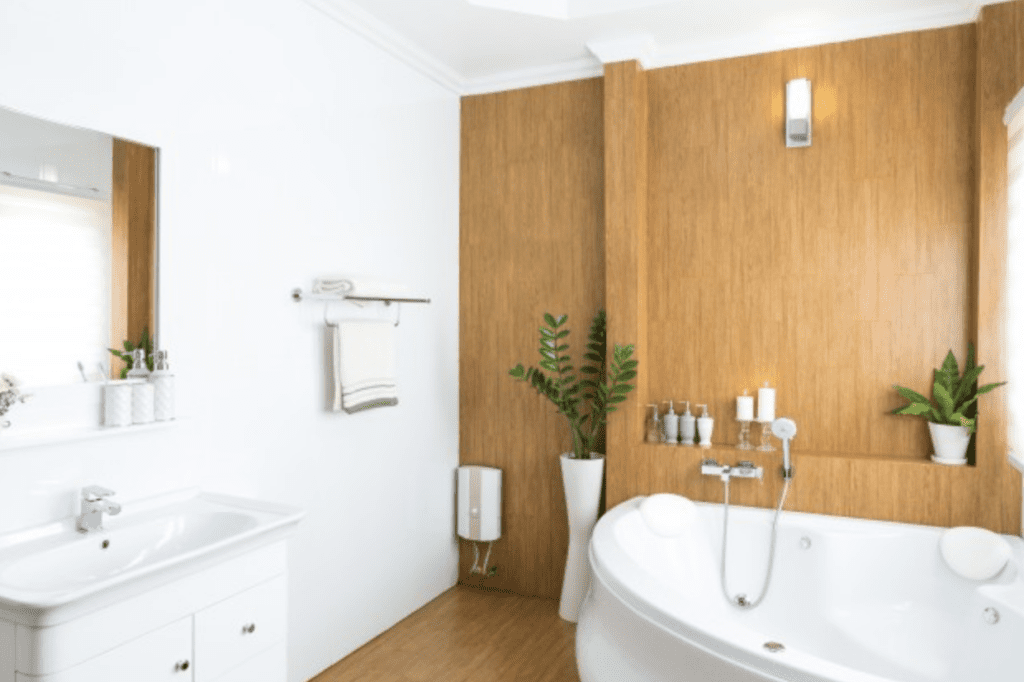 Use Color Sparingly when designing a Minimalist bathroom
A quick way to keep it minimal is by sticking with one color scheme throughout the entire room–this can give a sense of order which helps make things feel neat and tidy. Plus, it's easier to stick to a simple color palette!
You may not realize it, but different colors can affect the interior design space that you are designing. In a minimalist bathroom, it is recommended that you limit the amount of color to only one or two which will prevent your room from feeling too busy and overwhelming.
Different Colors Evoke Different Emotions
Interior design teaches us that bright colors can make you feel happy while muted colors can make you feel relaxed and calm. Minimalist bathrooms typically have more neutral colors such as black, white, or gray. Wood accents are also a common addition.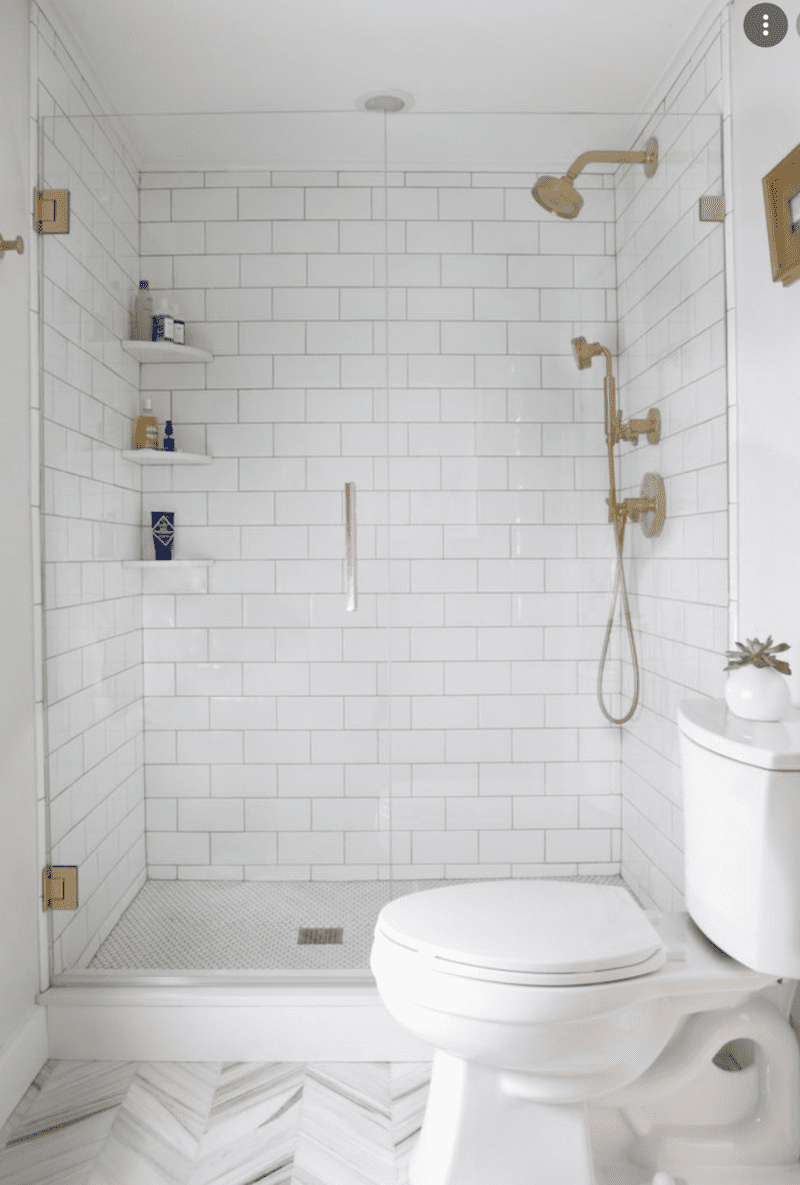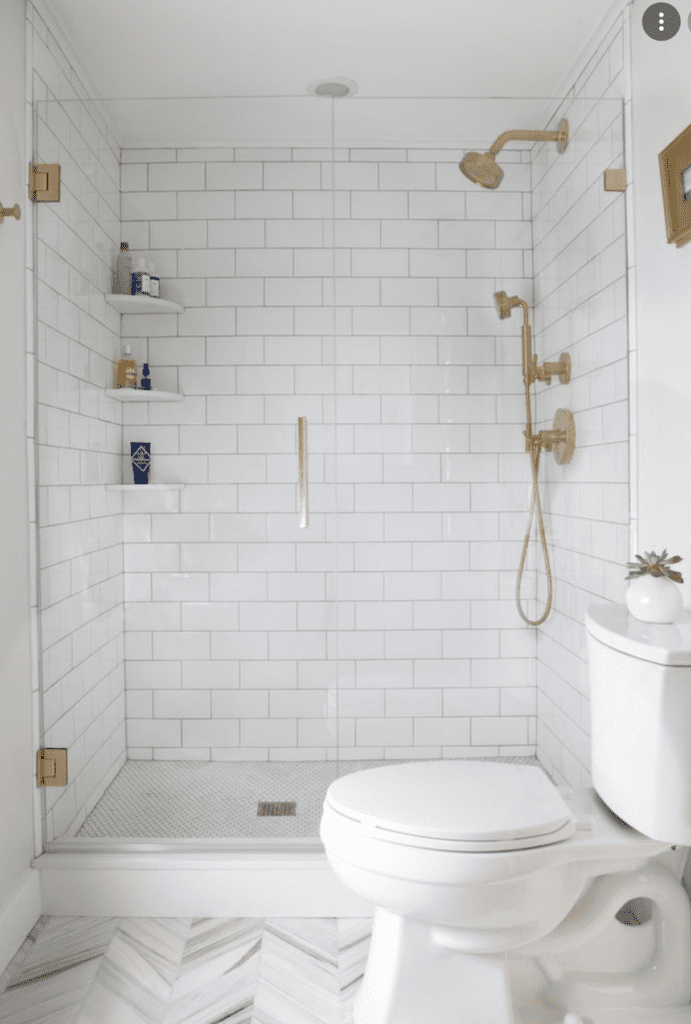 A minimalist bathroom is a refreshing change of pace for anyone who doesn't want to have their minimal space cluttered but still wants it to be aesthetically pleasing. One key element that helps keep minimalist bathrooms feeling clean, fresh, and peaceful are the use of minimalist fixtures such as bright white sink basins paired with a crisp white bathtub in order to create clean patterns that are visually appealing. This creates an environment where one feels refreshed after using the restroom or taking a shower because they notice what's been done with the room has taken into account both function and style without going too far overboard on either end of those two ideas.
Choose Simple Cabintets and Counters
When deciding on what cabinets and counters you should use for your minimalist bathroom, choose cabinetry that has straight lines without a lot of bevels. You could even choose cabinetry that has glass panels in the front! Just make sure that your bathroom products that you use to get ready with are organized behind the glass, or it will defeat the purpose. You can bring natural elements into your bathroom as well by installing wood cabinets.
Installing a floating sink will bring a simple modern design to your bathroom that will also add interest to your interior design.
Incorporate Functionality in Your Bathroom Design
It's easy enough to use what we already have around us to create minimalist storage for hair products, towels, toiletries – but make sure that there is also functionality incorporated into your design plan so products can be easily accessed and stored away without any unnecessary effort.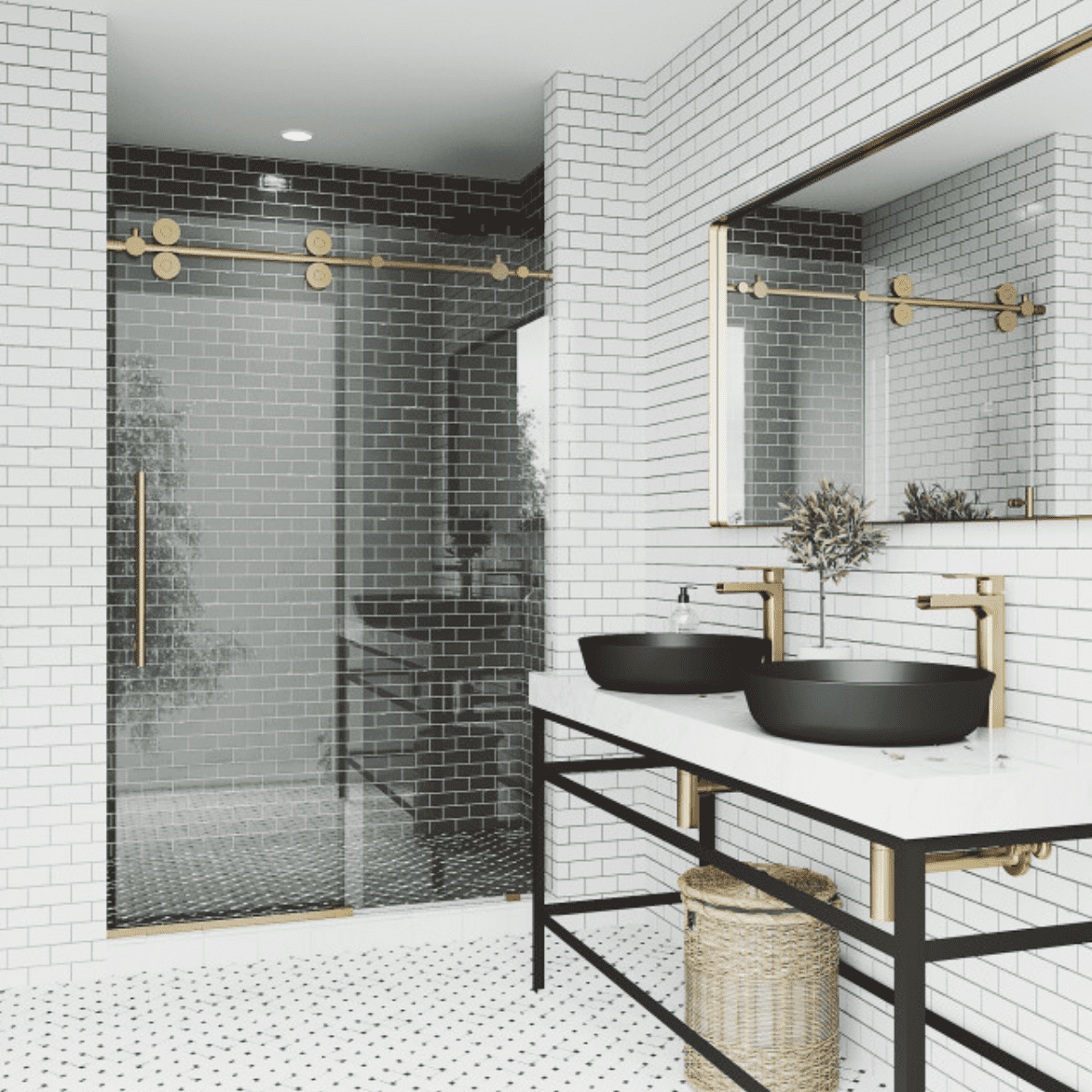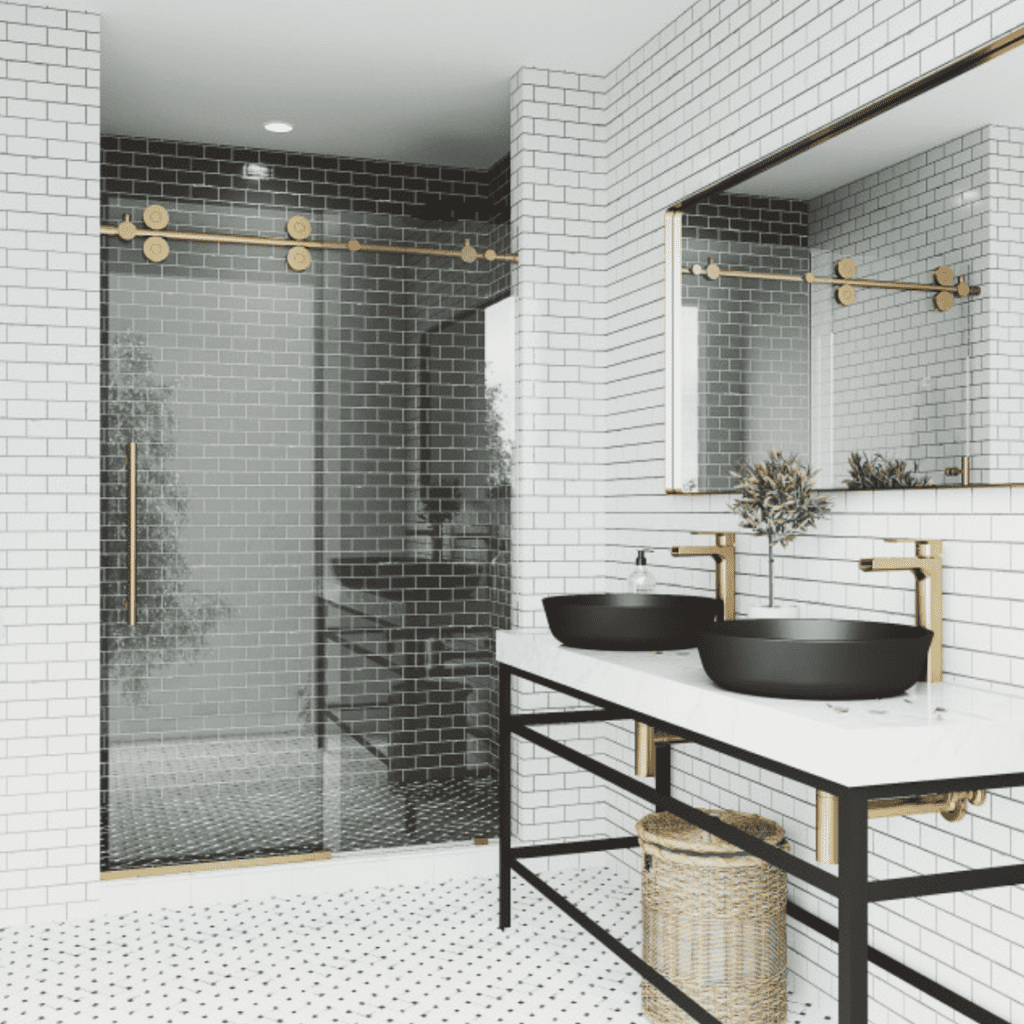 How do you decorate minimalist bathrooms?
I've seen a lot of really minimalist bathrooms that use all wood and either marble or glass for their vanity top. This creates a beautiful, earthy look in the bathroom without being too cluttered. It's important to remember that minimalist doesn't mean without style! You can still have a great design with less clutter and by using natural materials like wood accents or stones as opposed to plastics or overly elaborate elements.
Stick with one type of metal
You can also elevate your bathroom design by choosing one type of metal and sticking to it. Metals such as copper, brass and stainless steel have a cool vibe that can be mixed with glass or stone for an interesting minimalist look.
Metal is versatile because it's both modern but not too harsh on the eyes which makes it great for a minimalist bathroom that want to feel airy in nature.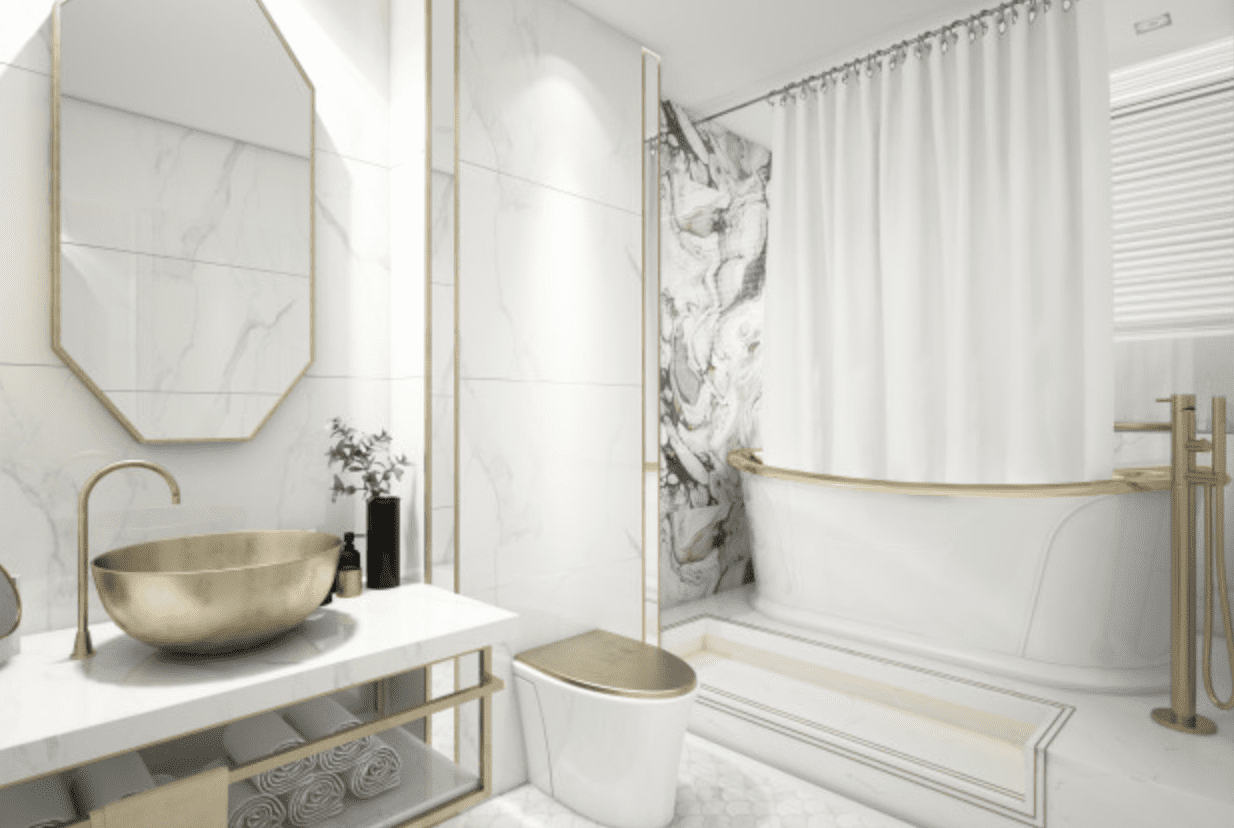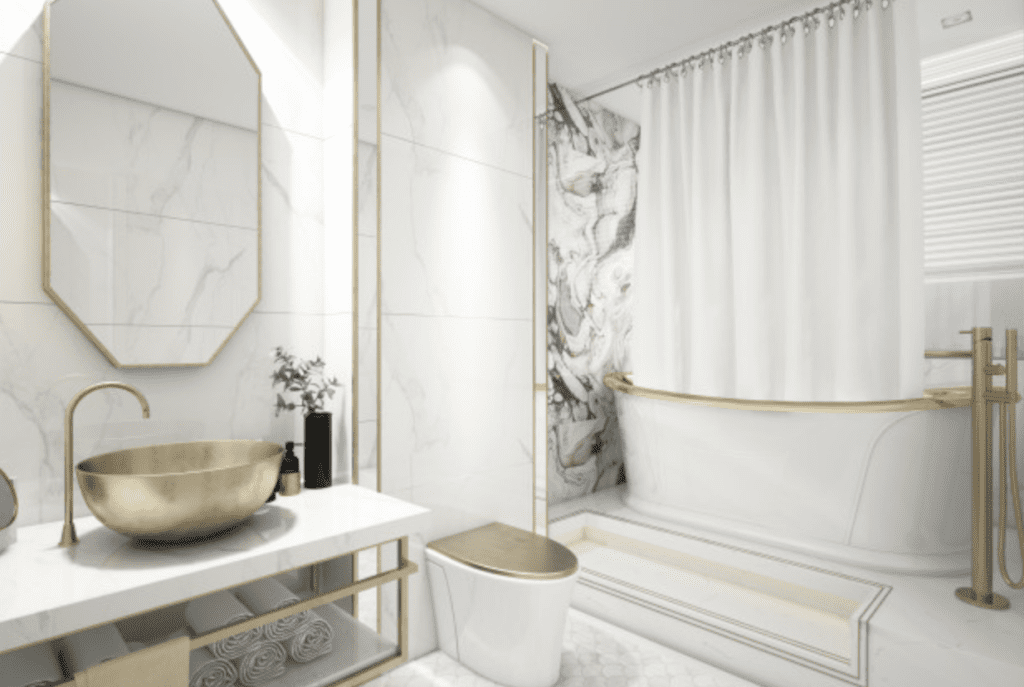 There are many different ways you can go about designing a minimalist bathroom without feeling like there isn't any style: try going back to basics using only what you need; mix metals together so they don't clash while still being cohesive. The possibilities truly are endless when decorating a bathroom minimalist!
What can I use to decorate my bathroom?
You can find a million bathroom ideas on Pinterest, but it's a bit more difficult to find minimalist bathroom ideas because it's not as common. But designing a minimalist bathroom can be quite easy. You just need to be thoughtful about the things that you use and make sure that they also have a purpose.
Here are some bathroom ideas to decorate your minimalist bathroom:
Glass Jars
Using glass jars as a part of your minimalist bathroom will accomplish the task of form and function. You can use glass jars to store things like flossers, q-tips and other bathroom supplies.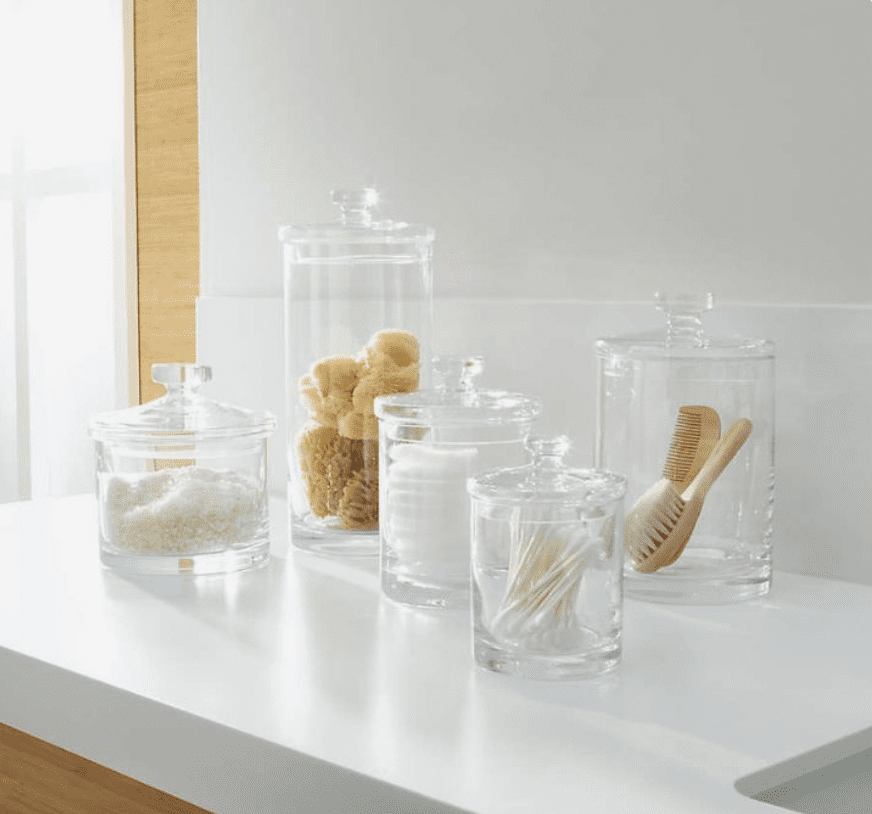 Shop Glass Bathroom Storage Jars:

Simple Baskets
Incorporating simple bins or baskets into your bathroom will not only help hide your bathroom products that you use to get ready with, but they will help to unifiy a minimal space…especially if you have multiple bins or baskets that are the exact same.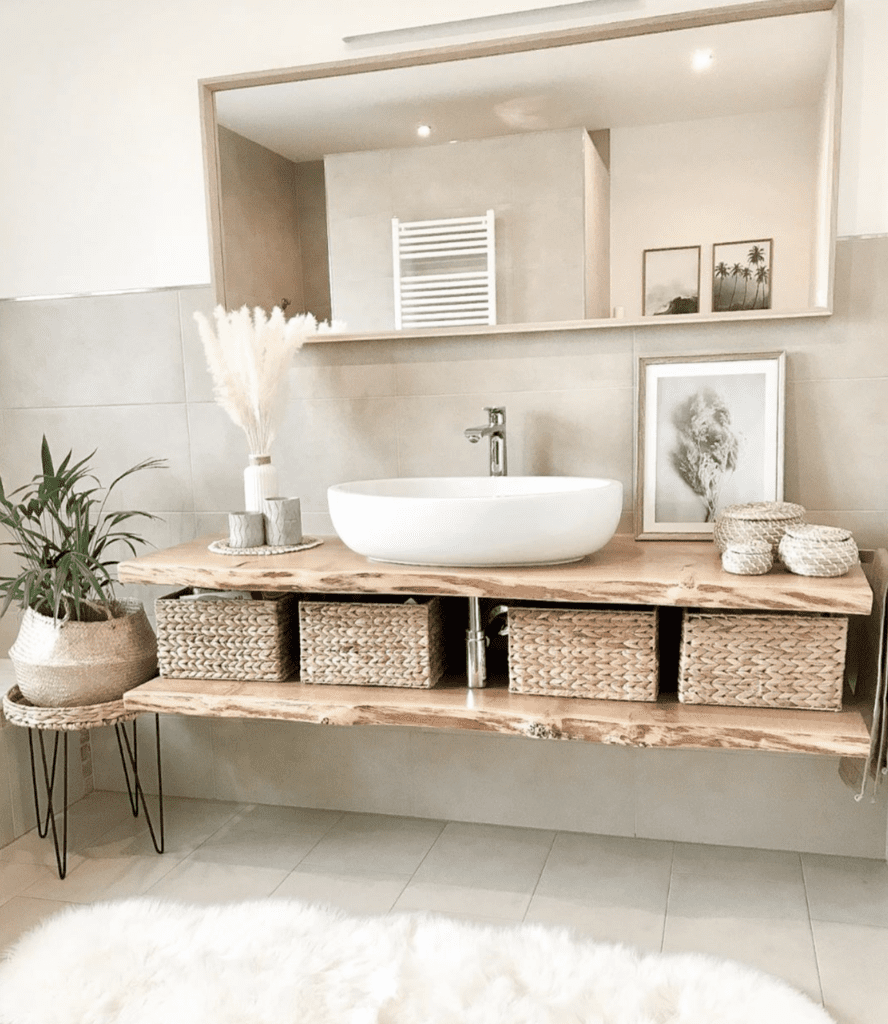 Shop Minimalist Storage Baskets:

Unique mirrors
Another way is by using an elegant vanity mirror with minimal detail on it for your walls. This will also help achieve that minimalist look you are trying for in your room without feeling cold and uninviting.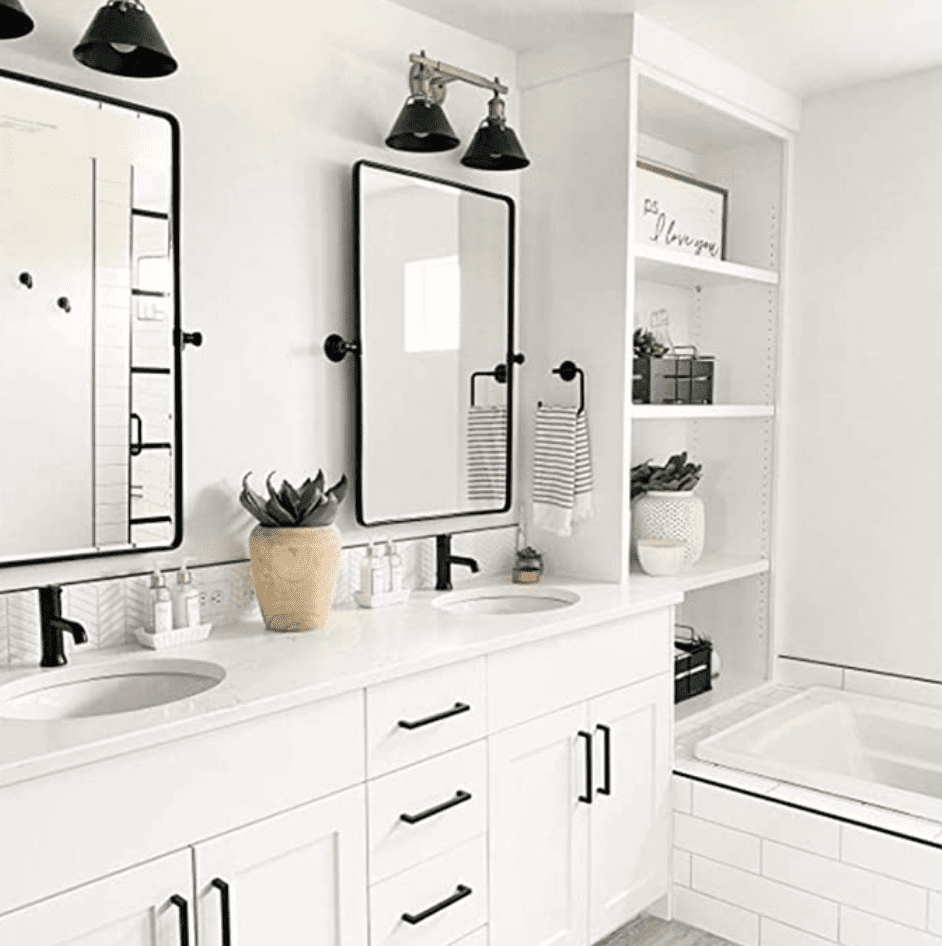 You can choose a beautiful mirror that has metal edging that will give a simple but elegant look to your minimalist bathroom walls.
Shop Simple Bathroom Mirrors:

Choose a Simple Shower Curtain
If your minimalist bathroom has a wildly colorful shower curtain, you aren't staying true to the minimalist design. Choose a curtain with neutral colors and a very basic design. You could even consider using a white curtain!
Shower Design
If it's in your budget, consider ditching the curtain for a higher end shower design. Creating a luxurious shower can really elevate the feeling of your bathroom. Installing a shower with a glass panel can elevate the feeling of your bathroom, too! It's a much higher-end option than a curtain if that's a possibility. You can also add shower seating! Shower design is an important part of a minimalist bathroom design. There are many small changes that you can implement with your minimalist bathroom designs.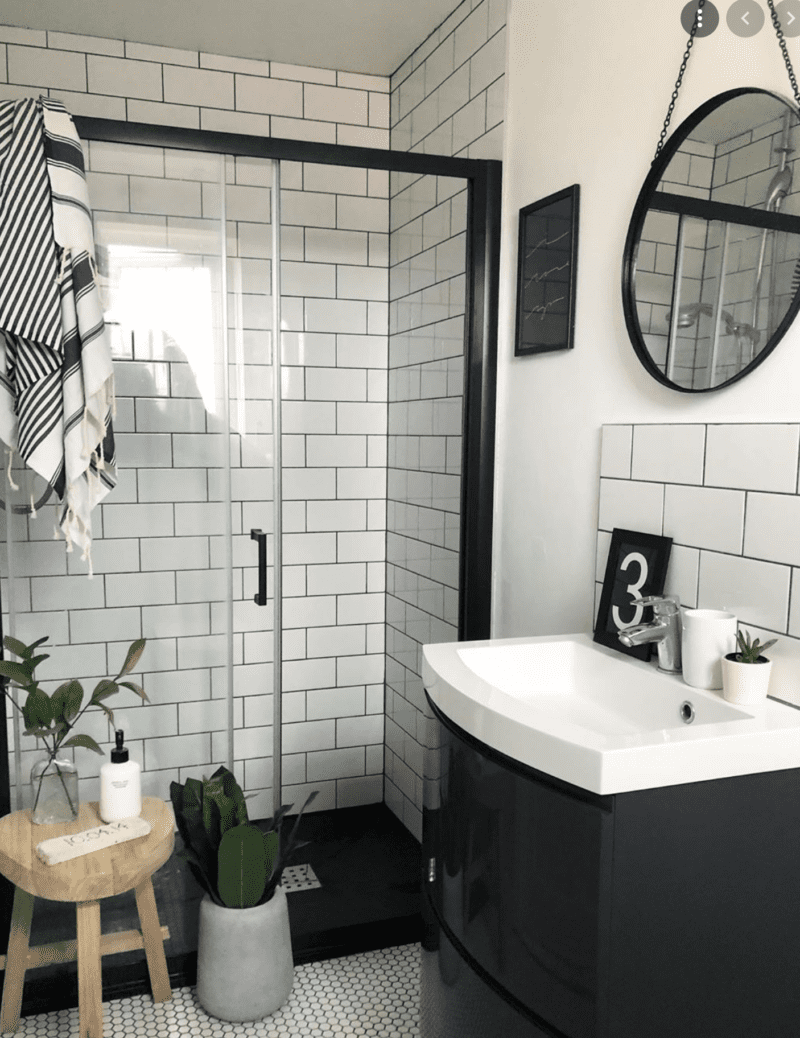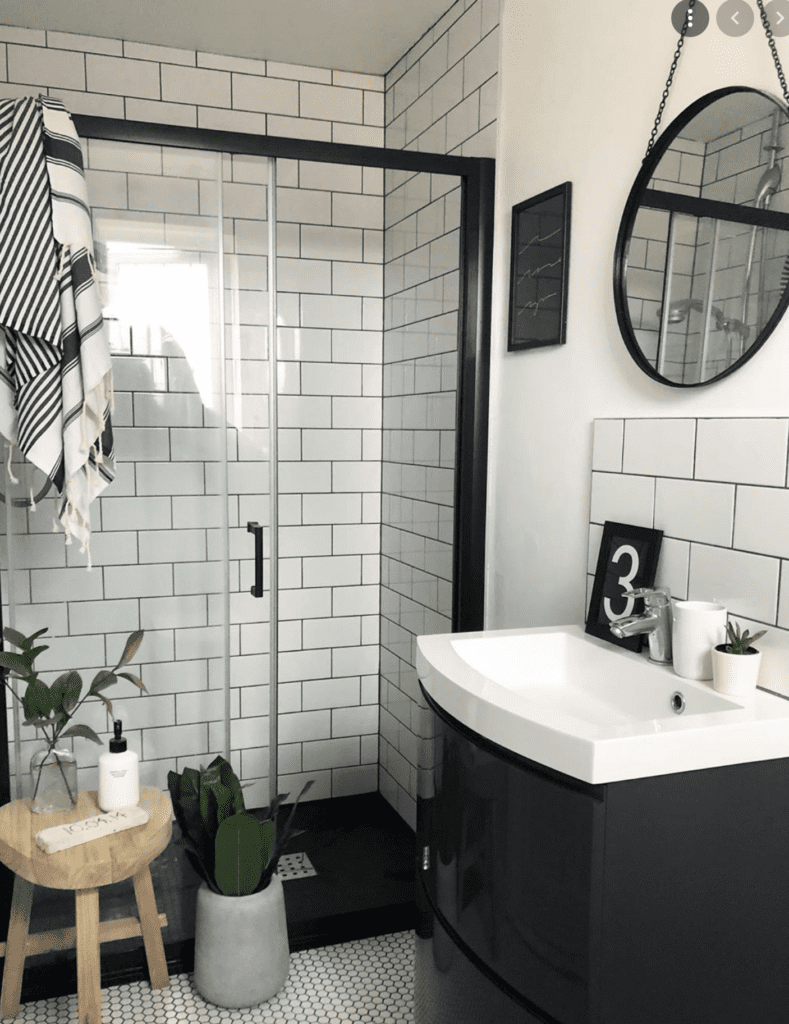 Keep the Bathroom Wall Decor Minimal
Again, choose decor elements for your bathroom that are neutral colors. You could use metal frames on your walls with a big white mat to help streamline the design. Printing black and white family or kid photos on your walls would be a great way to make your walls simple yet personalized. Create an accent wall that guests can enjoy looking at when they are using your bathroom. An accent wall can be the focal point of your bathroom. Just take care not to over-clutter your walls with unnecessary decor.
Simple plants that are out of the way
Plants and flowers really help to make a minimalist bathroom not feel cold and sterile. Choose greenery that is simple and easy to care for. You could also consider putting some plants on some simple floating shelve behind the toilet.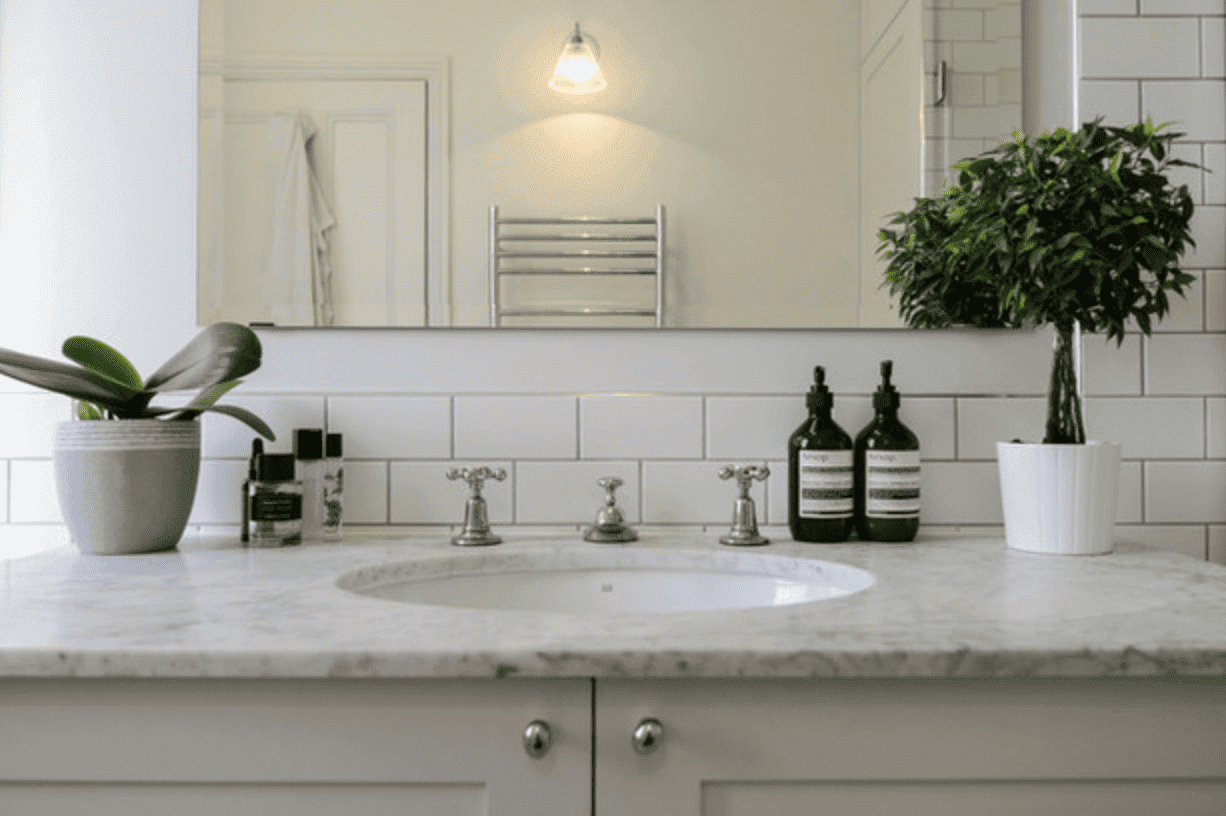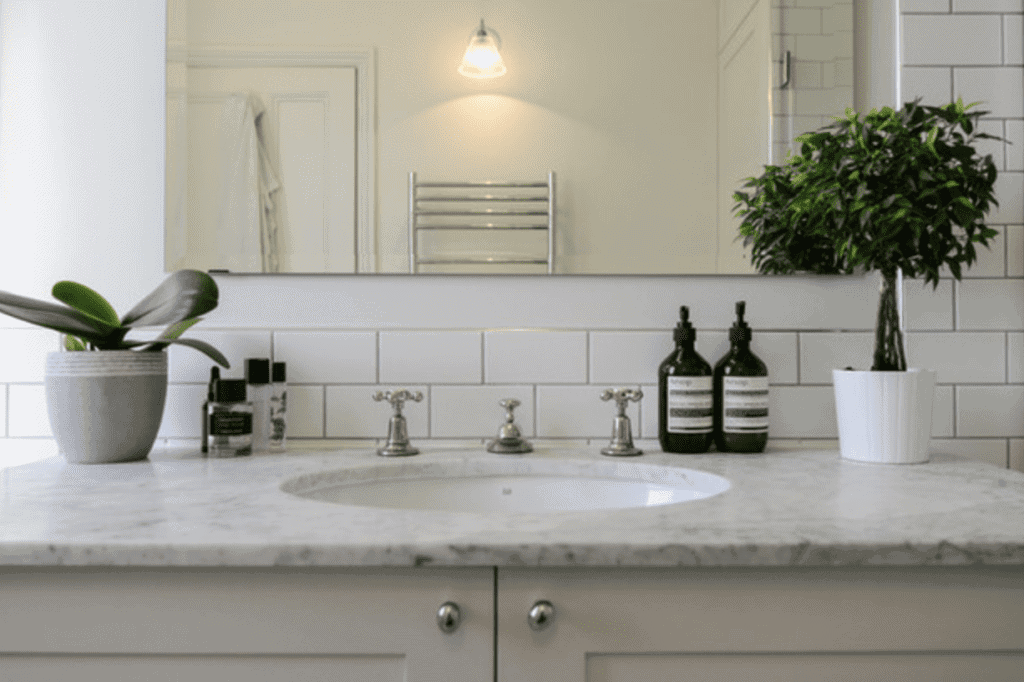 Install a Towel Rack
Using a towel rack will help to keep your towels looking clean, nice and off the floor. If you normally just throw your towels onto the rack, watch a tutorial on how to fold them nicely to elevate your bathroom look.
How can I make my small bathroom look luxurious yet simple?
Use Metal throughout Your Bathroom Design
My favorite interior design ideas is to incorporate metal into your minimalist bathroom can really help it feel extra luxurious. Choose a single type fo metal and stick to it. You can incorporate that metal into the faucets, shower, mirror trim, wall frames, glass jar lids and more!
Keep your bathroom clean
Eventhough you are really busy, it's extremely important to make sure to keep your bathroom clean if you are trying to achieve a luxurious feeling. Walking into a dirty bathroom never made anyone feel pampered. Make sure your bathroom walls are wiped down, too.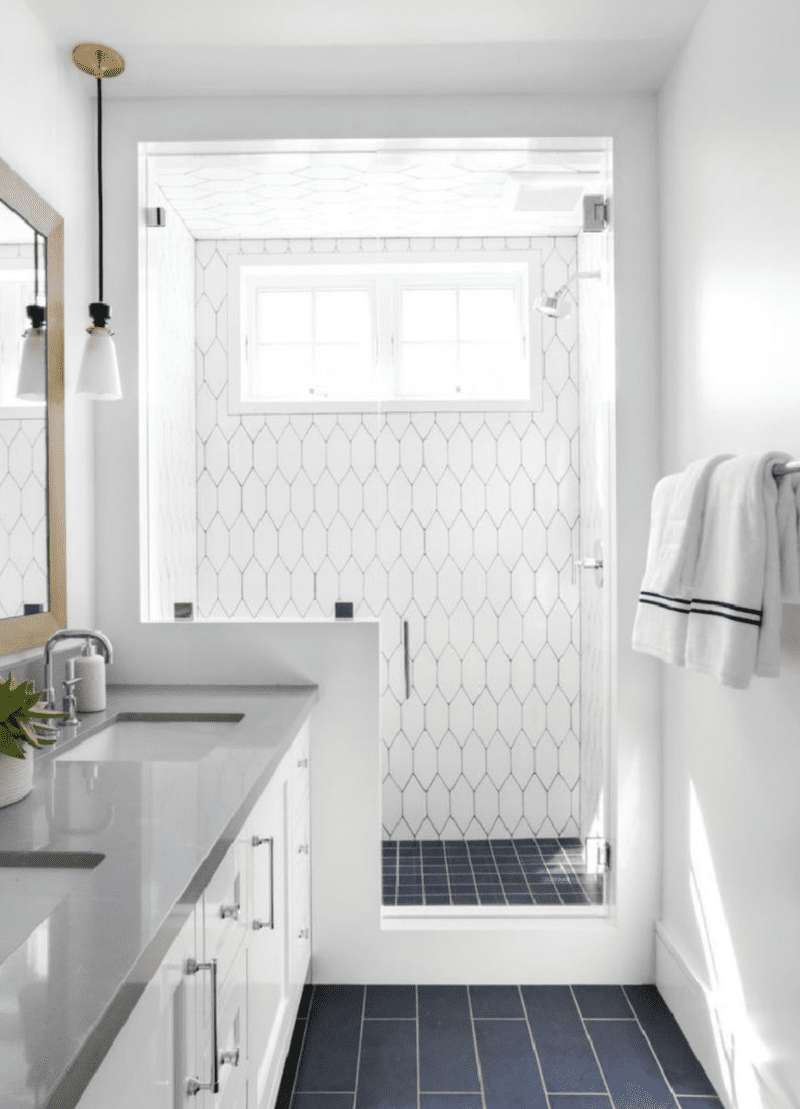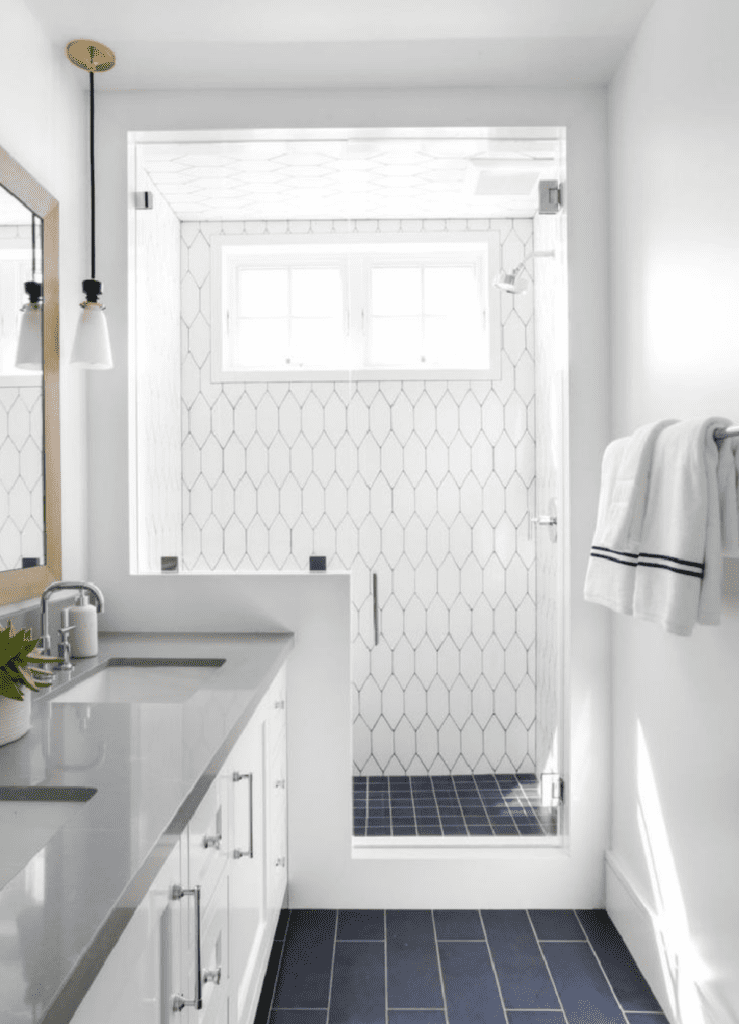 Consider what textiles you are using
White towels that can still make you feel luxurious while keeping things simple enough so there's no fussing over different types of towel sets on laundry day. White towels bring in a nice luxurious hotel feeling that makes the bathroom feel clean.
Update your Shower Head
An updated shower head for better water pressure and less use of hot water during your routine. Your old one might just be clogged with minerals from hard water. Consider installing a rainhead, as well – it feels like getting caught in the rain! Make sure to stick to the same metal color scheme you chose.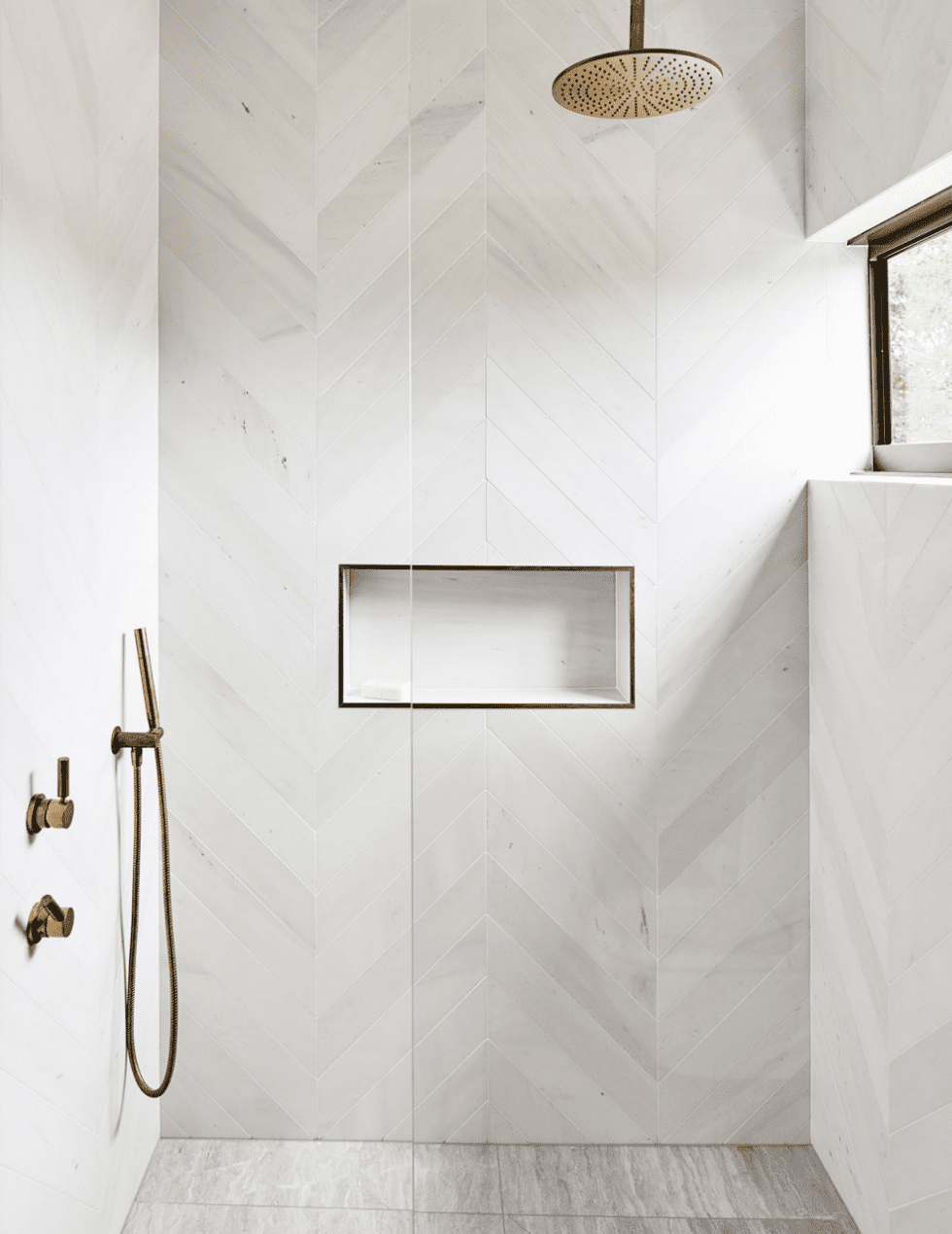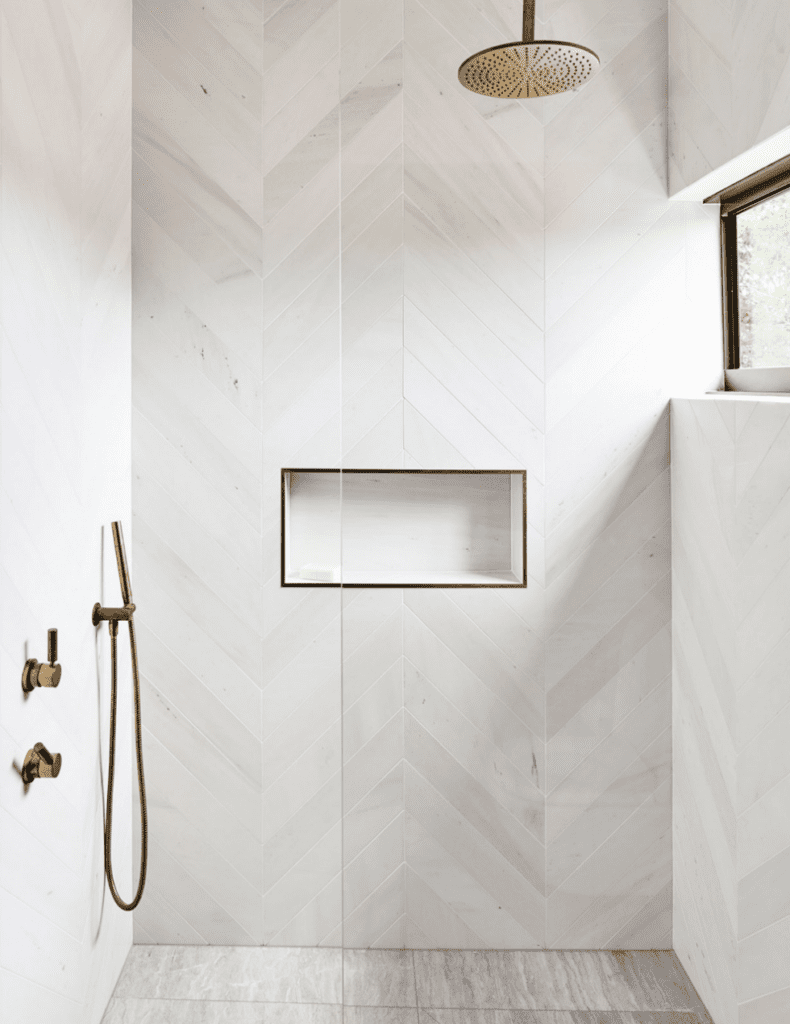 Declutter your Bathtub
Sometimes a bathtub can be a place that gathers dust and clutter. Only keep the things that are essential during bath time. You could even find a beautiful glass jar to put your bath salts in! Don't get carried away with having a huge onslaught of bath products around the edges of your bathtub. Less is more here. If you have a lot of bath products, consider storing them somewhere else where possible.
I hope you've enjoyed this article on creating a beautiful minimalist master bathroom for yourself.