12 Awesome Ways You Can Use Acrylic Shelf Dividers to Organize Your Home
If you're looking for a way to organize your home, acrylic shelf dividers are an excellent choice. They provide storage and keep things neatly in place while also adding style to your space. You can use them to store clothing like sweaters or purses, towels, linens, or even hats! The possibilities are endless with these handy little tools. In this blog post, we will review the different ways that you can use acrylic shelf dividers around your house and help make it a more organized space!
Need more ideas? Check out: Easy Closet Organization How-to Guide or 12 Creative Ways to Store and Organize Puzzles
These are great if you don't have a dresser
If you don't own a dresser, it can be hard to find a place to store the clothes that you can't hang. Items like sweaters, pants, and other items that can't be hung in a closet. Acrylic shelf dividers are the perfect solution! They provide storage without taking up any space on your floor or countertops and they allow you to essentially create your very own storage system. Closet organization becomes a breeze, even with difficult items to organize.
If you're someone who likes to separate their clothes by season, acrylic shelf dividers are also excellent for this purpose. Seasonal clothes can be stored and organized according to season and then placed between an acrylic shelf divider to keep it organized. This would be great for the top of your closet as well.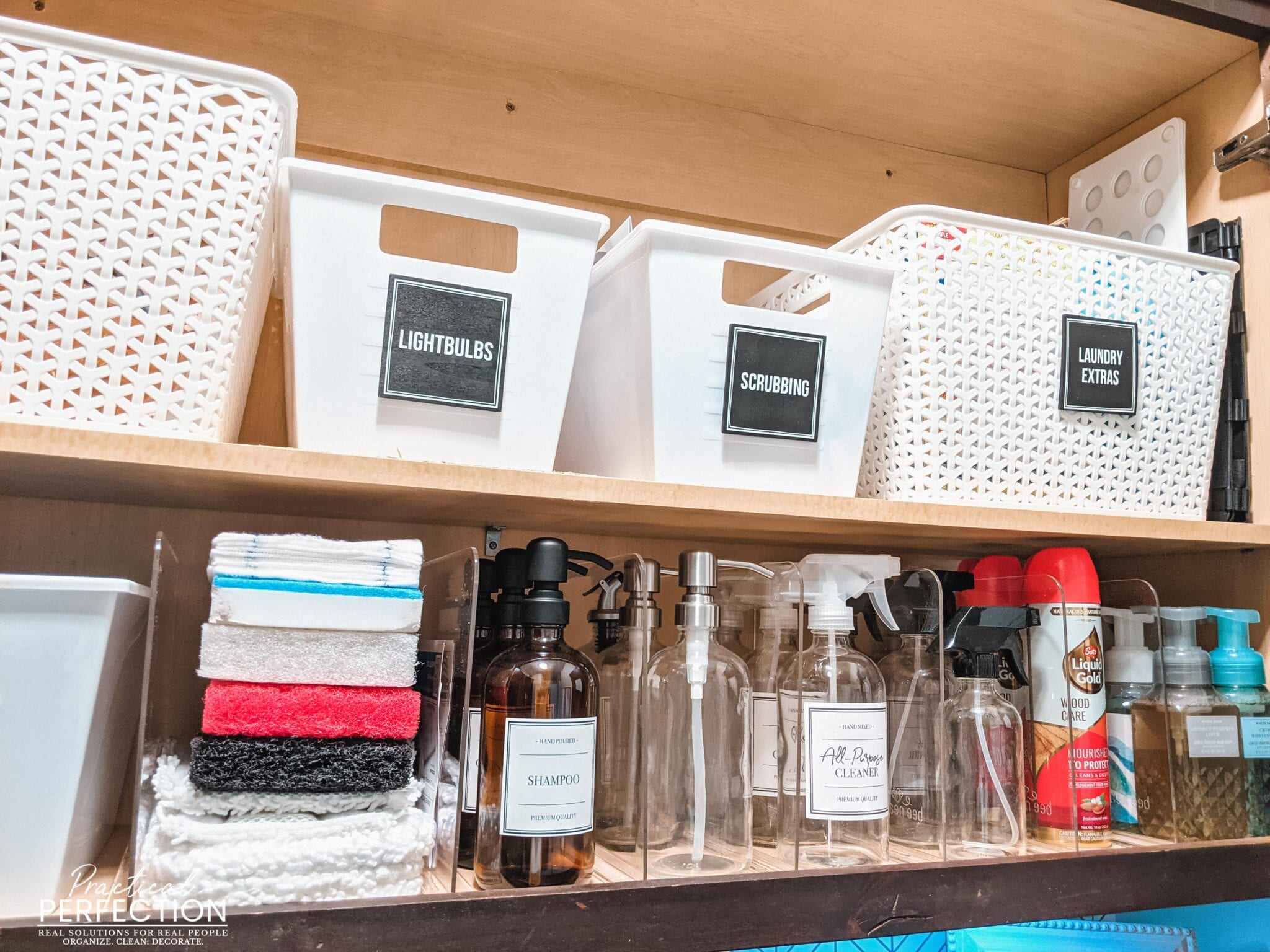 Because of the clear construction, the shelf divider will match any style of any home. The clear construction also allows you to see everything clearly. It's truly an innovative organizational system that is perfect for any home to make your home look neat and organized!
How are Acrylic Shelf Dividers Installed?
There are typically two different types of closet shelf dividers. The first type of shelf divider has a divider clip that hooks to the bottom part of your shelf. This type of acrylic shelf divider is more often used for wooden shelves, but I have seen them on plastic and wooden shelves as well. The divider clip is a bit less durable because there is a possibility of the clip breaking over time. The other problem with the non-adhesive clear shelf dividers is that they move around a lot. These shelf dividers have an easy installation clip with no tools required.
The other type of acrylic shelf dividers can come with a strong adhesive strip attached to the bottom of the shelf divider. This is a great way to attach them if you have thick shelves or if you are worried about the other kind breaking or if you have thicker shelves. Some may worry about the adhesive not being removable, especially if you live in a rental. But the adhesive acrylic shelf dividers that I use can be removed and repositioned, yet the closet shelf dividers are still durable and sturdy to achieve an organized minimal design with a seamless look. These also have an easy installation with no tools required.
I personally prefer the acrylic shelf divider with the adhesive strip because they can be repositioned without leaving any adhesive residue behind and I don't have to worry about the thickness of the shelf. These clear shelf dividers are surprisingly durable and sturdy. The clear shelf dividers with the adhesive on the bottom provide a seamless look without the extra bulky look of the other style.
If you have wire shelving, I don't recommend these closet shelf dividers. They would not work very well with either type of shelf divider. But if you have wood shelves or plastic shelves, they work great.
If you are looking for other dividers that work with wire shelves, you can find those in stores as well. Wire shelves can be difficult to organize so make sure to purchase other dividers that are made specifically for wire shelving.
Shop Acrylic Shelf Dividers:

Why Grocery Stores Have Used These for Years
If you go to every grocery store in the country, you'll notice that they are using a clear acrylic shelf divider between each and every product. Grocery stores figured this out a long time ago and they have proven it to be an effective way to organize. This is an easy way for stores to keep clothes and food items neat. These shelf dividers make shopping easier and help manufacturers make the most of their space and money. These are also great to help you organize deep shelves.
What size do I need to use?
There are several different sizes that you can purchase when considering acrylic shelf dividers. Make sure to measure the space that you are going to be organizing to make sure that the closet shelf divider will fit on the shelf. Some shelf divider sizes allow you to fold higher stacks of clothes. Using a small shelf divider will limit the number of items that you can stack because it will not be as high.
What size do I need to use? There are several different sizes that you can purchase when considering acrylic shelf dividers. Make sure to measure the space that you are going to be organizing so that the divider fits on the shelf, and then choose a size based on your measurements. If you want to store higher stacks of clothes, make sure there is enough room for it and purchase the larger shelf divider.
Just make sure that when you purchase acrylic shelf dividers that you purchase dividers that are durable and that have great reviews. Helpful reviews can really help guide you to buy shelf dividers that are easy to install, are durable, have a minimal design, and are easy to clean.
What Can I Organize with Acrylic Shelf Dividers?
Sweaters
Pajamas
Jeans
Food Storage
Purses
Bags
Cleaners
Pantry
Bookcases
Books
Homeschool Workbooks
Linens
Organizing your Sweaters with Acrylic Shelf Dividers
One way to use a clear shelf divider is to add them between your sweaters. Manufacturers typically don't recommend hanging sweaters on hangers because it can stretch out the knitting. That's why manufacturers recommend folding sweaters! Using a closet shelf divider (or a few!) can really help keep your sweaters stacked neatly so they don't tip over. Acrylic shelf dividers will help keep sweaters organized by size or color while they're in storage.
Tired of your Pajamas Falling over?
Very few people hang their pajamas. But if you don't have a dresser, it can be difficult to find a place to keep them organized and looking neat. Using a shelf divider is an excellent way to add even more space to organize your pajamas. And because the clear shelf divider is easy to install, you can easily find a place to organize your pajamas so your closet can stay looking nice.
These are the shelf dividers that I use in my home. The size pictured below is the 11″ height.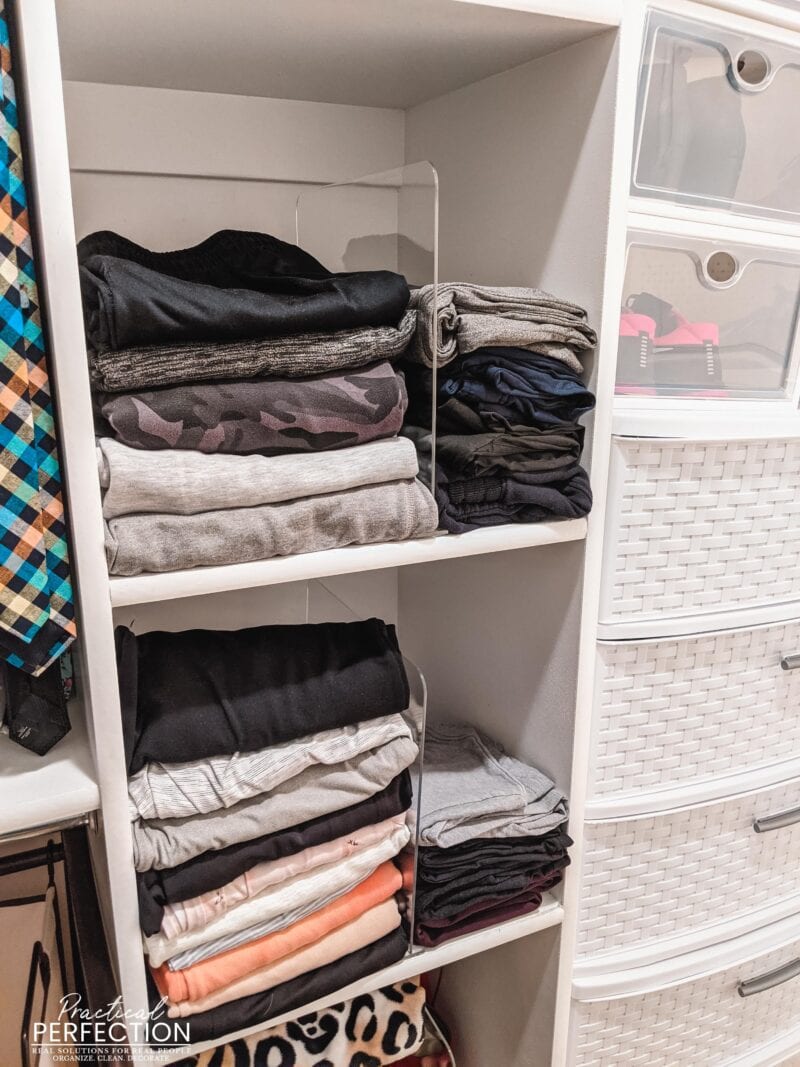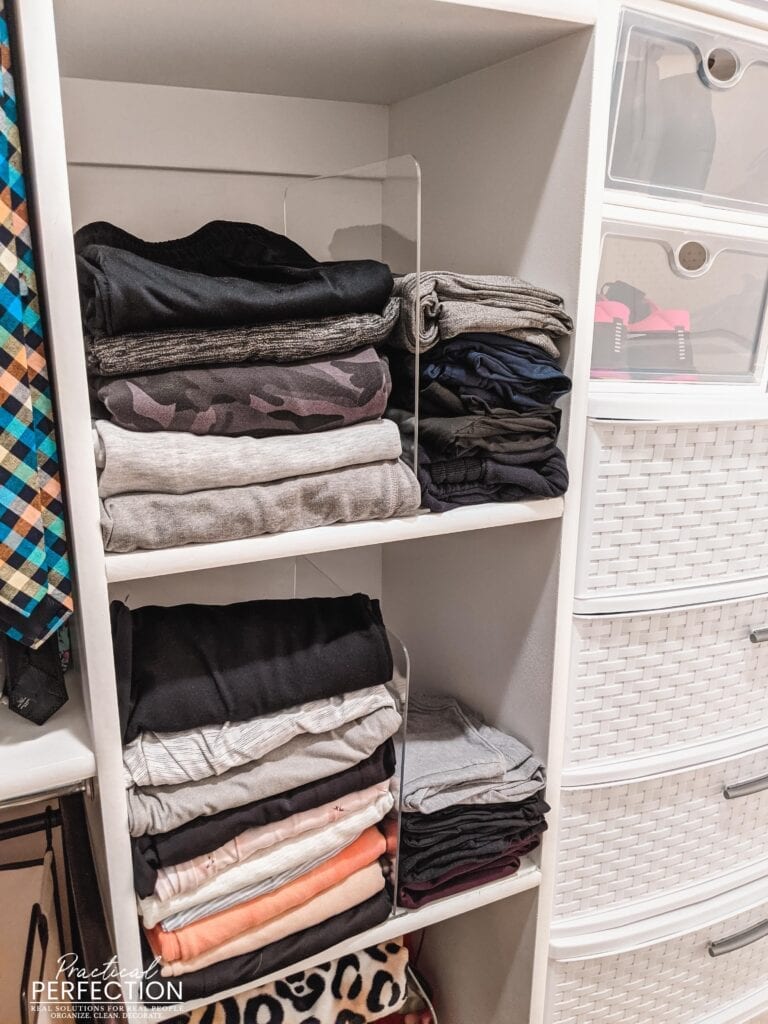 Don't like to hang your Jeans?
Many fashionistas pay a lot of money for their jeans and therefore don't want to hang them for fear of ruining them. Using a clear shelf divider is an easy way to keep closets looking neat while preserving the integrity of your top-dollar jeans. Simply fold your jeans in a stack between dividers to easily display your jeans. Not taking care of your clothes is just a waste of money!
These are Great for Organizing Food Storage
Just like in a grocery store, you can mimick the manufacturer and put a divider on your wood shelves in your pantry! This will help you to easily organize items like pasta boxes, salad dressings, or even canned goods! Using a clear shelf divider will make the most of your pantry space and will be helpful when it comes to loading and unloading food items.
Shope Acrylic Shelf Dividers:

Shelf Dividers are a must for every purse lover
Finally, acrylic shelf dividers are great for those who need to store purses! Many people have more than one purse that they like to use throughout the week. Acrylic shelves can help keep each type organized without taking up too much space in your closet. Dividing purses and handbags with an acrylic divider keep smaller bags from getting mixed up with larger ones. It is easy to see your handbags if you neatly file them on the shelf. It also helps you to not overbuy because you only have space for a certain number of handbags. The acrylic dividers also help to bring a pristine look to the closet. If you love to have a variety of handbags, then acrylic shelf dividers are a must-have organizing item!
Create a Beautiful Organized Cleaning Closet or Cupboard
You can also use dividers on a closet shelf to help organize your cleaning products! This is especially helpful if you like to buy things in bulk to have a backstock of your favorite products. The clear acrylic divider helps to create a specified row that allows you to line items up neatly. You can also make a row for hand cleaners, dish soap, and window cleaner. This will help you to not have handfuls of cleaning products on the shelves that get in your way when trying to grab what you need.
These are the shelf dividers that I use in my home. The size pictured below is the 8″ height.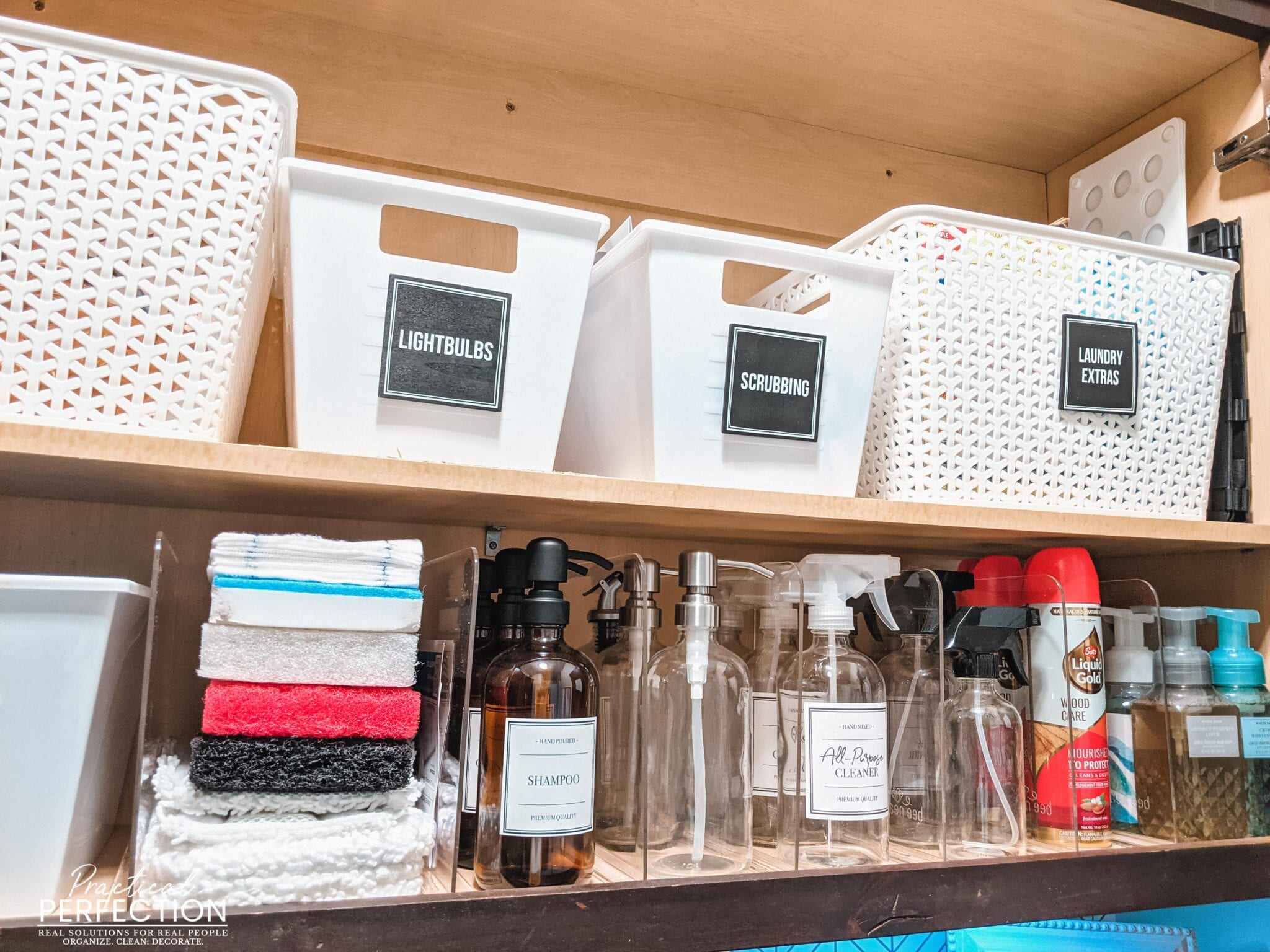 If there are things that you infrequently use or don't want to take up space like old shoe boxes then place those items on an acrylic shelf divider at the bottom so they won't be seen right away. Organizing with dividers is a great option because it allows you to keep clear simple spaces while providing storage opportunities without taking over all of your closet space! With more than one closet in my home, I love using these dividers as well because they provide easy access to the items I use most. These are especially great if you have a deep closet where you store your cleaning supplies. It's easy to let things get lost in a deep closet so this is a perfect solution.
Organizing Books with Clear Acrylic Dividers
If you are looking for a way to organize your bookshelf, clear acrylic dividers are a fantastic way to keep things organized. This is even how some libraries organize their books! If your bookshelf isn't quite full with books, these durable shelf dividers will help books to stay upright and not fall over. Using a divider can also help you to organize according to reading level or genre.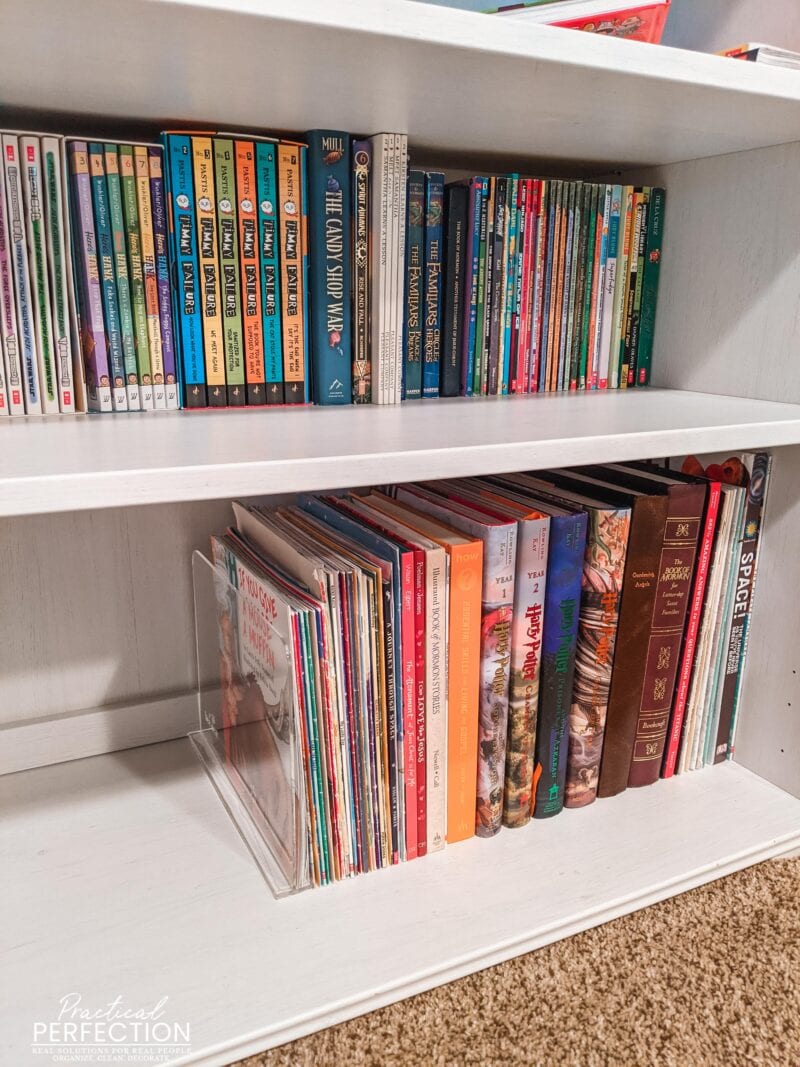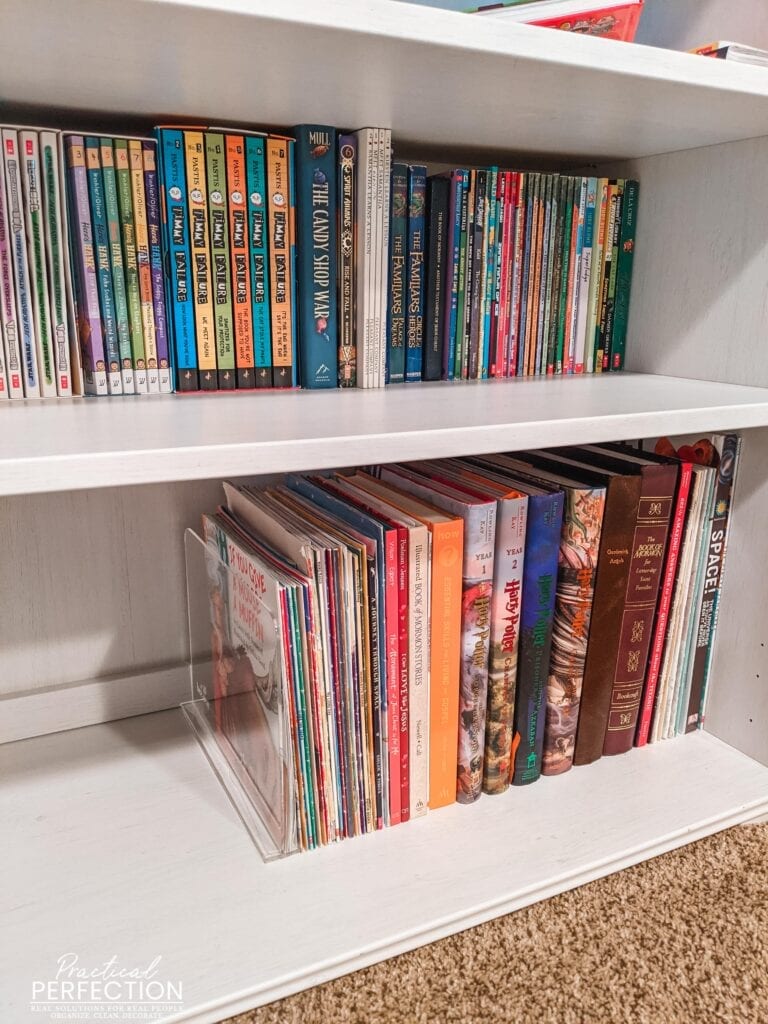 Organize Your Homeschool Library
If you are a homeschooling family, it can be overwhelming to store and organize all of your homeschool supplies. Acrylic shelf dividers could be exactly what you are looking for! The dividers can be used to separate out items according to academic subjects, books by grade level, or even by subject. You could also use the shelf dividers as a way to organize your children's school supplies like writing utensils and crayons!
Shelf Dividers are amazing for a Linen Closet
Organizing a linen closet can get overwhelming, especially when you put in so much work only to see things come unfolded or have family members put things in the wrong places. Shelf dividers can help you organize, are easy to install, are durable, and will last for years, and can be really helpful in keeping things organized.
To organize a linen closet, you'll need acrylic shelf dividers, a measuring tape or ruler to make sure the dividers are spaced correctly, and something sharp like scissors.
To install these organizers in your linen closet you will want to measure out where each divider needs to go on the shelves according with how it is going to be used for clothing or linens that belong together. Once measured, attach them in place. After they're installed just take clothes and linens off their hangers or whatever else they're currently stored as and move them into one of the spaces!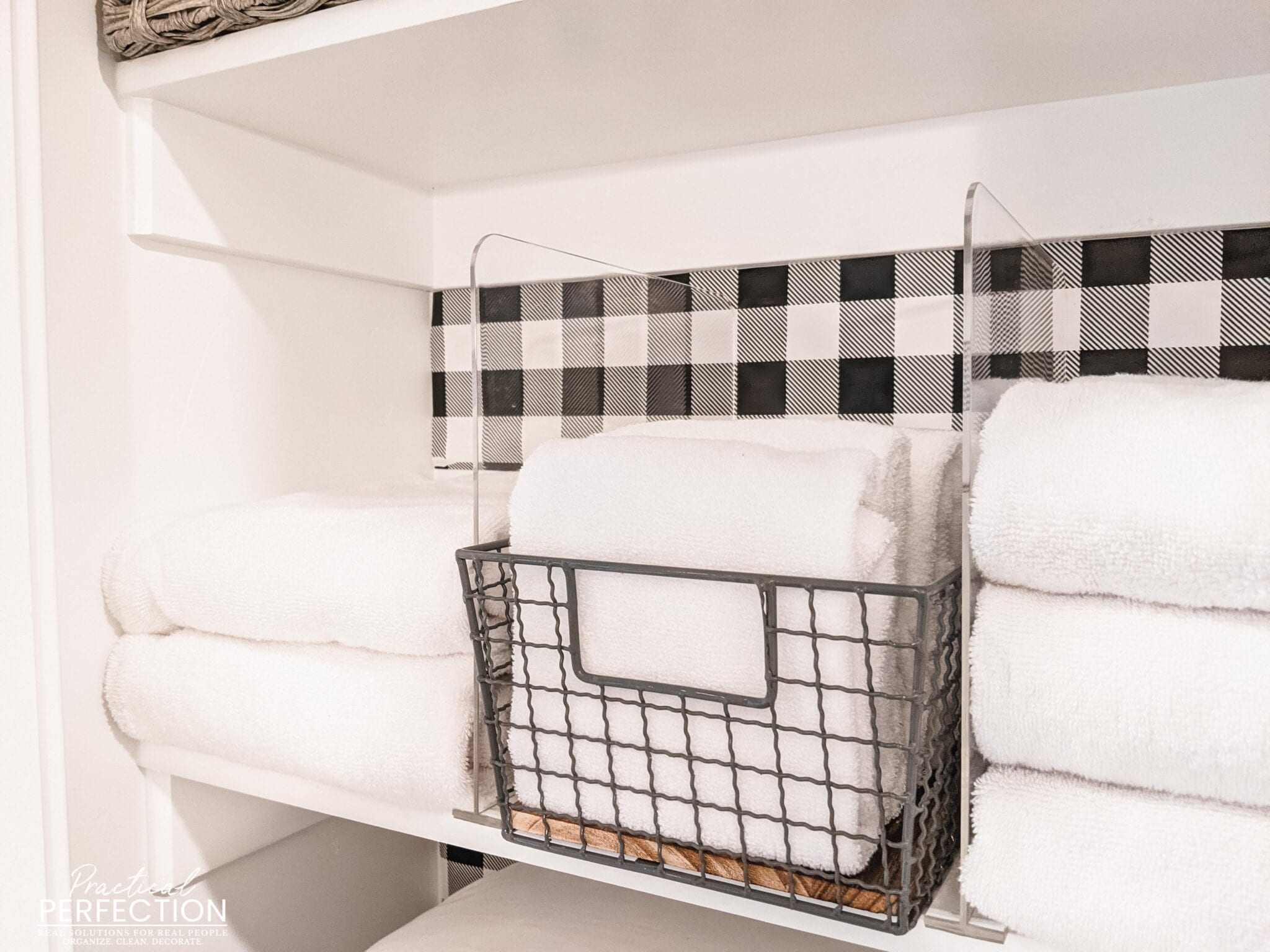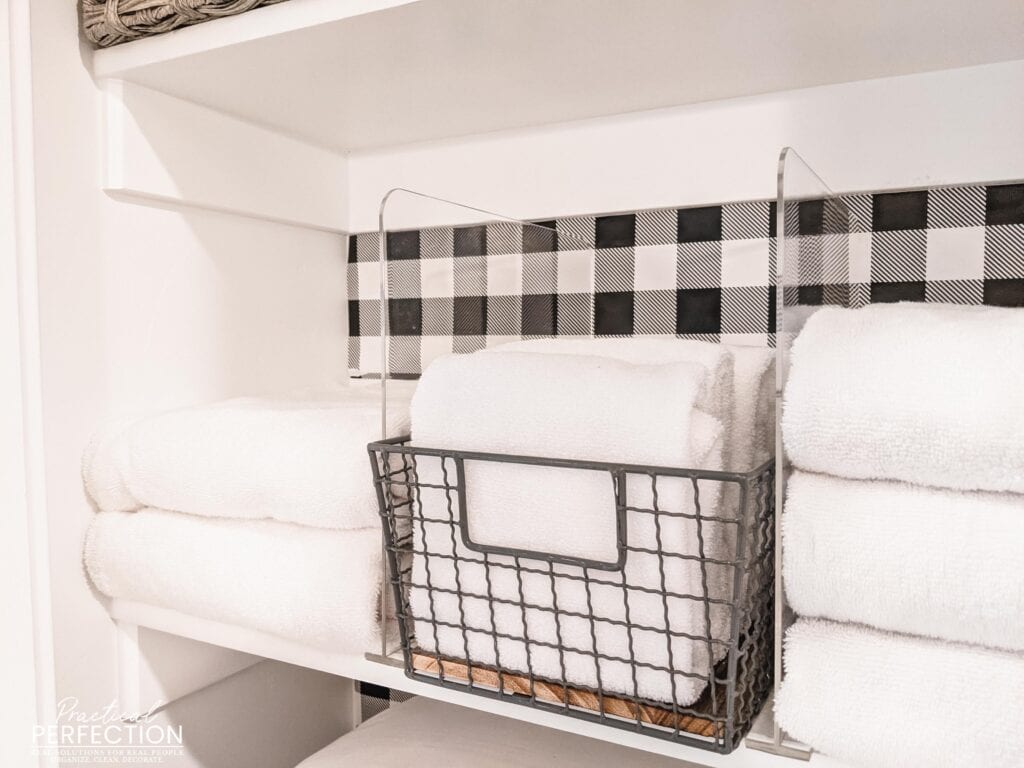 You can organize towels, washcloths, sheets, blankets, and pillowcases. It doesn't matter if your roll or fold the items on you closet shelves, either way, it will work with acrylic shelf dividers.
I hope this article has been helpful in showing you the different ways that acrylic dividers can be used to help improve organization at home. It is important to remember, however, that not all of these products are created equal and some may work better for your needs than others. Be sure to do your research before investing in a product so you can get the best one possible!