The Best Gifts for Women who Love to Travel
Women travel more than men, and these travel lovers are always looking for the next adventure. This blog post is a gift guide for women who love to travel! It's filled with unique gift ideas that will remind them of their favorite places when they are home as well as great gifts for women while they travel. From travel-themed jewelry to luggage tags, this is the list of best gifts for every type of traveler.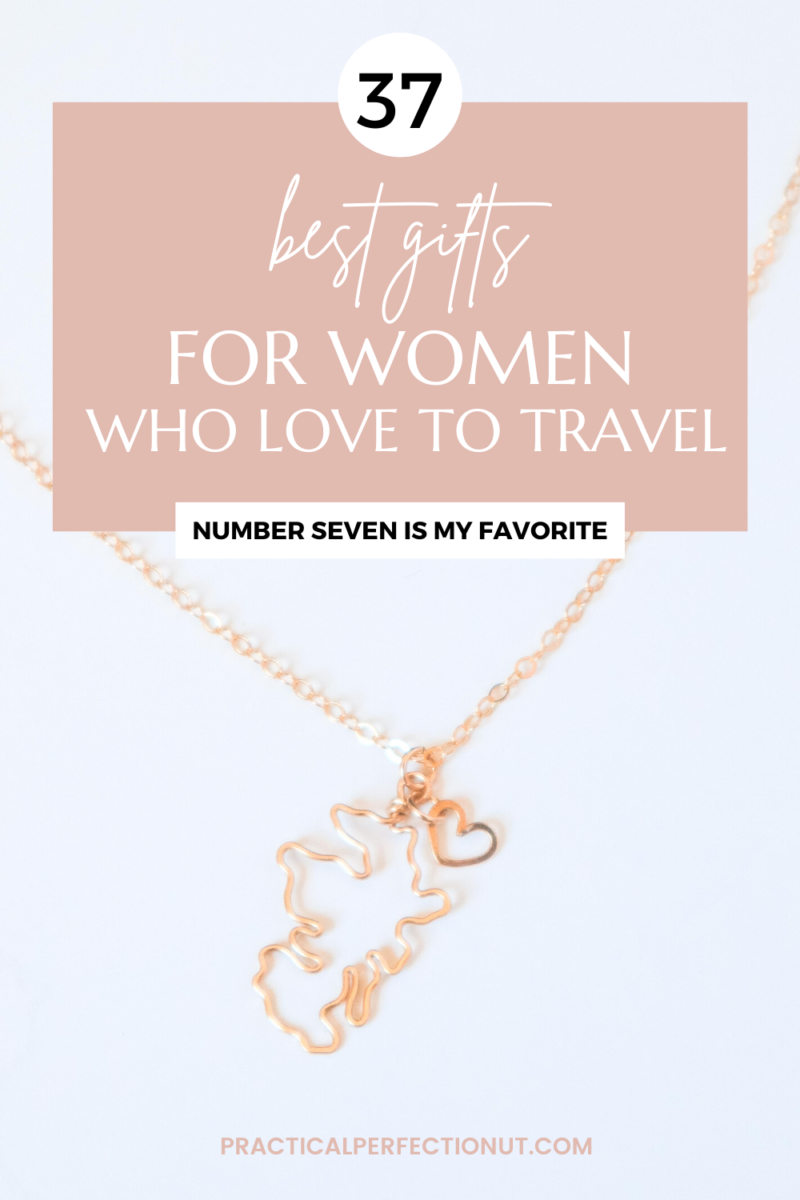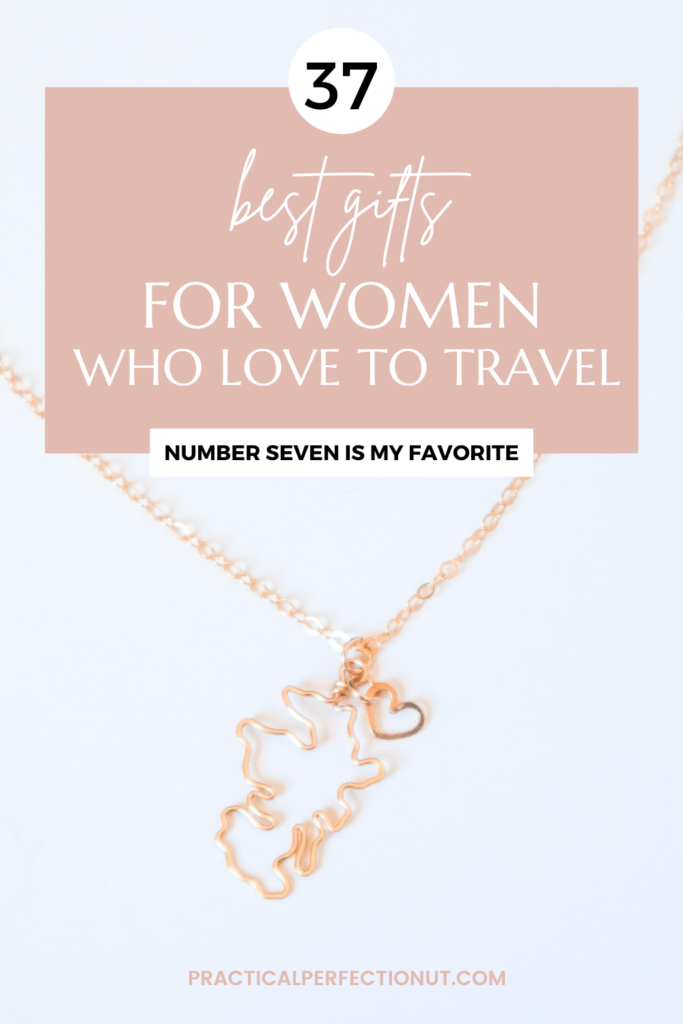 Travel Gift Ideas for the Woman in your life
Organizing Travel Gifts for Women
The best travel gifts for women don't have to be difficult to find. Some of the best gifts are things that she needs to make her trip easier so she can focus more on the sights rather than all of the travel logistics. One travel gift idea is a travel organizer to keep things in place while she travels or even romance books to keep busy on a long trip.
This travel accessory has pockets and compartments for all kinds of different items so you can find your passport, ticket, or phone easily when it's time to get off the plane or head through customs at an airport.
Here are some travel gift ideas we'll be talking about in this post:
Custom state/lake/country jewelry
Travel Challenge Cards
Travel clothing
Travel bag
Makeup bag
Toiletry bag
Passport holder
Luggage tag
Packing cubes
Camera
Camera Gear
Travel Pillow
Travel Blanket
Luggage Scale
Travel Tee for long haul flights
Everyone knows that traveling on a long flight can be a pain! If the travel lover in your life is going on a long-haul flight, they will love this travel tee. It reads "I haven't been everywhere…but it's on my list!".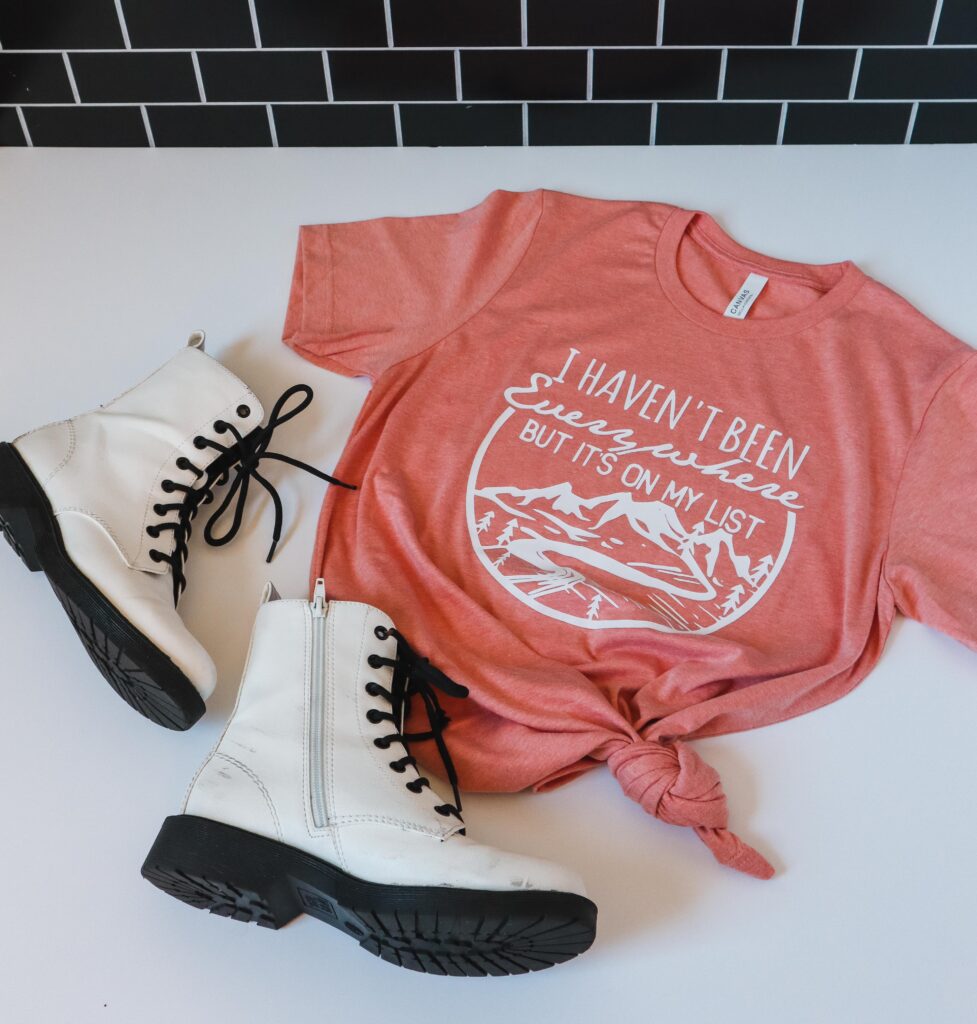 This tee comes in a wide variety of colors and sizes for men or women. You can also add their name to create a truly personalized gift that they'll wear over and over that can become their dedicated travel tee. Because everyone knows that wearing uncomfortable clothes while flying or driving is a no-go.
Travel Bag Gifts for Women
Most travelers know that travel bags are a must for any trip! They can be used to store toiletries, jewelry, snacks, and more. If you travel with these items then this is a great gift for you or your friend who loves traveling. This bag comes in many different colors and styles so it's easy to find one that suits them best whether they love blue or yellow colors.
This travel storage set ensures all of their essentials stay organized while on the go! It includes four clear cosmetic-sized pouches (which fit full-size bottles) two large zippered pouches which each hold up to an iPad mini plus multiple pockets inside where you can organize smaller valuables such as makeup brushes and hair ties.
Shop Travel Bags:

Makeup Bag
Female Travelers love to have their makeup on hand so they can be photo-ready for any situation. So that's why a makeup bag would be a great gift idea for her. There are many different styles of travel makeup bags that would be a great gift idea so just try and determine how much makeup your female traveler likes to bring with her to determine what kind.
Shop Makeup Bags:

Toiletry Bag
Toiletry bags are great gift ideas that female travelers often forget about since they're usually more focused on clothes and shoes. But there's actually a really great variety of toiletry bags out there like:
Hanging Toiletry Bags
Compartment Toiletry Bags
Passport Holder
If your female traveler is doing any international travel then a Personalized Passport Holder is a great travel gift for her. This will protect her travel documents as well as make them easier to find.
This personalized holder has been a favorite travel gift idea since it's really cute and customizable.
Shop Passport Envelopes:

Luggage Tag
Nothing is worse than watching the luggage carousel for an hour only to realize that someone else may have taken off with your bag! That's why it's important to have a luggage tag that will not only be easy to spot and identify but one that will also survive any travel conditions.
This luggage tag is made out of ultra-durable acrylic so it can withstand all the travel you do! It's also personalized with your initials name which makes finding your bag easier than ever before. These are some of those fun travel gifts that you can't skip out on.
Shop Luggage Tags:

Packing Cubes to Keep Your Bags Organized
Packing cubes are one of the best travel gift ideas you can give. It can be easy to have your belongings disorganized 5 minutes into the trip if you don't take a few extra minutes to pack your travel bag properly. With these cubes, you can stay organized and save time packing as well!
The best part is that it's made out of ultra-lightweight ripstop nylon, great for those who tend to travel lightly. The zippers are also heavy-duty so there will be no worries about them breaking.
Shop Packing Cubes:

Travel Umbrella for Unexpected Rain
Unfortunately, it rains all around the world, even if she is on vacation. So although nobody wants to carry around an unnecessary umbrella, it's good to have just in case!
This travel umbrella is compact, water-resistant, and travel-friendly. It also has a double canopy so it can withstand strong winds, making sure she stays protected when the weather gets unpredictable outside. This travel umbrella won't turn inside out or blow away either!
Travel Gifts for Women Who Love To Travel
Customized Travel Jewelry Pieces
A really unique and fun way to help your traveler remember all of her travel adventures is to make customized jewelry or unique jewelry they would love like a giraffe bracelet if they love animals. There are tons of websites that allow people to get their names or initials put on different pieces, including necklaces and bracelets. These personalized gifts will be reminders of the places she's been to for years! Making their gift meaningful will really show them that you care!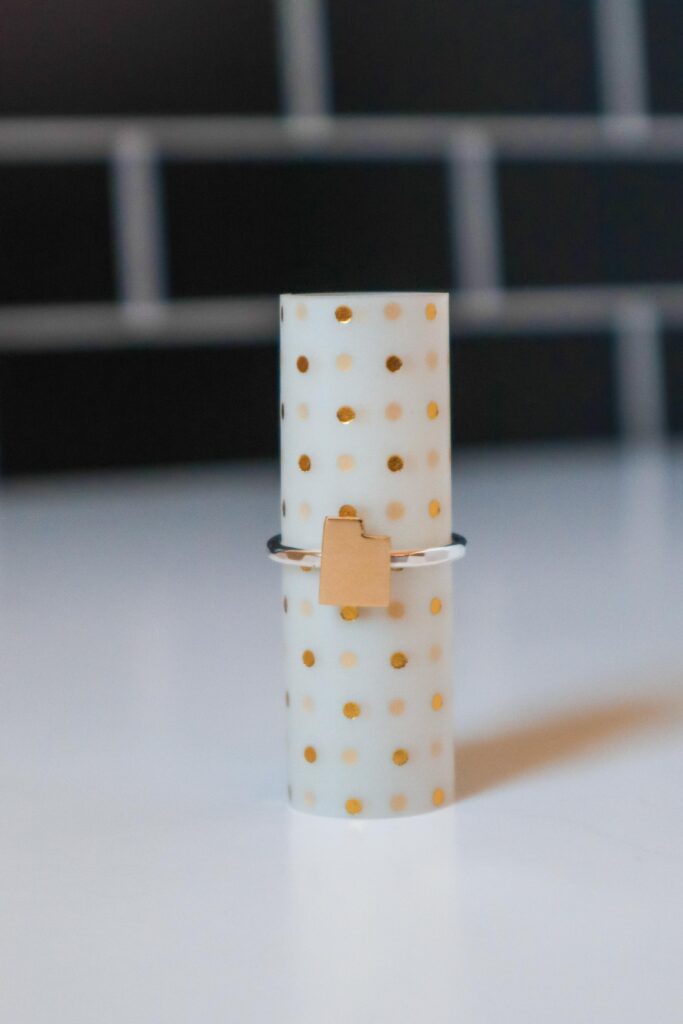 If you're trying to find a simple but beautiful piece of jewelry, then a Sterling Silver State Necklace or Sterling Silver State Ring. I am from Utah and my favorite place that I've ever been to is Kauai. So she was able to make me a Utah ring and a Kauai necklace.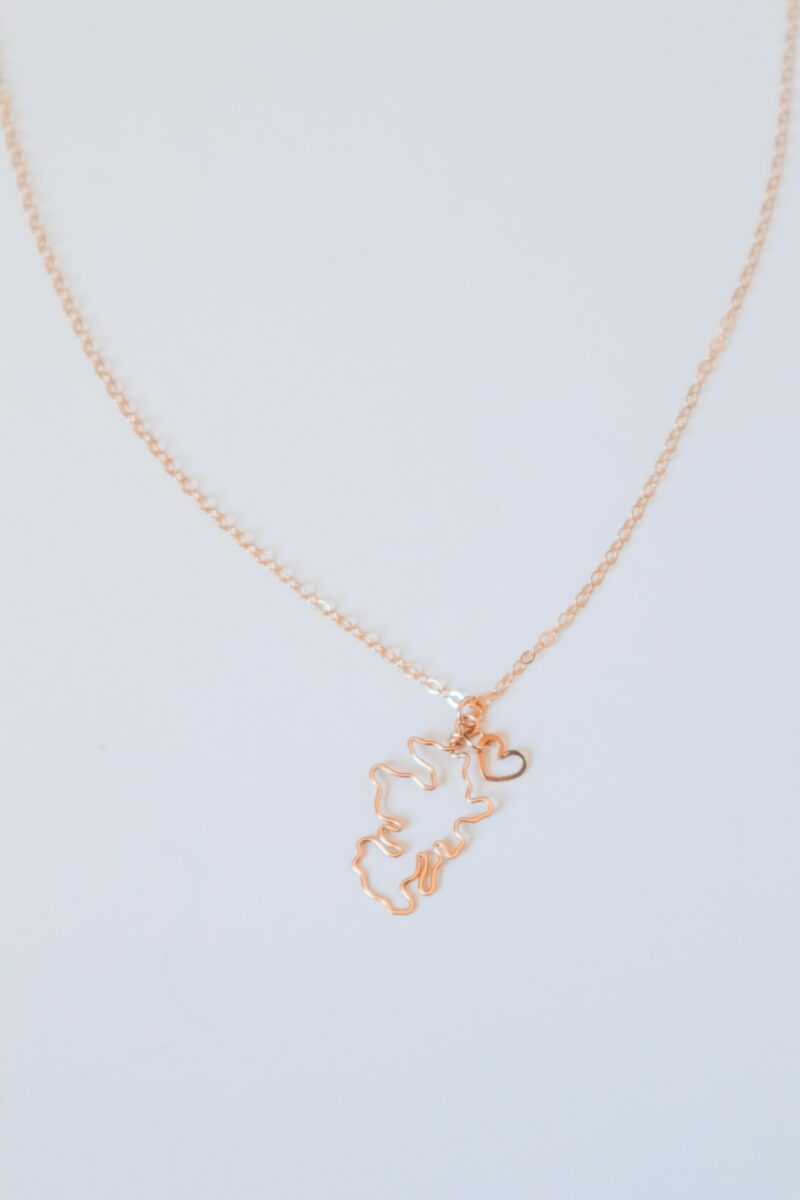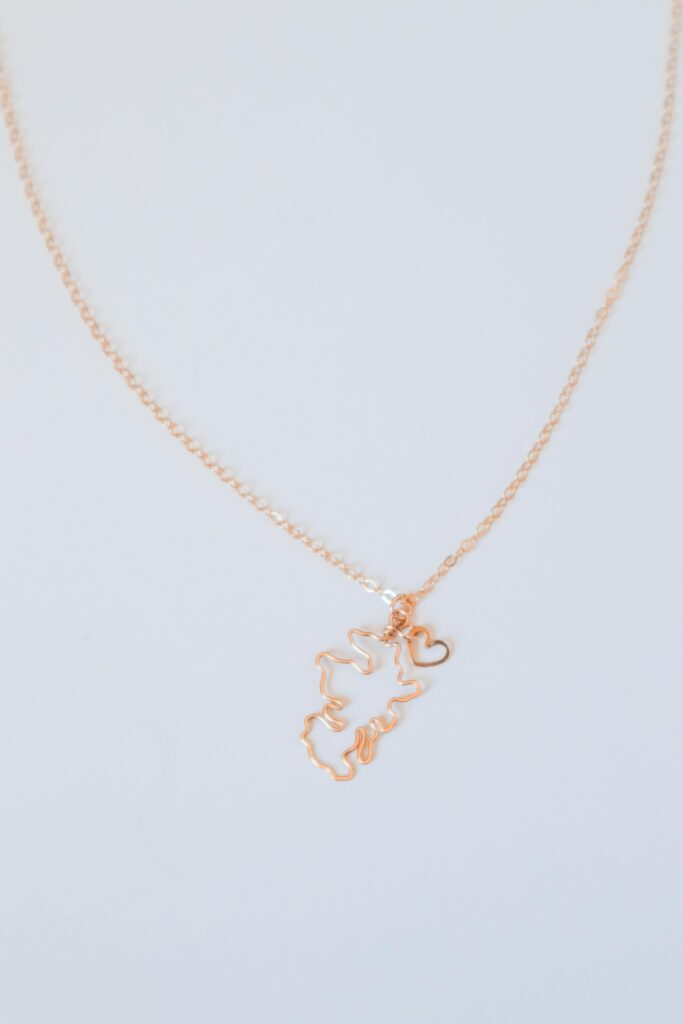 You could also consider this unique Custom Made Wire State/Lake/Country Necklace. You can tell the seller a state, country, or even a body of water that you want your necklace shaped after and she can do it! I have many ancestors from Scotland so I had her create a Scotland Necklace for me.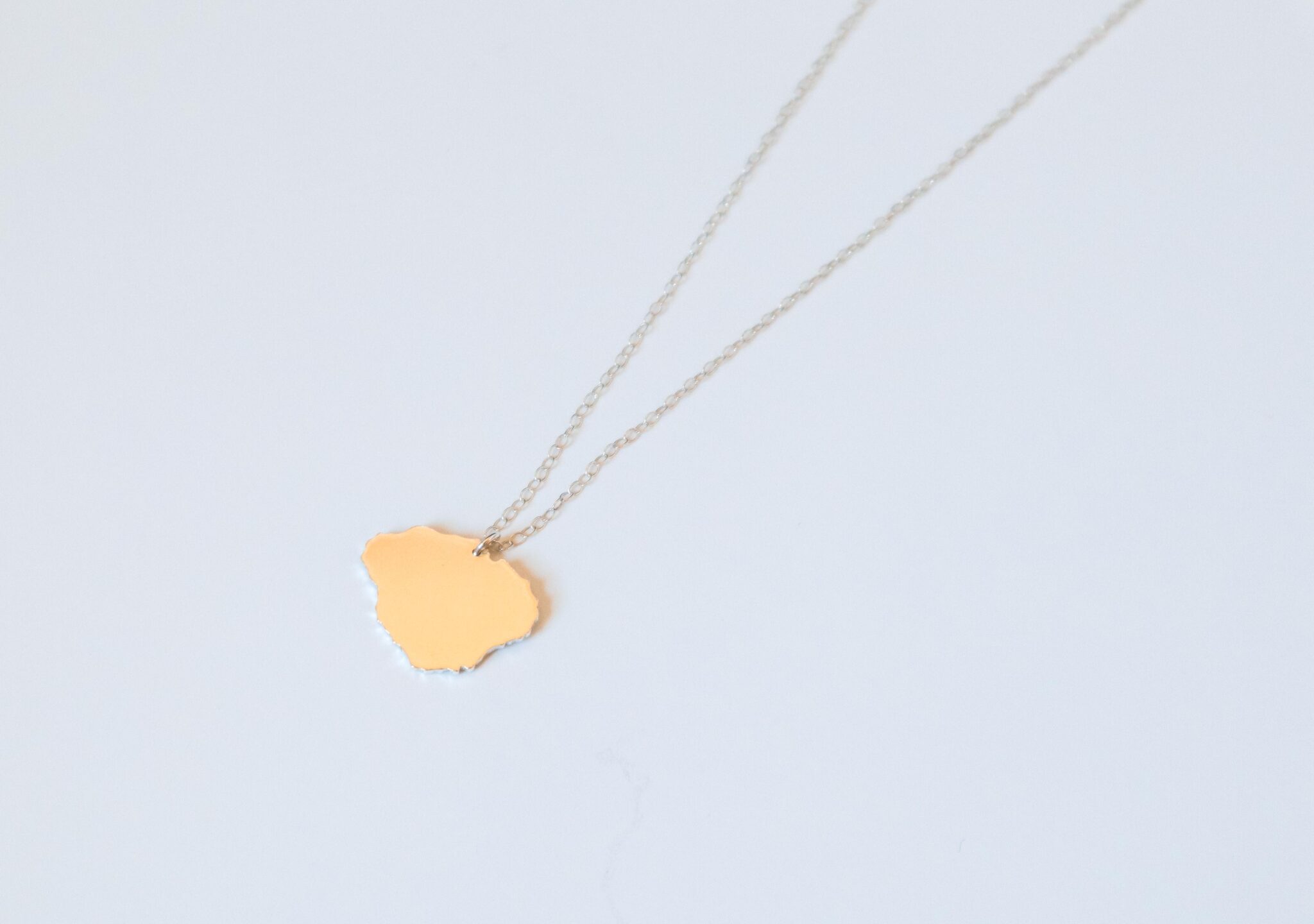 Shop Travel Jewelry Pieces:

Travel Tech Accessories to Make Travel More Pleasant
Tech accessories are a must when traveling. Here are a few tech gifts for the woman in your life that she will love…these are some of the best travel gifts you can give her!
Shop Travel Tech Gear:

Camera Travel Gifts for Women
Travel Camera
It's always a battle for avid travelers whether it's better to take a nice camera to capture memories that will last a lifetime and just use your phone that's easy to carry. But in the end, most frequent travelers prefer convenience. But what if you could have a camera that would capture all of the incredible sights that were also compact. I have the perfect gift idea that she'll love.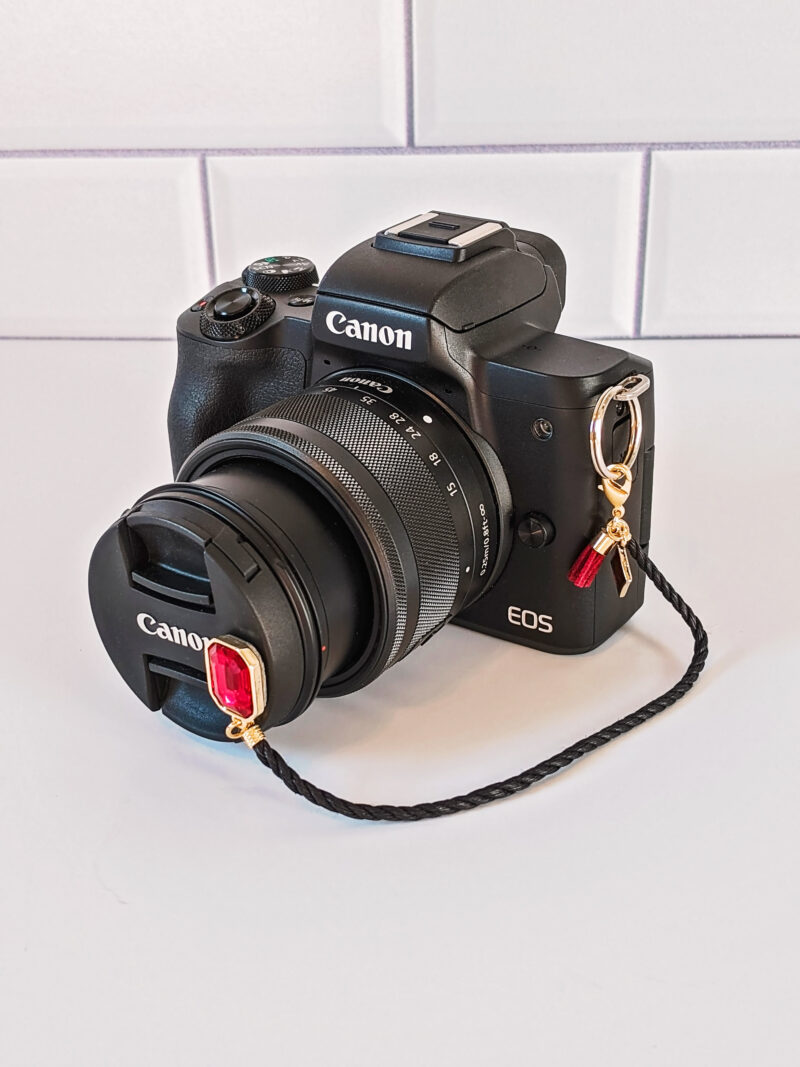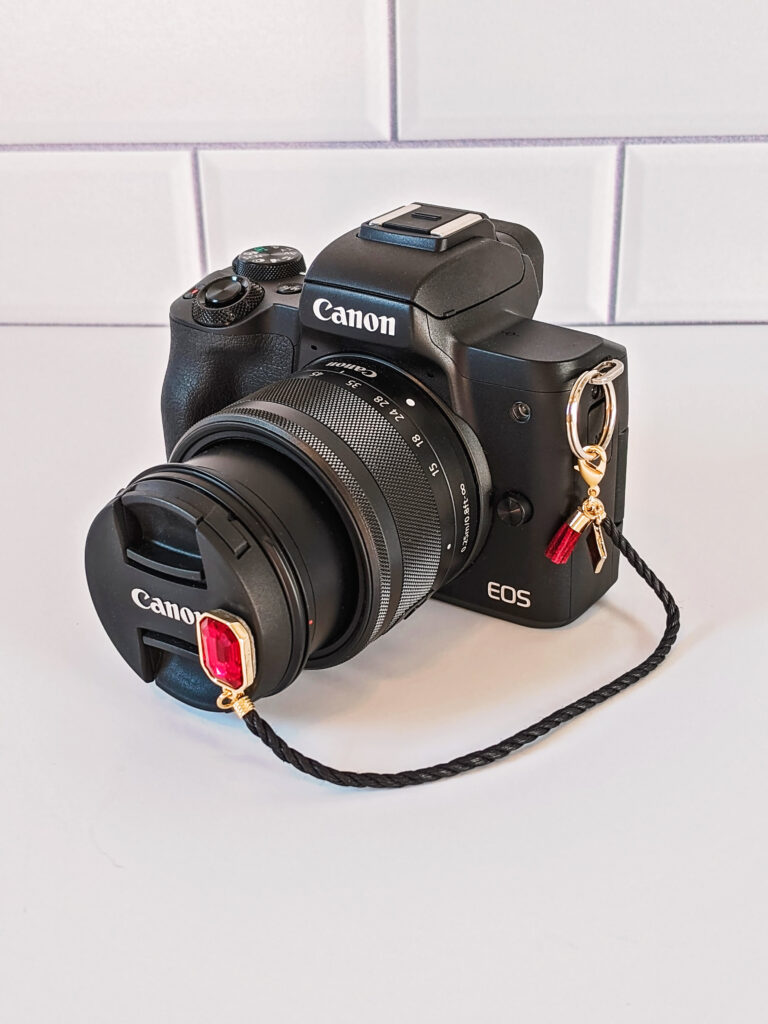 I purchase this Canon M50 Mirrorless camera and I've been completely happy with everything about it! It's significantly smaller than the other DSLR cameras that I've owned and it is incredible for capturing those travel memories. Taking photos is a must-not-miss item to traveling around the world! This is an awesome gift that needs to be on your holiday shopping list!
A Camera Bag to Protect Her Investment
Every female traveler will have a different idea of what camera gear they deem as necessary but there are a few necessities that she'll need for her camera that will make great gifts. One of the things that she'll need is a camera bag. This is one of the best gift ideas you can give if she is getting a new camera or if she already has one.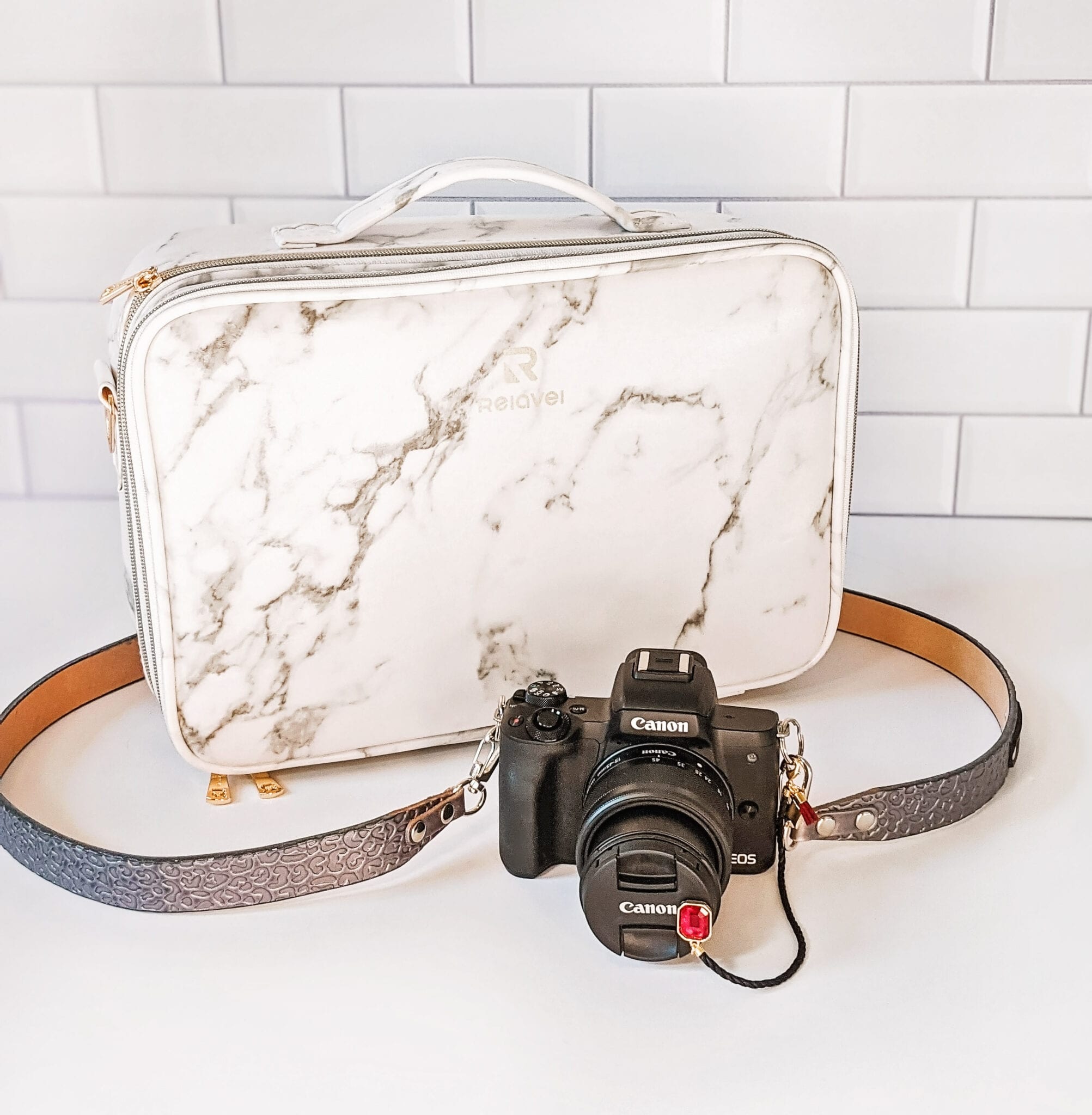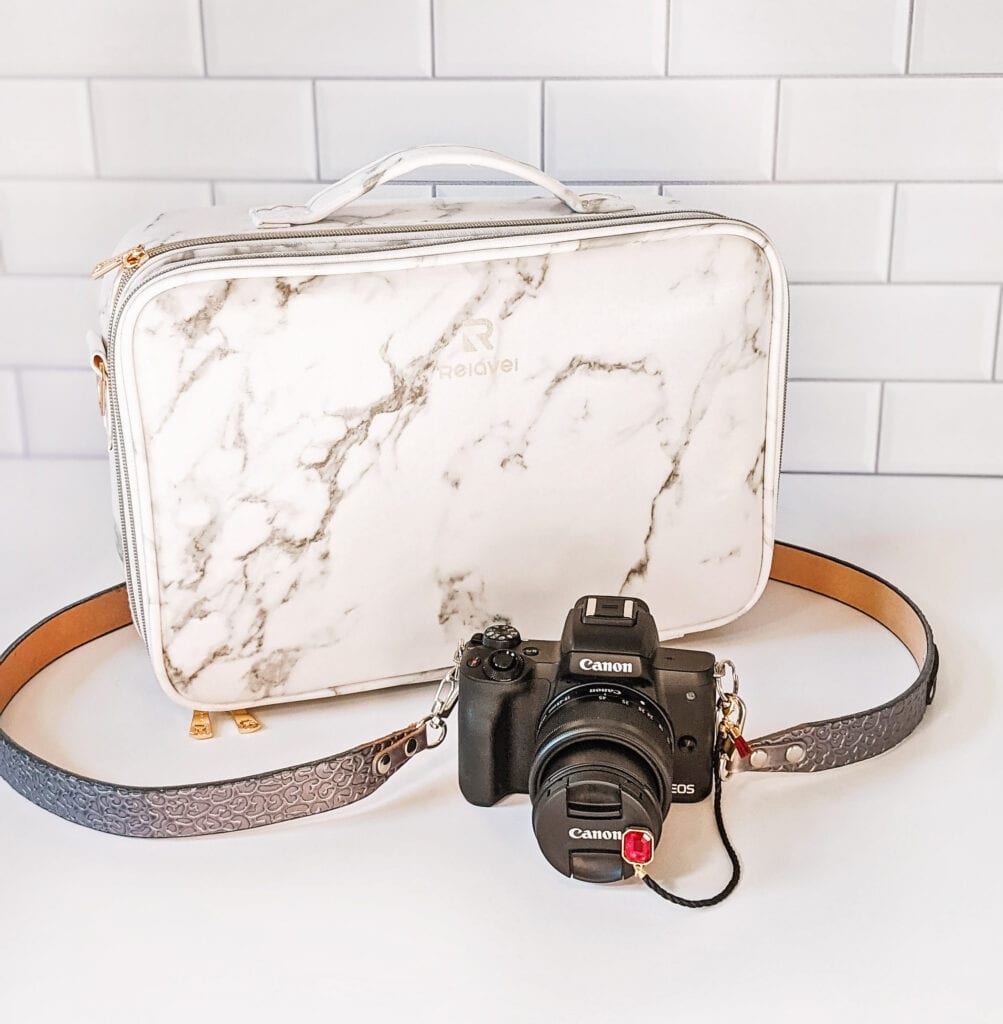 There are so many different styles and options when it comes to purchasing travel or everyday camera bag but I absolutely love this one! The color looks great with everything, especially travel outfits. Also, there's enough room for her DSLR without being too bulky yet it still fits a few of the extras such as batteries or memory cards.
If you want to learn more about camera gear and equipment you can check out my blog post here.
Shop Camera Gear:

Travel Challenge Cards to Create Fun Memories
If you're anything like me, you're a pretty conservative person. And sometimes I wish I was a bit more daring when it comes to doing something unexpected on a trip. That's why Travel Challenge Cards are an awesome idea.
These travel challenge cards will help you to be creative and come up with something new on your next trip! They're fun, they make memories for a lifetime, and they encourage adventure. Plus some of them are really silly but that's what makes it even more exciting!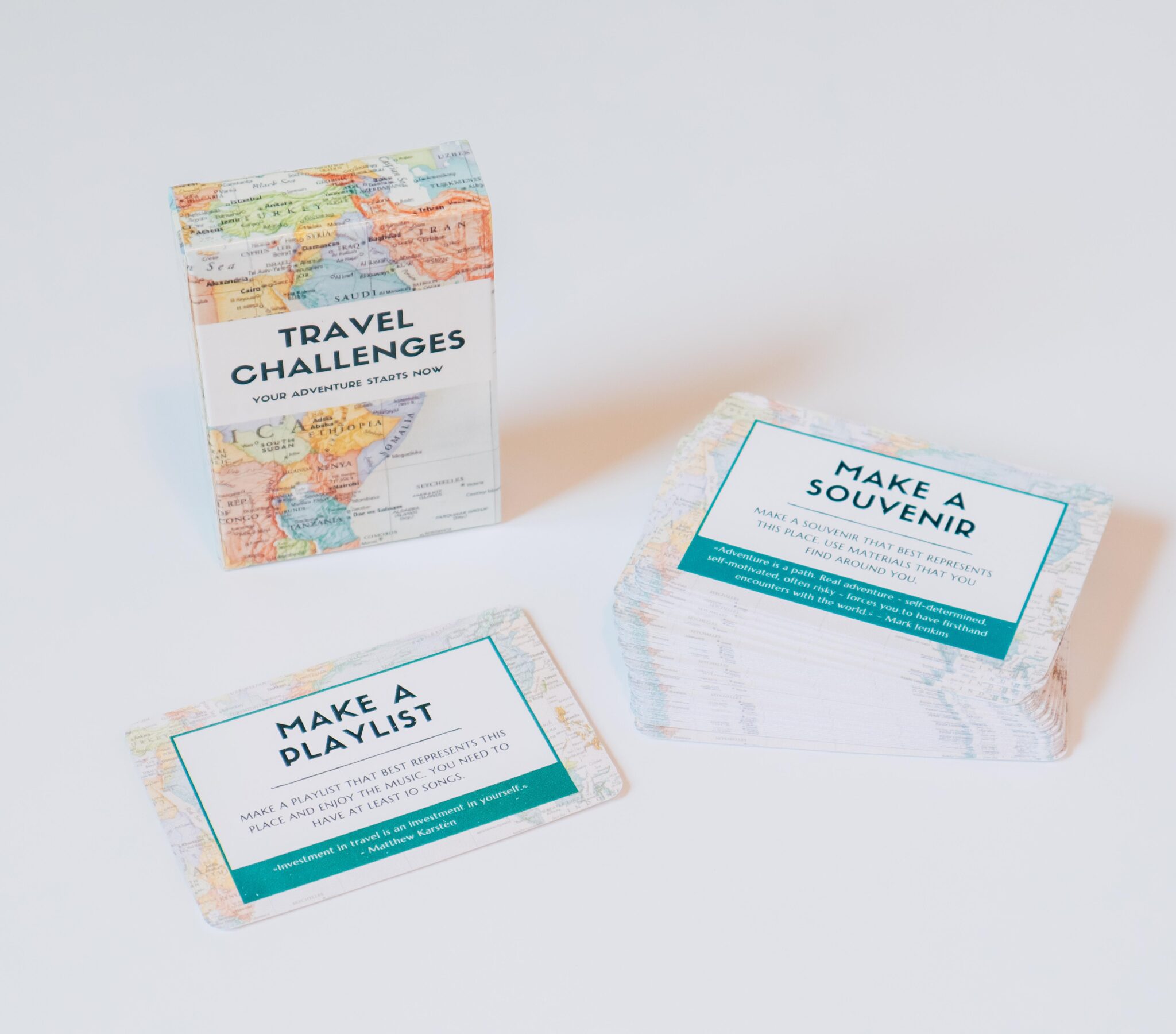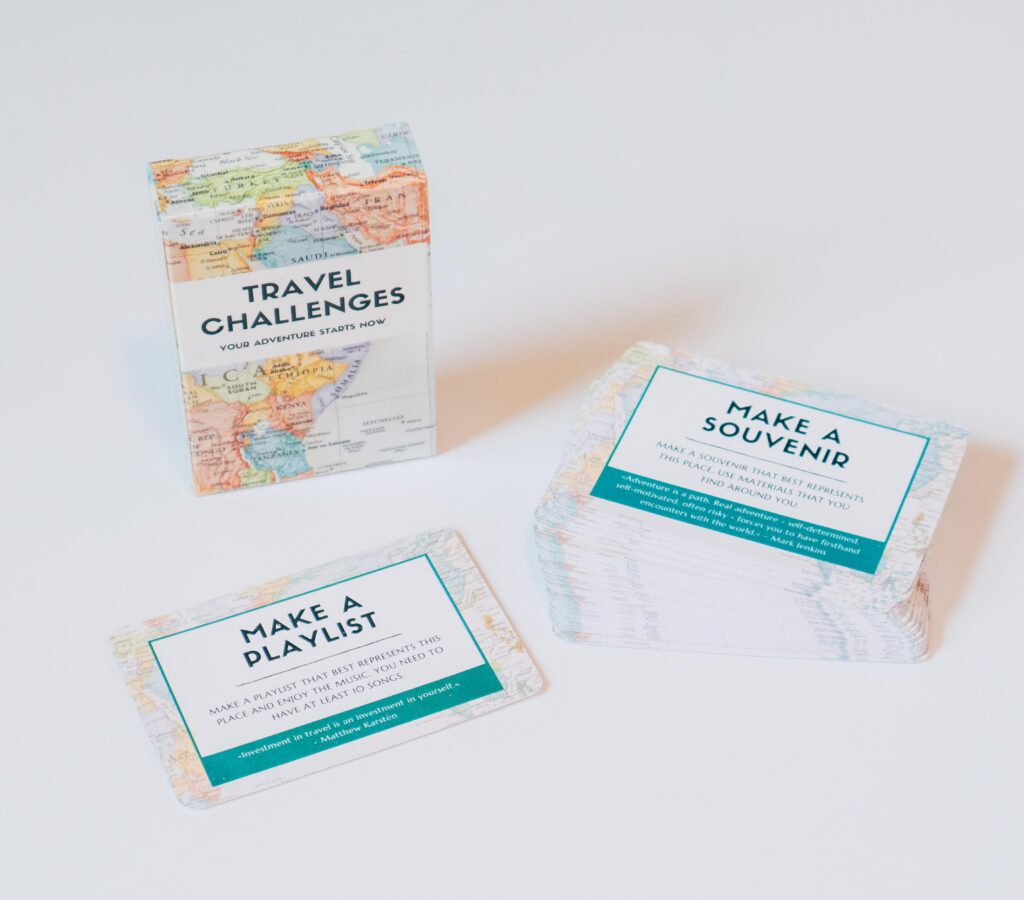 These give you creative ideas to do unexpected things that you otherwise may not have thought of! They are especially great if she is traveling to other countries and she wants to experience the diverse culture.
Travel Gear for Long Flights
Travel Pillows are One of Those Practical Gifts She'll Appreciate
A travel pillow is something that she probably won't think she'll need until she's mid-flight and she'll be so glad she has it. A travel pillow is one of those unique gifts that she may not think of!
Travel Blanket
Every traveling woman who has taken a long flight knows that airplanes can get cold. That's why a soft (yet packable) travel blanket is one of those thoughtful gifts that will fit in her carry on that she'll most likely use on every trip! Make sure it's machine washable so she can wash it when she gets home from vacation.
Insulated Travel Tumbler Hot or Cold Drinks
Having a way to keep your drinks cold while you travel makes you feel like you're on vacation even when you are stuck at an airport. A travel tumbler is a gift that every travel girl will be able to use year round, not just while she's traveling!
Shop Travel Tumblers:

If you need more travel gift ideas, you can check out my blog post on How to Stay Organized When You Travel.