24 Personalized Jewelry Gifts for Women Who Love to Wear Jewelry
The holidays are upon us and you know what that means: time to put together your holiday wish list! For those of you who love jewelry, we've compiled a list of personalized jewelry gifts for women who love to wear jewelry. These pieces are perfect for the woman in your life with an elegant sense of style!
Why Buy Personalized Jewelry for Her?
There's something special about giving or receiving a personalized jewelry gift. Personalized jewelry gifts are unique and special because they're not something you can purchase at the mall the day before Christmas. They take time, effort, and care to design a one-of-a-kind piece that she'll cherish forever.
Personalized gifts seem to tug at the heartstrings and give extra meaning to the gift. In fact, personalized gifts are awesome gifts for any occasion! Be it an Anniversary, Christmas, a Birthday, or Mother's Day! From personalized drop earrings adorned with birthstones to chic monogrammed pendants, there are lots of options out there. It may seem overwhelming to find the perfect jewelry, but I'm here to help you out and help you find the perfect gift for the woman in your life.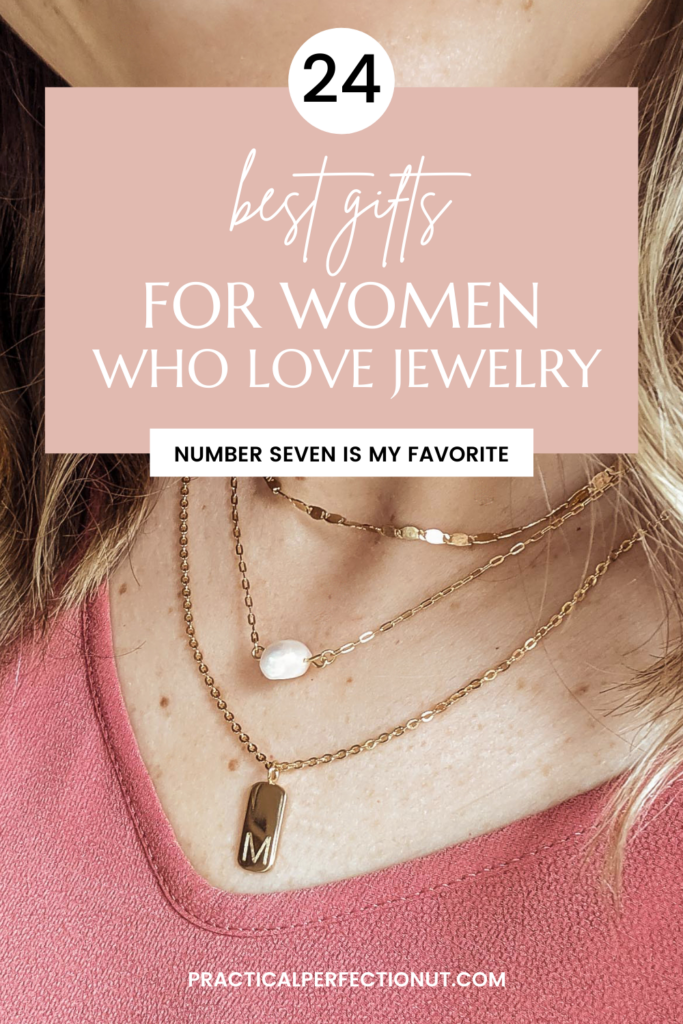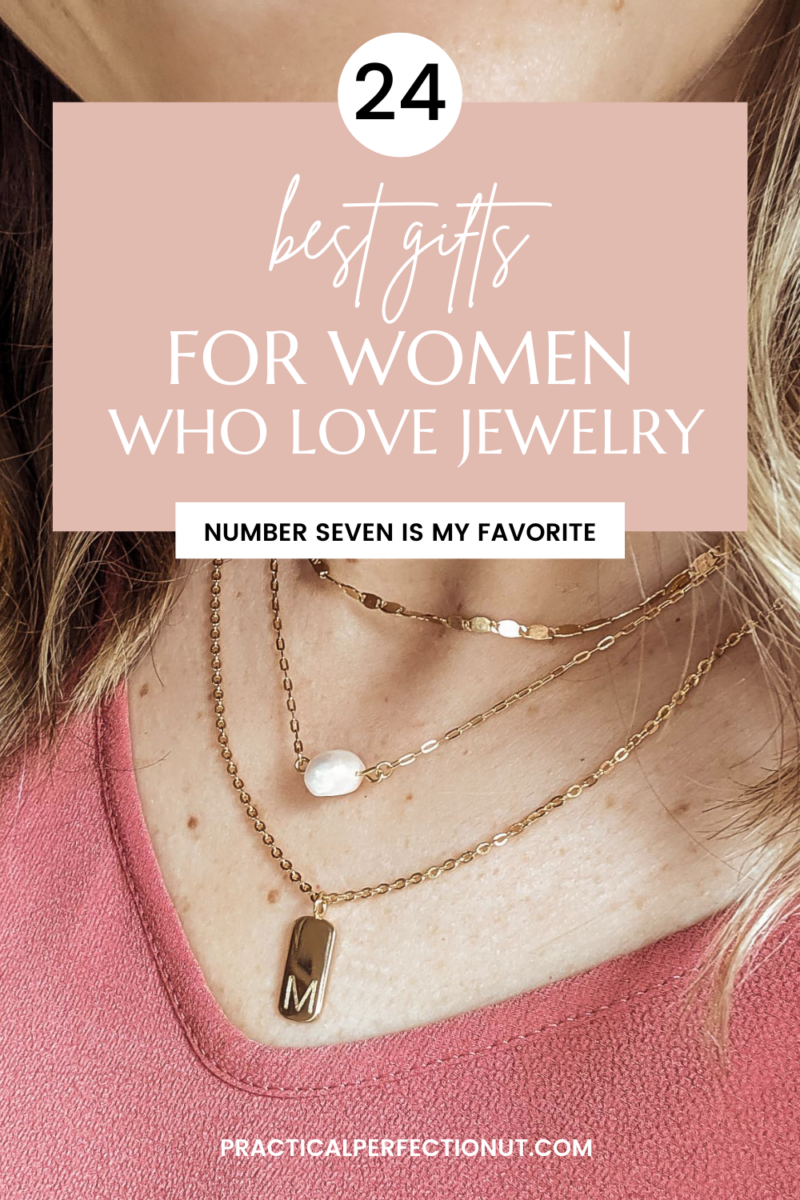 Where to buy Personalized Jewelry?
There are many places that you can buy personalized jewelry for women, but some of the best places are online. Online shops allow you to look through thousands upon thousands of custom designs. You can also view the store's ratings to see if they sell quality products. There are many sellers out there that sell cheap jewelry. But there are a lot of great sellers out there that sell great jewelry, too!
By far, my very favorite place to buy customizable jewelry is Etsy! Etsy has tens of thousands of small business owners that take great care in the products that they sell and you can always find a huge assortment of personalized jewelry there. They add a great personal touch to their products. Online shopping is also the best option if you are short on time. Running around to stores for custom work is near impossible to find unless you go to a fine jewelry store.
Here is a list of my favorite stores:
Brook and York (use my code: PRACTICAL_PERFECTION15 for 15% off!)
What do I look for when buying Customized Jewelry?
Generally, you get what you pay for with jewelry. That's because there are varying levels of metals and how they are applied to the jewelry. Obviously, something that is solid 14K gold will be really expensive. But there are more affordable options than solid gold. Some stores, such as Etsy and Amazon carry more affordable pieces that can be just as beautiful.
Here are some questions to ask when buying jewelry:
What is the difference between gold-filled and plated? Gold-filled is a layer of 14K or 18K gold applied over another metal where it takes on its new color. This makes the product much stronger than sterling silver because layers of additional metals have been added giving it more durability without compromising quality. Plating refers to an application of thin layers of precious metal onto base material in order to give it a different finish from what lies beneath.
If a piece of jewelry doesn't mention that it's Sterling silver, gold-filled, or plated…I generally avoid it. I've wasted too much money over the years on jewelry that just don't last. Especially when you want to customize jewelry that you want to last for a long time. Make sure to check the listing description for these details before checking out online. It's really difficult to find these kinds of things in store.
Custom Doesn't Necessarily Mean Initials or Photos
Custom jewelry can come in many shapes and sizes but it doesn't necessarily have to mean that it has someone's initials or their picture. It's just as meaningful to know that a piece of jewelry was made, just for them.
This Saturn Silver Ring is made to order by a small shop owner who has the most incredible handiwork. I am always mind blown at the incredible talents that the people in this world have.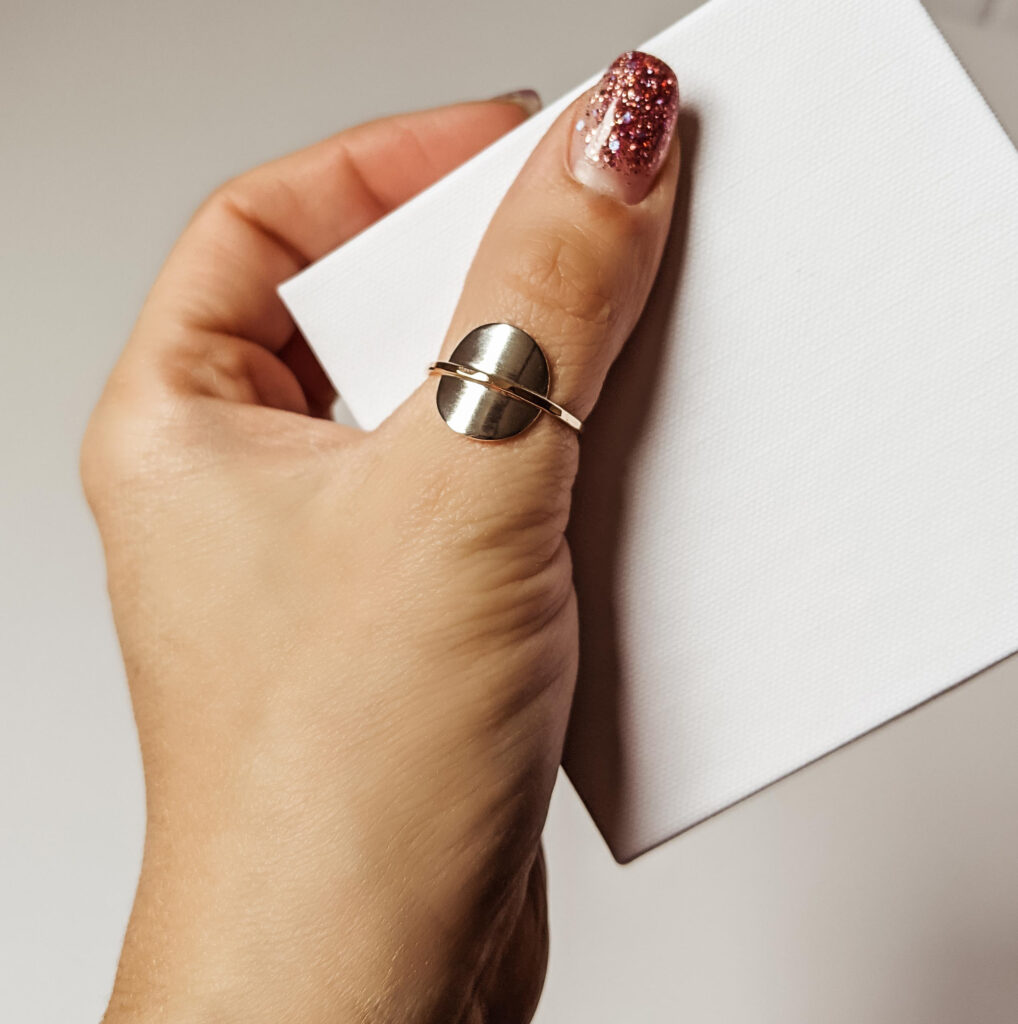 If you aren't looking for personalized items but you are looking for a gorgeous ring that has a customizable size, you're definitely in the right place with this BOHO Hammered Ring. I love how the size can be adjustable as my finger size changes. It's also fairly lightweight so I don't feel like I have a bulky suffocating ring on. I actually don't even notice that is on, unbelievably.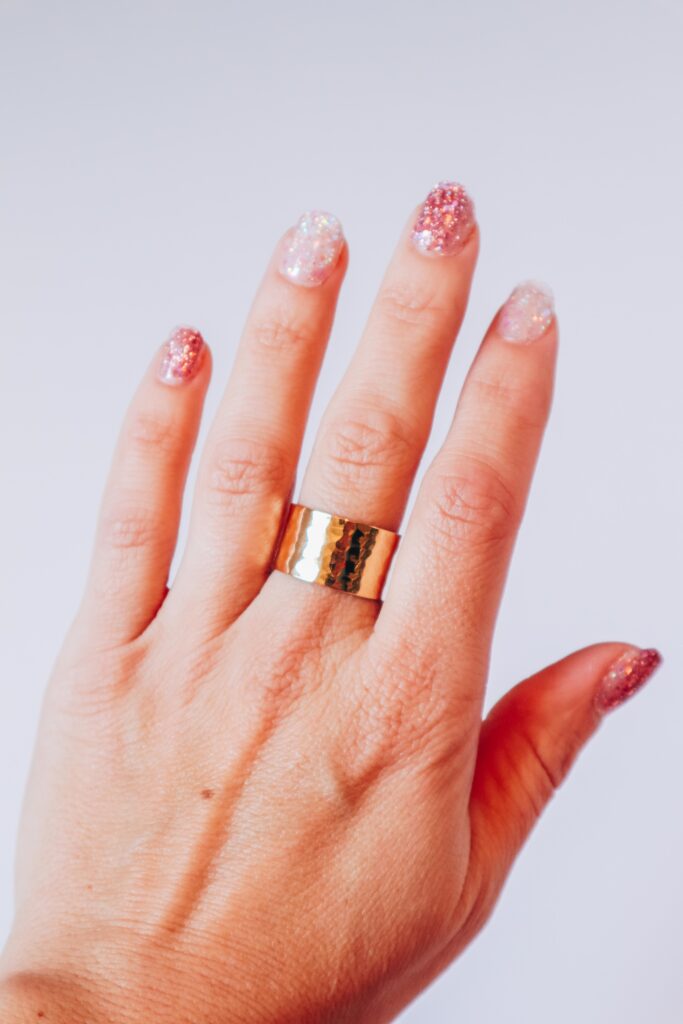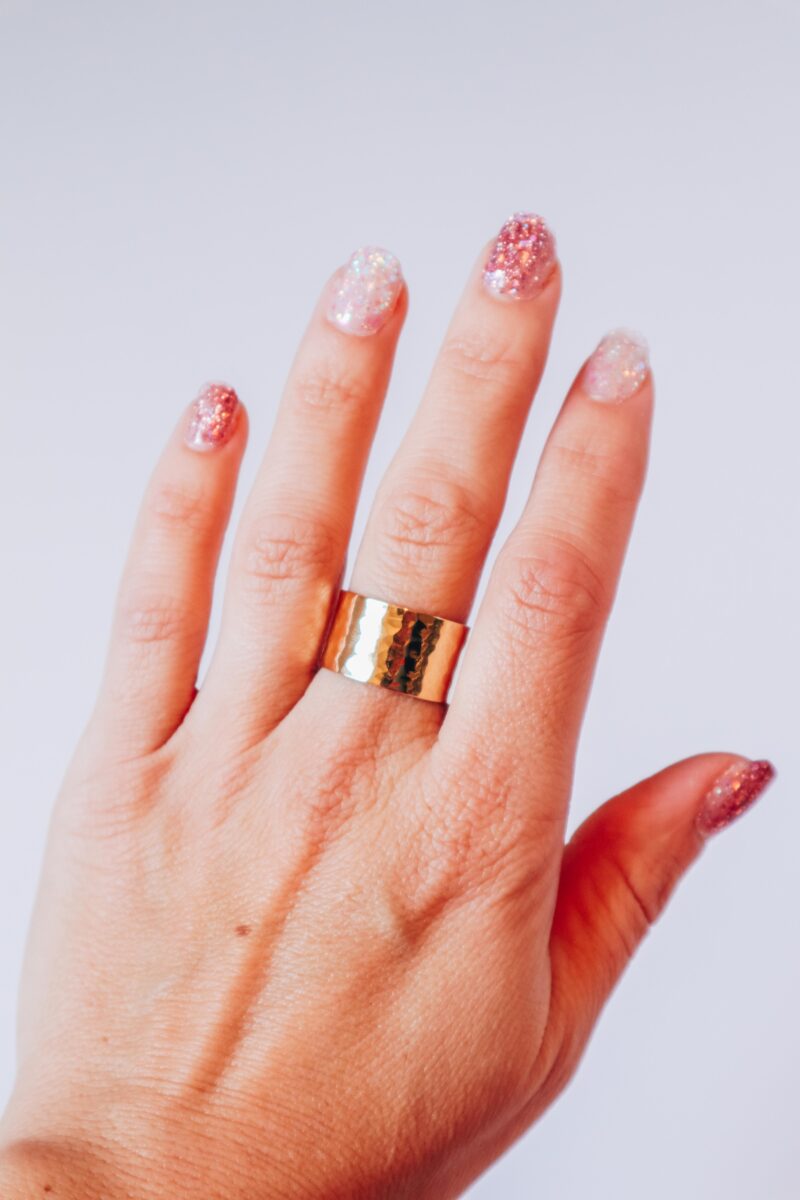 Personalization Ideas for Custom Jewelry
First Name of the person receiving the gift
'I love you' message or a similar phrase that's personal to you
Customized Handwriting message from someone special, or a family member who's passed away
Coordinates of a meaningful place you have together
Wedding date or a meaningful date to that person
The fingerprint of someone special
Photo of a loved one
Photo of a Pet
Birth Date
Birth Flower
Birthstone
Children's Names
Monogram
Signature
Drawing or Handwritten message from a child
Silhouette of a loved one
A meaningful Special Message
Personal or motivating motto or word
The shape of a meaningful state, country or lake
How Much is a Custom Necklace?
Like I mentioned before, you generally get what you pay for with jewelry. So if you are spending under $20 for personalized jewelry, it is probably not of great quality. You want to make sure that you are paying anywhere from $30-$100+ (with exceptions of course!). And the higher the price from there, the better quality you will receive. Unless of course the listing mentions the higher quality options and you just happened on a great sale!
Personalized Birth Flower
Birth flowers are the new up-and-coming version of the birthstone. The birth flower was thought to be more symbolic than the traditional stones. You can find them on a variety of pieces but I've linked to my favorite pieces of jewelry that you can find here:
Birth Flower Bracelet
I just love this new trend of the birth flower bracelet. However, I was looking for something that would last me a long time. Not just a bracelet that would look worn and scratched within the first week. Not to mention that most gold bracelets that I've owned, the gold rubs off crazy fast. I love the delicate nature of this Birth Month Flower Pendant Bracelet that I have and I love that it's not annoying to wear all day, all night, and even in the shower.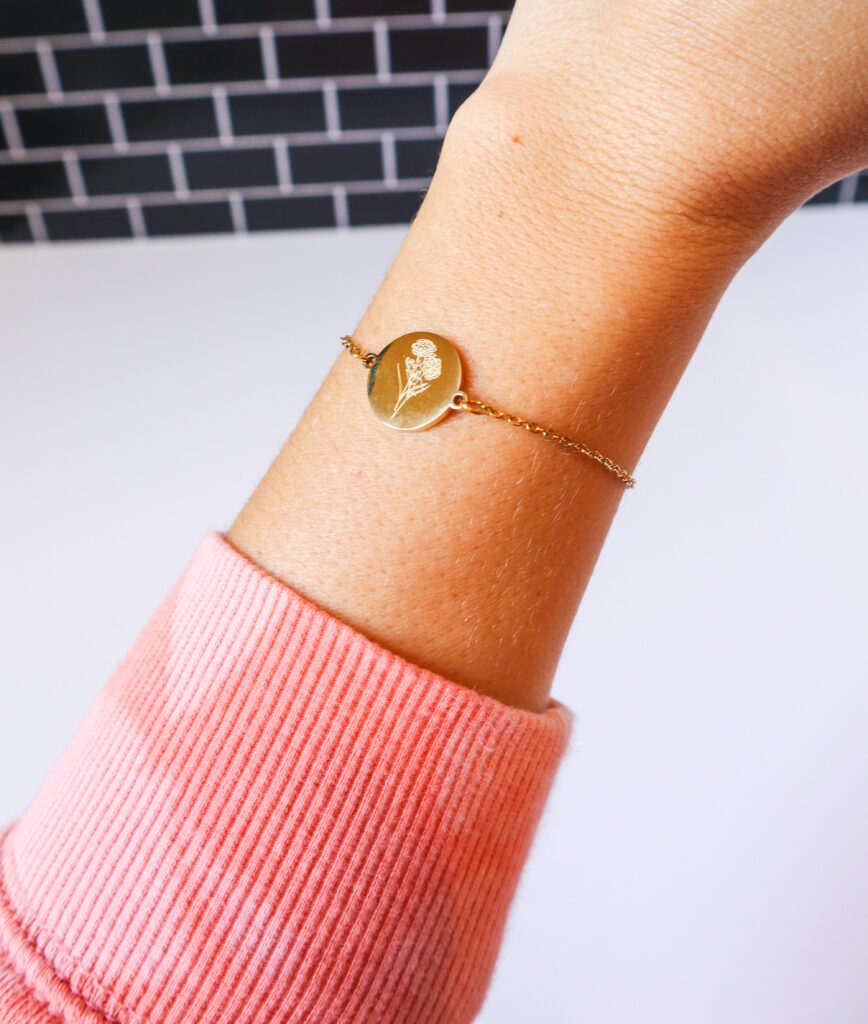 Birth Flower Necklace
If wearing bracelets is not your thing, don't worry. Etsy also has Birth Month Flower Pendant Necklaces! I'm super impressed with the quality of the necklace and you can choose the finish to suit your needs. The Shell Birth Month Flower Necklace is also to die for.
Birth Flower Ring
This Shell Birth Flower Ring that I found is great because you can put several birth flowers on it. So if you have 3 kids, you put 3 birth flowers on the ring…similar to a birthstone. Customized rings are a great way to show that you care!
Shop Birth Flower Jewelry Pieces:

Personalized Birth Stone
Birthstones have been around for a long time and they are a great way to remember family members. They are also perfect to wear on every occasion!
Birthstone Bracelet
There are so many different ways to add personality to your gift and I adore the unique look of this Birthstone Bangle Bracelet. You can also add an initial to each stone to commemorate the person whose stone it is!
Birthstone Necklace
There are so many different varieties of necklace charms that you can choose from when picking your necklace but why not choose something that is as unique as the woman you are giving it to? I'm completely obsessed with this Natural Stone Necklace and this Leaf Waterfall Necklace.
Birthstone Ring
Rings are so great because they can be worn all day, all night, and usually with every outfit! They are really versatile and birthstones are a great way to customize a ring. You can either choose to have your own birthstone month or the month of your kids! I died over this Unique Tear Drop Ring with my kids' stones in it. I think of each one of them every time I see it.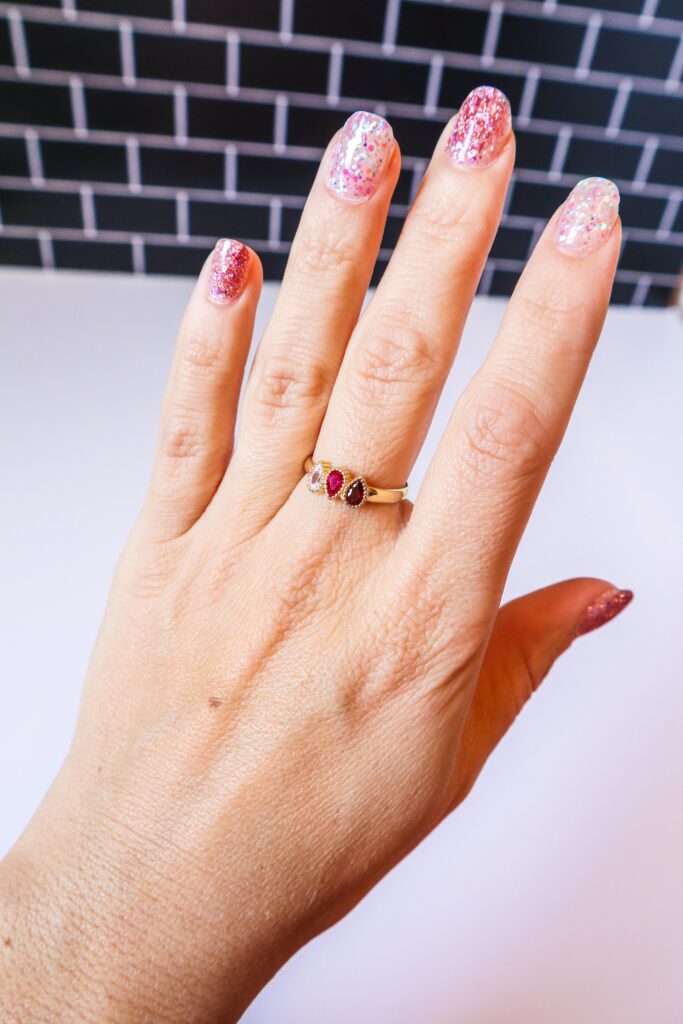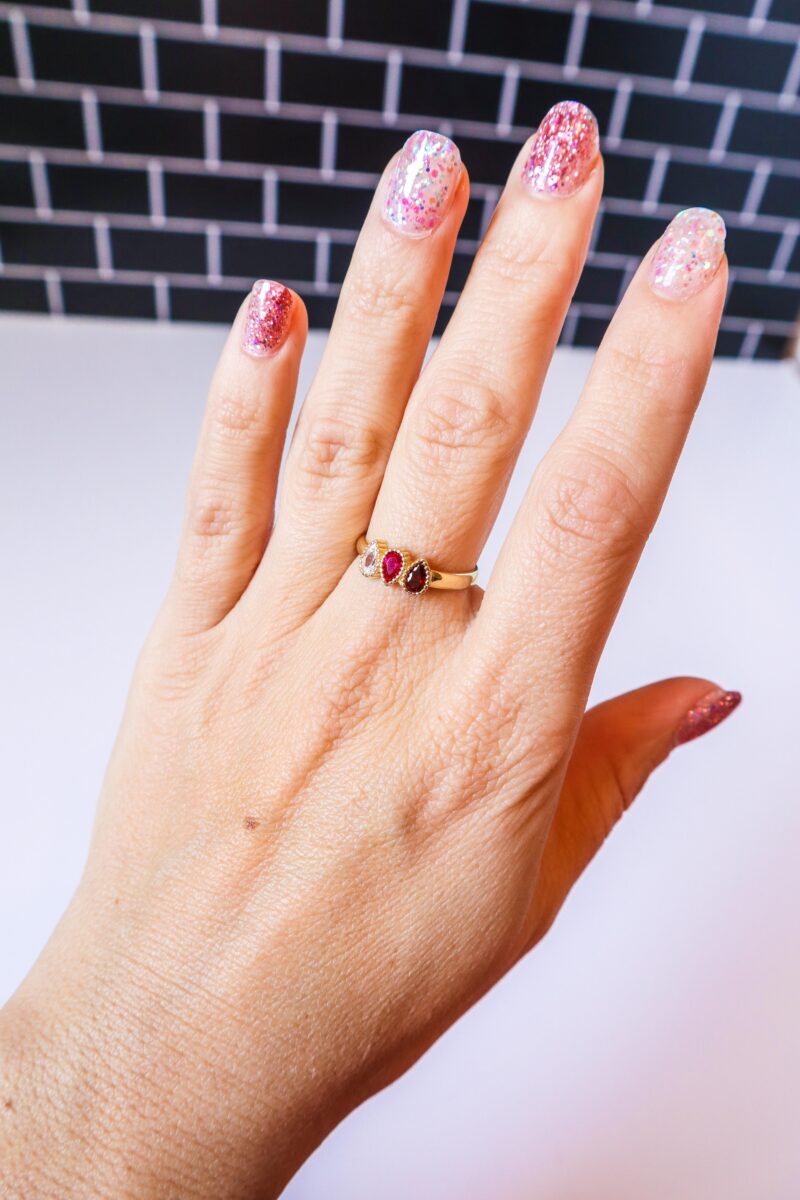 Shop Birthstone Jewelry:

Initial Jewelry
Everyone wants to have earrings, rings, bracelets, or necklaces with their initials on them so this is always a safe option when personalizing.
Initial Necklaces
Necklaces with an initial on them are not anything new. In fact, they are probably one of the most popular items on Etsy. However, it's difficult to find necklaces that really stand out…that look different than the necklaces everyone else has. That's why I absolutely LOVE this dainty chain initial necklace. It's very beautiful in person and it's unlike many of the other pieces that I've seen online.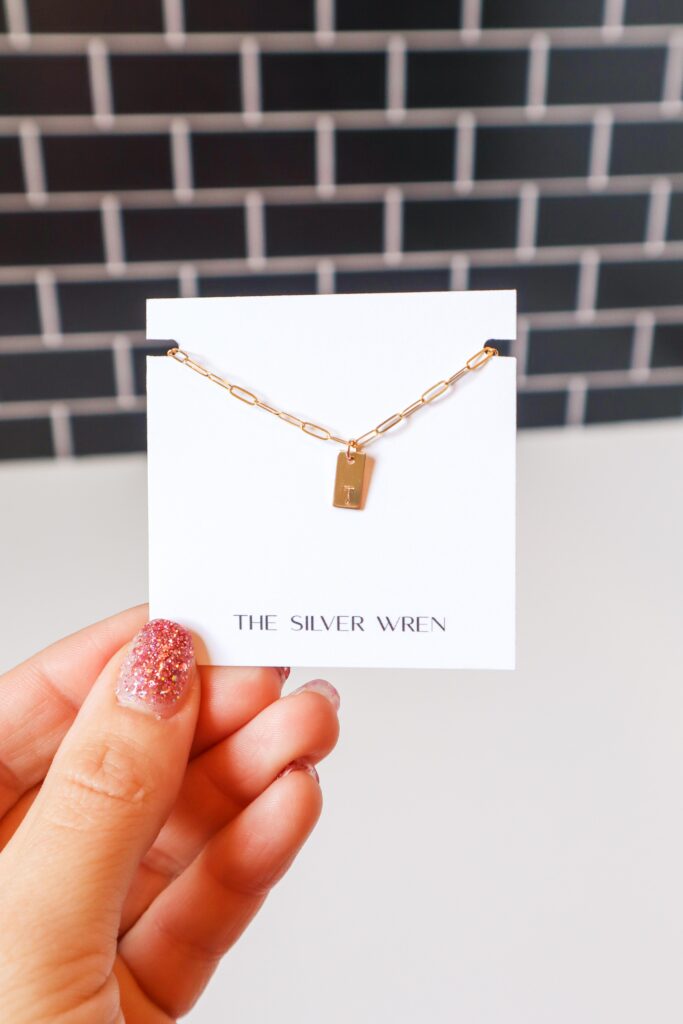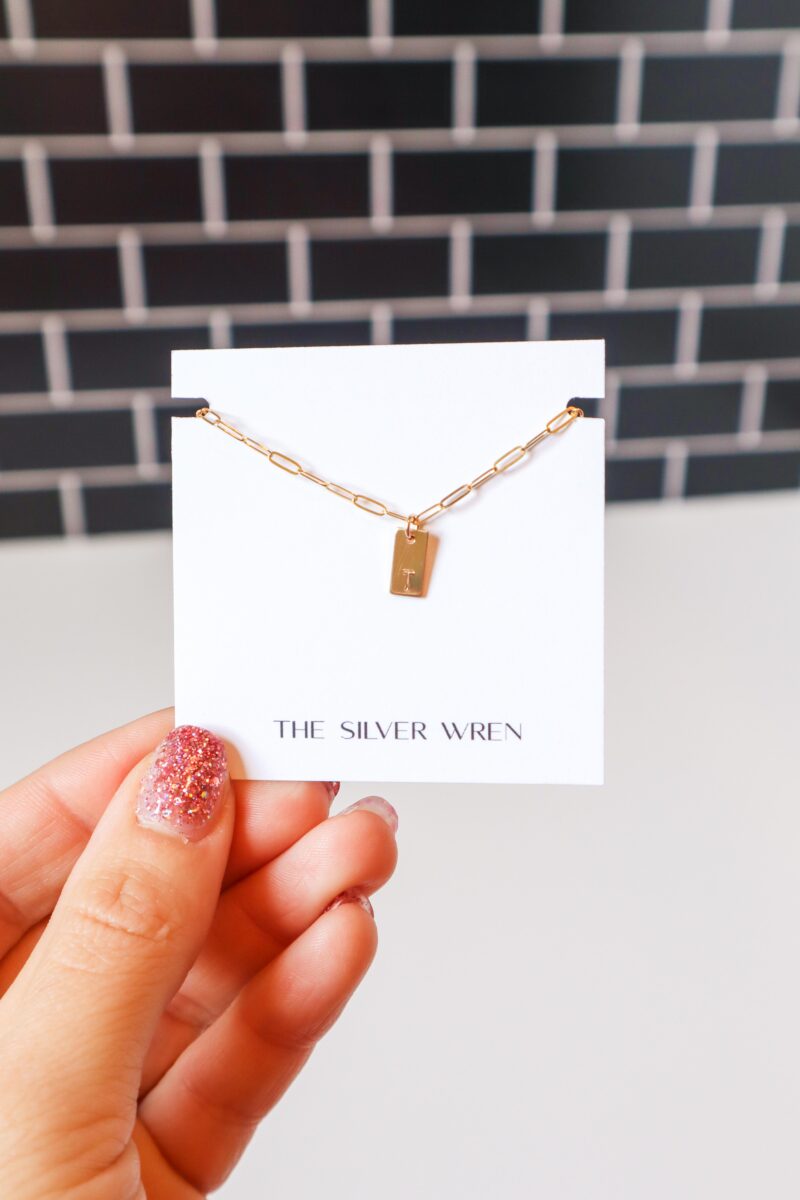 Layered Letter Necklaces
It's a hugely popular trend to have layered gold necklaces. The trouble is that it can take a lot of time to take them on and off each day. Some necklaces can't withstand the daily grind of sweat, body oils, and showering. But some can! I love the jewelry pieces from Brook and York. You can use my code PRACTICAL_PERFECTION15 for 15% off your order!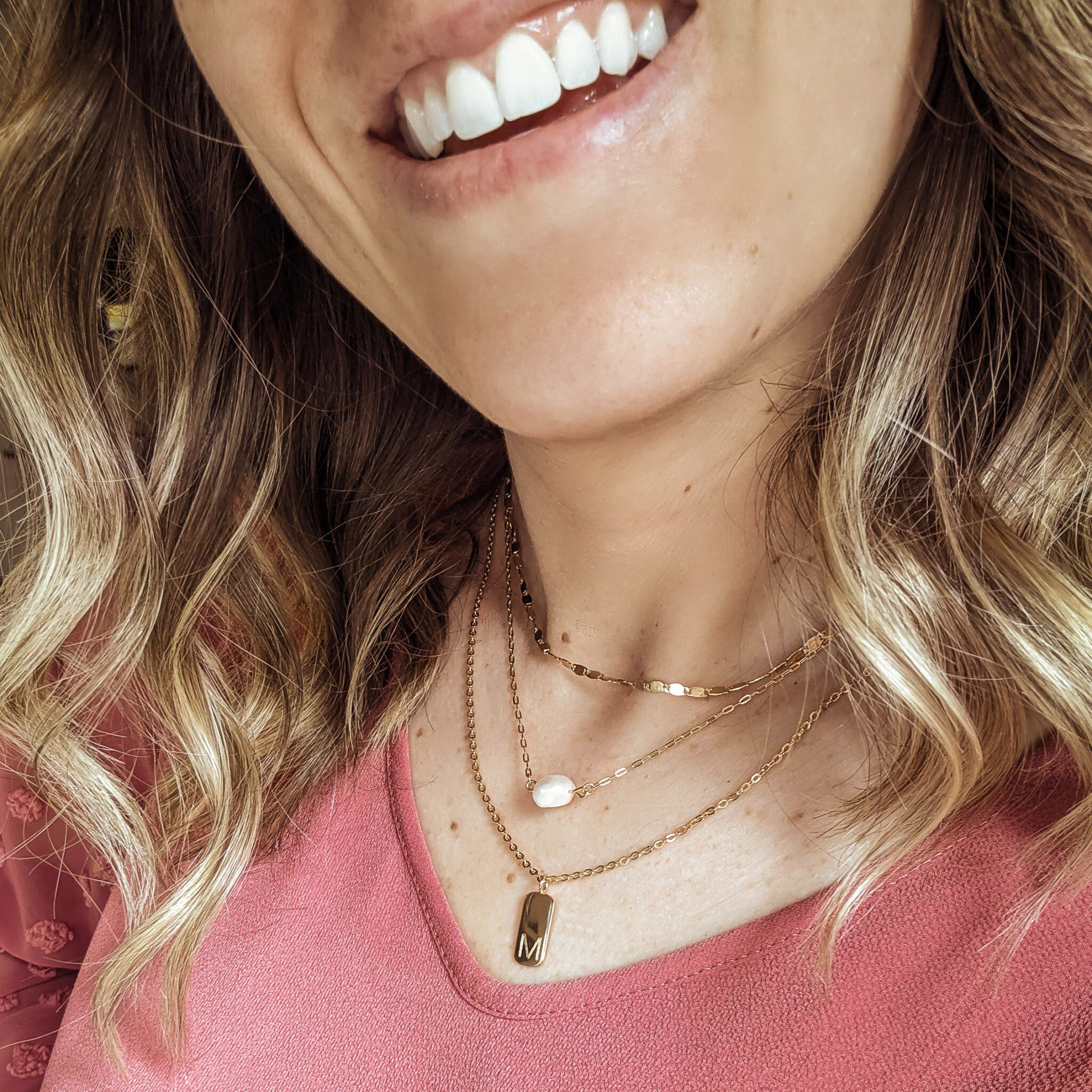 They are a bit more pricey but as I've said throughout the article, you get what you pay for. If you are looking for an excellent piece of jewelry that will last for years to come, this is a great option. In the photo, I have pictured the Mara Choker, Sloan Pendant, and the Lola necklace.
Shop Initial or Name Jewelry:

Use a Photo to Personalize your Gift
Believe it or not, but they can do some pretty incredible things on jewelry with just a submitted photo. This is one of my favorite personalized gifts because you can truly make it your own. You send them a photo and they turn it into an image that's laser engraved on the actual piece of jewelry, creating a very unique gift!
Photo Locket
The concept of the photo locket has been around for a long time, but that doesn't mean that it's any less meaningful! Who wouldn't want to wear around a photo of their loved one (or even a note from a loved one) around? These are difficult to find in store and this is by far my favorite place to find lockets. They have a big variety and they actually put the photos in the locket for you. This is huge because this can be a frustrating process.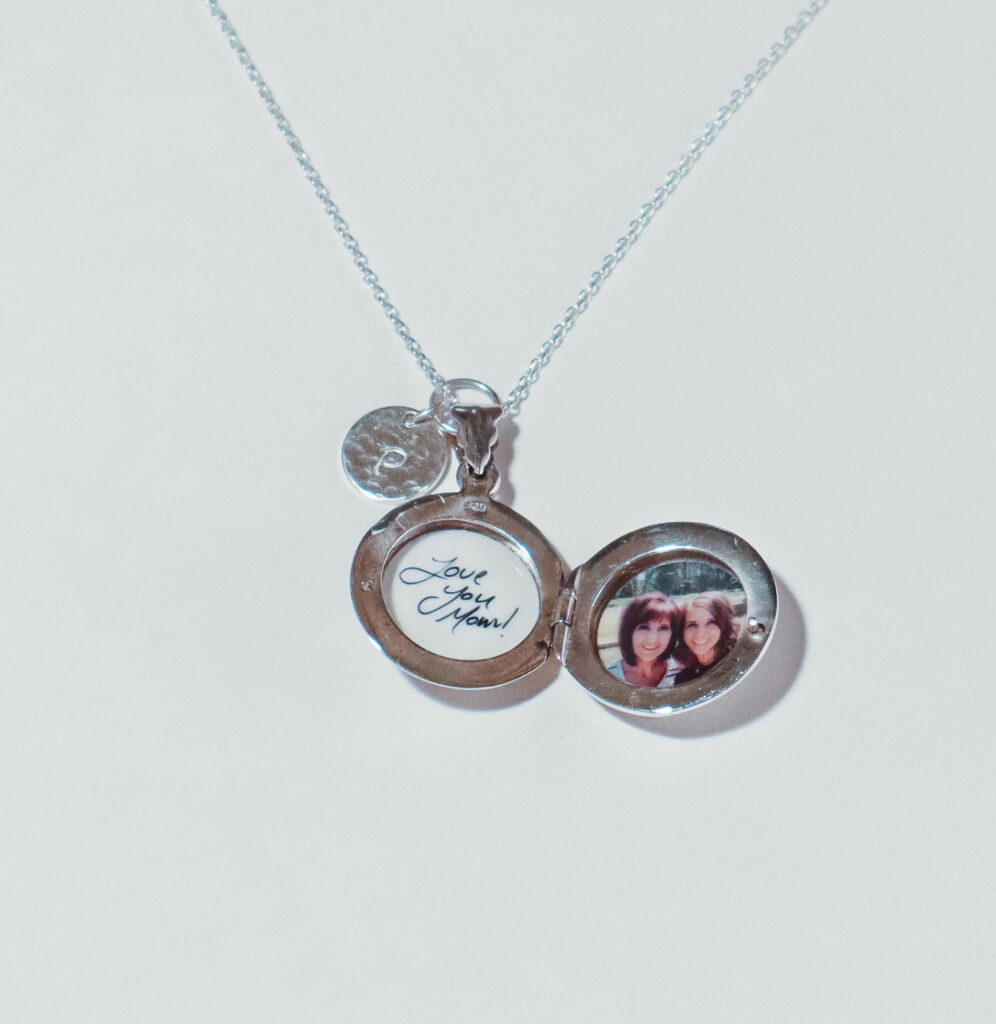 I got this Sterling Silver Photo Locket for my Mom for Christmas (I sure hope she's not reading this) and I wanted to put in a message to her. So I hand-wrote a short note to her, took a photo of it, and sent it in with the photo of her and me together. It turned out darling!
Engraved Photo Necklace
You can add any photo you'd like. But just to give you a few ideas, you can add a photo of a pet, a lost loved one, your first home, your child's artwork, or anything else that you'd like to see on a piece of jewelry. This Laser Engraved Photo Necklace is a good example.
This is for the person who has it all! This bracelet is something she can wear every day and feel inspired by her loved ones every time she puts it on. And if personalized gifts aren't really her thing but you still want to give her something special, this would be perfect!
Engraved Silhouette Necklace or Bracelet
You can also add a silhouette of a child, spouse, or loved one for a really classy gift. All you need to do is send in your picture with a few of their specific instructions (like taking a profile photo of your child against a blank wall) and they can transform the image into a work of art that you wear around!
VonJet Silhouettes is my favorite place to get silhouette jewelry. This is also a great gift for mothers and grandmothers! Their gold necklaces are solid gold, so you know that it's a piece that is literally going to last through generations. They also have other metal options to choose from…all of which are really high quality.
You can also choose to go the vintage route with a beautiful Vintage Hexagon Photo Locket! You can add or change photos as needed to have darling photos of you and your loved one.
Shop Photo Gifts:

Custom Handwriting Personalized Jewelry for Her
Handwriting Necklace
There are a couple of different ways that you can add handwriting to a jewelry piece. You can either go with a Gold Disc Handwriting Necklace or you can even have the handwriting cut out of actual metal with a Personalized Signature Handwriting Necklace. Both are super beautiful and they are great options!
Handwriting Bracelet
I adore this Personalized Cuff Bracelet. The options for customization are endless and you can easily add initials, a personal message, or a note from a child…which would make it great for mother's jewelry. They have tons of options to choose from from the metal type, finish type, words, symbols, you name it! I especially love how it won't turn your skin green!
Shop Handwriting Pieces: