The Ultimate Christmas Bucket List: 65+ Fun Activities To Do This Holiday Season
The holiday season is a time for family, friends, and fun! What better way to make memories than by checking items off of your very own Christmas Bucket List? We've put together a comprehensive list of 70+ activities that will get you in the festive spirit. From watching classic Christmas movies to visiting Santa Claus, we've got you covered. So download the free bucket list printable and start your own list today!
66 Holiday Activities Ideas You Need on your Bucket List
Before you start your Christmas bucket list, you need to sit down with a pen and a piece of paper and write down the traditions that you and your family love to do. This will help you make the most of your holiday season and enjoy all the activities that you love.
This is the ultimate Christmas bucket list ideas post. But you need to make sure not to overwhelm yourself trying to fit it all in. This post is just meant to be the ultimate Christmas bucket list to give you as many ideas as possible.
1. Have a Jerusalem Dinner
There is no better way to celebrate Jesus Christ with your kids than to have a Jerusalem dinner.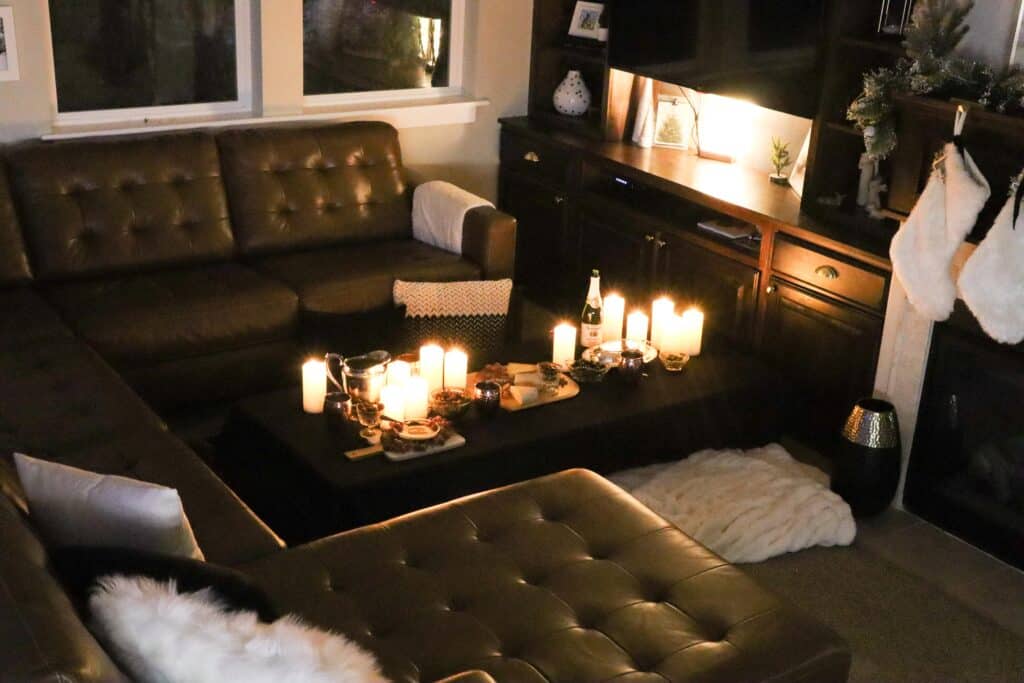 Set up a folding table on the ground and lay out blankets to sit on. Then serve foods that they ate during Jesus Christ's time such as nuts, grapes, seeds, berries, naan bread, or other alternatives. Then turn off the lights, light some candles, and discuss Jesus Christ's life and ministry.
We did this for the first time last year and my kids keep asking for it again!
2. Take Family Pictures
Christmas is a great time to take a photo of the whole family. You can also send it with your Christmas cards! You can even do a themed shoot if you want to get creative. Taking your family photo in a lot of Christmas Trees is a fun idea!
3. Make a gingerbread house
Making a gingerbread house is one of the best ways to ring in the holiday season. It is a fun Christmas activity that all ages can participate in and that everyone enjoys. You can choose to purchase gingerbread houses as a kit, or you can make your own!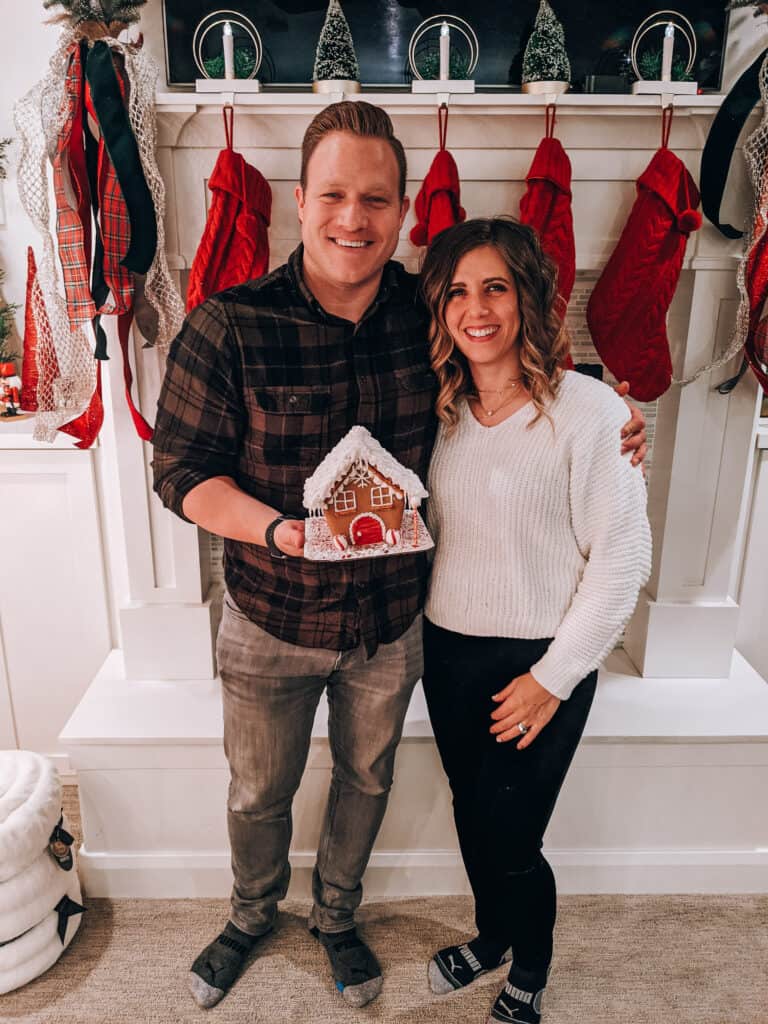 For easy cleanup, put a plastic table cover on the table so you can easily throw away the mess.
4. Throw an Ugly Christmas Sweater Party
If you love tacky Christmas sweaters, have a party where everyone has to wear one! You can have a contest for who has the ugliest sweater. It's become quite a trend so it's super easy to find ugly Christmas sweaters for your ugly Christmas sweater party. You could even serve these amazing Ugly Christmas sweater cookies!
5. Plan your Christmas Dinner
Having a fancy Christmas dinner is a Christmas tradition that many people love. If you enjoy cooking, this is the perfect activity for you! You can start by planning what you're going to make. Will you be doing a traditional turkey dinner or trying something new?
Once you have your menu planned, create a grocery list of all the ingredients you'll need. If you're looking for custom place cards, these or these are my favorite!
6. Create a Hot Chocolate Bar
Creating a Hot Cocoa Bar is a perfect way to make sure your guest (and your family) are always well-fed during the holiday season! All you need is a few different flavors of hot chocolate mix, some fun toppings (like marshmallows, candy canes, and whipped cream), and a mug for each person.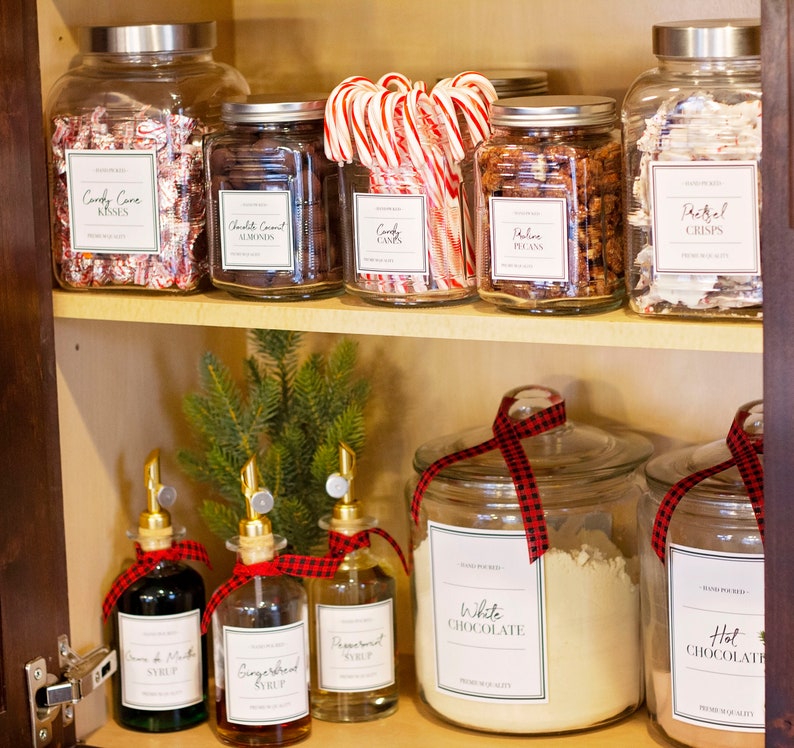 Set everything up on a table or counter and let everyone make their own hot cocoa creation! This is a really easy Christmas bucket list activity that anyone can do.
7. Build a Snowman
If you live somewhere where it snows, take advantage of it and build a snowman! If you don't have enough snow, try using this DIY Snow. Building a snowman is a great activity to do with kids or even by yourself. A really easy way to add snowman accessories is by using a snowman kit!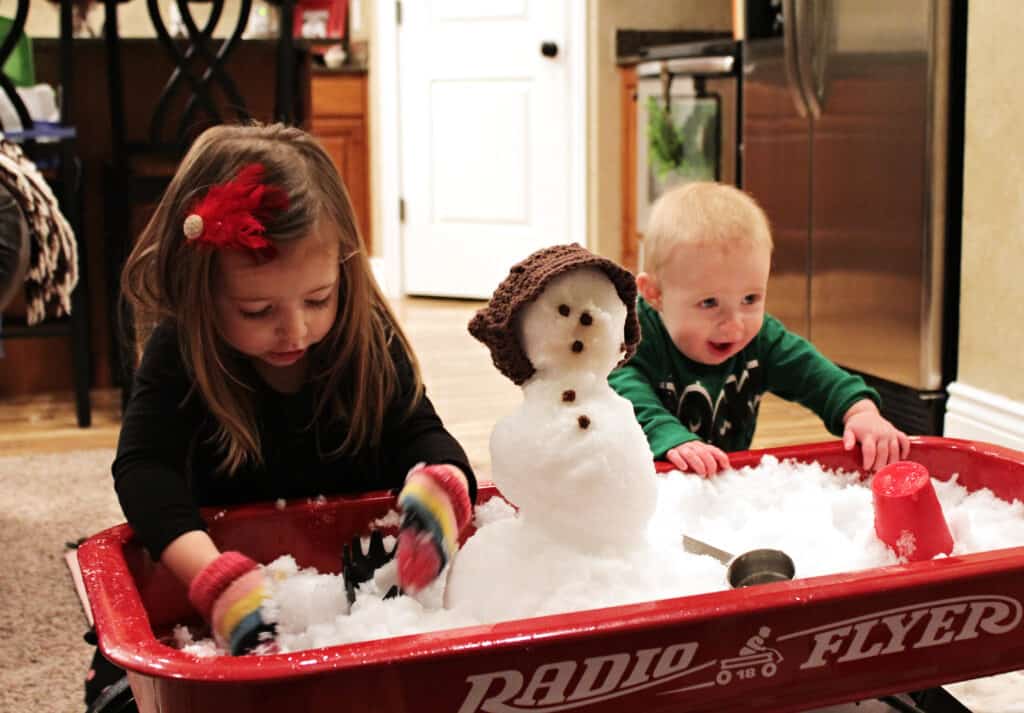 8. Build an Igloo
You'll need a lot of snow for this activity, but building an igloo is always a fun activity for the whole family. This is a fun way to make the most of a white Christmas! You can use this snow kit to make building your igloo go much faster!
9. Go Ice Skating
Ice skating is a Christmas season must! It's so fun to get bundled up for some holiday fun and go ice skating. This is a great Christmas bucket list item that the whole family can enjoy.
10. Go for a Sleigh Ride
This may be an activity that only some can enjoy but search in your area for a Sleigh Ride experience. This would be perfect for a romantic date night with your significant other. Alternatively, you could also opt for a city carriage ride.
11. Have a Snowball Fight
Having a friendly snowball fight is the perfect way to get outside and enjoy the winter weather. It's a fun way to enjoy your winter wonderland. We LOVE these snowball makers! Be sure to make some hot chocolate afterward to warm up!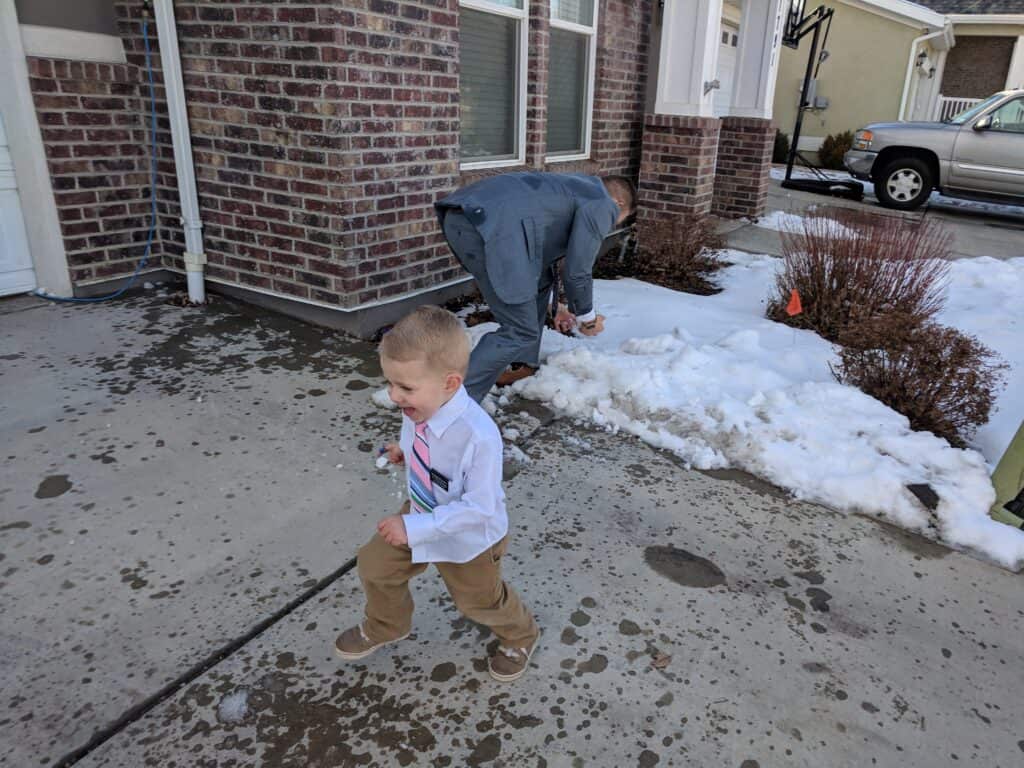 If you live in an area where it doesn't snow, you absolutely must buy some of the faux snowballs. We've had these for years and my kids love having indoor snowball fights the snowballs don't hurt at all when you get hit.
12. Attend a Christmas Concert
Christmas concerts are a really fun way to enjoy holiday music. Maybe you have a child who is performing in a concert…or maybe you can even buy tickets for a Christmas concert. Either way, this is a great way to really feel the holiday spirit.
13. Make Homemade Gifts
One of my favorite things about the holidays is giving homemade gifts to friends and family. There is something special about Christmas gifts that someone took the time and effort to make you. So don't be afraid to make your Christmas gifts for others.
14. Have a Christmas Movie Marathon
This is a Christmas Bucket list MUST! What's more festive than cozying up with some hot cocoa and watching all of your favorite Christmas movies? This is the perfect activity for a cold winter day. If you want to make it extra special, you can even print off some movie party printables to set the scene. Don't forget the popcorn!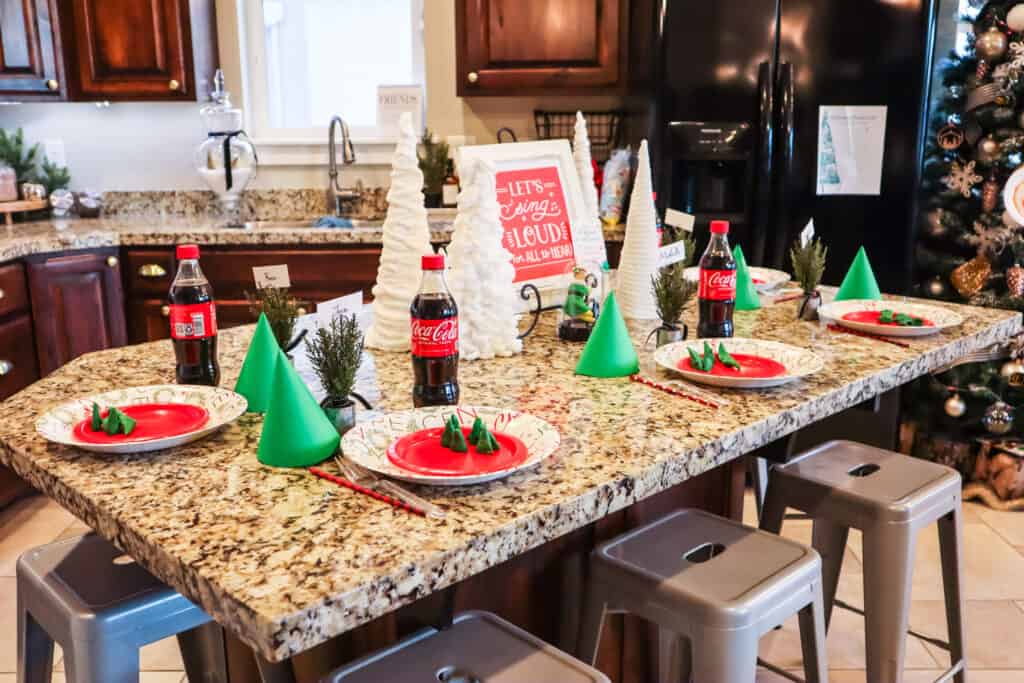 15. Have a Holiday Game Night
Nothing is more fun than getting together to have a family game night together. Set aside some time to play all of your favorite Christmas games. If you want to make it more festive, you can bake some holiday cookies or make some hot cocoa to enjoy while you play.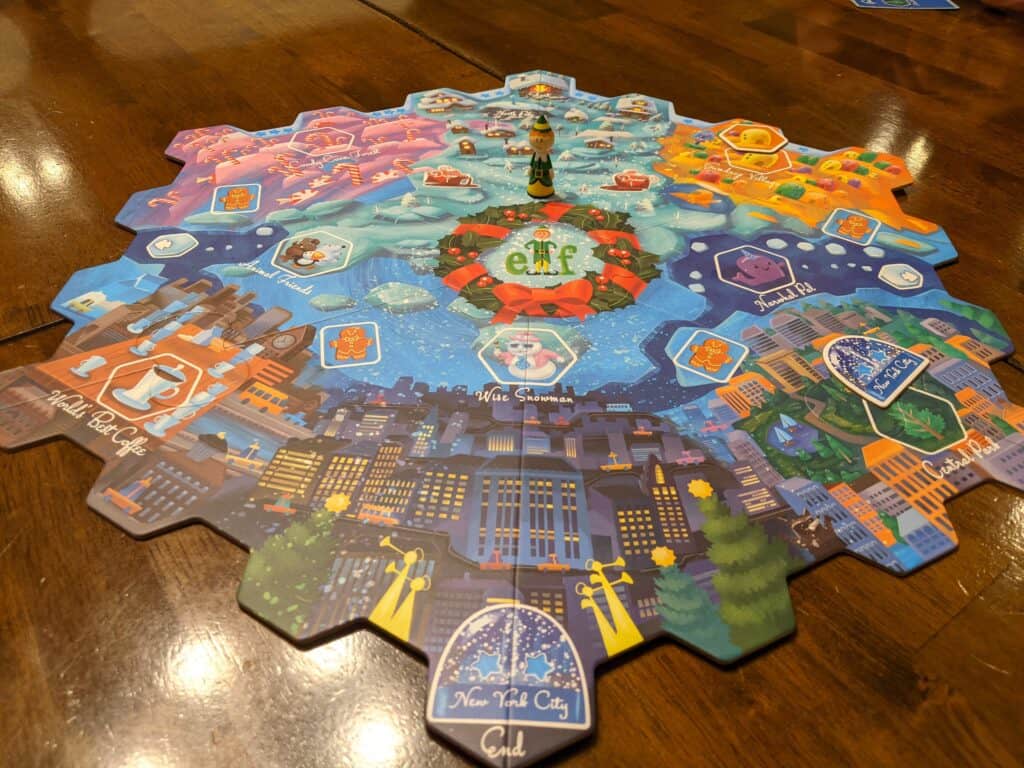 Here are some of our very favorite games for family game night:

16. Go Shopping and Donate Food to a Local Shelter or Food Bank
Nothing brings the holiday spirit into your home more than serving others. So donating food to a local shelter is a great way to give back. You can also create blessing bags to hand out to homeless people you see on street corners.
17. Decorate Your Christmas Tree
One of the best parts about Christmas is getting to decorate your home with all of the festive decorations. stringing up lights, hanging stockings, and adding all of your favorite ornaments to the tree are just a few of the things that make this time of year so special.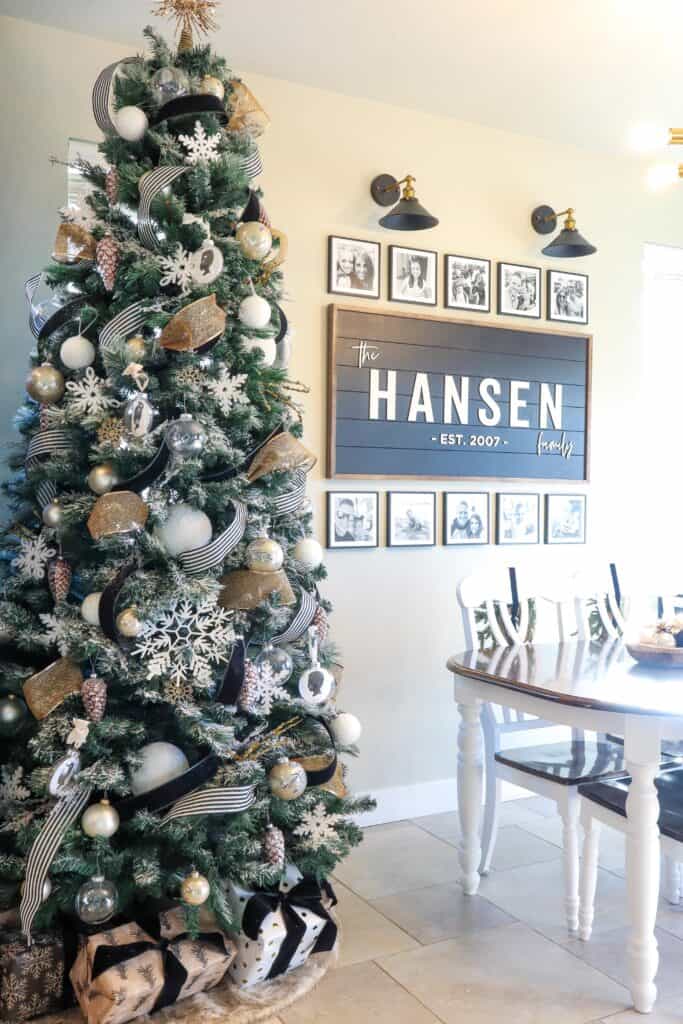 18. Drive around to View Elaborate Christmas Light Displays
One of our favorite family memories is waking our kids up (after we've already put them to bed) giving them some new Christmas pajamas and driving around to see Christmas lights. You can drive around the neighborhood, or you can purchase tickets to a local holiday light show.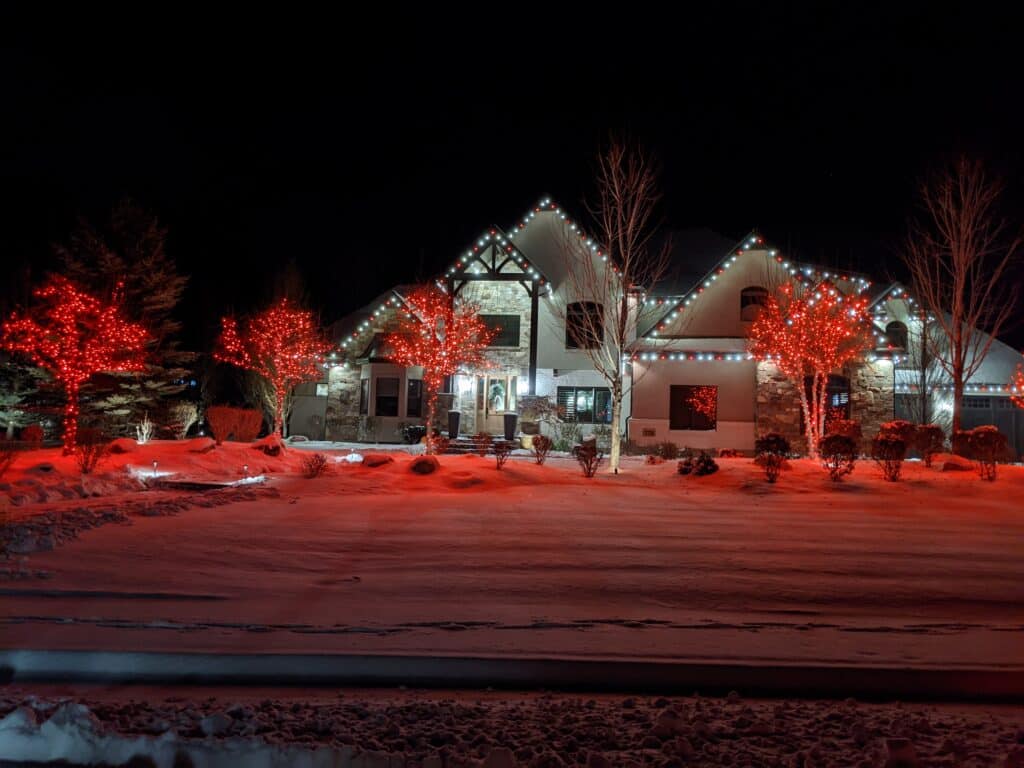 This is one of my favorite Christmas bucket list items that we try to do every year. We also love to surprise them with hot chocolate to drink as we drive.
19. Plan Service Activities to Bring in the Christmas Spirit
My most memorable Christmas as a child was when we did service and gave Christmas to a family who was desperately in need. I remember more about that particular Christmas than all of the other years combined. This is a great Christmas bucket list idea that will be memorable for everyone involved.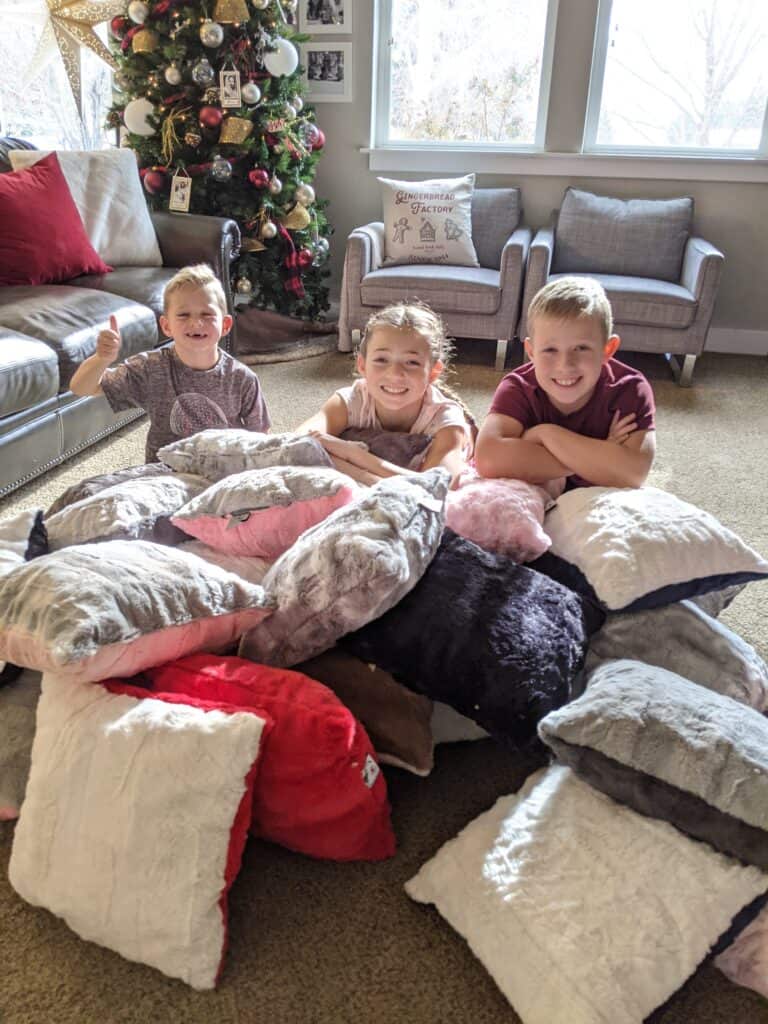 One of the easiest ways to get involved is to use the Just Serve website (or app) to look up ways that you can serve locally.
20. Visit IceCastles
If you've never heard of IceCastles before, you're missing out. This is one of those one-in-a-lifetime Christmas bucket list items that you are guaranteed to love. It usually doesn't open until January, depending on the weather and where you live (it takes time to build ice castles people!) so this could be a fun Christmas gift experience item you could give to someone.
21. Attend a Christmas Parade
Do a search for activities in your local area to see if they have a christmas parade in your town or nearby. These are really fun because you can see lighted displays or even christmas themed blimps. If you don't have on in your area, you could even stream a christmas parade online!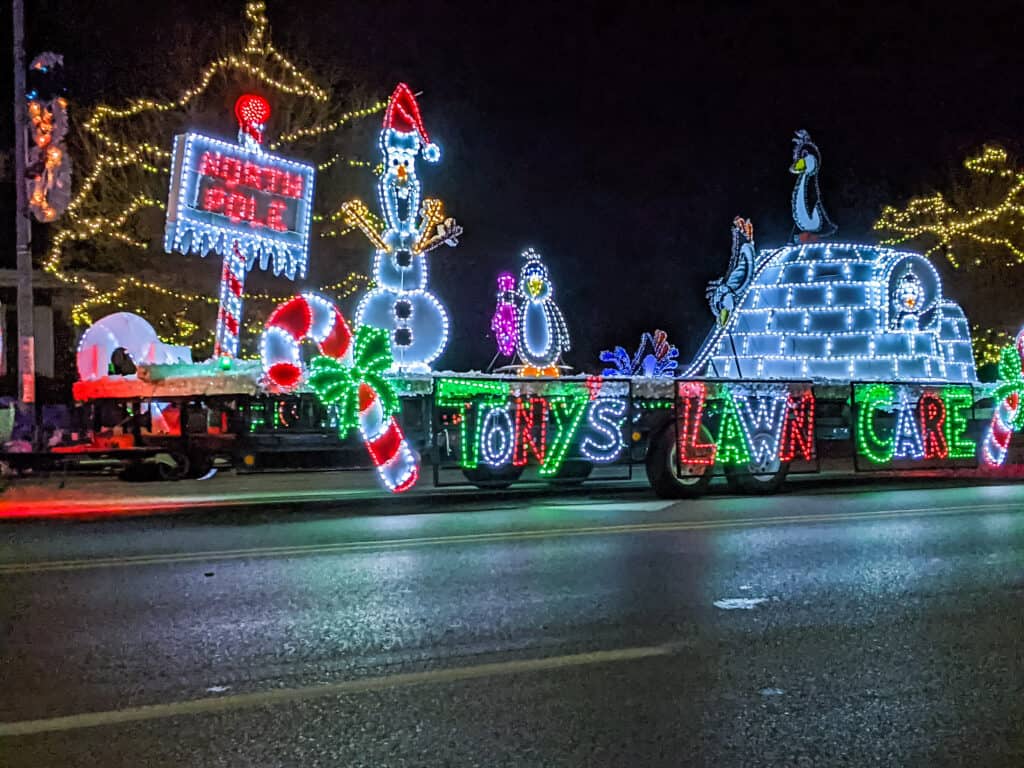 22. Plan Secret Santa treats for Someone Who is Having a Hard Time
We all have that friend or family member who is going through a tough time. This year, instead of feeling sorry for them, do something to make their holiday season brighter by doing a Secret Santa project.
Plan to do some act of secret service for them. It could be something as simple as leaving a gift on their doorstep, sending them a care package, or baking them some Christmas cookies. Secret Santa is a great way to bring some holiday cheer to someone who is having a hard time.
23. Order Christmas Cards
If you love sending and receiving Christmas cards, make sure to add this to your Christmas bucket list. I know that these are something that I really look forward to receiving, so take a few extra minutes and order your holiday cards to make someone else's day.
24. Create a Gift Wrap Station
A great way to make wrapping Christmas gifts fun this year is to create a Gift Wrap Station as one of your Christmas bucket list items. Gather all of the wrapping supplies that you will need for the season so you are prepared!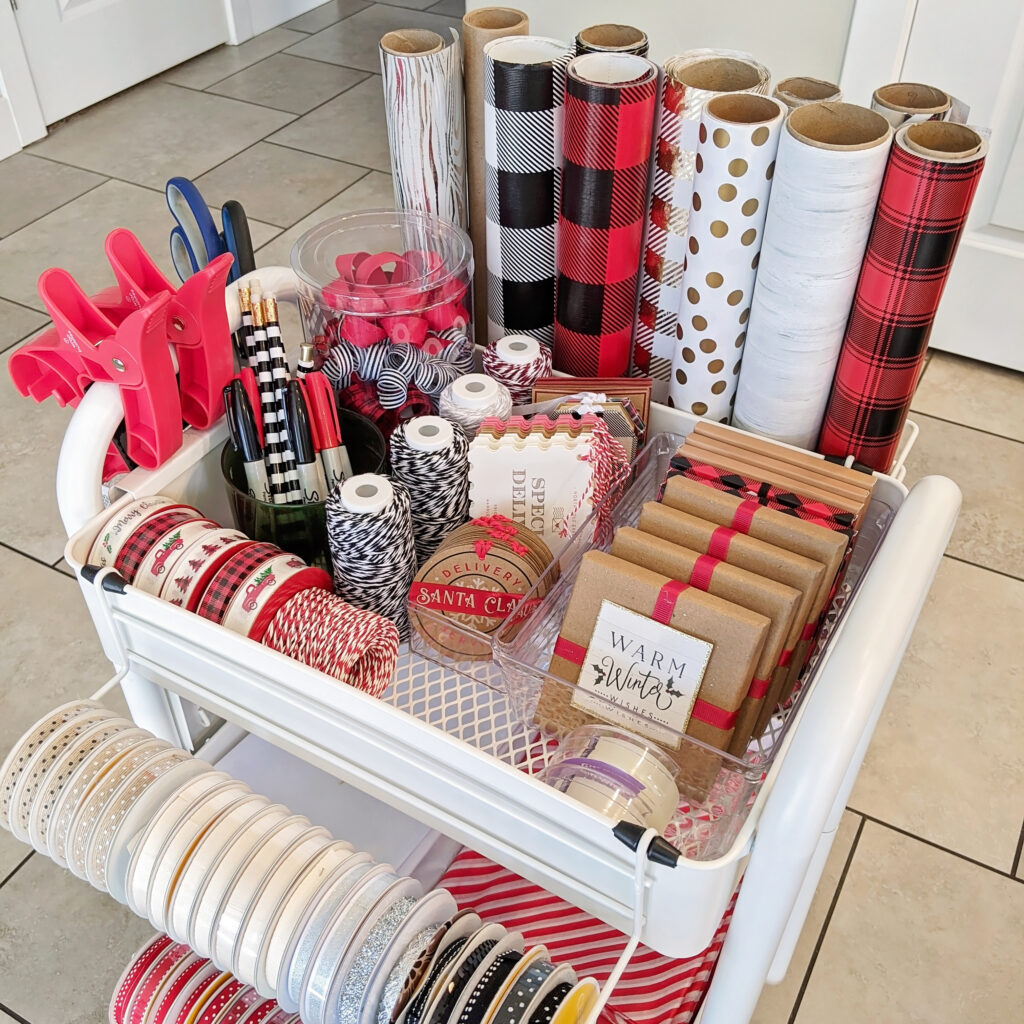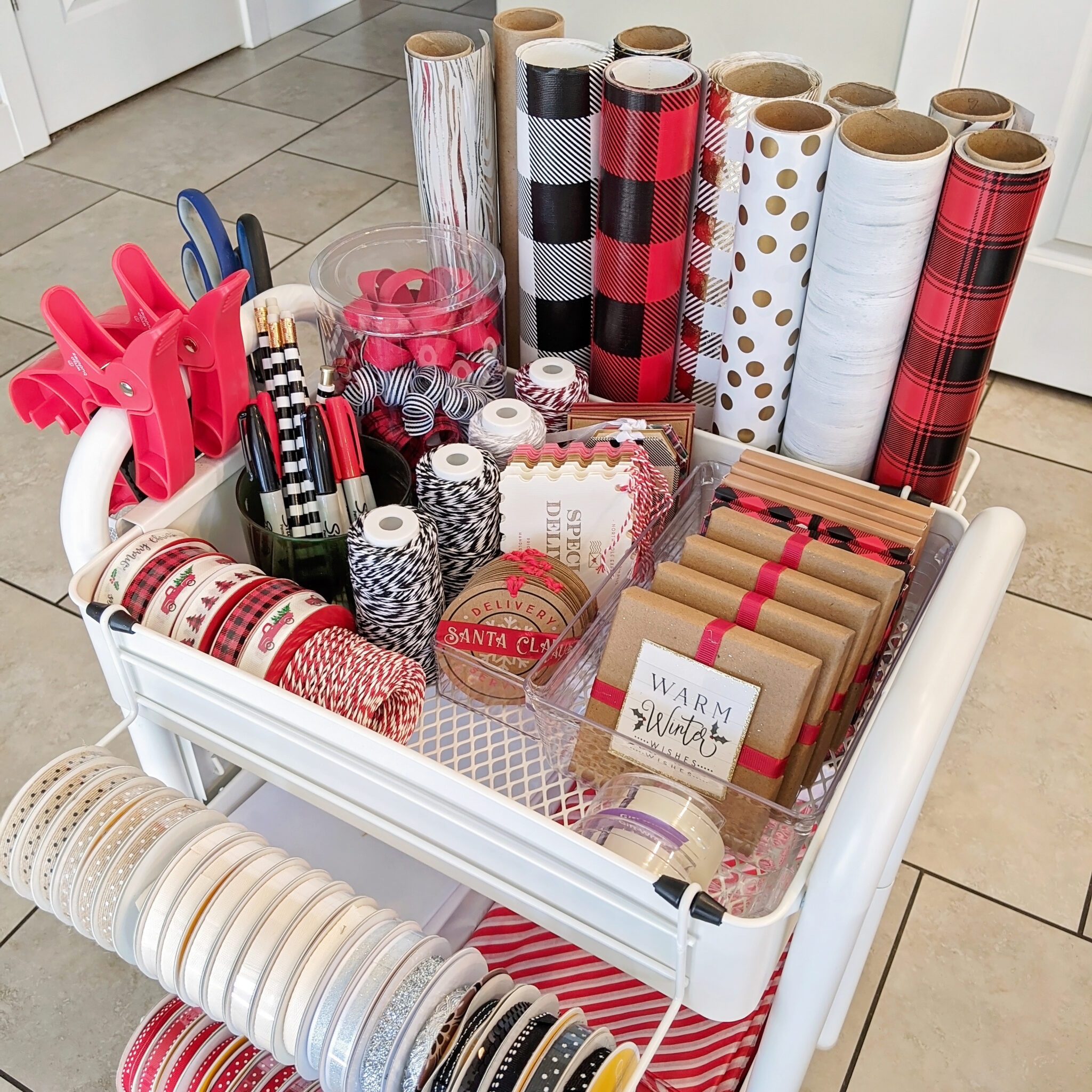 25. Order Matching Holiday Pajamas
This is a growing family tradition that is becoming a fun Christmas tradition in most homes. My favorite place to buy matching Christmas pajamas is The Children's Place or PJ Place (an offshoot company of The Children's Place). They usually have a great sale on their pajamas! I also love to buy pajamas from Carter's.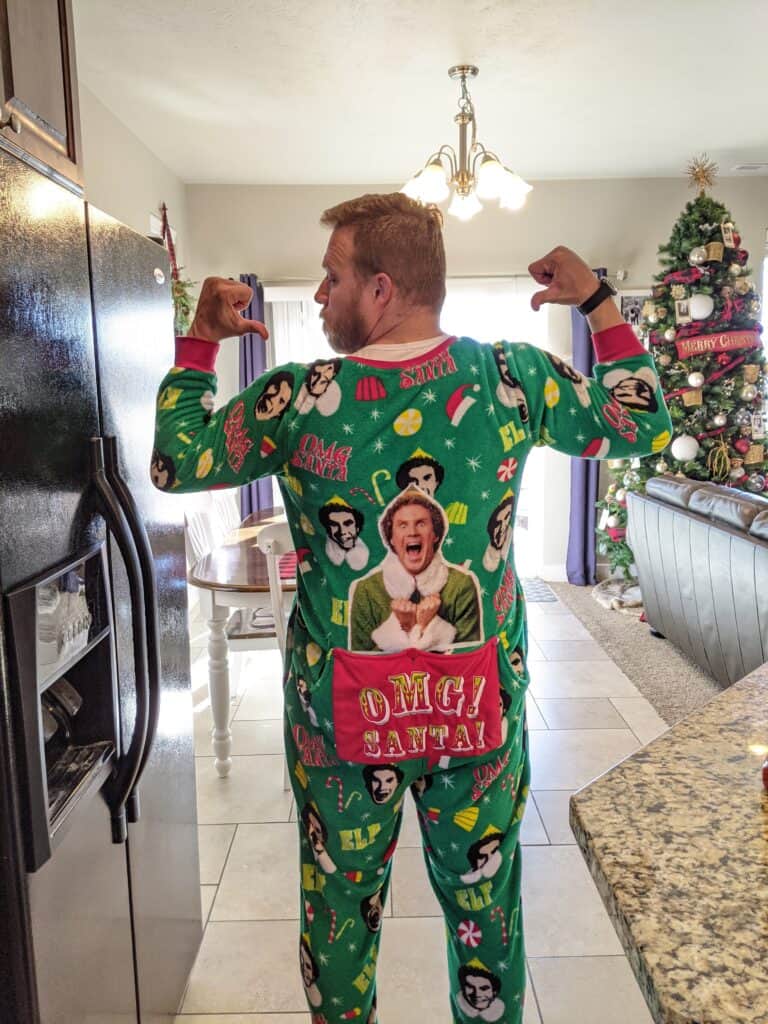 26. Make Christmas Cookies
Christmas cookies are a staple Christmas tradition. You can make them with your kids, friends, or family. There are so many different ways to decorate sugar cookies. You can find a ton of ideas on Pinterest. If you're short on time and don't have time to make your own Christmas cookies, you can always buy a Christmas Cookie Kit from an awesome small business on Etsy!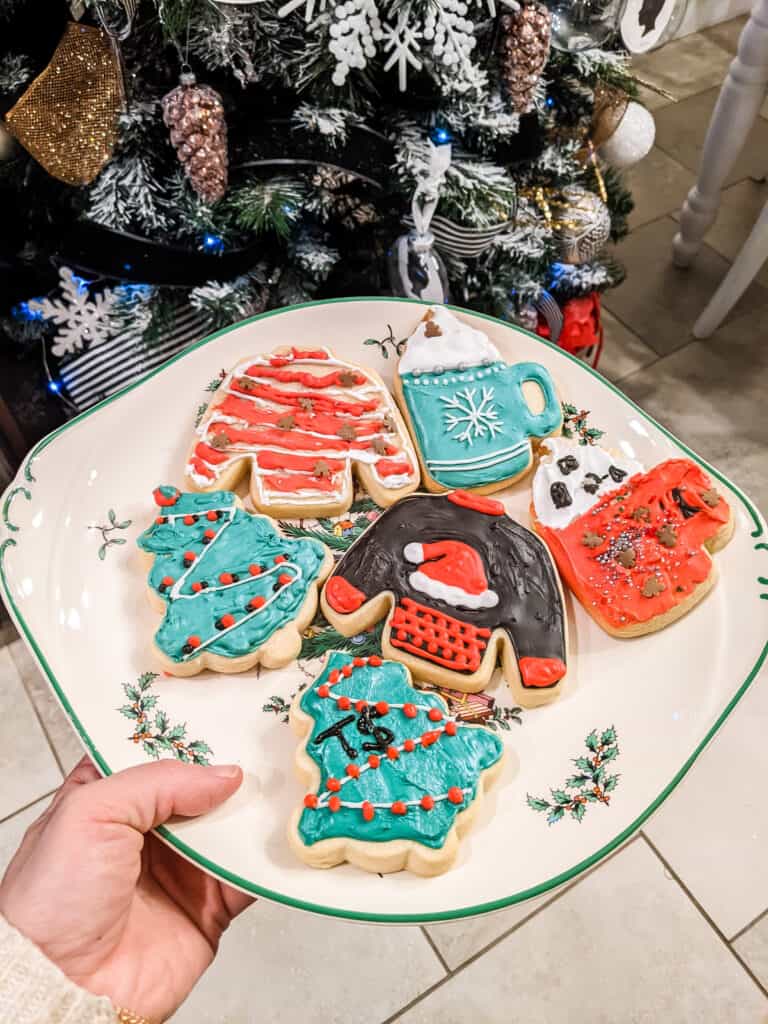 27. Make caramels
Making caramels while listening to your favorite holiday tunes is the perfect holiday tradition. We love making caramels to give as neighbor gifts. It's one of those fun holiday activities that family members can be involved in…especially when it comes to wrapping the caramels.
28. Make Peppermint Bark
Peppermint bark is a super easy fun holiday treat that you can take just a few minutes to plan and carry out. If you have kids old enough to head up some of the Christmas bucket list items, this is a great one for them to do. It's as easy as crushing candy canes and melting some chocolate. A perfect activity for holiday fun.
29. Design Your Own Christmas Drink
If you love creating things in the kitchen, take a few minutes to create your very own Christmas drink that you can recreate every year!
30. Drink Egg Nog
Egg Nog is a staple Christmas drink for so many! Turn it into one of your fun holiday activities making the eggnog together or finding special mixins that make the store-bought egg nog even better!
31. Make Salt Dough Ornaments with Your Kids
This is a great activity to put on your Christmas bucket list, especially if you have small kids and you want to put their handprints into a salt dough ornament. This will be a memorable ornament that you can hang onto for years to come!
32. Mail a Letter to Santa
If you have little kids, then this is a Christmas bucket list activity that your kids would really enjoy! There is something so magical about writing a letter to Santa and then getting a response back from the North Pole! There are some really talented sellers on Etsy who can personalize a letter for you!
33. Get your picture with Santa
Going to the mall to see Santa is always a fun activity to do during the holidays and it makes for a great holiday tradition!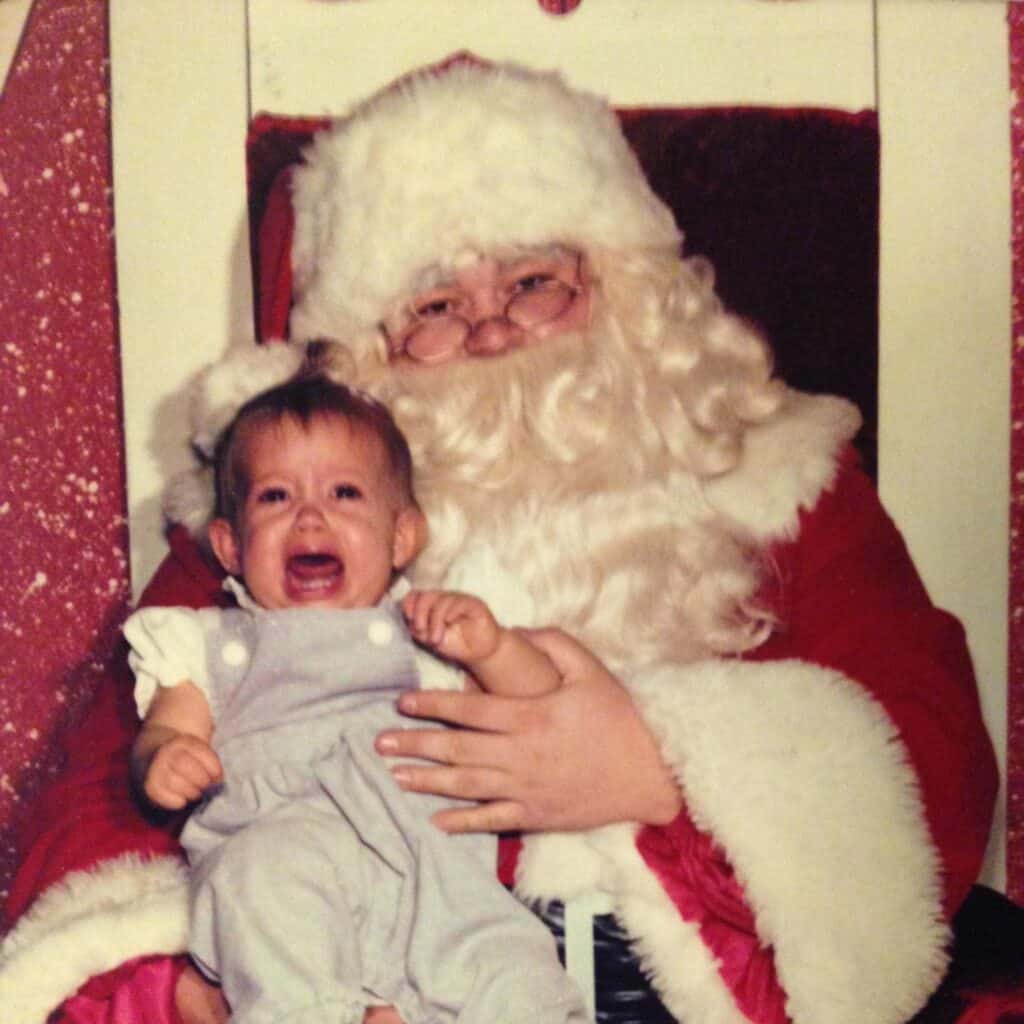 34. Make Cookies for Santa
This is another fun activity that you can do with your kids! It's always a good idea to make sure you have some cookies for Santa on Christmas Eve. There are some absolutely darling Santa plates on Etsy that your kids will love!
35. Attend a Tree Lighting Ceremony
This is a great Christmas bucket list activity that requires little effort on your part (other than getting there) but it's a great way to start the Christmas season.
36. Make a Christmas Music Playlist
Creating your very own Christmas Music Playlist is a great way to get into the holiday spirit! There are so many great Christmas songs out there, it's tough to choose which ones to include. I love creating my own playlists with Spotify.
37. Read Christmas Books by the Fire
If you're like me, then Christmas books are an important part of your holiday season. I love to curl up by the fire with a cup of hot chocolate and read my favorite Christmas books.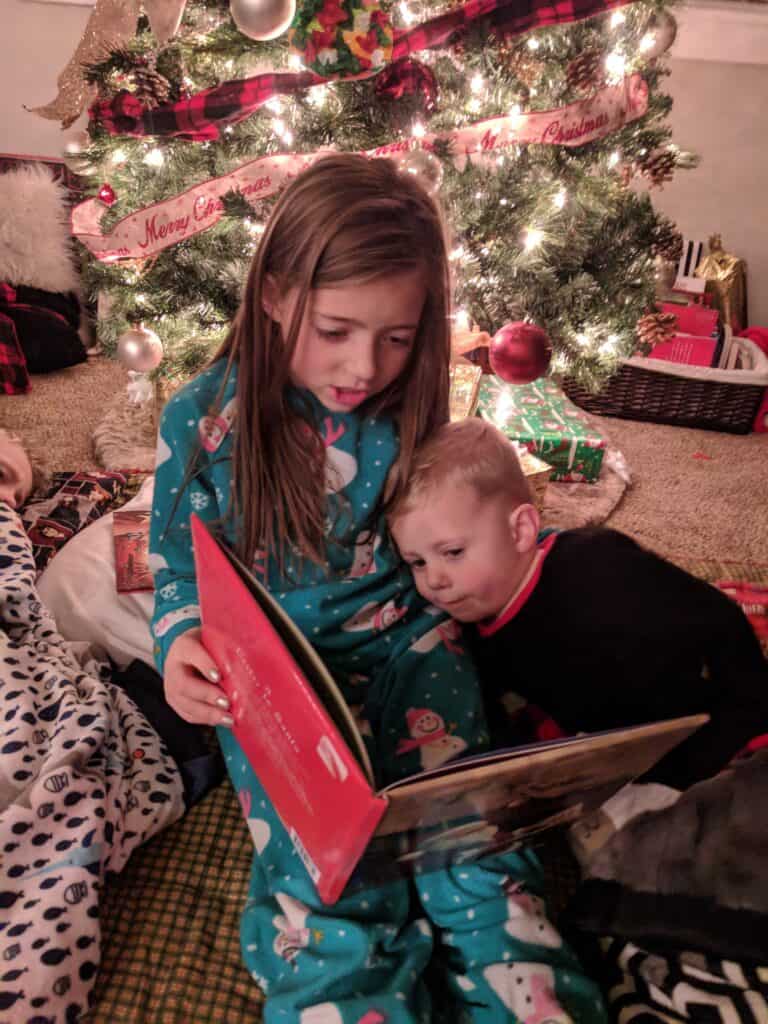 I remember as a child how much fun it was to pull all of the children's Christmas books out of storage so I've tried to recreate that feeling and tradition for my own kids. So we get a few new books every year and we've built a really fun Christmas book collection.
If you're interested, I also have a blog post all about How to Create a Christmas-Themed Book Wall for Kids.

38. Watch a Christmas Movie
Classic Christmas movies are a must during the holidays! Some of my favorites include It's a Wonderful Life, Miracle on 34th Street, A Charlie Brown Christmas, and How the Grinch Stole Christmas.
39. Go Christmas Caroling
If you enjoy singing, then you should definitely go Christmas caroling! It's such a fun activity to do with friends or family. You can even dress up in festive costumes while you sing.
40. Make an Advent Calendar
Advent Calendars are a really exciting way to countdown to Christmas. You can fill your calendar with little treats or even activities to do each day. There are a HUGE variety of Advent calendars all over the internet if you want to purchase one that is pre-done.
41. Do a Random Act of Kindness
Make a goal to do at least one random act of kindness every day in December. It could be something as simple as buying someone's coffee or leaving a nice note for someone.
42. Make a Christmas Craft
There is something about the holidays that brings out the creative side in all of us. Doing a Christmas craft together is a great way to get into the holiday spirit. There is no better place to get craft ideas than Pinterest!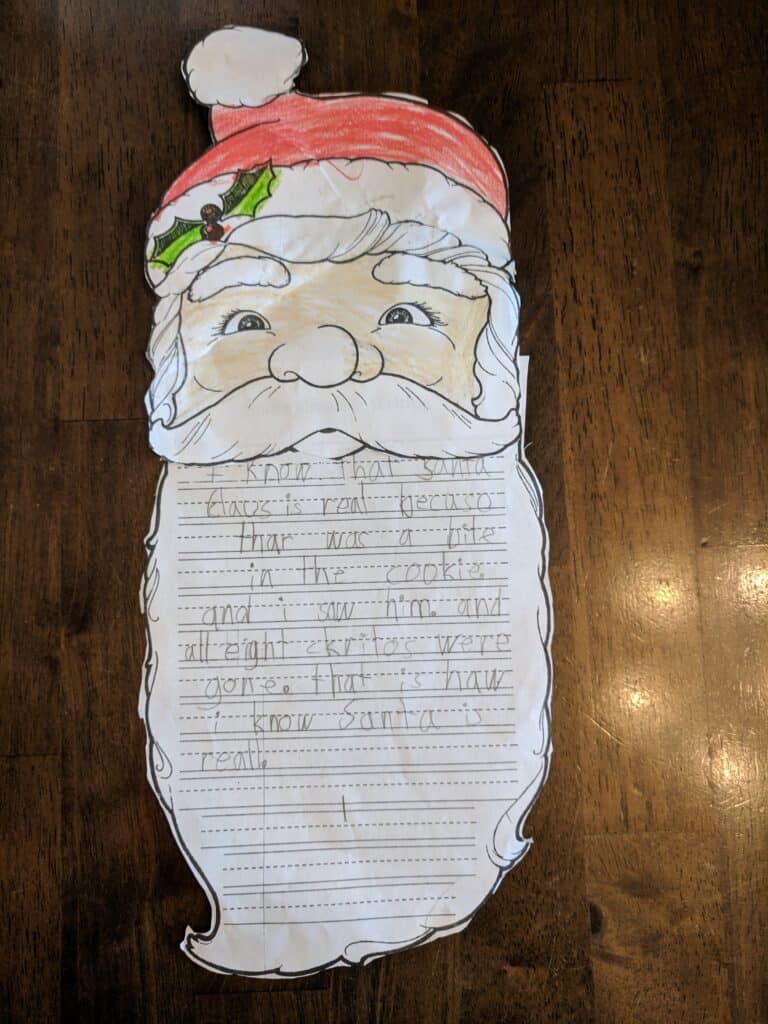 43. Choose Christmas Themed Weeks for Kids
This is a tradition that we've done for years and my kids absolutely love it! We take 2-3 weeks throughout December and choose a theme for each week. Then choose a few snacks, treats and small activities that revolve around that week's theme. Here are a few examples of themes that you could incorporate:
44. Host a Holiday Cookie Swap
Hosting a cookie swap can be a simple (and fun!) way to get friends and family together! You can invite your friends, family, or co-workers and ask them to each bring a dozen of their favorite cookies. Then you can spend the evening sampling all of the different cookies and everyone goes home with an assortment of delicious treats!
The best part is that it takes the pressure off of you to make a huge variety of food for everyone! Here is a really great article on everything you need to do to host a cookie exchange.
45. Kiss Someone under the Mistletoe
Kissing under the mistletoe is a Christmas tradition that dates back centuries. Some believe that it originated as a Druidic rite, while others believe that it was started by the Victorians. Regardless of its origins, kissing under the mistletoe is now a beloved Christmas tradition.
46. Chop Down a Christmas Tree
If you want to chop down your own Christmas tree, there are a few things you need to keep in mind. First, you need to make sure that you have the proper permits. Next, you need to find a good spot to chop down your tree. Once you've found the perfect tree, make sure to cut it properly so it doesn't damage the trunk.
47. Drink Hot Cocoa by the fire
Drinking hot cocoa by the fire is the perfect way to cozy up on a cold winter night. You can make your hot cocoa even more special by adding some marshmallows or whipped cream.
Hot cocoa bombs are another really hot trend right now and they are super fun to watch as they melt!
48. Make Hot Cocoa Bombs
Hot cocoa bombs are a really fun activity to actually do! This is one of those really great Christmas bucket list ideas that you not only enjoy making but you can use as a part of your other Christmas bucket list ideas (such as while you watch a movie, etc.)
Here is a great YouTube tutorial on how to create your own Hot Cocoa Bombs or you can also purchase a hot cocoa bomb kit here and here.
49. Wrap Christmas Gifts
Wrapping your Christmas Gifts doesn't have to be a chore! Make it into a fun activity by blasting some Christmas music, making it a family event, or adding your own personal touch to each gift.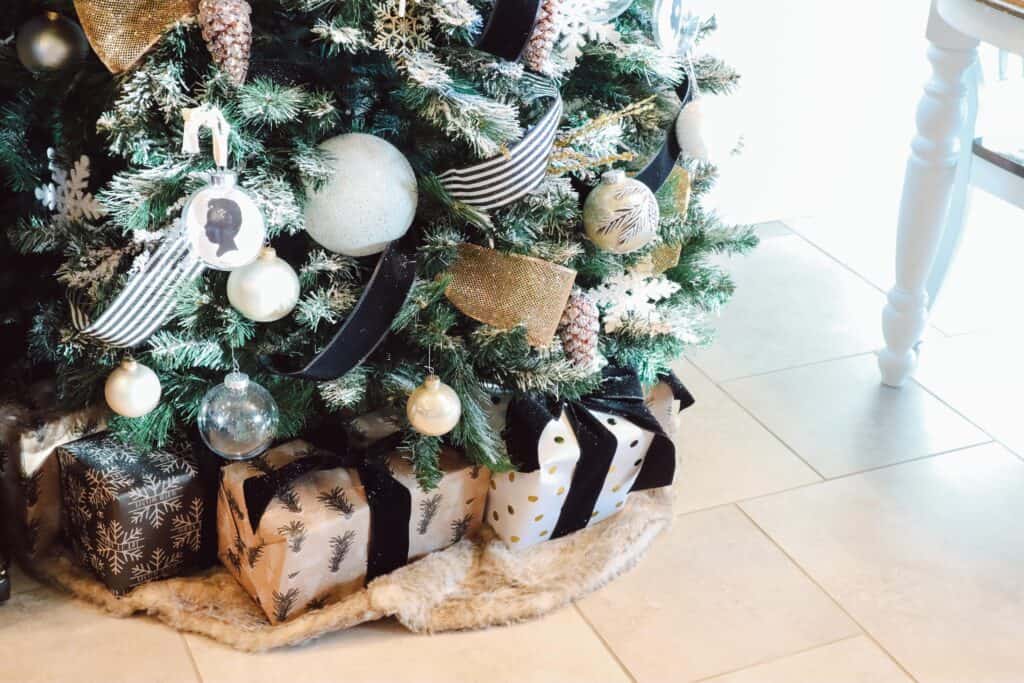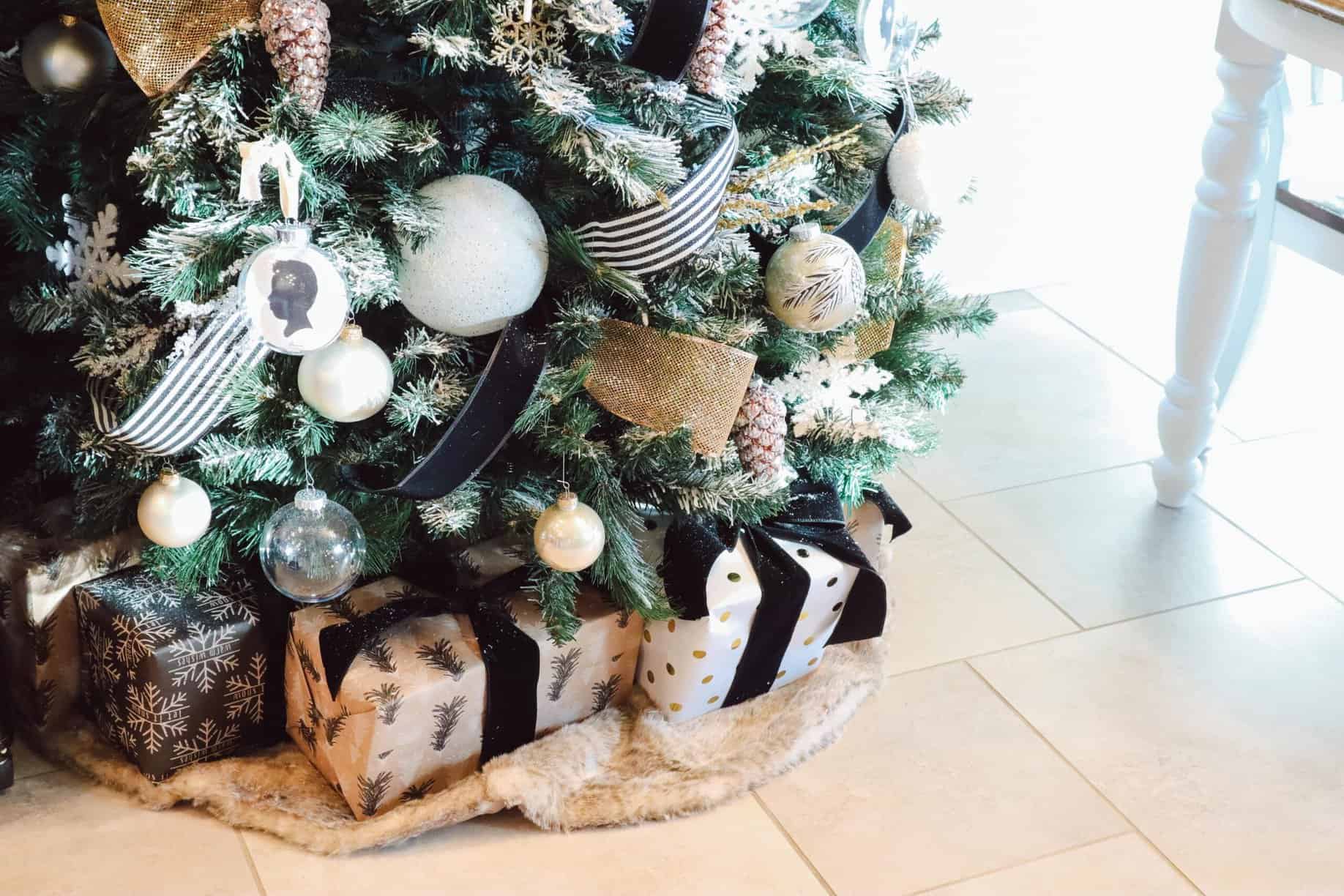 If you want to add a personal touch to your gifts this year, try out one of these ideas:
Add a special note or card inside the wrapping
Customize the gift tag
Buy Wrapping paper that fits each person's personality
50. Do service for a neighbor
One of the best ways to get into the Christmas spirit is by giving back and doing service for others. There are so many different ways that you can serve those around you this holiday season. Here are a few ideas to get you started:
Make a plate of Christmas cookies and deliver them to your neighbors
Shovel snow for an elderly or injured neighbor
Offer to help with decorating or wrapping gifts
Bring a meal to a family who is going through a difficult time
51. Light your house with luminaries
Luminaries are a magical way to light up your house and yard during the holidays. They are also a fun activity to do with your family or friends. You can buy premade luminaries or make your own.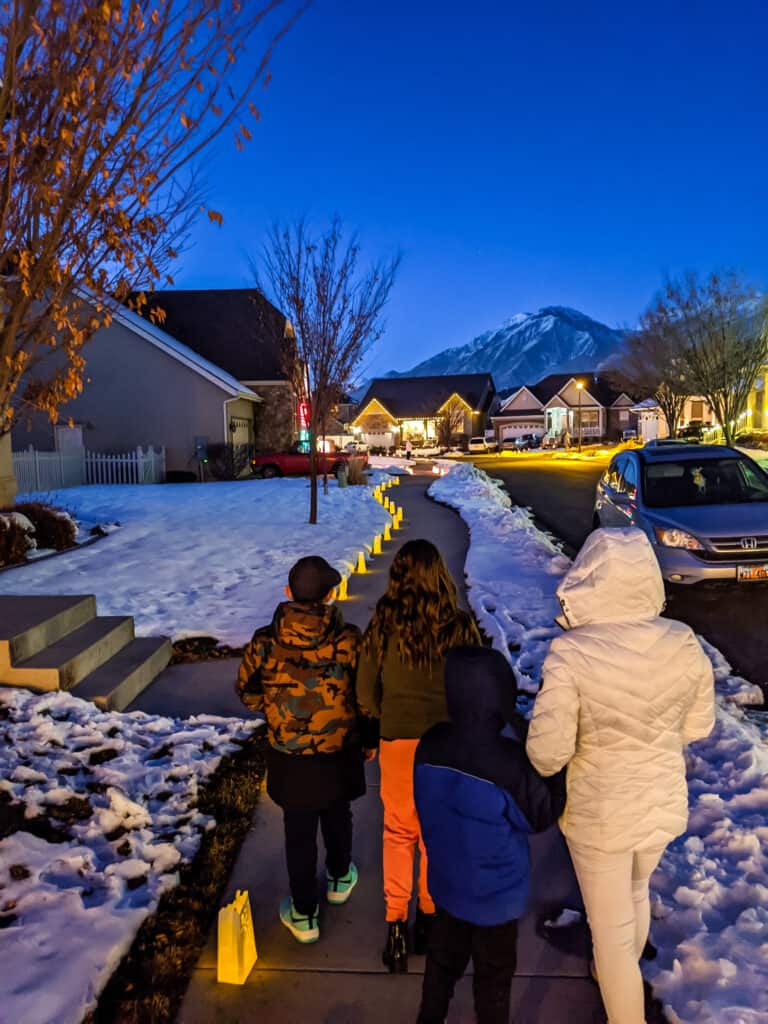 If you want to make your own, all you need is some sand, candles, and paper bags. Just fill the paper bags with sand and arrange the candle inside.
Our neighborhood even does a special luminary night where we can walk around the neighborhood to see everyone's luminaries. It's extremely magical.
52. See the Nutcracker ballet
The Nutcracker ballet is a timeless Christmas tradition. It's a beautiful story and the music is so festive. There are usually performances happening all around during December, so it should be easy to find one near you.
If you've never seen the ballet before, I highly recommend checking it out. It's such a special experience.
53. Do Elf on the Shelf
Elf on the Shelf is a fun Christmas tradition that both kids and adults can enjoy. It's a great way to get into the holiday spirit and add some extra excitement to the season.
If you're not familiar with Elf on the Shelf, basically you have an elf that comes to visit your house during December. Every day, the elf watches the children to see how they are behaving and report to Santa.
Parents move the elf to a different place every night after the kids go to bed. They often set up scenes for the elf to participate in.
54. Get a Personalized Video Message from Santa
If you've never visited the Portable North Pole website, you're missing out! This is such an amazingly realistic experience that will turn your nonbeliever into a believer!
55. Go See a new Christmas Movie in Theatres
They often release new Christmas movies in the theatre around the holidays. Make it a fun date night and go see one together! Many families go see a movie on Christmas Eve!
56. Go Skiing
Skiing is a Christmas tradition that many families have done for decades. Some families live close enough to the slopes that one of their Christmas activities is to ski on Christmas Eve or Christmas Day!
57. Have a Sleepover under the Christmas Tree
This is a really fun tradition that kids absolutely love. Sleeping under the Christmas tree can be a perfect way to end a family game night! Or you can read Christmas books by the fireplace and then let the kids fall asleep under the Christmas tree. You can make it even more special by sleeping in your best Christmas jammies and making some hot chocolate before bed.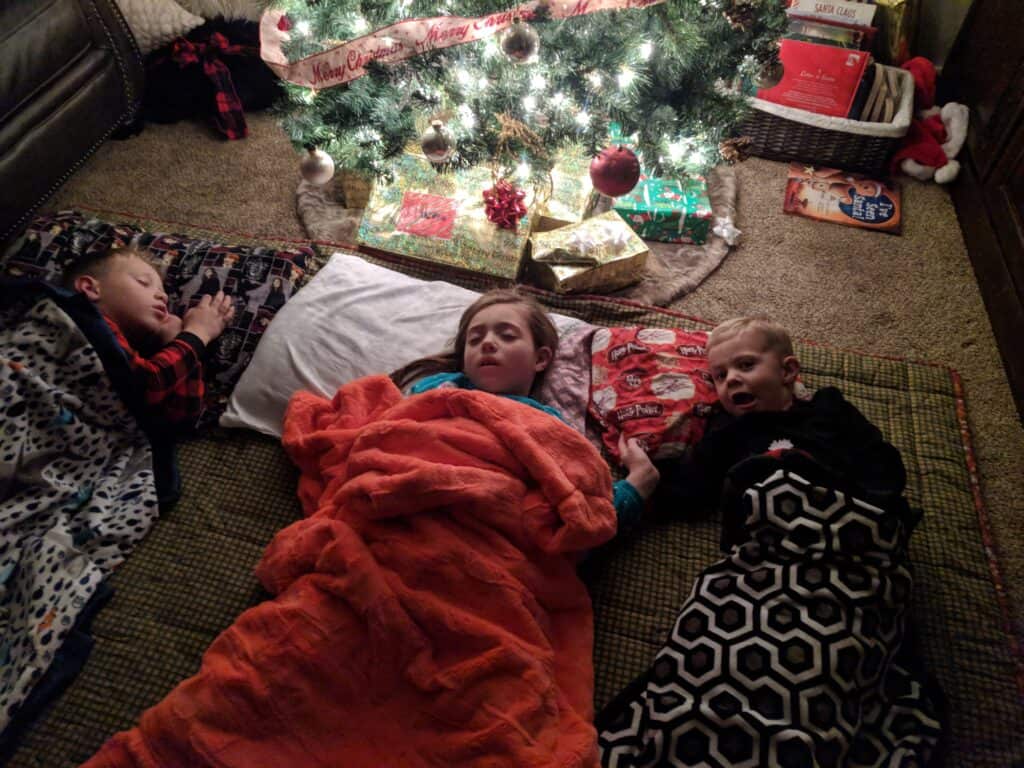 58. Make Paper Snowflakes to Hang around your house
This is one of those Christmas activities that kids really love to do! It's magical to cut a folded piece of paper only to unfold it to see what beautiful snowflake creation they've created. This is also really fun for crafty adults!
59. Read the Christmas Story from the Bible
This is a beautiful Christmas Eve (or any other day in December) tradition to start with your family. It tells the story of Jesus' birth and is a great way to teach your children about the true meaning of Christmas.
60. Burn a Christmas Scented Candle
There is nothing better than a home that smells like Christmas. You can choose to burn a Christmas Candle, or you can even come up with some natural recipes using kitchen spices and simmer them on the stovetop for a delicious-smelling home this Christmas.
61. Do a Christmas Puzzle
Putting together a Christmas puzzle is a fun way to spend time together during the holidays. It is one of those fun holiday activities that everyone can enjoy together. Buy age-appropriate puzzles for young and old to enjoy doing together.
62. Visit Festive window displays
Look up your local area to see if any local shops have any gingerbread houses, candy window displays, or festively decorated windows that you can walk around and look at. Where I live, many people love to visit Temple Square and see the candy windows at Macy's.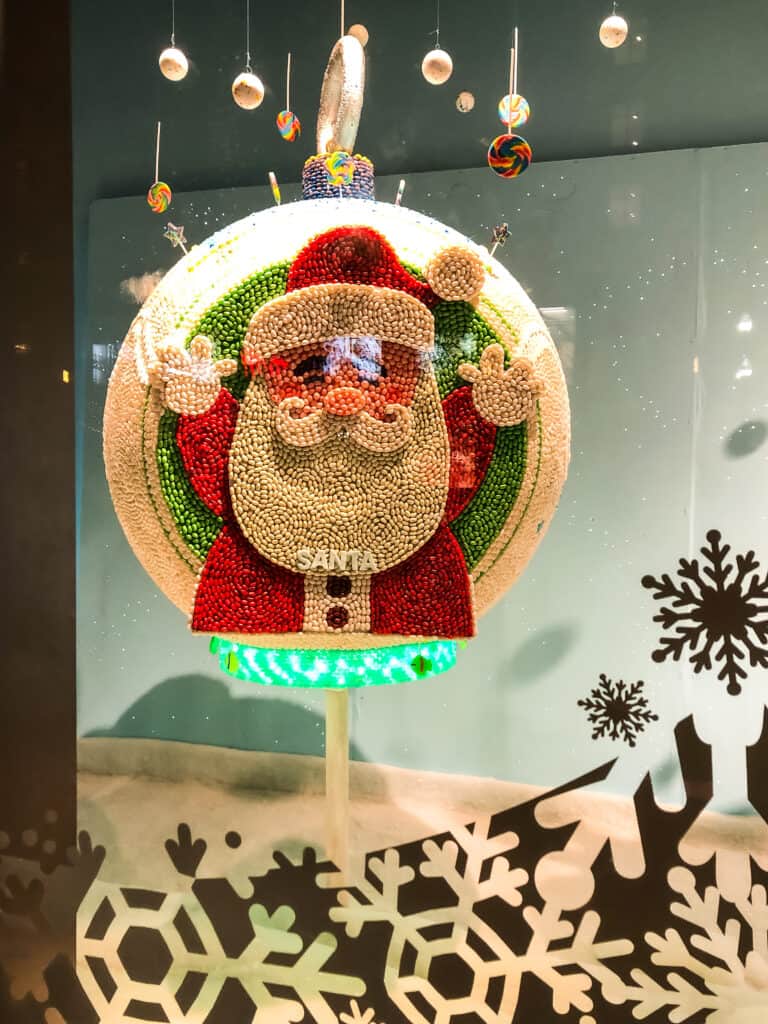 63. Create a List of Treats you Want to Make
It's no secret that Christmas time is a time for treats. Take a few minutes to write a list of the treats you plan to make during the season. This is one of those fun holiday activities that you can get the kids involved in so they feel included.
64. Declutter Before Christmas
This may not be at the top of your Christmas bucket list, but it's definitely something that needs to be done before the holiday craziness begins. Take some time to go through your house and declutter any unwanted items. This will help you to feel more organized and prepared for when company comes over during the holidays.
65. Visit a Tree Farm
If you've always wanted to cut down your own Christmas tree but don't live near the mountains, the next best thing can be a tree farm! Some tree farms allow you to cut down your own Christmas tree while others have them pre-cut for you.
66. Visit a Giving Machine
This is a big highlight for our family. We love visiting the Giving Machines every year and donating money to a worthy cause. This is a really great visual for donating your money because instead of just donating your money, you can actually see what your money will be put towards. You can choose to buy someone a winter coat, supply a baby diapers for a month, buy chickens for a family to provide their own food, etc.