Christmas Printables to Help You Survive the Holiday Season
The Christmas season can be a very busy time. There are parties to plan, gifts to buy and wrap, cards to send, and food to prepare. It can be hard to keep track of everything, and if you're not careful, you might find yourself overwhelmed with all the things you need to do.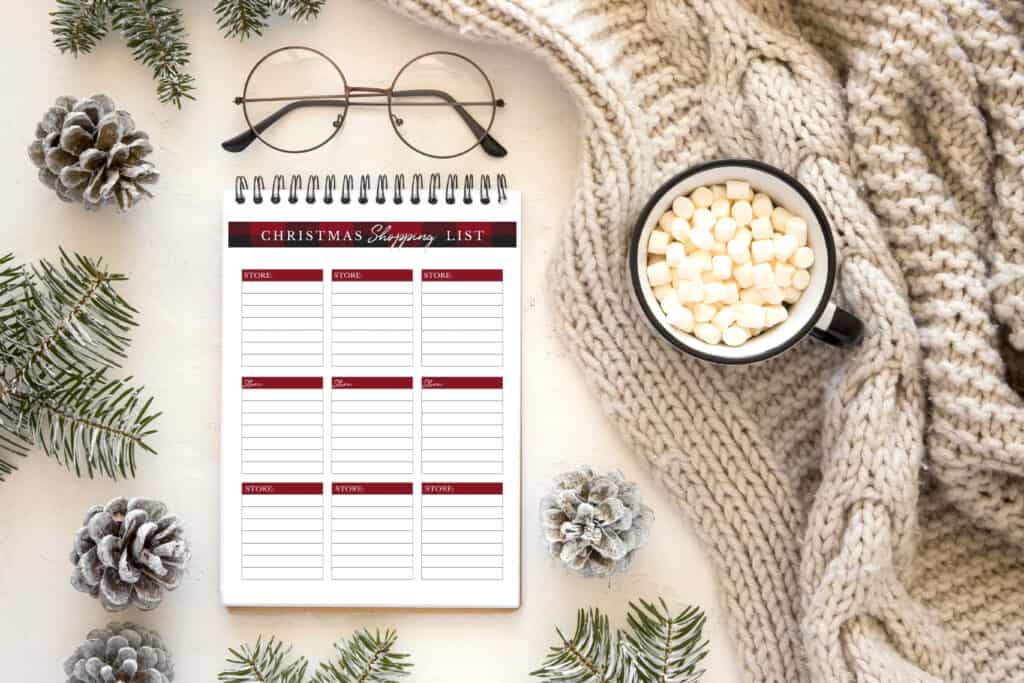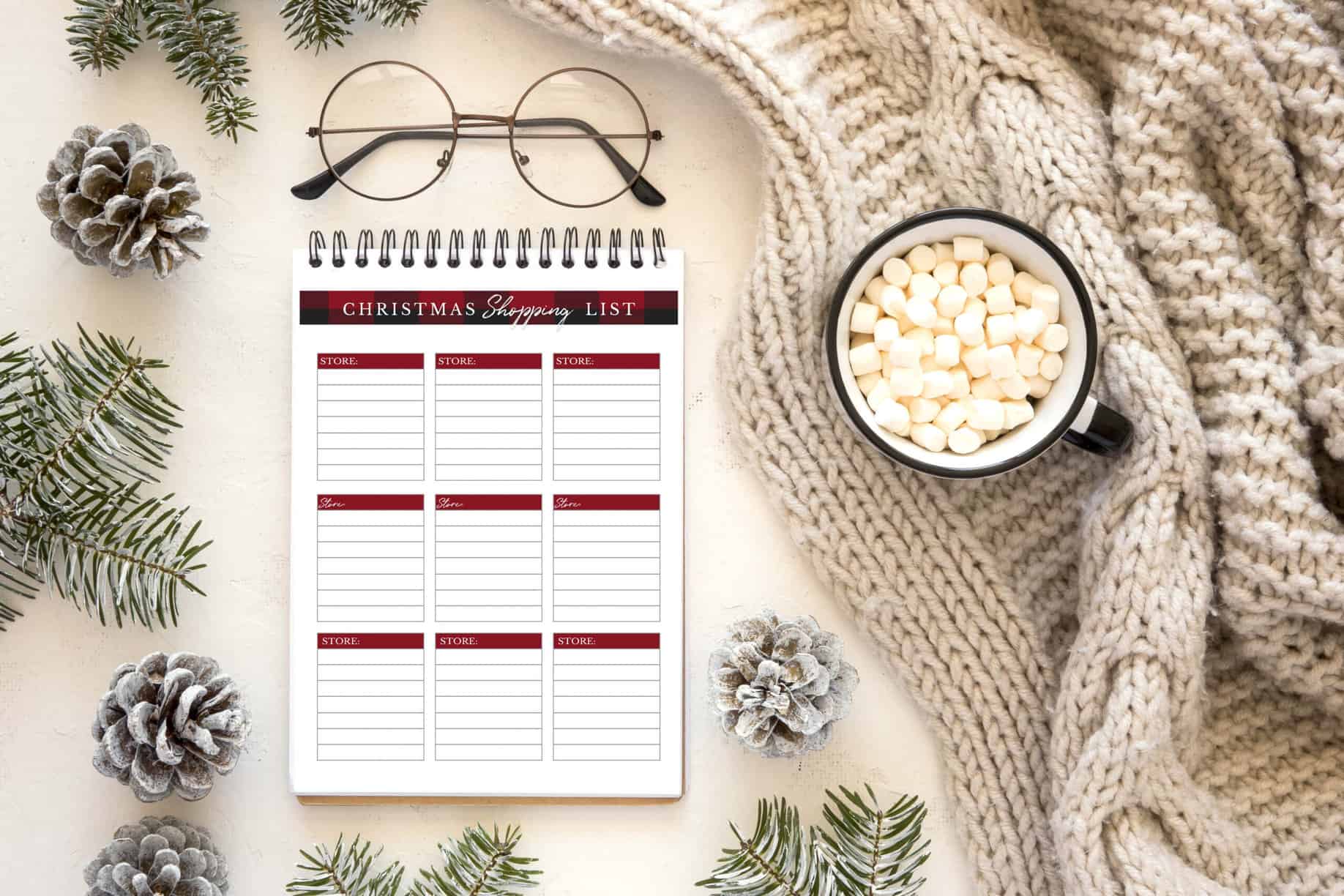 This is where Christmas planner printables come in handy! With printables that help you plan for shopping, gift-giving, holiday parties, and more, you can keep track of everything and stay organized during this hectic time.
In this post, we'll describe how convenient printables can be to help you get through Christmas successfully. We'll also provide some tips on what kind of printables will work best for you and how to use them most effectively.
What are the benefits of planner printables?
Using printables for your planner can really help you during the holiday season for many different reasons. The holidays are hectic and it's easy for busy moms and dads to get busy planning for Christmas day.
If you keep a planner year-round, you can always use that to make sure you have an organized Christmas, but a year-round daily planner might not remind you of your Christmas to-do list, so you still have to remember everything yourself.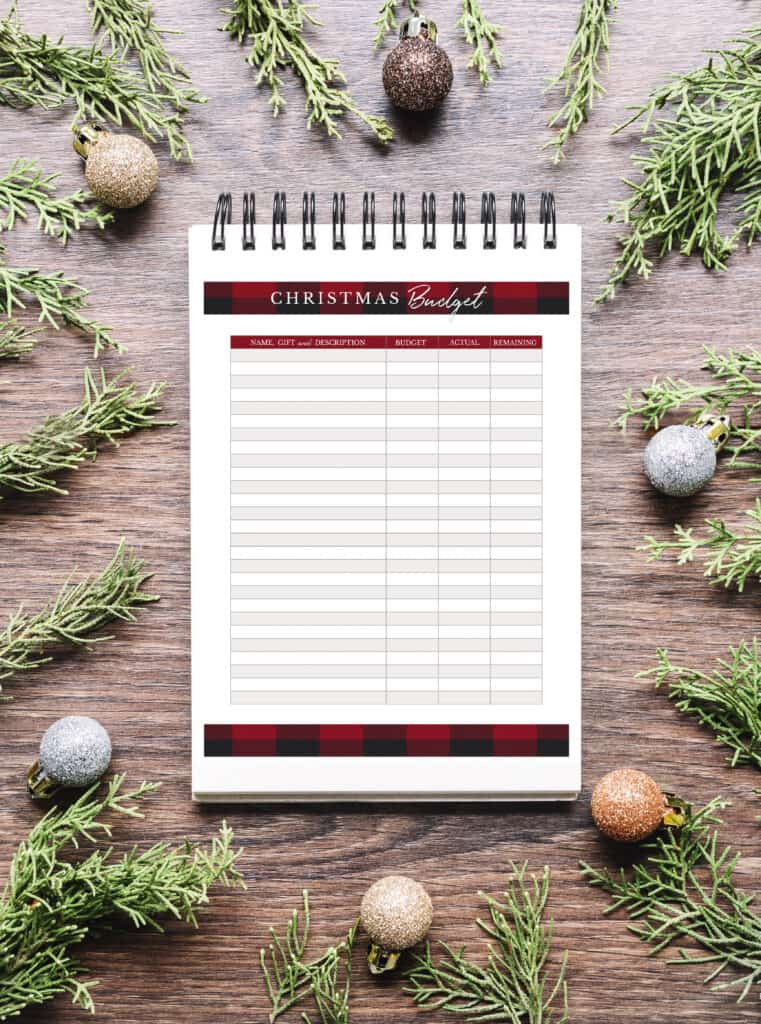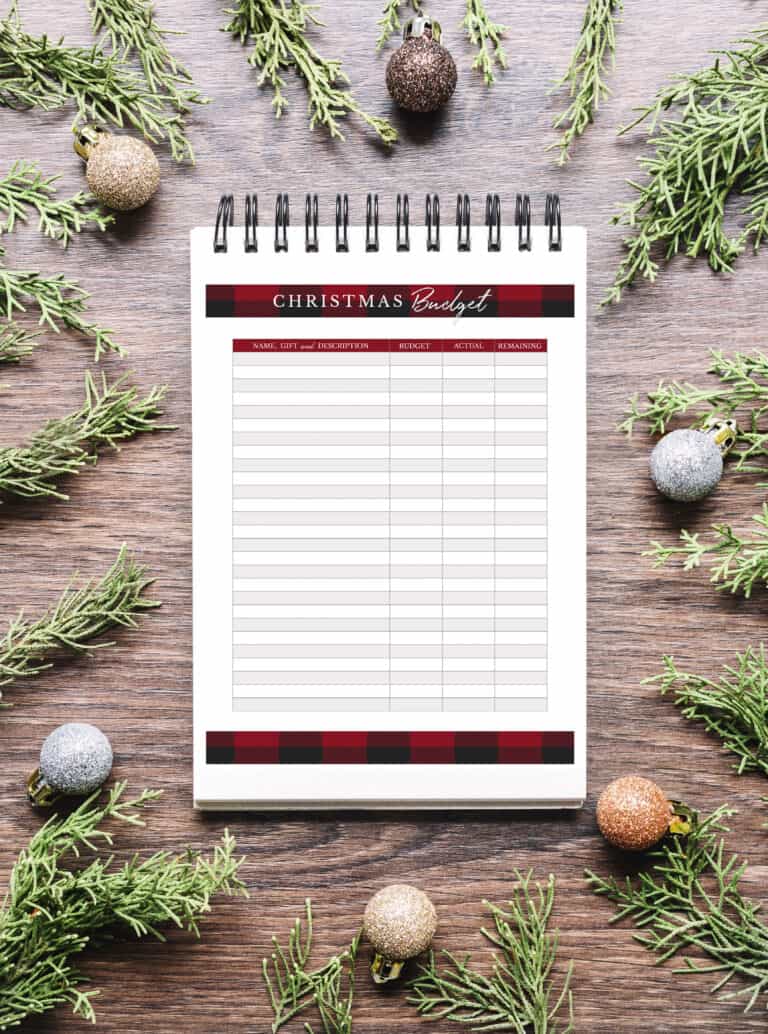 Using a Christmas planner, or a printable planner with a December calendar, will help you keep track of everything you need to do for the holiday! It might just be one page that you add to your other planner, or it can be a totally separate planner – there are lots of ways to use a Christmas planner.
It's also nice because they can be customized to fit your specific needs. There are tons of printables out there, and most of them are free! Which means they are very affordable for any Christmas budget.

Free Printables for the Holiday Season
You can always search every blog for any free printable Christmas planner they offer, but having a million free printables might actually not be the best idea. If you have a bunch of free printables, it might make you feel even more overwhelmed. Your best option is to narrow down which Christmas planner suits your needs and compile the free printables that you'll actually use to keep yourself organized this holiday season.
What kind of holiday planner printables are available?
There are all sorts of planner printables available online and a lot of them will have different setups or serve different purposes. Here are some examples of the kinds of free printables you'll find.
Christmas Gift List
One of the most important aspects of your Christmas planner that you should get a printable of is to help you plan ahead for your gift lists. Downloading and using a free printable planner to help you buy gifts will help you stay on budget while getting everything you need. This way, you'll avoid Christmas morning surprises of finding out that you forgot to buy a gift for someone important.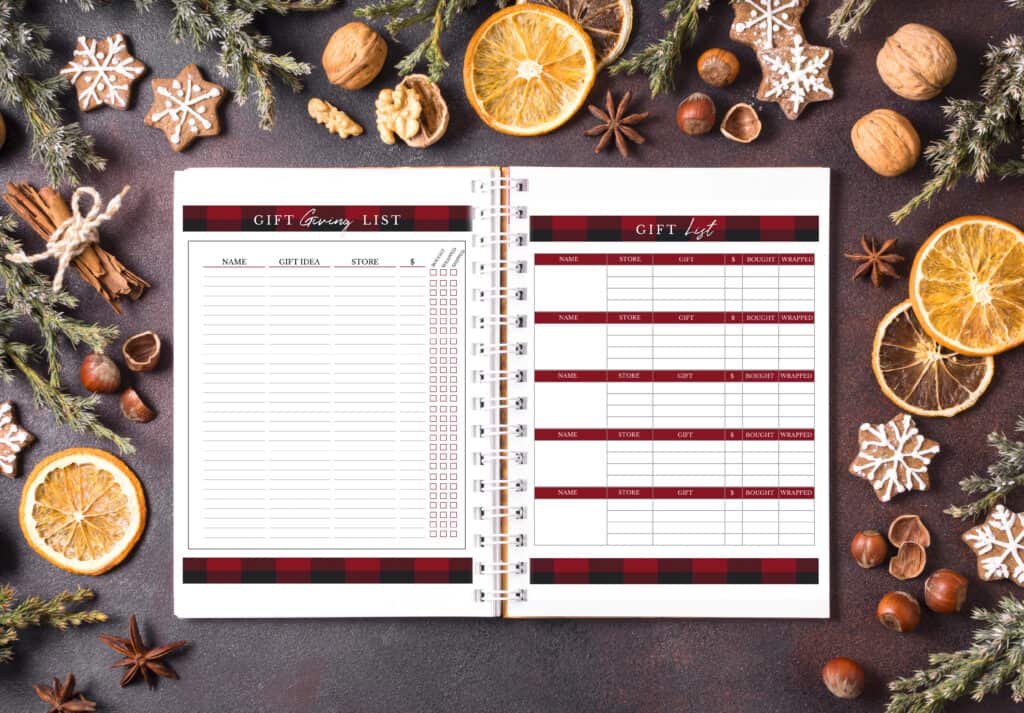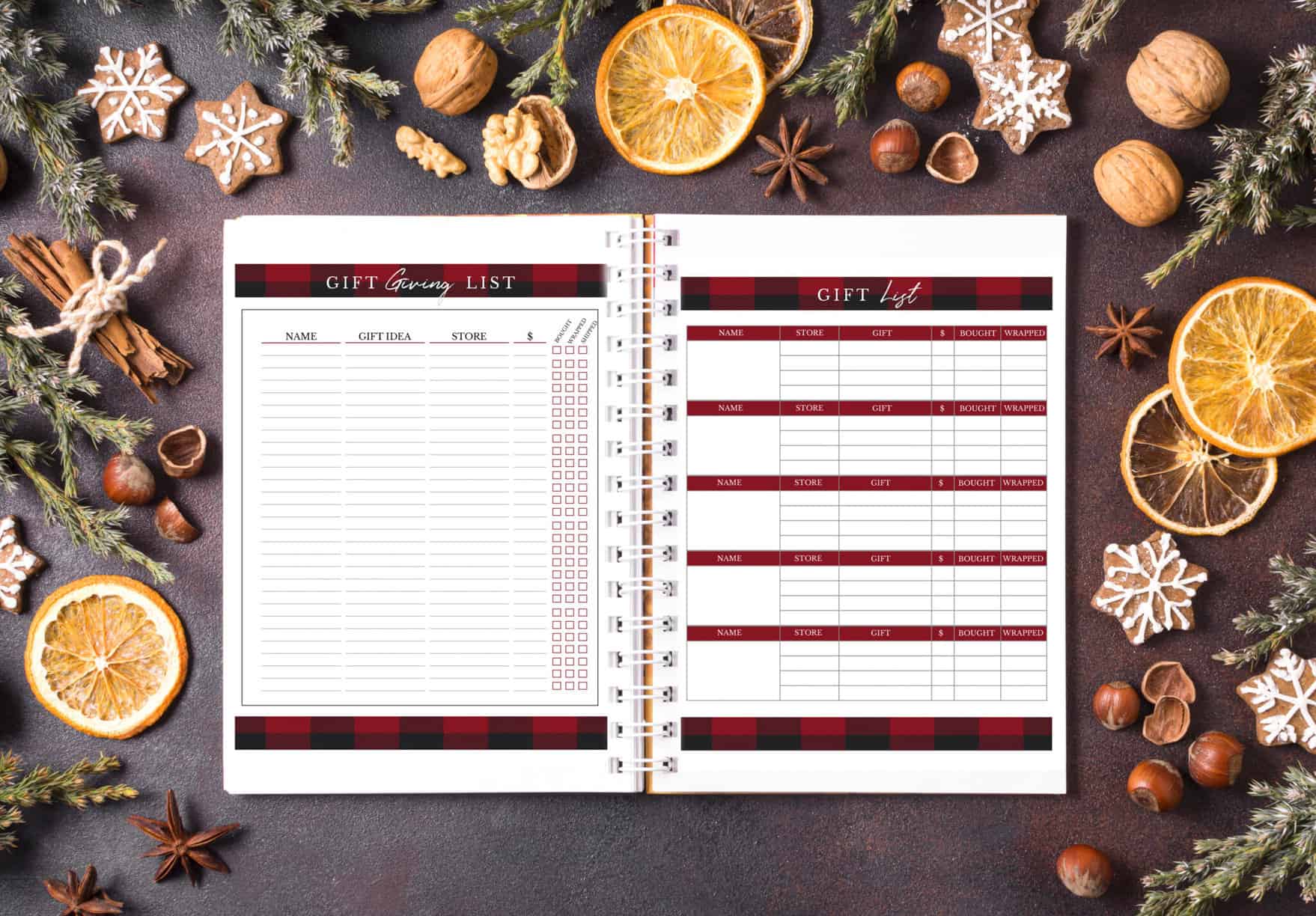 I've got a post that is all about how to stay on top of gifts for kids, family, friends, and other families and neighbors, but you can definitely use free printables to help you turn that Christmas wish list into a reality for your kids.
Use a Christmas planner to write down everyone you need to purchase gifts for, gift ideas, what you buy, how much it cost, if it's wrapped or not, and when you will be giving it to them.

Christmas Budget Tracker
Another key element of your Christmas planner is to keep track of your spending. A Christmas budget tracker printable will help ensure that you don't overspend over the holidays.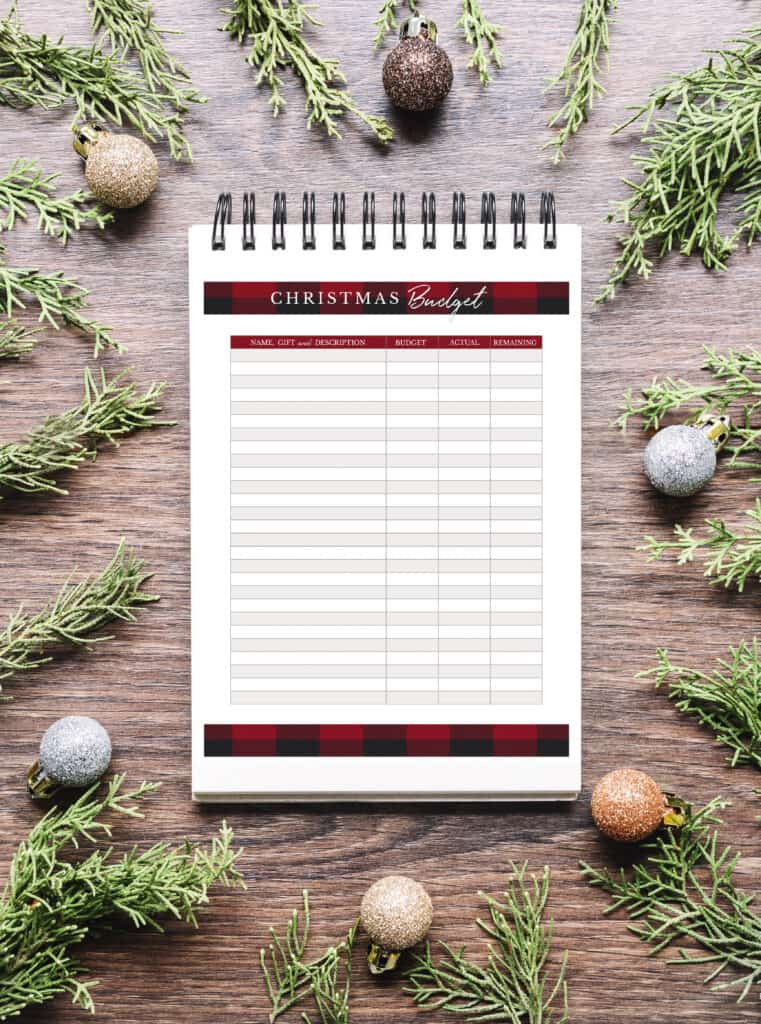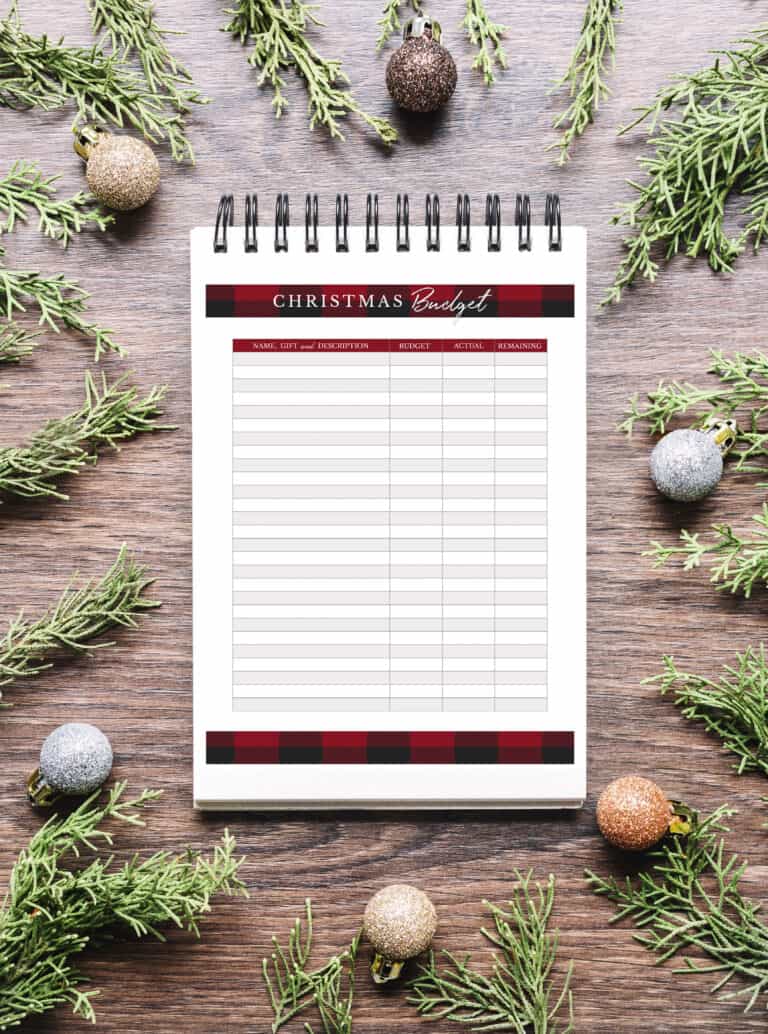 Between gifts, holiday cards, holiday meals, and Christmas decorations, it's easy to spend a lot of money during the holidays. By using a Christmas planner to track your expenses so you know when it's time to stop looking at that gift list, you can wake up happy on Christmas day.
Christmas Shopping Lists
It's pretty obvious that we all do a lot of shopping in December (or November if you're really on top of things). Your Christmas planner should also include a spot for your shopping list. You don't want to be scrambling the week before Christmas trying to figure out what you need to buy.
A Christmas planner with a shopping list will help you space out your shopping so you're not rushed and frazzled come December 25th. That accounts for wrapping paper, food, decorations, Christmas cards, and more.
Christmas Meal Plan
A free printable planner with a meal plan isn't necessary, but it can be helpful if you're hosting Christmas dinner or lunch. This way you can make sure you have everything you need ahead of time and aren't scrambling to come up with a menu at the last minute.
If you're not hosting Christmas this year, a meal plan can still be helpful. It can take the guesswork out when you plan menus for the week. You can also combine this portion of your Christmas planner with your shopping list as they are super closely related when it comes to the planning process!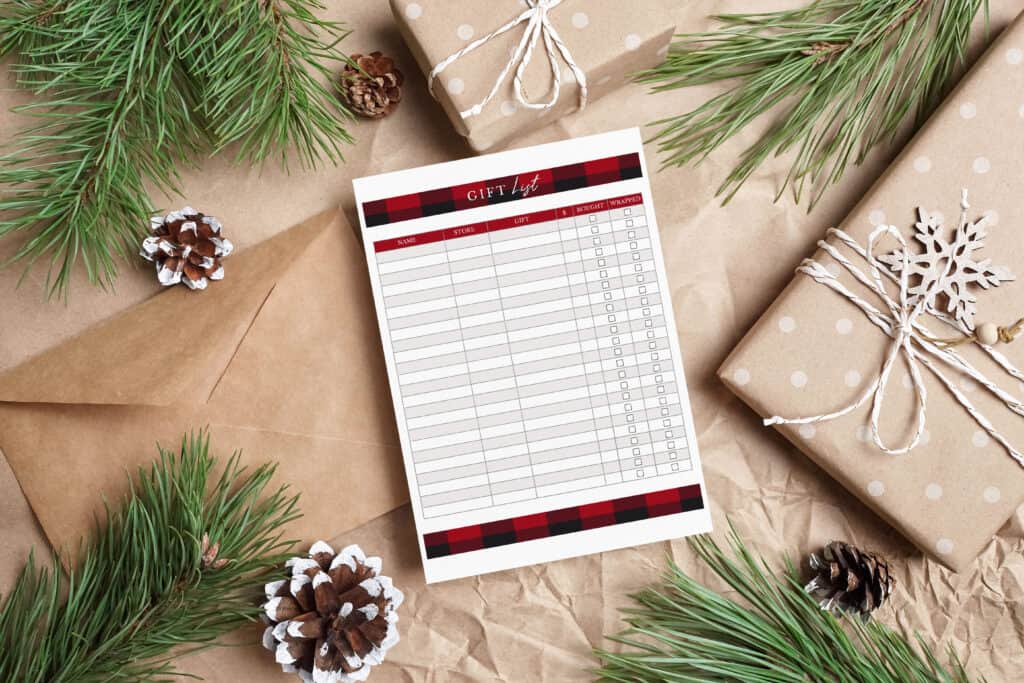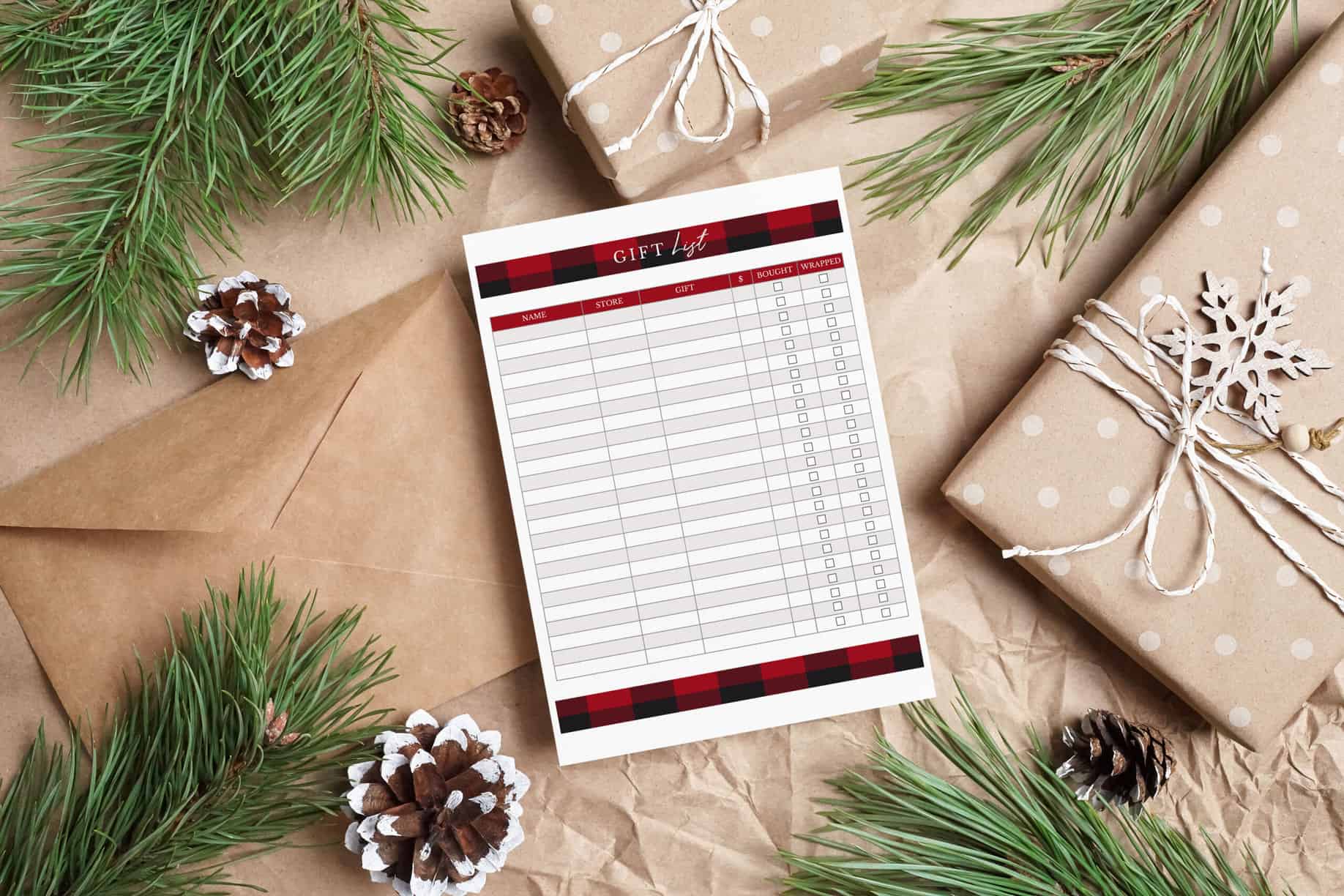 Christmas Events Calendar
Another big part of the holiday season is all of those events! Christmas parties, get-togethers with friends, family gatherings… the list goes on.
An events calendar can help make sure you don't miss anything important and helps to keep you organized. Simply jot down any events you know of in advance so you can be sure to mark them off as the date gets closer. Even if you're not attending, keep note of any holiday even a family member has to go to, just to save any stress in your family.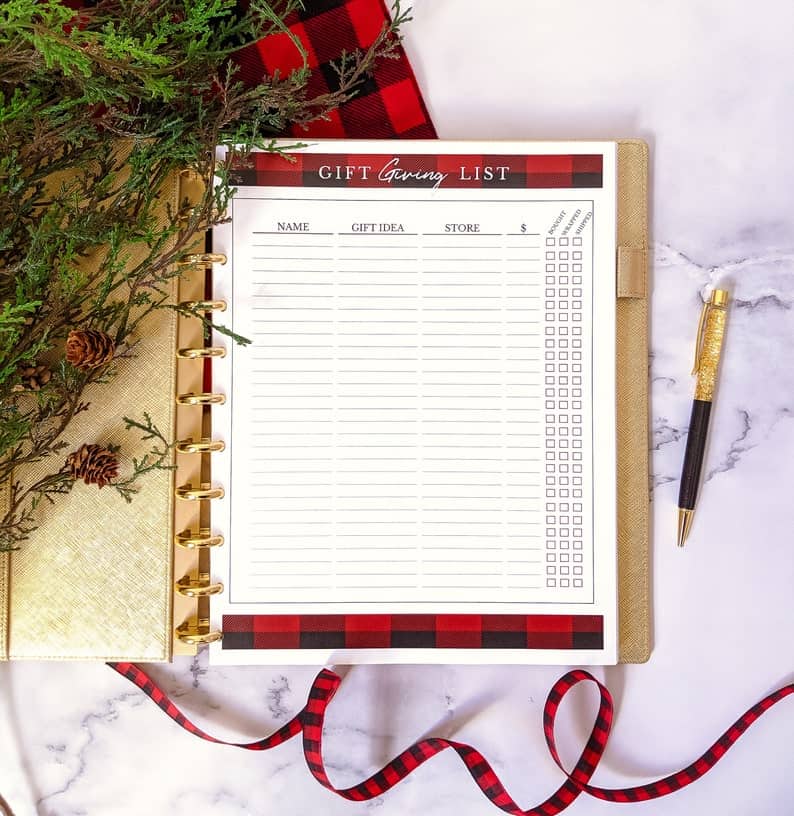 Make note if you need to bring anything (like a gift or a treat) so you have plenty of time to plan ahead before any event you or your family attend.
Also, while it's not really an event, I think it's a good idea to write down other Christmas to-do list items on your calendar like when you need to print out and send Christmas cards and things like that so you don't forget anything!
Christmas Bucket List
This idea isn't really part of your Christmas planner, but I think finding a free printable with a Christmas bucket list is one of the best ideas for something to do with your family. It can be really fun to do a lot of Christmas activities as a family before the end of the season.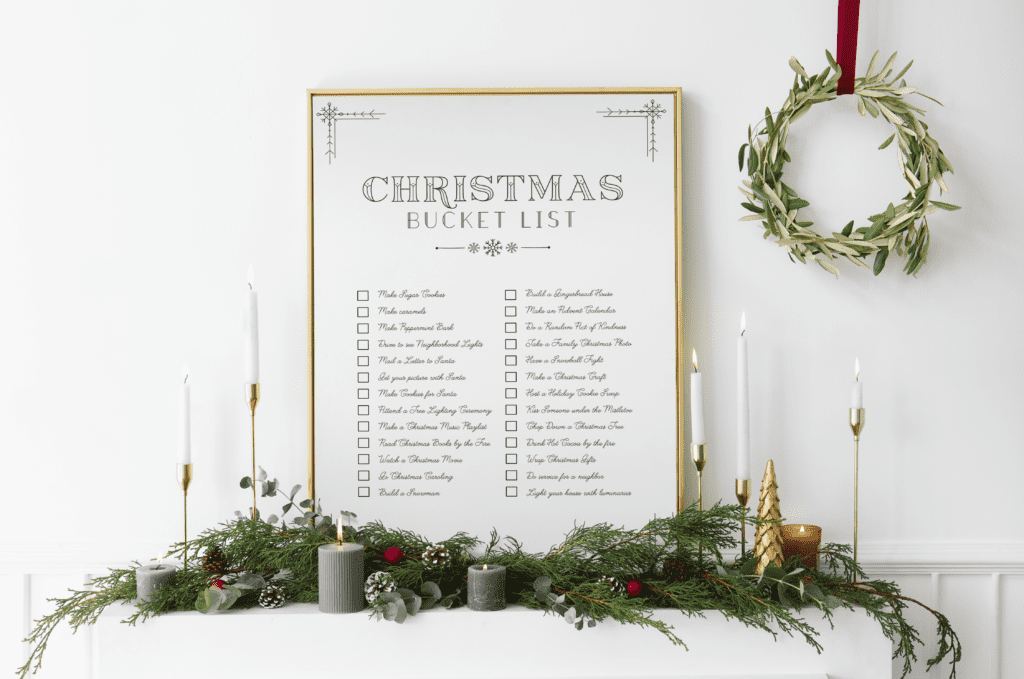 You might find some great ideas online for things you want to do, like holiday recipes you want to try, DIY or decorating ideas, local events to attend, writing Santa or visiting a local Santa, an advent calendar of things to do, and tons of other fun things.
What kind of Christmas planners should you look for?
When looking for a printable Christmas planner, consider what you need most. There are lots of great printables for your Christmas planner out there, but not all of them will have everything you need.
Consider what you need the most help with. Does gift-giving usually get away from you? Do you forget to make a Christmas card list or never print out those holiday cards? Is your shopping list often missing items? Are you hosting Christmas dinner and need some holiday recipes with a grocery shopping list and ways to help you keep you organized and on track as you whip up those recipes for the meal?
Just think about what you struggle the most with because you'll probably be able to easily find a free printable Christmas planner that will give you easy access to easy solutions.
Here are some things to look for:
A daily or weekly planner to help you stay on top of your to-do list
A gift tracker to keep track of your budget, what you've purchased (and wrapped!), and what still needs to be purchased
A meal plan or shopping list for big Christmas meals
Give yourself an organized Christmas!
A free printable Christmas planner can help you get and stay organized during the holiday season! By keeping track of everything in one place, you can relax and enjoy the holidays worry-free.
Christmas is a busy time of year, so make things easier on yourself by getting organized with planner printables. One of the best gifts you can give yourself this year is an organized Christmas!