How to Pack Necklaces for Travel or Moving – 15 Easy Ways anyone can do!
If you're a jewelry lover, chances are you have more than one necklace, and finding the best way to store them can be difficult, especially when traveling.
There is no right or wrong answer when it comes to how people choose how to pack necklaces for travel or moving, but there are some products or household items that might help.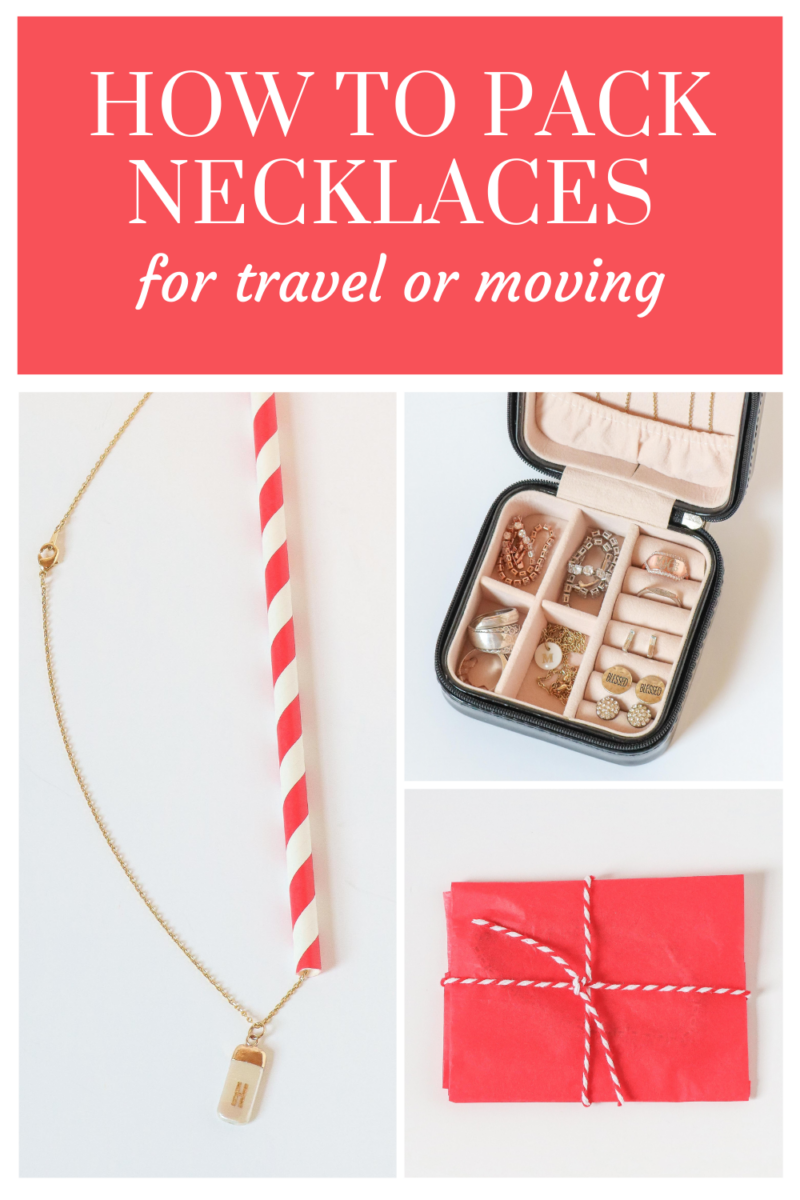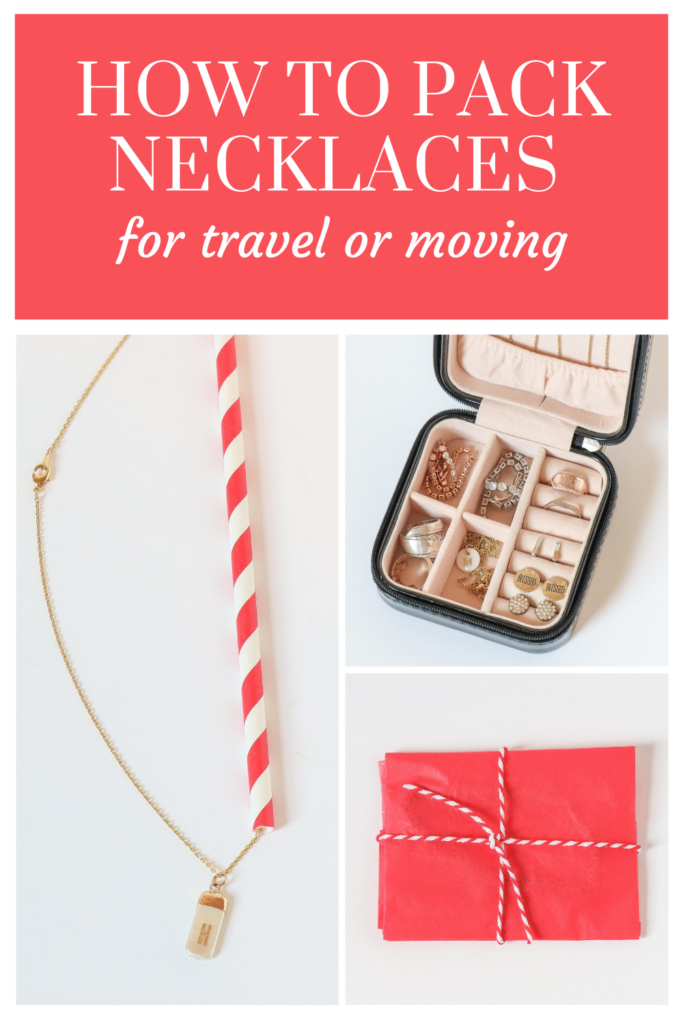 In this blog post, we will discuss how storing and packing necklaces safely will help them from getting tangled while preserving your jewelry investment.
These 12 tips will help you choose the right way to store necklaces for you!
Need more ideas? Check out: How to Keep Kids Clothes Organized When You Travel and How to Create and Organized Travel Toiletry Bag
How do you keep necklaces from tangling when traveling?
Almost everyone has made the mistake of casually packing necklaces for vacation and just hoping for the best. Of course, when you arrive at your destination and unpack them, they end up in a tangled mess.
If this sounds like you don't feel too bad; everyone has been there at some point or another!
One way that people try to avoid tangled necklaces during travel is by using sandwich bags as cases. But the most important thing to remember is to not only keep every necklace separate but also make sure that the chain doesn't get tangled up by itself.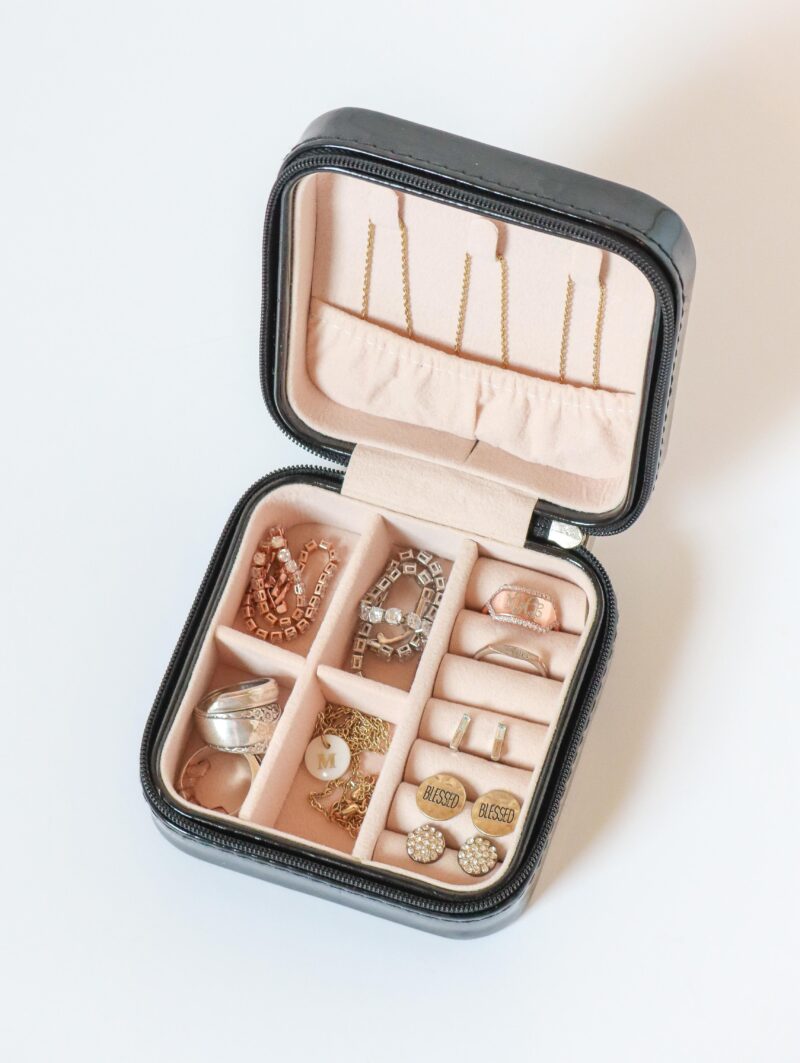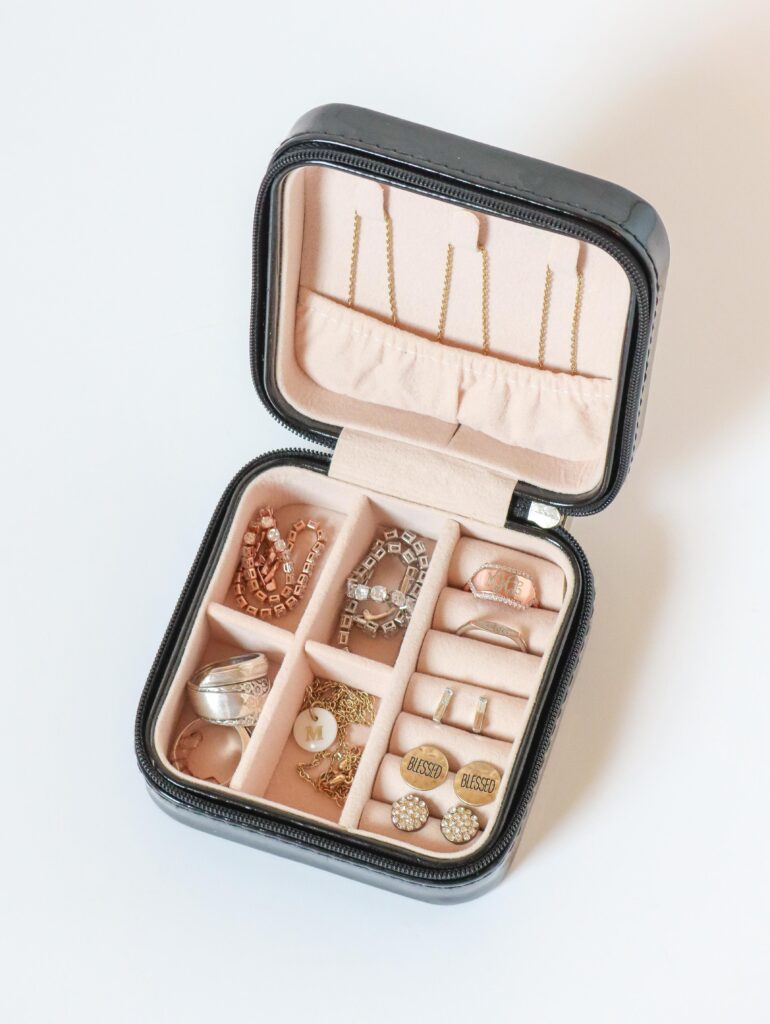 It's frustrating when the necklace is a knotted mess even when it isn't anywhere near any others. Packing necklaces safely will help them not get tangled.
How do you move a lot of necklaces?
The most important thing to remember is to keep each necklace separate from the other necklaces. This will prevent them from getting tangled.
Try to keep the chain away from itself as well before placing jewelry in Ziploc bags. The best way to do it is by using packing paper or plastic drinking straw.
Using this method, each necklace can be placed on one side of a piece of cardboard and then wrapped with tissue paper before being placed into its own gallon-sized Ziploc bag.
Keeping necklaces separated will help prevent that mass of tangled necklaces we all hate.
What is the best way to pack jewelry for a move?
Because there's typically a lot more movement when it comes to packing your jewelry for a move, it's important to take the extra time to do it right. If you don't, you're much more likely to end up with necklaces tangled, missing clasps, and rings that need re-sizing.
As a general rule of thumb, you should always pack your jewelry in individual Ziploc bags before placing them into their own box for storage.
How to Pack Necklaces – 15 different ways!
Here are 15 different ideas for how to pack necklaces safely when traveling or moving. For each tip, there are instructions on how to properly pack necklaces without tangling during travel or transit.
Use a travel jewelry organizer
When trying to decide how to pack necklaces, one of the simplest ways to keep expensive jewelry neatly organized is by purchasing a travel jewelry organizer.
There are many variations to choose from so take note of the types of jewelry you have and purchase a jewelry organizer that will protect your precious jewelry.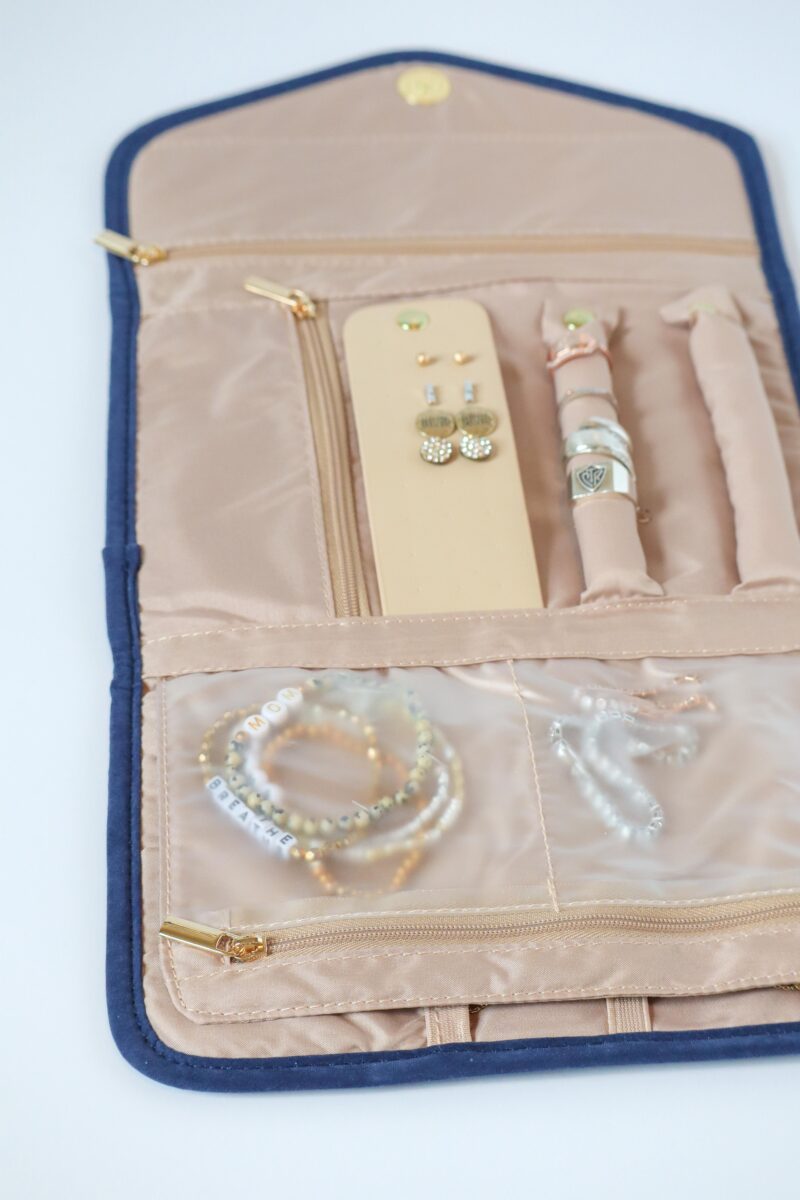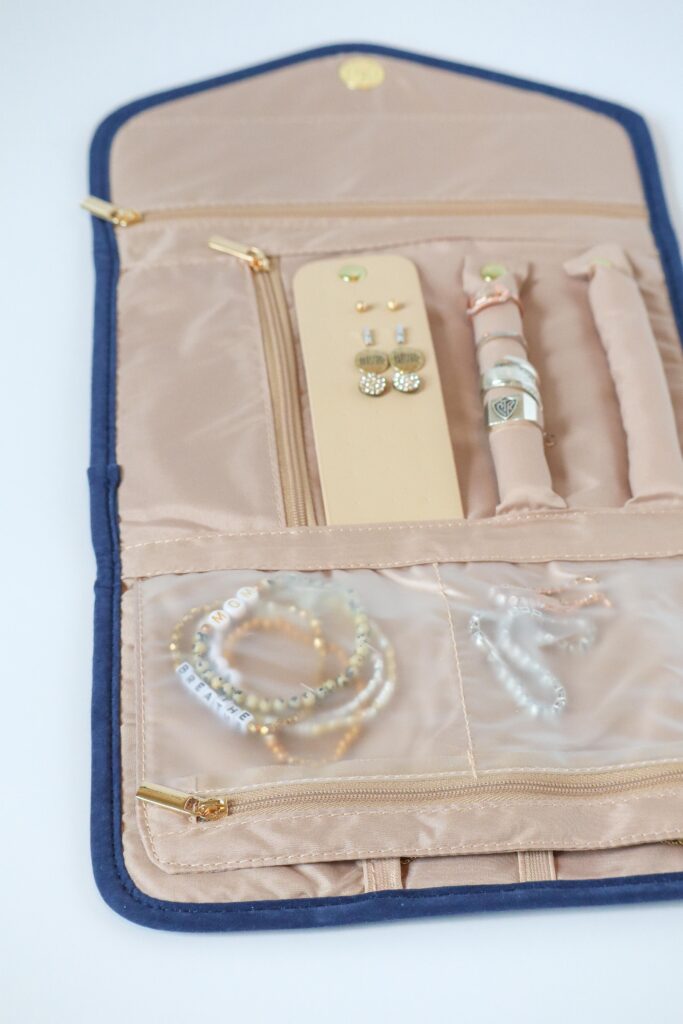 Some jewelry organizers even have places to store small items such as stud earrings, rings, or small hoops. Earrings can easily get lost so a travel jewelry organizer can be a really great option to keep your jewelry safe.
Many organizers have a hard surface that will protect your necklaces, earrings, and bracelets from getting squished or damaged.
Shop the Post:

A travel jewelry roll works brilliantly…if you have the right one
Jewelry rolls can be a great way to store necklaces for your next vacation. A jewelry roll has several slots inside of it that are specifically designed to hold necklaces.
If you have the right jewelry roll, then packing your necklaces will be very simple and straightforward. Just snap the necklace into the top closure and tack it at the bottom.
Some jewelry rolls have a small elastic that holds the bottom of the necklace as well. This is the kind you want to look for. Avoid the kids that don't hold the necklaces in place. Otherwise, they will tangle at the bottom.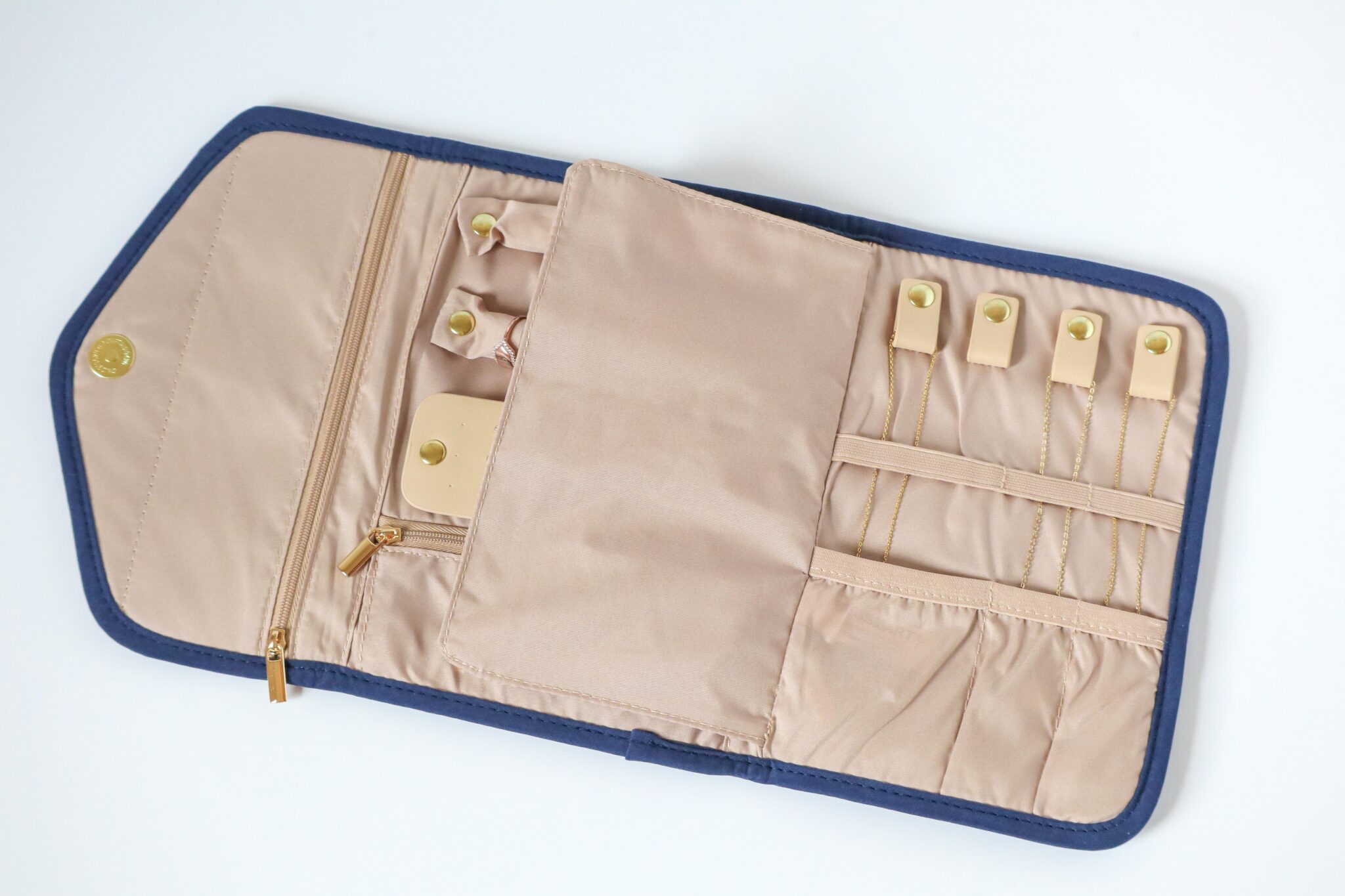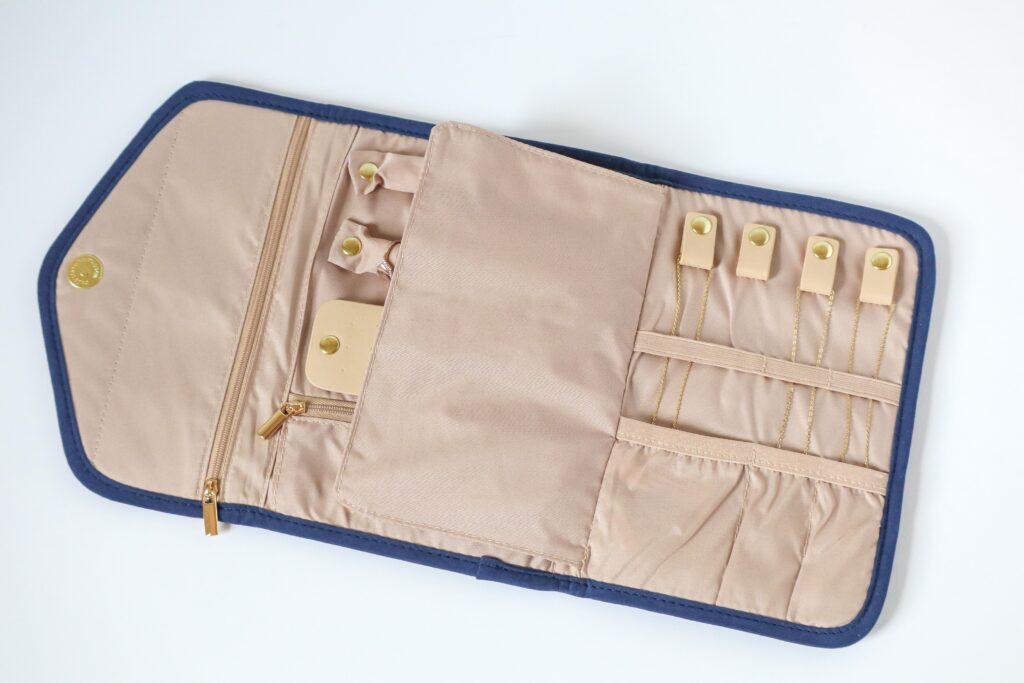 This is one of the best options for expensive necklaces, especially because the organizer is usually lined with velvet, which will add extra protection for valuable jewelry.
Shop the Post:

Use a travel organizer or hanging organizer
If you have a variety of jewelry pieces that you want to keep organized one of the best things you can use is a hanging organizer. These have many different-sized compartments that can keep earrings, necklaces, bracelets, or other jewelry items separated. This is a great option if you want to take all your jewelry on a vacation.
And even better, it neatly hangs up so you can see and access all of the jewelry items at the same time.
Shop the Post:

Necklace Roll Out Mats are Great for long necklaces
It's a struggle when trying to figure out how to pack long necklaces. Roll-out mats are great because they can extend out longer than the typical jewelry organizer would and it helps store your necklaces without tangling. These also work great for costume jewelry!
Shop the Post:

Use Glad Press N' Seal or Plastic Wrap
The Glad brand sells an awesome plastic wrap material called Press N' Seal. When you press the material against itself or another object, it sticks in place.
To use Press N' Seal for your necklaces, simply lay out a single layer of plastic wrap on the table. Next, lay your necklace onto the wrap making sure that the necklace chain isn't touching itself. Then lay another layer of wrap (the same size) on top of the necklaces. Simply take your finger and press firmly an outline on the inside and outside of the necklace.
This creates a nice seal around the necklace so it doesn't get tangled!
Shop the Post:

Thread your necklace chain through plastic drinking straws
This may be the simplest way when trying to figure out how to pack necklaces. If you have straws on hand, it requires no extra expense!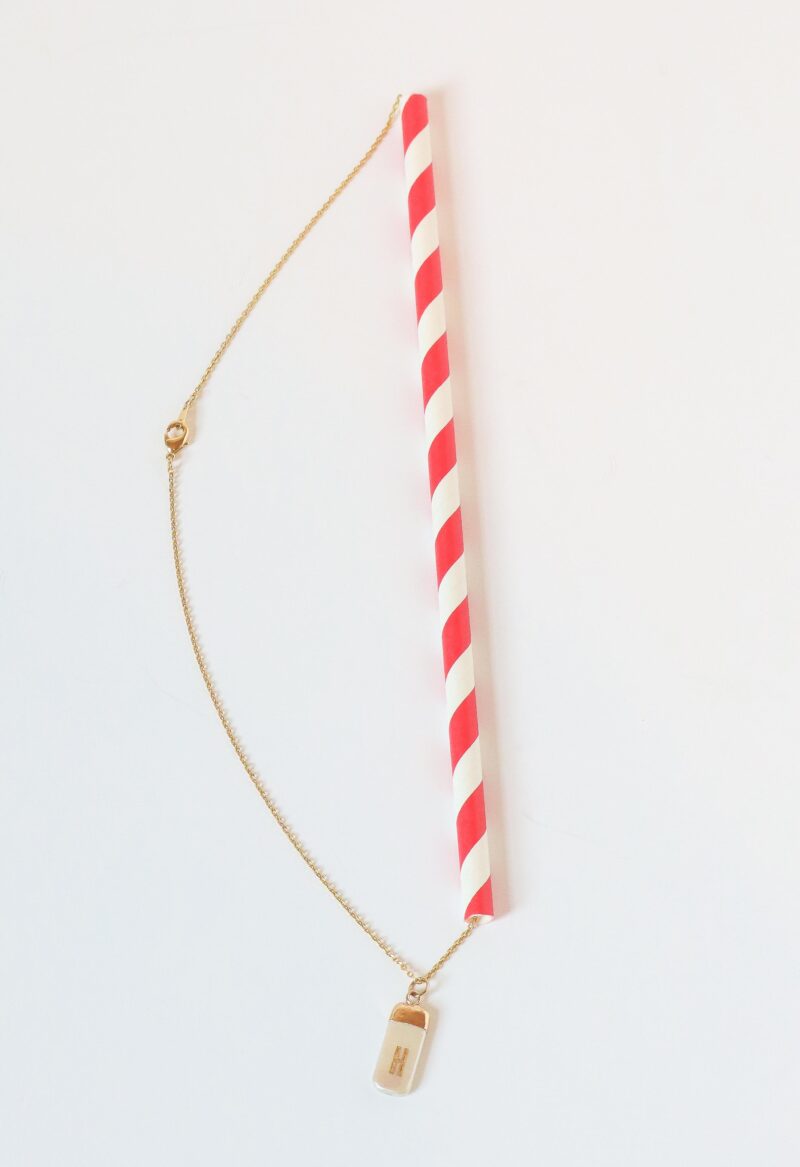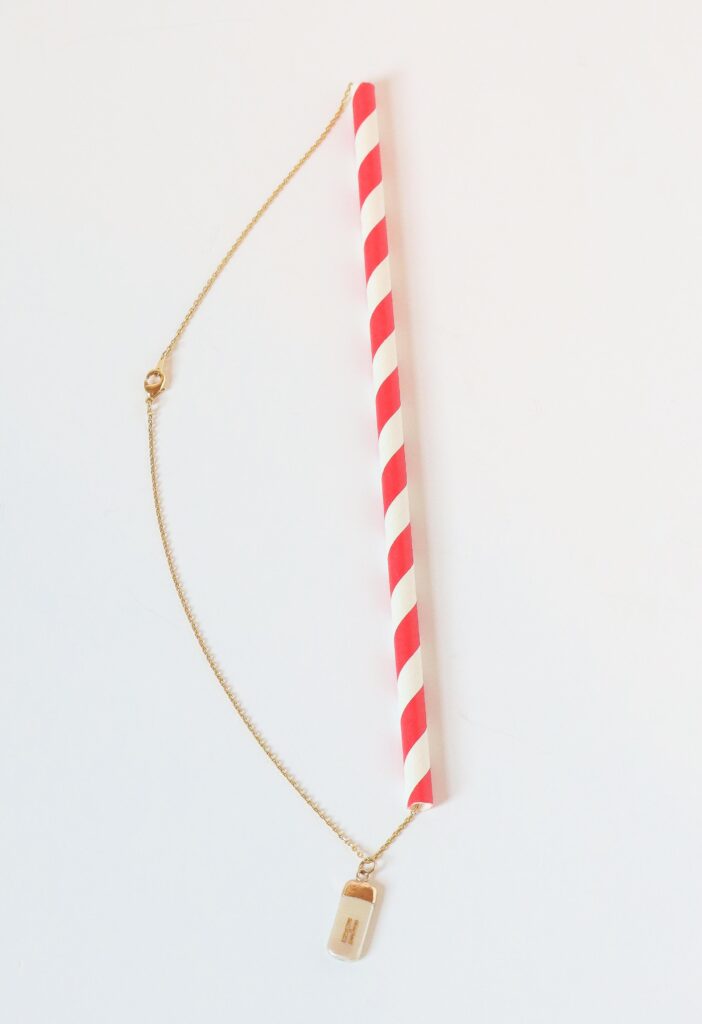 A fastened necklace threaded through the plastic drinking straw gives the chain extra protection and keeps the chain tangle-free. You could also choose to use two straws if you have a longer necklace.
Shop the Post:

Use a toilet paper roll
Another method I've seen used is to use toilet paper rolls to keep necklaces from tangling with each other. Simply thread the necklaces through a cardboard toilet paper roll.
This may not be the best method because the necklaces could get tangled with other necklaces in the toilet paper rolls. This is a great option for bulky costume jewelry or statement necklaces though!
Pack them in tissue paper inside a jewelry box
A budget-friendly way to pack jewelry is to use tissue paper. Wrap each set of earrings, each bracelet, and each necklace separately to prevent tangled jewelry.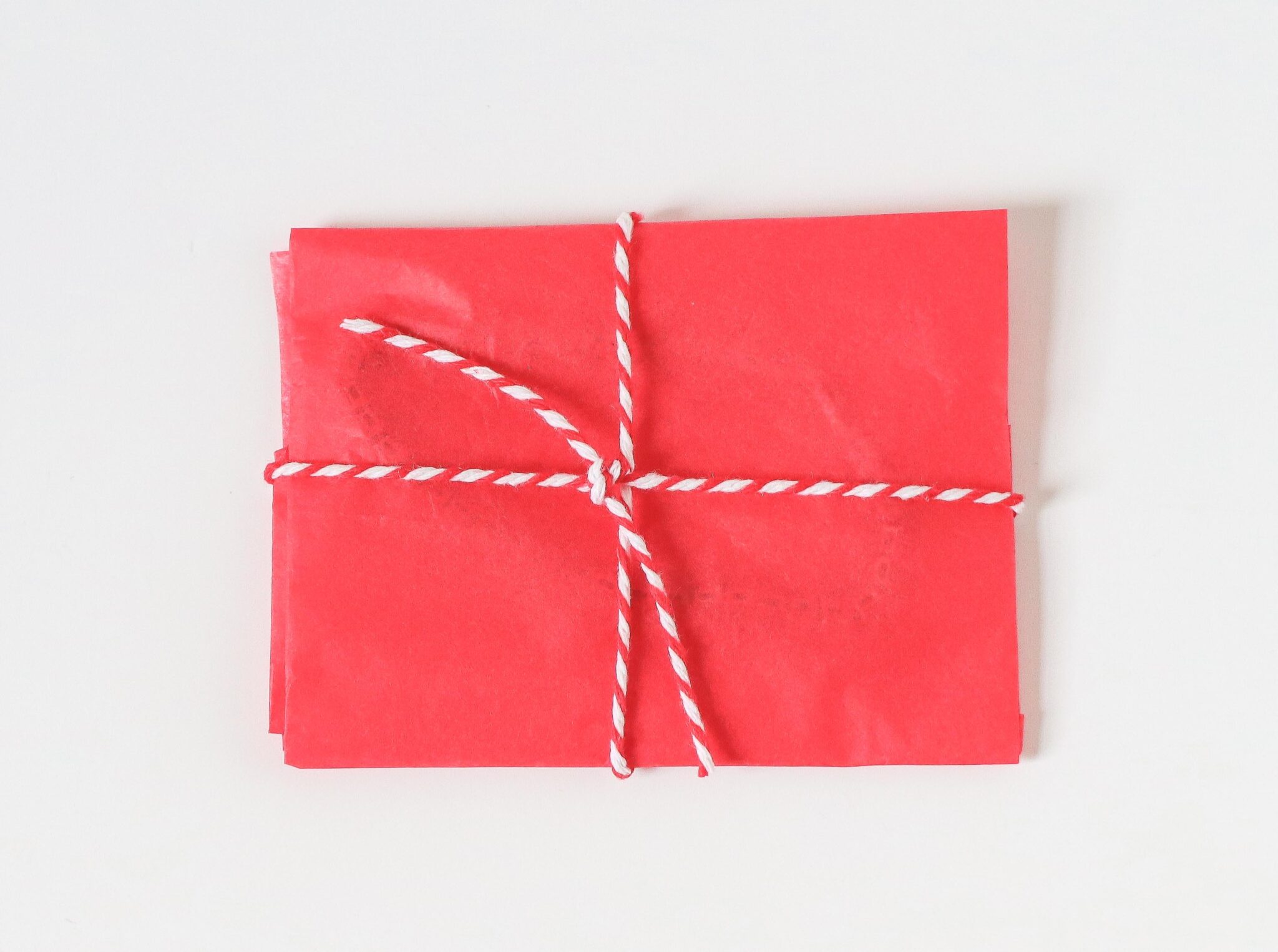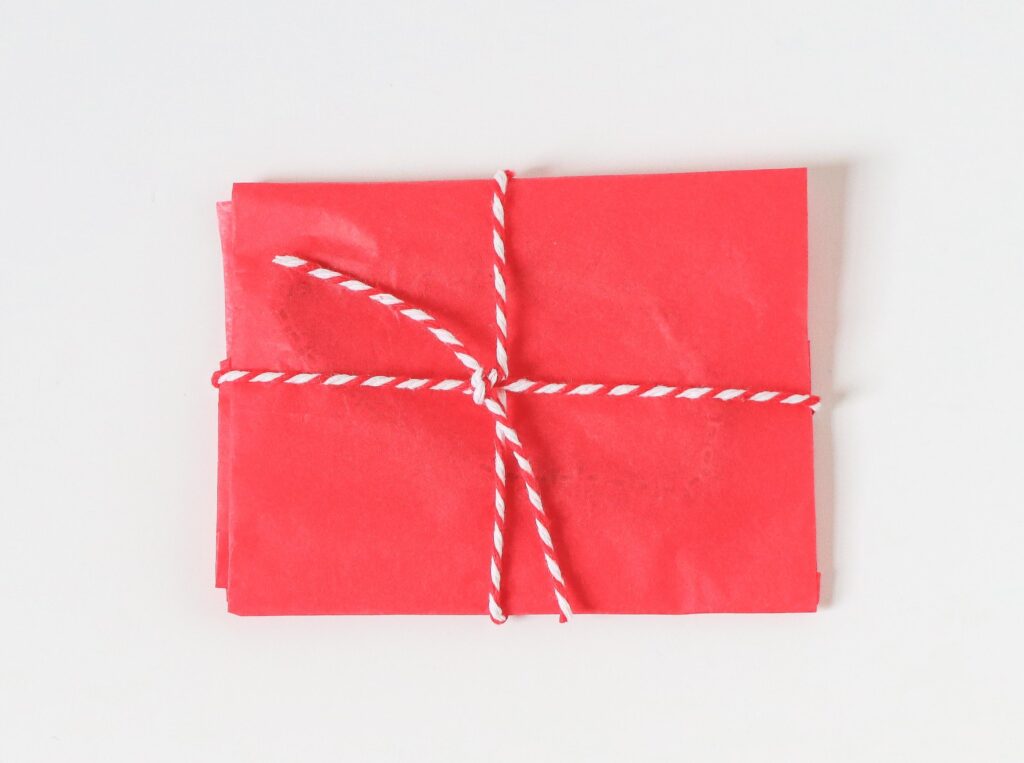 After you've wrapped each piece, tape the tissue paper closed and place it in a big box where you can keep track of it during your move. Or you can bring it with you as a carry-on if you are flying somewhere.
Use a pill case
If you're wondering how to pack necklaces or small stud earrings, you can easily use a pill organizer. These small items won't get lost if you use these!
Bubble wrap larger necklaces
If you have larger necklaces, you can use bubble wrap to make sure that they don't get damaged. Just take your necklace, place it on top of bubble wrap and roll everything up like you would if you were packing a poster or large painting for shipping.
There are other ways to pack necklaces besides tissue paper! Wrap them in t-shirts before placing them into their own separate plastic baggies so that the necklaces do not become tangled. You could also use an empty toilet paper roll or even shower caps as well! The possibilities are endless for travel jewelry!
Use a Wash Cloth or Fabric Napkin
This method is similar to a jewelry roll but it doesn't require you to purchase a new product.
Simply get a washcloth or fabric napkin and lay it out on the table. Lay the necklaces onto the washcloth and start rolling up the washcloth making sure that the necklaces aren't touching.
Keep rolling until the washcloth is filled with necklaces. Then you can use packing tape and tape it closed so it doesn't unroll.
You can also do this with other jewelry items like bracelets.
Use Shelf Liner
If you don't have time to purchase a jewelry roll, and you are wondering how to store necklaces in a pinch, you can use shelf liner and roll it up similar to how you would in a napkin or washcloth.
The advantage to the shelf liner is that the necklaces will have less of a tendency to slip out because of the sticky nature of the shelf liner.
Simply lay out the shelf liner and carefully roll the necklaces into the shelf liner. Then just use packing tape or scotch tape to close it.
Shop the Post:

A small jewelry box works great for travel or moving
If you have minimal jewelry or necklaces, purchasing a small hard-side jewelry box is a great option for you! The hard container keeps your jewelry safe and provides cushioning to prevent your necklaces from getting tangled while you travel.
Just make sure not to pack a glass window jewelry box as it could break during transit.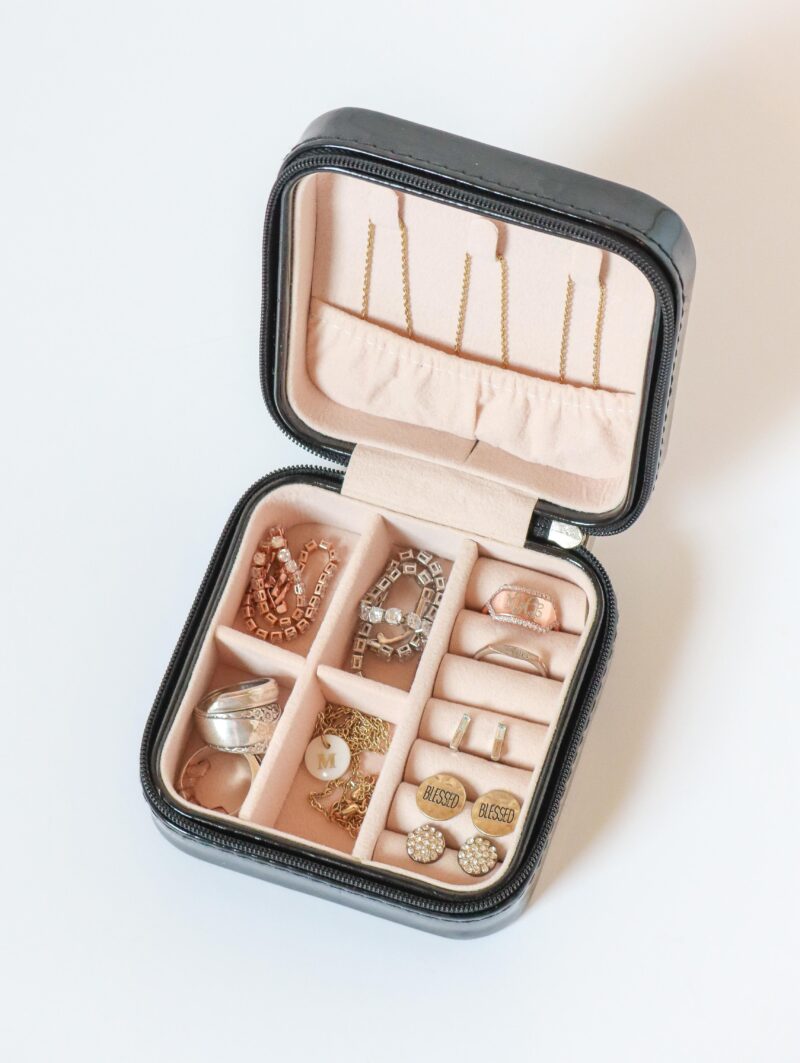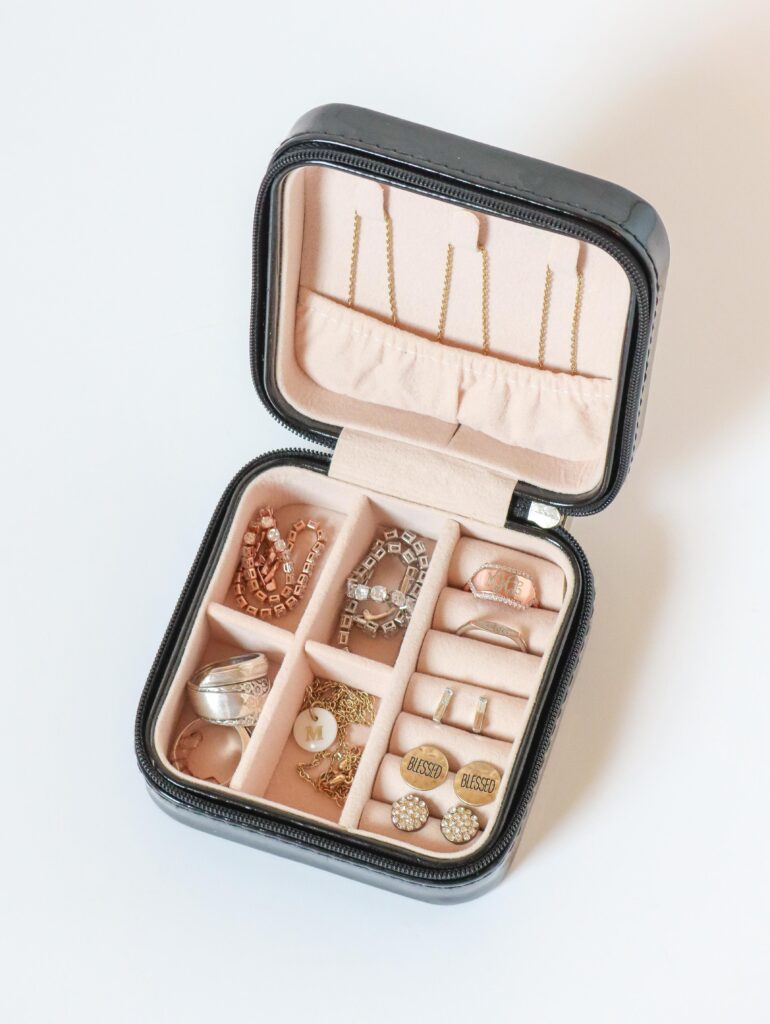 Shop the Post:

Use a small plastic container
You may have small plastic containers sitting around your house that you can use for earrings or small jewelry items. This will make it easier to keep track of, especially if you put the plastic containers inside a small bag so they don't get lost in your suitcase.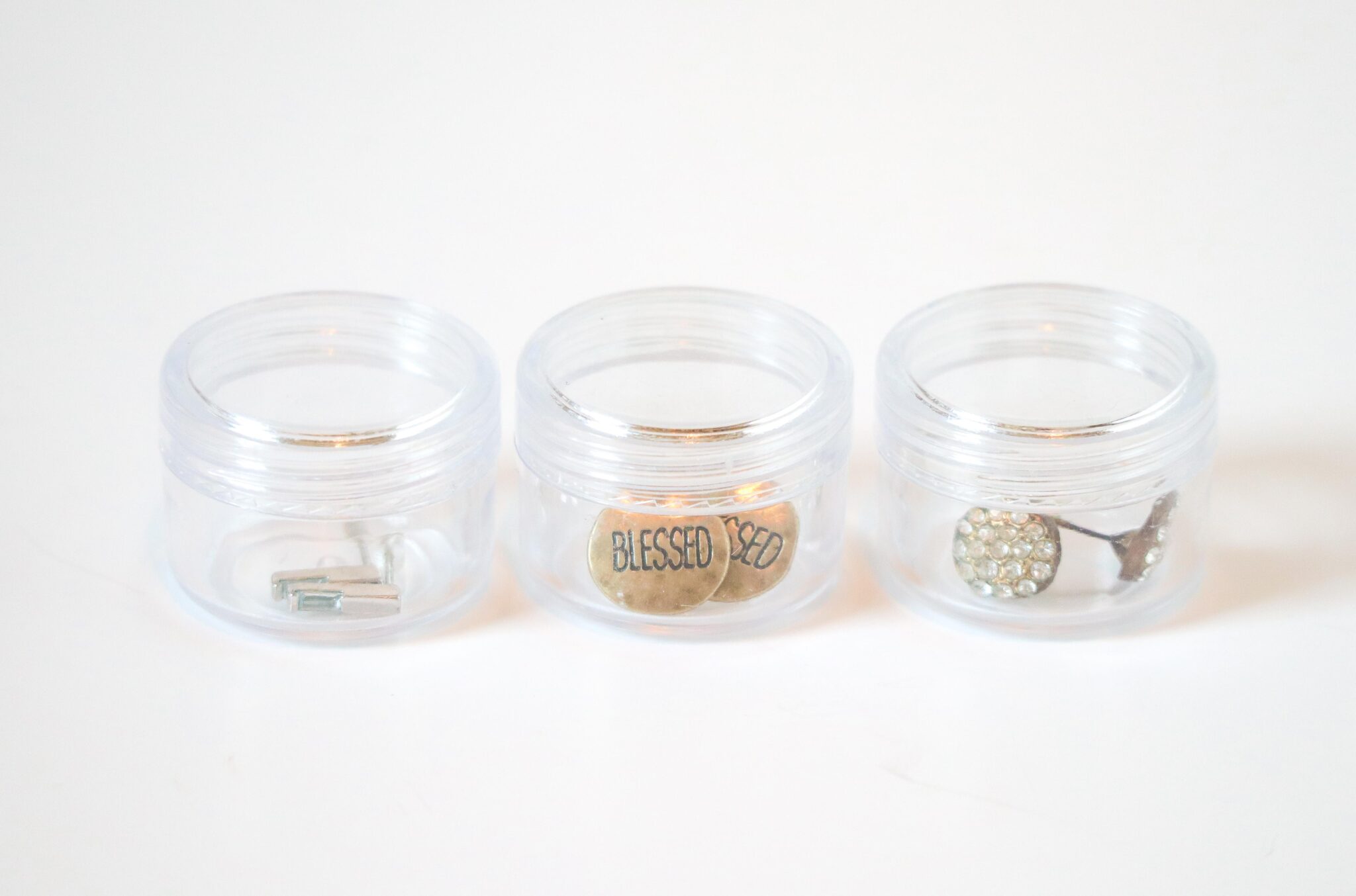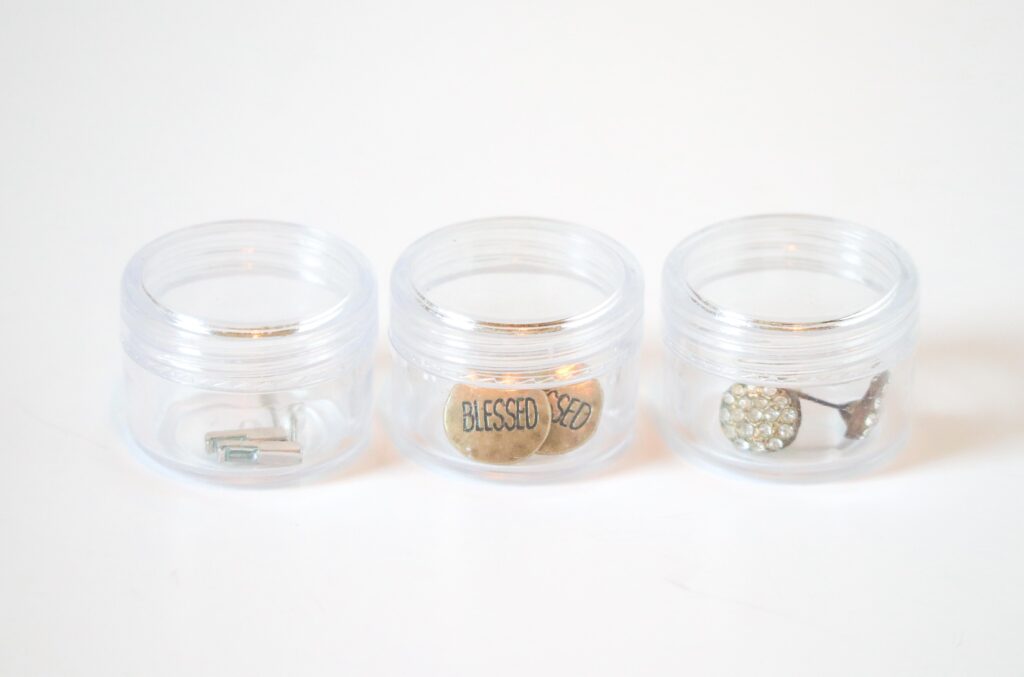 Just be careful about what type of jewelry you put in the containers as necklaces may become a knotted and tangled mess. This may be a better method for jewelry like earrings or rings!
Single necklace jewelry box
If you have really expensive jewelry, it might be in your best interest to invest in a few storage boxes that only hold one necklace at a time. You know, the kind in the movies?
These hold your necklace in place so that it doesn't get tangled with other necklaces. This will preserve your jewelry investment and reduce the chances of you losing valuable pieces of expensive jewelry.
These techniques can easily be used no matter where you are moving jewelry – whether across town or halfway around the world! By using this advice, everyone will know how to safely store jewelry during their next vacation or move.
How do Professional Out of State Movers Pack Jewelry and Necklaces?
Professional moving companies that move out of state use the same basic packing tips as you – they just take them one step further.
They will package valuables, such as jewelry and necklaces, in specially designed storage containers with partitions to separate pieces while they are moving. This ensures secure transportation and prevents any damage during transport. 
They also wrap each item in bubble wrap or tissue paper and seal it with tape. Finally, they place the packed items inside a moving box that is lined with padding to protect them further.
Professional moving companies take extra precautions when moving valued items such as jewelry and necklaces, so you can rest assured that your items will arrive safe and sound. As always, be sure to use a reputable moving company so you can have the peace of mind that your belongings will be well taken care of.
Shop the Post:

No one likes tangled necklaces. It's important to learn how to pack necklaces so that your necklaces and other jewelry are neat and tangle free when you arrive at your destination. The last thing you want to happen when you travel or move is for your jewelry pieces to get tangled up or broken.
When packing, try using one of these 15 methods we've shared with you the next time you find yourself traveling across the country or moving into a new home.
We hope that our list has been helpful! Which of these storage techniques are you going to use? Do you have any helpful hacks about how to pack necklaces?